This post may contain affiliate links. Read our disclosure page for full details.
When you think of the most romantic places in the world, without a doubt, the continent of Europe springs to mind. Home to iconic destinations like the City of Love itself (Paris), it's so easy to see why Europe is a romantic dream. But what are the most romantic places in Europe? Where should couples looking for a romantic getaway or honeymoon in Europe go?
We've put together a collection of some of Europe's most romantic destinations, plus resources for more information on each of these wonderful spots.
Ready to discover those destinations that will make your heart beat faster? We've got the list for you, filled with unique and enchanting destinations in Europe for romance and adventure. Here are the most romantic cities and regions across Europe for couples to get lost in together.
Most Romantic Places in Europe
London
Submitted by David Angel, Delve Into Europe
London is one of the most romantic cities in Europe, indeed the world. It's a vast city with as much to see as many countries and plenty of romantic things to do.
A great place to start is with a walk along the Thames Path. The short walk between Lambeth Bridge, opposite the Houses of Parliament, and Westminster Bridge. It's only a short distance further to the London Eye, which has superb views over the city, or continue to Waterloo Bridge, where the winter sunsets are sensational. A little further along the Thames Path, the Oxo Tower Bar, has an outstanding view across the river to St Paul's Cathedral.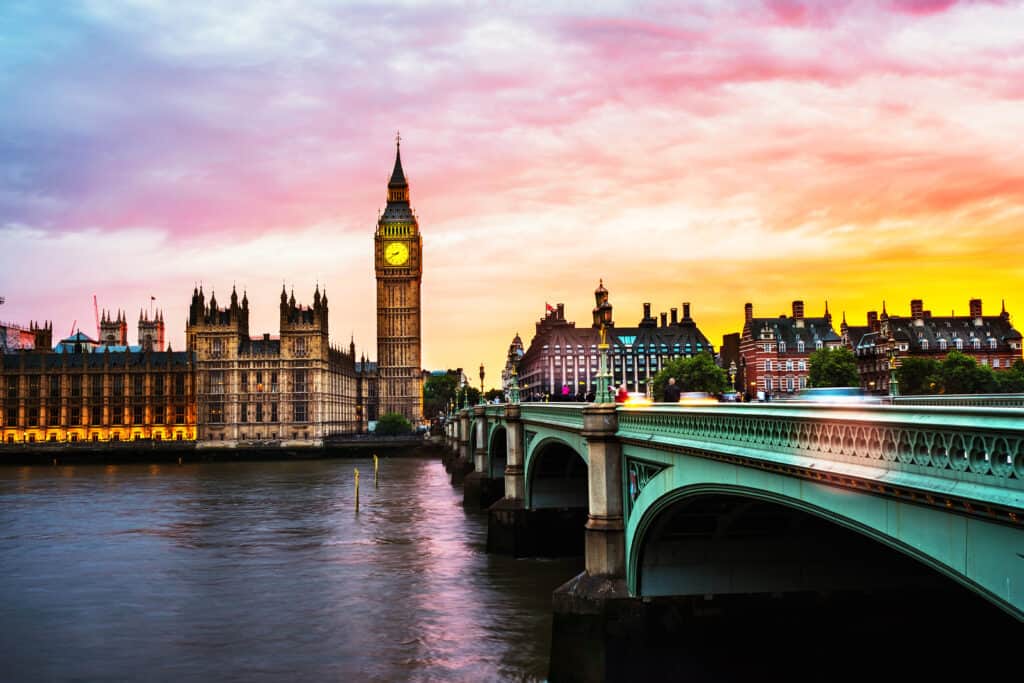 The suburb of Chelsea is another lovely romantic London spot. The busy King's Road has many cafes where one can watch the world go by, and some gorgeous streets with brightly painted houses a short walk away. Cheyne Walk is one of the most beautiful streets in London, where everyone from King Henry VIII to three of the Rolling Stones has lived.
The houses are among the grandest in London, and full of blue plaques commemorating the famous names who resided there. The Albert Bridge, across the street from there, is the most beautiful in London. It looks at its best at night, with its twinkling lights reflected in the Thames.
It's also worth planning a London afternoon tea in advance – some of the best hotels require reservations. The likes of the Savoy, the Ritz and Claridge's put on an amazing spread with finger sandwiches and cakes. It's a classic London tradition, not to be missed.
Read Next: 15 Romantic Things to Do in London
Kiev
Contributed by Suzanne, Meandering Wild
Kyiv (or Kiev as the direct transliteration from Russian) is the capital city of Ukraine, a large country in Eastern Europe. The city is small enough to walk around in a few days and is full of history. The river Dnieper runs through the centre of the city which is downstream from Chernobyl and the abandoned city of Pripyat.
The whole city is energized and developing and has a modern vibe with a hint to its past with romantic corners and beautiful architecture.
One of the best ways to explore the city is to take the funicular railway from the main area of the city to St Michael's Golden-Domed Monastery. This lives up to its name with golden domes against a vivid blue building. In the small park between the railway and the monastery you will find red squirrels racing around and looking for attention, a good place to pause before setting off.
It is just a short walk to the beautiful UNESCO World Heritage Site of St Sophia's Cathedral with its green and golden domes and the nearby vivid green and dominating St Andrew's Church. From the church grounds, there are panoramic views across the whole city allowing you to see how many domed churches there are across the skyline.
From St Andrews Church, Vozdvyzhens'ka Street is a gentle wander down a cobbled street with cafes and restaurants and small street vendors. A perfect place to spend time with the one you love.
Hotel Staro is a decadent location to stay in the quieter end of the city. It is surrounded by small galleries and little cafes. The rooms are ornate with high ceilings and heavy furniture and the breakfasts are good.
This city can be visited year-round although spring is the best. The winters are cold and harsh and the summers can be very warm.
Sibiu
Submitted by Corina Preda, Another Milestone
When you want to choose a destination for a romantic escape with your better half, Romania is not the first country you think of. But the truth is that Romania has medieval cities that seem excellent sceneries for a romantic getaway. And one of these cities is Sibiu.
Located at the border of Transylvania, in the heart of Romania, the city is 300 kilometers away from Bucharest. The charm of Sibiu is given by its cobblestone streets, colorful, old buildings and intimate caffes. If you plan a romantic dinner, you can choose one of the modern restaurants with delicious International and Romanian dishes. And for a romantic stay, try The Council hotel.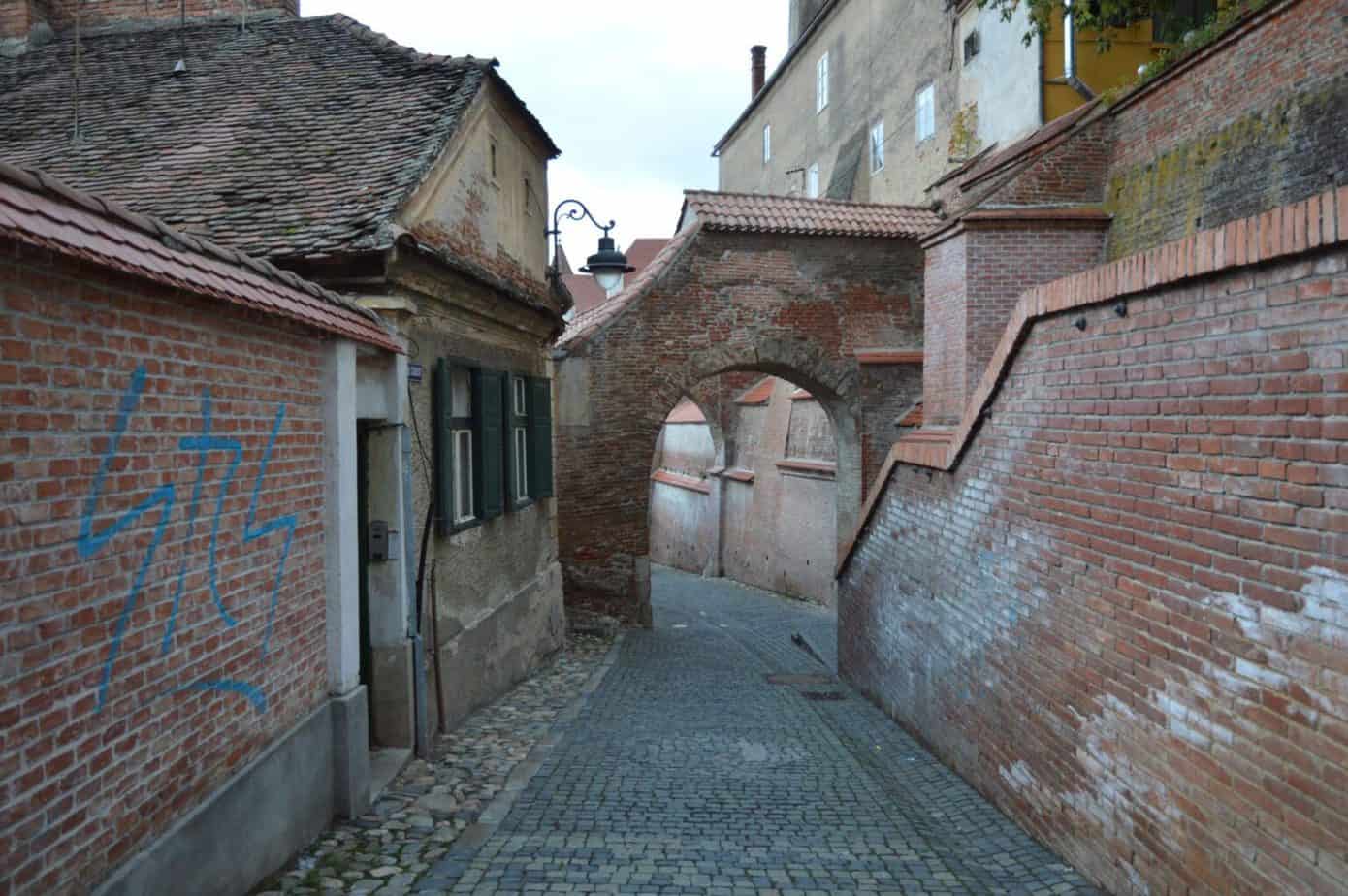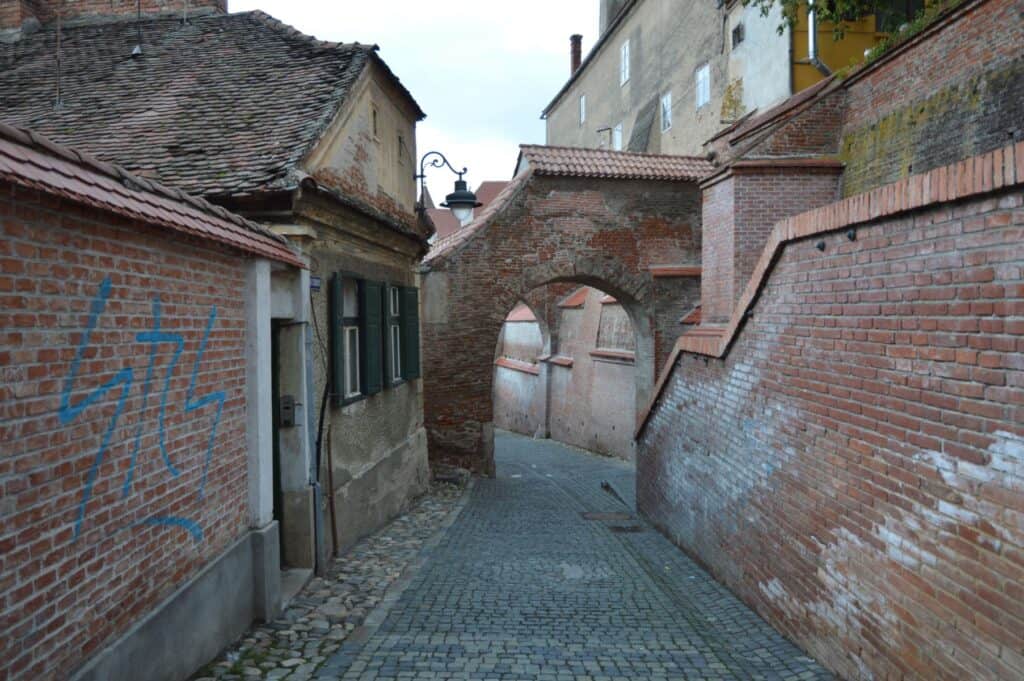 On a long walk in the city centre you will discover interesting places to visit. One of the most romantic spots in Sibiu is the Stairs passage. Part of the old fortification system of the city, the Stairs passage has an amazing glow during sunset, especially in summer. After walking through this passage and crossing the Huet piazza, another place for couples will be revealed in front of you: Liars' Bridge. This important attraction in Sibiu took its name from the lovers that swear eternal love on it. Many of these vows are broken and the bridge became a symbol of them.
Sibiu has other interesting attractions for couples and not only, so next time when you choose your romantic place, don't forget about it!
Lisbon
Submitted by Cindy Baker, Travel Bliss Now
Lisbon seems as though it was designed to be one of the most romantic cities in Europe and perhaps one of the top honeymoon destinations as well.
Built on seven hills, Lisbon is a city of dreamy miradouros or viewpoints. Start with the panoramic view from the top of the Elevador de Santa Justa, the city's wrought-iron iron vertical street lift. Stroll up to the hilltop Miradouro de Santa Luzia for a picnic under a bougainvillea-draped trellis overlooking the Tagus River and Alfama, Lisbon's oldest neighborhood.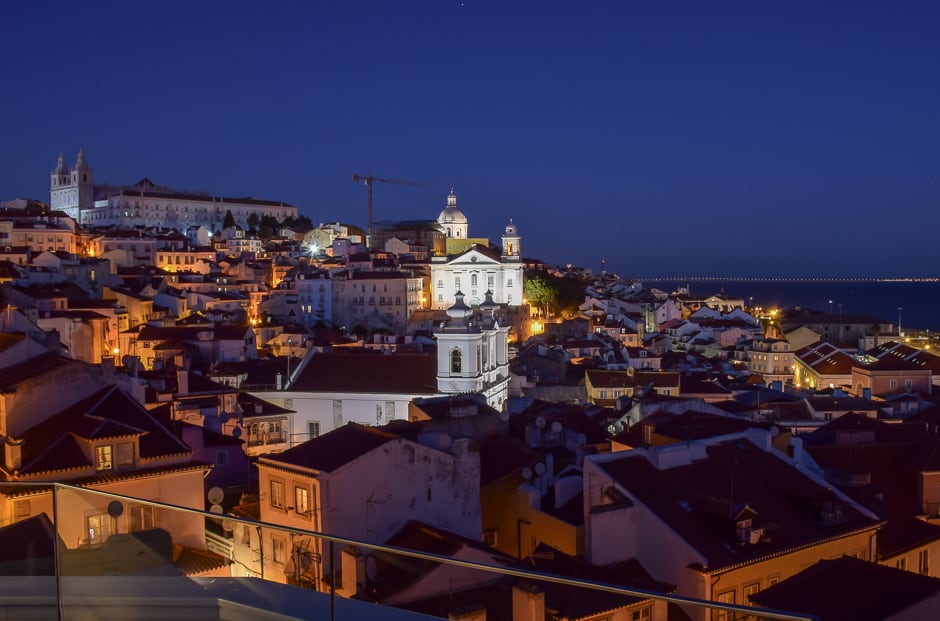 From there, wander hand-in-hand through the twisting, cobblestone streets as you spot colorful tiles and street art. Above Alfama, on the highest hill in the city, visit São Jorge Castle and savour a sunset glass of wine from the mobile kiosks known as "Wine with a View".
Snuggle up at the boutique hotel, the Memmo Alfama, which has cozy rooms facing the river and a rooftop terrace with city views that will make you melt. Lisbon is a year-round destination, but the best time of year to enjoy that terrace is spring or fall to avoid the summer heat and festival crowds.
Read Next: Our guide to the most romantic things to do in Lisbon as well as 7 Romantic Things to Do in Porto
Tbilisi
Contributed by Margherita Ragg, The Crowded Planet
Up until about a decade ago, Tbilisi was a true hidden secret, as flight connections to the rest of Europe were not so good. Now, low-cost flights have reached Tbilisi, but you'll still find far fewer tourists compared to other European capitals – adding to the city's wonderful romantic atmosphere.
Tbilisi
offers plenty of
romantic places and things to do for couples
. The Old Town is impossibly beautiful, with narrow streets opening onto colourful houses, cats wandering around and courtyards with plants and flowers. You can wander around at your own leisure, or climb to Narikala Fortress overlooking the Old Town and find a secluded bench to admire the view with your loved one.
Tbilisi is also famous for its sulphur baths – in the Abanotubani district, right next to the Old Town, you can find several bathhouses where you can enjoy baths and treatments 24/7. Couples should take note that it's possible to book a private room, to enjoy your bath in complete privacy.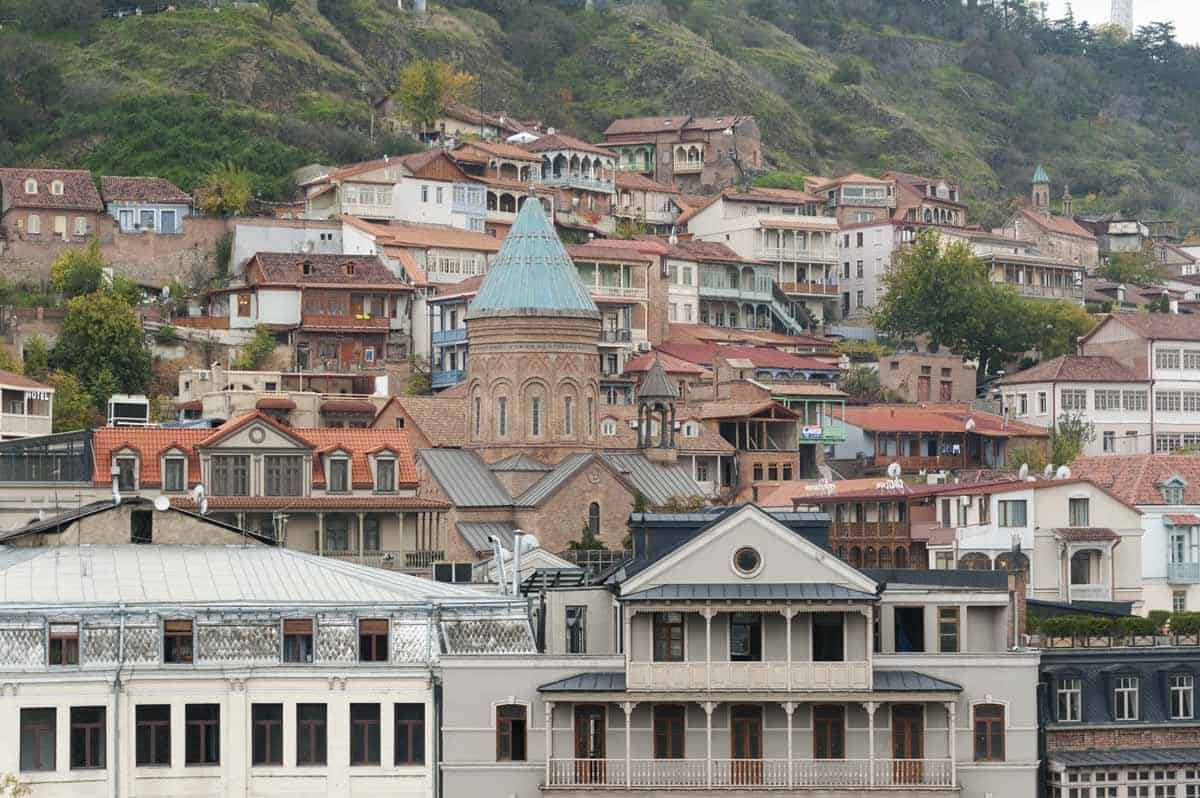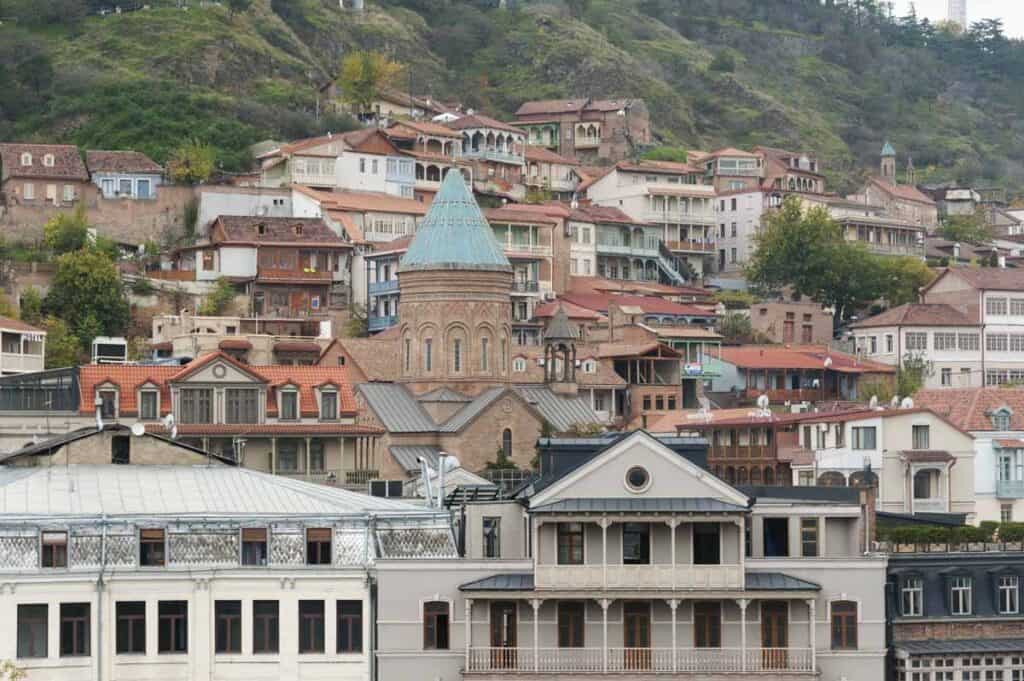 Georgian cuisine is also really delicious, and there are many romantic restaurants in Tbilisi where you can enjoy tasty specialties like khachapuri (cheesy bread) and khinkhali (giant steamed dumplings) – for atmosphere, it's hard to beat Old City Wall, located (yes, you guessed it) into the city walls.
Rooms Hotel is a great option for couples, with bathtubs in many rooms and an inner garden for a romantic walk. It's in the Vera district of Tbilisi, about 20 minutes away from the Old Town but with plenty of atmosphere!
Florence
With so much history and beauty,
Florence
is a very romantic city and a great destination for couples. One of the most romantic things to do in Florence is to head to Piazzale Michelangelo and enjoy what's considered by many the most beautiful panoramic view of the city. Some other places in Florence with amazing views are the dome of Santa Maria del Fiore cathedral and Giotto bell tower.
Some other fantastic things to do in Florence for couples are a walk along the Arno river, a stroll in the Oltrarno quarter to admire the historic buildings that have been the theater of forbidden love stories and myths and a romantic dinner.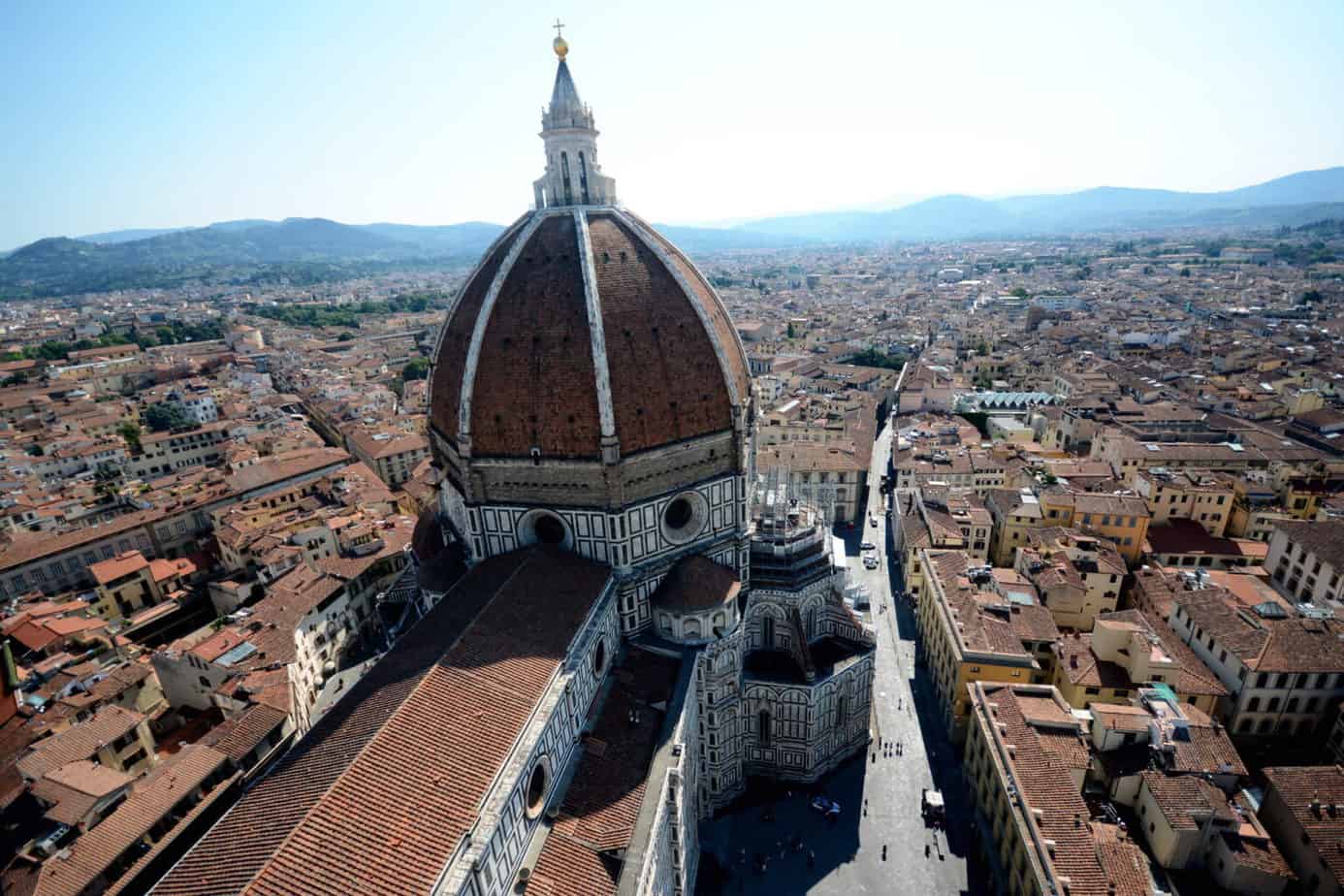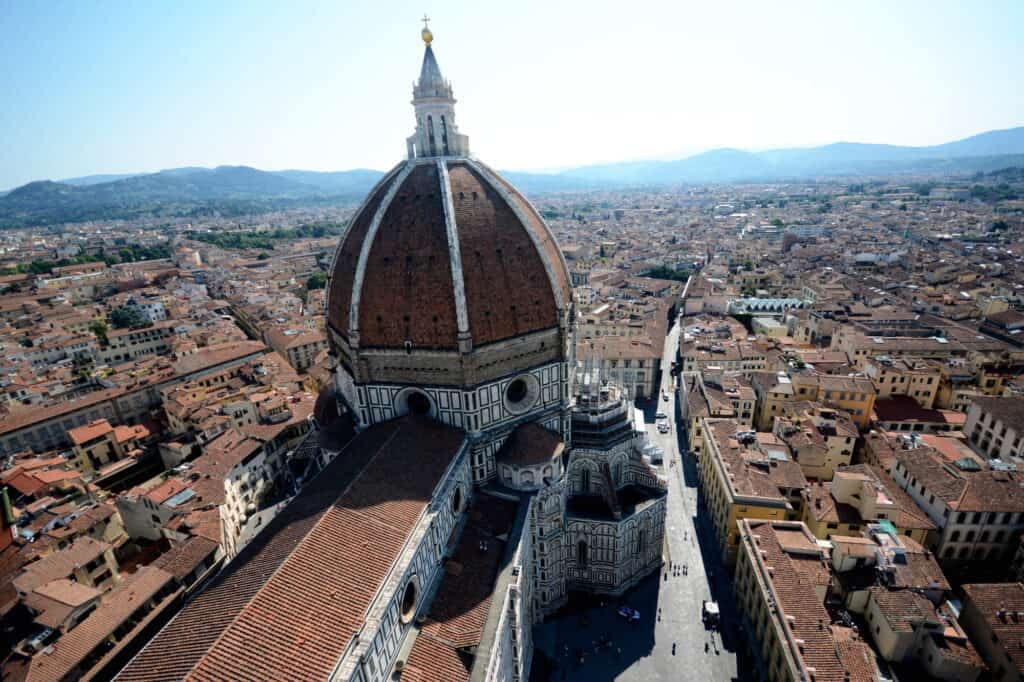 How to round off a day spent in the name of love and romance? With a cocktail in one of Florence panoramic rooftop bars such as the stunning Three-Sixty of the Grand Hotel Minerva. Open from April to October to everyone, it also includes a gorgeous rooftop pool for the hotel's guests only. Other great rooftop bars to enjoy a romantic drink are La Terrazza at Hotel Continentale, Loggia Roof Bar at Hotel Palazzo Guadagni and the elegant Empireo at Plaza Hotel Lucchesi where you can enjoy an aperitif and a magical sunset.
If you are staying in Florence long enough, you can also take a day trip to enjoy the beautiful views of the soft rolling hills of the Tuscan countryside in paces such as the Chianti region famous for its wine.
Read Next: The most romantic things to do in Tuscany | 10 Utterly Romantic Things to Do in Florence
Positano
Submitted by Jackie Gately from Enjoy Travel Life
Nestled along the turquoise banks of Italy's soaring Amalfi Coast, it's no wonder Positano is a hot spot for romantic interludes and honeymooners. In fact, it's hard not to get caught up in a moment, as Mediterranean breezes tickle your sun-kissed skin and the limoncello sweetens your lips. It's one of the most romantic European destinations for couples.
Each turn of a leisurely stroll through this enchanting town carved into the mountainside showcases breathtaking views of the Tyrrhenian Sea. Shops featuring the handiwork of local artisans dot the narrow descent; you'll find chic linen beach dresses, handmade leather sandals, colorful pottery, and more.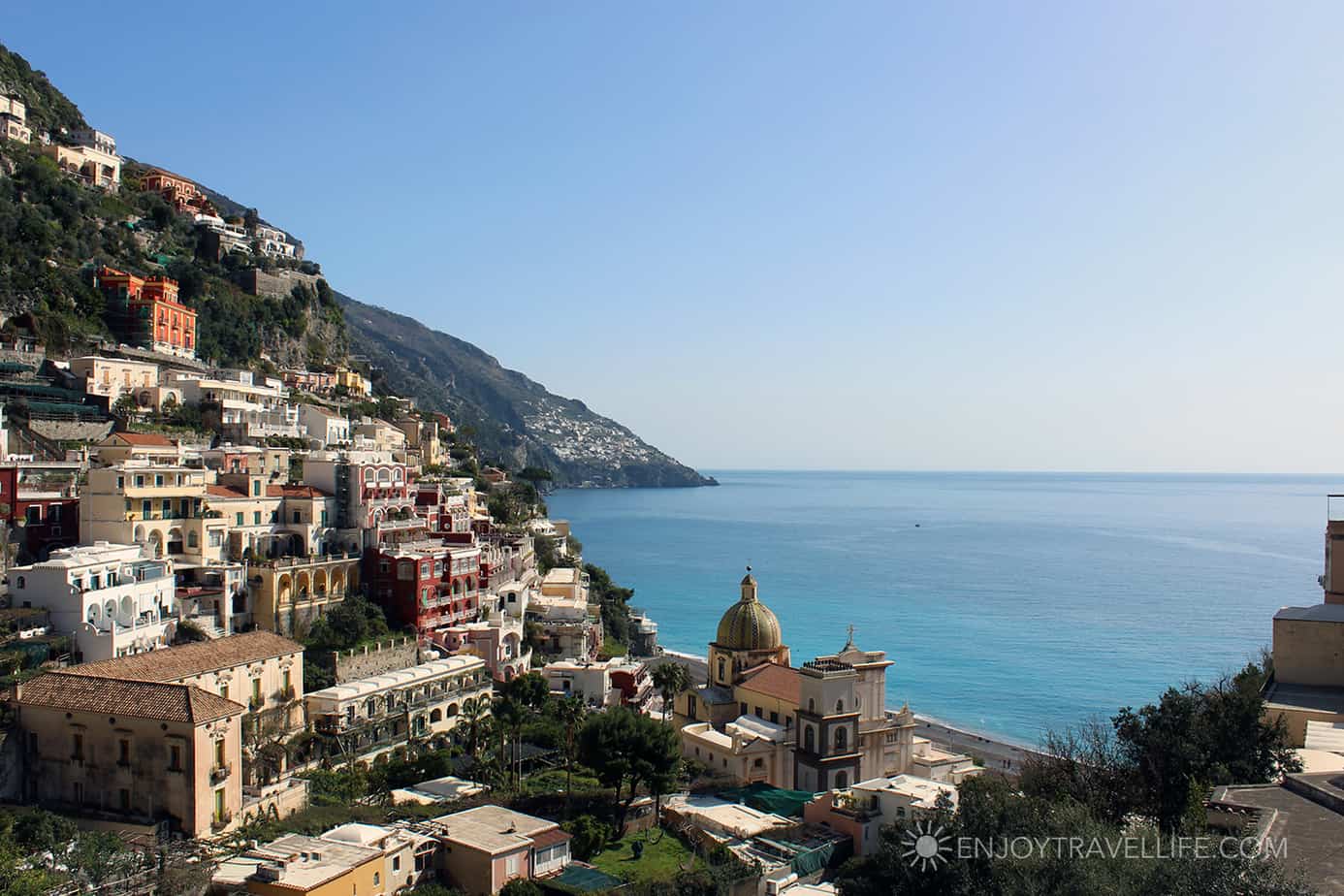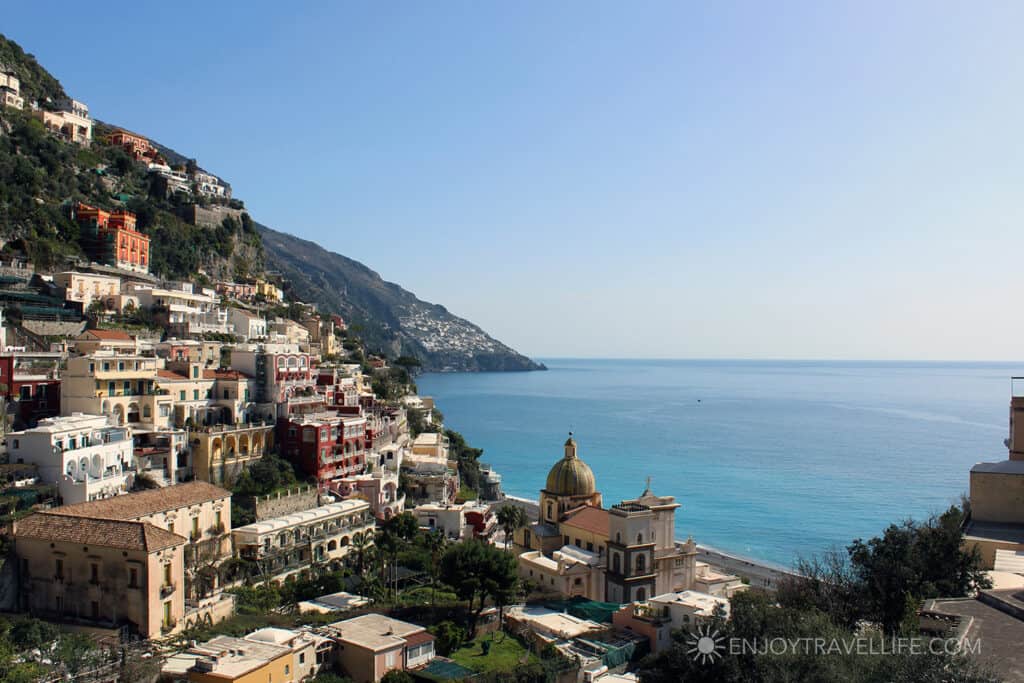 Along the way, watch for the iconic dome of The Church of Santa Maria Assunta, aglow with multi-colored majolica tiles.
At the base of Positano, two black-pebble beaches hug the shore. The first and more popular beach is Grande Spiaggia di Positano. It welcomes guests with lounge chairs, boutiques, and waterfront restaurants perfect for refreshing afternoon drinks. Here, you can also charter a private boat tour to the island of Capri.
Or instead slip away to the secluded Spiaggia di Fornillo. Simply pass through the romantic promenade to escape the crowds.
For an elegant overnight, consider booking the suite at Hotel Villa Gabrisa. Once an ancient villa in the historic center of Positano, this charming hotel offers fine dining, a wine bar and cafe, plus a complimentary continental breakfast with your reservation. The spacious suite affords luxury accommodations and a large terrace with a sea view—the perfect setting for a secluded tryst with room service.
Read Next: 8 Romantic Things to Do in Positano
Seville
Contributed by Caroline Keyzor, CK Travels
Seville is located in the southern region of Andalusia in Spain and is the perfect all year round destination for a romantic break with that someone special. Seville is a compact and relaxed riverside city with beautiful Moorish architecture, UNESCO heritage sites, excellent wining and dining and many gorgeous landscaped parks.
There are so many romantic things to do in Seville – start off your day by taking a stroll through the labyrinth of charming narrow streets and alleys of the El Barrio de Santa Cruz neighbourhood. You'll discover many intimate squares, huge orange trees and some of Seville's most gorgeous buildings.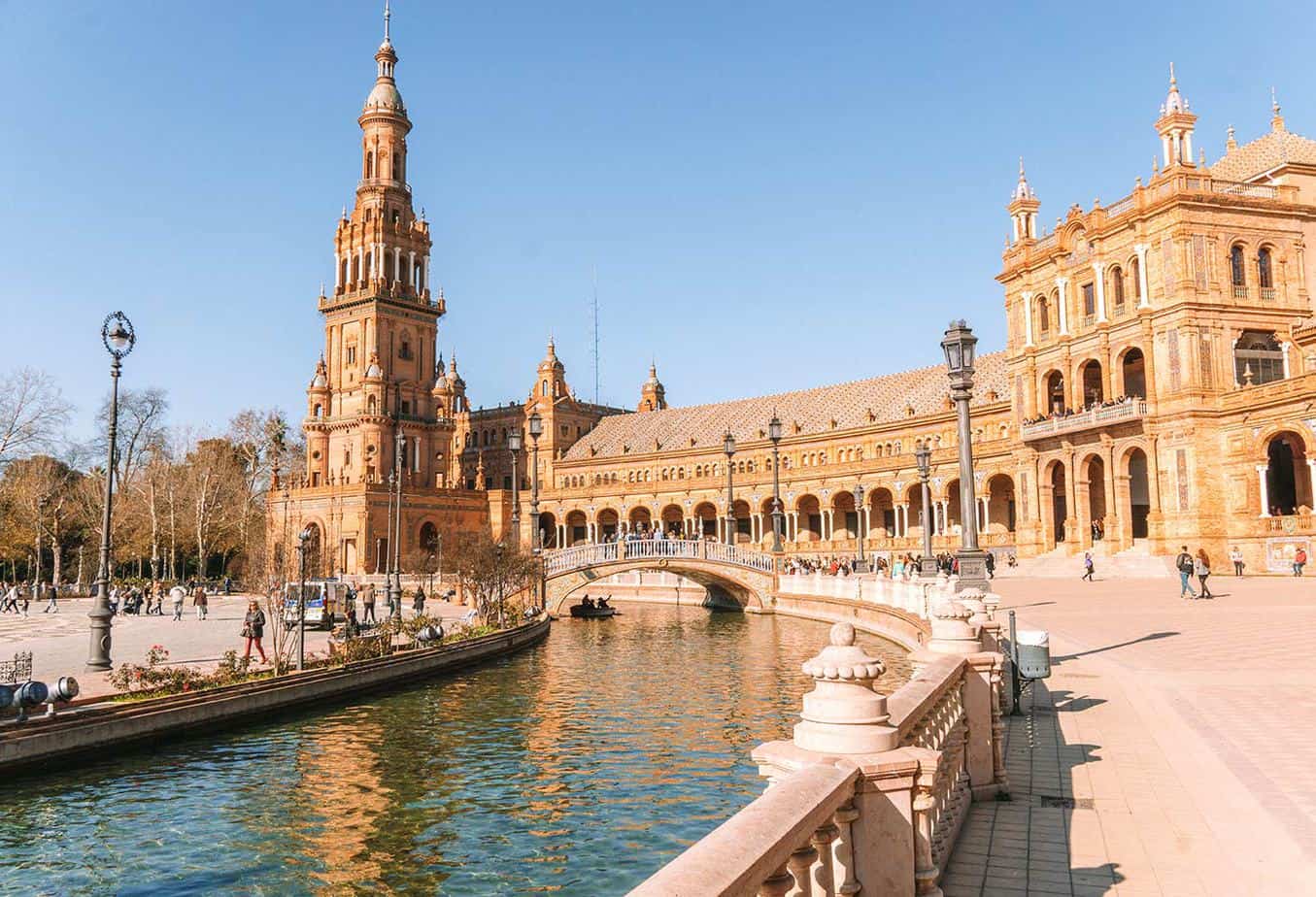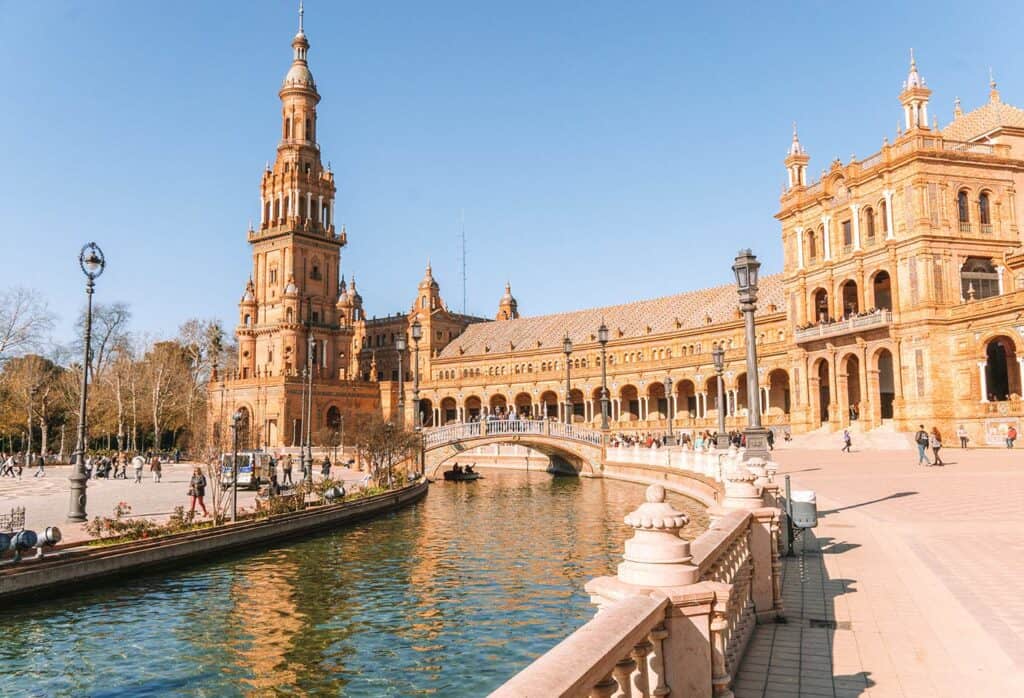 Next head over to Plaza de España to admire the exquisite tile work and grand architecture, then hire a rowboat for a romantic ride around the square. Plaza de España is also beautifully lit up at night if you want to return for a romantic midnight stroll.
End your perfect day with a cosy and romantic candlelit dinner at one of Seville's many historic tapas bars for a glass of Spanish wine and some fresh and delicious seafood. Follow up dinner with an intimate traditional flamenco show at either Casa del Flamenco or Casa de la Memoria and if you still have energy afterwards, head to Hotel Doña Maria's rooftop bar for a cocktail with one with the best views of the city and the Cathedral lit up at night.
See also:
Budapest
Submitted by Paula and Charles, Expert Abroad
Your first glimpse of the turreted fortress of Fisherman's Bastian high on the hill on the Buda side of the city will have you feeling like you have walked into a fairy tale. You will immediately know you have chosen the right spot for your romantic vacation.
One of the most romantic things to do in Budapest is to take a sunset stroll along the Danube, as the city changes from day to night, and the lights on the stunning Parliament building come on. Once you have snapped a romantic sunset selfie head to one of the city's rooftop bars to drink in more of the view or take a river dinner cruise, the lights never get old.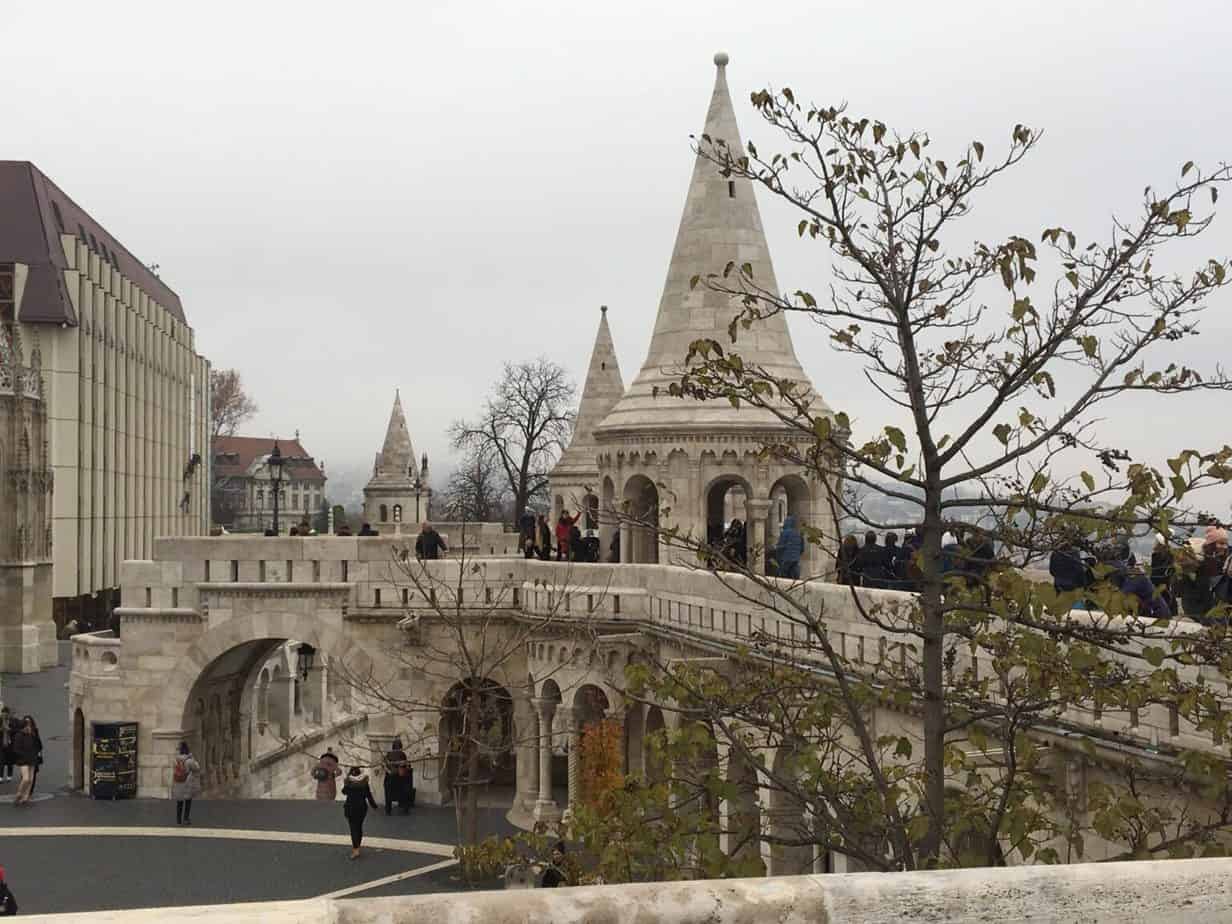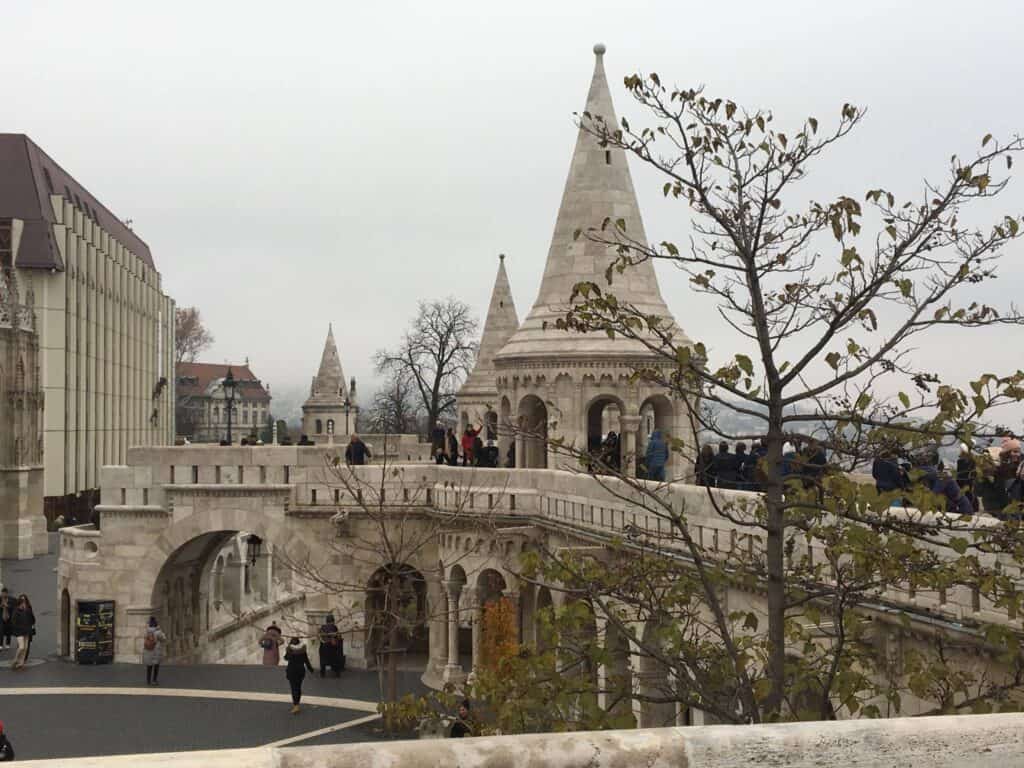 When hunger strikes, Budapest is full of quirky and quality restaurants. One we loved was KönyvBár (Bookbar in English) which serves a changing menu inspired by books. To date they have covered everything from Fifty Shades to Harry Potter! The menu changes every two weeks so check and see if this week's meal suits you. There are also a bunch of affordable Michelin star restaurants if you want to impress.
Finally, you really should pay a visit to one of the city's thermal baths we recommend Gellért the pretty Art Nouveau designed complex. Budapest's thermal pools are among the most popular in the world and as well as being relaxing the minerals contained in the water are said to provide lots of health benefits. Gellért offer indoor and outdoor mixed bath areas and couple massages too
Read next:
Prague
Contributed by Dave Anderson, Jones Around the World
With its cobble-stoned streets, gothic castles, and old-town charm – there's no doubt that Prague in the Czech Republic is one of the most magically enchanting and romantic destinations in Europe and in the world! This medieval city has tons of viewpoints across it that are truly breathtaking, and there's no better way to spend an evening than to enjoy a romantic sunset dinner cruise along the Vltava River.
Couples will truly get swept away by the slowed-down city pace found in Prague, and will fall in love all over again while they explore everything this city has to offer! It's filled with stunning architecture and colorful buildings that will make you feel like you're in a fairytale, and with Prague's delicious food and beer, a visit to this city will surely be unforgettable.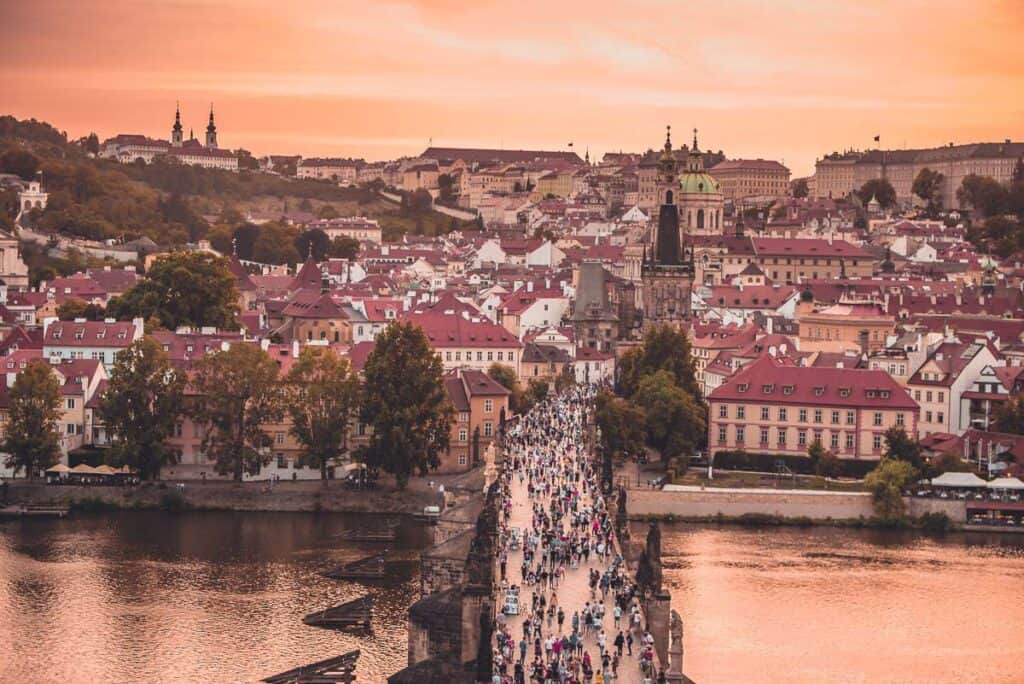 For all the couples planning a trip to Prague, make sure you visit Lover's Bridge and leave a lock with your names on it to ensure a lifetime of happiness! Whether you've got only
2 days in Prague
or a full week to explore its magical vibe, you're guaranteed to fall in love all over again!
Recommend Hotel in Prague: Hotel Aurus, perfectly located just a quick 5-minute stroll from Old Town Square and the Iconic Charles Bridge!
Yerevan
Submitted by Aram, Absolute Armenia
Looking for a fun, perhaps unexpected city break? One of the most romantic cities in Europe is definitely the capital of Armenia, Yerevan. The ancient city is 2802 years old and is known as "the pink city" because it is mostly built from pink volcanic stone called tuff. This illuminating tuff gives Yerevan a magical and romantic feeling from above or during certain hours of the day.
In addition to the pink tuff, Yerevan has cozy and sometimes hidden side cafes where couples can enjoy their time with each other.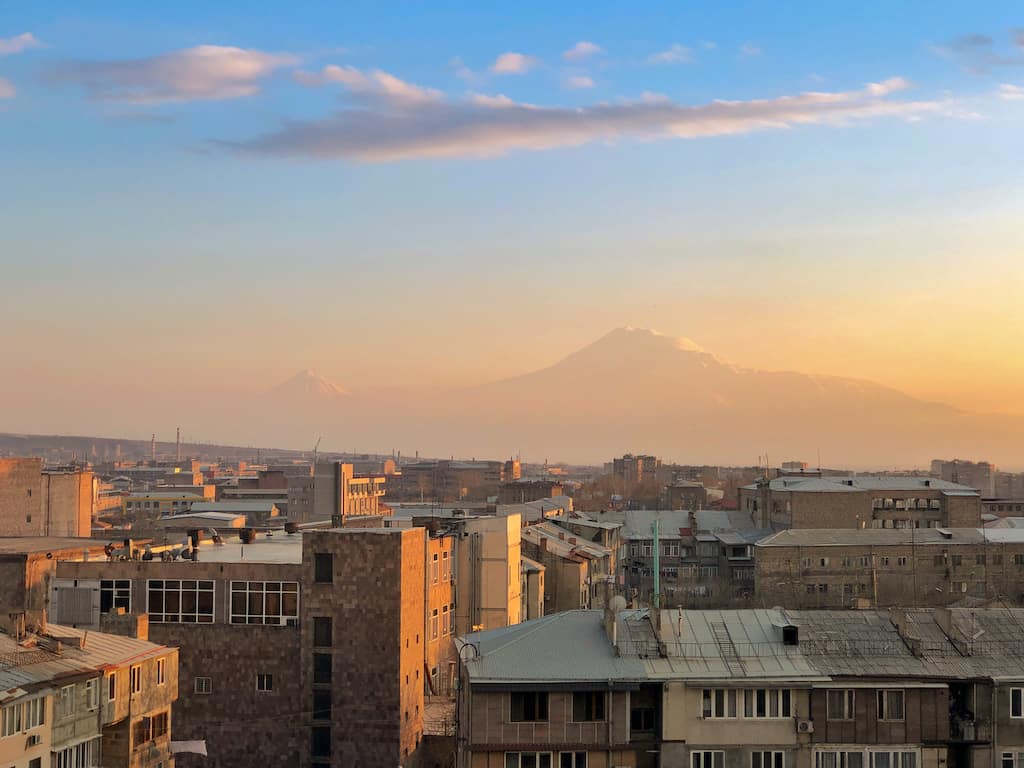 In Armenia's capital, there is even a park dedicated to couples called 'Lovers Park'. You can head there and enjoy your time with your significant other in a beautiful and romantic environment surrounded by an artificial waterfall alongside a charming canal and several sculptures.
Other places that are romantic in Yerevan are the Cascades stairway, a large limestone construction that goes up an incline and the best place for couples to sit and gaze over the city at dusk. At the Cascades, you'll find several cafes and romantic restaurants that locals love to get dressed up and enjoy in the evenings.
If you're wanting to get out of the city and experience some of the lovely nature in Armenia, there are many wonderful day trips from Yerevan, such as Garni Temple or Lake Sevan, that will offer a new romantic setting
Azores
Submitted by Megan C. Starr
The Azores are easily one of the most romantic places to visit in Europe. The archipelago of nine islands sits in the middle of the Atlantic and is owned by Portugal, but they retain their rustic charm and beauty and are like no other place in Europe.
One of the main things that make the Azores the perfect romantic destination is that Azorean nature is some of the most beautiful on the planet. Between the natural hot springs and Jurassic ferns, a person can't help but feel in love with their surroundings and the person that they travel to the islands with.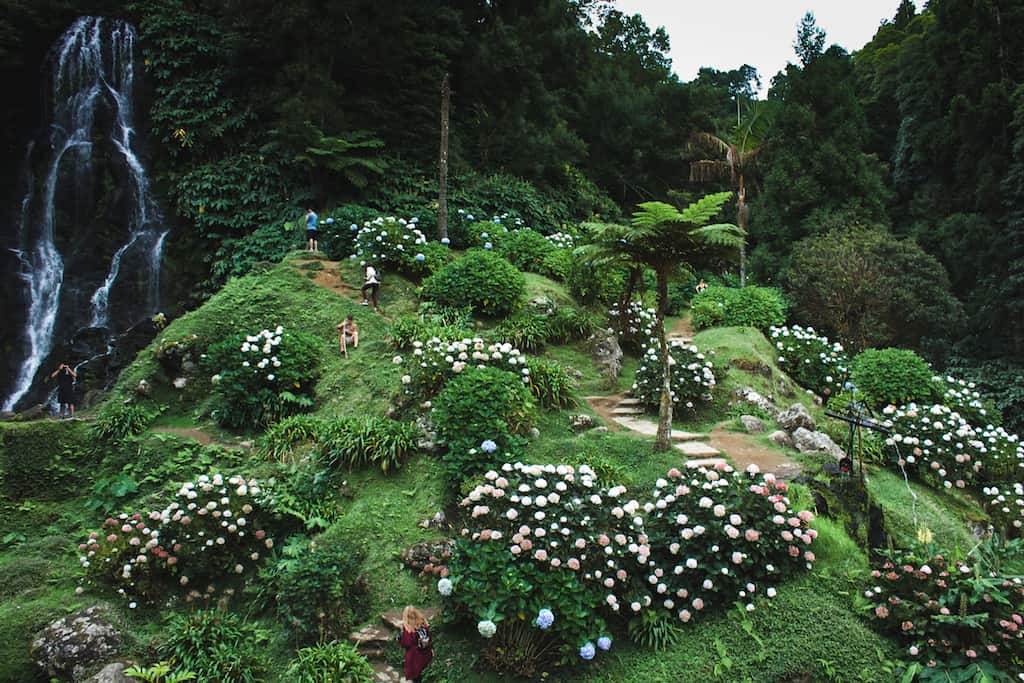 The Azores are known for being home to volcanoes, interesting cuisine like cozido das Furnas, and some of the world's best whale watching. There are many tours in the Azores but some of the most popular are scuba diving, visiting the different sides of Sao Miguel, or going whale watching.
The best place to start your romantic journey through the Azores is in Sao Miguel… but be sure to explore the other islands like Pico and Terceira while you're there. There are ferries connecting the islands during the high-season and inter-island flights at other times of the year. The Azores are destined to become one of Europe's hottest destinations and you will see everyone there from honeymooners to solo travelers.
Rome
Submitted by Kate Storm, Our Escape Clause
Known as the Eternal City and positively bursting with everything from world-famous monuments to art museums to delightful cobblestone lanes perfect for wandering down hand-in-hand, there's no doubt that Rome is one of the most romantic cities in Europe.
While exploring Rome with your beloved, be sure to make time for classics like touring the Colosseum, visiting the Vatican Museums (including the phenomenal Sistine Chapel), admiring the Pantheon and munching on gelato in Piazza Navona–but to really up the romance, ditch the crowds and explore the uncrowded side of Rome as well.
Small museums like the Palazzo Doria Pamphilj, the Galleria Spada, and the Villa Farnesina may not have the fame of, say, the Borghese Gallery–but the chance to avoid the crowds and linger among gorgeous art together without having to hurry on makes them incredibly romantic.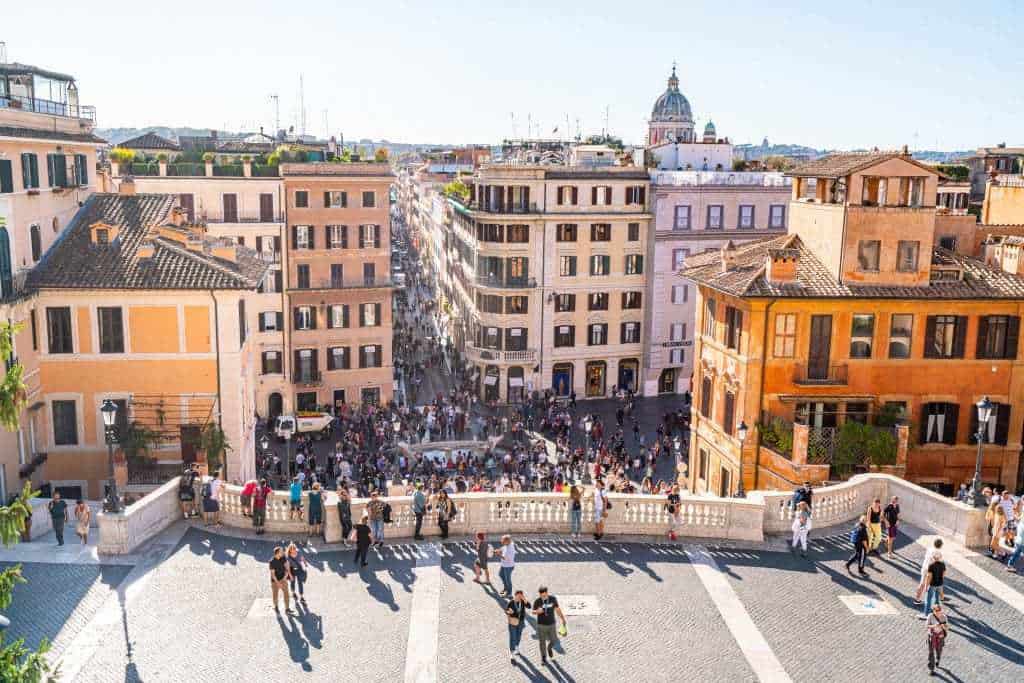 For a chance to steal a smooch while admiring the best views of Rome, consider heading to the top of the dome at St. Peter's Basilica, the top of the Altar of the Fatherland, or the top of the Castel Sant'Angelo.
Rome is an incredibly romantic European city year-round, but you'll likely enjoy your trip more if you avoid the hot, sticky summer months of July and August (though if you do make it to Rome then, know that there are plenty of beautiful beaches that make great day trips from Rome!).
If you'd like to have the Eternal City all to yourself, consider a winter trip–Rome boasts mild temperatures and a delightfully uncrowded environment during winter, making it an excellent destination for a Valentine's Day getaway!
Read Next:
Paris
Contributed by Chris, Explore Now or Never
Paris is for lovers! Could there be a more romantic destination than Paris, France? It's a global hot spot for anyone who loves French cuisine, art, and culture. As you wander the banks of the Seine and sip a glass of wine in a cozy café, the City of Lights will weave its spell over the two of you in no time.
Skip long lines at the Louvre for a more intimate experience sighing over Monet's famous water lilies at the beloved Orangerie or tapestries at the Cluny Museum instead. Or gaze up at Rodin's famous statue, The Thinker, in the lovely gardens of the Rodin Museum.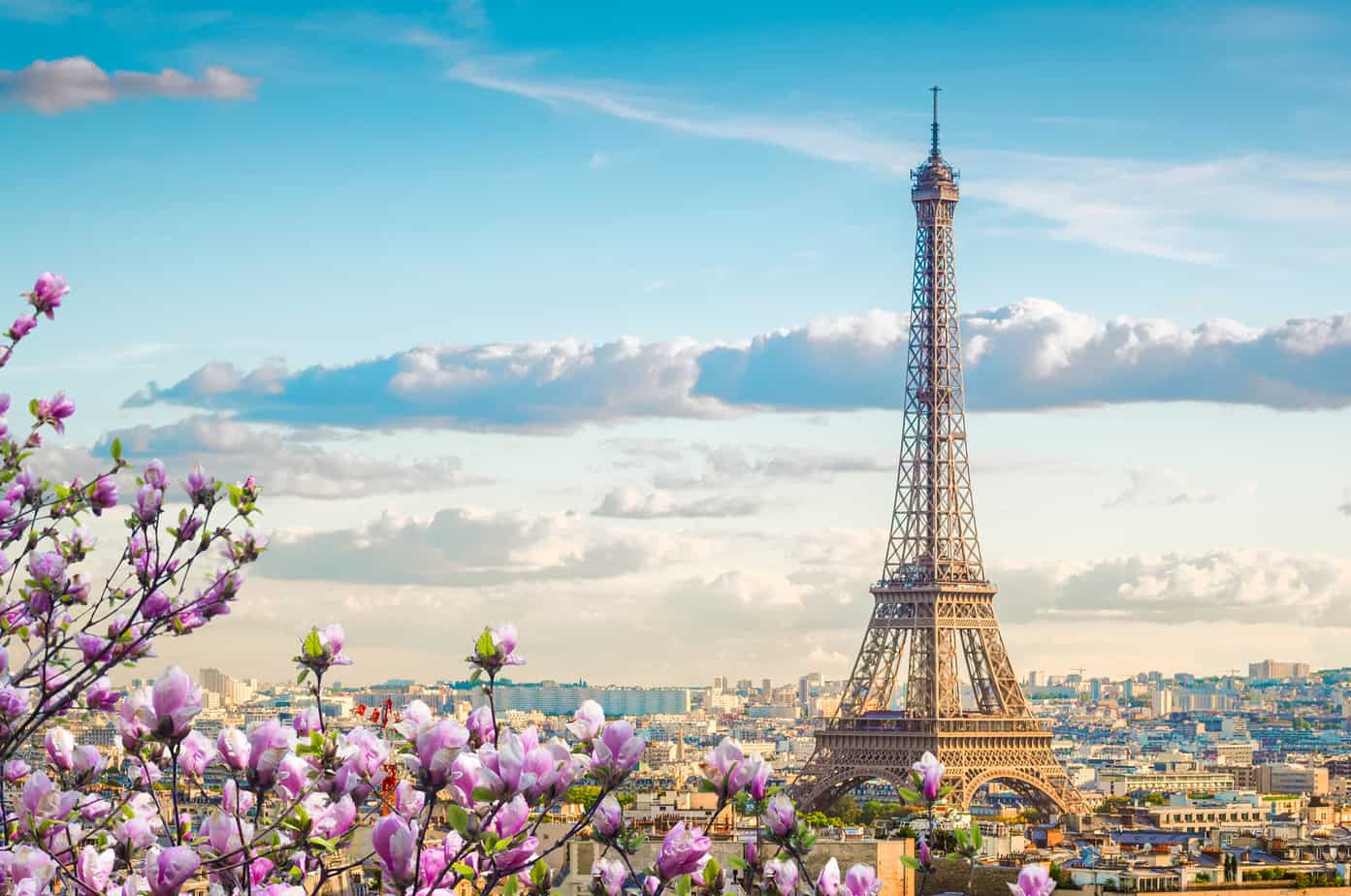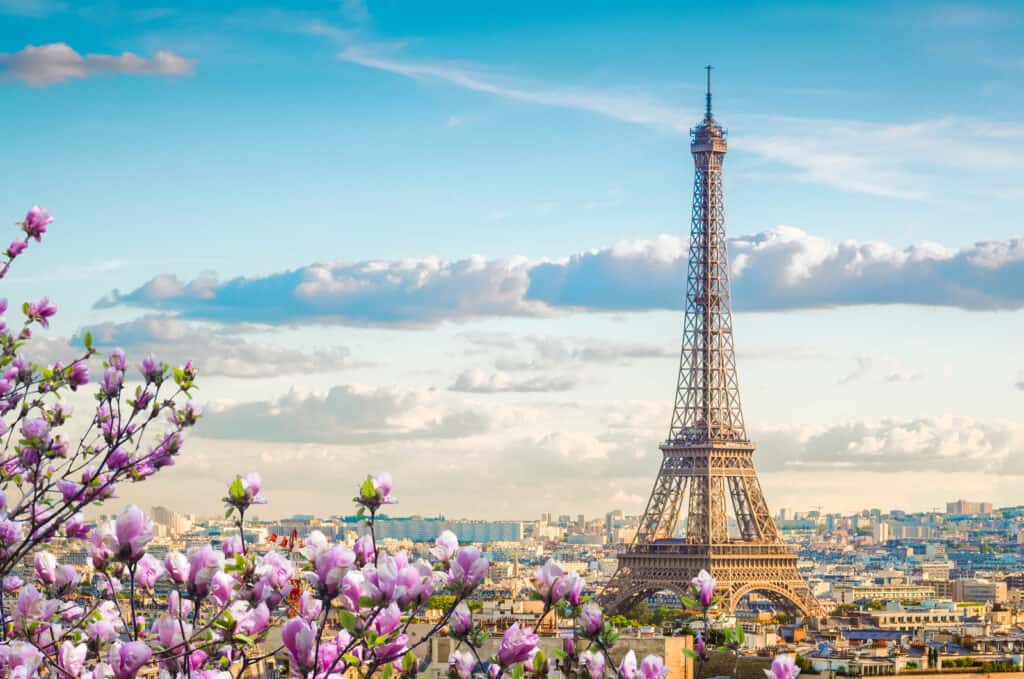 Looking for more ideas? Share a picnic just for two in one of the city's dozens of verdant parks or a cafe au lait and pastry at Le Grenier á Pain. There are so many things to do in Paris. For a memorable stay that won't break the bank, stay at Hotel Abbatial Saint Germain. It's conveniently located in the Latin Quarter, just minutes from Ile de la Cité.
Read Next:
Oxford
Submitted by Laura Hartley, What's Hot?
Oxford
is widely acknowledged to be one of the most beautiful cities in the UK, (and it's actually one of the Two Drifters' favorite destinations in Europe). Stunning period buildings lining every street and the iconic sandy stone architecture dates back centuries. Many of the world's most famous writers studied here and wrote stories inspired by these cobbled streets. That's why it's perfect for couples looking for a romantic summer break.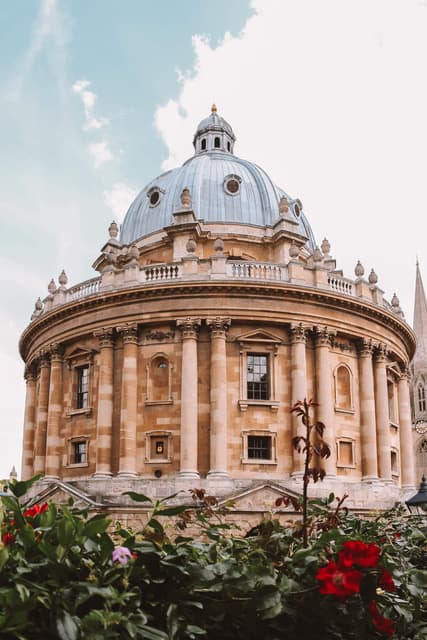 A
day trip to

Oxford
from London is just enough time for couples to get a feel for this romantic city. Start with brunch at the Vaults and Gardens where you can sit outside with a magnificent view of the Radcliffe Camera,
Oxford
's iconic library. Next, climb the tower at University Church of St Mary the Virgin, from which you'll be treated to an extraordinary view over the city. You can't help but fall in love with the city of dreaming spires from up here!
In the afternoon, take a walk through Magdalen College, one of the most famous
Oxford
colleges. The grounds are stunning and even include a deer park! Wandering around inside one college is a must so you can get an insight into what life for students at
Oxford
University might be like. In the evening, head to Sandy's Piano Bar for some romantic jazz music. If you'd prefer to make it a weekend getaway, you can't go wrong with either the Randolph or Old Bank Hotel, both in the city centre.
St. Petersburg
Submitted by Yulia Dyukova, That's What She Had
The cultural capital of Russia as its called by the locals, Saint Petersburg, is a less obvious destination when it comes to romantic vacations in Europe. And undeservedly so. With its hundreds of narrow canals, heavily decorated bridges, and pre-revolution era palaces, Saint Petersburg will charm you instantly.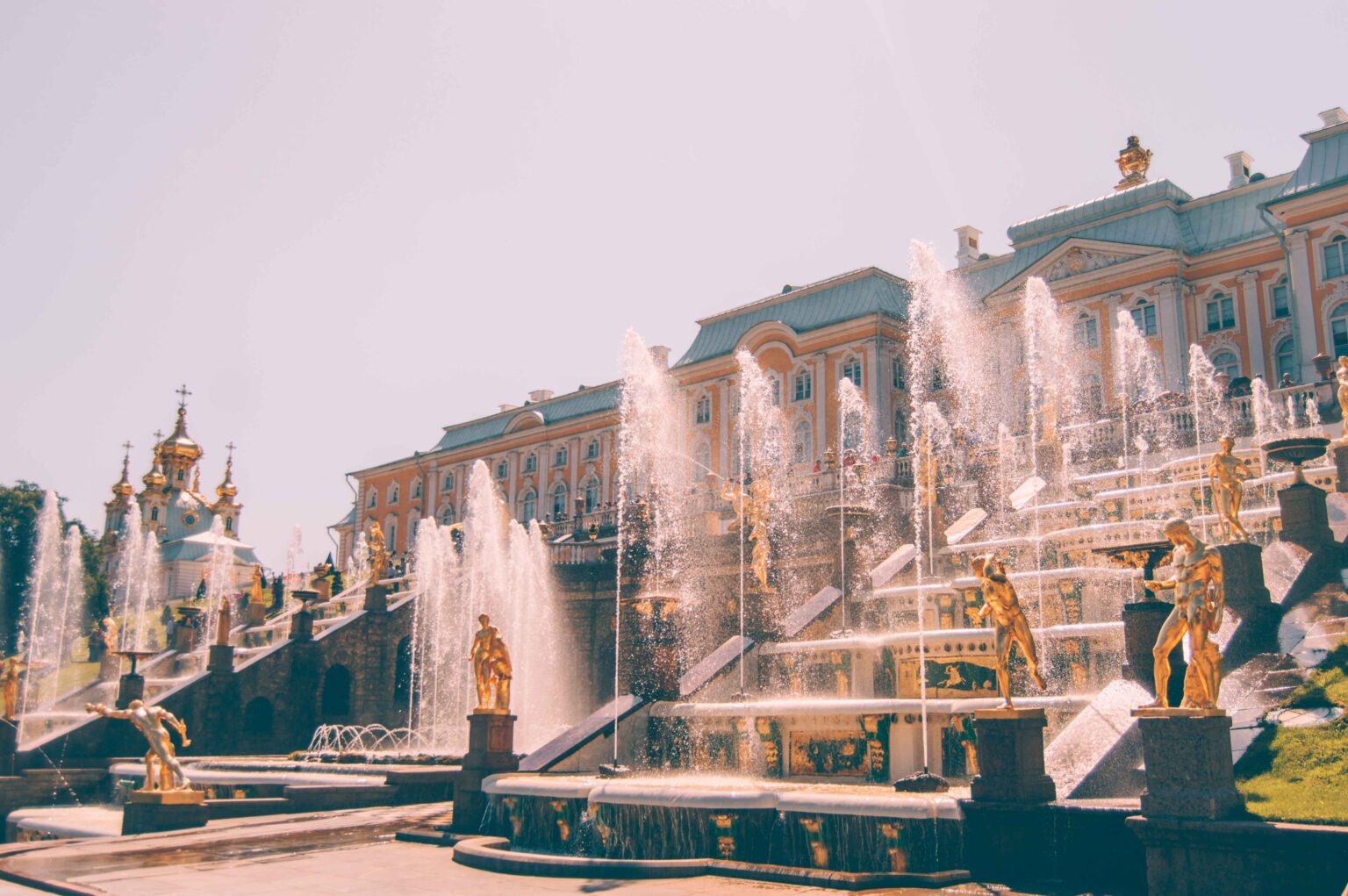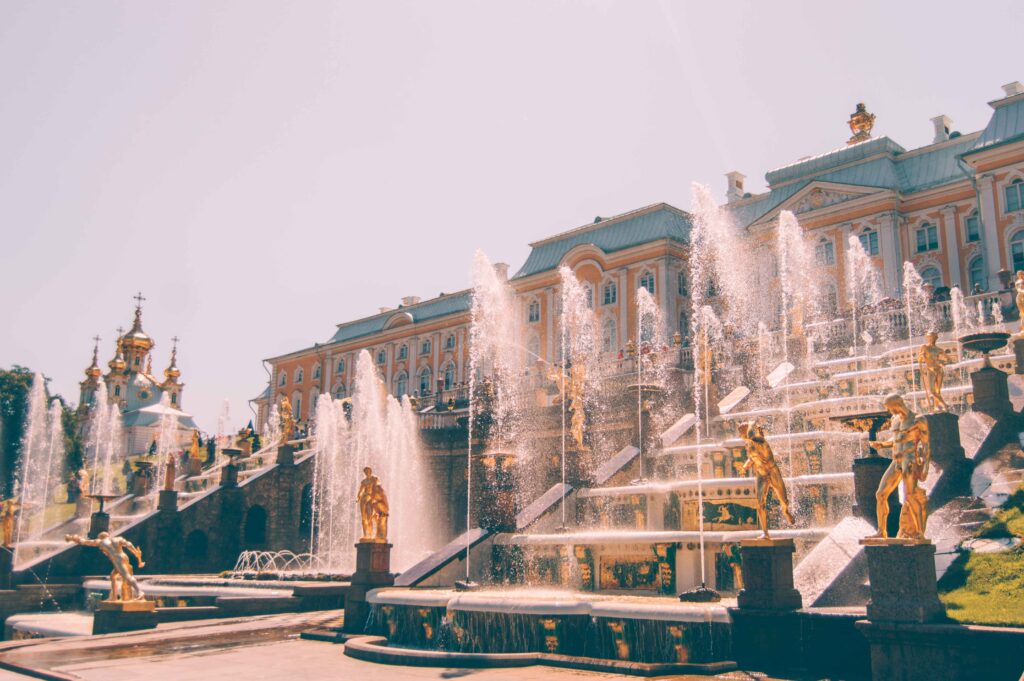 Take a stroll down Nevsky prospect and marvel at beautiful architecture. A word of warning, sometimes what you think must be a palace is actually a supermarket (looking at you, Eliseevsky store). Spend some time on the water: take a boat tour of Neva River and most popular canals. Visit the gorgeous Orthodox churches of which there are over seventy in the city. But do make a special stop at the Church of the Savior on Spilled Blood that you've probably seen a thousand times on pictures. It is even more awe-inspiring in real life.
At night, trying some great Russian food for dinner is a must. Instead of going to touristy canteens that feature balalaikas, shapka-ushanka, and vodka bottles as decorations, head to one of the modern Russian restaurants, like Banschiki. Romantic vibes and mind-blowing food with creative twists are guaranteed.
Lastly, if you are traveling to Saint Petersburg during summer months (which you should), stay up till late to experience the famous "white nights" and see the bridges open.
Provence
Contributed by Nadine Maffre, Le Long Weekend
With its blessed climate, charming hilltop villages, stunning coastal towns and penchant for lingering over long lunches, Provence is a romantic destination like no other. It's no wonder why many couples choose the South of France to get wed, honeymoon, or even plan a surprise proposal.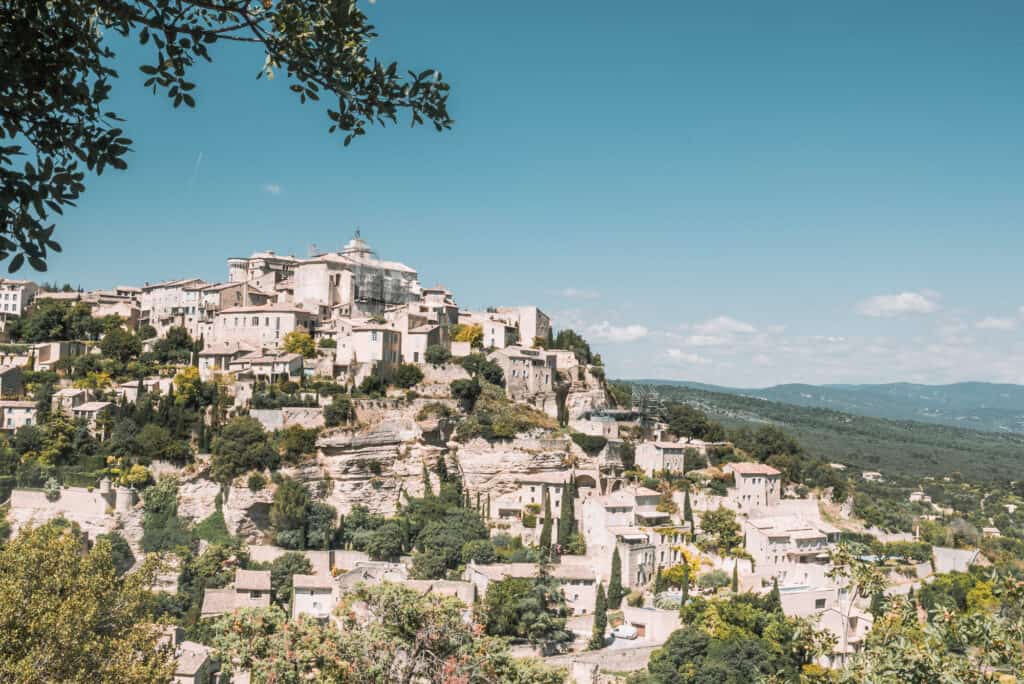 Days can be spent simply enjoying the surroundings, sipping on the region's renowned rosé, or swimming at one of the most idyllic beaches you've ever laid eyes on. More active couples will enjoy the walking trails through the calanques or climbing up Cezanne's beloved Mont Sainte–Victoire. Or hop on your bike and discover the winding roads connecting the bucolic villages of the Luberon. Culture aficionados will be in their element browsing the museums and galleries in the ancient cities of Aix-en-Provence or Avignon.
And for an authentic slice of Mediterranean life, head straight to Marseille.
For balmy days and cool nights, visit in Spring and enjoy the blossoming landscapes and uncrowded streets. And for a romantic stay in an idyllic setting book a room at La Bastide de Gordes.
Moscow
Submitted by Lindsey Puls, Have Clothes, Will Travel
Moscow, Russia doesn't always bring to mind images of "romance." However, don't let the stereotypes fool you – Moscow can be an especially romantic destination for adventurous couples!
While the weather is more comfortable during the summer months in Moscow, visiting Moscow in winter (especially during the Christmas holidays) is absolutely magical and looks as though the city were plucked straight from a fairytale. There are beautiful Christmas lights and markets that are perfect for grabbing a mulled wine or hot chocolate and walking through hand in hand with your partner. (The most famous market is held right in Red Square.)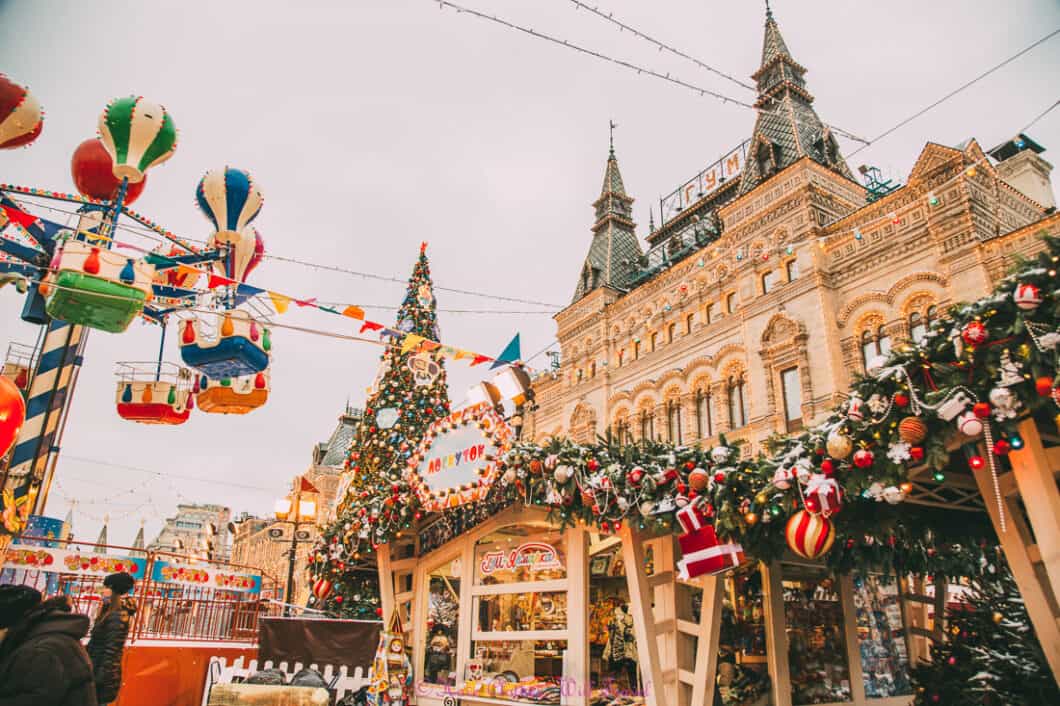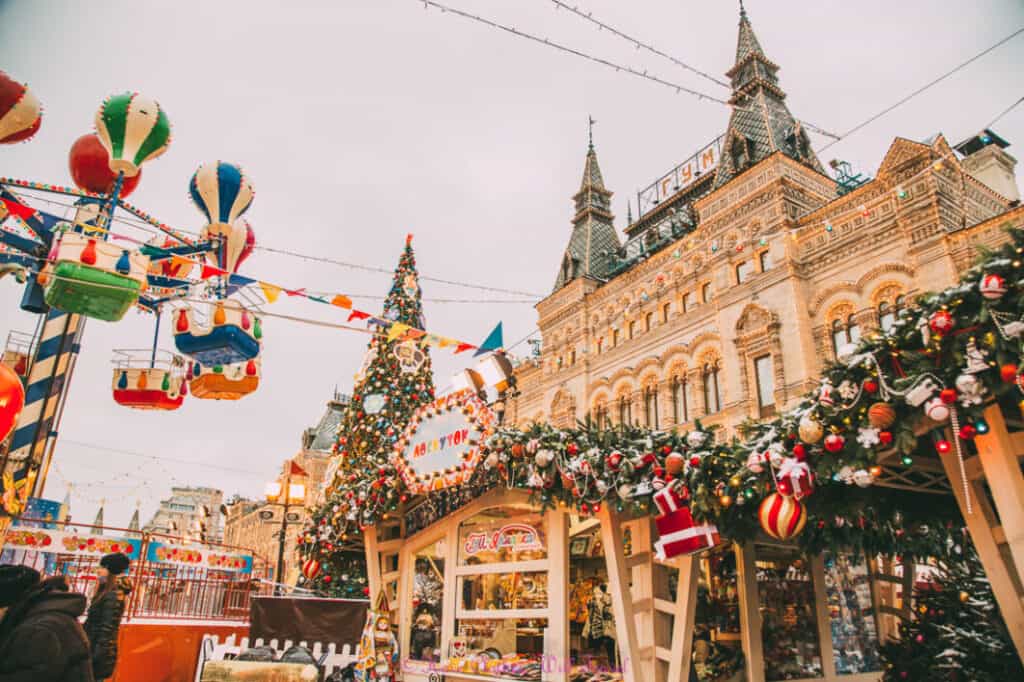 Need to warm up after a day of enjoying the markets? Head to a Russian Banya and book a private couples room. (Banya Zhivitsa is especially couple's friendly.) You and your partner can enjoy couples soap massages and the traditional Russian banya experience together. (A banya is similar to a sauna.)
Winter is also a wonderful time of year to see a ballet performed at the famous Bolshoi Theatre – especially if you are lucky enough to get tickets to a performance of The Nutcracker. Be sure to have a romantic dinner at Turandot or Beluga restaurants before you head to your performance.
Where to stay in Moscow: One of the most historic and glamorous hotels in Moscow is the Metropol. (This hotel is also the setting
for the best-selling novel "A Gentleman in Moscow.") Another great option is the Four Seasons Hotel located right on Red Square with some of the most luxurious and romantic hotel bathrooms in the city.
Read Next:
Barcelona
Submitted by Noel Morata, Travel Photo Discovery
If you're looking for a romantic city to enjoy in Europe, look no further than Barcelona. A gorgeous cosmopolitan city with old-world flavor mixed in with gorgeous squares, historic sites, beautiful architecture and amazing food, Barcelona combines all the best of Catalan lifestyle with some fantastic places to explore and things to do around the city.
You can mix it up easily with combining historic sites like the historic district, Gaudi architecture, being out in one of the amazing parks or just spending a day at the beach and everything is accessible by metro which makes getting around the city fast and cheap.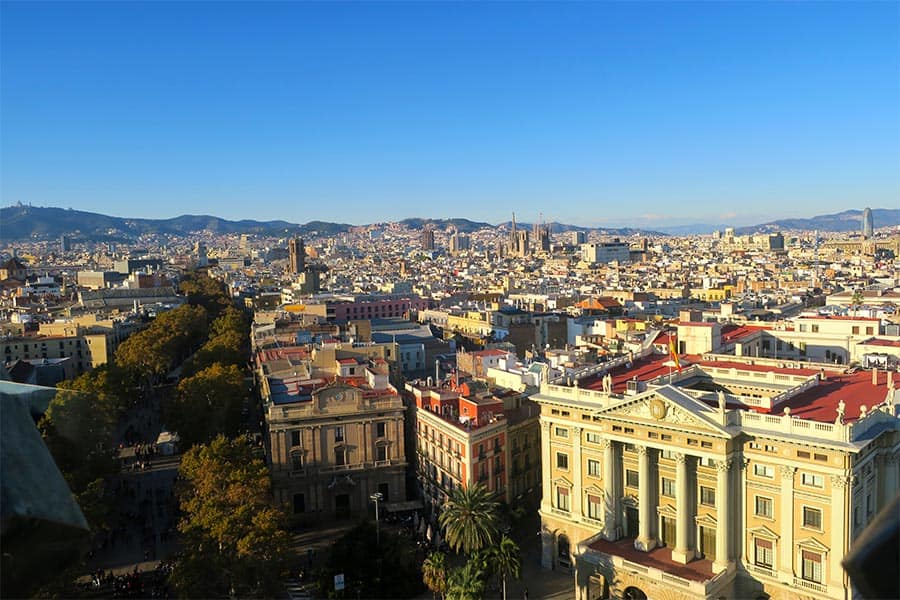 Spending a day from above at the large park area in the center of the city at Montjuic allows you to see the splendid views from above, explore the many wonderful museums in the park and also discover the native flora and fauna of the many gardens at Montjuic. From there its an open choice of exploring the pedestrian areas of town, visiting the historic center or exploring famous sites like the fabulous Sagrada Familia, Park Guell or some of Gaudi's famous architectural splendors around the city.
There's plenty of romantic places to visit, explore and just find a lovely outdoor cafe and enjoy the people watching and show on the streets. Check out my post on the
15 best viewpoints in Barcelona here
for more inspiration and amazing places with views of the city to enjoy and visit.
Don't miss our post on the most romantic things to do in Barcelona.
Isle of Skye Scotland
Submitted by Nabiha Khan, Verses By a Voyager
Scotland is extremely captivating and it's also one of the amazingly beautiful areas in the country is the Isle of Skye. This part of the highlands is very romantic, too. Its green, it has huge mountains, mesmerizing lakes and historical castles beautifully sitting near the lochs.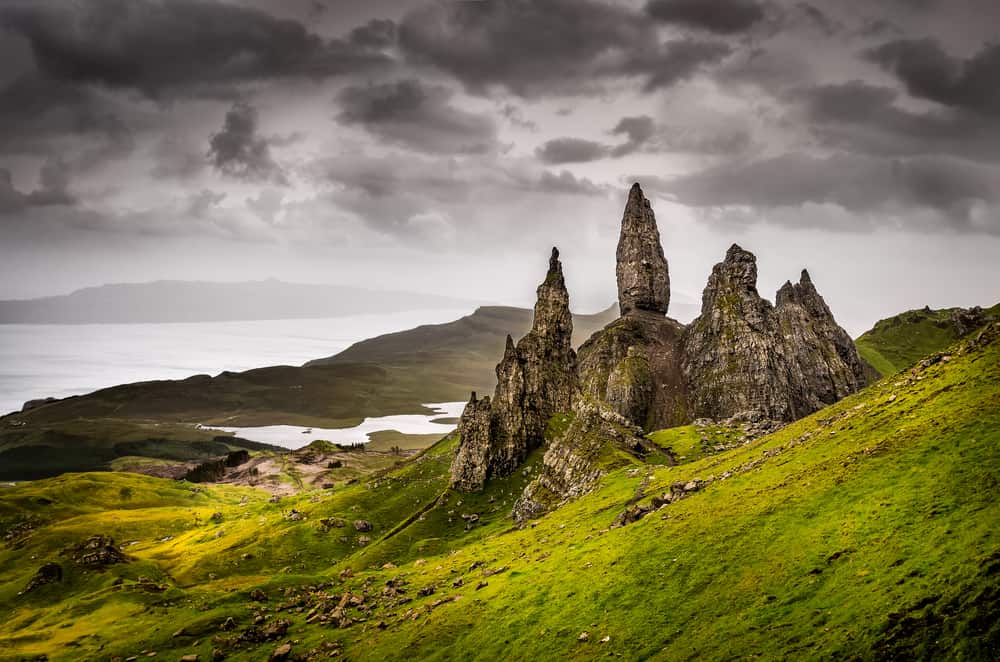 The Isle of Skye presents a complete vibe of a super romantic place that takes you away from the hustle-bustle of everyday life. It's serene and picturesque and let you have your alone time away from everything. Moreover, Isle of Skye hosts the most romantic place in the UK, the Fairy Pools. There are straight from a storybook and takes to the lands of fairytales. There are many Hollywood as well as Bollywood movies shot in Isle in Skye and that depicts how romantic this place is to form a perfect backdrop for a romantic movie.
The Isle of Skye offers the perfect tranquillity one craves for a romantic, laid-back holiday. As Scotland is very cold, summer is the best time to visit Isle of Skye.
Other super romantic places in Scotland:
County Kerry, Ireland
Submitted by Dan Bagby, Honeymoon Always
The majestic Irish landscapes, remarkable rich history, charming tradition, and welcoming people make Ireland a wonderful destination for couples looking for romance. One region to add to the list of romantic destinations, in particular, is County Kerry: full of beautiful sites and natural beauty.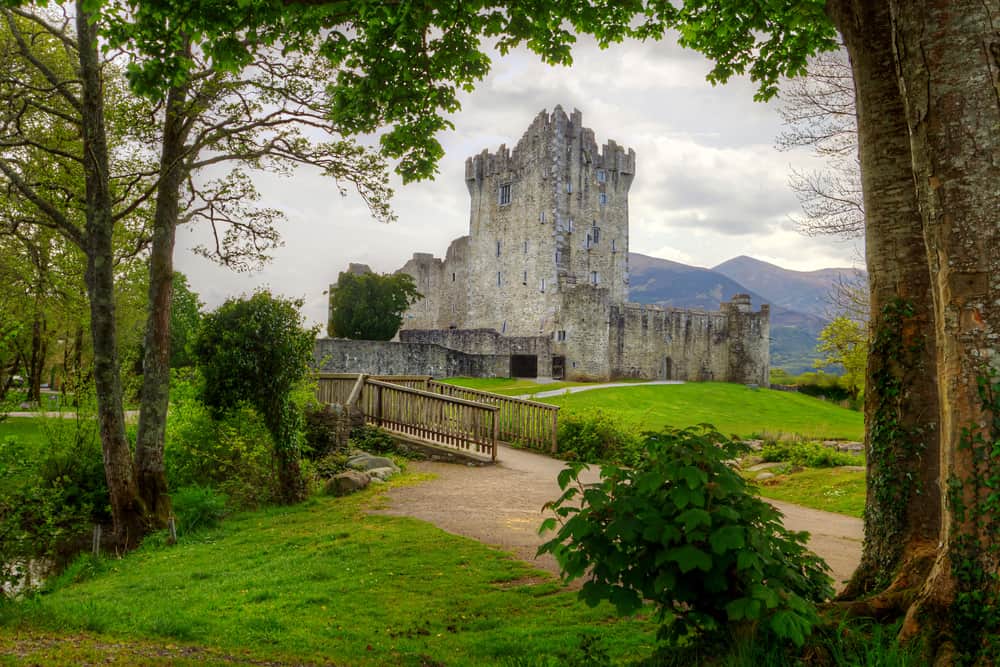 Base your stay at Ballyseed Castle Hotel where you will find elegant accommodations, fine dining and 30 acres of private gardens and woodland. During the days, take a trip to the small town of Dingle for great restaurants and Murphy's Ice Cream. Loop around the Dingle Penninsula on the Slea Head Drive, making stops along the way at the various ancient monuments including the beehive huts and stone churches, views of Skellig Michael (where scenes were filled for the most recent Star Wars films) and the beautiful Inch beach.
Killarney National Park with 26,00 acres of woodland, mountains, lakes and the Muckross House where Queen Victoria visited is also worth a visit as well as the Ring of Kerry with spectacular sights and quirkiest towns and villages.
Tallin, Estonia
Submitted by Nicole Sunderland, Eat Live Travel Drink
Tallin, Estonia is hands down the most romantic city in Europe! The Historic Old Square is brimming with storybook-esque charm and pastel hues, that make walking the streets hand in hand enjoyable.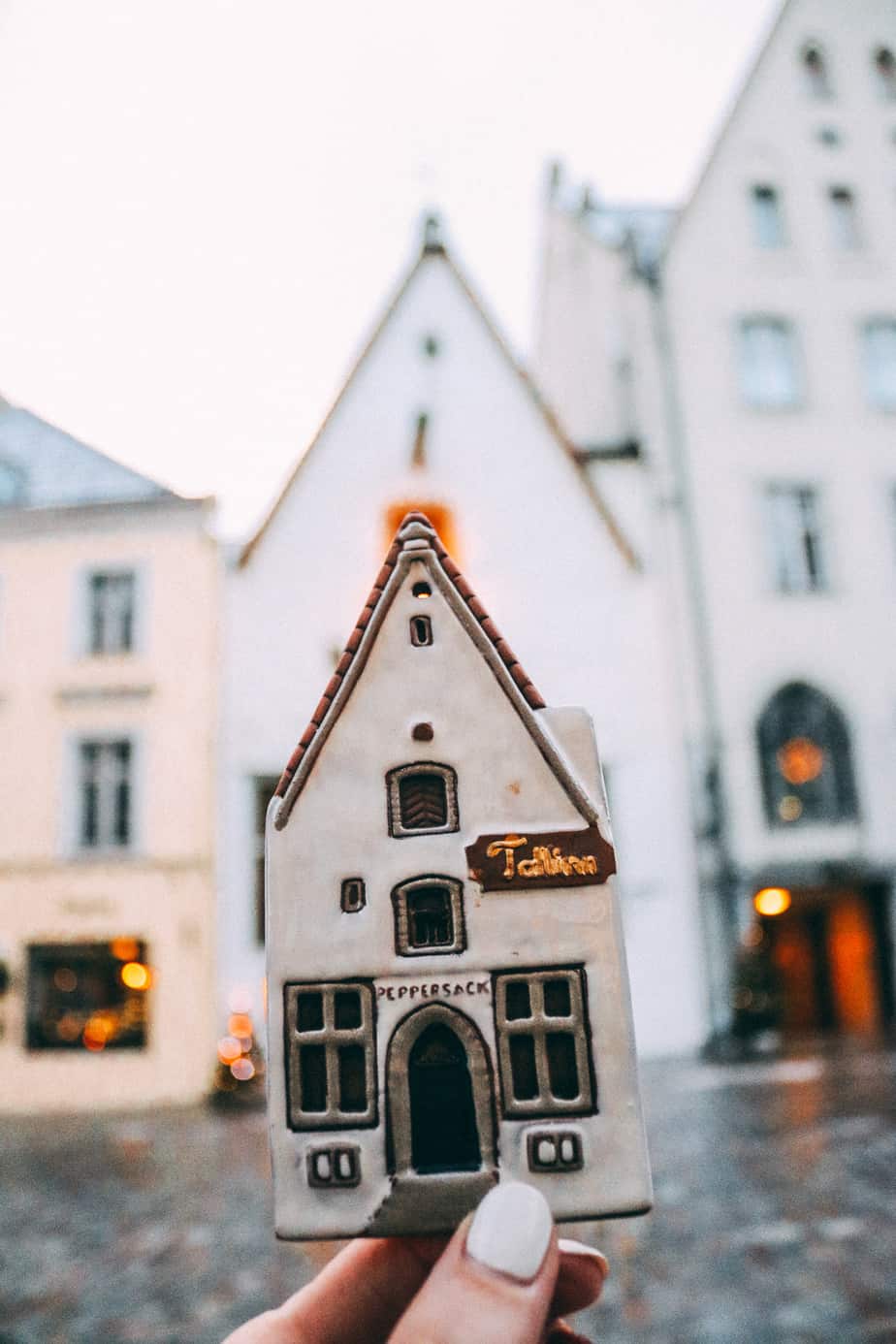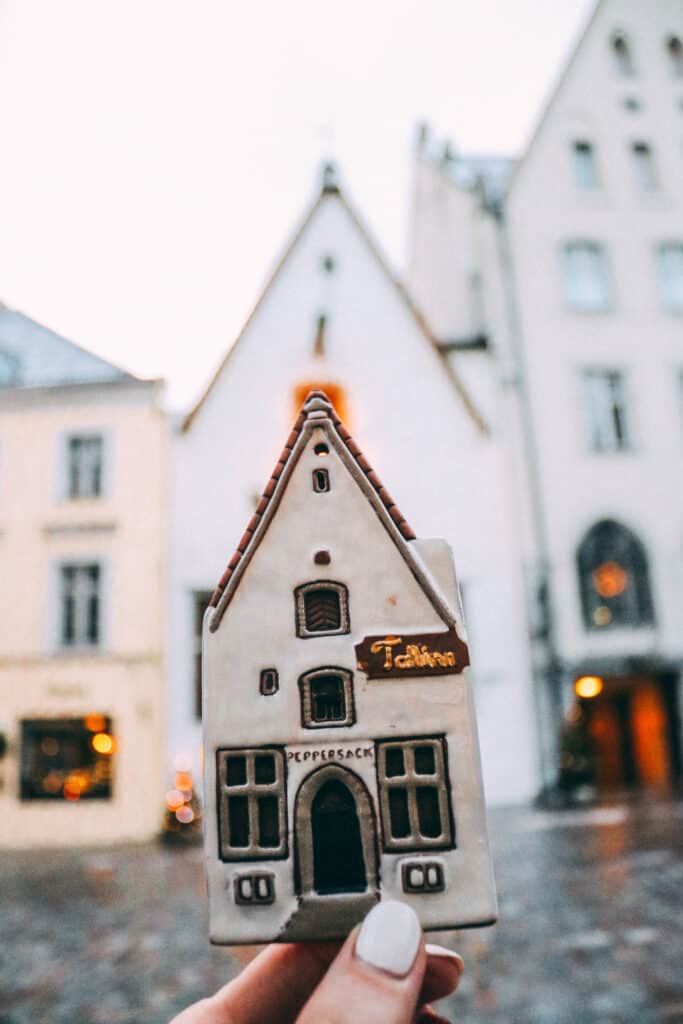 The best time to visit Tallinn is during the winter season when the
Christmas Market
is open. The market has been labeled one of the best in Europe and with good reason. Set right in the middle of the square, with vendors serving up mulled wine, delicious sausages, sauerkraut, and cookies alike, and plentiful shopping to take something home from your trip. When the weather is cold during the winter, you can bundle up close and walk the beautiful cobblestone streets together and enjoy all the city has to offer.
One of the best hotels to stay in is the Hotel Telegraaf as it is a one minute walk from the Christmas Market and centrally located to restaurants, shops and activities.
---
More Romantic Places in Europe Not to Miss
You might also consider these fun Europe travel ideas:
---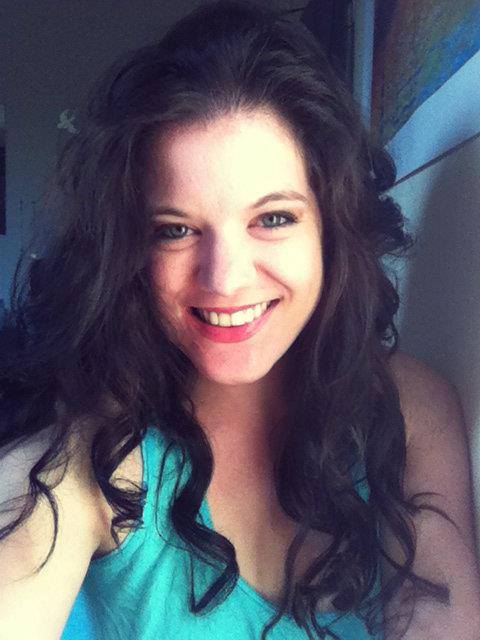 Amy Hartle is the Editor behind Two Drifters, and author of Do You Love Me? How To Stop Seeking Reassurance in Relationships, a book on reassurance seeking. While her name often is found beside the title of "Relationship Expert", she knows that becoming an expert on love and relationships will be a lifelong challenge. But, she is a passionate student of the subject, fully dedicated to learning all she can about relationships, connection, and intimacy, and nurturing her own marriage along the way.
Amy lives in North Carolina with her husband Nathan, and son Malcolm. When not working on websites or traveling the world, the Hartles can be found cuddling, reading, and hanging out with their cats.