This post may contain affiliate links. Read our disclosure page for full details.
Is it babymoon planning time? If you're looking for the best babymoon destinations in Europe, look no further because we've got them rounded up here for you!
Whether you're looking for a cozy winter babymoon destination in Europe or a sun-soaked European babymoon on the beach, you'll find it here on this list of the dreamiest babymoon destinations in Europe.
Babymoon Destinations in Europe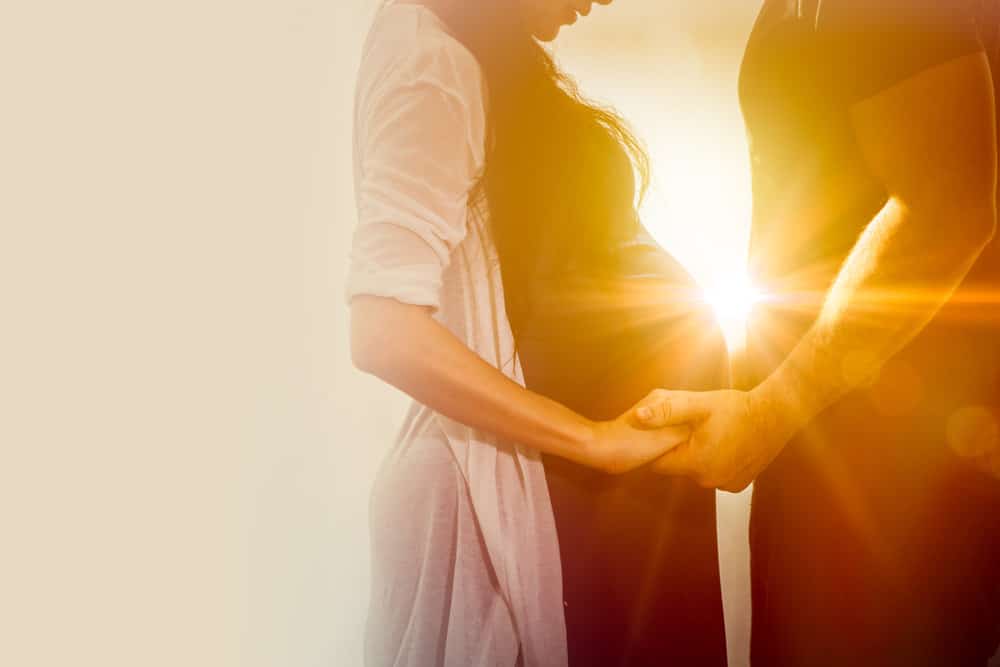 Casa Angelina in Praiano, Italy
How would you like to spend your European babymoon perched high on the cliffs of the beautiful Amalfi Coast in Praiano, Italy? If you're looking for a stunning luxury babymoon location in Europe, this is it!
Casa Angelina is one of those visually spectacular resorts with bright white walls and furnishings that pop against the cerulean blue waters in the background, and because there are no kids under 12 allowed, you are practically ensured a perfectly peaceful babymoon in this European vacation spot.
Check out their babymoon offerings here, but with onsite gourmet dining, rooftop terrace, heated pool, massage room, and a private boat for trips out on the sparkling sea along the Amalfi Coast and the Isle of Capri, can there be a better coastal European babymoon spot?
Click Here to Check Prices & Book!
Hotel Casa del Poeta in Seville, Spain
One of the most romantic babymoon destinations in Europe is Seville, Spain, and Hotel Casa del Poeta offers the most romantic boutique hotel experience in Seville. Romance abounds in this beautiful 17th century house, and beyond its beautifully kept walls and expertly maintained grounds lies the romance of Seville!
Onsite you can access couples massages, gorgeous rooftop terrace views of the city, gourmet breakfast, and live Andalusian guitar music – how romantic! If you're looking for a romantic babymoon in Europe, this Hotel Casa del Poeta could be a perfect choice.
Click Here to Check Prices & Book!
Schloss Elmau in Elmau, Germany
For a gorgeous European babymoon in the Bavarian Alps, check out Schloss Elmau, a complete luxury spa experience. Not only will the incredible scenic location blow you away, but the offerings on hand at this German resort are incredible for couples in search of a pampering babymoon experience.
With Michelin Star dining, multiple onsite spas, swimming pools, workshops, and an authentic Oriental Hamam, this is an awe-inspiring spa retreat experience for babymooners, but do be aware it is high-end luxury offerings at high-end luxury prices.
Babymoon offerings include pregnancy massage, hotel credit, early check in, and late check-out for the parents-to-be!
Click Here to Check Prices & Book!
Park Plaza Victoria in Amsterdam, Netherlands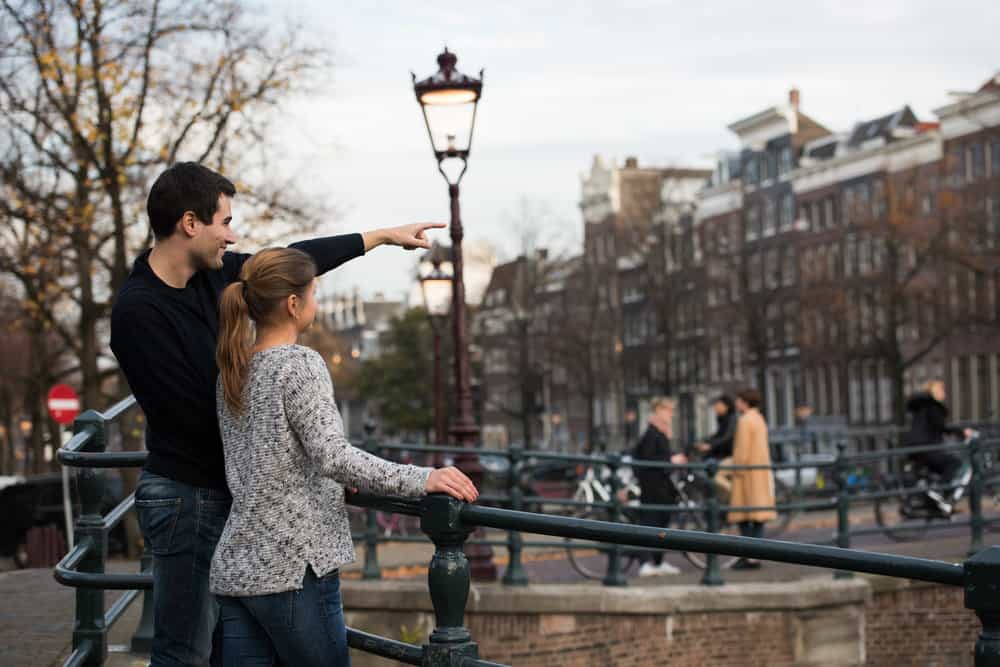 For a fun-filled European babymoon destination, Amsterdam is a fantastic choice. With incredible sights all around the city, there's plenty for babymooners to see and do during their final vacation before baby arrives.
Park Plaza Victoria in Amsterdam is an absolutely gorgeous hotel that features amenities like an indoor pool, wellness center, and onsite dining, and its convenient location just across the road from Central Station makes exploring so easy! With rose petals on the bed, chocolates on arrival, and breakfast in bed, the Romance Package could be a perfect addition to your Amsterdam babymoon!
Click Here to Check Prices & Book!
7 Pines Resort in Ibiza, Spain
Looking for a gorgeous Spanish resort for your European babymoon? 7 Pines Resort is located on Ibiza's west coast, and with tranquil grounds and gardens, two outdoor pools, and beautiful beaches, it's the perfect spot for a babymoon in Europe!
Home to gourmet onsite dining, a world-class spa, and stunning scenery as far as the eye can see, 7 Pines Resort is a luxury babymoon destination in Europe for those looking to splurge a little.
Be sure to enquire about their babymoon package offering, with welcome Mocktails for the parents to be, a surprise baby gift, a spa visit for two, and more.
Click Here to Check Prices & Book!
Hotel La Lanterne and Spa in Paris, France
For a beautiful European babymoon in the City of Love, book a room at Hotel La Lanterne and Spa in Paris! Paris is full of fantastic things to see and do for lovers, and the gorgeous Hotel La Lanterne has an indoor pool, full service spa, and the perfect location to see so many great Paris sights.
Hotel La Lanterne doesn't offer a dedicated babymoon package, but there are a variety of offerings that could be perfect for your European babymoon, like the Wellness package that includes spa treatments and access to the pool and Hammam spa!
Click Here to Check Prices & Book!
Lydmar Hotel in Stockholm, Sweden
For a sumptuous European babymoon experience, consider booking a room at the gorgeous Lydmar Hotel in Stockholm. With fantastic onsite dining, a full-service spa, an indoor pool, and comfortable elegance all around, mama-to-be will be pampered in all the right ways in this boutique hotel.
While Lydmar Hotel doesn't have a dedicated babymoon package, their other offerings include discounted rates for minimum stays, so be sure to check in with the staff to see what could work for you on your babymoon.
Click Here to Check Prices & Book!
Hotel Excelsior in Dubrovnik, Croatia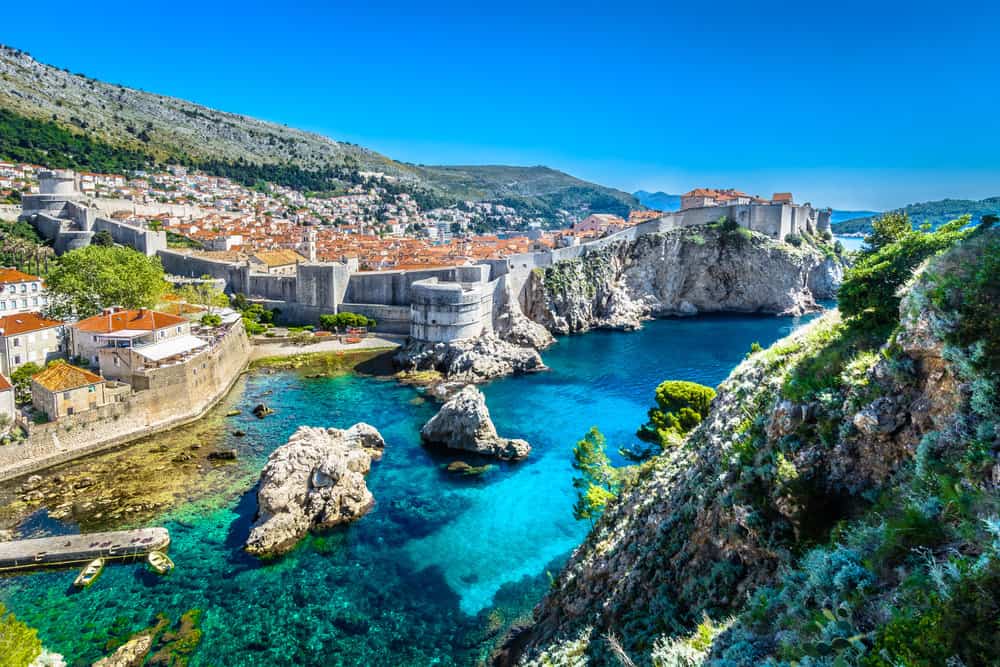 Set in the picturesque Old World town of Dubrovnik, a babymoon at Hotel Excelsior is the perfect choice for a couple who loves to explore cultural heritage sites and take in sweeping water views. There is much to see and do in Dubrovnik, but the Hotel Excelsior offers the perfect place to relax and unwind after sightseeing with its onsite restaurants, full-service spa swimming pool, and private beach.
There are a variety of packages available to choose from when booking a room at Hotel Excelsior that could be the perfect fit for your Dubrovnik babymoon, but it's hard to go wrong when booking a room at such a magnificent hotel.
Click Here to Check Prices & Book!
Relais La Corte dei Papi in Cortana, Italy
If it is luxuriously relaxing babymoon destinations in Europe that you're looking for, Relais La Corte dei Papi in Cortana absolutely fits the bill. This gorgeous hotel is beautifully positioned among the rolling hills of Tuscany, and booking a room with a view ensures you don't even have to leave your room to enjoy the scenery.
Among the many amenities at this gorgeous babymoon destination are cooking classes, spa services, onsite gourmet dining, beautiful gardens, and an outdoor pool, but if you'd really like to make your babymoon the penultimate in luxury, book a spa suite with a gorgeous crystal Turkish bath, sensory showers with aromatherapy, chromotherapy, and music therapy, and you will receive spa services in room so you can truly soak in every last bit of relaxation before baby arrives!
Click Here to Check Prices & Book!
Villa Cabrida in Cabrières d'Avignon, France
A babymoon at a villa in Provence? Oui, s'il vous plaît! Villa Cabrida is a beautiful French bed and breakfast with fantastic amenities like air conditioning, a swimming pool, private bathrooms, expertly landscaped gardens, and stunning views, conveniently located near popular Provence villages like Gordes, one of the most beautiful villages in all of France.
Villa Cabrida is one of the most romantic places to stay in Provence, and if you're looking for a European babymoon destination that offers lovely villages to explore by day and a tranquil and scenic place to rest and rejuvenate, consider booking a room at this beautiful French villa.
Click Here to Check Prices & Book!
Brenners Park Hotel & Spa in Baden-Baden, Germany
For a truly mesmerizing babymoon in Europe, consider booking Brenners Park Hotel & Spa in Baden-Baden, Germany, perfectly positioned in the Black Forest with so many beautiful sights all around. Explore Baden-Baden and the beauty of the Black Forest, but then return to this lovely spa hotel for some perfect babymoon activities!
From being pampered in the full-service spa to dining in the gourmet onsite restaurant, you'll leave this Europe babymoon destination feeling completely set to welcome the newest addition to your family.
Click Here to Check Prices & Book!
Andronis Boutique Hotel in Oia, Greece
If you're looking for babymoon destinations in Europe where you can sun yourself on a white washed terrace while gazing out over perfectly azure waters, then Andronis Boutique Hotel on Santorini needs to be in the running! This gorgeous hotel offers the finest amenities, including massage, onsite dining, air conditioning, and some rooms even have their own private pools.
Not only will you adore the easy proximity to explore this Santorini gem, but the infinity pools onsite and the private beach access will give you plenty of opportunity to soak up the sun with your partner before your family expands.
Click Here to Check Prices & Book!
There are so many gorgeous babymoon destinations in Europe, but do keep in mind if you're traveling in the summer that air conditioning is not a given in many places. Whether you're going on a cozy winter babymoon or a coastal European beach babymoon, relax and enjoy your final days before baby makes their appearance.
You might also like: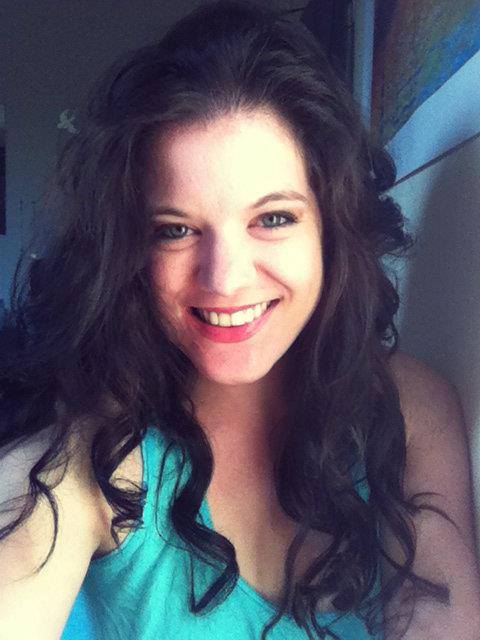 Amy Hartle is the author of Do You Love Me? How To Stop Seeking Reassurance in Relationships, a book on reassurance seeking and relationship anxiety. Both her book and this blog are born of personal experience; Amy shares expert relationship advice from the lessons learned during her own 10+ years with her husband, as well as couples travel tips and romantic getaway recommendations, all gleaned while traveling the world together.