This post may contain affiliate links. Read our disclosure page for full details.
We just had a baby, so I don't know how I'm finding the time to write this, but here I am! I know how important it is when you're looking for the right baby essentials for the first 3 months. Especially as a first-time parent! It can be stressful, the research needed can be time-consuming, and the choices of baby gear can be frankly overwhelming.
It does not have to be that way. I wanted to share the 20+ baby items we purchased or were gifted that have made a HUGE difference for us. These are the baby registry must haves—the items we couldn't survive without.
In the first 12+ weeks of our baby's life, these items have proven themselves essential and brilliant. We use most of them every single day. Some of these baby essentials are truly revolutionary. Others are just simple bits and bobs that are incredibly useful, and that we had no clue we would need.
So, here I am to help you out. New and expecting parents, do not fret. Whether you're leisurely creating your baby registry or searching in earnest for the newborn items you need RIGHT NOW, I hope our guide can be of help!
Baby Essentials First 3 Months – The Things You Really Need
A portable white noise machine
Our baby, Malcolm, loves this white noise machine! It helps him at every single nap, and sometimes just chills him out in general. We read early on that white noise can be a great tool for soothing fussy babies. For us, it has absolutely proven true. We also use the SNOO Bassinet (more on that genius invention later), which uses constant white noise to keep baby asleep and help him/her fall back asleep as well.
This portable noise machine is very small and easy to travel with, but also packs a loud enough noise to be effective. And it delivers true white noise, not just nature sounds or rain. Trust me, this item is a baby registry essential!
---
The Happiest Baby on the Block book
We didn't know how effective white noise could be for soothing babies, but we learned all about it from the best-selling book The Happiest Baby on the Block by Dr. Harvey Karp.
There is SO much good advice in this book. Dr. Karp created something called "The 5 S's" which instruct you on how to help soothe your baby using swaddling, shushing (or white noise), swinging (gentle motion), side position, and sucking (feeding or pacifier). The book goes into great detail about how to utilize these tools (and in what order, etc.), and for first time parents like us who had no idea what we were doing, it was an excellent place to start.
I truly feel like I learned a ton from this book just on how to help a baby sleep better and be more easily comforted. While we're FAR from parenting experts, the skills we learned here have definitely served us well in our short tenure as parents so far, and Malcolm is a chill baby who sleeps pretty darn well for only six weeks old!
---
The SNOO

The single best baby item purchase we made so far, without a doubt, has been the SNOO. Dr. Karp took his 5S methods and created a smart bassinet that uses them all to great effect.
Meet the SNOO! A bed and a nanny in one! This swaddling, shushing, moving, soothing bassinet is something past generations might have found downright wacky. But when they saw how it helped calm a fussy baby and earn that baby—and his parents—a lot more sleep, then they would have been first in line to get one!
Truly, this is a revolutionary item. While it may not work for every baby out there, the SNOO has been really successful for us and for Malcolm. If he wakes up at night, the SNOO responds to his cries with increased sound and movement and helps him return to a snug, peaceful sleep. For the parents of a newborn, this makes a huge difference, because it means we get a few more precious minutes of sleep while our baby is safely comforted. But don't worry—when he is truly hungry, even the SNOO can't soothe that boy, and we are woken up promptly and ready to feed him!
Now, the price tag is not one to bat an eyelash at. And we recognize that this will be a splurge item for the majority of parents. For us, it was worth it if it was going to give us what it promised—a baby sleeping through the night much, much sooner. We will report back as the next 6 months go by (the recommended amount of time for a baby to use the SNOO), but already, this purchase feels like it has paid for itself.
PS: We've now made the successful transition to the crib (around 4.5 months) and Mal is doing great! One item that has definitely helped with this is a solid, safe crib mattress. Organic is also a top choice since it is hypoallergenic and avoids using any harsh, toxic chemicals. When we're ready to move him to a toddler bed in a few years, we'll be spending time picking out one of these excellent organic kids mattresses next.
---
A portable baby lounger
We put a portable baby lounger on our baby registry thinking it would be a nice thing to have. Turns out, it's one of the most useful items we received! As I write this, baby Malcolm is currently snoozing away in his own baby lounger.
While Malcolm loves his SNOO, we wanted him to have a 2nd place to nap during the day. Since our house is two stories, it is super easy to have the lounger ready to use downstairs. It also ensures Mal learns to sleep in a variety of spaces and situations (ideal for this future traveling baby). This item also packs up to bring on the go, so it's perfect when he's visiting his grandma!
---
This Baby Jogger stroller & car seat
You could spend HOURS researching the best car seats for newborns and the best strollers for newborns. I did a lot of that myself! But ultimately, I went with something that was recommended to me: the Baby Jogger City Mini GT2 and the City GO 2 Infant Car Seat.
These items can be purchased together or separately, but ultimately they make an excellent travel system that has served us very well so far.
Finding the right stroller or car seat can be very personal. For me, I wanted first and foremost safe items. But also, I wanted items with maneuverability. While the car seat is not the most lightweight, it is super easy to attach to the baby jogger stroller. And the stroller is incredibly easy to push and move; it really does feel all-terrain!
I especially like that the stroller will be with us a long time, as it is designed to fit bigger babies and toddlers as well (up to 35 pounds). This made it a great investment for us, and a must have item on our first baby registry.
---
And this ideal travel stroller
PS: Looking for a great travel stroller? In month 3 with our baby, we actually purchased this incredible stroller: The Uppababy Minu and have mostly switched to it for full-time use. While the jogging stroller above is great for long walks, the Uppababy Minu is so slim and lightweight it is perfect for travel, shopping, and general on the go use. Full stroller review coming soon!
---
The Nose Frida

I did not want this item when I first read about it. The Swedish-made Nose Frida works to remove boogers, etc. from baby's stuffy nostril by having the caretaker suck on one end. This idea seemed revolting to me!
As it turns out, the Nose Frida is incredibly effective—and when you're trying to clear out your poor child's nose, you'll do just about anything! But it came as a huge relief when I used the Nose Frida and discovered the debris doesn't get anywhere near your mouth! Phew!
---
The Baby Brezza bottle sanitizer
Formula feeding has been great for us and for Malcolm. But, my goodness, the bottles! There are constant bottles to wash with a new baby in the house!
Fortunately, we found this Baby Brezza Sanitizer which cuts our cleaning time in half.
We simply place our dirty bottles into a bin of soapy water to soak, then scrub them using a handy bottle brush (see below), rinse, and place in the sanitizer. 45 minutes later, they are freshly sanitized, dried, and ready to be used again. Seriously such a time-saver!
---
An excellent bottle brush
This brush is the only one you need to help you wash your baby bottles. The larger end fits perfectly inside the bottle, while the detachable rubber end is ideal for cleaning nipples and hard to reach areas. As a bonus, the bottom of the brush is a suction cup, so you can stick this right on the counter next to your sink for easy use.
---
This convenient downstairs changing table
If you have a large home or multiple floors in your home, you may want to get a portable changing table like this one. In fact, this would work great for your primary changing table, too. Easy to put together and a perfect height, this changing table is roomy, comfortable for baby, and has an abundance of storage right within arms reach. We keep our diapers, wash cloths, diaper ointments, and more right on the side, and place baskets with baby clothes beneath. It's so easy!
---
Just a ton of wash cloths
If you're a new parent, you'll be shocked how many cloths you go through on a daily basis. For feeding, spit up, and general wiping up, we bought these soft, small cloths. They've served us well and we definitely use them constantly.
---
SwaddleMe swaddles (the best!)
When Malcolm first came home, we tried to wrap him up swaddle style. Turns out, that's kinda hard to do well! Instead of suffering through our poor swaddling skills, we opted to go for these zip up swaddles. Not only are they the absolute easiest to use, but they are snug and Mal loves them. He sleeps great in a swaddle, so I highly recommend giving these a try.
---
Hampers to put everywhere
No one prepares you for the amount of laundry you will be doing. Do yourself a favor and put cute little hampers everywhere, to catch all the clothes, washcloths, bibs, and bedding you'll be going through!
---
A diaper genie (or two!)
I was skeptical about the need for a diaper genie. Wouldn't a regular trash can work just fine? While it might, the diaper genie truly is worth the money for the way it reduces and captures all the smells that those diapers can produce. We have two and they work great. No stinky rooms here!
---
A baby swing
A baby swing or bouncer is a truly useful item to have. It's great to have a spot to place baby and keep him entertained, especially when he's too little to sit up.
---
This cute outdoor dome
Playing outside, taking a picnic, or going to the beach? You will want this baby dome! It's the ideal thing to bring along to keep baby cool and protected from the sun. It is also lightweight and folds up easily, so you'll have no qualms about bringing it along for your next adventure. Plus, the included bottom mattress is fairly soft, so it's a decent place for an impromptu nap.
---
The perfect, roomy diaper backpack
You may find you have your own specific wants and needs when it comes to a diaper bag, and it's hard to know what those are beforehand. I tried a couple before landing on this one, and it's been quite useful. Not only is it roomy and big, there are many pockets to store a variety of items and access them quickly.
My one complaint about this diaper bag is that its size means it won't always fit easily in a stroller basket. Both of the strollers I linked above have decent-sized baskets but this backpack will only fit at the tightest squeeze. When we're out with the stroller, I usually pack a mini diaper bag to bring with me.
---
The right baby carrier
Baby carriers seemed like a mystery to me at first. So many straps! So many clips! How do you wrap that around you? But when I finally learned how to use them, I realized just how useful they are—and how much they can save your arms, shoulders, and neck.
This Ergobaby carrier became our go-to in the first three months with Malcolm. In fact, I wore him in this carrier on a flight and it was absolutely ideal. He slept through security and was super chill throughout the whole flight.
This carrier is also pretty easy to get on and off by yourself. You don't need the flexibility of a yogi to get these straps secured, and once it's on, this carrier is quite comfortable. It's definitely one to consider.
---
These awesome on the go formula containers
Here is one of those baby essentials we have used EVERY DAY since we got them.
Malcolm is exclusively formula fed, and measuring out all those bottles every 2-3 hours can be a pain. Not with these. Instead of endless measuring all day long, you do it at one time and you've got formula pre-measured and ready for the day. Using them at night is even more helpful; no fumbling around half-asleep and wasting formula as you try to measure! These containers make the entire process of feeding so much smoother, and of course, they are perfect for on-the-go. Just pop them right into the diaper bag.
---
These rolling carts for storage
With all this new baby stuff filling your house, you're gonna wonder where to put it! Enter these simple rolling storage carts. Put them together in minutes and you're on your way with carts perfect for breastfeeding supplies, diaper stuff, toys, and so much more.
---
The HelloBaby baby monitor
There are dozens of excellent baby monitors on the market, with varying degrees of monitoring. For us, we just wanted a simple baby monitor that would allow us to keep an eye on Malcolm without having to use WiFi or our phones. This is the one. It's just basic, with a camera and a monitor, but it has sound and video with sufficient quality, and it's a great bang for your buck.
---
A chargeable, portable stroller fan
Writing this in the heat of summer, I can't stress enough how great these portable fans have been. In fact, I didn't just buy one—I ended up with two. Now when I take Mal out in his stroller, both of us can stay cool.
Seriously, these fans have a good battery life (recharge via USB), provide ample air, and attach incredibly well to many different surfaces. I even brought mine to the hospital during delivery and it provided much needed refreshment.
---
A simple portable changing pad
Public changing tables are so dirty! Keep baby clean by putting down this portable changing pad, first. Plus, it not only keeps baby clean and fresh, but gives them the slightest bit of cushion, too.
No changing table to be found? This item is again essential. I have definitely changed Malcolm outside on a grassy knoll using this pad when there were no other options. You, too can be a super-prepared mom with this changing pad! Oh, and did I mention it comes in its own matching travel bag?
PS: There's a variety of cute patterns available, but I enjoy these black and white cat outlines, complete with little cat butts!
---
---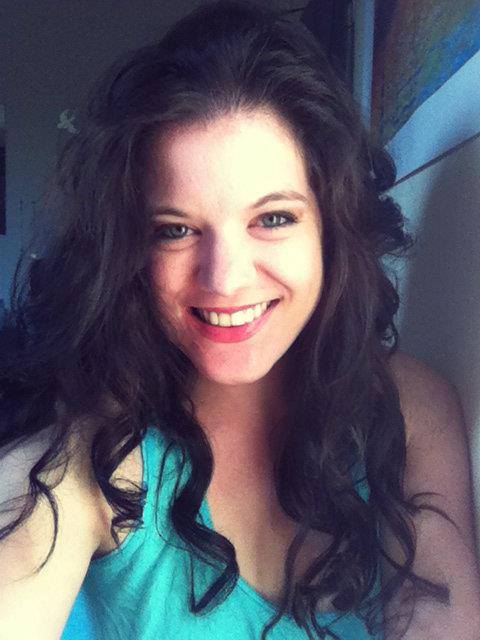 Amy Hartle is the author of Do You Love Me? How To Stop Seeking Reassurance in Relationships, a book on reassurance seeking and relationship anxiety. Both her book and this blog are born of personal experience; Amy shares expert relationship advice from the lessons learned during her own 10+ years with her husband, as well as couples travel tips and romantic getaway recommendations, all gleaned while traveling the world together.