---
*Links in this article may be affiliate links, from which we may earn commission. See our
Privacy Policy
for full details.
---
When I think of Europe, I think of romance.
And it seems millions of others do, too. It's no surprise that choosing a honeymoon in Europe is quite popular among newlywed couples. Not only do honeymooners choose European destinations, but couples looking for romantic getaways do as well. Yes, the continent is filled with places that are simply bursting with romance.
We asked our fellow travel bloggers to share what they think are the best honeymoon destinations in Europe. From Eastern to Western Europe, the mountains to the coast, cities to rural escapes, there are options that will appeal to everyone. Below, you'll find a collection of the top honeymoon destinations Europe has to offer, plus the recommendations of what to do and where to stay—straight from travel experts. Hopefully, this will help you to plan your dream honeymoon with ease!
PS: If you're not into travel planning, you can definitely check out Viator's Europe honeymoon packages for some ready-to-go romantic adventures.
Amsterdam
Considering the city of canals for your European honeymoon? There are plenty of romantic things to do in Amsterdam. Sinjana from Backpack & Explore shares these tips:
Destination: Amsterdam and its neighborhood, Netherlands
Why it's perfect for a honeymoon: With 150 canals connecting the compact city and over 1250 bridges, Amsterdam has a landscape that dreams are made of. It is one of the most liberal and tolerant cities in the world which accepts everyone with open arms. It is also one of the most accessible cities in Europe with a mesmerizing landscape, beautiful parks and historic museums. This is what makes it a perfect honeymoon destination.
Recommended activities: Walking on the bridges and watching the sunset is the most romantic thing to do in here. You can see the best of Amsterdam in 3 days however, you must extend your stay if you are on a honeymoon. To make it extra special you can stay in a private houseboat in the canals. Even if you don't a cruise trip around the canal network of Amsterdam is a must when you are in the city. Do not forget to visit the Van Gogh museum and appreciate the great art on your honeymoon.
There are some exceptionally beautiful Dutch landscapes which you can explore on a day trip to the historic Zaanse Schans, dreamy island of Marken or the idyllic Giethoorn village. If you visit in Spring you will love the blossoms all around you, and there is no excuse to miss a day trip to Lisse.
Recommended hotel: IBIS Budget Amsterdam City South
Best time of year to visit: You can either go in Spring (April) during the Tulip season or in the winter when the canals freeze and turn into a winter wonderland (December)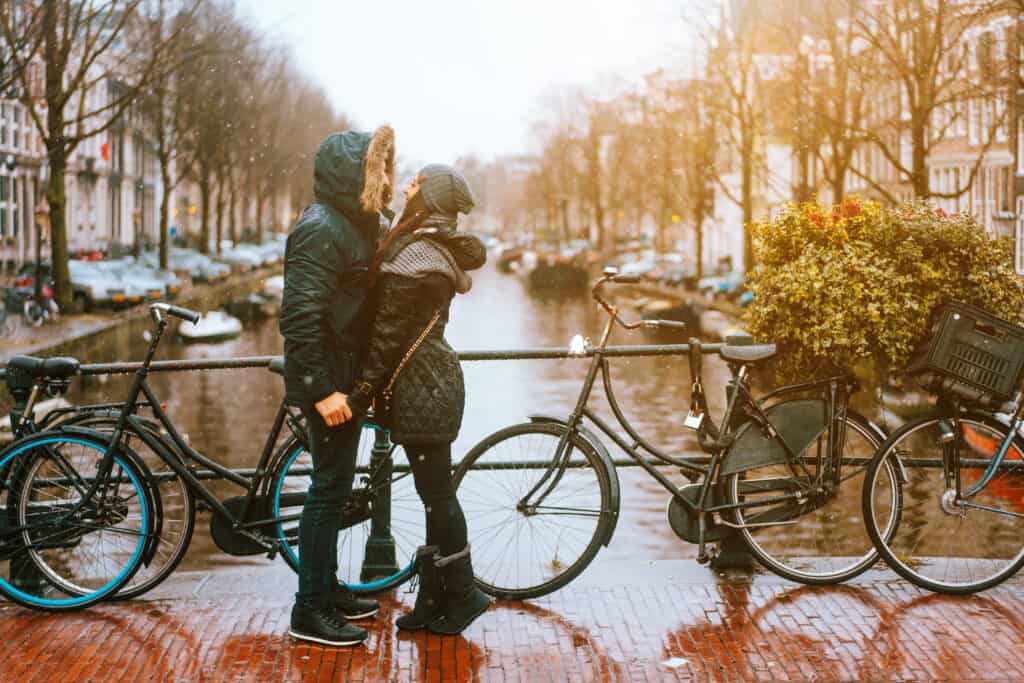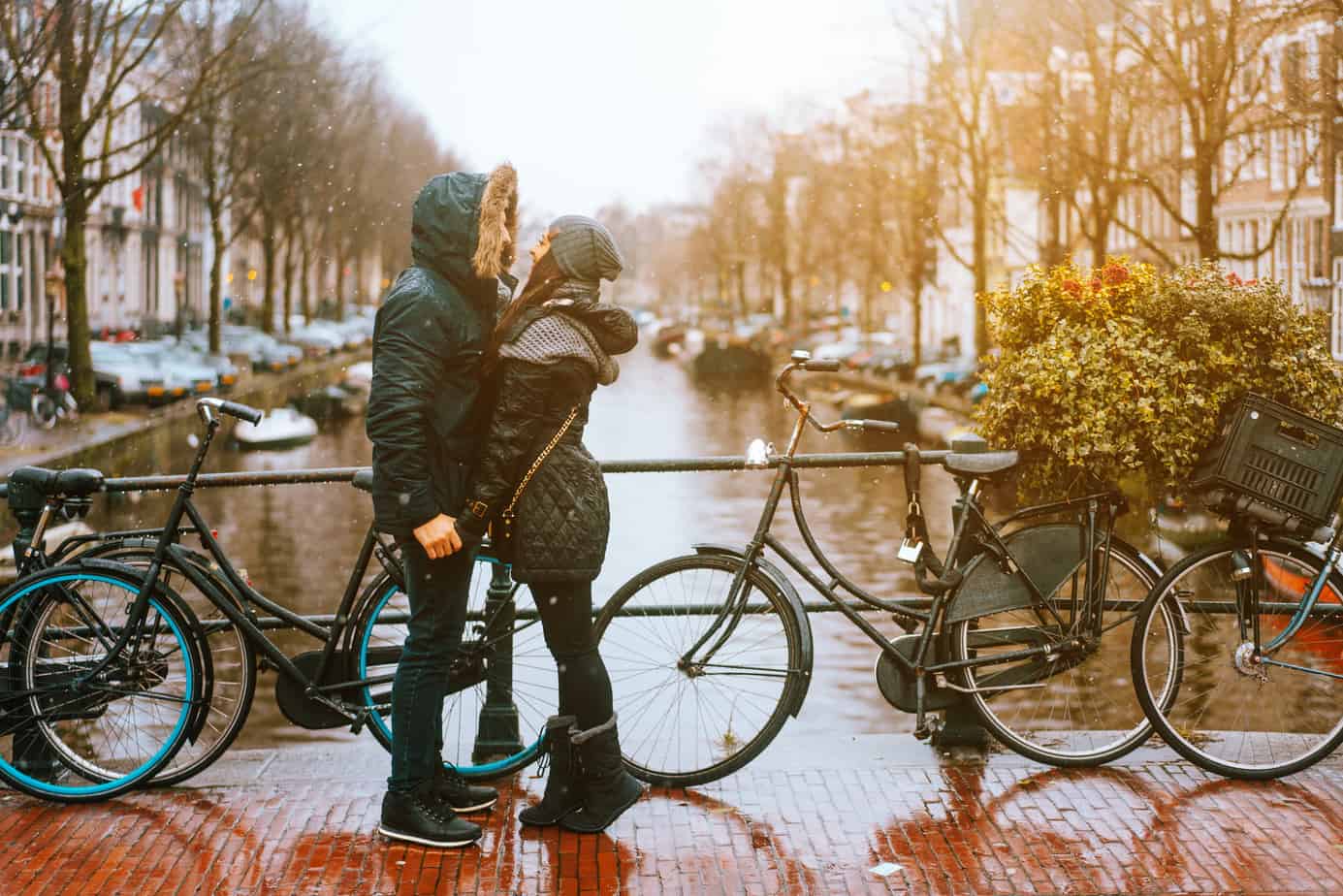 Vis Island, Croatia
Nausheen from Globe Gazers suggests a more off-the-beaten-path destination for your European honeymoon.
Destination: Vis Island, Croatia
Why it's perfect for a honeymoon: Vis Island is still fairly new to the tourism scene. It served as a military zone for years, and was only opened to the public in 1989. The population is small, it's not super developed by tourism and it's still somewhat unknown. Add to this secluded charm the Island's stunning views, crystal clear waters, and quaint streets and you have the picture of romance.
Recommended activities: Have a traditional peka dinner, or enjoy seafood at one of Vis' many restaurants (try Pojoda). Tour the Blue Caves, from the Komiza side of the island, or take a ferry from Vis to Hvar for the day. Or, simply dip into the water wherever you are and enjoy a swim.
Recommended hotel:
As Vis is still not very developed as far as tourism goes, you're best bet is to stay in an
Airbnb
. There are plenty of great options, and your host will most likely meet you at the dock and guide you to the Airbnb.
Best time of year to visit: May and June are ideal, the weather is nice without being too hot, as it is in July and August. If you prefer cooler temps, go in October.
Have you heard of the Faroe Islands? This gorgeous destination is rapidly growing popular with travels. Paige from For the Love of Wanderlust shares her advice on visiting, plus a stunning image.
Destination: Faroe Islands
Why it's perfect for a honeymoon: The Faroe Islands is an amazing place for a honeymoon because it truly feels like an escape. It's such a remote part of the world and it's easy to just totally focus on soaking up time with your new spouse. Plus, the cooler weather is a great excuse to snuggle up together.
Recommended activities: I highly recommend getting outside. The Faroe Islands is a haven for nature-lovers. The landscapes here are unparalleled. There are mountains, rugged coastlines, inlets, and stellar waterfalls. Also, there are beautiful seaside villages that are beautiful to stroll through. Don't forget to check out the sod-roofed homes.
Recommended hotel: Although we stayed in a super cozy and isolated Airbnb, we heard amazing things about Havgrim Seaside Hotel in the most popular town of Tórshavn.
Best time of year to visit: The summer. We were there in mid-June and it was perfect because it was decently warm and there was plenty of sunlight to allow you to explore.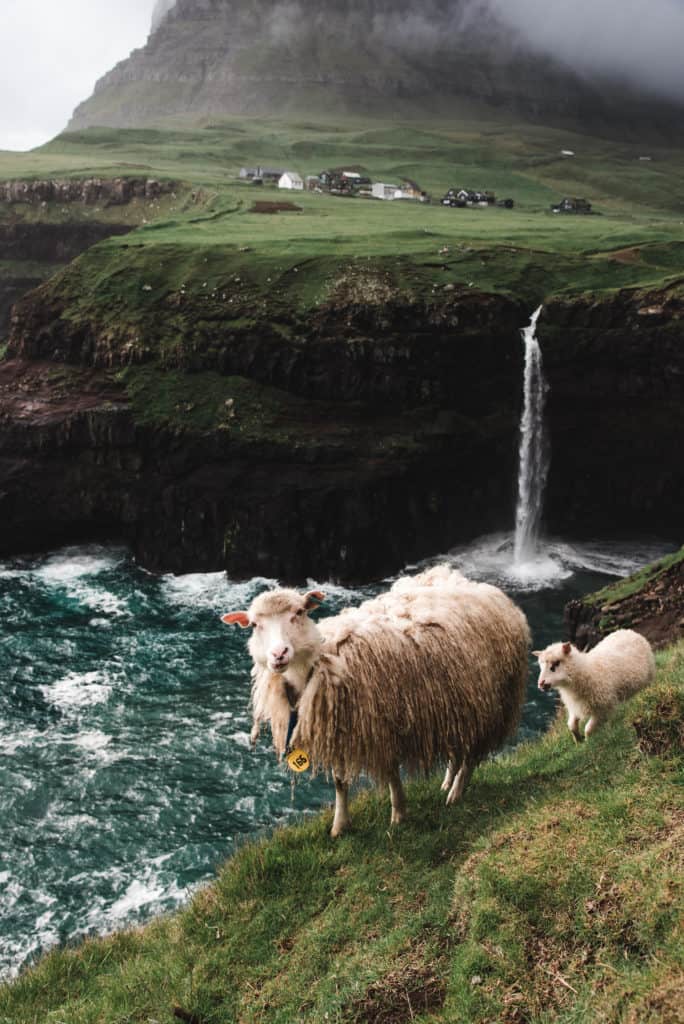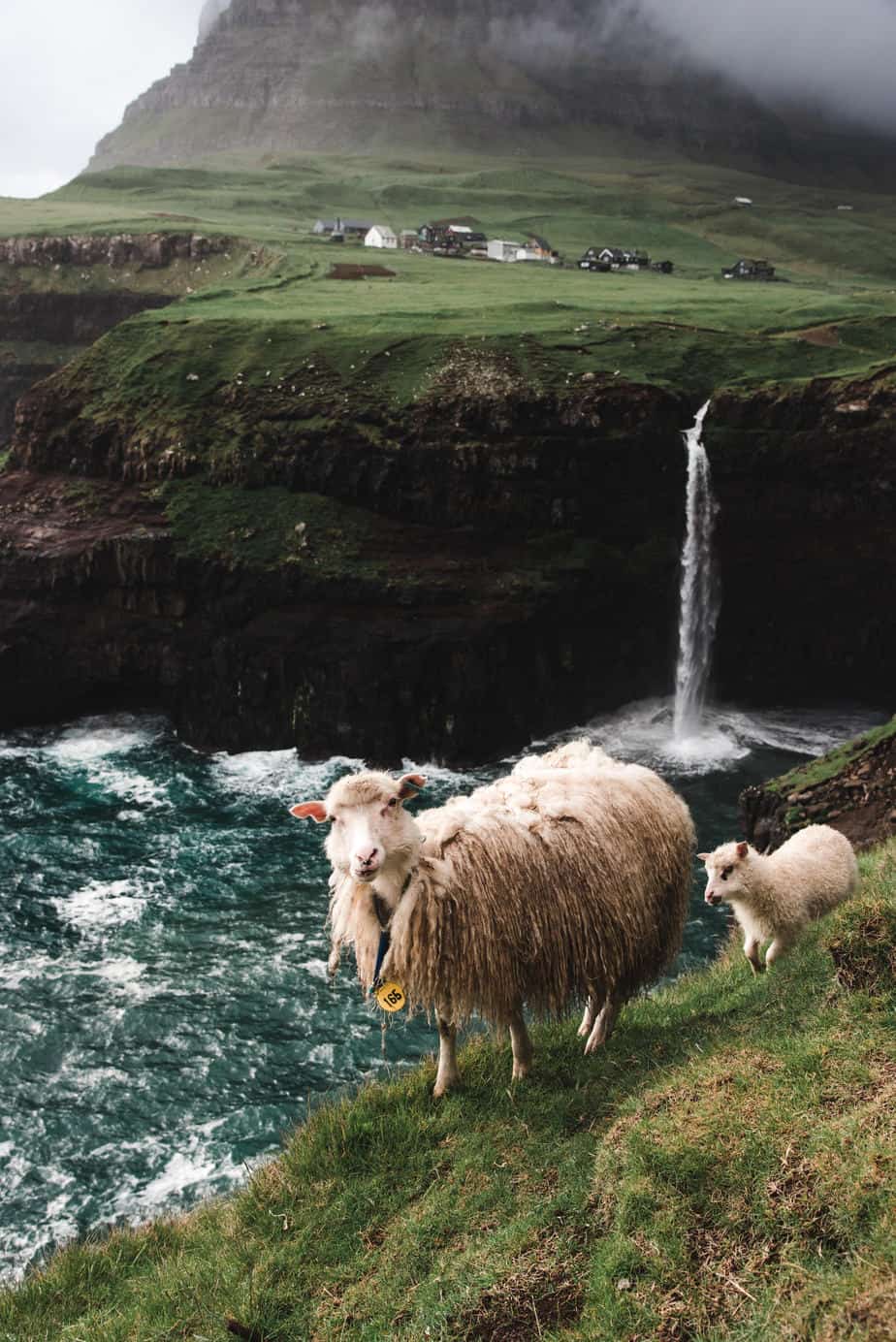 Tuscany, Italy
Italy is certainly one of the #1 honeymoon spots in Europe. Tuscany may be one region that has a special pull. Dan of Honeymoon Always shares his tips for an Italian honeymoon.
Destination: Tuscany, Italy
Why it's perfect for a honeymoon: After a potentially exhausting wedding, it is time to unwind and relax. Tuscany makes for an amazing honeymoon destination where you can relax and enjoy the picturesque countryside, tour a few vineyards and eat lots of amazing food.
Recommended activities: Head to Florence to see art together, like The David at the Accademia Gallery, visit beautiful cathedrals like Basilica di Santa Croce where Galileo and Michelangelo are buried, buy some jewelry at Ponte Vecchio and watch the sunset over the city from Piazzale Michelangelo. In San Gimignano, you can tour the historic city, go for a horseback ride through olive trees and vineyards and stay at a cozy bed and breakfast. There are several small towns in Tuscany worth exploring and are easy to fit into a day trip wandering the city together.
Recommended hotel: Villino Fiorentino for a bed and breakfast in Florence. Il Vicario for a bed and breakfast in the countryside outside San Gimignano.
Best time of year to visit: Late spring or early fall. Avoid the hot summer days in July and August.
Black Forest, Germany
If your Europe honeymoon ideas involve fairytale scenery and quaint villages, you'll want to consider Germany's Black Forest. Sabrina from Moon & Honey Travel will tell you exactly where to visit.
Destination: The Black Forest, Germany
Why it's perfect for a honeymoon: Many believe that the Brothers Grimm fairy tales were inspired by the dark and sinister conifer forests of the Black Forest. So, if you're looking for a fairy tale honeymoon destination, this region in Baden-Württemberg is perfect.
Recommended activities: Explore the storybook towns of Schiltach, Calw, Breisach, and Gengenbach. Next, head to the grand spa town of Baden-Baden for a romantic finale to your honeymoon. Here, you can bathe in the mineral-rich waters of Friedrichsbad and Caracalla Spa. After enjoying the town's thermal spas, head to the family-run restaurant Zum Alde Gott for dinner.
Recommended hotel: Belle Epoque
Best time of year to visit: Spring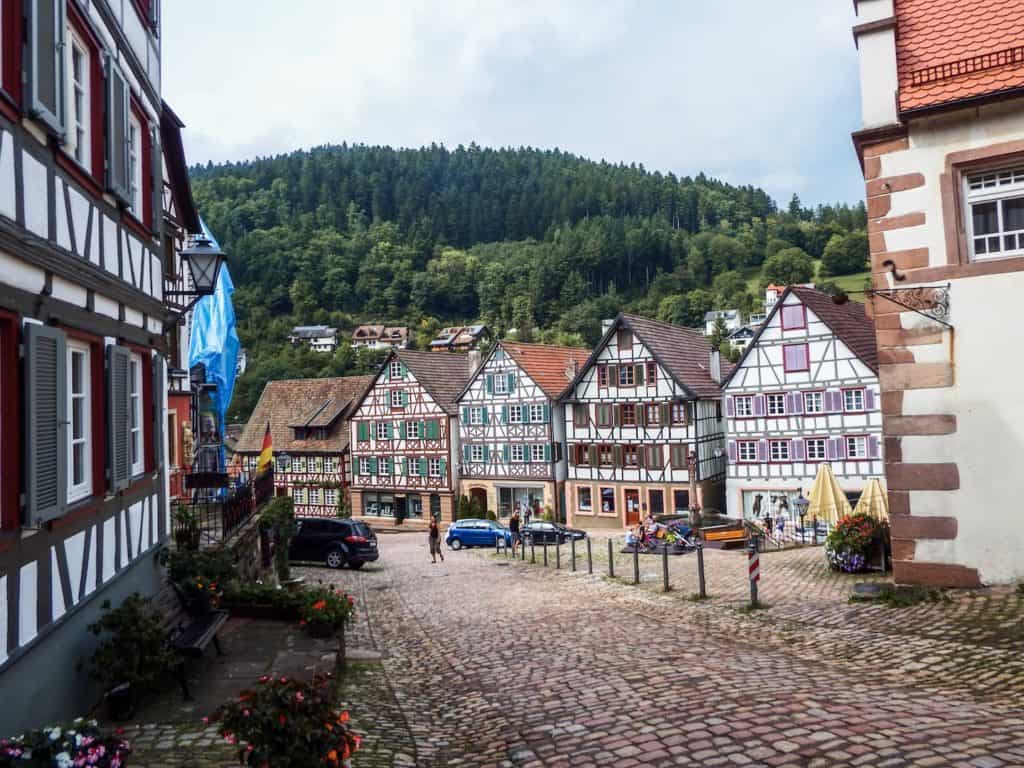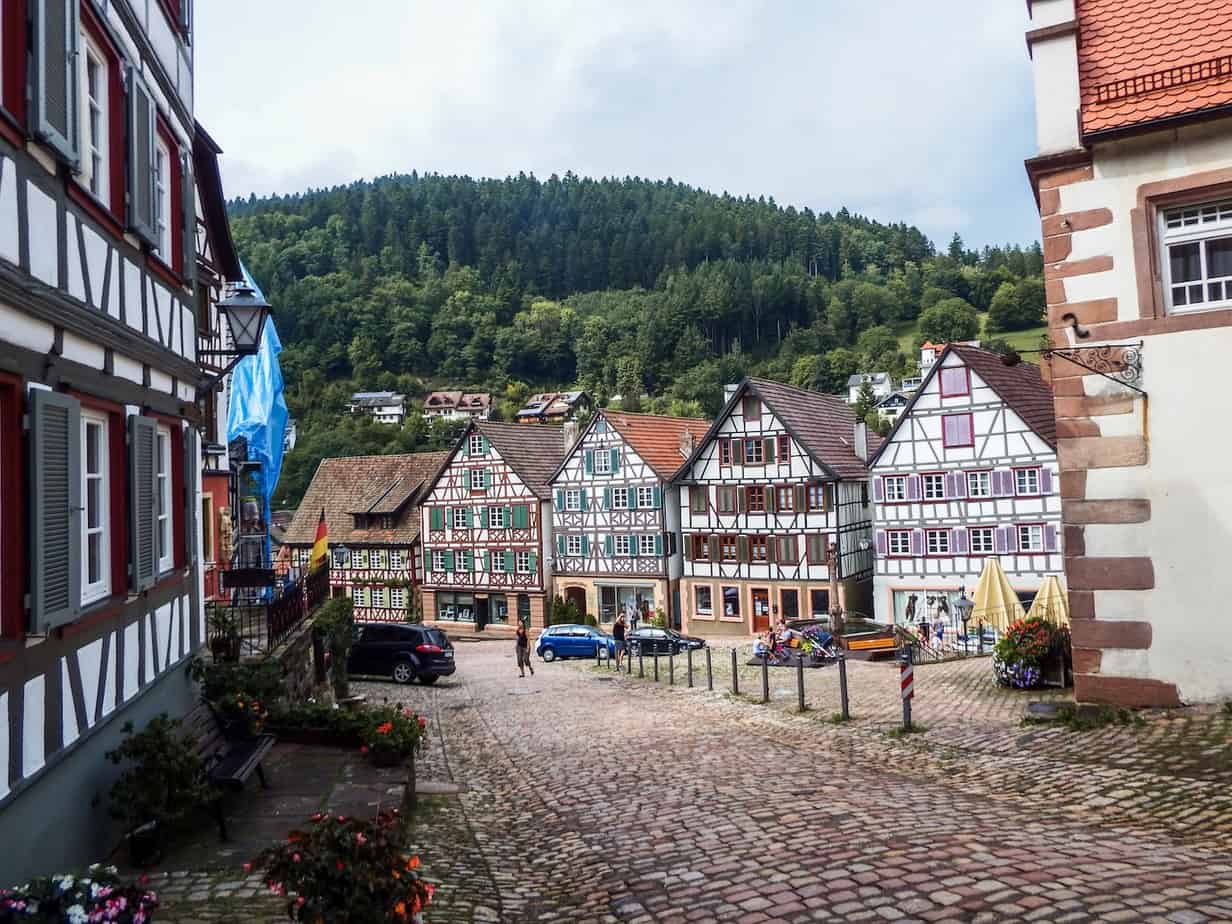 Portugal
Daryl & Mindi of 2foodtrippers think the country Portugal has the perfect blend of food and scenery to make for an ideal honeymoon.
Destination: Portugal
Why it's perfect for a honeymoon: Portugal is an ideal honeymoon destination for couples looking for a romantic travel experience filled with great scenery and tasty food. We say this with confidence after spending our magical honeymoon in the Iberian country back in 2007. The country captured us with its many charms – especially secluded beaches and port houses.
Recommended activities: Honeymooners in Portugal can spend their days exploring extensive coastline in the Algarve or wandering through charming cities like Lisbon and Porto. However, nights are equally exciting when filled with Portuguese food, local wine, and Fado music.
Recommended hotel: Hotels in Portugal run the gamut to humble accommodations to five-star hotels. For a special treat, we recommend staying at one of the country's 34 historic Pousadas. Each luxurious Pousada has a unique history and provides a unique hotel experience.
Best time of year to visit: Portugal has mild weather throughout the year, so there's no bad time to plan a honeymoon to Portugal. However, we recommend visiting during the shoulder seasons of spring and autumn when there are fewer tourists.
Svalbard, Norway
The best European honeymoon just might be way, way up north. Halef & Michael from The Round the World Guys tell us all about Svalbard.
Destination: Svalbard, Norway
Why it's perfect for a honeymoon: If you are in the market for an "adventure" honeymoon, consider a visit to the Arctic Circle. While it is not a conventional destination for honeymooners, it surprisingly offers so much that can be very enjoyable for newlywed couples.
Recommended activities: Svalbard houses the northernmost human inhabitants in the world, and its exotic landscape is surreal and romantic. The capital, Longyearbyen, is a great starting point to arrange different activities. Anything from hiking adventures, day trips to the abandoned Soviet mining town of Pyramiden, and dog-sledding in the winter time.
Longyearbyen itself is a great place to hang out. There are several great places to stay in Svalbard and great restaurants to choose from. Every single one of them are very cozy – cozy communal places with big pillows, blankets and fireplaces, and big windows. After all, if its cold outside, many visitors choose to stay indoors at their cozy hotels.
Recommended hotel: One of the best places to stay for couples is the Radisson Blu Polar Hotel, which is famous for its hot tub with a magnificent view. If you are honeymooning in Svalbard, this is the perfect spot for a great Instagram wedding portrait
Best time of year to visit: Svalbard is a perfect place for honeymooning at any time of the year. You're in for an extra special treat if your Svalbard honeymoon plan falls in the winter though. Northern lights seekers often find one of the best spots in the world to view the Aurora Borealis.
Paris
The City of Lights and City of Paris consistently ranks among the world's top honeymoon destinations. Kate of Our Escape Clause has some great ideas on what to do in this magical city.
Destination: Paris, France
Why it's perfect for a honeymoon: It's hard to imagine a city more romantic than the literal city of love! From the beautiful Seine to the stunning architecture to the endless cafes, delicious food, and iconic viewpoints, there is no shortage of romantic ways to experience Paris.
Recommended Activities: While you're on your Paris honeymoon, be sure to stroll hand-in-hand through the Louvre, to sneak a kiss among the walkways in the Luxembourg Gardens, to visit cozy cafes in Montmartre, to admire the view of the Paris skyline from the top of Notre Dame or the Arc de Triomphe, and to watch the sunset over the Eiffel Tower in the Trocadero Gardens.
Couples inclined toward the kitchen may want to stretch their culinary skills with a macaron or croissant baking class, nightlife lovers will want to take in a burlesque show, and museum lovers don't need to stop at the Louvre–consider also visiting the Musee Rodin, Musee d'Orsay, and the Orangerie, just to name a few!
Recommend hotel: For a Paris honeymoon hotel that won't break the bank (all the more money to spend on tasty food and unforgettable experiences!), consider Le Clos Medicis. Though the rooms are fairly small, as is typical of Paris, the lobby is breathtakingly beautiful and the location–just a 5-minute walk from the Luxembourg Gardens–is absolutely unbeatable.
Best time of year to visit: There's no bad time of year to honeymoon in Paris, but our favorite seasons would go roughly in this order: spring for beautiful blooms and the beginnings of warmer weather, fall for lovely foliage, winter for low prices and cozy cafe weather, and finally, summer–this is when you'll have to battle with both heat and crowds, but it's also the most popular time to visit Paris for a reason–namely, that it's when Paris is at its sunniest!
PS: During your Paris honeymoon, sign up for a romantic photoshoot for the ultimate souvenir.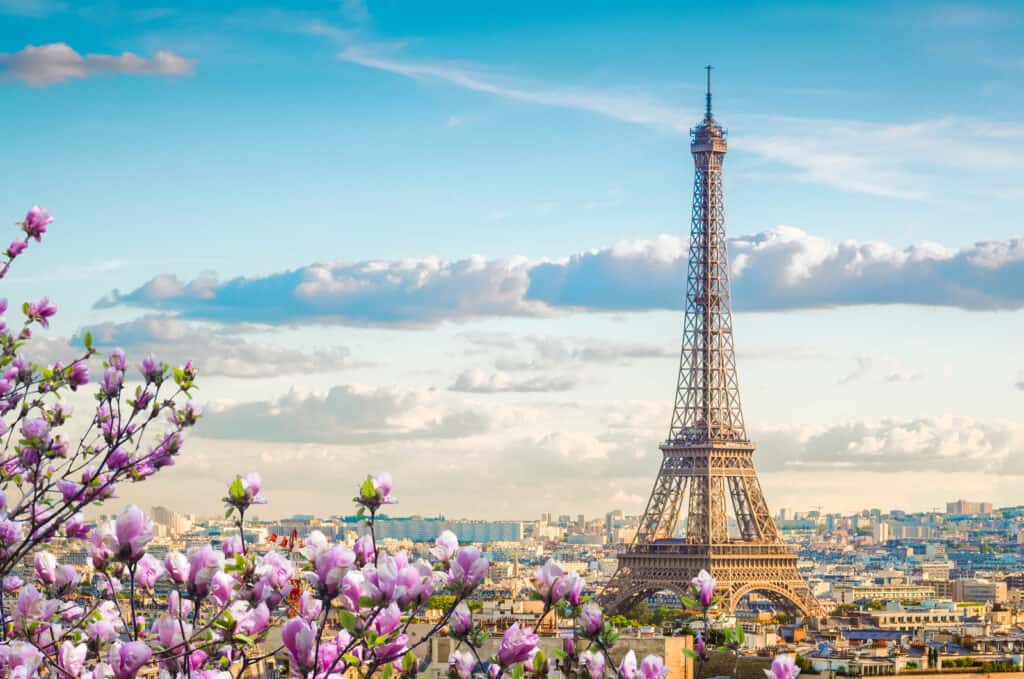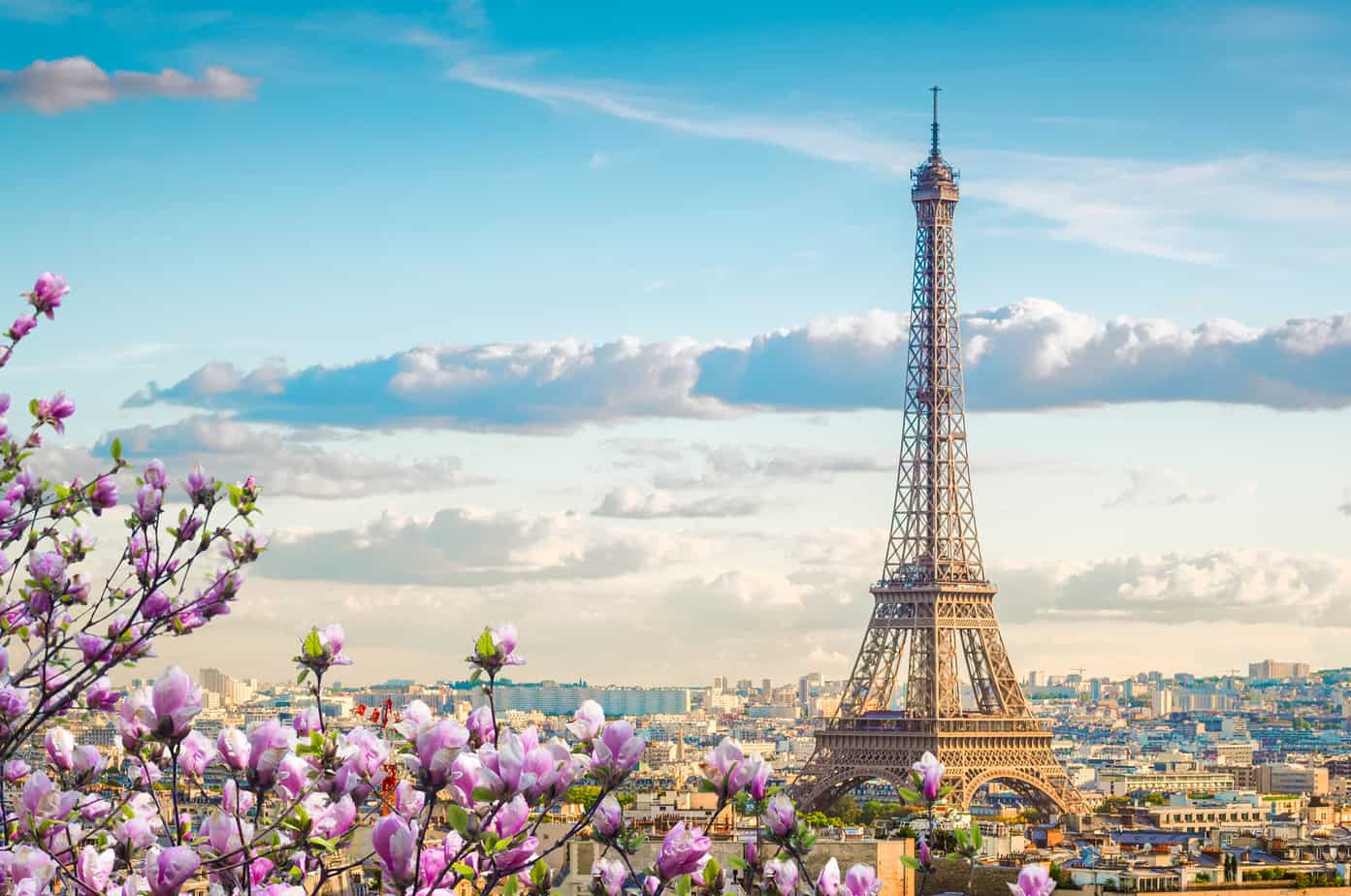 Barcelona
Barcelona is a place I've always wanted to visit. Second honeymoon time? Vicki of Vicki Viaja talks all about what makes it so lovely, and it's definitely inspiring me to book a trip.
Destination: Barcelona, Catalonia, Spain
Why it's perfect for a honeymoon: Barcelona is full of beautiful architecture and narrow Gothic-style streets. How can you not fall in love all over again when siping amazing vino while enjoying a great view after walking hand in hand at the beach between the palm trees enjoying Barcelona's all-year sunny blue sky?
Recommended activities: There are so many romantic things to do in Barcelona for couples. Barcelona is full of spots that make for a great walk, such as the beach or several gorgeous parks. There even is a park which has a labyrinth in its center in which you can get lost together (and hopefully find your way out again). Another romantic activity is a walk to the bunkers del Carmel. From there you have an amazing Panoramic view over the whole city. If you get here really early in the morning, you can even see a wonderful sunrise which makes the whole experience even more romantic. Another thing you should definitely enjoy as a couple is its delicious food and wine. Catalonia is famous for its high-quality tasty wine and you can't leave without trying a glass or two.
Recommended Hotel: Ciutat de Barcelona
Best time of the year to visit: Late Spring to Early Fall
Alsace, France
Ooh la la! Who's ready for a honeymoon in France? Lena of Happily Ever Adventures shares tips from her own romantic experience in the Alsace region.
Destination: Alsace, France
Why it's perfect for a honeymoon: While Paris is often touted as the city of love, we think the Alsace region in France is the perfect European honeymoon spot! The region is full of gorgeous countryside, magical castles, storybook small towns, stunning architecture, and romantic vineyards. You'll feel like your honeymoon is straight out of a picturesque fairytale. Don't worry, you won't have to choose between Paris and Alsace. You can easily combine both in one romantic European
honeymoon!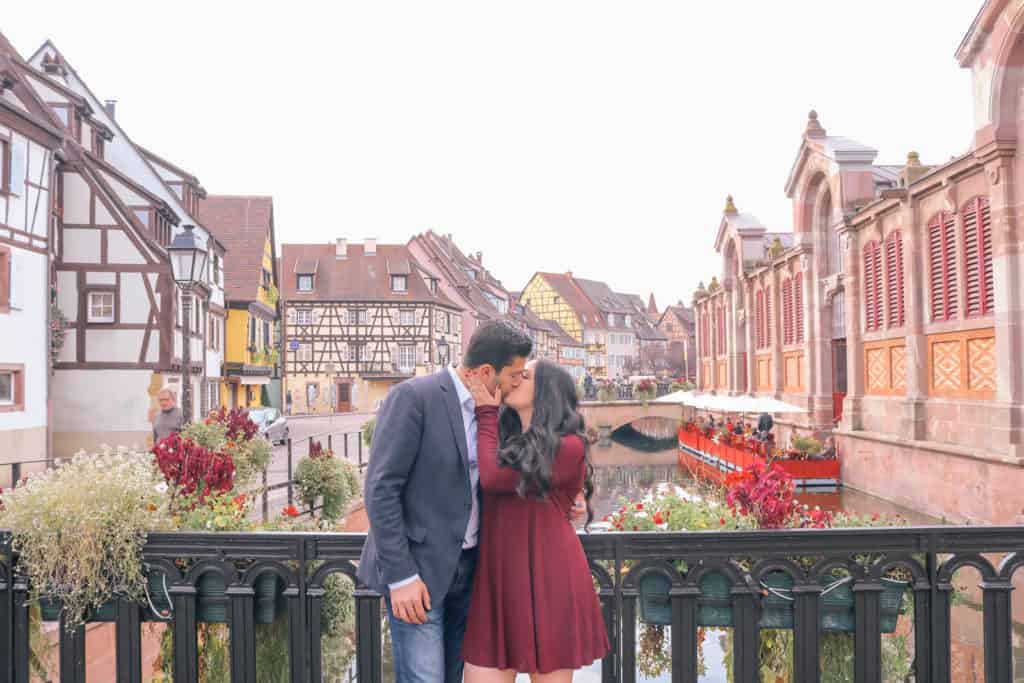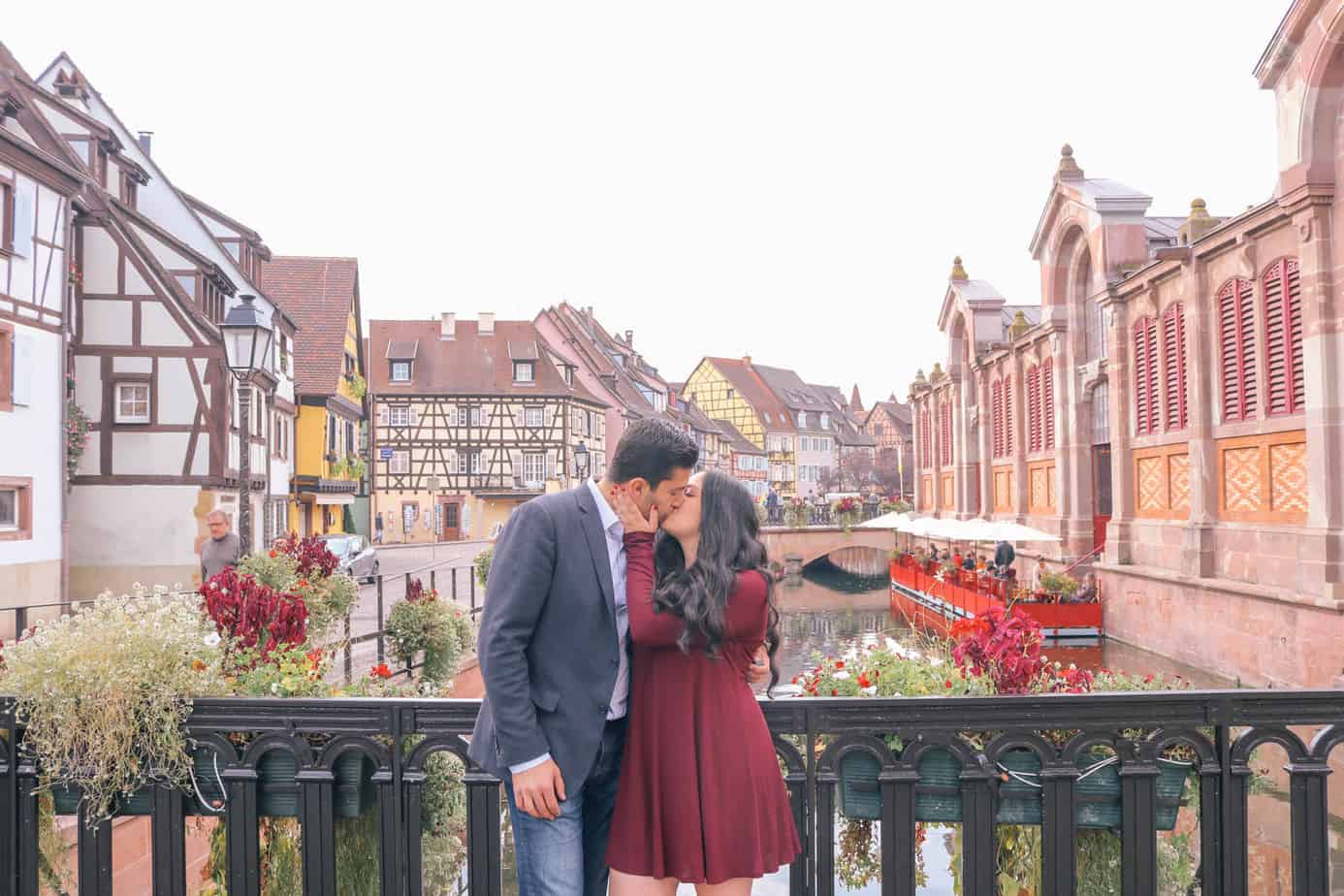 Recommended activities: Spend some time exploring the various charming villages that make up the Alsace region and go for long romantic walks. Our favorites are Strasbourg, Colmar, and Riquewihr. In Colmar, be sure to take a boat ride through the storybook canals, complete with a picnic of cheese and champagne. Go on a wine tour of the beautiful vineyards of the region. Alsace is predominately known for dry and crisp white wines.
Visit the medieval castles in the region. Our favorites are Chateau du Haut-Koenigsbourg, Saint Ulrich, Girsberg, and Mont Sainte-Odile Abbey (an ancient monastery, but just as beautiful and worth visiting!). If you're honeymooning in the winter, check out the magical Christmas markets the region is famous for. The best ones are in Strasbourg!
Recommended hotel: Le Parc Hotel Obernai & Spa
Best time of year to visit: Late spring or early fall for mild weather, gorgeous scenery, and low season travel. December for winter romance and festive Christmas markets.
Cinque Terre, Italy
Victoria of Follow Me Away will inspire you with one of the top honeymoon destinations Europe is known for: Cinque Terre, Italy.
Destination: Cinque Terre, Italy
Why it's perfect for a honeymoon: Cinque Terre, located along Italy's Ligurian Coast, is what honeymoon dreams are made from! If you are looking for a unique, relaxing, and beautiful European honeymoon destination, this is it! Cinque Terre is made up of five colorful towns located along the Ligurian Coast of Italy. This means that you have so many pretty places to explore during your honeymoon in Europe.
Recommended activities: Imagine sleeping in and exploring the beaches and nearby hikes to vineyards and overlooks by day and then dining al fresco by night with your new spouse.
Recommended hotel: Rooms Elisabetta Carro is my suggested hotel because you are staying right in the thick of things with a fantastic view and easy beach access!
If you are looking for Where To Stay In Cinque Terre, keep in mind that there are accommodation options for each and every budget. Simply choose which town or towns you want to stay in and then choose your budget and you will find some wonderful options.
Best time of year to visit: There is no bad time of year to honeymoon in Cinque Terre. During the summer, the weather will be warmer, but you will be competing with other visitors for space on the beach. During the winter, the air will be cooler so you will be more likely to lounge on the beach in jeans and a sweater, but prices are cheaper and the towns will be devoid of other tourists. Planning your European honeymoon to Cinque Terre can be done at any time of year, depending on your preferences, budget, and interests!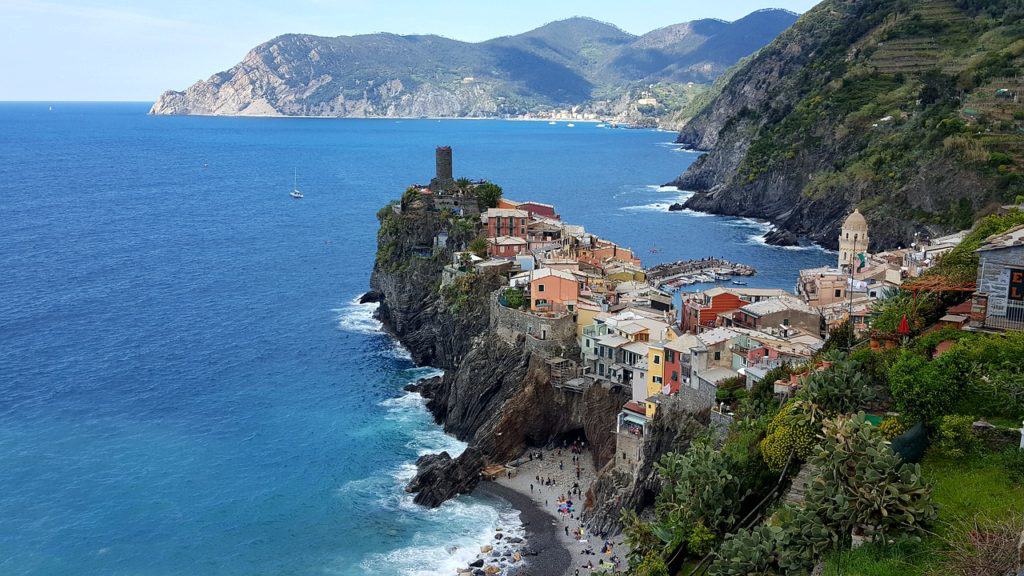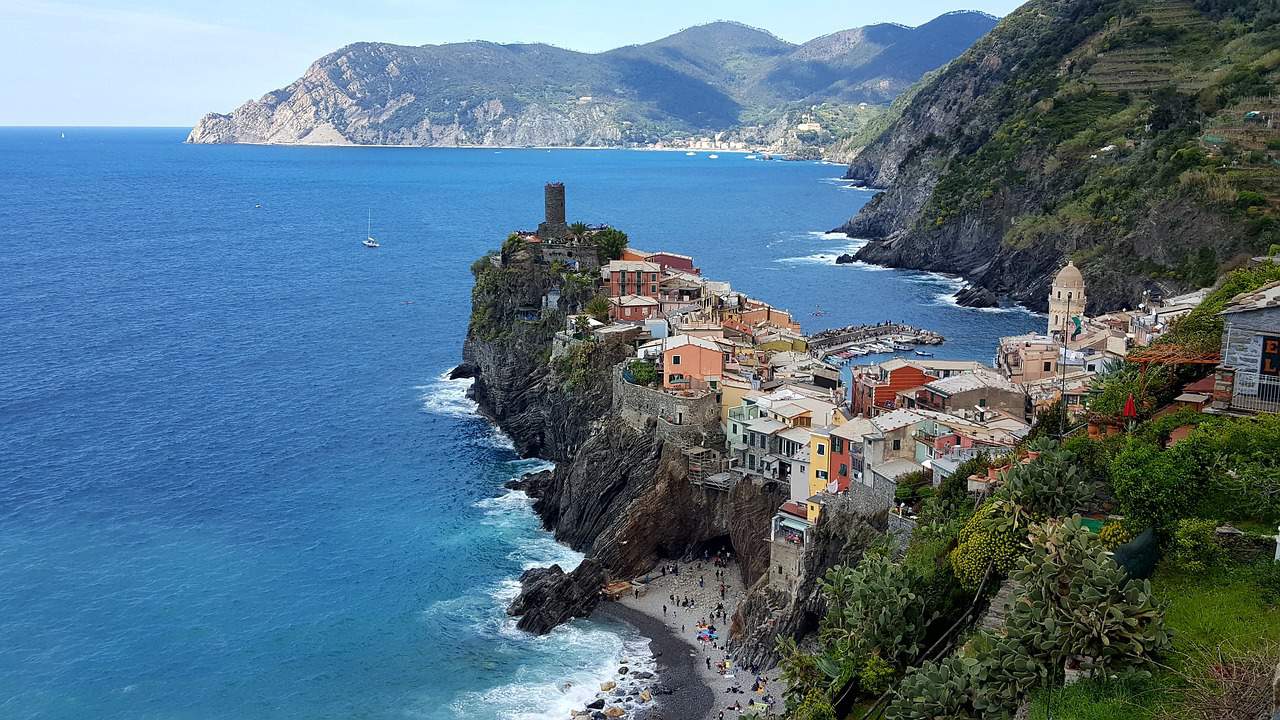 Budapest
Toti & Alessia of Italian Trip Abroad share their tips on what to do and where to stay in romantic Budapest.
Destination: Budapest, Hungary
Why it's perfect for a honeymoon: Love, explore, relax and repeat. It seems the perfect way to enjoy a romantic gateway. Budapest is the essence of those three words in a unique city. It is really affordable and makes sense to spend as much as a week here. The light of the city and the monuments give this amazing eastern Europe location a romantic point of view.
Recommended activities: Budapest is even more romantic compared to Rome or Paris. It has not an Iconic monument that you can associate straight with it, but it has a lot of great landscapes, an ancient and interesting history. The view of the Parliament at night and the Fisherman's Bastion on the other side of the Danube River will pay for the cost of this holiday. Enjoy the Spa in Budapest, it is one of the best activities in the city. I will bet everything that as soon you hear this word "Spa", you will plan a trip to Budapest. The exchange rates (Budapest doesn't use the Euro, although most of the shops accept this currency), will make your visit to the spa—and the many amenities as massages, oils, and therapy—even cheaper.
Recommended hotel: The Intercontinental Hotel in the Pest part of the city is best for Honeymooners. This 5-star hotel has a direct view of the river and of the Buda Castle on the top of the hill.
Best time of year to visit: You can visit Budapest every time in the year, in Winter the city is amazing, in February is easy to find the snow, that makes everything even more beautiful. In summer the temperature in Budapest go up, and it is nice to do some activities in the countryside where you can find amazing grapes and wildlife.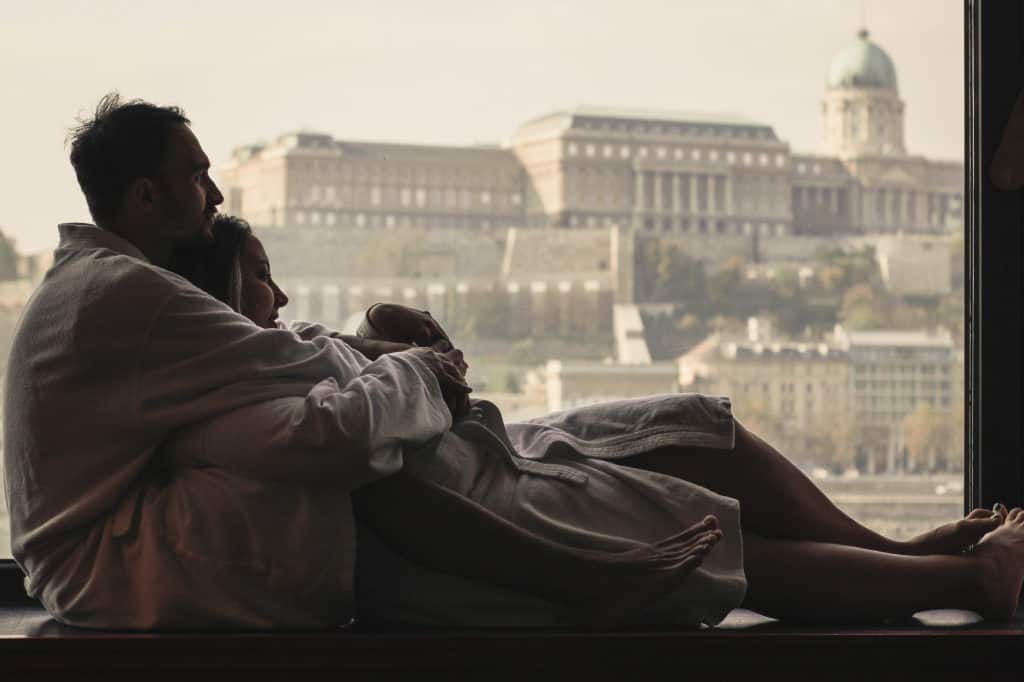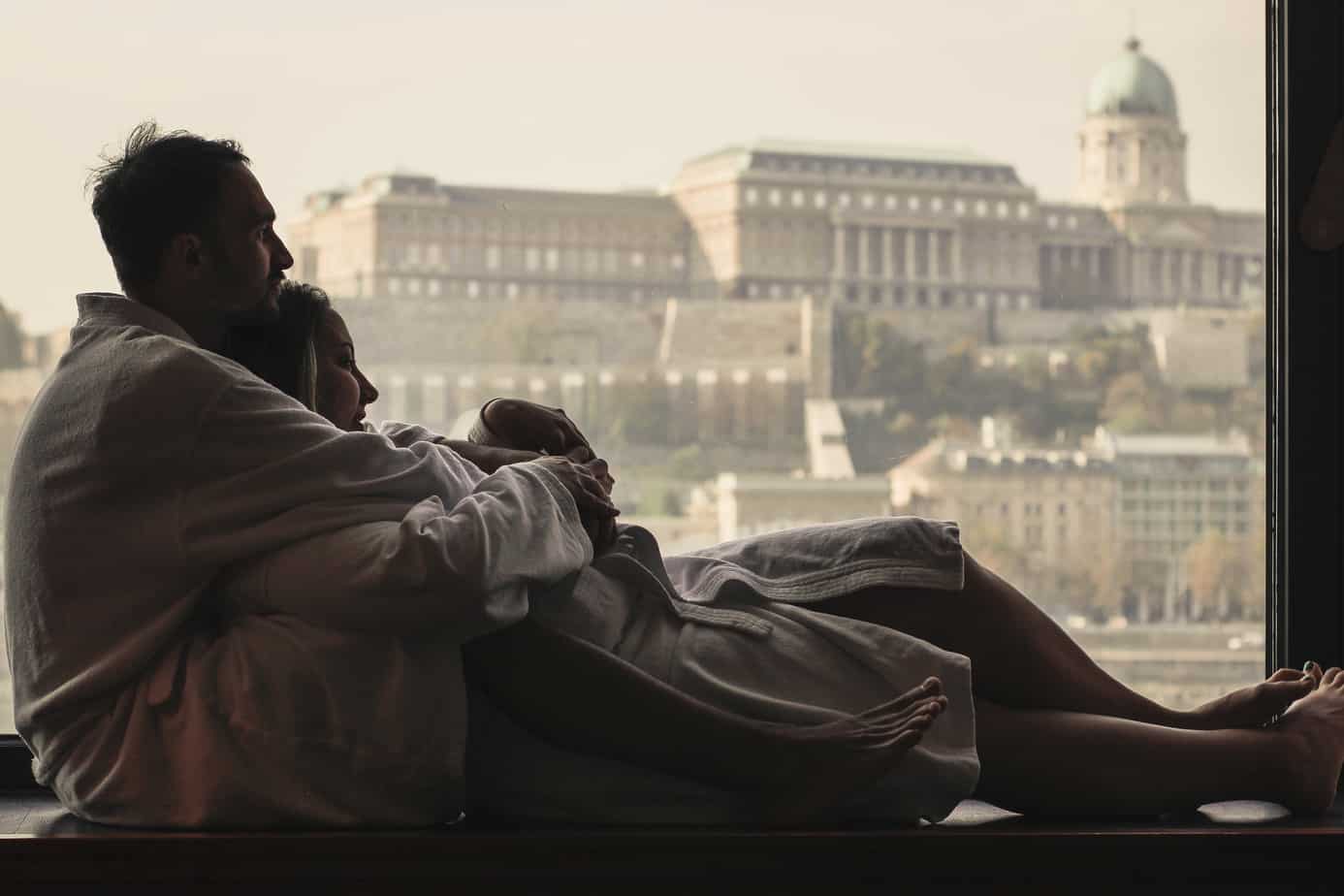 Amalfi Coast, Italy
If you're running out of European honeymoon ideas, Italy will always provide. Why not consider the Amalfi Coast? Victoria from Bridges and Balloons tells us why this area is so wonderful for couples.
Destination: Amalfi Coast
Why it's perfect for a honeymoon: The Amalfi Coast is one of the most romantic destinations in Italy. It's where the mountains meet the sea and colourful villages cascade down the cliffs. The drive along the coast is worth the visit alone, but to make the most of it all, stay for a while in some of the little towns and take a trip to Capri island.
Recommended activities: Visit Positano, one of the most picturesque towns on the coast, and Ravello, an elegant mountaintop village with fabulous views across the sea. Also take a boat trip to Capri, stopping at caves and grottos along the way. And for food, you're spoilt for choice, which a plethora of romantic Italian and seafood restaurants with gorgeous coastal views.
Recommended hotel: Casa Angelina
Best time of year to visit: Late spring or early fall (to avoid the crowds of summertime)
Bulgarian Riviera
Perhaps you'd like to honeymoon in Eastern Europe. Bulgaria has some fantastic options, and Stephanie of Sofia Adventures thinks the coast is the place!
Destination: Bulgarian Riviera, Black Sea Coast, Bulgaria
Why it's perfect for a honeymoon: The Black Sea is not black, it's actually vibrant greens and blues with rolling waves and sandy beaches. There are great Bulgarian resort hotels up and down the coast, so you can choose whether you'd rather be by the UNESCO city of Nessebar or the vibrant Varna.
Recommended activities: Take a dip in the pink Lake Atanasovsko and cover yourself with the lake's healing mud before washing it off in the Black Sea a few hundred meters away.
Recommended hotel: Evrika Beach Club
Best time of year to visit: May through September when it's warm enough to swim
Andalusia, Spain
Spain has so many regions worth visiting. Inma of A World to Travel suggests Andalusia as a fantastic honeymoon spot.
Destination: Andalusia, Spain
Why it's perfect for a honeymoon: Andalusia is a honeymooners paradise. Its endless green fields where oranges and olive trees flourish, the fine sand beaches of some of its main cities, national parks worth visiting like Doñana, the Arab baths of cities such as Granada and Seville, its historical-architectural heritage, its particular music, its tapas bars, and above all its welcoming people make Andalusia a great destination for lovebirds.
Recommended activities: There is nothing better than taking an Andalusia road trip through some of its main cities. We recommend you to start in Malaga and continue along the coast to Tarifa – very windy and known by lovers of kitesurfing and windsurfing – and Cadiz, not without first admiring a sunset in the dunes of Tarifa or by Trafalgar's lighthouse. Then, drive inland and spend two or three days in Seville, before leaving for Granada and its magnificent Sierra Nevada, with a stop in the romantic Ronda.
Recommended hotel: Alhambra Palace Hotel, Granada
Best time of year to visit: Late spring or early fall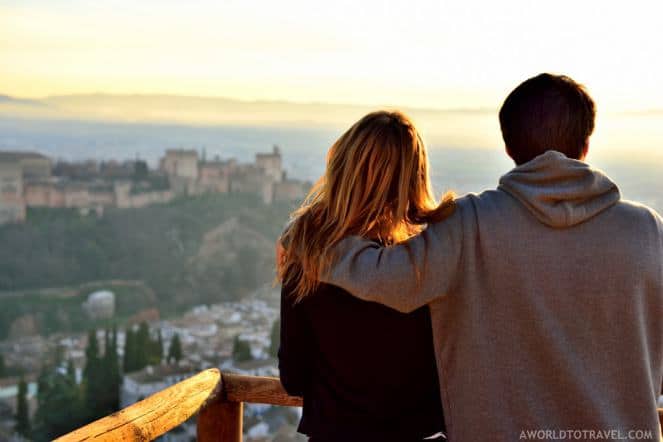 London
A big city with many charming spots, it should come as no surprise that there are a number of romantic activities in London. It's definitely a wonderful place to honeymoon. Leona of Wandermust Family tells us exactly why!
Destination: London
Why it's perfect for a honeymoon: If you are looking for the best city in Europe to spend your honeymoon in then for me there is only one place – London! London for me offers everything you need for romance, historic areas, great food, amazing luxury accommodation good nightlife and amazing activities!
Recommended activities: It is a city filled with some of the most varied and best cuisine. From some of the world's best Michelin starred restaurants that to be are the perfect romantic date to some quirky and experiential dining options! Or for something traditionally British, why not spoil yourself with a British afternoon tea at one of London's many luxury hotels? This is sure to be romantic as you get all dressed up for the occasion! Note: advance booking is essential for most afternoon teas in London.
But my favourite thing to do in London is simply walk the city! It is the perfect city for strolling and to me there is nothing more romantic than strolling around a city after dinner! Some of my favourite places to walk are along the river Thames, through historic maritime Greenwich and also through the entertainment filled Covent Garden piazza! There is no better city to get lost in than London!
If you think culture and romance go hand and hand why not have a date in one of London's brilliant and often free museums! Or if museums are not your thing, London has one of the best theatre districts in the world! Treat yourself to a show, from the longest running show The Mousetrap to musicals to Shakespeare's Globe Theatre – London has a varied and amazing theatre scene!
Recommended hotel: London is also filled with some of the most romantic hotels in the world such as the beautiful One Aldwych in Covent Garden or the stunning St Pancras Hotel! Whether you want historic charm or modern luxury London has the romantic accommodation for you!
Best time of year to visit: There is no bad time to visit London, no matter what time of year you visit London you will fall in love with it. However, spring and fall are particularly lovely.
Hallstatt, Austria
How about a honeymoon in Austria? Scott from Take Back Roads shares this beautiful description and detailed recommendations for one of Austria's most picturesque destinations.
Destination: Hallstatt, Austria
Why it's perfect for a honeymoon: Nestled in the heart of the Austrian Alps an hour east of Salzburg, the picturesque mountain village of Hallstatt sits on a narrow sliver of hilly terrain. Shoehorned between the towering mountains that surround it and the pristine waters of Lake Hallstatt, the 2,500 year-old village is now a protected UNESCO World Heritage Site. The narrow streets are lined with traditional wood-and-stucco alpine homes and family-owned and operated shops, boutiques, and restaurants. Instead of generic chain hotel rooms, visitors are housed in cozy centuries-old bed & breakfasts scattered throughout the village.
As a protected site, non-resident vehicles are completely prohibited (there is a paid parking lot about 100 yards outside of town), so the only methods of transportation through the tiny village is on foot or bicycle – thus, it truly feels like a magical trip back in time. Many restaurants offer intimate tables for mealtimes, and several also have breathtaking lakeside terraces! And of course… the views. There are no words to describe the mind-blowing mountain views throughout the village and its surroundings.
Recommended activities: There are plenty of romantic experiences to enjoy in Hallstatt on your honeymoon, such as renting a small motorboat to cruise around the lake or riding in a larger wooden gondola-style motorboat across the lake to the village of Obertraun. There are also paddle boats that look like the stunning white geese that populate the lake surface in summer.
You can spend hours strolling through the ancient lanes of the village, or ride the funicular up to explore the historic salt mines (and enjoy the insanely gorgeous panoramic view) on the top of the mountain. There's an adorable central market square, lined with vendors, restaurants and cafes with outdoor seating, boutiques and shops, and a small fountain and plentiful benches for relaxing and taking it all in. And, of course, the aforementioned family-operated taverns, restaurants, cafes and even a brewpub.
Recommended hotel: Without question, the Braugasthof Lobisser is your best option. This 600 year old B&B and brewpub features ancient creaking wooden floors and beautiful inlaid wood paneling, with traditional Austrian decorations and photos everywhere. With approximately a dozen total rooms (about a third have large balconies) spread out on three floors, a breakfast room, a dining room & kitchen on the ground floor, and possibly the best lakeside beergarden-style terrace located across the lane, this hotel has everything you could possibly ask for … and is the most competitively priced option we could find (price to value of the amenities). The staff are friendly and helpful, the traditional Austrian foods & fresh-brewed beer are delicious, the free breakfast is hearty and well-prepared, and the views from the hotel balconies are incomprehensible.
INSIDER TIP: if you book far enough in advance, make sure to request room number 8. As the only room in the hotel with two balconies (one facing the lake and one facing the village), the views are otherworldly – and it's the same price as the other balcony rooms!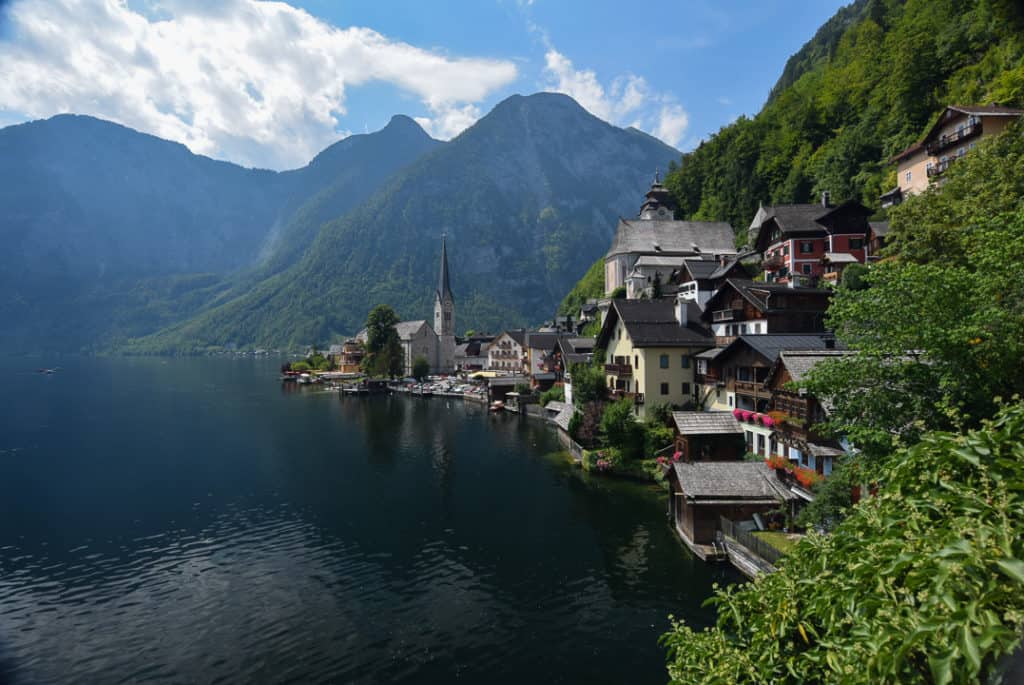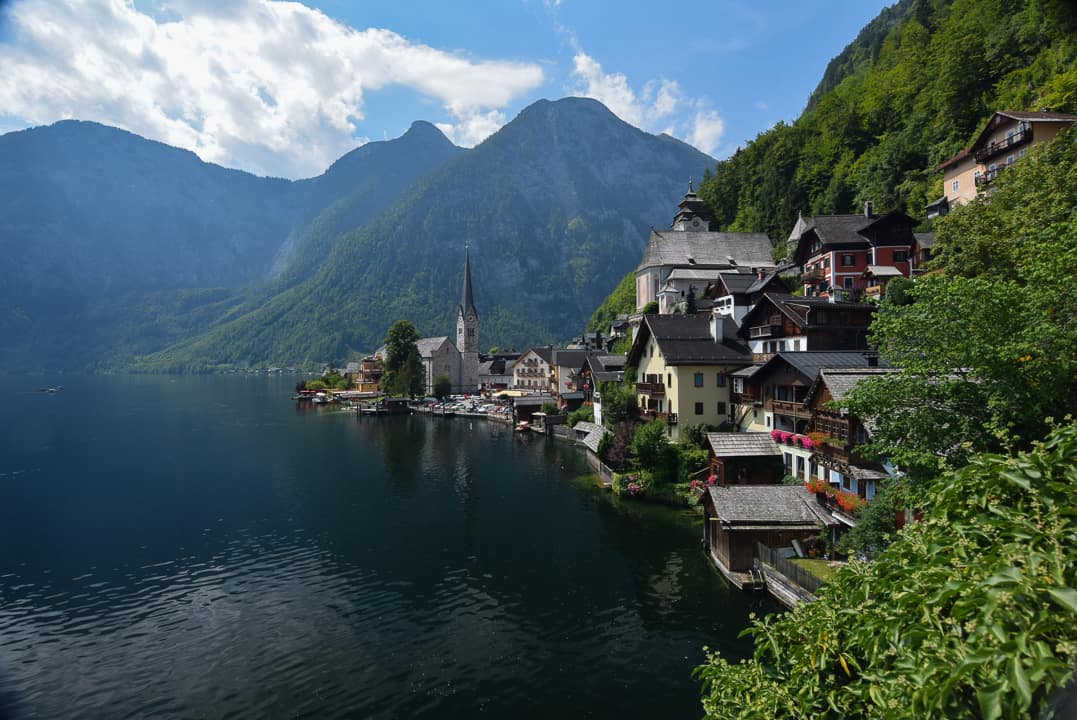 Best time of year to visit: Definitely mid- to late-spring or mid-fall. None of the buildings in Hallstatt have air conditioning (which is common throughout Austria), so it can get brutally hot during the summer. Summer and winter are also the peak tourist seasons here, so the streets can get Times Square level crowded with bused-in tourists during the day.
(A couple more tips): A few things to be aware of prior to your honeymoon in Hallstatt: As a UNESCO World Heritage Site, there are very strict rules against the modernization of buildings and businesses in the village. As such, it is most assuredly not handicapped accessible: there are no ramps, no elevators, and non-resident vehicles are strictly prohibited in village. You have to park in the lot outside of town and hand-carry your bags to the hotel… and then up the flights of steps to your room. Make sure to pack accordingly… and don't forget your step-down voltage plug adapter!
Rome, Italy
When it comes to European honeymoon destinations, Rome has to be included on such a list! Cazzy from Dream Big, Travel Far shares her recommendations for one of Europe's most well known well-loved cities.
Destination: Rome
Why it's perfect for a honeymoon: When we think of romance, we often think of Rome. Known as the city of romance, it's no surprise that it's a perfect honeymoon destination. It's a place that suits all types of couples. If you love authentic Italian food, fine wine, beautiful architecture, historic sights and a glass of Limoncello, then Rome is for you.
Recommended activities: Find quaint restaurants to dine in the evening, then wander in search of the cities best gelato spots. Throw a coin in the Trevi Fountain together and wish for everlasting love and rent a rowboat on the Borghese Lake and create your own romantic moment.
Recommended hotel: For a hotel stay to remember, opt for Villa Spalletti Trivelli, just 10 minutes from the Trevi Fountain for a wonderful stay.
Best time of year to visit: The wonderful thing about Rome is that it's got something unique and beautiful for every season, but I often think Spring is a perfect time to visit.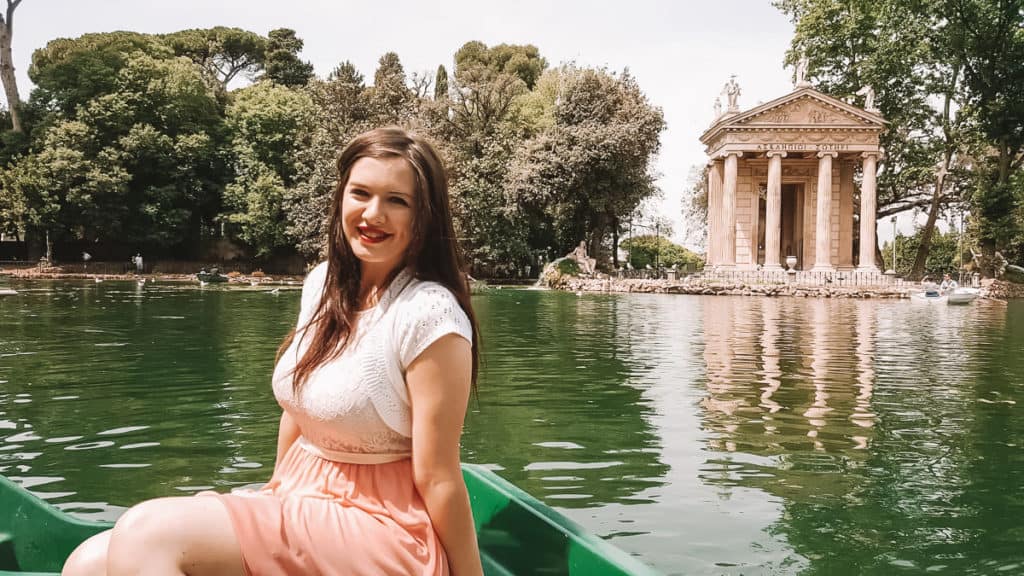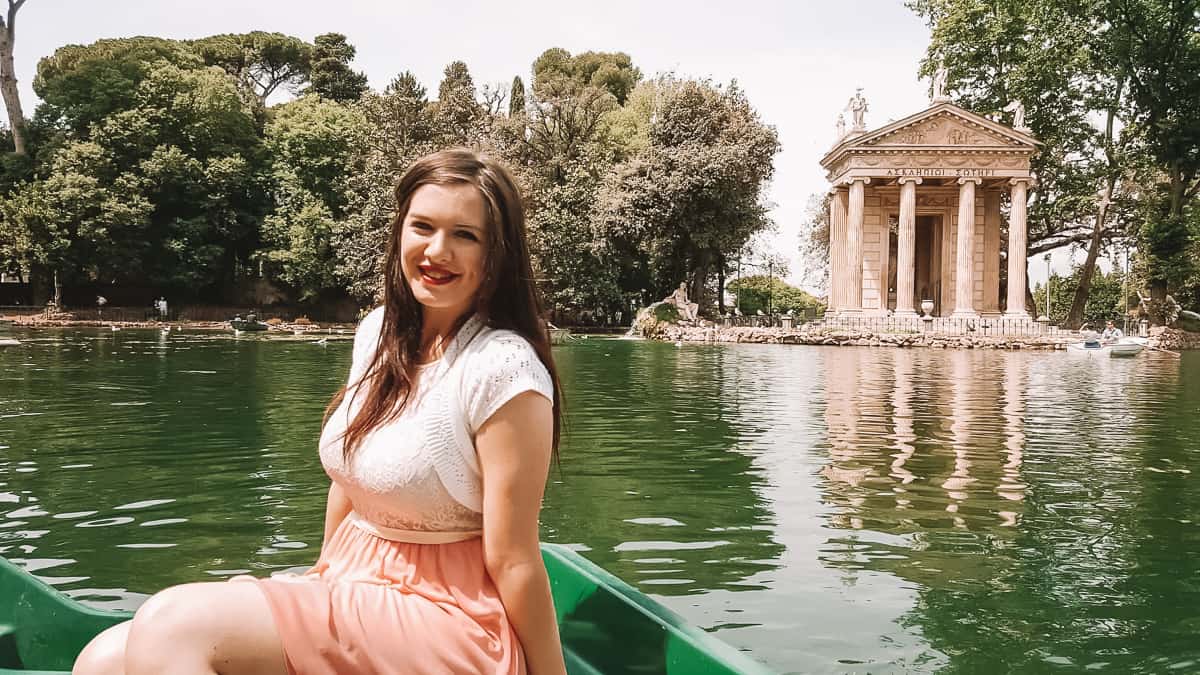 Llubljana, Slovenia
Despite it's hard to pronounce name, the city of Llubljana offers plenty for romantic visitors to do. Emily of Wander-Lush provides an ideal itinerary below:
Destination: Ljubljana and Bled, Slovenia
Why it's perfect for a honeymoon: One of Europe's most underrated capitals, petite Ljubljana oozes romance and nostalgia. Founded on a legendary dragon-slaying love saga, Slovenia's biggest city features a pink baroque church as its center point, art nouveau architecture and cobbled streets, and a quixotic mix of continental European and Mediterranean cultures and cuisines.
An endless string of cafes and wine bars set along Ljubljana's riverside promenade beckon visitors with their tables set out in the sun. Less than 2 hours away by car, Bled and its iconic lake provides one of the most romantic backdrops for outdoor activities in the region.
Recommended activities: Ljubljana is best explored on foot by crisscrossing the stone bridges and wandering the alleyways. Starting at the main plaza, follow your nose through the Central Market (a lively farmers' market on weekends), popping into historic chapels and breaking every now and then for a glass of Slovenian wine and a pizza.
In Bled, walk or cycle around the lake, and ride out to the island in a traditional Pletna (a wooden boat reminiscent of Venice's gondolas). There are a number of spas set along the lake's shore—of if nature is more your scene, find seclusion in the canyons, caves and swimming holes in the area. Both Bled and Ljubljana have castles that offer magnificent views.
Recommended hotel: Antiq Palace Hotel & Spa (Ljubljana); Vila Bled Luxury Boutique Hotel (Bled).
Best time of year to visit: Spring or early fall.
Crete
Without a doubt, a Greek honeymoon would be an incredibly romantic experience. Allison of Sofia Adventures shares why Crete is an excellent choice.
Destination: Crete, Greece
Why it's perfect for a honeymoon:
Crete is perfect for those looking for a Greek island away from the crowds of
Santorini
and Mykonos. While it's still a popular island, its large size (the largest in Greece!) ensures that you'll find corners of your own to discover, whether it's the beautiful Venetian Harbor of Rethymnon, the rugged beach of Seitan Limania, or the historic streets of Chania.
Recommended activities: Crete is best for honeymooners who want a touch of adventure with their honeymoon and prefer to go a bit off the beaten path. Rent a car and explore the thousands of beautiful beaches that make up Crete's coastline. The most beautiful are Seitan Limania with its natural gorge, Balos Lagoon with its thin strip of sand separating two beautiful streaks of turquoise water, and Elafonisi beach with its pink-hued sand. Many of these beaches are only accessible after a short hike or a lovely romantic boat ride.
Other amazing
Greek honeymoon activities
include tasting Crete's delicious wines, visiting one of the oldest olive trees in the world, going on sailing or boat excursions in the Mediterranean, eating absurdly delicious Greek food in romantic tavernas.
Best time of year to visit: May, September, or October, just outside the summer rush months. April has beautiful weather, but from experience, the sea is still a bit cold!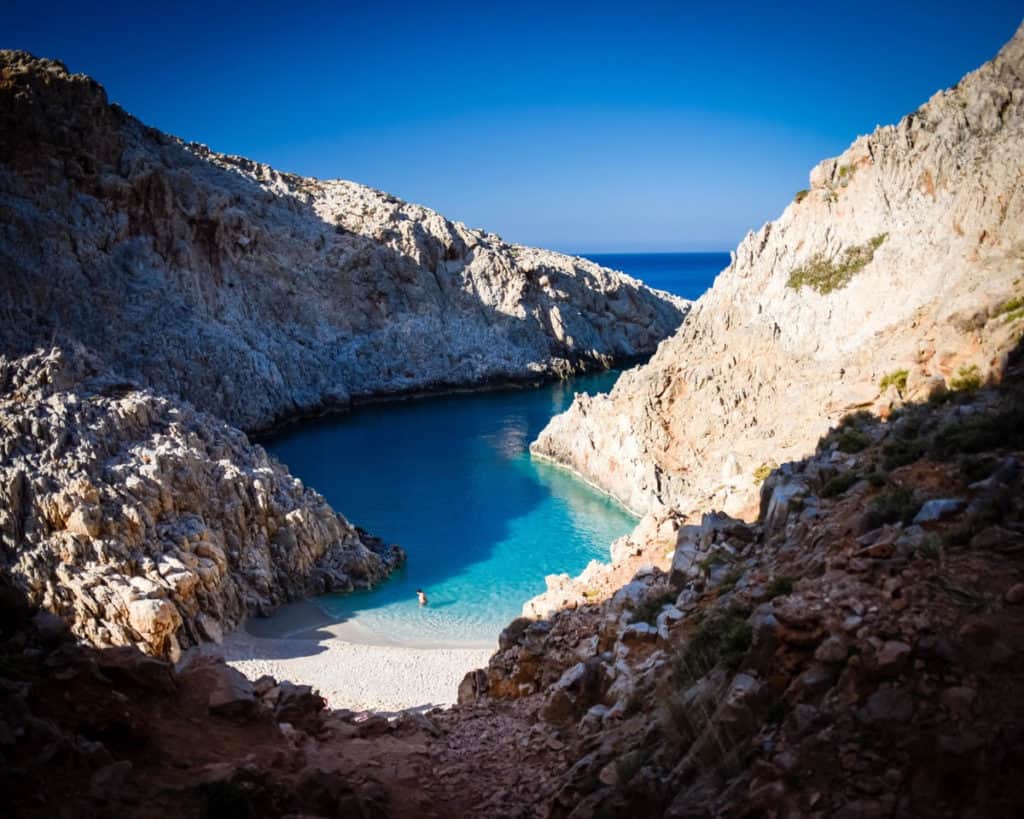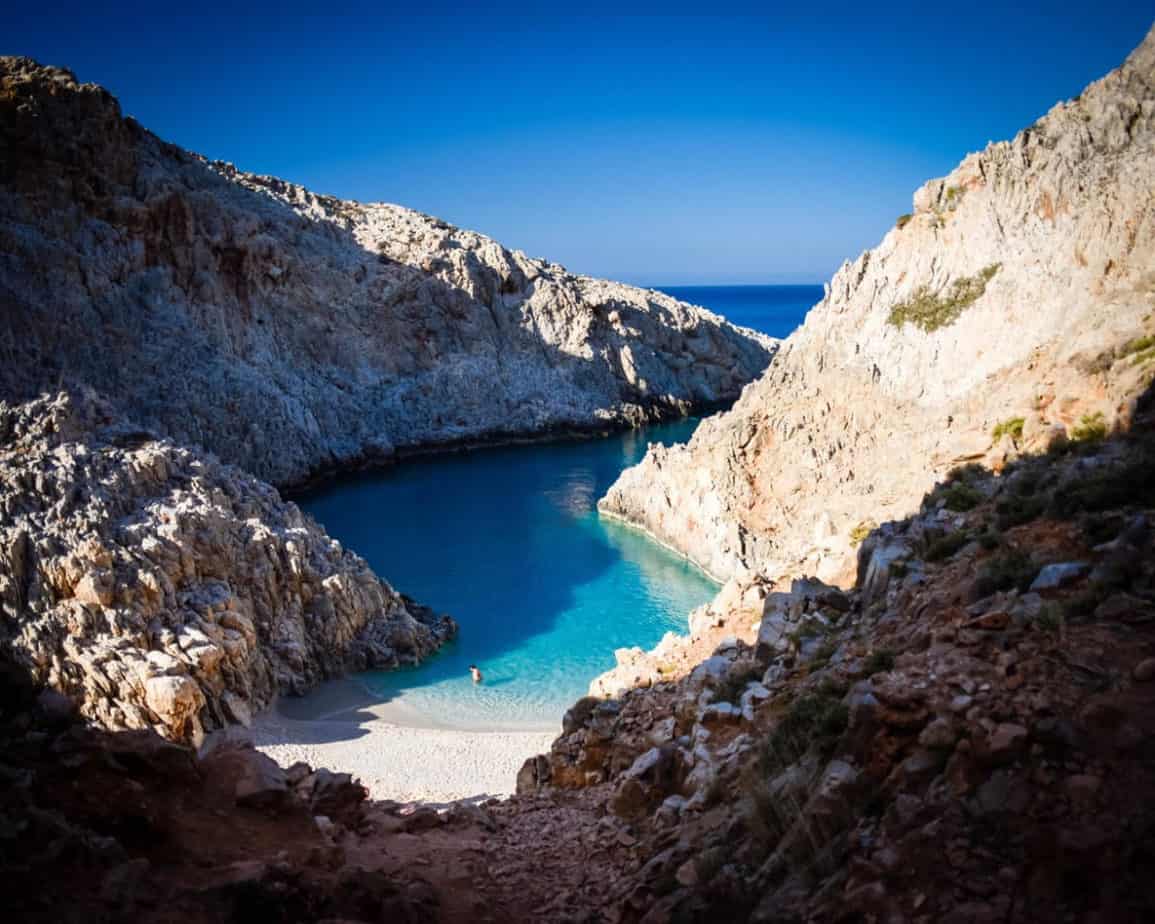 Saariselka, Finland
Don't forget about Scandinavia when planning a honeymoon in Europe. Sara from Our Kind of Crazy describes Lapland, Finland so beautifully, I'm ready to go right now!
Destination: Saariselka, Finland
Why it's perfect for a honeymoon: If you've ever imagined the perfect winter honeymoon getaway, Saariselka, Finland is the place to go. It is the definition of "winter wonderland", and is one of the most romantic places you can go on your honeymoon. Saariselka is in Lapland, Finland which means it is a prime spot to catch the Northern Lights. You can rent a glass igloo cabin, and cozy up while watching the Auroras from the comfort of your room. If the Northern Lights aren't one of the most romantic things to witness, there are several other activities you can do while on your honeymoon in Saariselka.
Recommended activities: The theme of this honeymoon is "Winter Wonderland" so everything has to do with the snow. Cross country skiing, snowmobiling, snowshoeing, husky rides, and ice fishing are just a few activities they offer in Lapland. You can feed and hang out with reindeer, walk across frozen lakes, enjoy a drink at a bar made entirely of ice and snow, and of course chase the Northern Lights. It's a winter honeymoon that can't be beat!
Recommended hotel: The Northern Lights Village
Best time of year to visit: Winter and Early Spring
Provence, France
Sophie of Solo Sophie shares why magical Provence is the perfect honeymooning destination in Europe.
Destination: Provence, France
Why it's perfect for a honeymoon: With its endless lavender fields, pretty-as-a-postcard villages, and salty seascapes, there is perhaps nowhere in France quite as romantic as Provence. For those looking for a special experience, there's the chance to stay in French châteaux, experience unforgettable sunsets, and get lost in the wineries of the region.
Recommended activities: Whether you're a foodie lover, history buff, or wish to head to the beach, Provence has all this and more. Some of the best things to do in Provence include head out on a road trip to see the lavender fields and centuries-old villages dotted around the landscape. With its butter-stone houses and impressionist past, the charming 'city of a hundred fountains,' Aix-en-Provence, while the town of Cassis is one of the most beautiful settlements to be found anywhere in the Mediterranean.
Recommended hotel: Château de Cassis
Best time of year to visit: Thanks to its fairly mild climate during the winter months, Provence is easy and beautiful to visit all year round. However, if you want to make the most of the summer blooms (as well as all those purple lavender fields), then be sure to head to Provence between late June and early August. This is when the days are at their longest, everything is actually open, and you're sure to stumble upon plenty of pretty flower fields
Edinburgh, Scotland
Natasha of The World Pursuit talks about one of our favorite places: romantic Edinburgh, Scotland. It's where we first met and remains one of our favorite cities in the entire world.
Destination: Edinburgh, Scotland
Why it's perfect for a honeymoon: Scotland is a great place for a European honeymoon and any trip there will likely start and end in Edinburgh. Although Edinburgh is the capital of Scotland and a big city it doesn't feel like it. There aren't high rises obstructing views, but instead old 15th-century buildings that are beautifully preserved and ready for exploration. Seriously walking around Edinburgh is like walking in a European fairytale.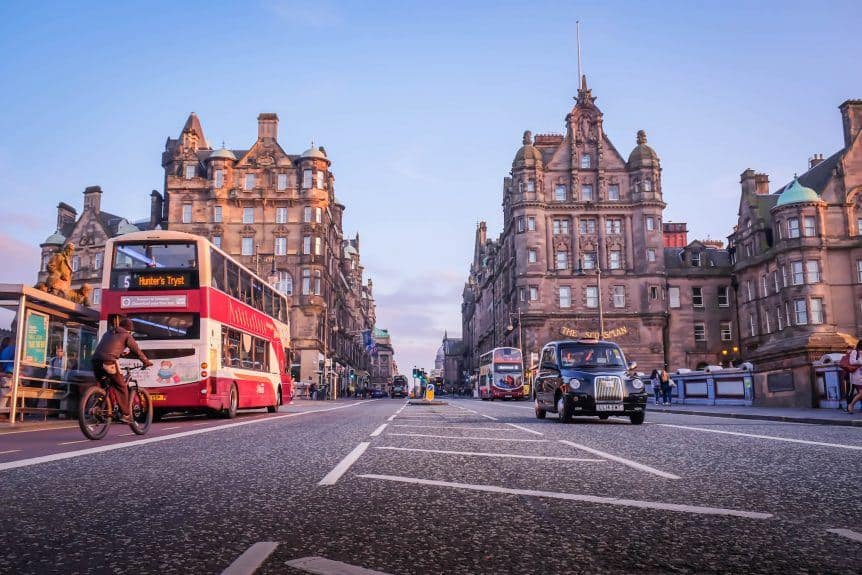 Recommended activities: One of my favorite things to do is climb Climb Calton Hill. Calton Hill has the best views of Edinburgh, it's centrally located and only a five minute walk up. This makes for an intimate viewpoint that is easy to reach. If it's a beautiful day, our suggestion is to watch the sunset on the city from up here. I also recommend heading up the Scott Monument as it's a beautiful piece of architecture and also provides stunning views.
Recommended hotel: Old Town Chambers. Old Town Chambers is a collection of luxury apartments in the heart of Edinburgh's Old Town. The apartments are modern, spacious, comfortable, and definitely luxurious.
Best time of year to visit: September. When the summer crowds have died down but the weather is still amazing.
---
Still researching honeymoon destinations? Let us help you pick a great spot. Check out some of our other honeymoon resources:
---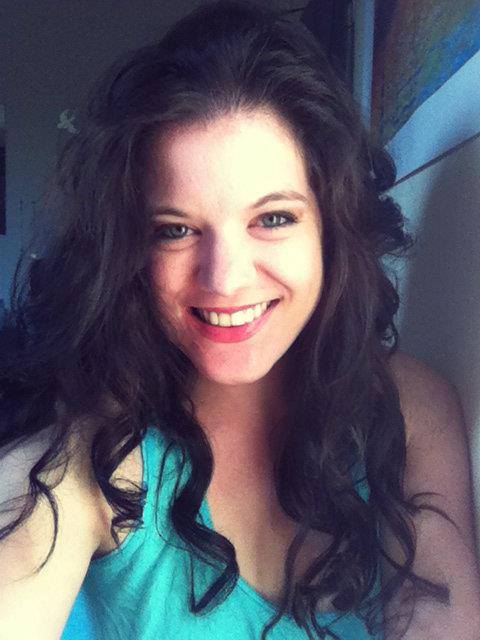 Amy Hartle is the co-founder and owner of Two Drifters, where she blogs about romantic and couples travel, relationships, honeymoons, and more. With a Master's in English and a BA in Musical Theatre, Amy loves to write quality content as well as to entertain, and she hopes to do a bit of both here on the blog! Amy is happily married to her husband Nathan, and when not working on their sites, Amy & Nathan can be found cuddling, reading, and enjoying delicious lattes.