This post may contain affiliate links. Read our disclosure page for full details.
You've just gotten engaged: huge congratulations! We think marriage is one of the most amazing things and planning a wedding and a honeymoon are just the icing on the cake. As you start to plan, you may be considering some of the best honeymoon destinations in the USA.
While no honeymoon is perfect, we want to help you plan for one of the most romantic trips of your life; a honeymoon that you'll never forget. If you're planning to honeymoon in the USA the options seem endless. There are so many romantic places in the United States! With so many enticing spots, where should you and your new spouse travel?
To simplify this decision, we're sharing 23 of the best honeymoon destinations in the USA. These locations have been handpicked by fellow travel bloggers, many of whom honeymooned in these exact places. So you are guaranteed a romantic and exciting place to travel. (As for us, we chose a Canadian honeymoon, showing that there are a so many fantastic honeymoons in North America).
Psst! Considering anywhere across the planet for your honeymoon? Check out our list of the most romantic places in the world. And no matter where you go, don't forget to pack all your honeymoon essentials.
Ready to start planning your USA honeymoon? Read on to get inspired.
23 Super Romantic Honeymoon Destinations in the USA
Deer Valley, Utah
We've always wanted to visit beautiful Utah, although we haven't made it there yet. Sherrie from Travel By A Sherrie Affair shares why Utah makes a great USA honeymoon destination.
Destination: Deer Valley and Park City, Utah
Why it's perfect for a honeymoon: The area of Deer Valley and Park City has a lot to offer, especially for the outdoor type honeymooners. In Park city there are a lot of delicious and cozy restaurants to try right along next to shopping of all kinds with unique boutiques, art and souvenirs. The hotels offer fantastic couple packages to enjoy after all the outdoor activity. Fire pits outside and fireplaces inside at night to have a romantic night.
Recommended activities: Winter sports of fabulous skiing, snowmobiling and cross country skiing. While in the summer hiking, paddle boarding, horseback riding and bike riding is popular.
Recommended hotel: Montage Deer Valley Resort
Best time of year to visit: It all depends on if you like the winter or summer- great for all seasons!
San Diego, California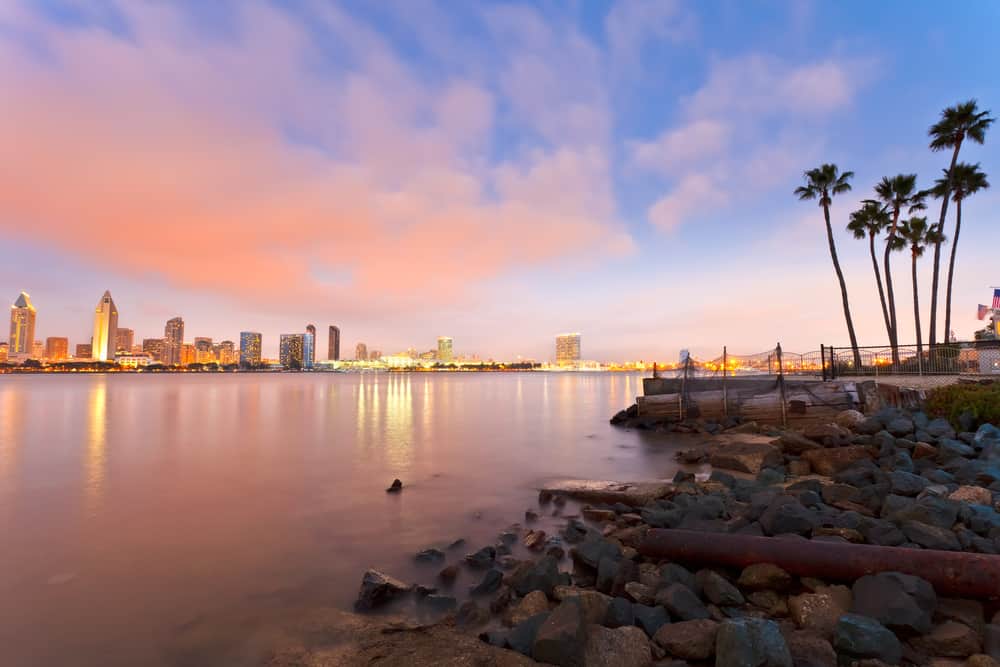 Thanks Diana from The Elusive Family for sharing her thoughts on sunny, romantic San Diego. It's no surprise that California is home to some of the top US honeymoon destinations.
Destination: San Diego, California
Why it's perfect for a honeymoon: San Diego is perfectly situated in California's southern coast, with warmth, sun, beaches, culture and activities, it's the perfect place for a honeymoon destination.
Recommended activities: San Diego has never-ending water activities that can be done along the city's numerous beaches. La Jolla Cove is a great beach to visit for surfing while Del Mar beach provides a stunning backdrop of cliffs. Visit Sunset Cliffs Park near Point Loma for some time alone and to take in the sweeping views of the Pacific. Gaslamp Quarter is a must to enjoy a glass of wine at a rooftop bar or head to Kettner Boulevard and find your favorite restaurant in San Diego's "Top Chef Alley." Finally, tour one of dozens of craft beer locations such as Stone Brewing Company to learn about beer, try it out, and to find your favorite!
Recommended hotel: La Jolla Shores Hotel. Located on the beach, La Jolla offers waterfront dining options an onsite spa and numerous offers for honeymooners.
Best time of the year to visit: October. Anytime in the fall from September to November is a great time for a honeymoon, as the weather is perfect and the crowds thin out a bit.
Maui, Hawaii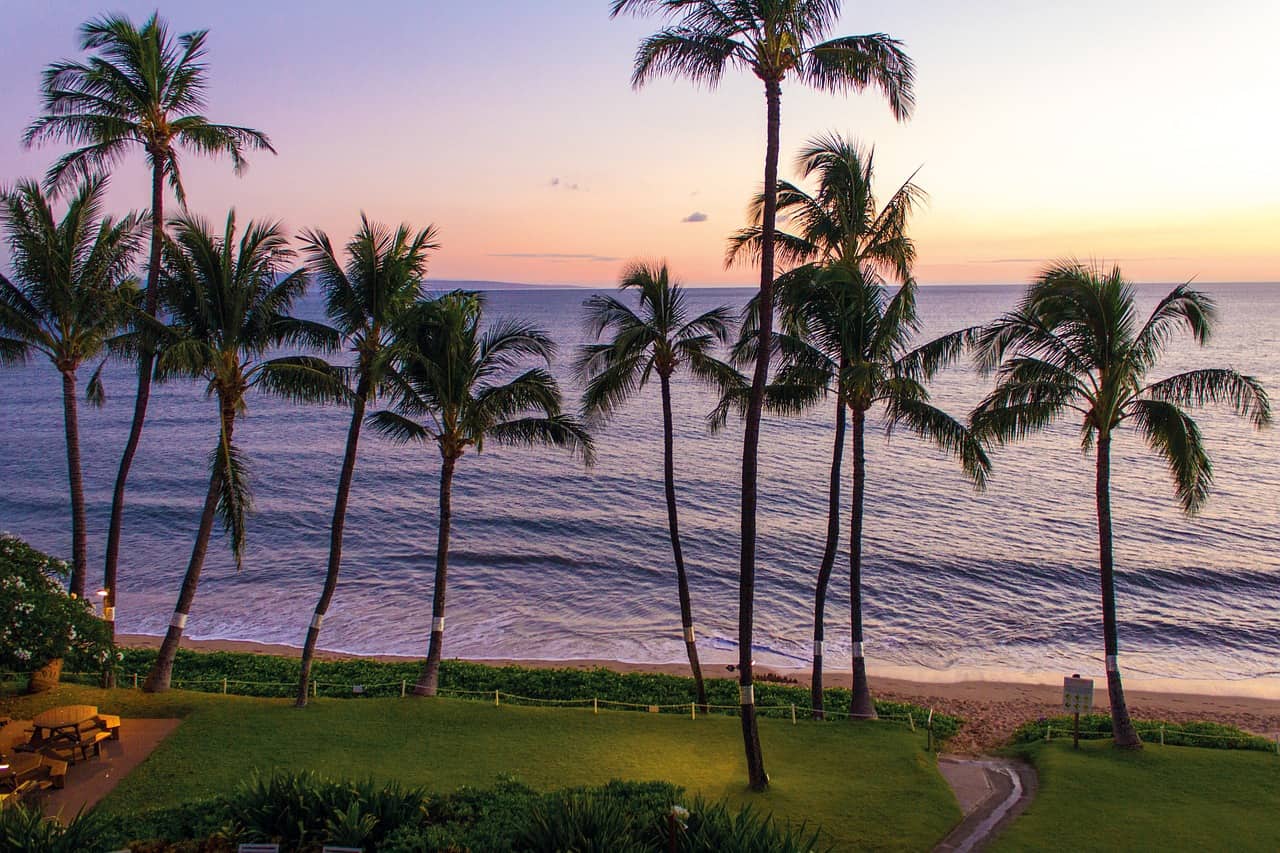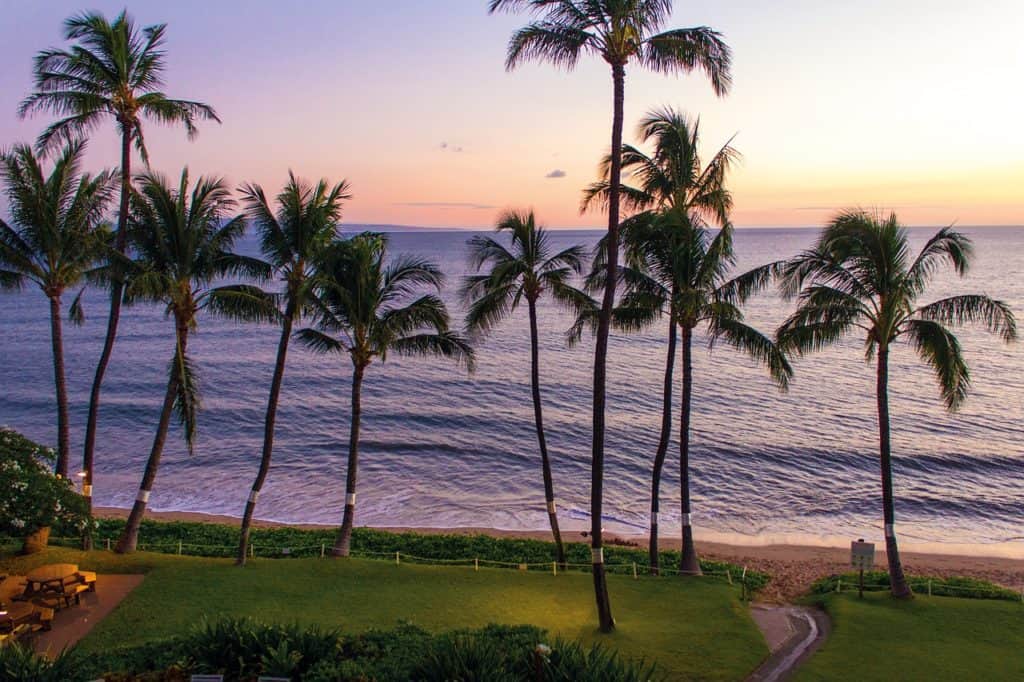 It's no surprise that Hawaii is home to some of the most romantic, tranquil honeymoon resorts in the USA. It can be tough to choose between islands and hotels, but Serena of Serena's Lensestells us why Maui is the place to be.
Destination
:
Maui
, Hawaii
Why it's perfect for a honeymoon:
Maui
has always been known as the most romantic island of Hawaii and a popular destination for honeymoon. There is something to offer every couple on
Maui
. For couples who are into relaxing, there are a number of beautiful beaches on
Maui
.For couples who are into food, there are many romantic restaurants offering traditional and fusion Hawaiian cuisine. For couples who like adventures, there are a number of hikes and coastal drives that ones can enjoy.
Recommended activities:
There are so many great things to do in
Maui
but the top 3 activities for honeymooners in
Maui
include Snorkeling in Molokini Crater, Drive the famous road to Hana to see the best waterfalls and hikes and watching the
sunrise on top of Haleakala.
Recommended hotel
: For honeymooners who want the ultimate relaxation and luxury, check out the 5 star adult-only
Hotel Wailea, Relais & Châteaux.
You will be treated like royalties there and be driven around in Teslas to the famous Wailea beach.
Best time of year to visit
:
Maui
is great to visit all year round but the best time to honeymoon in
Maui
is Spring and Fall without the summer heat, holiday crowd and price tag.
Boston, Massachusetts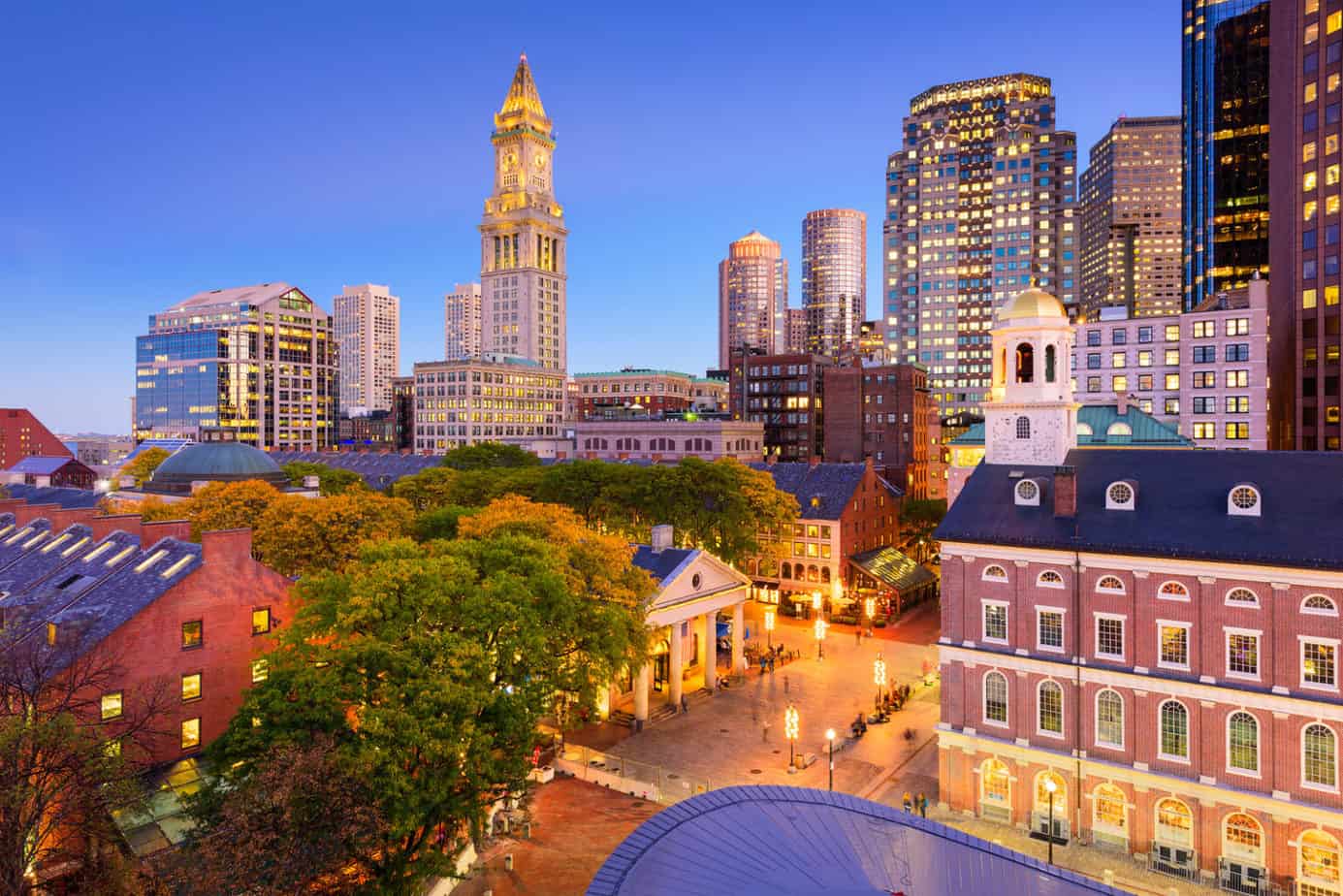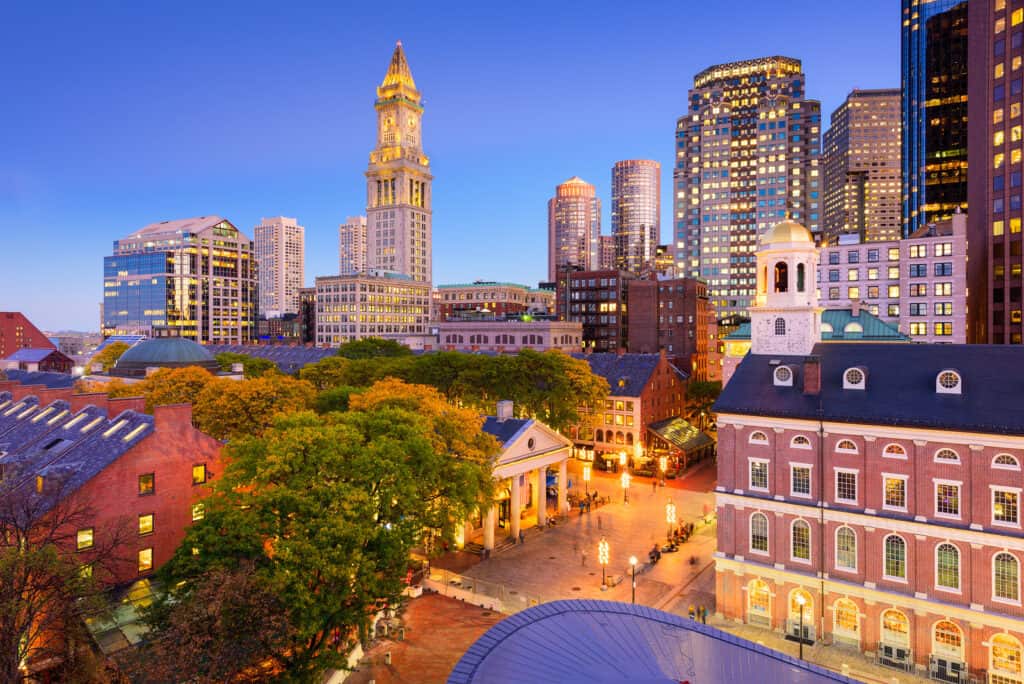 Boston is a whole lot of fun and it can be very romantic, too! Yulia of That's What She Had lets us know what's so charming about a honeymoon in Boston.
Destination: Boston, MA
Why it's perfect for a honeymoon: Mark Twain once said that there are only "four unique cities in America: Boston, New Orleans, San Francisco, and San Antonio". And while my personal list would differ quite a lot, I do agree that Boston is exceptionally unique among other American cities. To me, it's the European vibes of the city: cobblestone streets, historic buildings, and red bricks all around. Boston isn't trying to be romantic, it just is. Add to that how incredibly walkable the city is. You can spend hours wandering around hand-in-hand with your loved one — something very few American cities can boast about. Even if you have only two-three days in Boston, this city is worth the trip!
Recommended activities: One of my favorite places in the city is Boston Public Garden. The near-by Boston Common is nice, but, due to its enormous size, lacks the coziness and intimacy of the Public Garden. In summer, you can do a swan boat ride, a Boston tradition since 1877. In winter, ice skating on the frozen Frog Pond is a great idea.
One of the most unique and beautiful museums in Boston is, hands down, Isabella Stewart Gardner museum. Built to resemble a 15th-century Venetian palace, the museum houses significant pieces of European and American art.
For an upscale romantic dinner, go to the Top of the Hub, a restaurant on the 52nd floor of Prudential center with 360-degrees views of the city. You can combine dinner with a show at Boston Opera House. Their ballet performances are incredible.
Recommended hotel: The historic Omni Parker House where Boston cream pie was created.
Best time of year to visit: any time but winter. Spring is great for cherry blossoms, fall — for gorgeous colors, summer is always great. Winter in Boston is physically painful.
The Grand Canyon
Certainly one of the most exciting natural wonders in the US, the Grand Canyon is perfectly poised to be one of the best honeymoon places in the US. We learn more about this destination from Maggie of The World Was Here First.
Destination: Grand Canyon, Arizona
Why it's perfect for a honeymoon: Arizona is known for it's dramatic and diverse landscapes and nowhere is this exemplified more than in the Grand Canyon. While it is an incredibly popular national park to visit and it is an essential stop on any trip to Arizona, if you stray just a little bit away from the main lookout points, there are times where it feels like you have the entire Canyon to yourself. The sheer vastness and beauty of this natural wonder make it one of the most romantic places in the country, if not the entire world.
Recommended activities: The best thing to do at the Grand Canyon is undoubtedly to go on any of the numerous hikes available, either along the rim or into the Canyon itself. If you want to see some of the most spectacular views while making an unforgettable memory with your partner, then it is possible to do a helicopter tour over the Canyon itself.
Recommended hotel: If you want to stay directly on the rim and enjoy a bit of luxury while on a Grand Canyon honeymoon, then the Hotel El Tovar is an excellent choice. If your budget doesn't quite allow for that hotel, we recommend finding accommodation in nearby Williams or Flagstaff.
Best time of year to visit: If you want to be able to see all of the Grand Canyon on your honeymoon, then visiting between the months of May-October will be your best bet, as this is when the North Rim is open for visitors. You can, however, visit the South Rim at any time of year and the lack of crowds and dusting of snow on the Canyon in the winter time can certainly kindle the romance."
New Orleans, Louisiana
Ketki of Dotted Globe highlights one of the most exciting USA honeymoon destinations, and a place that attracts countless visitors each year.
Destination: New Orleans, Louisiana
Why it's great for a honeymoon: If you are looking for a unique honeymoon destination, we would recommend the vibrant city of New Orleans! The city is famous for its intricate wrought iron balconies, grand old mansions, moss-covered cemeteries, soul stirring music, iconic cuisines, and the oldest cocktails in the world. It is fabulously cosy and just perfect for long winded dinners, slow dancing, and walking through the streets.
Recommended activities: We suggest starting your trip in the French Quarter. This area has beautiful French Creole architecture and giant wraparound balconies that are laden with ferns and blooming flowers. Many of the historic buildings are home to boutiques, bakeries, bars, and restaurants. You can spend days exploring the French Quarter and still not see it all. For dinner, visit a jazz club on Frenchmen Street and listen to the best blues of your life. New Orleans is the home of jazz music and even the upcoming musicians are extremely talented. Dance your way through the night and then eat the famous beignets at Cafe Au Lait. If you have more time, visit the Garden District or take a cruise down the Mississippi.
Recommended hotel: Our favorite place to stay in New Orleans is anywhere in the French Quarter. It is the most central location and all attractions are close by. Hotel Monteleone with it's interesting history and romantic views is perfect for a honeymoon.
Best time of year to visit: The city's mild climates make it perfect for a visit round the year but if you are looking for some quiet, then skip the crowded Mardi Gras season!
Niagara Falls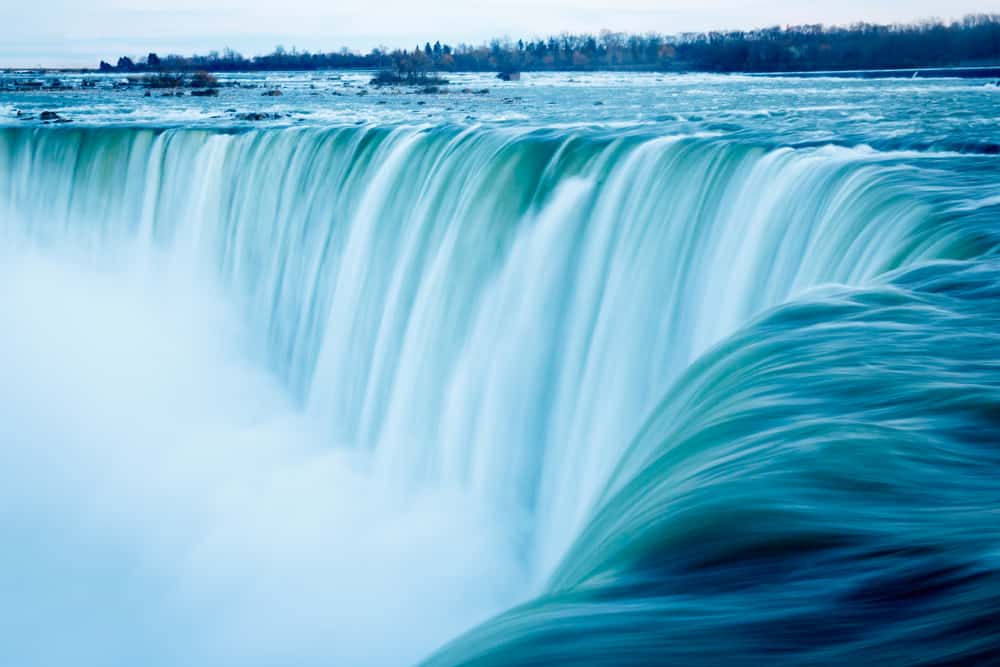 Here's another world wonder: Niagara Falls. This area is actually known as "the honeymoon capital of the world." Want to know why? Roxanna of Gypsy with a Day Job shares below. (Note: Niagara falls is located directly on the border between the USA and Canada, so bring your passport if you want to visit both sides).
Destination: Niagara Falls, New York.
Why it's perfect for a honeymoon: Waterfalls are always romantic, but in Niagara, the sound of the falls permeates the air of the entire city, giving visitors a peaceful, almost euphoric feeling.
Recommended activities: There are so many romantic things to do in Niagara Falls, but our favorites are some of the simplest. Take a handheld walk along the wooded trails of Niagara Falls State Park, with the song of the falls as a backdrop. Have a picnic on Luna Island, between the American Falls and the Bridalveil. Laugh as you are "rained on" as you explore the walkways of the Cave of the Winds. Get out on the water, and support each other as you are rocked about on the Maid of the Mist, or the downstream Whirlpool Jet.
Dress up and cheer each other's luck on the tables at the Seneca Casino. Enjoy the countryside scenery and sample local fare, spending an afternoon on the Niagara Wine Trail. Have dinner overlooking the Horseshoe Falls, at Top of the Falls Restaurant. Sip a blackberry mojito overlooking the upper falls, on the patio at the Red Coach Inn. Finally, snuggle up as you watch the changing colors of the falls light show, in the cool evening air.
Recommended hotel: The Giacomo. There are no views, but it is the most charming boutique hotel we have ever stayed in. Housed in one of the city's oldest art-deco buildings. The common rooms are comfortable and inviting, and the guest rooms are modern and chic. Each room also comes supplied with two super plush terry bathrobes.
Best time of year to visit: May, or September – while temperatures are pleasantly warm, but there are no peak season crowds.
Orlando, Florida
The Sunshine State offers plenty of honeymoon options, from The Keys to the West Coast to Central Florid. Dan of Honeymoon Always tells us about the possibilities for an Orlando honeymoon.
Destination: Orlando. Florida
Why it's perfect for a honeymoon: Orlando makes a perfect honeymoon destination for couples that want to have non stop fun together. The theme parks and attractions make it easy to plan, affordable and give you many options of things to do.
Recommended activities: If you are going to Orlando, you have to spend a few days at the theme parks. I recommend Disney's Animal Kingdom, Hollywood Studios and both Universal Parks. If you like Harry Potter plan to spend plenty of time at Universal. If Star Wars, Avatar, Pixar movies, or Disney Princesses are more your thing, spend more time at Disney. Beyond the parks, take a ride in the ICON observation wheel, visit Gatorland to feed some alligators or go for a relaxing swim at your hotel.
Recommended hotel: Loews Portofino Bay Hotel at Universal Orlando for an upscale Italian Themed hotel or Westgate Lakes Resort & Spa if you want to save money and still have an in-room jacuzzi.
Best time of year to visit:
The weather in
Florida
makes for a perfect fall or spring getaway. That's also when the crowds are smaller.
Charleston, South Carolina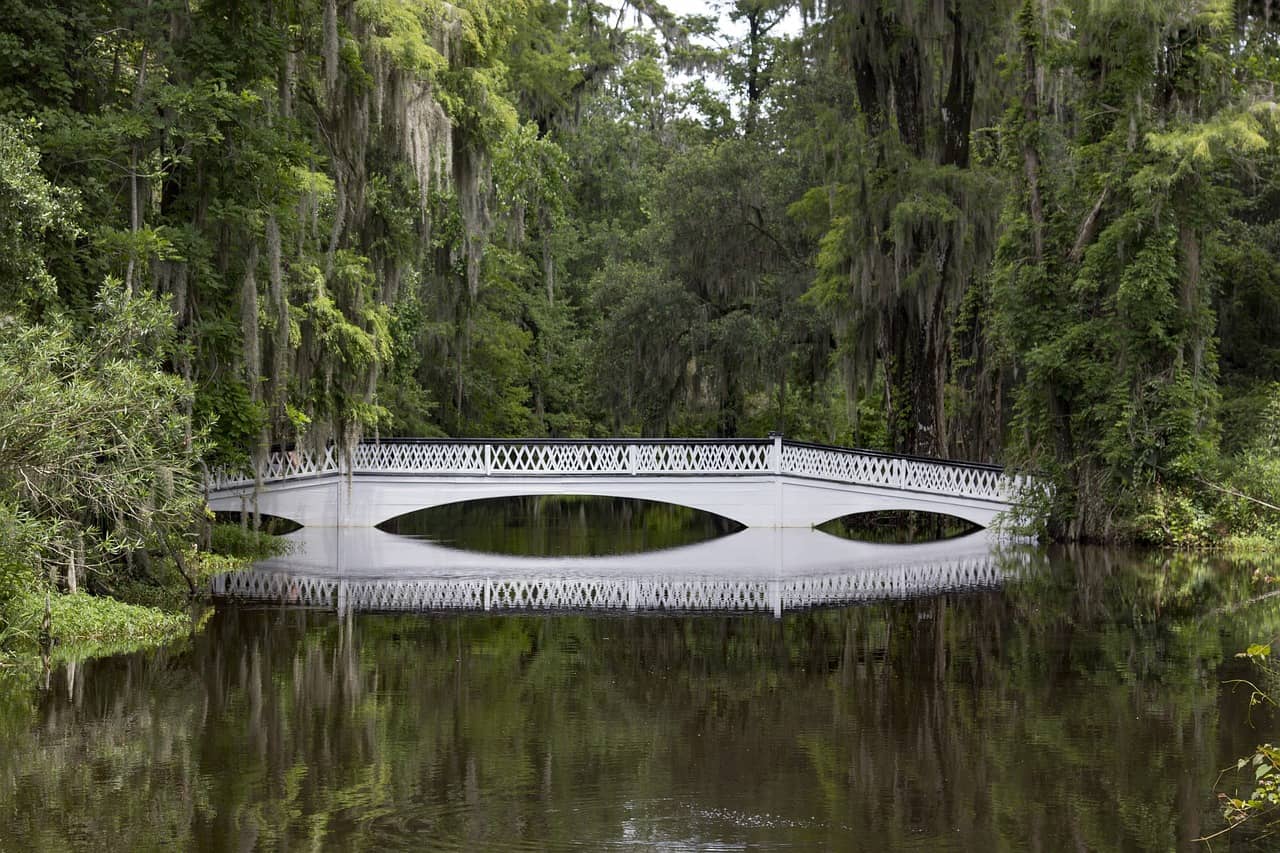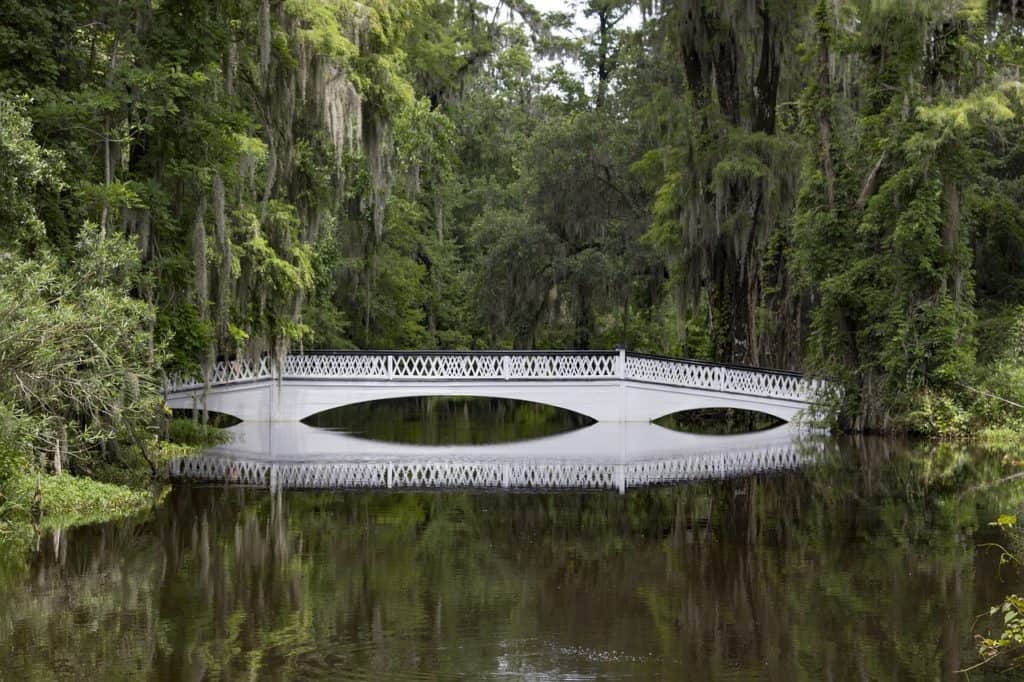 When you picture a romantic Southern location, Charleston, South Carolina no doubt comes to mind. Let's learn more about honeymooning in SC from Henry & Zory of This Life of Travel.
Destination: Charleston, South Carolina
Why it's perfect for a honeymoon: Charleston is the perfect combination of charming inns, beautiful beaches, picture perfect houses, and lovely sea island accents. Under the clip clop sounds of horse hooves under the cobblestone streets, it's hard to find a city more romantic than Charleston.
Recommended activities:
Picnic and sneak a kiss under the majestic and picturesque Angel Oak tree
Take a carriage ride on the cobblestone streets of Charleston
Take a sunset or moonlit cruise on the the Schooner Pride
Take a walk along Sullivans Beach
Couples Massage at The Restoration
Romantic Dinner at The Peninsula Grill
p class="m_1259378455166899612gmail-p1″>Recommended hotel: The Dewberry, The Restoration,or Zero George.
Best time of year to visit: April is a great time to visit – the temperatures are perfect and all the flowers are blooming.
Santa Barbara, California
Taiss and Rob of Together to Wherevershowcase relaxing Santa Barbara, another great Californian honeymoon spot.
Destination: Santa Barbara, California
Why it's perfect for a honeymoon: If you're like us and love underrated destinations, Santa Barbara will be the place where you can really get away for your honeymoon or just a romantic time with your love. You'll have a beautiful beach with mountains in the backdrop, scrumptious food options to dine on, fun activities to do to bring you together, and perfect weather to enjoy it all without the huge crowds of some other popular hotspots.
Recommended activities: We suggest a bike ride along the ocean, but if you'd rather take it slow, a romantic stroll on the beach or Stearns Wharf is also perfect! You can enjoy water activities like kayaking, horseback riding on the beach, or even go on a wine tour
Recommended hotel: The colorful and stylish Hotel Milo is the perfect place to stay. With great amenities like a pool and hot tub, this boutique hotel is also at an ideal location right across the beach!
Best time of year to visit: This southern California city is pretty amazing to visit year-round, but late summer would be the best time to go as school draws the kids and families back home and you can enjoy your romance a bit more with less tourists around!
Oahu, Hawaii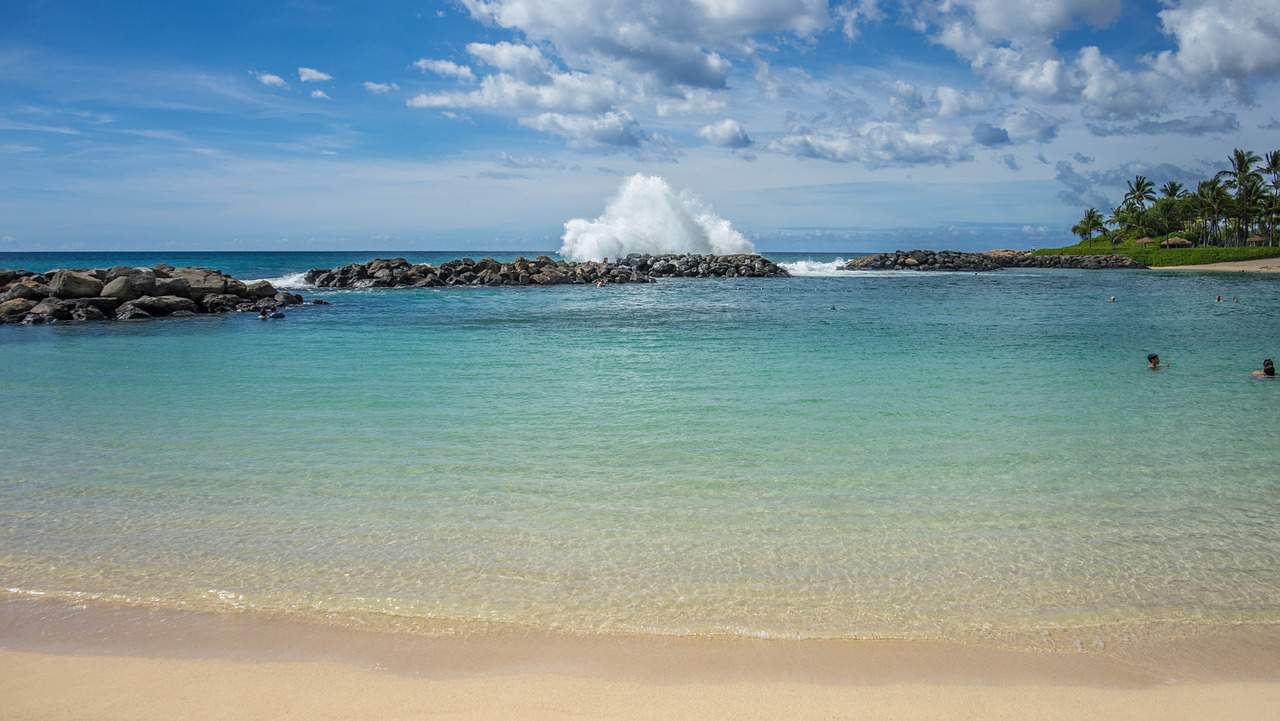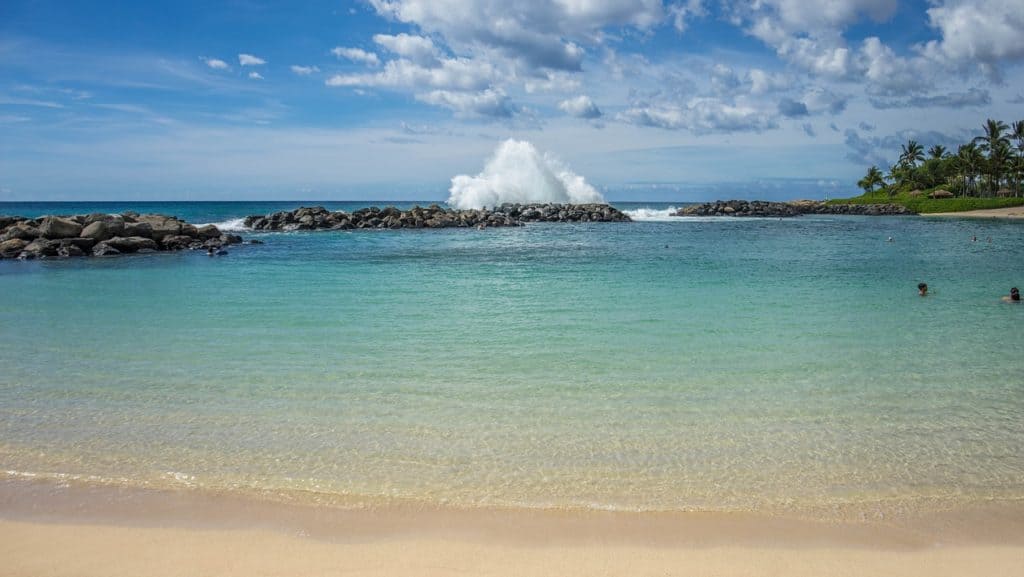 Sara from Our Kind of Crazydescribes the romantic paradise of Oahu.
Destination:
Oahu
, Hawaii
Why it's perfect for a honeymoon:
If you are looking for a romantic honeymoon in the United States, what better place to go than Hawaii for a beautiful tropical beach honeymoon.
Oahu
is one of the more lively islands in Hawaii, so there is tons to do. Waikiki Beach is a famous spot for beach play, and you can enjoy firework shows on many weekends. Head to the North Shore on the other side of the island if you are into surfing or just enjoy beautiful beaches. If you're up for a real adventure, you can swim with sharks (in a cage) or go skydiving over the North Shore as well. There are some great hikes on
Oahu
too, including Diamond Head, Lanikai Pillbox, Koko Head, and several others. There is lots to do on this little island, and you can enjoy both adventure and relaxation on your honeymoon.
Recommended activities: Hiking, Surfing, Relaxing at the beach, Skydiving, Swimming with Sharks
Recommended hotel:
We recommend checking out
AirBnB
for some awesome condos on the beach.
Best time of year to visit: Any day of the year is great in Hawaii!
Austin, Texas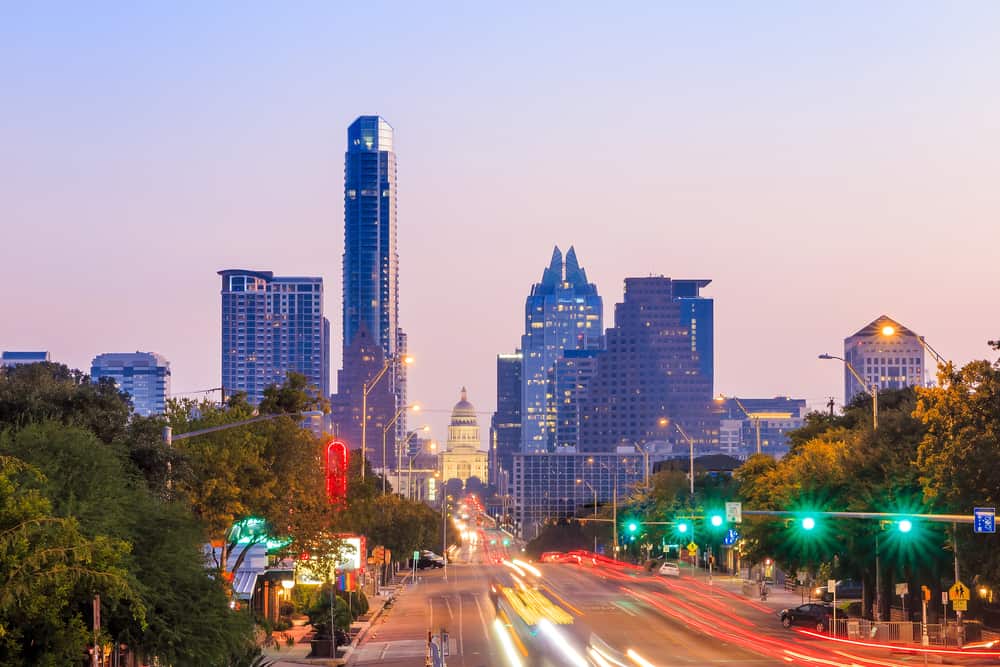 When it comes to honeymoon spots in USA, the warm, southern states boast several options. Austin, Texas is a hip, artsy city that is loved by many. Is it right for your trip? Let's see what Gemma of Two Scots Abroad has to say:
Destination: Austin, Texas
Why it's great for a honeymoon: Hot meat! Passion-inducing music! Sizzling heat! You're thinking somewhere in South America, right? Wrong! Austin, Texas is the perfect USA honeymoon destination for the hipster couple who likes tunes, art and food.
Recommended activities: BBQ joints are everywhere in Austin, the perfect way to pile back on the pre-wedding pounds you lost. Austin is also known for its craft beer but lesser known for its vodka distillery. Yes! Long-suffering vodka-loving partners like myself don't have to endure on yet another craft brewery tour while city breaking. We can now take our partners on a day trip from Austin on a tour of a vodka distillery and taster session!
Art is everywhere in
Austin
if you are a fan of the spray. Head to So Co to get a cute snap of the 'I Love You So Much Wall' and swing by Castle hills to see artists in action at Grafitti Park. Looking for the 'You're My Butter Half' mural? Make your way to East Martin Luther King Jr Boulevard.
Not the type of lovebirds to sit by the pool all day? Well, there is no shortage of festivals that take place in this Texan city. ACL and SXSW for the music fans, Pirelli World Challenge for petrolheads, and endless types of food fests from oysters to ice cream.
Best time of year to visit: Year-round, depending on what festival you may be attending.
Winter Park, Colorado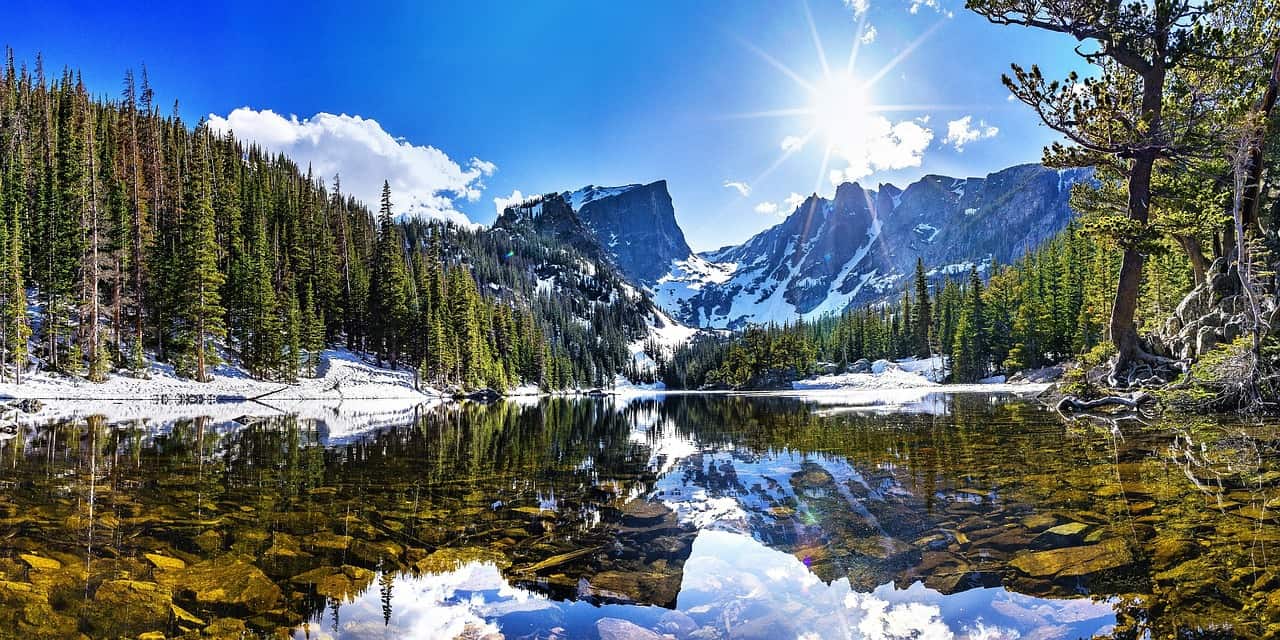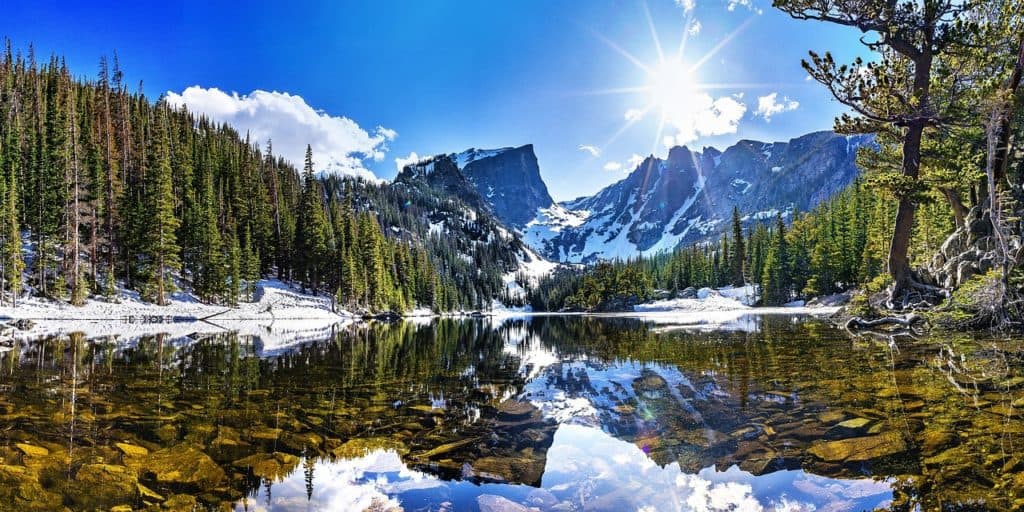 Cassie of White Sands and Cool Breezesdescribes the magic of Winter Park, Colorado in all seasons.
Destination: Winter Park area, Colorado
Why it's perfect for a honeymoon: This area is perfect for nature loving honeymooners for so many reasons!!! The area is beautiful. It's located between 7,935 and 9,121 feet above sea level in the Rocky Mountains. So there is no shortage of scenery. Valleys and mountain tops. Evergreens and Aspen trees.
Recommended activities: So many that can be enjoyed as a couple. Most people will probably already think about winter activities: skiing and snowboarding but there's also cross-country skiing, snow shoeing, sledding, tubbing, etc.. And how about the other side – soaking in some hot springs or sitting in front of a fireplace. Or why not take an evening horse drawn carriage ride through the woods ending in a wonderful steak, chicken or fish dinner.
Then of course during the other seasons there are so many options for hiking you'd never get bored! There are easy ones all the way up to more extreme ones. You'll also find canoeing, horseback riding, zip lining, miniature golfing and so much more!!
Recommended hotel: My recommended hotel is actually a YMCA. Now let me explain 🙂 Snow Mountain Ranch is made up of more than 5,000 acres of the Rocky Mountains. Not only does the Ranch have many of the activities listed above, they also have cabins, lodge rooms, campsites and yurts to enjoy your honeymoon however you'd like.
I personally love fall in the Mountains. The changing of the Aspen leaves, the weather getting cooler, lighting those fireplaces is just the best 🙂 But…..depending on your outdoor activity preferences, you can't go wrong with summer, fall or winter. (Spring is a bit muddy so not the best option.)
Nashville, Tennessee
Tennessee is a great spot for a Southern USA honeymoon. Lance & Laura of Travel Addicts think that Nashville is one of the best places to visit.
Destination: Nashville, Tennessee
Why it's perfect for a honeymoon: Nashville is known as Music City USA. And the folks in Nashville know a bit about music. The city's music scene isn't just limited to the Grand Ole Opry and Country Music Hall of Fame. The city is a hotbed of independent musicians from country to punk and rock to blues. Outside of music, Nashville has an incredible culinary scene, including the Tennessee whiskey country.
Recommended activities: Spend your honeymoon by going out for delicious southern food and then enjoying the local music scene. Nashville is about enjoying the good stuff in life!
Recommended hotel: When it comes to hotels in Nashville, there's The Hermitage Hotel and then there's everything else. The Hermitage is Nashville's granddaddy – elegant, refined, and full of southern charm. A close second is The Omni Nashville.
Best time of year to visit: Our favorite springtime destination is Nashville, Tennessee. There's just something special about the South in the Spring. Flowers and love are in the air. Spring is the perfect time to honeymoon in Nashville.
Sedona, Arizona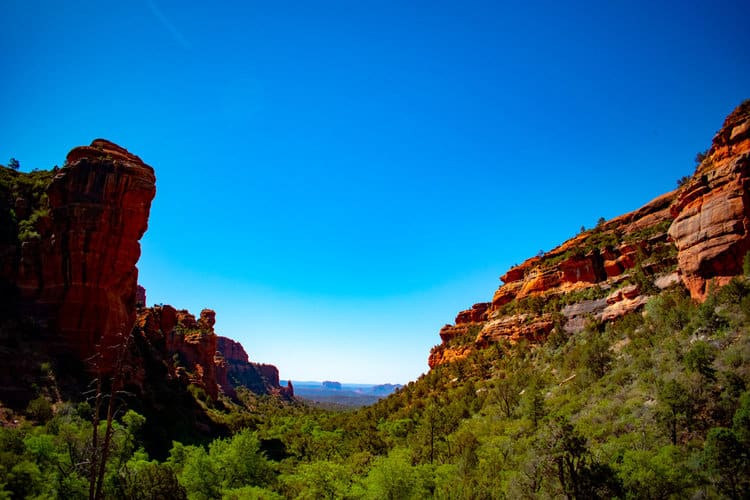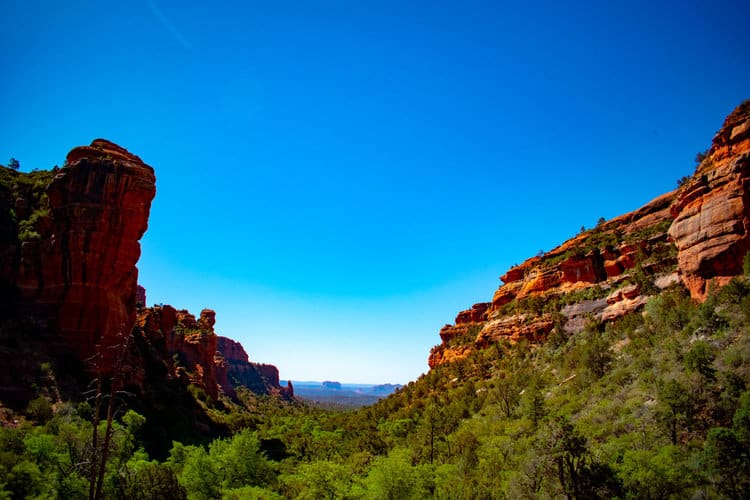 Sedona is a place synonymous with peace and relaxation. It makes sense that it would be a great North American honeymoon spot. Jessica of Uprooted Traveler shares her recommendations. Also be sure to check out her Vegan Guide to Sedona.
Destination: Sedona, Arizona
Why it's perfect for a honeymoon: Sedona is famous for its breathtaking red sandstone formations, which offer the perfect romantic backdrop for everything from an outdoor candlelit dinner to a hot air balloon ride or, for the outdoorsy couple, maybe even a sunrise hike.
Recommended activities: With a distinctive laidback bohemian vibe, Sedona is full of relaxing activities for newlyweds to enjoy, like a myriad of New Age spa services or couples' yoga excursions. And although Sedona's residential population is small at just over ten thousand residents, it features a stunning array of restaurants and bars, from James Beard-award winning eateries to hole-in-the-wall pubs that you can explore together, hand in hand. At the end of the day, find a quiet, secluded spot for just the two of you, to share a bottle of wine and gaze up at the endlessly star-studded sky.
Recommend hotel: With romantic outdoor fine-dining options; a full service spa, offering services like forest bathing or sound healing; and a sparkling pool, L'Auberge de Sedona is the perfect place for honeymooners to stay.
Best time of the year to visit: If you head to Sedona in April or May, the mornings will be cool and perfect for hiking or outdoor yoga sessions, with the afternoon heating up to enjoy sunbathing by the pool. Best of all, you can catch the desert spring flowers while they're in full bloom; set against Sedona's stunning red rocks, this will truly heighten the air of romance for your honeymoon.
Las Vegas, Nevada
Las Vegas is a classic US honeymoon spot. Dhara from It's Not About the Miles shares her tips for making your trip extra romantic.
Destination: Las Vegas, Nevada
Why it's great for a honeymoon: The party capital of the country is an exciting and fabulous place to honeymoon, even if you don't gamble or party. There are lots of fun things to do in Vegas, and if you choose wisely, you can spend quality time as a couple exploring the many facets of the city. You just have to pick the best experiences that make sense for you as a couple out of all the hundreds of experiences on offer here, for that perfect, most romantic honeymoon.
Recommended activities: First, book a luxurious suite or room on a higher floor overlooking the Strip, so that you can enjoy the lights at night from the seclusion of your accommodation. We booked a City Corner suite at the Vdara for an anniversary recently, and it was wonderful to see the Bellagio fountains and the lights of Las Vegas Boulevard from the privacy of our room.
Next, enjoy an intimate world-class dinner each night. With so many awesome restaurants in the city, there's no reason not to savor choice bites each night, along with each other's company. If you love nature, take a drive out to Valley of Fire State Park to marvel at the magnificent red rocks and watch a fiery desert sunset. For the ultimate in relaxation, book a decadent spa treatment for two. And if you love thrills, enjoy a ride on the High Roller, or go up in a balloon, or do a helicopter ride to the Grand Canyon!
Recommended Hotel: Vdara in the City Center, the Wynn, or the Venetian
Best time of year to visit: Spring and fall are awesome from a weather standpoint, but I also love Vegas during the winter.
San Antonio, Texas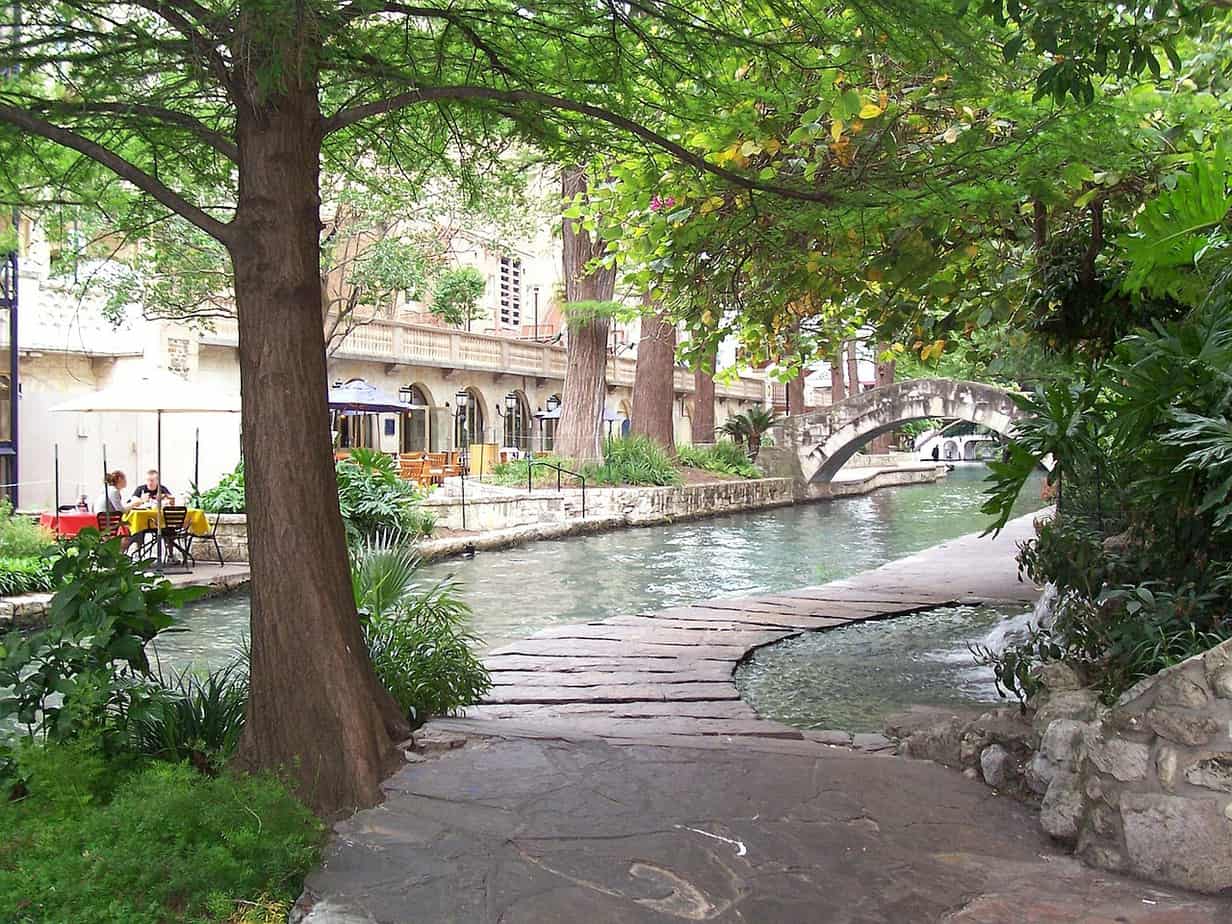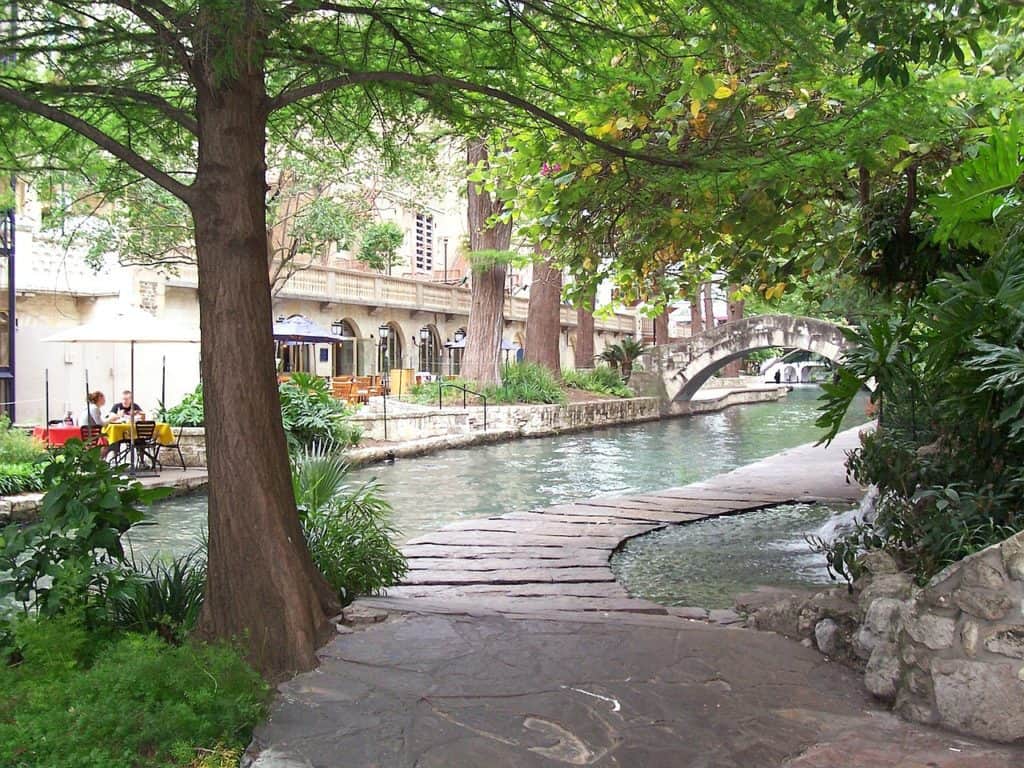 When it comes to a honeymoon in USA, Texas is an unexpected, yet lovely choice. Wendy of The Nomadic Vegan tells us all about the city of San Antonio.
Destination: San Antonio, Texas
Why it's perfect for a honeymoon: The Riverwalk, which follows the San Antonio River as it meanders through the city below street level, is incredibly romantic. And if you'd like to combine your wedding and honeymoon all in one, Marriage Island is available as a wedding venue for small wedding parties. It's technically not an island, but a sliver of land on the bank of the river with a huge Montezuma cypress tree surrounded by two stone benches.
Recommended activities: Take a boat tour during the day to see the sights, then take a walk along the Riverwalk at night, when everything is illuminated. Stop for a kiss at Selena's Bridge, a stone bridge popular with couples. Have dinner at one of the lovely cafés or restaurants with river views and get serenaded by a group of mariachis.
Recommended hotel: Inn on the Riverwalk. It's a beautiful 19th-century home that has been converted into a bed and breakfast. Their breakfast offerings include options for gluten-free, vegetarian and vegan travelers.
Best time of year to visit: November to April is the best time, as you will avoid both the heat and the crowds, and prices will be lower than in the summer. You'll need a coat in the winter, but temperatures are fairly mild compared to other parts of the country. My husband and I celebrated New Year's Eve in San Antonio, and shortly after midnight he proposed right in front of the Alamo! The Fiesta de San Antonio runs for 10 days in April and is a major event.
New York, New York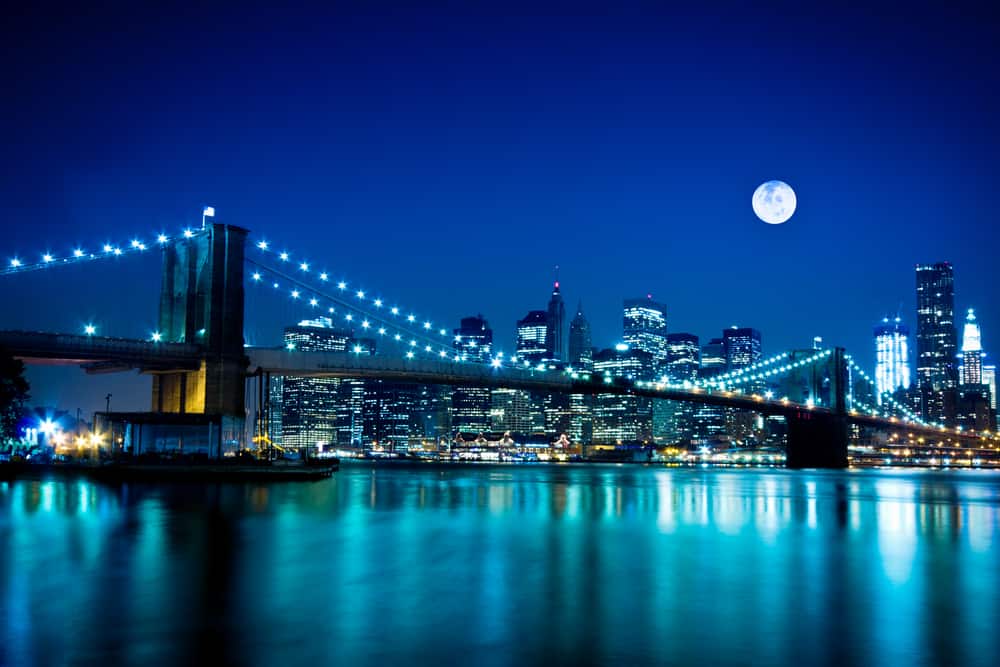 What could be better for a romantic USA honeymoon than one of the most famous cities in the world? James of Travel Collecting shares the most romantic things to do in the city that never sleeps.
Destination: New York City, NY
Why it's perfect for a honeymoon: New York City epitomizes romance to me. There are incredible views, cozy restaurants, and so many different things that couples can do together that you will have to come back for a second honeymoon to do them all.
Recommended activities: Enjoying the views at dusk from the top of the Empire State Building; having a glass of wine on the rooftop terrace at the Metropolitan Museum of Art; rowing a boat on the lake in Central Park; taking a champagne sunset cruise on a sailboat in New York Harbor; enjoying evening cocktails in the Aviary bar on the 35th floor of the Mandarin Oriental hotel in Midtown; shopping in Soho; having breakfast at Balthazar's; and seeing a Broadway show.
Recommended hotel: There are so many wonderfully romantic hotels in New York City that it is difficult to narrow them down, but two I think are great are The Beekman Hotel downtown or the Crosby Street Hotel in Soho.
Best time of year to visit: Spring, early summer and fall are the best times, but any time of year other than January – March (when the weather is cold) are great.
Kauai, Hawaii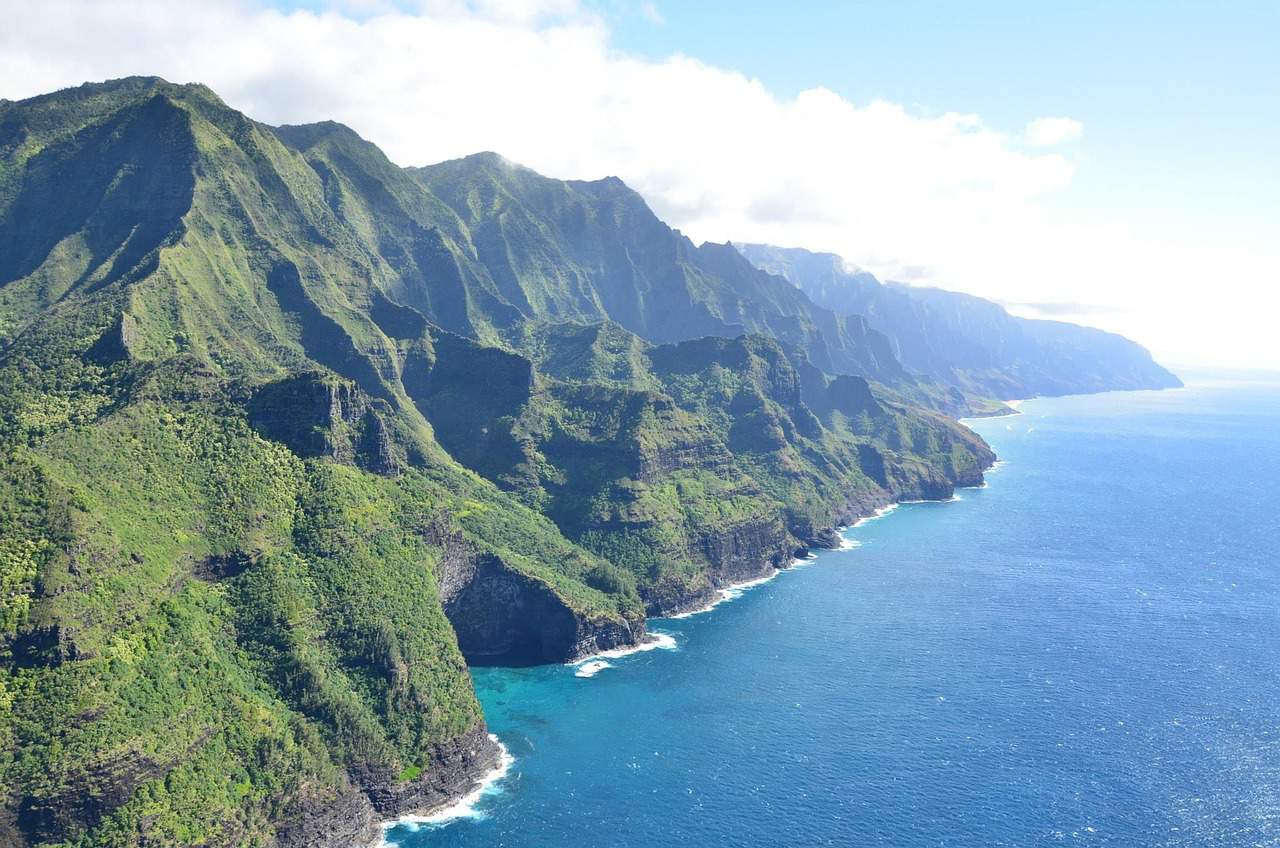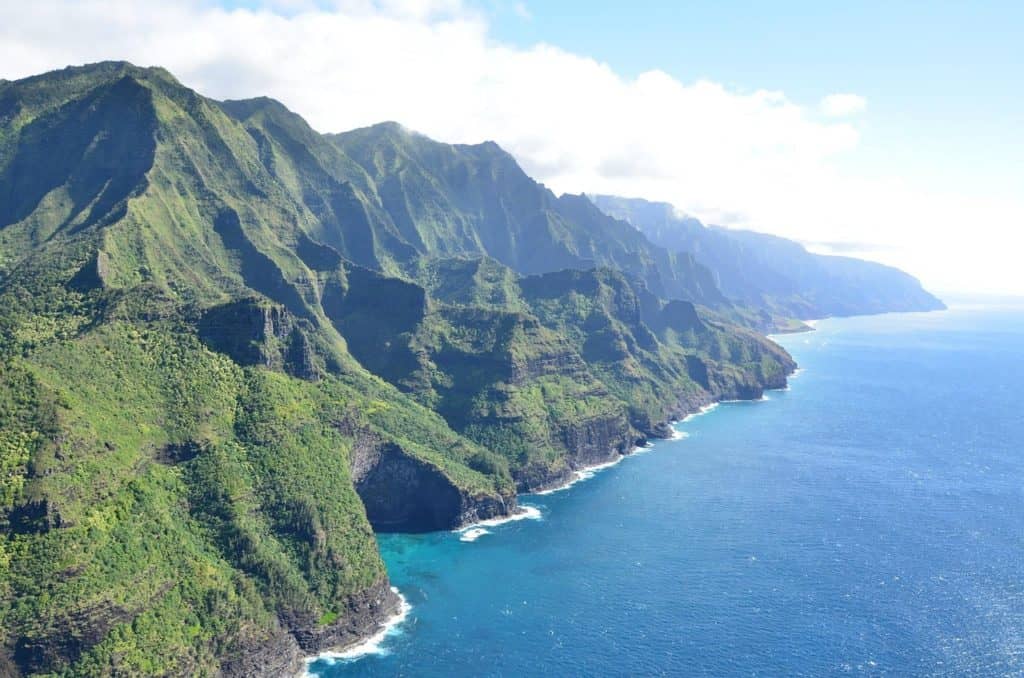 Sierra of Free to Travel Mama tells us all about the paradise that is the island of Kauai.
Destination: Kauai, Hawaii
Why it's perfect for a honeymoon: Kauai has long been regarded as the Garden Isle due to its indescribable beauty and complete feeling of paradise. It offers such diverse opportunities, that it is sure to appeal to both couples looking for an adventure together and those looking to relax with luxurious pampering. Kauai's untouched beauty is the perfect spot to begin your life together.
Recommended activities: The Na'Pali coastline is one of Kauai's best features and can only be viewed by taking a catamaran sail around the island or by taking a scenic helicopter ride over it (we recommend doing both!). Waimea Canyon offers countless hiking trails and Anini Beach and Poipu Beach offer gentle beaches for swimming and snorkeling. Hanalei Bay is the perfect spot to kick your feet up with a tropical cocktail and watch the sunset. Kauai offers luxurious spa treatments at the Grand Hyatt Kauai complete with lava rock showers. The Wailua River is the perfect spot for a kayak ride with amazing views.
Recommended hotel: St. Regis in Hanalei (now called the Princeville Resort) and Grand Hyatt Kauai in Poipu are Kauai's most elegant hotels. They offer gorgeous pools, postcard views, and many luxurious hotel amenities and entertaining activities.
Best time of year to visit: There isn't a bad time of year to visit Kauai, but the beautiful island is green for a reason and that is its significant rainfall. If you would prefer to skip the rain, then be aware that the North Shore can be quite wet from November – April and the South Shore would be a sunnier choice during these months.
Chicago, Illinois
The Windy City can be great for a US honeymoon. Yamy of Gofamgo tells us exactly why and when to go.
Destination: Chicago, IL
Why it's perfect for a honeymoon: Whether you're into historical tours, architectural tours, restaurant hopping, museums, parks and zoos, Chicago is filled with loads of reasons for you to visit and enjoy.
Recommended activities: Architectural River boat tour, Lunch or dinner cruise on Lake Michigan, Laugh out loud in comedy clubs like The Second City or iO Theater, ride the Centennial Wheel in Navy Pier for a panoramic view of Chicago and Lake Michigan
Recommended hotel: The InterContinental Chicago in the Magnificent Mile has great location, aesthetics, and service perfect for the couple taking a honeymoon trip to Chicago. You can read about our stay here.
Best time of year to visit: Chicago is known for its dreary winters. But we did enjoy our visits during the end of the year because Chicago has a great collection of activities for Christmas season like ice skating in Millennium Park, Christmas Around the World exhibit in the Museum of Science and Industry, or the light festival in Lincoln Park. If you want to avoid the cold, Chicago, in the Summer months have free music events like the Jazz Festival and the Blues Festival. They also host their food festivals on this season such as the Taste of Chicago event.
San Francisco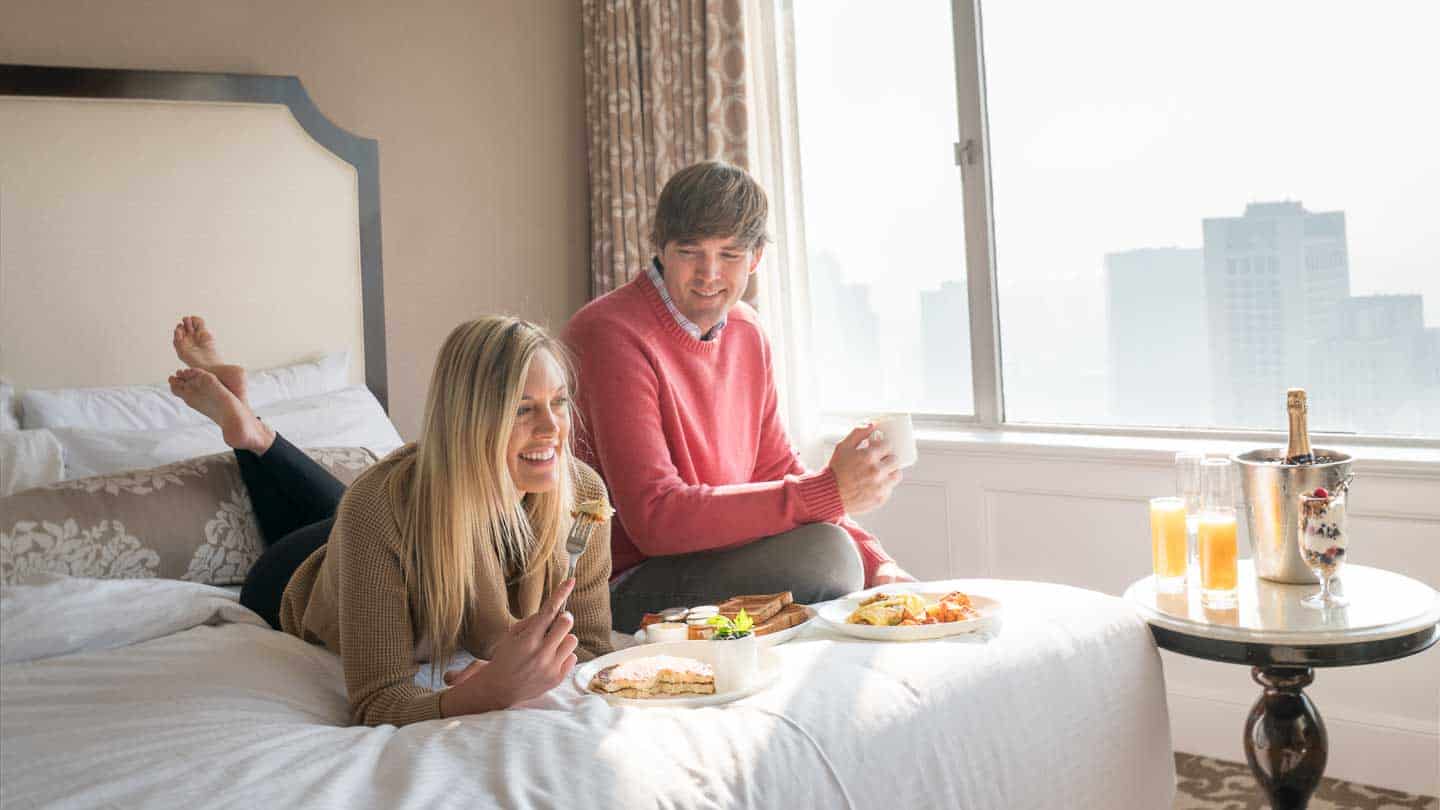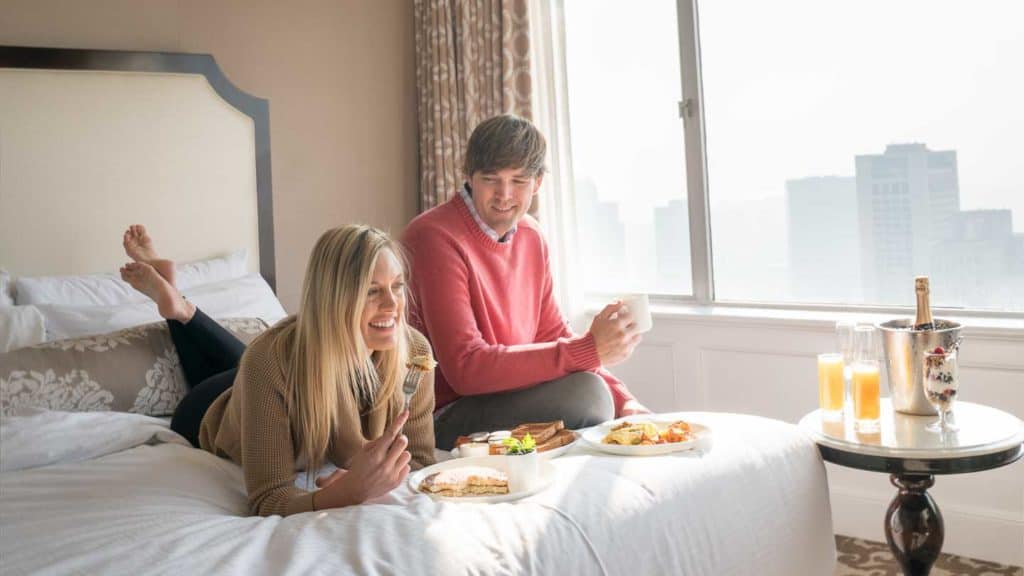 California is, without a doubt, a top honeymoon destination in America. It's a massive state with plenty of variety and lots of romance. Hannah from Getting Stamped tells us why the city of San Francisco is a wonderful choice for couples.
Destination: San Francisco, CA
Why it's perfect for a honeymoon: When Adam and I are looking for a long weekend romantic getaway we try and stay with a few hour flight from home. On our recent trip, we spend a 3 day weekend in San Francisco was just what we needed. We like a mix of luxury pampering, tasty food & drinks, some adventure, and alone time. San Francisco has just that.
Recommended activities: We love just walking around eating at local restaurants and finding local breweries. For those looking for some adventure we highly suggest jumping in a helicopter for an amazing tour of the city. On our helicopter tour, we even went under the Golden Gate Bridge in the helicopter. For those that want to do nothing and never leave the hotel, you can easily do that too!
Recommended hotel: The Fairmont San Francisco oozes romance; we love lazy mornings with good breakfast in bed followed by a spa day with massages. The Fairmont is the perfect location for those that want to get out an explore a little.
Best time of year to visit: San Francisco is great to visit year round, on the last trip we visited in early November.
Stowe, Vermont
We couldn't complete this post without leaving you with one of our favorite Vermont honeymoon locations. The town of Stowe is incredibly romantic, and we think it's perfect for a honeymoon or any romantic trip.
Destination: Stowe, VT
Why it's great for a honeymoon: Incredibly cozy, charming, and postcard-perfect, Stowe is the ideal town for a couple seeking a quaint, New England-style honeymoon. There are plenty of outdoor activities to enjoy year round, plus amazing restaurants, fine breweries, and plenty of places for relaxation. Thee are several excellent spas in the area, so you'll be able to pamper and treat yourself on your honeymoon.
Recommended activities: A few things we recommend for couples to do include: getting a luxurious spa experience (the Stoweflake Resort is recommended for this), enjoying a walk on the scenic bike path, tasting beers at the German-style Von Trapp Brewery, wandering down the picturesque Main Street, and hiking in the warmer months. Avid skiiers and snowboarders will also love the winter sport opportunities in Stowe.
Recommended hotel: The Stoweflake Resort & Spa
Best time of year to visit: Though fall is gorgeous in New England, we can't help but swoon over Vermont summers.
---
Still researching honeymoon destinations? Let us help you pick a great spot. Check out some of our other honeymoon resources:
---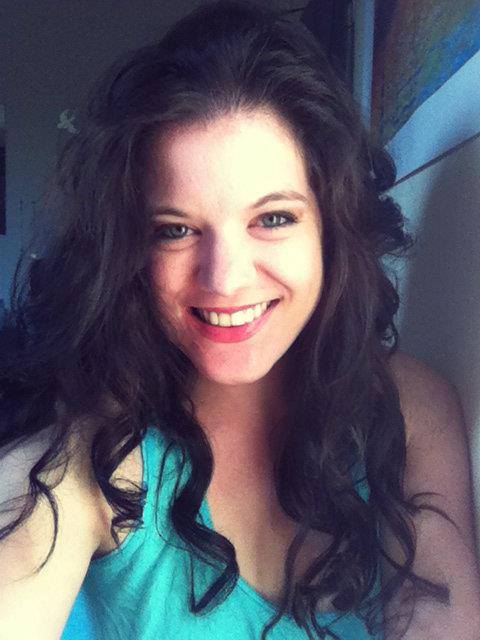 Amy Hartle is the Editor behind Two Drifters, and author of Do You Love Me? How To Stop Seeking Reassurance in Relationships, a book on reassurance seeking. While her name often is found beside the title of "Relationship Expert", she knows that becoming an expert on love and relationships will be a lifelong challenge. But, she is a passionate student of the subject, fully dedicated to learning all she can about relationships, connection, and intimacy, and nurturing her own marriage along the way.
Amy lives in North Carolina with her husband Nathan, and son Malcolm. When not working on websites or traveling the world, the Hartles can be found cuddling, reading, and hanging out with their cats.