This post may contain affiliate links. Read our disclosure page for full details.
Sedona, Arizona is a dreamy rural escape well away from any outer metropolitan boundaries. Phoenix, the most populated metropolis in the United States, is just 115 miles (2 hours) to the south. Flagstaff, lies 29 miles (48 minutes) to the north, on State Hwy 89.
In contrast, Sedona offers a quiet seclusion for nature lovers and seekers of tranquility. Here are 10 incredibly romantic things to do in Sedona.
PICNIC AMID THE WONDERS OF THE SONORAN DESERT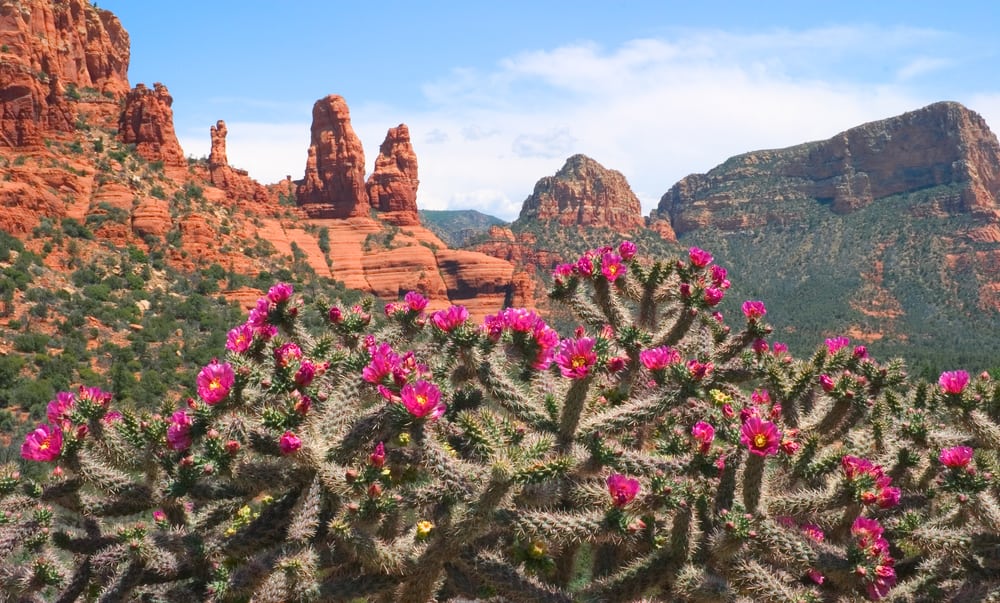 One of the great parts about Sedona is that nearly any public nature area in town has fantastic views. That means you can simply pick a spot to relax for an afternoon. Anyplace you put your finger on the Sedona local area map is going to have breathtaking scenery.
Unpack a picnic, and just spend some time just taking in the splendor of one of the earth's most moving sights, the lush Sonoran desert of Sedona.
The backdrop of Sedona red rock trails off the lower end of the Rocky Mountain range and extends south of Flagstaff creating a gentle transition from pine forested peaks to desert mountains. All of this encases a city replete with forests of majestic saguaros and every other species of cactus.
Mule deer, jack rabbits, roadrunners, and other unique desert creatures happily wander around throughout the town and surrounding area. Just make sure to keep a distance from any erratic javelinas! They're not known for their rapport building with people.
The Sonoran Desert receives the highest annual rainfall of any desert on earth. So unlike the dusty, dirt landscape of Phoenix, you get very lush desert vegetation making it an utterly unique ecosystem. It's a romance Mecca for travelers and nature lovers.
BASK IN A WINE AND CHEESE SUNSET MOMENT
People love their sunsets wherever they are, and may imagine that theirs are as good as sunsets can get. But, Sedona Arizona is world-famous for its sunsets. This bedroom town in the southwestern countryside is the global destination for sunset gazing.
We all know that sunsets and romance are understood to be inseparably joined. When we think sunset, we naturally think romance. When we think romance, the concept automatically generates images of sunsets. That would appear to make Sedona literally the world's most romantic locale. So, make your way to Cathedral Rock, a sunset favorite with visitors, or find any of the innumerable charming spots in the area, kick back, and watch the sun go down.
Lay out a blanket, set out your basket of wine, delectable cheese, grapes, maybe some sardines or gourmet ultra-lean deer or buffalo sausage, toast to your shared experience, and face west.
DELIGHT IN A NIGHT OF WORLD-CLASS STAR GAZING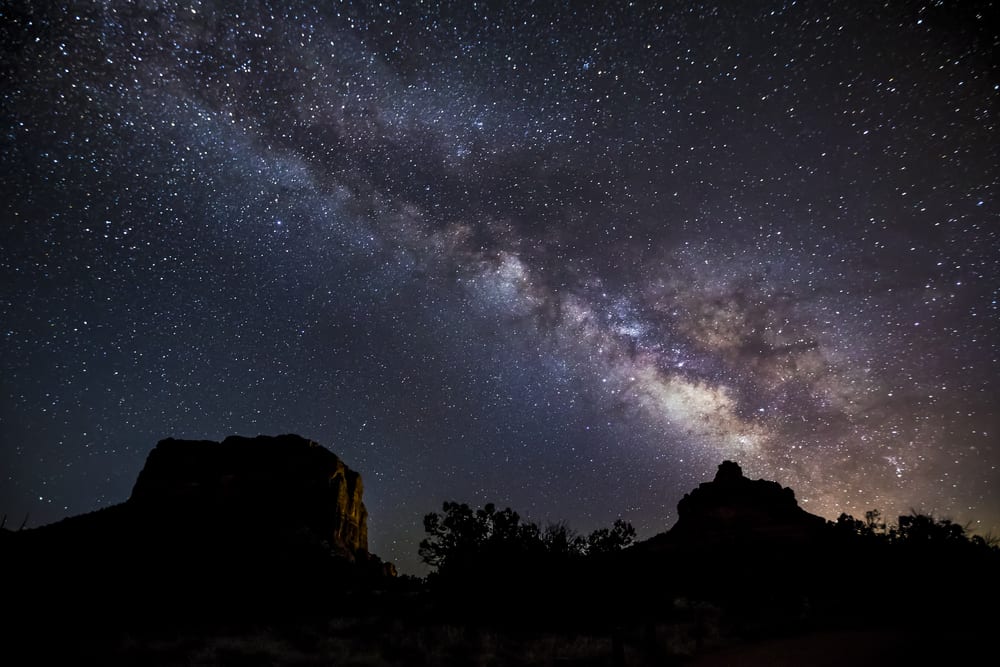 One reason Sedona sunsets are so visually overpowering is that this is big sky country, and everything is, of course, more visually magical on a panoramic scale. The same principle applies to the desert sky after sunset. When you behold the stars emerge from the cosmic depths, you and your partner will immediately find this experience etched into your memories as the most romantic possible moment.
The clarity of a night sky so far from city lights and urban obstructions is the reason why virtually all the world's major universities with well-funded astronomy programs and other cosmic research institutions have observatories housing the world's most gargantuan telescopes scattered around on the most remote peaks of Arizona's little mountain ranges.
It's no wonder that nothing says romance like nationally unsurpassed star-gazing around Sedona. The city actually proactively works to minimize night lighting, making star-gazing even within the city limits a pretty glorious experience.
SPEND A LITTLE QUALITY TIME AT THE L'AUBERGE DE SEDONA RESORT
This luxury Sedona resort is ideal for couples, whether you're lodging there or visiting for dinner, or patronizing the spa. One of the supremely fun features of the property is its evening creek-side dining at Cress on Oak Creek where sonoran nature meets fine dining. This place is remarkably lovely and totally over-the-top romantic.
The restaurant has been rated among the top ten in the southwest U.S. by Condé Nast Traveler, so you're in good hands with the chef and wait staff there. The menu is seasonal and locally sourced.
Exterior warming lamps enable guests to enjoy the outside dining almost all year 'round.
Make advance reservations, and be sure to request a creek-side table. Also, try J Wine Bistro, Mariposa, and Cucina Rustica for extra-romantic couple-centric dining.
TAKE A NON-CHALLENGING ROMANTIC DAY HIKE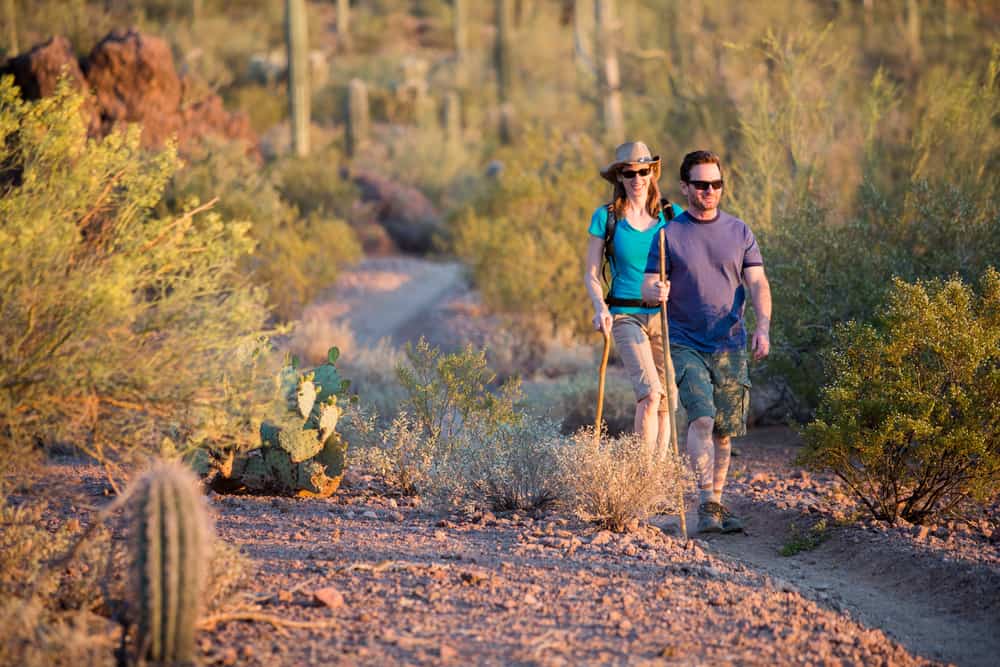 Hike, or bike if you prefer, on world-class hiking trails, bike trails, or backroads. Sedona is famous for being the loveliest part of the Arizona desert lands. All of Arizona is spectacularly beautiful, and in the Sedona backcountry, the elements of earth and sky come together in all the right ways to form true perfection everywhere you turn your eye.
Due to the desert's absence of freeze and thaw effects, the Sonoran region features some of the world's smoothest rural roads. Check out Oak Creek Canyon, Red Rocks Canyon, Devil's Bridge Trail, or Slide Rock State Park. If you want to visit somewhere especially unique, Horseshoe Bend and Antelope Canyon are not far up the road.
Pay attention to your surroundings in monsoon season, mid-June through late September, when mountain-sides, hill slopes, and washes can suddenly be deluged in raging water flows, and low areas of roadways can suddenly disappear under the desert run-off.
Or, if you prefer driving to walking, take to the open road on the Red Rock Scenic Byway to cover lots of territory and enjoy the splendor of the Sedona region from the comfort of your vehicle. However you choose to enjoy the unparalleled natural beauty of this unique part of Arizona, be sure to take along some bottles of water and a nutritious snack or two.
CUDDLE UP BY THE FIRE SEDONA-STYLE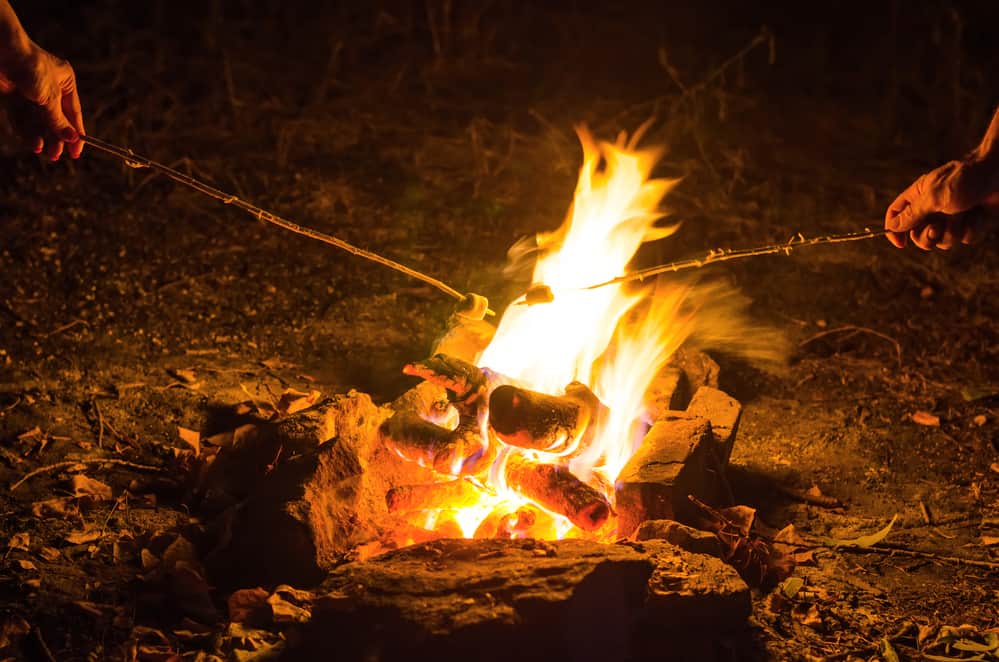 Go in the spring, March through May, while the temperatures are milder and arguably the world's most gorgeous region is fully blossomed with its stunning annual expanse of desert wild flowers in every vivid color. Or, visit in mid to late fall, October through November, when the crisp air lends to cozy evenings by an outdoor (or even an indoor fire).
Do everything that goes with this classic experience. Obviously, have some delicious hot chocolate with marshmallows, or tequila with salt and lemon, or bourbon, whichever, and S'mores, maybe bring along some scrumptious finger foods, or some other exciting fireside snacks and beverages.
Above all, bring the comfy blanket to snuggle under with your lover in an entirely private spot, and let nature take its course.
TAKE THE ROAD TRIP TO THE GRAND CANYON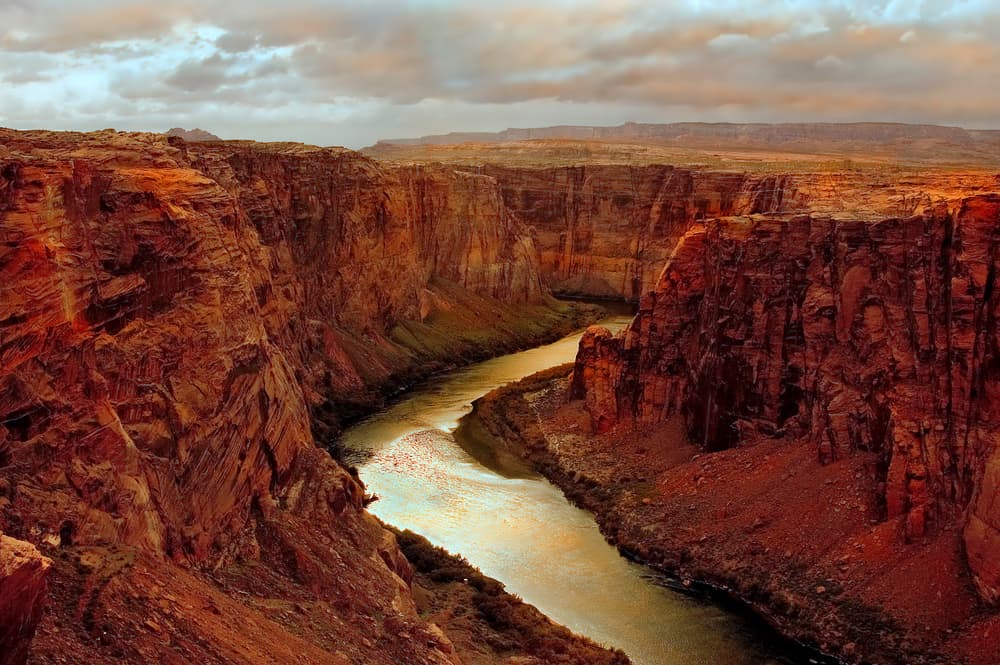 Pack a cooler with icy beverages, and put your bare toes in the breeze as your partner drives you into the magnificent towering pine forests of Flagstaff, under an hour away. Motor onward to one of the 7 Wonders of the World, the indescribable Grand Canyon. Truly, words can't paint the picture of the what it is to stand on the edge of that breathtaking chasm.
If romance really can be born of intense experiences, then this might be the center of the universe for seekers of thrill-based romance. Take your day pack with a couple of sandwiches, a couple of apples, plenty of water, and maybe some trail mix, and browse around the canyon rim.
MEANDER ALONG THE WINERY TRAIL
A popular excursion from Sedona is along the Valley Verde Wine Trail. The vicinity is home to more than 20 wineries. Since the development of Sedona's own wine country, the area has rapidly become a respected contributor to the U.S. American winery market and culture. Wine lovers have been consistently impressed with the high quality of the array of Sedona wines.
It makes sense that the wines of Valley Verde have already made their mark in the world of wines. The blazing hot daytime of the dry desert's Verde Valley and alternating bone-chilling night-time temperatures, across a highly adaptable topography altogether makes Sedona ideal for winemaking.
Take the 20-minute drive south from downtown Sedona, and enjoy a relaxing afternoon drive together and a couple of winery stops. Or, take a guided winery tour, to free yourselves to visit more wineries and leave the driving to the professionals. Wine is the stuff of romance, so be sure to get enough of it.
HANG OUT IN QUAINT OLD TOWN SEDONA
Break up the sensory overload from absorbing all the gorgeous nature your eyes and mind can process by making your way to old town Sedona. It's the half-mile uptown segment north of the Highway 179 and 89a junction. The district features an excellent variety of cafés and restaurants.
The old town area is famous for its renderings by cowboy artists who used to hang out at the Oak Creek Tavern. Check out the Sedona Heritage Museum for a strong sense of the town's history and to see the products of its cowboy art heritage.
Vibrant uptown Sedona offers a number of worthwhile art galleries, charming shops, and excellent restaurants. From Trading Posts, to Cowboy shops, to authentic Navajo and Hopi jewelry shops, the district presents an over-abundance of options for souvenir seekers and southwestern food specialties.
Try the fried cactus, or enjoy a prickly pear cactus margarita with an entre of grilled rattle snake. Pick up a few jars of cactus jam to memorialize your old town afternoon of relaxing casual strolling and browsing mixed with wild culinary adventure.
GET SKY HIGH WITH A HOT AIR BALLOON OR HELICOPTER RIDE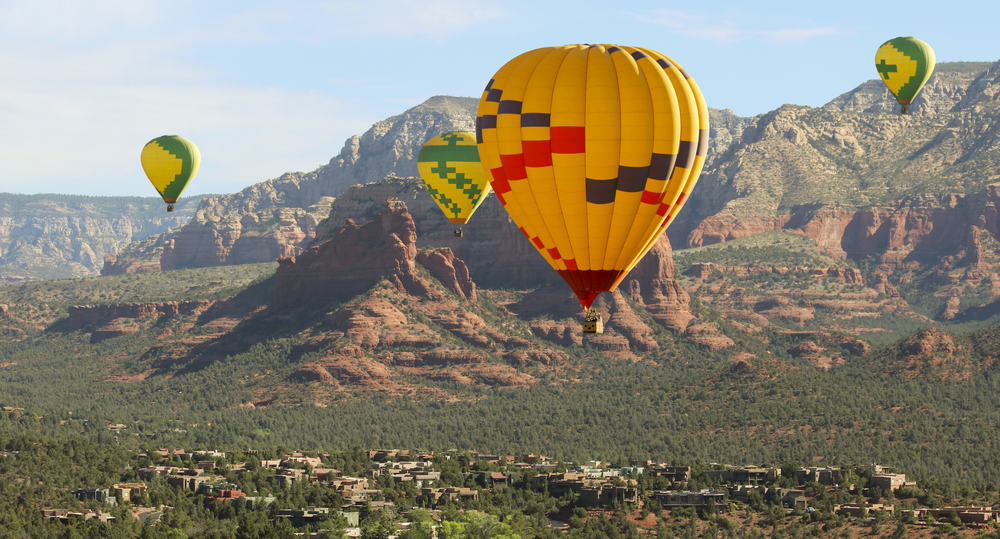 Take desert romance to new heights in a balloon ride, or a helicopter ride, if that's more your speed. The world is a different place from the sky. Drifting above the desert in a hot air balloon is a novel-worthy romantic adventure. Riding in a helicopter is an equally sexy thing to do.
Peering down at the earth from a jumbo jet is one thing, though definitely not to be diminished as a great experience. But, there's really nothing like the exposure to the sky in a balloon basket or the glass enclosure of a helicopter, or a door-less chopper, to bring a couple in touch with themselves as individuals and with each other through such an exhilarating shared experience.
So, if you and your partner are both up for it, go ahead and aim for the sky. Taking in the dreamlike vision of the unusual Sedona landscape below will take its place in your memories as one of those lifetime highlights.
Make reservations with one of the several local reputable commercial balloon or helicopter operators. You have officially achieved truly high romance with this experience.
Sedona, Romance Capital
Romance is probably impossible to avoid in Sedona. The area is hypnotic, complete with its world-renowned spirit-cleansing ambiance. It's certainly understandable. After all, who could resist the allure of 24/7 360 degrees of the world's most enchanting natural sights.
To make the most of it, invest in a good day pack and super-comfortable pair of hiking boots or sturdy, comfortable shoes. Remember to take a phone with notepad, so you can jot down all the poetry you'll be inevitably inspired to write, as you're elevated to a whole nuther level of musing, in the organic haven for romantics that is Sedona.
—————–
About the author: Kate has been traveling in a camper van conversion throughout the US and Canada for over two years. She uses her blog ParkedInParadise.com to teach other travelers about van life, camping, and RV living.
You can find Parked In Paradise on Facebook, Instagram, and Pinterest.
---
Read these next:
---
Pin this post for future travel planning!