*Links in this article may be affiliate links, from which we may earn commission. See our Privacy Policy for full details.
Your honeymoon is one of the most exciting trips you'll take in your lifetime. If you're like me, you dreamed about your honeymoon (and your wedding, of course) for many, many years. Because of this, I know how important it is to be sure you're packing everything you need for this once-in-a-lifetime trip. Don't worry. I'm here to make sure you don't forget the honeymoon essentials.
While this honeymoon packing list is geared more towards women, the honeymoon-specific items can also be packed by men. And PS groom, don't be afraid to bring something special and wonderful on your honeymoon for your new bride; I guarantee she will be thrilled.
Now, this may not be a comprehensive packing list depending on where you're traveling. If you're going on a trip to a snowy, wintry destination, you'll want to cross-reference your honeymoon list with some cold-weather items. (My friend Lia has a great winter packing list that will help you stay snuggly on your arctic honeymoon, and we've also got a packing list geared to fall in Europe.)
This honeymoon packing checklist is designed to suit warmer destinations (as many honeymooners tend to choose tropical spots) and also includes general honeymoon items you'll want to bring along.
Hey, how about a printable version of this honeymoon checklist? You can get it for free (and instantly) when you sign up for our mailing list!
Packing for a Honeymoon: How is it Different?
You might be wondering what differentiates what to pack for a honeymoon from a typical vacation. Personally, I think the honeymoon is the time to splurge. You likely only get to be a bride once in your life, and making your honeymoon as special and luxurious as possible is part of the package. To me, this means you get to pack as much as you want, without trying to save space or pare down your wardrobe.
(The exception to this would be if you're choosing a backpacking honeymoon where packing light is a must-do. )
But if you're heading to a resort for a week or more, and won't be lugging your bags any farther than from the airport to the taxi, go ahead and bring it all. This is your special holiday.
I think that packing for your honeymoon is also different because it's one time you can really get away with buying a ton of new stuff. New honeymoon dress? Check! Honeymoon lingerie? Check! Honeymoon luggage? Sure, why not! Go ahead and get yourself the things you want to for this oh-so-special time.
Pssst: This is also a great reason many couples choose to "save on the wedding so they can splurge on the honeymoon!"
Luggage – Your Perfect Honeymoon Bag
You may wish to get some special luggage for your honeymoon. If all you've got is a ratty old backpack or a duffel that hasn't seen the light of day in many years, it could be a great excuse to search for the ideal honeymoon suitcase. You could also add 'his and hers' luggage to your wedding registry (check out some of our favorite gift ideas here). It's great to start off your newly married life with some quality travel gear.
The Samsonite Winfield 28″ Spinner is the actual suitcase I use for longer trips. I love the durability of having a hard-sided suitcase, plus this baby wheels easily, expands when I need it to, and generally holds everything perfectly in it's two equally sized compartments.
Want something that feels truly bridal? The Sweetheart Collection from Steamline Luggage is beyond romantic, in light pastels with a vintage vibe. These are a classic choice and I am in love with them.
For a high quality, yet no-frills case, consider the Medium checked bag option from Away. Their high-tech bags are made to last a lifetime, and are extremely popular among travelers.
Travel Essentials
No matter the trip or destination, here are some travel basics we always recommend.
*Honeymoon tip! — Even if you plan to change your last name after you're married, be sure to book your honeymoon travel in your maiden name or the current name that's on your passport or ID. This is vital to ensure your travel documents match your reservations.
Honeymoon Toiletries
Toiletries are a big part of any packing list for ladies (amiright, girls?) and a honeymoon packing list is no different. In fact, there may be even more items to add to the list, knowing the newlywed wife definitely wants to look her best.
Your honeymoon toiletry list will likely include:
You'll want to keep the amounts small (and definitely under 3 oz if you'll be packing any toiletries in your carry-on). To bring just the amounts you need, check out this set of leakproof travel bottles that come in various sizes.
Honeymoon Clothes
Wondering what to pack for honeymoon wear? This can be the fun part of getting ready for your honeymoon, as it can be an excuse to splurge on a new honeymoon wardrobe, plus premier your hot new swimsuits.
General packing advice holds that you should pack enough to easily mix and match your pieces. For instance, 4 shirts and 4 bottoms (shorts, skirts, pants) should potentially yield you 16 unique outfits. On your honeymoon, there is definitely a little wiggle room for packing your favorite items. But don't forget to be realistic. If you're going on a beach honeymoon, you'll be spending a lot of time in your swimwear and various coverups. You may only need options for evening wear.
Or if you're planning a very adventurous honeymoon, you'll be wanting more practical, active clothing.
Whatever your final honeymoon outfits entail, there are a few honeymoon essentials we suggest, things you're probably going to want to include.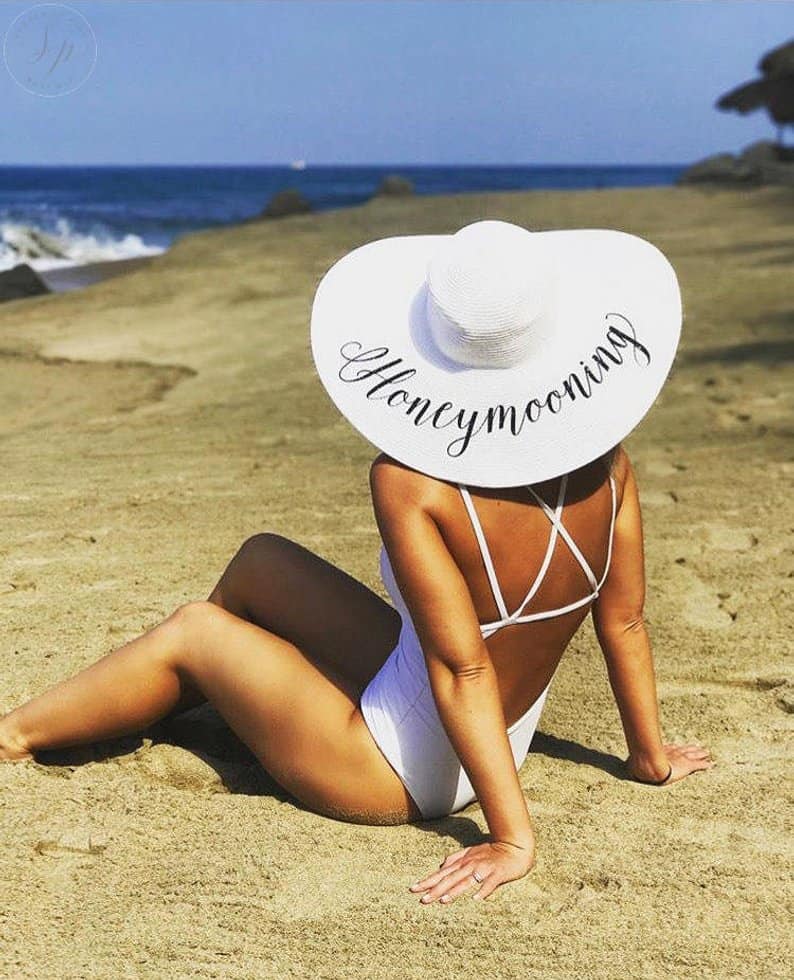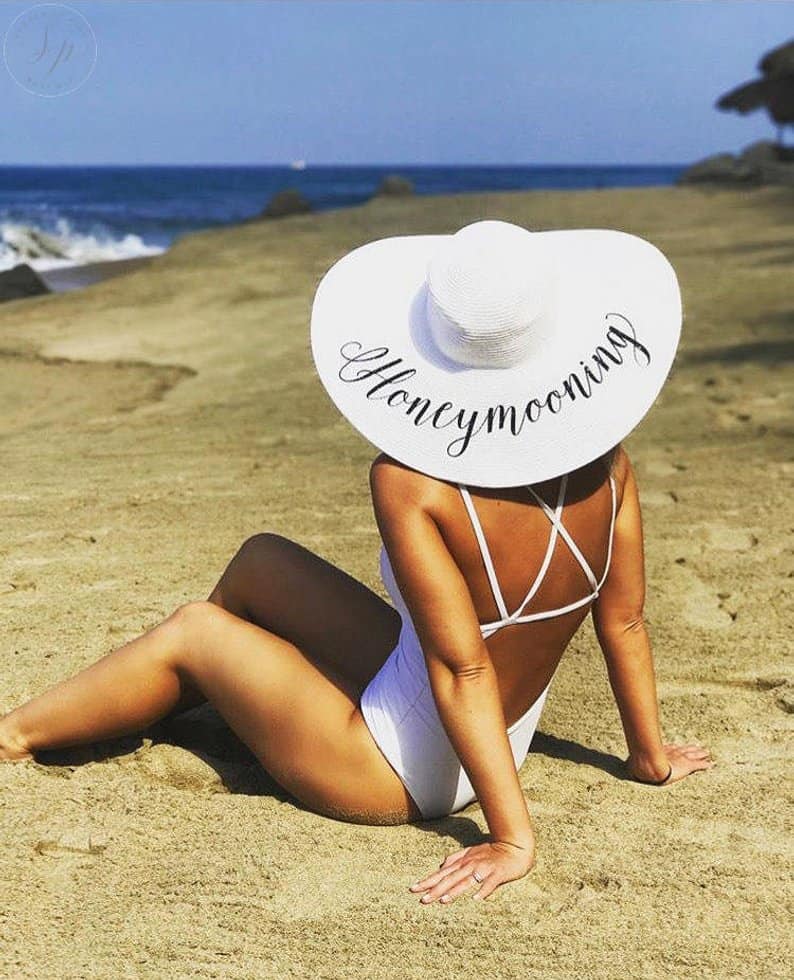 Credit: ShadesofPinkBtq
His and Hers / Husband and Wife Shirts and Accessories
In the past few years, a trend has popped up where brides, grooms, and newlyweds can wear items that announce their new status. If you're the kind of couple who likes to wear these fun items, go for it! There's no better time than your honeymoon.
When Nathan and I were engaged my mom gave us a set of plush bathrobes (white for me, black for Nathan) embroidered with a subtle Mr. and Mrs. They are super nice, fluffy robes and we wear them to this day!
You could spend hours searching for the best honeymoon shirts or Mr. and Mrs. t-shirts, so to save you time, we've searched hard and included a few of the best we found below:
Intimate & Special Honeymoon Items
Your honeymoon should be one of the most romantic times of your life. In truth, all you need to have an amazing honeymoon is you and your newly married sweetheart. But, why not make the honeymoon even better?! You can always enhance the experience with some extra important items to cross off your honeymoon checklist. These are items designed to make your honeymoon sexier and sweeter.


---