This post may contain affiliate links. Read our disclosure page for full details.
Summer's here! If you're like most travelers, you've got at least one beach trip planned for the summer. But before you leave home to hit the surf and start building sandcastles, you'll have to spend a little time planning what to take to the beach with you. Fortunately, we've made the planning process a total breeze for you, with this ultimate beach vacation packing list. And since couples travel is our specialty, this list is meant for couples. Yet it also works just fine for family trips, friend vacations, and more.
Ready to have some fun in the sun? Everything you need for a great vacay starts right here.
Click here to get a printable version of this beach checklist!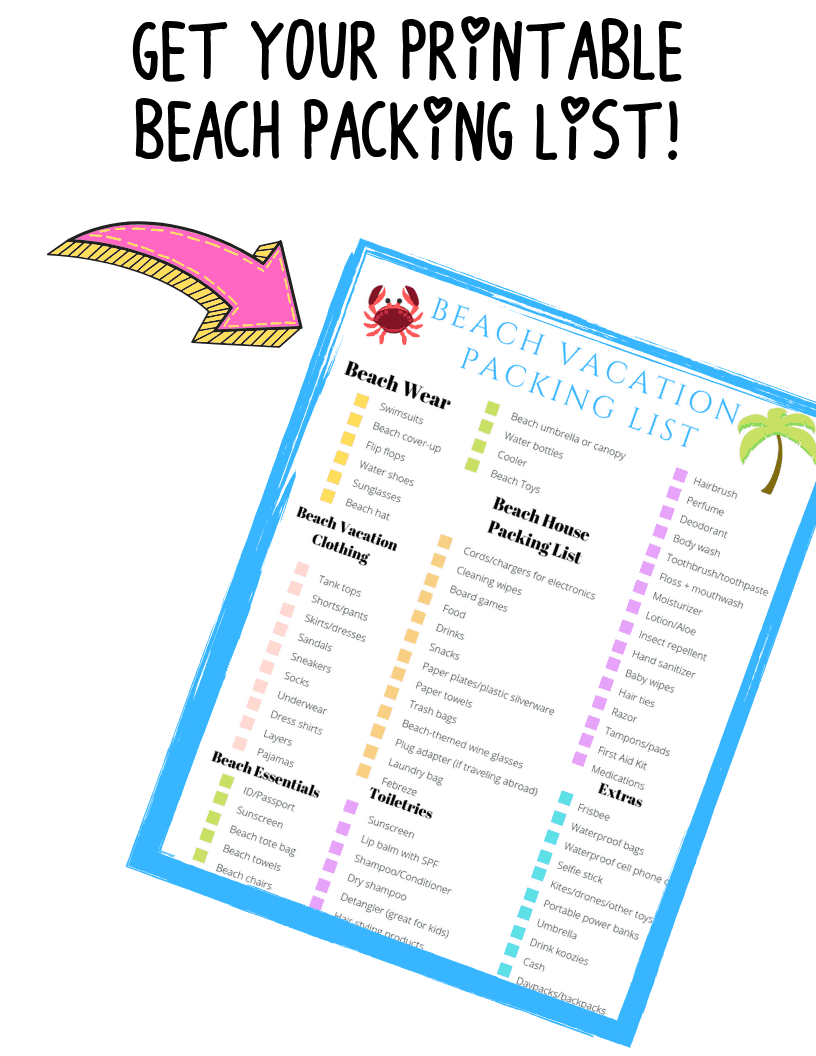 ---
Beach Wear
Your beach packing list starts with what you're going to put on your body. (Swimsuits, obvy!) But there's a lot more that you don't want to forget.
It is important to have options for your swimming wear, but try not to go overboard with the number of swimsuits you're bringing. (Guilty!)
Pro tip: consider mix and match separates (top and bottom) that will let you create several suit combinations out of just a handful of pieces! I also recommend prioritizing some active swimsuits and then bringing a swimsuit that is more "laying-on-the-sand-pretty." A pretty bikini is always my go-to for laying in the sun or just chilling by the sea or pool. However, I like a solid one piece or bikini with more coverage when going for a swim. Those waves can be rough!
A simple, light cover-up can not only look beautiful, but can help protect you from the sun (plus provide a bit more modesty when you're walking around). I am obsessed with this simple black kimono that I got for our Bahamas cruise to CocoCay Island. I like that it's not too long and it can actually work over regular clothes, as well.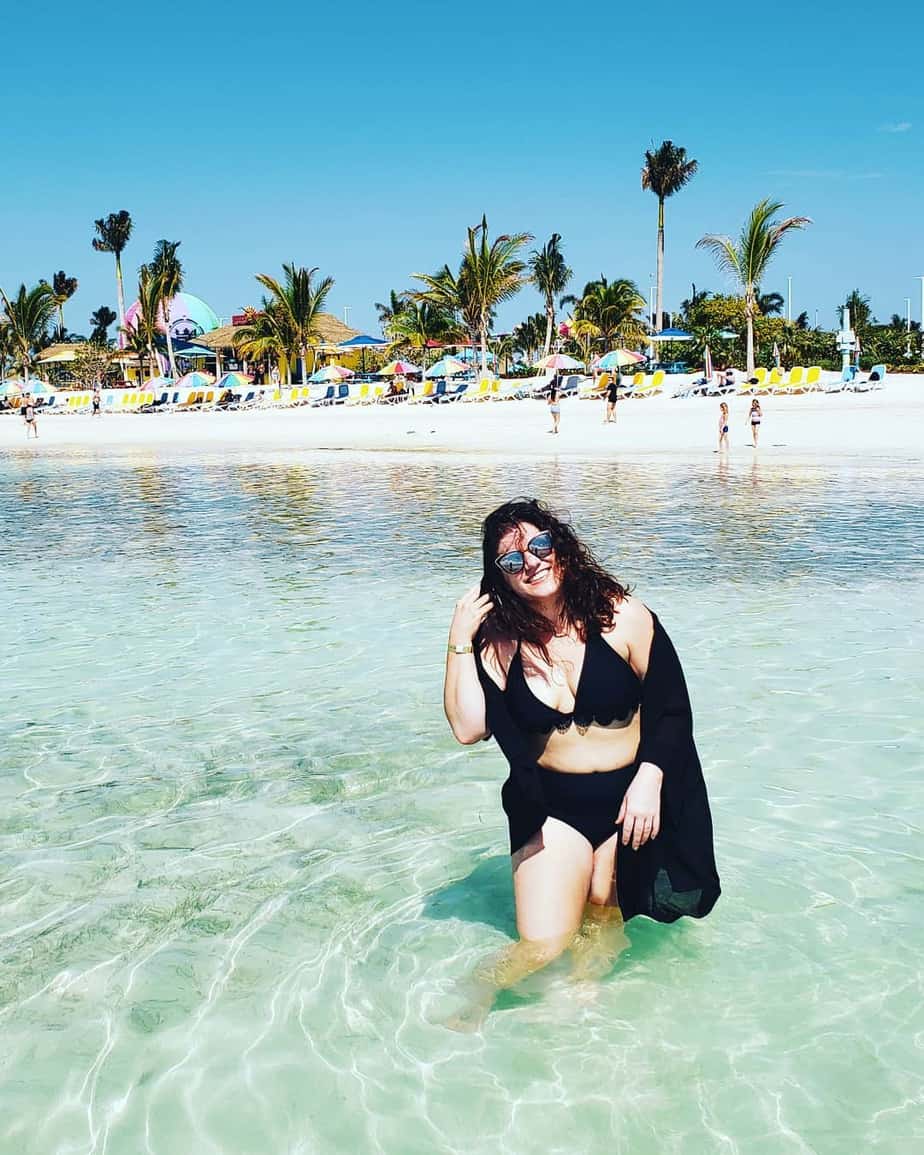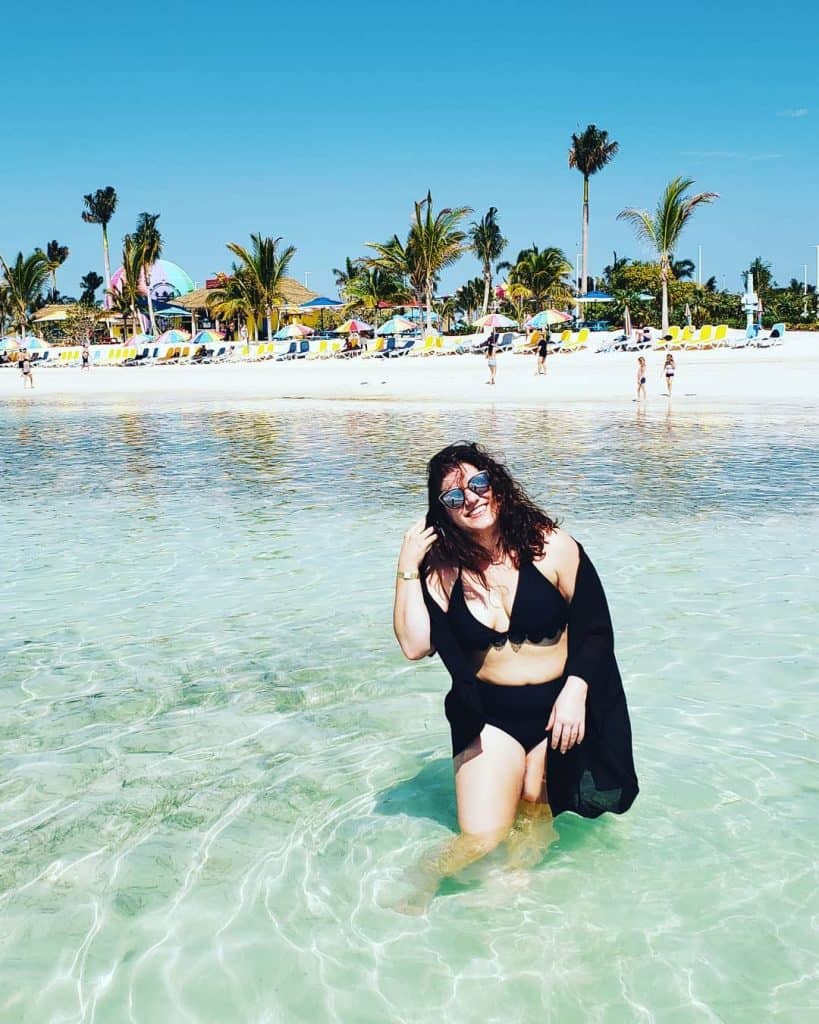 Add water shoes to that family vacation packing list. They can be great for kids who will be playing actively on the beach and along the shoreline.
Your beach trip packing list is incomplete without a sun hat. These are vital to keep your face and head protected from the sun, but they'll also keep you cool and looking stylish!
Some awesome hats to consider adding to your beach bag:
Beach Vacation Clothing
When planning what to take on a beach vacation, clothing will likely be one of the primary items on your list. We recommend lightweight items for your vacation wear.
You can include whatever applies to you from the list below. We also suggest incorporating something fancier if you're planning for a special occasion or a night out.
Tank tops
Shorts/pants
Skirts/dresses
Sandals
Sneakers
Socks
Underwear
Dress shirts
Layers (for those cool nights and boat trips)
Pajamas (stick with the beach theme if you want to!)
Beach Essentials
You can make getting to and from the beach easier. Consider one of these beach wagons for easy transport of beach gear.
Don't forget your identification!
The #1 item on your summer vacation packing list. Sunscreen! You'll be spending a lot of time in the sunshine on your beach vacay. Protect your precious skin from the intense UV rays of that bright, brilliant sun.
Waterproof sunscreens are ideal, especially for active kids and families, and the American Cancer Society recommends an SPF of 30 or higher. Here's one option that fits the bill.
You need a sturdy beach bag to help you carry all your holiday essentials to and from. Mesh bags are popular and do well for a lightweight bag that repels sand and water. Keep those items from getting wet!
A quick dry towel is an awesome choice. I seriously want to nab this colorful one from Dock & Bay.
Beach chairs
Beach blankets
If you're traveling with the whole family, why not consider this absolutely enormous beach blanket. It is waterproof, sand-resistant, and of course, HUGE.
Fringe that giant beach blanket with colorful beach umbrellas and you'll have the perfect beach setup. All the other people on the beach will be jealous of you with this awesome, spacious umbrella.
One of the most vital items to take to the beach is a water bottle. Everyone in the group should have a water bottle to keep them hydrated during those busy, hot days in the sun.
To keep your drinks and snacks chilled, bring along a nice beach cooler. There are hundreds of options but Yeti coolers are the #1 choice in coolers. This version is wheeled, which makes it super easy to tote along to the beach and back.
Beach Toys

Snorkel gear
Boogie boards
Floats
Swimmies/Kids flotation devices
Sand toys: buckets and shovels
Beach House Packing List
You want to be comfortable on your vacation. If you're staying at a beach house (or even a hotel), you may need to bring along a few of these items, too.
Cords/chargers for electronics
Of all the stuff to bring to the beach, this is such a common thing that travelers leave behind at home! Make sure you double and triple check the beach vacation checklist to ensure all of your chargers are with you.
Cleaning wipes
Board games
Some vacation rentals offer board games, but it's not a bad idea to pack some of your own favorites, especially the small, portable options. In case of a rainy day (or just for a laid back evening indoors) these games can create some of your best beach holiday memories.
Food
Drinks
Snacks
Paper plates/plastic silverware
Paper towels
Always come in super handy!
Trash bags
Cute beach-themed wine glasses
There are so many adorable beachy accessories to bring along on your summer beach holiday. While many of these are not exactly essential, they definitely bring the celebration to another, more festive level. And they can be useful, too. Plastic, insulated, and beach-ready floating drink containers are among the many option.
Plug adapter (if traveling abroad)
Laundry bag
Febreze
Toiletries
Sunscreen
Lip balm with SPF
Keep those lips safe from the sun! I love Sun Bum lip balms.
Shampoo/Conditioner
Dry shampoo
Dry shampoo has changed my life! It's great for sprucing up your hair on the 2nd day (and definitely great for curly/wavy/beachy hair).
Detangler (great for kids)
Another vote for a Sun Bum product! This detangler is anti-frizz, paraben free, vegan, gluten-free, and color safe.
Hair styling products
Hairbrush
Perfume
Deodorant
Body wash
Choose one with a beachy scent to keep your salty vibes going strong.
Toothbrush
Toothpaste
Floss
Mouthwash
Moisturizer
Lotion
You can use a gradual tanning moisturizer before and during your trip to help you get that safe, healthy glow. St. Tropez has great products that I have used with success! Check out their gradual tanning moisturizer, and their self tan bronzing mousse (worked great even for a super pale gal like me!)
Aloe
Insect repellent
Hand sanitizer
Baby wipes
These are super useful in a huge variety of situations, whether you're traveling with kids or not.
Hair ties
Razor
Feminine hygiene products
First Aid Kit
Don't forget this essential item for your family beach vacation packing list. If you don't have a complete first aid kit, be sure to at least pack the basics like antibiotic ointment and bandaids. Sun & sting relief gel could be beneficial, too.
Medications/Prescriptions
Don't forget your important everyday medicines plus common over-the-counter necessities. PS: If you're going boating, you may want to pack some anti-nausea/seasickness medication if you're prone to seasickness.
Extras – General Stuff for Your Beach Packing List
Traveling with your dog? He'll thank you for packing the classic beach toy.
Depending on what you're doing, you may want to add some waterproof bags or dry bags to your tropical vacation packing list. These can help keep all your important items dry even when you're going wild in the water.
Waterproof cell phone cases
Speaking of keeping things dry, on our recent cruise we tried out these waterproof cases for our phones and they work AMAZINGLY. Brought my phone on a waterslide and it was totally fine, plus I was able to video the entire ride! These are a must-have and will definitely be a part of every beach holiday packing list we make in the future.
For an old-fashioned family beach vacation vibe, why not bring along a kite? These are an underrated beach toy for sure, and there are lots of crazy, unique kites you can buy in 2019! This one is a massive rainbow sailing ship.
Stay charged up even when you're on the sand. In other words, keep that playlist bumping!
While you're on a beach holiday, it might not be all sunshine all the time. Be prepared and pack an umbrella just in case. With luck, you won't need to use it at all!
Keep your bevvies cool while you're chillin' in the sand.
Gigantic Instagrammable floatie
Do you want to catch a lot of attention at the beach? Or at least on your Instagram account? You NEED an oversized flotation toy. May we suggest this iconic unicorn float? Or this golden dragon? (good for Game of Thrones fans, perhaps).
Cash
Daypacks/backpacks (for non-beach days)
Beach Reads
You're definitely not finished packing for the beach until you've brought along a couple of great beach reads. We LOVE reading at the beach (and reading in general).
While any kind of book or magazine is great for summer reading, the ideal beach read is lightweight to hold, and probably lighter in content, too. Sometimes a more fun, carefree story makes for happier beach reading. Or, a quirky mystery. Lush beachside romance? Whatever you like!
Here are a few recommendations for your 2019 summer reading list, including some of our own recommendations and some from the hot and popular book lists.
Luggage for Your Beach Trip
What is the best type of luggage to use when packing for a beach vacation? It depends on where you're traveling from and how you're traveling, but most beach travelers will probably use their favorite regular suitcase or duffle bag. Want to know our favorite suitcase? It's this one right here.
Check out some of our other packing lists and gear guides for your other types of summer trips!
---
Ready to hit the waves? Make sure you've got all of the items needed for the beach.
Don't forget to grab your printable vacation packing list!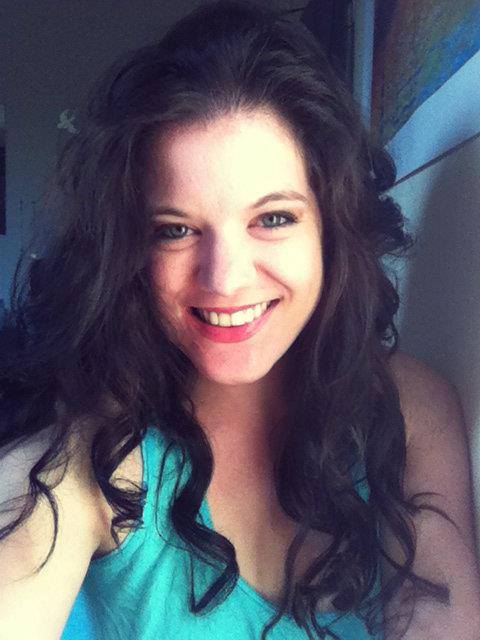 Amy Hartle is the co-founder and owner of Two Drifters, where she blogs about romantic and couples travel, relationships, honeymoons, and more. With a Master's in English and a BA in Musical Theatre, Amy loves to write quality content as well as to entertain, and she hopes to do a bit of both here on the blog! Amy lives in North Carolina with  her husband Nathan, and son Malcolm. When not working on their sites or traveling the world, the Hartles can be found cuddling, reading, and hanging out with their cats.