This post may contain affiliate links. Read our disclosure page for full details.
Our experience sailing to Perfect Day at CocoCay on Navigator of the Seas was sponsored by Royal Caribbean. As always, all opinions are our own and reflect our true experience.
Have you ever visited a private island? We just did for the first time! Perfect Day at CocoCay is Royal Caribbean's newest private island in the Bahamas, and it is something really special.
We were lucky enough to be invited to visit in mid-May 2019, just a week after the island had its grand opening. This $250 million private island is the first of what will be a group of private islands created by Royal Caribbean: the Perfect Day Collection. If CocoCay is a sample of what's to come, the future islands promise to be amazing as well.
You can see right away that the island is brightly colored and vibrant, but it's not only a place for thrills and adventure. There's a whole 'nother side to the island that is all about those "chills." Literally, it's called Chill Island!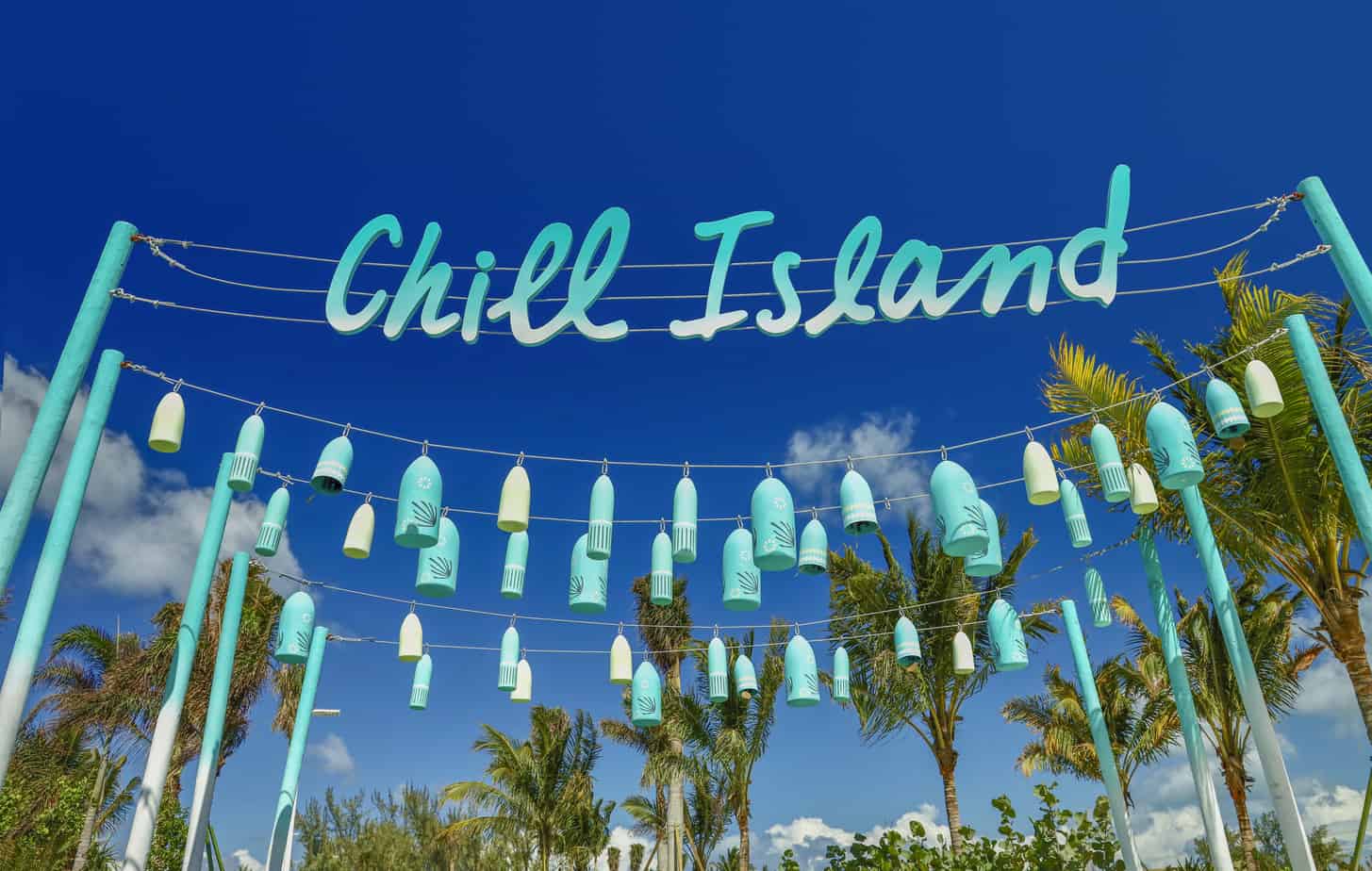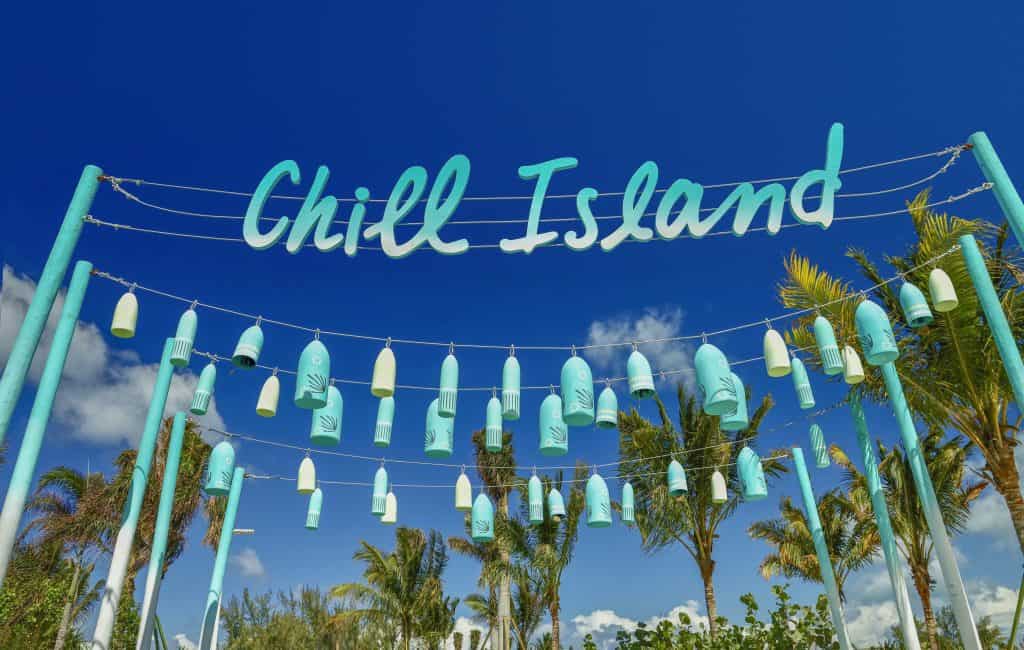 Whatever mood you're in, you can have the island experience you want.
For us, a couple in our 30s who love adventure and trying new things, we aimed to dive into a bit of both.
So, what should you do during your Perfect Day at CocoCay Island? While the place has an obvious appeal to kids, adults will also have an absolute blast on these sunny Bahamian shores, especially couples. If you're heading to CocoCay Bahamas with the one you love, we suggest the following terrific activities for couples.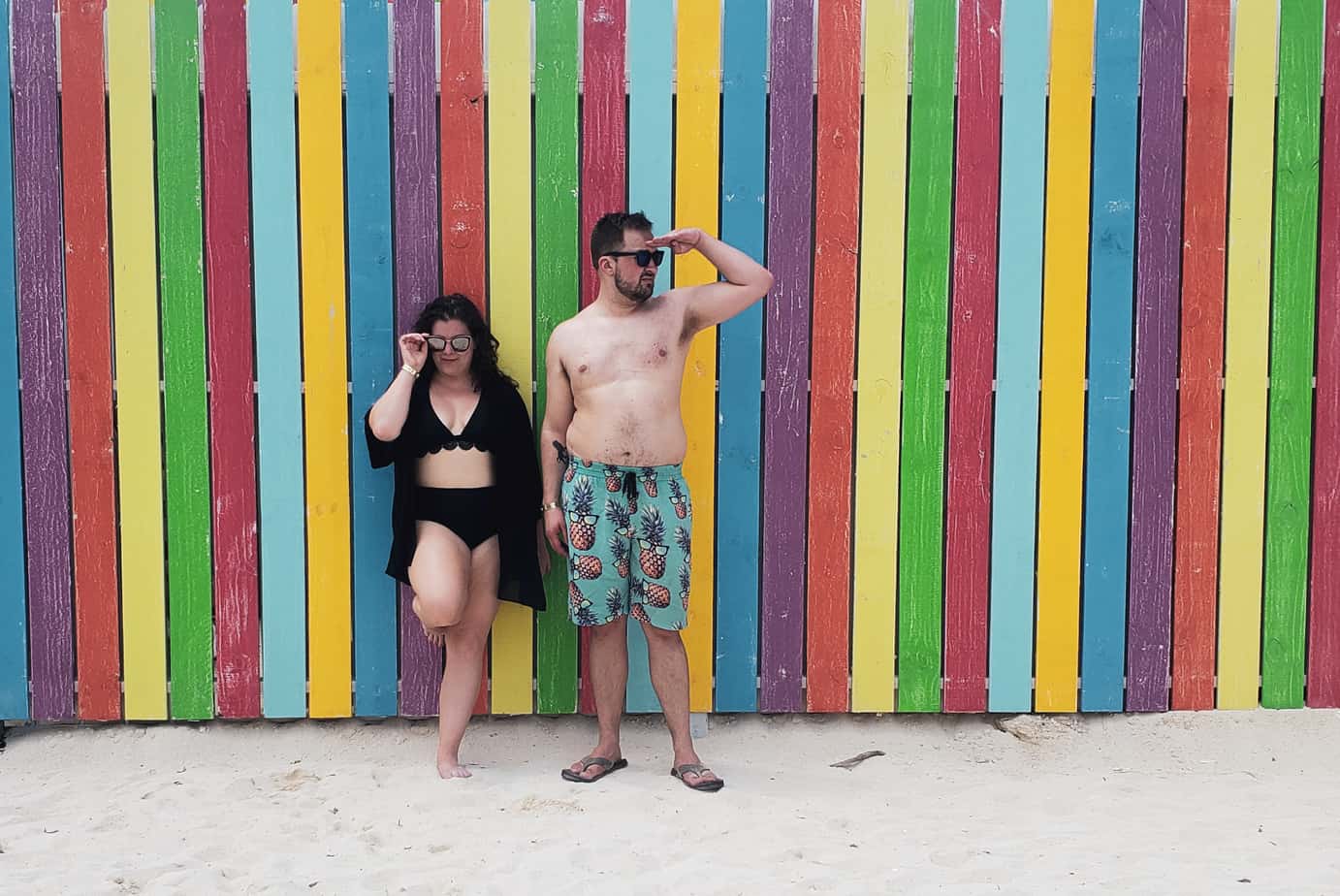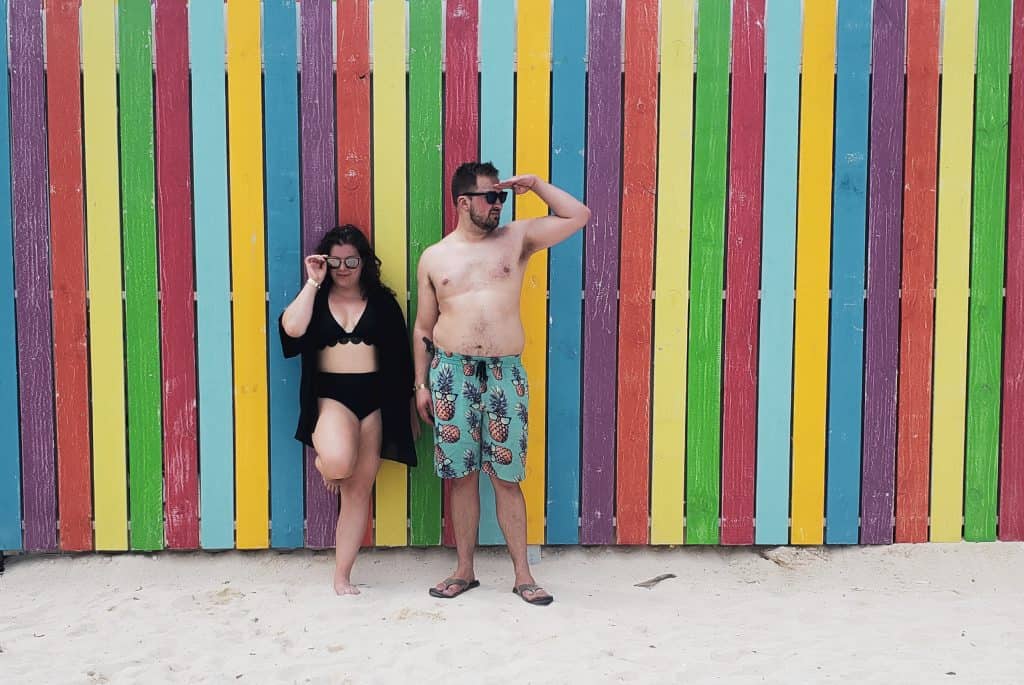 Ride the Tallest Waterslide in North America
If you're brave enough, climb up the stairs at Daredevil's Peak and ride the red spiral slide all the way back down. This thing is FAST! We both screamed and laughed during the 18-second whoosh to the bottom. Keep your eyes open as you go and you'll see some futuristic rainbow lights illuminating the sides of the tube. Don't blink or you might miss them!
If you're not keen on zooming down 135 feet, that's okay. The tower has a total of seven slides to choose from. There are a couple of slides that aren't as tall, such as the Green Mamba, which coils around the side of the tower.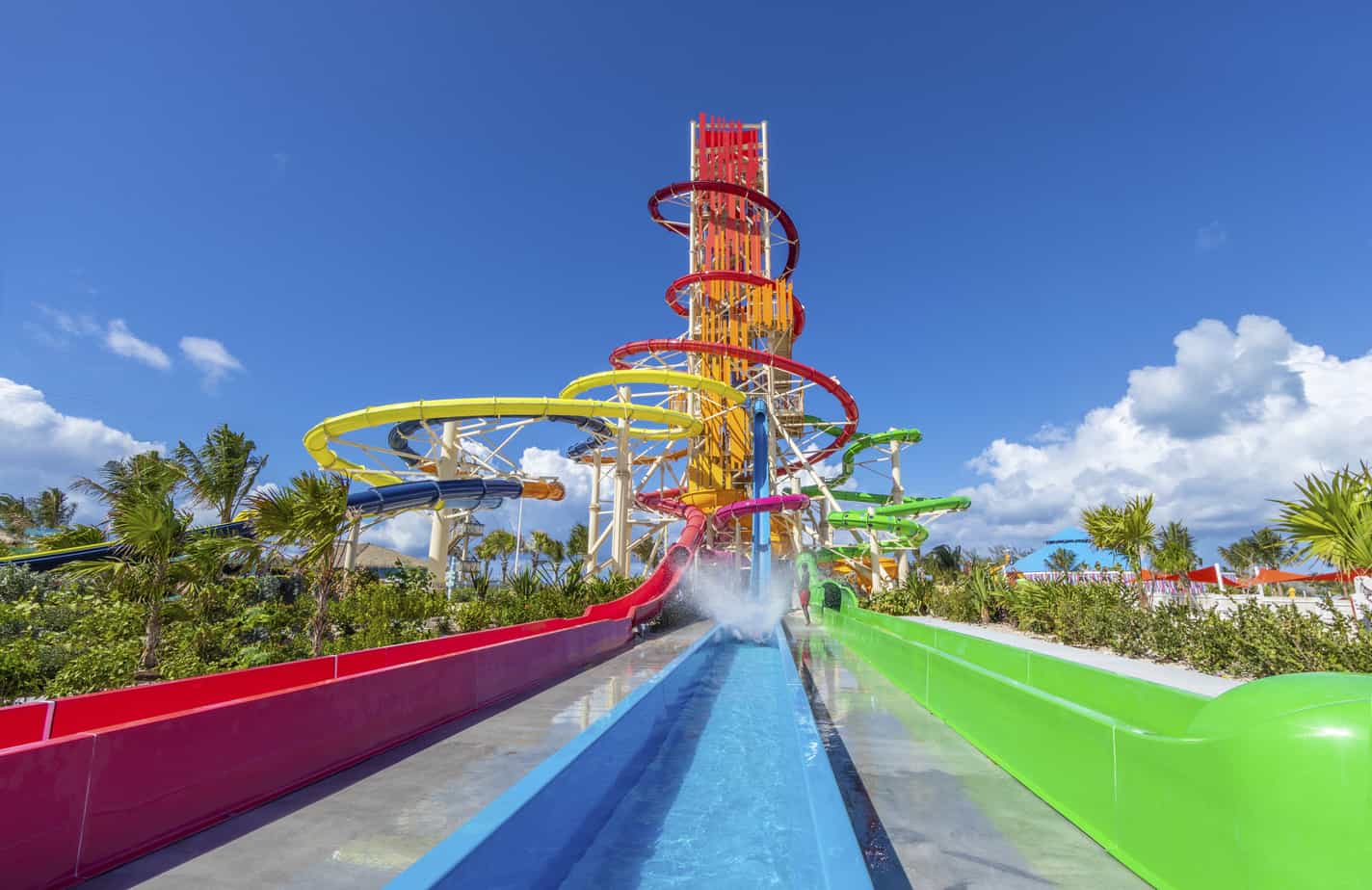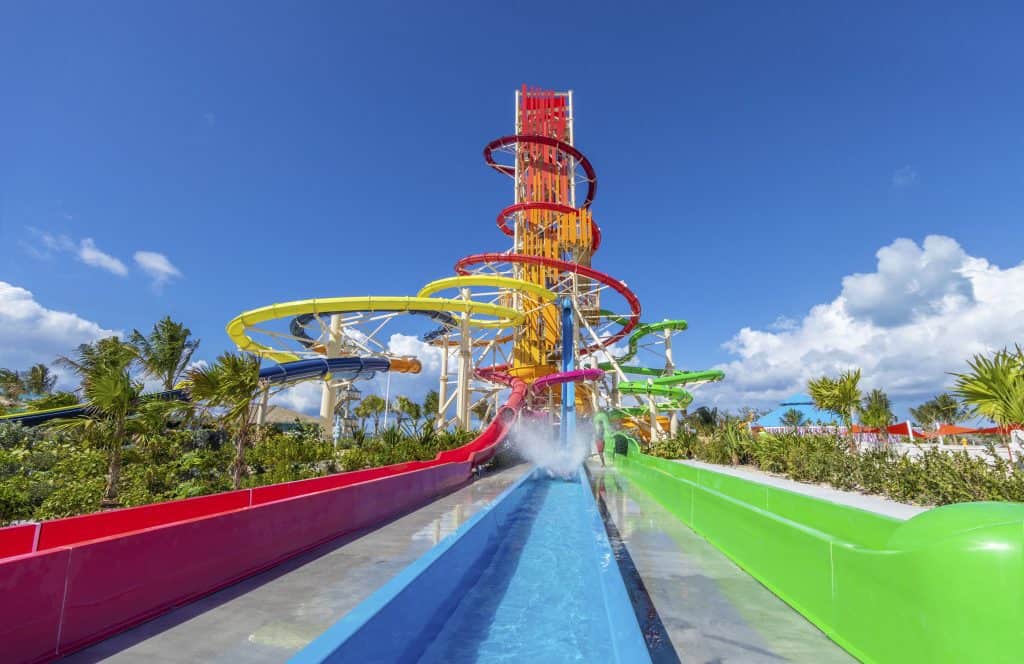 For the most adventurous of couples, there are two "twin-slide" options that you'll definitely want to try. We watched a few pairs getting into the Dueling Demons slides. These are drop slides that start by sending you zooming on your way when the floor suddenly drops from beneath your feet.
Alternately, you can race with your partner practically side-by-side on the Manta Raycers. This is a great way to feel like kids again!
If you're a waterslide fiend, CocoCay will give you plenty more splashdown opportunities. There are six more slides at Splash Summit, another spot in Thrill Waterpark. That brings the total to 14, which is the most slides of any waterpark in the Caribbean.
Swim Up to Grab Your Drinks in Oasis Lagoon
After those adrenaline-pumping activities, you might be in need of some refreshment. Make your way to Oasis Lagoon, a sprawling, gorgeous swimming pool that will cool you off right away. And while you're relaxing in that crystal clear freshwater, you can swim right on up to the bar and order up a tropical beverage.
Neither of the Two Drifters had ever been to a swim-up bar before, and we were really excited about it. Well, CocoCay's did not disappoint.
We enjoyed a couple of Mai-Tais while sitting at the bar (submerged in pool water of course), and it was bliss. Fun pop music plays over the loudspeakers, giving the whole area a party atmosphere.
The lagoon is so large that you can also find a quieter spot if you'd like. There are three unique coves within the lagoon, including one that is family friendly and offers a zero-entry beach where you can walk/wade right into the pool, just like you would wade into the ocean itself.
For couples, we suggest grabbing a cocktail at the swim-up bar and then heading off to enjoy your drink side by side in one of the in-water loungers. Yep, you can sit right at the pool's edge in a comfy reclined beach chair without ever having to leave the water. That's awesome!
We particularly loved the look of Oasis Lagoon. There are small islands dotted about boasting lush green vegetation and tropical flowers, and together with the thatched roof of the swim up bar and the sunshine all around you, you will feel like you've entered a legit island paradise.
Float in the Sea
Oasis Lagoon is terrific, but it has the island's surrounding ocean to compete with. CocoCay boasts some of the prettiest waters in all of the Atlantic. Are you a pool or a beach person? Luckily, you can be both here.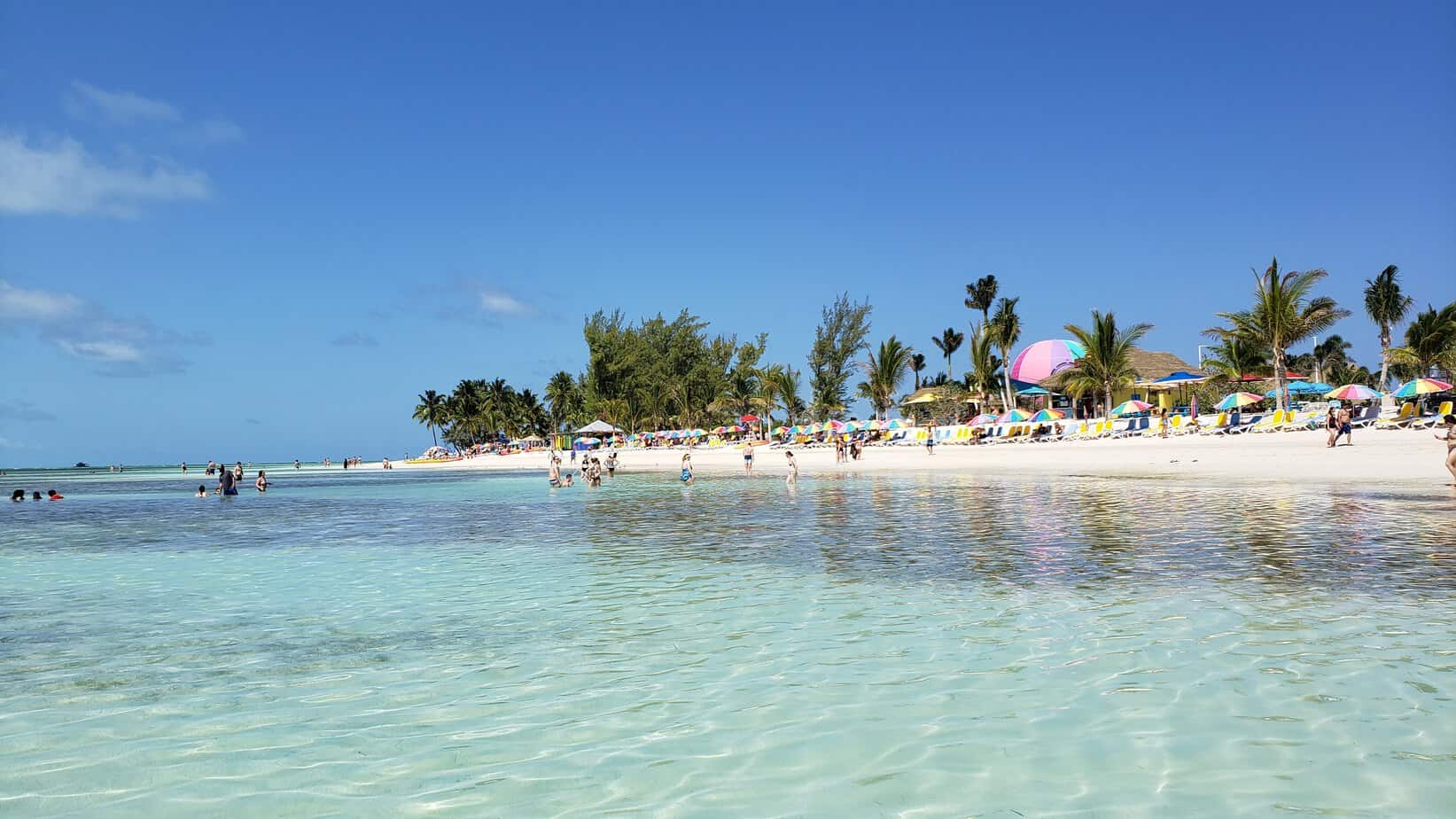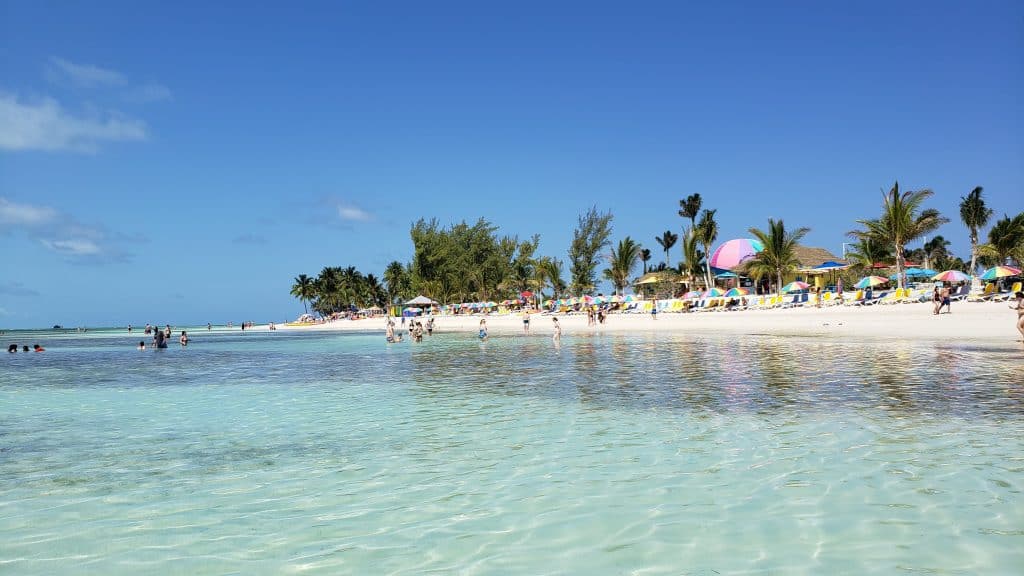 The beachside areas are definitely captivating. You can hang out in both the Chill Island area (pictured above) and South Beach, which stretches along the far side of the island.
From December 2019, this part of the island will be home to the brand new Coco Beach Club. There will be a beachfront infinity pool, an exclusive club and deck area, and best of all, amazing luxury overwater cabanas offering hammocks over the water, slides straight into the ocean, and your own dedicated attendant to make your experience even better.
You can also enjoy what's beneath the waves on CocoCay Island. Snorkeling is available as an add-on excursion. In these translucent waters, you're sure to have views of vibrant tropical marine life.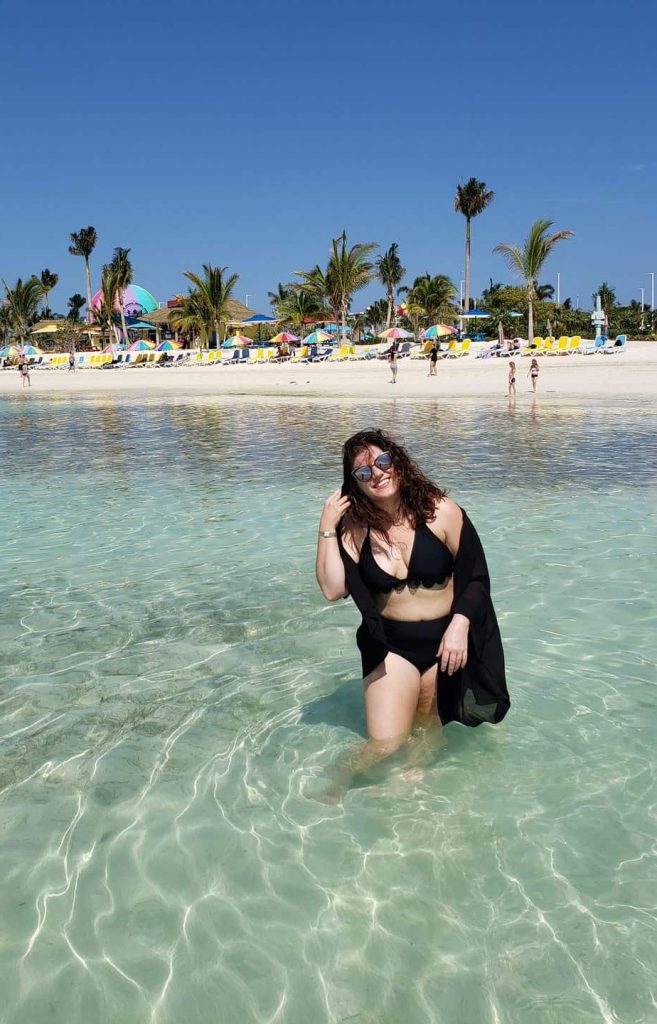 Catch a Glimpse of the Island from Above
There are a few ways to "catch air" in CocoCay, Bahamas. The coolest is in the island's colorful helium balloon, which rises gently 450 feet into the air and provides views over the entire island and out to sea.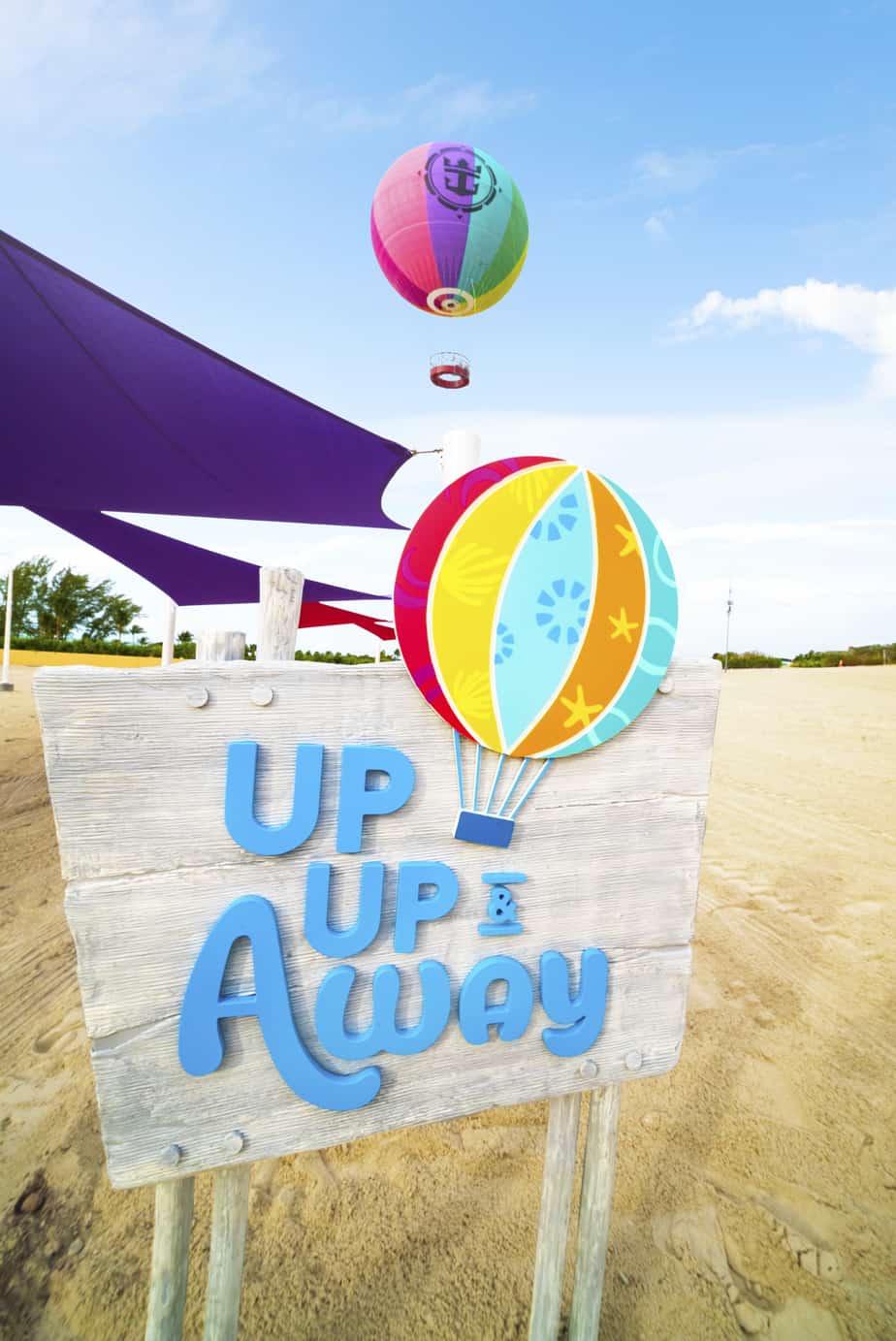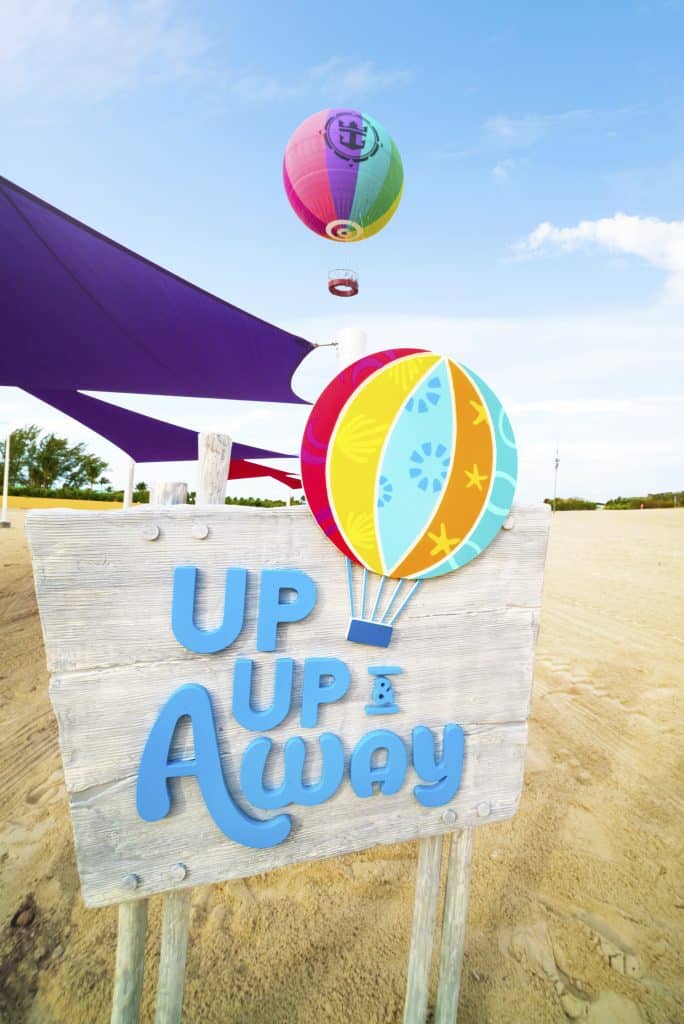 We're definitely partial to this hot air balloon style (take a look at our logo) and Up, Up, and Away adds a sweet touch to the day for sure.
Want to see the island from above while also zipping along at top speed? CocoCay's Zip Line course stretches for 1,600 feet, so you can enjoy stunning views while also getting a thrilling rush of adventure!
Pro tip: Be sure to bring closed-toed shoes if you're planning to ride the zipline–they're required!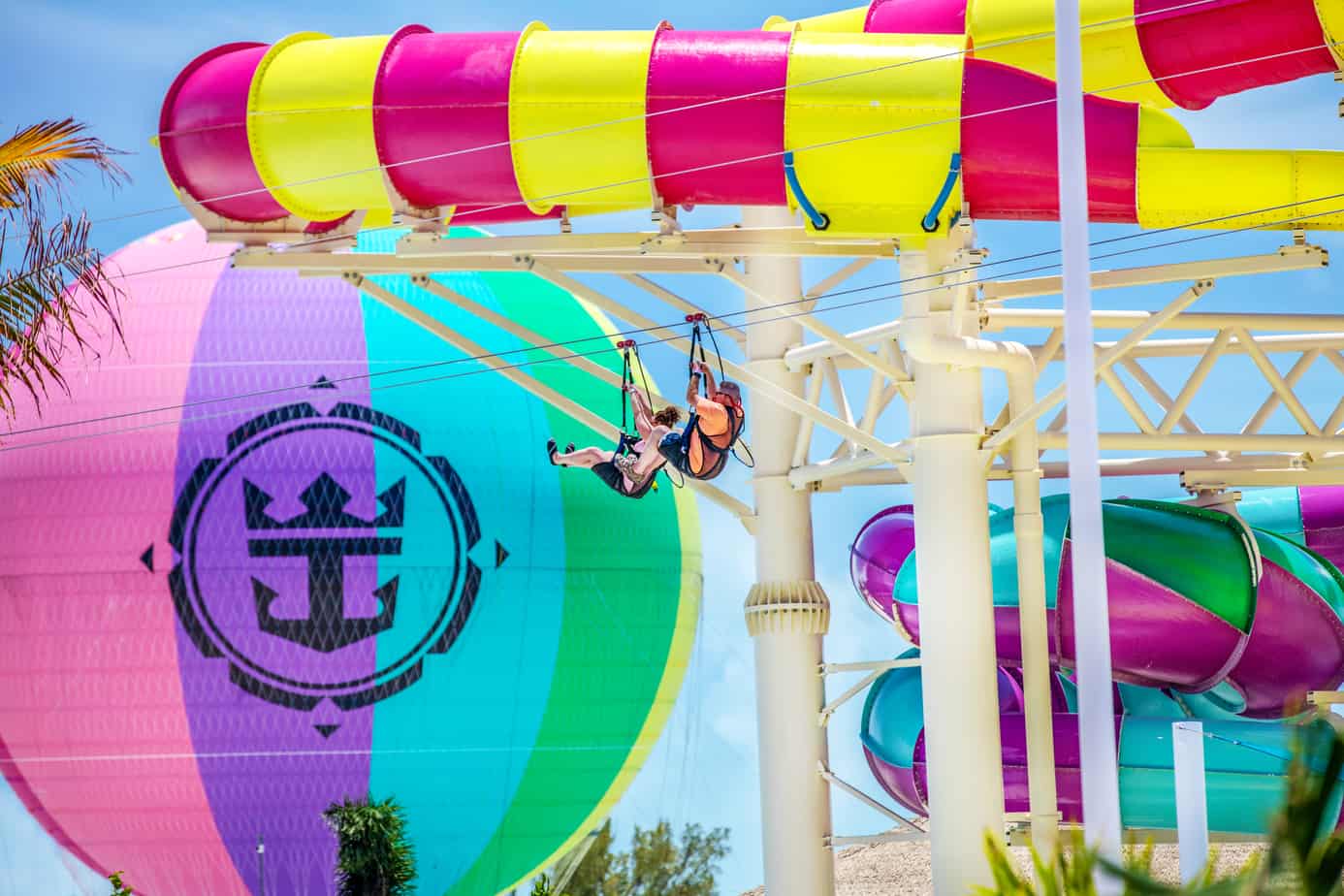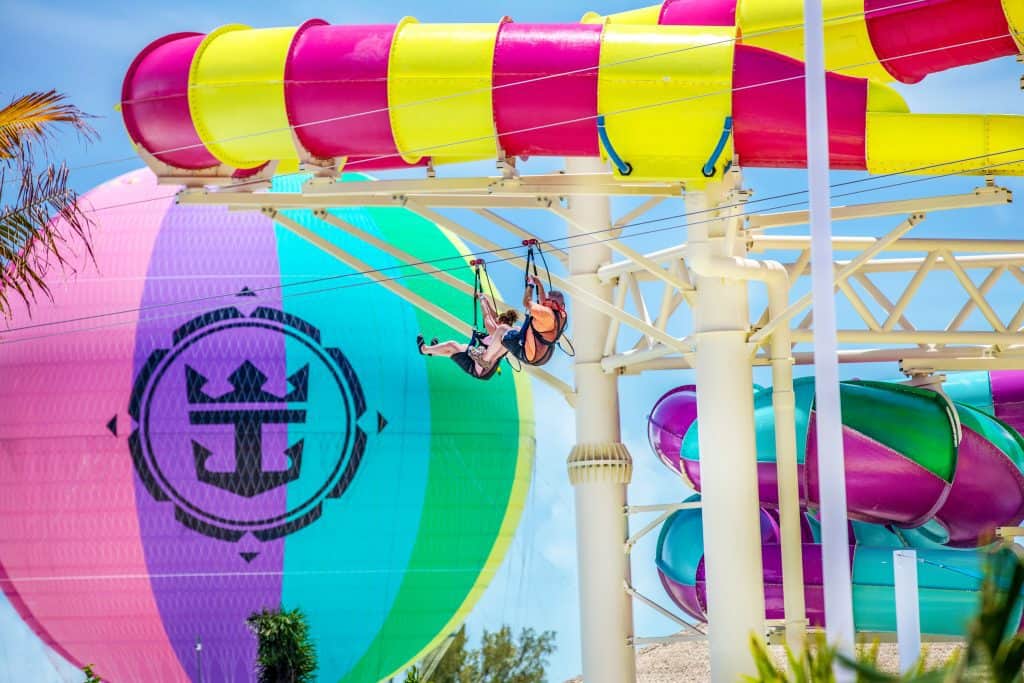 Nab Your Own Private Cabana or Daybed
If you're on a couples trip, you're definitely going to want to spend some time cuddled up next to your sweetheart. May we suggest something with a bit of privacy, like a daybed or cabana? These are dotted throughout the island and are available for an additional rental fee.
Doesn't it sound wonderful to relax in the cool shade of your cabana, sea breezes tossing your hair, the fresh smell of salt air all around you, and an ice cold Pina Colada in your hand…whoops, got lost in a daydream there!
If you don't need a private spot to call your own, that's okay, too. There are literally thousands of beach chairs on the island and plenty of hammocks where you can rock back and forth together.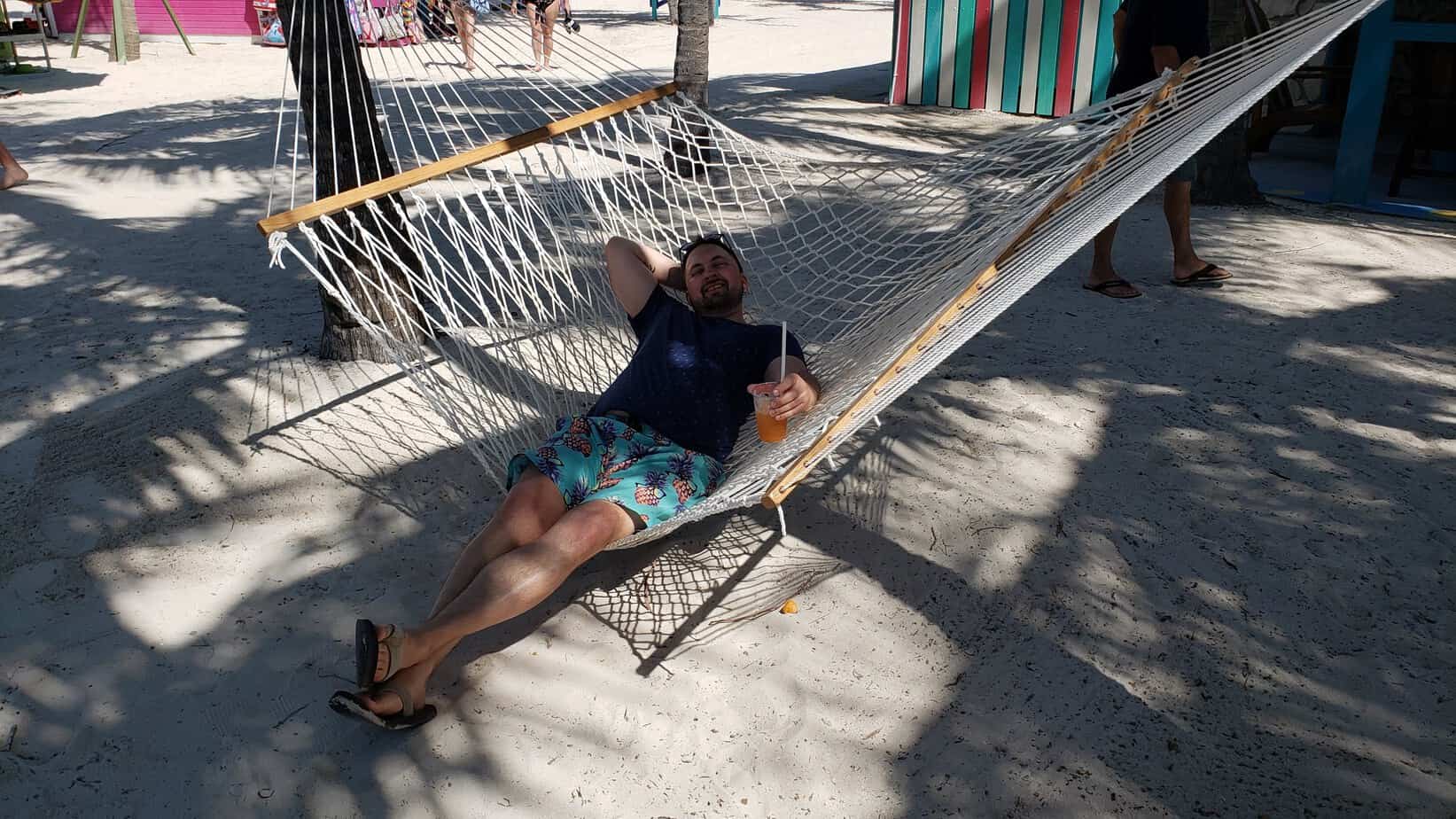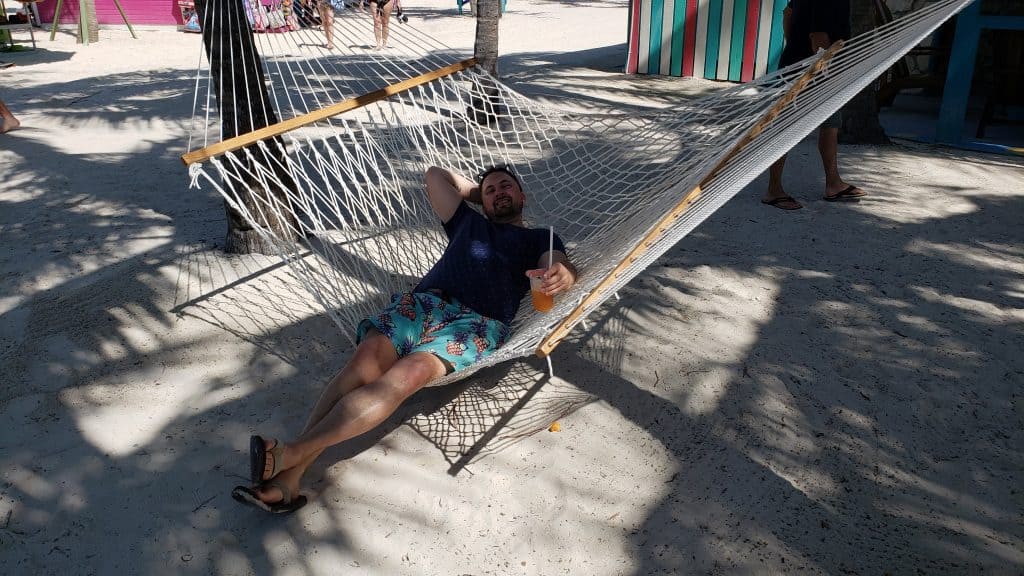 I joined Nathan in a hammock, and we spent a good half hour just lounging in the shade, laughing, talking, and enjoying the gorgeous weather. That's what a Perfect Day at CocoCay is all about.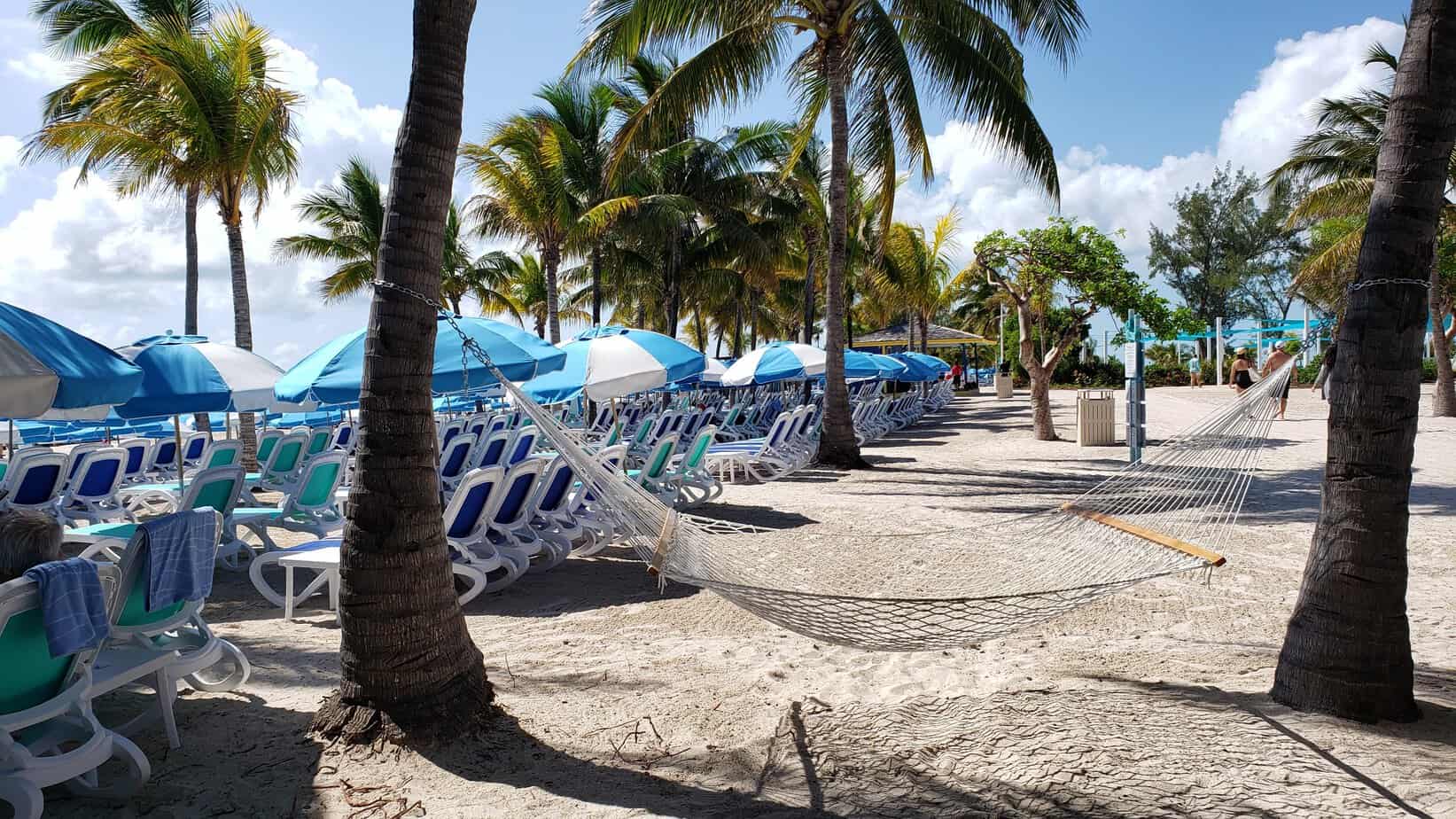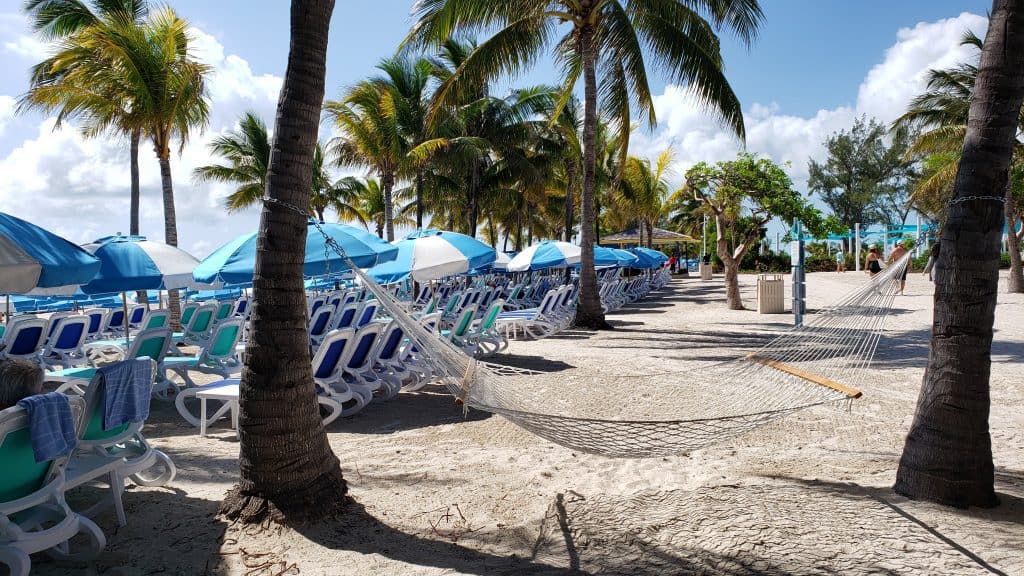 Satisfy Your Hunger with Some Tasty Snacks
There are several places to fill up on the island, and nearly all of them are complimentary, included in your cruise cost. This is really convenient because it means you don't have to worry about having cash on the island. You use your SeaPass (which serves as your keycard, ID, and temporary bank card all in one) to pay for things just as you would on the ship.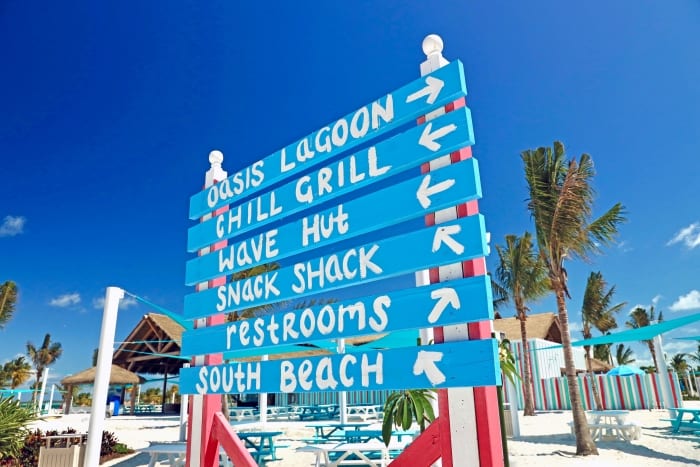 You can't go wrong with eating at the Snack Shack. Terrific burgers, hot dogs, mozzarella sticks, and lots more. The perfect beachy grub.
Go for a Stroll Around the Island
It sounds like a simple activity, but honestly, just walking around together and seeing all the island has to offer is a great way to spend some time. The spectrum of color is really aesthetically pleasing, and you'll spot so many families, couples, and kids having the time of their lives.
There's entertainment on the island, too, especially as you're getting off the ship and walking down the long pier to CocoCay. Here, musicians play Caribbean tunes and dancers welcome you.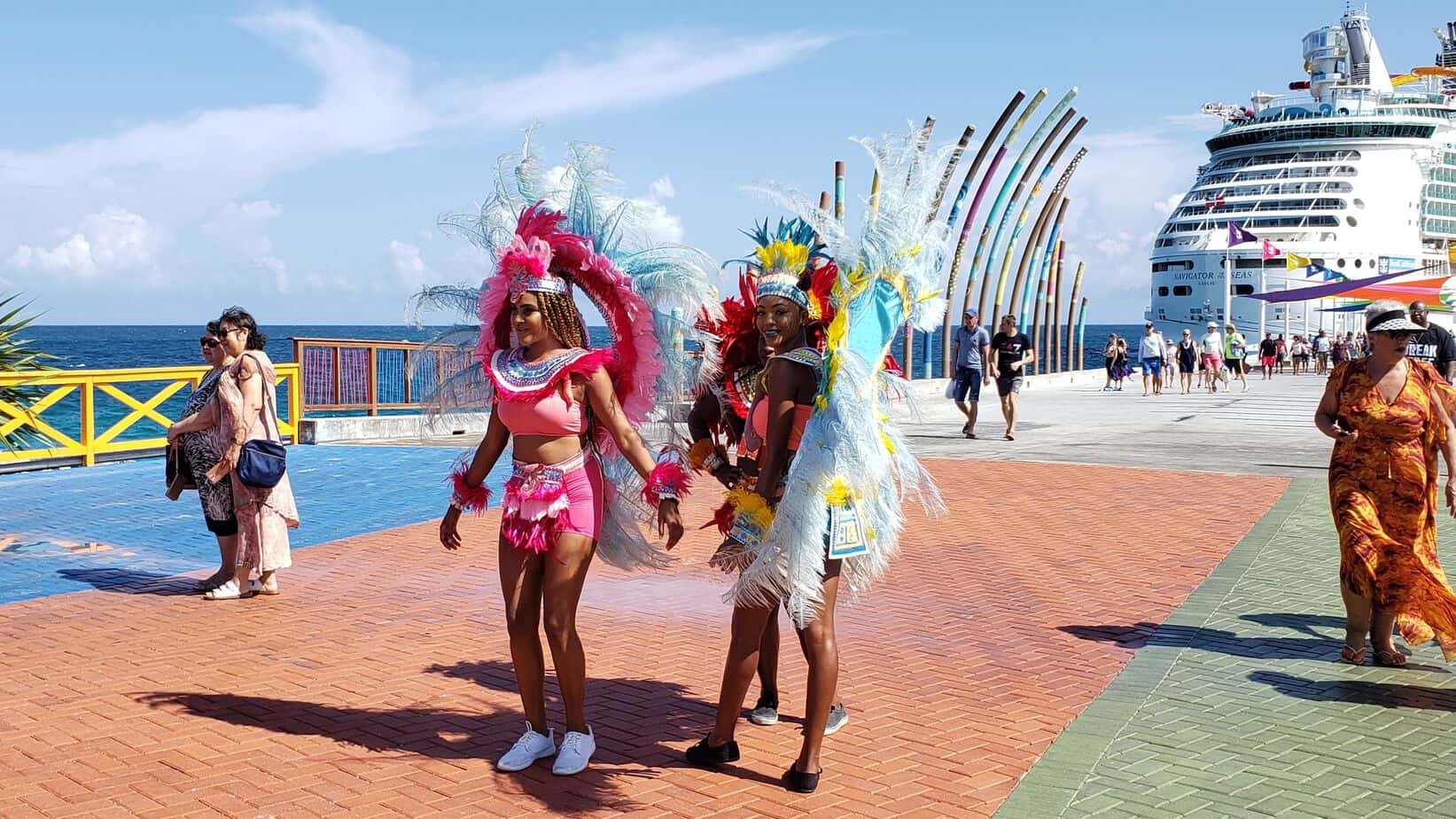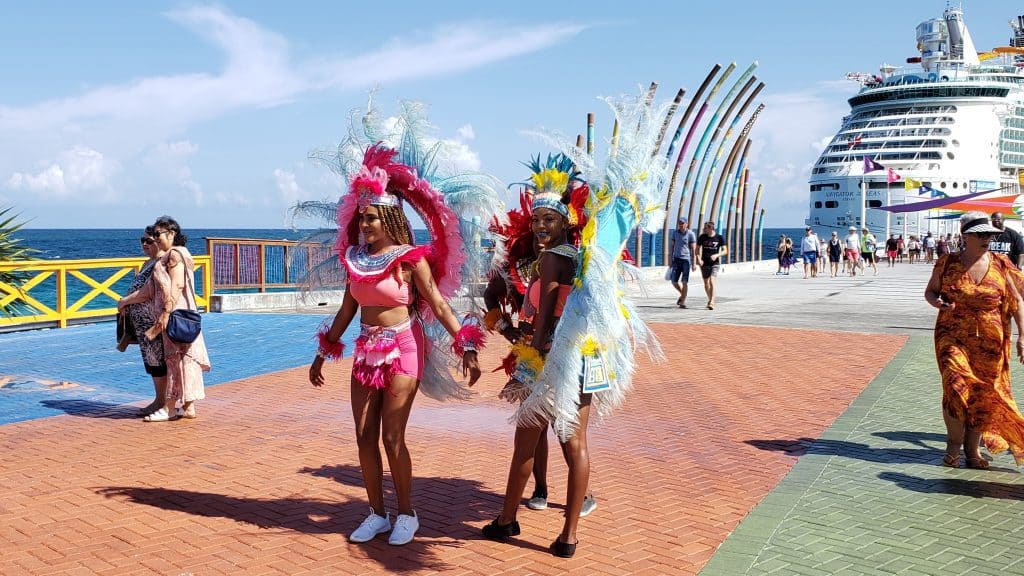 As you walk around the island, be sure to keep your eyes peeled for iguanas. They're usually found in the dense bushes near Chill Island. We spotted a half dozen or so during our time on CocoCay.
Sip from a Pineapple
The moment we stepped away from the dock and arrived on CocoCay, I saw someone drinking out of a pineapple and I knew I had to have one for myself! There's something so iconic about sipping a beverage directly from a tropical fruit. Definitely make time to enjoy at least one. Typically, the bartenders will offer their signature Coco Loco in the pineapple, but you can ask for whatever you want.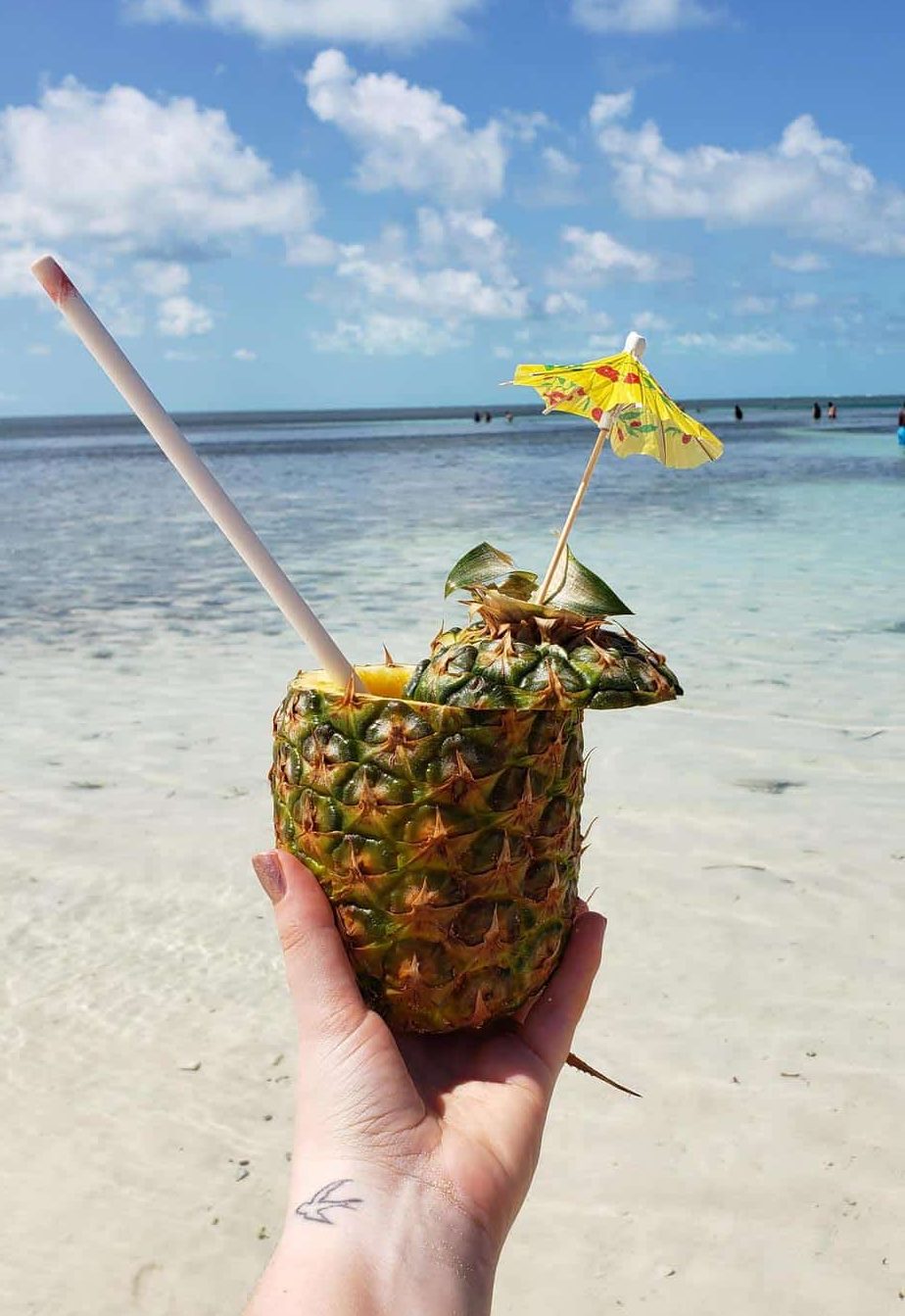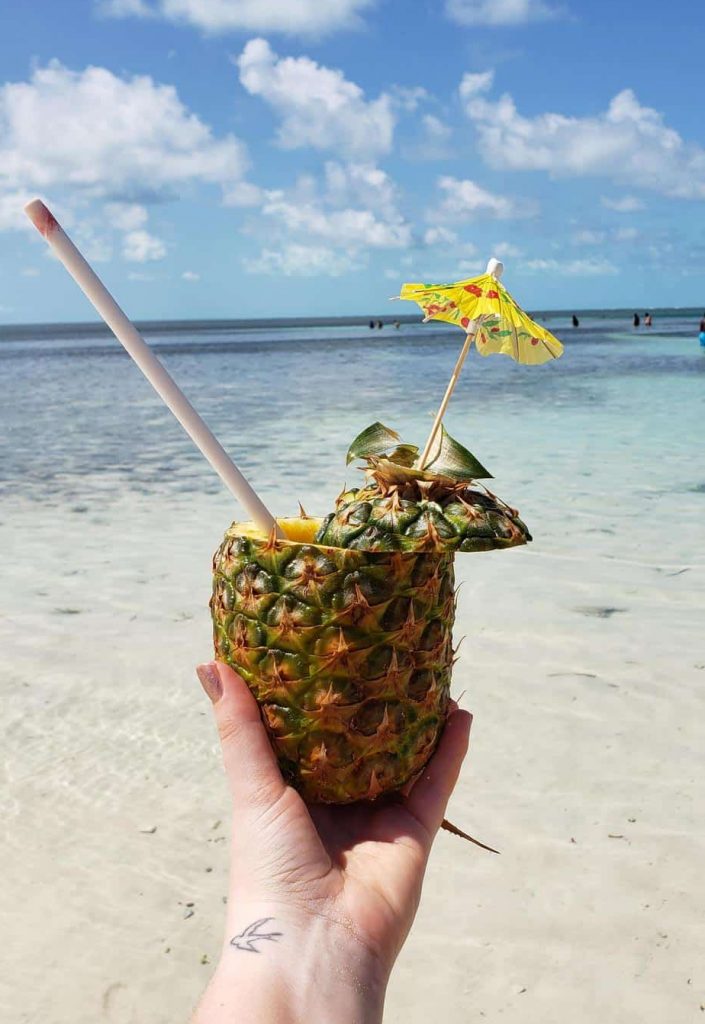 And don't be embarrassed to photograph the heck out of your pineapple drink! I sure wasn't! They make for a super fun prop.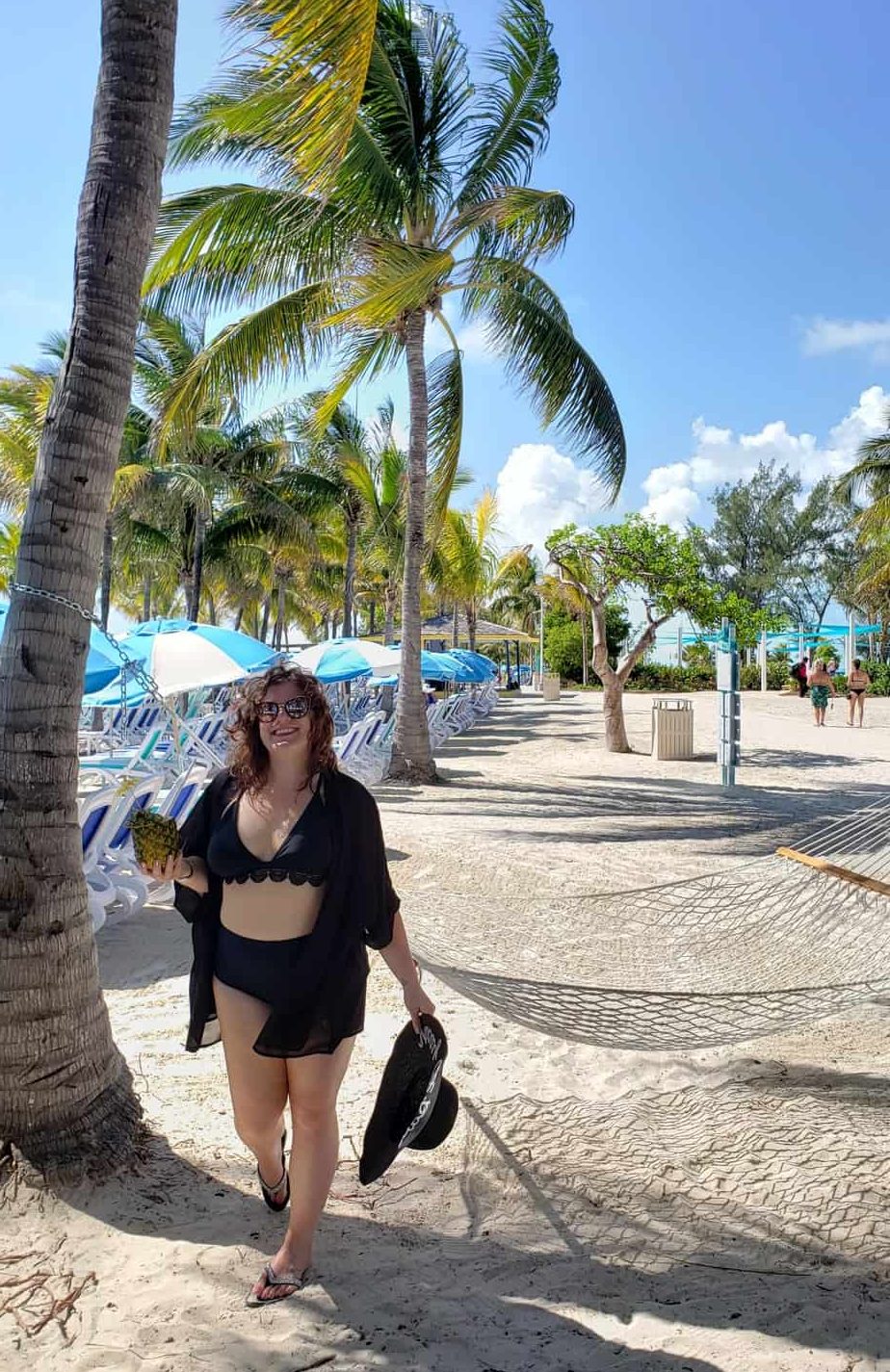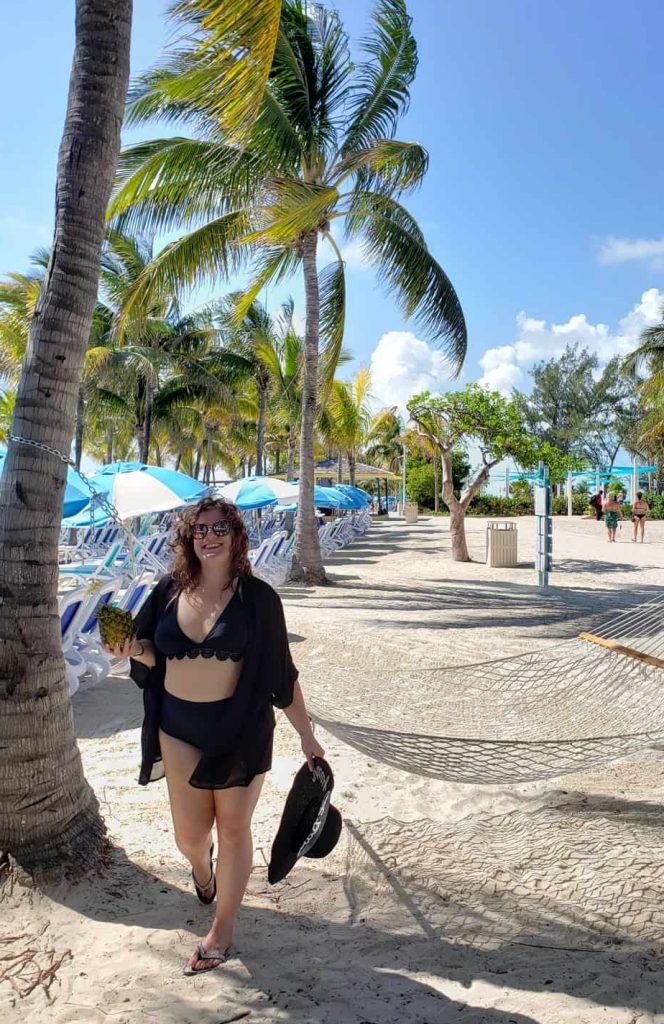 Relax Until the Sun Goes Down
Maybe the best thing about Perfect Day at CocoCay is that it isn't just a day…The fun continues as night begins to fall. Though you'll have to be back on the ship by a certain hour, you can chill out and watch the light fade as the sun comes down on an amazing day.
As our experience came to a close, we spent an hour or two listening to the very talented singer at Captain Jack's. This laidback bar is at the center of everything, and it's an ideal spot to sit on a swing (yes they have swings next to the bar!) and chat with your partner. It's a fun place to meet other travelers, too, as everyone is in a great mood.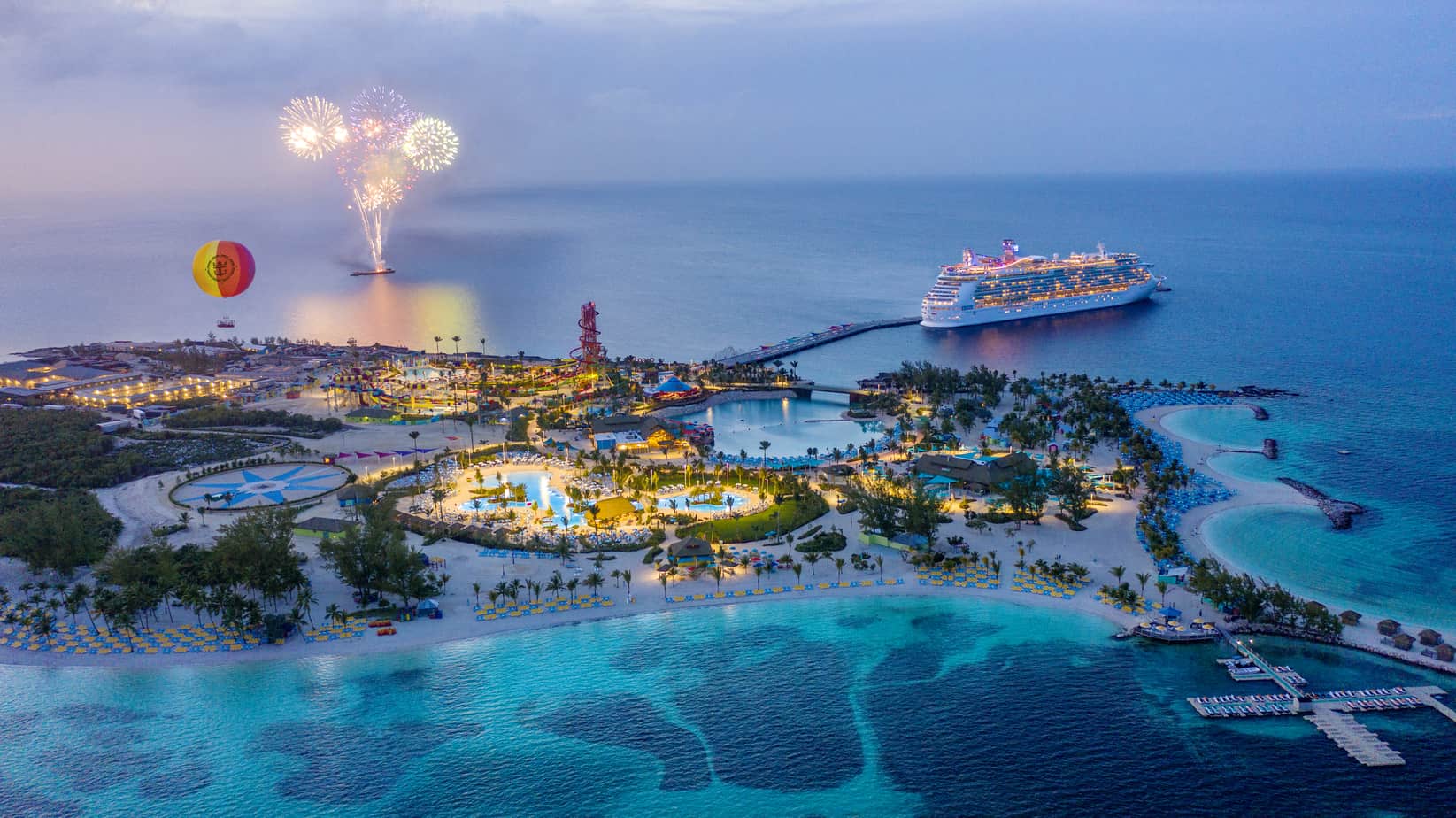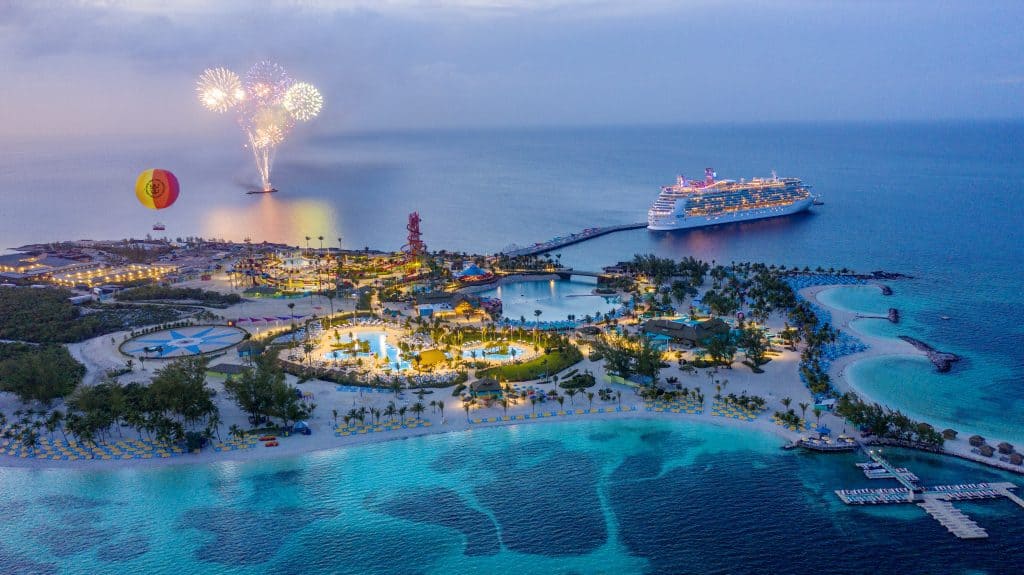 Essential Information for Perfect Day at CocoCay
Here are a few things to know if you're thinking about booking one of Royal Caribbean's CocoCay cruises.
There are currently several different ships and itineraries that include a port at CocoCay Island. You can take a cruise that stops at the private island as well as destinations in the Eastern Caribbean, Cuba, and more. There are lots of options, departing from Miami, Fort Lauderdale, Baltimore, and Cape Liberty, New Jersey.
While we sailed out of Miami on Navigator of the Seas (and can highly recommend it!), Royal Caribbean is known for its fantastic ships, so any you're booked on is bound to be a great choice.
What is the cost of Perfect Day at CocoCay?
It's pretty exciting to be visiting a private island. What's terrific is that the majority of things to do on CocoCay are complimentary and included in your cruise package. Entry to the island itself is free, and you can take advantage of the beaches, Oasis Lagoon, and complimentary dining locations.
Essentially, the "chills" are included, while the "thrills" like Thrill Waterpark℠, the Zip Line, and Up, Up and Away helium balloon, are an additional charge. If you simply want to hang out on a beautiful private island in the Bahamas, CocoCay welcomes you!
Perfect Day at CocoCay excursions are an additional cost as well. This includes activities like snorkeling, jet skis, and kayak rentals. For more details on individual pricing, click here.
Are there more CocoCay activities than what we mentioned above?
Yes! There's so much more to enjoy. An enormous wave pool (the largest in the Caribbean) is extremely fun to bob around in for a while. And there are several other slides that guests will love, including some group options like the Slingshot (up to four riders) and the Twister (two riders).
And of course, for families with kids, CocoCay is a winning vacation destination. I don't know any child that wouldn't be over the moon to arrive at this island, and there are areas for kids of all ages to swim, splash, and slide. Caution parents: you will get wet! 🙂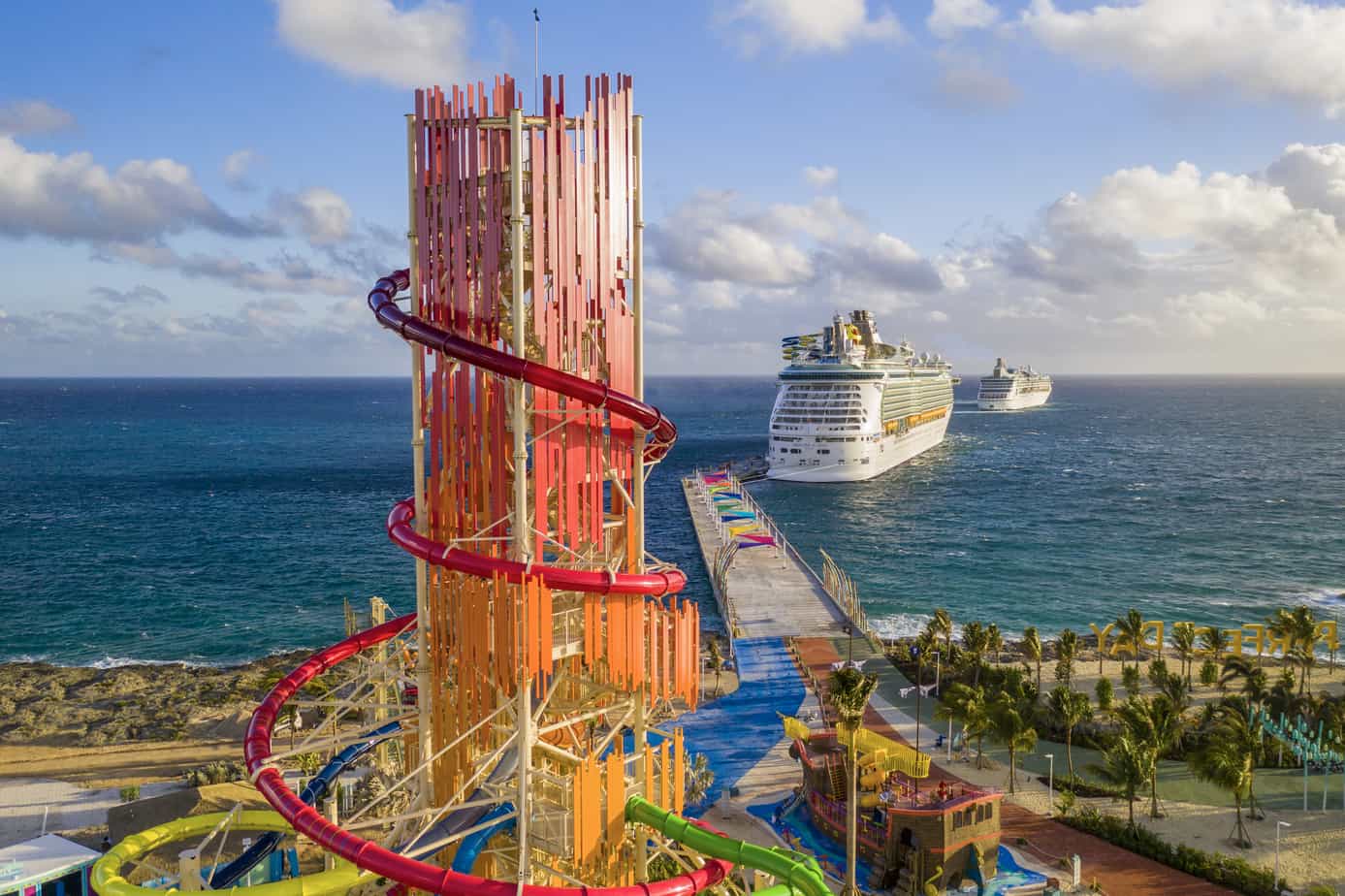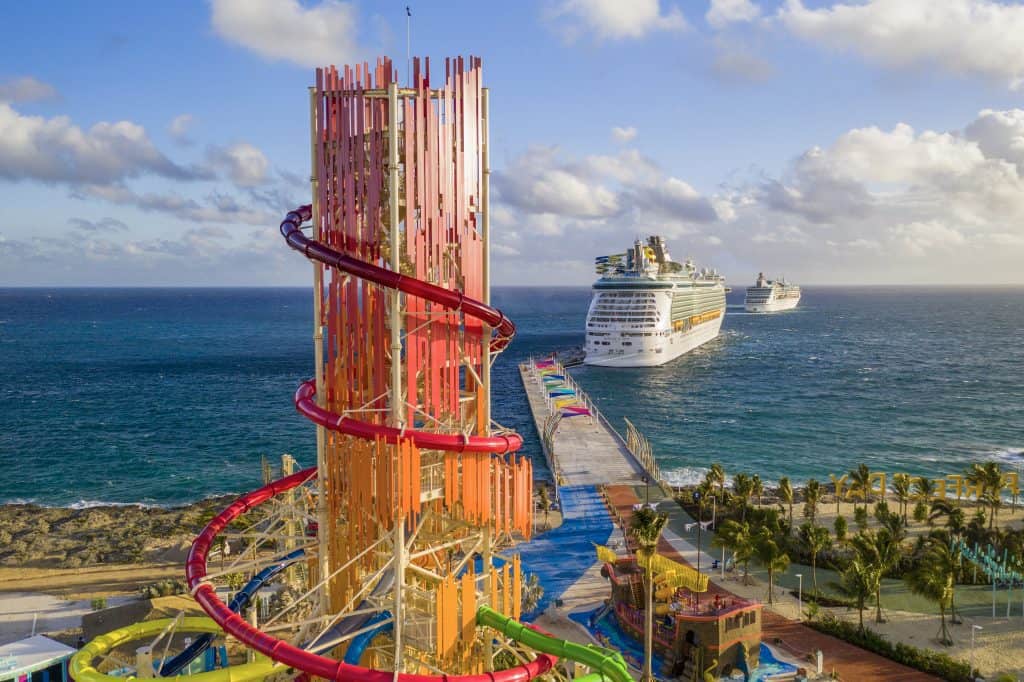 Ultimately, we conclude that cruising is a fabulous vacation choice. We both had a great time on the cruise (it was Nathan's first!), and enjoying a day at a fun-filled private island was just the cherry on top.
Thanks again to Royal Caribbean for an excellent experience.
---
Do you want to visit CocoCay?!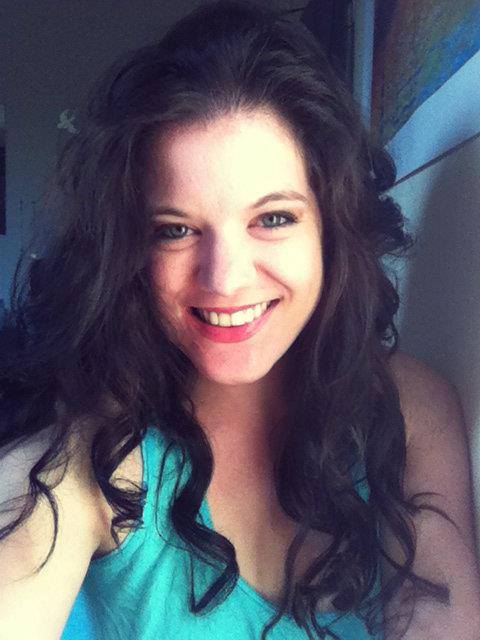 Amy Hartle is the author of Do You Love Me? How To Stop Seeking Reassurance in Relationships, a book on reassurance seeking and relationship anxiety. Both her book and this blog are born of personal experience; Amy shares expert relationship advice from the lessons learned during her own 10+ years with her husband, as well as couples travel tips and romantic getaway recommendations, all gleaned while traveling the world together.