This post may contain affiliate links. Read our disclosure page for full details.
With Valentine's Day coming up, there is no better time than the present to find a romantic Airbnb somewhere in the United States for a couple's getaway!
From breathtaking treehouses to waterfront homes, you're sure to find a place for you and your significant other on this list. You shouldn't think twice about booking any place on this list! Be sure to make your reservations fast before these romantic retreats book up.
Here are 23 of the most romantic Airbnbs in the US; gorgeous properties that I am absolutely obsessed with (and I'm sure you will be too!)
Please note: As an Airbnb Associate, I earn when you book through these links.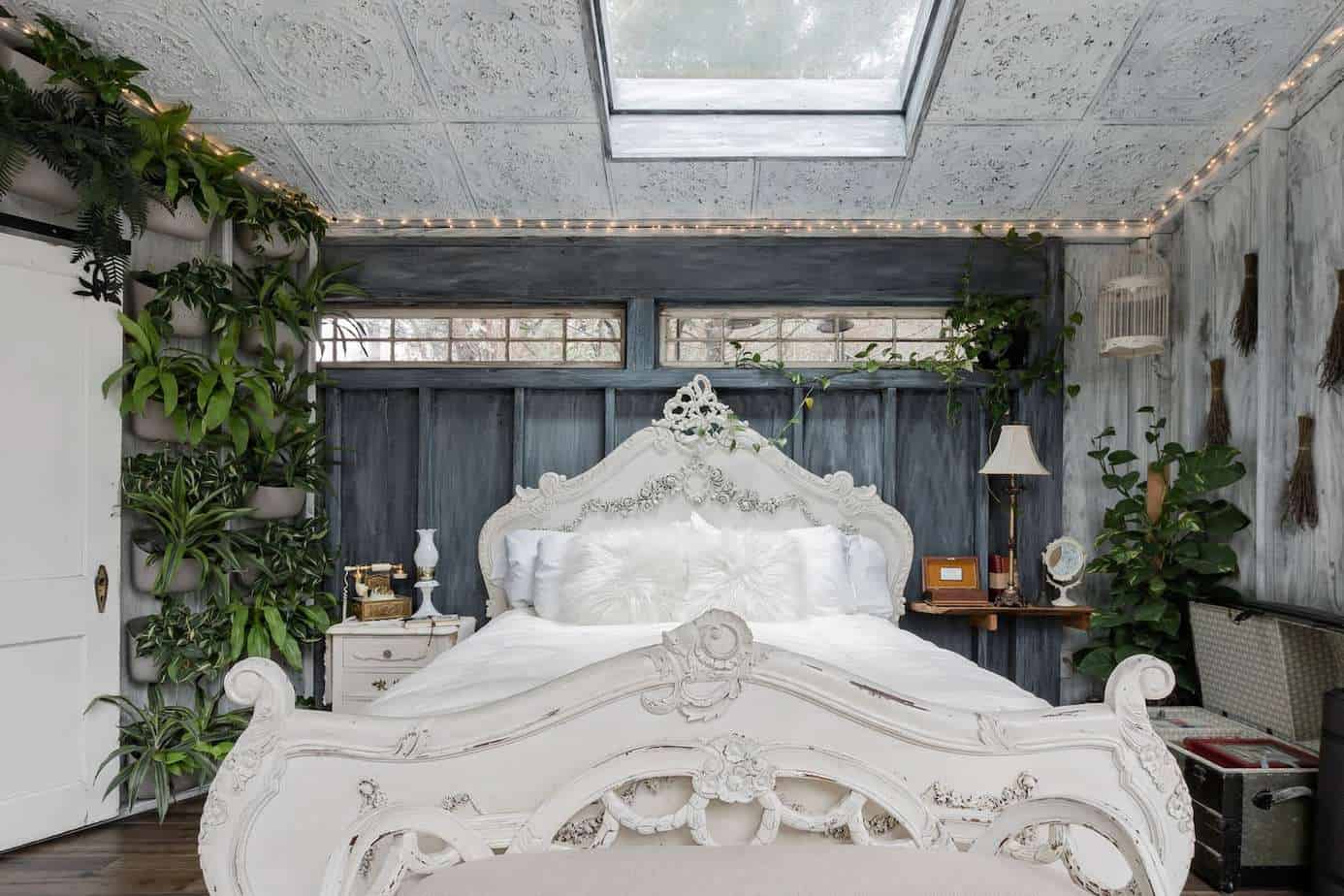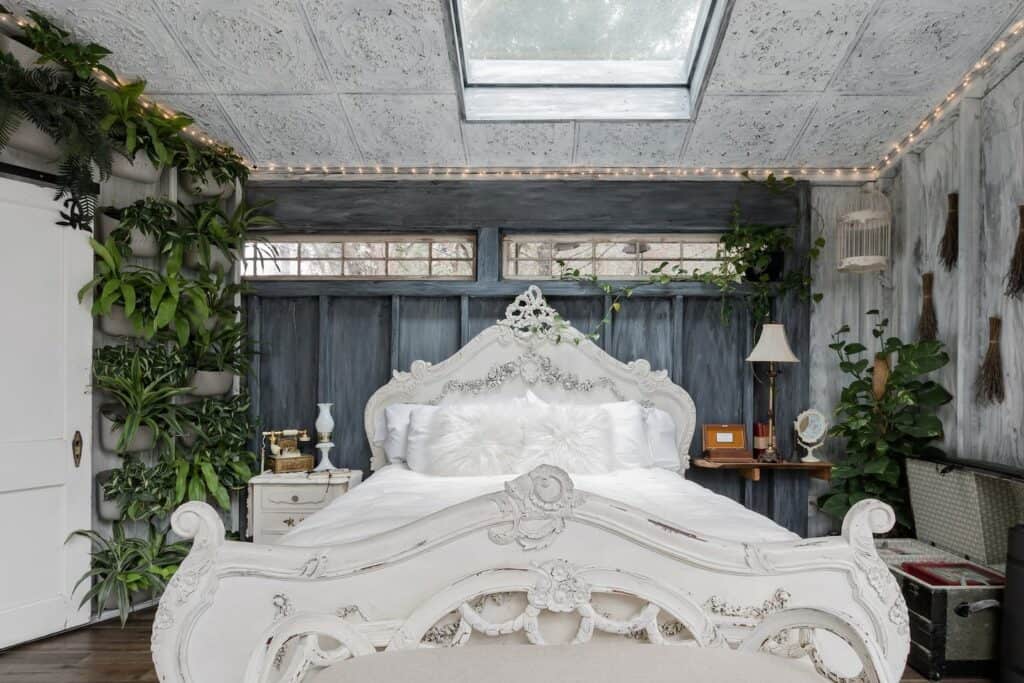 There's nothing more romantic than a rustic treehouse filled with aesthetic decorations near the waterfront. This treehouse, in particular, has been mentioned in Us Weekly and Bravo's Southern Charm, so it's been vetted by experts.
The interior features tons of interesting pieces, including a telescope, a unique wooden table, and a fun outdoor shower for two. Plus, there's an outdoor day bed, tandem bike, and fire pit. You can't go wrong with spending time here with your loved one, no matter the time of year.
You should note, this is best for a long term getaway, as the property has a 31-day minimum currently. But my goodness, what a romantic, dreamy month!!
---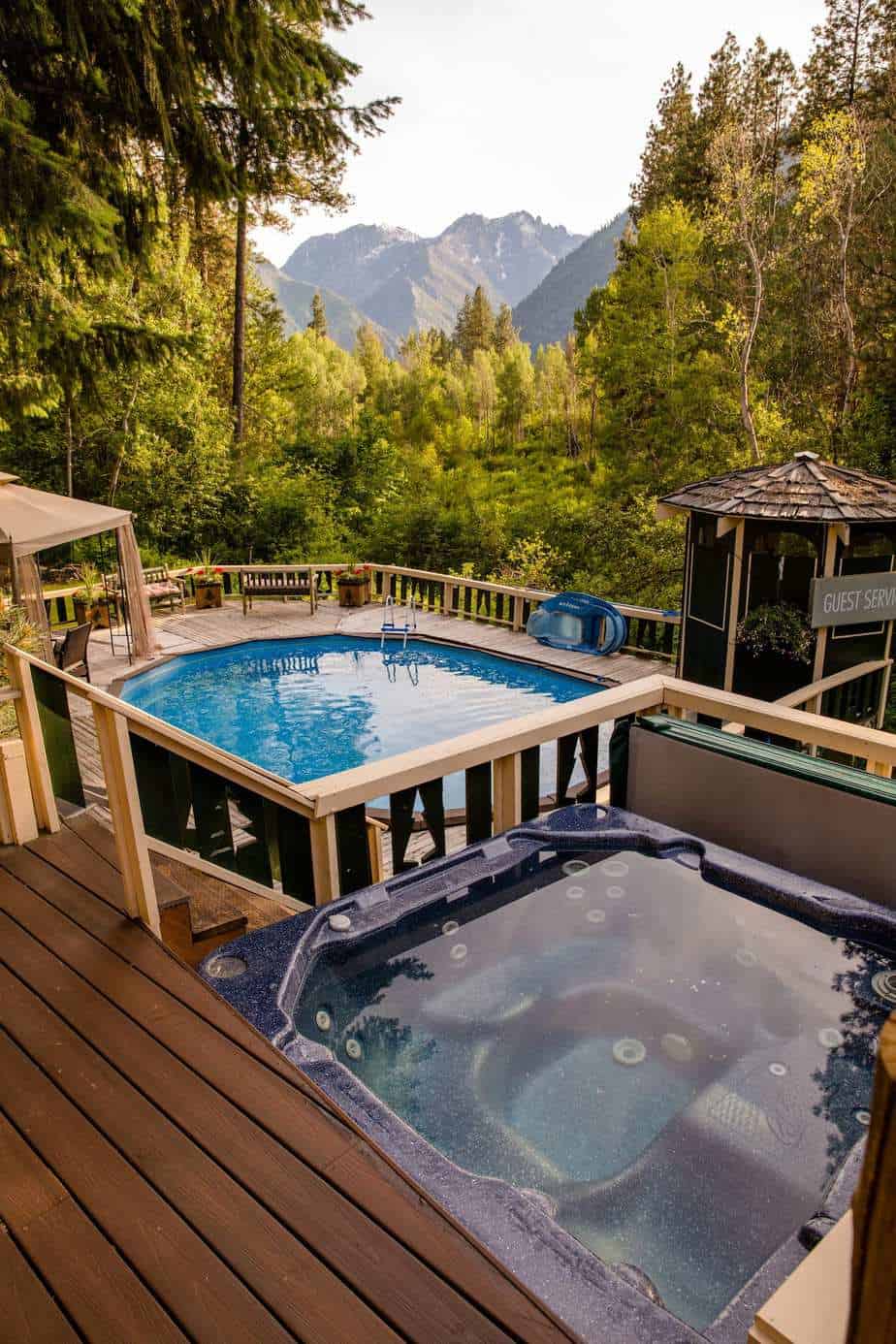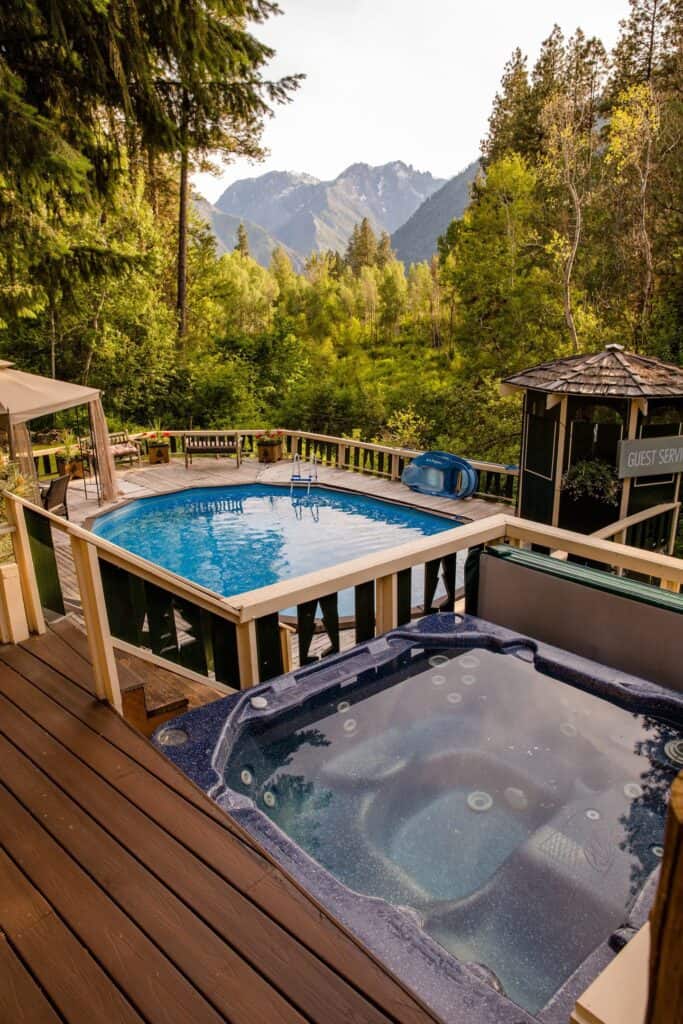 This nature lodge in Leavenworth, Washington, is the perfect romantic escape to feel like you're having a European getaway while not leaving the United States. The superhosts perfectly curated the decor and furniture with Scandinavian pieces, which only adds to the magic of this accommodation.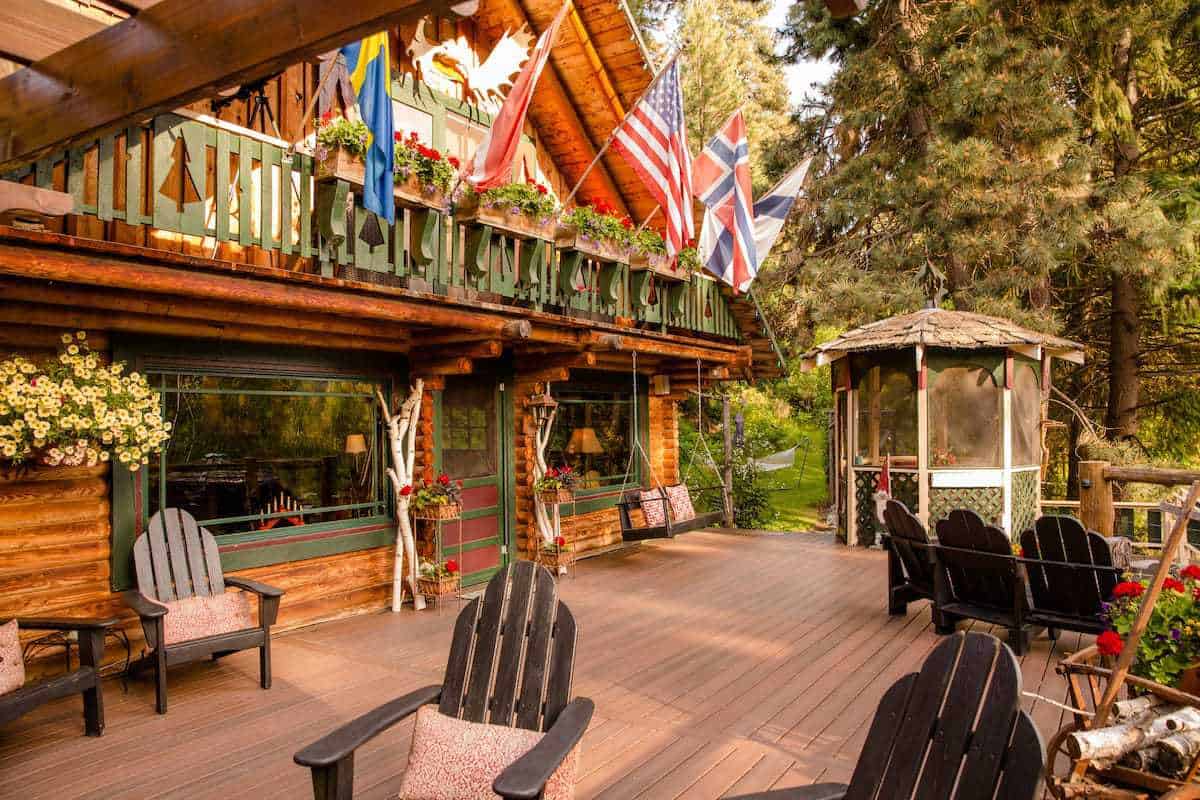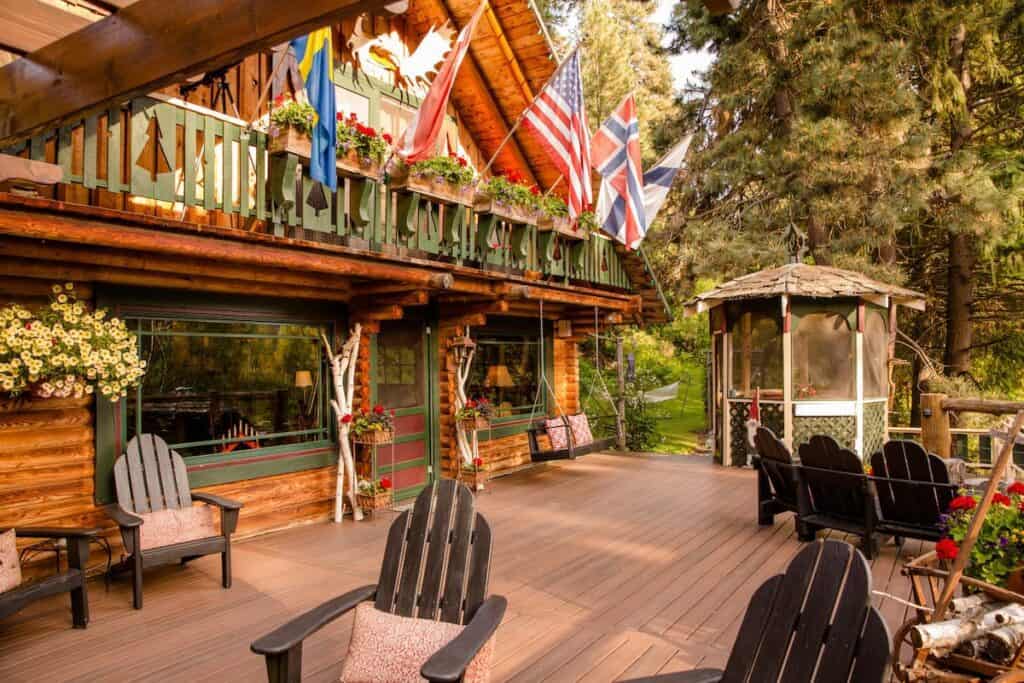 The Airbnb served as a home to the hosts for a long time, so you know that this place has been kept quite well. This accommodation is filled with perks, including a handcrafted bed, private deck, and library. Plus, there's an outdoor spa!
---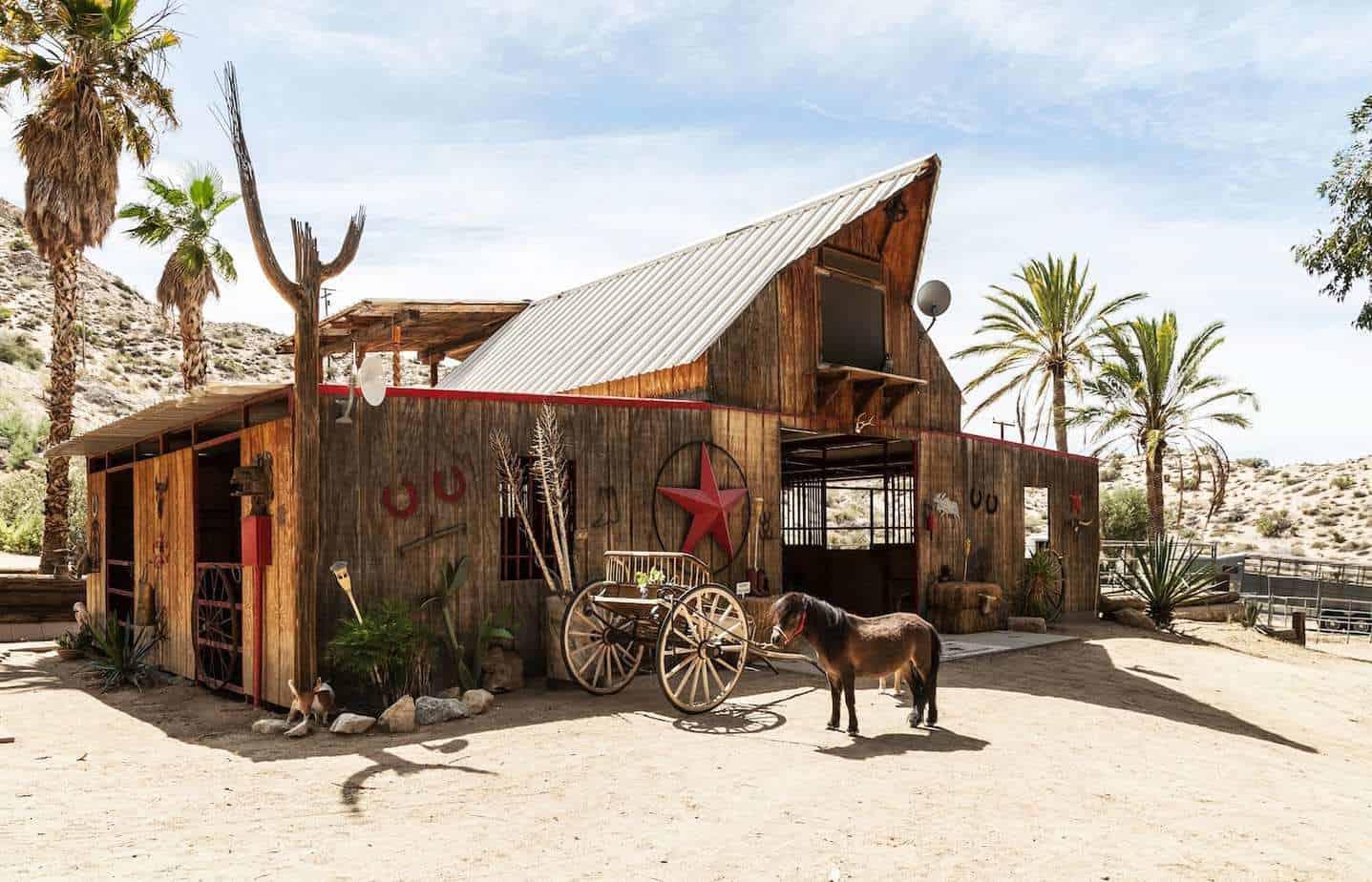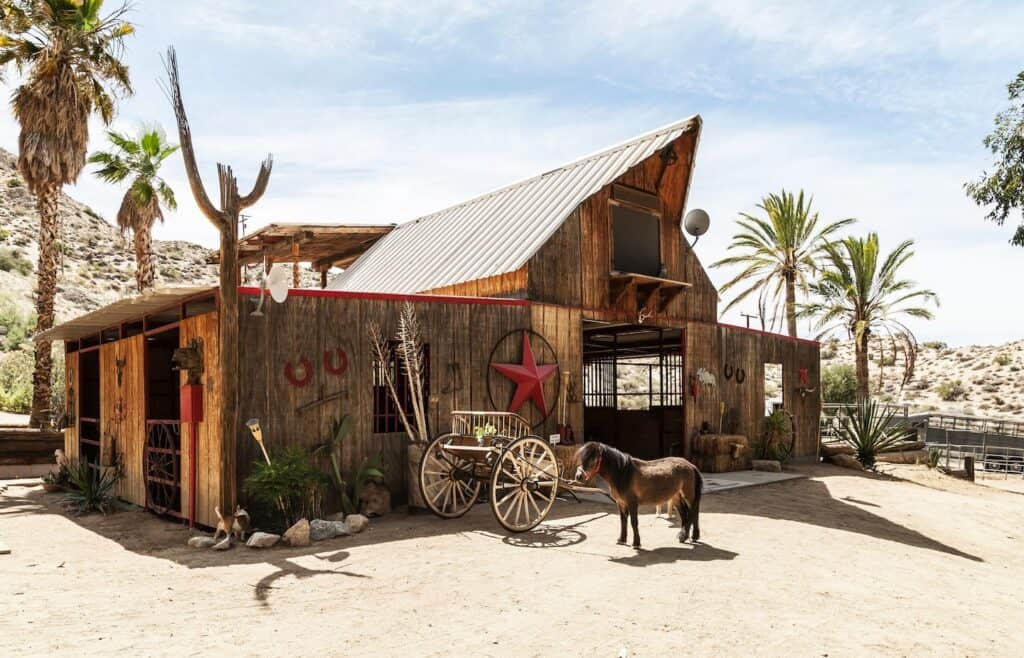 Any place called a love nest just screams romanticism! This accommodation is located on a farm in Morongo Valley, California. The house is rustic and features tons of unique pieces throughout, from the red tub to the saddle chairs.
Did I mention this accommodation is also only a short drive away from Palm Springs? You can experience a romantic getaway with some privacy while also visiting the town to find some fun things to do.
---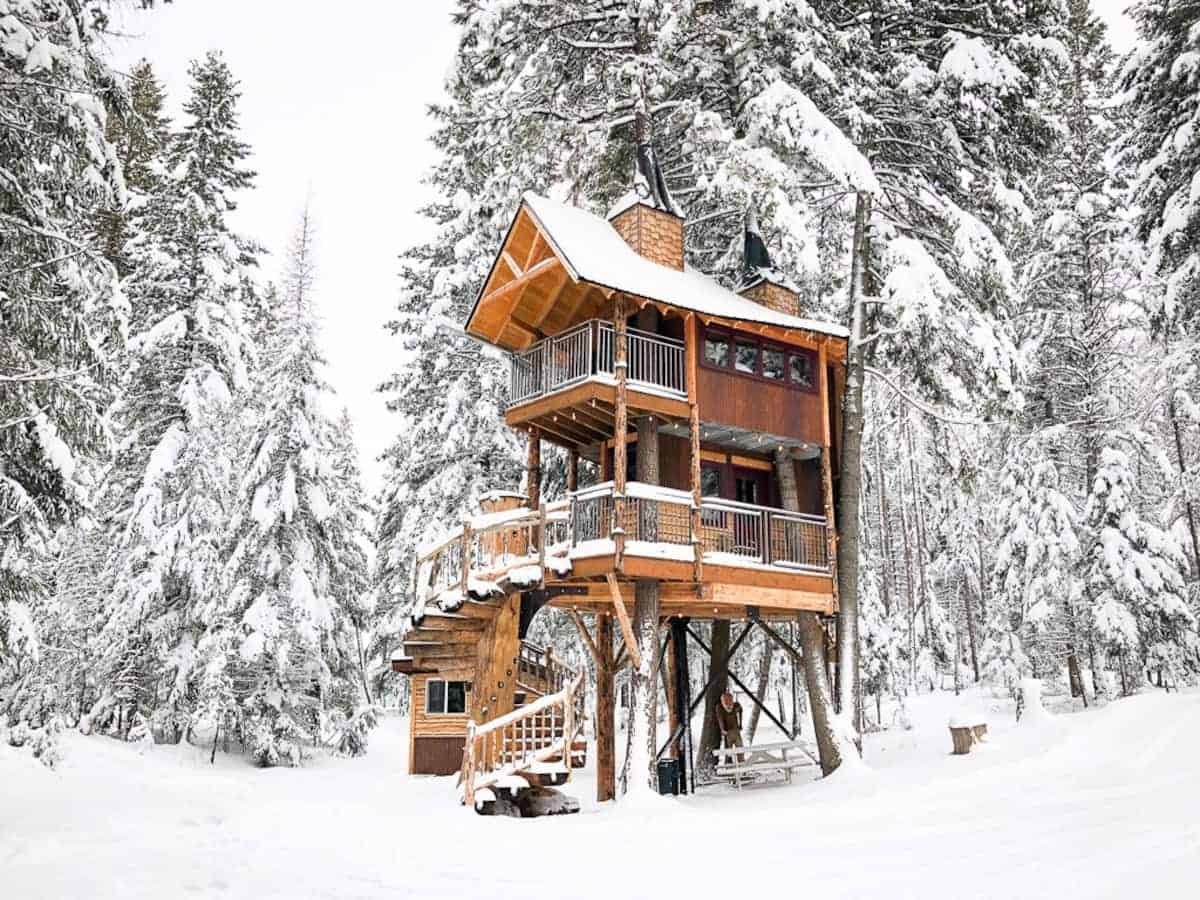 Imagine staying in a treehouse in Columbia Falls, Montana, that truly looks like something out of a Christmas movie in the winter! That's precisely the type of experience you can have at this accommodation. It's located on 5 acres of land and is only a short drive to Glacier National Park and Whitefish Mountain Ski Resort.
You enter the treehouse by using a grand spiral staircase, and the treehouse is built on a Douglas fir tree. While the treehouse is only 500 square feet, it's a lot bigger than you may think. There are two decks, a full kitchen, a common room, and a master suite loft.
---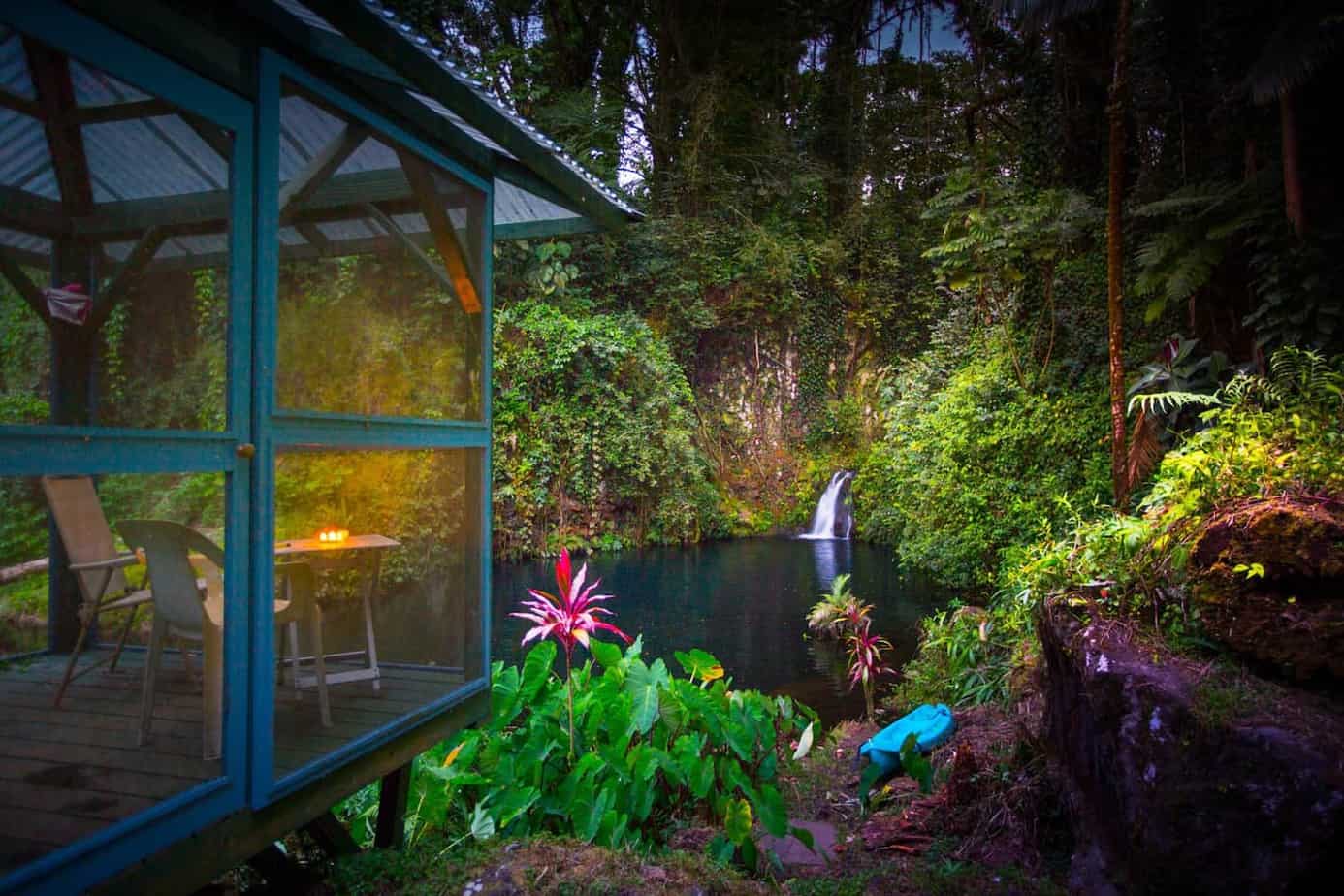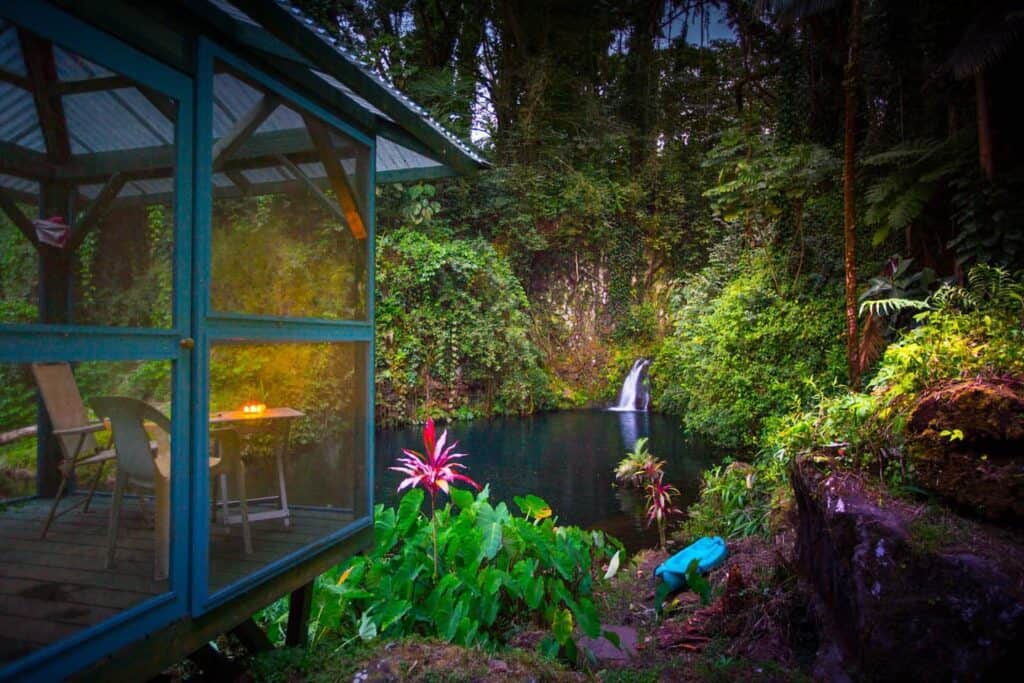 While many of the places on this list so far have been rustic accommodations, this Airbnb in Hilo, Hawaii, is anything but. While it's perfect for up to six guests, it's ideal for a romantic getaway if you're looking to stay in a waterfall paradise.
This Airbnb is essentially in a jungle and is located right on a lake with a waterfall. You could wake up each morning and go for a swim with a breathtaking view. There are two decks, a living room, a full kitchen, and a luxury shower. If you want to escape to a tropical getaway, look no further!
---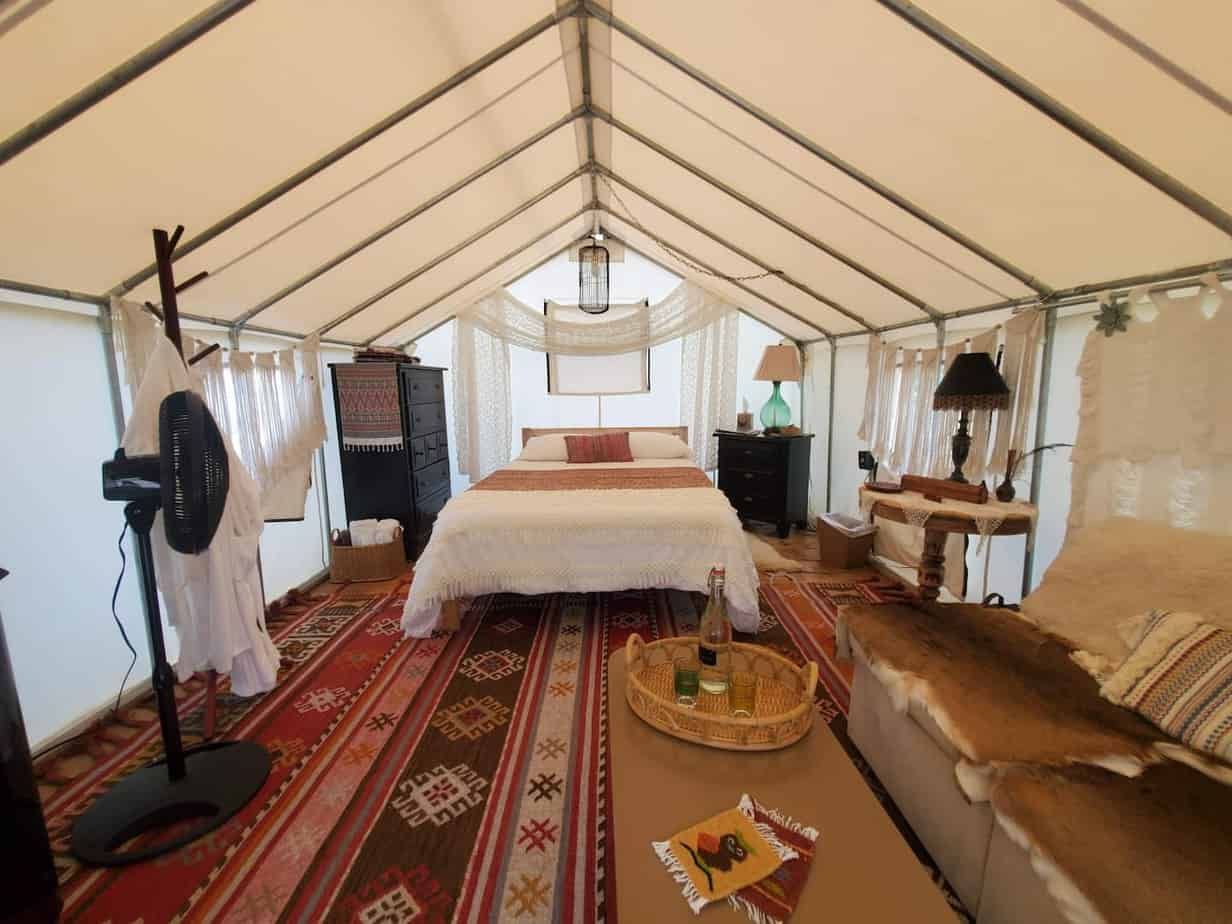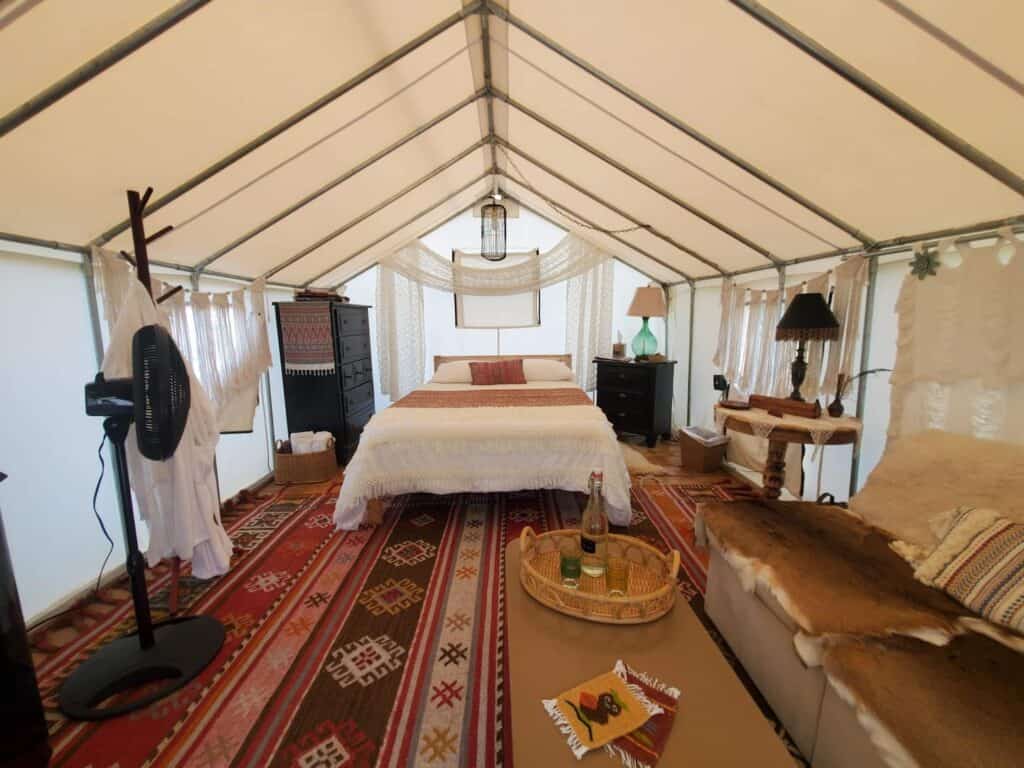 Located in Brooktondale, New York, this glamping tent is sure to get you closer to nature and your significant other. The tent is 12×14, so you can have romantic cuddles all night. The glamping tents are located right on a farm, too, so within minutes you can visit with peacocks, horses, chickens, and more!
The inside of the tents are bohemian, with fun rugs and decor throughout. While the rooms don't come with heaters or air conditioning, a fan is provided, and so are heated blankets. This is the perfect unique stay for a getaway!
---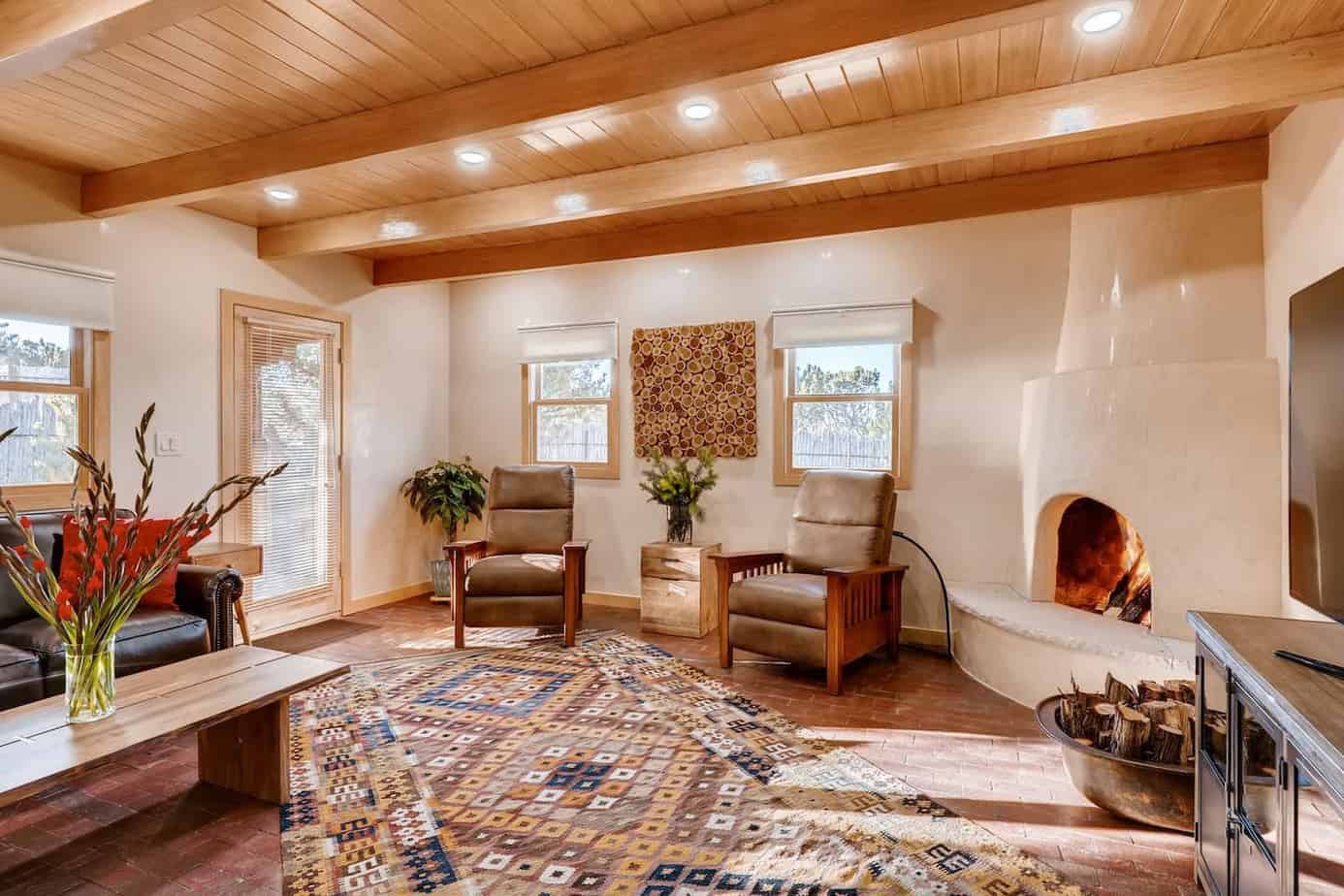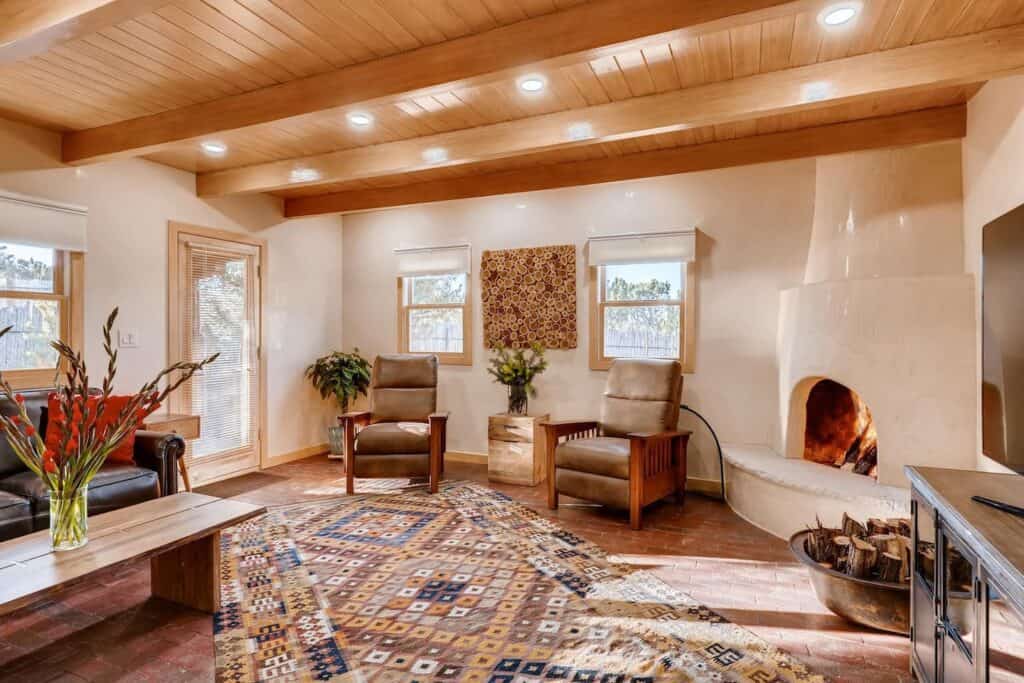 This breathtaking casita is located in Santa Fe, New Mexico, and is only a short five-minute drive from downtown. It was recently remodeled, so the inside is charming and modern, with southwestern decor and furniture to help give the place character.
Inside, there's a living area, full kitchen, huge closet, and master bathroom. Oh, and did I mention the outdoor jacuzzi? Imagine the romantic evening you can have in this beautiful accommodation!
---
---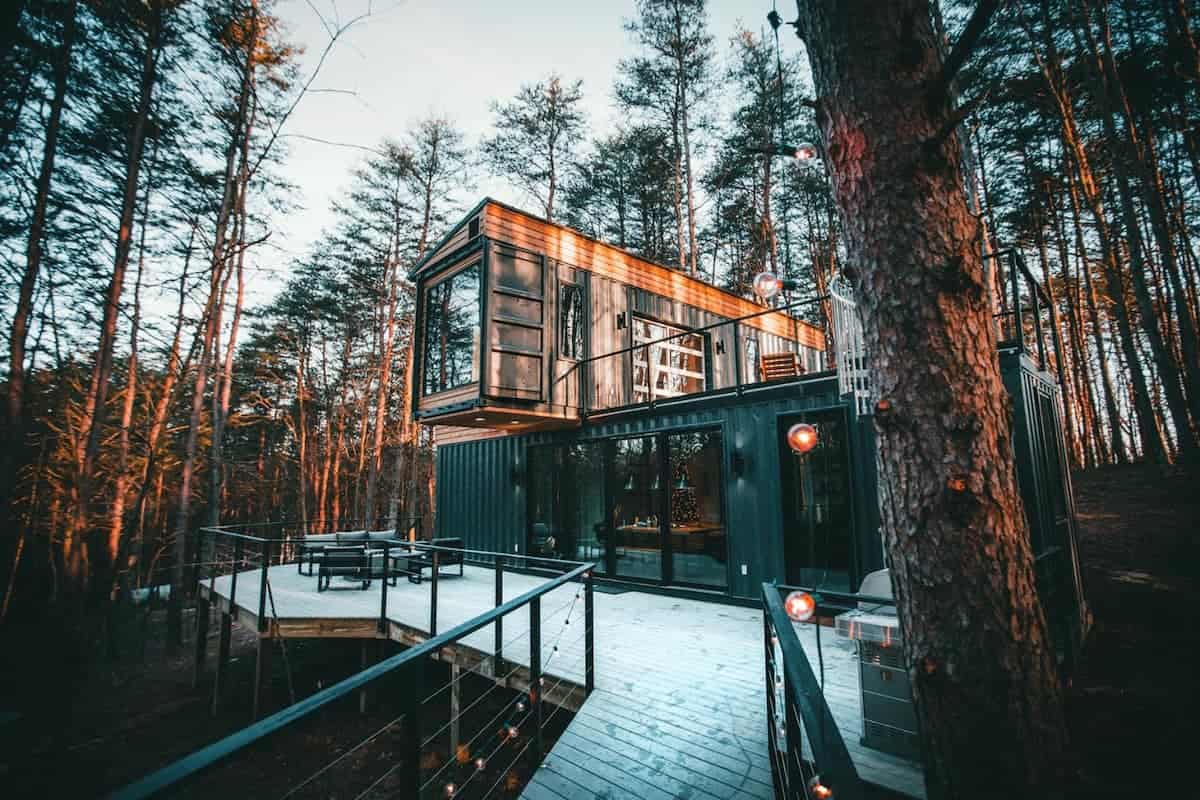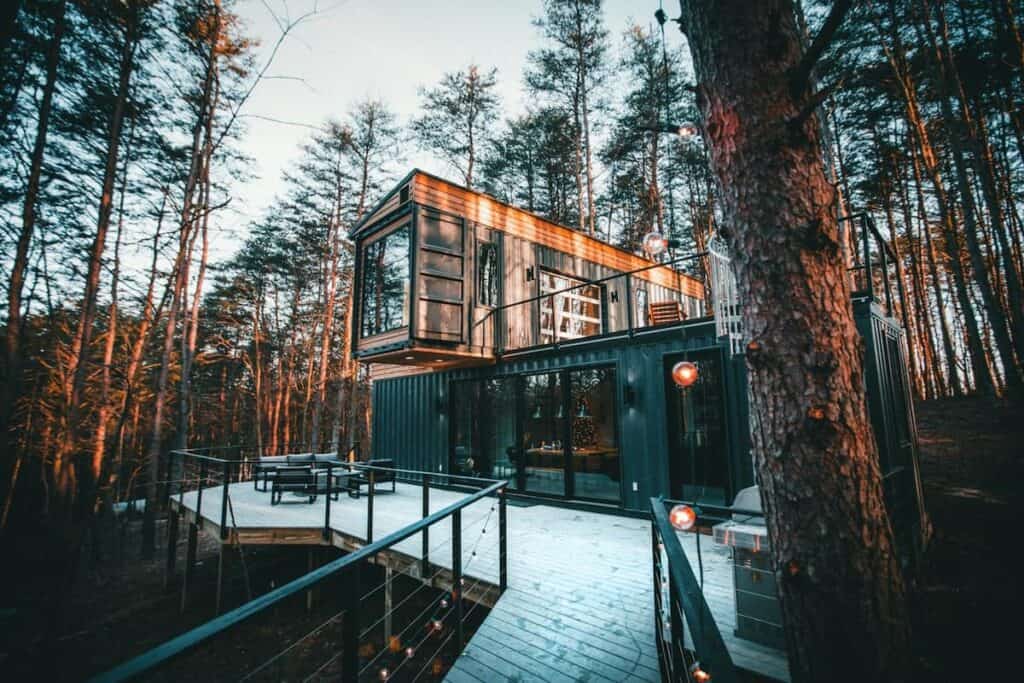 While you may hear the word cabin and think of something un-romantic, this accommodation is anything but! It's located in Rockbridge, Ohio, and is incredibly modern, surrounded by beautiful forest views.
It's located on 18.5 acres of land in Hocking Hills and features three bedrooms, two full bathrooms, a kitchen, living space, and a massive patio with a grill and jacuzzi. Plus, there are lights outside so that you can use the jacuzzi at night.
---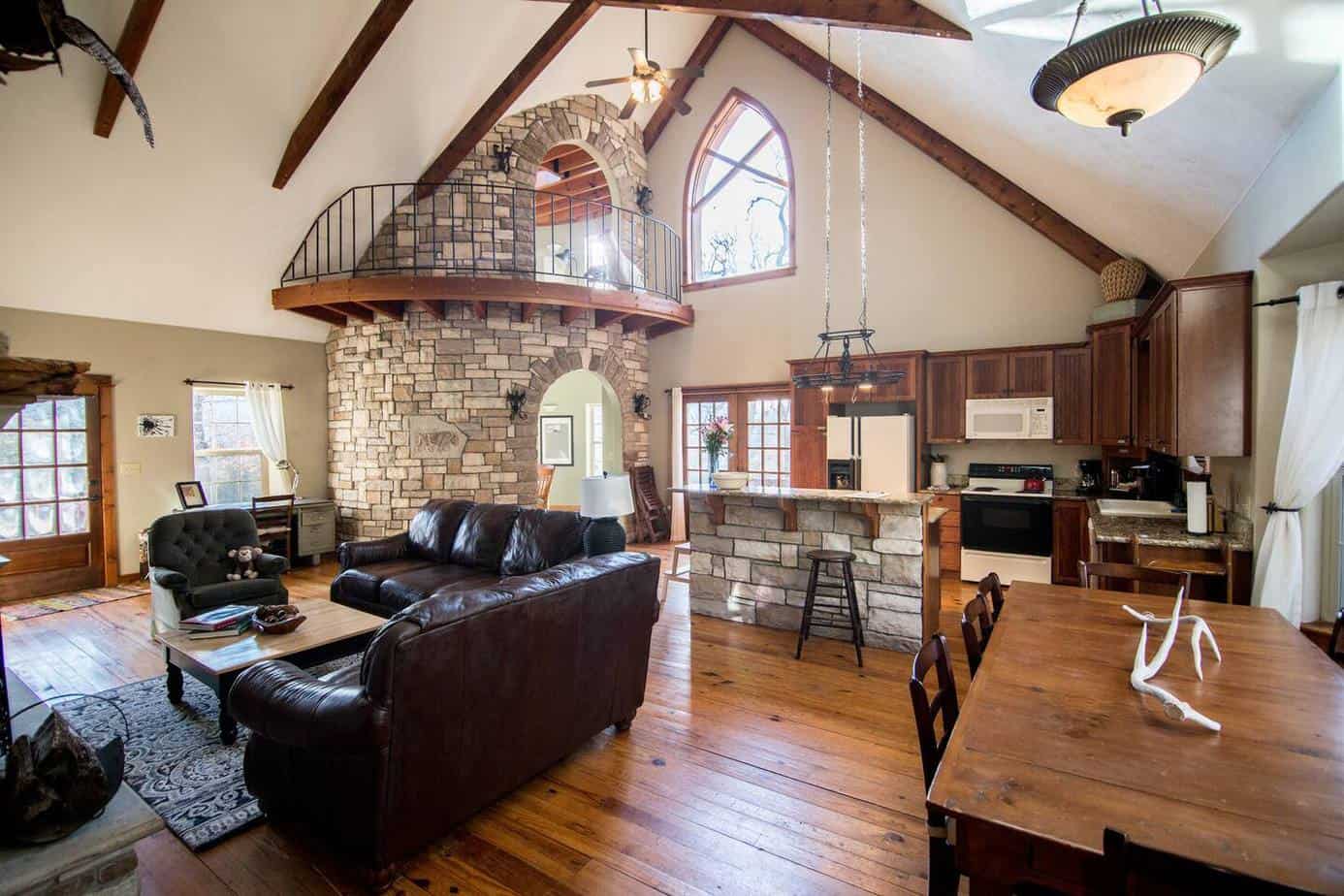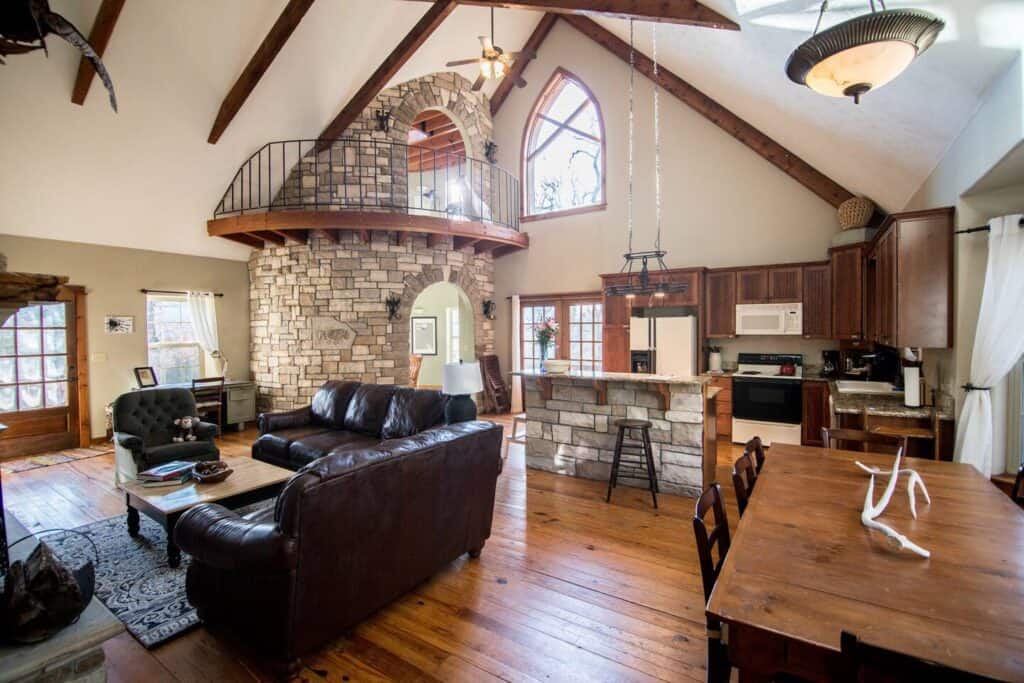 Nothing is more romantic than staying in a castle! This castle can hold up to thirteen guests at a time, so just imagine how much room is inside for you and your loved one. It's located in Eureka Springs, Arkansas, on 52 acres of private woods.
The inside is enormous, with a massive kitchen, living area, spiral staircase, deck, backyard, four bedrooms, and three and a half bathrooms. You could spend each evening in a brand new, fresh room if you wanted! The inside also features tons of original photography, sculptures, paintings, and other artwork, which adds to the ambiance.
---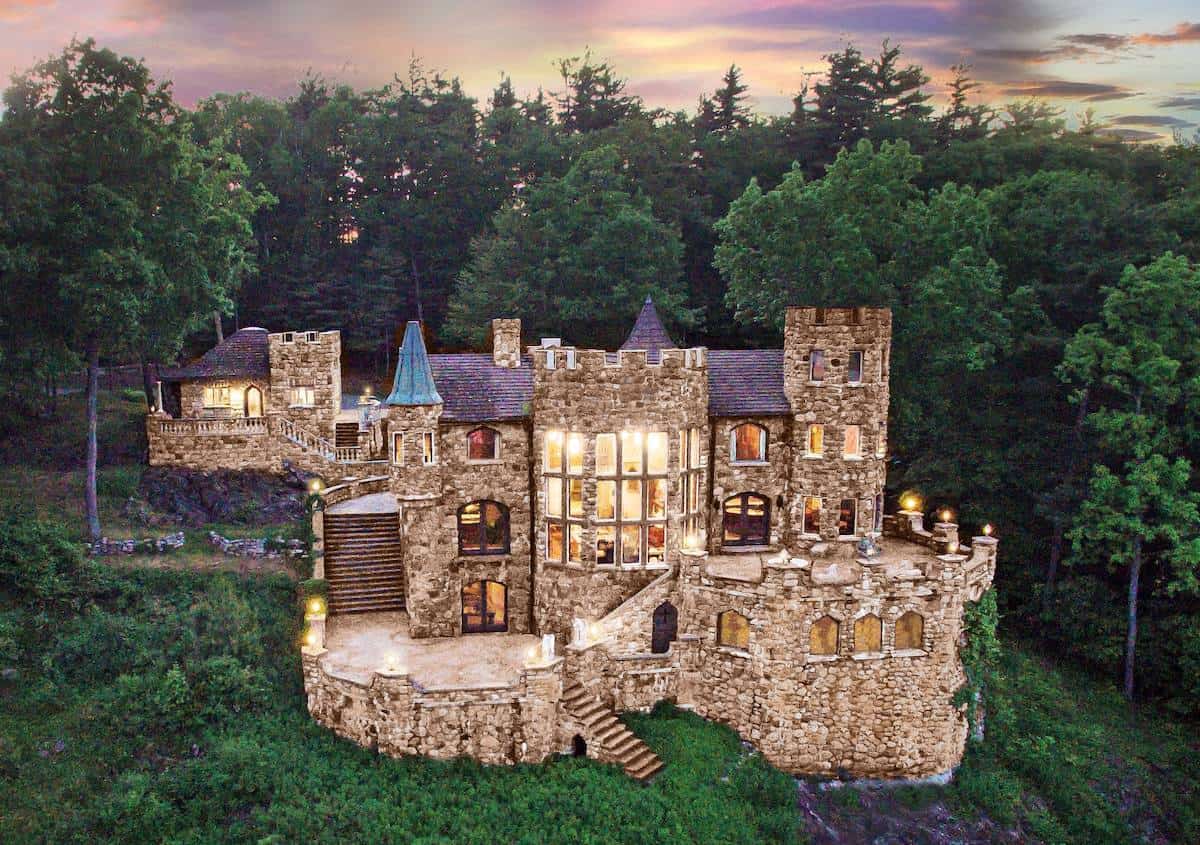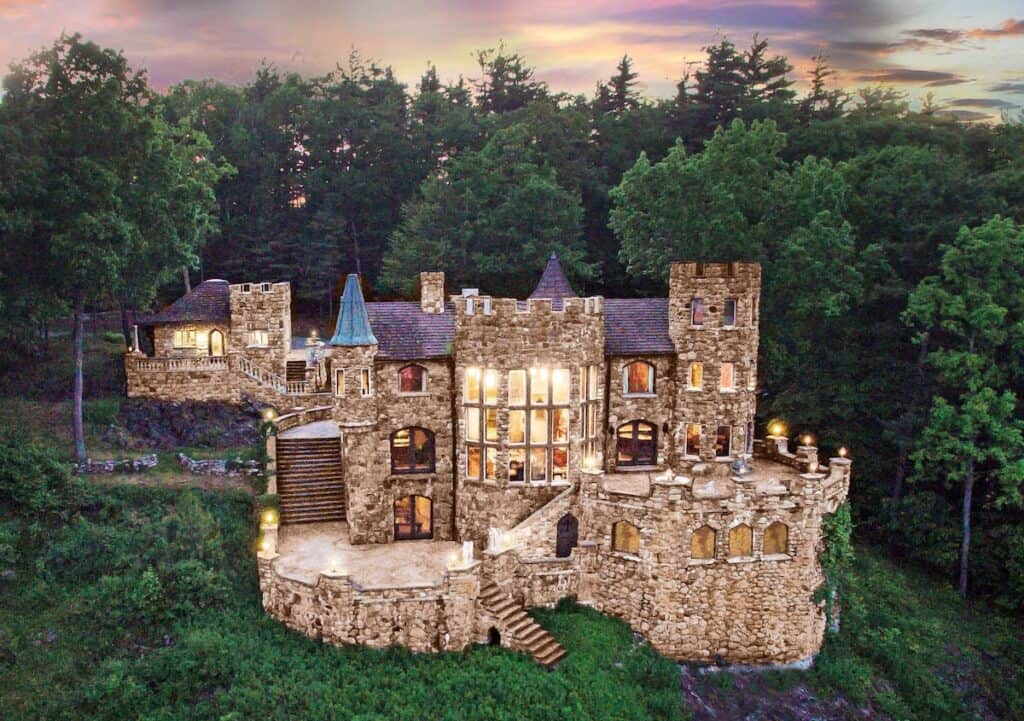 Yes, this list of romantic USA Airbnbs includes another castle! This one is located in Bolton, New York, and offers some of the best views of Lake George that you can get in the area. The castle is quite large and can usually host up to eight guests, but it's perfect for a romantic retreat in New York. For reference, this accommodation is often used for weddings, so it's stunning and definitely a splurge property!!
It's located up on a mountain and features three bedrooms, two and a half bathrooms, a breathtaking patio, a huge living room, and more. Seriously, there are so many rooms to explore, each filled with unique sculptures, paintings, and art that you won't want to miss.
---
This Hudson, New York townhouse is filled with French decor and furniture. This can be seen in the fun fashion drawings in the dining room to the bathroom's gold rods and furnishings. You'll feel like you're having a fun stay in Paris while you're actually in the United States!
Similar to some other accommodations on this list, this townhouse is pretty big. It has three bedrooms, a full kitchen, a living room, and more. Plus, there's a washer and dryer, so if you want to stay longer, you can wash your clothes.
---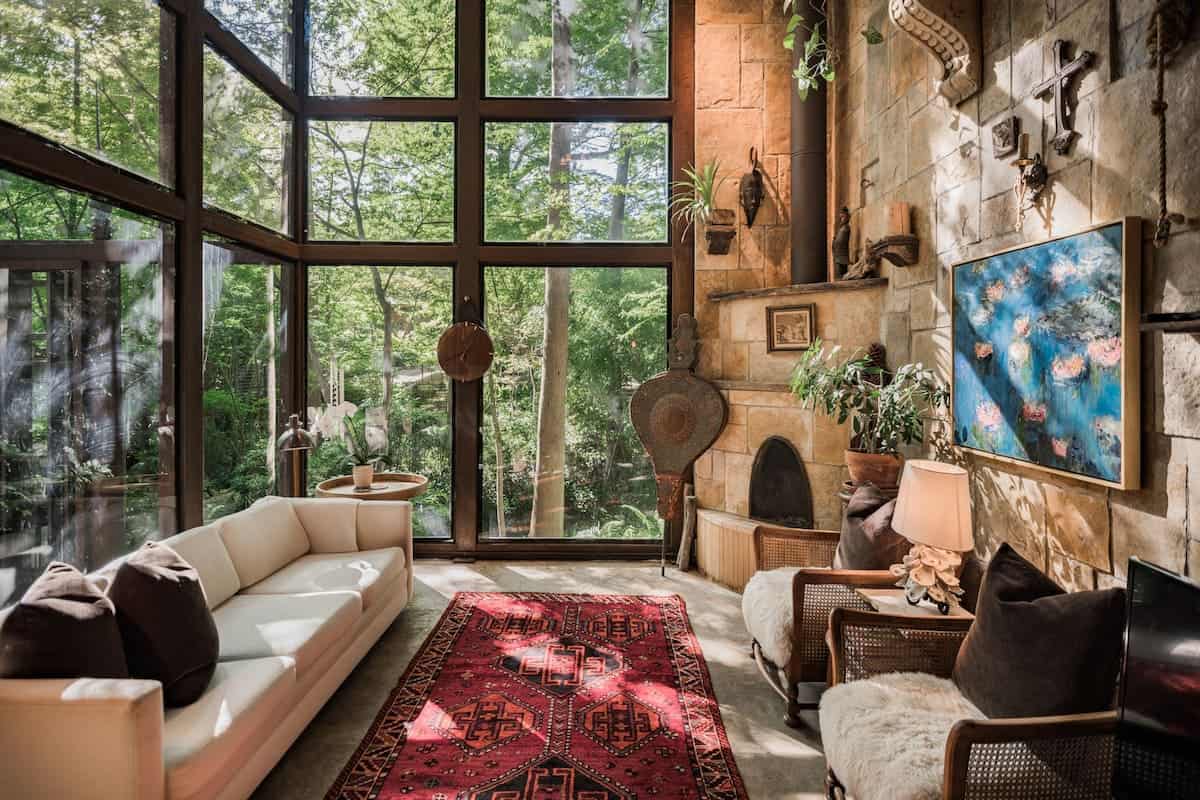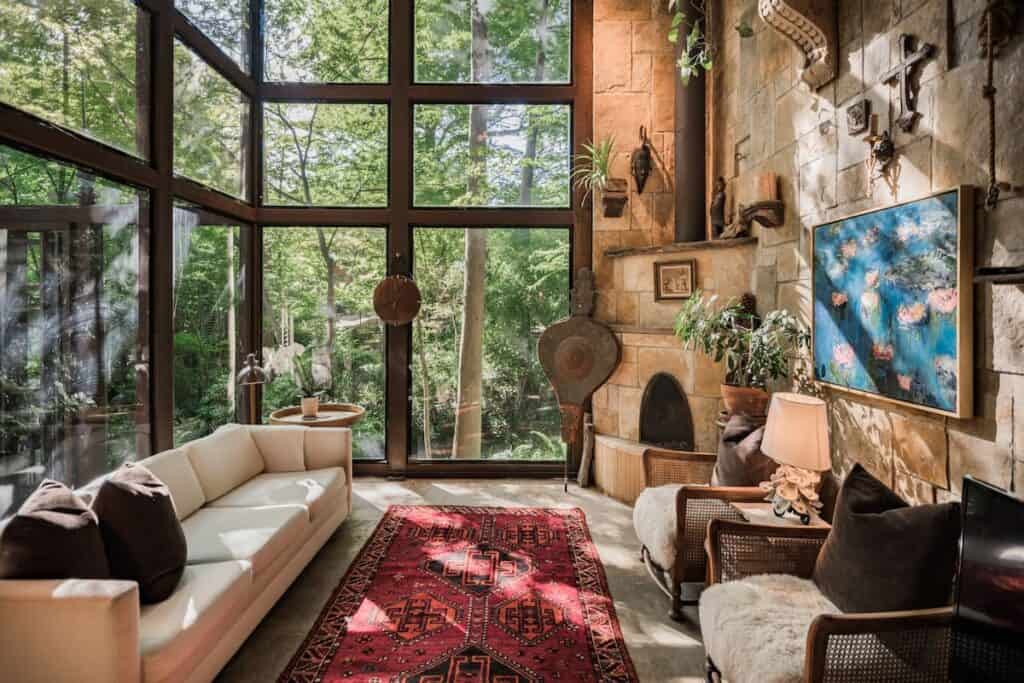 Located in Dallas, Texas, this treehouse is the perfect place to escape for a romantic weekend while also still being able to travel to the city if you want. The home is inspired by Bauhaus design, which can be seen in the rustic yet bold pieces throughout.
This treehouse truly drips luxury from every corner. There are huge floor-to-ceiling windows, stone walls, a giant outdoor patio, beautiful sculptures throughout, and more. Seriously, you can find something new at almost every corner in this house!
---
---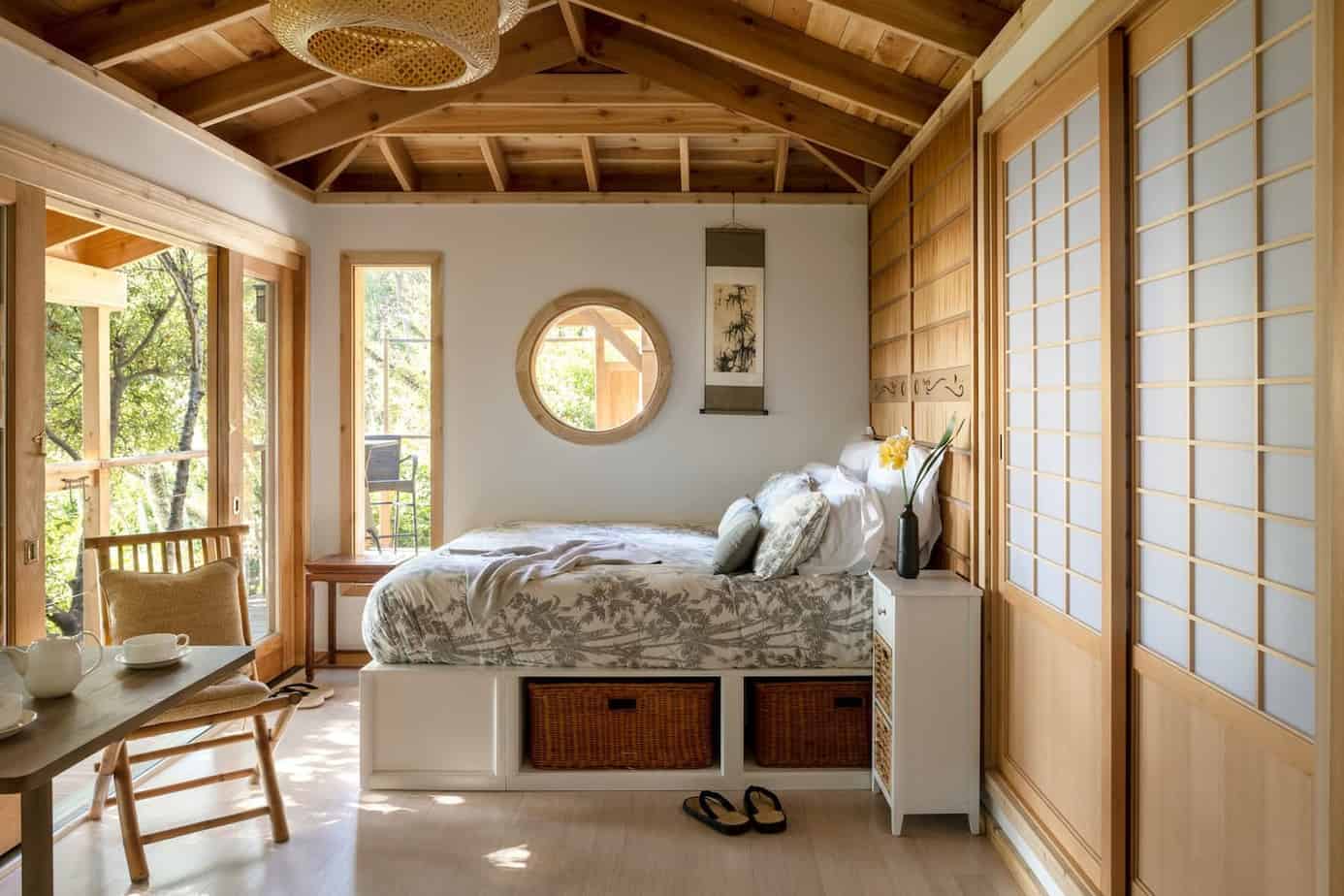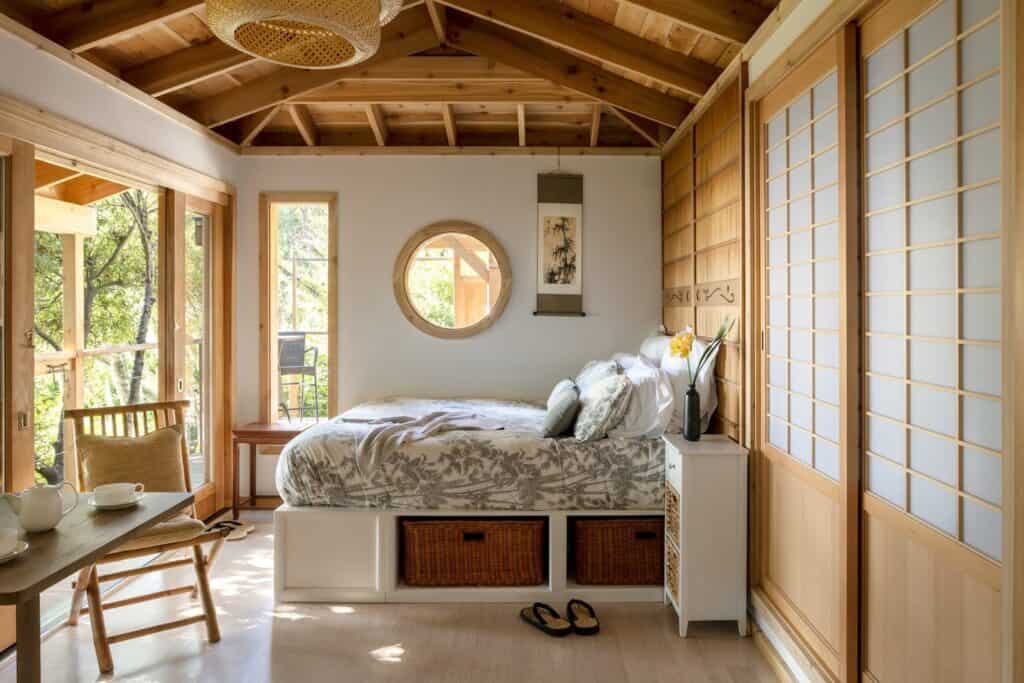 Wake up to the sound of the waves every morning in this beachy bungalow in Stinson Beach, California. The design is Asian-inspired, according to the host, which gives the accommodation a calm yet minimalistic feeling.
Inside, there's a full kitchen, one and a half bathrooms, a living area, and more. There's also an ample outdoor space so you can wake up each morning and romantically eat your breakfast. Plus, you can escape to San Francisco with just an hour's drive!
---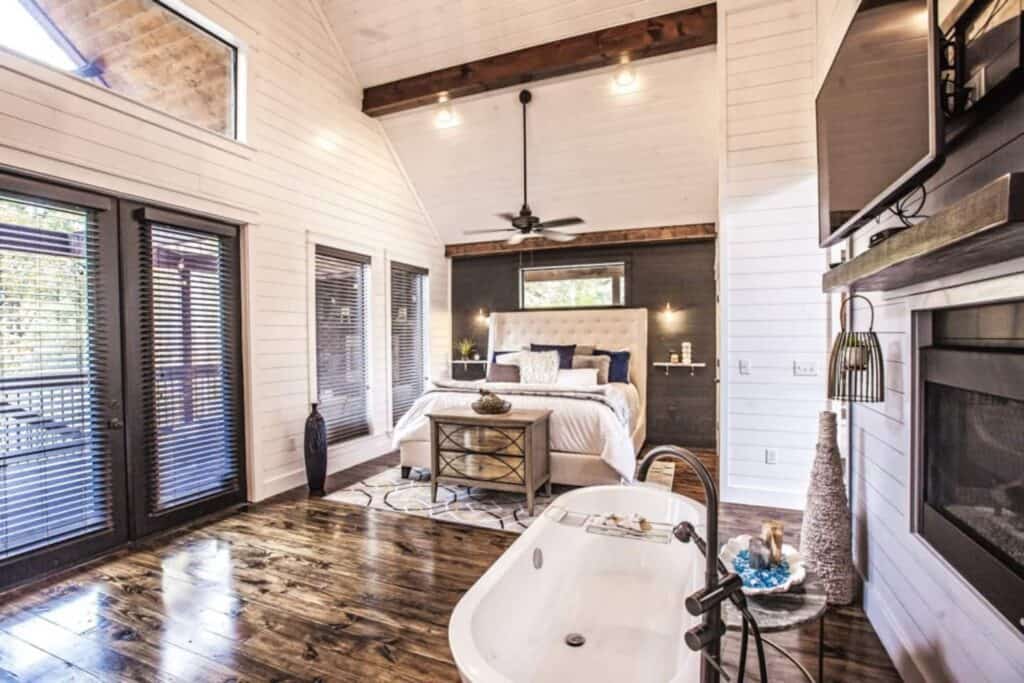 If you're looking for a romantic Airbnb in Oklahoma, look no further! This accommodation is located in Broken Bow and is exceptionally minimal and bright on the inside. There are fun accents inside, including high vaulted ceilings with exposed beams.
Inside, there's an ensuite bedroom, full kitchen, living area, and more. The home was built with an open floor plan, so it feels massive. It's located on top of a mountain and even has a huge patio with an outdoor jacuzzi! What more could you want with a romantic getaway?
---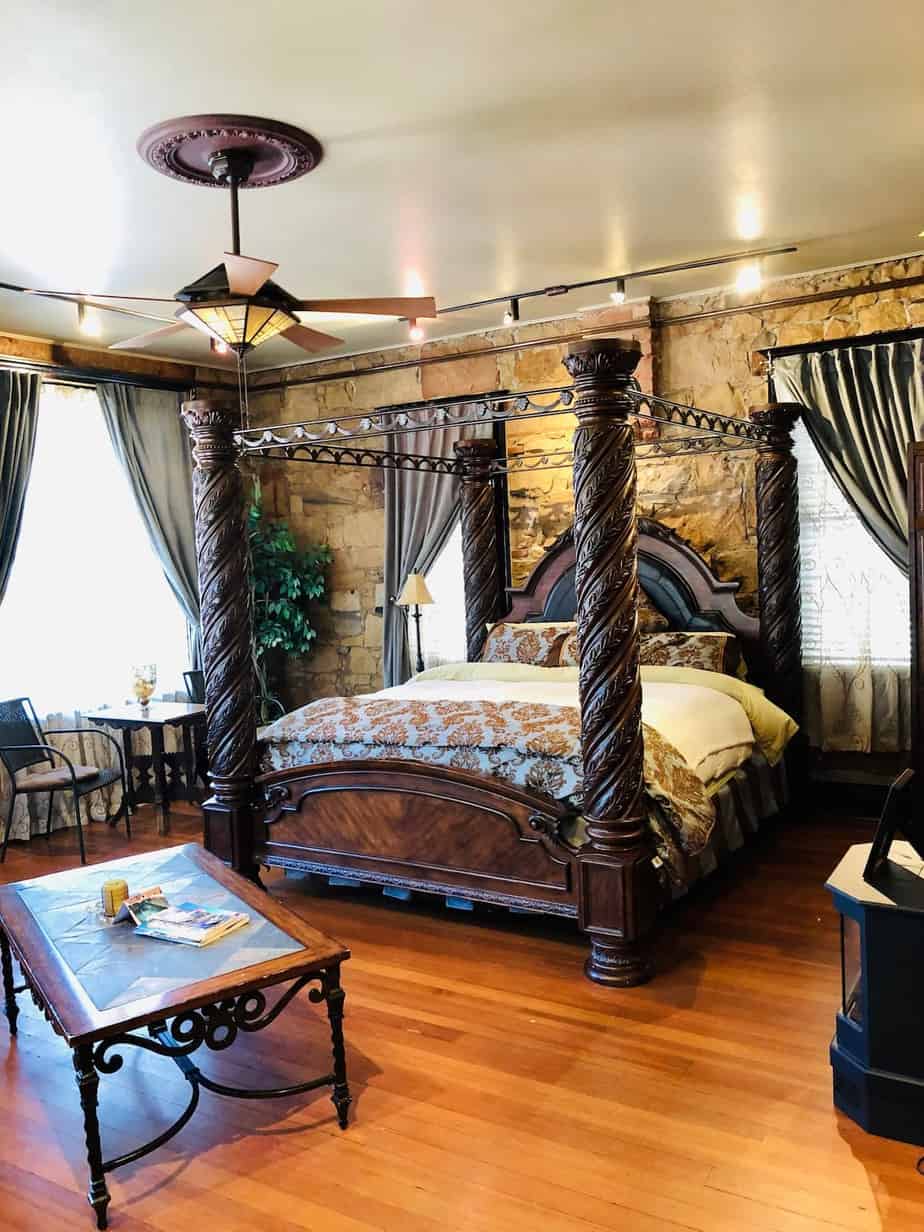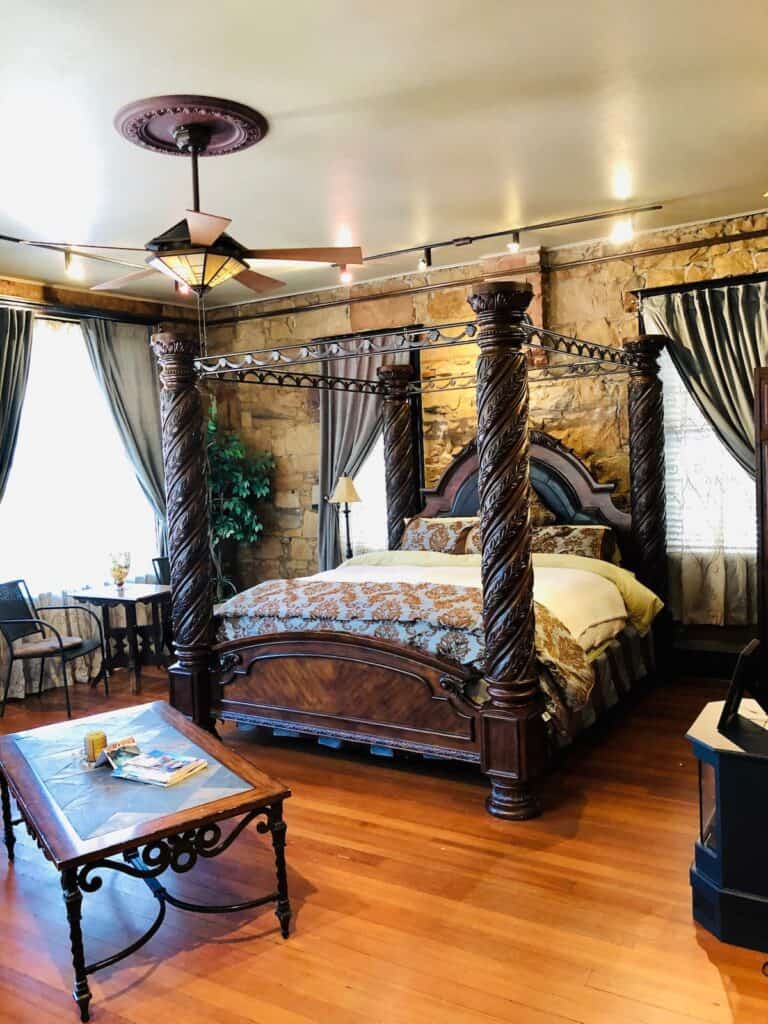 Last but not least is a boutique accommodation in Hot Springs, South Dakota! This area of the state is known for its exceptional natural beauty, so within minutes you'll be able to see some of the best parts of the state, including hiking trails!
The accommodation features a King bed, TV, gas fireplace, and more. You'll also be able to access the rest of the accommodation, which means you can head to the courtyard, library, and full kitchen, where you can grab some complimentary tea or coffee.
---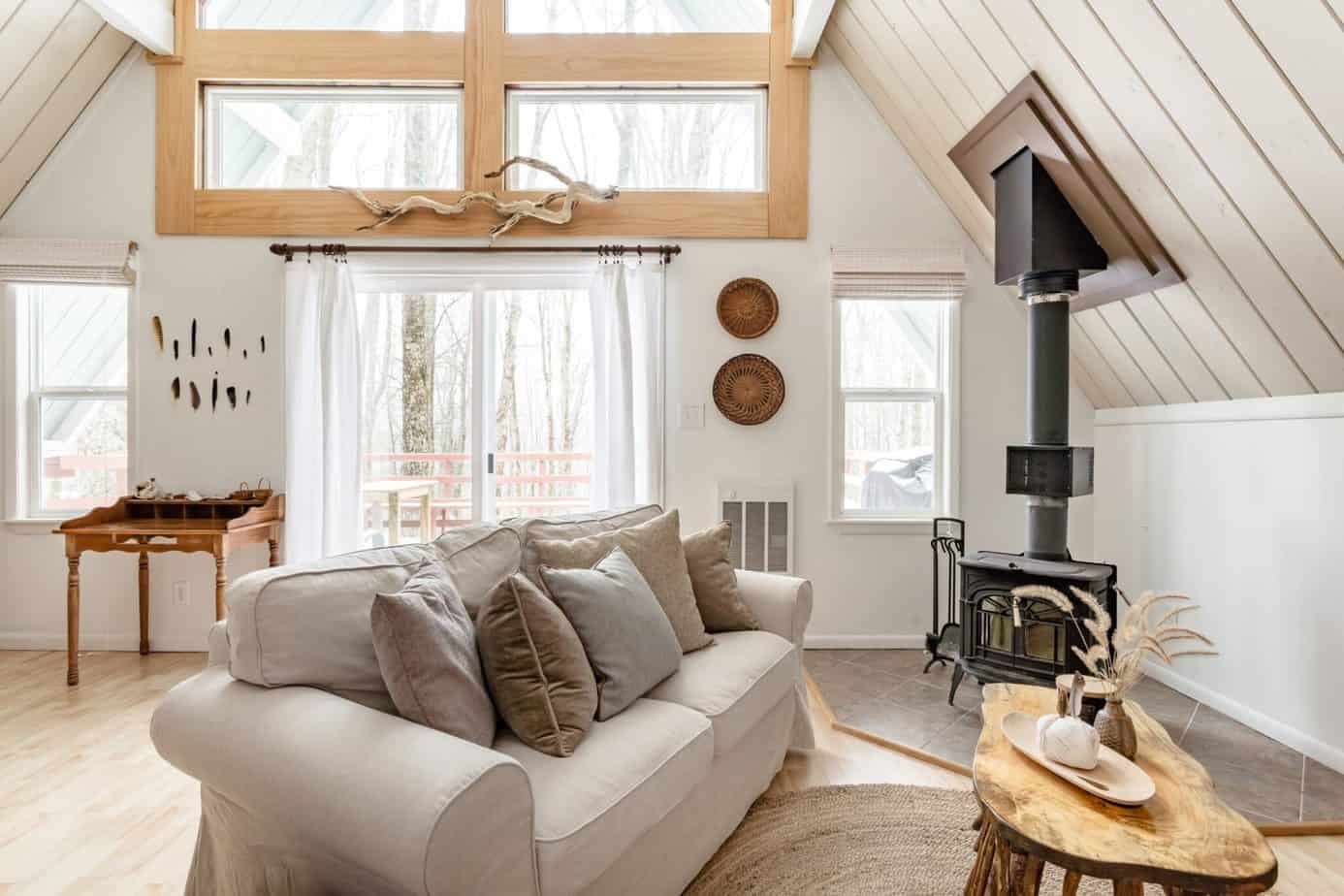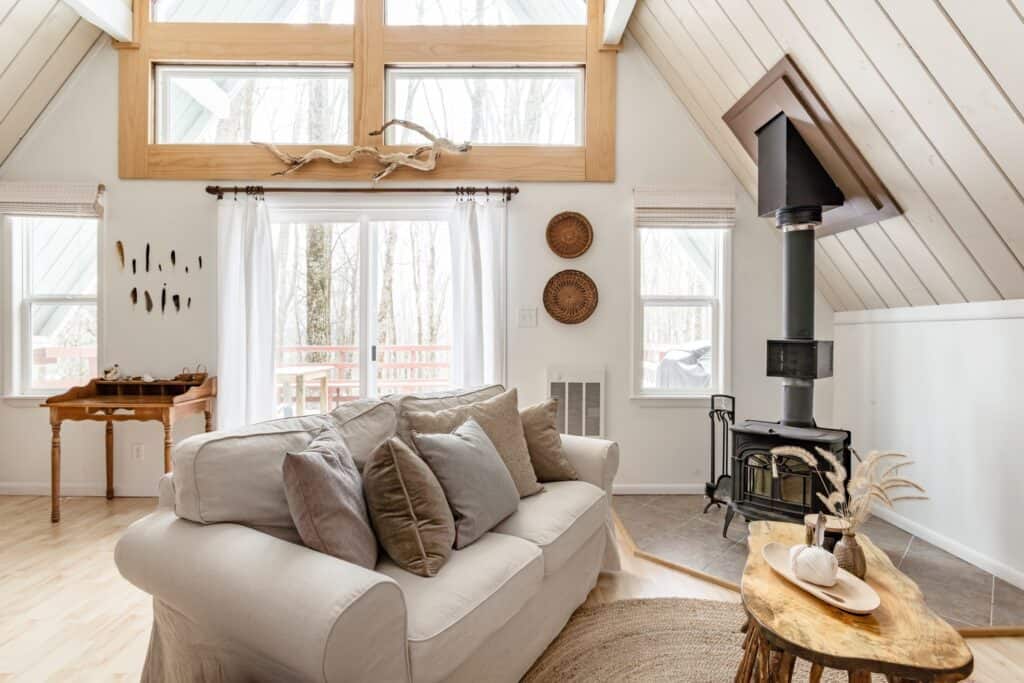 Photo Courtesy @cozy_owl_cabinHere's another cabin we are absolutely obsessed with. This AirBnb is also located near Boone, NC.
A stunning A-frame, this is the stuff or Nordic Hygge fantasy. Such a beautiful bright, white space awaits you here, and the decor is honestly something out of a magazine spread.
Grab your sweetheart and cozy up next to the piping hot woodstove as you relax on a winter's evening.
---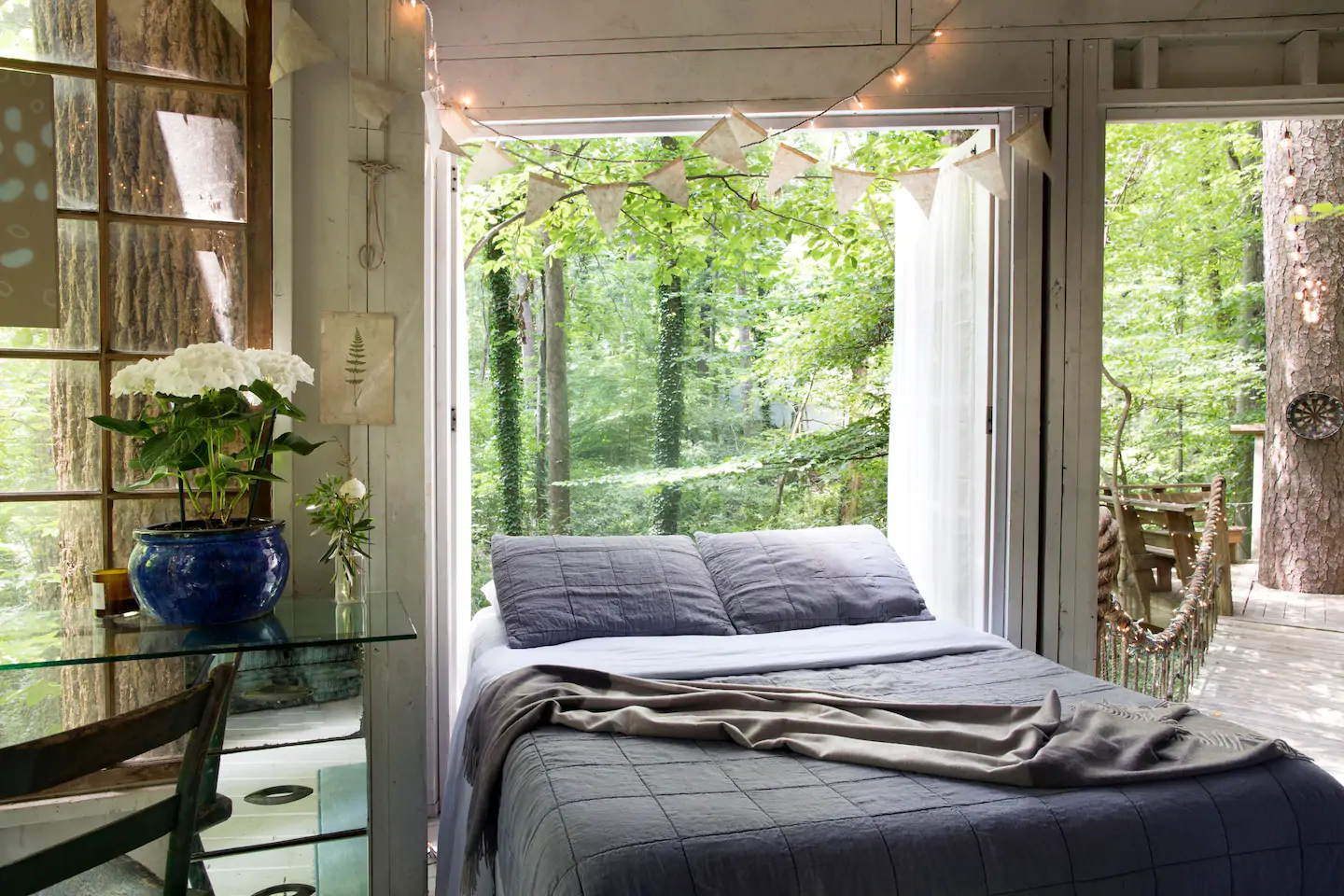 You might be surprised that this secluded treehouse in the woods is actually situated in the heart of in-town Atlanta. This is an incredibly romantic property, and we're not the only ones who think so. This is actually rated as Airbnb's most wishlisted property in the world, and has been featured in magazines and television. If you can get a reservation, don't hesitate!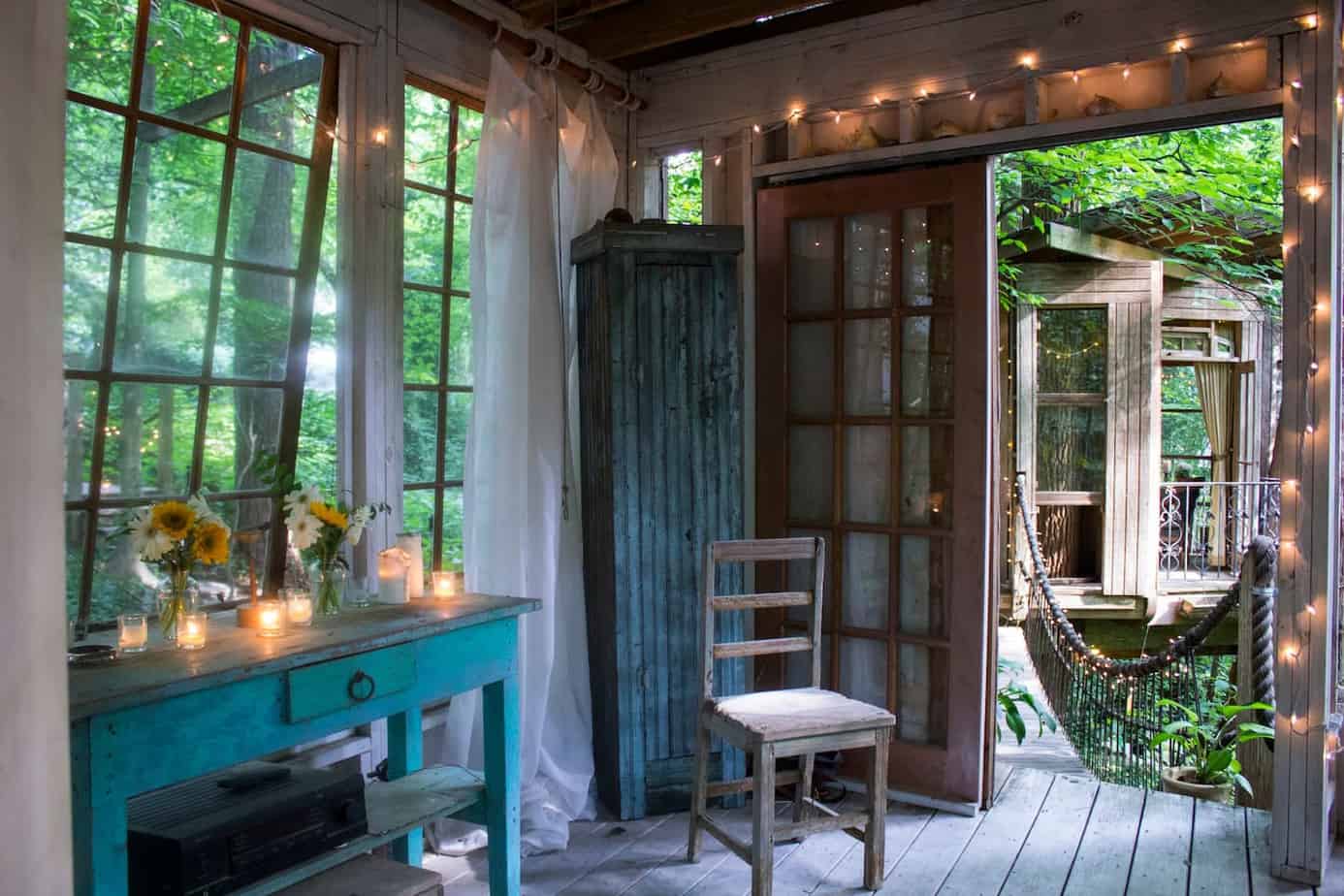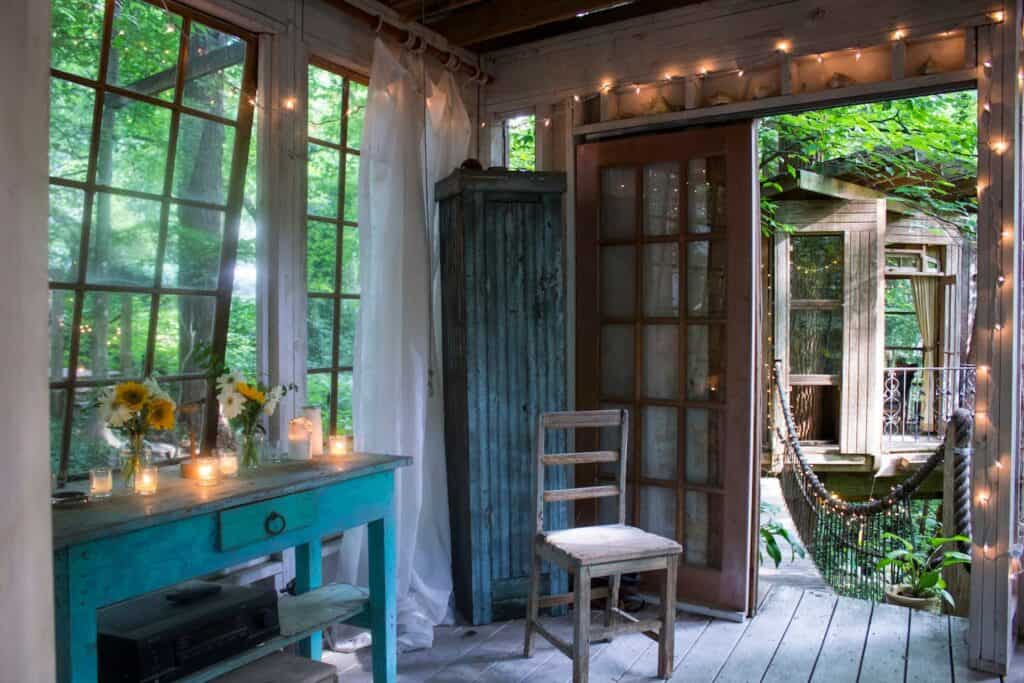 This magical treehouse lets you sleep among the trees, with lots of windows and open-air elements that make this truly possible. And when you're ready to explore, the best of Atlanta is right nearby.
---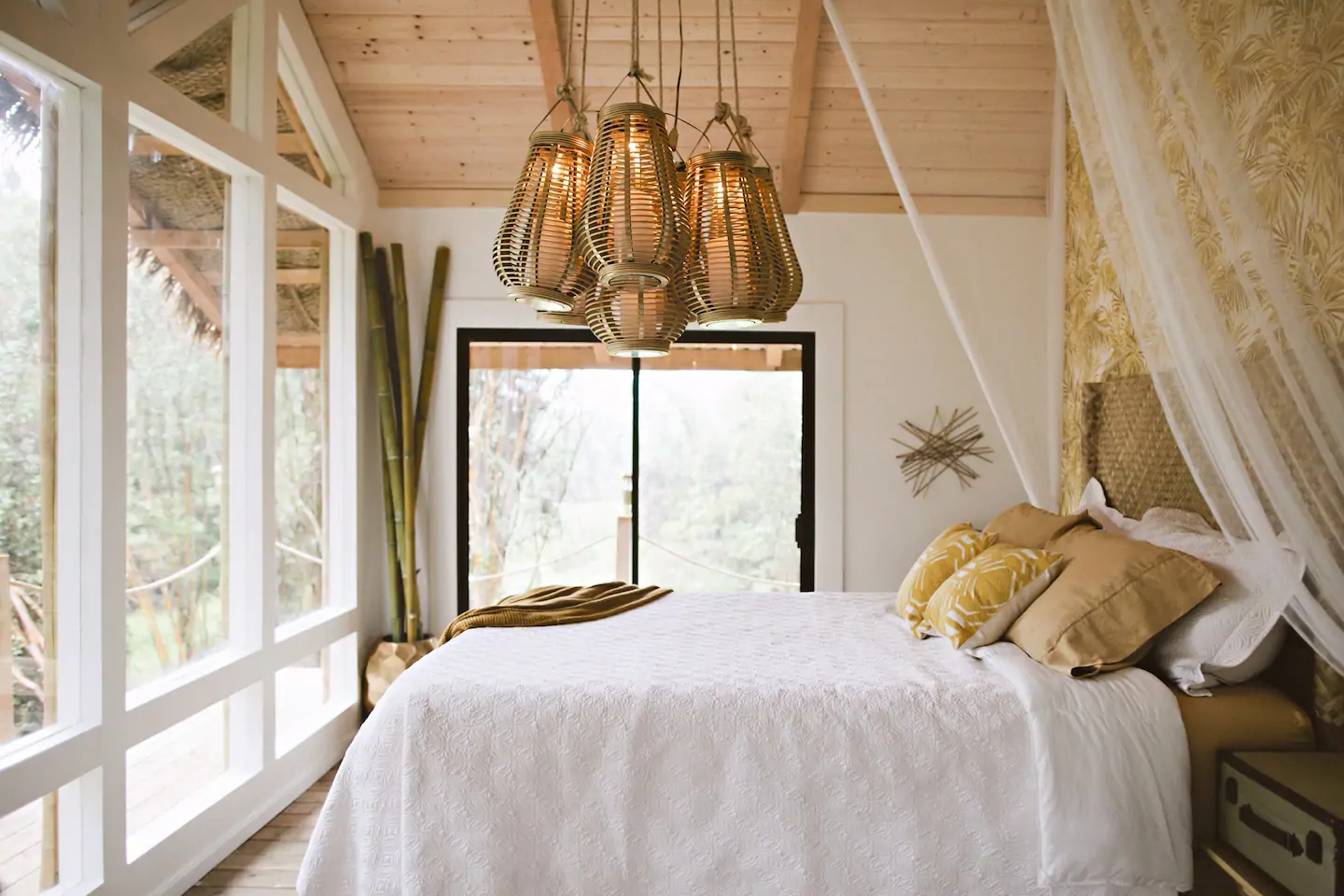 Total privacy can be key for a romantic escape. If you're after complete seclusion and want zero distractions, this remote bamboo tree house would be right up your alley. It's off-the-grid, so there's no WiFi or electricity, but solar power takes care of your essential needs.
This treehouse is beautifully decorated and is the perfect epitome of pure luxury amidst the rustic jungle. PS: Volcano National Park is only 10 miles away.
And of course, Hawaii is home to some of the most incredible romantic beach getaways in the US.
---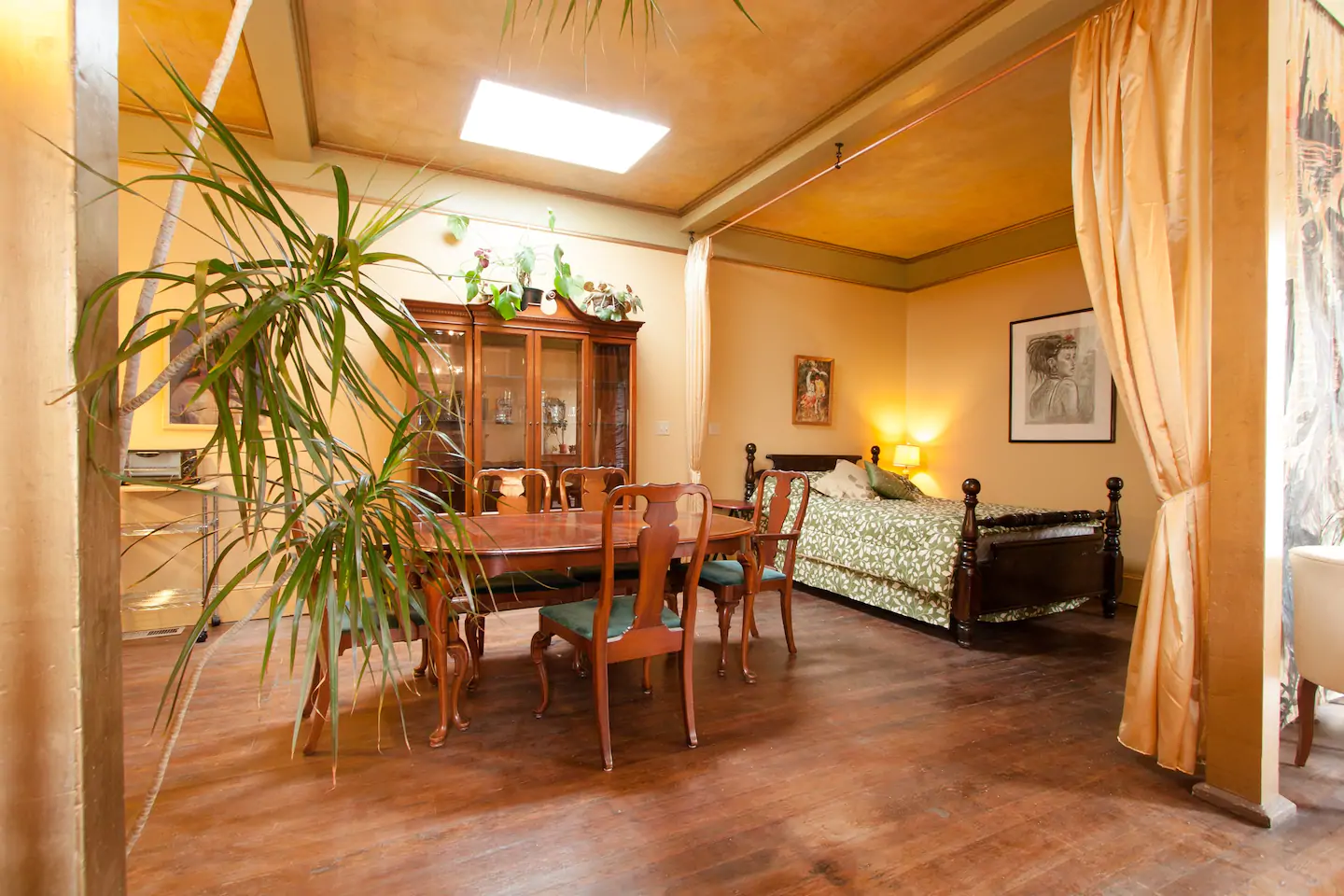 For me, older eras are synonymous with romance. Those who love the 1920s can have a romantic vacation set back in time in this San Francisco studio apartment. This property is in a convenient part of Bernal Heights. Turn on the gas fireplace if the nights get chilly, and spend your days exploring San Francisco hand in hand.
---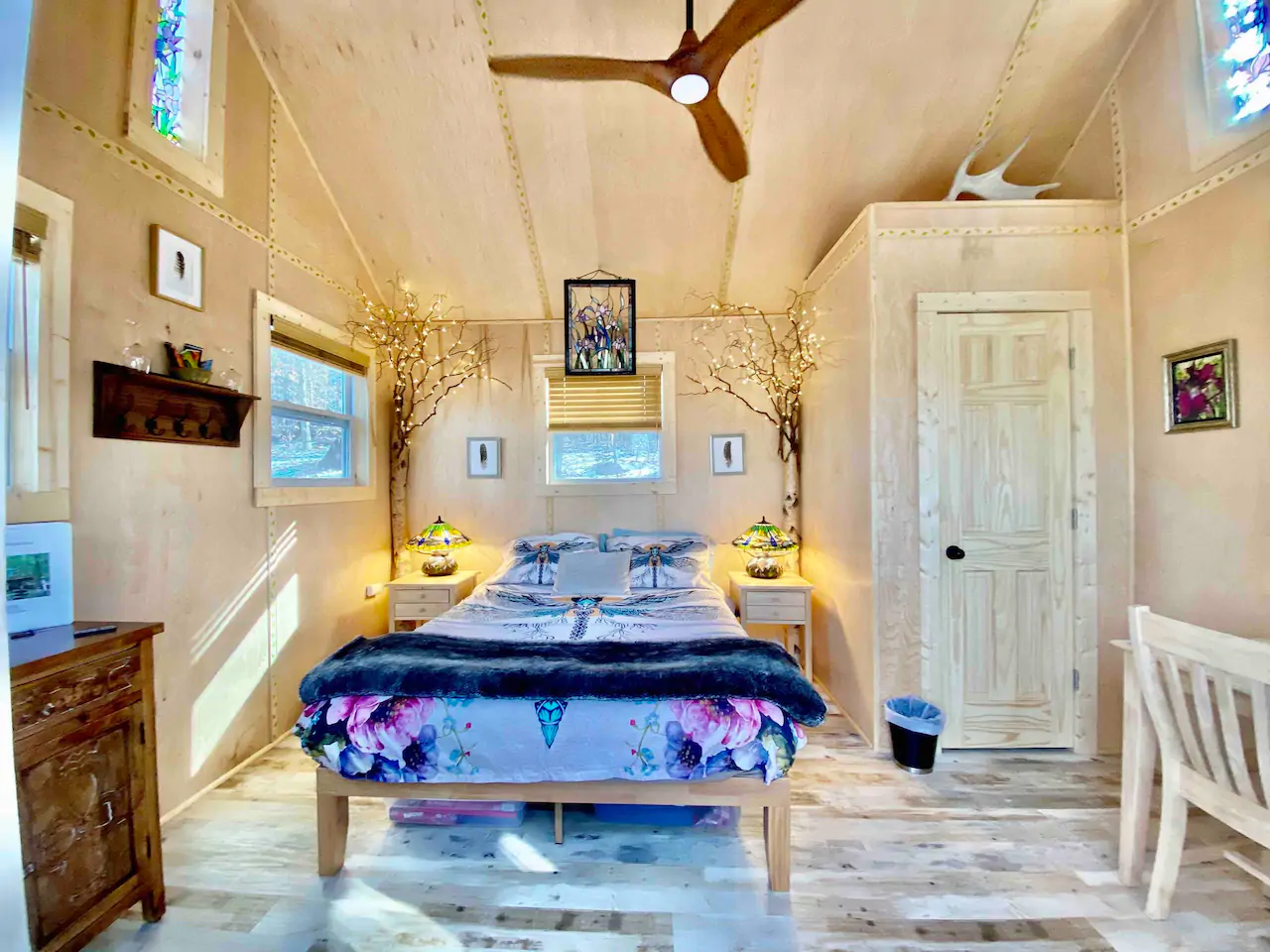 Oooh, a treehouse! If you've never stayed in a treehouse, this one would be a beautiful choice! Also, it's not super high up, so those with a fear of heights need not worry.
This is the Water Forest Retreat in Norwich, set up for 2 guests. While you're close to amenities and activities, this spot feels secluded and quiet-perfect for a Connecticut weekend getaway.
The treehouse is 168 sq ft., heated and electrified, but does not offer running water. Surrounded by nature, you'll love relaxing on the deck, catching the patterns of light from the two indoor stained glass windows, or enjoying the outdoors on over 2 1/2 miles of nearby hiking trails. The Octagon Airbnb listed above is also in the same area/owned by the same hosts.
Be sure to read the entire listing, as these hosts provide plenty of information and travel suggestions to guests!
---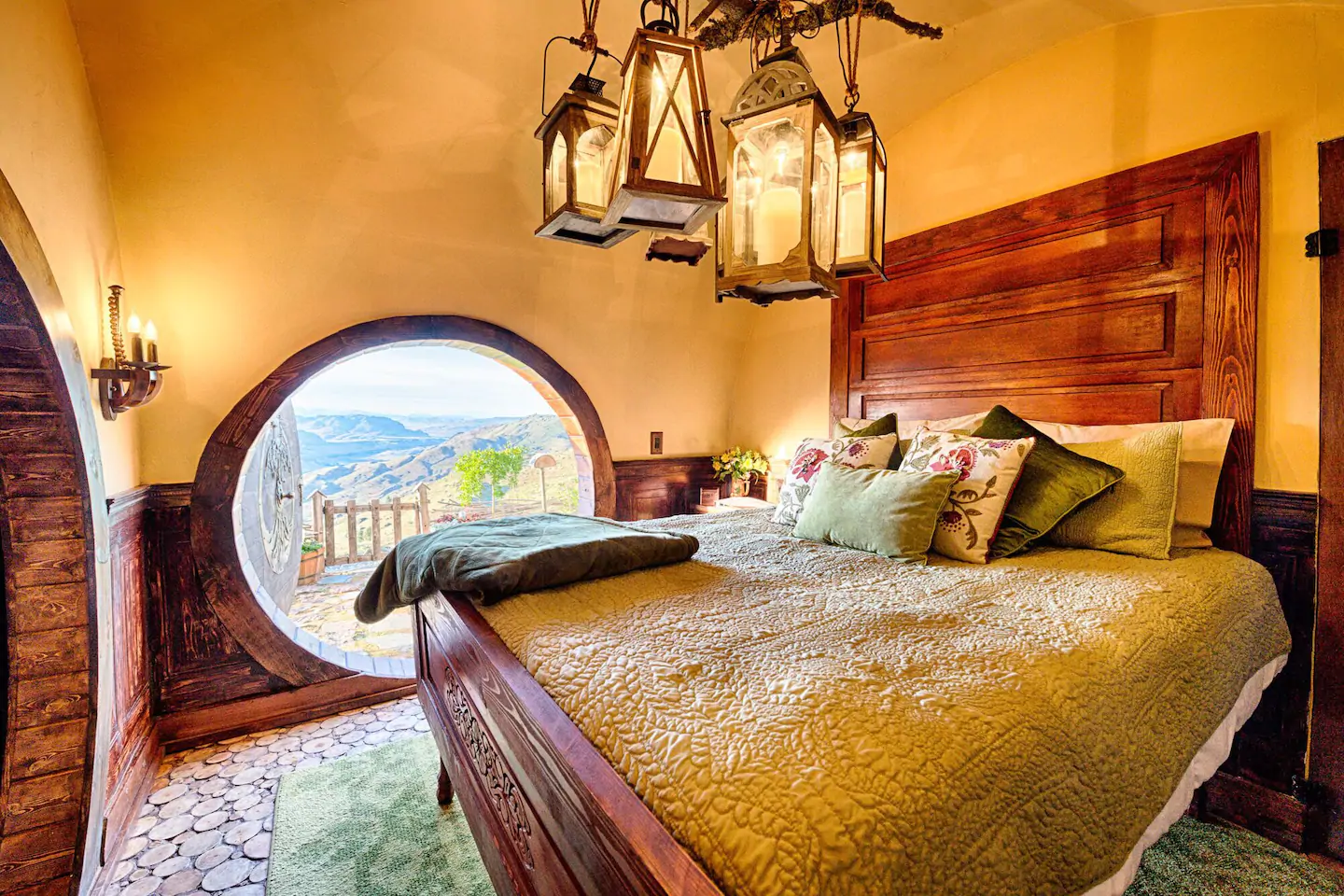 If you've ever dreamt of staying in Bag End, this is the closest you'll get. What a darling place! Built right into the PNW countryside, this uber-cozy Airbnb has so many fantasy-styled features, plus looks out over a beautiful landscape. On this couples trip, the itinerary will include cuddling by the fire, admiring the views through the round door (from bed), and perhaps sharing your favorite tales of magic and mystery.
---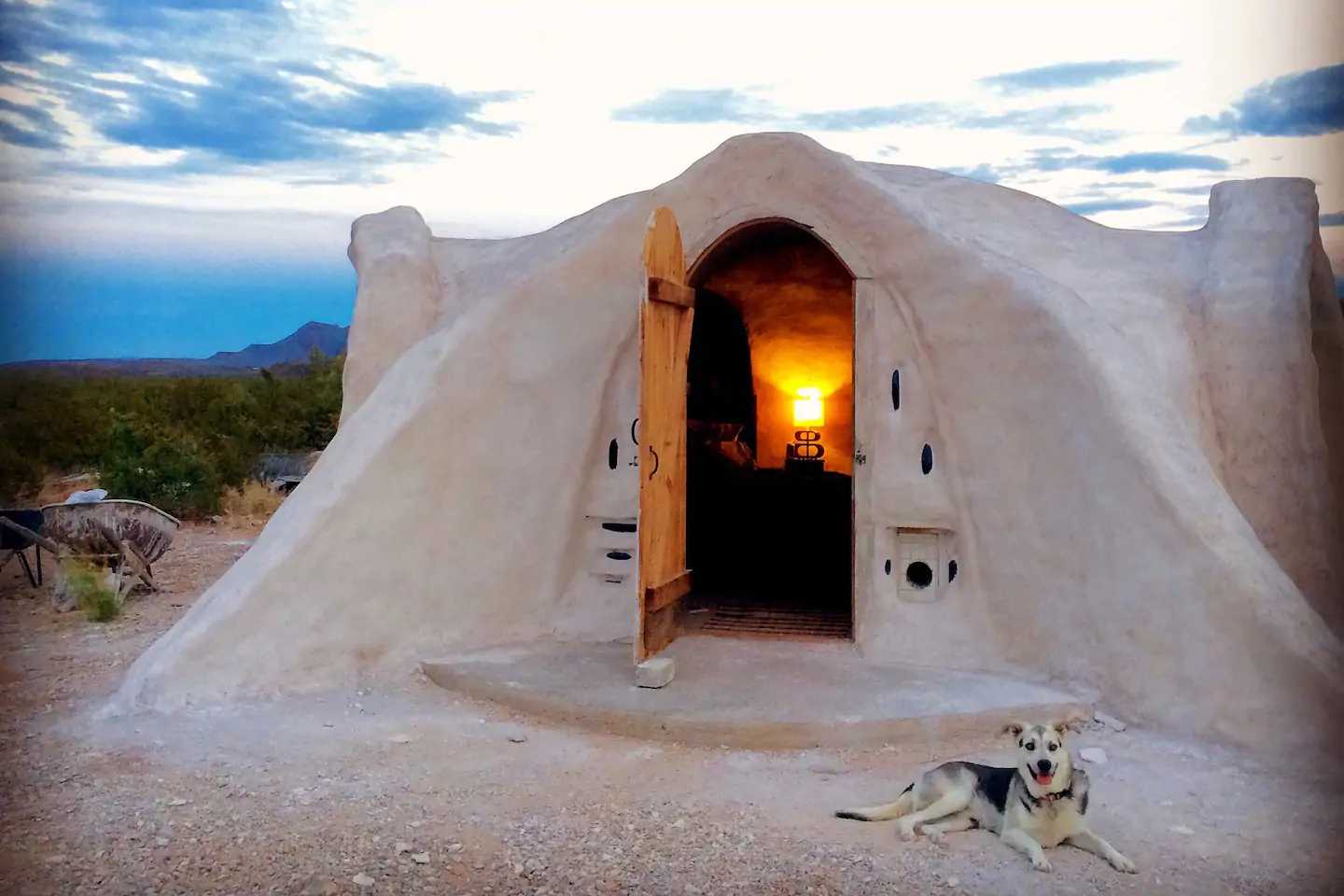 There's something really romantic about going off the grid. And it's even better when your views include spectacular sunsets, brilliant night skies, and miles of empty space. This Texas adobe dome is great for two people looking for a laid back getaway. This Airbnb is located near Big Bend National Park, too.
---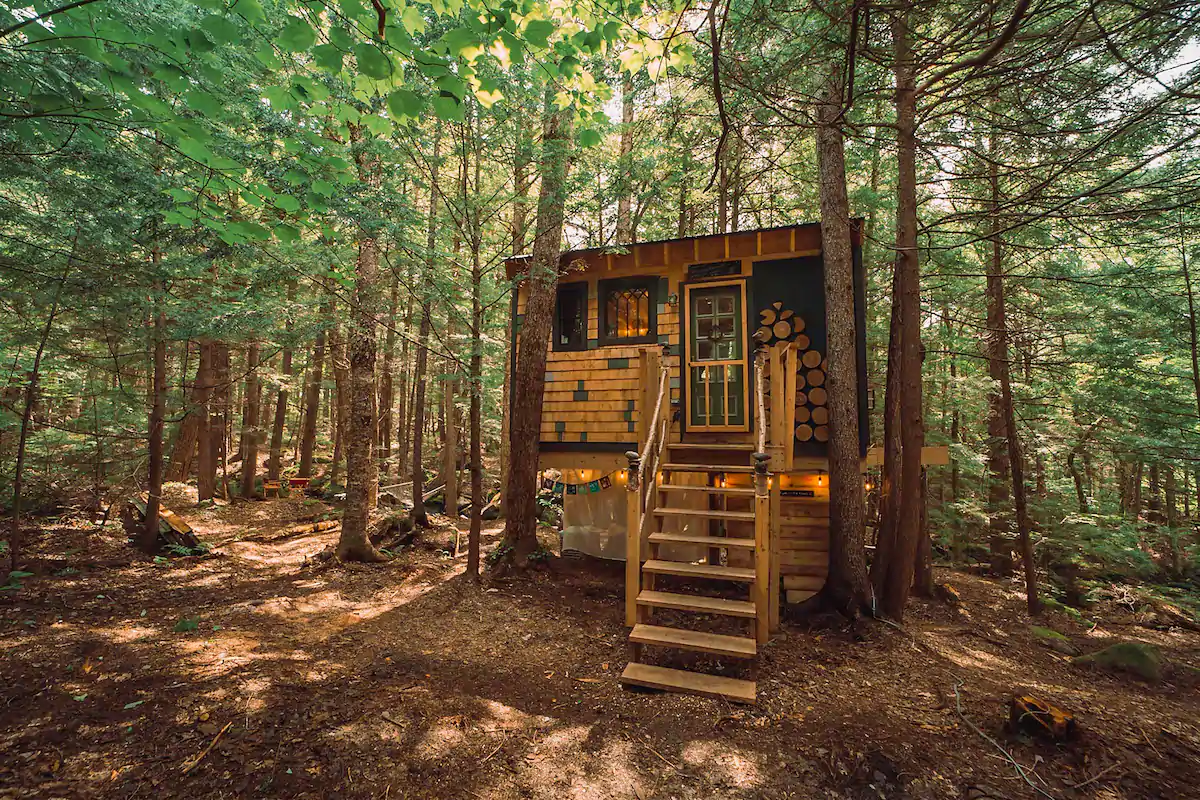 Dreaming of your own private retreat in the woods? The two of you can literally get away from it all and have a weekend focused just on each other. This woodsy treehouse is just what you're looking for.
Snuggle up and keep warm next to the woodstove, sit on the deck overlooking the nearby stream, or build a campfire on the ground. In the cabin, you'll find the necessary amenities so you can prepare your meals. When you're ready to sleep, you'll climb up to the loft, and it's suggested to open the windows when the weather is warm and enjoy the lulling sounds of the forest at night.
---
Hopefully, this post has allowed you to find the perfect place to stay for you and your loved one! Truly, every place on this list is gorgeous, no matter the time of year. These Airbnbs are all extremely unforgettable and romantic!
---
You might also like:
---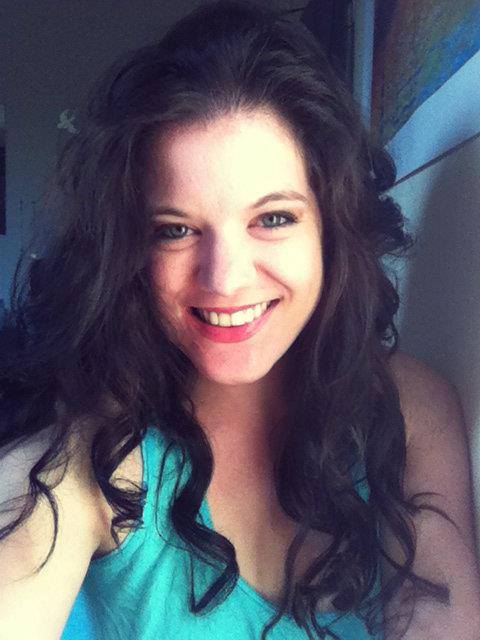 Amy Hartle is the author of Do You Love Me? How To Stop Seeking Reassurance in Relationships, a book on reassurance seeking and relationship anxiety. Both her book and this blog are born of personal experience; Amy shares expert relationship advice from the lessons learned during her own 10+ years with her husband, as well as couples travel tips and romantic getaway recommendations, all gleaned while traveling the world together.