This post may contain affiliate links. Read our disclosure page for full details.
Hello! You've reached the site that's ALL about romantic travel. Two Drifters is the couples travel blog "where love meets adventure," and so every place we travel or stay, we aim to combine those two passions: romance and adventure. In keeping with this goal, we decided to hunt for the Airbnb vacation rentals that met that criteria. The result? This drool-worthy post of 21 gorgeous Airbnbs in some of the most romantic places in the world.
We searched high and low for the most romantic Airbnbs currently available and are presenting 21 of our favorites to you. If you want to stay in one of these, be sure to book early, as these are incredibly popular and fill up fast.
Or, you can just save this post for later and keep dreaming about these epic properties. Either way, you're going to love this post. These options are great if you're searching for romantic getaway accommodation or considering an Airbnb honeymoon.
Now, let's go see these 21 insanely romantic Airbnbs!
Please note: As an Airbnb Associate, I earn when you book through these links.
A Dreamy, Off-the-Grid Tropical Tree House in Hawaii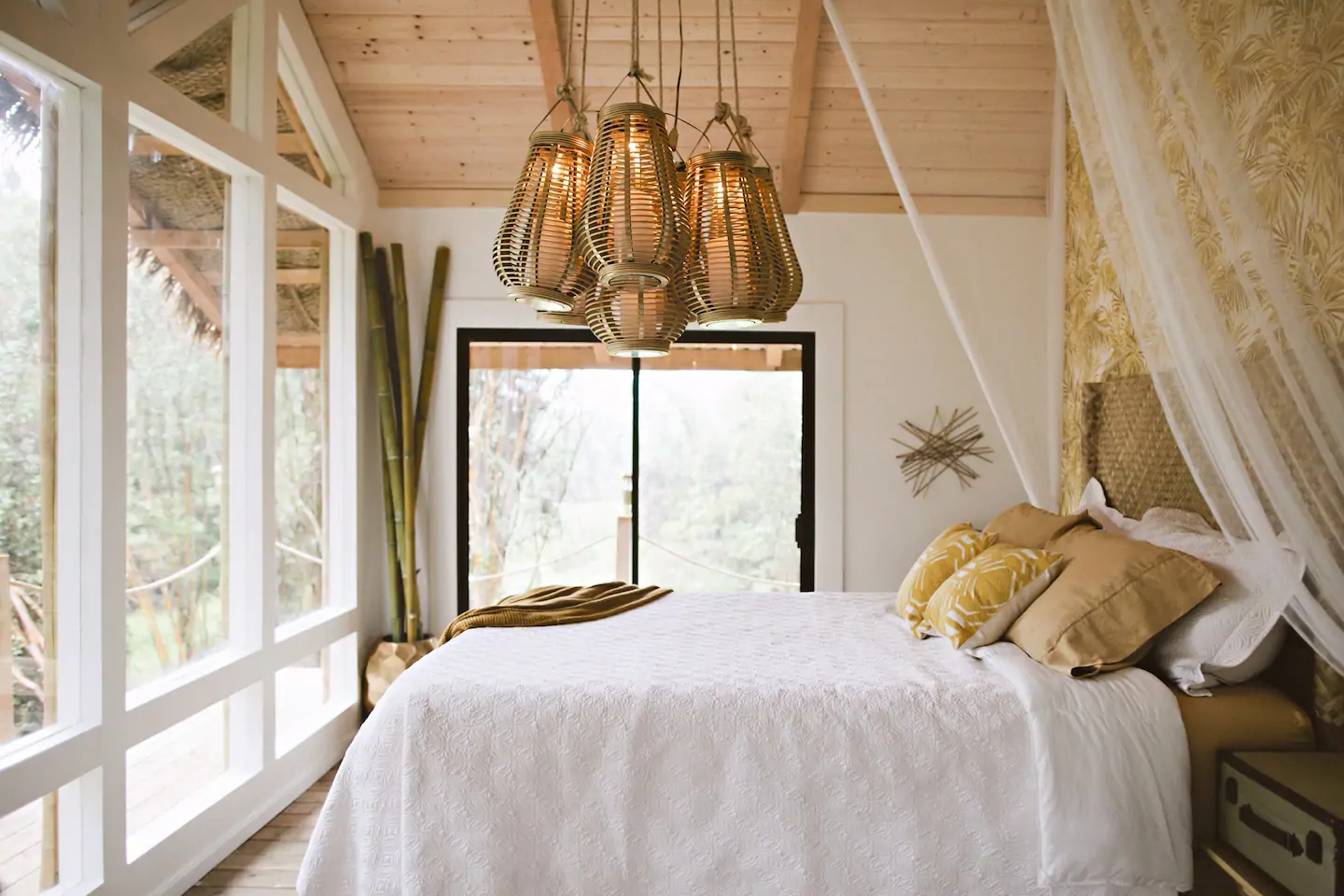 Total privacy can be key for a romantic escape. If you're after complete seclusion and want zero distractions, this remote bamboo tree house would be right up your alley. It's off-the-grid, so there's no WiFi or electricity, but solar power takes care of your essential needs.
This treehouse is beautifully decorated and is the perfect epitome of pure luxury amidst the rustic jungle. PS: Volcano National Park is only 10 miles away.
And of course, Hawaii is home to some of the most incredible romantic beach getaways in the US.
Click here to check out the listing + book!
A Classic Cave House in Santorini
Is there anywhere more romantic than Greece? It's ideal for a honeymoon, for sure. This cave house Airbnb is beyond gorgeous. The views are everything you want them to be in Santorini, and the property is just perfect. While this Airbnb can hold up to 5 guests, we think it's ideal for two. Be sure to check out all the photos in the listing, there are so many cool details.
Click here to check out the listing + book!
Romantic Cabana with View – Colombia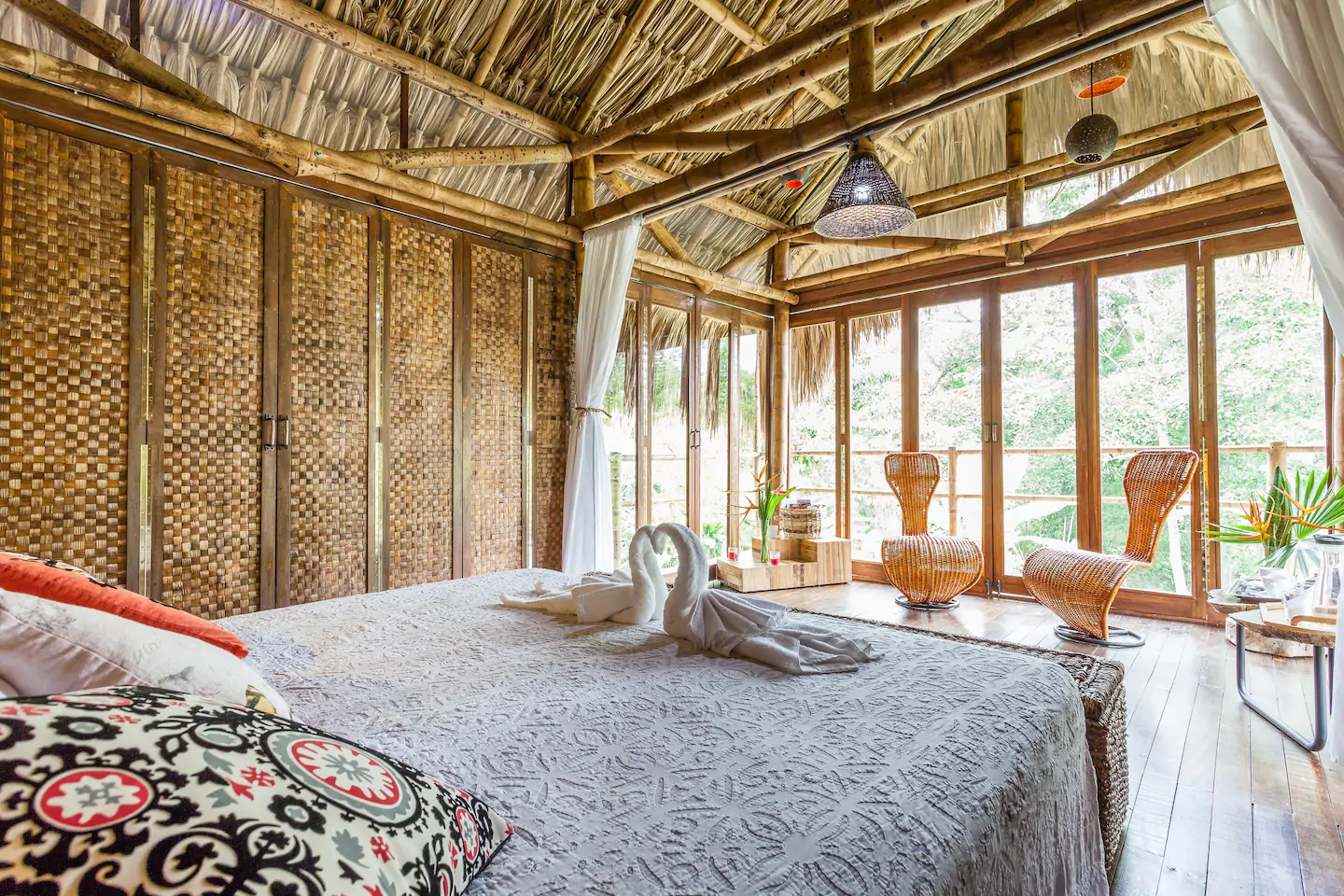 You won't believe the affordable rate for this stunning property. Nature lovers will fall head over heels for this bamboo cabana set near a stream. This rental is located in a coffee-growing region of the Andean mountains, so you can do lots of coffee-related activities and tours if you'd like. Or, simply stay in bed all day at your Airbnb; it would be hard not to! Your stay includes a daily home-cooked breakfast, which reviewers consistently rave about.
Click here to check out the listing + book!
City Penthouse in Cape Town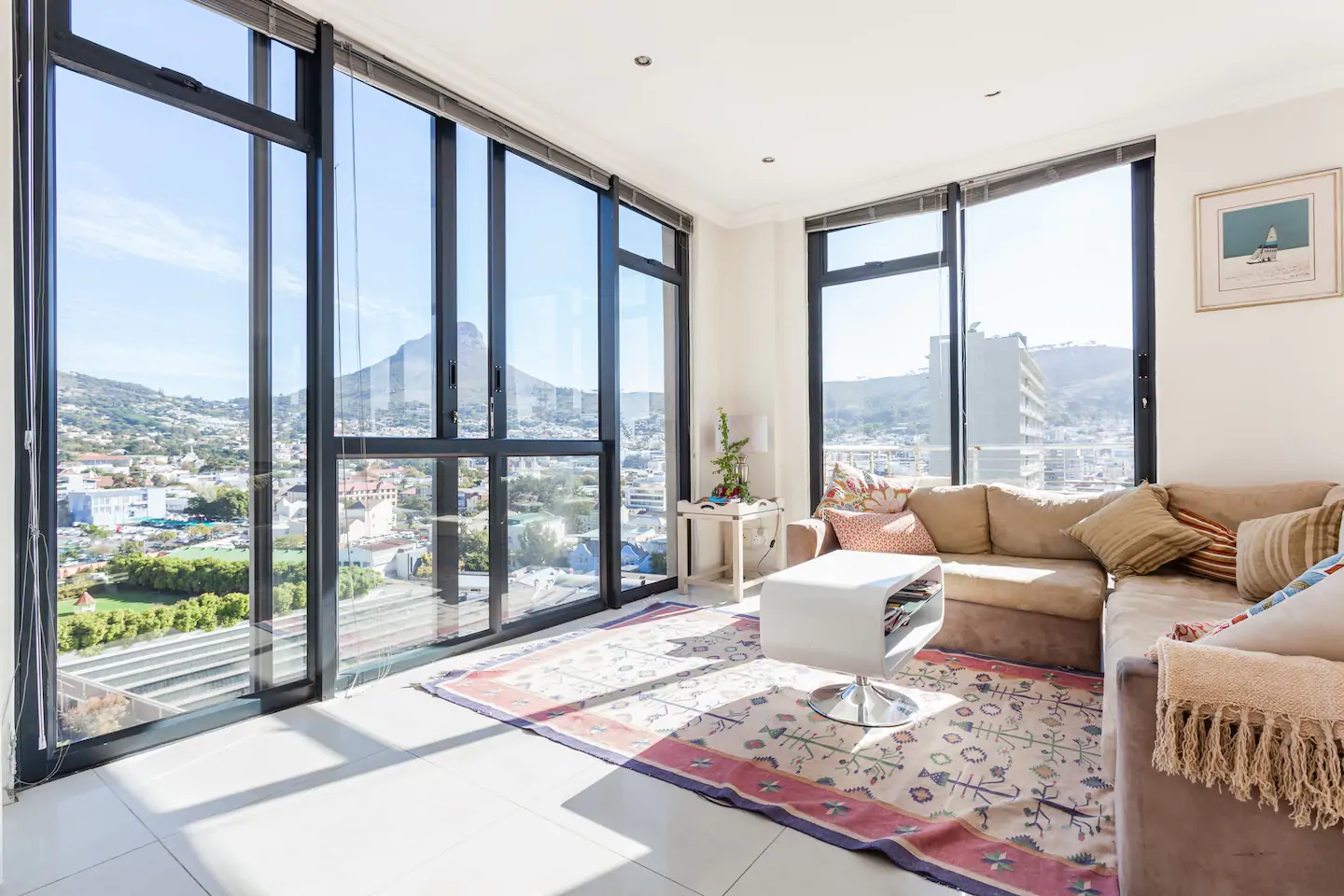 This centrally-located penthouse in Cape Town, South Africa, has absolutely phenomenal views. With floor-to-ceiling windows throughout the apartment, you'll have the famous Table Mountain constantly in your sights. To up the romance factor even more in this Airbnb, hop into the jacuzzi located outside on the patio. With a couple of glasses of delicious South African wine, you'll be ready for an evening of romance.
Click here to check out the listing + book!
Cozy Artist's Home in London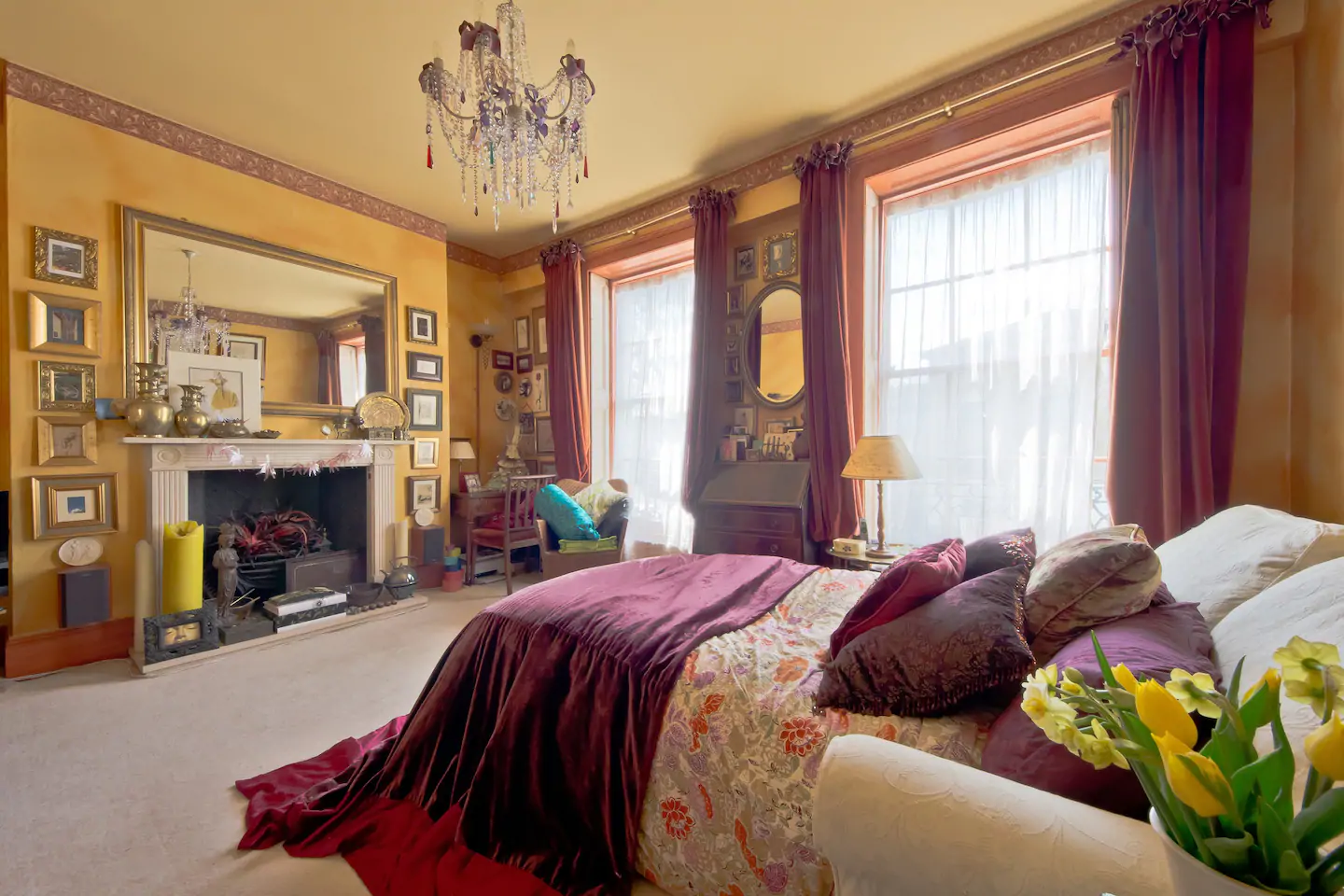 Accommodation in London can end up being fairly expensive, but that means Airbnb can be a good choice for your visit. We've found a lovely room in an artist's home in the Camden area of London. While you won't get an entire property to yourselves here, you'll have your own private room filled with beautiful furnishings from around the world. The hip Camden location, as well as the style, offers you and your partner an experience that is truly London.
Click here to check out the listing + book!
In-Town Treehouse, Atlanta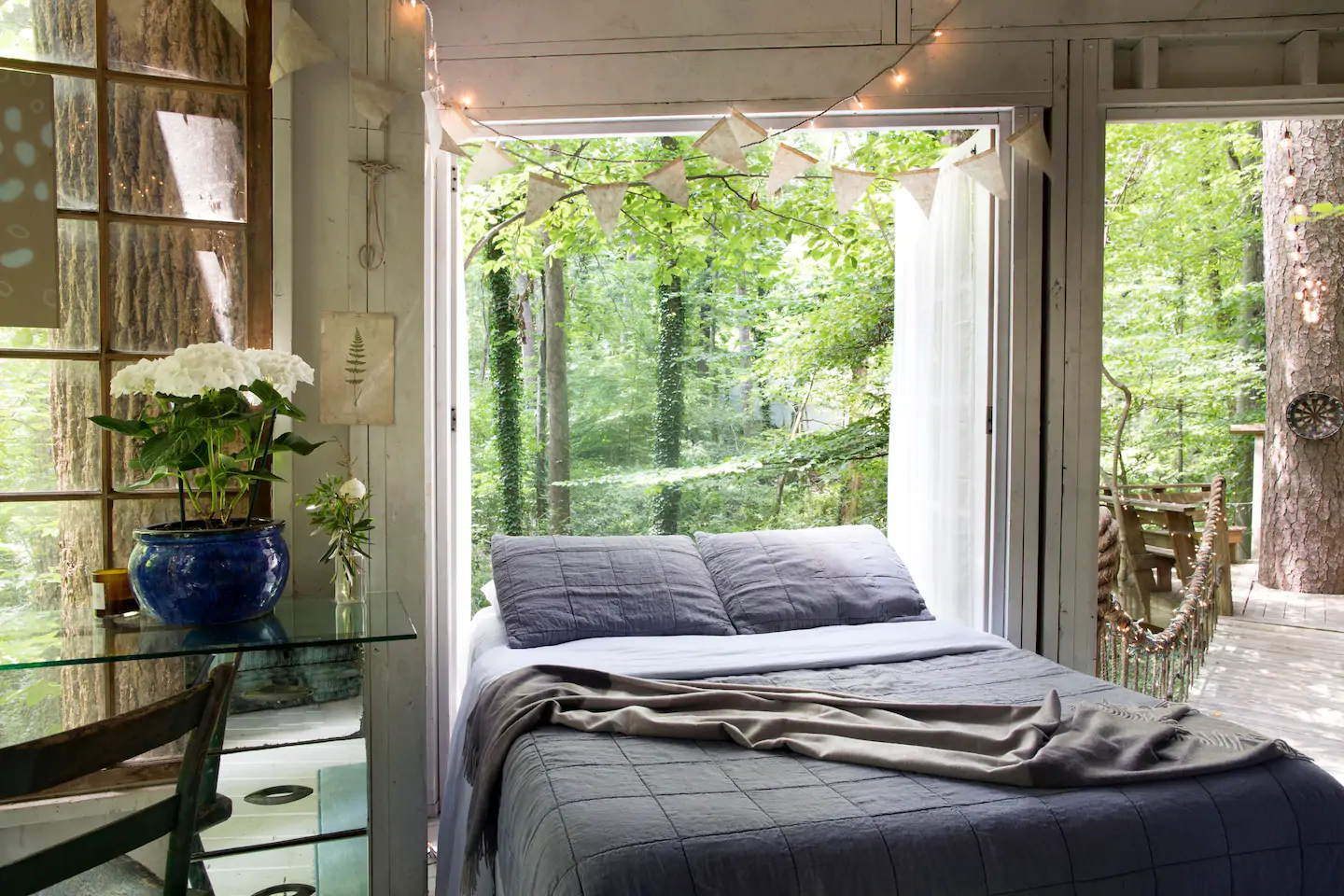 You might be surprised that this secluded treehouse in the woods is actually situated in the heart of in-town Atlanta. This is an incredibly romantic property, and we're not the only ones who think so. This is actually rated as Airbnb's most wishlisted property in the world, and has been featured in magazines and television. If you can get a reservation, don't hesitate!
This magical treehouse lets you sleep among the trees, with lots of windows and open-air elements that make this truly possible. And when you're ready to explore, the best of Atlanta is right nearby.
Click here to check out the listing + book.
Magical B&B by the Sea in Havana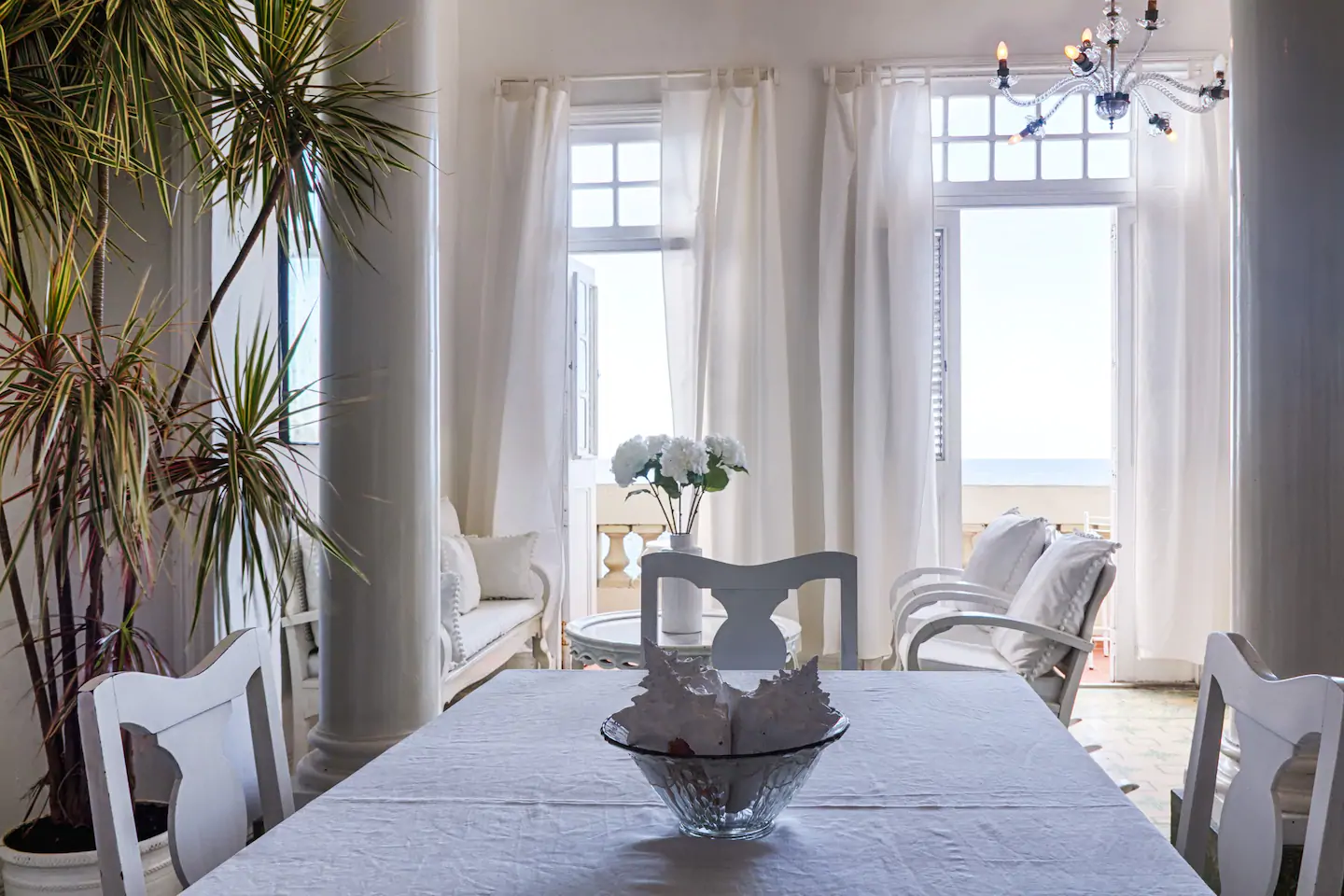 Heading to Cuba? There is something perfectly captivating about this seaside B&B, decked out all in white. Staying here will definitely make you feel like royalty (and at an excellent price). Your private room is simple and sophisticated and the views of the ocean will make you feel totally serene.
The location is great too, set on the famous seafront El Malecón-Havana, and just a 15 minute-walk to the old district Habana Vieja. El Vedado district is also nearby, known for its art deco style buildings and exciting nightlife.
Click here to check out the listing + book!
The Cozy Palace, Marrakesh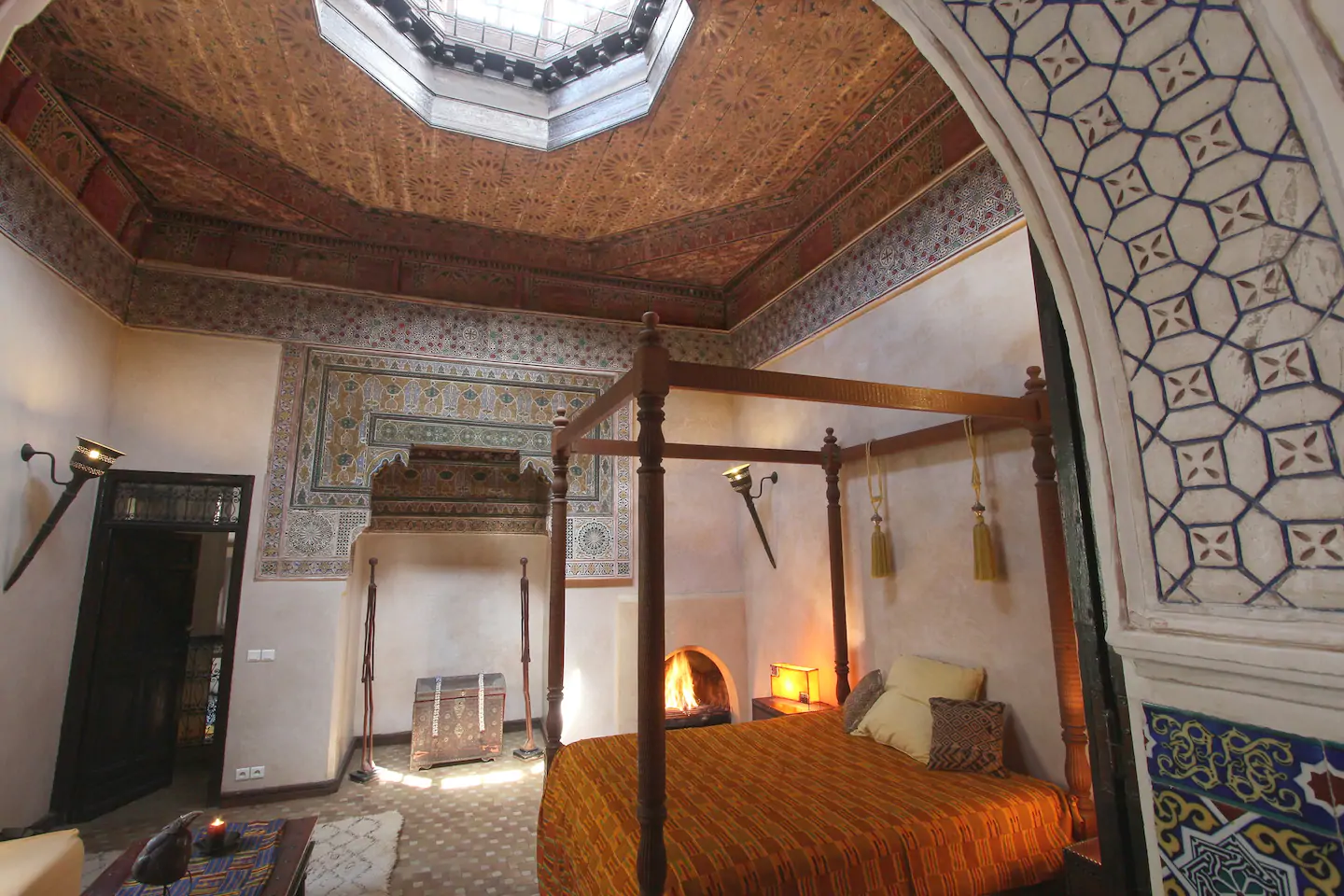 There are many stunning places you could choose to stay in Morocco, but if it's a romantic Airbnb you're looking for, then The Cozy Palace is the one.
Step inside this enchanting Riad and you'll find yourself in a Moroccan style paradise. Luxurious beds, a rooftop terrace, and crackling fireplaces provide all the necessary elements for a romantic escape.
Click here to check out the listing + book!
A Remote Cottage in West Iceland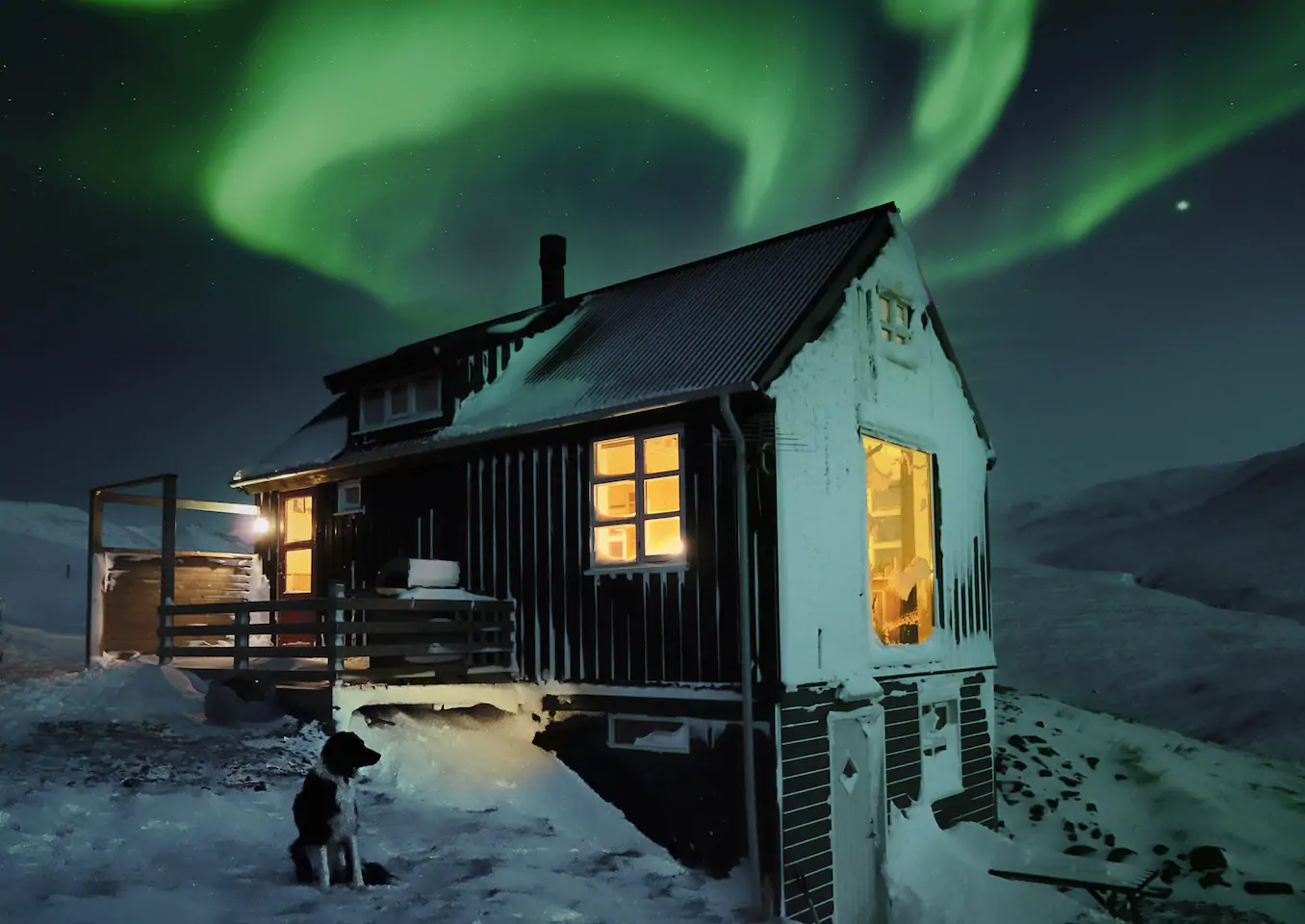 Iceland is one of the hottest places to travel these days. But as it can be a fairly expensive destination, an Airbnb is a smart way to save a bit of money.
For a romantic getaway, seclusion in nature can be the ideal scenario for two, and you'll fully get that in this cozy cabin set on a hill just outside the village of Búðardalur. The listing calls this a Piece of Heaven, and that's what it looks like. At night, warm up by the woodstove before heading outside to catch a glimpse of the Northern Lights. There may not be any more romantic trip than this.
Click here to check out the listing + book!
A Romantic Bali Escape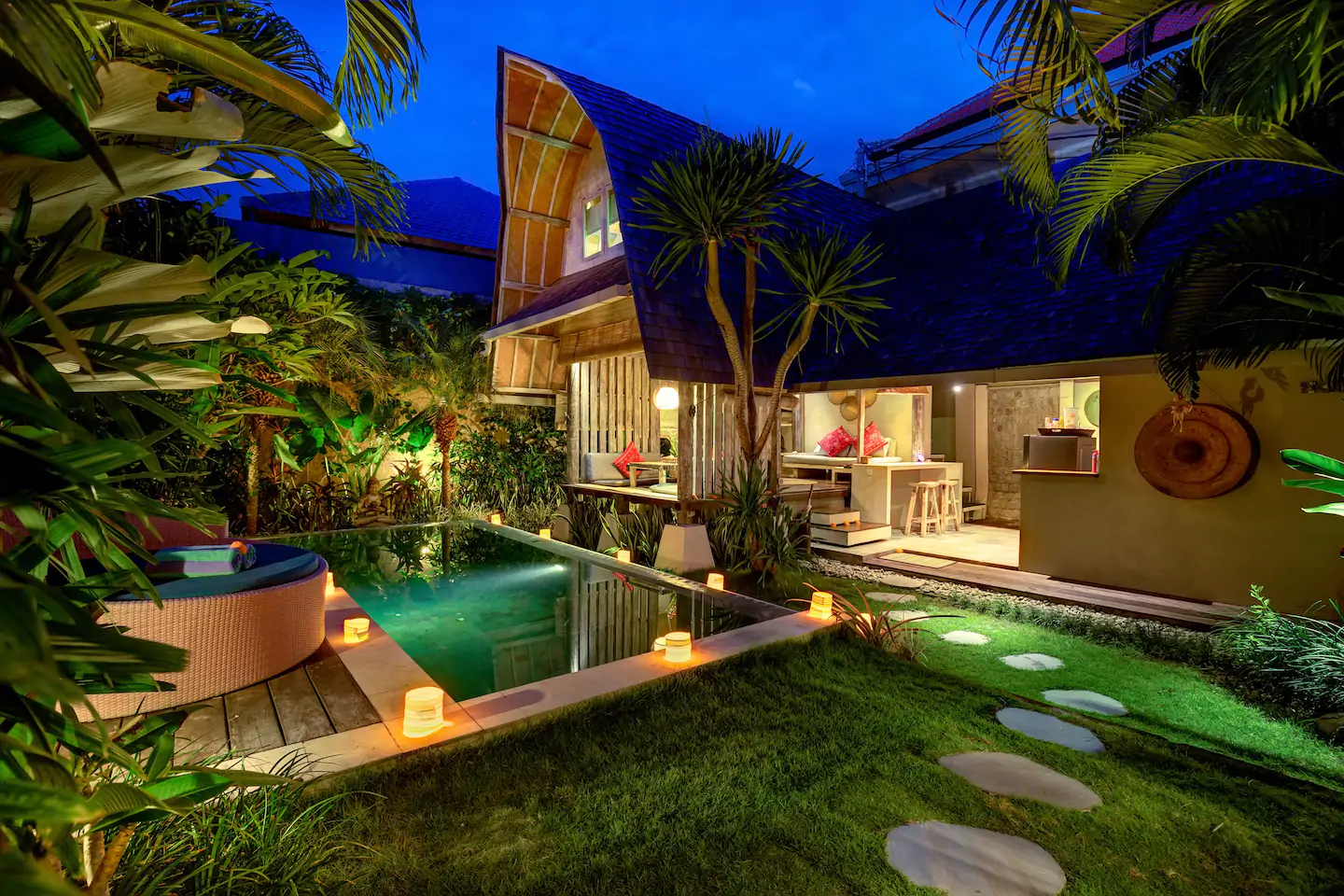 In Bali, your Instagram travel dreams can come true. You've definitely seen photos of couples swimming in private pools in luxury villas. With this Airbnb you can live that same paradise lifestyle. This particular villa in Seminyak is soooo pretty, and is setup perfectly for honeymooners or couples looking for romance. From the airy canopied bedroom to the spacious shower under the sky, every element of this Airbnb is designed with bliss in mind.
Click here to check out the listing + book!
Grand and Cozy 1920's Studio in San Francisco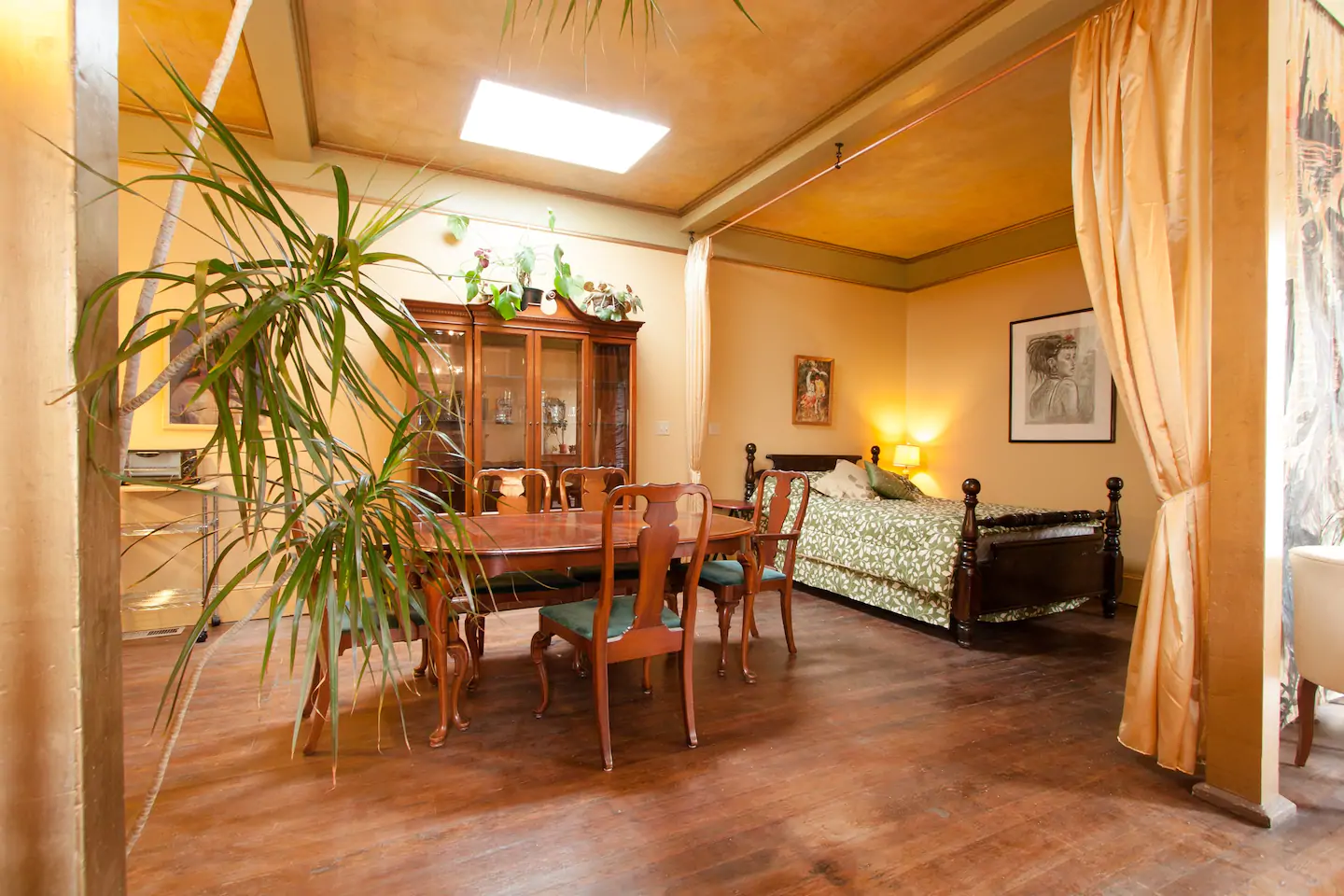 For me, older eras are synonymous with romance. Those who love the 1920s can have a romantic vacation set back in time in this San Francisco studio apartment. This property is in a convenient part of Bernal Heights. Turn on the gas fireplace if the nights get chilly, and spend your days exploring San Francisco hand in hand.
Click here to check out the listing + book!
Fairytale Romance in Massachusetts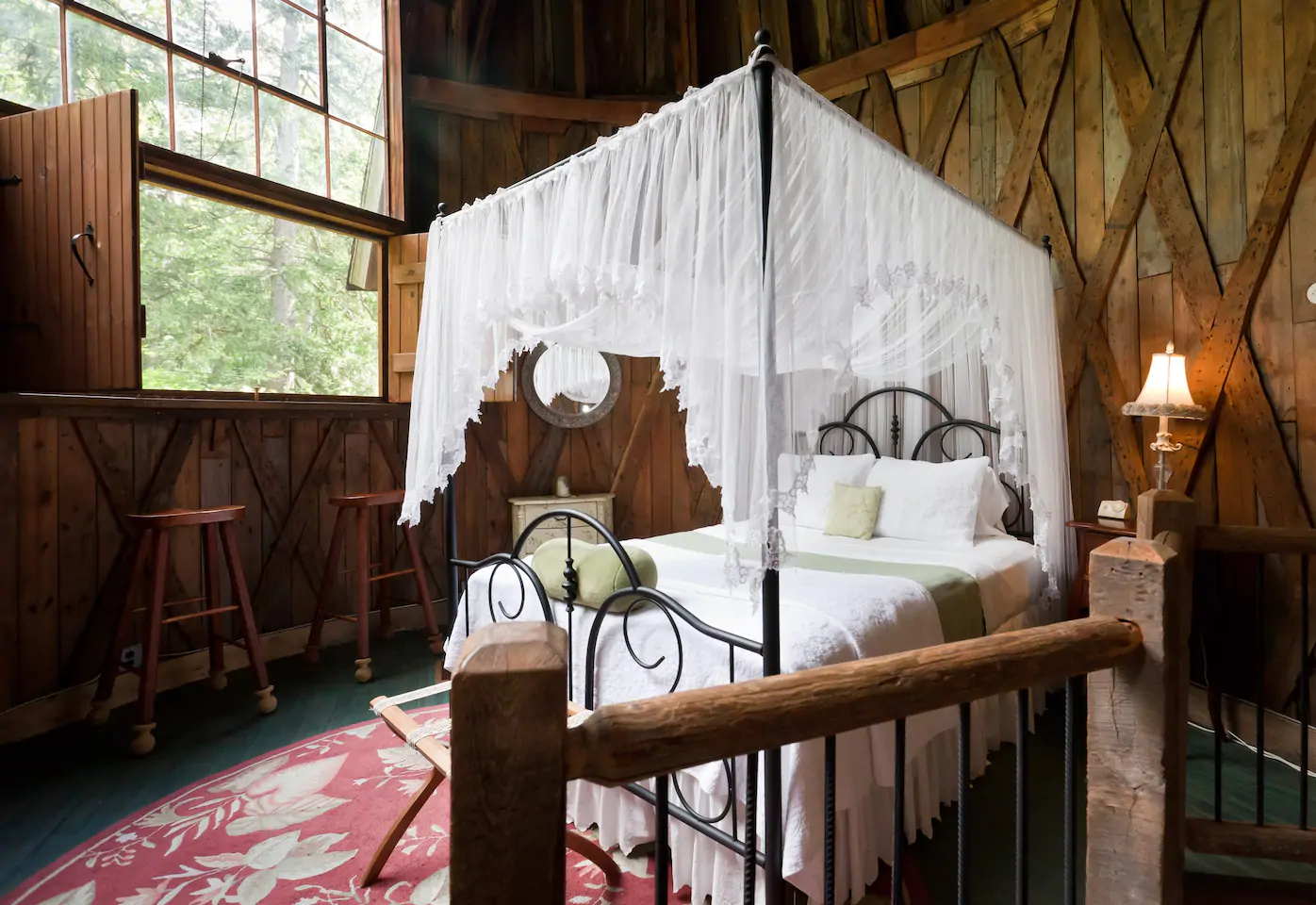 We love the look of this Airbnb so much, we've mentioned it before, in our post on the Best Airbnbs in New England. If romance to you means fairytale, floaty bedding, and a princess tower, this 'Silo Studio' Cottage should be at the top of your list. Not only is this place incredibly adorable, but it's in a great destination, the Berkshires, which are filled with culture, art, and nature.
Click here to check out the listing + book!
Cozy Rue des Rosiers Apartment in Paris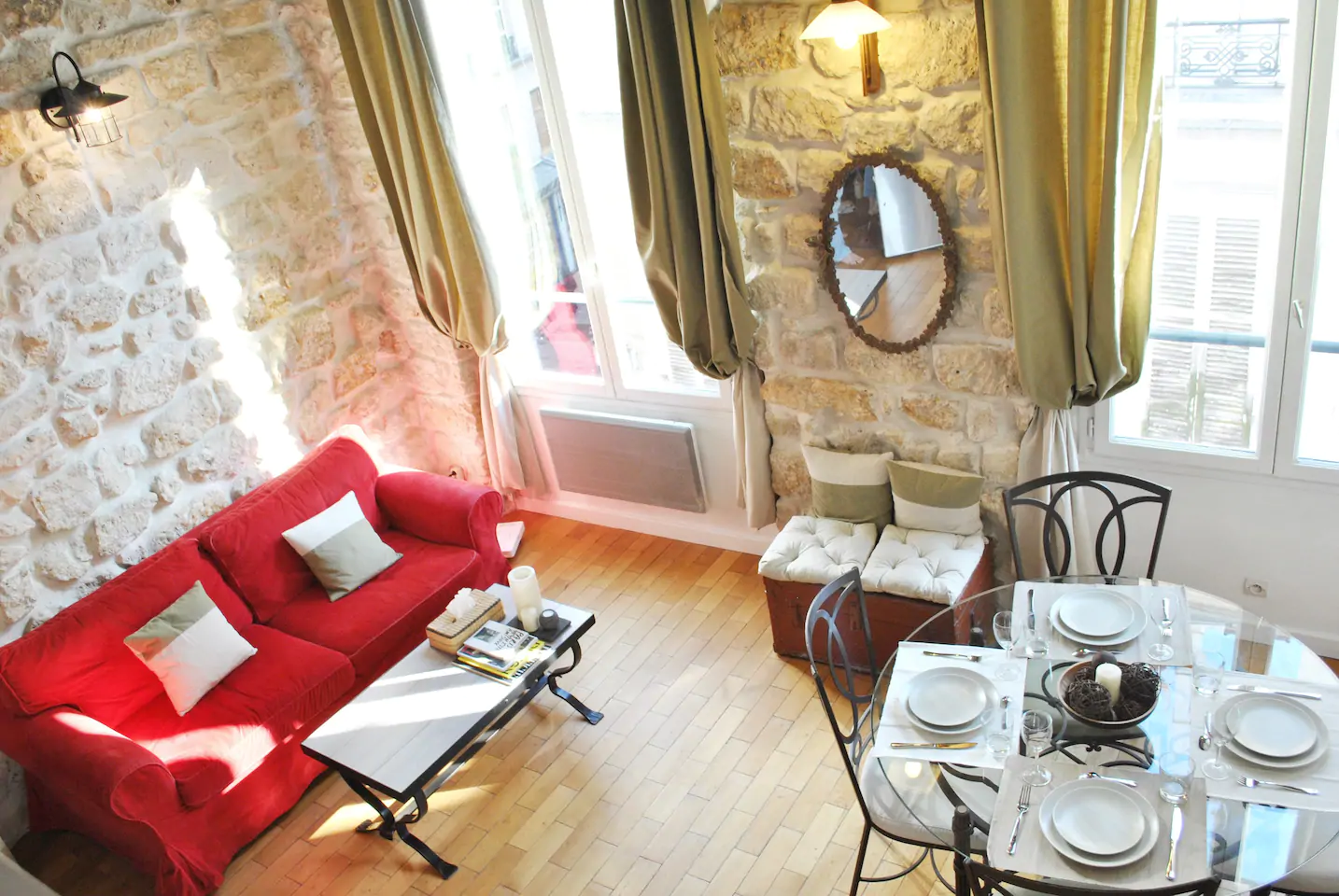 In this charming studio apartment in Le Marais, you'll feel tres chic, and totally Parisenne. This small apartment has the ideal blend of rustic and urban, and plenty of natural light helps to set a happy, romantic mood. The bed is located in a loft up a short set of stairs. While this isn't necessarily a super fancy place to stay, it is completely bohemian and lovely. Definitely perfect for a couple on a budget who want the essential Paris experience.
Click here to check out the listing + book!
Rainforest Luxury in Australia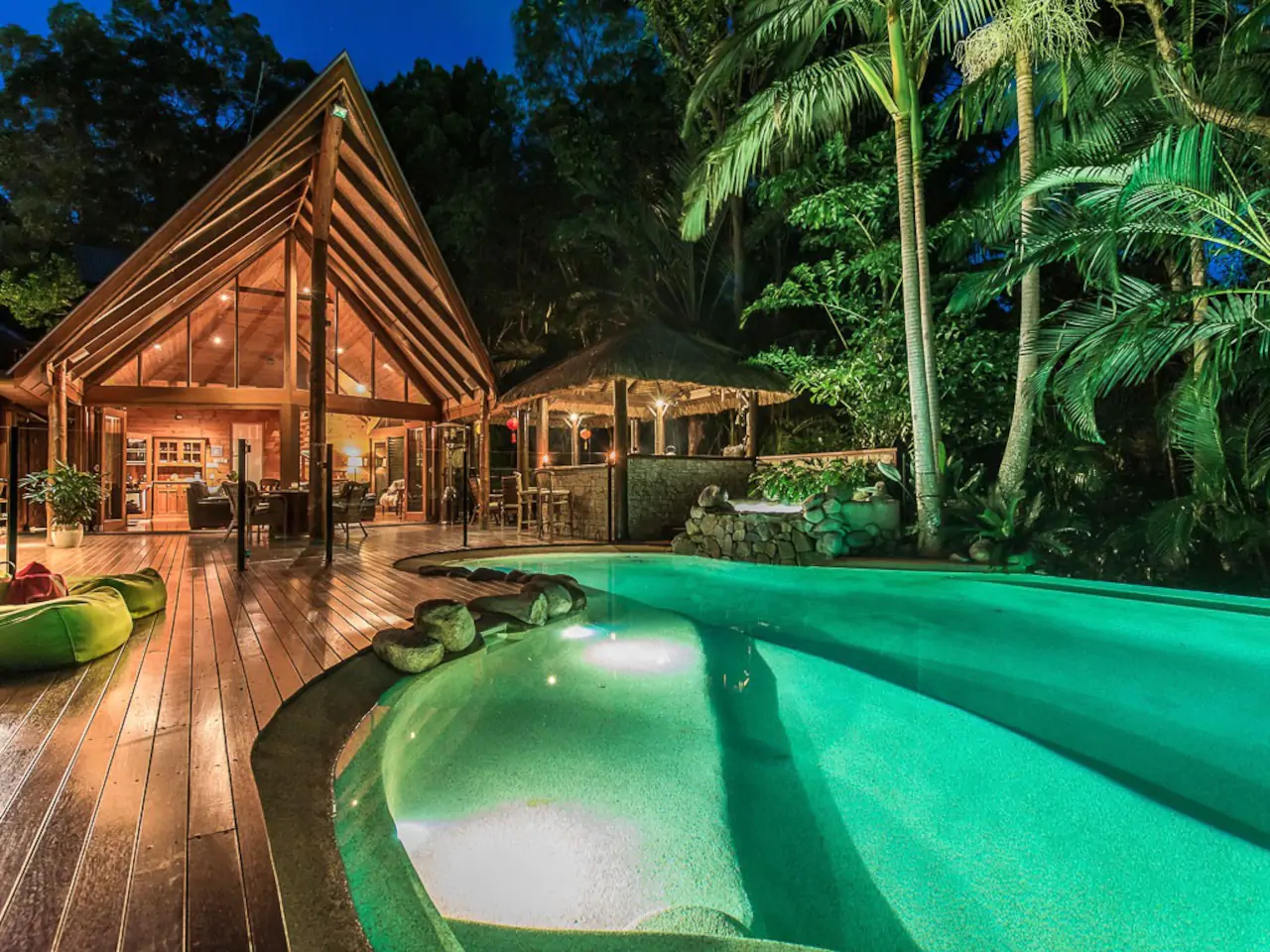 In Noosa Heads, Queensland, there is a retreat that is waiting for you. This Balinese pavilion home has two private guest rooms as well as a self-contained apartment. In an utterly relaxing location, you'll be treated to a private spa and a lush garden, all in a quiet, serene space that is just right for romance.
Click here to check out the listing + book!
Amazing Views from a Northern Ireland Lighthouse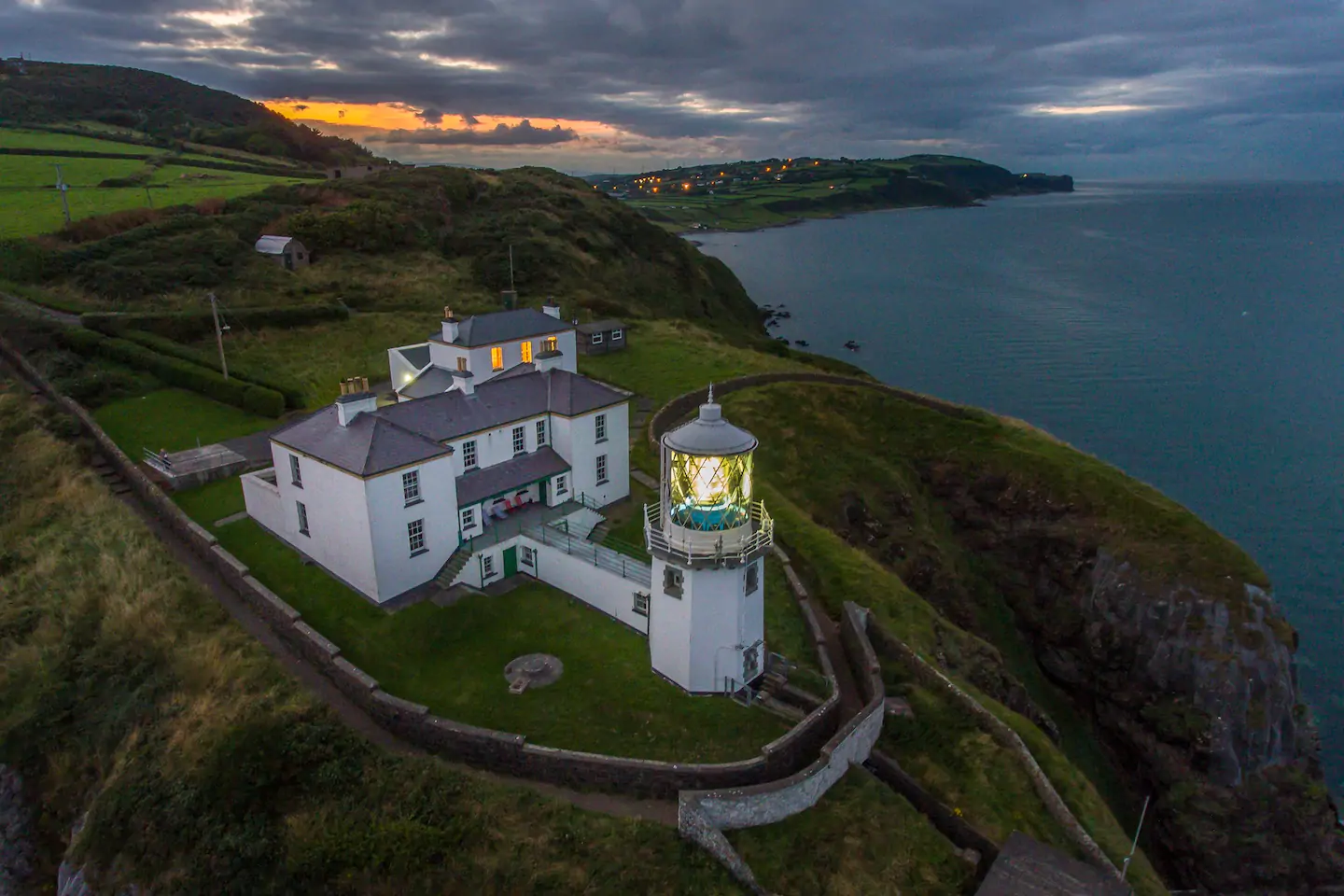 This romantic Airbnb combines insane water views and quintessential British countryside living. The cottage attached to the lighthouse is where you'll stay, and it looks like a step back in time, to a simpler time. The magnificent location is draw enough, but staying in a historic lighthouse keeper's home is especially unique.
Click here to check out the listing + book!
Romantic Apartment in the Czech Republic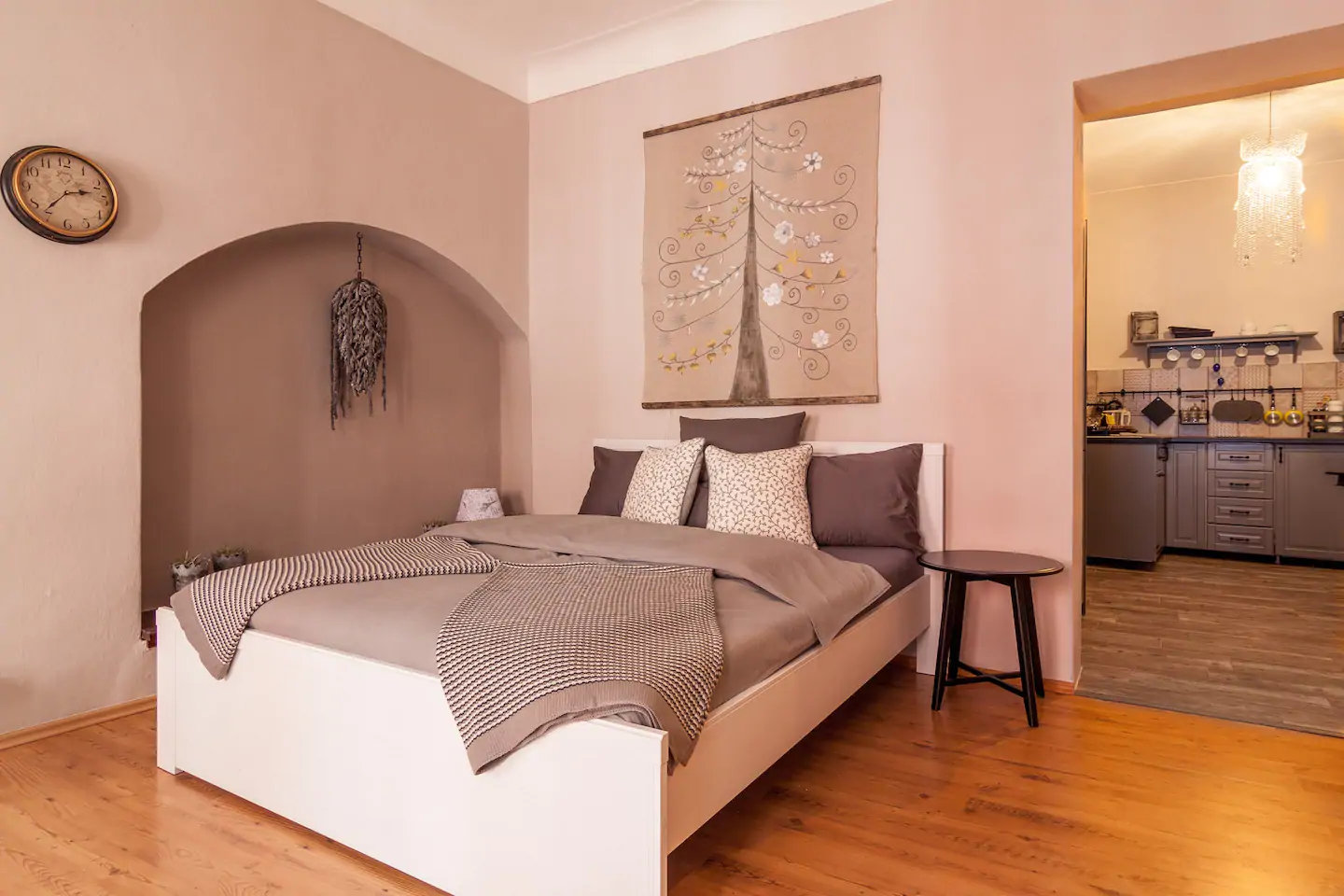 Český Krumlov is known for being an Eastern European town that is something like a fairytale. This apartment is simple and understated, with accents of grey and white, but the result is true elegance and romance. This Airbnb has an excellent central location and is completely cozy, clean, and welcoming. The perfect place to stay when visiting this romantic Czech Republic city.
See also: Romantic Things to Do in Prague
Click here to check out the listing + book!
A Hobbit Hole in Washington State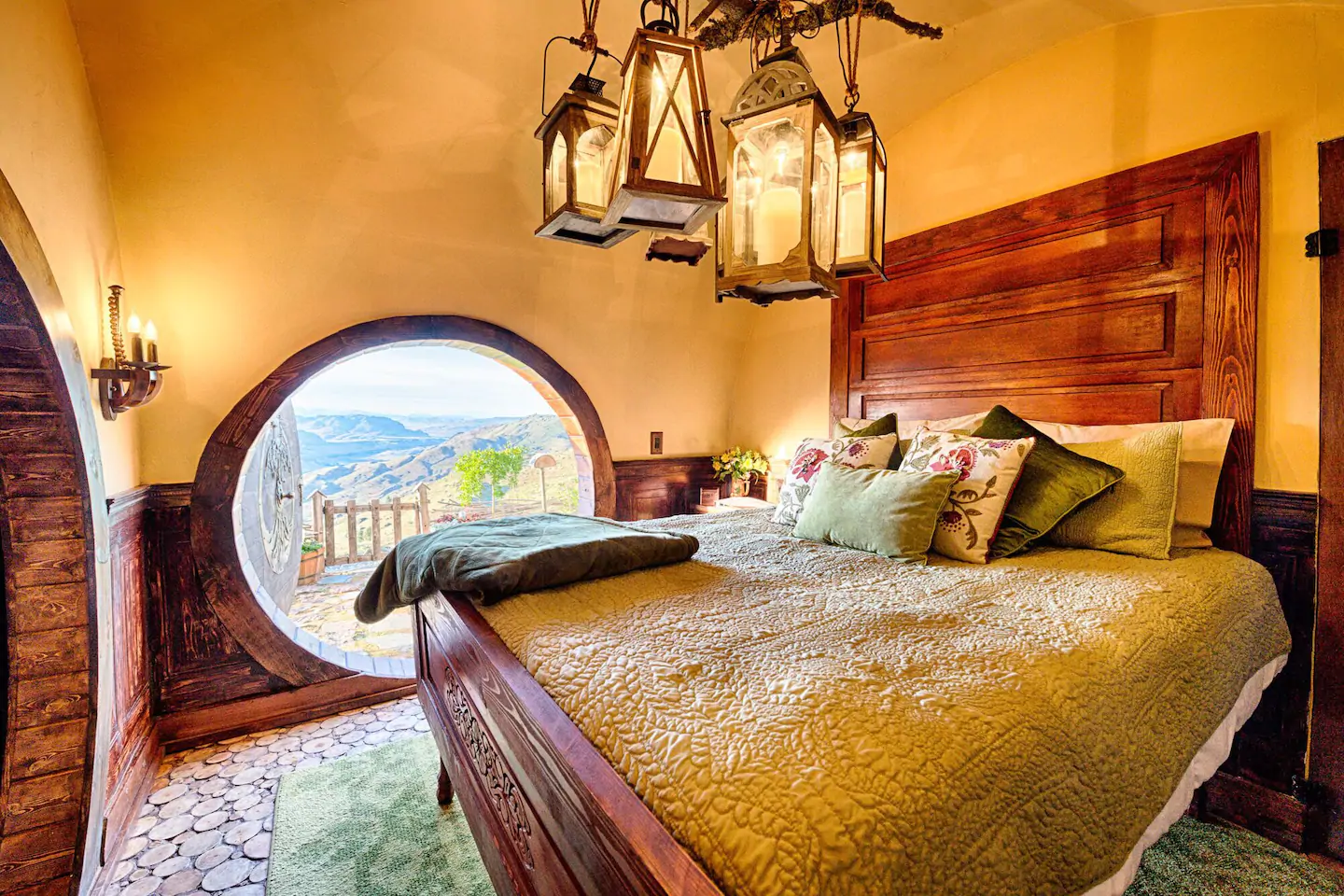 If you've ever dreamt of staying in Bag End, this is the closest you'll get. What a darling place! Built right into the PNW countryside, this uber-cozy Airbnb has so many fantasy-styled features, plus looks out over a beautiful landscape. On this couples trip, the itinerary will include cuddling by the fire, admiring the views through the round door (from bed), and perhaps sharing your favorite tales of magic and mystery.
Click here to check out the listing + book!
Off-Grid Dome in the Texas Desert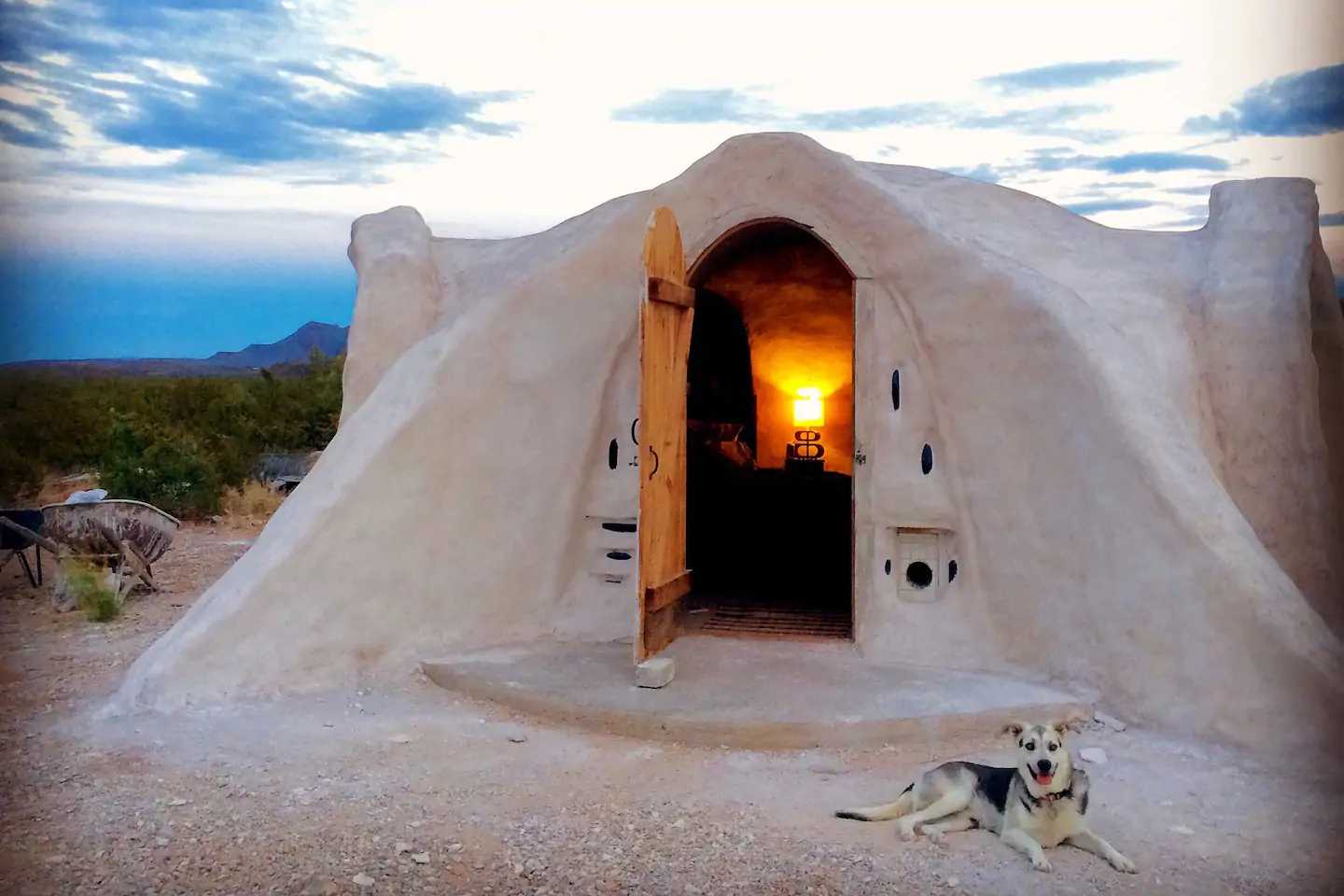 There's something really romantic about going off the grid. And it's even better when your views include spectacular sunsets, brilliant night skies, and miles of empty space. This Texas adobe dome is great for two people looking for a laid back getaway. This Airbnb is located near Big Bend National Park, too.
Click here to check out the listing + book!
A Sweet Villa in Peru's Sacred Valley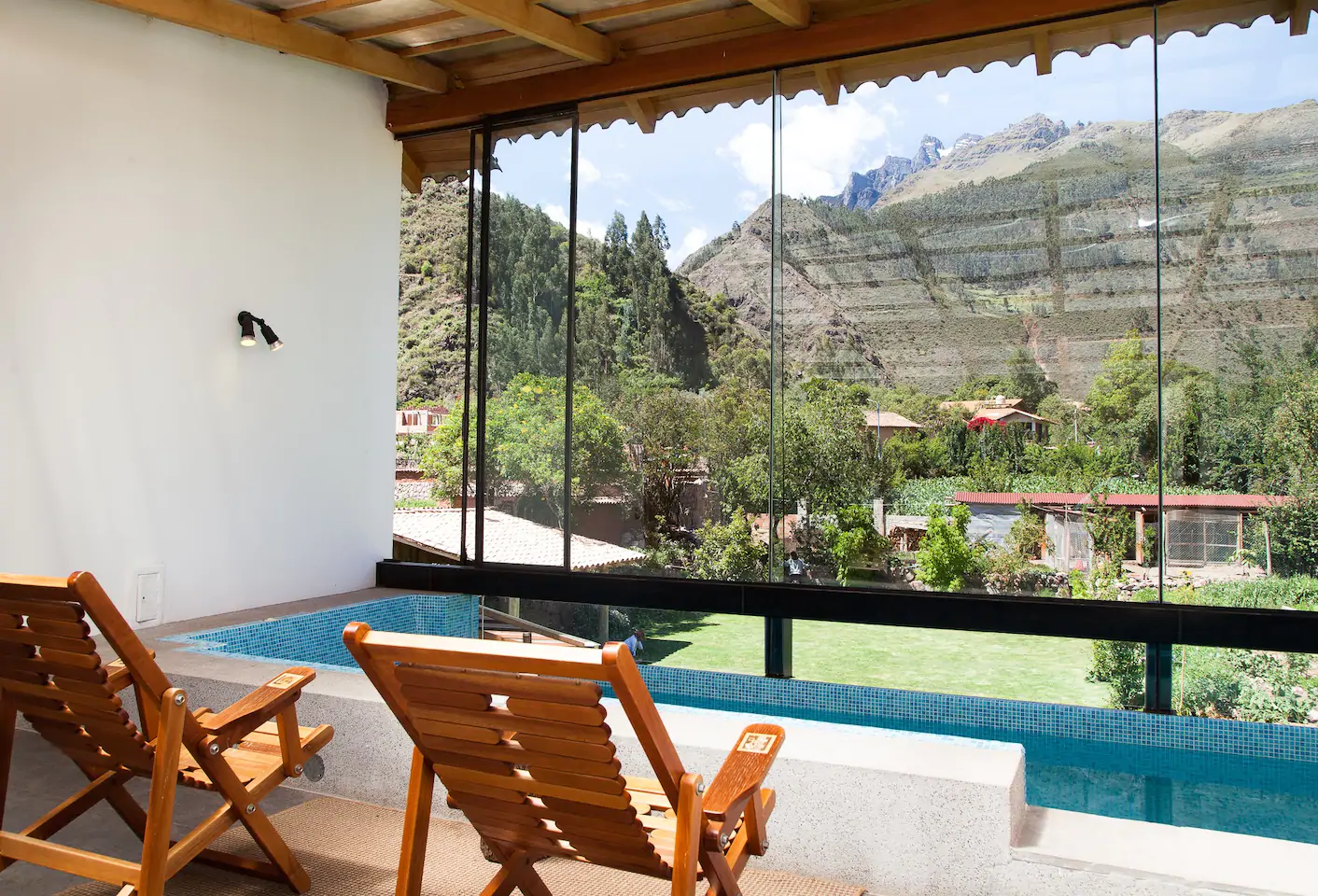 While this Airbnb home in Cusco, Peru can hold up to 6 guests, it also makes for an exceptional stay for just two. This is an incredibly relaxing property in a jaw-dropping location. You're tucked away in the mountains in a sunny, gorgeous home, with a welcoming swimming pool, delicious breakfast, and much more. Want to see for yourself?
Click here to check out the listing + book!
PS: Our friend's Victoria and Terrence share more of their recommendations for the best Airbnbs in Peru in this post.
A Seaside Home in Italy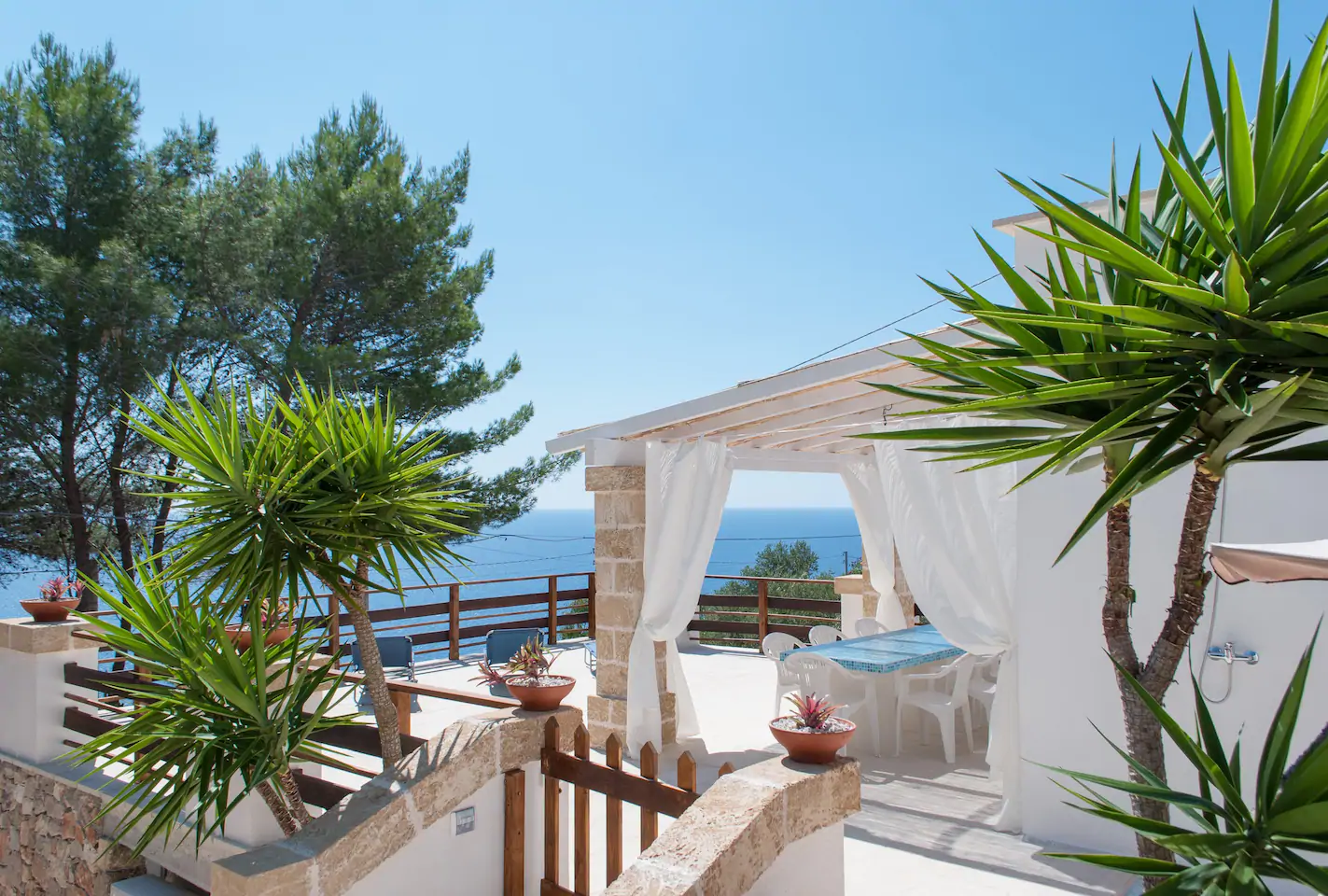 Here's another Airbnb that could fit your entire family. But for a romantic getaway…you'll probably want to leave them at home!
This home has magnificent Mediterranean views, colorful, modern bedrooms to cozy up in, plus a pool. It's everything you need for that perfect Italian vacation for two.
Click here to check out the listing + book!
---
You might also like:
---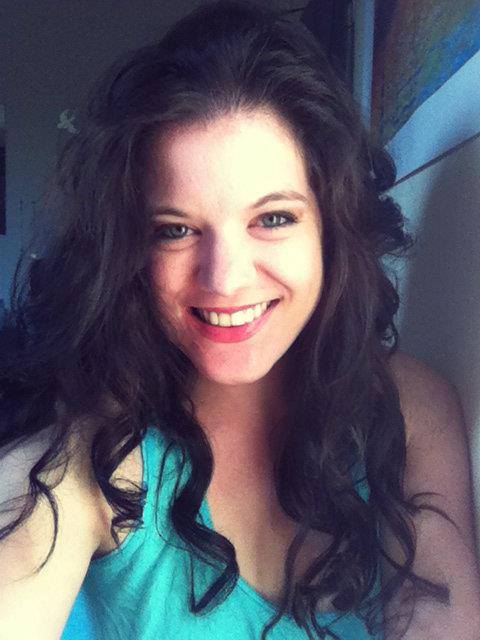 Amy Hartle is the author of Do You Love Me? How To Stop Seeking Reassurance in Relationships, a book on reassurance seeking and relationship anxiety. Both her book and this blog are born of personal experience; Amy shares expert relationship advice from the lessons learned during her own 10+ years with her husband, as well as couples travel tips and romantic getaway recommendations, all gleaned while traveling the world together.