This post may contain affiliate links. Read our disclosure page for full details.
All newlyweds dream of spending their honeymoon somewhere on an island, lying on the beach surrounded by paradise landscapes. This is an amazing and romantic period when couples only want to enjoy each other's company longer without prying eyes and noisy environments. So, you need to choose the right place, to make your honeymoon trip truly unforgettable.
This place is, without a doubt, the island of Santorini in Greece. A Santorini honeymoon is a dream destination for many romantic couples and this island is rightly among the top 10 romantic places in the world.
Natural beauty is not the only reason why the Greek island of Santorini is popular among honeymooners. You will find a large number of monasteries, churches, traditional villages with narrow cobblestone streets, snow-white colored houses with blue terraces, ruins of its ancient cities and a view of Santorini's volcano. All these create a unique romantic atmosphere, ideal for spending your honeymoon in Santorini.
This special event for honeymooners needs to be well organized and thought out to the smallest details. The easiest and fastest way for you could be to order one of the classic Santorini honeymoon packages. But, if you are looking for something truly unique for your honeymoon trip to Greece, then my guide is what you need. For this reason, I've created this ultimate Santorini honeymoon guide, where you will find all necessary and useful information and my suggestions on how to make your honeymoon trip the most memorable event.
This is a guest post from Katerina of Limitless Travelling with K.
Your Guide for the Perfect Santorini Honeymoon
Best time to visit Santorini
This is one of the most important things before planning your honeymoon trip to Santorini. Although many tourists visit the island all year round, weather conditions do not always contribute to a perfect vacation, so it is best to choose dates for your honeymoon trip from mid-June to mid-July and September.
I'm sure you have a question like, why just these few months, and what about the rest? Of course, you probably read that many tourists and bloggers advise visiting the island in May or October, forgetting to clarify about the cool sea and quite cold and pretty windy evenings. But we want the perfect honeymoon with perfect weather!
Why not August? Imagine you (a beautiful couple), magnificent sunset overlooking the caldera, and on the background of your photo, there are crowds of tourists and couples who also want to capture the romantic moment. Yes, yes, yes in August it is almost impossible to find a private place for beautiful photos. Is it worth it?! No, I don't think so!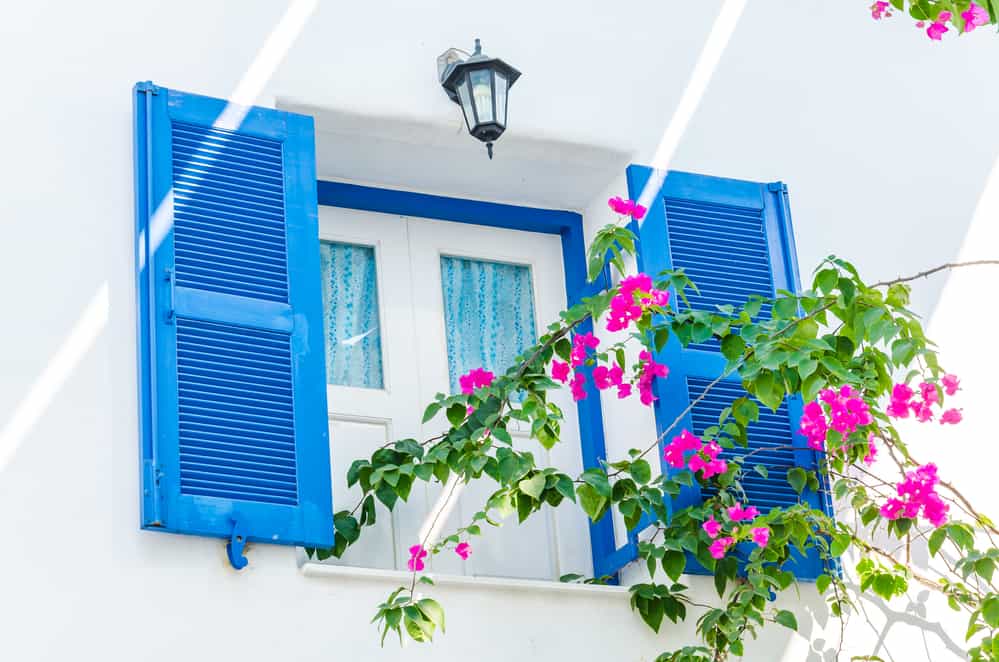 Where to stay in Santorini for Honeymoon
When going on a romantic trip to Santorini, you should definitely choose Santorini honeymoon resorts, which are located on the caldera side, where you will enjoy unforgettable panoramic views from your honeymoon suite with a private pool or jacuzzi. Such unimaginable beauty!
Oia is considered one of the most beautiful and romantic villages in Greece. In Italy, Oia received the first prize in the European competition as the village with the most beautiful traditional architecture. One of the features of this area is that all power lines are drawn underground, without interfering with its fantastic view. The main observation deck is located at the highest point – which is the remains of a Venetian castle. I guarantee that most of your photos will probably be from this point.
In Oia, you will find mainly luxurious honeymoon hotels with private pools that are perfect for newlyweds. My personal favorites are the Canaves Oia (hotel chain), Andronis Hotel (hotel chain), Katikies (hotel chain) and Kirini Santorini. These hotels enter the leading hotels of the world, and that is saying a lot about the high standards that they adhere to.
Other popular honeymoon areas in Santorini are Imerovigli and Fira. The hotels at Imerovigli are elongated along the caldera, forming something like an amphitheater. This village will appeal to couples who love privacy, as it offers not only quiet privacy, but also an excellent hotel service that meets the basic requirements of international standards. The most romantic hotels in Imerovigli Santorini are Dreams Luxury Suites, Rocabella Santorini Hotel & Suites, Aqua Luxury Suites, and Honeymoon Petra Villas Santorini.
Thira is the capital of Santorini, which is located on a cliff. This village is so cozy, colorful and charming which honeymooners will feel like they are part of a fairy tale. Thira is suitable for your honeymoon vacation if you prefer enjoyable activities with dancing all night, as there are numerous clubs and bars. The best Santorini honeymoon hotels in Thira are Dana Villas (many suites even booked a year in advance), Volcano View, the Majestic Hotel, Aressana Spa Hotel and Suites.
How to get to Santorini
Αfter you have chosen your travel dates and hotel in Santorini for your honeymoon, it's time to check how to get there.
It is very easy to get to the island of Santorini, as it has excellent ferry and airplane connections. At the same time, the island can be reached not only from Athens but also from some of the biggest Cyclades islands and the island of Crete.
One of the fastest ways is by airplane. A pleasant trip, from Athens to Santorini, will take you about 40 minutes and there is quite a wide variety of airline companies, from budget to regular.
If you want to make your trip more delightful, then choose ferries. Traveling from Athens to Santorini by ferry will take five to eight hours (depending on the ferry), but it's worth it! Imagine only: you with your soulmate, a sea breeze, and a slight wiggle. What can be more romantic?!
Keep in mind, if you only have a few days in Santorini, it is better to book airplane tickets, as sometimes ferries could be canceled due to bad weather conditions or even strikes.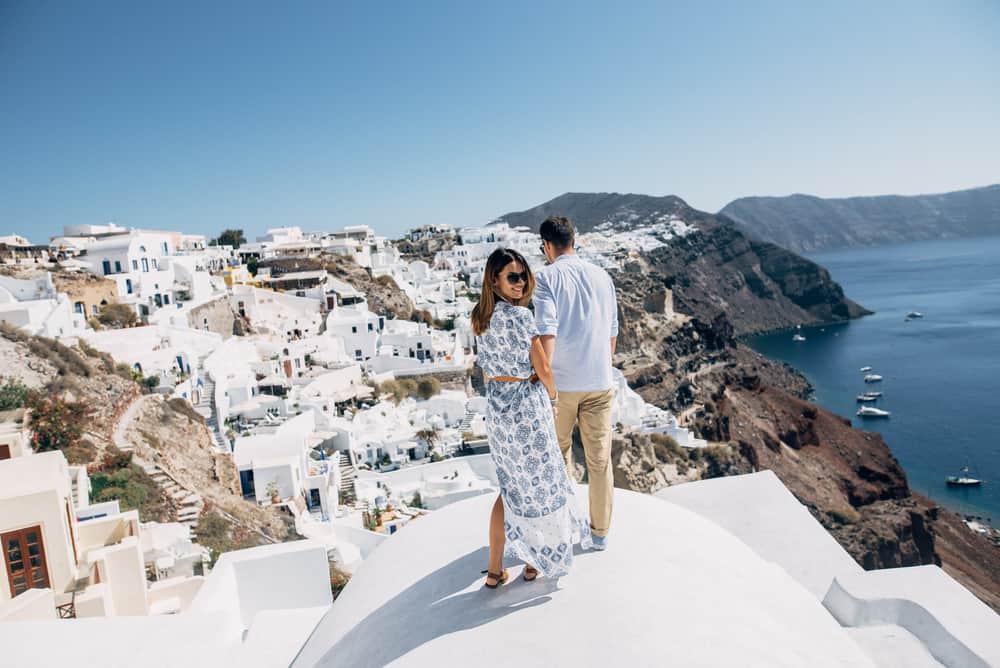 What to do in Santorini during your honeymoon
Santorini is such a magical island, and it seems that this "piece of paradise" was specially created for romantic getaways. Here, every couple will find something special for themselves.
The most romantic things to do in Santorini:
#1 Walk along the beautiful streets of Oia and enjoy the magic sunset.
The village of Oia is located on a cape, from where a magnificent view of the sun, slowly drowning in the Aegean Sea, opens. Every evening, many couples come here to enjoy the sunset and take unforgettable photos.
#2 Book a professional photo session.
Whatever camera you have, there is nothing like booking a professional photographer. On such a beautiful island, it's hard not to take advantage of this. Only a professional photographer will help you to get the right unique photos and show the most beautiful and secret places in Santorini. What photo shooting is possible without beautiful outfits? You won't have a problem with this in Santorini either. The island has a large number of salons, where you can rent an indescribably beautiful dress for her and a costume for him, for several hours or for a whole day.
#3 Go on a volcano tour and have a romantic dinner on a yacht overlooking the Greek sunset.
Where else can you walk along a real volcano? A cruise to the volcano must be 100% in your program. This tour includes a visit to Nea-Kameni small island (walking along the volcano) and Palia-Kameni island (swimming in hot springs). After that, you can visit the island of Thirasia and end such a rich program with a romantic dinner on board the yacht, with a beautiful sunset. Isn't it fascinating?
#4 Taste the famous Santorini's wine Vinsanto with a view of the caldera.
Although Santorini is not a big island, it is famous for its vineyards and wineries, and you have the opportunity to taste one of the best wines in Greece. Due to the location of several wineries on the caldera side, wine tasting with a magnificent view is a quiet romantic experience.
#5 Sunbathe and swim on the colorful beaches.
The calling card of the island is the white, red, and especially black beach. The beaches are located on the opposite side of the caldera, but it is very easy to reach them. The most popular black sand beach Kamari is awarded the Blue Flag for the cleanest and pure waters. This popular resort has a promenade where you can stroll along the sea, good seafood restaurants for lunch and dinner, shops, and water activities.
#6 Have a romantic dinner with a fabulous view.
The village of Oia, famous for its magnificent sunsets, has many restaurants with the most fabulous views. One of these places is called Ambrosia – a small restaurant with 11 tables located in the rock. Imagine: a terrace, a beautiful view of the caldera, stars shine in the sky, and you enjoy a deliciously cooked lamb with rosemary and mountain herbs.
After dinner, you can go to the terrace and sip white wine, lying on the couch. This is also a great opportunity to sample some of the most decadent Greek desserts. Do not forget to book a table in advance, as there are always a lot of romantic couples, who want to have a romantic dinner in Santorini.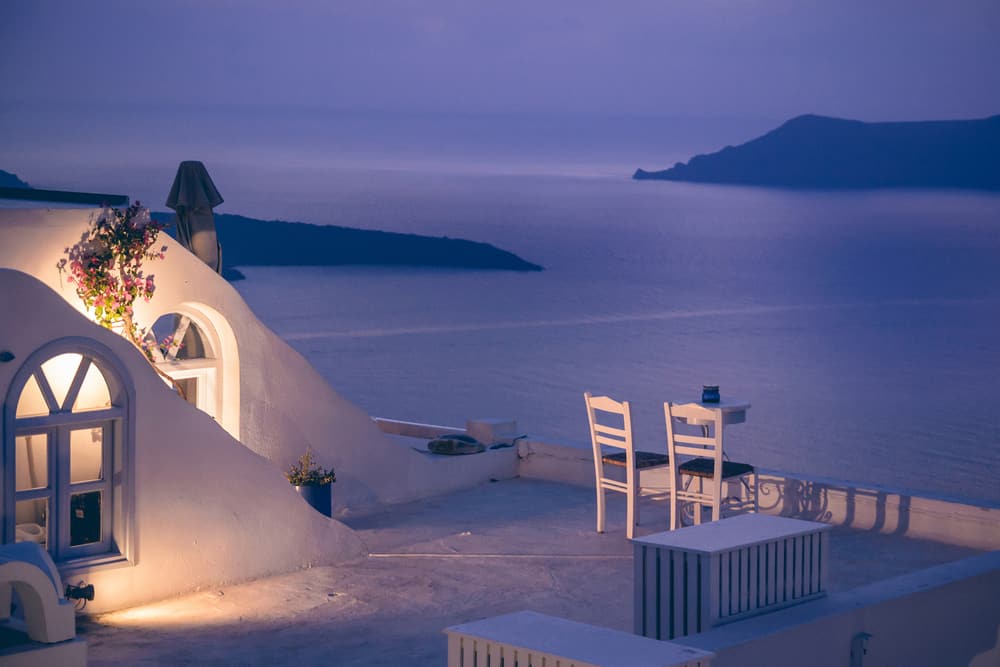 Conclusion – Last romantic touch
Santorini is one of the most romantic places on Earth. Everything here is as if it was specially created to make your honeymoon and vacation in Santorini unforgettable. Isolated luxury hotels, stunning sunsets and sunrises, unique black beaches, panoramic views, magnificent architecture, and romantic dinners under the stars.
Τhe villages of Oia, Imerovigli, and Thira are magical places for newlyweds. The island itself, its rhythm of life, time zone, climate – absolutely everything is inexplicably disposed to stay in euphoria, a state of happiness and love!
If you are looking for the perfect destination for your romantic getaway, then honeymoon in Santorini is exactly what you need. Just be sure to do it in advance, as there are many loving couples, and there is only one such unique island!
---
About the author: Katerina is a multinational travel blogger with roots from Ukraine and Latvia, who works and lives in Athens, Greece. From a very young age, Katerina was involved and surrounded by tourist activities, which this, in turn, became her passion in life. She has a Master's degree in International Hospitality & Tourism Leadership, from the University of Wales in Greece. Since 2009 she has been living and traveling through Greece, thanks to her work as a travel agent, which helped her explore many unique places in this beautiful country. For over a year she runs her own personal travel blog called, Limitless Travelling with K., where she shares her travel stories and useful travel tips, both for Greece and abroad.
She specializes in solo traveling, as well as traveling with as a couple or with friends. Katerina's blog consists of all her personal useful tips, which will help anyone looking for travel ideas, give answers, and information in general. A unique approach that will satisfy everyone's needs of a great organized and affordable traveling experiences…with K…Her mission is to inspire everyone to travel without any limits in the budget, time and company.
---
You might also like:
---