This post may contain affiliate links. Read our disclosure page for full details.
One of the most amazingly romantic cities in Europe is Dubrovnik. Often called the 'Pearl of Adriatic', Dubrovnik should be a part of your Croatia Itinerary – it has everything from beaches, gorgeous views, culture and culinary!
Preparing for Dubrovnik Croatia
Dubrovnik is located on the southern tip of Croatia, in the south eastern part of the European continent (called the Balkans). You can fly to Dubrovnik or take a road trip from Zagreb (largest international airport in the country) or nearby Balkan countries.
Visa and Currency for Croatia
Passport holders from the USA and Canada can travel to Croatia visa free, and can stay there for upto 90 days. It is good to know that Croatia belongs to the European Union, however they do not use the Euro. Croatian Krona is their official currency. You can easily exchange money at the airport, or at the Old Town in Dubrovnik.
In order to enjoy the city's highlights, relax at the beaches and take a day tour or so, you should set aside 3 days in Dubrovnik, to make the most of your trip!
When to visit Dubrovnik?
Dubrovnik is best explored during off season (and non cruise peak seasons). With sea views, the weather in Dubrovnik remains warm all year around (as a Canadian it's warm and pleasant!), but during summers the city overflows with tourists from cruise ships and road trips and it gets really crowded in there.
During off seasons Dubrovnik is calmer. Although not all restaurants or island tours will be open, it is still worth visiting. For evenings, pack a warm cardigan!
Packing for Dubrovnik
Here are some packing essentials for Dubrovnik,
Carry comfortable walking shoes

. You will need them in the old town – your feet with thank you!

1

Swim or beach wear

plus flip flops

2-3 pretty

dresses or flowy tops

1-2

bottoms/pants
Sunglasses and sunscreen
Universal adaptor

, as you are heading to Europe

Don't forget your

camera, charger and travel documents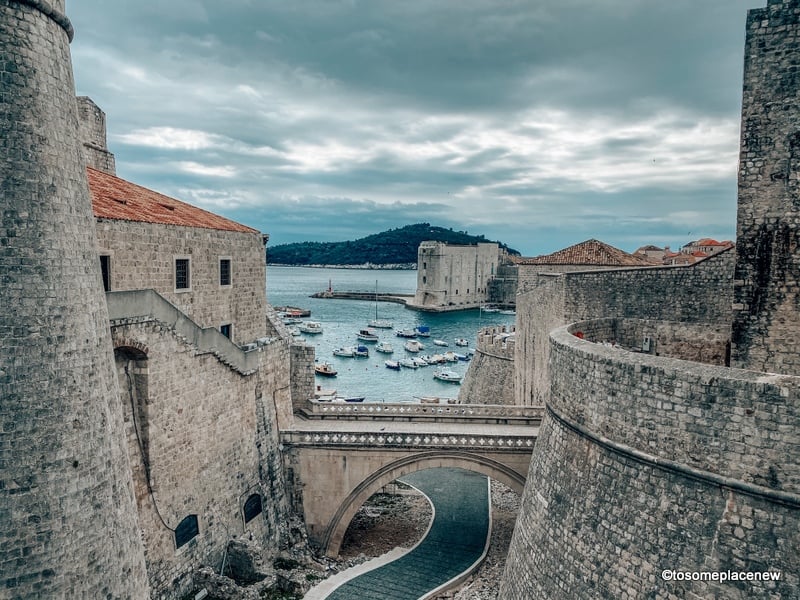 7 Romantic Things to do in Dubrovnik
We have handpicked seven of the amazingly romantic things to do in Dubrovnik Croatia.
Take the Dubrovnik Funicular
The views of the Adriatic and the old town are best explored from the Dubrovnik funicular. Take a ride with your loved one, head to the top and take in views of the city, and all the way to Montenegro and Bosnian hills.
The funicular takes 4 minutes to transport you to a plateau at 778 meters high! Tickets for adults (age 12+) 22,5€. You can book them online or in person on-site.
The observation platform has a beautiful restaurant, with jaw dropping views of the sea and the old city. This is the perfect romantic spot for dinners and/or drinks for you and your loved one. Our tip: Head there at sunset to enjoy those golden hues!
Wander the old town hand in hand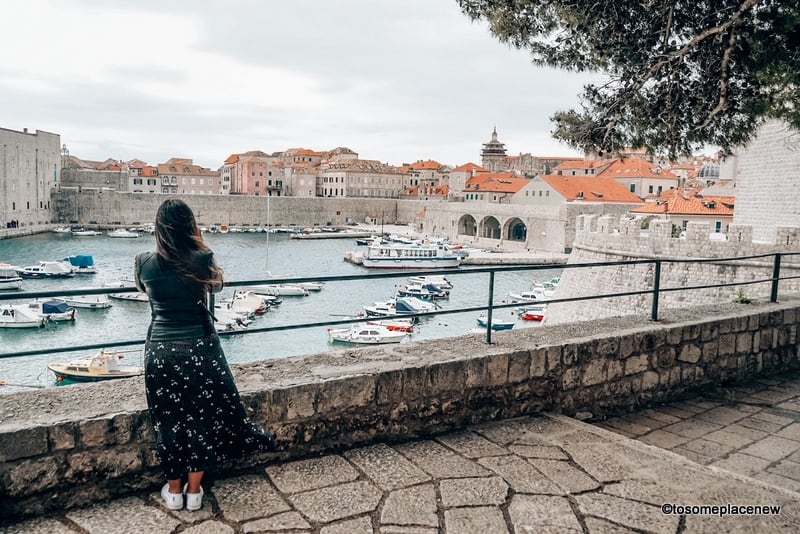 The old town of Dubrovnik is one major of the highlights of the city. It is like a stage full of historical remnants from the times of Republic of Ragusa. The city dates back to the 7th century, and as you walk through the city you will see many stunning buildings like the Rector's Palace, Stradun/Promenade, Dubrovnik cathedral and of course the city walls.
The entire city of Dubrovnik is a UNESCO World Heritage site.
Make sure to check out the following
Stradun

: Stradun or the Placa is the main street in the old town. Most walking tours take you through this lane, and you can take views and pictures of the stunning quarters.

Rector's Palace

: Beautiful building which was the seat of administration for the Republic of Ragusa for centuries.

Sponza Palace

: This Gothic building was used as a tax office, and is now home to the city archives. You will find tons of historical/archival data here, from the 12thc century and beyond.

The Franciscan Church and Monastery

: One of the large complexes in the old town is the Order of the Friars Minor monastery, church and the oldest pharmacy.

Walk the City Walls in Old town Dubrovnik
Many Games of Thrones tours will cover areas in and around the old town.
Soak in views from the Buza Bar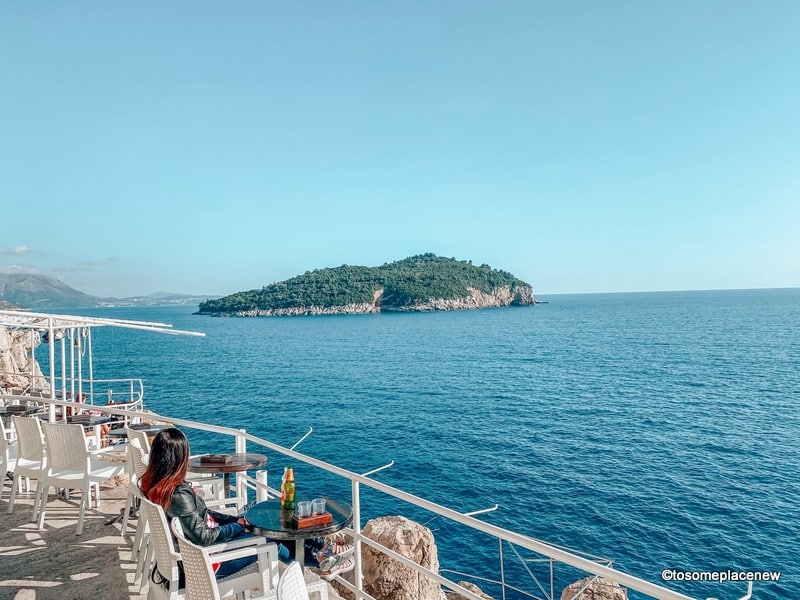 One of the coolest places to hang out in Old Dubrovnik (or Dubrovnik) in general is the Buza Bar. It is a wonderful spot to take in views of the sea and the islands far away.
There are plenty of chairs to sit on, and only drinks are offered here, which are also reasonable. Amazing views, perfect for sunset or just to rest your legs after walking the old town.
Cliff jumping is popular with many travelers here!
Stay in a resort, get a romantic spa package
A perfect holiday destination, Dubrovnik is home to many world class resorts and lavish hotels. Here are our top picks for a wonderful staycation in a resort:
Villa Dubrovnik

– A luxury 5 star hotel on a cliff overlooking the sea, a stay here is relaxing and delightful at the same time. The views from their sea-facing suites are breathtaking! The property has a restaurant, spa and a pool on site, and offers free parking (perfect if you two are

road tripping in the Balkans

).

Book your stay here

Hotel Bellevue Dubrovnik

– Another 5 star hotel, and this one comes with a private beach, and stunning sea views from everywhere. Property amenities include spa, pool, restaurant and of course the beach! The hotel is super close to the old town and other city attractions.

Click to read reviews and book

Hilton Imperial Dubrovnik

– An affordable option, this Hilton property is located right outside the walls of the old town, giving you the best view of the city and its centre. The property has beautifully decorated rooms, a pool, and a restaurant on site plus access to a beach nearby. There are amazing cafes located right outside the hotel too, if you prefer that. From the hotel balconies, you can soak the gorgeous sea-views, Lokrum Island and more!

Find out more about the property – Hilton Imperial here
PS: Need more options? Check out this list of 15 boutique hotels in Dubrovnik.
Eat at stunningly beautiful locations in Dubrovnik
With amazing views you can't go wrong with celebrating your relationship or any occasion in Dubrovnik's fine dining venues. Here are some of the top restaurant picks:
Nautika

– Named as the sixth most romantic restaurant in the world by Condé Nast Traveler, a visit to Nautika and trying their wine, whilst enjoying the sun is a must. Views from here are absolutely stunning. Head there for lunch or dinner date!

Restaurant Dubrovnik

– This restaurant is perfect for seafood lovers. Restaurant Dubrovnik just pampers with undivided attention, delicious European + Adriatic dishes with an aroma that will remind of Dubrovnik when you are gone.

Dubravka 1836 Restaurant & Cafe

– Dubravka 1836 Restaurant & Cafe is perfect for breakfast. This cafe is located right outside the Pile Gate, close to Hilton Imperial Hotel. Great breakfast, affordable prices and breathtaking views!
Embark on an Island Tour
Thanks to Dubrovnik's wonderful location, you and your loved one can embark on island day tours quite easily! In and around the city, there are many islands that you can spend the day, and return back to the old town, however we recommend choosing one from this list of three (which we really loved!)
Lokrum Island

– Lokrum Island is probably the most recognizable island from Dubrovnik old town. You can take a full day (8 hour) guided tours, Games of Thrones

inspired tour or just hop on a boat from old porat aka port to reach the Island. You are not allowed to stay there overnight, and what is left there now is a

monastery and a botanical garden from Archduke Maximillion's days. But it is very relaxing out here with the sea views,olive trees and so much greenery.

Mljet Island

– Another popular Island is the

Mljet, located in the southernmost and easternmost part of the Dalmatia region. Home to the Mljet National Park, the area covers an impressive size of sea belt, and has beautiful beaches!

Korčula Island

– Korčula Island deserves more than a day's sightseeing. It is one of the beautiful towns in the region, filled with medieval buildings and pretty orange roof tops. You can embark on a ton of adventure tours at the island here from windsurfing, sailing, hiking and cycling. The sea views from the old town Korčula are absolutely gorgeous!
Enjoy a sun-filled relaxed day at the beach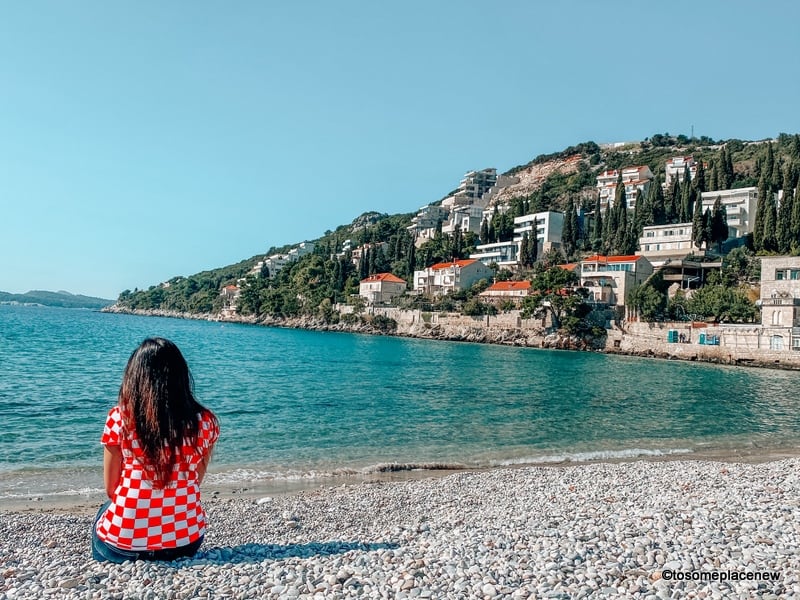 You cannot ignore the beach in Dubrovnik. Many resorts and hotels will have access to a pool, but a sandy beach is just so wonderful for some time out, after days of sightseeing.
One of our favorite beaches here is the Lapad sunset beach. This beach is located away from the Old Town Dubrovnik, so you get to explore another area too! Sunset Beach is surrounded by restaurants, you can relax at the beach, sun-bathe, eat and play!
Other beach amenities include – play area for kids, ledge with beach chairs & umbrellas.
We hope you enjoyed our list of things to do in Dubrovnik for couples. Dubrovnik is an amazing destination in Europe for honeymoon or for couples wanting to spend some quality time with each other – admiring the sea, beaches and culture!
---
Author bio: Mayuri is an avid traveler and founder of ToSomePlaceNew, a city and culture travel website. An Indian-Canadian, she is a History graduate and an MBA who loves to explore cultural nuances in Europe, Canada & beyond. She lives near the Canadian Rockies, and travels with her husband!