This post may contain affiliate links. Read our disclosure page for full details.
There's nothing so bonding as reaching your goals as a couple. Setting goals together, planning dreams, and creating couples bucket lists: these are all incredible and meaningful. So we're bringing you 100 of the very best couples bucket list ideas, designed to help you dream big and find romance and adventure!
This is the ultimate couples bucket list, one that includes not just romantic things to do, date ideas, and sweet relationship-focused activities, but incorporates a hefty dose of adventure & travel. Embrace the adventure couple inside you!
Now, every couple is unique and that means your couples bucket list should be unique, too! You can use our list as a guide to help you come up with your own ideas and create your own romantic bucket list! In fact, we've got a free bucket list printable right here that you can download and fill out together.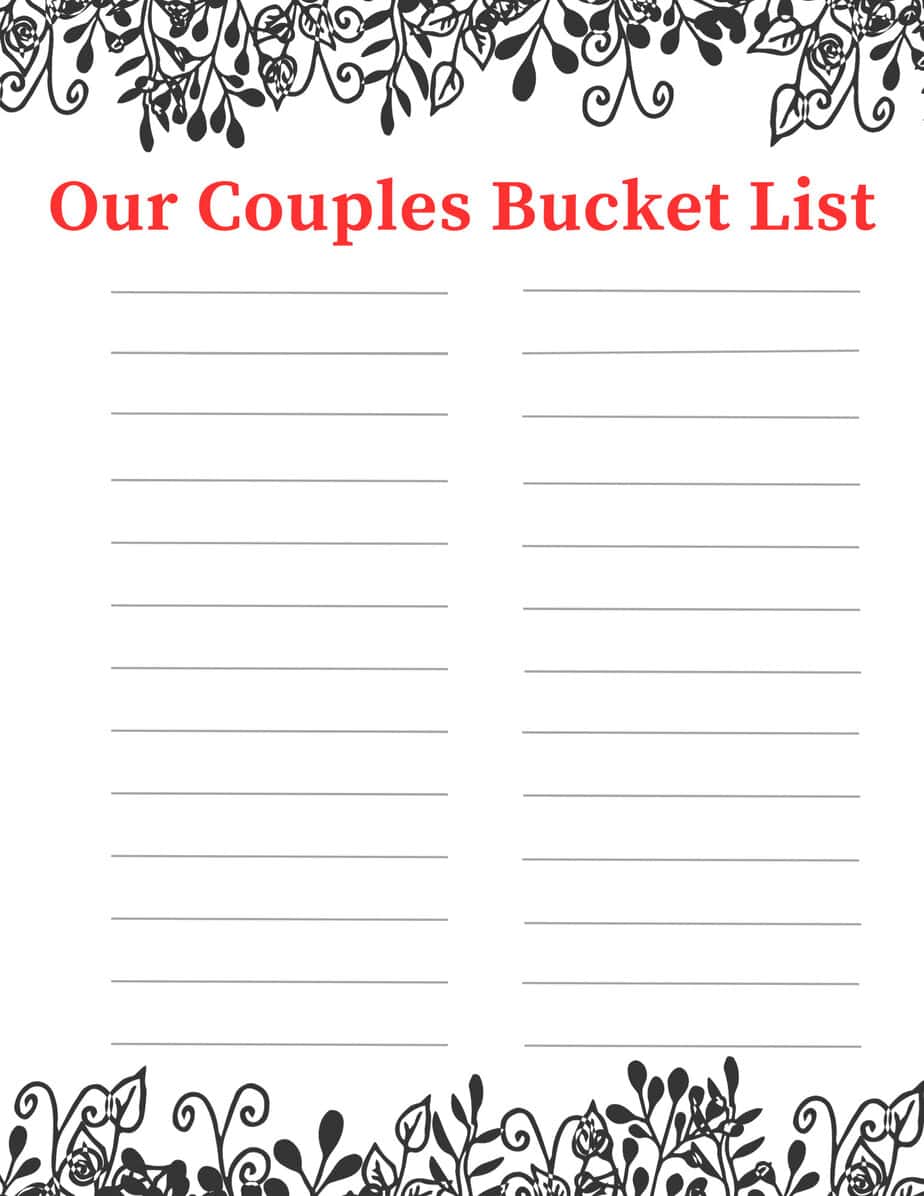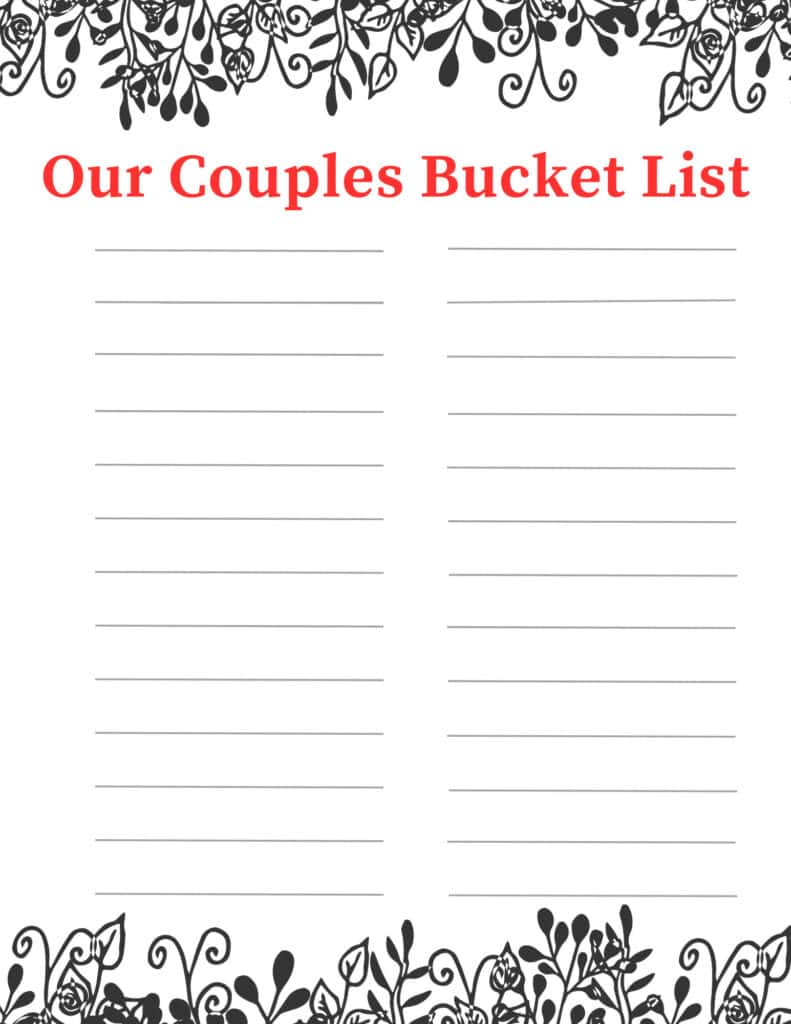 Ready to create the best couples bucket list EVER?! Let's dive in!
Romantic Bucket List – The Most Romantic Things to Do for Couples
1. Attend a wine tasting
Sip all the varietals and pick out your favorite to take home. Sounds like the perfect couples bucket list souvenir!
2. Dance 'til dawn
Looking for romantic things to do with your girlfriend? Take her dancing! Dancing is great exercise, of course, but is also undeniably romantic. Stay out all night as you sway to the rhythm of the music.
See More: 17 Fabulous Late Night Date Ideas
3. Go apple picking or berry picking
Getting out in nature and picking fruit is great in all seasons. This is a great activity for a boyfriend girlfriend to do together!
4. Bake together
After picking apples (or berries) head home and spend some time in the kitchen.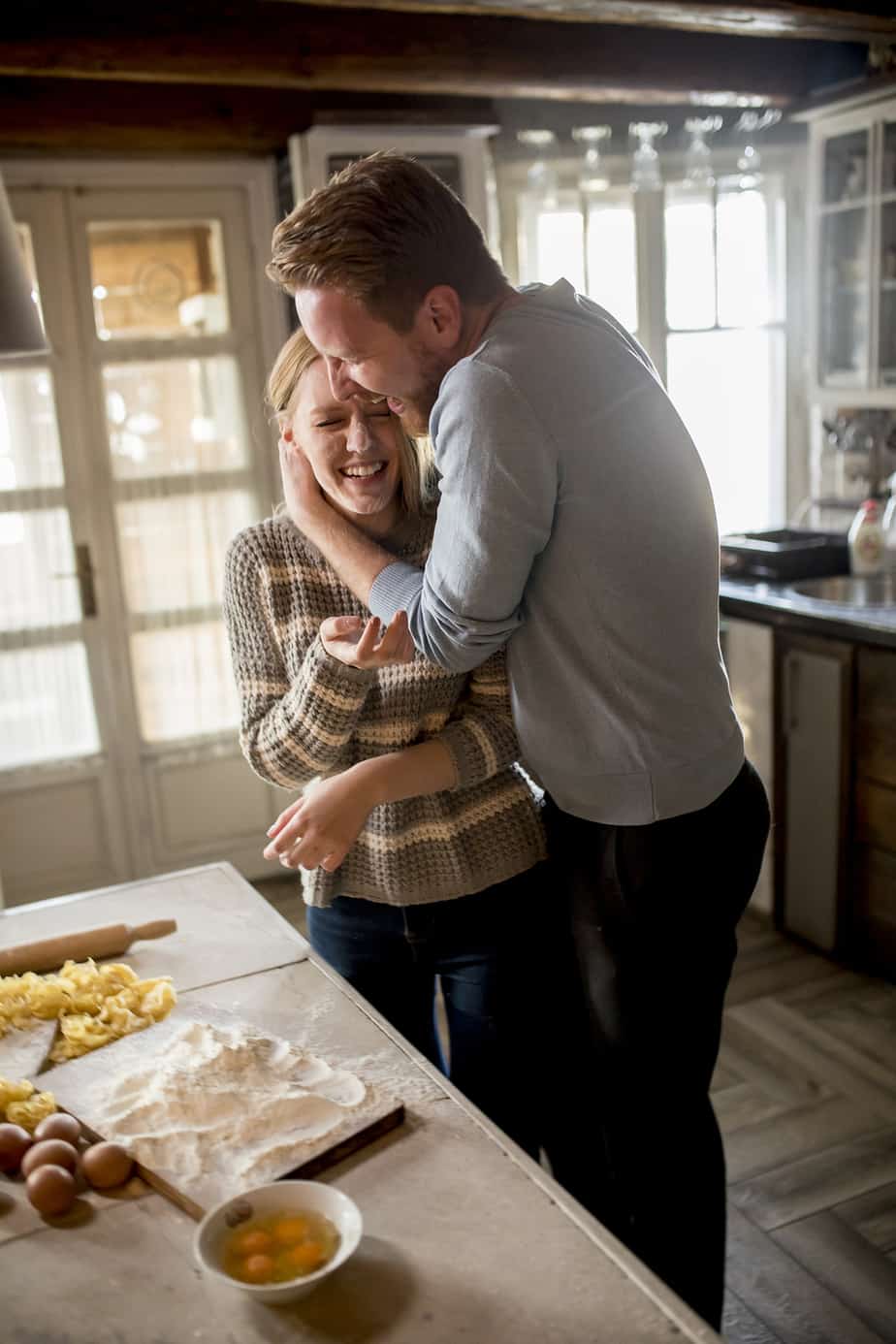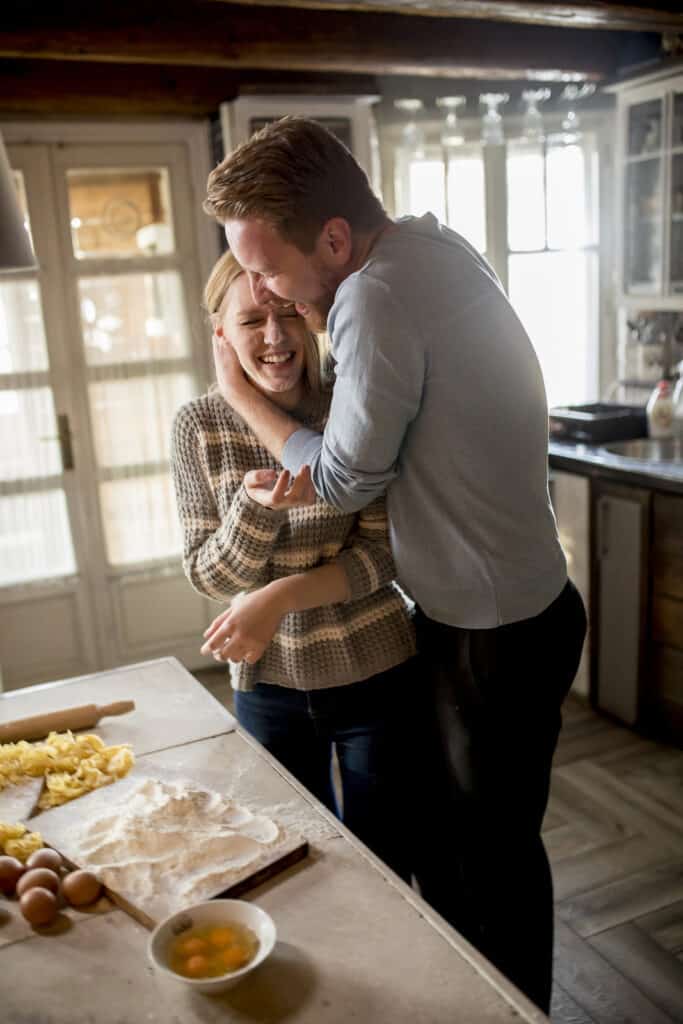 5. Have a couples book club, and read a book at the same time
Pick a great book and take turns reading it loud to one another. Or, check out multiple copies from the library and then discuss a chapter each day.
6. Build a blanket fort
On a rainy day, stay inside and bring back your childhood by building a blanket and pillow fort in your living room. This is definitely one of the sweetest things to do for couples.
See also: 25+ Adorable Rainy Day Date Ideas for You
7. Go on a romantic picnic
We suggest grabbing some wine, cheese, crackers, and fresh fruit and finding a beautiful spot to dine al fresco. Read Next: How to Plan a Picnic Date
8. Go skinny dipping
What could be more youthful and exciting than taking a midnight dip au naturel?
9. Jump in a pile of fresh fall leaves together
What is it that's so romantic about the fall season? One thing you definitely need to add to your bucket list of fall date ideas is playing in a pile of freshly fallen leaves.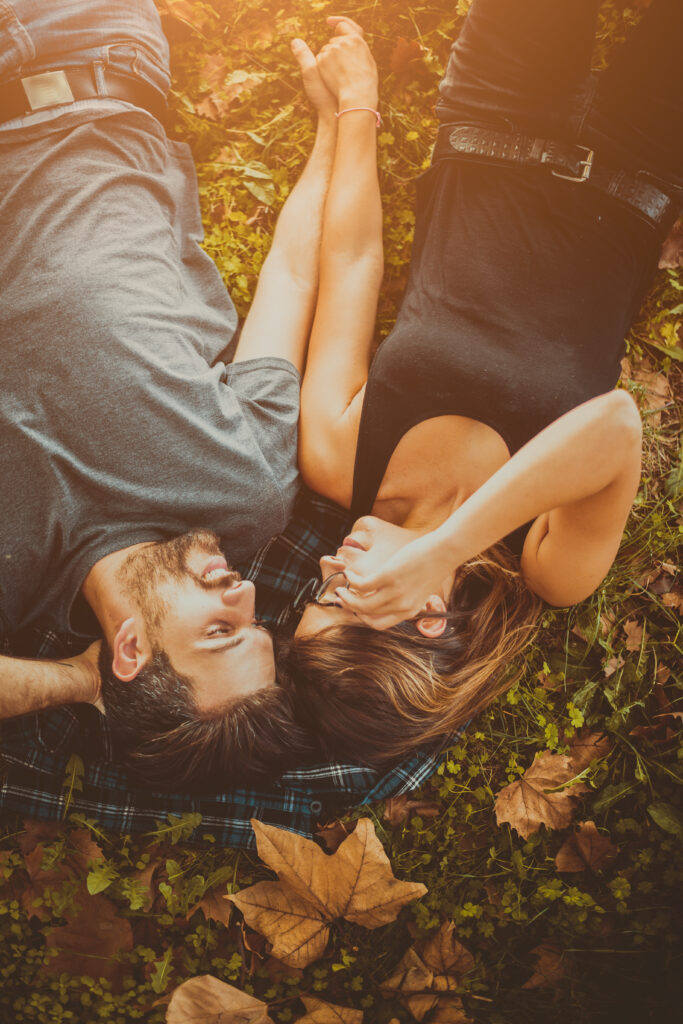 10. Ride in a hot air balloon
For us, this is such a huge couples travel bucket list item! We still haven't gone up in a hot air balloon, but it's definitely on our future itinerary. There are so many incredible places to go hot air ballooning and see gorgeous sites, including the iconic Cappadocia, Turkey. Or you could check out the famous hot air balloon festival held annually in New Mexico.
11. Paddle a rowboat around a lake
If you're extra romantic, you'll sing while you row. An essential addition to your list of romantic bucket list ideas for couples (or your list of romantic date ideas).
12. House sit for friends (or while you travel!)
Especially before you're married, "playing house" while house-sitting for friends is so adorable! Animal lovers should definitely jump on this, as taking care of pets is a fun and bonding experience.
13. Stay at a quaint bed & breakfast–even if it's in your own town
B&B's are a totally different experience—and one worth having. Relax and enjoy one another's company in these classic, charming accommodations. PS: This kind of staycation is one of our favorite cute date ideas.
14. Get a couples massage
On your couples bucket list, there should absolutely be some pampering and luxury. Why not get a couples massage? True pleasure is an epic full body massage for two! It's so lovely to lie side by side while you experience an utterly relaxing treatment.
If you're low on cash, consider spending an evening at home and creating a DIY spa experience. (Need more inspiration on fun things for couples to do at home? See all of our at home date might ideas here).
15. Go to a county fair
A county fair is so laid back and full of sights, sounds, and smells! And what's more romantic than sharing a Ferris wheel ride?
16. Host a couples game night
More team fun! Invite over a few couple friends and play your favorite board games.
See also: 13 Nerdy Date Ideas You'll Want to Try Out Immediately | 107 Never Have I Ever Questions for Couples
17. Eat dinner on a balcony with a stunning view
Dinner is all about the company…and the view. There are some amazing restaurants out there, and some luxury hotels with fab views. Room service, anyone?
18. Go to a museum and discuss the exhibits
Be hoity-toity and talk about the merits of each piece of art. Bonus points if you don't know the first thing about art.
19. Volunteer together
One of the best things to do as a couple is to make a difference. Do something meaningful for your community together with this memory-making couples bucket list activity.
20. Go ice skating
In the winter time, one of the most romantic activities for couples is ice skating, especially if it's on a natural pond or lake! Who knows, this item on your couples bucket list might become one of your annual holiday traditions together.
Read Next: The Best Christmas Date Ideas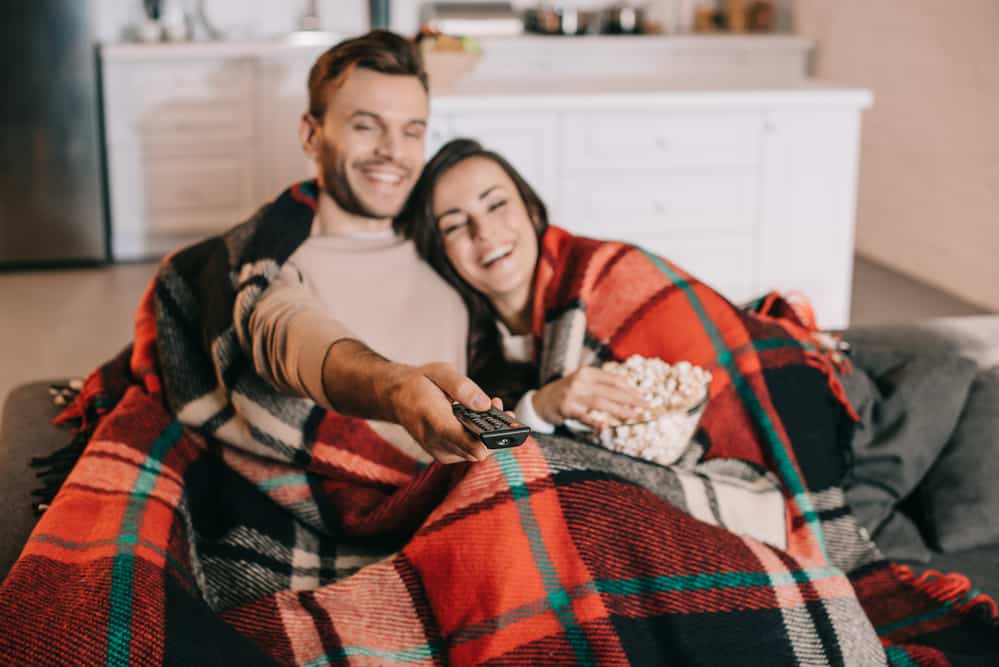 21. Watch each other's favorite movie
…even if you're not that interested. Your partner will love you for it! This is a simple solution when you need more date ideas for couples.
22. Binge watch a TV show together
Most of these bucket list ideas for couples have you getting out and about, but for this one, it's all about staying in for the day/night and bingeing an entire series (or at least a season). You can even do this if you're in a long distance relationship. (See these long distance date night suggestions!)
23. Make dinner for each other
As part of your relationship bucket list, take turns cooking for each other. Even if you're not much of a cook and your meal turns out terrible, you'll make a hilarious memory in the process. Here are some romantic recipes to get you started.
See also: Romantic Desserts for Two
24. Get busy outside
Not every bucket lists for couples will include this item, but it could be an exciting activity for you and the one you love. Always be safe and be courteous! A private outdoor space is definitely recommended!
25. Have a stay-in-bed-all-day weekend
26. Some of the most fun things for couples to do involves not even leaving the house. In fact, for this cute date night idea, don't even leave your covers. PJs optional.
27. Get "snowed-in" in a cozy cabin
Let it snow! Let it snow! Rent a cabin in the mountains and pray for a blizzard! If you've been looking for some winter date ideas, add this to the list.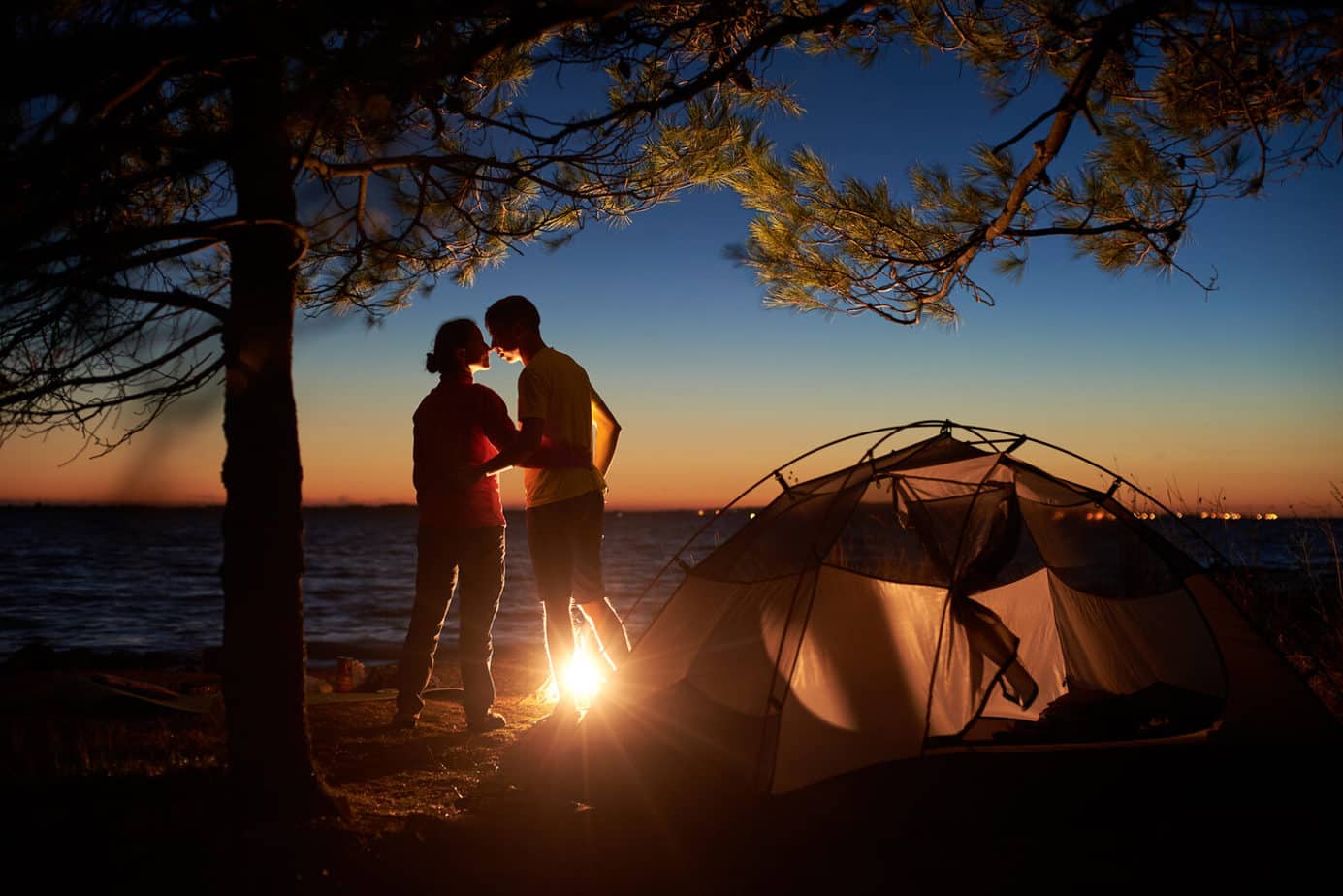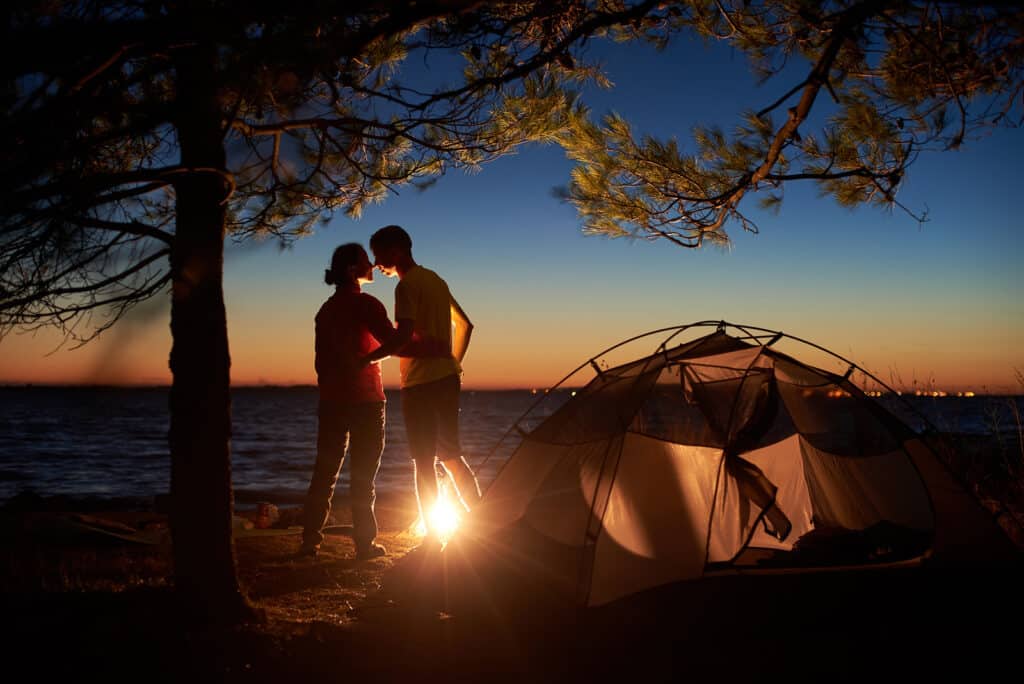 Couples Travel Bucket List
This list is not just about visiting bucket list places, but about having memorable and beautiful experiences together.
28. Sleep under the stars – or better yet, the Northern Lights
Camp somewhere with spectacular views of the night sky and revel in the mystery of nature. If you're not interested in tent camping, you could consider the more luxurious glamping.
Read Next: 10 Best Places to See Northern Lights in the USA
29. Swim with whale sharks – or other incredible wildlife
Dolphins, manta rays, whale sharks, take your pick. Swimming or snorkeling with wildlife is an unbelievable experience. A bucket list for couples is not complete without a wild adventure like this. (PS: Always choose a reputable organization that has eco-friendly, wildlife-friendly practices).
30. Admire some of the world's finest art in Florence
Head to Florence, Italy, or another of the world's best art destinations to take in the masterpieces. Discuss their meaning with one another—even if you understand exactly nothing about art!
31. Go backpacking in Southeast Asia
Backpacking is a classic travel bucket list item, and SE Asia is an outstanding place to do it. It's budget-friendly, warm, full of good food, beautiful beaches, and rich culture. You could also consider backpacking through Europe or another part of the world.
32. Go on a truly unforgettable road trip
Oh, what is better than an epic couples road trip? It's one of the coolest ways to experience a country or region and it brings with it its own relationship-boosting challenges. We've road-tripped around the USA, but also in other amazing parts of the world.
33. Stay overnight in a castle
Go back in time and feel like royalty with a stay in a castle. There are a bunch of these castle hotels, especially all over Europe.
34. See the pyramids in Egypt
An epic site that all people should try to travel to at some point. This is another world wonder that you will want to set your eyes on. We know we do!
35. Visit Disneyland
Bucket list travel ideas: visit Disneyland or Disney World! It's the happiest place on Earth, and you two will make it even happier!
36. Fly first class
Hot towels, free drinks. Everyone should travel this way at least once, so it deserves a spot on your relationship bucket list!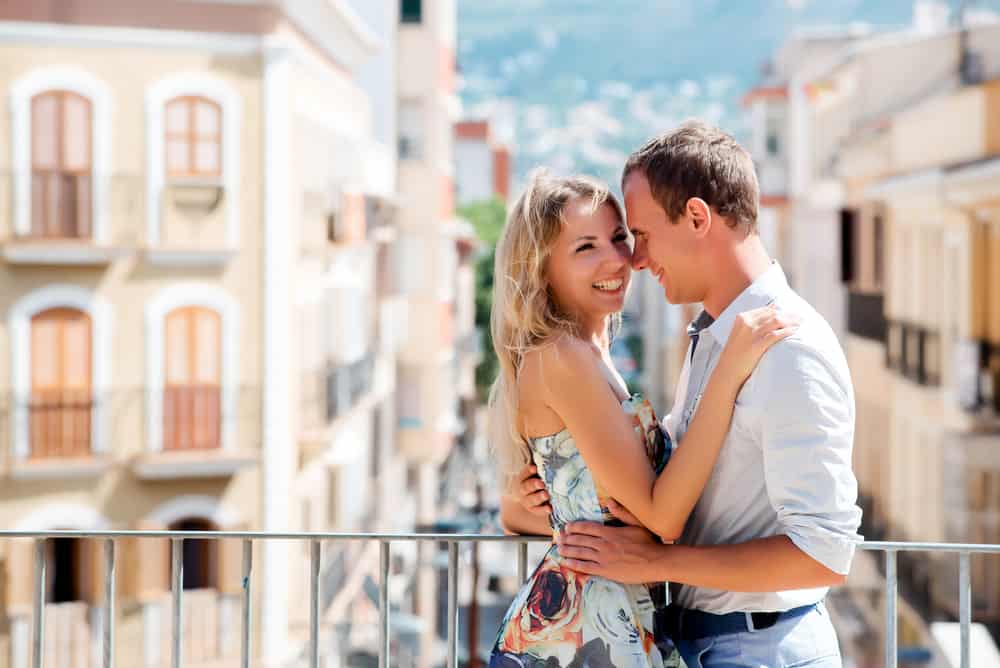 37. Throw a coin in the Trevi Fountain
Ah, romantic Rome! Toss a coin over your shoulder into Rome's most iconic fountain and legend says you will someday return.
Pro tip: Go early in the morning or late at night to avoid the crowds at this popular spot.
38. Walk the Great Wall of China
One of the world's ancient and fascinating wonders. If you're really intrepid, you could sign up for (and train for) the Great Wall Marathon together. Talk about some serious physical challenges for couples to tackle together!
39. Stay in a super luxurious hotel
You MUST have the experience of a totally luxe hotel stay when traveling with your partner. Maybe this will be for your honeymoon, but don't wait to get married: find an epic hotel and book it.
See also: 12 Most Romantic Hotels in the World
40. Go to a tropical paradise together
This should be a fairly easy one to check off your couples travel bucket list. Who doesn't love a beachy paradise? We've got a sweet list of the world's romantic destinations.
41. Visit a seriously cheesy tourist trap…like the world's largest ball of twine in Kansas, USA
One of the most memorable things couples can do together (or one of the cheesiest date ideas) is to see a lame tourist icon, and laugh about it together. Don't forget to take a couples selfie!
42. Ride camels across the Sahara (or another desert)
My husband has already done this…and I am very jealous. This is truly a couple's travel experience that will be a once in a lifetime.
43. Eat sushi in Japan
There's nothing quite as cool as eating authentic local cuisine in its country of origin. If not in Japan, dine locally in the country of your choice.
44. Soak in Iceland's Blue Lagoon
Iceland is a hot destination, and the Blue Lagoon is one of the most romantic spots of all. Go soak with your partner and reap the benefits of the healing, soothing hot springs.
45. Stand in awe at the Grand Canyon
Want this to be a great couples bucket list? Don't miss the Grand Canyon. Together, you must stand in awe of one of the most spectacular places on earth.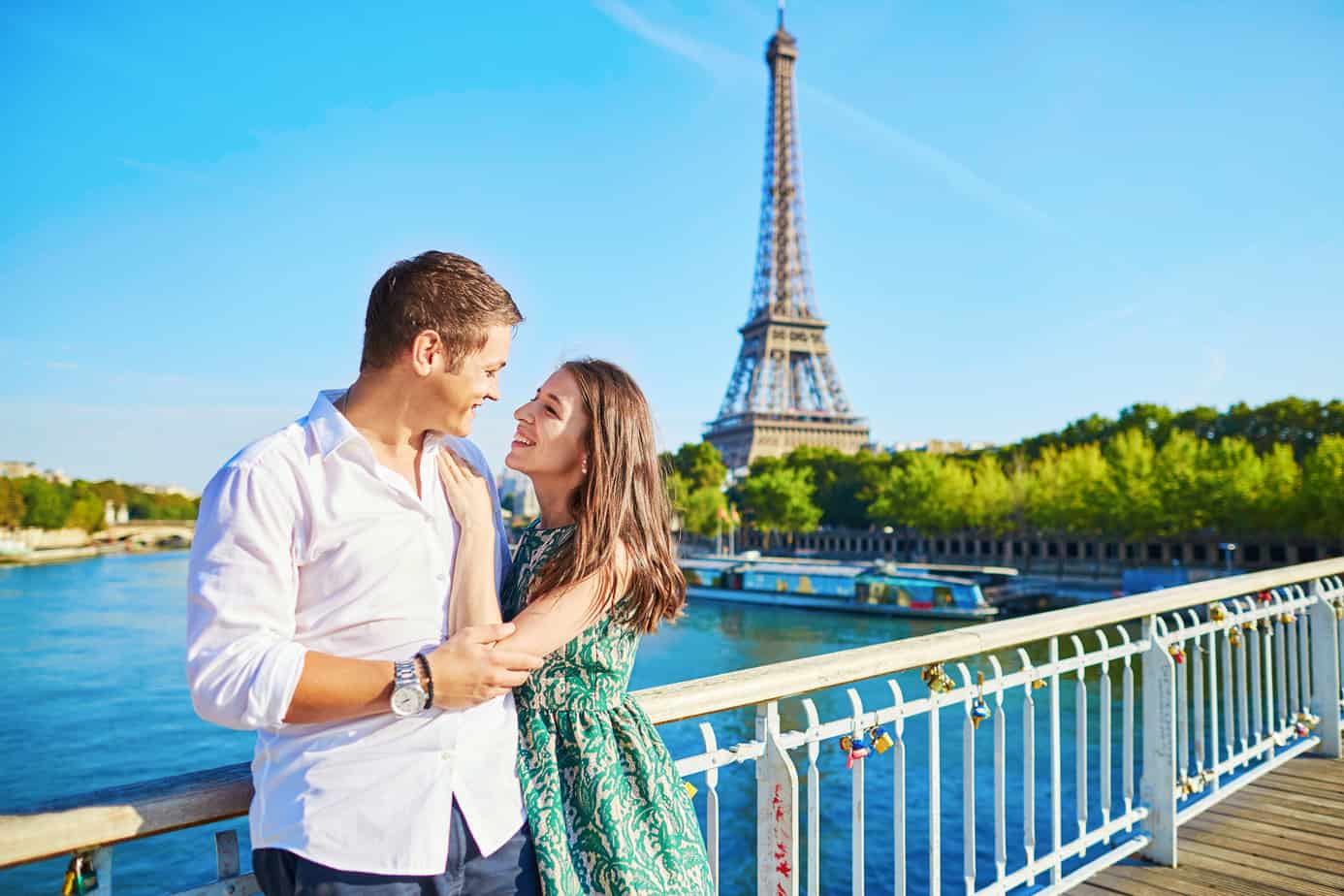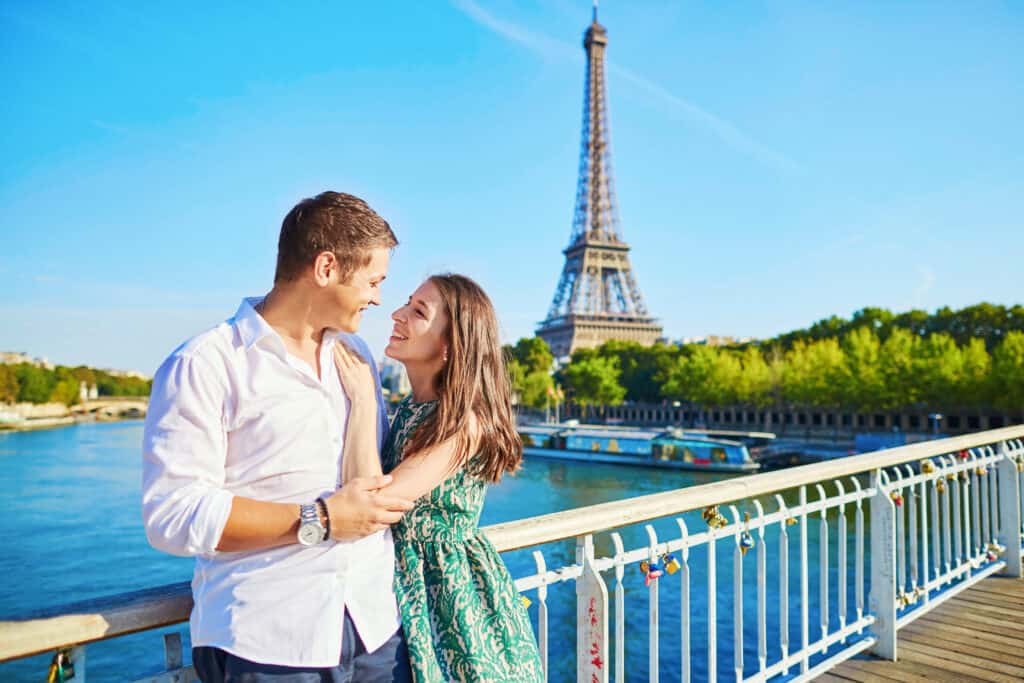 46. Be totally sentimental and kiss in front of the Eiffel Tower
You have to plan a romantic Paris trip at least once. You just have to! And then kiss in front of the most iconic symbol. Nothing says romantic couple activities like smooching in the most romantic city on Earth. The classic City of Love beckons all lovers to visit.
Check more of the most famous landmarks off your bucket list, too!
47. Ride in a gondola in Venice
Another iconic place to take the love of your life: Venice, Italy. Hop onto a gondola for a delightful ride through its canals.
48. Drink whisky, eat haggis, and explore the highlands in Scotland
Scotland is intrinsically romantic. In fact, it's where we Two Drifters first met! Travel the mystical highlands together, indulge in whisky, and fall deeper in love.
49. Party in Ibiza
Do this while you're in your 20s or 30s….oh hell, do it whenever you please! Ibiza is the epicenter of European party life. Go dancing until dawn and then lay on the beach all day.
50. Take a boat down the Amazon River
One of the most captivating journeys, surely, and another opportunity to see incredible wildlife.
51. Catch a sunset in Santorini
The most romantic sunsets on earth just might be found in this Greek city. This would be a great place to jet off on your honeymoon, after a perfect wedding day.
52. Visit an ancient city
Fancy yourselves intrepid explorers and travel to one of the world's oldest cities or civilizations with this couples bucket list item!
53. Act like total tourists in New York City
The Empire State Building, hot dogs, Times Square, the Statue of Liberty: do it ALL. There's something liberating about acting like the perfect tacky tourist. The two of you will laugh very hard about this day.
54. Visit Rio during Carnival
One of the world's most famous events, Carnival, is a great bucket list choice for couples.
55. Stay in an ice hotel
Seriously cold, but also seriously cool. There are a number of ice hotels that pop up every year. PS: You can hold each other for warmth!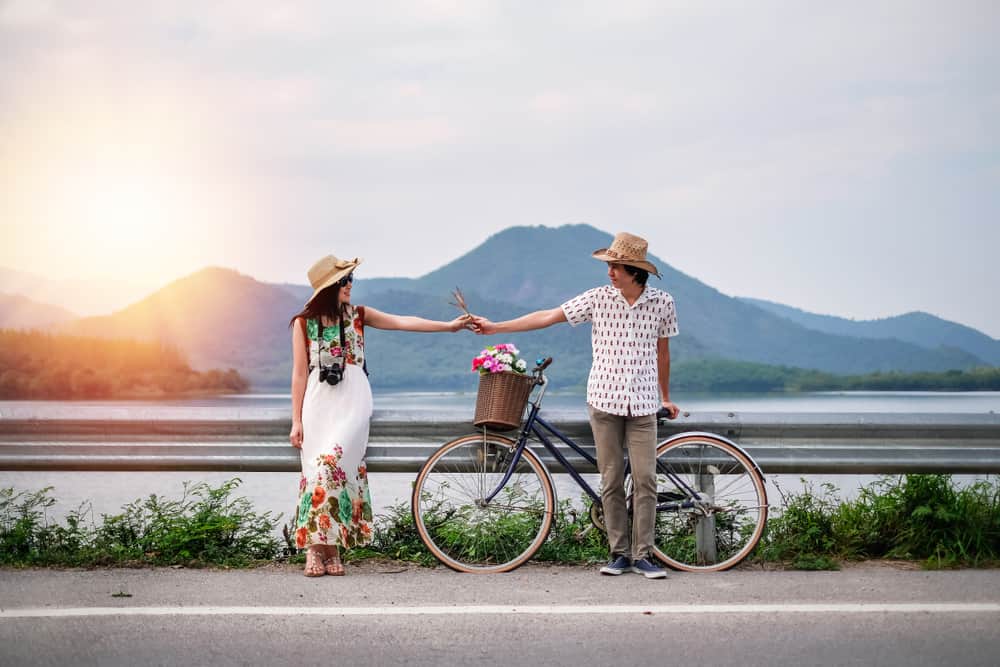 56. Explore a rainforest
So many amazing creatures and lush vegetation to be seen while doing this relationship bucket list activity. We definitely recommend traveling to one of the Earth's most amazing ecosystems.
57. Swing at "the end of the world"
In Ecuador, you can swing at the end of the world. Beautiful views and a bit of a thrill. Add this to all of your couple bucket lists!
58. Learn to sail
A great challenge for the mind and body, plus tons of fun, you'll both have a blast doing this couples bucket list item!
59. Hug a koala, panda, or sloth
Find a responsible wildlife provider and let your dreams come true. Searching for sweet things to do for your girlfriend? Book her a date with her favorite animal. This is such a cute and unique couples bucket list experience!
60. Eat tapas in Barcelona
Barcelona is a gorgeous and delicious city that all couples should explore. If you're looking for fun anniversary ideas, consider this a hint and book a trip to surprise your S.O.
61. Feed kangaroos together in Australia
One of our favorite things to do as a couple is to see wildlife. Petting kangaroos (in an animal sanctuary) was definitely one of the best things we ever did. Head down under to find Australia's iconic animal.
See also: 13 Romantic Things to do in South Australia
62. Stay in an overwater bungalow
Any bucket list ideas for lovers should include experiencing romance and adventure in a place that is stunningly beautiful.
Have you seen those gorgeous overwater bungalows in tropical places? What a dream! Being only steps away from the sea is utter paradise.
63. Go on a cruise
Cruises can offer some fantastic destinations. It's a different way to travel than you might be used to, but it's one every couple should experience together. Climb on board!
64. Head to Munich for Oktoberfest
A massive festival of beer, food, and fun, Oktoberfest is a travelers' bucket list item you won't want to miss. Do it together, wearing a dirndl and lederhosen of course.
65. Go on a safari in Africa
A dream trip, for sure. A safari in Africa is sure to be endlessly thrilling with plenty of romance as well.
Adventure Bucket List: Adventures for Couples
66. Take a helicopter ride
Such a thrill! If you can find an exciting destination for your couples helicopter ride, even better. Hawaii seems to be a great spot for this activity, with its lush green landscape and the surrounding ocean.
67. Fly in a private jet
Another of your airborne couples adventures! You might need to save your pennies for this, but a ride in your own private jet could be a once-in-a-lifetime must-do. Take it one step further and plan this as secret surprise for your partner.
68. Go scuba diving
Head deep underwater to discover a brand new world below the surface. You'll love learning how to dive together and tackling new challenges together is something that is always great for your relationship.
69. Go deep-sea fishing
Reel in a big one! This is perfect for romantic things to do with your boyfriend, husband, or literally anyone who gets a thrill from catching huge fish!
70. Be on a game show together
If you can make it happen, nothing would be more memorable than this! Teamwork makes the dream work….and maybe wins you some money! How fun would this relationship bucket list experience be?
71. Attend a sports game together
Grab your honey and go and cheer on your favorite pro sports team.
72. Go snorkeling
Looking for adventure date ideas? You don't have to go far under the water for an epic experience. You can see brilliant colors and abundant wildlife in the shallower parts of the sea. Snorkeling is so much fun, and anyone can do it. We loved snorkeling off the coast of Australia.
73. Catch the sunset from the top of a volcano
Talk about a once-in-a-lifetime experience! Haleakala National Park in Maui, Hawaii is a perfect place to experience this.
74. Escape from an Escape Room
Not just something for a nerdy date night anymore, Escape Rooms are all the rage. We're willing to bet your city has a few! Grab your partner and go play this super-fun, interactive game. It's best with friends, as you'll need all the brainpower you can get to solve the puzzles.
75. Charter a yacht
Luxury living for a week! Charter a private yacht somewhere glorious for a memorable couples bucket list experience.
76. See the sunrise from the top of a mountain
At some point in your relationship, climb a mountain together before dawn so you can share a spectacular sunrise. This is one of the ultimate adventures for couples and it offers plenty of romance. Turn your date night into a date morning!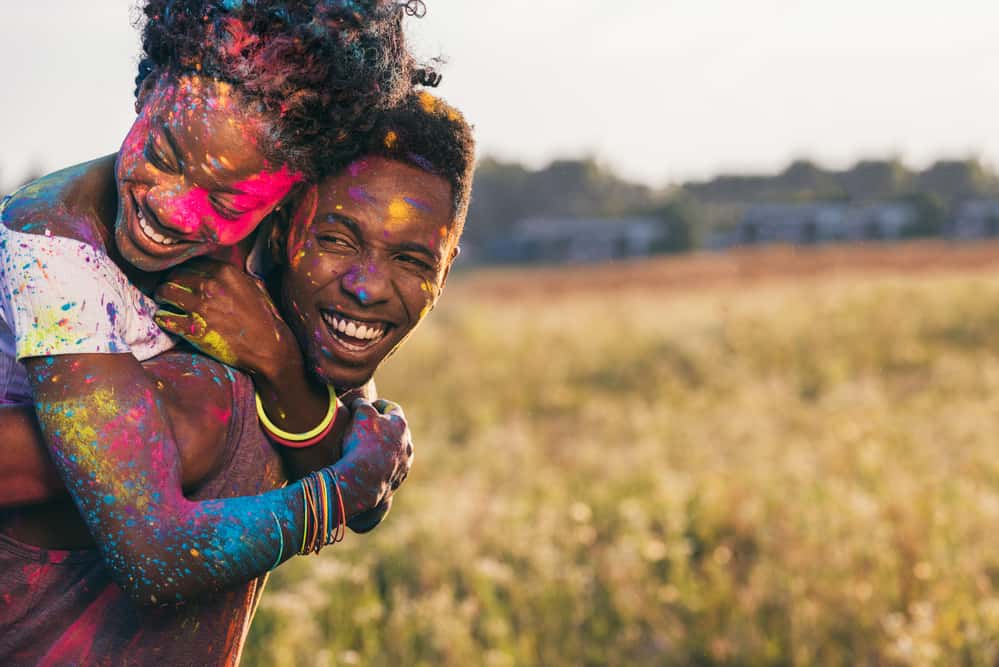 77. Run a 5k, marathon, or participate in another physical challenge together
Smash those goals side by side. Then enjoy celebratory beers/cocktails afterward.
78. Do something crazy & scary – skydiving, bungee jumping, etc
Pick your brand of scary when it comes to date ideas! Skydiving isn't for everyone… The key is to choose something that excites you both (and freaks you out slightly) and just go for it! How about volcano boarding in Nicaragua? Or swimming in Angel's Pool in Zambia? These are great options for unique and fun things for couples to do.
79. Rock out at a music festival side by side
Music brings people together. Attend a multi-day festival for the full experience, especially because you can listen to a variety of artists you love.
80. Visit an epic waterfall
If possible, bathe in it. Seeing a waterfall together is a wonderful date activity, but swimming in a waterfall together? That's an excellent couples bucket list experience!
81. Rent an RV
Speaking of road trips, you should absolutely go on an RV road trip at some point together. If you really want to boost your relationship through some challenges, this can provide!
See also: The Ultimate USA Road Trip Playlist
82. Learn a new language together
Not only is this beneficial for your travels, but it will also expand your minds.
83. Attend a massive New Year's Eve celebration
Celebrating New Year's Eve together is truly romantic. At last one of your NYE's should be spent at a massive party. Fireworks, champagne 'a-flowing, revelry. Ring in the New Year in a huge crowd and don't forget to kiss at midnight. This is one of my personal favorite couples bucket list ideas.
See Next: Our favorite New Year's Eve date night ideas.
84. Go white water rafting
Work together & with your group to battle your way down the rapids. We haven't done this yet, but it seems like the peak of adventurous things to do with your girlfriend or boyfriend.
85. Experience a total eclipse
One of the most phenomenal couples experience for us in 2017 was the total solar eclipse that crossed the USA in August. We were honestly utterly in awe at this miracle of nature. You should absolutely plan to witness an eclipse with your sweetheart if possible. Here's a list of all the upcoming eclipses. PS: There's one in 2024!
86. Ride horses along the beach
Isn't this one of the top cute things to do as a couple? What an epic date night plan. Riding horses side by side sounds incredible. A pretty breathless experience, to be sure. Pick an insanely beautiful beach. Ride an insanely beautiful horse. Have an insanely beautiful relationship bucket list experience.
87. Climb a tall mountain
Push your boundaries and touch an impressive peak. Everest would be good, but any mountain will do! Hiking an epic spot is an incredible couples bucket list experience.
88. Stay in a tree house
As a child you no doubt wanted to live in a tree house. Now you can….at least for a few days!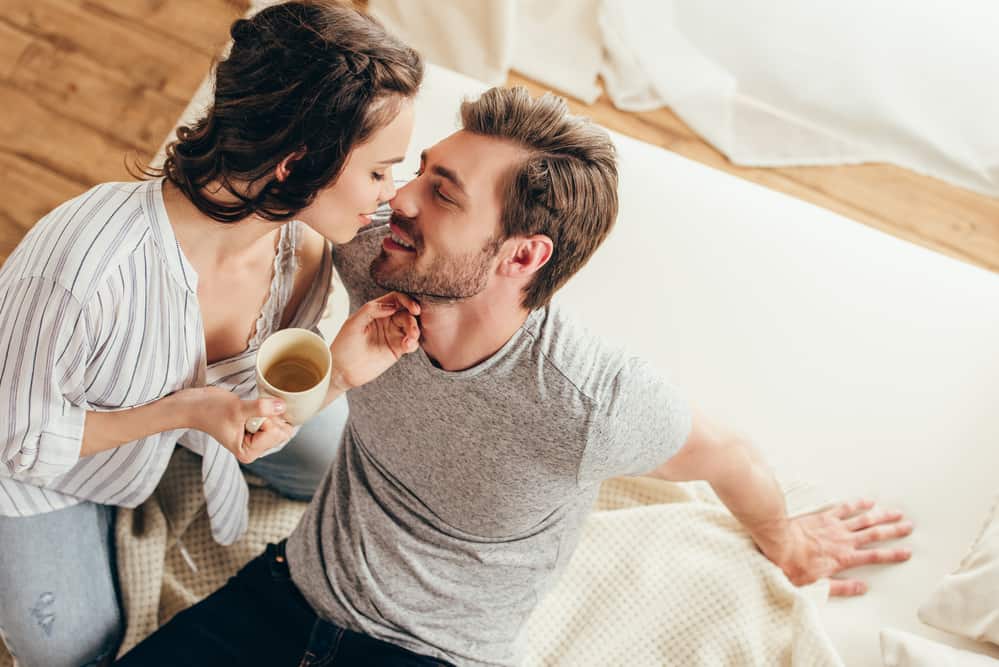 Married Couples/Relationship Bucket List
89. Do something completely unselfish for the other person
Working on selflessness is one of the 12 principles in our guide to relationship advice for couples. This couples bucket list item only has you doing it once! (We definitely recommend doing this one over and over again!) What unselfish action you take is completely up to you, but do this thing without expecting anything in return. It will make you a better person and strengthen your relationship times 1000.
90. See where your sweetie grew up: visit one another's hometowns
That's where I went to high school! That's the house I grew up in! Share your memories with your S.O.
On the trip, you can ask each other some of these great conversation starter questions for couples.
91. Kiss in the rain
Put this on your list of cute couple things to do. Just do it. It's a requirement. Dancing is also highly suggested.
92. Learn to dance
Speaking of dancing, every couple should learn to dance together. As an added bonus, if you sign up for a dance class, you've got several weeks of date night plans all set up and ready!
93. Find your special song.
Need some inspiration? We've got a list of some of the most romantic love songs of all time. It's really special to find the song that makes you think of the other person, or think of your love story. Our song is our wedding song "Wilder" by Brandi Carlile.
Finding your song is definitely an item that tops a list of "cute bucket list ideas with boyfriend."
94. Take a cooking class together
Crafting a delicious meal together is a terrific way to laugh, learn, and eat…plus it will give you meal prep skills for the future.
See also: Top Date Night Gift Ideas for Couples
95. Find out how the other takes his coffee.
This is one of my favorite simple bucket list ideas for couples. It's sweet and intimate, and it makes ordering at Starbucks so much easier.
96. Recreate your first date
It's always a good excuse to relive that early-relationship magic. On your next date night, try your best to recreate every nuance of that first date.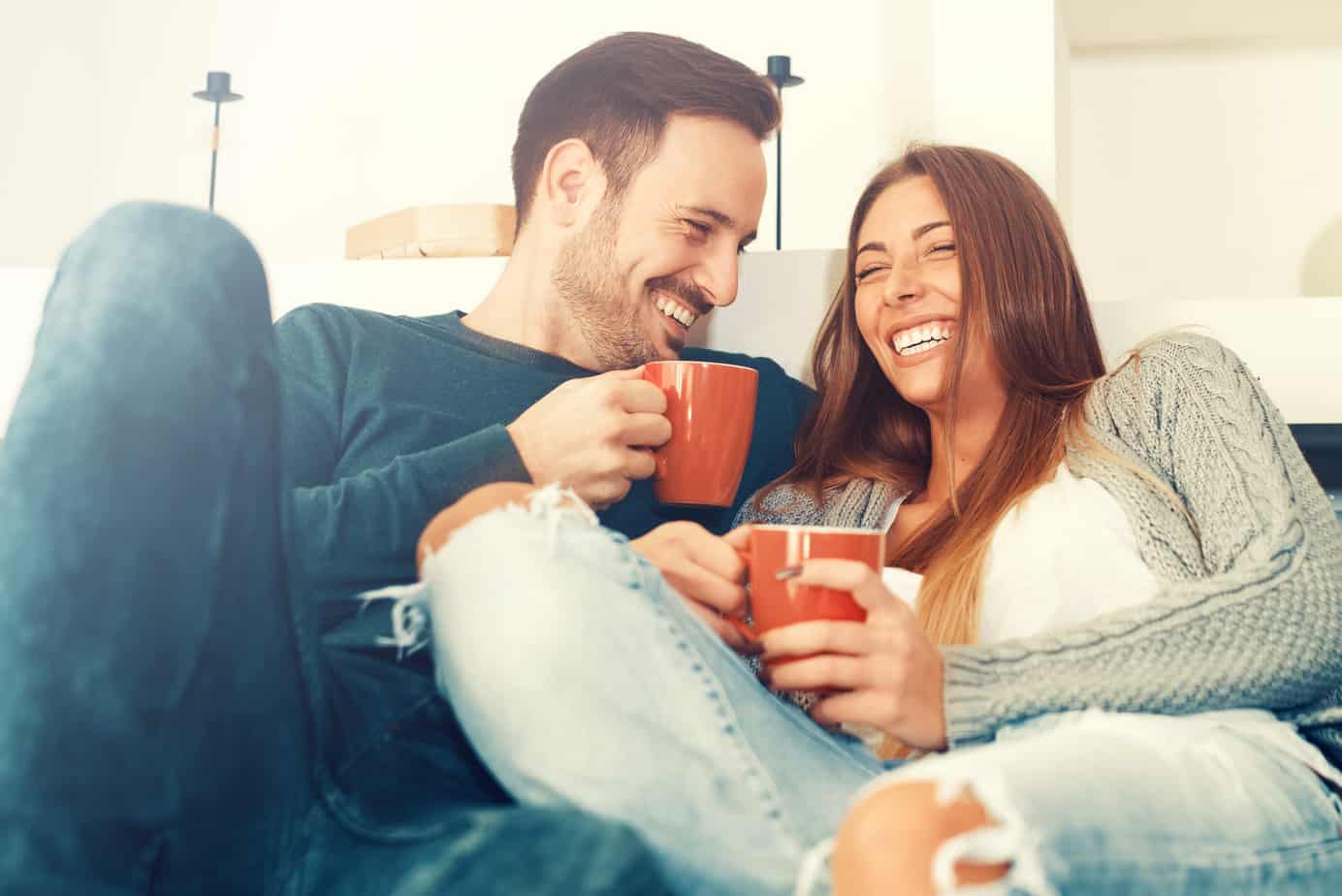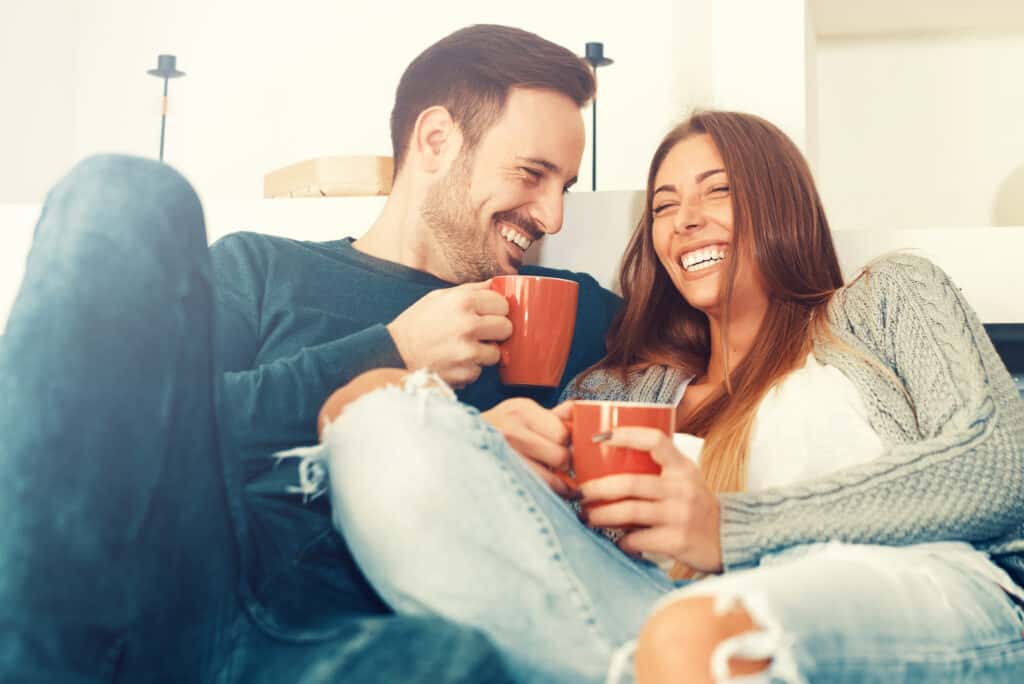 97. Celebrate every anniversary
These milestones are so important in a relationship! Always be sure to mark them and celebrate together.
98. Have a romantic photo session
You deserve a gorgeously romantic collection of photos you can treasure forever.
99. Write love poems to one another or love letters
Go ahead, be sappy. There's something seriously sweet and genuine about writing poetry for one another.
100. Set real relationship goals, and work to achieve them
Create authentic goals you hope to achieve in your relationship. This is incredibly bonding and a surefire way to keep your partnership strong. You can make a list of these on your next date night.
101. Share your true feelings
No matter what adventures you take with your partner, be sure to pursue the most amazing adventure of all: love.
---
We've got even more date ideas and bucket list items for you! Check out these posts and see what you can check off this list on your next date night:
---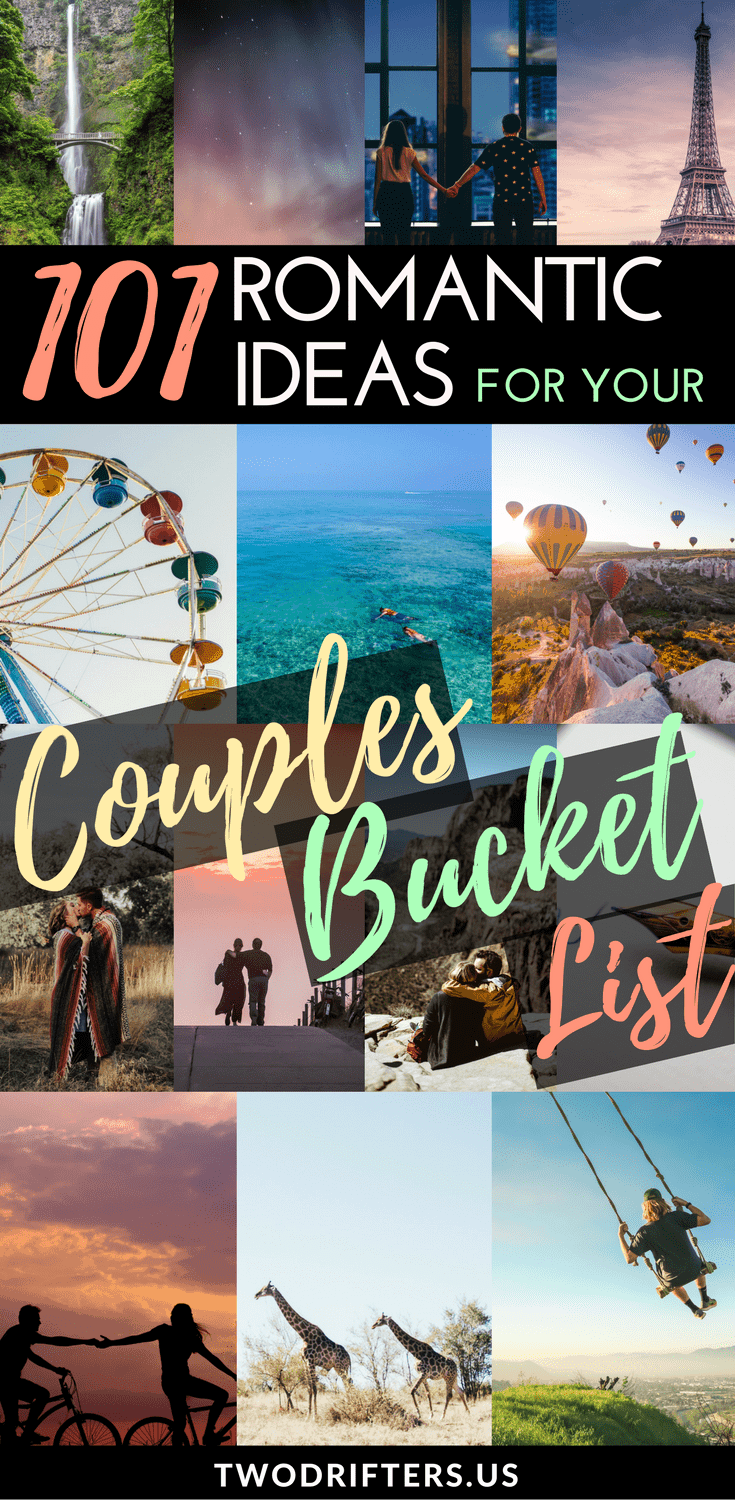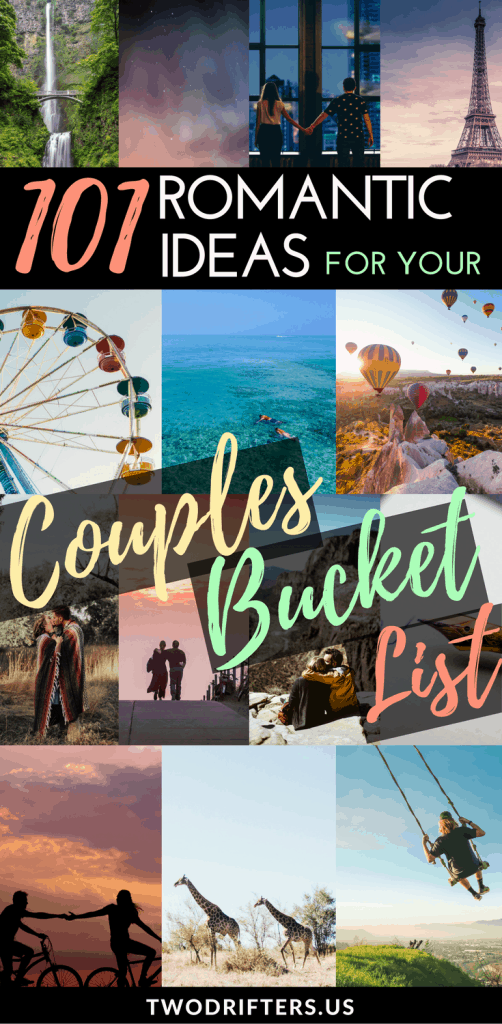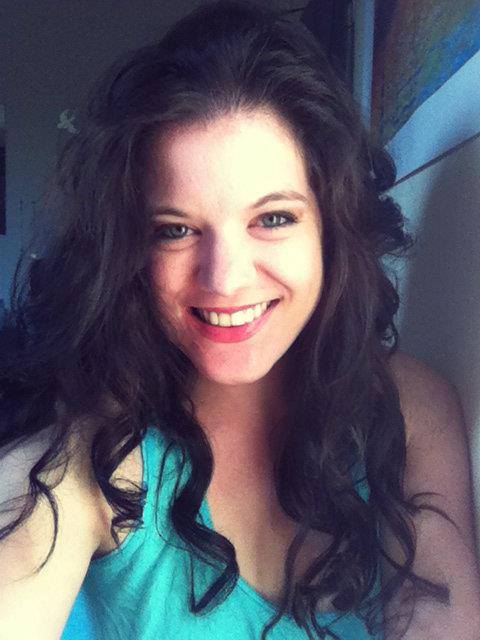 Amy Hartle is the author of Do You Love Me? How To Stop Seeking Reassurance in Relationships, a book on reassurance seeking and relationship anxiety. Both her book and this blog are born of personal experience; Amy shares expert relationship advice from the lessons learned during her own 10+ years with her husband, as well as couples travel tips and romantic getaway recommendations, all gleaned while traveling the world together.