This post may contain affiliate links. Read our disclosure page for full details.
Travel in America is synonymous with the open road, with taking a road trip to see some of the nation's most beautiful sites. But which routes make for the best road trips in the USA?
If you don't have months to spend road tripping the whole of the US, what should you prioritize?
We haven't been everywhere, but like the quote says, "it's on our list!" To help us create this ultimate guide to the best American road trips, we asked some of the most well-traveled people we know: our fellow bloggers.
Together, we've come up with a collection of fantastic USA road trip routes, spanning all parts of the country.
Craving a sunny Southern adventure? We've got it. Want to see the best fall foliage in New England? We know the perfect road trip. Whatever your desires (and however long you have) consider this article your essential USA road trip planner.
So, where will you go first?
The Ultimate Guide to the Best USA Road Trips
We've divided these great American road trips by region. Some of that, like the famous Route 66 for instance, could fit in multiple categories since they cover more than one area of the country.
For each road trip route, we've included the approximate distance you would travel from start to finish. Keep in mind that this does not account for stops, detours, or any additional mileage, but refers to the rough distance you would expect to cover along the entire route.
We've also included recommended time frames for when to take these terrific United States road trips (the slower you can go, the better), plus suggestions for the best time of year to travel. But no matter what, you'll definitely be visiting some of the top destinations in the USA!
Western USA Road Trips
Some might argue that the best USA road trip is one taken through the American West. It would be hard to dispute this, given the spectacular scenery and vast, open roads in the Western states. Here are some of the best road trip routes to follow in the Western US.
California US-395: Joshua Tree –> Yosemite
Distance: 375 miles
Suggested itinerary: 1 week
Recommended for: mid-September to mid-October
US-395 is a beautiful back road that stretches from southern California all the way north to the Canadian border. Though the route encompasses over 1300 miles, we're going to focus on the most scenic and attraction-filled stretch between Joshua Tree and Yosemite National Parks.
Joshua Tree National Park is a dynamic desert paradise in southern California. Situated 150 miles south of Las Vegas and 100 miles east of Los Angeles, this under-appreciated park is a great place to start a California road trip. After spending a day or two exploring everything Joshua Tree has to offer, head north on CA-247 to the junction with Historic Route 66 in Barstow.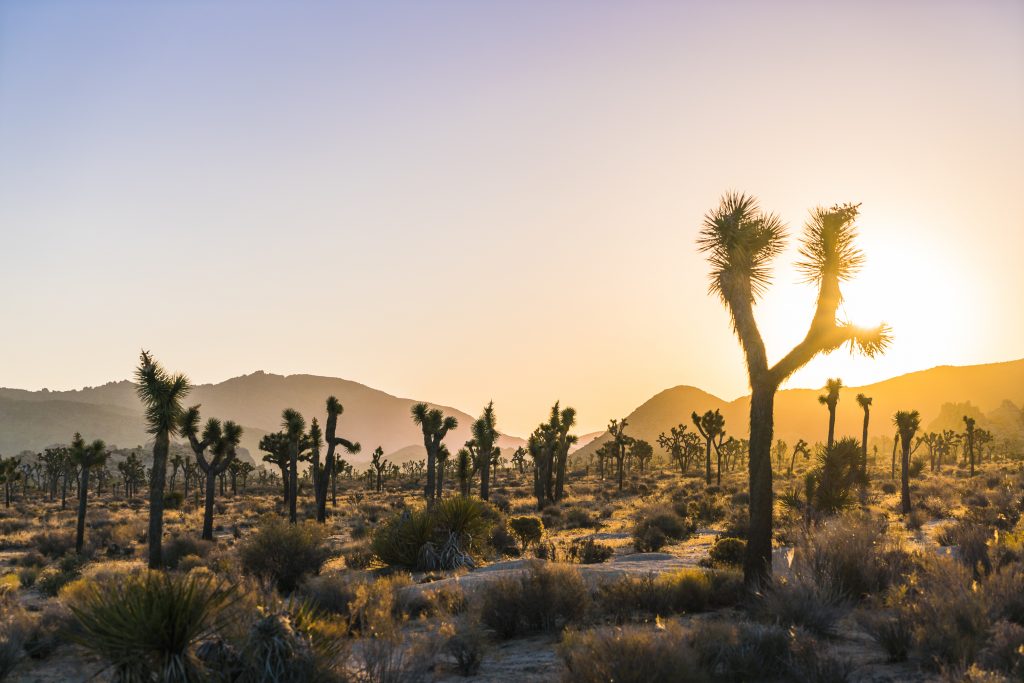 After a kitsch-filled pit stop in Barstow, head east on CA-58 to pick up US-395. Traveling the length of California via 395 is a great way to experience the highly diverse natural scenery of the state. From Joshua Tree, the vast lonely expanse of desert slowly morphs into the dry mountainous terrain of the Eastern Sierras.
With Mojave National Preserve and Death Valley National Park to the east and Sequoia National Forest and National Park to the west, this first leg of 395 offers plenty of options for places to stop and explore, or even camp, if you're feeling adventurous.
Heading further north envelopes you in mountains on both sides – desert crags to the east and snow-capped shrubby peaks to the west. You'll pass Kings Canyon National Park, North Palisade Peak, the thick towering woods of Inyo National Forest, and the utterly breath-taking Mammoth Lakes ski region.
Hook a left onto CA-120 at Mono Lake, and carve your way up the switchbacks and over the mountains guarding the world-famous Yosemite Valley. And if you have a couple of days to spare, jump back on 395 and head another 110 miles north to Lake Tahoe!
(Submitted by Scott, Take Back Roads)
---
Route 66
Distance: 2400 miles
Suggested itinerary: 1-2 weeks
Recommended for: Spring and fall
Known as The Mother Road, Route 66 stretches from the Midwest to the Pacific Ocean. Beginning in downtown Chicago and ending at Santa Monica Pier, this epic road trip covers more than 2,400 miles through eight states. It's one of the original highways in the U.S. Highway System, and driving it is to travel America's past.
Much of the original alignment has been replaced by interstates, but there are still many miles of two lanes where you can see some of the country's quirkiest roadside attractions. You'll want to allow at least one week, and preferably two, to make sure you can stop frequently.
And you will want to stop often.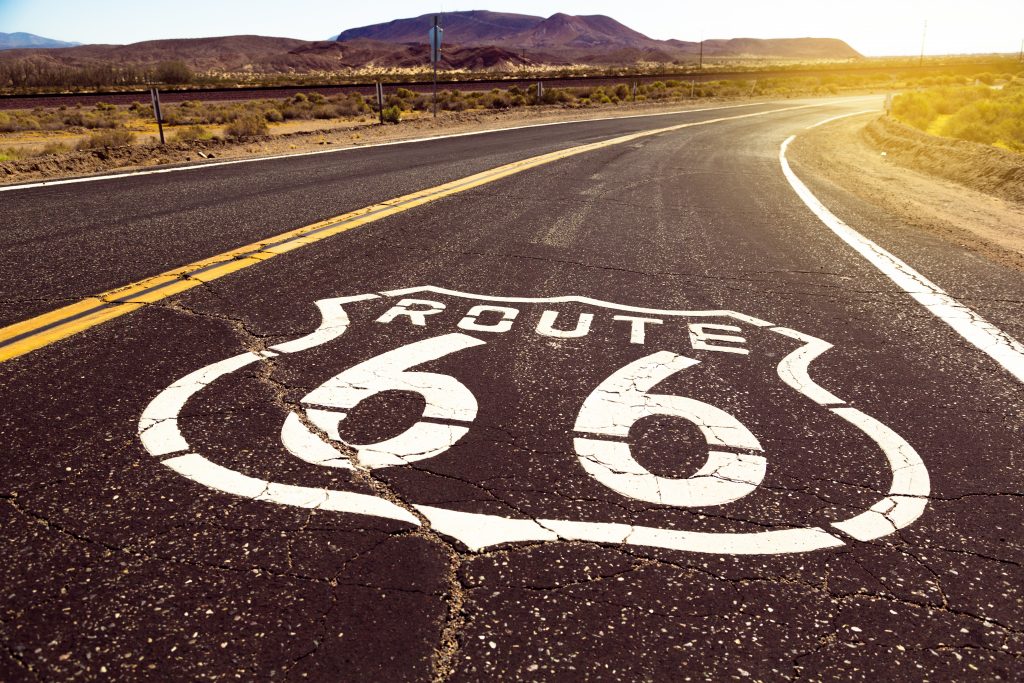 There are giant Muffler Men in Illinois, the Wagon Wheel Motel in Missouri, a giant blue whale in Oklahoma, and Cadillac Ranch in Texas. There's even a Singing Road in Albuquerque; drive exactly 45 MPH and that stretch of Route 66 plays America, the Beautiful. Other stops include an abandoned mountain lion zoo, a corner in Winslow, Arizona, and a mining town populated with roaming donkeys. It's a string of ingenuity and Americana.
The best times of year to drive Route 66 are Spring and Fall. During the milder seasons, you'll avoid snow in Northern Illinois and through Arizona's and California's mountain passages. You'll also miss some of the blazing heat in the Mojave Desert.
Of course, the best part of driving Route 66 is the people you'll meet along the way. When you drive through these small towns and historic landmarks, take a moment to meet those who are keeping this piece of America alive.
(submitted by Theresa, The Local Tourist)
---
San Francisco, California –> Crater Lake National Park, Oregon
Distance: 524 miles
Suggested itinerary: 1 week
Recommended for: Summer and early fall
A road trip from San Francisco to Crater Lake National Park is full of surprises. It goes along HW 101 (with small detours) and features a variety of volcanic activity en route that will capture your imagination.
You should allocate one week for this trip. The first stop on this trip is at the town of Redding which is a great place to explore attractions within 40 minutes' drive radius from town, which includes Lassen Volcanic National Park and Mc Arthur Burney Falls State Park.
Lassen Peak at the center of the Lassen National Park is an active volcano which results in a variety of unique geological activity like steam vents and sputtering hot mud. There are a lot of beautiful hiking trails in the park featuring mountain streams, lakes and the aforesaid volcanic activity.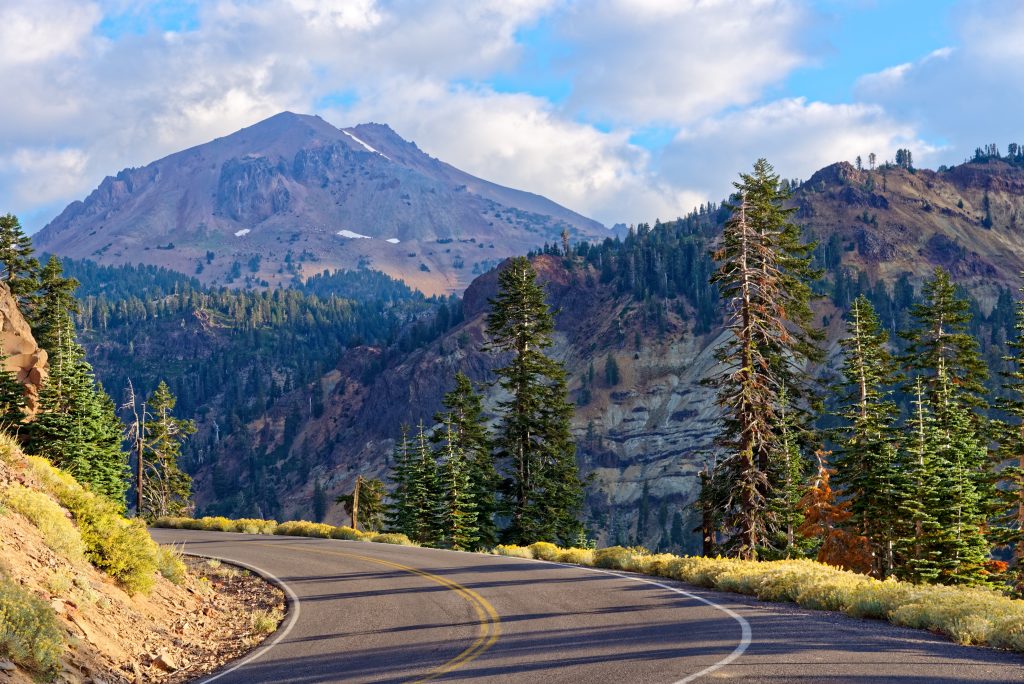 Mc Arthur Burney Falls State Park is centered around an amazing waterfall that is absolutely worth a side trip. Plan to spend a couple of nights in Redding.
The next stop of this road trip is Mt. Shasta, which is an active volcano as well. There are lots of hiking trails on the mountains at different elevations and the higher up you are the views are amazing. There are also a couple of lakes in the area that are worth exploring, including Lake Shasta and Lake Siskiyou. Plan to spend a couple of days here as well.
The final destination is Crater Lake National Park which was created by a volcano explosion over 7000 years ago. This trip is best for July- September because in other months there is a risk that a lot of trails on Mt. Shasta and in Lassen National Park may be closed
because of snow.
(Submitted by Tatiana, Family Road Trip Guru)
---
Southwest Road Trip: Las Vegas, Nevada –> Page, Arizona
Distance: 272 miles
Suggested itinerary: 5-7 days
Recommended for: All seasons (check for latest conditions)
One of our favorite road trips features some of the best stops in the
US Southwest
through Northern Arizona and Utah.
Starting from Las Vegas, Nevada and making your way to Kanab, Utah and Page, Arizona where some of our favorite Southwest locations are.
In this recommended road trip you'd ideally need 5 days if not an extra day or two if you want to enjoy more activities around Kanab or Page.
This road trip can be completed any season, however, you'll have to find what precautions to take each season as there are certain times of the year when flash flooding is more predominant and the summer months can get more crowded.
We completed our road trip during off-season in the winter to experience the Southwest completely differently with a blanket of snow. During off-season you not only get great rates on hotels but you can have many of the natural sites to yourself.
The only downfall of traveling off-season is that some parks do have closures in the winter.
We recommend starting in Las Vegas and driving to Kanab, Utah with stops along the way at the Valley of Fire and Red Cliff Desert Reserve.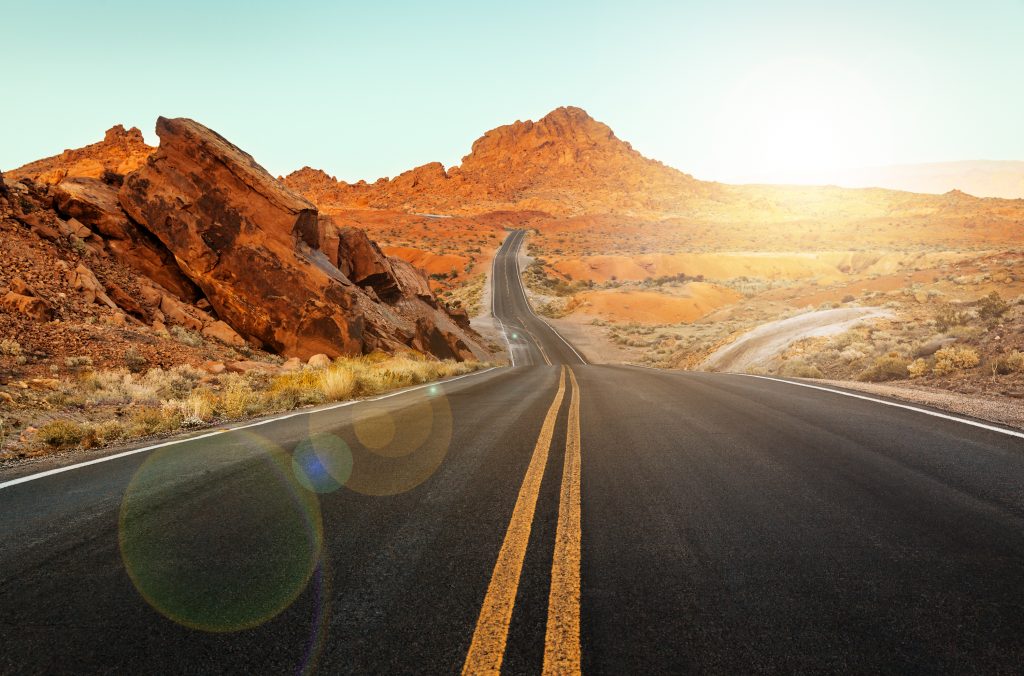 Once you make it to Kanab we recommend trying your luck to get a permit for the famous Wave hike in Coyote Buttes North at the local BLM office. If you aren't one of the lucky ones we recommend still getting a permit for Coyote Buttes South, less popular but just as beautiful.
Afterwards, continue on to Page, Arizona where you can experience the gorgeous Lake Powell, Antelope Canyon, and Horseshoe Bend.
Then continue to Monument Valley in Utah where you can experience one of the most iconic American Southwest scenery featured in several Hollywood films.
(Submitted by Megan, Bobo & Chichi)
---
Utah National Parks Road Trip
Distance: 533 miles
Suggested itinerary: 2 weeks
Recommended for: Summer and fall
Now, I may be biased after living here for almost four years, but I think Utah road trips are the best, especially
a road trip to Utah's national parks
, the Mighty 5, spread almost evenly throughout Southern Utah making it the perfect road trip route. I would recommend flying in and out of Las Vegas as it's the closest to the parks and the most affordable.
I would recommend two weeks for the trip so you're not super rushed and have time to do side trips along the way. The best time to go will probably be summer or fall. Summer is very hot so make sure you stay hydrated and don't push yourself too hard on hikes if you're feeling bad or exhausted at all. If you want a less busy trip and have the time, consider a winter trip.
From Las Vegas, the first stop would be Zion National Park (2-3 days), followed by Bryce Canyon (1-2 days), Capitol Reef (2-3 days), Arches (1-2 days), and Canyonlands (1-3 days).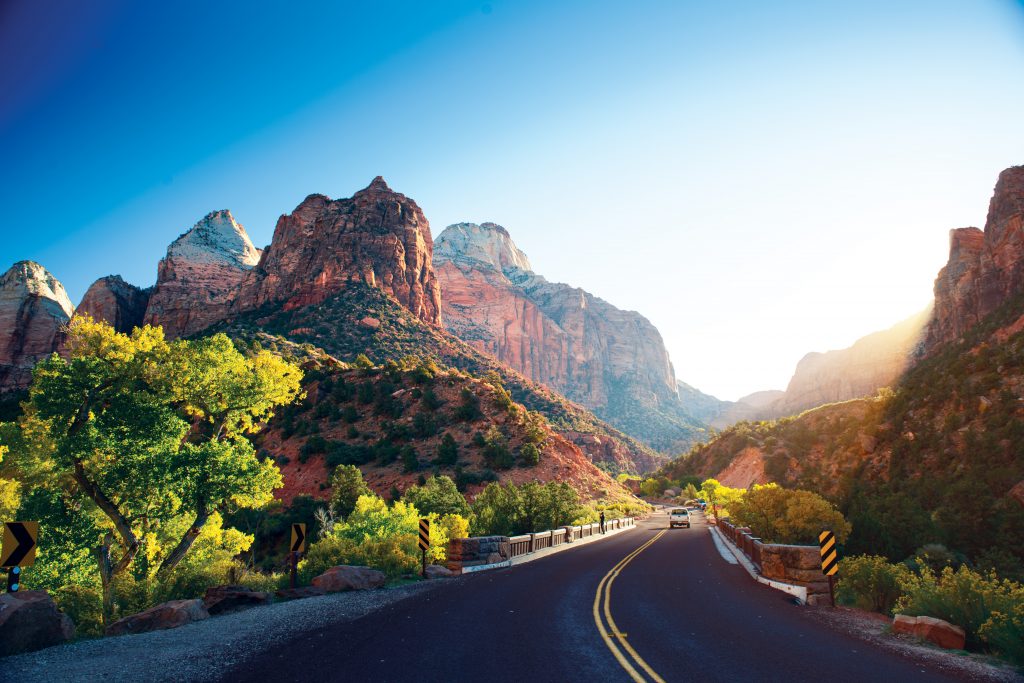 There is so much to see at each park, but some of the best include Angels Landing, The Narrows, Hidden Canyon, and Canyon Overlook at Zion; Mossy Cave Trail and Navajo Loop/Queen Gardens Trail at Bryce Canyon; Hickman Bridge, Cohab Canyon, Cassidy Arch, Headquarters Canyon, and the overlooks at Capitol Reef; Delicate Arch, Devil's Garden, Fiery Furnace, and Park Avenue at Arches; and finally Mesa Arch, Upheaval Dome, Whale Rock, The Needles Overlook, and Newspaper Rock at Canyonlands.
Some awesome side trips if you have time, or trips for along the drive, include Snow Canyon, Coral Pink Sand Dunes, Kodachrome Basin, Goblin Valley, Edge of the Cedars, and Deadhorse Point State Parks. Lake Powell, Grand Staircase Escalante, Monument Valley, Antelope Canyon, Horseshoe Bend, and Natural Bridges are all great options, too.
(submitted by Megan, Red Around the World)
---
Southwest Texas Road Trip
Distance: 720 miles
Suggested itinerary: 1 week
Recommended for: Spring or fall, any time of year
When most people think of visiting Texas, it's usually the big cities that come to mind: Austin, Dallas, Houston. But if you truly want to get off the beaten path on a U.S. road trip, then you need to head waaayyy west in Texas for an epic one-week road trip that will
see you exploring quirky small towns, marveling at the expansive desert and skirting the Mexican border.
This is a road trip where you may go hundreds of miles without seeing another vehicle. You can do this trip at any time of the year, but the weather is more temperate during spring and fall.
Start this trip in El Paso, which sits right on the border of Texas and Mexico. Spend a day here, exploring museums and street art, or tackling one of the great hikes in the area. Alternatively, hit the road straight away, bound for Fort Davis. The outdoors rules here: there are plenty of hikes to choose from, or join a Star Party to explore the skies at the McDonald Observatory.
Your Instagram account will love Marfa, a small, arty town that's high on the cool factor. Pose in front of the Prada Marfa art installation, visit unique galleries like Ballroom Marfa and see if you can spot the Marfa Lights – are they UFOs? You be the judge. Make sure you time your trip to spend a weekend in Marfa – much of the town shuts down during the week.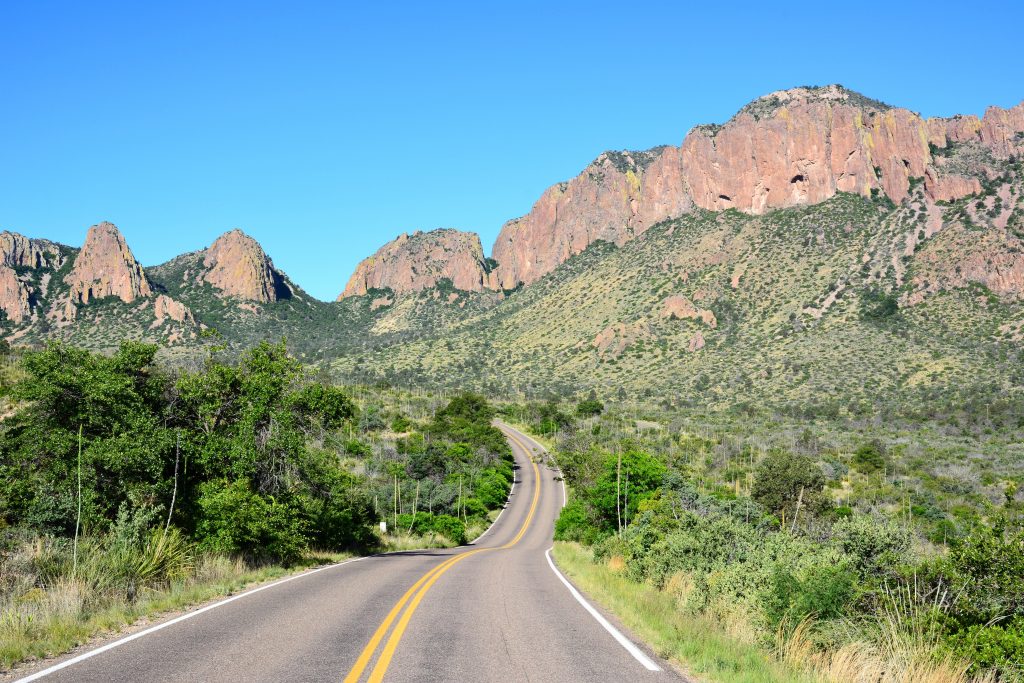 Next, you're heading to one of the U.S.'s most underrated national parks: Big Bend. There are two ways to get there, but I recommend taking the far more scenic Texas River Road, a 120-mile route that begins west of the small town of Presidio. Along the
way, you'll have gorgeous views of the Rio Grande, splitting the U.S. and Mexico with its winding waters.
In Big Bend, there are plenty of hikes for all fitness levels. A must is the Santa Elena Canyon, an easy hike which ends with stunning views from inside the millions-of-years- old canyon.
To explore Big Bend, base yourself in Terlingua, a town of 60 people, most of whom you'll find sitting on the porch of the Terlingua Trading Store, sipping beers, telling tales and strumming a guitar or two. Wander the Terlingua Ghost Town to see the cemetery,
old jail and church and learn about the town's mining history.
Stop in at Marathon for a peek inside the historic Gage Hotel. In Alpine, check out the tiny Target "store" (yep, yet another art installation) before heading back to El Paso, where this unique U.S. road trip ends.
(Submitted by Rebecca, Rebecca and the World)
Read Next: Omni La Mansión del Rio Review: A San Antonio Getaway
---
The Pacific Coast Highway: California Highway 1
Distance: 650+ miles
Suggested itinerary: one week, ideally 10-14 days
Recommended for: late spring-early fall
California's HWY 1 runs nearly the entire length of the state and is one of the best road trips in the county. This ribbon of road follows the dramatic coastline filled steep cliffs falling sharply into the sea.
Some of the best bits of this 650+ mile-long stretch of pavement are along the central coast. One of our favorite sections of the drive starts in Pismo Beach in the south up through just after the Bixby Creek Bridge near Monterey in the north.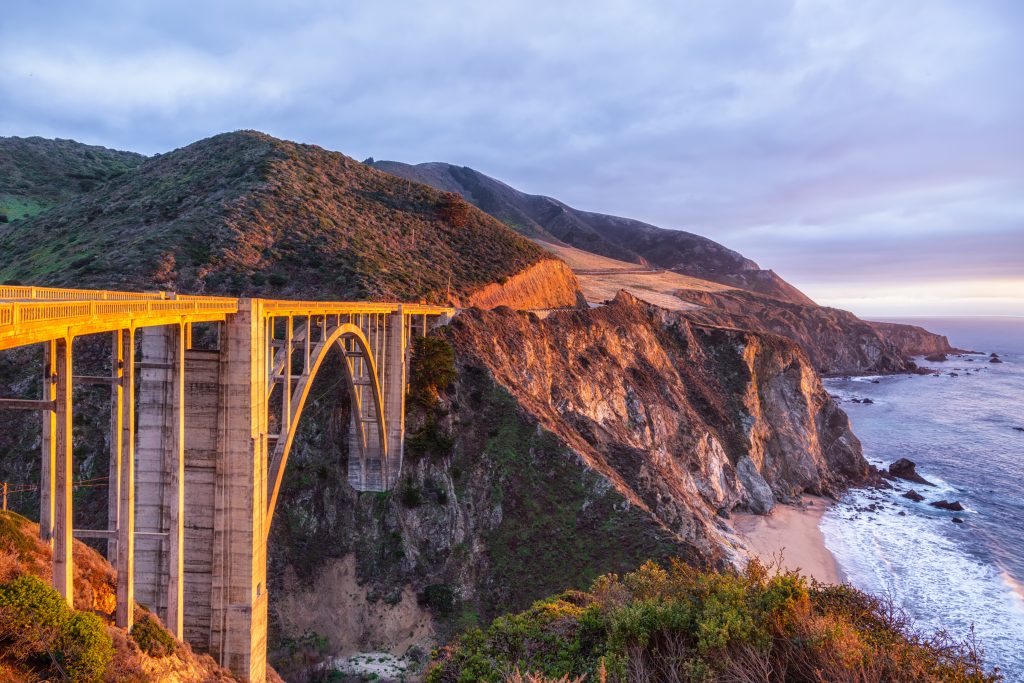 If you plan to tackle just this section you should give yourself about three days to truly experience it. While physically driving this piece of pavement can be done in a little over a half a day – once you are there, you'll realize quickly that there is a lot to pull over for. If you wanted to do the entire length of HWY 1, we'd suggest to allow for at least a week, but 10-14 days would be better.
The are so many great stops along the central section of HWY 1 but a few you should not miss are: the Elephant seals of Piedras Blancas, the Hearst Castle, McWay Waterfall, Bixby Creek Bridge, Monterey Aquarium, and Morro Rock of Morro Bay. It would also be a sin not to linger in the Paso Robles Wine Region along the way and make sure to catch the sunset at Ragged Point. These are just a few highlights to add as waypoints, but there are countless vista and memories to be made with a road trip along California's Highway 1.
(Submitted by Adam & Hannah, Getting Stamped)
---
Badlands to Yellowstone to Grand Tetons to Rocky Mountain National Park Tour
Distance: 857 miles
Suggested itinerary: 10 days
Recommended for: July-September
Roughly 1,000 miles will take you through a diverse range of climates, 3 states, and four beautiful national parks. The best time to take this 10 day road trip depends on your comfort level with driving in the snow! July-September is the safest range; June and October will have less traffic but also a higher risk of snow road closures.
Be prepared for minimal cell coverage while in the national parks. Making advance reservations ahead of time for lodging & dinner is highly recommended!
Day 1: Badlands National Park, take a hike and drive the main park road, look for bison, prairie dogs & bighorn sheep.
Day 2: Drive from Badlands National Park on 90W, stopping to gawk at the extremely touristy Wall Drug shopping plaza. Continue on for some nature at Devil's Tower National Monument.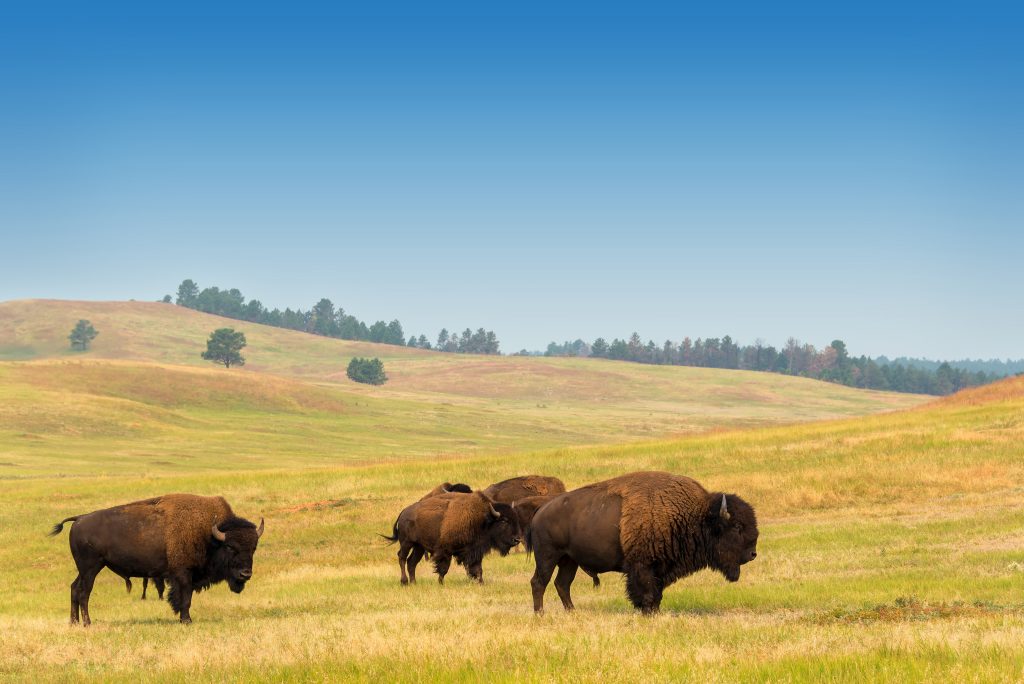 Day 3: Drive into the east entrance of Yellowstone National Park. Explore Lake Yellowstone with a hike or a boat ride and walk along the eerie geysers of the Mud Volcano area.
Day 4: Drive towards the north side in YNP, stopping by to see the petrified tree, Yellowstone Falls, and then touring around Mammoth Hot Springs.
Day 5: Head south in YNP, looping to hike the Grand Prismatic Spring Overlook (see more details in this list of top ten yellowstone hikes for families), and then head over to see the Old Faithful area.
Day 6: Drive south into the Grand Tetons National Park; stopping by the small but engaging National Museum of Wildlife Art. Once you're in the park, walk around Coulter Bay and drive the Teton Park Road.
Day 7: Take a boat ride across Jenny Lake and hike to the famous Hidden Falls. Drive over to Mormon Row, finishing in nearby Jackson Hole for shops & breweries.
Day 8: Drive on 26 S down to Rocky Mountain National Park. To break up the drive, stop by Wind River Hotel & Casino in Riverton, WY, where you can dig for fossils or visit wild horses.
Day 9: Enter through the Grand Lake side of Rocky Mountain National Park and take the famous Trail Ridge Road, stopping to visit the alpine visitor's center and pick a hike to round out your day.
Day 10: Get up early and visit Bear Lake, taking an easy stroll around the picturesque water or extend your hike up to Emerald Lake. Add on an easy waterfall hike like Alberta Falls or Chasm Falls, and visit the Sheep Lakes area to spot wildlife.
(submitted by Stephanie, Explore More, Clean Less)
---
Northern Colorado Road Trip: Denver –> Boulder
Distance: 236 miles
Suggested itinerary: 10 days
Recommended for: early May-late September
A northern Colorado road trip packs in a little bit of everything from urban adventure and Rocky Mountain trails to small-town Americana and Dude Ranch fun. Head out to Colorado any time between early May to late September to get the best of the weather.
Your ten-day road trip starts in Denver, the mile-high city where you'll spend two days exploring the city's museums, craft beer scene, cool neighborhoods, and epic street art.
Next head north to Loveland where the Devil's Backbone makes for epic hiking. Loveland is the sculpture capital of the US so be sure to drop by one of the town's three sculpture parks before checking in at Sweetheart Winery for a glass or two of Loveland wine. Before you leave, lock in your love by fixing an engraved padlock at the big red Loveland sign.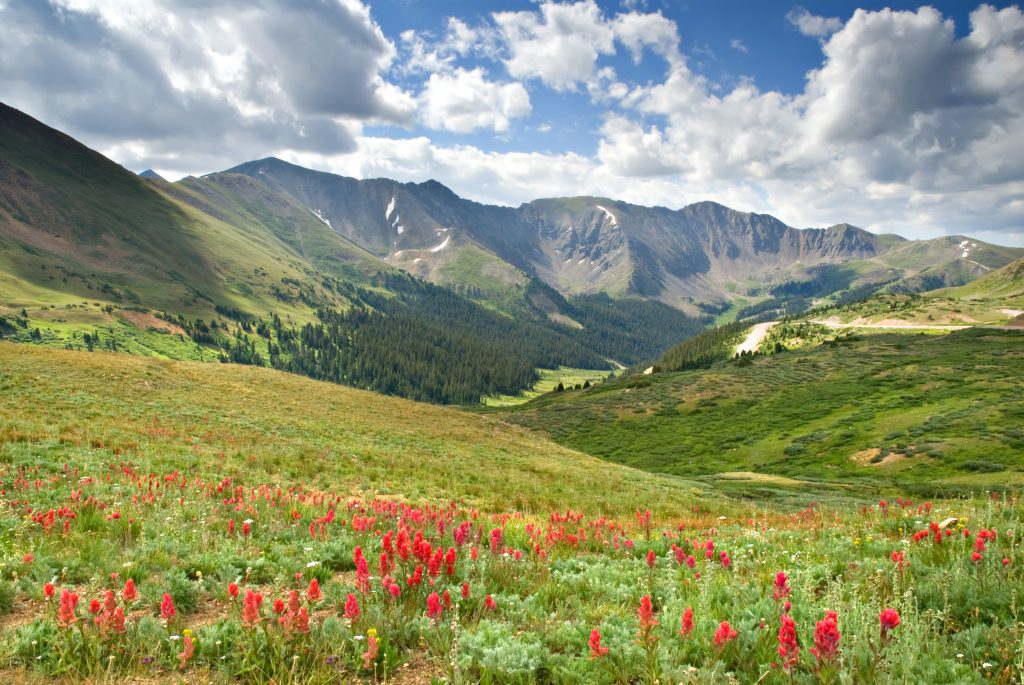 After your night in Loveland head north to Red Feather Lakes and saddle up at Sundance Trail Guest Ranch. Spend two days enjoying horseback rides in Roosevelt National Forest, campfires and s'mores and good home-cooked ranch food.
Small town Americana is next with a one-night stop at Fort Collins. Get stuck into Farm to table dining with some of the state's freshest and best food. Take a bike ride around the town's cycle path and check out the art trail. Stay at the gorgeous Armstrong Hotel.
The mountains are calling and it's time to head to the Rocky Mountains and stay in a cabin at Estes Park for three nights. You'll have easy access to the park's trails and scenic walks around beautiful lakes and trails with stunning vistas. In the evenings explore the town's lively restaurant and bar scene.
Boulder beckons for your final night. Check out the lively town and the bars, restaurants and shops. Buy some souvenirs, and pop into the Museum of Contemporary Art before heading home.
(submitted by Suzanne, The Travel Bunny)
---
The Cascade Loop – Northwest Washington
Distance: 440 miles
Suggested itinerary: 4 days-one week+
Recommended for: Spring-Fall
The Cascade Loop Scenic Highway is a 440-mile scenic road trip through northwestern Washington. The journey begins just north of Seattle in the town of Everett.
Highlights along this route include charming small towns such as Snohomish, the antique capital of the Northwest and Wenatchee, the apple capital of the world!
Feel like you've been transported to Germany as you stop by the Bavarian-themed town of Leavenworth, complete with beer gardens, alpine-style lodging, and plenty of festivities throughout the year like their annual Oktoberfest.
Not too far from Leavenworth is Lake Chelan, the 3rd deepest lake in the US. The towns of Chelan and Manson are 2 gems along the 50+ miles of the lake's shoreline.
Though the real highlight of this road trip is the unbelievably scenic drive through the North Cascades mountains. You'll want to be sure to do this drive in a counter-clockwise direction, as the eastern approach on the North Cascades Highway is not nearly as impressive when driving west to east.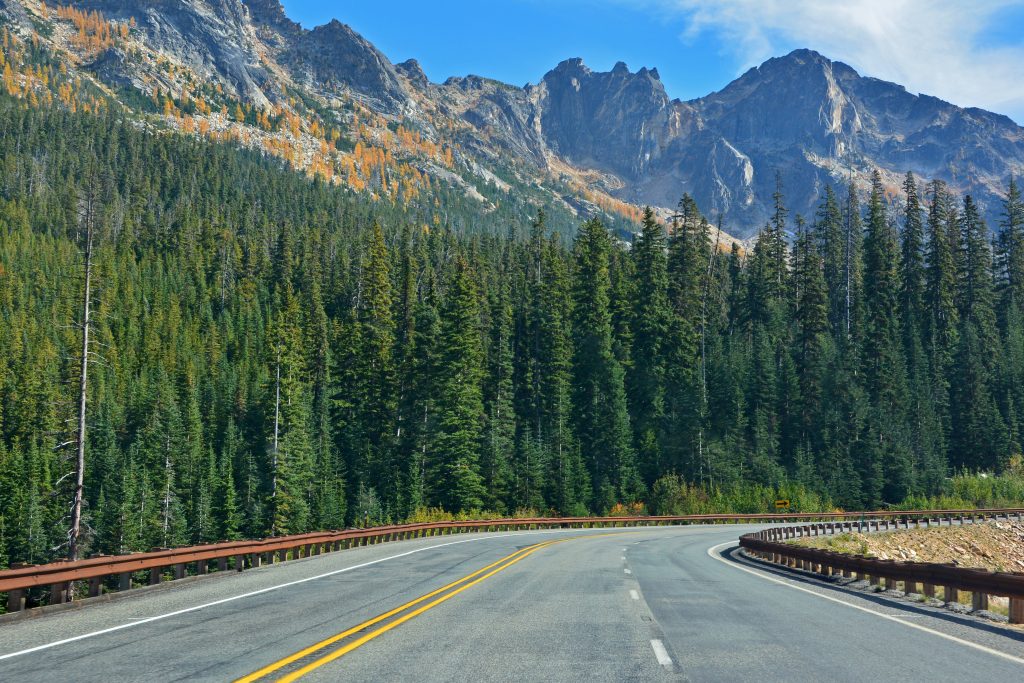 Also, it is important to note that the North Cascades National Park is one of the snowiest regions in the world, getting up to 600 inches in some parts of the park. As a result, the North Cascades Scenic Highway (a portion of the Cascade Loop) closes from mid-November/December to usually around April. So, if you want to do the Cascade Loop in its entirety, you'll want to avoid these months.
The route closes out on Whidbey Island, which honestly is a destination in and of itself! From nature reserves to wineries to farm-to-table dining experiences, Whidbey has so much to do! One could easily spend more than a week on the Cascade Loop and not see it all. It is recommended to spend no less than 4 days driving the route for that reason.
The towns of Leavenworth, Manson, Mazama, and somewhere within the Methow Valley are great resting spots. There are way too many highlights to cover in this brief introduction, so be sure to check out Forget Someday's detailed write-up about the Cascade Loop Scenic Loop and start planning your own epic road trip through Washington's most stunning scenery.
(submitted by Toccara, Forget Someday)
---
Southern USA Road Trips
The American South is an enchanting place, and it is home to some of the best road trips the USA has to offer. From the coastal beaches to the Deep South up to Tennessee and Virginia, here's where to embark on some of the Great American road trips.
Blue Ridge Parkway Road Trip
Distance: 469 miles

The BRP runs from Rockfish Gap, VA to Swain County, NC

Suggested itinerary: 4 days
Recommended for: Spring-Fall (Many sections closed in Winter)
The Blue Ridge Parkway is a gorgeous scenic byway that takes you through a stunning stretch of the Blue Ridge Mountains that connect Shenandoah National Park in Virginia to Great Smoky Mountains National Park in North Carolina.
While you can start on either end of this Byway, I recommend starting in Virginia because the scenery gets more and more spectacular toward North Carolina as you go from driving on top of a mountain to through the mountains and valleys.
One of the things I love about 'The Parkway' is that you can make this road trip over a 4-day weekend and select a few stops and take in the viewpoints or you can make a full week of it and do all kinds of hikes along the way.
While the
Blue Ridge Parkway
is stunning any time of year, many of the sections of it are closed in the winter. So, spring-fall are the best times to go and each has its own advantage. Go in spring for the wildflowers, especially the rhododendrons! The summer is great because the days are long for loads of hiking and the weather is wonderful. In the fall, the mountains are set ablaze with some of the most stunning fall colors you can find anywhere in the states.
Don't miss the towns of Roanoke, VA and
Asheville, NC
along the way. The main attractions, though, are the stunning hikes. Our favorites in Virginia are the Cascades Trail which is part of the iconic the Appalachian Trail and the Mountain Industry Trail for a great historical insight.
In North Carolina don't miss Linn Cove Viaduct for an iconic view of the parkway, Crabtree Falls, Devil's Courthouse for a sunset and Skinny Dip Falls for a swim in the summer!
(Submitted by Paige, For the Love of Wanderlust)
---
Deep South Road Trip: Mobile, Alabama –> New Orleans, Louisiana
Distance: 144 miles
Suggested itinerary: one week
Recommended for: Mardi Gras (February)
A
road trip from Mobile Alabama to New Orleans, Louisiana
shows off the French influence in the USA. Mobile Alabama was the first capital of French Louisiana before the capitol moved to New Orleans. There are similarities in food and architecture in both cities. Moreover, both cities celebrate Mardi Gras. In fact, the first city in the USA to celebrate Mardi Gras was Mobile Alabama. New Orleans took over the tradition and made it bigger – still a sore point in Mobile!
The actual distance from Mobile Alabama to New Orleans Louisiana is not very much. You can do the trip in a few hours. You would, however, be missing out on a lot of nice things along the way! It would be best to take a week to do this road trip so that you can fully appreciate the beaches, the historical sites, and the food and entertainment options.
Mobile Alabama is a small city with lots of good food and a party atmosphere. It is also near some great beaches on the Gulf Coast. Near Mobile, there is Dauphin Island which has beautiful beaches as well as a lot of nature reserves. Nearby there is Bayou Le Batre which is famous for having been in the movie, Forrest Gump. Get your dose of gracious Southern living at Bellingrath, a Southern estate with extensive botanical gardens.
Your next stop will be Biloxi Mississippi. This Southern city has lots of casinos and resorts as well as historical attractions. You can visit Beauvoir, the home of Jefferson Davis, the first (and only) president of the Confederate States of America. Biloxi is also famous for its beaches and water sports, including excellent fishing.
Your final stop is New Orleans Louisiana which is world-famous for jazz, food and general entertainment. In addition to the cool things you can do in the city such as visiting the French Quarter and touring the elegant District, you can take easy trips outside of the city. For example, you can take an airboat into the bayou and see alligators up close in their natural habitat. Or, see some of the beautiful former-sugar plantations on the famous River Road where the French aristocracy of New Oreans had their country homes.
The best time to do this road trip may be Mardi Gras since you can experience the festival in two cities. Mardi Gras in both cities extends for a period before the biggest parades on Mardi Gras day itself. The actual date for Mardi Gras will depend on when Easter falls in any given year but it usually sometime in February. The weather will be good and the atmosphere electric.
(recommended by Shobha, Just Go Places)
---
Historic Southern USA Road Trip
Distance: 565 miles
Suggested itinerary: 2 weeks (1 Day in Charlotte, 1 day in Myrtle Beach, 4
days in Charleston, 2 days in Savannah and 4 days in Atlanta.)
Recommended for: Early spring or early fall
The South of the United States is full of hidden gems and rich history. Our favorite southern road trip is from Charlotte, NC to Atlanta, GA. To see the most beautiful spots along this route you need at least two weeks to fully immerse yourself in the welcoming southern culture.
The best time to do the Southern Historic Road Trip is either in early Spring or early Fall as the temperatures are not as warm as in the Summer and it is less crowded. During Saint Patricks Day week several of the destinations are packed as they are known for their epic celebrations.
It is important to reserve accommodations beforehand for Savannah and Charleston to avoid inflated prices.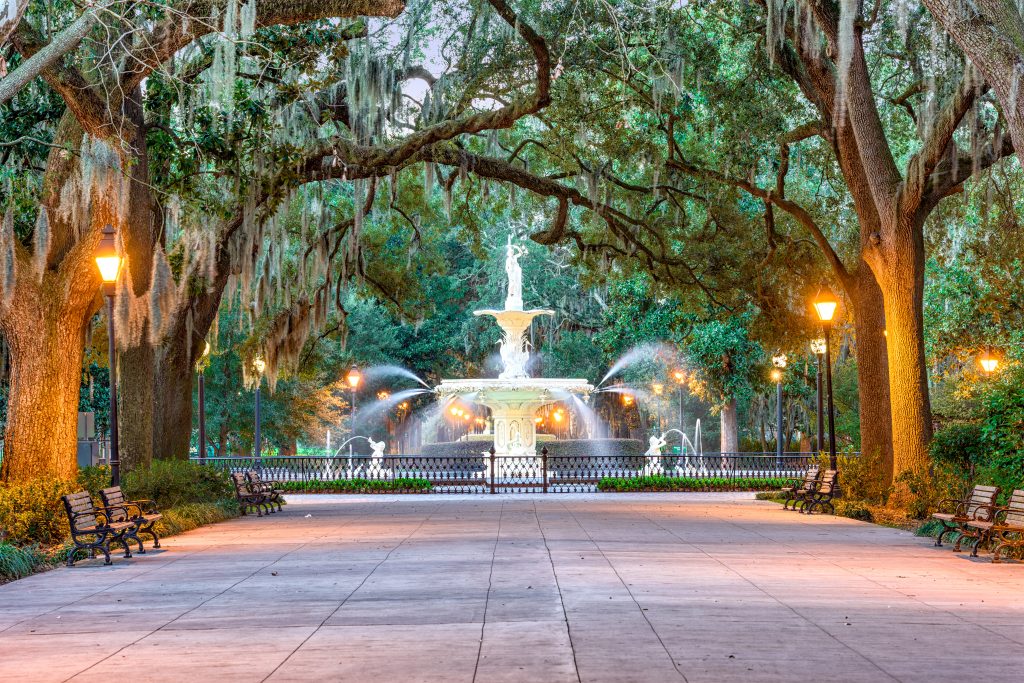 Start your road trip in Charlotte as the airport has good flight deals. While you are in Charlotte make sure to visit the NASCAR Hall of Fame, the Bechtler Museum of Modern Art and take a stroll along The Green or the Romare Bearden Park for the best skyline view of Charlotte.
The next day on your way to Charleston, stop at the beach to enjoy some relaxing time on the water. Our favorite beaches are in Myrtle, SC.
In Charleston, you will want to stay longer because it is a beautiful city, used as the backdrop for countless romantic movies. The city is so rich in history with many museums and plantations to explore. Our favorite things to do in Charleston are: Walk around the historic district and take photos at the Rainbow Row, visit the Magnolia Plantation and visit the Nathaniel Russell House.
After experiencing Charleston the next stop is only a 2-hour drive away; Savannah. Just like Charleston, Savannah is a magical city that will bring you back in time and make you feel special. It is a beautiful city known for its 22 squares around the city. The best things to do in Savannah are walk along the River, take a stroll at the Forsyth Park and enjoy a delicious ice cream at Leopold's.
The best way to finish your historic road trip in the South is in Atlanta. Atlanta is a growing city that is becoming more popular among travelers, due to its airport connecting the whole world. Our favorite things to do in Atlanta are to visit The Coca Cola World, The Georgia Aquarium and of course a free tour of the Martin Luther King Jr house.
(Submitted by Steven + Jazmin, Travel to Blank)
---
Southern East Coast: Charleston, Savannah, Orlando
Distance: 387 miles
Suggested itinerary: 1 week+
Recommended for: October-April
Charleston and Savannah are two popular road trip stops in the southeastern United States for good reasons. Both have a long history, rich culture, and amazing food. Driving from Central Florida, plan to spend at least a week, splitting it into about three days in each city. While you can visit in either order, we chose to go from Orlando to Charleston and then back to Savannah before returning to Orlando.
Since this road trip takes you along the east coast, the best weather falls between November and March with October and April only slightly warmer in Savannah. Avoid July and August if possible as the heat and humidity are at the highest. Keep in mind that hurricane season runs from June to the end of October, but peak season is in August and September.
(Two Drifters note: Amy grew up in Ormond Beach, Florida which falls along this route. Stop there for some nice beaches and try to make a stop at St. Augustine too, the oldest city in America).
In Charleston, history fans won't want to miss Fort Sumter. Take a ferry and explore the fort, learning the history behind it while you are there. Make sure to take a walk along the Battery in Charleston as well to enjoy the beautiful homes along the waterfront.
There are many plantations in the area, and Boone Hall is the best for photos with its oak-lined driveway. Several of the original slave cabins are still standing which is rare. Drayton Hall is another plantation in the area and still stands because of a yellow ribbon. The yellow ribbon during the Civil War warned of smallpox. Because of the yellow ribbon outside, the troops continued by instead of burning it to avoid catching the deadly disease.
As far as Savannah goes, come hungry and leave full. One of Savannah's most popular restaurants is Mrs. Wilkes' Dining Room. Make sure to arrive very early as the line can sometimes grow to be hours long and plan to make friends as the food fills the tables of 10. Originally built in the mid-1700s, The Pirate House is a unique dining experience thanks to the architecture of the historical building. Don't forget dessert – stop by Savannah Sweets to finish off your meal with delicious chocolates and fudge.
Once you are full, make sure to walk around and enjoy the beautiful architecture. Several homes in the area offer tours if you want to see the inside and learn the history of the home. If you are too full to walk, take one of the trolley tours and enjoy seeing what the city has to offer that way.
For the perfect week-long southern road trip, put Savannah and Charleston on your list!
(submitted by Christine, Live Love Run Travel)
---
Tail of the Dragon, Cherohala Skyway, and the Smoky Mountains
Distance: 226 miles
Suggested itinerary: 3-5 days
Recommended for: May
Deep in the heavily wooded mountains of the American southeast is an unexpected paradise for driving and riding enthusiasts. Straddling the Tennessee-North Carolina border, the Smoky Mountains and Great Smoky Mountain National Park are home to some of America's best and most challenging roads to drive.
Motorcyclists and sports car collectors in particular flock to this region nearly year-round, and with good reason. Sweeping curves and hairpin turns wind their way up and down all across the region, with interchanging mountain and lake vistas constantly threatening to pull your eyes off the road. The twists are often sharp and the dropoffs often steep, so long glances at the passing landscapes are very dangerous indeed – at least for the driver!
When we traveled to the region, we started at our campsite near the Jack Daniels distillery in Lynchburg TN. Spend a day exploring the distillery and adjacent historical village. I also recommend checking out the adorable town square in nearby Winchester TN. Driving the loop around the Franklin County courthouse is to step back in time to the 1950s.
After we took a swing south through Chattanooga, we headed back north and picked up the Cherohala Skyway in Tellico Plains, TN. Similar to the more widely known Blue Ridge Parkway, the Cherohala Skyway winds its way through the peaks and valleys of the Smoky Mountains. It offers incredible sweeping panoramas with pull-off parking areas for safe viewing. The road switches frequently between tight curves and long, arcing bends, making for a relaxing and thoroughly enjoyable drive.
The Tail of the Dragon, conversely, is chock full of narrow, tight turns and switchbacks. From the Skyway, take County Roads 1127 and 1134 around picturesque Santeetlah Lake to the intersection with US-129. Turn left onto 129 and head north into Deal's Gap, the proverbial start of the Tail.
From Deal's Gap, you will engage in one of America's most challenging roads. Home to 318 curves in an 11-mile stretch, the Tail of the Dragon will push all skill levels of motorists to new limits. There isn't much to see along the route, but it doesn't matter – it's unlike any road I've ever driven before. It twists and winds and rips in ways I've never experienced, and will challenge even the most experienced driver/rider. It's an absolute thrill to drive, and is one of many must-see experiences in the beautiful Smoky Mountain region!
(submitted by Scott, Take Back Roads)
---
Midwest Road Trips
Could it be that the best America road trips are found in the central part of the country? Perhaps! These travelers share some awesome road trip itineraries for road trips in the Midwest.
Omaha, Nebraska –> Kansas City
Distance: 236 miles
Suggested itinerary: one day or more
Recommended for: spring-fall
We recommend doing a day trip from Omaha, Nebraska to Kansas City, Missouri which will take you through four states, a detour to visit the Amish Country and plenty of cornfields to discover along the way. You can take this 3-hour road trip any time of the year except during winter might be a bit too cold.
Start the day right with an acai bowl at The Grove Juicers in Omaha before you head off on your road trip. As you cross over from Nebraska into Iowa, before coming back into Nebraska, you'll pass by loads of cornfields. Stop by and explore the fields like you're in the movie, Field Of Dreams.
About an hour and a half into the trip, you'll come to Pawnee City, Nebraska which is home to around 15 Amish families. We recommend popping by the tourist center to learn more about them and if you're lucky, one of their Kountry Shops might be open so you could purchase some of their carpentry masterpieces.
Another two-hour drive away and you'll come to the vibrant Kansas City. We recommend starting your trip at the Union Station which is a beautiful art deco building you'll want to spend some time walking around. Make sure you go up to the balcony to see some amazing views of the building and learn all about the history of it.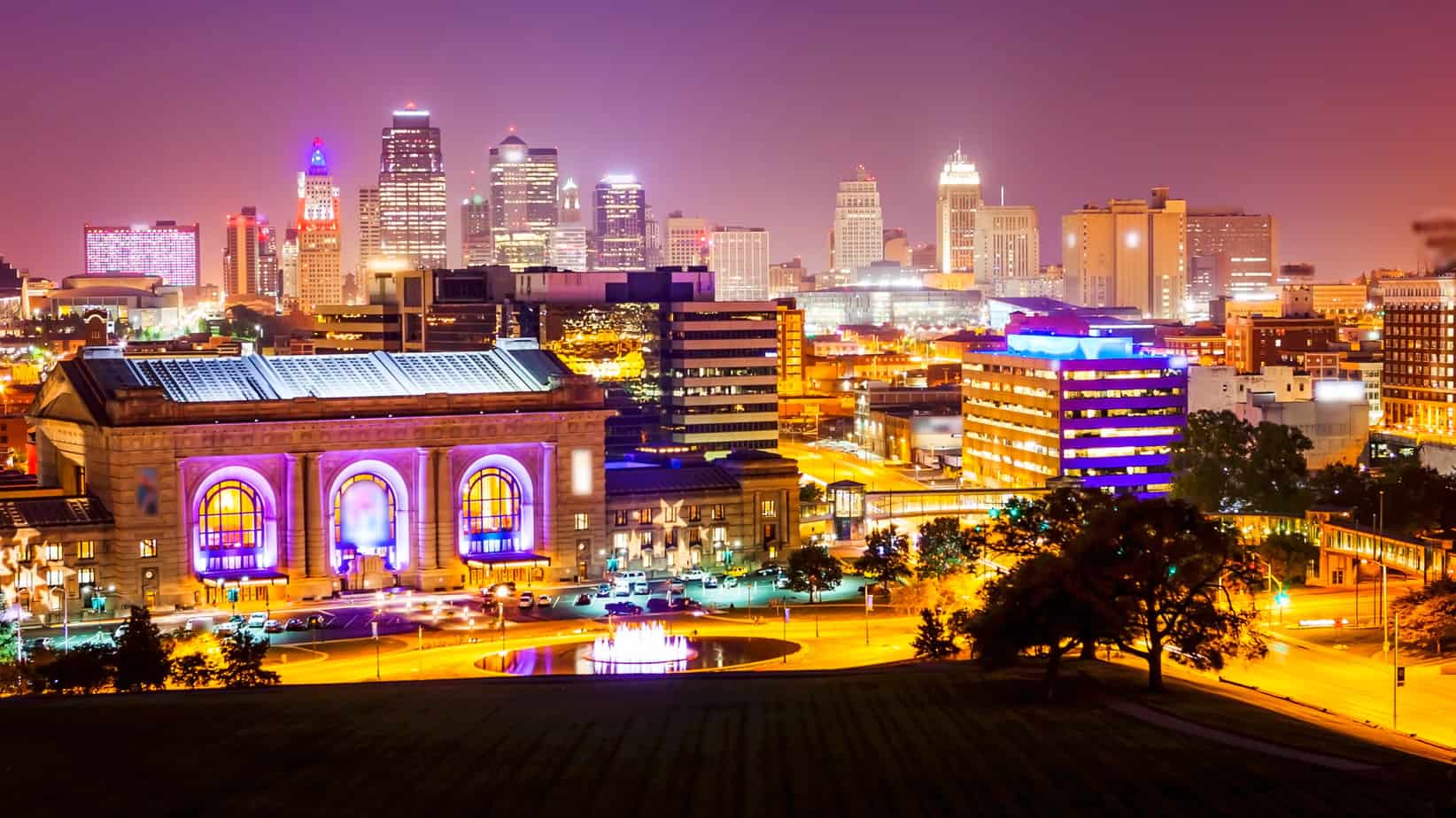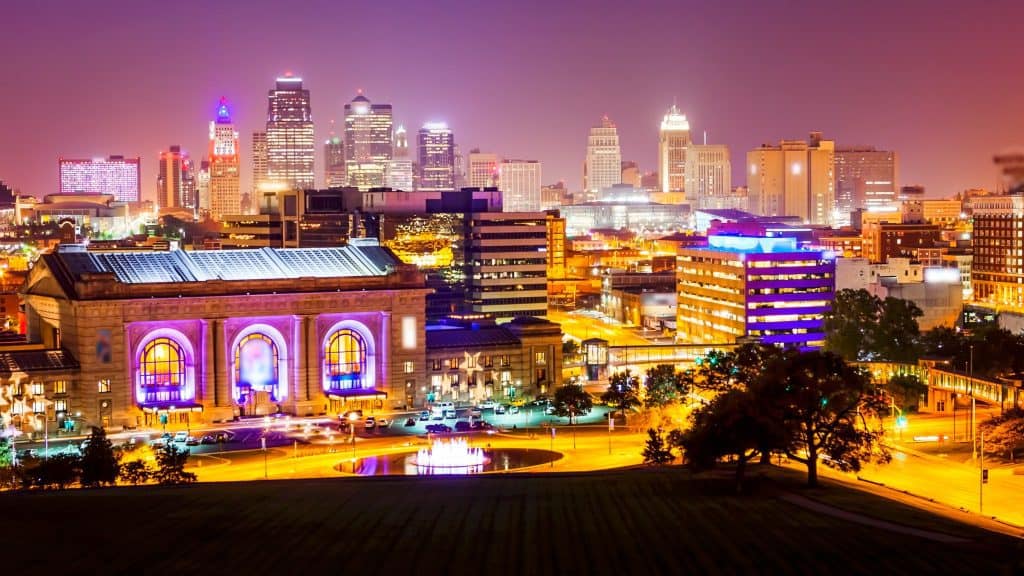 Then head over the road to the World War 1 memorial and take in the views of Kansas City. There's also a museum there that you'll want to check out. We also recommend driving 15 minutes out of the city to the Community of Christ temple. It might sound a bit random but it's an incredible temple that you probably won't have seen anything like it before. It has Wizard Of Oz vibes going on which is spot on for considering you're in Kansas.
End the day at Knuckleheads Bar which is on the outskirts of Kansas City. This famous bar is located in an industrial area which will make you wonder if you've arrived at the wrong place. Harley Davidson bikes will line up outside the bar and as you wonder whether it's safe to go inside, you'll embrace a biker and tourist bar that is like no other. With amazing bands playing throughout the day and night and if you're lucky some Elvis impersonators might be performing. You'll be dancing the night away with the bikers to finish off a memorable road trip.
(submitted by Annie, Londoner in Sydney)
---
Michigan Road Trip to the Upper Peninsula: Kalamazoo –> St.Ignace, Michigan
Distance: 293 miles
Suggested itinerary: 1 week
Recommended for: mid-May through September
From the southern cities in our Lower Peninsula, it can take 4-6 hours to the top of the state….before you enter the Upper Peninsula.
Allow a week for driving time and unexpected pleasures along the way.
From southwest Michigan, it's a 4-hour drive up 131 to M88 to Bellaire…small-town America at its best! My granddaughter and I spent two nights in a cozy B & B to ensure plenty of beach time. Torch Lake has boat rentals, Barnes Beach on Lake Michigan in Eastport has a campground as well. Both places were within a 40-minute drive from the Inn.
The third day we headed west to Sleeping Bear National Park…it took an hour and 1/2 driving through Traverse City's festival traffic to Empire. Well worth car time to experience the Dune Climb with great views of Glenn Lake on one side and Lake Michigan on the other.
It took 30 minutes to get back to Traverse City where we boarded a tall ship for the night.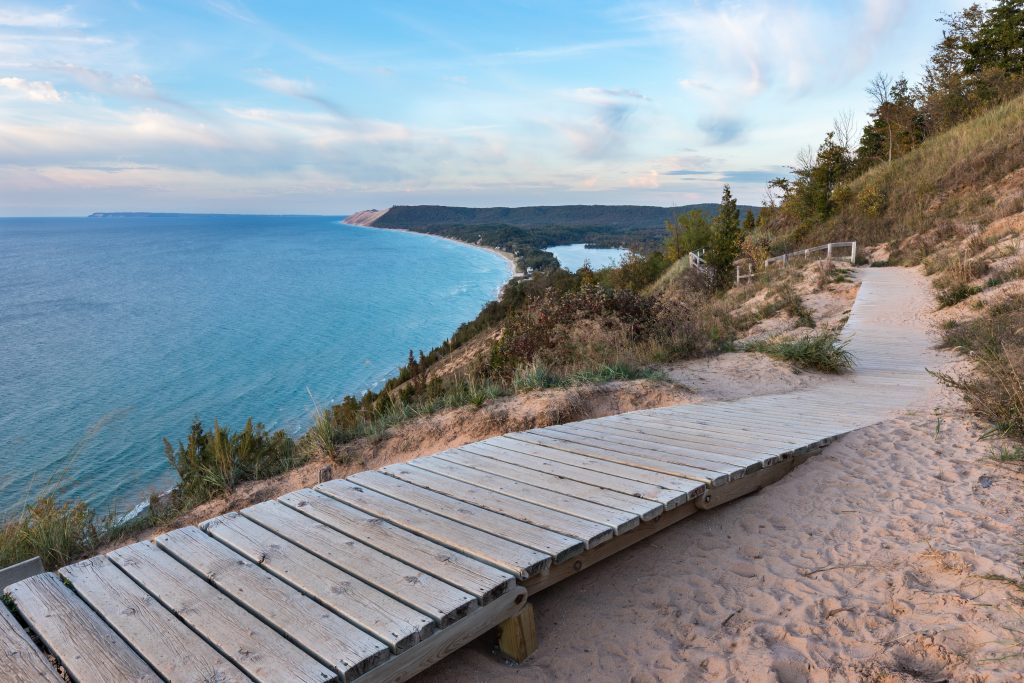 Fourth day, the scenic drive up Hwy31 to I 75 took about two hours…and another fifteen minutes driving across the Mackinac Bridge. We took the ferry from St Ignace and spent three days on the island.
POINTS OF INTEREST:
Shoe Tree north of Kalkaska on Hwy 131, Barnes Beach in Eastport, Dockside beach and restaurant on Torch Lake, Dune Climb near Empire, scenic drive on M 31 north along Traverse Bay and Lake Michigan, Island bike rentals, horseback riding, shopping.
HELPFUL TIPS: Book lodging and Tall Ship cruise and/or Bed and Breakfast package in advance. Check maps, GPS doesn't work in some remote areas. Stop at the Visitor center in Empire …very helpful in finding your way around the massive park! Whether a day trip or a couple nights stay on the island… you can do it all! Bikes and horses priced by hour.
ITINERARY: Can be flexible…this worked for us:
2 days in Bellaire area, 1 day in Empire/Park, 1 day in Traverse City, 2 days/3nights on island before heading home.
(Submitted by Joan, Gramcracker Crumbs)
---
The Great River Road
Distance: 3,000 miles
Suggested itinerary: 4-10 days
Recommended for: Any time of year, especially fall
The Great River Road follows the Mississippi River through ten states: Minnesota, Wisconsin, Iowa, Illinois, Missouri, Kentucky, Tennessee, Arkansas, Mississippi, and Louisiana.
The 3,000-mile journey takes around 36 hours and between four to ten days, depending on how many stops you make. You can start in Minnesota and work your way down, work your way up from Louisiana, or hop on anywhere to explore the road by section or state. Just follow the green pilot wheel signs that mark the way.
On the road trip route, there are small towns, welcome centers, museums, breweries, wineries, locks, and roadside attractions to stop at, along with plenty of scenic overlooks to admire the "father of waters."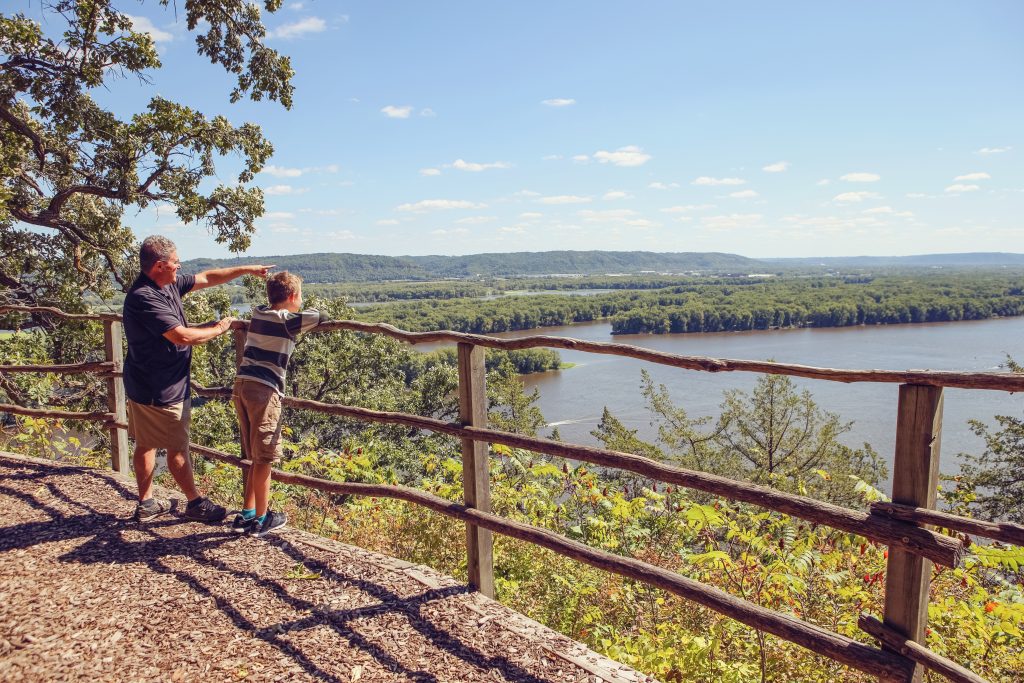 You won't want to miss seeing the Chain of Rocks Bridge in Illinois, the Mark Twain Boyhood Home in Missouri, Nelson Dewey State Park in Wisconsin, or the Delta Blues Museum in Mississippi.
The drive, marked by impressive greenery and panoramic river views, is beautiful any time of year, but especially so in autumn when the leaves change crisp shades of orange. Consider taking your road trip in September, known as Drive the Great River Road Month, to join the annual celebration of America's oldest National Scenic Byway
(Submitted by Val, Silly America)
---
Southern Indiana Road Trip: Chicago –> Southern Indiana (Santa Claus, IN)
Distance: 381 miles
Suggested itinerary: at least one week
Recommended for: late spring through the end of summer
For our latest fantastically fun road trip, we started out from our hometown of Chicago and meandered through the countryside to the rolling hills of Southern Indiana with stops at Santa Claus, French Lick, and Bloomington. What a great time!
We told Santa our wishlists for Christmas, visited a theme park (and ate all the food), visited the "8th wonder of the world" while playing a game of chess, gave the sweetest elephant a bath, learned about Tibetan culture, and so much more! We had such wonderful memories visiting the Hoosier State!.
Christmas is celebrated year-round at Santa Claus, Indiana. Head to the Santa Claus Museum to learn about the town's interesting history as well as to write Santa a letter (he replies back!)
For thrills and chills, head to Holiday World and Splashin' Safari where holidays are celebrated every day with coasters, rides, and visits with Santa. Cool off with a frozen hot chocolate at Santa's Candy Castle. Although you find reindeer at Santa's Stables, you'll find some of the friendliest horses that will take you around the private trail.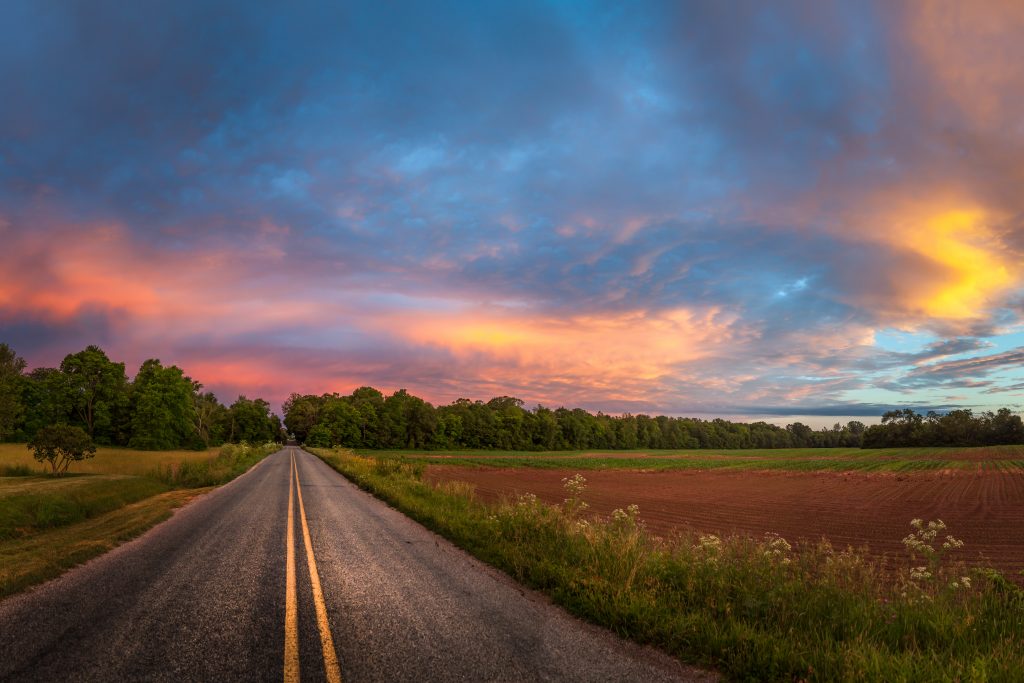 The resort community of French Lick and West Baden is steeped in history. You'll never need to leave the French Lick Resort with two hotels, a free historic trolley between hotels, pools, a horse carriage, footgolf, bowling, and more!
While here, you'll need to see the breathtaking 200-ft atrium at West Baden Springs Hotel which was once considered the 8th wonder of the world. If you do venture out you must make it your mission to visit Wilstem Ranch where they offer one on one special encounters with animals. How about giving an elephant a spa bath?
Bloomington, the home of the beautiful Indiana University, not only offers college cool, but also plenty of family fun. Learning is always fun at WonderLab Museum. Plus, they can lie down on a bed of nails! Really!
Take a serene walk strolling through the grounds of the Tibetan Mongolian Buddhist Cultural Center. You can't leave without walking through the iconic sample gates through Indiana University. Afterwards, grab an ice cream at Hartzell's, the neighborhood ice cream shop that dishes homemade ice cream with unique flavors.
(submitted by Cheryl, Oh the Places We Go)
---
The Ohio Art Corridor
Distance: 230 miles
Suggested itinerary: 1-2days
Recommended for: Anytime, especially fall
The Ohio Art Corridor winds its way through the small, Appalachian communities of Southeastern Ohio. Launched in 2018, the art trail is designed to bring awareness to areas that are often overlooked while providing an affordable outing that families of all ages can enjoy together.
While Circleville, home of the annual Circleville Pumpkin Show, is the official gateway to the art trail, there is no one way to travel the corridor, but rather is best viewed by picking the attractions and small towns that interest you.
It's important to note that the trail does not follow one specific road so it may be hard to pinpoint a start and stop destination but I suggest that a stop at McConnellsville to see the "School of Fish" piece is somewhere on your list. The towering trio of fish can be viewed in a park along the Muskingum River and is the first art installation made specifically for The Ohio Art Corridor. The park provides plenty of parking with a nice pavilion where you can enjoy a picnic lunch.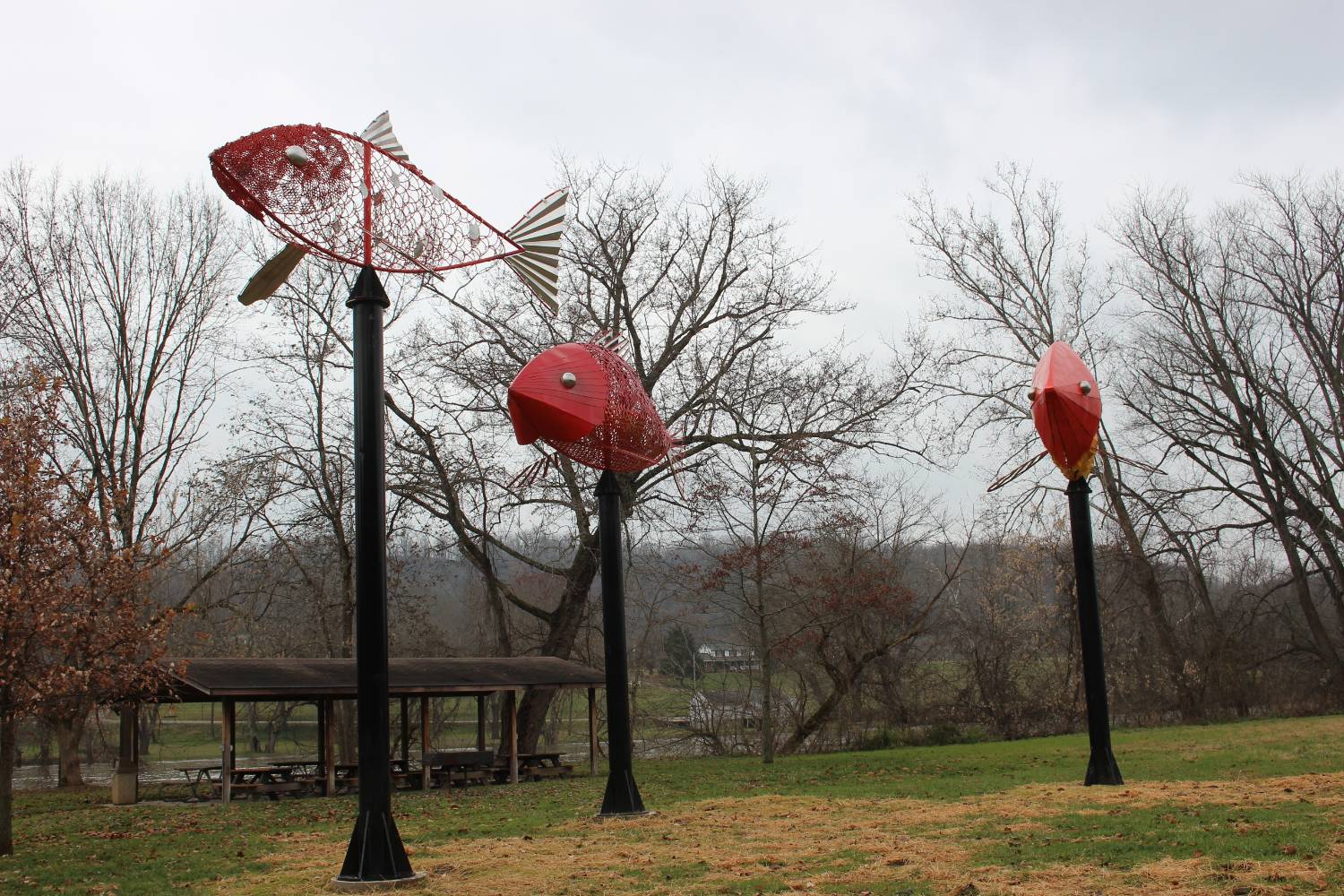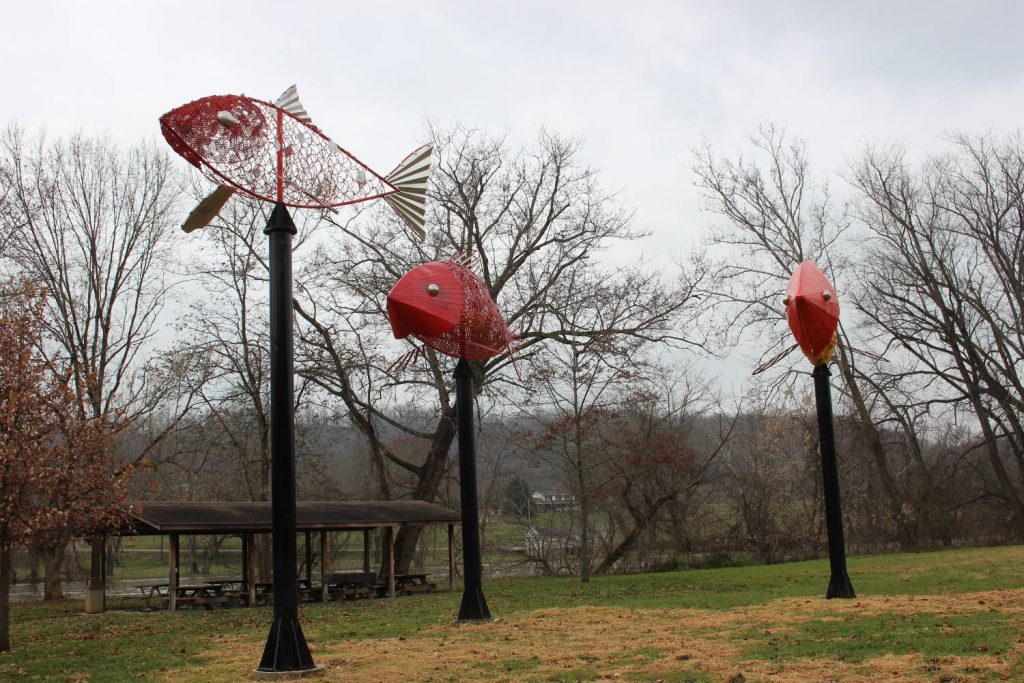 The outdoor gallery spans over 230 miles across Ohio, making it impractical for most people as a one day trip but can ideally be broken up over a weekend or spread out over a week to allow plenty of time to explore the hidden gems in the small towns and communities it passes through.
The art pieces can be viewed at any time of the year but fall would provide amazing views with the changing leaves.
Other notable pieces include:
The Flight of the Hawk in Lancaster ( a great spot for little ones to run around)
The Alan Cottrill Sculpture Studio and Gallery in Zanesville
The Human Rights Garden in Portsmouth
(submitted by Tonya, Travel Inspired Living)
---
Amish Country Byway, Ohio
Distance: 160 miles
Suggested itinerary: 2 days or more
Recommended for: April-October (best in May or early September)
One of my favorite Ohio road trips is a drive along the Amish Country Byway. The 160-miles of Byway allow visitors to enjoy scenic vistas and cultural stops, as well as many dining options.
The best time to visit Ohio's Amish Country is during the warmer months of April through October, however, summer and fall foliage times are the busiest, so visiting in May or early September allows for a more leisurely visit. Allow at least 2 days for your visit, but don't visit on a Sunday, as most attractions are closed.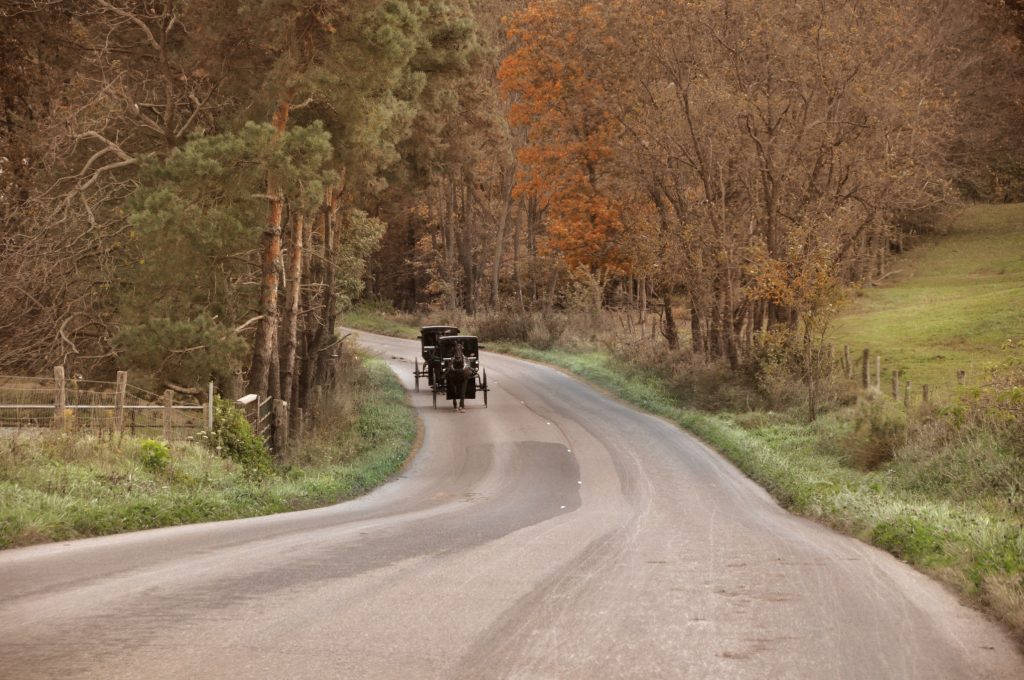 Begin your journey near Berlin, Ohio at the Behalt! Amish and Mennonite Center. This 30-minute tour gives visitors the history of the Amish and Mennonite movement through the interpretation of a large cyclorama. Next, drive State Route 39 to Walnut Creek, Ohio and have lunch at Rebecca's Bistro. This local cafe is known for fresh ingredients and daily specials!
Continue on SR 515 North and marvel across the many hills and valleys of farmland. Watch for pony carts and buggies, as they frequent this area and can be hard to see while coming over a hilltop.
On your right is Yoder's Amish Farm. Stop here for a tour of the farmhouse and one-room schoolhouse, and then take a buggy ride! If you are ready for dinner, a drive back to Walnut Creek to dine at Der Dutchman will give you a taste of typical Amish fare.
On your second day, either enjoy shopping in downtown Berlin or head to historic downtown Millersburg to look for antiques! A stop at the Victorian House Museum or Millersburg Glass Museum just north of town on SR 83 will give you a better understanding of this village's roots. Enjoy lunch in downtown Millerburg's Olde World Bakery & Cafe, or grab a beer at Millersburg Brewing Company.
(submitted by Leah, Yoder Toter Blog)
---
Kansas I-70
Distance: 405 miles
Suggested itinerary: a few days-a week
Recommended for: June & July
Many people think that Kansas is a boring, flat state. I can tell you that it is not. One of the best road trips in the USA, is Kansas I-70. June and July are beautiful months to make the trek, as the wheat fields will be glowing and the Flint Hills will be gorgeous.
Start your road trip on the East side of Kansas. You will observe that the rolling hills on the East side of the state gradually give way to
some of the most beautiful rock formations in America, as you travel West.
Kansas City, Kansas is a great starting point on the East side of the state, as you begin the 400+ mile road trip. After dining on BBQ in Kansas City, you will quickly want to embrace the rolling hills that this part of the state has to offer.
A stop in Manhattan warrants a ticket to zip through all 7 ziplines at Wildwood Adventure Park. As you continue West, be sure to stop in Abilene to experience the community pride that lives here. Hint: It's all about America's 34th President, Dwight D. Eisenhower.
As you continue West, swing through Lucas. Here you will experience the world-famous Garden of Eden. This is a work of art unlike anything you will find elsewhere. In fact, you can view the deceased body of the gentleman that created this masterpiece. Often referred to as the Grassroots Art Capital of Kansas, the town wears its name well.
Continue West where Oakley brings Monument Rocks. The rock formations are stunning, large and memorable. You can hike around them and take many pictures. Upon departing Monument Rocks, observe the wide-open skies and the cows that roam freely.
Exit 17 awaits you at Goodland, Kansas. Here you will want to take a photo of the Giant Van Gogh Painting and reflect on your fun
road trip across Kansas I-70. You will quickly realize that Kansas is a state of wonder and majestic beauty.
(submitted by Sara, Travel With Sara)
Northeast Road Trips
We think that some of the best places to road trip in the US are in the Northeast! Particularly when the fall season arrives, the leaves change and the air is crisp and cool. It's a great time to jump in the car and go for a drive. Here are some of the must-do Northeast USA road trips:
Route 6 in Pennsylvania
Distance: 400 miles
Suggested itinerary: several days – one week
Recommended for: Summer and fall
Route 6 is a cross-country road that passes from Massachusetts to California, but one of the most beautiful stretches is the 400-mile drive through Pennsylvania. The road cuts across the primarily rural northern tier of the state passing near many of PA's best outdoor gems. It enters the state from New York at Matamoras and runs into Ohio just west of Meadville.
While the trip can be done in just a few days, taking a week to complete the journey allows you to visit all the major stops including places like the Poconos, the Pennsylvania Grand Canyon, Cherry Springs State Park, and Kinzua Lake. Despite the trip being mostly rural, there's also a lot of fascinating transportation and industrial history to explore in the city of Scranton.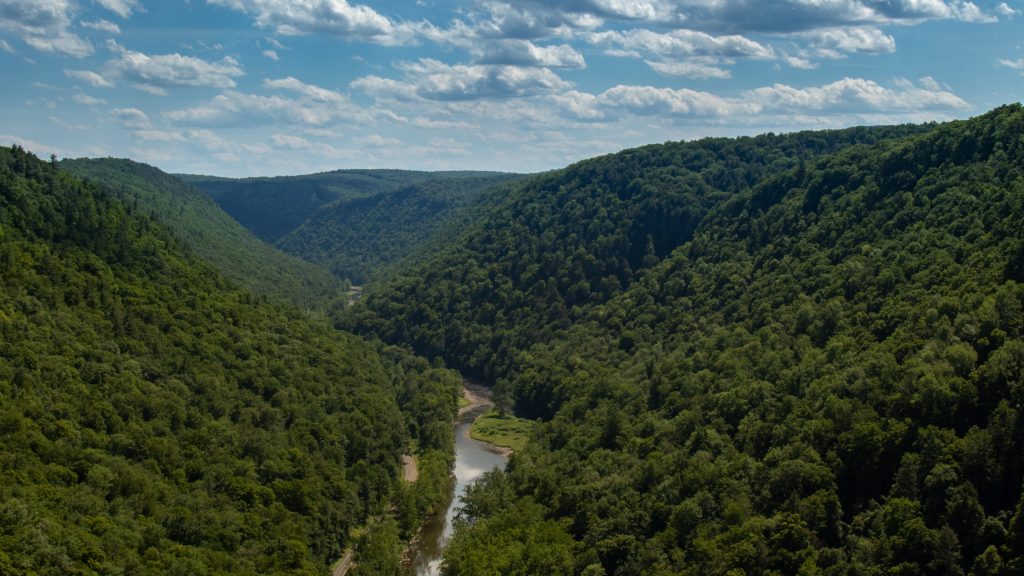 The best time to complete this road trip is in either the summer or the fall. The summer has the advantage of all of the attractions, even those in the small towns, being open. On the other hand, while a few spots might be closed in the fall, the heavily forested hillsides are incredibly vibrant in the middle of October.
Having visited every corner of the state, I can say for sure that there is no better trip in PA than Route 6.
(Submitted by Jim, Uncovering PA)
---
The Adirondacks and Finger Lakes, New York
Distance: 380 miles
Suggested itinerary: 1 week
Recommended for: Fall
A road trip from Plattsburgh to Corning takes you through some of New York's most beautiful scenery in the Adirondacks and the Finger Lakes. With an airport, car rental agencies, and lots of shops and services, the small city of Plattsburgh makes a good starting point.
About 50 miles southwest of Plattsburgh, Lake Placid is home to all sorts of Olympic sites. After spending at least a day there, reserve another half-day for The Wild Centre, a fascinating wildlife interpretation complex in Tupper Lake (30 miles west).
From Tupper Lake, drive roughly 170 miles southwest to Syracuse, where you can check out the Erie Canal Museum, the MOST science museum and the seriously good ribs at Dinosaur Bar-B-Que.
Twenty-two miles west, you'll find the cute lakefront town of Skaneateles (pronounced Skinny-Atlas). Browse in gift shops, enjoy a wine tasting or take a boat cruise around Skaneateles Lake.
Another 22-mile drive west brings you to Seneca Falls, the birthplace of the American women's rights movement and (some believe) the model for Bedford Falls in the classic Christmas movie It's a Wonderful Life.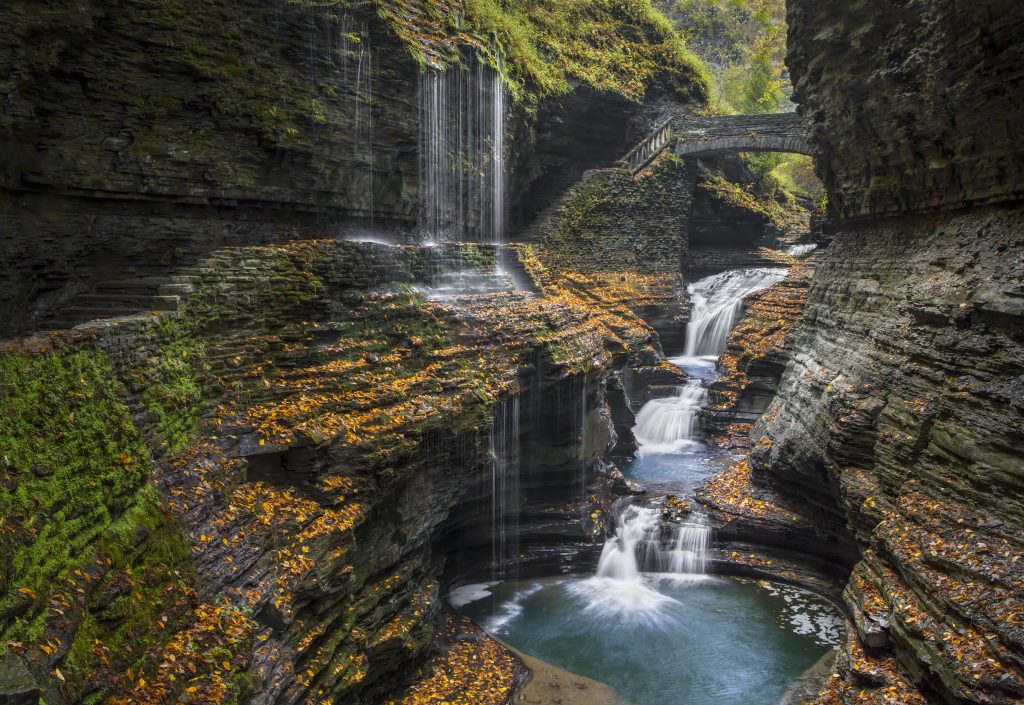 Next, point your car south and drive 41 miles along the shore of Cayuga Lake to Ithaca. Perhaps best known as the home of Cornell University, it's also surrounded by at least 150 waterfalls.
The next stop is Watkins Glen, 24 miles west at the southern tip of Seneca Lake. Its claims to fame are yet more waterfalls (head to Watkins Glen State Park) and the Watkins Glen International racetrack.
Your final destination is Corning, 21 miles from Watkins Glen and best known for the fascinating Corning Museum of Glass.
This 380-mile route is spectacular in early October, when you can enjoy both the fall colors and the harvest season. Allot at least a week.
(submitted by Laura, Ottawa Road Trips)
---
New England Road Trip: Boston –> Burlington, Vermont –> Portland, Maine via New Hampshire
Distance: 440 miles
Suggested itinerary: 1-2 weeks
Recommended for: late spring through fall
(submitted by Two Drifters!)
New England is such a gorgeous part of the country, and it is perfect for a road trip. It is perhaps most prime for a fall road trip, when the foliage colors the landscape.
There are six states in the New England region, and we absolutely recommend visiting them all, but if you want a great New England road trip that includes some of the highlights (especially in the Autumn) this is the route we recommend.
For a complete road trip of New England covering all six states, check out our full itinerary, which also includes options for Northern New England and Southern New England.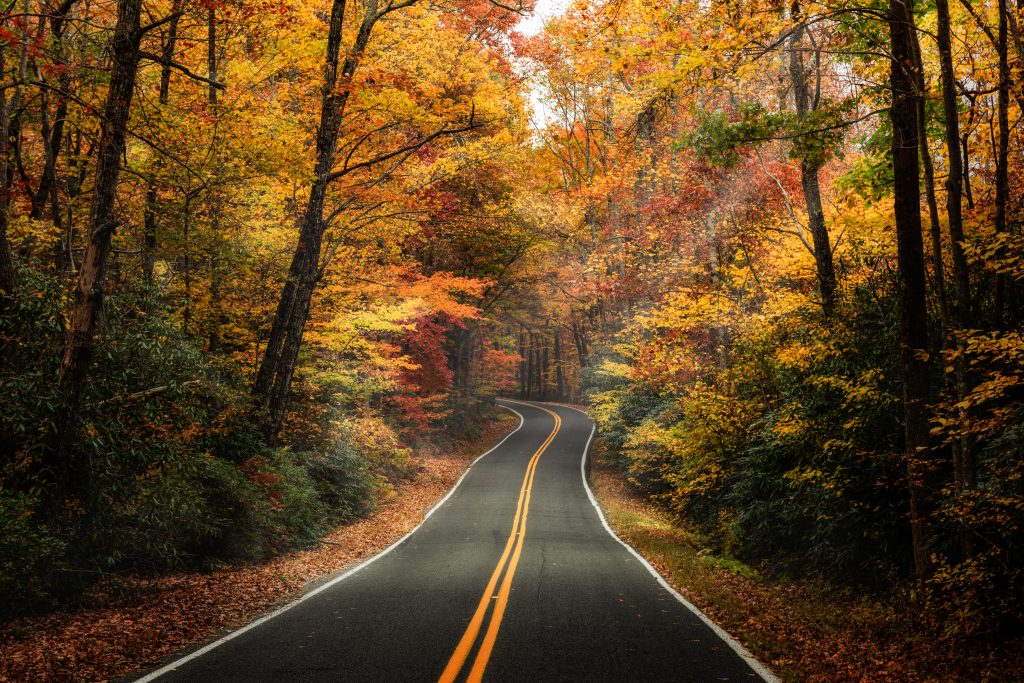 This great drive takes you from Boston, MA up to the hip city of Burlington, VT. From there, you travel east through some of the prettiest parts of Vermont and New Hampshire all the way to Portland, Maine. On this route, you'll see three of New England's best cities, plus drive through many lovely country spots. It's a nice balance.
On your way from Boston to Burlington, enjoy the Vermont scenery. The Green Mountains are gorgeous. Along the way, consider stops at Manchester, known for its great shopping or Woodstock, an absolutely classic small Vermont town.
Plan to spend a few days in Burlington, the state's biggest city. Perched on the shores of Lake Champlain, this is a great area for outdoor adventures, plus lots of great dining and craft beer.
Portland is similar to Burlington, with more beer (yay!) and lots of great shops and attractions. On your way to the coast, you'll pass through the striking White Mountains of New Hampshire. If you have time, stop in these areas for some excellent hiking, camping, and sightseeing. More details in our full New England road trip guide.
---
What is your favorite American road trip?
---
---
Before You Go
Whether you're in the planning or packing stages, we recommend these resources and travel essentials:
---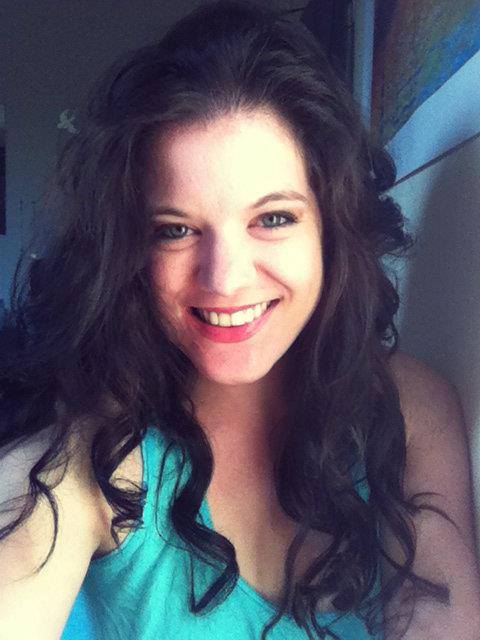 Amy Hartle is the Editor behind Two Drifters, and author of Do You Love Me? How To Stop Seeking Reassurance in Relationships, a book on reassurance seeking. While her name often is found beside the title of "Relationship Expert", she knows that becoming an expert on love and relationships will be a lifelong challenge. But, she is a passionate student of the subject, fully dedicated to learning all she can about relationships, connection, and intimacy, and nurturing her own marriage along the way.
Amy lives in North Carolina with her husband Nathan, and son Malcolm. When not working on websites or traveling the world, the Hartles can be found cuddling, reading, and hanging out with their cats.