This post may contain affiliate links. Read our disclosure page for full details.
Located in the Sierra Nevada mountain range on the border of California and Nevada, Lake Tahoe is one of the most romantic places in the United States. It is such a magical place that it tranquilizes all your senses with its breathtaking scenic views and leaves you awestruck.
Although Lake Tahoe is not all about its pristine lake or scenic mountains, there are so many outdoor activities(that include hiking, mountain biking, skiing, ice skating, parasailing, and many more) available for adventure lovers. So, if you are newly married and looking for a honeymoon destination, look no further than Lake Tahoe as there you will find plenty of romantic things to do in Lake Tahoe.
Interesting Facts about Lake Tahoe
Lake Tahoe is the largest alpine lake in North America and the second deepest lake(1645 feet) in the United States.

2/3 part of Lake Tahoe is in

California

and 1/3 is in the

Nevada side where gambling is legal.

The lake is approximately a million years old.

The water of the lake is very clear and it is one of the purest lakes in the world.

Being a popular weekend destination, Lake Tahoe remains heavily crowded on summer weekends and public holidays. Try to visit Lake Tahoe on weekdays to get the beat the crowd.
Best Time to Visit Lake Tahoe
Lake Tahoe can be visited at any time of the year. No matter whether it is summer or winter, Lake Tahoe has something special each season for its visitors. Lake Tahoe in summer is very crowded as you can access most tourist spots and can enjoy the bright sunshine. Winter is also popular in the Lake Tahoe area for plenty of winter adventure activities like skiing, snowboarding, ice skating.
However, if you are looking for less crowd for peaceful romantic holidays, I will recommend visiting in the spring or fall season. You can get spectacular views of Lake Tahoe and the surrounding Sierra Nevada mountains and the best thing is that you can get some amazing deals on hotel and flight booking during these seasons.
How to Get to Lake Tahoe
Reno-Tahoe International Airport is the closest airport to the Lake Tahoe area. It is about one hour drive from South Lake Tahoe. Generally, flight ticket to this airport tends to be expensive. Another option is Sacramento International Airport which is cheaper and about a 2-hour drive from Lake Tahoe.
If you prefer to drive cars, South Lake Tahoe is about 3.5 hours drive from San Francisco Bay area. You can also reach here by Amtrak's California Zephyr that leaves from Emeryville and stops at Truckee.
How to Get around in Lake Tahoe
The best way to get around the Lake Tahoe area is by car. You can drive your own car or can rent a car which is more convenient and hassle-free way to explore Lake Tahoe with your partner. Or, why not consider renting a camper van and doing some van camping around the Lake?

Although public transportation is available, having a car or van will give you more flexibility to discover the long shorelines of the lake. Free shuttles are available between South Lake Tahoe and the Heavenly Ski Resort, and the Kirkwood Mountain Resort. Another way is to take bus service from Tahoe Transportation System in South Lake Tahoe and Tahoe Area Regional Transit in the North Shore.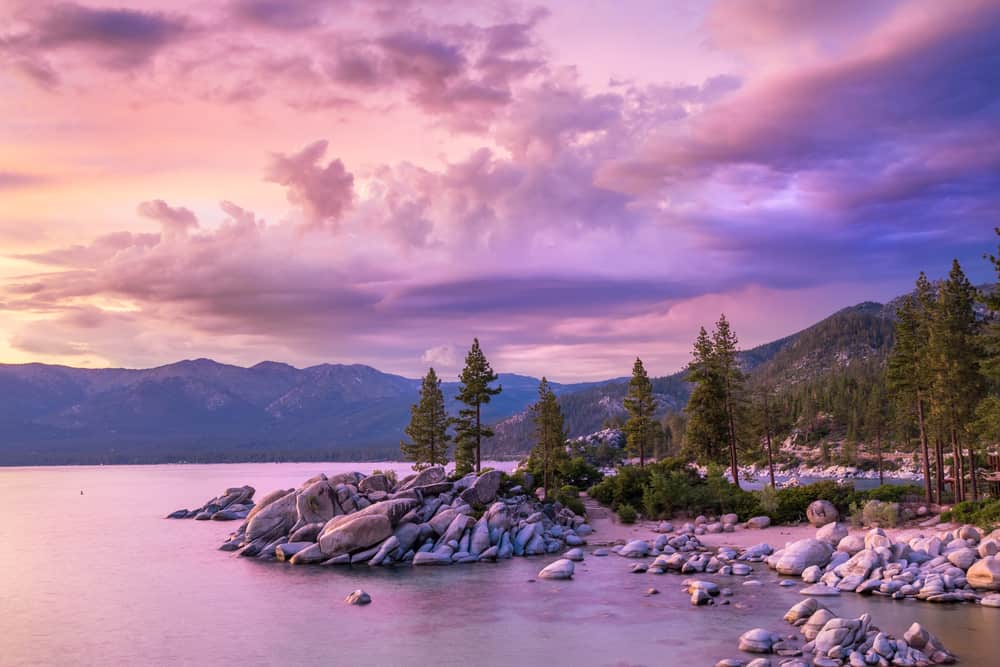 Best Romantic Hotels in Lake Tahoe
There is no shortage of luxurious romantic accommodations in Tahoe. I will suggest choosing your hotel or Airbnb in South Lake Tahoe which is the main tourist area and all the shops and restaurants are not too far from here.
Lake Tahoe is not at all a cheap place in California. So, finding a cheap accommodation won't be an easy task, especially if you are planning to stay near Nevada part. However, if you plan to arrive here during off-season months, you can get few affordable hotels near South Lake Tahoe.
Hotel Azure: For a romantic weekend getaway accommodation, Hotel Azure is a perfect choice that won't break your bank. Located right on Lake Tahoe Boulevard, this hotel features two hot tubs, an outdoor pool, a cafe, a small gym, and a game room. The rooms are spacious, clean, and equipped with all modern amenities.
Marriot Grand Residence Club: This luxurious hotel is located in a prime location in Heavenly Village. It features an outdoor heated pool, on-site spa, and wellness center. The rooms are well equipped with all basic amenities. Their service is top-notch, the staff is very friendly and polite.
Top Romantic Things to Do in Lake Tahoe
Heavenly Gondola Ride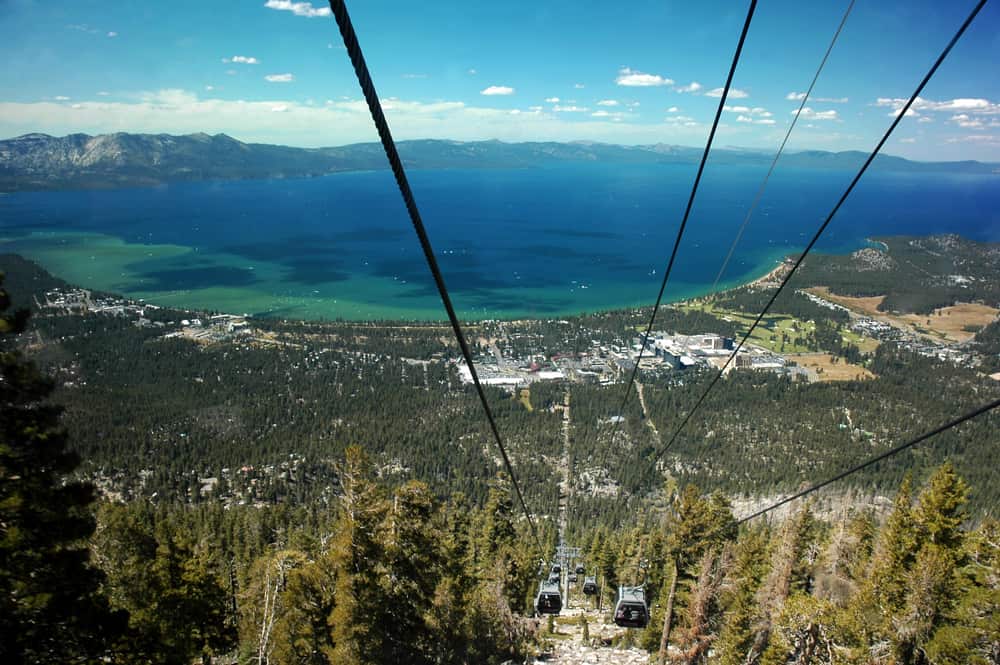 When you are in Lake Tahoe with your partner, you must take a ride in Heavenly Gondola. It is one of the best romantic things in Lake Tahoe that couples can enjoy. When you ascend Heavenly Mountain, the ride gives you an opportunity to get a view of the Alpine forest and Lake Tahoe from a different angle. Heavenly is one of the most popular ski resorts in California. Enjoy skiing and snowboarding together.
Even if you don't like skiing, the gondola ride won't disappoint you. You can enjoy the breathtaking views of the ski resort along with the blue-colored Lake Tahoe and the beautiful Sierra mountain at the backdrop. You can hang out at the observation deck or grab a snack or drink coffee at Cafe Blue and enjoy some romantic moments together.
Sierra Hot Springs
Want to enjoy a calm, relaxing, and soothing experience with your sweetheart? Located at the north of Lake Tahoe, Sierra Hot Springs is one of the best hot springs in California and is ideal for couples looking for solitude.
They have a Meditation pool, Old bathhouse, and a Domed hot spring.
The Meditation pool is a no-talking area and the water temperature averages 102 degrees. The main highlight is the Domed hot spring where the spring is basically inside the dome. They have two cold springs too. Couples can enjoy body massage and spa offered by the therapists.
Explore Emerald Bay State Park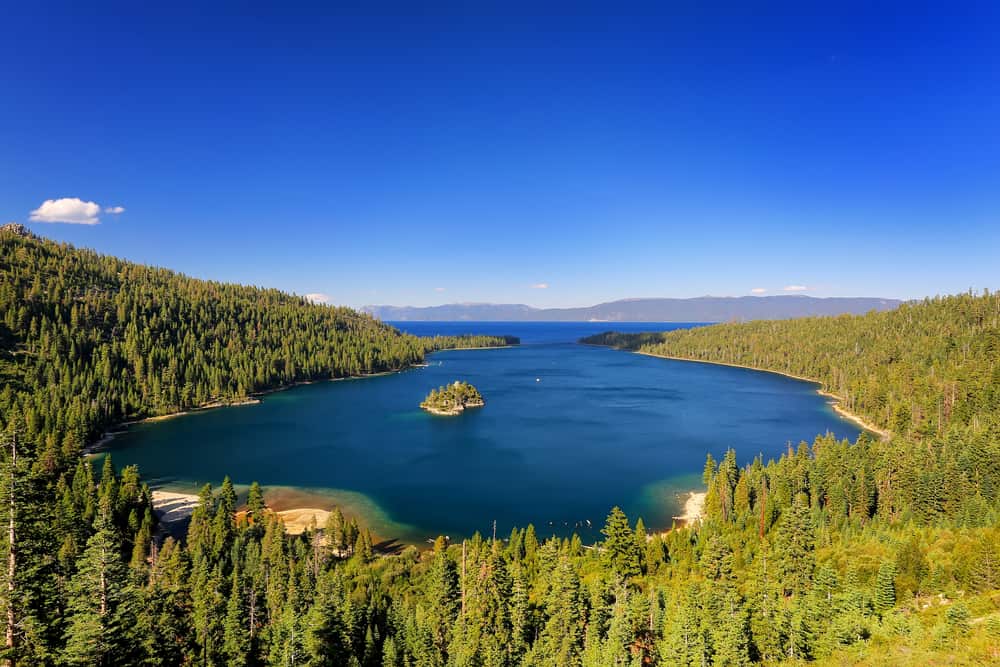 Lake Tahoe's itinerary is incomplete without including Emerald Bay State Park. The combination of glacier-carved granite peaks and azure-hued water of the bay made Emerald Bay SP one of the most spectacular places in Lake Tahoe. There are many viewpoints in Emerald Bay State Park, in which I will recommend visiting Inspiration Point to take some Instagram-perfect pictures.
You can also go for a hike to Vikingsholm Castle, a spectacular Scandinavian architecture that has 38 rooms. This short trail is very scenic and filled with wildflowers and benches to take a rest. There are two campgrounds too. Adventure-loving couples can spend a night together in the wilderness.
Hot Air Balloon Ride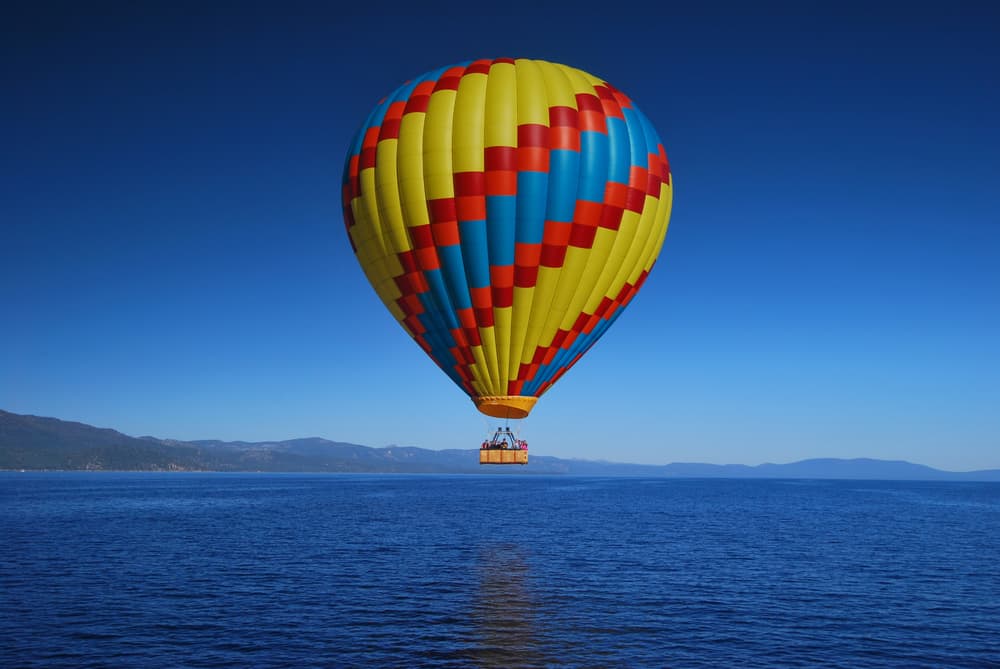 The hot air balloon ride is one of the most romantic things for couples to do in Lake Tahoe. It is such a magical experience that you shouldn't miss when you are in Lake Tahoe. Getting the amazing view of Lake Tahoe and Sierra Nevada mountain range from a bird's eye view is not only an eye-soothing experience but thrilling as well as romantic when you are with your loved one.
The hot air balloon tour will take you about 8000 to 10000 feet in the air which offers a clear view of the Emerald Bay, Cascade Lake, Fallen Leaf Lake, and the Desolation Wilderness. It is really a romantic experience to watch the sunset together from the air.
North Shore Parasailing and Jetskiing
Not every couple loves to relax on a romantic trip. Parasailing and jet skiing are for those adventure-loving couples who love to feel the thrill of adventure sports. If you want to get the same kind of experience of hot air balloon ride but in a more thrilling way, go for parasailing that will fly you over the North Shore of Lake Tahoe. It is a great way to enjoy the panoramic view of Lake Tahoe.
Do you have vertigo? No issues. There you will find many companies that offer jet ski rental services. Cruise around the lake freely at 60 miles per hour speed. Be careful while jetskiing, especially near swimming areas.
The Ritz-Carlton Spa
After a whole day's of outdoor activities, a relaxing spa or full body massage are the things that your body needs. The Ritz-Carlton Spa offers an incredible spa experience with its 17 treatment rooms, a dry-heat lodge, and a eucalyptus steam room. Indulge in a couples spa and enjoy the intimate setting nestled between the pristine lake and majestic mountains.
I will highly recommend trying their organic massage. They use stones from Lake Tahoe, natural healers including CBD, and wild honeysuckle. It will surely make you feel refreshed and relaxed.
Ice Skating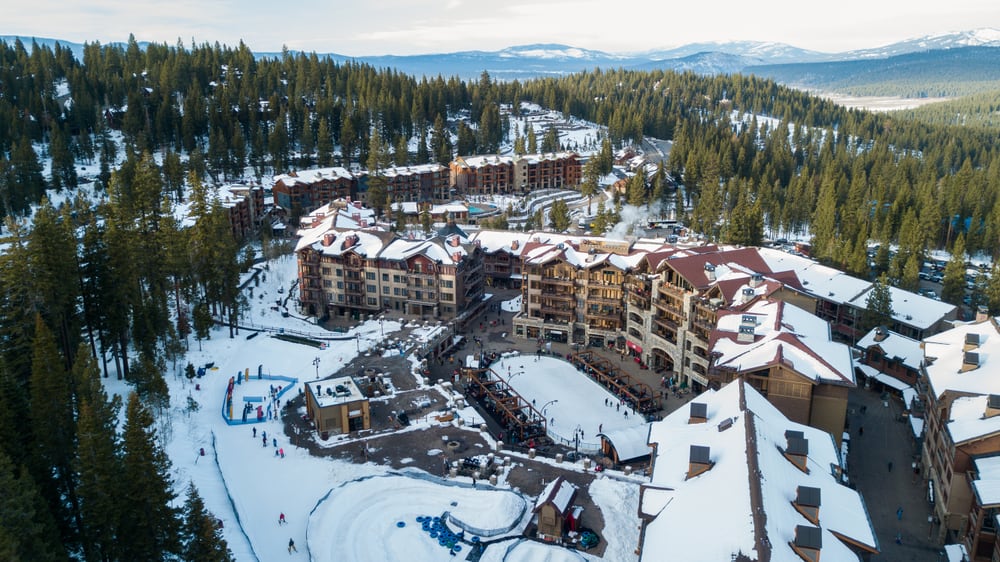 Ice skating hand in hand is another romantic thing to do in Lake Tahoe in winter. North Lake Tahoe has ample ice skating rinks where you can rent ice skates and enjoy the rinks. No matter if you are an experienced skater or a novice, you can learn and practice together as a couple.
Northstar Village Ice Skating Rink and Heavenly Village Ice Rink are the two most popular rinks in Lake Tahoe. The lights and festive music in the rink make a wonderful ambiance. Most rinks are open from December to April.
Romantic Sleigh and Carriage Ride
Sleigh Ride in the Lake Tahoe area is a perfect winter couple activity. Not just for fairy tales, a sleigh ride in snow-covered Lake Tahoe is a perfect way to enjoy the natural landscapes. The sleigh ride will take you over the meadow, through the woods. Borges Sleigh and carriage rides are a family-owned tour company that takes you to some of the most beautiful places in Lake Tahoe.
In the summer months, they have wheels in their carriage that will take you along tranquil neighborhoods to the sandy beaches of the lake. The guides are very informative and will tell you tales of Tahoe. Don't forget to take a couple picture on this horse-driven sleigh or carriage with jaw-dropping Lake Tahoe in the background.
Romantic Sunset Cruise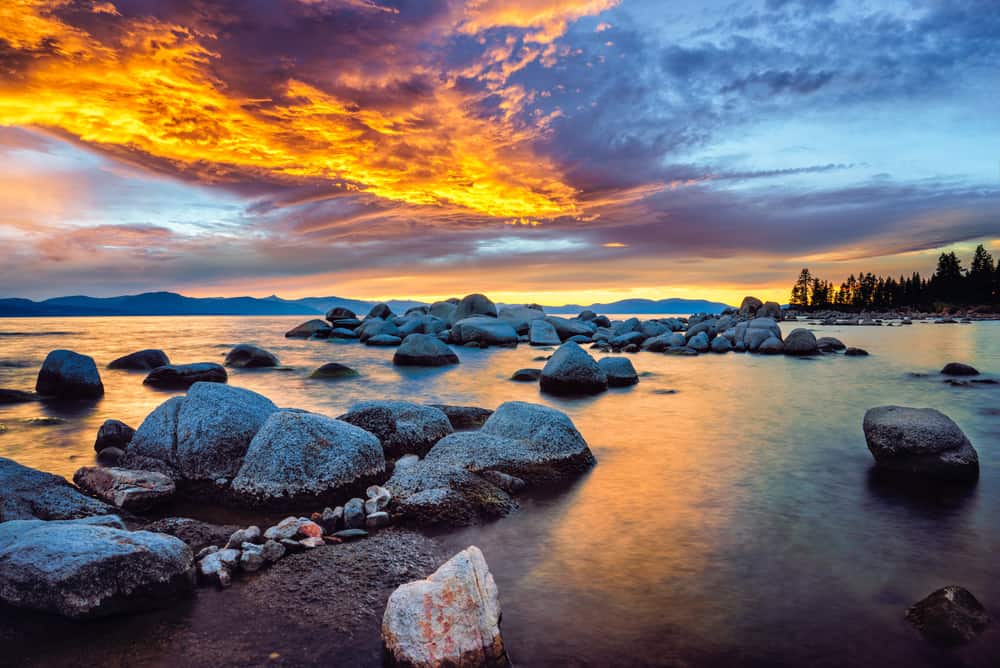 Still, looking for romantic things to do in Lake Tahoe? When you are done with all of Lake Tahoe day sightseeing and activities, go for a sunset cruise in Lake Tahoe. This 2-hour sunset cruise lets you enjoy the shimmering sunset together over the gorgeous Tahoe mountains as you sip complimentary champagne.
This cruise also includes local sightseeing such as Vikingsholm Castle, Eagle Falls, and glacier-carved Fannette Island. Enjoy the live music and the light. Foods and drinks are also available for purchase on board. Many cruises include a dining option in their packages, so you can make a whole day of it.
Enjoy a Romantic Dinner
What can be more romantic than a dinner with your better half in a cozy restaurant? Surprise your loved one by booking a table for a romantic dinner at Edgewood Restaurant. The views of Lake Tahoe and golf courses are excellent from any table.
The food quality is too good and the price is reasonable. Don't miss their roasted elk loin and filet mignon. I will recommend booking your table around sunset to get the best view of the lake.
---
About the Author Trijit Mallick: I'm a software engineer by profession and travel blogger by heart. Besides being a blogger at Budget Travel Buff, I have also passion for Photography and Motorcycle Riding. I am based out in the city of joy of India – Kolkata. I spent 5 years in California for work purpose and explored the Golden State.
---
You might also like:
---
Pin to save for future travel planning!