*Links in this article may be affiliate links, from which we may earn commission. See our Privacy Policy for full details.
Asheville, North Carolina is a city that holds a special place in our hearts.
Born and raised in North Carolina, Nathan can't help but love this beautiful gem of his home state, and I fell in love with this mountain town when he first took me to visit. We ended up living in Asheville for two wonderful years, and near the end of our stay, we got married there.
Whether you're planning a wedding or not, there are a lot of romantic things to do in Asheville NC.
Are you a couple traveling to the Blue Ridge Mountains? Let this be your go-to guide for what to do and where to stay.
Romantic Things to Do in Asheville, NC
Stroll through Luxury at the Biltmore Estate
One can't visit Asheville without spending time at the famed Biltmore Estate. The Biltmore is absolutely one of the top Asheville NC attractions for couples and a must-see for everyone!
This Vanderbilt mansion is known as the largest private home in America, but it more closely resembles a French chateau than an ordinary home. There are 8000 acres of land to explore at the Biltmore.
Visiting the Biltmore Estate
Not only can you tour the opulent interior of the home (which is especially magical during the holidays) but you can also visit an onsite vineyard, explore the gardens, hike trails, or participate in a number of outdoor activities. You can purchase your tickets from the Biltmore's website. Check out reviews of this Asheville attraction on TripAdvisor.
There are also lots of special guided tours, many of which have uber-romantic options. Check out this great tour which includes your admission, an audio tour, and lunch at one of the several onsite restaurants.
If you're looking for something different, consider this stand-up paddleboarding adventure, which takes you along the French Broad River with gorgeous views of the Biltmore Estate.
Go for a Peaceful Walk in the Botanical Gardens
If you haven't had your fill of gardens at the Biltmore, you can step into Asheville's Botanical Gardens. This is a really lovely place and a quiet respite from the happy chaos of the city. With free admission and free parking, it's an activity that won't break the budget.
Here you can observe much of Appalachia's native flora. If you hope to see flowers in their full bloom, it is recommended that you visit in mid-April or mid-August.
If you find yourself in Asheville in the midst of summer (June and early July), you can catch the glorious rhododendrons at their full height. These are best spotted among the verdant green mountains of the Blue Ridge Parkway.
Take in One (or Many) of the Waterfalls in Western North Carolina
Asheville and the surrounding area are home to hundreds of waterfalls! You should make the most of these on an Asheville romantic getaway.
You can combine waterfall spotting with one of the many great hikes in the region. We recommend this one, which includes three waterfalls!)
There are tall narrow falls, wide-sweeping falls, waterfalls you can drive behind, and waterfalls you can bathe in. Sliding Rock and Skinny Dip Falls are a couple of the most popular swimming spots, but there are even more on this list.
You may have to drive a bit farther to see some of the most incredible falls, but trust us, it will be worth it!
Want to go on a guided hike with a knowledgeable local guide? You might opt for this waterfall hiking tour, a five-hour excursion to some of Asheville's best waterfalls.
Have a Conversation at One of the Local Coffee Shops
Oh, how we love coffee. When we lived in Asheville, we spent countless hours at the many delicious coffee shops in town. We suggest you take some time to do the same. There's something special about sitting together over a relaxing cup of coffee. And in Asheville, you're pairing awesome coffee with the tremendous atmosphere of this Southern mountain town.
Asheville has amazing cafes that are each unique. Some of them offer delicious pastries and lunch, and there's even a coffee shop that is also a bookstore and champagne bar! Cheers!
Soar through the Skies on a Hot Air Balloon Ride
With the stunning natural beauty of the Blue Ridge region, you've got a great excuse to head to the skies.
A balloon ride for two is such a sweet thing to do together! It's ideal for a special occasion, a proposal (hint, hint!), or just because. Why not check it off your couples bucket list while you're in Asheville? There are several balloon companies in the area, but this one is especially highly rated on TripAdvisor.
Don't forget the champagne!
Find Bliss at the Spa at Omni Grove Park Inn
There are a lot of gorgeous places to stay in Asheville. If you're looking for luxury, we suggest the Omni Grove Park Inn. This is a spectacular hotel that commands a wonderful view over the city, not to mention its award-winning spa!
Even if you don't opt to stay here while in Asheville (although you might want to! Click here for details + current prices!), book a few hours at the spa. The treatments are reportedly awesome, and there is even a couples session that includes dual exfoliation, a warm mineral and aloe body masque, plus a full-body relaxation massage with essential oils.
Get Lost in Books and Champagne at this Incredible Bookstore
Did we mention the fabulous champagne bar/bookstore? This unique spot is called the Battery Park Book Exchange.
With old and new volumes from floor to ceiling, plus a bar with tasty bubbly, you can spend a couple of hours locked in intense conversation with your partner.
Tour the Breweries
Speaking of booze…Asheville is well known for its abundance of breweries! The city has 26 breweries while the larger region contains a hefty 60! Clearly, you won't go thirsty in this town.
There are a lot of fun options for discovering Asheville's breweries. There are guided tours, including bus and walking tours. For a small group, this walking tour will simplify things, bringing you to a few of the local favorite breweries. The tour includes samples and a souvenir pint glass.
Love to bike? This electric bicycle brewery crawl will guide you to all the best spots and let you explore Asheville by bike at the same time. So perfect for summertime in Asheville!
Considering how walkable downtown Asheville is, you can easily create your own DIY excursion. Our friend Paige has a nice guide to Asheville breweries to help you make the right choices! But really you can't go wrong in AVL. We especially like Wicked Weed and Lexington Avenue Brewery, both of which have a great vibe and delicious beers.
Have an Adventure
Romance isn't just candles and cocktails. We believe adventure should be a big part of your love story, too! And one of the most romantic things to do in Asheville for couples just might be outdoor adventure.
Consider rafting, tubing, zip lining, mountain biking, stand up paddleboarding, or fly fishing. The French Broad River passes right through town, providing lots of opportunities for fun.
You and your partner don't have to go it alone, either! There are plenty of options for guided excursions. Here's a sampling of a few you might choose from:
Horseback riding on the Fern Forest Trail (sounds super romantic)
An affordable scavenger hunt adventure (find the hidden treasures!)
River rafting trip (100% adventure)
Asheville Ghost Tour (get scared together!)
Of course, since it includes parts of the Blue Ridge and Smoky Mountains, Western North Carolina also has great camping. These spots are worth considering.
Take a Romantic Drive on the Blue Ridge Parkway
One of the most romantic things for couples to do in Asheville NC is cruise the Blue Ridge Parkway.
This is one of America's most famous roads, and with good reason. The Parkway stretches for hundreds of miles and offers insane views, a bunch of great hikes, and a chance for a really fun drive.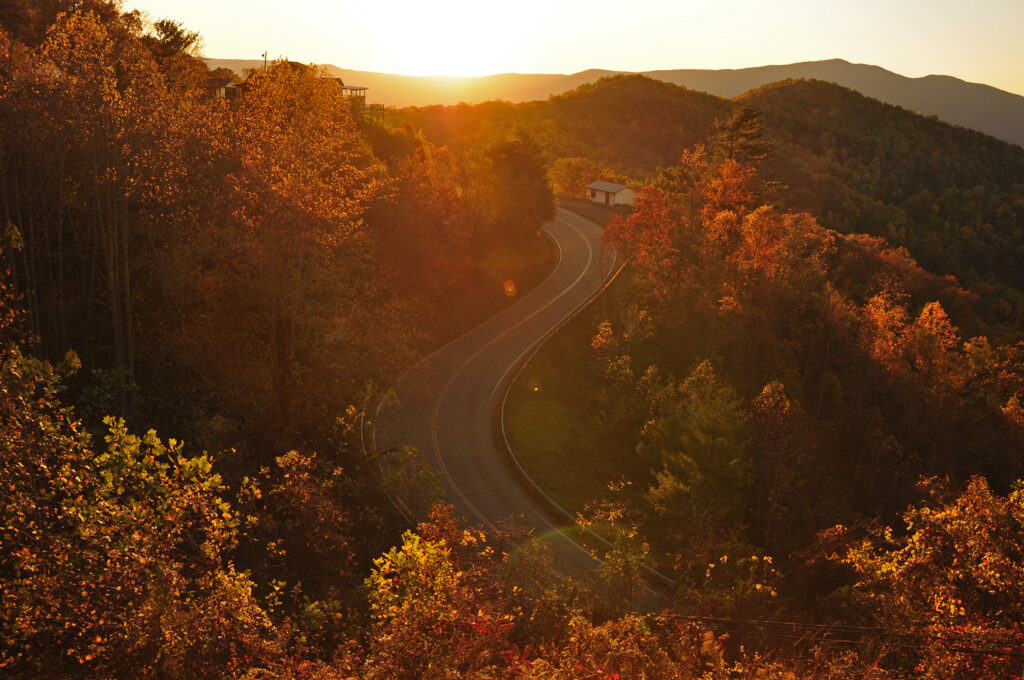 A huge number of people traverse the Blue Ridge Parkway each year…apparently more people drive the parkway than visit the Grand Canyon!
The scenery is lovely in all seasons, but the bright fall foliage attracts many.
You'll want to carefully plan your itinerary so you can hit the top points on this road. Check out these must-see stops. Also, note that portions of the parkway are closed in the winter.
Clink Glasses at One of Asheville's Many Rooftop Bars
Some of the best sunsets in the city can be found at one of the many rooftop bars and restaurants. Make reservations to beat the crowds and bring your camera to Instagram that view!
Where to Enjoy Rooftop Drinks in Asheville
Explore the Eclectic River Arts District
A hip enclave filled with galleries, shops, and some of the yummiest (and cheapest) tacos around, the River Arts District is definitely worth a visit.
You can stroll through the galleries and discover some unusual and beautiful pieces. Maybe you'll take home some local artist's work as a souvenir.
Get Out of Town and into a Cozy Cabin
While the city of Asheville is eclectic and exciting, there's a lot to be said for an escape into the woods. The surrounding region has literally hundreds of cabins you could cozy up in. These are among the most romantic places we can imagine! Perfect for an Asheville NC honeymoon.
For best results, we recommend a cabin with a big open fireplace, an outdoor jacuzzi (so you can stargaze), and incomparable views.
Where to Stay in Asheville – Romantic Asheville Hotels and Accommodation
One of the most important parts of a romantic trip is your accommodation. You want something comfortable, cozy as can be, and private. Perhaps, if you're treating your sweetheart to a romantic Asheville getaway, you will also want something luxurious.
Omni Grove Park Inn
The epitome of luxury hotels in Asheville must be the Omni Grove Park Inn. This place is gorgeous. Though we've only eaten brunch there (the dining room's views are amazing, by the way), Nathan's parents go here every year for their anniversary. From its position in the mountains, you can see all the way into downtown Asheville from above. As a bonus, the inn has an award-winning spa onsite. Reviews | Book Now
Aloft Asheville Downtown
Aloft is one of the most popular hotels in Asheville. This hip downtown hotel is perfectly located, so you'll be in walking distance of tons of breweries, restaurants, and attractions. The Biltmore Estate and other sites are only a short drive away. If you're traveling with a pet, Aloft is a super dog-friendly hotel, which is great in a dog-friendly city like Asheville. In fact, the hotel even features visits by adoptable dogs from local shelters. Modern decor and an onsite pool make this a perfect couples retreat. Reviews | Book Now
Princess Anne Bed & Breakfast
Want something a bit quieter and quainter? A B&B could be just the thing. In Asheville, we recommend the Princess Anne Bed & Breakfast. Here you'll experience all the charm of a laid-back Southern mansion. The location is convenient, but you can enjoy privacy, too–perhaps a walk in the garden? Reviews of this B&B nearly all mention the fantastic food on offer, so bring your appetites. Reviews | Book Now
Looking for something different? You might consider a cozy Airbnb or a romantic cabin.
---
Wherever you stay, and whatever Asheville activities you choose, we hope you enjoy your trip to Asheville, North Carolina! Please eat BBQ for us!
---