This post may contain affiliate links. Read our disclosure page for full details.
Looking for a laid back, romantic getaway close to home? Search no further than Savannah! Already well-known as a spectacular destination for couples getaways, there is no shortage of romantic things to do in Savannah, Georgia. In fact, it's often declared as one of the most romantic places in the USA for couples!)
No place knows and shows hospitality like the south and Savannah is no exception. Georgia's oldest city has been named as one of the "World's Friendliest Cities" repeatedly by Conde Nast Traveler readers. With its relaxed atmosphere, diverse dining options, and cozy couples accommodations, it's no wonder so many couples flock here for a romantic Savannah getaway.
Located along the coast in the far northeast corner of the state, you can enjoy pleasant ocean breezes from the Atlantic on your beach strolls. However, the fact remains that it is still in the south and can become quite hot during the summer months. Consider planning your romantic getaway in Savannah, Georgia between March and July. Fall is a great time to visit as well, but you'll miss out on the lovely foliage and blooms of spring.
The city is also full of history and an abundance of beautiful architecture. If you happen to be in the area in March, you won't want to miss the second largest St.Patrick's Day parade in the U.S. Perhaps the most well-known park in Savannah, Chippewa Square, is also a must-see, made famous by the iconic bench scenes in the movie Forrest Gump.
Ready to explore more of the fun things to do in Savannah, GA for couples? Read on for the most romantic places to stay, the best things to do, and much more!
Don't miss our post on 17 of the most romantic vacation spots in the Southern US!
Romantic Things to Do in Savannah, GA
Picnic in Forsyth Park
Being one of the most iconic spots in all of Savannah, you will find a flurry of activity at the popular Forsyth Park year-round. It is host to concerts during the Savannah Music Festival, the occasional free movie in the park, and many other special events throughout the year.
Forsyth Park's most defining feature is its fountain located at the north end of the park. Pack a lunch, grab a blanket, and enjoy a relaxing picnic lunch under the many Spanish moss-covered oaks nearby. If you would rather grab something light to eat, there is a cafe located in the park as well.
Before you venture off to explore more of the city, be sure to check out the Confederate Memorial and Fragrant Garden area made especially for the blind.
Wine and Dine at The Olde Pink House
Whether you are staying at The Planter's Inn or not, don't miss out on dining at one of the most renowned and romantic restaurants in Savannah, Georgia: The Olde Pink House. This epicurean delight is full of history as well as delicious food.
Whether you have a hankering for seafood or some good ole southern cooking, such as fried green tomatoes and specialty grits, you will find a dish to hit the spot at The Olde Pink House. You can dine inside or enjoy the cool evening breeze with some al fresco dining.
If you're not quite ready to head back to the hotel after dinner, enjoy a glass of wine, cold mug of beer, or cocktail at the in-house bar (where you can order a limited selection of food menu items as well). Live entertainment is provided nightly as well, providing the perfect opportunity to sidle up close with your loved one for a dance.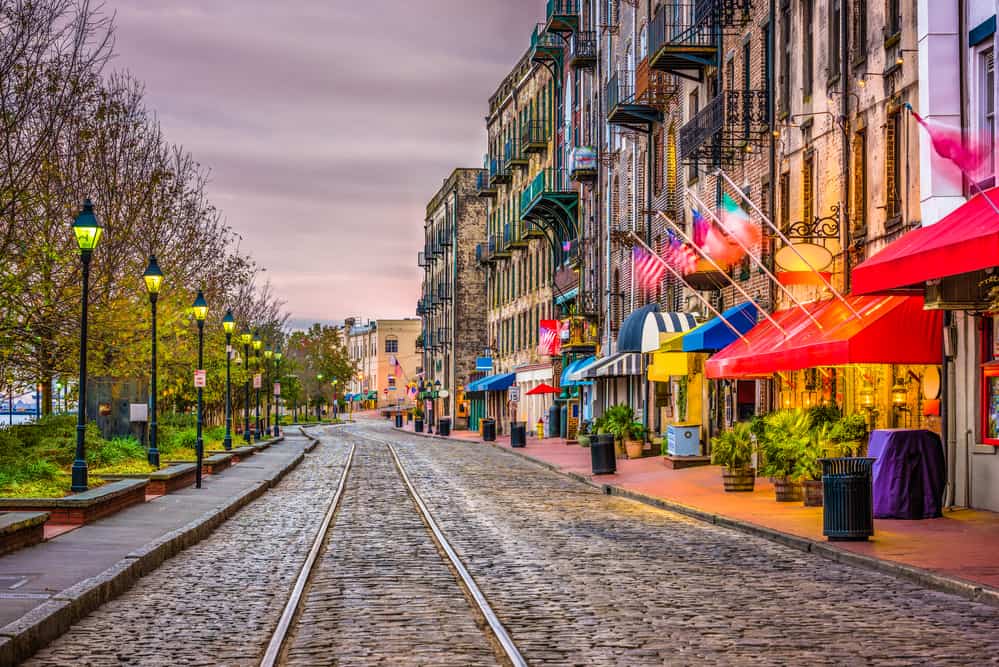 Visit a Winery
If spirits are your thing, there are several wineries (and a distillery!) to choose from in Savannah for a laid-back, fun afternoon together.
The Georgia Tasting Room, located next to the Savannah River, offers a variety of local wines and craft beers…and have even concocted their own wine smoothies with several choices of flavors! Upon entering, their friendly staff will help you and your partner discover your new favorite at the wine bar. For $3 to try 6 different wines, and your tasting fee is waived if you purchase a bottle afterward, their deal can't be beat.
Savannah Wine Cellar, located on the south side of town, is the city's only boutique wine shop to boast 40 wines available to taste every day from their self-serve wine stations. If you are looking for something a little more personal, stop by on a Saturday for hand-poured tastings.
Regardless of when you visit, you won't be disappointed by the diversity of wines available to try, including specialized, dessert, sparkling, and still wines. Whether you are on a budget or want to go all out for a really special bottle of wine, Savannah's Wine Cellar prices range from $10-$200+.
Ghost Coast Distillery is also located near the riverfront. Recently opened in 2017, it is "Savannah's first distillery since just before prohibition." Start off with a visit to The Cocktail Room, where you can sample hand-crafted cocktails created with Ghost Coast products for a one-of-a-kind experience.
After sampling these unique drinks, take a free tour of the facility, where you will learn some history of drinks in Savannah and get a behind-the-scenes look at how Ghost Coast products are made.
Take a Savannah Riverboat Cruise
Why not kill two birds with one stone and take in the sights while refueling your energy reserves? Embarking on a riverboat cruise is arguably one of the most fun things to do in Savannah, GA for couples.
You will find plenty of tours to choose from, no matter what time of day you are planning your excursion. Check out this popular 90-minute riverboat cruise, or this one which includes gospel music and dinner!
Even if you opt to not dine on the boat, a romantic sunset cruise with your loved one is another option.
There are also great package options that put a boat tour and a trolley tour together. This land-and-sea package is a great deal. Plus, that way you really can see all of Savannah! Check it out here.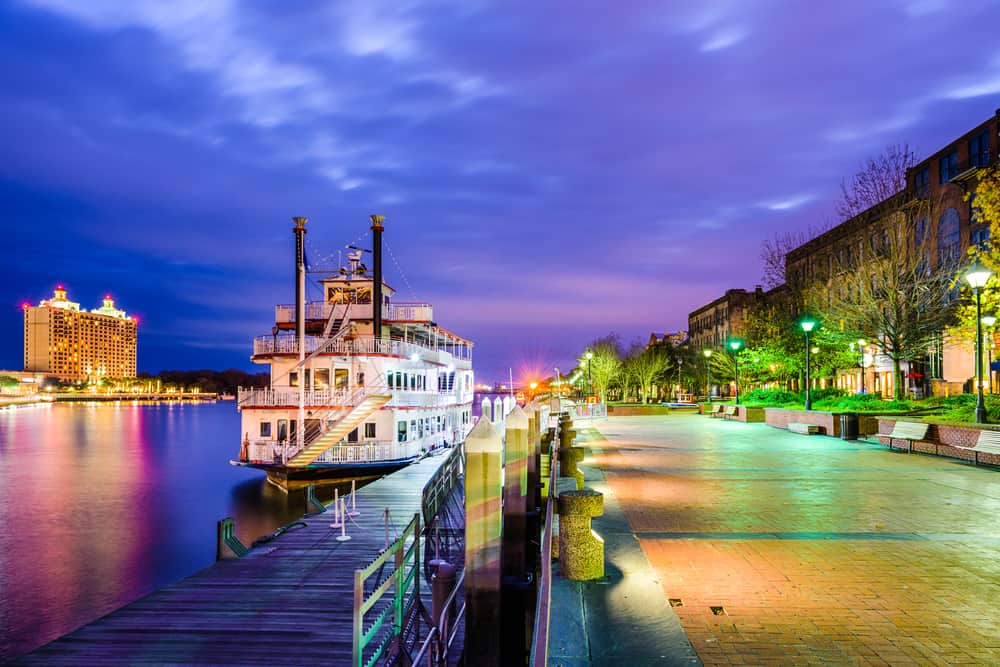 Check Out the Historic District
Being the largest National Historic Landmark District in the U.S., you would be hard-pressed to avoid Savannah's Historic District on your visit. With over twenty city squares full of museums, monuments, mansions, and more to explore, why would you want to miss out?
If you and your partner love a good tour to learn even more interesting facts about the places you visit, Savannah offers a couple of great options.
For a leisurely afternoon together, take a load off with Old Town Trolley Tours. They boast passing 100 points of interest, offer unlimited re-boarding, and provide frequent service so you don't have to wait long after exploring a spot in-depth and are ready to hop back on and discover another historic location of interest.
Continuing with the trolley theme, Old Savannah Tours offers some really fun experiences if you like your history a little more…immersive. Dressed for the part in period costumes, your tour guides can take you on a trip down memory lane of yesteryear with two types of historic tours, a "Savannah Experience" tour, or, if you're feeling brave (or want a reason to snuggle closer to your loved one), dare to go on their "Grave Encounters" tour.
Take a Ghost Tour
Speaking of feeling brave, after having dinner and a drink for the evening, how about experiencing some spirits of another kind? With such a lengthy and rich history to the city, it is no wonder that ghost tours are so prevalent in Savannah. In fact, it is known to be one of America's most haunted cities!
If you and your partner are looking for one of these unique experiences for a chance to find signs of the afterlife, there are certainly plenty to choose from. There are so many options, including a Haunted Pub Crawl, Bonaventure Cemetery Tour, and even a Hearse Ghost Tour, if you don't mind a little extra morbidity! Investigate even more of Savannah's best ghost tours here.
Take a Romantic Carriage Ride
Spooks and specters not your thing? No problem. Take an intimate, post-dinner carriage ride instead! Besides, what romantic getaway would be complete without one?
Whether you're longing for a magical evening out, just enjoying each other's company as you take in the beautiful architecture of the city, riverfront, and more, or, if you haven't already taken one of the many tours offered in the city and would like the unique experience of taking one by horse-drawn carriage, Savannah has you covered. Check out the Plantation Carriage Company, Historic Savannah Carriage Tours, and Savannah's Original Carriage Tour Company to find the right ride for you. (The latter even offers a proposal package!)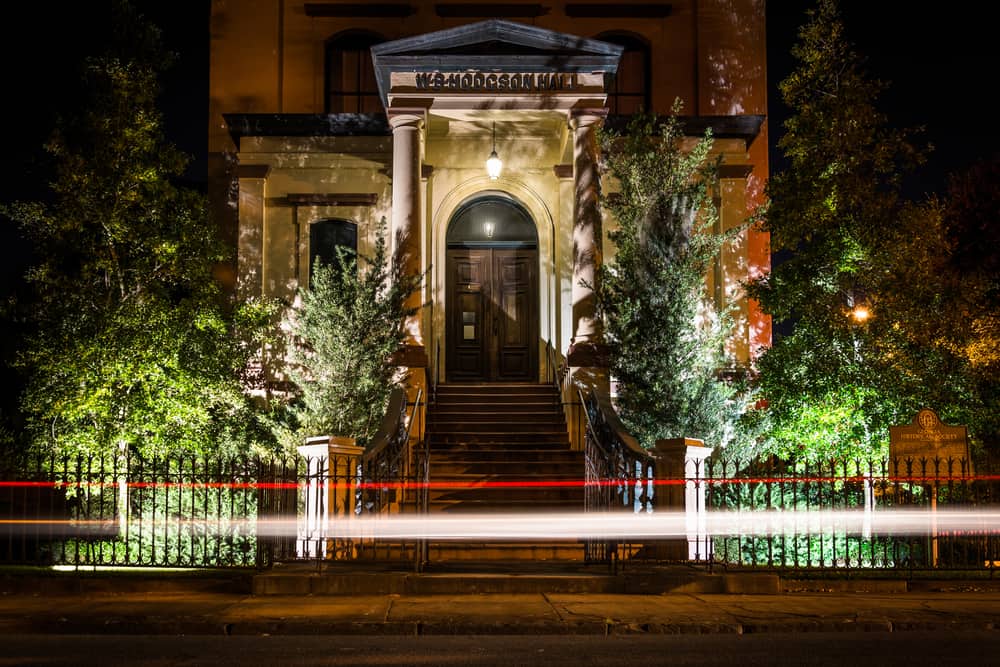 Visit the Coastal Georgia Botanical Gardens
If flowers, plants, and nature are your thing, spend an afternoon strolling through the Coastal Georgia Botanical Gardens for a laid-back Savannah date idea. Although the gardens are technically 15 miles away from downtown, we're still counting it as it is well worth the short drive.
Get lost in your own little world as you wander through rain and rose gardens, assorted irises, floral crape myrtle allee, bountiful bamboo and more. The Coastal Georgia Botanical Gardens offers classes, workshops, and special events year-round, so make sure to check their schedule before your visit.
Take a Sunset Stroll at Tybee Island
For one of the most romantic spots in Savannah, Georgia, you can't go wrong with Tybee Island. With plenty of activities to keep you busy both on and off the coast, this barrier island located 18 miles away from downtown is a great place to spend an entire afternoon playing or a quiet evening walking hand-in-hand down the beach as you watch the sunset over the Atlantic.
During daylight hours, check out the Tybee Island Light Station and Museum and Fort Screven gun batteries. Feeling adventurous? Explore the waters together from kayaks, jet skis, or even take a dolphin tour! For your evening stroll, don't miss out on the great views from the pier at South Beach.
Romantic Places to Stay in Savannah, GA
The Kehoe House
Rated as the #1 hotel in Savannah and USA's #3 romantic hotel, amongst many other accolades, on TripAdvisor, you can't go wrong staying at the famous Kehoe House for your Savannah romantic weekend.
A stately Queen Anne Revival style mansion built in 1892, this picturesque hotel located in the heart of Savannah's historic district specializes in romantic getaways. Offering proposal, honeymoon, and anniversary packages as well as an "a la carte" menu of romantic extras for your room, the staff of The Kehoe House are more than happy to help make your romantic getaway unforgettable!
As if that weren't enough, The Kehoe House also offers elopement services! This package includes two-night accommodations in their balcony king room, four options throughout the mansion to choose from for the location of the ceremony, floral arrangements, and much more.
The Planters Inn
For another highly rated inn located within the historic district, check out The Planters Inn.
Aside from the usual amenities of Wi-fi, a coffee maker, cable tv, and the like, soft terry robes are provided for lazy morning lounging. For added coziness, book a room with a fireplace. And, if you're looking for something extra special for your getaway, look into their Savannah Romance package, which includes two-night accommodations, a private carriage ride, roses, choice of wine or champagne, and more.
The Planters Inn also offers evening wine socials, continental breakfast, and room service from The Olde Pink House, which is adjacent to the hotel and one of Savannah's most popular dining destinations. (More on The Olde Pink House below.)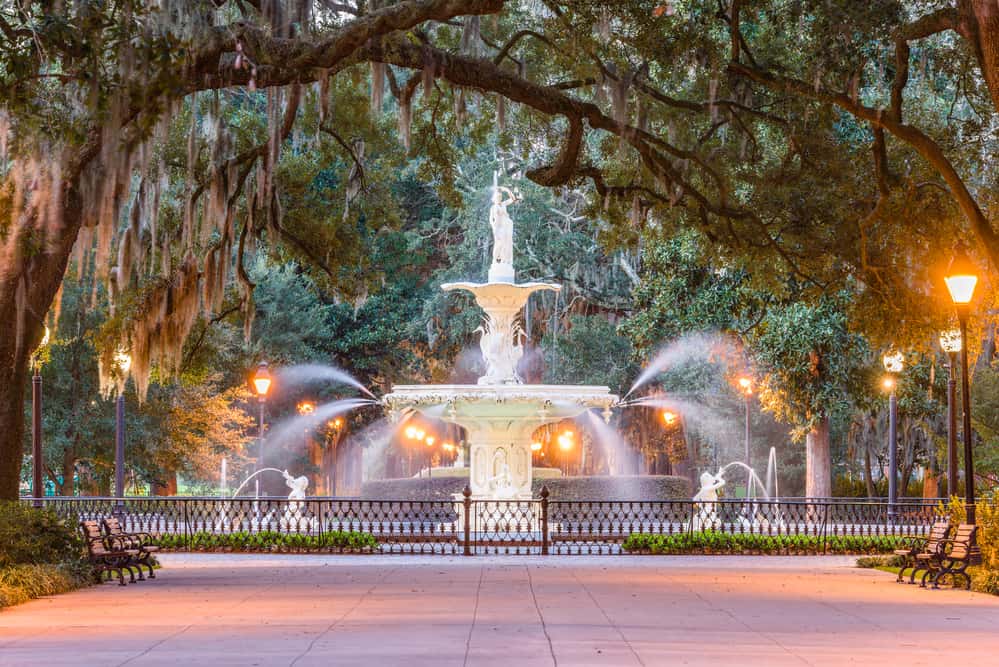 The Cotton Sail Hotel
If you're looking for something a little more modern for your Savannah, Georgia honeymoon or other romantic getaway, The Cotton Sail Hotel may be just what you are looking for. With contemporarily decorated rooms, a rooftop bar, a relaxing fountain, a seafood restaurant located on the ground level, and riverfront views, you may never want to leave the premises during your trip!
After enjoying a drink and a bite to eat while watching the sunset from the relaxed atmosphere of the Top Deck rooftop bar, indulge in The Cotton Sail Hotel's Celebration Package the next morning, which includes sparkling wine or cider and breakfast for two served right to your room.
The Eliza Thompson House
If you're looking for a place to stay that feels like home and offers great service, look no further than The Eliza Thompson House. This historic hotel, located within walking distance of restaurants and shopping galore, offers a slew of amenities and extras, including a continental breakfast, locally roasted coffee, and dessert and coffee time in the late evening.
After your day out, re-group at their evening reception, where hors d' oeuvres and a range of drinks, both alcoholic and non, are offered while you plan your evening. The Eliza Thompson House is gracious enough to provide menus for local restaurants and are happy to assist you in making dinner reservations.
When planning your stay, be sure to take advantage of their 4-Day Getaway Special, which includes a 15% discount on your total rate and a bottle of champagne upon arrival.
---
As you can see, there is no shortage of romantic things to do in Savannah, Georgia! From private carriage rides through the city to personalized stays at historic inns, you are sure to experience the perfect couples getaway here, no matter what you are into!
For even more info on attractions, accommodations, and more, order a free visitor guide through the Visit Savannah page.
Looking for more of the top romantic getaways in the south? Check out these great options for couples:
---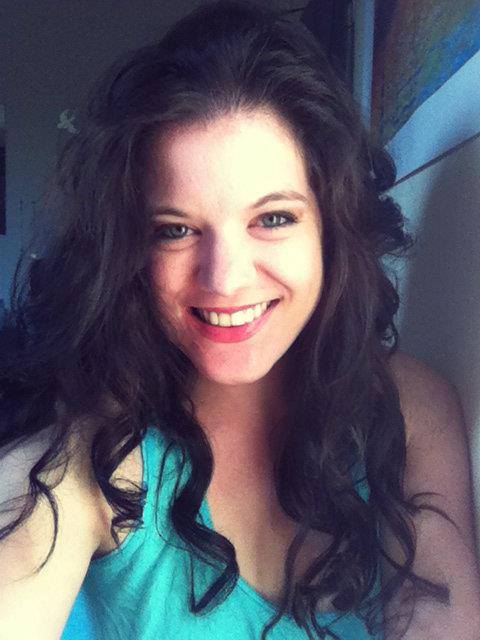 Amy Hartle is the Editor behind Two Drifters, and author of Do You Love Me? How To Stop Seeking Reassurance in Relationships, a book on reassurance seeking. While her name often is found beside the title of "Relationship Expert", she knows that becoming an expert on love and relationships will be a lifelong challenge. But, she is a passionate student of the subject, fully dedicated to learning all she can about relationships, connection, and intimacy, and nurturing her own marriage along the way.
Amy lives in North Carolina with her husband Nathan, and son Malcolm. When not working on websites or traveling the world, the Hartles can be found cuddling, reading, and hanging out with their cats.