This post may contain affiliate links. Read our disclosure page for full details.
When you think of romantic places for couples, tropical beaches are one of the first destinations that come to mind. Is there anything more romantic than a beach? Enchanting sunsets, cold drinks, cool breezes. Beach getaways are naturally wonderful vacation destinations for couples and all kinds of travelers.
Well, you don't have to venture far to experience a gorgeous beach getaway. We've put together a list of some of the best romantic beach getaways in the USA, with help from fellow travel experts. Planning a romantic trip? You may want to consider these locations, from classic spots like Hawaii to more unexpected destinations (the Great Lakes, anyone?)
Waikiki Beach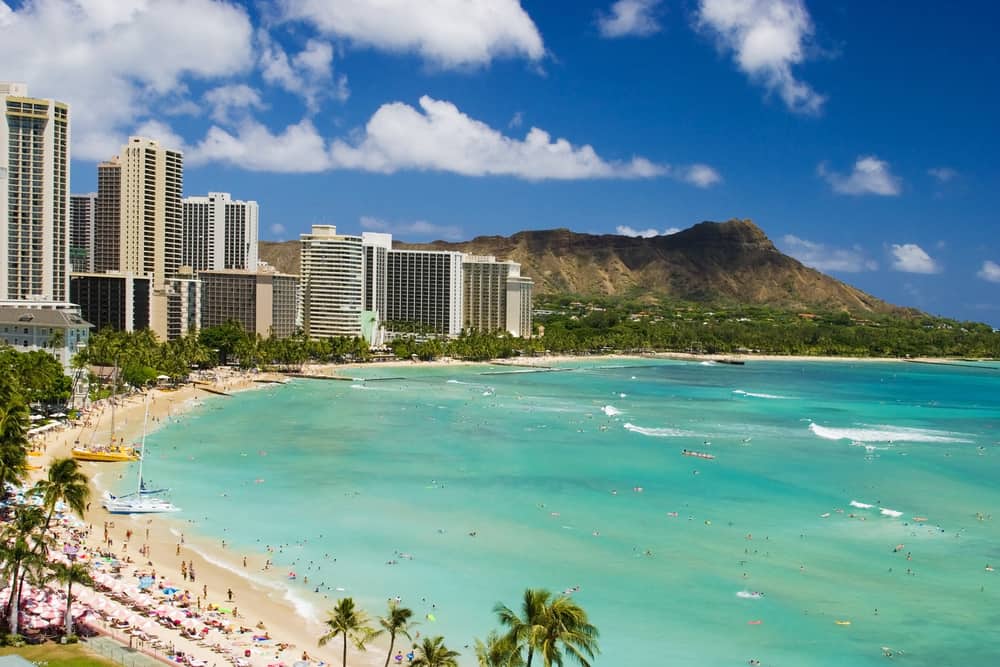 Out of all the romantic beach getaways in the United States, it's hard to find one that beats Waikiki beach in Hawaii. It's one of the most iconic places in Hawaii and it's appeared in movies and TV shows for decades.
Waikiki is fantastic any time of year, although it's less crowded in the shoulder season of February-May and September-early December.
Couples can take a morning stroll along Waikiki Beach and watch an incredible sunrise. The views of Diamond Head are especially beautiful during this time of day.
If you are adventurous, Waikiki Beach is a great place to learn how to surf or go stand up paddle-boarding.
Or check out one of the many tiki bars and taste all kinds of Hawaiian cocktails. Many of them have live Hawaiian music and hula dancing during happy hour.
Some of the resorts even offer oceanside massages and private beach cabanas, making Waikiki an awesome Oahu honeymoon location.
-Contributed by Marcie Cheung of Hawaii Travel with Kids
Pismo Beach, California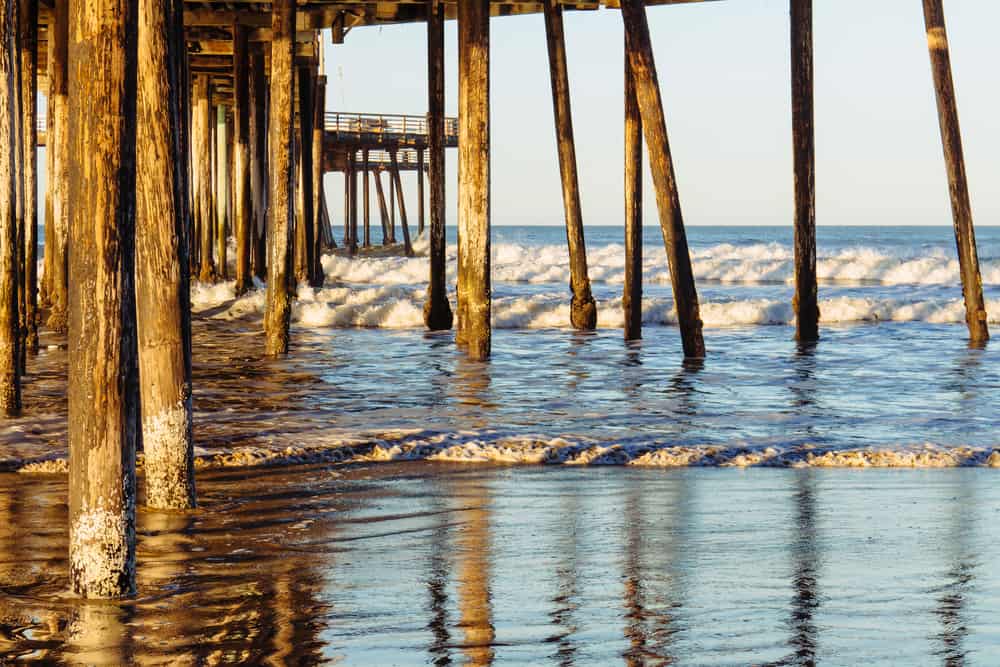 Located on the California Central Coast, just a 3 hour drive from both Los Angeles and San Francisco, Pismo Beach is a quiet, charming beach town. Some of the best romantic things to do include going for a romantic walk on the beach promenade or relax at the nearby Avila Hot Springs.
For sunset you can either soak in the views at Dinosaur Caves Park or opt for a horseback ride on the beach. Head for dinner to Oyster Loft, named one of the top romantic restaurants in the US in 2018, or have the best clam chowder ever at Splash Cafè. And if wine sounds like a good idea, you're in luck as the wine country is right around the corner.
Pismo Beach is a year-long destination, but my favorite time of the year is the spring or early fall, when it's quiet and the weather just perfect.
-Contributed by Stefania, Every Steph
The Oregon Coast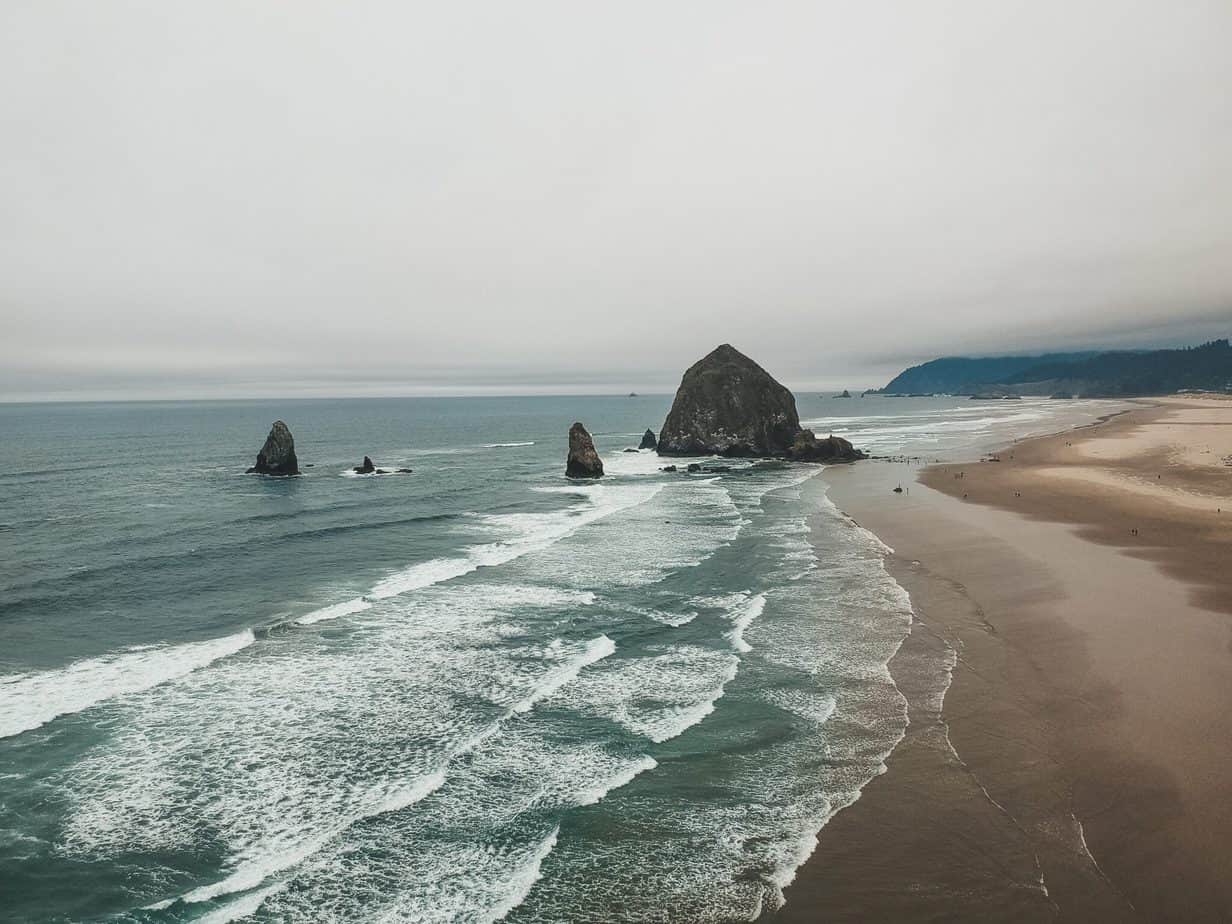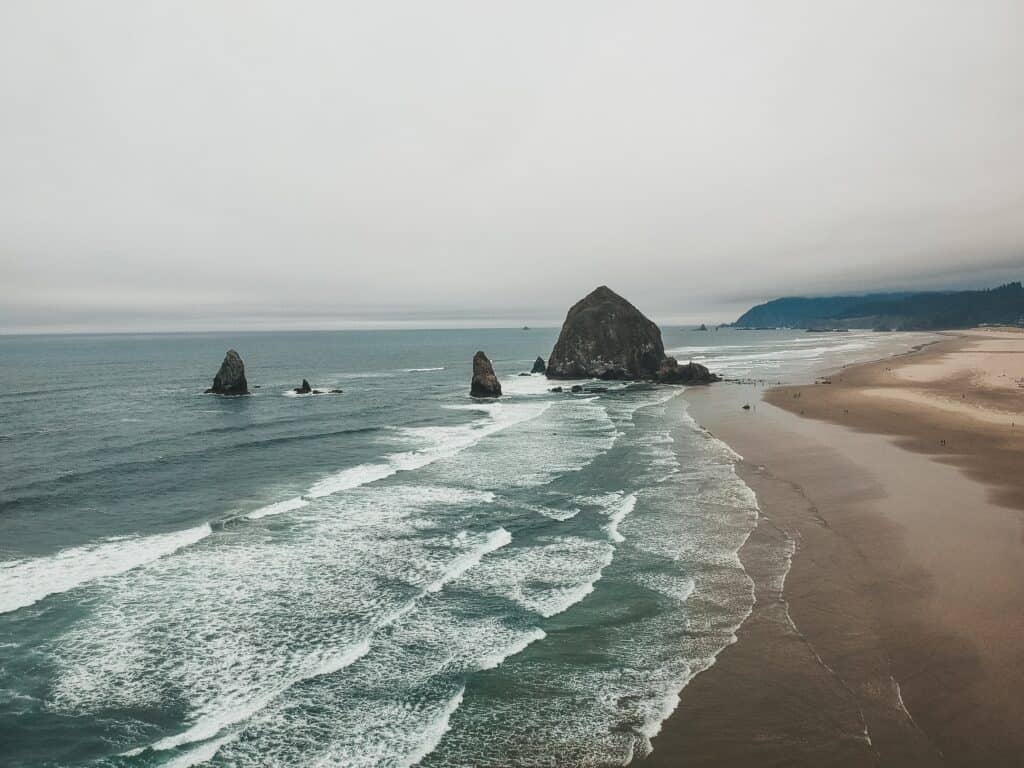 The Oregon Coast is one of the most beautiful and romantic places to visit as a couple. Along the coast, the incredible sites, beaches, and rock formations make for a beautiful setting, in addition to the wonderful cities and places to stay as you make your way up and down the coast.
Starting on the northern section of the coast, Astoria, Seaside, Ecola State Park, and Cannon Beach are beautiful places full of outdoor adventures. The Tillamook Creamery is a fun stop where you can sample cheeses and ice cream, followed by some excursions on the Oregon sand dunes and Bandon Beach. Finish your road trip heading through the Samuel H Boardman State Scenic Corridor, one of the single most epic drives in the entire United States. Every 2 miles is an incredible beach, lookout, or hike.
Along your adventure, stop at any of the cute small towns and find a quaint hotel with a vacancy for you and your honey. These hideaways make for a great place to hang your hat, relax and recharge for another day adventuring on the Oregon Coast. Enjoy!
-Contributed by Zach and Julie, Ruhls of the Road
Naples, Florida
Florida is home to some of the most romantic resorts in the USA. Couples from around the world come to Naples in particular for a romantic stay, usually during the fall and winter months when it's not so hot and humid.
The city of
Naples
on Florida's southwest coast has quite a reputation as a high-end romantic destination with a quiet beach town vibe, and it's one of the most popular destination wedding spots in the country. Weddings take place year-round on
Naples

' beautiful beaches
, and it's an ideal destination for honeymooners.
With luxury hotels on the beach boasting luxurious spa and wellness treatments, romantic restaurants on the sand, and pampering amenities galore, it's no surprise
Naples
is perfect for couples. There are so many great activities in and on the water, and amazing restaurants ranging from Michelin star dining to tasty food-truck fare.
And if lazy afternoons on the beach is all you're after, Naples is perfect for that. Just be sure and stay for one or two fiery sunsets over the Gulf of Mexico!
-Contributed by Lori Sorrentino, Travlinmad
PS: Florida is also a great place for family resorts on the East Coast.
Kona, Hawaii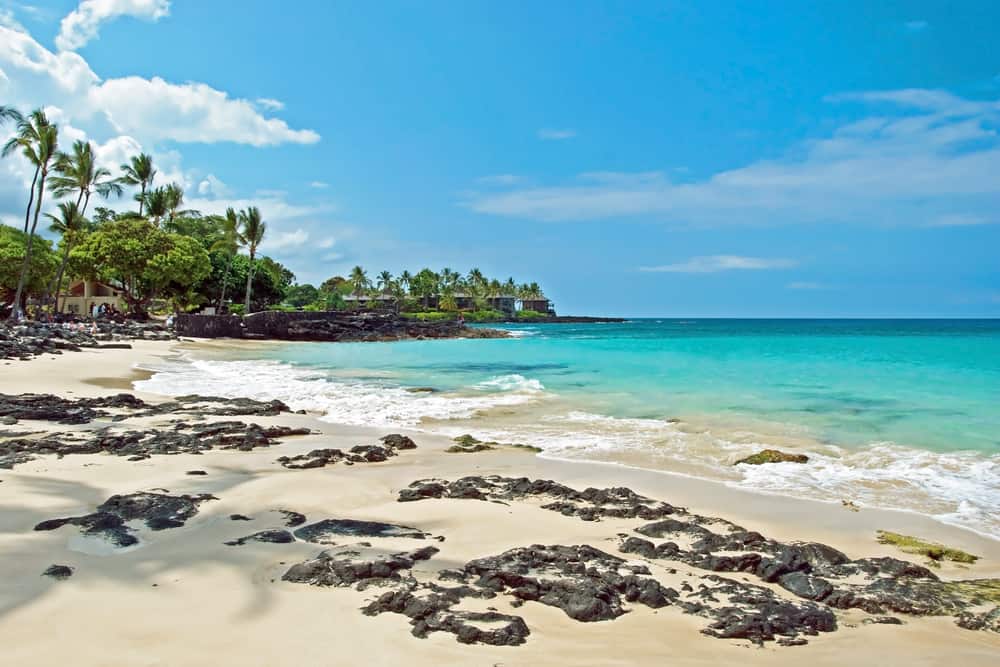 Located on the Big Island of Hawaii, Kona is one of the best beach destinations in the United States. There are tons of beautiful beaches in the area from the famous Makalawena white sand beach to the black sand beach at Kiholo Bay and many more, they are literally everywhere!
The beaches in the Kona area are perfect for couples wanting to take a stroll on the beach or relax in the sun. There is even a beach along the main drive, Ali'i Drive where you can even sunbathe and then visit the Kona Farmers Market across the street for some shopping and delicious eats.
Anytime is a good time to visit Kona, the weather is warm throughout the year however it can be rainy during the winter.
-Contributed by Constance, The Adventures of Panda Bear
Outer Banks, North Carolina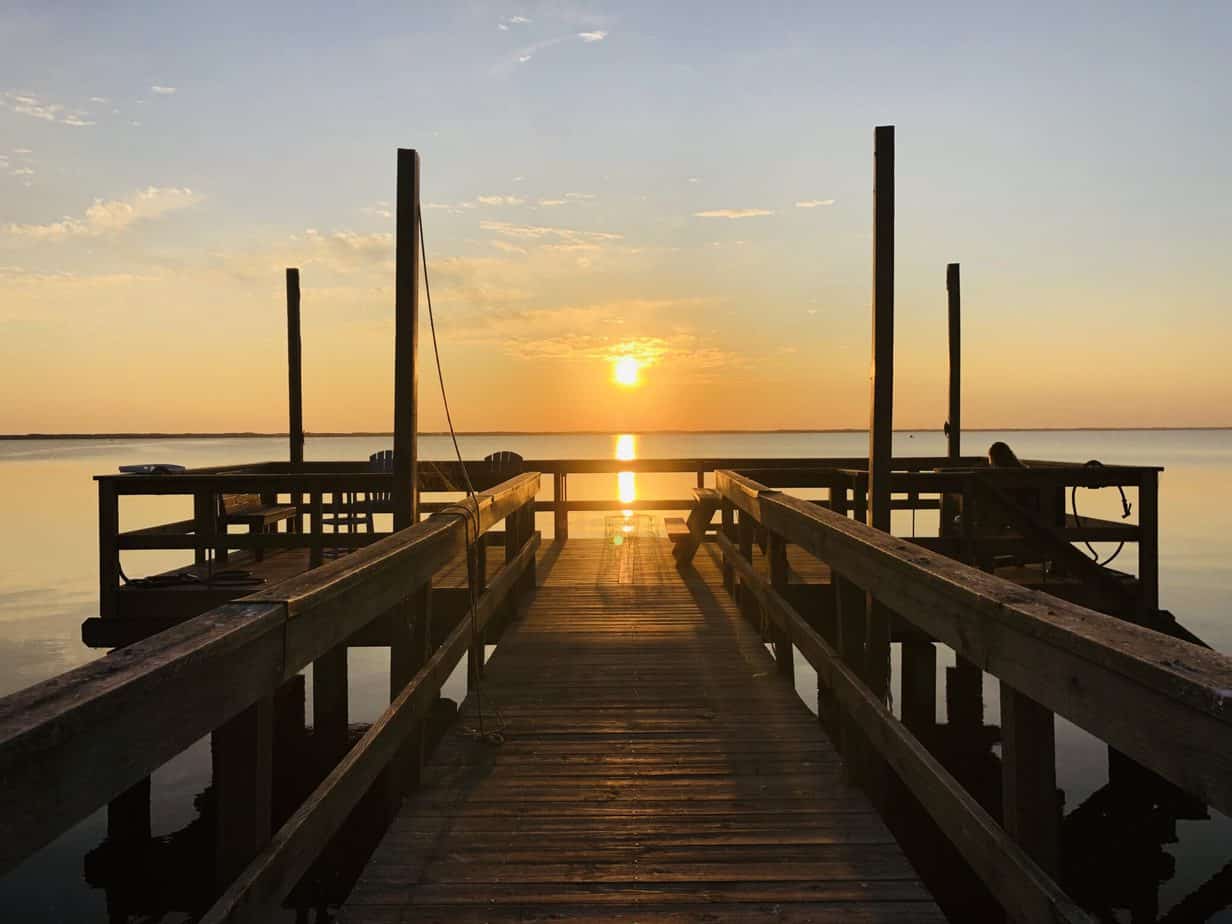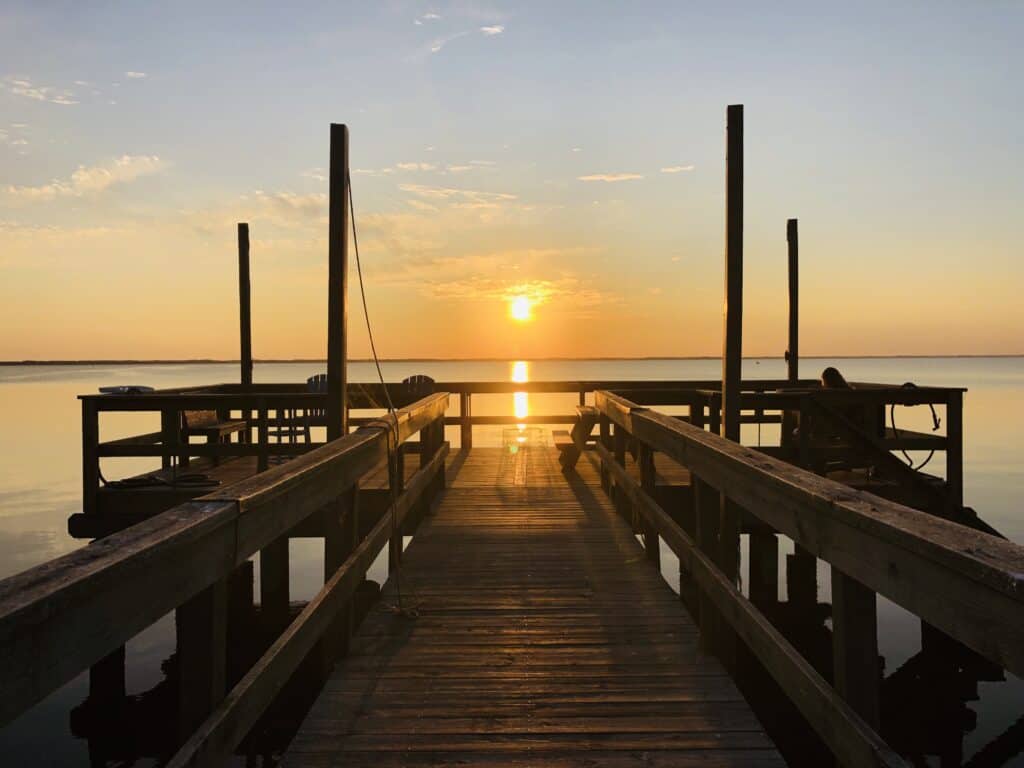 Looking for a romantic beach getaway in North Carolina? The Outer Banks are the perfect beach destination for couples. While summer is certainly the most popular time of year to visit, you can truly enjoy a little getaway year-round. Whether you and your partner want to relax by the beach or love trying new adventures together, there is something for everyone!
Take a tour to see the wild horses of Corova, climb lighthouses, get your history lesson on at The Wright Brothers Memorial, try out paddleboarding or kayaking, or just soak up the sun together. But whatever you do, you simply cannot miss the epic sunrises and sunsets with your loved one. With over 100 miles of coastline, couples can find so many fun things to do in the Outer Banks of North Carolina.
-Contributed by Julie, More Than Main Street
Read Next: A Romantic Getaway in Myrtle Beach, SC
Newport, Rhode Island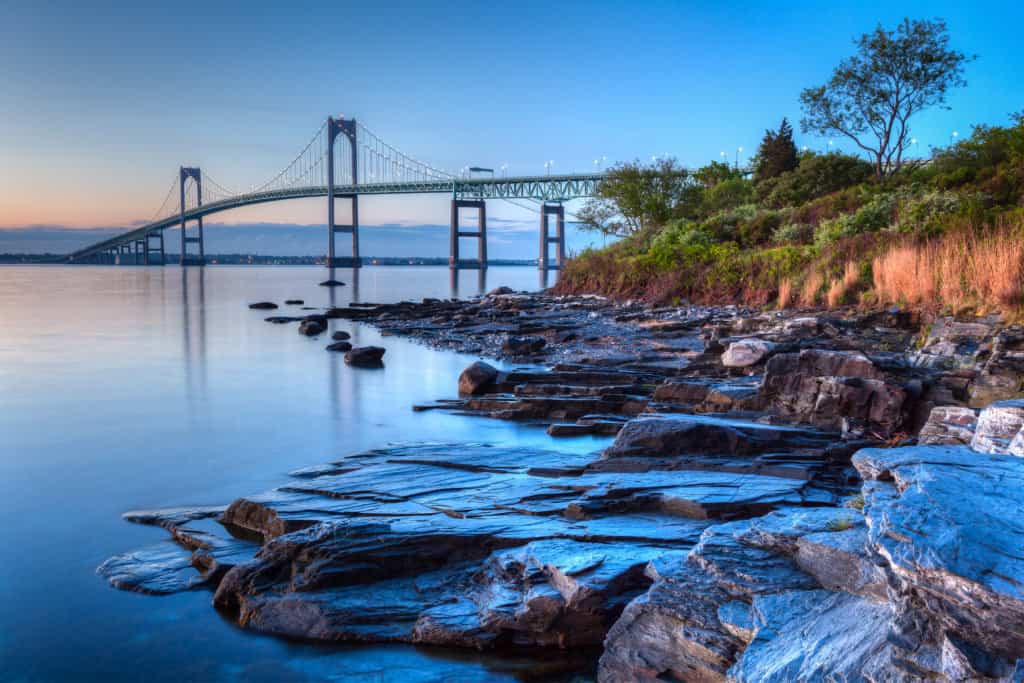 Newport, RI is an idyllic location for a romantic beach getaway. Newport is an island located off the coast of the smallest state in the USA, Rhode Island.
The beaches in Newport are quintessential New England, with Second Beach boasting the longest stretch of sand in RI! Grab a lobster roll and a Del's Lemonade (vodka optional) and enjoy an afternoon in the sun with your loved one.
Enjoy a stroll down the iconic Cliff Walk or tour the historic Newport Mansions after you've had enough sand and sea. Bowen's Wharf and the surroundings have an abundance of ice cream shops, local boutiques, and art galleries to peruse.
For dinner, no place could be more romantic than Castle Hill Inn, which is one of the island's higher-end options.
Regardless of your itinerary in Newport, it will make for an unforgettable weekend away with your special someone.
-Contributed by Jade Laurenza, The Migrant Yogi
Fernandina Beach, Amelia Island, Florida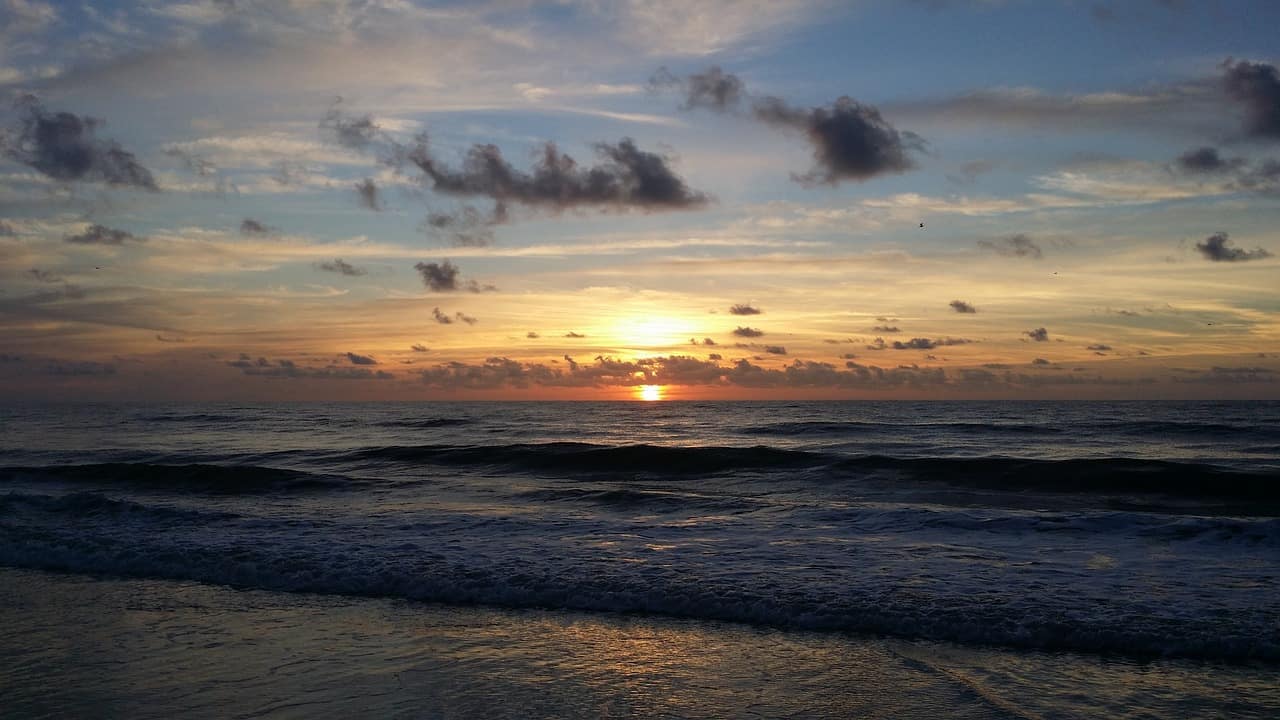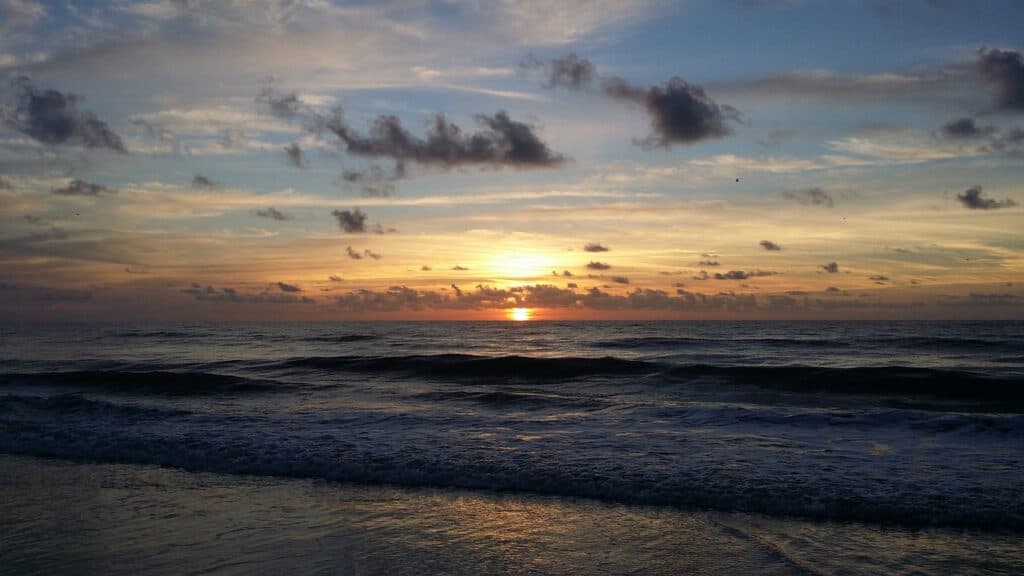 Amelia Island in
Florida
is a hidden gem located on the northeast coastal area and definitely a romantic getaway and beach area to enjoy. Located in the more quiet northeastern coastal area of Florida, Amelia Island is a barrier island to the mainland and part of a string of barrier islands along the Georgia and Florida coastline. Filled with a historic presence Amelia Island includes a historic and colorful downtown district of Fernandina Beach and Amelia City, the civil war fort Clinch and lighthouse and the lovely beach scenes and slower pace of the island.
There are so many beautiful beaches on the eastern side of the island and you can enjoy nice meals in restaurants with views of the coastline, picnic on the beach or enjoy a fine dining experience in so many fantastic locations around the island. In historic Fernandina beach you can do some fun window shopping, antique shopping, enjoying local artisans galleries or boutiques is fun or if your more into adventure, there's biking, golfing, horseback riding, surfing, fishing, sailing and so many other outdoor experiences to enjoy around the island.
It's up to you to be as active in your beach getaway just relaxing or exploring the different parts of Amelia Island at your leisure. You'll have a fantastic time and a really romantic getaway visiting this low key and fun part of Florida.
-Contributed by Noel Morata, This Hawaii Life
Galveston Island, Texas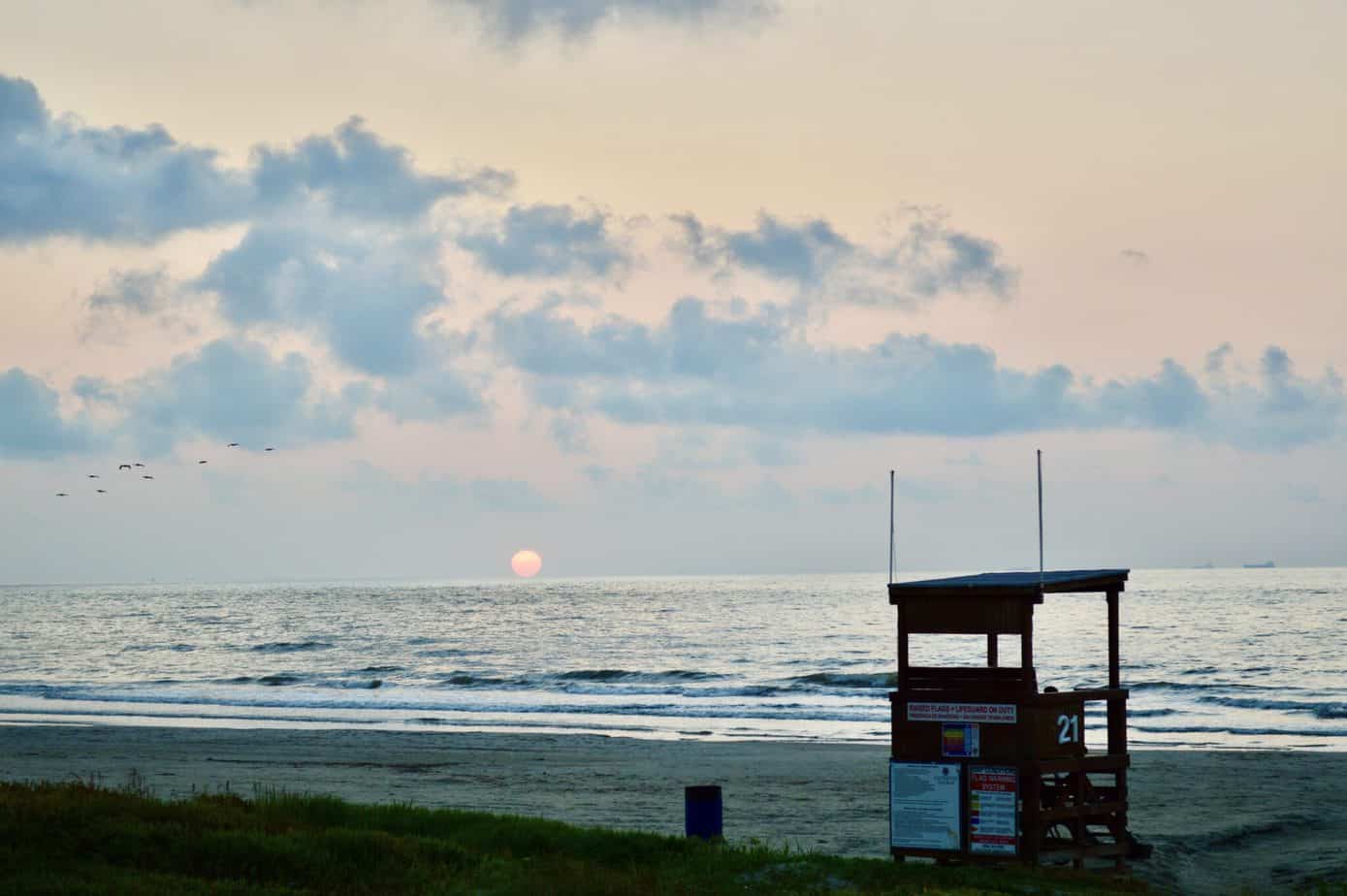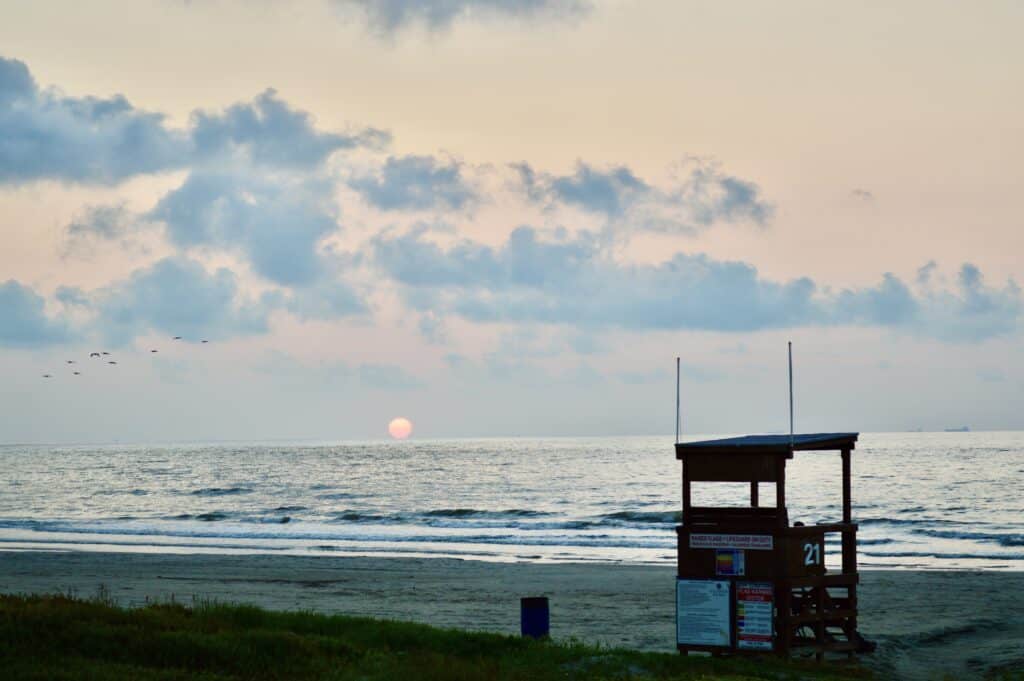 A small barrier Island located just 50 miles south of Houston, Galveston has a lot to offer for couples.
If you like the beach, Galveston has 32 miles of coast with beaches ranging from State Parks where you can relax under the sun, birdwatching, to East Beach the so-called party beach, to anything in between.
If you are interested in history, this Island has plenty for you to explore, some outstanding museums and quirky and interesting tours like the red light district can entice your other half. With some great historic hotels in the downtown area or an oceanfront room on the Seawall, the choices are vast.
The Strand, a historic park of town, offers an array of bars and restaurants that are walking distance from each other and you can't miss the Postoffice district is a must for the art galleries and antique shops.
-Contributed by Patricia Martin from Travel Fam Life
Rehoboth Beach, Delaware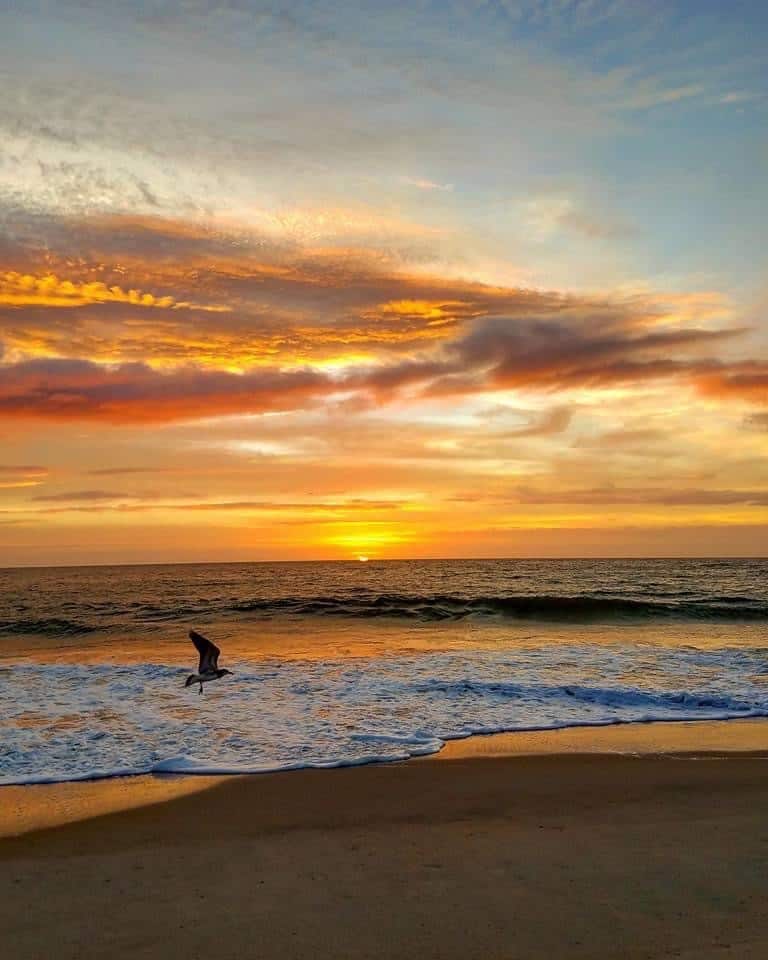 Delaware is one of the most underrepresented states in America, but it's home to one of the best beaches in the country – Rehoboth Beach. That's especially true of those seeking a romantic getaway, and definitely true for those in the LGBT community.
One of the most romantic beachside things a couple can do is stroll along the boardwalk and listen to the ocean. You can easily do this along Rehoboth Beach, and at the end of the boardwalk you can find the best gay beach along the east coast. It's a romantic stop for any LGBT travelers and found where the boardwalk ends and Queen street begins.
On the awaiting beach, deemed Poodle Beach, you'll find a friendly LGBT crowd of mostly gay men. It's one of the cleanest beaches in the entire United States and you can guarantee a good time with friendly locals, good music and flowing refreshments. Poodle Beach is even known for local events like Drag Volleyball each Labor Day. Regardless of when you visit, you're guaranteed a good time, decent waves and a clean beach in Rehoboth Beach, Delaware.
-Contributed by Derek Hartman, Robe trotting
Key West, Florida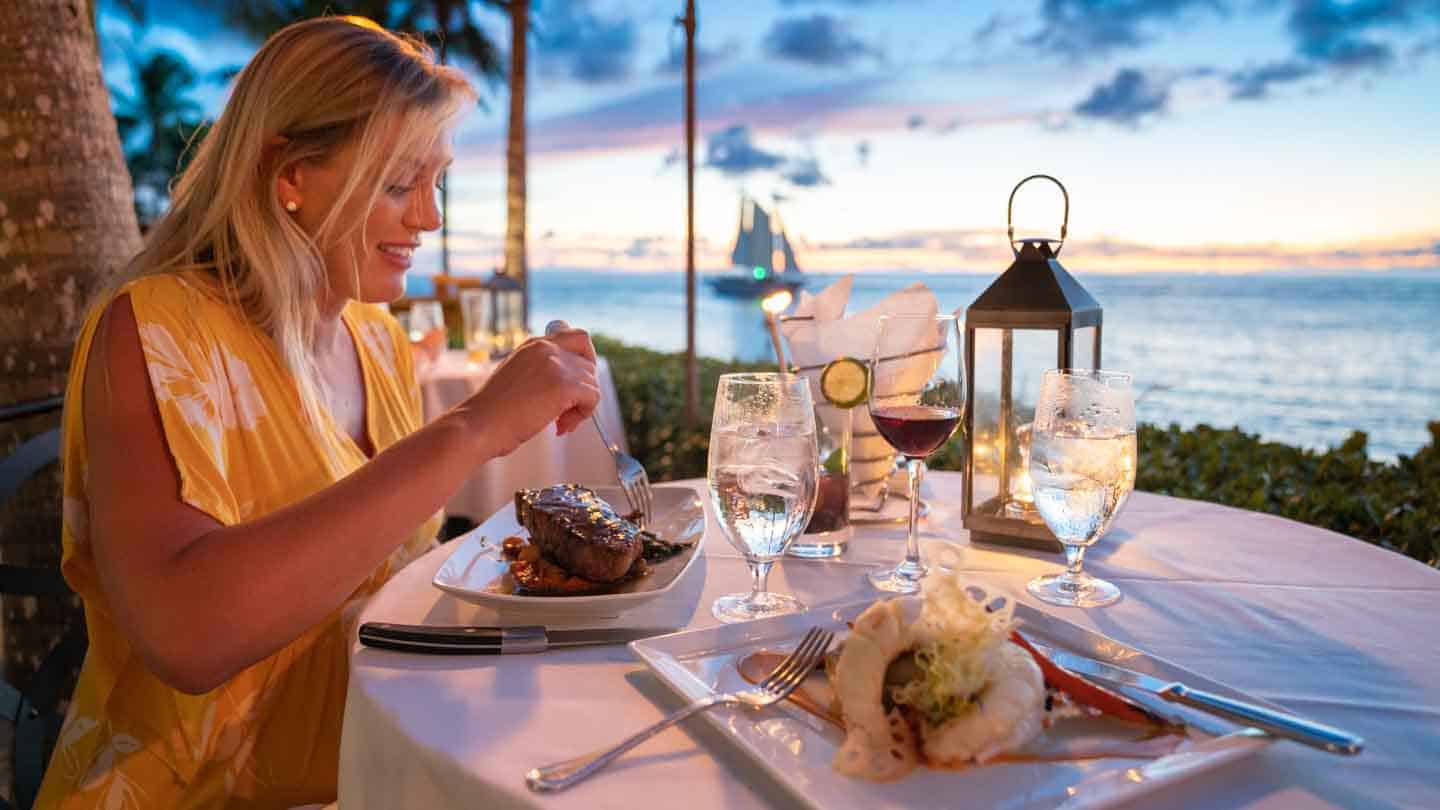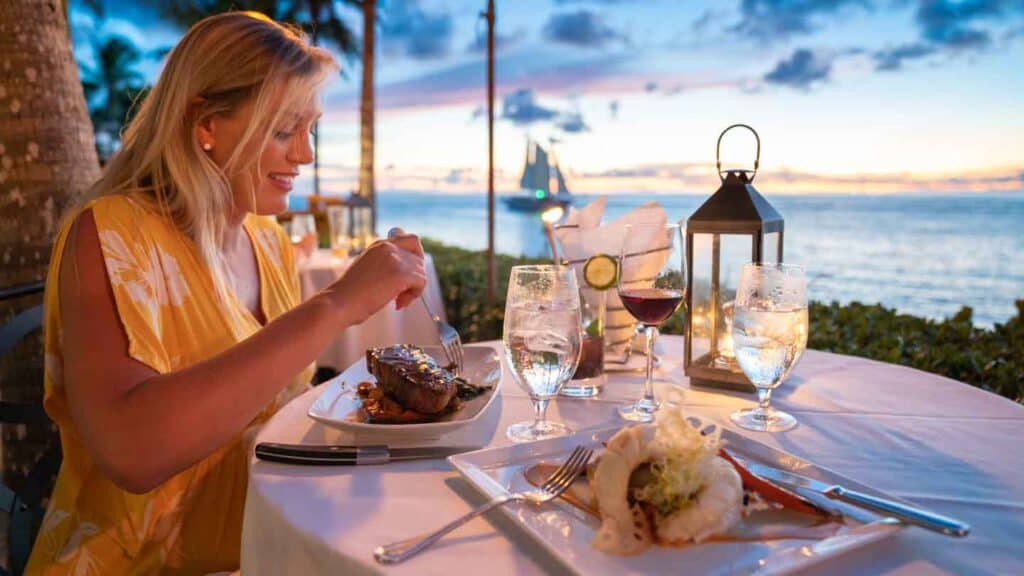 As one of our favorite beach spots in the US, Key West is also a perfect spot for a romantic getaway. Key West is Florida's southernmost point and home to all the attractions you could want on a vacation. Plus, since Key West is located near the Caribbean, there are warm temperatures year-round so it's a great destination any time of the year.
Spend the day at Smathers Beach, the largest beach in Key West, to relax by the ocean. For something a little more adventurous, consider booking a sunset helicopter ride over the Florida Keys. The views are truly magical! You'll also need to have lunch or dinner at Latitude located on Sunset Key. It's the best spot in Key West to watch the sunset over a delicious meal.
Once you go to Key West once, you'll be wanting to go back again!
-Contributed by Hannah & Adam Lukaszewicz, Getting Stamped
Luquillo Beach, Puerto Rico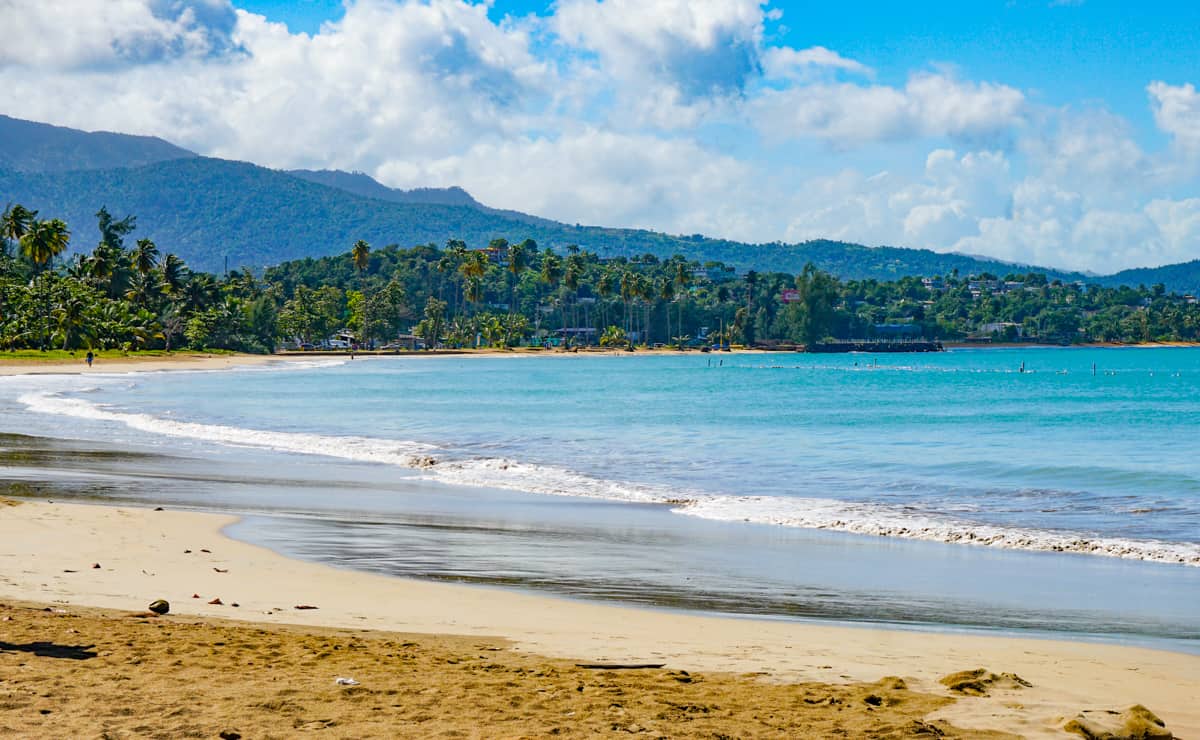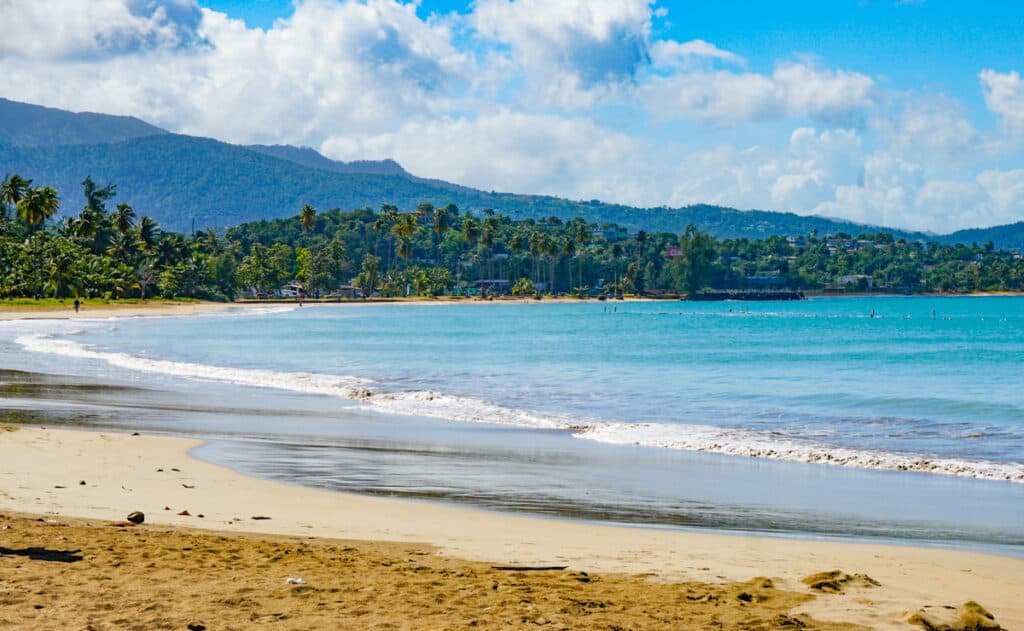 Looking for the ultimate romantic beach getaway in the US? Head to Luquillo Beach in Puerto Rico! Just a short drive from San Juan, Luquillo Beach makes a fun and convenient addition to your Puerto Rico itinerary. The crescent-shaped public beach is beautiful, and it is incredibly romantic, especially if you visit on a week day or in the off season when you might even have a long stretch of it all to yourselves.
With a one-mile stretch of silver shimmery sand and water an unbelievable blue on a bright sunny day, Luquillo Beach is the perfect place for a romantic arm-in-arm stroll or for cavorting in the water. It's also a great place to just hang out and catch some rays. Get a cocktail in a pineapple or a coconut to share, and stop by at the famous Luquillo Kiosks for some fun street food!
-Contributed by Dhara from It's Not About the Miles
The Hamptons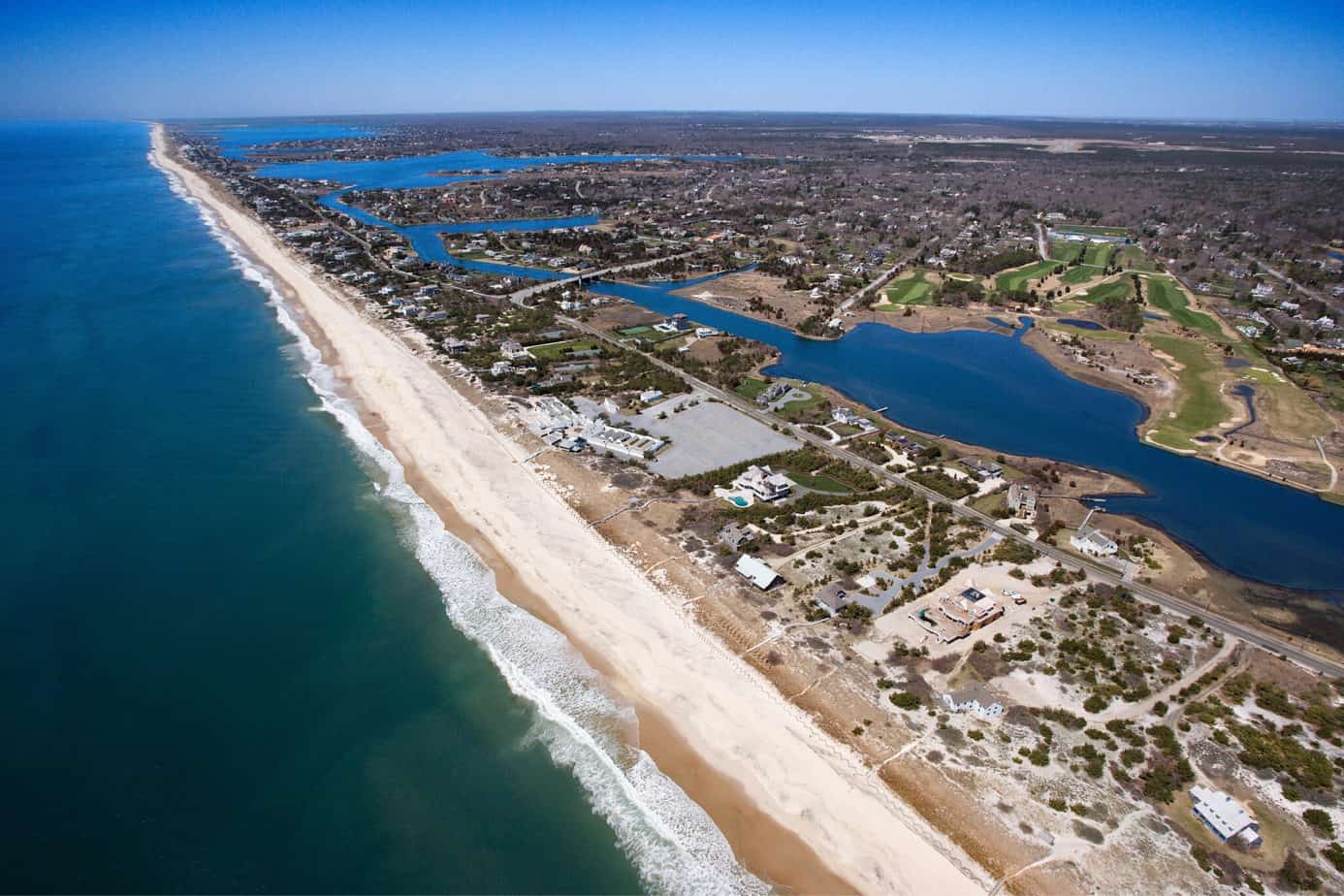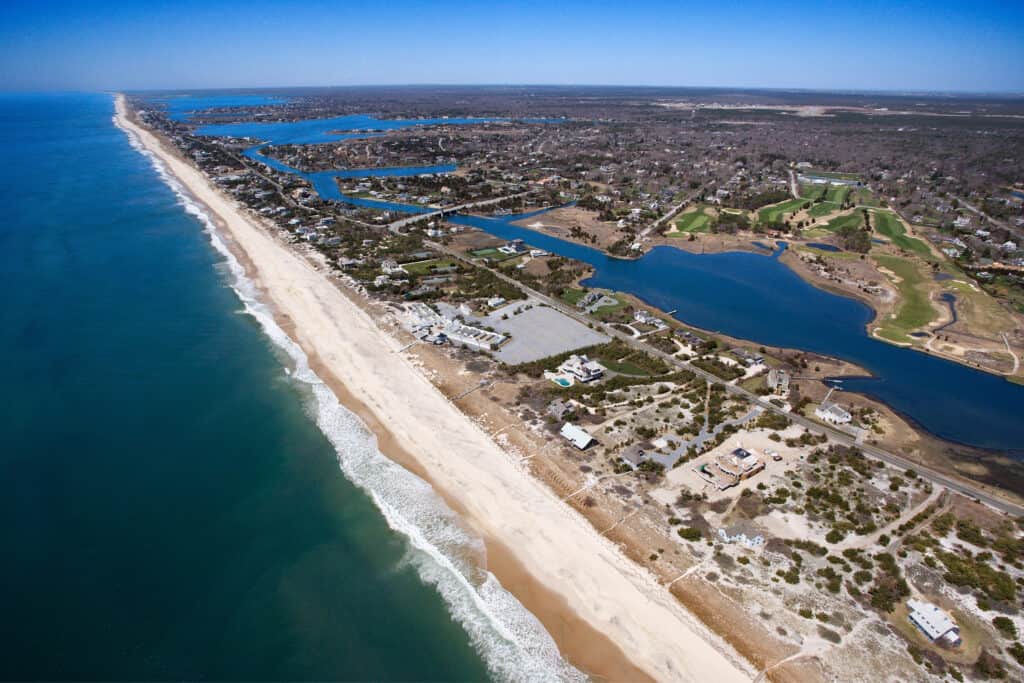 The Hamptons can become your next romantic getaway from New York City as it is only a 2-hour drive. The Hamptons are comprised of several villages including East Hampton, South Hampton, Bridgehampton, Sag Harbor, and Montauk.
If you want to spend some romantic time on the beach and have it all to yourself, the Hamptons are the right place. There are no sunbeds, no umbrellas, and no restaurants which creates an impression of endless coastline.
Tiana Beach is pleasant and usually not too crowded; Atlantic Beach in Amagansett is also one of the most popular beaches in these parts. There is also Ditch Plains Beach in the easternmost part of the island, which is a famous surfing spot and will be a great place for a sporty couple.
On the streets here you will not find advertising banners, and even chain cafes and shops will be arranged in old houses.
There are many restaurants for every taste and budget. You can dine in a roadside cafe, where you will be offered incomparable fresh fish and margarita. Or you can book a table in a posh restaurant where there is always a chance to meet a celebrity.
For me, the Hamptons are like American Cote d'Azur – luxurious, yet relaxing and romantic.
-Contributed by Inna Nedostupenko from Executive Thrillseeker
Provincetown, Massachusetts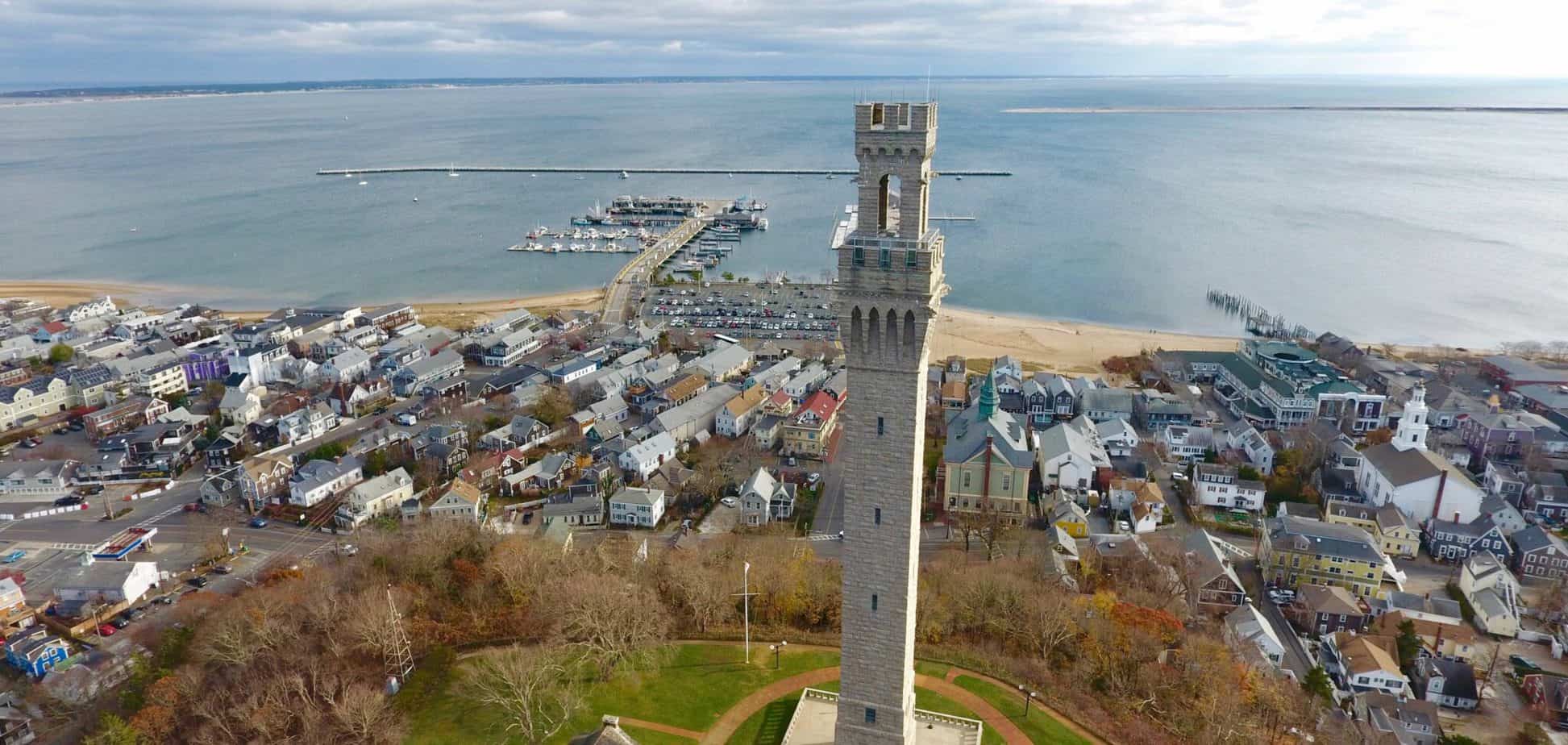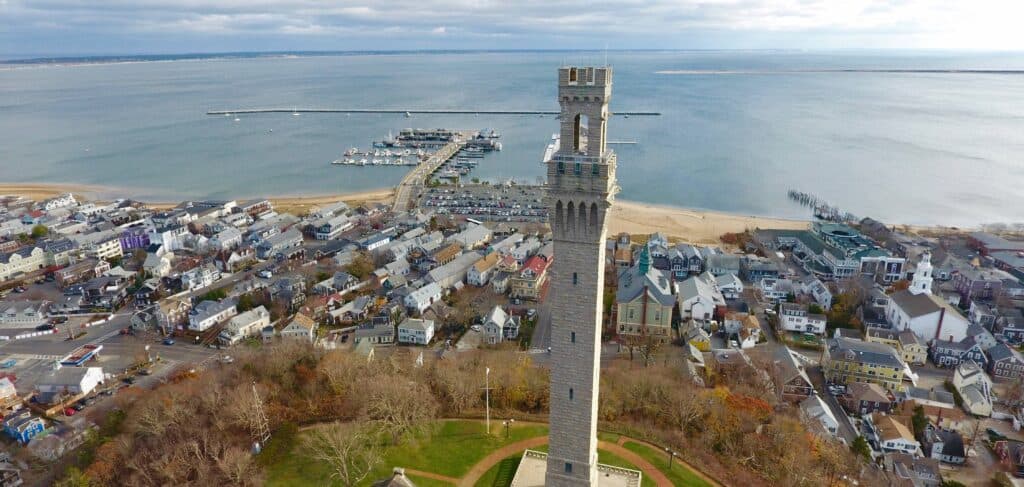 Those seeking a romantic beach getaway in the USA need not look further than Province Town.
The city has award-winning beaches. The first is Herring Cove Beach. This salt-sprayed coastline's situated on Cape Cod Bay a great spot of swimming, relaxing, and picnicking. Because it's in the bay the waters are warmer and calmer. It's also one of the top sunset spots in Provincetown.
On the other side of the bay, facing the Atlantic is Race point beach. Race Points filled with sandy dunes, aquatic wildlife, and a variety of birds. Race Point embodies a raw beauty. In fact, Travel Channel named it as number 6 on the list America's most beautiful beaches
Besides beaches, there are many other reasons to visit Provincetown. The city itself is beautiful, holding a quaint seaside charm. It's like back in time. Provincetown (Or P-Town as it is often called) has a buzzing nightlife. And vibrant festivals. You'll never be bored in P-Town.
Provincetown also plays an important role in American history. Here, in 1620 the Mayflower landed. Today the town has a prolific art scene, picturesque viewpoints, and various wildlife.
Hands down, Province town is one of the best places to visit in the United States. And a perfect spot for a romantic getaway.
-Contributed by Stephen, A Backpacker's Tale
Schoolhouse Beach, Wisconsin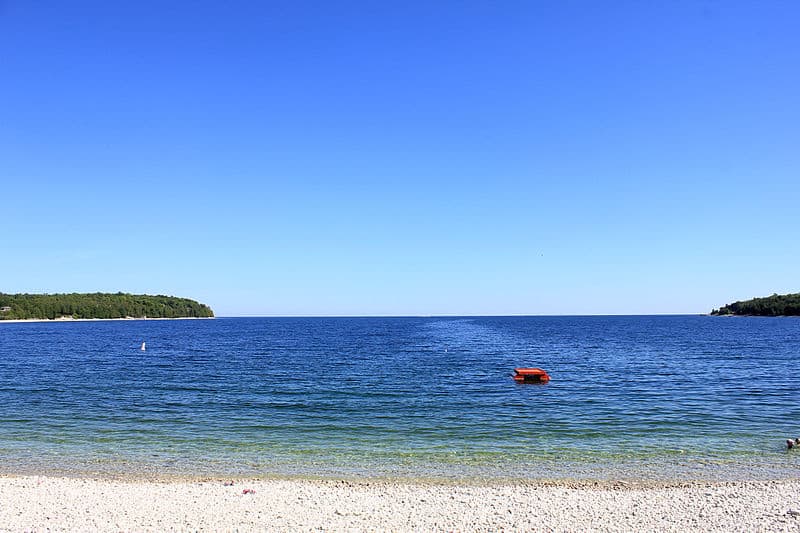 You might not think of Wisconsin as the top place to visit when looking for a beach getaway. Well, let me surprise you today, the Dairy State counts actually plenty of gorgeous, pristine beaches. Lakeside
beaches in Wisconsin
are almost countless, there's a myriad of them!
If you are looking for the most romantic beach in Wisconsin, I would recommend Schoolhouse Beach in Door County, Wisconsin. The first thing you'll fall in love with is the crystal clear water. Did you know that they say that Schoolhouse Beach so beautiful that even taking the rocks is against the law? Indeed, the beach is famous for its smooth limestone rocks that pleasantly massage one's feet while walking.
Located on Wisconsin's isolated Washington Island, the shore is named for a one-room wooden schoolhouse that used to exist nearby but which has since been replaced by a barbecue area. Some of the most romantic things to do here are hiking, spending the evening at a campfire and grill some marshmallows. And why not, spend the night in a camping tent or RV and watch the starry sky together, It's thus perfect if you are a couple that loves the outdoors.
-Contributed by Paulina, Paulina on the Road
Malibu, California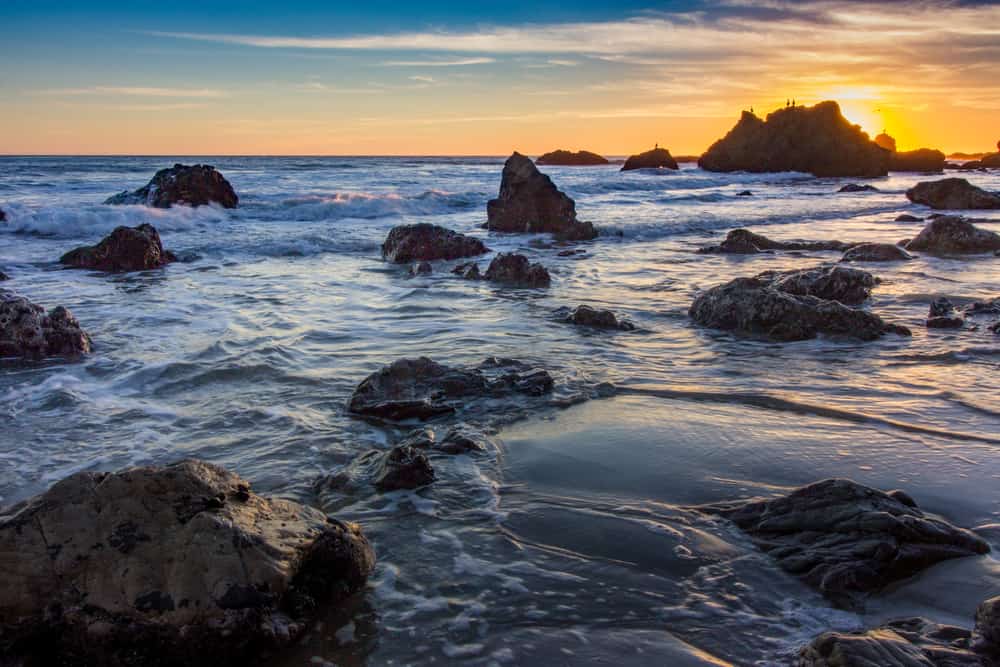 I knew about how beautiful Malibu is while driving the scenic Pacific Coast Highway (known as PCH). My wife and I were exploring California on a road trip with an RV when we decided to stop and enjoy one of the most romantic beaches in Malibu: El Matador State Beach.
We managed to find a cool spot for our RV on its parking ground (it was low season) and had the right to a spectacular sunset! The road edge is relatively high compared to the beach and that made the view even better and more romantic.
El Matador State Beach is also famous for its rock formation. After walking down the stairs, you can also explore some caves made by mother nature over so many years. If it's warm enough, make sure you offer yourself a fresh swim!
The beach is not as famous as other ones in Malibu. That is why it's a great destination for couples to have some privacy and enjoy the place away from the crowds.
-Contributed by Achraf Aouadi, Walk Beside Me Blog
---
Read Next:
---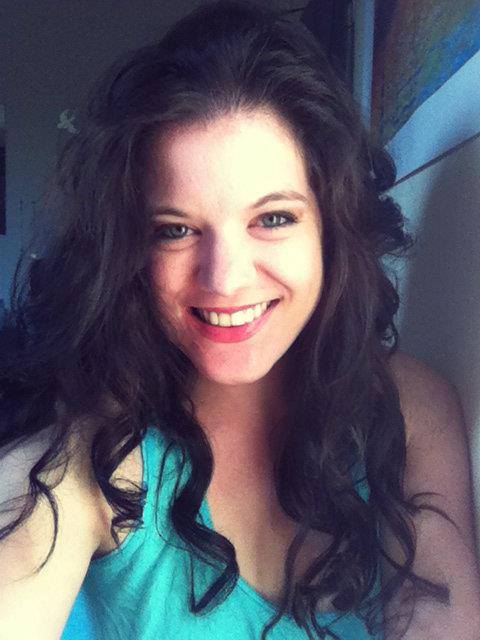 Amy Hartle is the author of Do You Love Me? How To Stop Seeking Reassurance in Relationships, a book on reassurance seeking and relationship anxiety. Both her book and this blog are born of personal experience; Amy shares expert relationship advice from the lessons learned during her own 10+ years with her husband, as well as couples travel tips and romantic getaway recommendations, all gleaned while traveling the world together.