This post may contain affiliate links. Read our disclosure page for full details.
To me, Newport, Rhode Island has always conjured images of seaside wealth. Its opulent mansions and its reputation for glamorous parties were what I always associated with the "City By the Sea."
Visiting Newport this past weekend, those images came to life as we walked among the historic streets and toured the famous mansions. Newport, RI is certainly filled with the romantic luxury of the past, but it may surprise you to know there's just as much romance (and adventure) here in the present.
Nathan and I found Newport to be an incredibly romantic US destination. In fact it's on our list of romantic beach getaways in the US.
And really, there's plenty of romance throughout the state of Rhode Island. If you visit in the winter months, like we did, you can enjoy the city without crowds—and with off-season prices. Want to have a mansion all to yourself? In February, this is quite possible! Newport in February makes for an excellent Valentine's Day getaway.
If you're considering visiting Rhode Island, we highly recommend spending some time in Newport. We've compiled this list of the most romantic things to do in Newport, RI, so that couples can enjoy the best of the region. And of course, travelers of all kinds can enjoy these Newport activities; they are not limited to couples!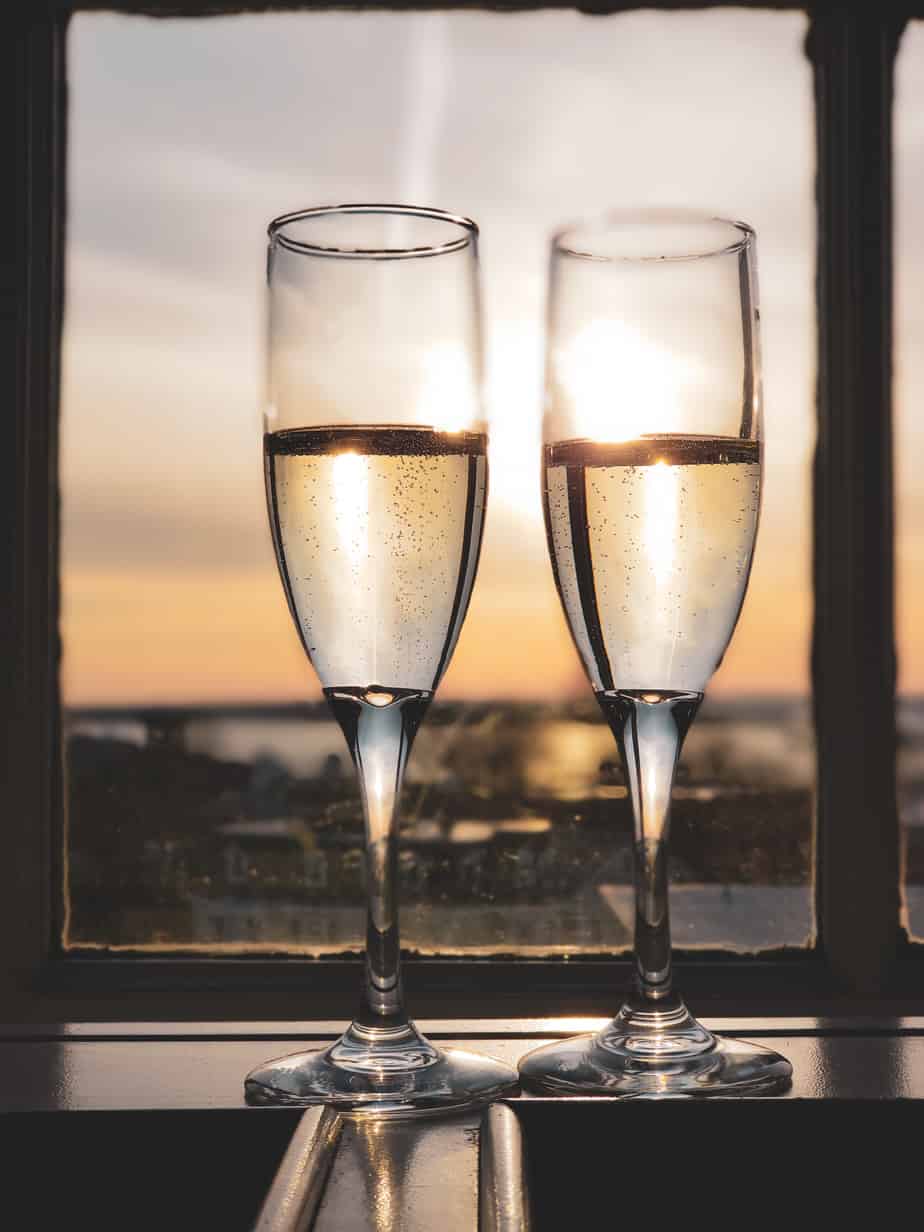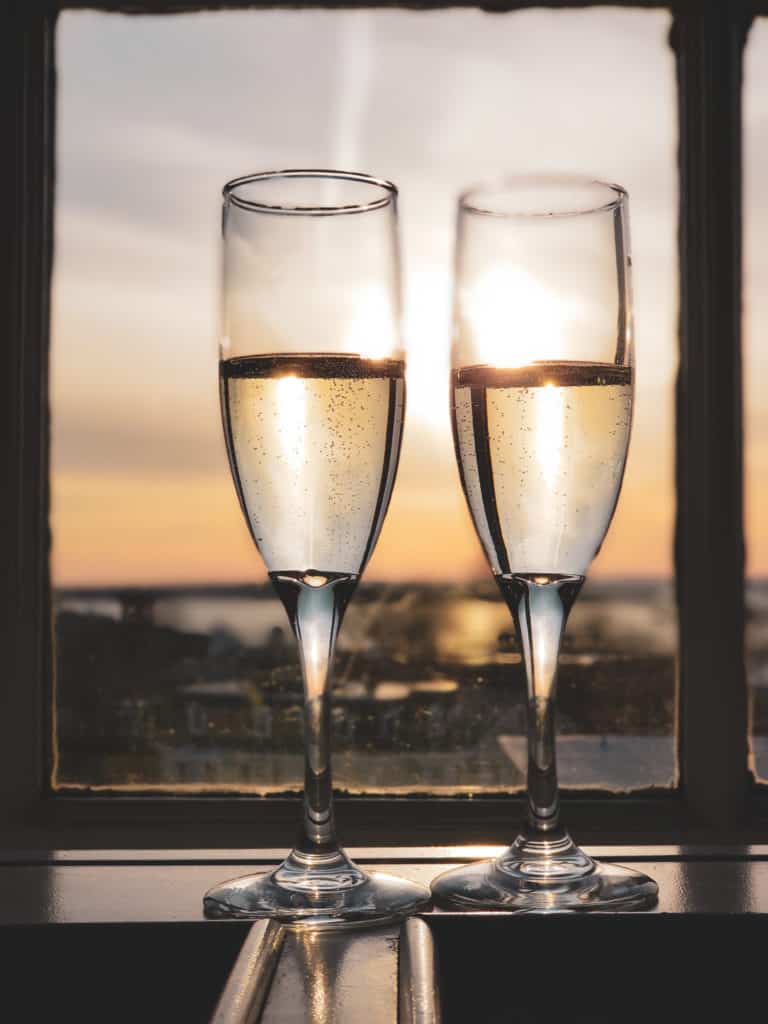 Tour the Newport Mansions
Return to the Gilded Age by visiting the world-famous Newport mansions. These impressive homes were built for some of the most well-known names in American industry and wealth: Vanderbilt and Astor, just to name a few. And many of the era's preeminent architects were responsible for these palatial "summer cottages."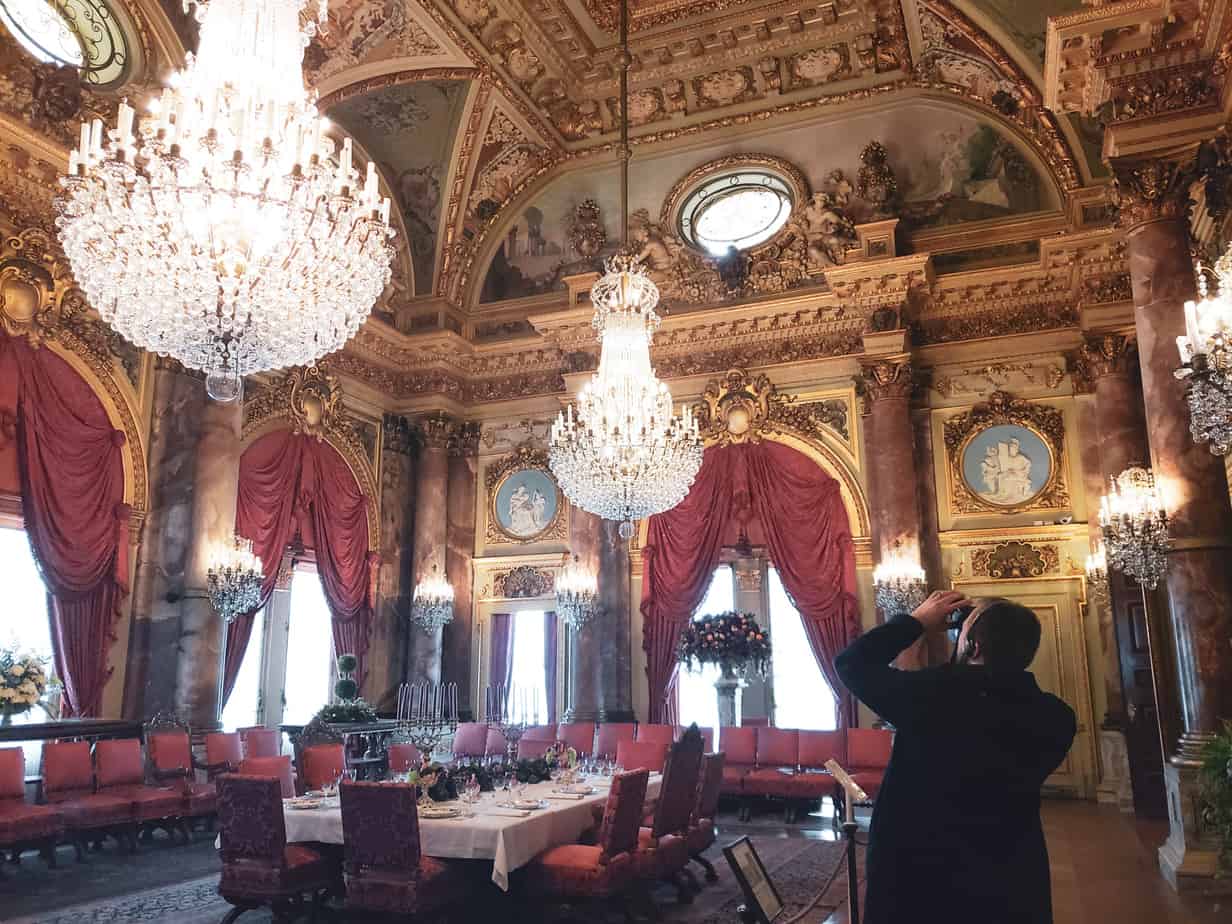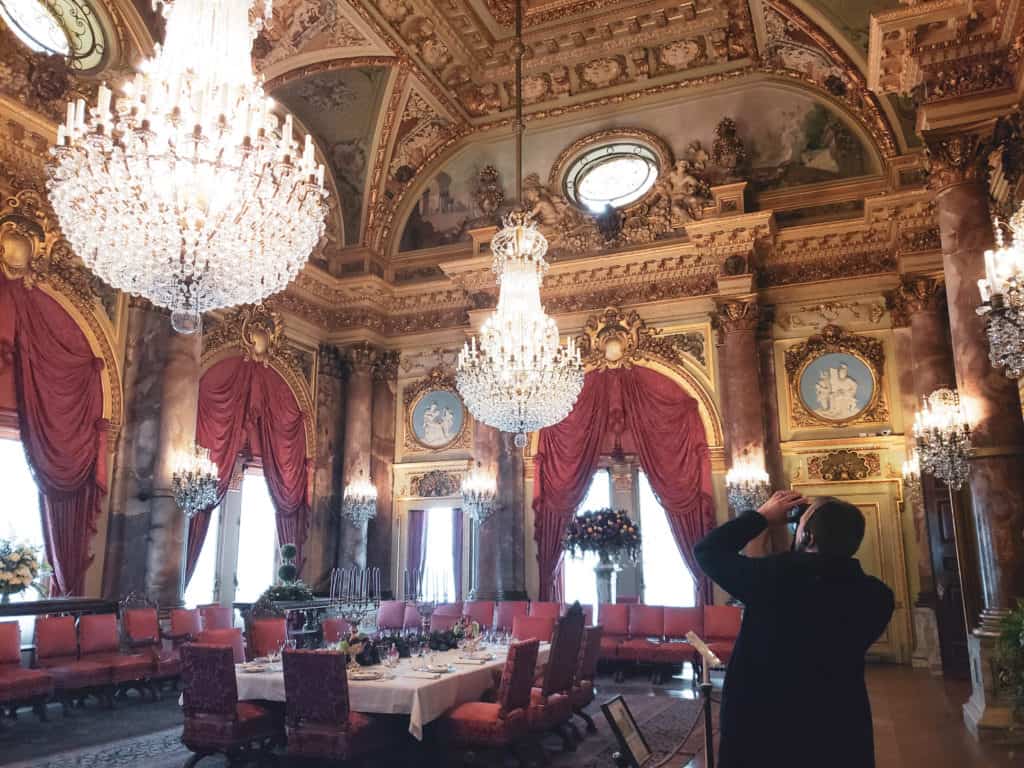 Visiting the mansions is a must for history lovers, but also for anyone who can appreciate a very different time in the American past. Many people are fascinated by wealth and it's really something to see the expression of that Gilded Age wealth in these mansions. For a romantic getaway, the mansions are also a treat because they offer a definite sense of an enchanting era, and it's fun to walk through these homes arm in arm with your partner.
While there are a total of 11 Newport mansions open to the public, we only visited two, but they were both well worth it. We first stopped at The Breakers, the ornate 1893 home designed by architect Richard Morris Hunt for Cornelius Vanderbilt II. This is the most over-the-top of the mansions in Newport, with jaw-dropping rooms at every turn that are somewhat reminiscent of the Palace of Versailles.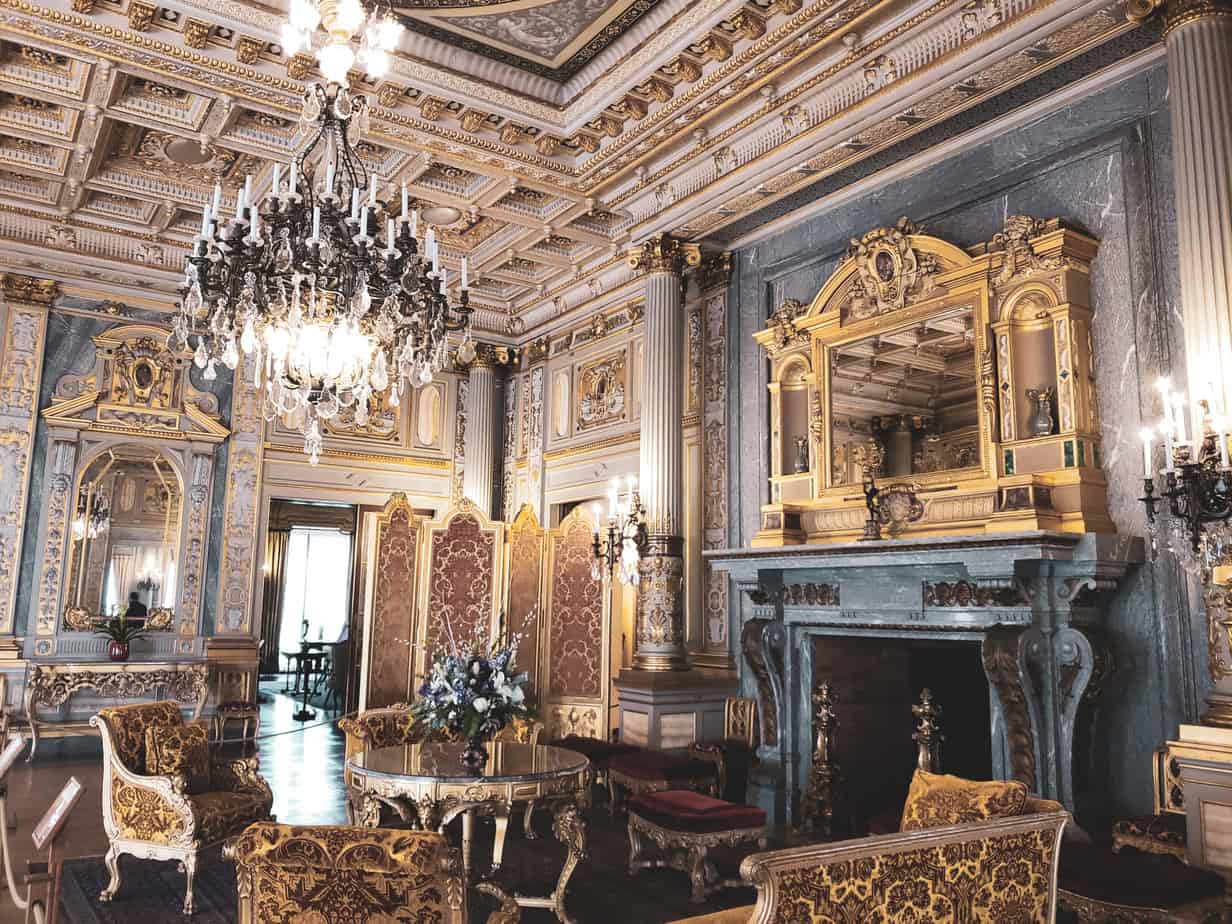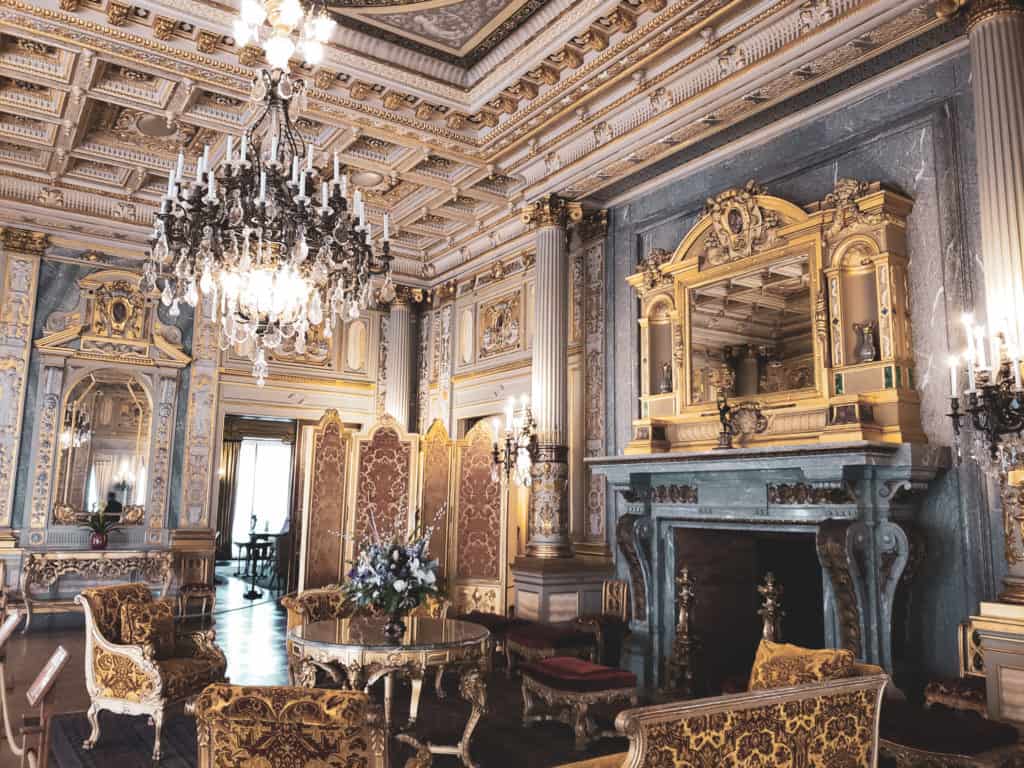 You are given a headset when entering the mansion and you can listen to an interesting and succinct guided audio tour as you move through the mansion. It's nice to go at your own pace (and you can try to sync up the audio with your partner's to stay together!) but be aware this mansion is huge (70 rooms and 125,000+ square feet) so it takes a bit of time. We'd suggest allowing an hour or more to tour The Breakers.
Next, we stopped at the romantically named Rosecliff. This mansion is a fair bit smaller, but really boasts beautiful views of the sea. It played host to any number of enviable parties and gatherings over the years. These were centered around the home's grand ballroom, the largest in Newport, which has rows of doors that can be opened to the backyard and the front of the home. It's easy to imagine this place in its height as a perfect location for a grand fete. Rosecliff was used in the filming of several well-known movies including Amistad, The Great Gatsby, and 27 Dresses.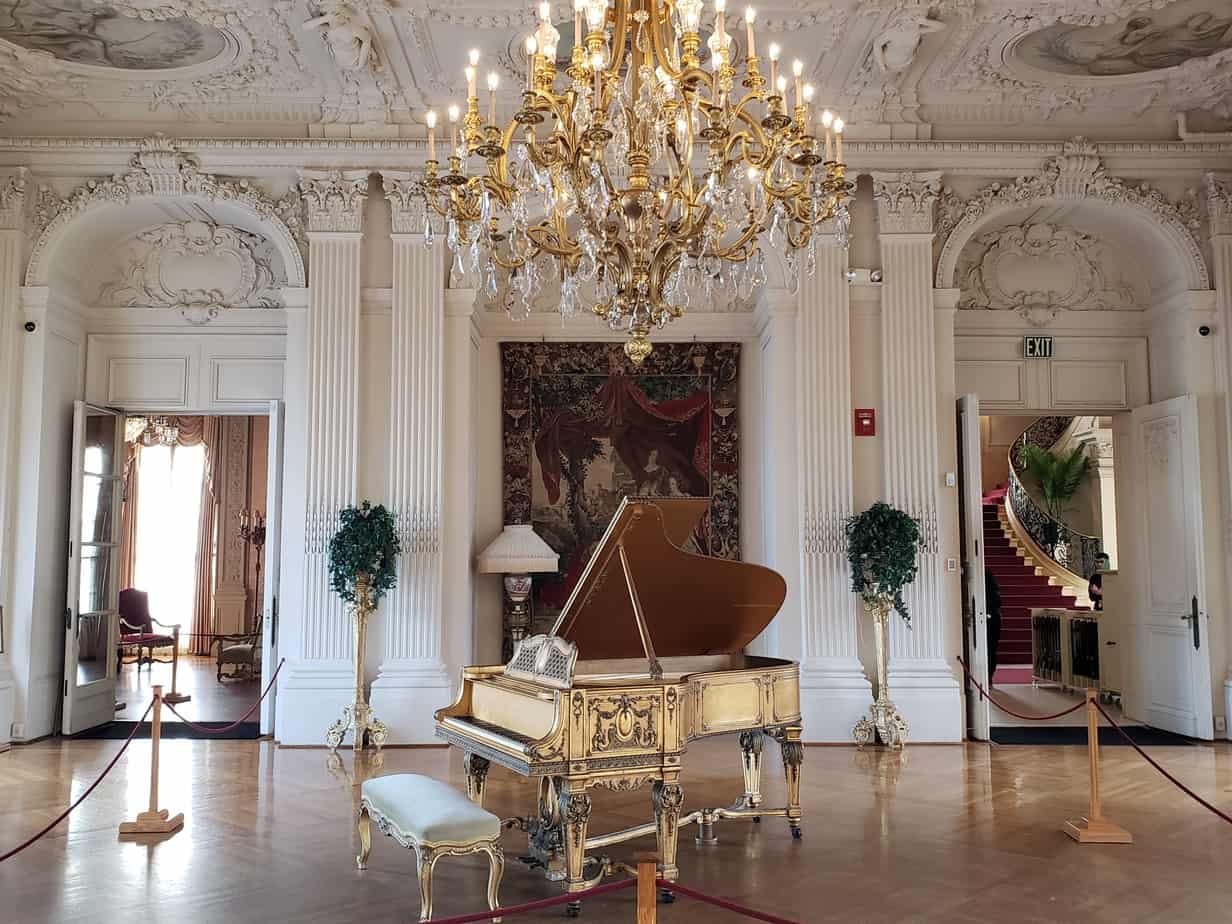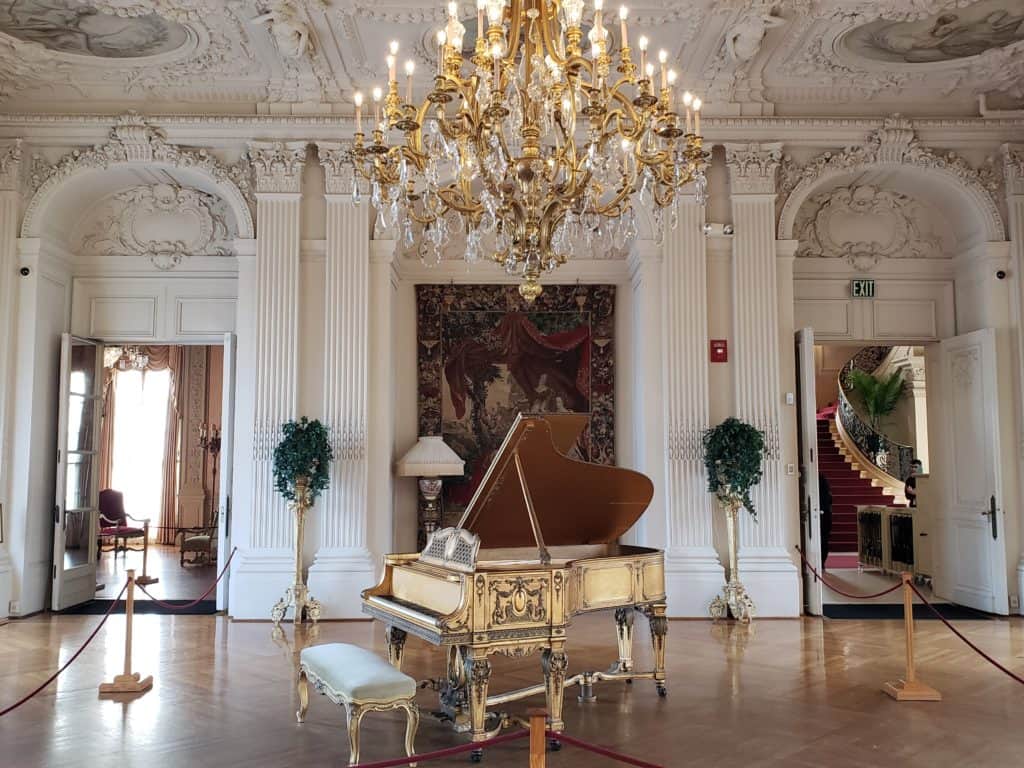 This mansion was designed by Stanford White, another very famous architect of the period. His most well-known design may be the triumphal arch located in New York City's Washington Square. (Side note: If you're interested in turn-of-the-century intrigue, it's worth looking deeper into the story of Stanford White. In 1906 he was shot and killed by the crazed husband of an ex-lover, in a murder that was dubbed "The Trial of the Century.")
How to Visit the Mansions:
The mansions are easily accessible by car or by public transport from downtown Newport. You can purchase individual tickets at each of the mansions, or consider a pass that includes multiple mansion admissions. Tickets can also be purchased online in advance.
Current 2020 ticket pricing is as follows:
The Breakers: $26 per adult, $8 for youth 6-17
1 Property (excluding The Breakers and Hunter House) $18 per adult, $8 for youth 6-17
The Newport Mansions Experience (admission to any 5 properties, excluding Hunter House): $38 per adult, $12 for youth 6-17
The Breakers Plus (admission to the Breakers plus 1 other property, excluding Hunter House): $32 per adult, $9 for youth 6-17
Hunter House: $30 per adult, $8 for youth 6-17
In the winter (the off-season) the Winter Passport provides entry to all properties that are open during the winter season: $35 per adult, $10 for youth 6-17
If you want something a little different, or perhaps with more guidance, this Newport Gilded Age Mansions Trolley Tour will give you deeper insight into the history of Newport. This particular tour also offers admission to the Breakers, so you can see inside one of the most amazing homes in the area. A similar trolley tour (the Double Mansion Tour) offers admission to two mansions, along with a narrated audio tour as you ride along Newport's scenic coast. Why NOT combine your visits to the mansions with a ride in an old-fashioned trolley? The Viking Trolley tour has some great options as well, including admission to a single mansion or to The Breakers and Marble House (two of the most popular mansions).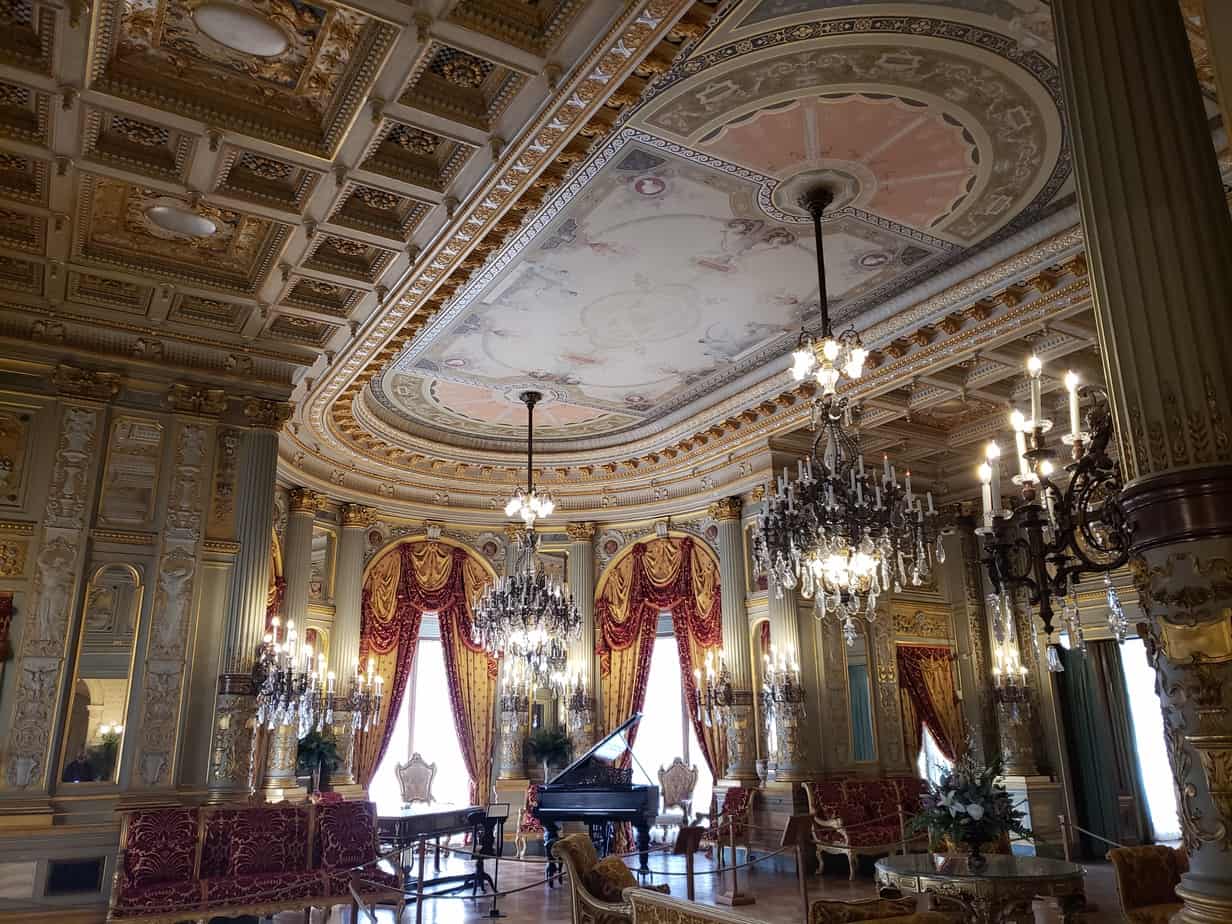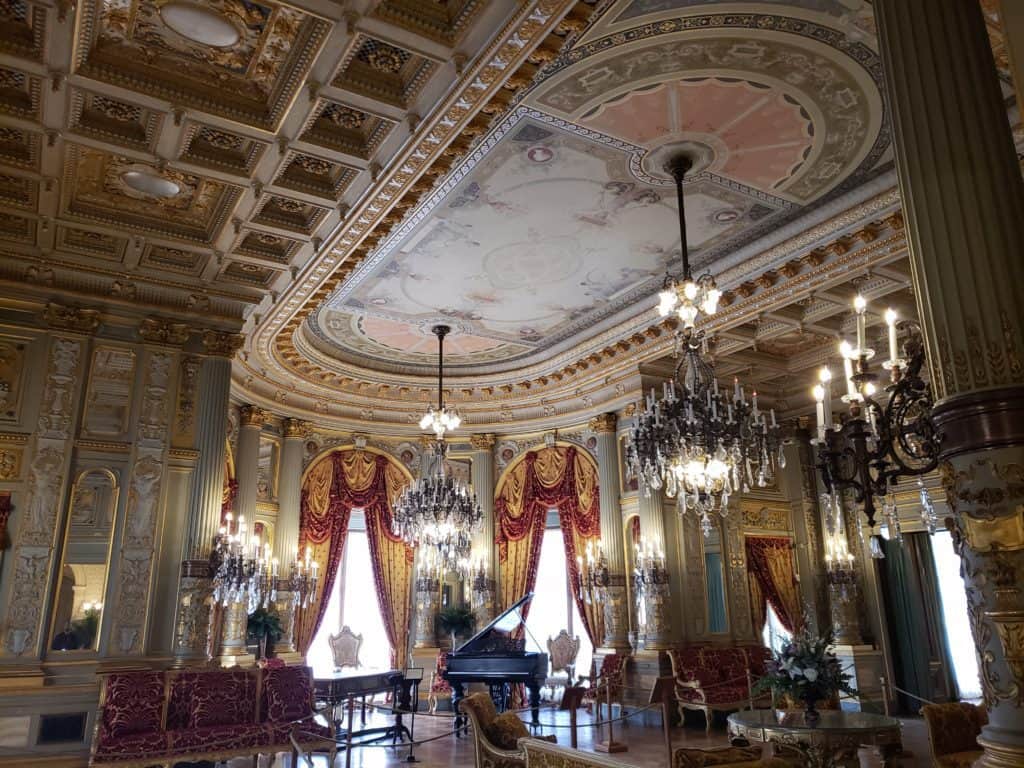 Stroll the Cliff Walk
One of the best parts about a trip to Rhode Island is its lengthy coastline. Here in Newport, you can see the finest sites bordering the sea on the 3.5-mile Cliff Walk. This National Recreation Tour is mostly paved, though there are some points near the end of the trail that are unpaved and more challenging. Yet any stretch of the 3.5-mile walk is going to offer spectacular views of both the ocean and the coastal mansions.
Walk together with your loved one along the path and take in the refreshing sea air and soothing nature. It's definitely the perfect place to go for a quiet, romantic walk.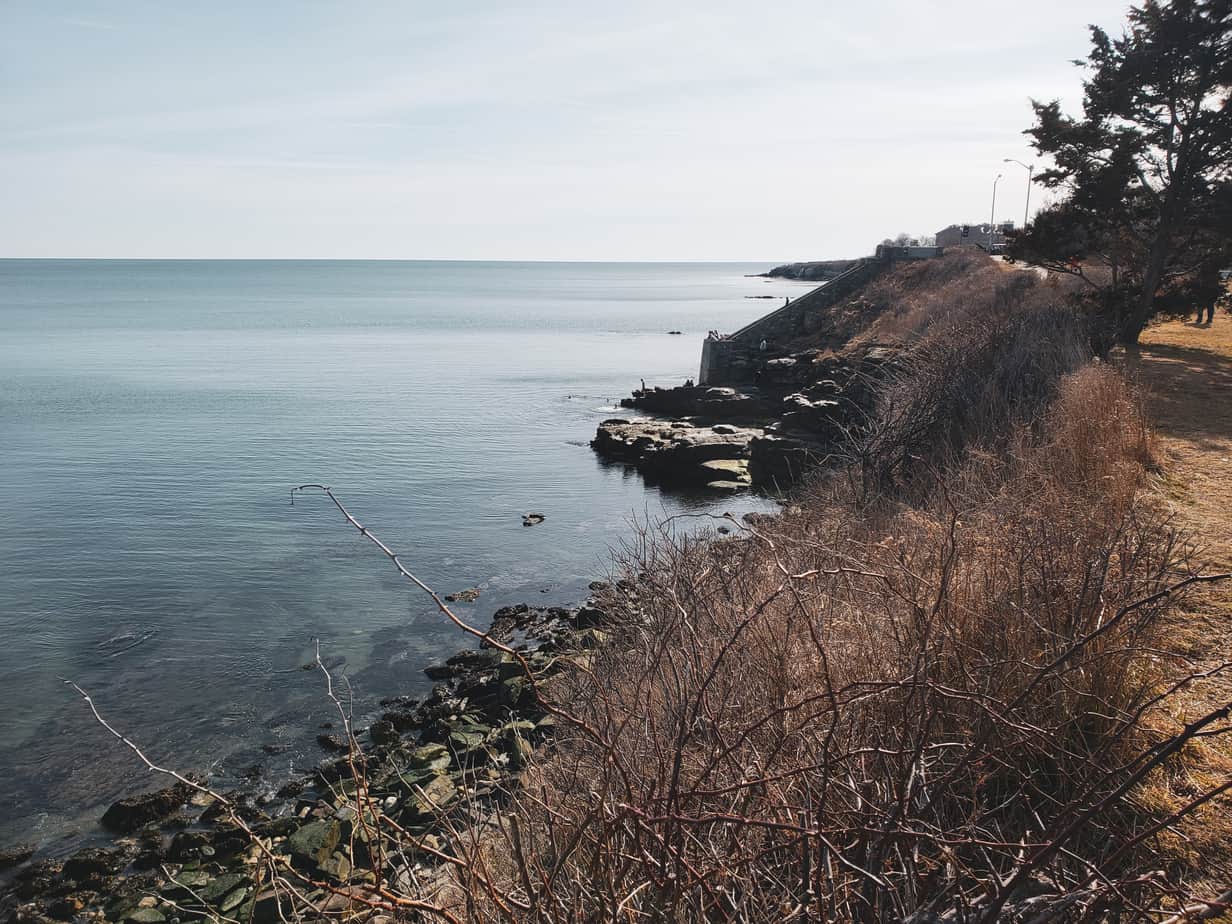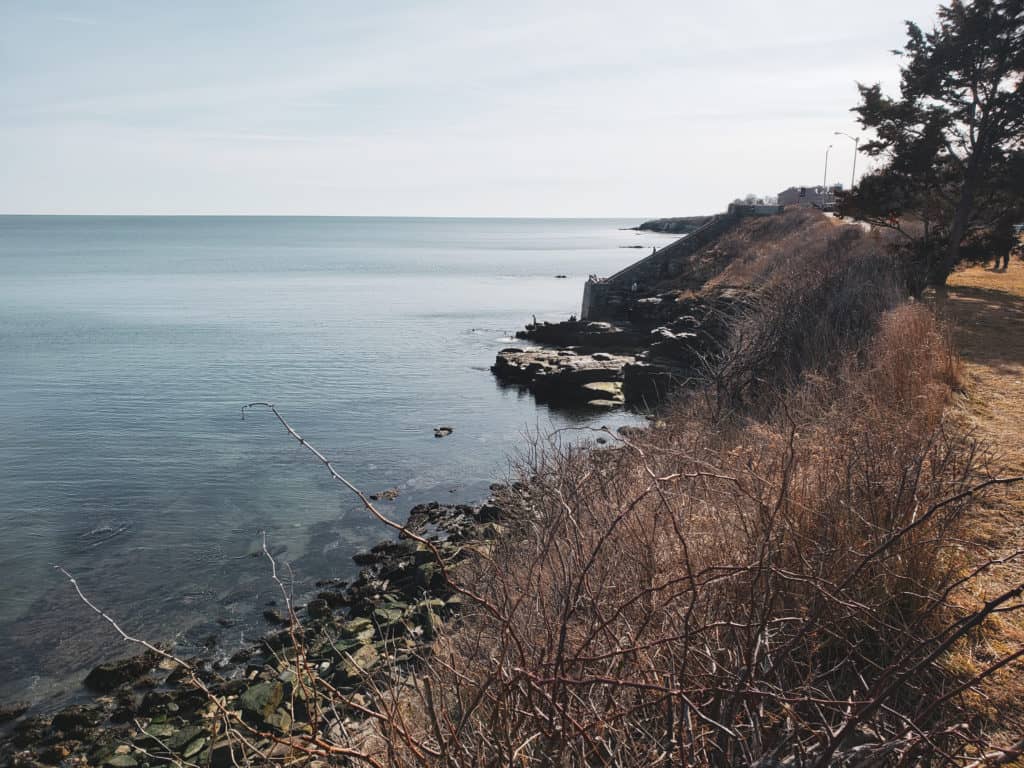 While the Cliff Walk is likely far busier in the summertime, we found it to be still popular even in winter. On a cold but sunny day, it was the perfect excuse to get out and enjoy the outdoors.
The Cliff Walk is accessible from several main thoroughfares throughout town. We parked along the causeway entering Newport, pulling over when we saw a giant sign that read "Cliff Walk." That's a fine place to start, and you'll be at the mansion-heavy section in about 30 minutes.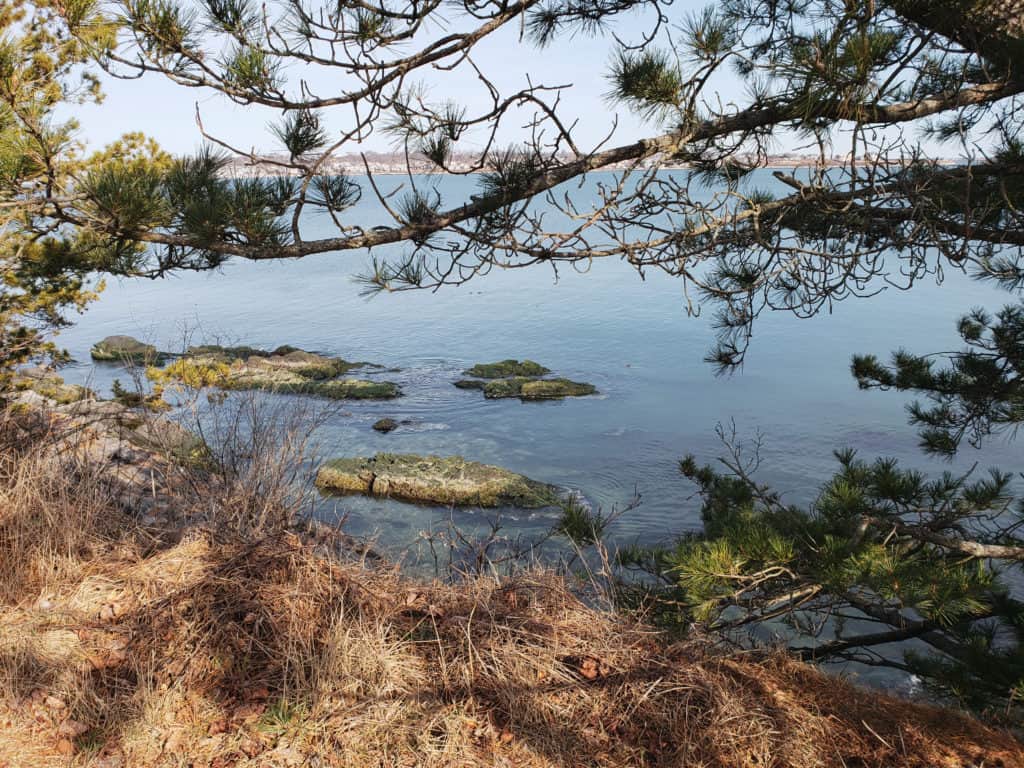 Sip Wine at Local Vineyards or Grab a Drink at a Historic Tavern
Sampling some of the regional beverages is always a pleasure on a couples trip. In Newport, there are two vineyards we suggest stopping by. These are Newport Vineyards and Greenvale Vineyards. Newport Vineyards is New England's largest grower of wine grapes. Here, you can take a guided tour of the winery (and vineyard, weather permitting) finishing off with a tasting. Stop by during your stay and you can enjoy the on-site restaurant, plus beer-lovers can head to their tap room! Not just fun for tourists, if you're local to Rhode Island, this is a great idea for a date night in Newport
Greenvale Vineyards is a much smaller operation, but has a deep history as "a small producer of exceptional wines." The vineyard has been in the same family since 1863. When you visit, enjoy your tasting in the renovated stable.
Take a Sunset Ride on Ten Mile Drive
Sunset is the hour of romance! One great way to enjoy a Newport sunset is at a stopping point along Ocean Drive, a ten-mile route of historic landmarks and coastal views. We did this one evening of our visit and it was truly lovely. With the low crowds of the winter months, we were able to find many "secret" spots all to ourselves, and we watched the gulls flying and the waves lapping the rocks. Super romantic.
Along the Ten Mile Drive, you can make time to visit some of the historic spots, if you wish. We headed up to see the Eisenhower House, which was considered "the summer White House" from 1958 – 1960. Jacqueline Bouvier's family estate,
Hammersmith Farm (now privately owned) is right next door, so the views from Eisenhower House are essentially those enjoyed by guests at the wedding of Jacqueline and JFK!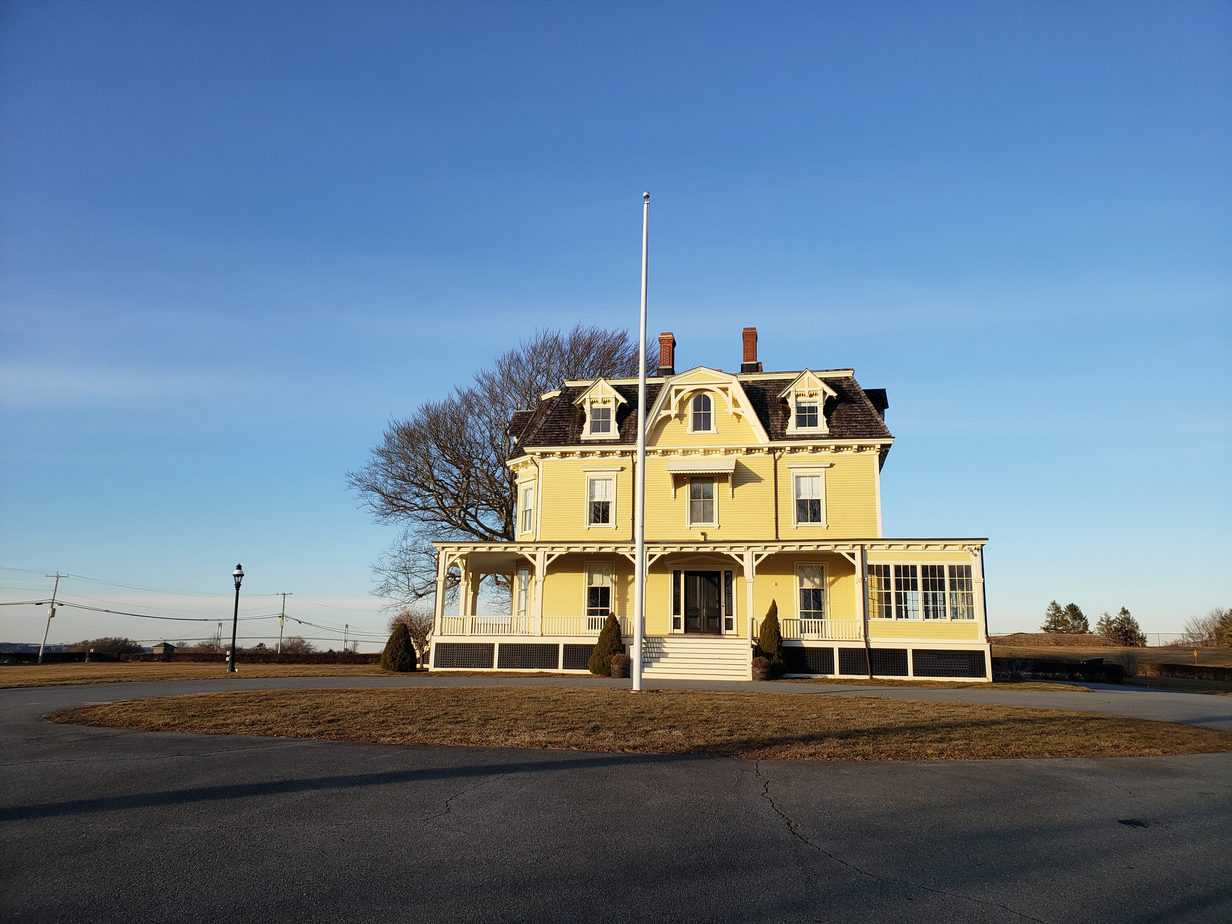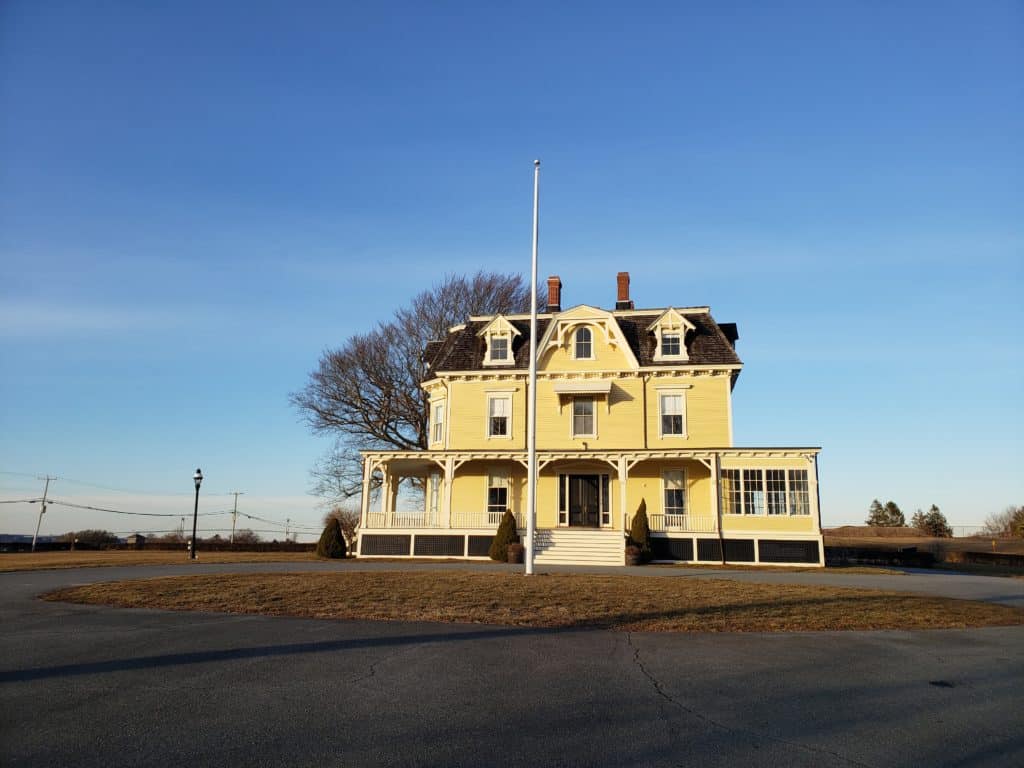 Browse the Shops on Bowen's Wharf
Newport has many streets that are completely quintessential New England. One such area is Bowen's Wharf and some of the surrounding streets. This is coastal New England at its best.
We highly recommend wandering around there for a bit. Not only are there unique shops with some great Newport gear, there are also restaurants, ice cream shops, and a bevy of resident seagulls.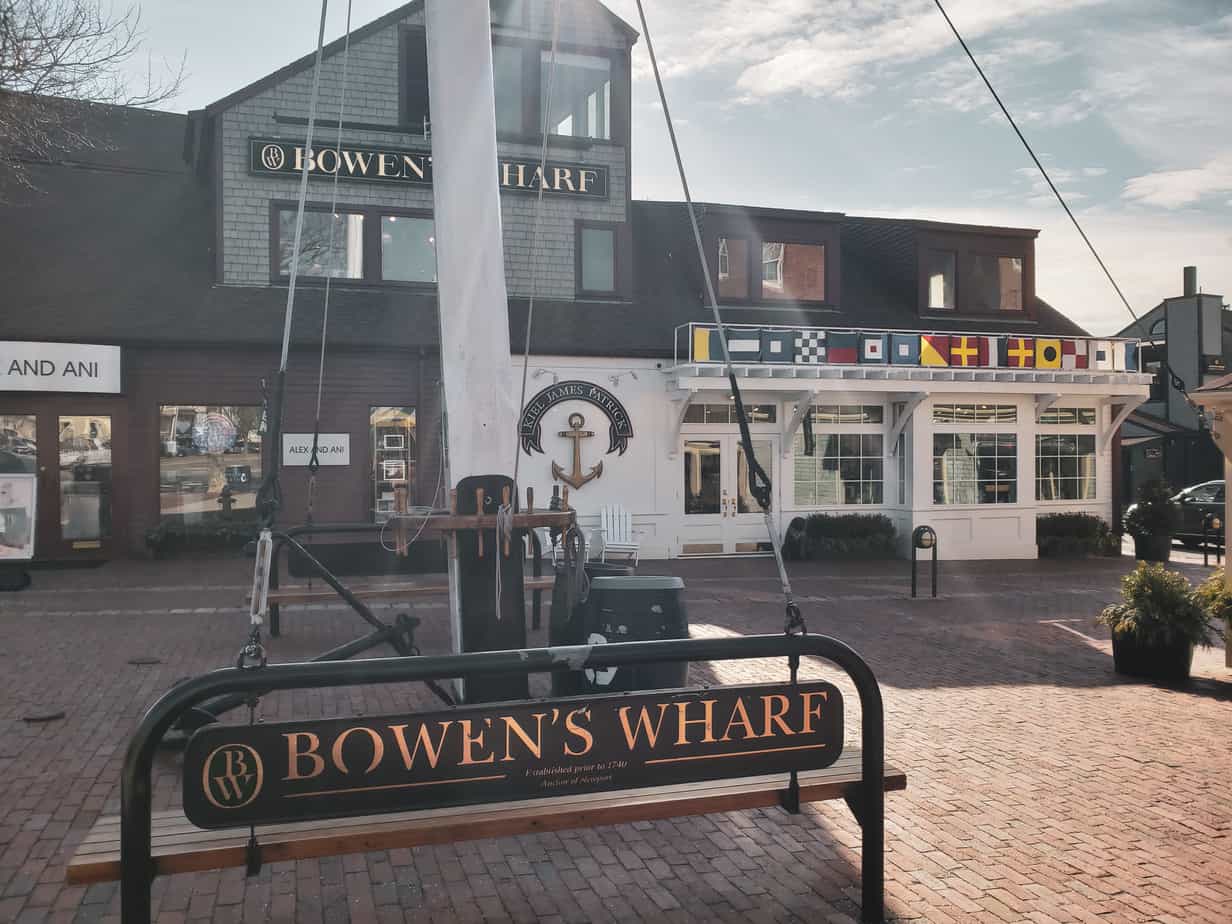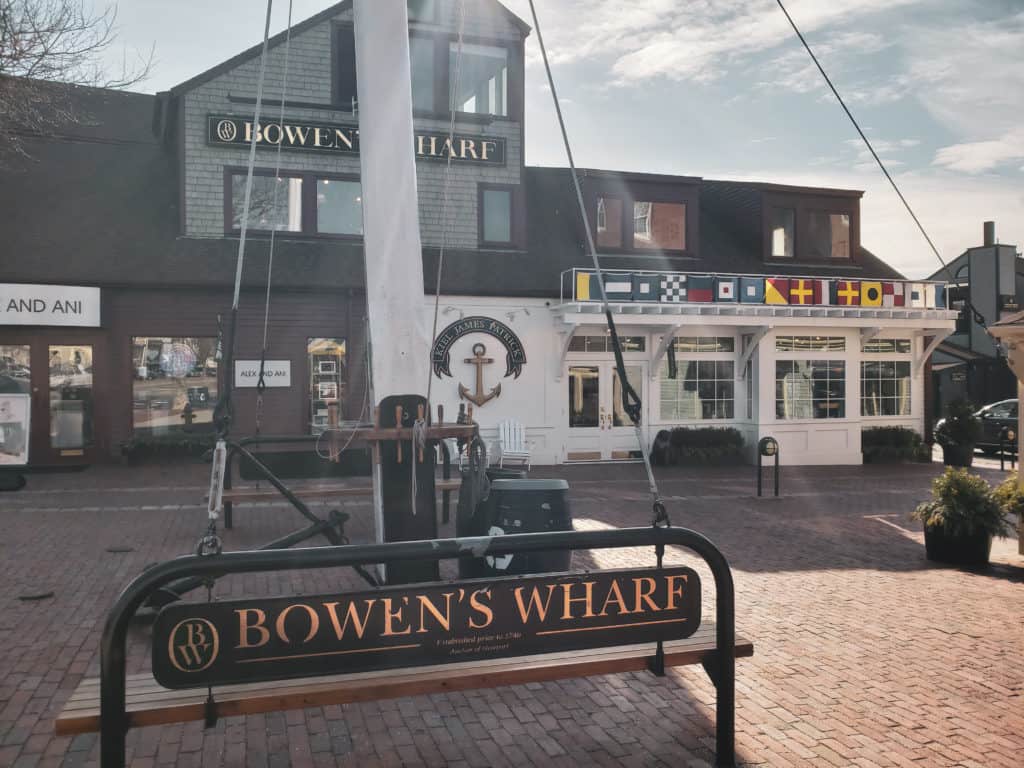 There are countless colonial-era buildings in this spot, too. Pop over to The White Horse Tavern for a drink if you have time. This is America's Oldest Tavern and it is filled with charm.
Ice cream is always a cute thing to do together, and there are plenty of options across Newport. We went to Kilwin's for a couple of chocolate chip cookie dough cups!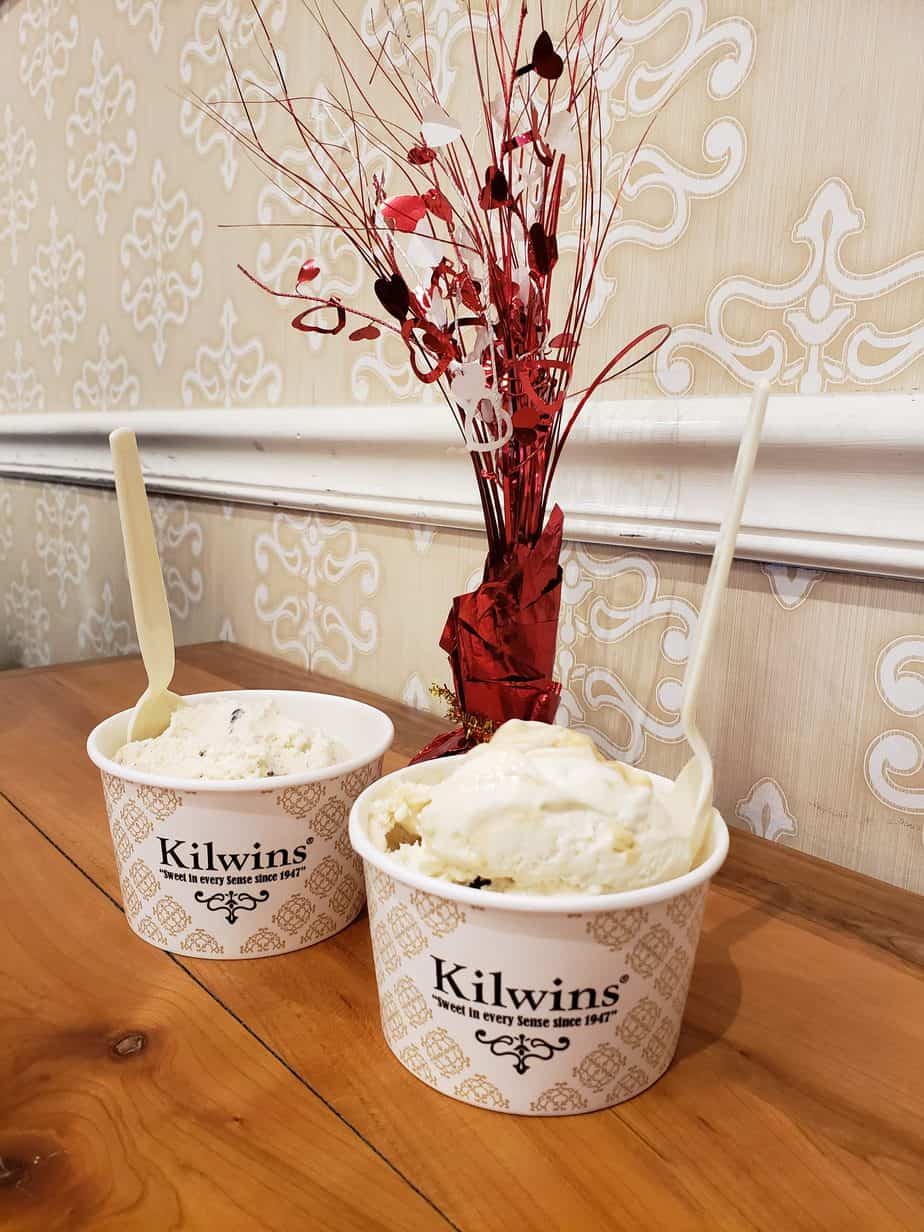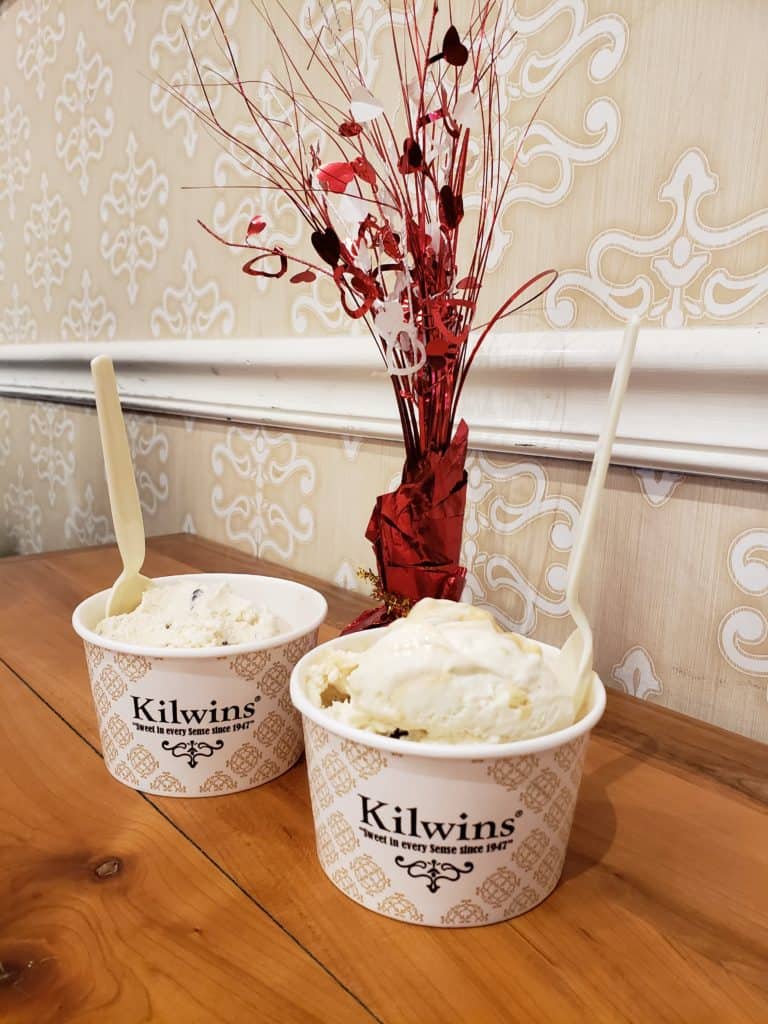 Have a Cozy Cup of Coffee Together
On any trip (or let's face it, most days of the week), Nathan and I head out to enjoy some of the local coffee shops. In Newport, we did a quick Google search for "best Newport coffee shop" and the unanimous result was The Coffee Grinder.
Located at the end of Bannister's Wharf, this coffee shop is oh-so-tiny and oh-so-cute. It is right on the waterfront so you can enjoy your delicious coffee while taking in the serene atmosphere of the docks.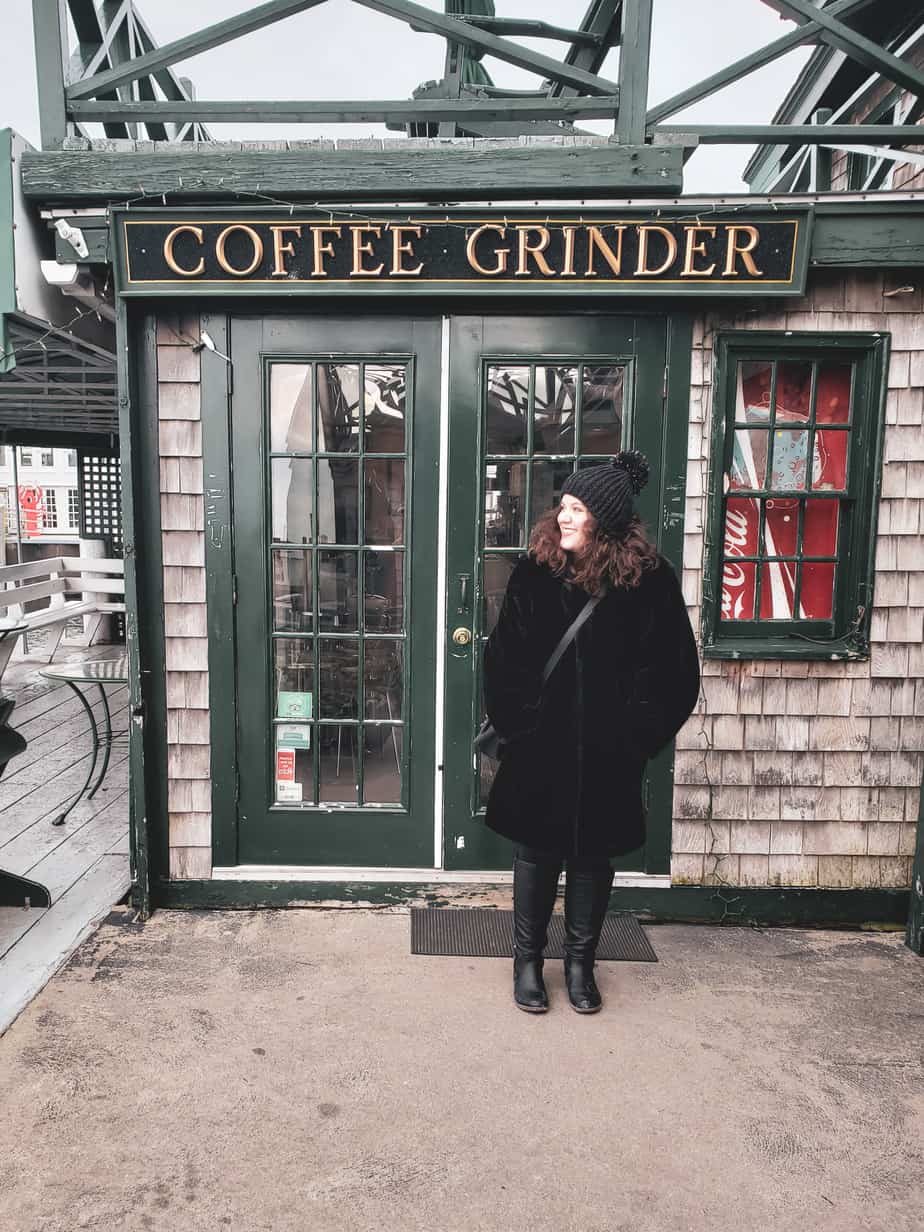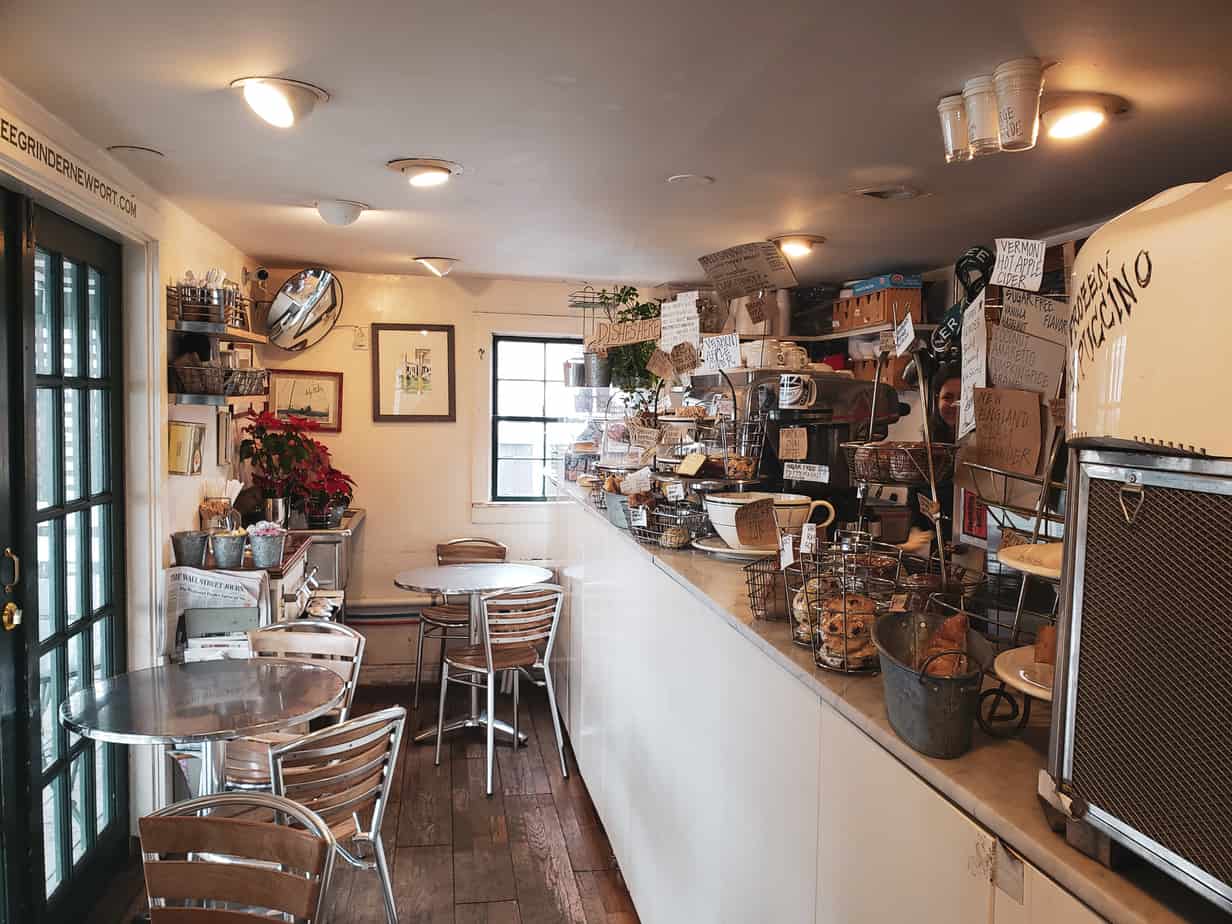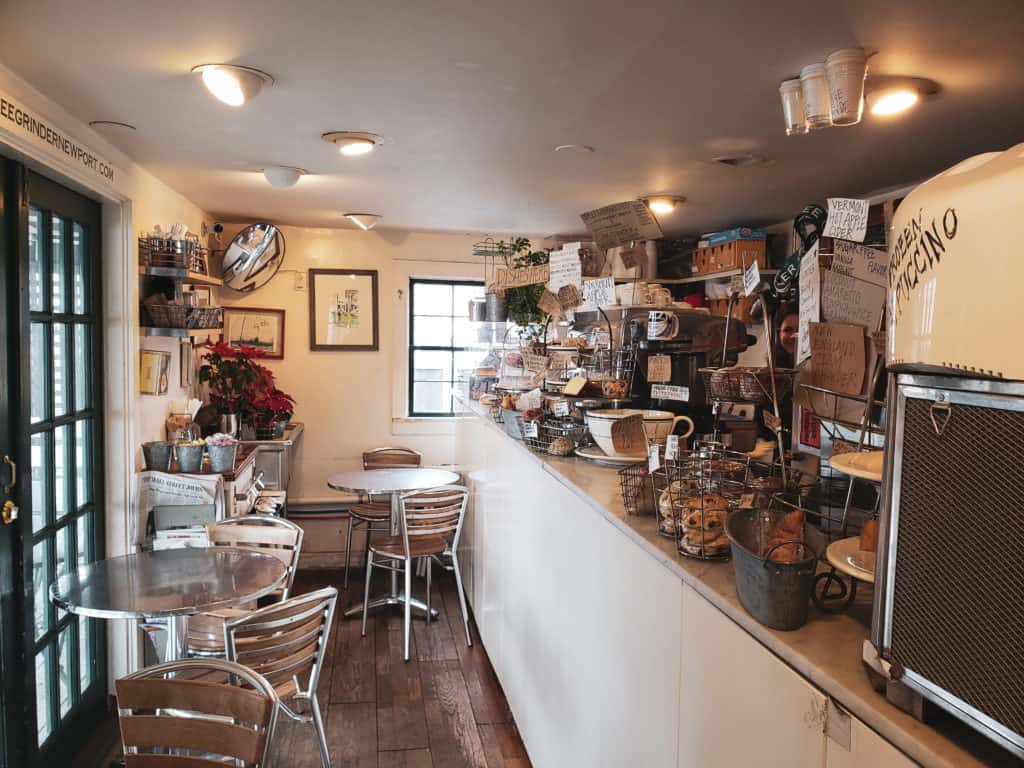 Owner Alyssa has been running this iconic Newport coffee shop for 22 years. In the busy seasons, the line runs out the door and down the block, but on this chilly morning in February, we were lucky enough to have this charming spot to ourselves. We were able to chat with Alyssa and loved learning about the shop and the area. The coffee was awesome, as were the pastries, all of which she makes herself!
Get Out on the Water
Perhaps the best way to enjoy romantic Newport, RI is by sea. If you can do so, make it a point to spend some time in or on the water during your stay in Newport. Now, remember this is New England, so you're probably not going to want to swim in these waters aside from a few weeks during the height of summer. And even then, be wary of rocks along this coastline. But boating is what New England is famous for.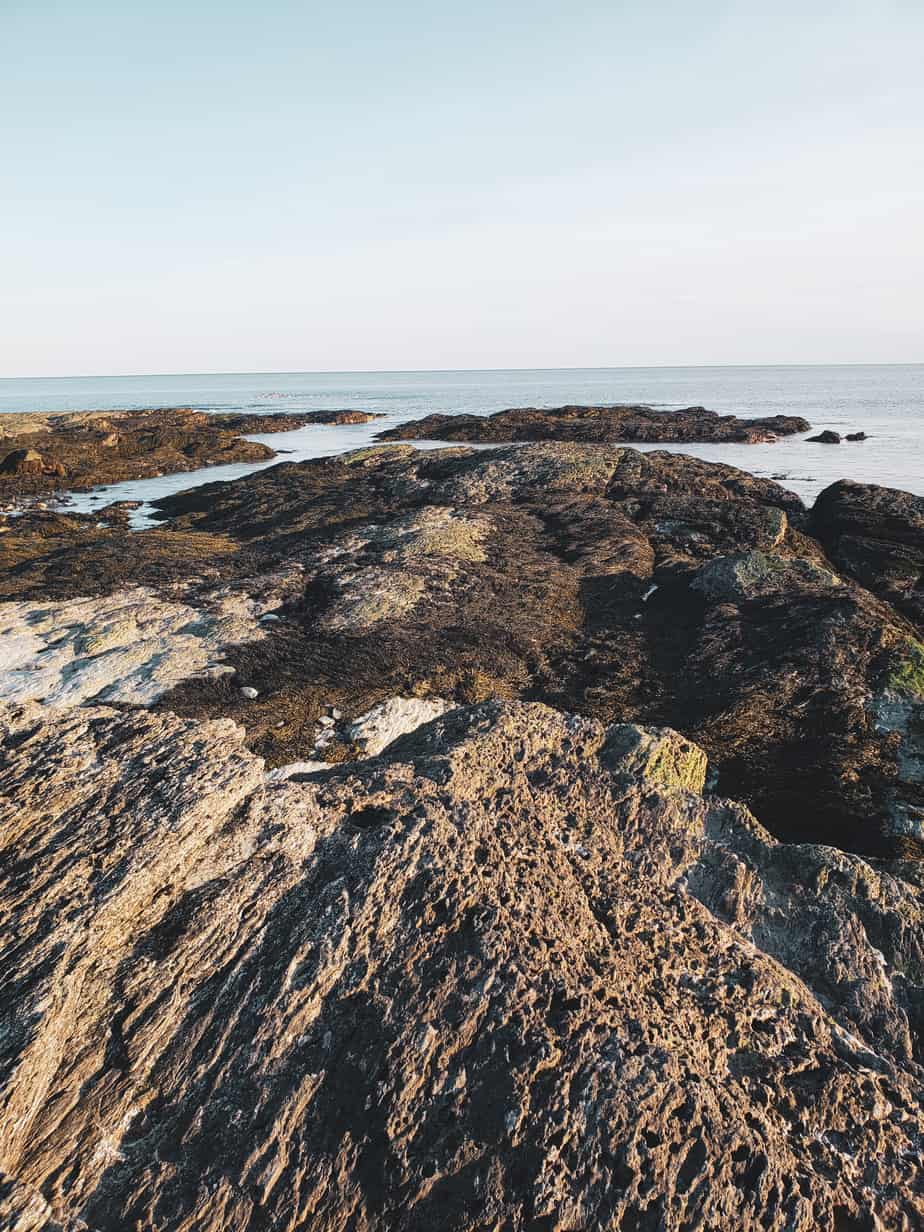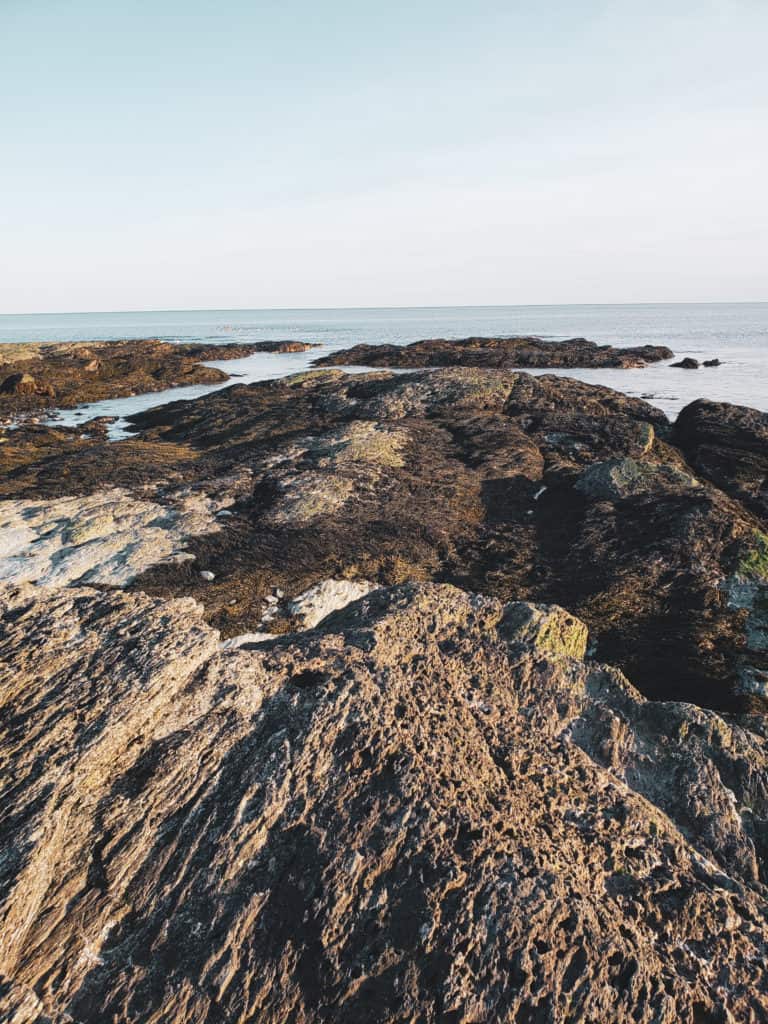 Even in the winter months, you can find a way to get out on the water, such as on a Newport Seal Tour. Winter is when these seals are frequently seen in the region. Unfortunately, our visit didn't coincide with these tours, but we would have loved to have seen the adorable fat seals chilling on the rocks around the bay.
There are plenty of options for sailing, of course. Hop aboard some gorgeous schooners with Sailing Excursions. Or better yet, go sailing on a former America's Cup yacht for an extra-special experience.
A Romantic Getaway in Newport, RI – Where to Stay, Where to Dine
Where to Stay in Newport
When searching for romantic hotels in Newport RI, you will eventually land on Hotel Viking, a lovely and historic inn located in the center of Newport. For couples, you can't go wrong with one of their romantic suites, such as the Marble House Suite which has an elegant corner fireplace (perfect for a winter getaway). All of these rooms have lovely decor, including period paintings and nautical elements. I really loved the look of our room.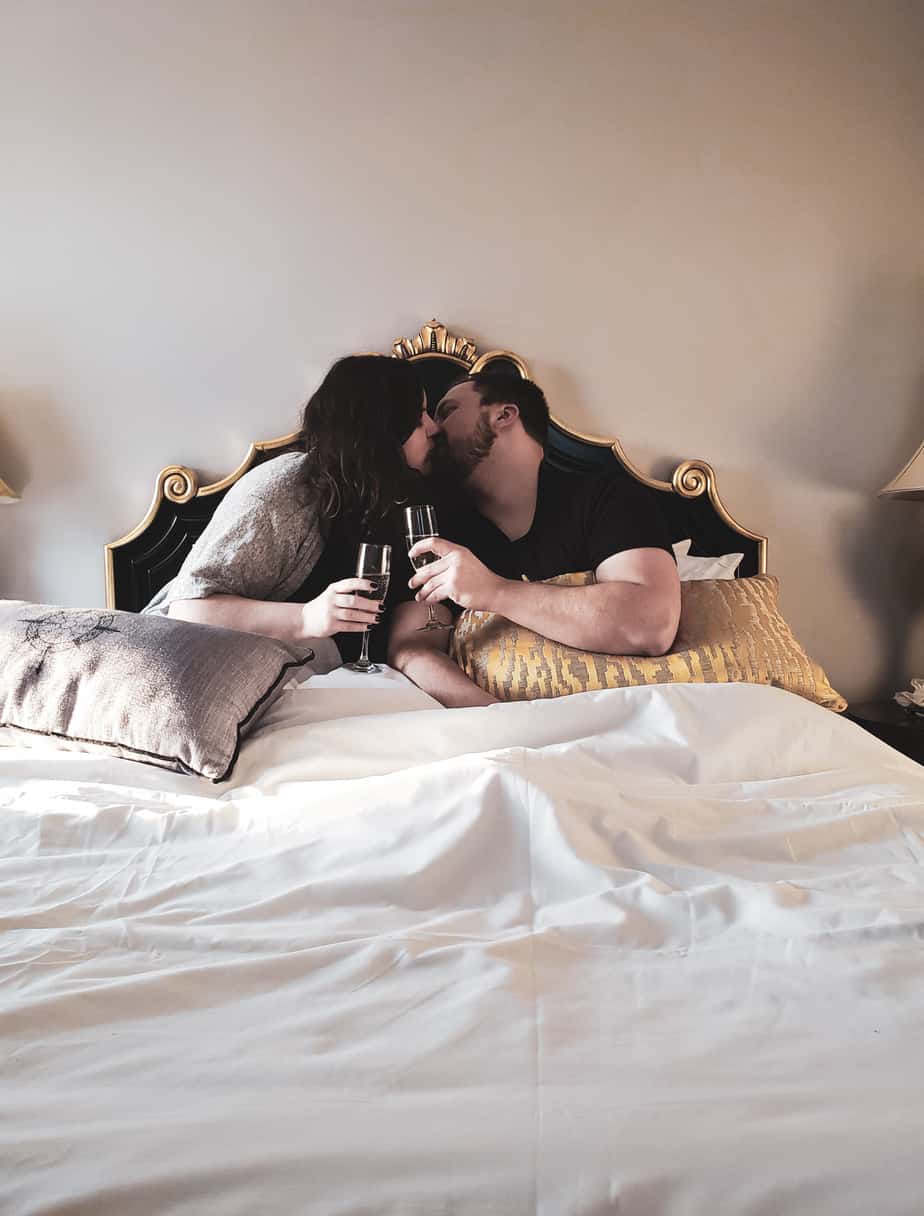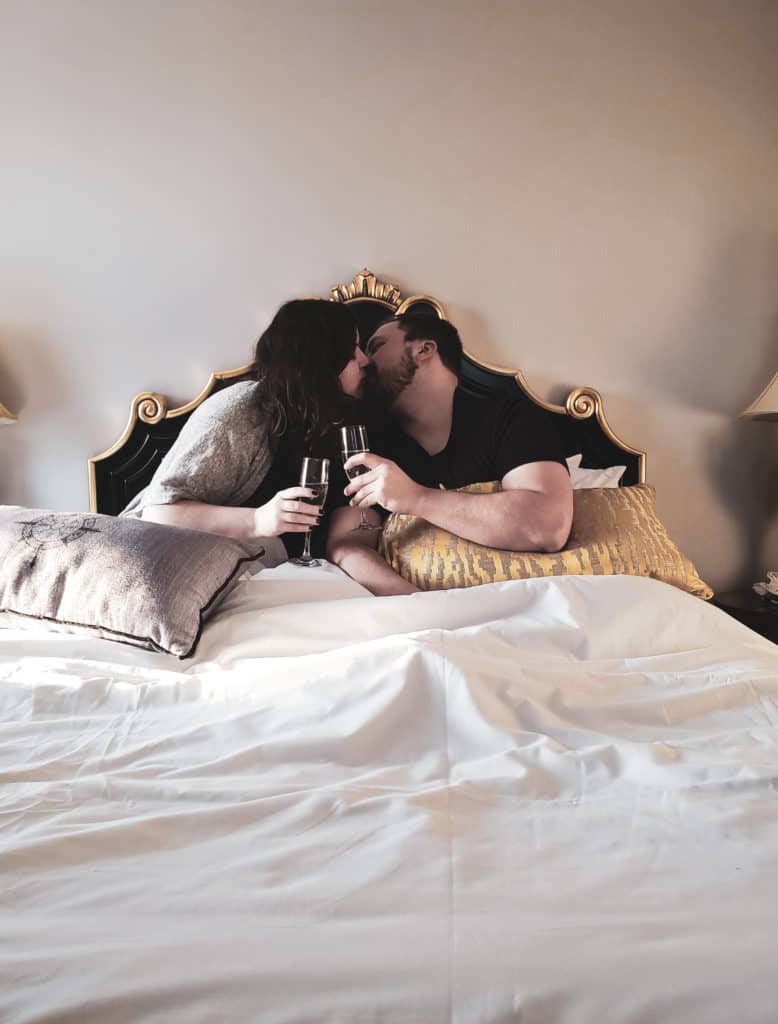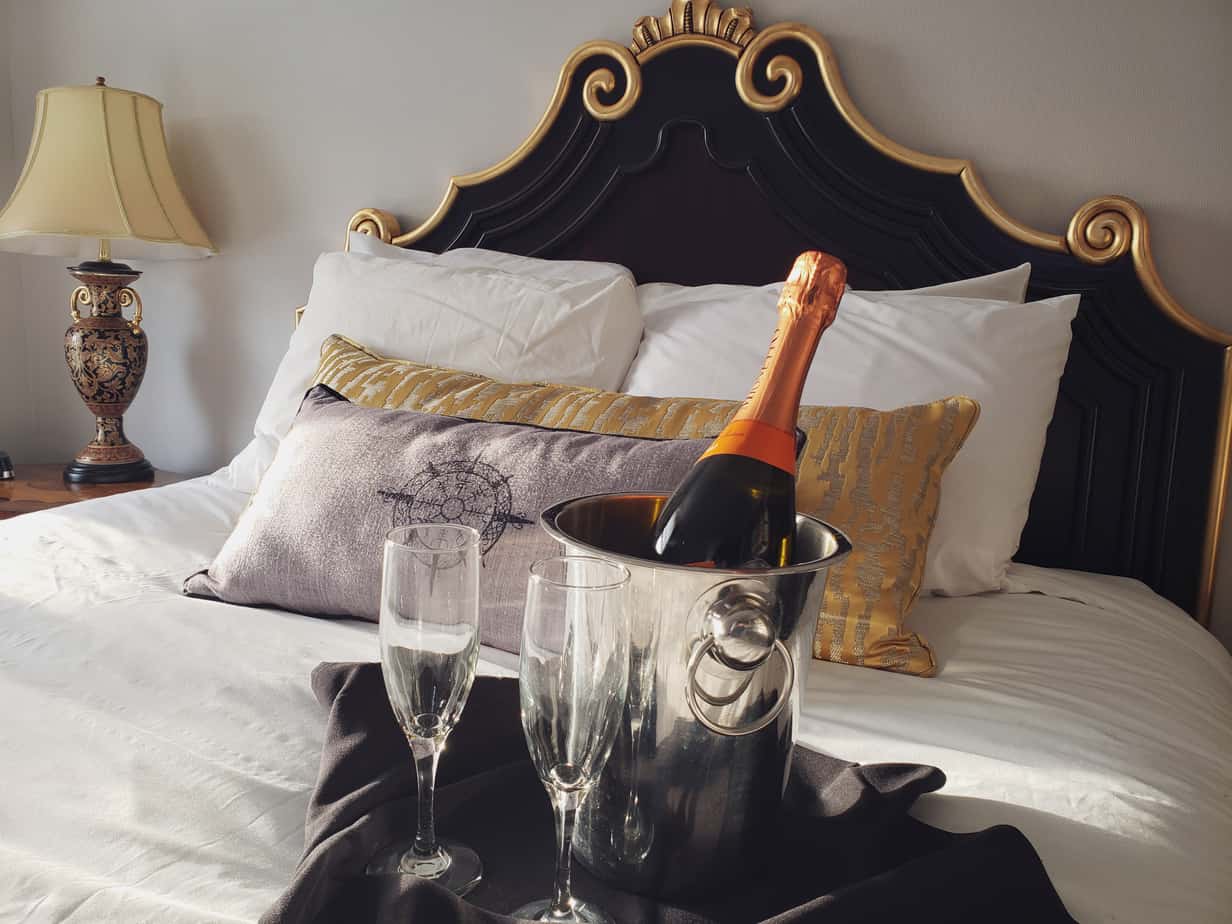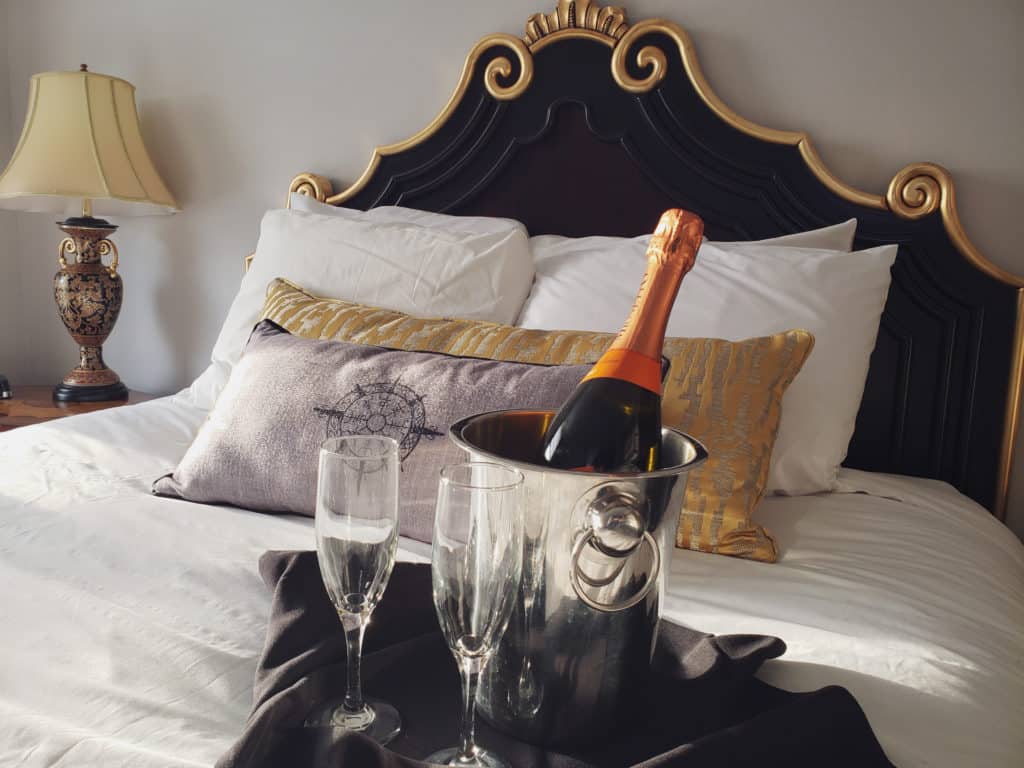 Hotel Viking offers everything you need for a comfortable stay in Newport. Their on-site spa, Spa Fjor, is ideal for having a blissful escape from the stresses of everyday life. Nathan and I were treated to a couples massage; a Balinese ritual-style massage that was absolutely tension-melting and awesome. The spa is so peaceful and quiet, you are bound to de-stress the second you enter.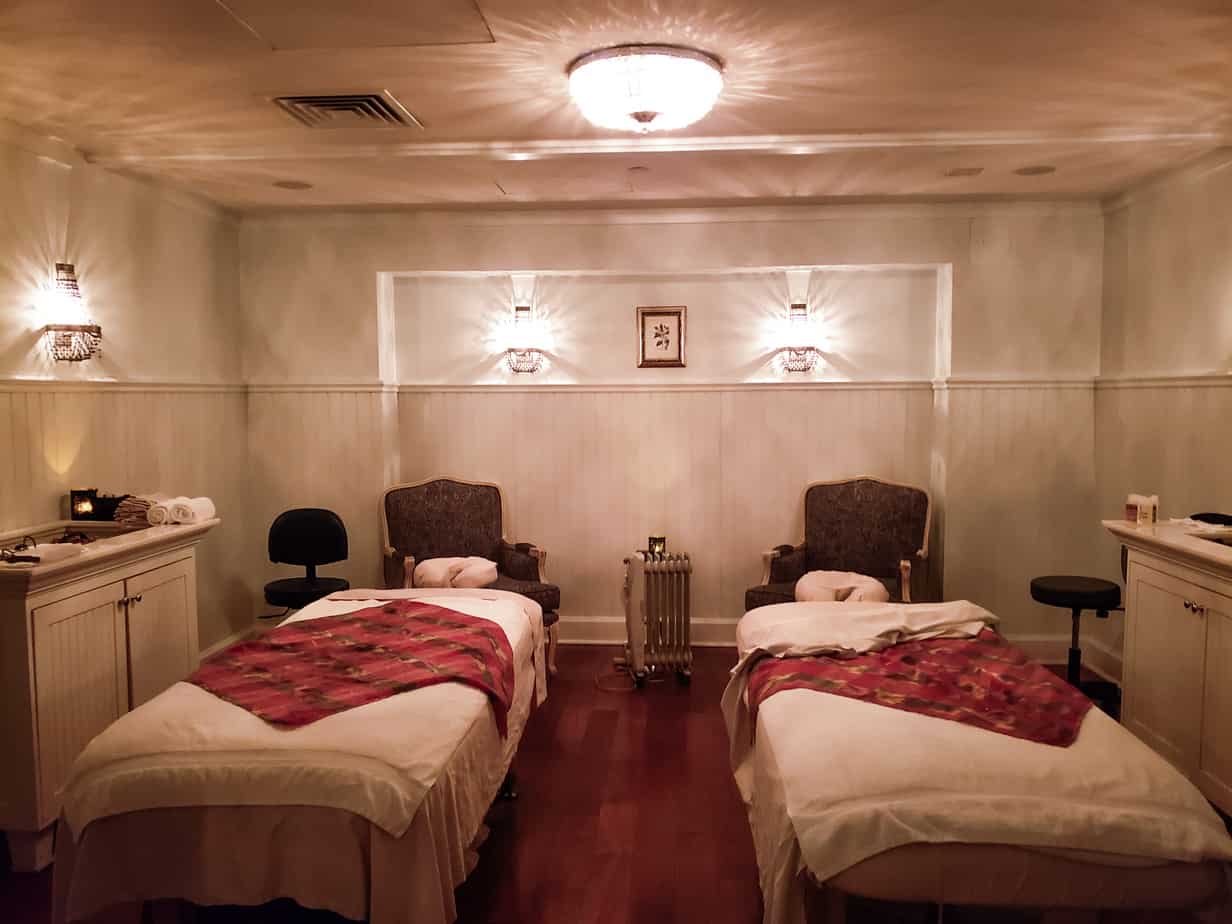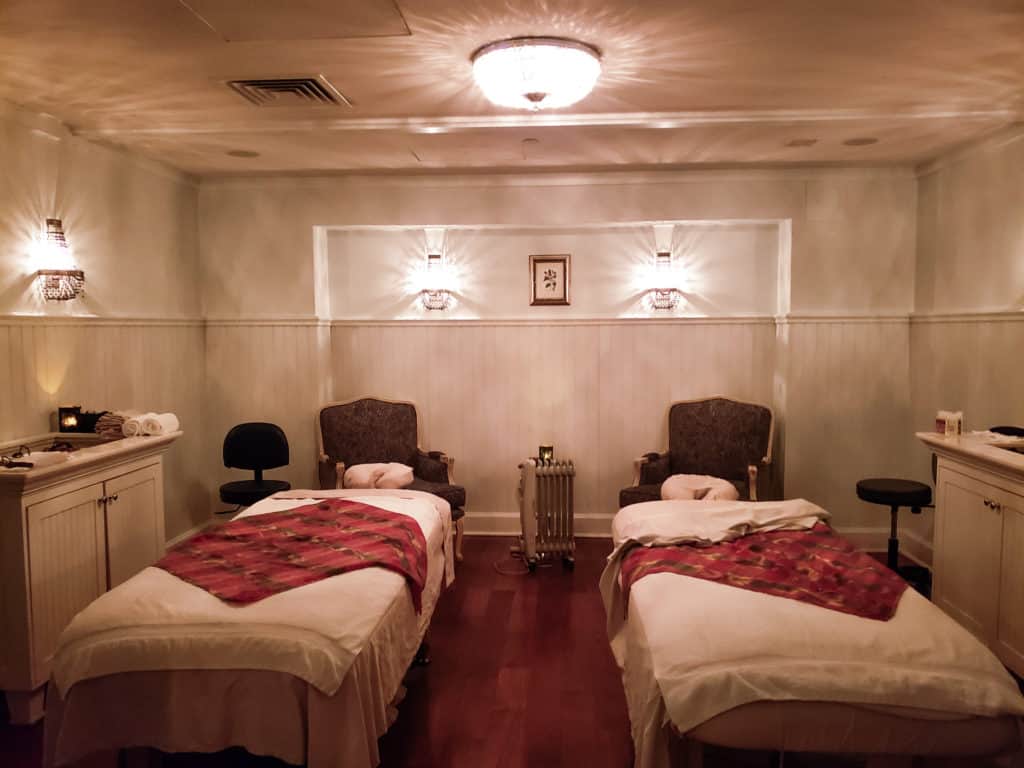 One Bellevue is Hotel Viking's restaurant, and they can supply meals for you plus a tasty selection of room service. May we recommend a bottle of prosecco to share in your hotel room?
The staff is incredibly friendly at Hotel Viking (everyone from the valet drivers to housekeeping is smiling and welcoming) which really is the cherry on top of an already fabulous experience.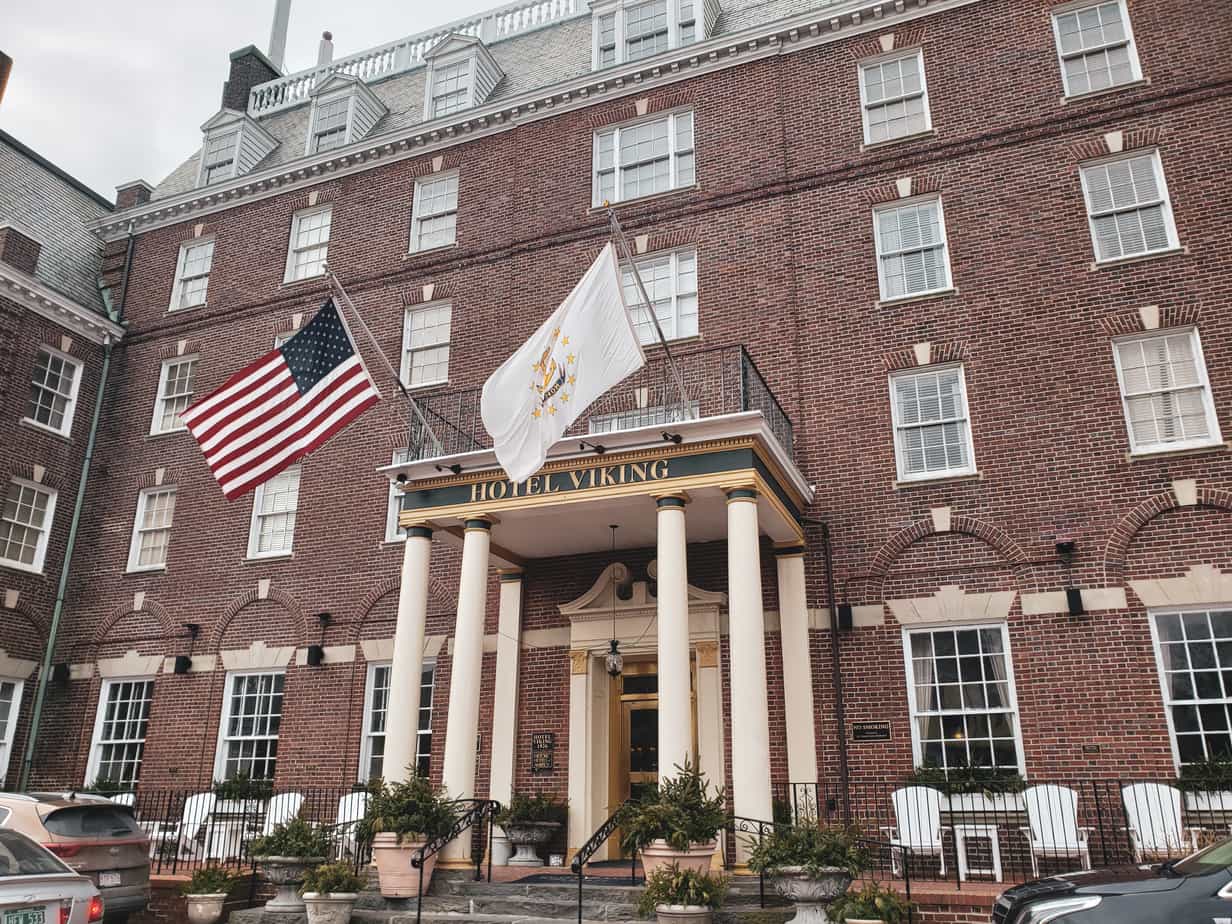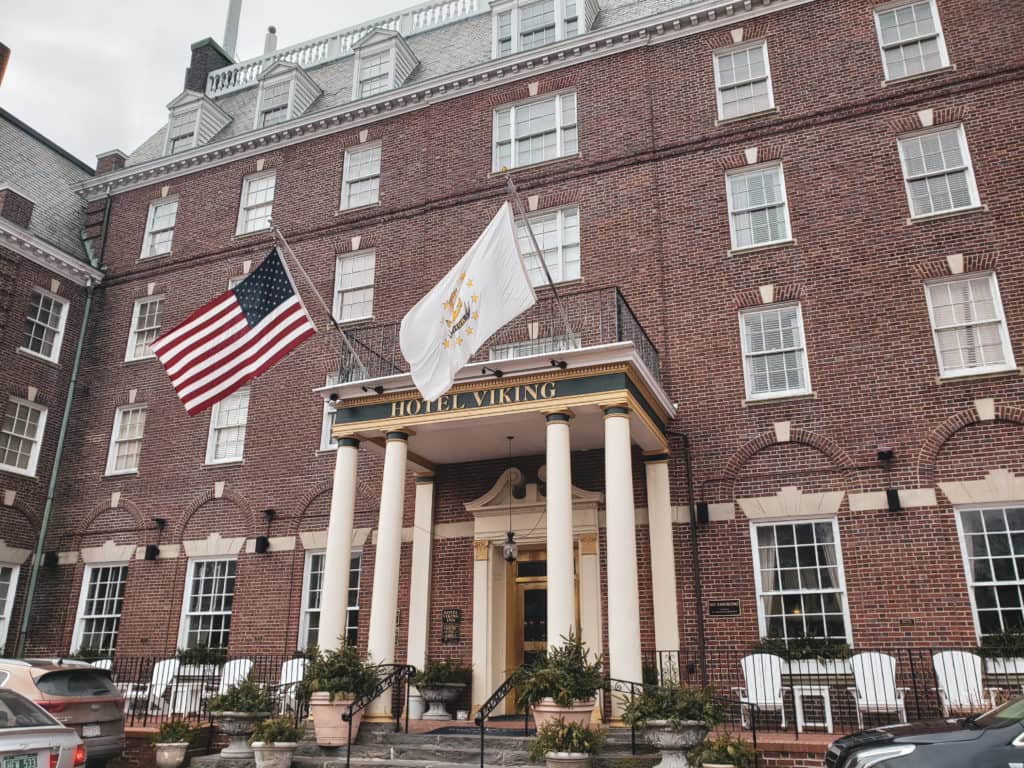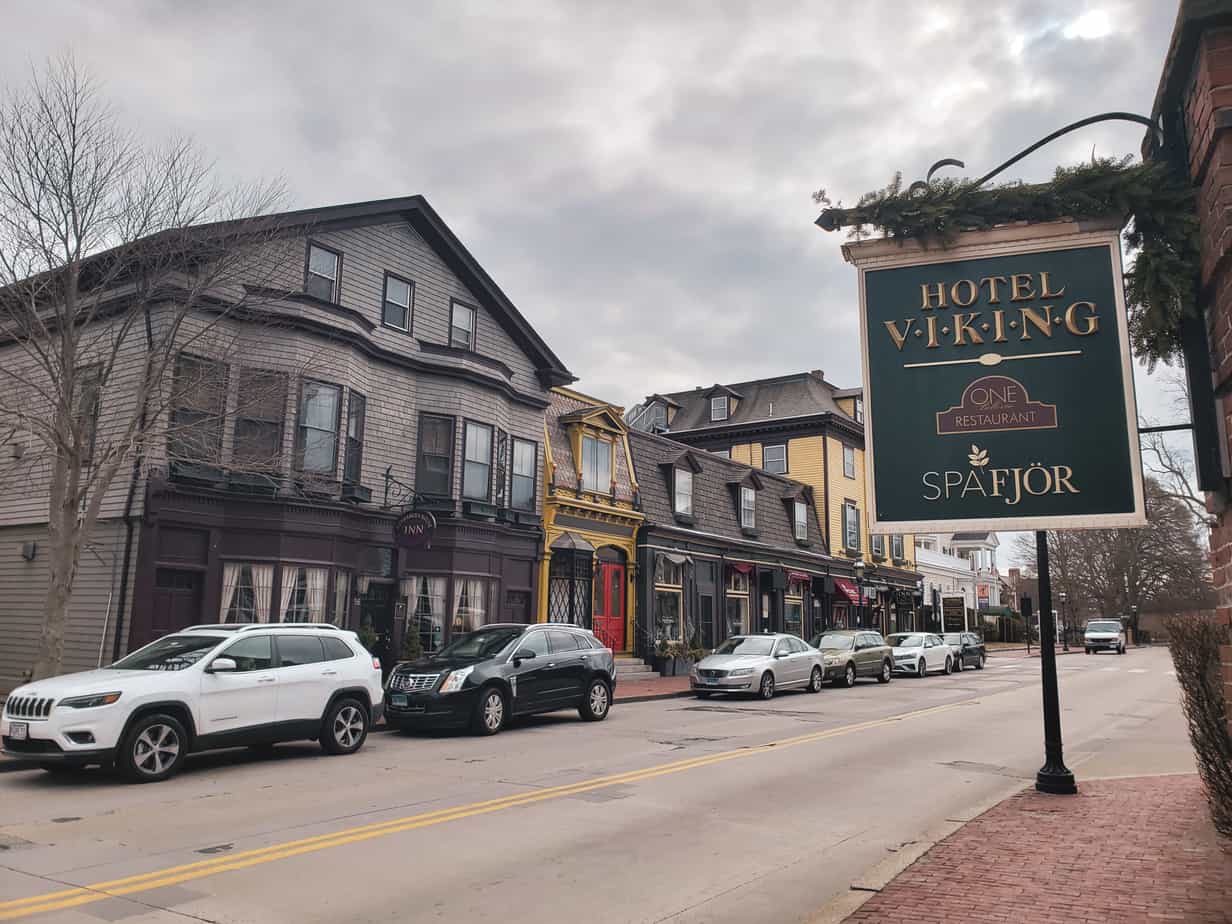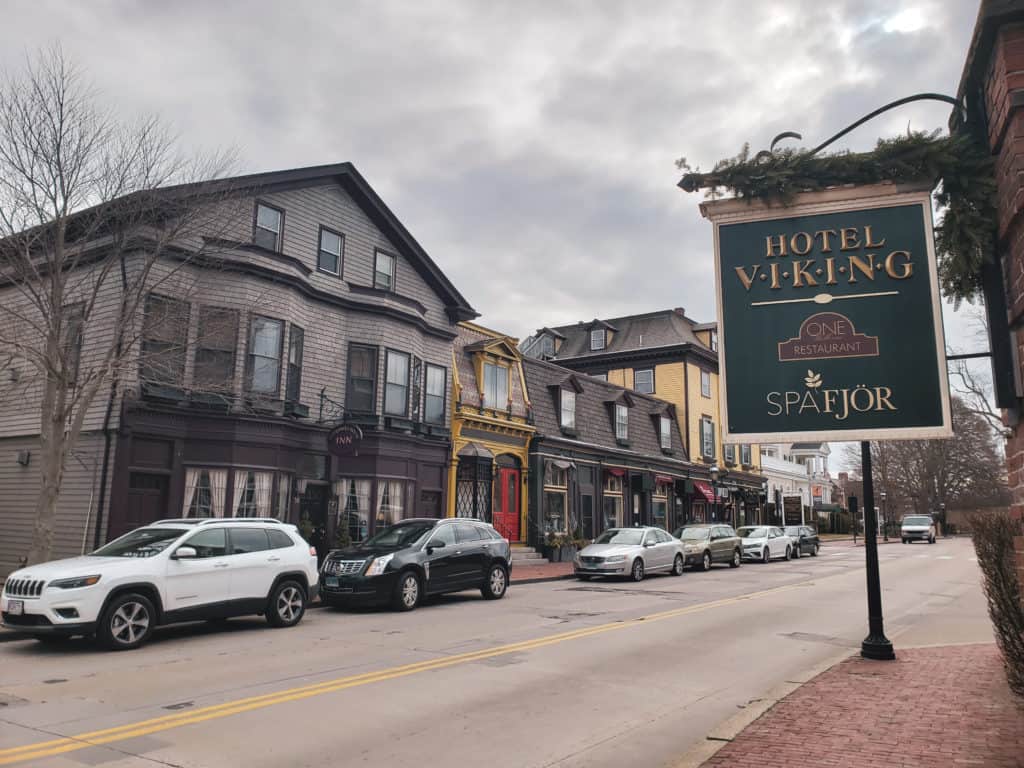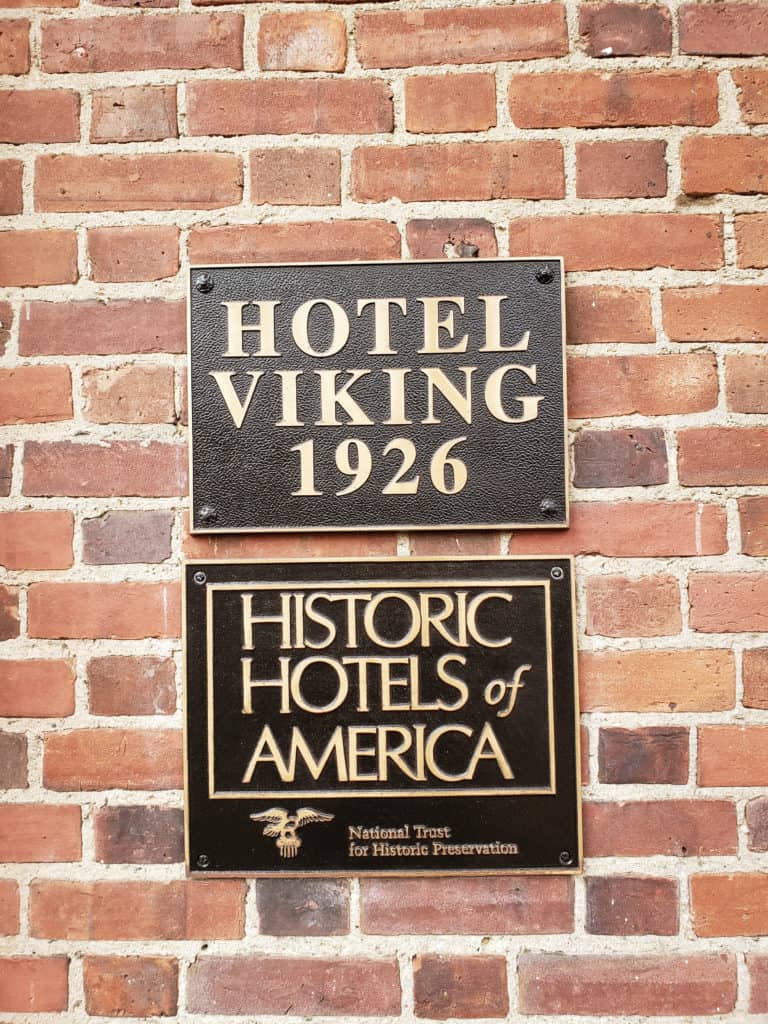 Where to Dine in Newport
There are many romantic restaurants in Newport, RI, but the most romantic of all is Mamma Luisa's. In fact, we're not the only ones who hold this opinion. The cozy Italian restaurant was recently named one of America's 100 most romantic restaurants. That's quite an honor, but we found it to be well-deserved.
The atmosphere of Mamma Luisa's is warm and intimate. The golden yellow walls, crowded with photos and memoirs of Italy, make you feel like you're in the home of a loving Italian grandma. And the food, oh my god, it was terrific. Nathan had a steak while I opted for the homemade spinach and ricotta gnocchi. Both were great but that gnocchi was out of this world.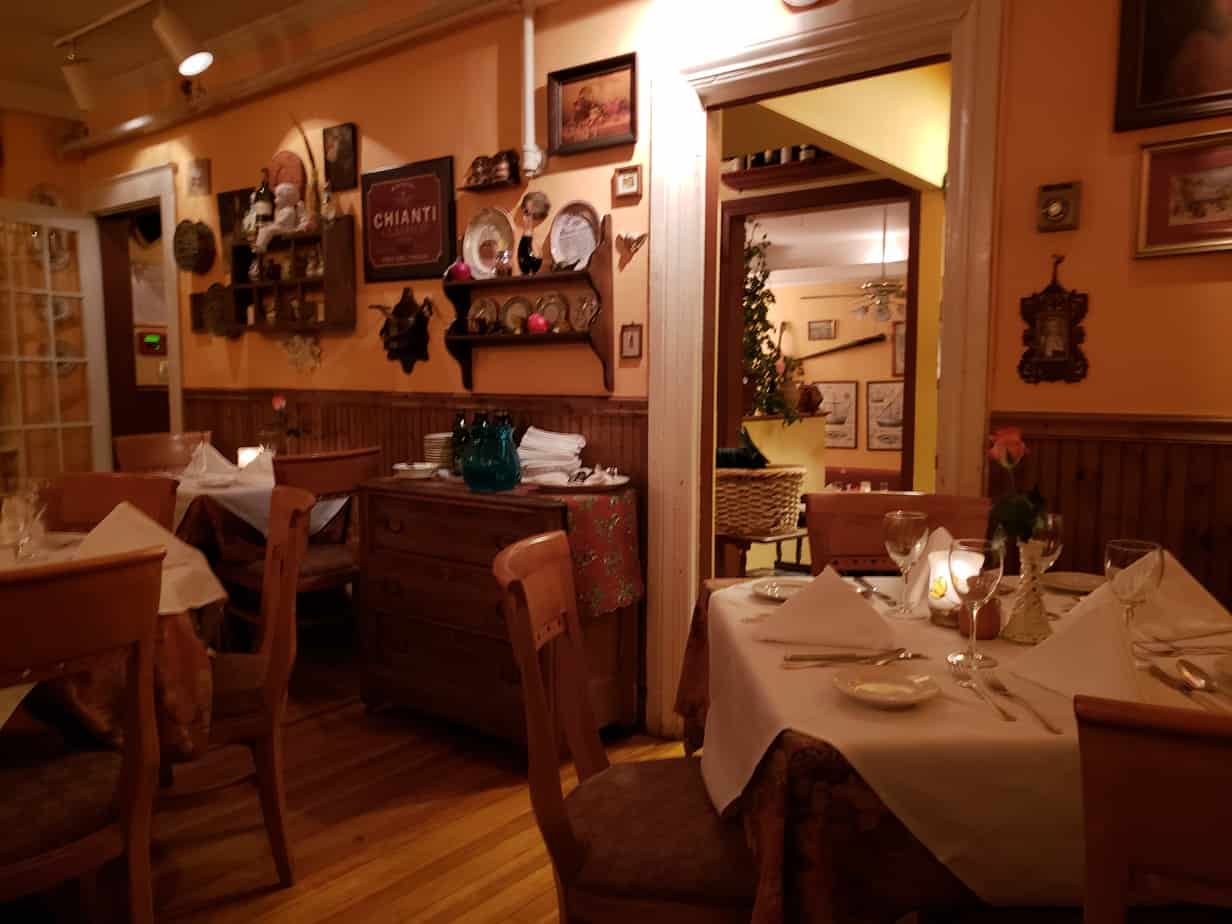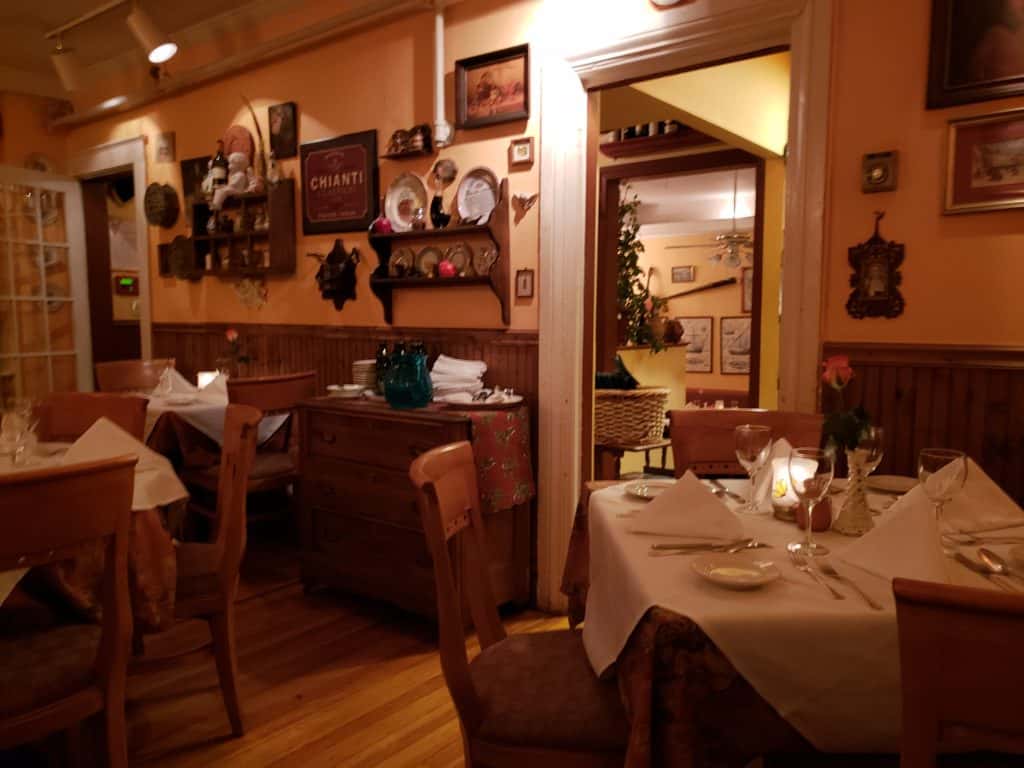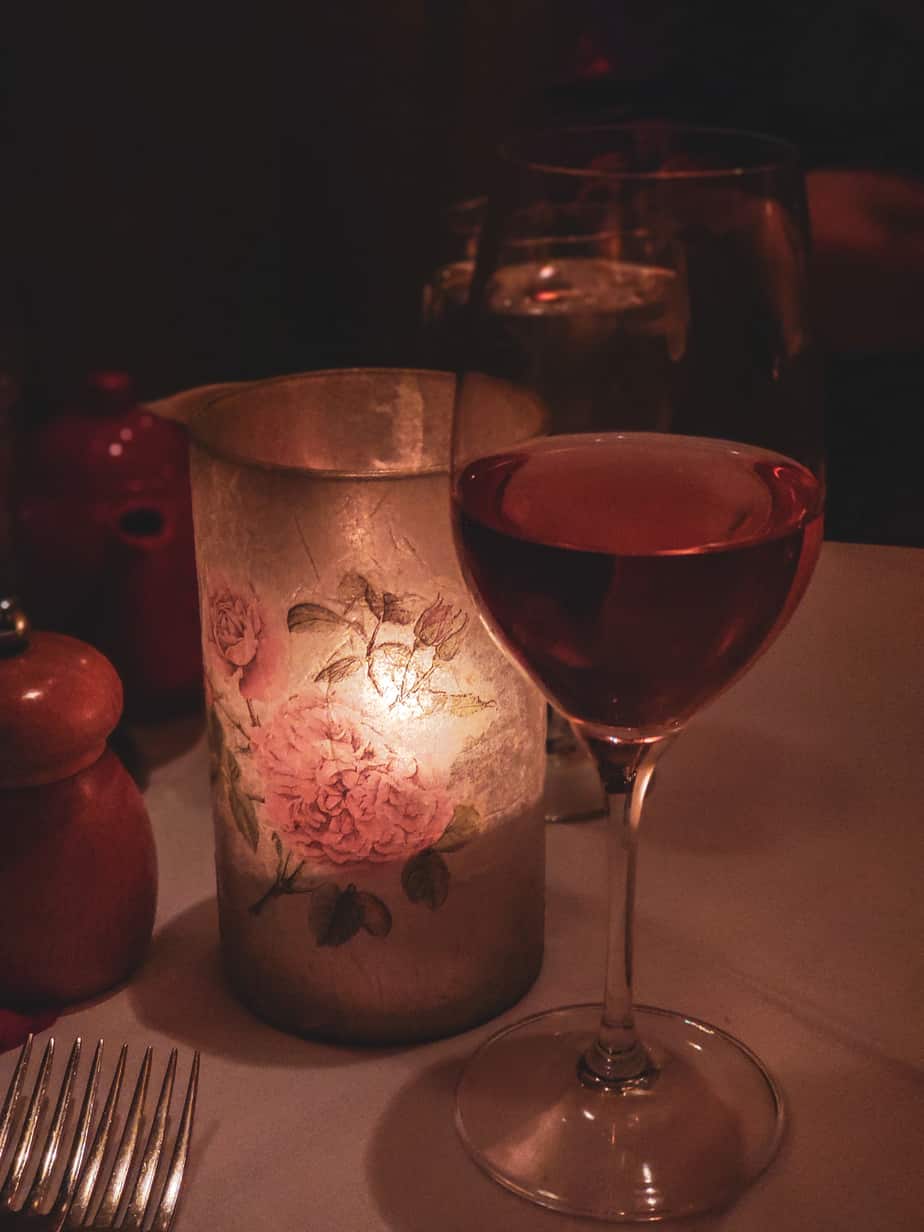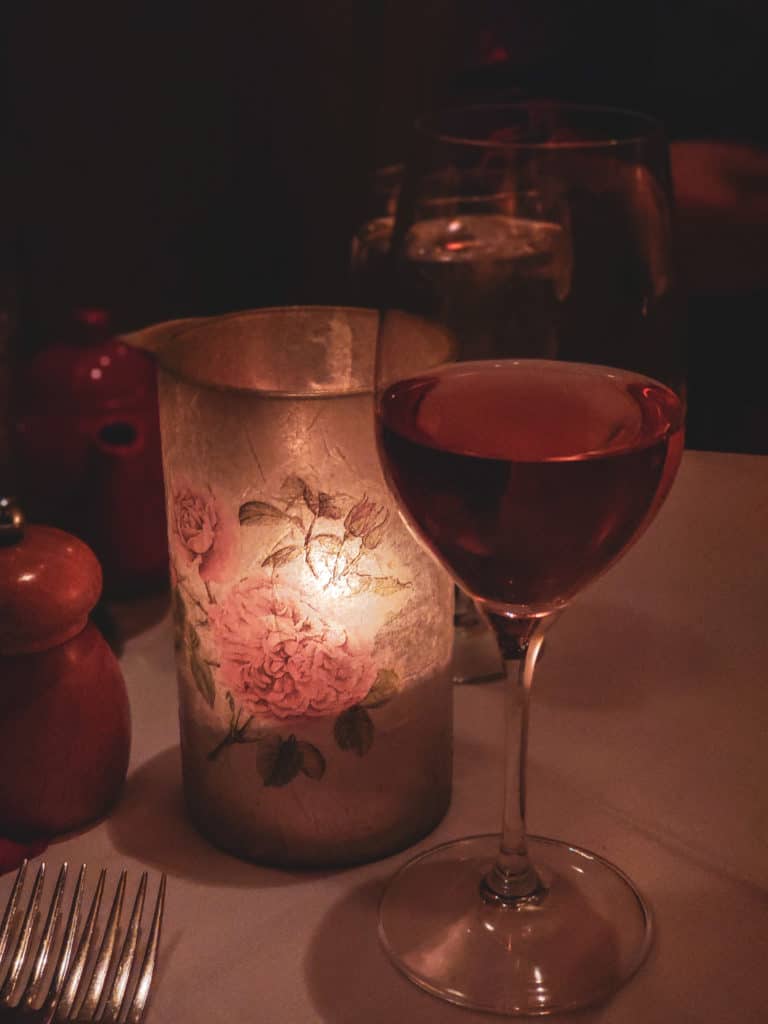 Other places to eat in Newport that we enjoyed include One Bellevue (on-site at Hotel Viking) as well as The Mooring, a seafood restaurant with iconic seaside decor and a perfect waterfront location. Please don't miss their "bag of doughnuts" appetizer, a bag of fresh shrimp and lobster fritters paired with a chipotle-maple aioli.
---
Have you been to Newport, Rhode Island? If not, it's definitely time to book a getaway there with your sweetheart.
Our trip to Newport was sponsored and supported by Discover Newport and Hotel Viking, including accommodations, some meals, and activities. As always, all opinions are our own and reflect our true experience.
---
You might also like:
---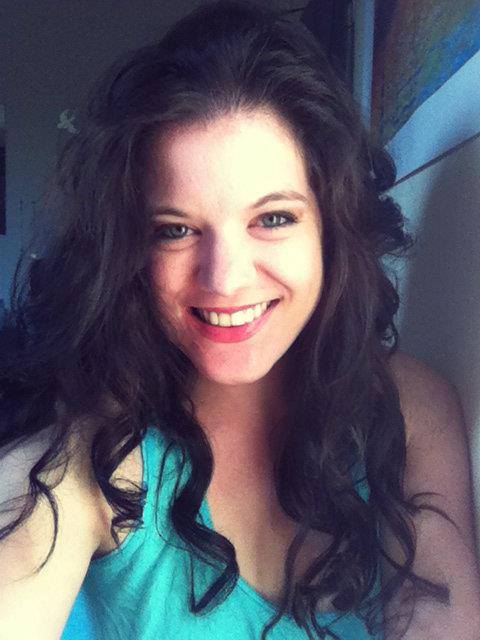 Amy Hartle is the Editor behind Two Drifters, and author of Do You Love Me? How To Stop Seeking Reassurance in Relationships, a book on reassurance seeking. While her name often is found beside the title of "Relationship Expert", she knows that becoming an expert on love and relationships will be a lifelong challenge. But, she is a passionate student of the subject, fully dedicated to learning all she can about relationships, connection, and intimacy, and nurturing her own marriage along the way.
Amy lives in North Carolina with her husband Nathan, and son Malcolm. When not working on websites or traveling the world, the Hartles can be found cuddling, reading, and hanging out with their cats.