*Links in this article may be affiliate links, from which we may earn commission. See our Privacy Policy for full details.
Boston. A city of history, culture, food, and yes, romance. You might be surprised to know that there are countless romantic things to do in Boston.
One of the most iconic New England destinations, Boston, Massachusetts is also known beyond US shores, drawing visitors from across the globe. Each year, millions of people travel to Boston to experience its world-class museums, amazing historical sites, and its thrilling sports scene. It's not just a great starting point for a New England road trip; it's a prime destination in its own right.
Among those visitors are couples looking for the sweeter side of the city; those seeking activities for two. With all it has to offer, Boston is indeed a fantastic destination for couples travel, especially for those seeking luxury combined with a variety of urban adventures.
In early April, we spent our first wedding anniversary celebrating with a weekend in Boston. Having just moved to New England, we felt there could be no better city in which to toast to our first year as newlyweds.
Combing our own itinerary along with research (plus expert advice from some friends who are Boston residents) we compiled what we think is a solid guide for a romantic weekend in Boston. From what to do & see, to where to eat and where to stay, this guide will help you have an amazing Boston getaway with your significant other.
Romantic Things to Do in Boston: A Couple's Getaway Guide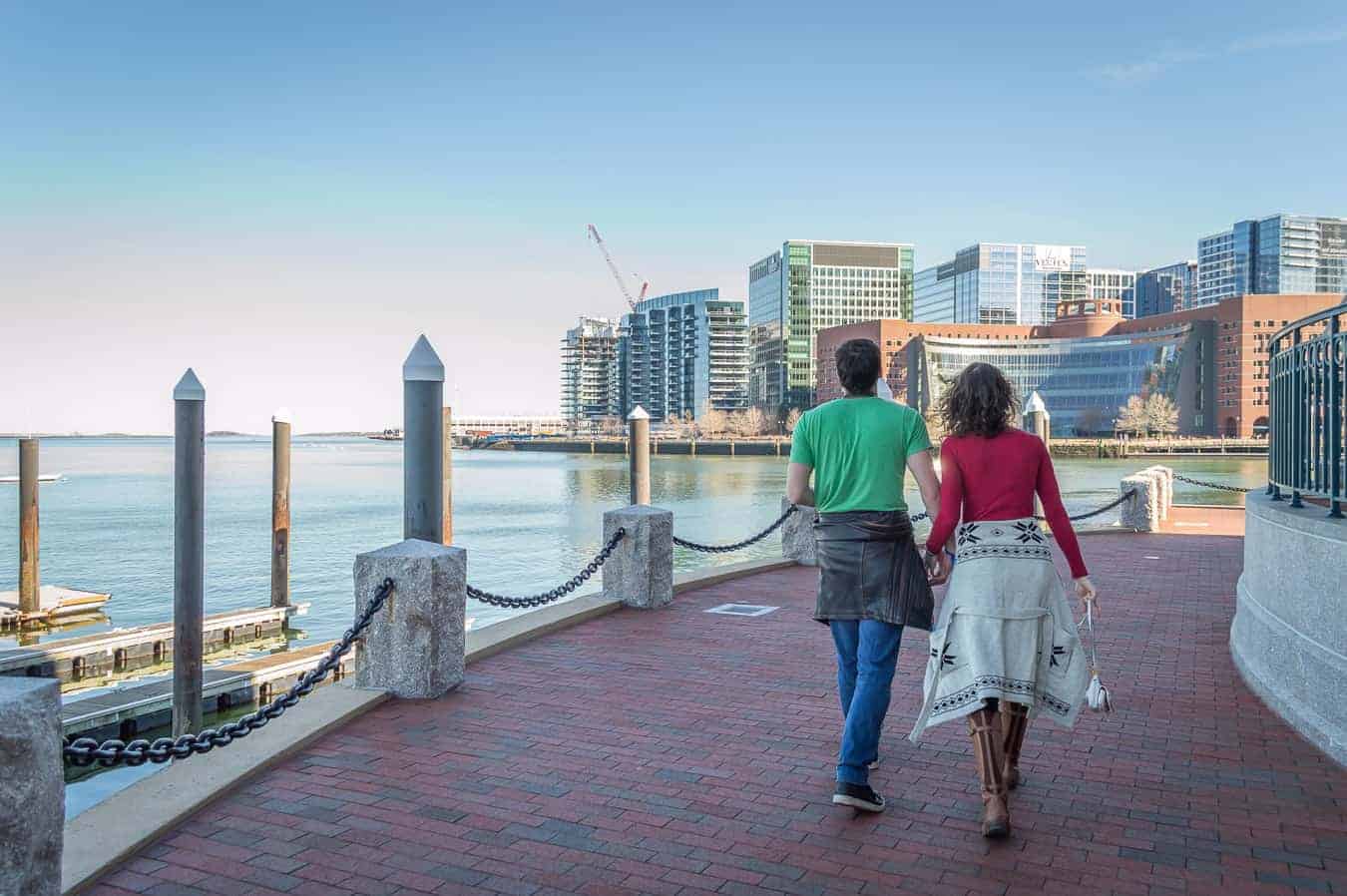 Things to Do in Boston for Couples
A weekend in Boston barely scratches the surface of this city's gems. But you can pack a lot into a few days…especially if you're traveling around the US by plane, just fly right into Boston Logan Airport (BOS).
Here are some of the highlights, what we consider to be the most romantic things to do in Boston. It's good to note, too, that these Boston things to do aren't limited only to pairs.
If you're exploring solo, you are likely to enjoy the vast majority of these sites. But we think couples visiting the city are especially likely to enjoy these suggestions.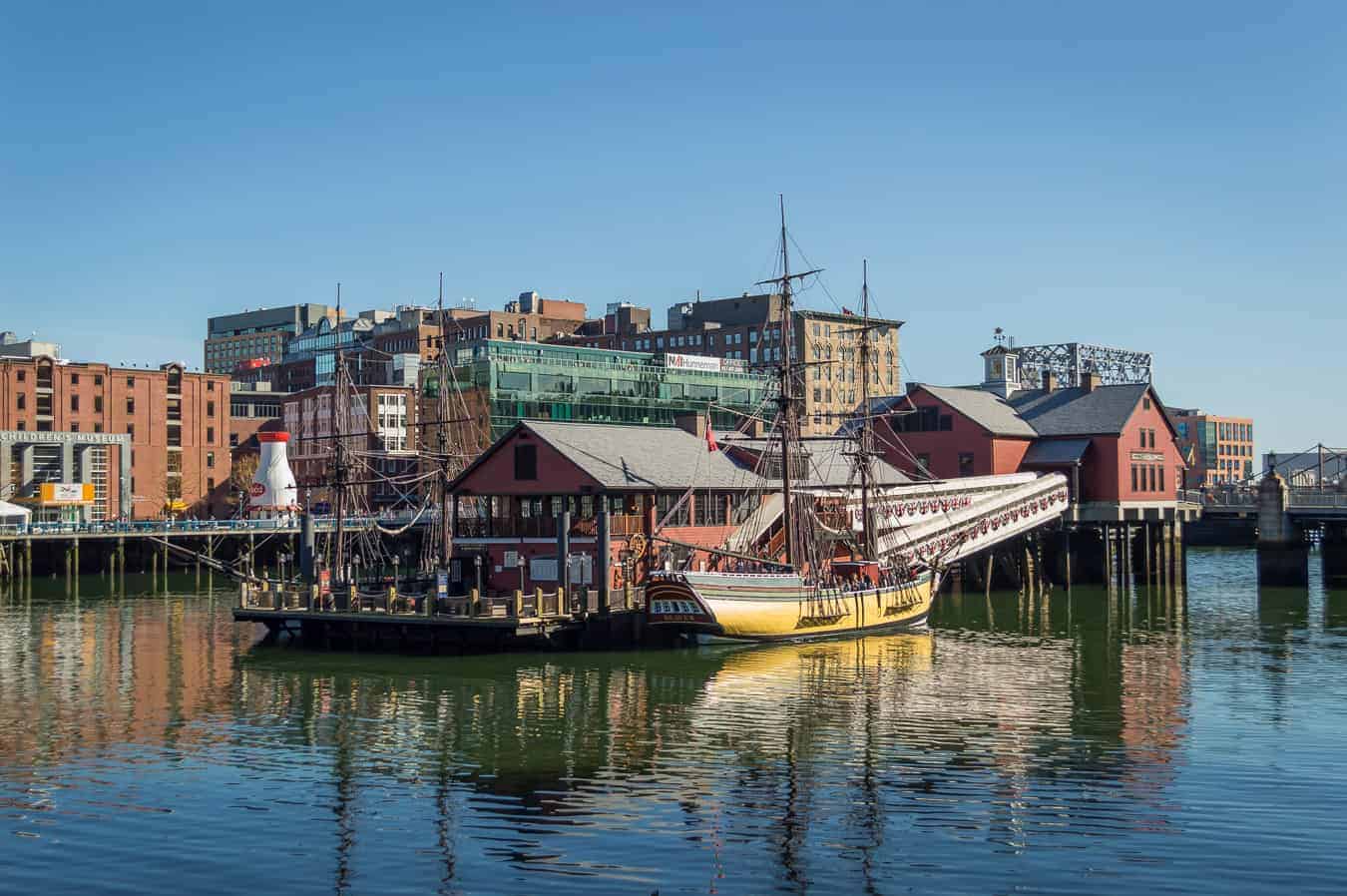 Walk in the Public Garden & Boston Common
There's something about simply walking together that is super romantic. It may be because it's such a laidback activity that gives you uninterrupted one-on-one time. And discovering a new city hand in hand is extra special.
In Boston, one of the finest places to go for a stroll is the Public Garden. This is located in the heart of Boston right next to the Boston Common. In fact, the two are so close by they feel like one massive park. Walking here is really enjoyable, especially on a beautiful sunny day.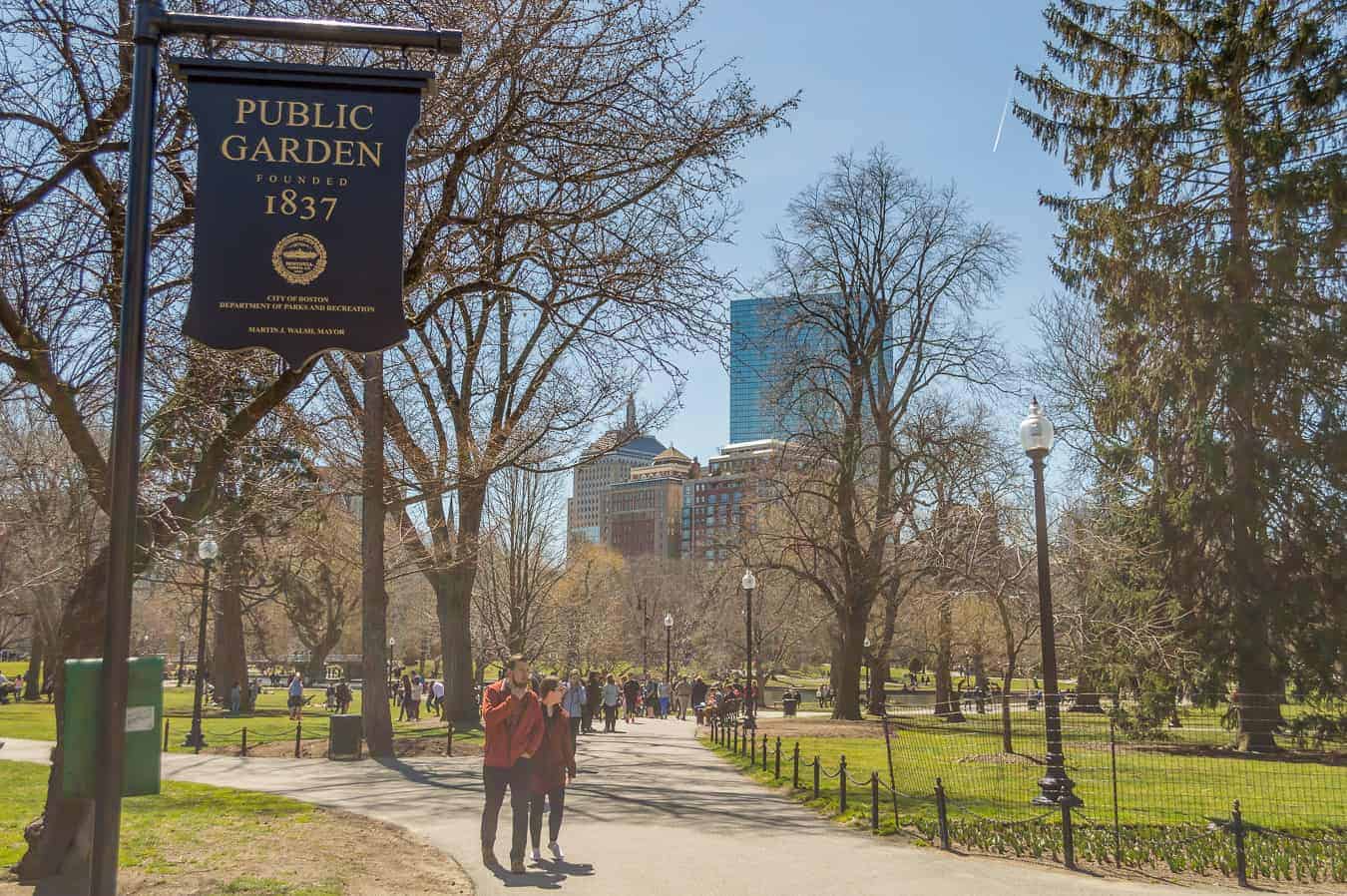 During the late spring and summer, you can ride in one of the famous Swan Boats, which have operated since 1877. These are pedaled by a "driver" around the lake, ferrying passengers on a fun little ride. The boats are made for several passengers, so not as romantic as a tiny swan for two might be, but still, you can enjoy the experience together.
Looking for romantic things to do in Boston in the winter? This season offers its own magic. The Boston Common Frog Pond freezes over every winter season and hosts a cozy ice skating rink.
Grab your partner and glide around the ice with city lights twinkling in the distance. Tres Romantique!
PS: Only have 48 hours in Boston? Check out this guide for some ideas!
Sip Wine
Wine is an essential part of a romantic trip to Boston—or any romantic trip for that matter! To include wine on your itinerary, you can go beyond just sharing a bottle at dinner.
Boston has a few different wine tours you can join in on, and they are generally centered in one specific area of the city. It's a blend of food culture, wine, and history on these unique tours, and you'll get a fresh perspective on this exciting city.
Check out City Wine Tours for tours in areas like the Theater District and South End, or consider Boston Wine Tours for its intriguing Waterfront Wine Tour. Some private tours may be available as well.
Sail on a Lighthouse Brunch Cruise
One of the most exciting parts of New England is its coastline. You won't want to miss this aspect of the region on a trip to Massachusetts. Boston Harbor Cruises offers a Lighthouse Brunch Tour which is an awesome way to experience four famous Boston lighthouses while also indulging in a scrumptious brunch. (Belgian Waffle Station, anyone?)
If brunch isn't your thing, there are about a dozen other cruises to choose from. Whatever you choose is sure to give you a memorable New England nautical adventure.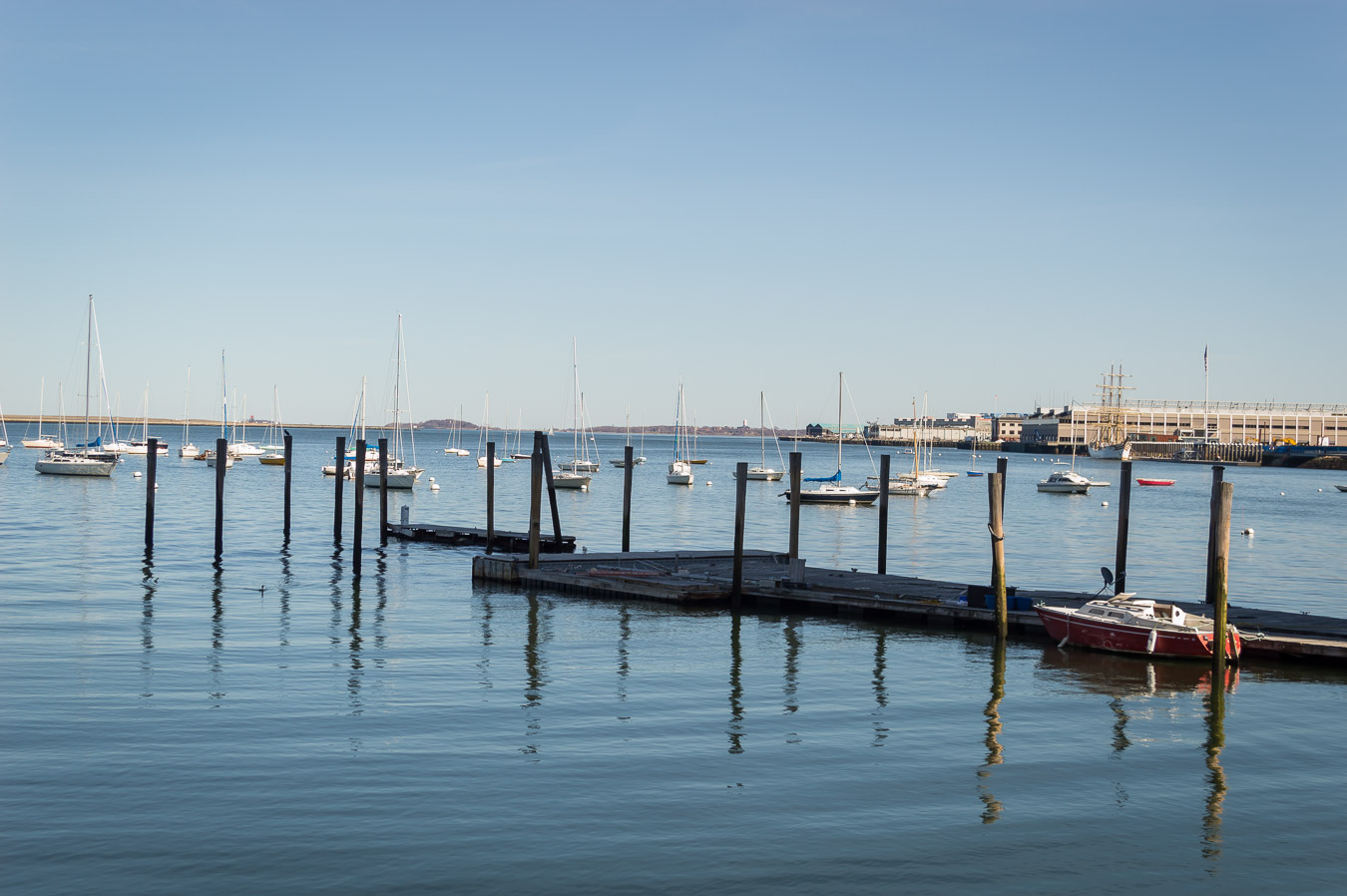 Attend the Symphony
The Boston Symphony Orchestra is a cultural staple of the city, and what could make you feel more cultured and refined than attending the symphony? Dress up in your best, grab a cocktail at one of Boston's many terrific bars, and then settle in for a riveting performance.
Relax With a Couples Spa Treatment
As you look for romantic things to do in Boston, your itinerary demands a bit of luxury. If you're aiming to "treat yo'self" you should book a couples spa session to put you both in the most blissed out frame of mind.
The G2O Spa and Salon is the place to go. This centre offers many options for massage, facials, and other body treatments. After your side by side couples massage, you can retreat to the penthouse roof terrace that looks out on posh Newbury Street.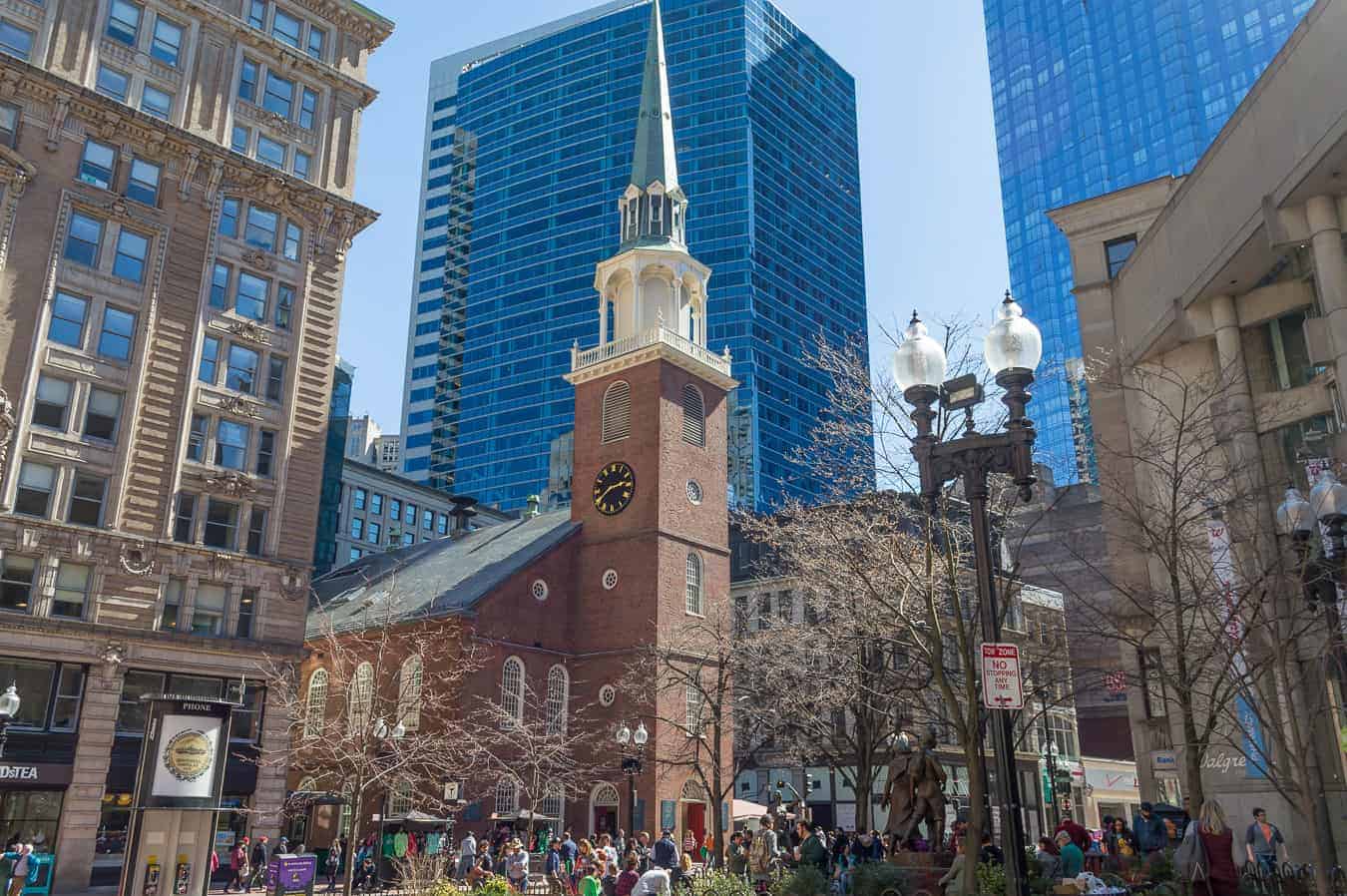 Explore Boston's Museums
For some, a romantic getaway to Boston might not include museums, but we Two Drifters really enjoy them. Wandering around museums is a low key way to discover something new together and spend some time appreciating art, history, or culture.
Consider most museums to be dry and boring? The Boston Science Museum will change your mind. You'll encounter exhibits and presentations on things such as dinosaurs, the magic of physics, trippy planetarium shows, optical illusions, and the natural world.
This spot is endless fun and you could spend hours here and still have much more to discover. Strolling through the butterfly garden definitely provides a romantic touch, but for something more "electrifying" hop into the live lightning display.
For art lovers, the Museum of Fine Arts will suit. This institution first opened in the 1870s and has grown today into one of the world's largest and most exhaustive collections of art. The museum currently houses more than 500,000 pieces.
With your partner, you can explore the vast collections ranging from Japanese art to landscape photography to centuries-old textiles.
Other museums to check out:
The Isabella Stewart Gardner Museum (this was the scene of one of the world's biggest art heists, recently featured on the podcast Last Seen)
John F. Kennedy Presidential Library and Museum
Institute of Contemporary Art, Boston
Boston Tea Party Ships & Museum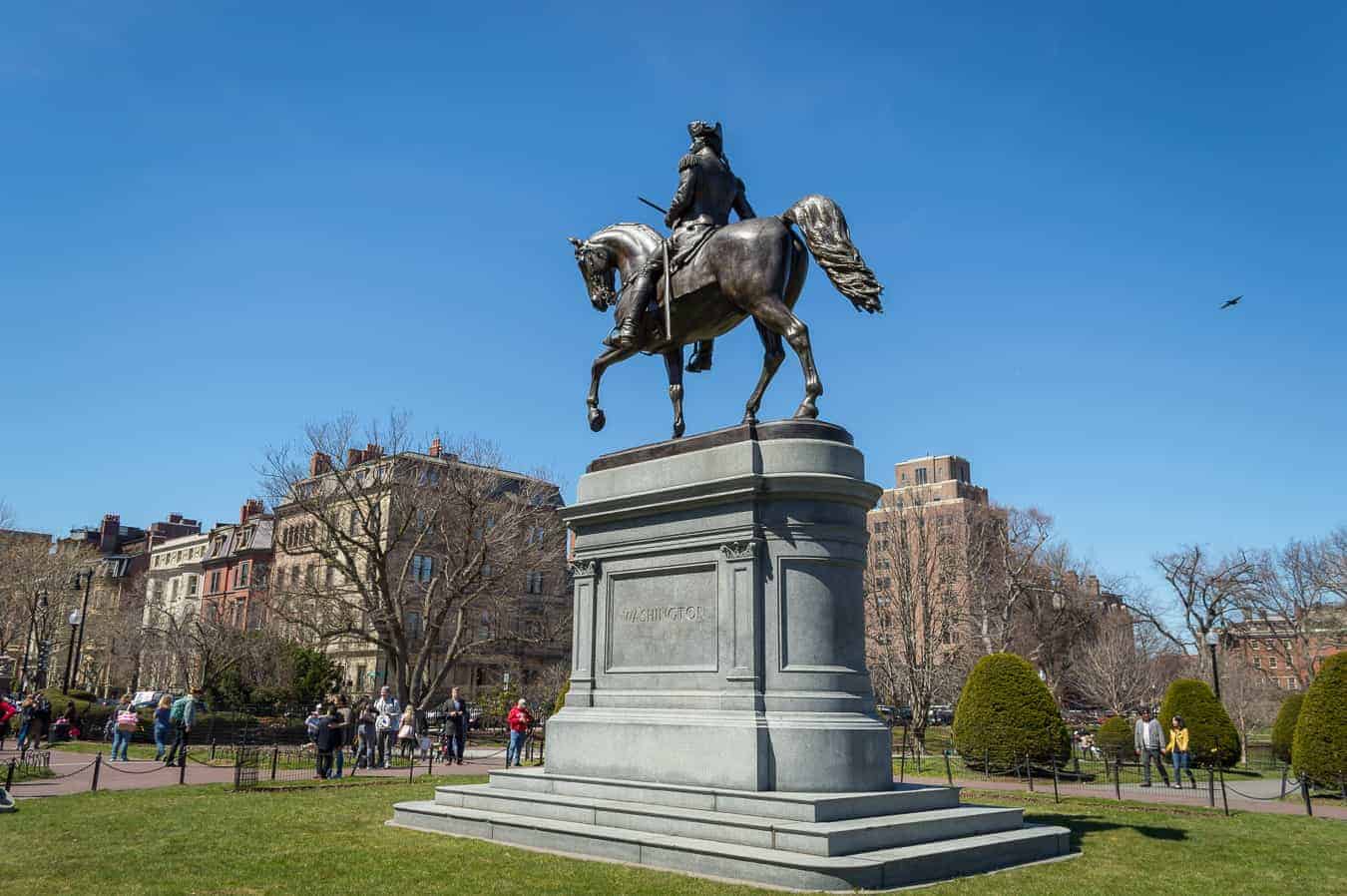 Get Your Sam On
Sam Adams is the iconic Boston beer. Tour where it's made at the Sam Adams Brewery in Boston and sample some of what's on tap. The brewery tours are free (though a small donation is suggested) so you can save a bit of cash (though if we're honest, you'll probably end up taking home a growler of one of their tasty innovative brews).
It might not be one of the most traditionally romantic things to do in Boston, but for couples like us, it's a must! Our friends at Our Escape Clause also suggest visiting the brewery, plus a whole list of more great things to do in Boston.
Breathe the Sea Air Along the HarborWalk
The Boston HarborWalk stretches some 15 miles along the outer edges of the city. If you want to have a coastal experience, walk any length of the trail. During your weekend getaway in Boston, you may not even have to search very hard to find the HarborWalk.
Many major attractions are located right on it, including the New England Aquarium, U.S.S Constitution Museum, and several different hotels. We found the HarborWalk very peaceful and even secluded, which allowed for a happy, intimate conversation as we walked.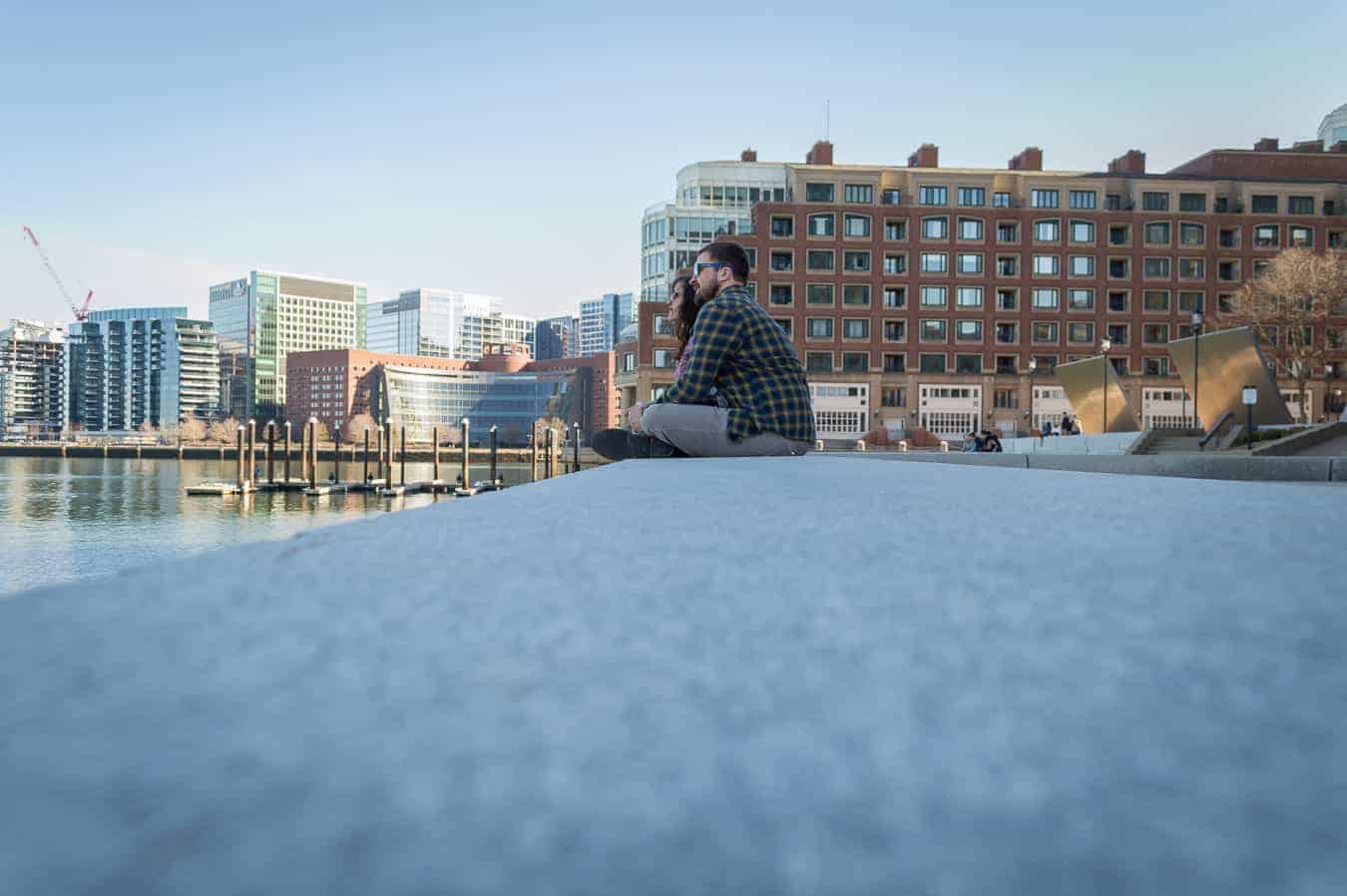 Follow the Freedom Trail
History buffs—and especially first-time visitors to Boston—should not miss the Freedom Trail. It's an essential Boston activity. If you follow the brick line running along the sidewalk, you might find yourself in the midst of the trail.
It stretches 2.5 miles and brings you past 16 historic sites. If you're curious about Boston's Revolutionary history, this trail will be your guide. Guided walking tours are offered as well.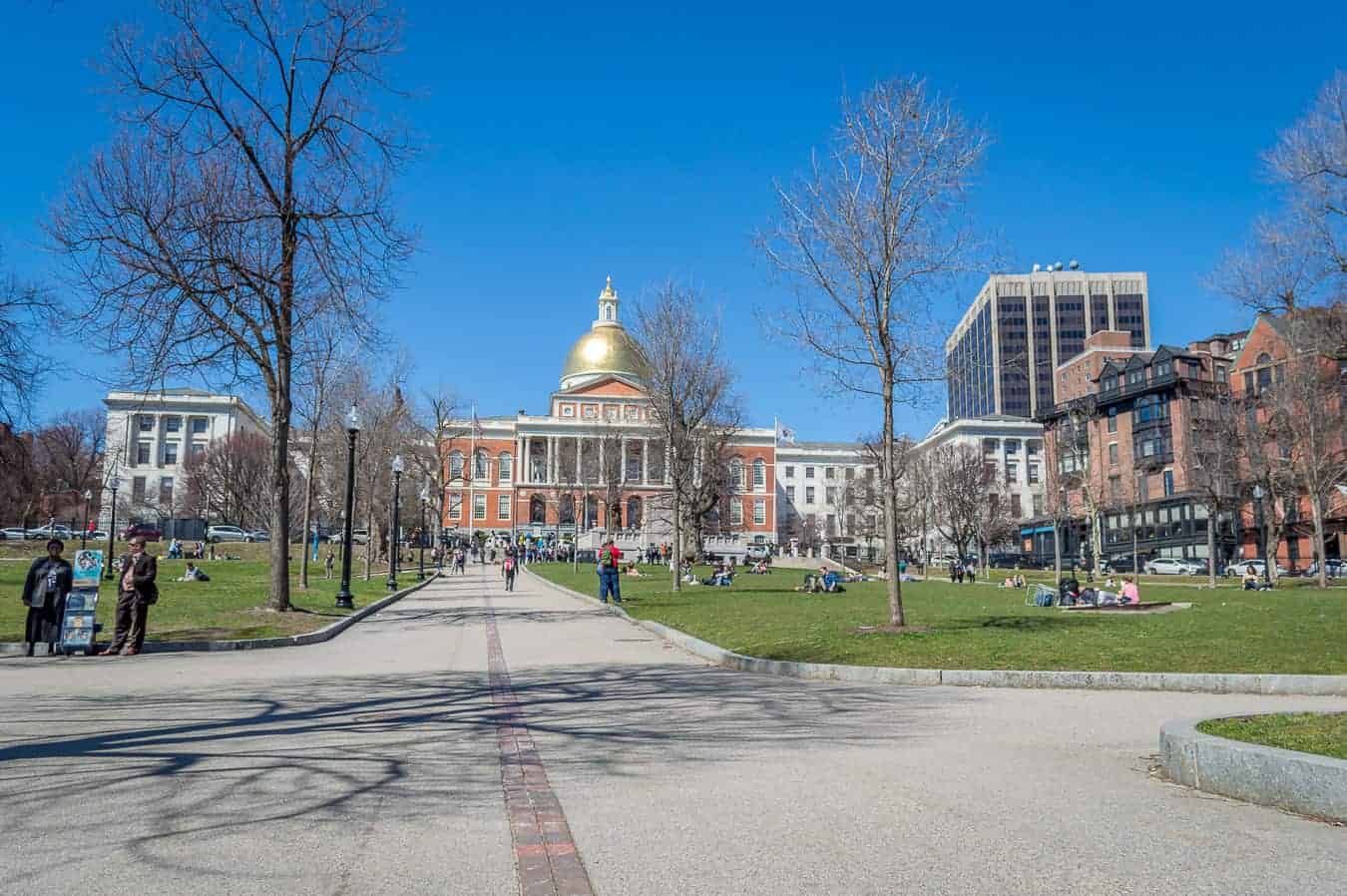 Snap Some Instagrams in Beacon Hill
All kidding aside, Beacon Hill is one of the most photogenic neighborhoods in all of Boston. Set alongside the northern part of the Boston Common, this quaint area is home to shops, cafes, and a bevy of amazing, multi-million dollar residences.
With cobbled streets & brick sidewalks on many lanes, it simply is an Instagrammer's dream! Have a wander in this area, and perhaps stop into Tatte Bakery & Cafe for some coffee & pastries.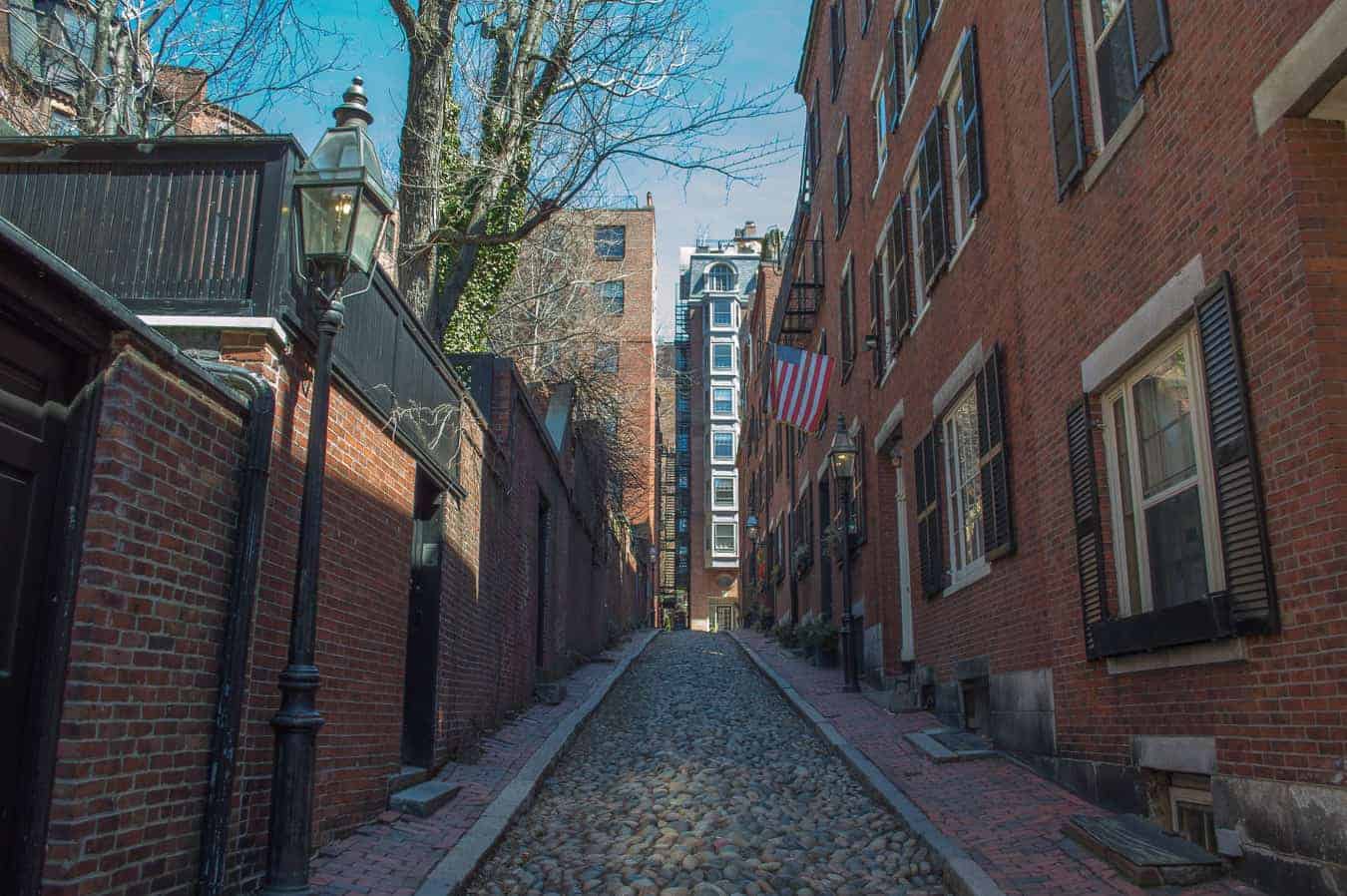 Watch a Killer Sunset from the Skywalk Observatory
We love catching a sunset together. During our visit to Boston, we watched the sun go down as we walked along the waterfront before dinner. That was definitely a beautiful spot. But there are some truly iconic places to see the sunset in Boston.
One of the most highly recommended is the Skywalk Observatory, located inside the Prudential building. On clear days, views stretch for nearly 100 miles, as you soak in the sights of Boston from 749 feet in the air. It's a tad pricey, at $19 per person, but nothing beats a sunset from the sky.
Where to Dine: Most Romantic Boston Restaurants
Romantic restaurants are a MUST. After your days spent adventuring around Boston, you'll want to settle in for a romantic dinner for two. While Boston has hundreds of great spots to choose from, here's a few that come highly recommended.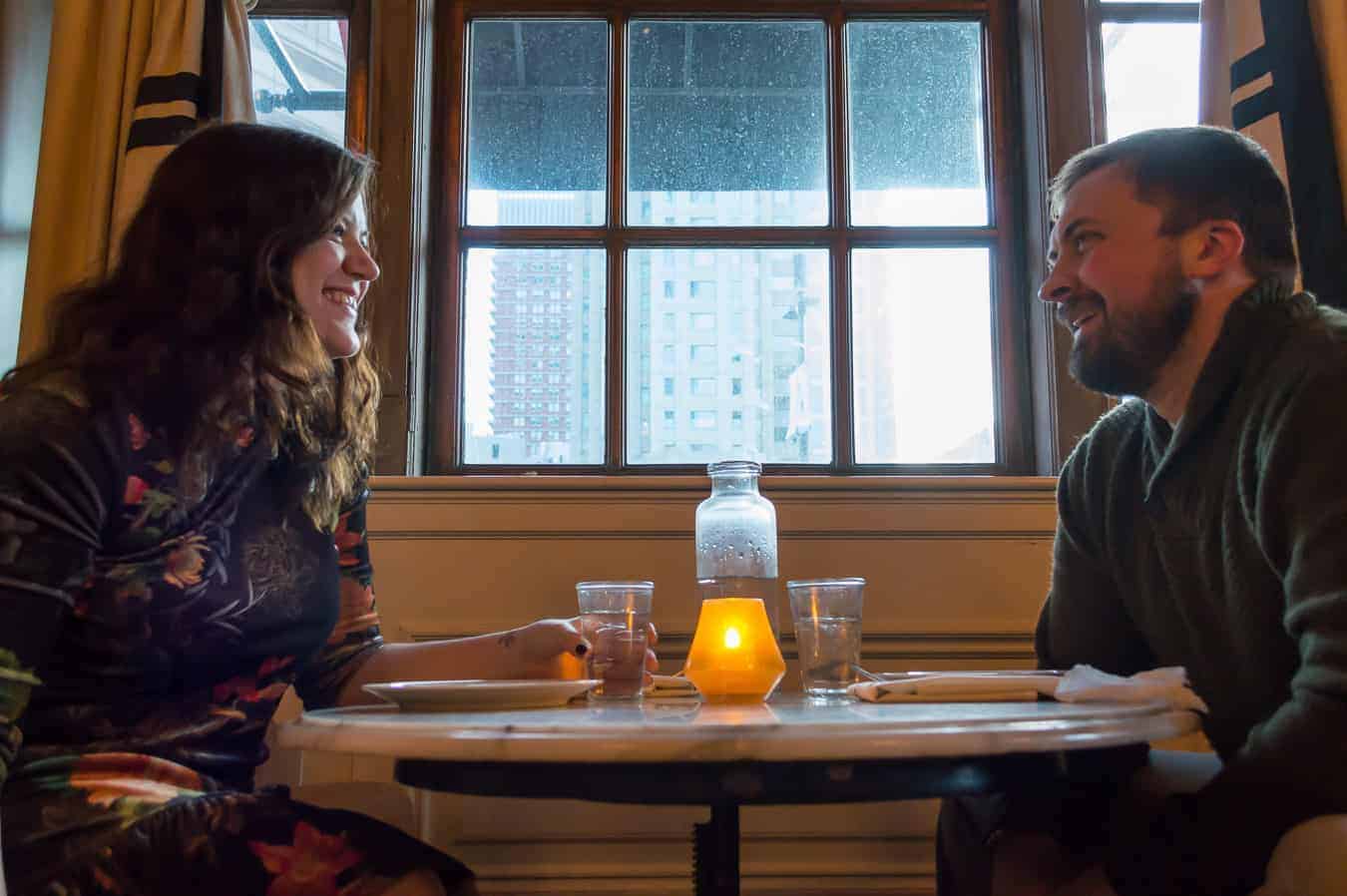 We found Lolita on a list of Boston's "sexiest restaurants" and we knew we had to try it. Boy, does it deliver on that promise! The place pulses with sensuality from the minute you walk in.
A complimentary granita, wreathed in tendrils of dry ice, is offered to you by a gorgeous staff member (seriously, everyone working there was hot!) dressed in clothing that perfectly matched the vibe.
Everything is red, black, lacy, and gothic. Think punk rock meets day of the dead. Following your tequila splashed granita, it's onto kickass margaritas, and small plates of utterly delectable Mexican food.
We devoured everything we ordered (carne asada, fish taquitos, chicken quesadillas) and would absolutely love to go back here.
Their website actually says "Boston's most romantic dining experience." Can't argue with that! Although we didn't get to the Top of the Hub on our anniversary trip, a future visit is planned. This sounds like a fabulous place for dinner or even just for cocktails.
This award-winning restaurant is found in the Prudential Tower in Back Bay, in fact only a few floors below the Skywalk. Why not combine a great view with an outstanding meal? Top of the Hub will meet your needs, it seems, with some of the finest dinner-time views one could ask for.
Coming just for drinks? A $25 pp minimum applies during certain hours.
During our romantic trip to Boston, we stayed at the Fairmont Copley Plaza, which is incidentally home to a terrific restaurant, the OAK Long Bar + Kitchen. We dined here on the evening of our anniversary.
The vibe in here is great; some kind of a cross between an old-fashioned men's smoking room and a trendy, upscale urban eatery. That is probably owed to the blend of classic leather bar stools and unique, expertly crafted cocktails.
This is a lovely place to cozy up together and have both drinks and dinner. A candlelit atmosphere levels up the romance, and if you can sit by a fireplace, even better.
For our meals, Nathan ordered the half chicken with vegetables, while I opted for swordfish. Both entrees were excellent, but we have to rave most of all about our appetizer. We ordered the hearth-baked bread, a rustic loaf served with honey butter. Oh my goodness. This is one of those things you could eat forever and never tire of.
Almost anywhere in the North End
While we can't speak from experience here, we're told that some of the most romantic restaurants in Boston are those found in the North End. The small, family-owned Italian eateries dotting the area seem to combine true intimacy with unbeatable Italian flavors.
On our next trip to Boston, we'll definitely be heading to the North End. We hope to be able to report back with some great options. Potential choices seem to be Giacomo's (a friend tells us the line is regularly out the door), Carmelina's, and La Famiglia Giorgio's.
–> More suggestions on where to eat in Boston from our foodie friends at 2FoodTrippers. <–
---
Where to Stay: Most Romantic Boston Hotel
We can only recommend one place for you as the most romantic hotel in Boston and that's the Fairmont Copley Plaza. This hotel is a Boston landmark, having served guests since 1912.
It's in a fabulous Back Bay location which makes it very convenient to many of Boston's major sites, including some of those listed above (psst: Lolita Tequila Bar is a mere 3 minutes away). Luxurious Newbury Street is just two blocks away, while the Boston Public Library is right across the street. It's also close to a T station so you can easily head to more distant points.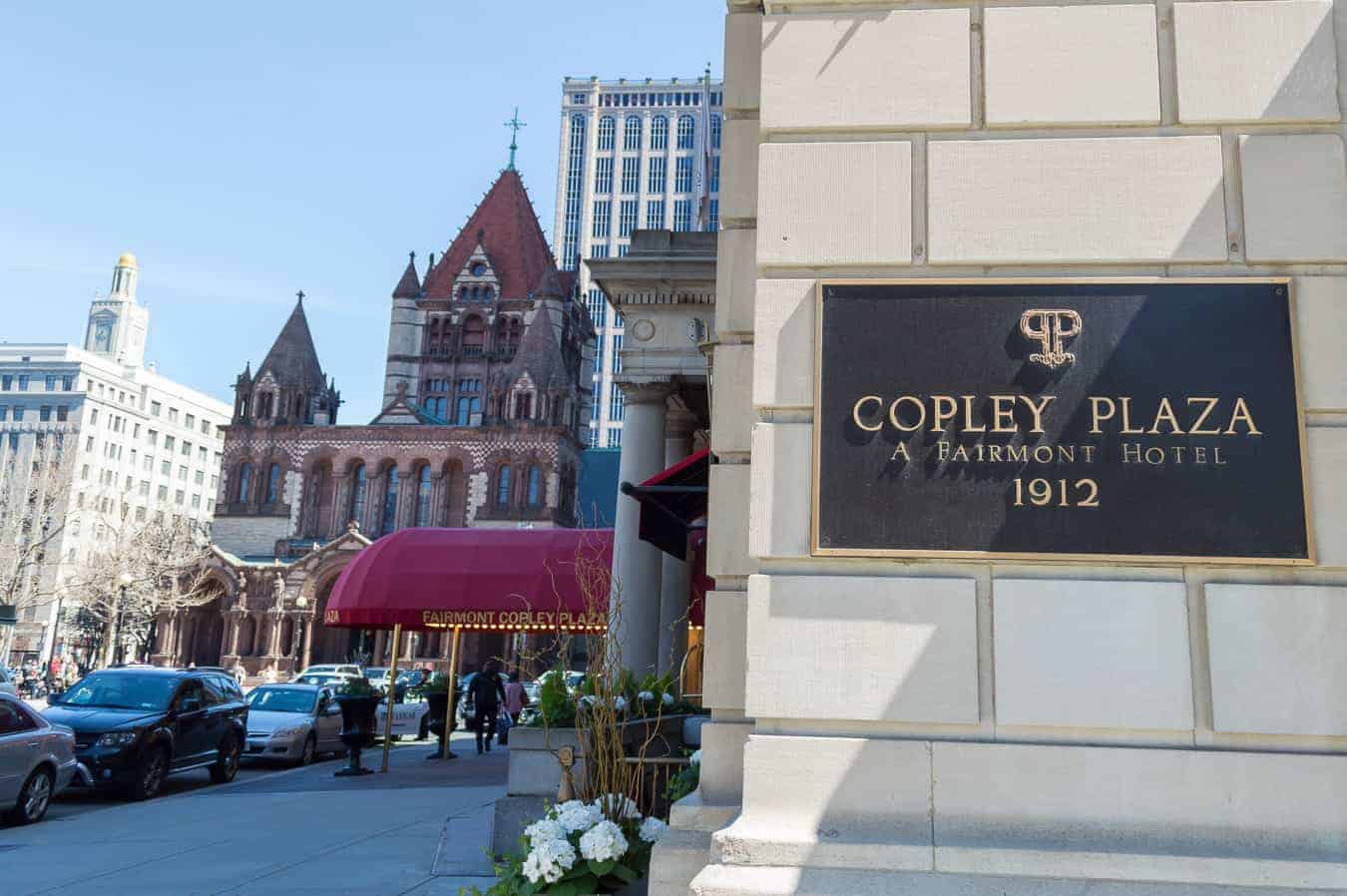 The Fairmont is nothing short of elegant. It isn't over the top, but has a stately, refined vibe while still feeling accessible and friendly. It's really a nice choice for couples traveling to Boston, and seems to attract guests in their 30s & 40s.
We were really excited to stay at the Fairmont Copley Plaza, as we stayed at a Fairmont property almost exactly a year ago during our honeymoon in Lake Louise. Fairmont hotels are not only grand and beautiful, but they really treat every guest like royalty.

The inside of the hotel is opulent and feels a bit palatial–where Versailles meets Boston. The lobby, pictured above, is a feast for the eyes, and from here you can access the restaurant, ballrooms, front desk, and the OAK Long Bar + Restaurant. When we arrived on a Friday, a friendly staff member was handing out beer samples. Nice!
For a truly romantic Boston getaway, you'll want to opt for the Fairmont Gold level. This area has some of the best rooms and comes with extra touches for great service. You have access to the Gold Lounge with complimentary evening hors-d'oeuvres, breakfast buffet, and more. But in general, the Fairmont offers awesome service at all levels.
What makes the Fairmont Copley Plaza the most romantic Boston hotel is not only its classic luxury and fine service, but the guest rooms are oh-so-comfortable.
Huge beds with soft white linen beckon you to basically spend all day in bed (a romantic getaway staple for many couples!).
Spacious bathrooms and great views combined with 24 hour room service mean you could stay in your guest room forever and still end up with an utterly romantic weekend.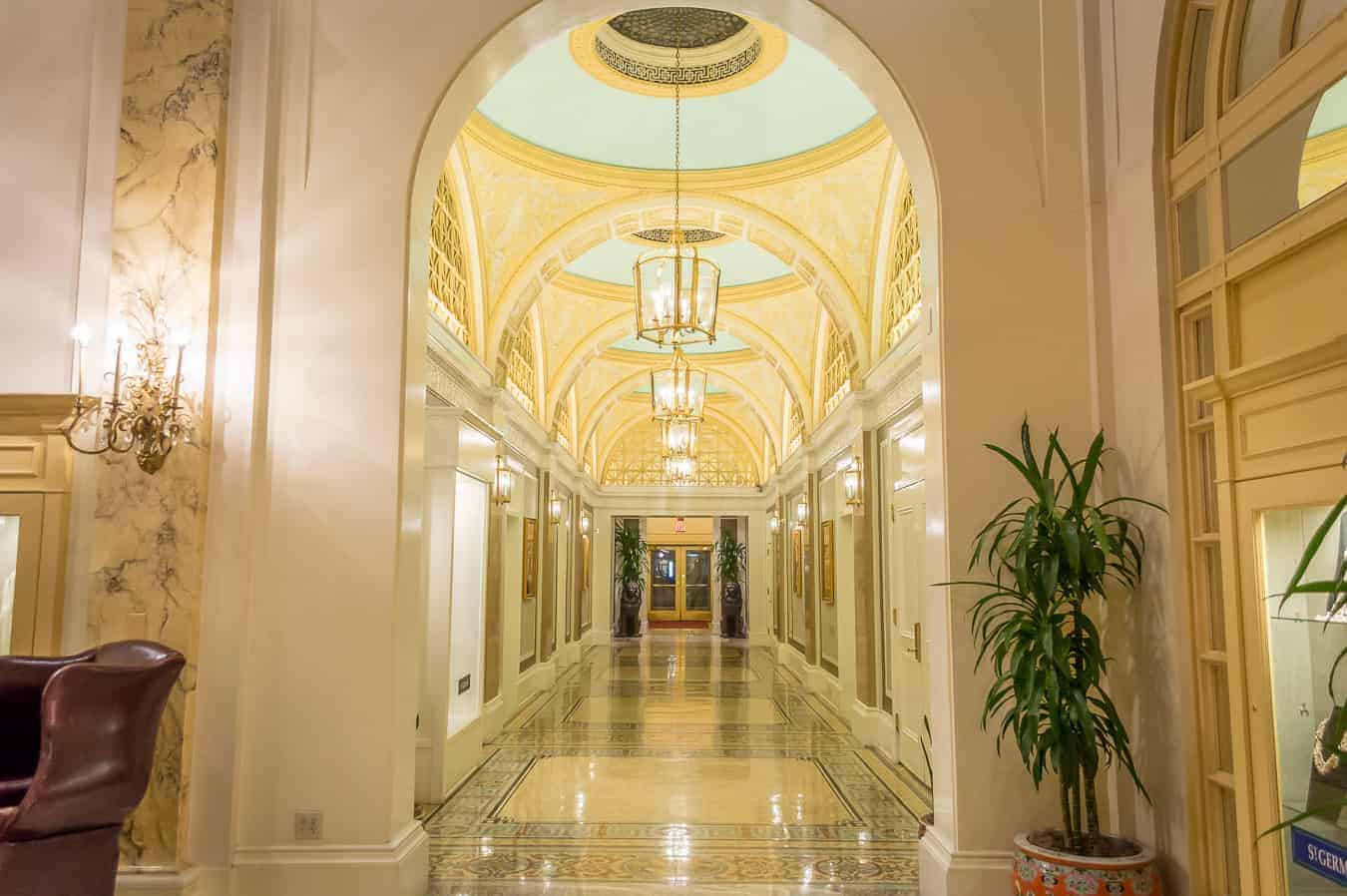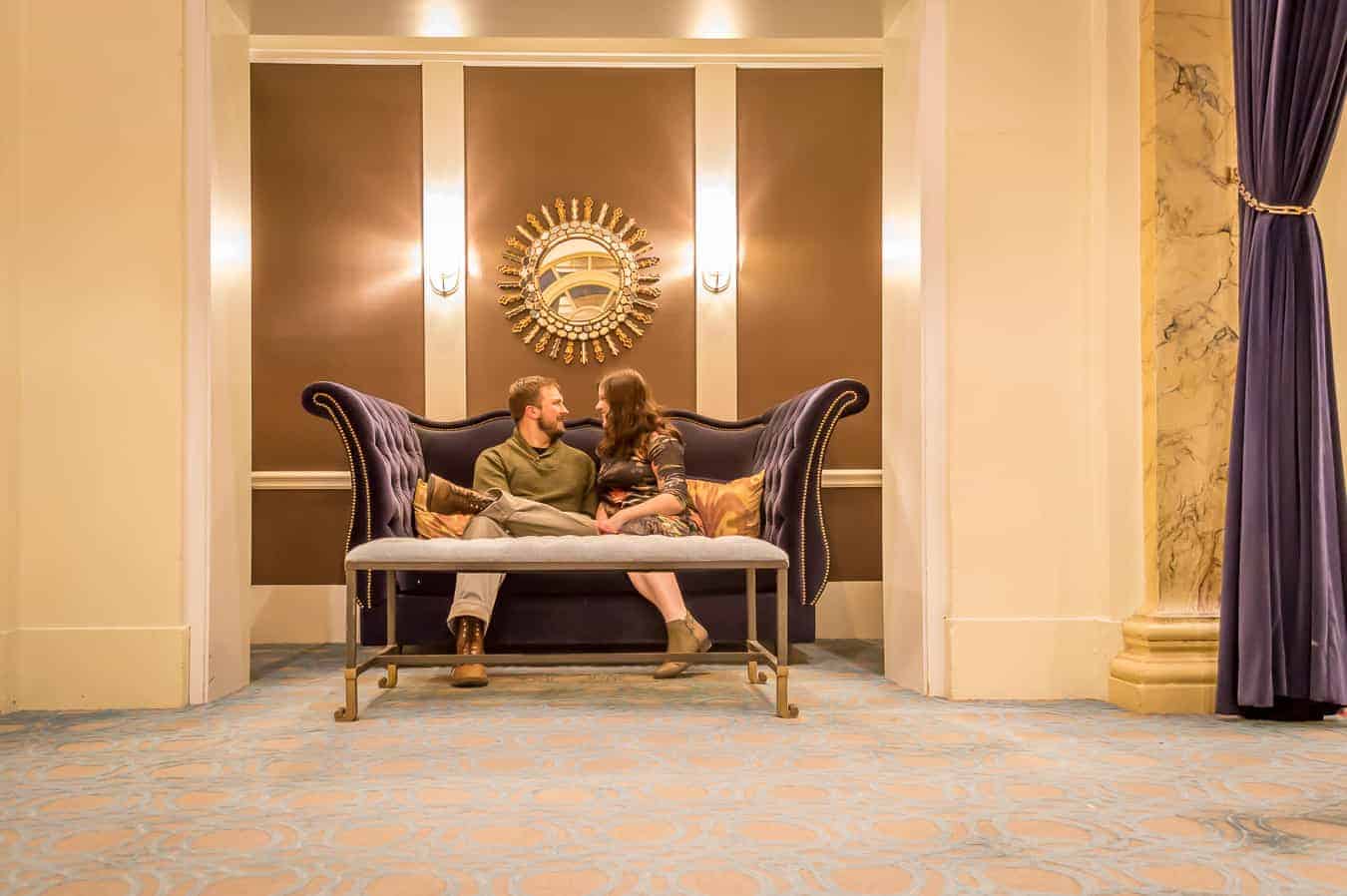 We would definitely suggest the Copley for those looking for places to stay in Boston. Check prices and book here.
Boston Romantic Getaway Essentials
When planning your couples escape to Boston, make sure you've got your suitcases fully stocked with everything you might need. Style-wise, you can't go wrong in Boston with the classic New England preppy look. Think blue and white stripes, casual button downs for men, and, in the winter months, some L.L. Bean Boots. These classic boots have been made by L.L Bean for more than 100 years, so you can depend on their quality and warmth.
Good winter footwear is essential for Boston from around November through the end of March. Other good options for snow boots include, for men, this pair from London Fog, which Nathan owns, and for women, this pair from Sorel which has excellent ratings. My own trusty snow boots are the Squall design from Land's End. They're both functional and really nice looking. Both of these pairs have served us extremely well and are completely waterproof and comfortable.
Your packing list for Boston will vary depending on when you visit. While summers can be hot in New England, temps can also be quite cool, even in summer evenings. We recommend packing layers. If you're going out on the water, you'll definitely want to have a nice hoodie or sweater on hand, as that sea breeze can be chilly. Keep it New England-style with a sweatshirt like this one or this one.
And of course, for the best possible trip, don't forget to pack these travel essentials we personally recommend: a convenient hanging toiletry bag, a portable power bank to keep your devices fully-charged on the go, and a set of packing cubes to take your organization to the next level.
---
*Our stay was generously sponsored by the Fairmont Copley Plaza. All opinions are, as always, our own.
---
---
Psst….pin this to save this post for later!