This post may contain affiliate links. Read our disclosure page for full details.
New York City is an exciting, active city with so much to offer. It also makes for a classic romantic getaway. Visiting as a couple? You'll want to know about these 7 super romantic things to do in NYC.
In this guest post, Natalie of A Pair of Travel Pants shares the most romantic things to do in New York City.
Romantic Activities in NYC, Even on a Budget
Despite a reputation for being expensive, New York City can be a place for travelers of all budgets—even those looking for a special night out with a special someone.
As someone who has dated, loved, and is now married in NYC, I think of this place as a wonderland of opportunity for romantic days and nights out.
Whether you want to team up and double-date or go with just the two of you, there are so many great choices in the city.
I am suggesting ideas for all budgets, day or night, and in different seasons and locations around the city. I know it's not realistic to think that all romance happens at the top of the Empire State Building or popping the question in Times Square: New York City is a romance-filled playground.
Don't miss some of the other Two Drifters romantic travel guides: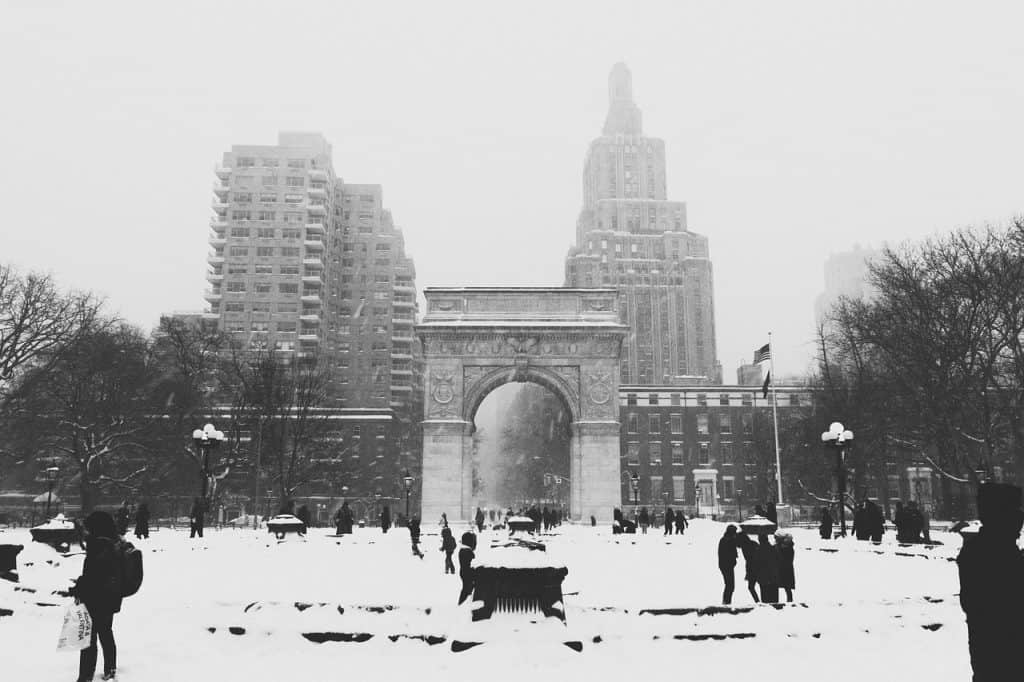 Best Time to Come for Romance:
If you were to come to New York City at any time of the year and seek the most romantic scenery possible, I'd recommend December.
Why?
December is when New York comes alive with Christmas lights. Although the days are short and cold, that nippy wind creates rosy cheeks, an opportunity to snuggle, and reasons to retreat into cozy restaurants and cafes.
December is also party month in New York. Every year it seems that the opportunities to go to holiday parties only increase as everyone wants a reason to stay inside and warm up, but still look fabulous doing it.
If you want more warmth and color, then autumn in New York is a beautiful time of year. The trees in the parks are turning colors, the temperature is warm, but not too humid, and you'll likely find plenty of reasons to pick up a hot mulled cider to walk around with while you hold someone's hand.
Yet no matter what time of year you come, there are plenty of romantic activities in NYC for couples. PS: Check out this post if you're looking for things to do for your first time in NYC.
The Most Romantic Things to Do in NYC for Couples
Walk through Central Park
This can be done at any time of year, however, if you are in New York in December and get the opportunity to walk through Central Park in a snowfall, you are in for a treat. This is definitely one of the top romantic things to do in NYC in winter.
Not only are the pictures of Central Park in snow going to be awesome, but the many iconic bridges, ponds, statues and points of interest will be dusted in a light white coating that looks just magical.
I'd recommend going to see Belvedere Castle as a destination before leaving the park and warming up in a local café over a hot chocolate. Belvedere is romantic as hell (and free to see!).
The Harlem Meer, located in the Northeast corner of the Park, is also a really nice area to visit.
If you are in the city for the fall, you can pack a picnic basket and people watch anywhere, really. I like to go to a grassy spot near the Metropolitan Art Museum because you get so many different people coming and going there.
This suggestion is a little cliché, but the Bethesda Fountain is really romantic and a great opportunity for pictures.
Sit on a bench in Gantry Plaza State Park
I wouldn't recommend doing this is the dead of winter, but if it's a nice day this is a great place to go. Gantry is home to some iconic landmarks in New York City and gives the visitor beautiful panoramic views of New York's skyline from Queens.
Gantry Plaza is not on the beaten path in New York City and you won't need to battle out a place to sit with other tourists. In the warmer months, there is a local weekend market where you can walk through stalls and sample delicious locals treats. It's a great reason to go with someone who wants to try something new and then sit on a bench looking at the most iconic skyline in the world.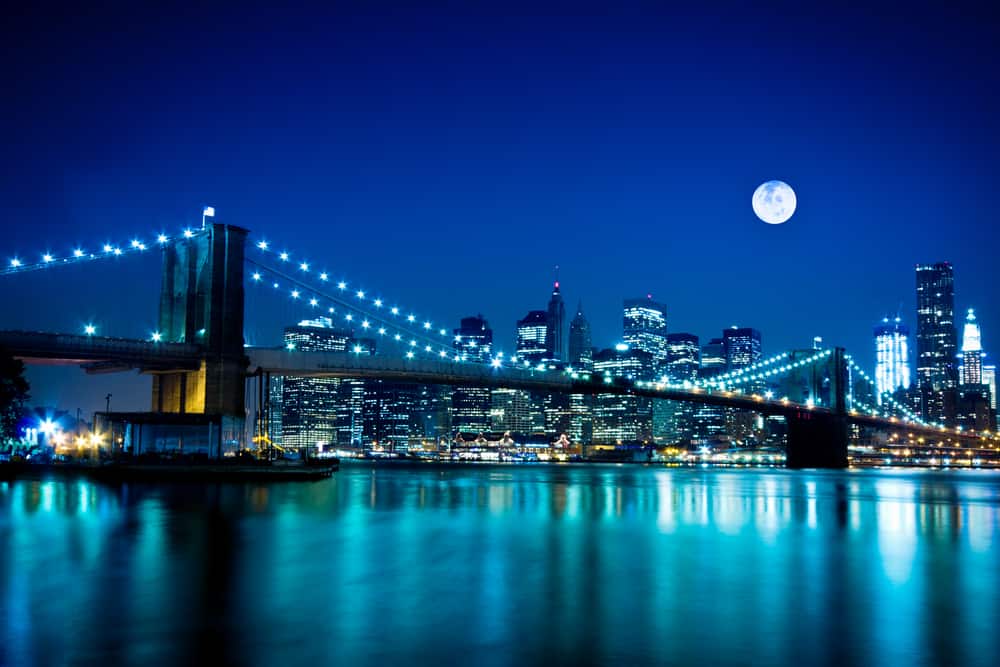 Walk Across the Brooklyn Bridge at Night
I recommend walking across the Brooklyn Bridge at night because there are far fewer tourists then.
Admittedly, the views are not as spectacular because you can't see the bridge as well, but the lights are utterly romantic and the city creates a beautiful glow.
If you want to go during daylight (which is a great idea, but will be VERY crowded) I'd go at dawn. You can watch the sunrise and get opportunities to snap selfies of you kissing under the famous arches of the bridge.
Find a Cozy Corner of a Speakeasy and Listen to Jazz
Listening to live Jazz is very New York. Most jazz venues will offer the visitor a cozy, dark space to snuggle up to someone special and listen to some of the best musicians in the world play classic or cutting-edge music.
I would recommend going to the Village Vanguard or Dizzy's to get that experience. Order a cocktail and sneak a kiss if you feel bold…
Check out all of the top places to grab a drink in New York City or consider going on a New York City food tour!
Go to the Top of a Tall Building and Enjoy the Views at Sunset
Looking at New York from the top of the world is awesome and very romantic. I would recommend going at sunset and watching the sky put on its daily light show while the city turns the lights on.
My favorite building to go see New York from is the Top of the Rock, but the Empire State Building is a more classic choice. The Freedom Tower is another mega-skyscraper you can go to the top of.
Rooftop bars are also really fun places to take the city in. Cocktails can be on hand easily and you can enjoy the views snuggled up to a special someone. I wouldn't go in the winter! I think summer is a great time to enjoy a mojito and a kiss or two in places like Bar 54. If you want something warmer, Mr. Purple has indoor seating.
Ride the Cyclone at Coney Island
Riding the Cyclone is a classic. Walking the boardwalk at Coney Island and eating a Nathan's Hotdog is a great date choice. If you go in the summer, you can watch the weekly firework show every Friday evening.
Watching fireworks in New York is romantic as all hell. Plus, who doesn't love a good picture of screaming on a roller coaster?
Walk the Bronx Botanical Gardens
Often overlooked, the Bronx has a sprawling park that boasts lovely gardens, sculptures and opportunities to kiss near some flowers. I love this area because the architecture is beautiful and the park is not too crowded.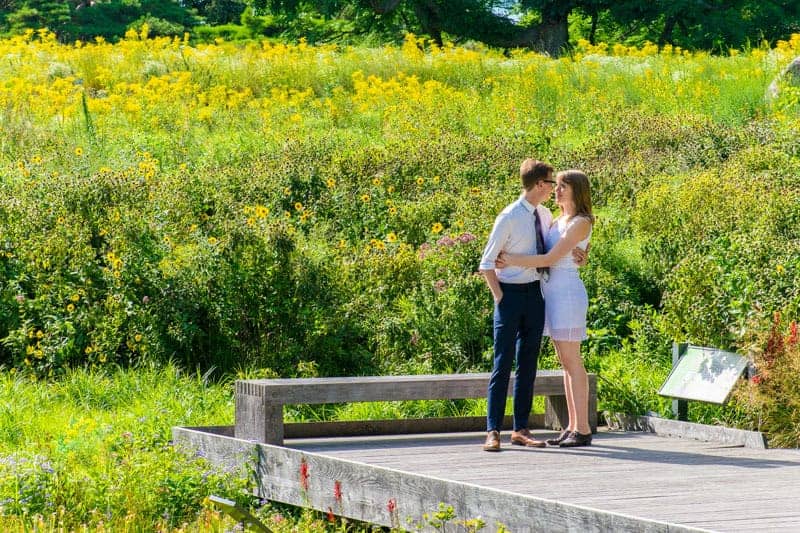 Psst: Check out more off the beaten path NYC sites here!
If you go on Wednesdays the park is free! When my sister got married, we went up there to take photos.
Although there is a fee to take wedding photos in the park, you can dress up and take photos of yourselves without paying a premium (just don't show up in a wedding dress because they are super serious about charging you for anything wedding related!).
I would not recommend going in the winter, the best time to go to the Botanical gardens would be in the Spring or Summer because the flowers will be out in full force.
Go see a Show
New York City is a world capital of entertainment and I couldn't recommend a better place to see a live performance. You can catch anything here: ballet, opera, orchestral, Broadway, off-Broadway, punk, and the list goes on. Prices can range from free to hundreds of dollars, depending on the budget.
I think a night out at a theatre is a great way to spend a romantic evening in New York. I'm a huge fan of comedy and you can catch a stand up at the Comedy Cellar or see some world-class improv at the UCB (Upright Citizens Brigade) for pretty cheap.
Take a tour
There are plenty of tours you can opt to take in New York. I love the idea of learning something and then talking over it later while eating lunch or dinner. The great thing about the Big Apple is how many options you have to choose from!
For a romantic day in New York, I'd recommend taking a tour you'd find interesting and can then talk to your date about for a while afterwards. I've done the Building Tour through the Tenement Museum a couple of times and find it utterly fascinating.
You can also take a ghost tour, music tour, park tour, NY history tour, whatever floats your boat! It's a great way to spend an evening or an afternoon.
About the Author: Natalie is a New Yorker married to a Kiwi named Jackson. They currently live in New York City and write for A Pair of Travel Pants, a travel blog dedicated to their love of off the beaten path travel, hiking, and road-tripping around the world. Find them on their blog or on Instagram.
What's your favorite romantic thing to do in New York City?
---