This post may contain affiliate links. Read our disclosure page for full details.
From the outside, Washington DC can seem like a concrete jungle full of busy government workers and middle school grade field trip groups. However, there are many ways to escape the bustle of the city's busy sidewalks to have a truly romantic experience here. As a DC local, it's one of my favorite challenges to find romantic places within my own city for when my long-distance boyfriend comes to visit. After lots of trial and error, I've compiled a list of 9 of my favorite romantic things to do in DC!
This is a guest post from Kay of Jetfarer.
Ps: Check out our list of the best romantic getaways in the South.
9 Super Romantic Things to Do in DC
1. Go for a walk around the Tidal Basin
One of the most romantic places in Washington DC is the Tidal Basin. Most beautiful in the morning or just before sunset, this area is an offshoot of the Potomac River where the water is still and you can enjoy gravel paths with excellent views of the Jefferson Memorial.
The best time of year to visit DC (and the Tidal Basin) is during cherry blossom season, when the trees turn pink and white and the whole area seems to light up. While the trails can get very crowded during cherry blossom season, an early morning stroll is the perfect way to escape the large crowds and enjoy the first burst of spring in the city. The cherry blossoms are just one of many wonderful reasons to visit DC in the spring!
Also check out this great tiny cabin getaway near DC that would be perfect in the spring!
2. Enjoy date night at a speakeasy
Nothing says romance quite like secrets, and the best places to go for secrets in Washington DC are the speakeasies. While I can't tell you exactly how to find them (that's part of the fun, my friends!), what I can say is that there are several of these secret bars dotting the entire city.
There's a pretty good list of DC's speakeasies here, and no matter which one you decide to try, I'd recommend calling ahead and getting a reservation before you arrive. Believe it or not, these secret places actually do fill up!
My favorite speakeasy in the city is one near my neighborhood, Logan Circle, called The Gibson. Decorated with dark, Prohibition-style accents, it really does feel like you've gone back in time to a secret speakeasy bar. Slink into a booth in The Gibson and treat yourselves to fizzy cocktails and bacon wrapped dates – it's a recipe for the perfect, classy date night in Washington DC.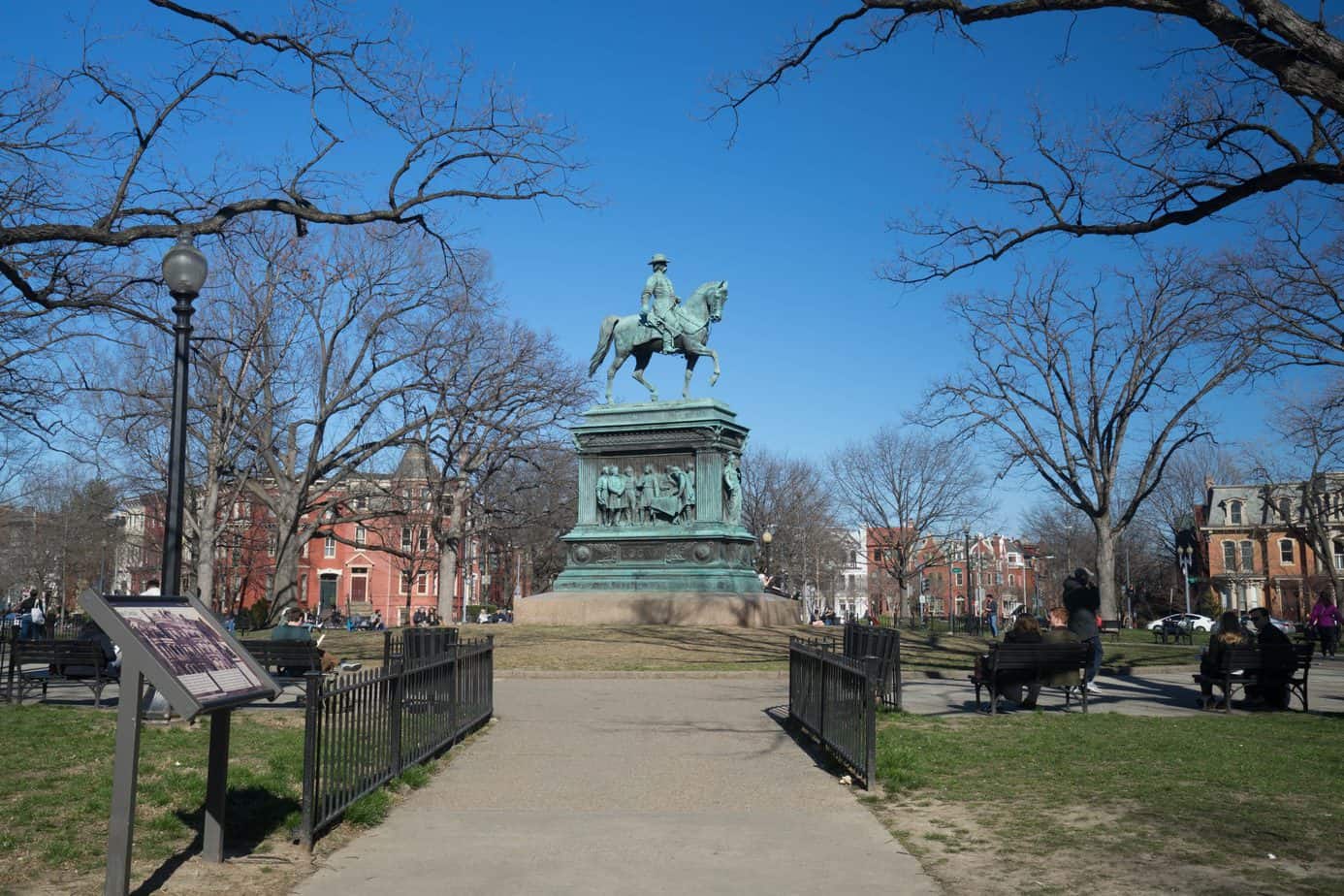 3. Spend a day at the museums
If there's one thing Washington, DC is famous for, it's the abundance of world-class museums within the city limits. What's more romantic than wandering through a museum, quizzing your companion about all the things they know about obscure topics? Not much, I'd say.
And best of all, many of Washington DC's museums are free. (Yeah, meaning you can spend that money you saved on some of the other rad suggestions on this list!)
Of course, there are the obvious Smithsonian museums, which are phenomenal and span a wide range of subjects from Native American history to Air and Space. You can find a complete list of Smithsonian museums in Washington DC here. Also, check out this article on 23 tips for visiting the Smithsonian museums!
There are many non-Smithsonian museums in Washington DC that are well worth visiting as well. My favorite one, by far, is the Newseum, a museum all about reporting and current events across the ages. While not free, the museum offers FIVE FLOORS of fascinating exhibits, a few which rotate throughout the year.
Some other fascinating museums in the city include Blind Whino (a local art gallery and collective built into an abandoned church), the National Gallery of Art, and the International Spy Museum.
4. Get some fresh air at Great Falls
If you're truly looking for romantic things to do in DC, and for an escape from the city that's not too far away, my favorite place to go for peace and quiet is Great Falls. Located just a half-hour from DC's city center in normal traffic, it's an accessible nature escape that's perfect for couples to get some fresh air. (Check out some more ideas for day trips from DC!)
Great Falls itself is a huge waterfall cascade located in the middle of the Potomac River, where the Fall Line crosses the river's path. As a result, several smaller waterfalls and rapids were formed, combining to create the massive rapid that is Great Falls.
There are two sides to this park: Great Falls National Park itself (located in Virginia) and the C&O Canal National Historical Park (located in Maryland). Personally, I enjoy going to the Maryland side a bit more, as it tends to be less crowded and the hiking and walking trails extend a bit longer.
If you and your partner are up for a challenge, the Billy Goat Trail is a fantastic option to get your adrenaline flowing. With rocky passes and one steep, uphill scramble, it's a thrilling and memorable experience for any couple to try.
In my opinion, the best time of year to go to Great Falls National Park is during the fall, when the leaves in the area turn bright red, orange, and yellow and the air is crisp and cool. Fall foliage is pretty romantic in itself, right? I'm a huge fan of the East Coast in the fall and Great Falls is no exception.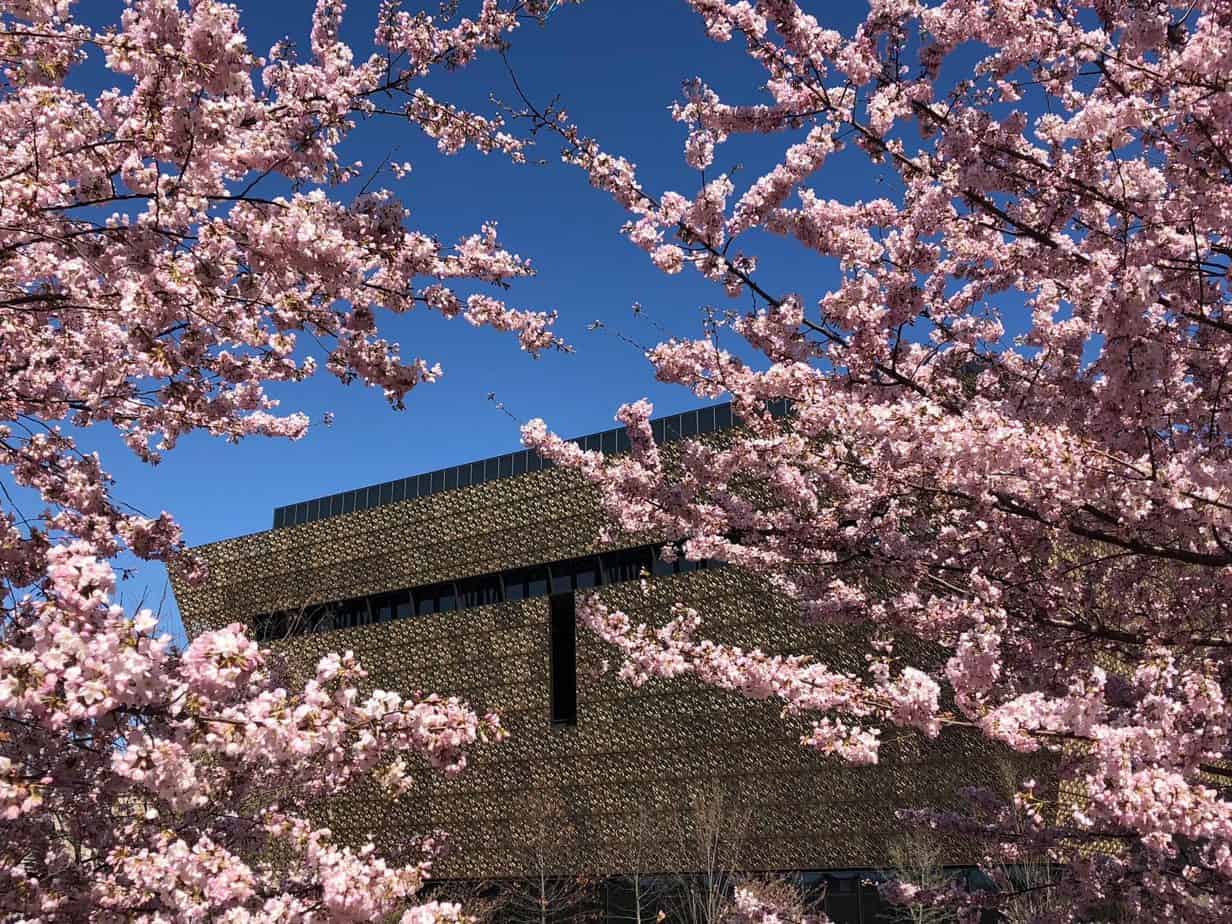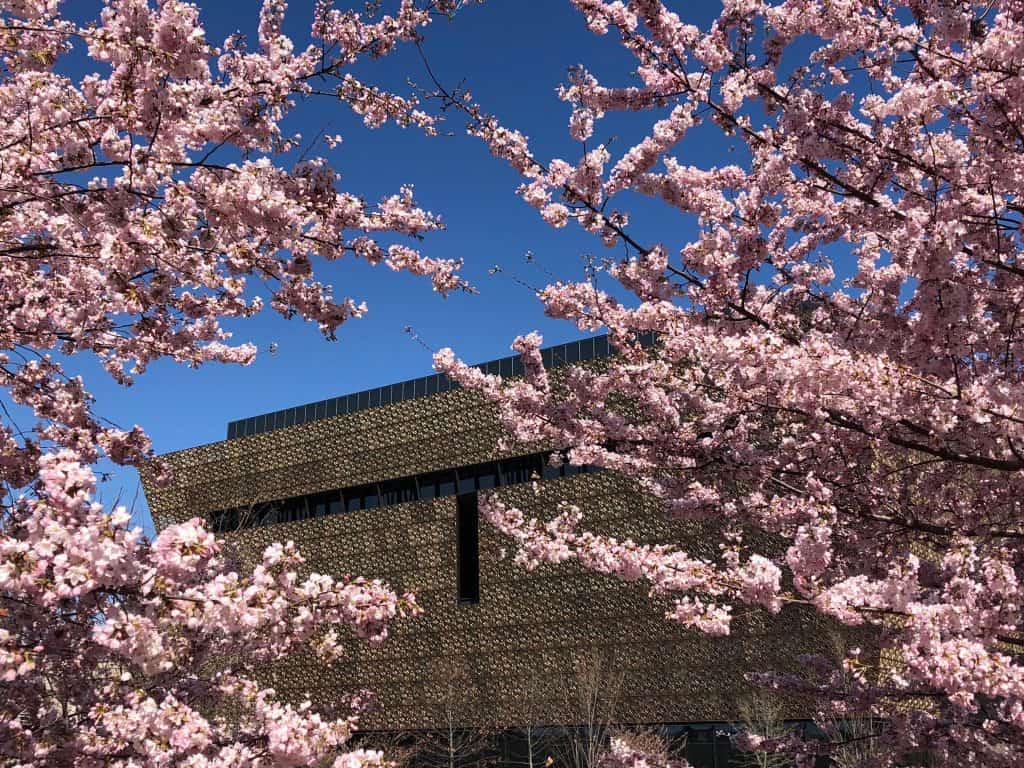 5. Window shop and cafe hop in Georgetown
Georgetown is quite possibly Washington DC's most romantic neighborhood, and when you see it, you'll definitely agree. Besides being home to DC's oldest house, it's also the neighborhood where high-end yuppies and the well-to-do of the city often reside.
Charming brick houses sit daintily next to bakeries, whose smells waft through the windows and entice you to order their red velvet cupcakes. A bustling waterfront offers many areas to sit and chat right by the river, watching the world go by.
Share a cupcake from the famed Georgetown Cupcake, or a chai latte and a pastry from Baked & Wired. Or, if you're feeling a bit more hungry, you can sample delicious locally sourced dishes at Farmers, Fishers, Bakers.
6. Sneak a peek into Blagden Alley
For the adventurous couples out there, why not try heading into a dark alley of a large city?! I'm only part kidding, because one of my favorite spots in DC is actually a side alley called Blagden Alley.
Located in DC's up-and-coming Shaw neighborhood, Blagden Alley is a cobblestoned back alley that is home to some of the city's most chic coffee shops, bars, and restaurants, all hidden away from the public eye of 9 Street NW. Besides being adorable, it's also a wonderful place to spend the afternoon chatting over a coffee, or the evening sampling Asian-inspired dishes and cocktails at Tiger Fork.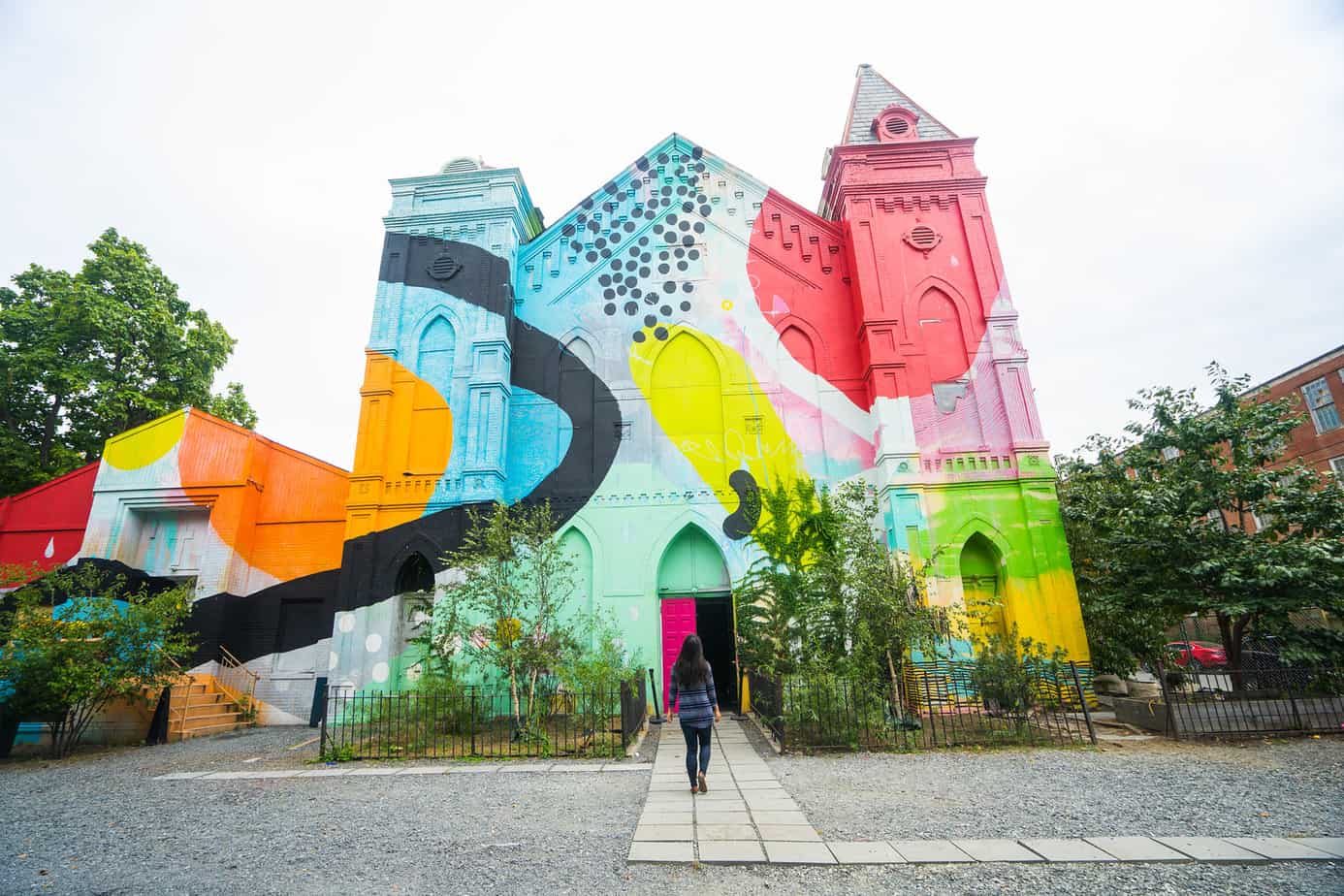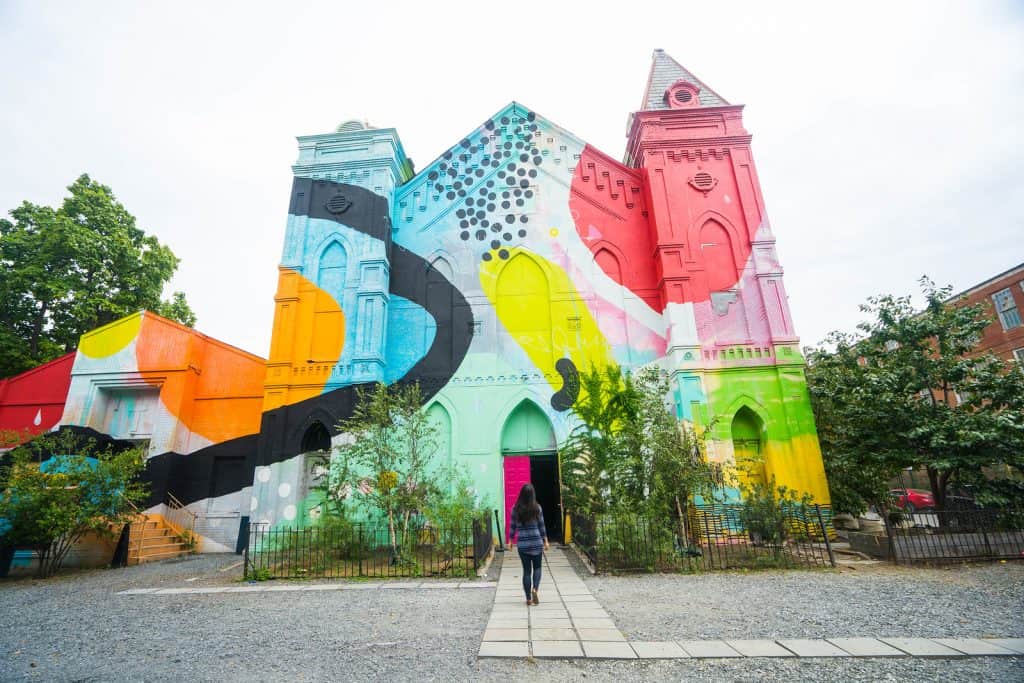 7. Grab a book and a bite at Kramer Books
For me, there are few things more cozy or charming than bookstores or cafes. Kramerbooks & Afterwords Cafe, located in Dupont Circle, is both! Who wouldn't want to go for a romantic afternoon date at an urban-bookstore-gone-cafe?!
Here, you can pick up the newest addition to your home library while chatting about current events over a warm latte or glass of wine. They have a huge selection of both books and beverages here, or if you'd like, you can even order an entire meal.
Kramerbooks boasts an extremely cozy setting – the walls are totally lined with books on all topics – perfect for the kinds of deep philosophical kinds of conversations you probably like to have with any loved one on a weekend afternoon.
PS: Check out a cat cafe in DC for another quirky, romantic thing to do. See our picks here: 10 Best Cat Cafes in the US
8. Dine at the booth where JFK proposed
Things just got really serious…but not really. No proposing is necessary to enjoy this little historic gem. One of the most well-known restaurants in Washington DC is called Martin's Tavern, and it's famous for being the hotspot for many important political conversations. They even claim to have served every US president from Truman to George W. Bush!
Perhaps the most famous seat in the house is the booth where JFK proposed to Jackie. And yes, you can ACTUALLY sit there and eat your dinner! (Perfect for romantic getaways in DC, no?) It's a pretty romantic thought to be sitting in a place where historic love stories unfolded, and Martin's Tavern is no exception. If you're interested in reserving this table, it's best to call Martin's Tavern as far in advance as you can at (202) 333-7370.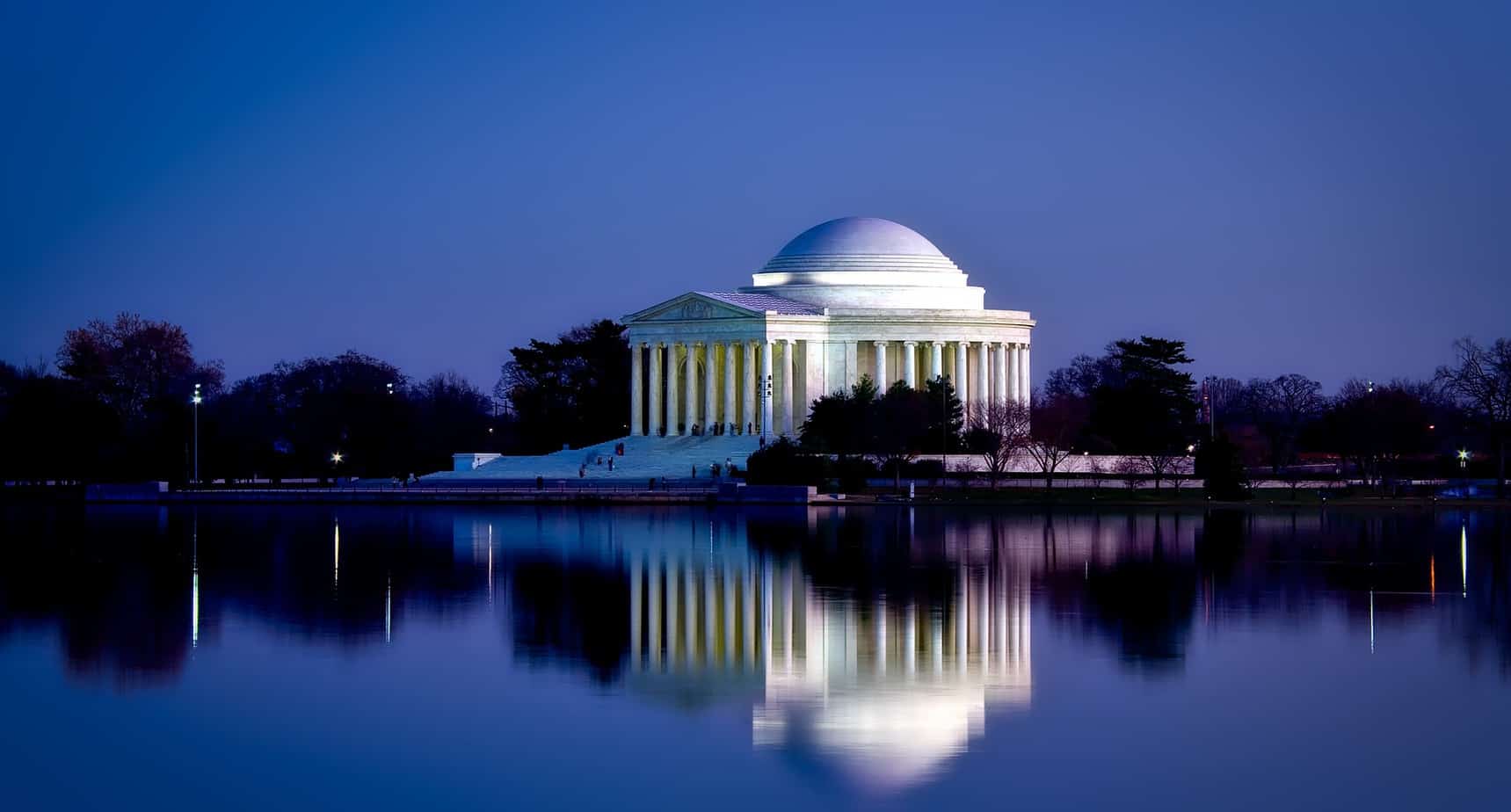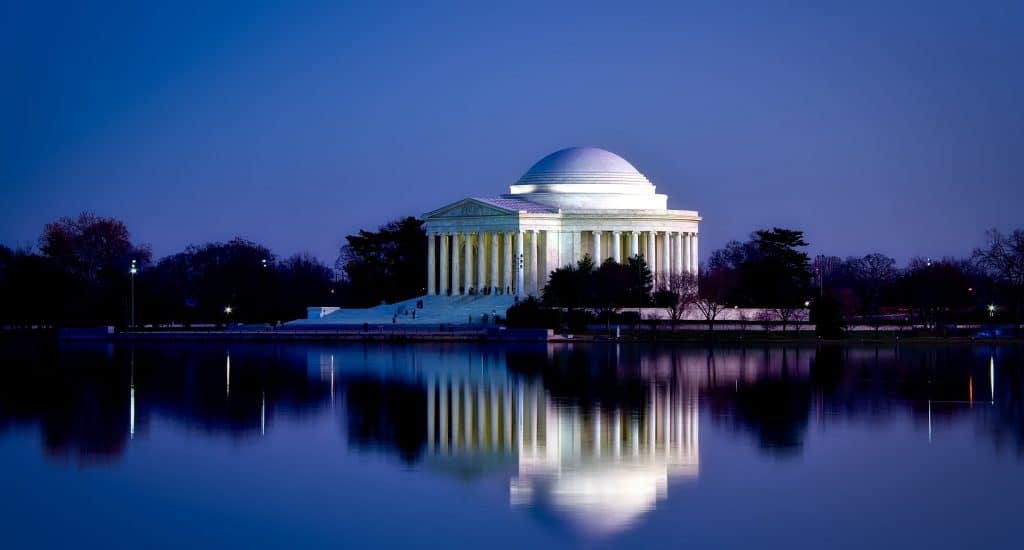 9. Visit the monuments and memorials at night
One of my absolute favorite things to do in Washington DC with my boyfriend is to explore the city at night.
While some areas can be full of tipsy partygoers and loud music, the monuments are a perfect place to take an evening stroll. By this time, the field trips and tour buses of the day have cleared out and there are just a few dwindling groups of people there to admire these impressive structures all lit up in the darkness.
I wouldn't recommend going out there too late at night (although I've been as late as 4 AM…don't ask…), but a walk over to the Washington Monument or the Lincoln Memorial just after sunset is the perfect precursor to an upscale dinner or a romantic night out.
Travel Tips for Washington DC
Getting to Washington DC
There are three major airports in Washington DC that are served by every major domestic airline: Reagan National (DCA), Dulles International (IAD), and Baltimore-Washington International (BWI). Amtrak trains, Greyhound buses, and Megabuses also run regularly to Union Station from several destinations across the East Coast.
Where to Stay in Washington DC
In Washington DC, there are an overwhelming number of hotels to choose from. My main recommendation is choosing a hotel that is close to the city center, in a walkable neighborhood. If you're stumped on finding a place to stay or want more specific recommendations, you can check out this guide on where to stay in Washington DC.
Kay Rodriguez is the blogger behind Jetfarer and USA Weekend Guide. When she's not traveling, writing, or editing photos, you can find her somewhere in Washington DC reading a mystery novel with a warm chai latte in hand. You can connect with Kay on Instagram or Facebook.