This post may contain affiliate links. Read our disclosure page for full details.
Looking to adopt a little friend? Or perhaps you just want to cuddle a kitty for a few hours. Well never fear, a cat cafe is an ideal solution for a cat lover like you. And there so many fantastic cat cafes in the US and cat cafes in Canada—all of which are full of friendly, furry, felines.
You can get a cup of coffee, of course, but that's secondary. The focus is these adorable purring friends. In most cat cafes we've visited, 90% of the cats are sleeping. With an endless supply of visitors offering pats and coos, it's no surprise they're probably exhausted! But once in a while, you'll get to snuggle the perfect kitty. And this kind of laidback cuddling can be a great addition to any kind of trip, especially a romantic couples getaway!
While there are many of these cat cafes (and other animal cafes) abroad, North America has started producing its fair share. Here is a handful of the cutest and most welcoming cat cafes in the USA (and Canada!)
If you can't afford a baby, get a dog. Don't have time for a dog? Get a
cat
. Don't have the time, money, or really even the general level of maturity for a dog, baby, or
cat
, but you DO have one hour on a
Friday
and $20 to spare? That's where
KitTea
comes in.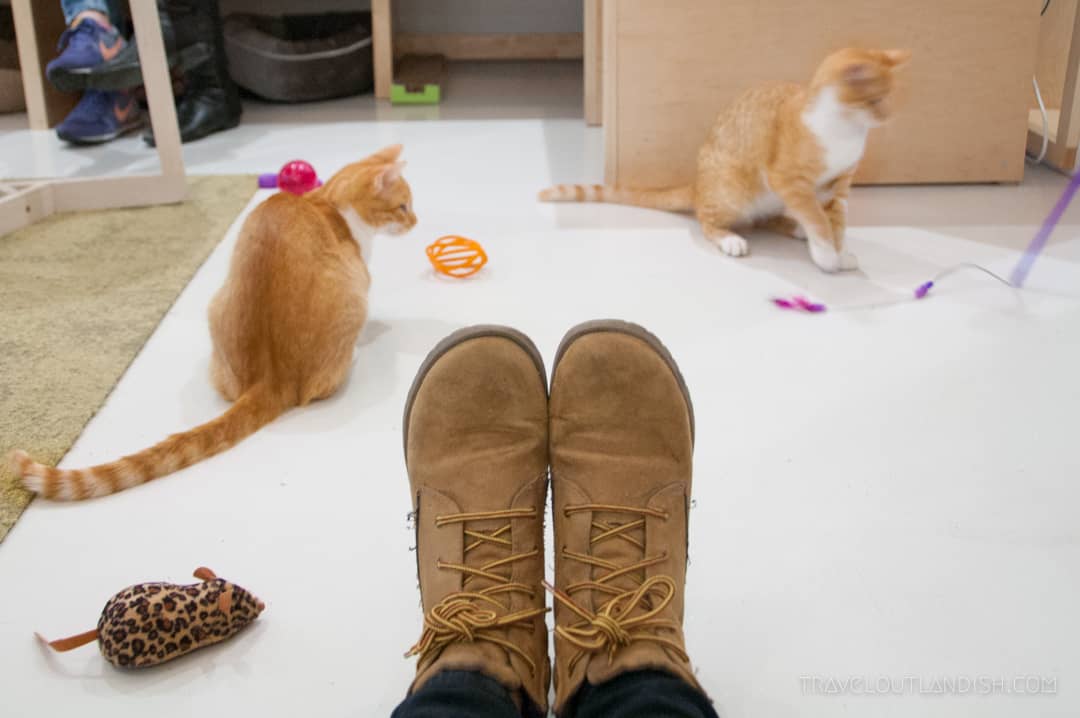 While
cat
cafes have been around in Asia for a while, Americans kind of freaked out when the concept first made the leap to the US. At
KitTea, San Francisco's first

cat

cafe
, you can play or pet 16-20 adoptable
cats
while enjoying a cup of tea. The room is scattered with toys and structures, and after a briefing from the
cat
wrangler, you'll have 30-60 minutes of pretend pet ownership.
-Taylor, Travel Outlandish
Cafe Chat L'Heureux – Cat Cafe in Montreal
Cafe Chat L'Heureux
combines two of my loves- cats and
Montreal
! The cafe features 8 beautiful cats picked for their great personality, all were adopted from shelters in the Montreal area. Plan to stay for a while, the menu is full of snacks, meals and delicious treats. Even my finicky teens loved the food!
The main attraction, of course, is the cats. Platforms above the tables and on the walls give the cats plenty of places to explore and nap. If you are lucky one may join you while you dine! Cats wander the cafe going wherever they please, as one would expect with cats.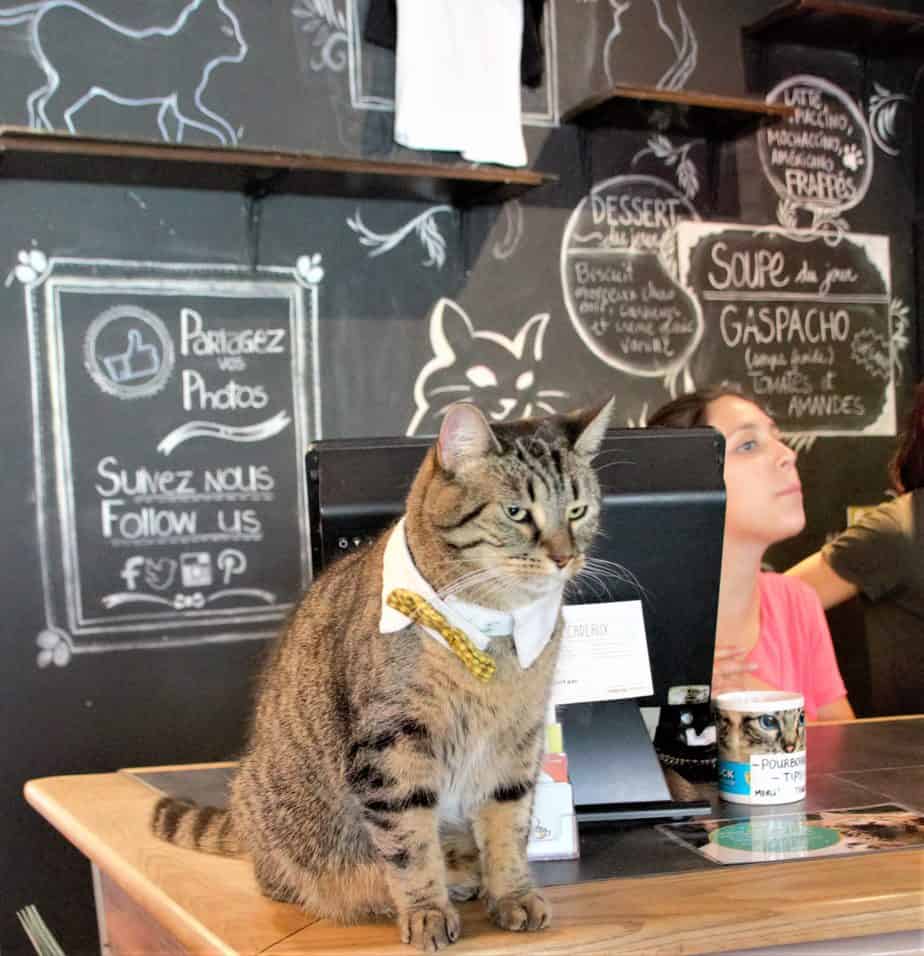 When the cafe is not too busy the cats show off their tricks. I've seen high fives, spins and a cat balancing on the head of a staff member. New tricks shown on their social media make this cat cafe a must see whenever you are in Montreal!
-Cathy of RoarLoud.net
Catfe – Cat Cafe in Vancouver
Catfe is Vancouver's first cat cafe, with adoptable cats from the British Columbia SPCA. The Catfe is a foster environment for the cats, with a light filled, cozy home like environment where the kitties move about freely. The Catfe houses eight to twelve cats at a time, and they've helped over 400 cats find their forever homes!
There's a cafe with delicious cat-themed treats (be sure to try the yummy macarons!), plus a shop with fun merchandise. Since the Catfe only allows 16 people in at a time (to avoid stressing the cats) book in advance if you can. Check out the nearby Chinatown and Gastown neighborhoods while you're there!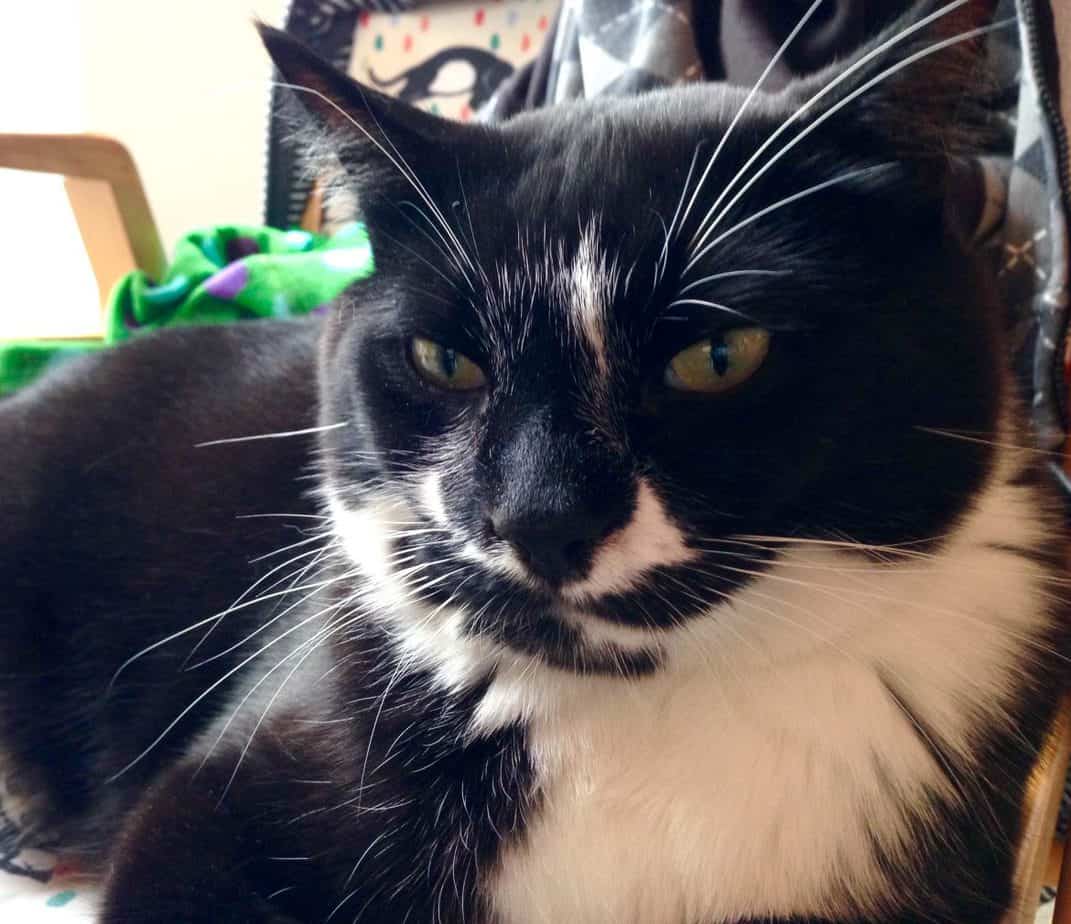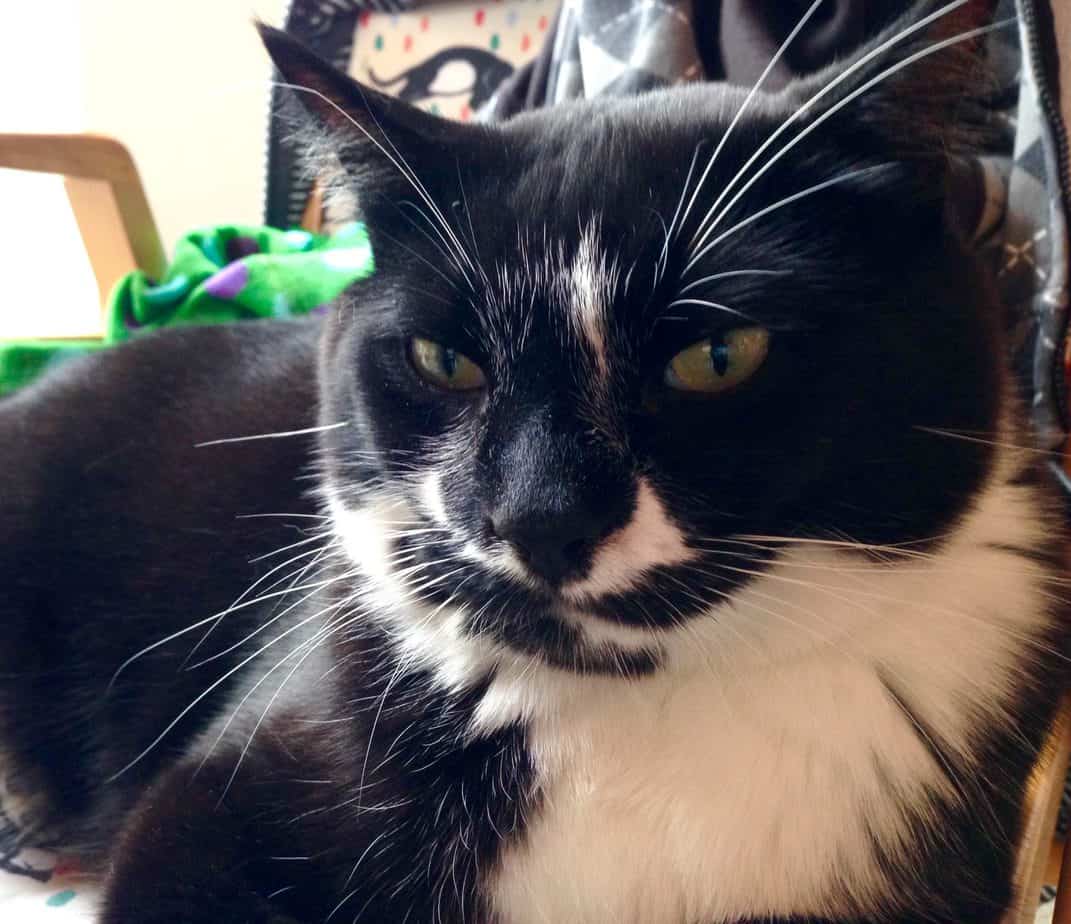 We visited with our two kids, and they loved hanging out with the furry felines, but kids age four and under aren't allowed in the kitty lounge (though they are allowed to watch from the cafe area).
-Micki, The Barefoot Nomad
The Cat Café – Cat Cafe in San Diego
The Cat Café, San Diego, conveniently located downtown near the convention center, has adopted out 279 cats since it opened three years ago! Cats come from The Rescue House, a local not-for- profit organization that specializes in finding homes for displaced, unwanted, or abused cats. The café is open daily 8 am to 3 pm but to minimize stress on the kitties, it allows visitors by appointment. A $6 fee buys you a drink or pastry of your choice and entrance to a magical opportunity to cuddle or play with a dozen cats.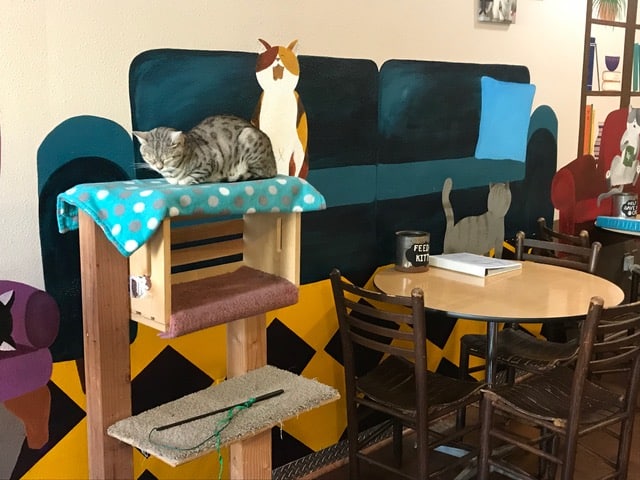 The space is cat-centric with vertical wall condos, crinkle tunnels, and toys galore. A cat door at the back allows any kitters that need some down time from visitors to retreat as needed. We had so much fun meeting Tallulah, Cornflake, and all their friends on a recent Saturday. It was all we could do to leave without a cat. (Cats are like potato chips right? You can't have just one!)
-Chris, Explore Now or Never
Regal Cat Café – Cat Café in Calgary
Cat cafes are popping up all over Canada. The popular craze has finally hit Calgary when Regal Cat Café opened its door in 2017 for cat lovers to get their feline fix.
This bright, cheery café is split into 2 different spaces: the café and the cat lounge. At any given time, visitors will find as many as 12 cats roaming around the lounge, all available for adoption from the local cat charity and rescue centre. Every two weeks a new crowd of kitties, ranging from two-and-a-half-months to three years old, will arrive in hopes of finding a loving new home.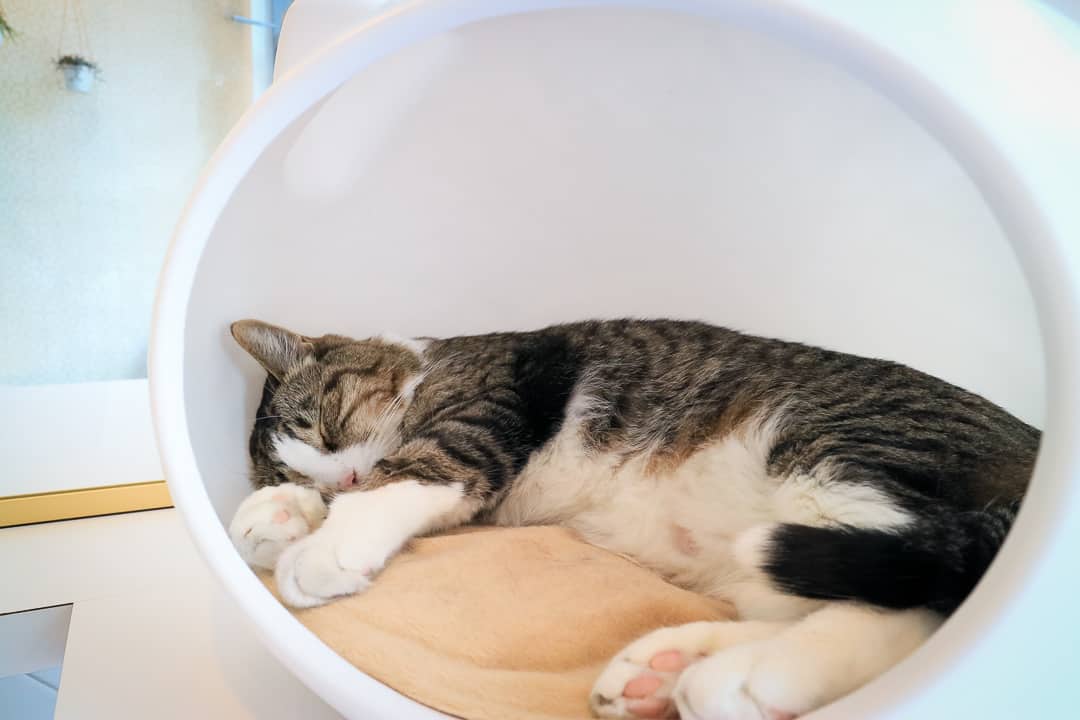 The lounge is a fantasy world for the kitties, with plenty of space to hide, play, and sleep. Visitors are welcomed to sip coffee and nibble on cat-themed pastries as they mingle with furry friends. To enter the lounge, a $10 cover charge is required for a 45-min visit. Reservation is recommended.
Looking for a unique experience you'll never fur-get? Regal Cat Café also partners with local businesses to offer yoga lessons and paint parties with the furballs!
-Cat, For Two, Please
Washington D.C. is known for several things, historical monuments, amazing museums and their famous neighborhood, Georgetown. These are all great places to see, but did you know that D.C. has the cutest cat cafe? Crumbs & Whiskers is a two level cat cafe in Georgetown.
Cat lovers must make a reservation ahead of time with a $18 weekday or $22 weekend admission fee. All of the cats come from the Homeward Trails Animal Rescue in D.C. and are up for adoption to come home with a loving human. The reservations are in 70-minute blocks, but you may get lucky if space permits more time for snuggling with the cats.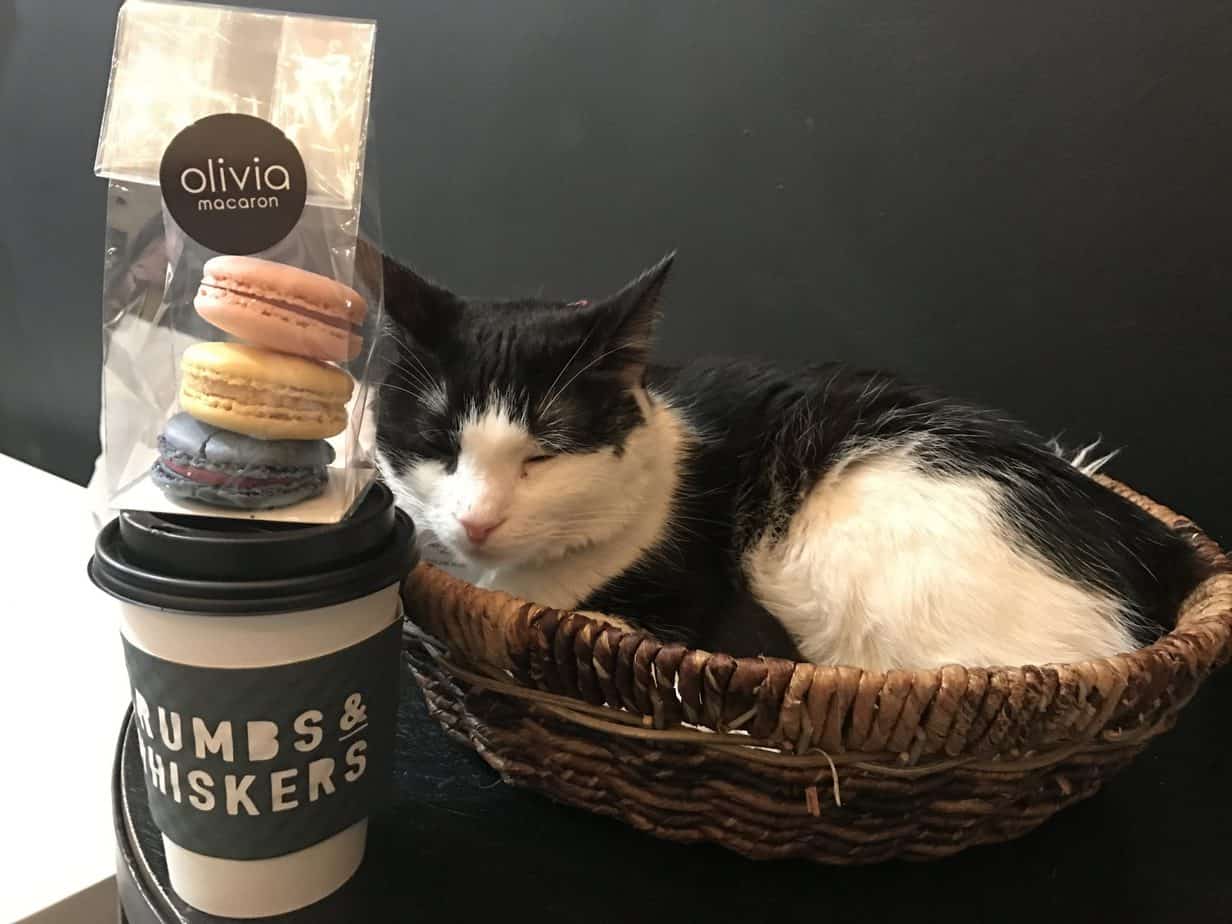 Guests can purchase macarons, coffee and tea and the employees will then retrieve them at the nearby bakery from Olivia Macaron. Guests can also rejoice after 4:45pm as Crumbs & Whiskers allows guests 21-and-up to BYOB (wine and beer only).
Is this cat cafe not purrfect?
-Christina, Our Sweet Adventures
Felius Cat Cafe – Cat Cafe in Omaha
Omaha, Nebraska is actually known for quite a lot. Steaks, Warren Buffett, and even the invention of TV tray dinners! One thing it's not famous for is it's cat cafe's.
That's not to say that Omahan's don't love their animals. We are just as cat crazy as anyone, but the Cat Cafe craze hasn't taken over the city…until NOW. As in THIS year. But if there is anything that Nebraskan's love, it's a marriage between local businesses and organizations supporting one another. We are suckers for good, local food and awesome causes and the Felius Cat Cafe is hoping to be just that. Wanting to "revolutionize" the cat adoption industry in town, Felius is taking our love for local coffee and pairing it with cute, cat cuddles that even a dog lover can't deny!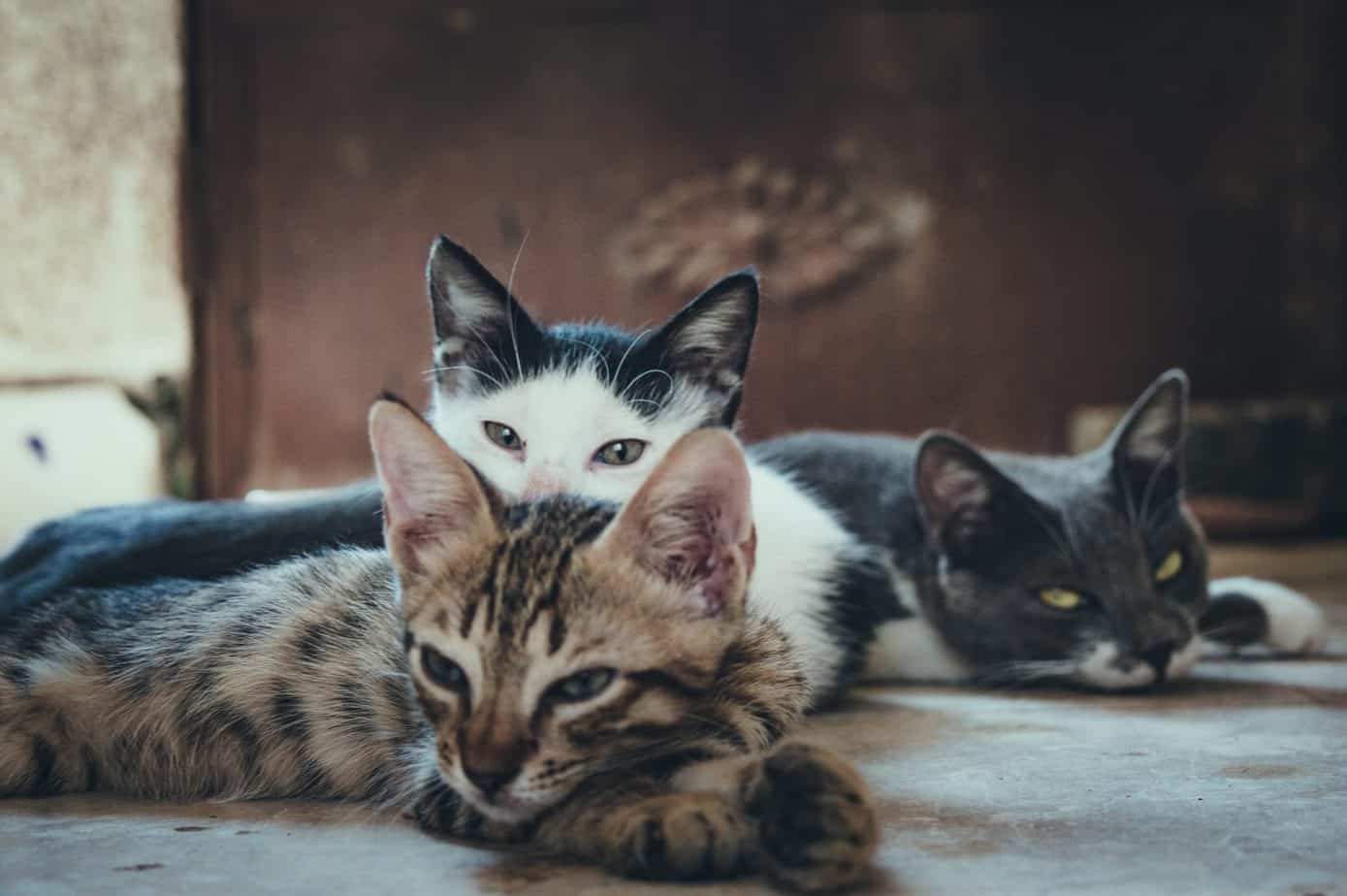 As a bit of a coffee snob as well as an adopted cat mama myself, all I can say is you'll know where to find me in Omaha! (Just don't tell my husband…he's already afraid I'm becoming "That Crazy Cat Lady!")
-LeAnna, Well Traveled Nebraskan
Blue Cat Cafe – Cat Cafe in Austin, TX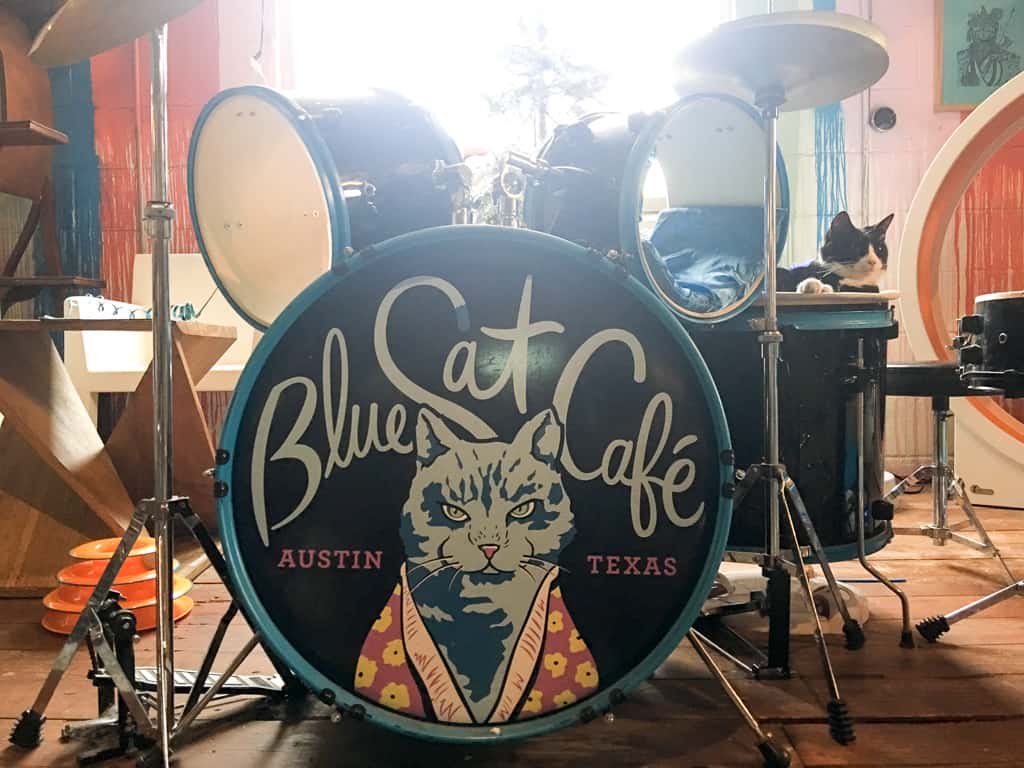 Blue Cat Cafe is not only the first in Austin but the first of its kind in Texas as a whole. So imagine my joy when I stumbled upon it by sheer accident when on my way to eat breakfast tacos. This cat lady was in heaven! Plans were changed and we spent the morning with the cats of Blue Cat Cafe. Instead of an hourly rate, they only charge a $5 flat rate entrance fee. Reservations aren't needed and only recommended if you plan on visiting with a large group. We paid our $5 and anxiously awaited our table, already playing with a friendly cat in the waiting area/gift shop. Inside the cafe, it's a veritable cat paradise. Every single cat toy is here, a drum set has been converted into cat beds and there are catwalks (too obvious a pun to not include) hang overhead. My coffee grew cold and neglected as I played with all of the cats around the cafe. If you're in Austin I highly recommend visiting the Blue Cat Cafe, especially if you're looking to adopt a furry friend.
-Erin, Sol Salute
My Kitty Cafe – Cat Cafe in Guelph, Ontario
Cafes where you can interact with cats and kittens are becoming more and more popular, even in smaller cities. My Kitty Cafe (117 Wyndham Street North, Guelph) is just one of the latest that have opened up in Ontario.
The cafe blends in with the rest of the downtown, but once you're inside, you'll realize how large it really is! The front half is a store dedicated to cat merchandise and a cafe where you can get everything from an "espurrresso" to lunch and dessert.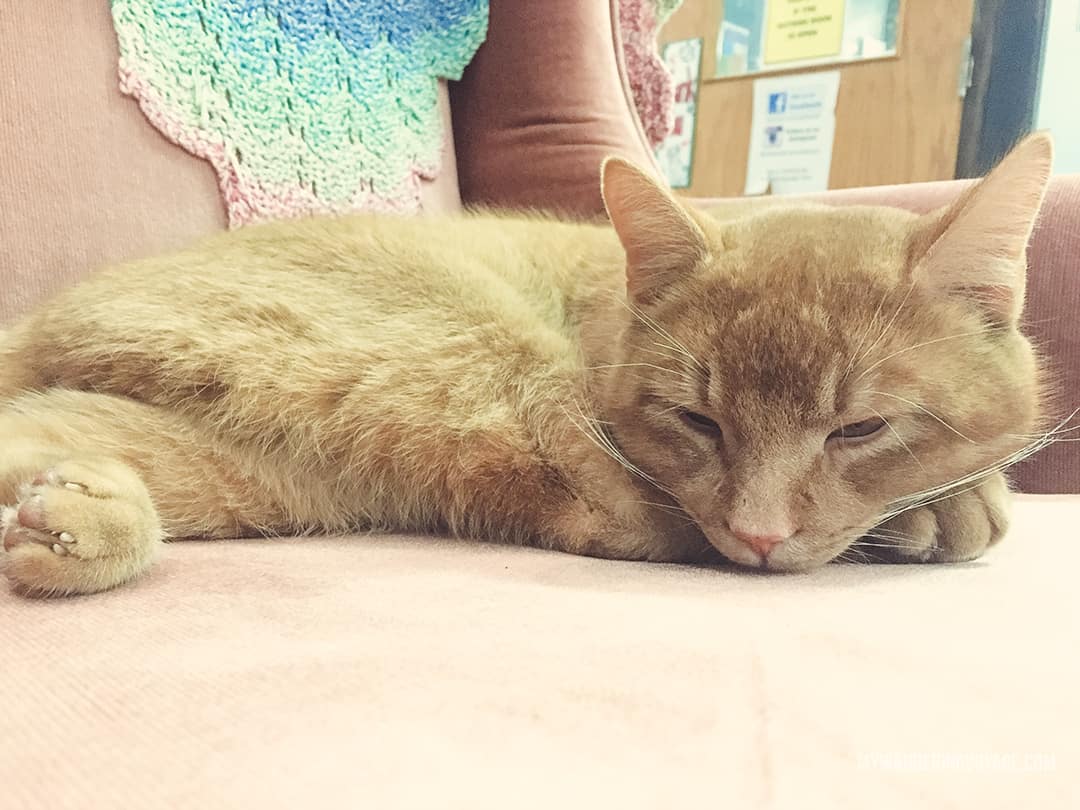 The back half of the cafe is a cat kingdom. There are chairs and sofas for the humans but everything else is all about the cats, including an enormous play structure that spans the entire area. Entering the store is free, but there is a "catmission" of $5 per person or $3 with any purchase to play with the cats.
And it's all for a great cause – all of the cats are up for adoption and are from Purrfect Companions of Norfolk, a local non-profit organization cat shelter. My Kitty Cafe has successfully rehomed over 470 cats since opening!
-Olivia, My Wandering Voyage
Sip & Purr – Cat Cafe in Milwaukee
I am the biggest cat lady ever and every time we're in a new city we love to see if there a cat cafe or any other furry cafe. The first time we ever visited a cat cafe was on our honeymoon in Bangkok, we later moved to Chiang Mai which had several cat cafes. We just back home to the states and are super excited about Wisconsin openings it's first cat cafe in Milwaukee called Sip & Purr. It may be dangerous because it's less than a mile from our house and not only do they serve coffee but wine too! If you're in town definitely skip Starbucks and head to Sip & Purr before sightseeing in Milwaukee. You may even come home with a furry souvenir because the cats in the cafe are adoptable. The cafe has partners with the local animal shelter to help homeless cats find their perfect family.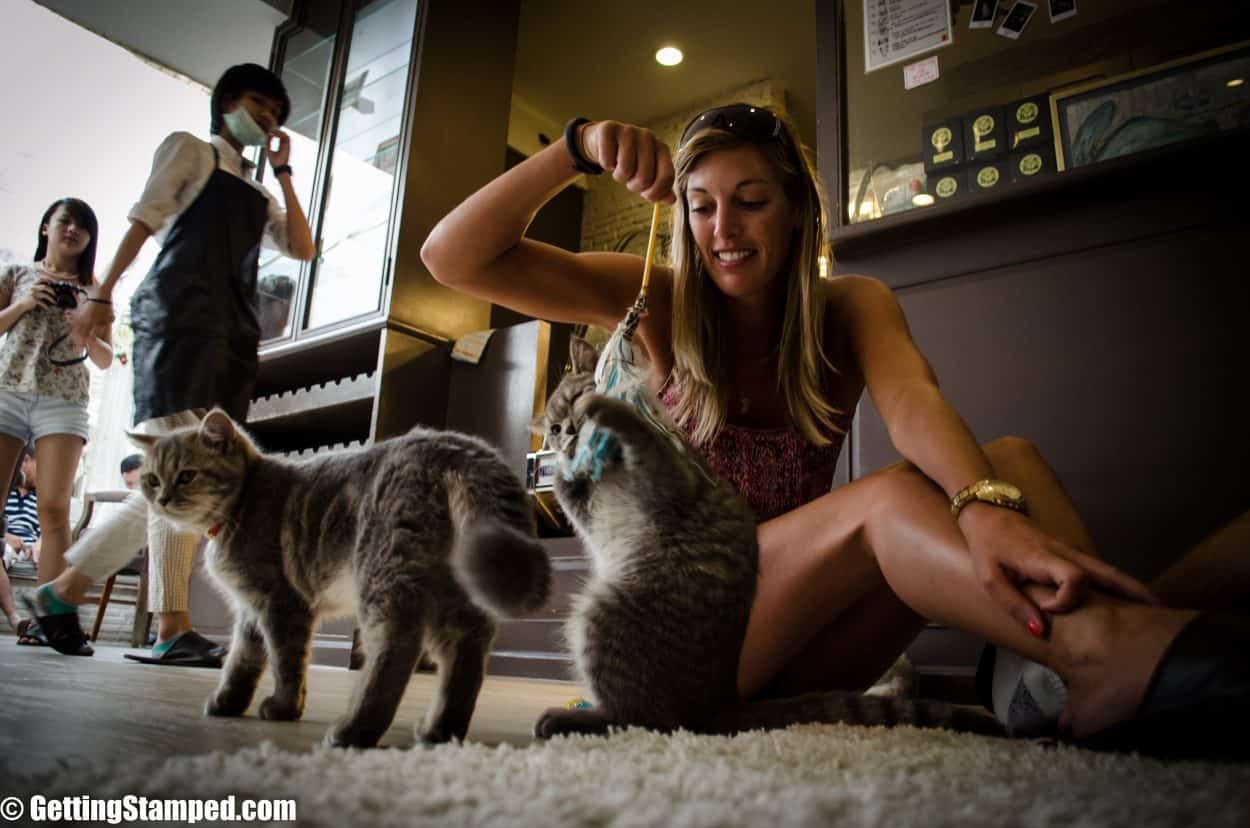 -Hannah, Getting Stamped
---
Pin this post to save for later!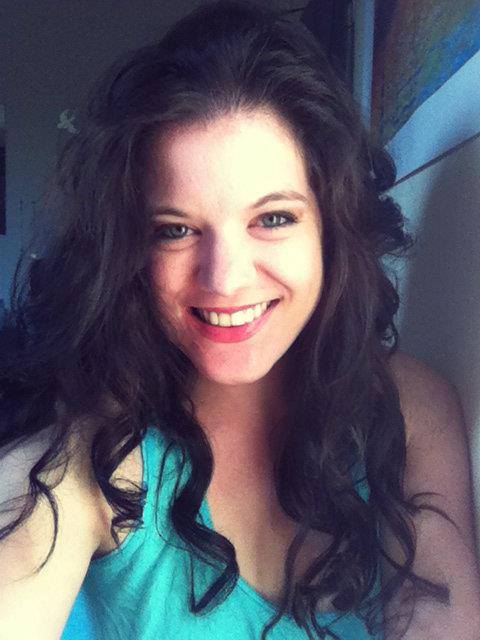 Amy Hartle is the author of Do You Love Me? How To Stop Seeking Reassurance in Relationships, a book on reassurance seeking and relationship anxiety. Both her book and this blog are born of personal experience; Amy shares expert relationship advice from the lessons learned during her own 10+ years with her husband, as well as couples travel tips and romantic getaway recommendations, all gleaned while traveling the world together.