This post may contain affiliate links. Read our disclosure page for full details.
So, you're planning a trip to West Virginia. This small state has a lot going for it, and you might be surprised by some of its cities and towns. We recently visited for a weekend trip to Morgantown, and sought out all the best things for couples to do there, both romantic and adventurous. Below, you'll find what we think are the 10 top romantic things to do in Morgantown, WV.
Catch a sunset near Cooper's Rock
As a college town, there tend to be more fun things than romantic things to do in Morgantown, but we've found one that is both and is just excellent for couples: watching the sunset together at Cooper's Rock.
About 20 minutes from downtown Morgantown is Cooper's Rock State Forest, a spot that has a beautiful overlook that is easy to access (no hiking involved!) Grab your sweetheart and watch the light fade over the valley below, and if you're interested in doing more at the state forest, you can also hike and camp here. In this place, it's easy to see why West Virginia has the slogan "wild and wonderful."
Even if you can't make it for a romantic sunset moment, check out Cooper's Rock during the day. It is especially lovely on a cool fall day, like when we visited.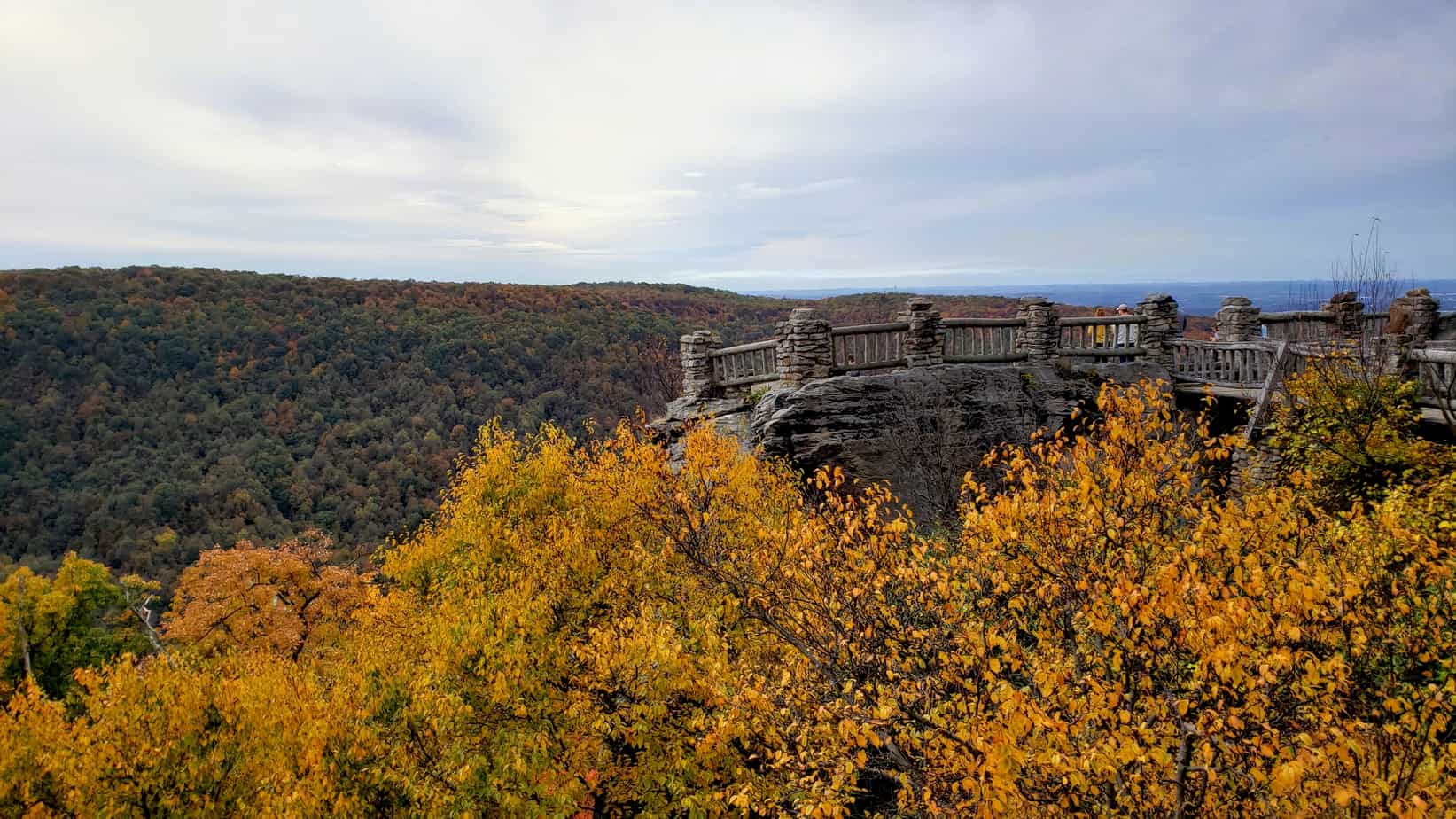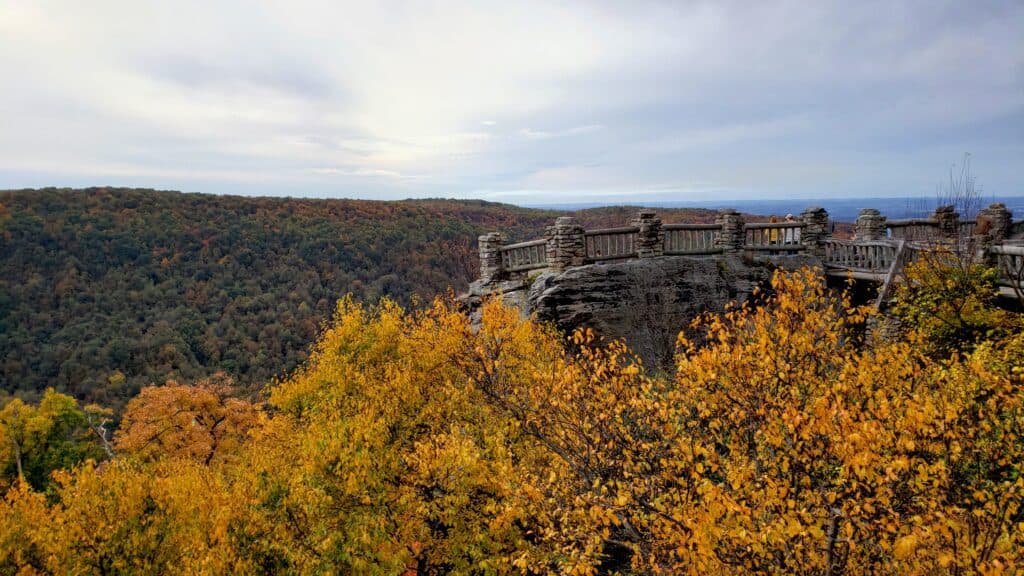 Come for a unique festival or event
There are lots of events in Morgantown, WV, especially because of the presence of the university. Whenever you come throughout the year, there is bound to be an event or festival to attract you.
When we visited, we attended Balloons over Morgantown, a fun hot air balloon festival.
From performing arts to sports to holiday celebrations, Morgantown has lots on offer. A few of the not-to-be-missed Morgantown events include the MountainFest Motorcycle Rally (summer), the West Virginia Fishing, Hunting & Outdoor Sports Show (spring), and WVU Mountaineer Week (fall).
Play like kids in the pub arcade
If you're looking for general fun things to do in Morgantown, WV, then an arcade is a great choice. But this is also an incredible idea for a date night! There are two places in Morgantown where you can combine drinks and arcade games, the Starport Arcade and Fallout Shelter.
While Starport is more of a family-friendly venue, and offers more games in a larger space, Fallout Shelter caters to grown-ups like you and me and features craft beers and classic arcade games. Definitely excellent for a Morgantown date night.
Dine at one of the many romantic and fun restaurants
Speaking of date nights, there are a lot of terrific restaurants in Morgantown. While some of these may not scream "romance" there are plenty of delicious possibilities, whatever your tastes and budget.
While in Morgantown, we ate and dined at Black Bear Burritos, Flour and Feed, Mountain State Brewing Company, The Grind (coffee shop), and Iron Horse Tavern. Here's what we thought and what we recommend:
Yummo! This place was packed when we ate there on a Friday night, and it's easy to see why. This is a casual spot but lots of fun. The prices are super great and the food is great, with lots of locally-sourced items. Recommend the margaritas and the fish tacos!
Very good for a romantic dinner. Hip and classy place with good food and drinks, live music, and nice atmosphere. Excellent dessert! Reasonable prices.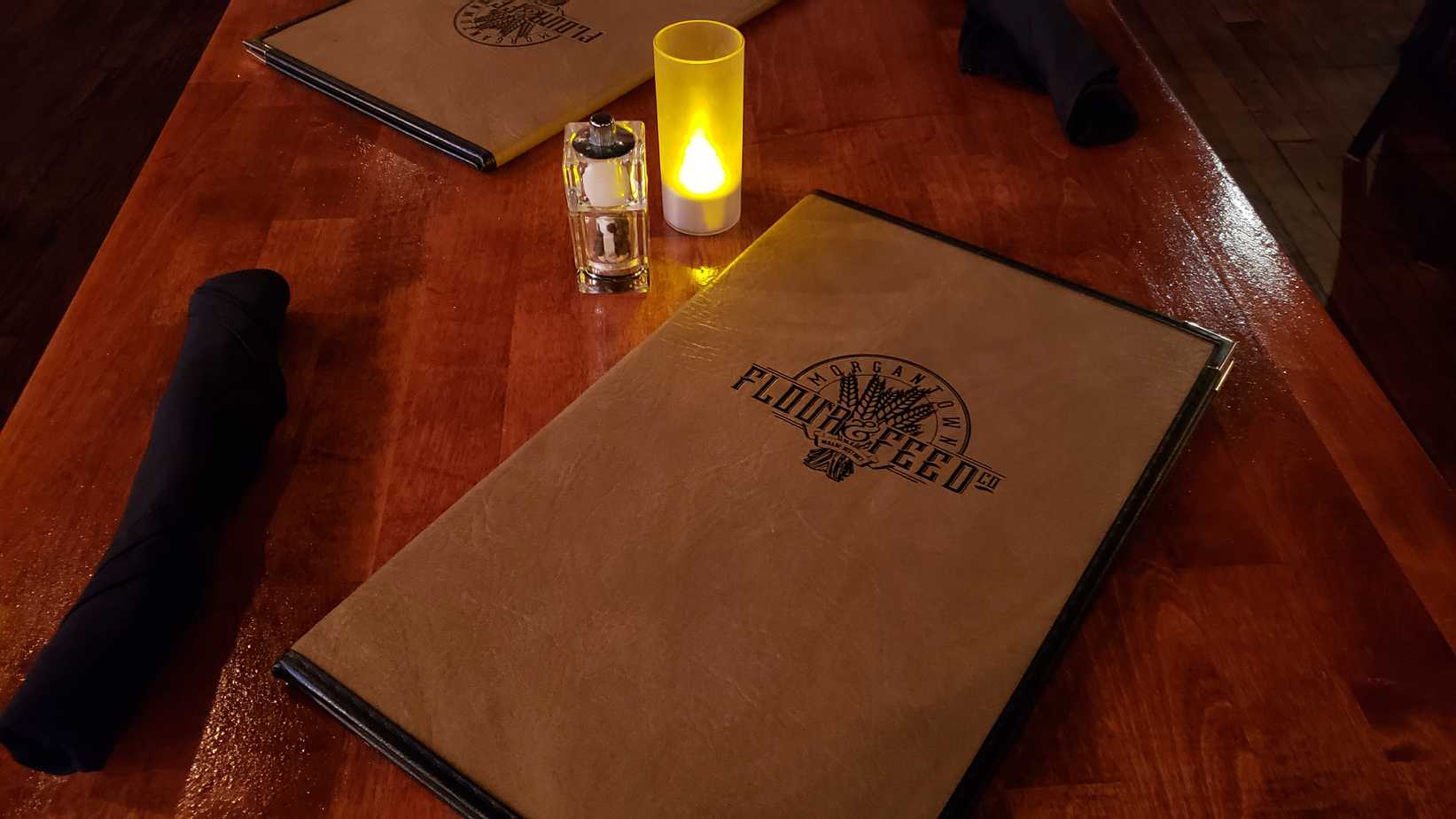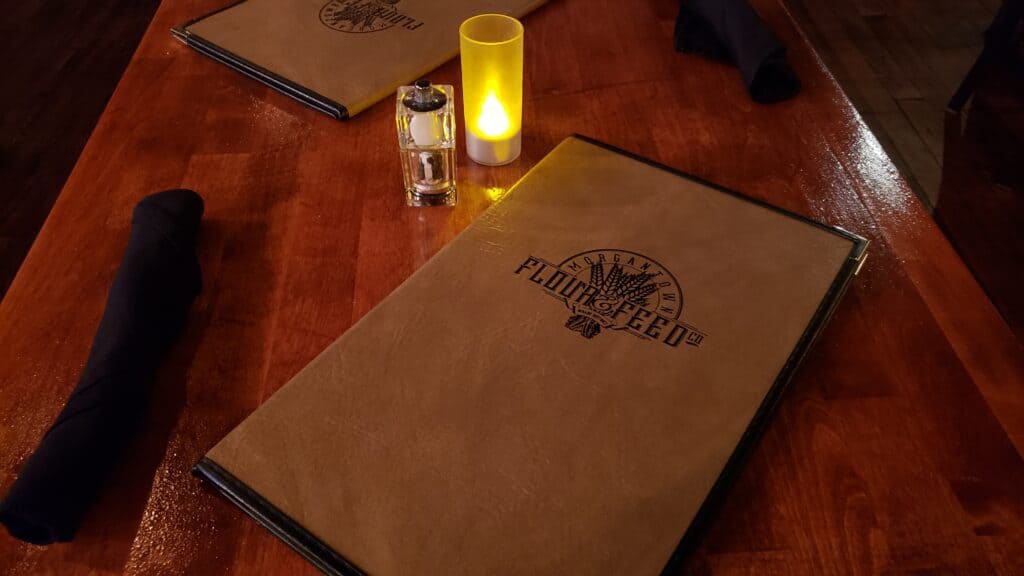 Mountain State Brewing Company
A good place to stop to taste some local brews. A big beer menu. I can imagine this place getting loud and rowdy in the evenings (it is a huge space) but in a mid-afternoon when we stopped in for a few drinks, it was quiet and chill. Definitely order the Apple Pie Moonshine OMG.
A classic hipster coffee shop. Exactly what we were looking for. Delish maple lattes (dare I say the best I've had outside of Vermont?) and filling breakfast sandwiches.
If you Google search for "the best brunch in Morgantown WV", this is what comes up. It didn't disappoint, and we happened to be visiting when they were hosting a Harry Potter-themed brunch. Killer biscuits and gravy and unique tasty cocktails. Plus, a very nice space.
Explore the arboretum and Botanical Gardens
After eating your fill in Morgantown (can you tell we ate a TON of food), why not help your digestion with a nice walk? You can definitely take a stroll downtown, particularly in the university campus area, but you can also head to two local Morgantown attractions: the Core Arboretum and the West Virginia Botanic Garden.
The arboretum is part of West Virginia University and admission is free for visitors. There are frequent nature events held throughout the year as well and these are also free of charge. At the Arboretum, you can check out more than 80 species of native WV trees and shrubs and over 250 native WV herbaceous plants. The wildflowers bloom in the spring and this is a terrific time to visit.
The West Virginia Botanic Garden lies on 85 acres between Morgantown and nearby Cheat Lake. There are 4.5 miles of trails to be explored on foot and 9 gardens to discover. Admission is free, but donations are welcomed.
Get outdoors
The very best Morgantown WV things to do might be outdoor activities. This region is rich in adventure opportunities. For couples visiting, if you can make time to get outside, do!
Some of these activities may require to travel a bit outside of Morgantown, but it is worth it. White water rafting is one such activity that is fantastic in WV. Raft on the Cheat River with your guide to experience Class III rapids in beautiful Cheat Narrows, or for a slightly more adrenaline-pumping option, go rafting in Cheat Canyon where you'll find rapids ranging from Class III to Class V!
Cheat River Outfitters offers both of these options and others. Check them out!
Chill out on Cheat Lake
If you want to get outside but don't want to try anything too intense, consider a day spent at Cheat Lake.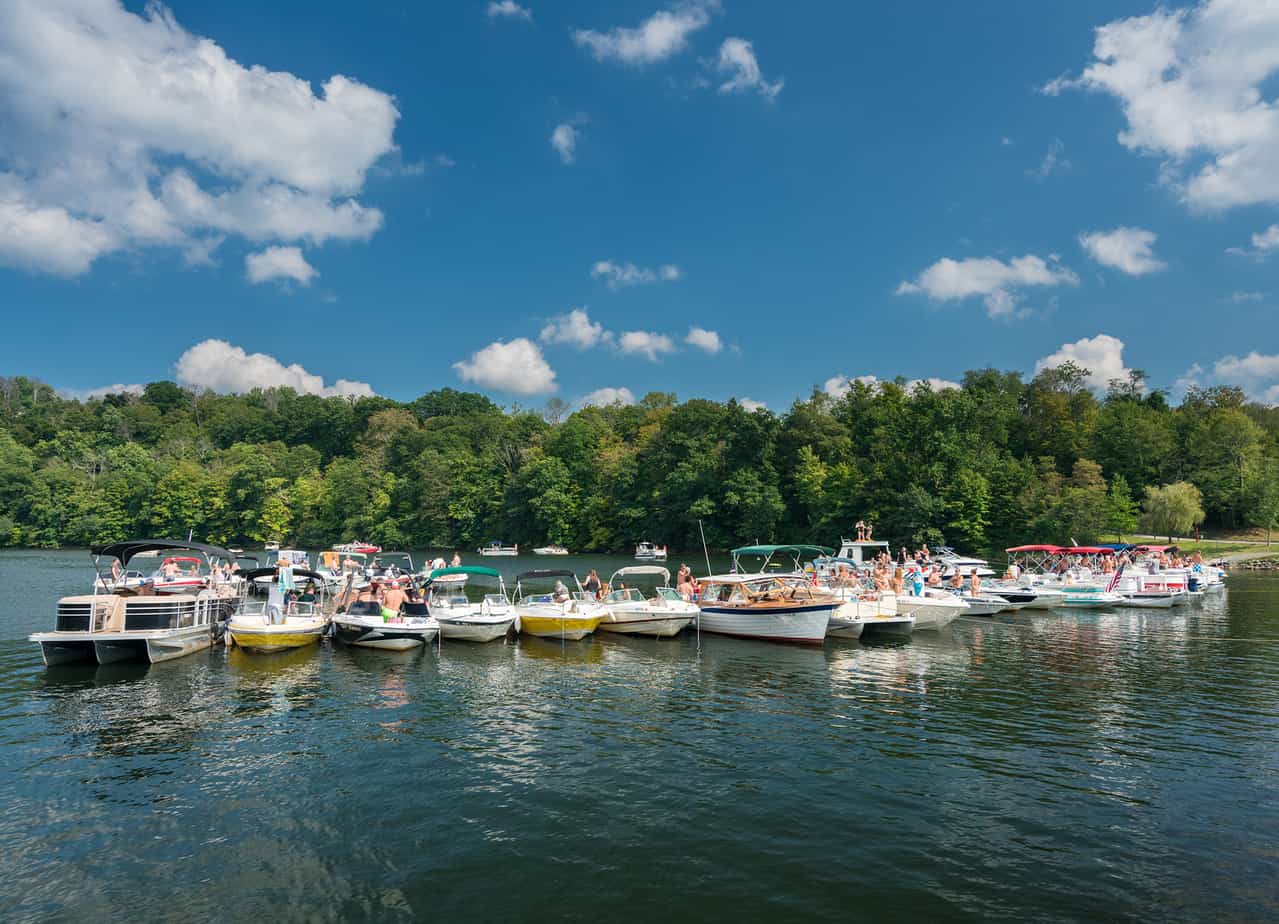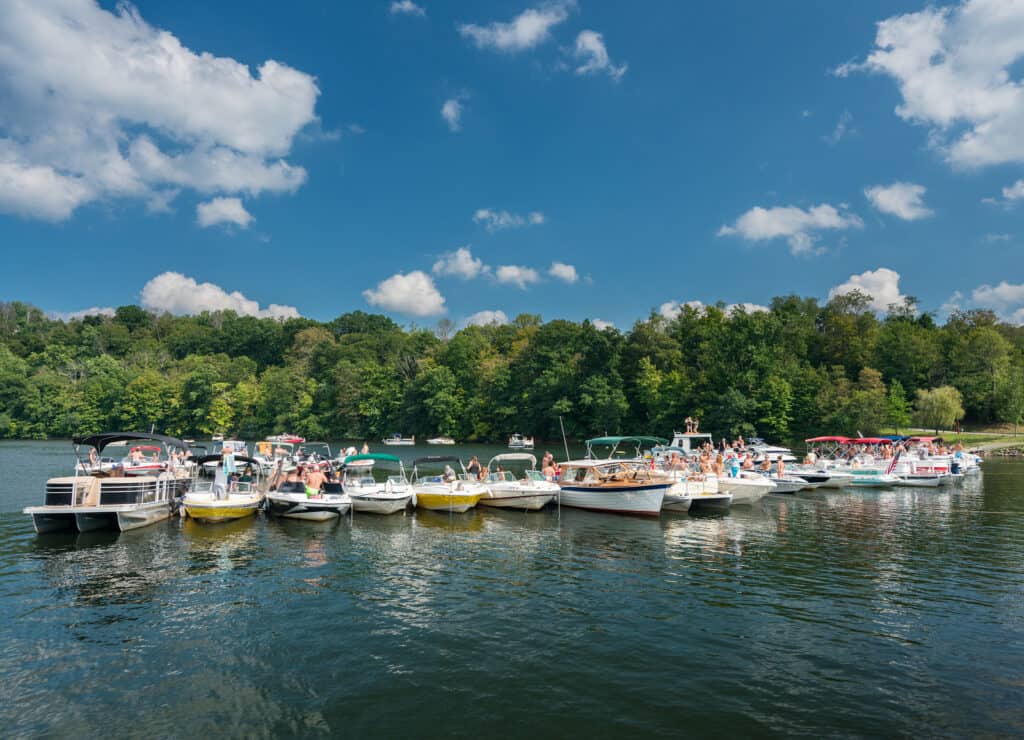 Particularly in the summertime, hanging out at the lake is one of the best things to do near Morgantown, WV. Boating, fishing, kayaking, and swimming are some of the popular activities, or you can try something new, like stand-up paddleboard yoga! This would be a fun challenge for you and your partner on your trip to Morgantown.
There are a few different places to swim along the narrow, 13-mile long Cheat Lake, but Cheat Lake Park and the Beach Area are the easiest to access.
Try your luck in an Escape Room
Have you ever tried an escape room? Nathan and I have done a few and they are a blast—perfect for a nerdy date night.
Escape rooms have become really popular over the past few years, and with good reason. These real-time puzzle-solving events are super unique and will test your brainpower and your ability to work with others.
The Morgantown Escape Room seems to be the most popular option in town. At the time of this article, the spot had two distinct escape rooms to choose from: one futuristic and one the stuff of Arthurian legend. Very cool indeed.
Go wine tasting at the Forks of Cheat Winery
When you're wondering what to do in Morgantown, WV, may we recommend this local winery? We had a lovely time sipping the varietals at the Forks of Cheat Winery. Not only do they produce more traditional wine blends like a sweet red or a table white, but they have a huge array of fruit wines that are super tasty.
You can sample a selection at the winery, which boasts amazing views of the surrounding hillsides. Perhaps best of all, they've got a few resident cats at the winery, so you might get some snuggles along with your sips!
Walk around the pretty campus of WVU
Finally, take some time to explore the WVU campus. If you're around for a football game, head to the stadium to show some Mountaineer pride. But the main area of the campus is nice for some walking around. Check out the pretty old buildings and absorb the stately collegiate atmosphere. Ah, academia.
Did we miss any of the best Morgantown things to do? Let us know!
---
Read these next:
---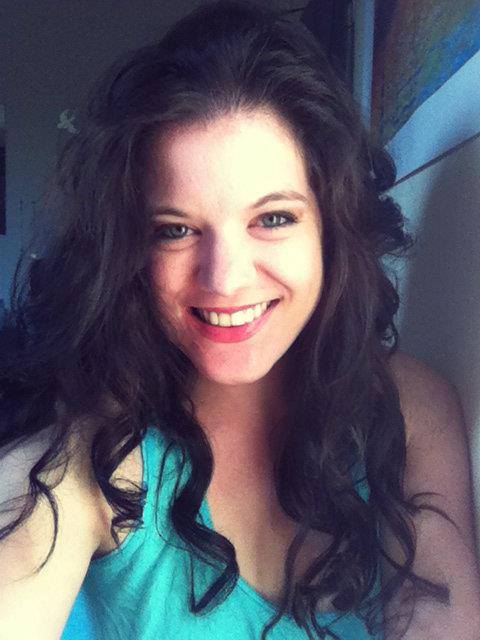 Amy Hartle is the author of Do You Love Me? How To Stop Seeking Reassurance in Relationships, a book on reassurance seeking and relationship anxiety. Both her book and this blog are born of personal experience; Amy shares expert relationship advice from the lessons learned during her own 10+ years with her husband, as well as couples travel tips and romantic getaway recommendations, all gleaned while traveling the world together.