This post may contain affiliate links. Read our disclosure page for full details.
Where can you find Christmas romance in the USA? Just about everywhere! From Hawaii to Maine, Alaska to Florida, and everywhere in between, there are countless romantic Christmas destinations in the USA. These places are perfect for a cozy, classic Christmas, and are especially ideal if you're celebrating with a significant other.
If you're searching for romantic things to do during the holiday season, a trip is a great idea! We've gathered 15 great suggestions on where to spend the holidays as a couple. But these USA Christmas destinations aren't just for couples, they are wonderful for families and singles too. So grab some hot cocoa and start dreaming of a winter wonderland.
Psst: Don't miss our complete list of romantic USA getaways.
Romantic Christmas Destinations in the USA
Boston, MA
Steeped in American history and covered in cozy pubs and adorable, winding streets, Boston makes the perfect Christmas getaway for couples looking for a classic Christmas escape while also staying in a fun, vibrant city.
Sure, Boston can be incredibly cold during the winter–but that's all the more reason to snuggle close to your beloved while strolling past the magnificent Christmas light displays in the Boston Common, where Boston's largest Christmas tree is set up (among many other lights).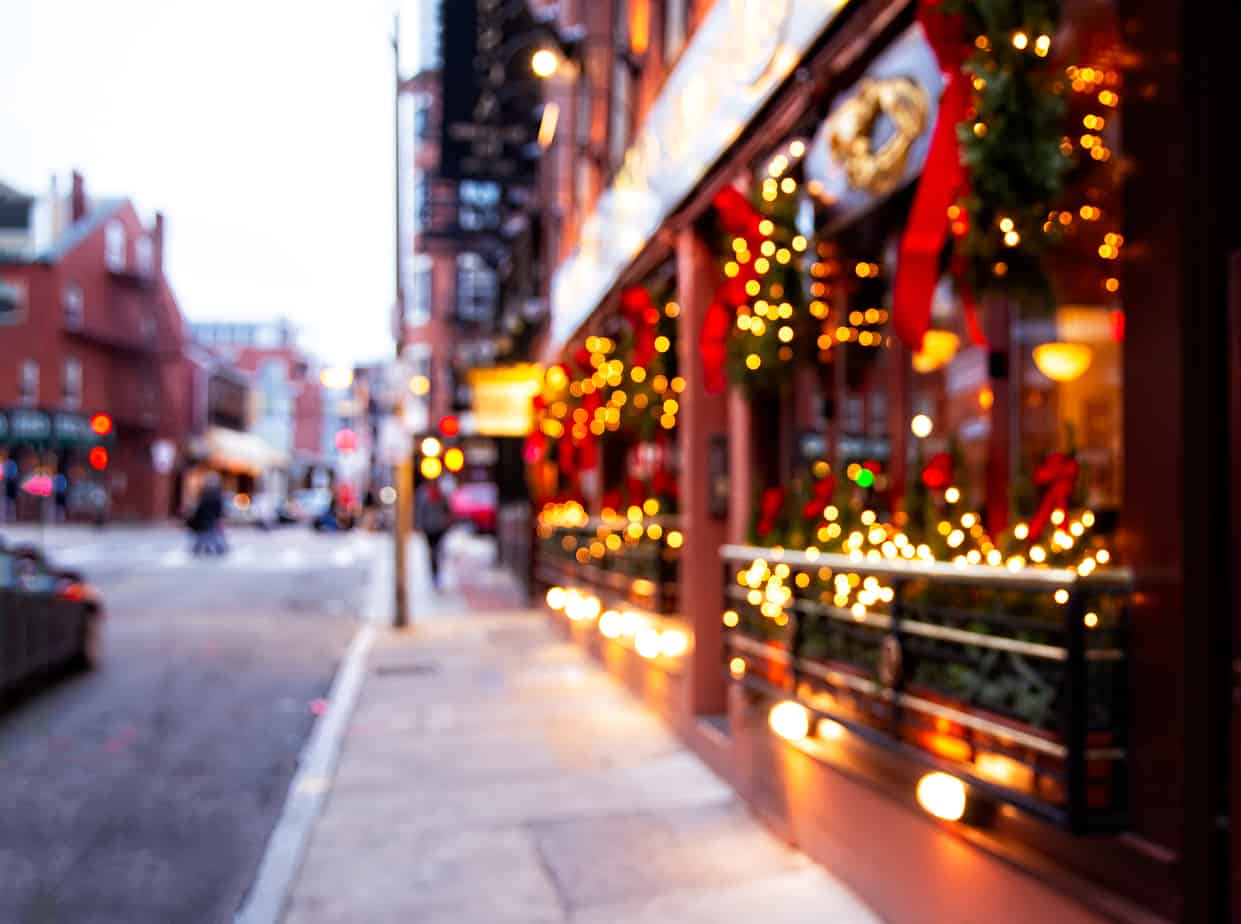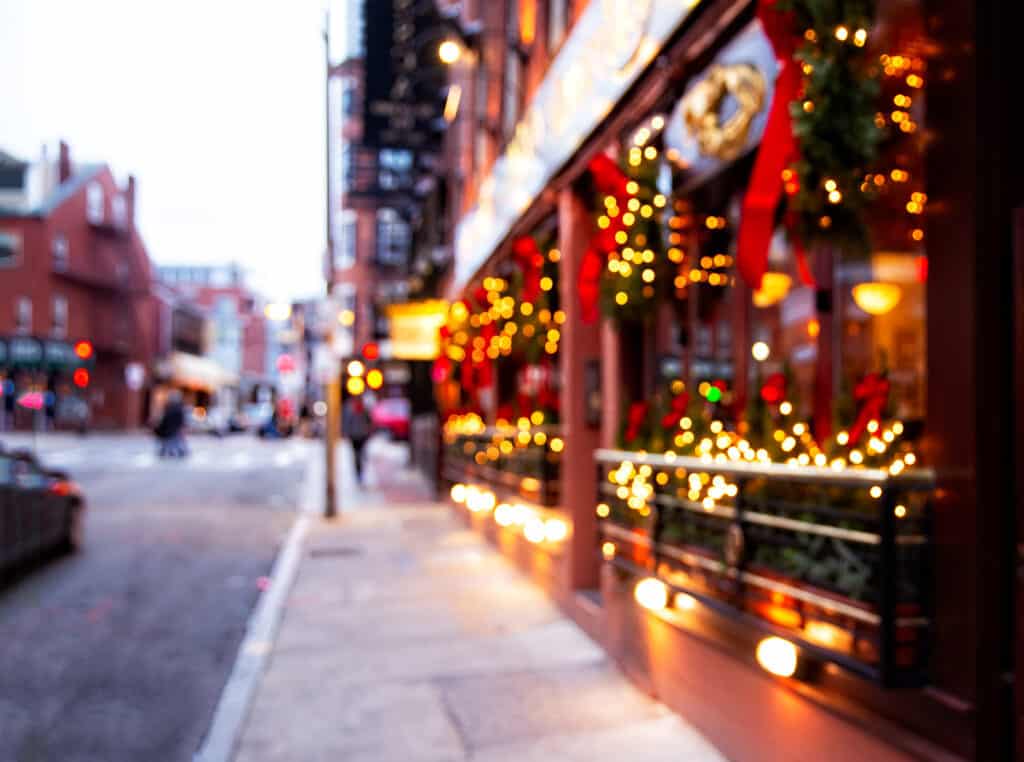 You'll also love wandering through picturesque neighborhoods like Back Bay, Beacon Hill (don't forget to stop to snap photos on Acorn Street, especially if it's snowy!), and the North End.
If you love the theatre, be sure to make time to see The Nutcracker at the Boston Opera House or pay a visit to the Boston Pops Orchestra for a performance of Christmas favorites.
Of course, no romantic Christmas trip to Boston would be complete without a little ice skating: in December, you'll find Frog Pond in Boston Common transformed into a beautiful rink surrounded by twinkling lights.
Be sure to choose a romantic, cozy hotel to warm up in at night: for something historical, the Omni Parker House is a classic choice.
-Contributed by Kate Storm of Our Escape Clause
---
---
Walt Disney World
Disney at Christmas is such a wonderful time of year for a variety of reasons! The first? It is often cooler and the weather is better! Florida is out of hurricane season and the humidity is often lower! Second, what can be better than the Most Magical Place On Earth decked out for the holidays?
There are a variety of romantic things to do during Christmas at Disney and one of those is to walk around the world at the Epcot World Showcase and try foods from different nations with your sweetheart. You choose and then your love chooses and then you can see which flavors you loved and which you didn't! All of the foods are Christmas traditions from around the world!
The most romantic hotel at Disney World for your stay is the Grand Floridian! It is right off of the Magic Kingdom and is old-world glamour. If you want to splurge, make sure to dine at Victoria And Alberts!
-Contributed by Victoria Yore of Disney Trippers
---
---
Oahu, Hawaii
One of the wonderful places to visit for Christmas in the USA is Oahu, Hawaii. The main destination point in Hawaii and hub at Honolulu, Oahu has everything you would love for a sunny Christmas destination. If you are looking for traditional Christmas cheer, there are Christmas fairs, parades, Christmas shows and lots of places that are decorated with Christmas color and design.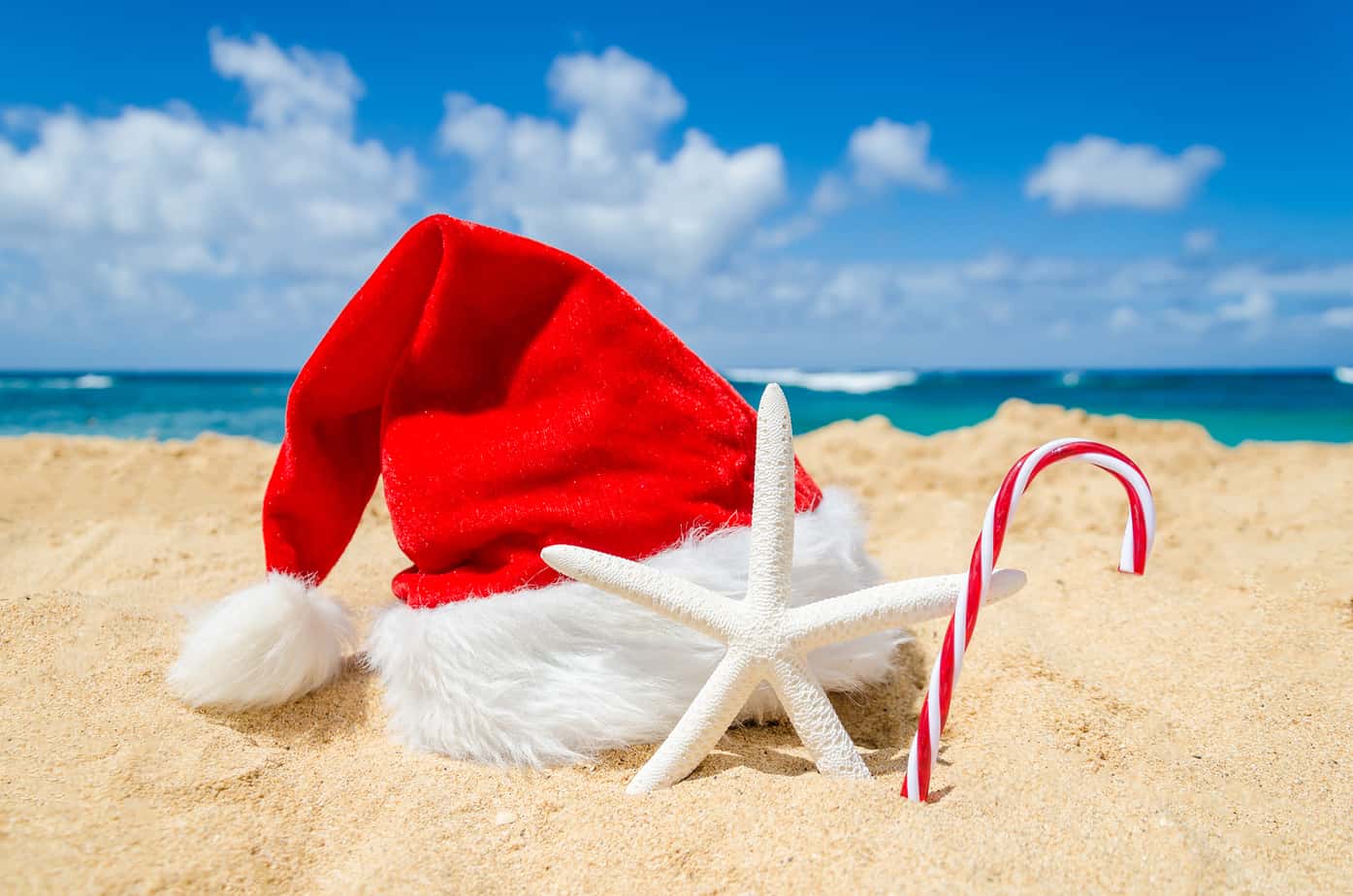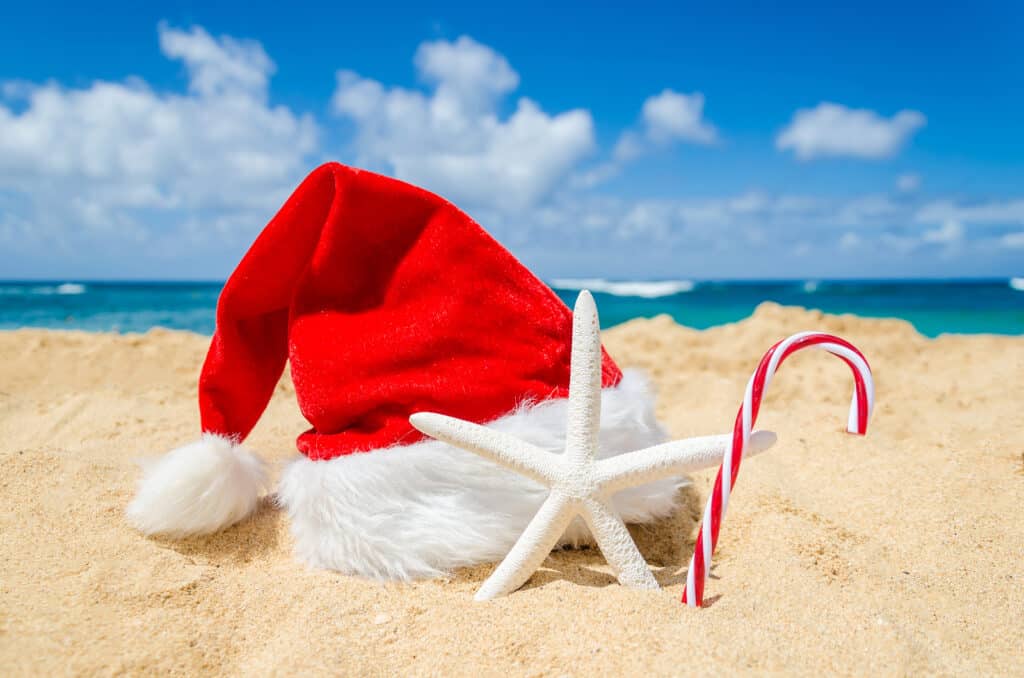 Outside of the holiday presence, Honolulu and Oahu is the perfect warm-weather destination to explore with stunning beaches, water activities and outdoor adventure, historic Hawaiian culture, museums and attractions and other unique places to visit for families, couples or even solo vacationers. You'll love all the delicious food choices with Hawaiian and local food specialties that include fresh produce, seafood and locally grown products that you can find in local farmers' markets and specialty food venues and restaurants.
There's so much inspiration to visiting the rest of the island with gorgeous coastal drives, soft and sandy beaches and charming towns that ooze tropical and western charm and spectacular scenic viewpoints you'll come across the way if you travel around the island. Check out this post on
top places to visit in Honolulu
and around Oahu for more inspiration on planning your visit to Hawaii.
Contributed by Noel Morata
---
Vermont
We Two Drifters couldn't help but include our own favorite romantic Christmas destination in this post: Vermont. Yes, the entire state.
Vermont is where Amy is from, but despite her bias, Vermont is indisputably one of the most perfect Christmas destinations in the USA. Where else are you almost guaranteed to have a white Christmas? Where is a classic Christmas to be found? Where are those Currier and Ives scenes that the Christmas songs talk about? Where else but Vermont.
Vermont is ideal for the cozy, Christmas Card type of Christmas, and for couples, this type of scene is particularly romantic. Towns like Stowe, Woodstock, and Manchester are among the best places to spend Christmas in Vermont (and even in the whole of New England).
Cozy up by a fire and grab your sweetheart. This may be your most romantic Christmas yet.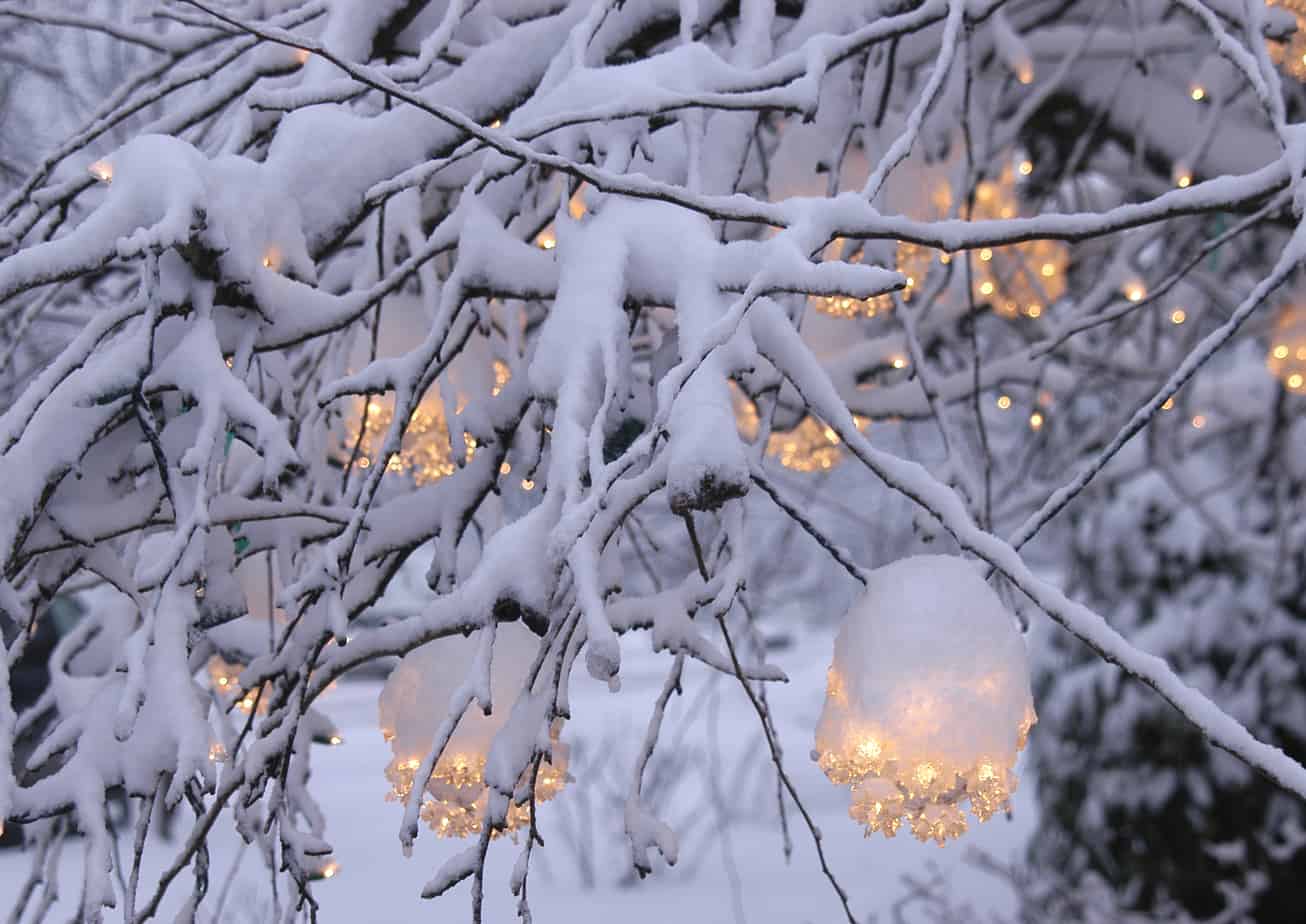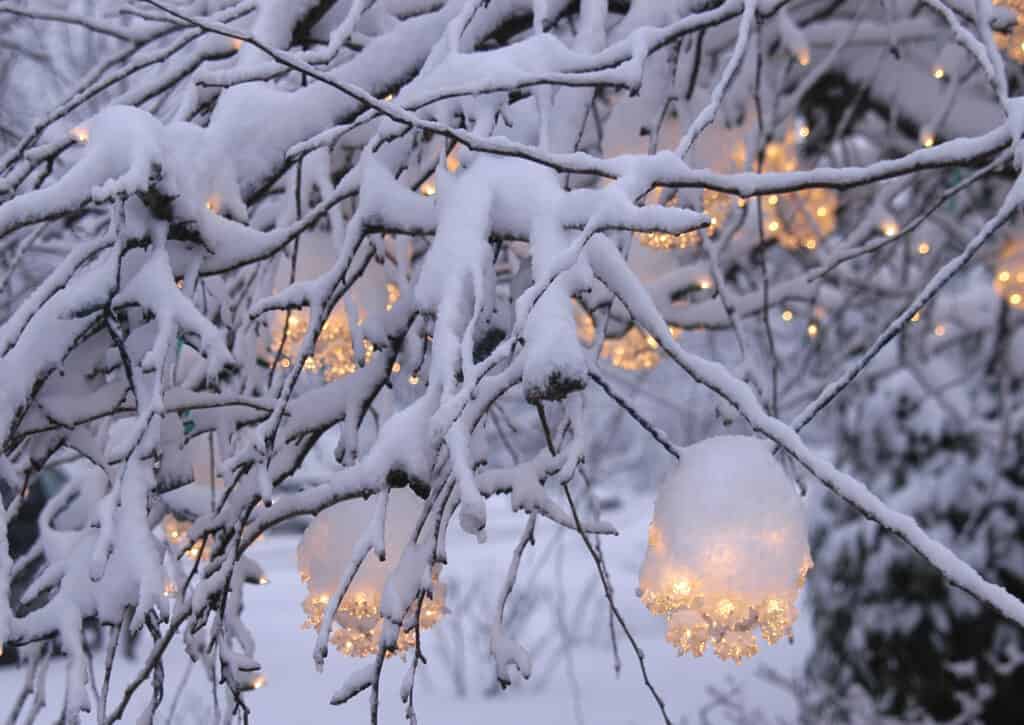 ---
---
Leavenworth, WA
Winter is arguably the best time to visit Leavenworth in Washington state. From frosty landscapes to deserted country lanes, this makes for a wonderfully romantic getaway.
Located just 2.5 hours from Seattle, Leavenworth is a town on the eastern slope of the Cascade Mountains. It was modeled on a Bavarian village. With German architecture-themed restaurants, pubs, and hotels, you'll feel like you're staying in the Alps.
If you choose to stay at Posthotel Spa Resort for adults only, you can take advantage of the romantic European hydrotherapy, massages, facials, spend time in the steam rooms and saunas, the swim-out saltwater pool, with your significant other.
The area is also popular in the winter as the surrounding mountains get plenty of snow perfect for sledding, skiing, snowshoeing.
Leavenworth also plays host to annual Oktoberfest, Mai-Fest, Alefest, Autumn Leaf Festival, and Christmas Lights Festivals – where they have over 1 million twinkling fairy lights and Christmas caroling.
Contributed by Lerato Bambo of My Life From a Bag
---
---
New York City
When you think of Christmas in America, perhaps you think of New York City. There's no other place that is so widely showcased in Christmas films. There's so much to love about Christmas in the city, from snow in Central Park to the giant tree to holiday performances all around. It's definitely one of the most romantic spots for couples.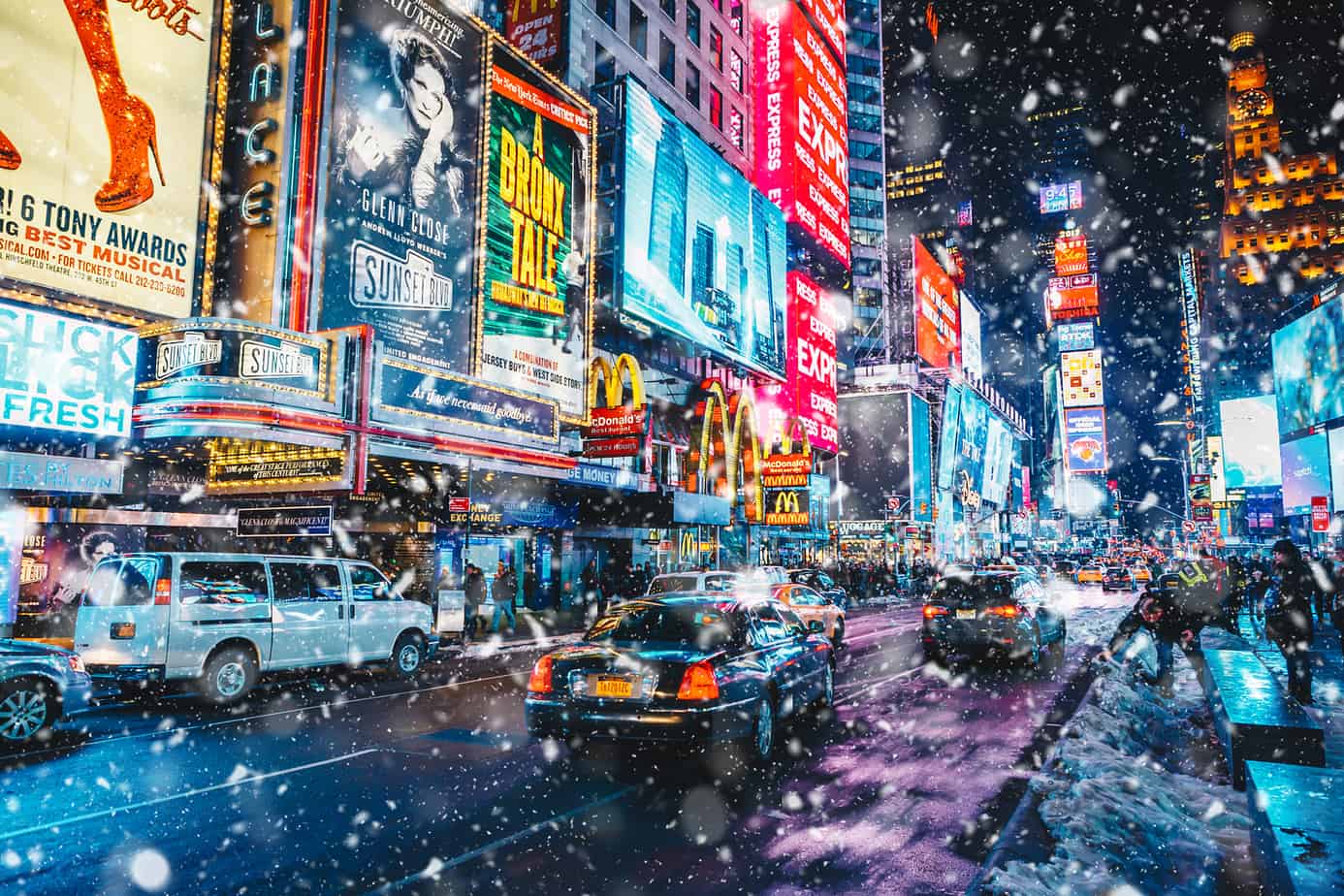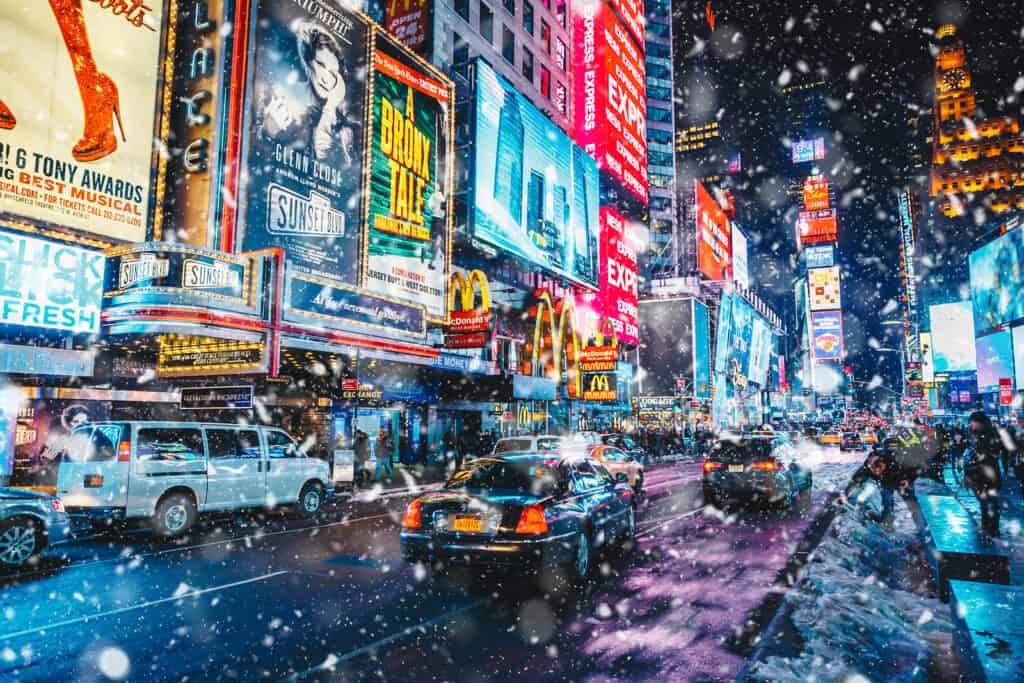 And of course, don't forget about the shopping!
NYC is a mecca year-round for shoppers, but there's no better place to do your Christmas shopping than these beautiful streets.
Don't miss: ice skating at Rockefeller Center, the Radio City Rockettes Christmas show, and Bryant Park's Winter Village.
---
---
---
Philadelphia, PA
Looking for a romantic Christmas getaway with your partner? Look no further. Consider Philadelphia, Pennsylvania one of the biggest metropolitan cities in the USA. Filled with Christmas spirit, liveliness, and loads of events, Philadelphia is definitely one of the best places to spend Christmas.
Many of the already romantic spots such as Penn's Landing, Franklin Square Park, and Dilworth Park are transformed into Winterland hot spots. Temporary ice skating rinks are built, Christmas lights are installed, and many cozy cafes serving hot chocolate and festive beverages are starting to appear. Everywhere you go, you can feel the Christmas spirit.
Take some time to stroll around the Christmas village at JFK Plaza, otherwise known as LOVE Park. There you will find merchants and vendors selling holiday-related items such as gifts, toys, aliments, and much more. Don't forget to purchase a few souvenirs so you and your partner can remember the romantic Christmas spent in Philadelphia.
At night, make sure you check out The Miracle on South 13th Street Light Show. Organized by the neighbors that live on South 13th Street, every house is decorated using different lights and signs. It is a good place to get a feel of the Christmas spirit from the locals!
-Contributed by Sean Lau from Living Out Lau
---
---
Atlanta, GA and the North Georgia Mountains
Because I was born here, I'm biased towards spending Christmas in Atlanta. I've been going to quite a few of my favorite
Atlanta Christmas events
for more than 20 years now, and some even date back to my childhood in the 1970s and '80s.
My hometown has grown considerably during the decades since it hosted the 1996 Olympics, with suburbs sprawling far beyond the I-285 perimeter. And though the metro area (which has a population of around 6 million people) can get a little crowded and congested with traffic, the areas north of the city are positively magical at Christmas time. In fact, Lake Lanier Islands' "Magical Nights of Lights is where we went on our second date, sharing our first kiss right in front of the live Nativity!
But for true romance around the holidays, head up into the North Georgia mountains. North Georgia is in the foothills of the Blue Ridge mountain range, where the Appalachian Trail begins. It's filled with charming little mountain towns such as Blue Ridge, Blairsville, and Dahlonega, with temperatures considerably cooler than those in the city an hour or so south.
The outskirts of each of these towns have lots of lovely log cabins for rent, many with fireplaces, hot tubs, and stunning scenic views. They're surrounded by waterfalls, state parks, lakes, and wildlife (deer, black bears, raccoons, etc.), which make for great outdoor activities by day. Then at night, you can visit the historic town squares, supping on sumptuous Southern cuisine and strolling streets filled with Christmas lights, carolers, and quaint shops decorated in the festive colors of the season.
North Georgia is a wonderful place to visit all year long, but around the holidays it offers a nostalgic slice of southern Americana so delicious, you may find yourself wanting to live there!
Contributed by Bret Love & Mary Gabbett of Green Global Travel
---
Key West, Florida
Key West, the town best known for crazy festivals, the 'Duval crawl', and wild New Year's Eve celebrations, also has a softer more romantic side for couples to enjoy.
Christmas is a peaceful time in the Conch Republic. Get onboard the Christmas Light Trolley Tour through Old Town to see the unique and often funky decorations. Schooner Wharf Bar at Key West Bight is a great place to watch the Christmas Lighted Boat Parade.
For weddings, vow renewals, and honeymoons, Key West has a long tradition of being a romantic getaway. Heron House in Old Town is a great place for honeymooners or couples looking for an intimate holiday. Key West over the holidays is all about being on or in the water, and taking a champagne snorkeling cruise at sunset is one of the best things to do in Key West. Even in the winter, the days are sunny and the water is warm.
For the ultimate romantic dinner, get away from the crowd and take the 7-minute shuttle boat ride over to Sunset Key for a quiet view of the sunset. Stay for dinner at Latitudes, but before dinner reserve a couple's massage at The Spa. No matter if you have dinner on the island or come back to town, make a reservation for a decadent dessert and nightcap at Better Than Sex in Old Town. It's a fun and sexy way to end a romantic tropical Christmas celebration.
Contributed by Lori Sorrentino of TravlinMad
---
---
San Diego, CA
Yes, I know, most people are looking for a snowy Winter-Wonderland to celebrate Christmas. And that is dreamy, don't get me wrong. But if you prefer to escape the cold instead and enjoy some sunshine and palm trees, San Diego is the perfect place to enjoy the Holidays.
– December Nights in Balboa Park: Sparkling lights, mulled wine, choirs and booths with homemade goods and trinkets will surely put you and your partner in the Holiday spirit.
– Romantic walks on the beach: As cliché as it is, walks on the beach with your loved one always seem to make for happy memories. While it is too cold to actually go swimming, you can still have temperatures in the mid-70s in December and you can soak up some sun.
If you are looking for a special treat for this Christmas Season, the Hotel Del Coronado is where I would stay. The iconic hotel is full of history, the staff will spoil you rotten and the charm of the hotel will make this a very special Holiday Getaway. It is located on stunning Coronado Island, has direct beach access and a cute little main street with a lot of shops and restaurants nearby.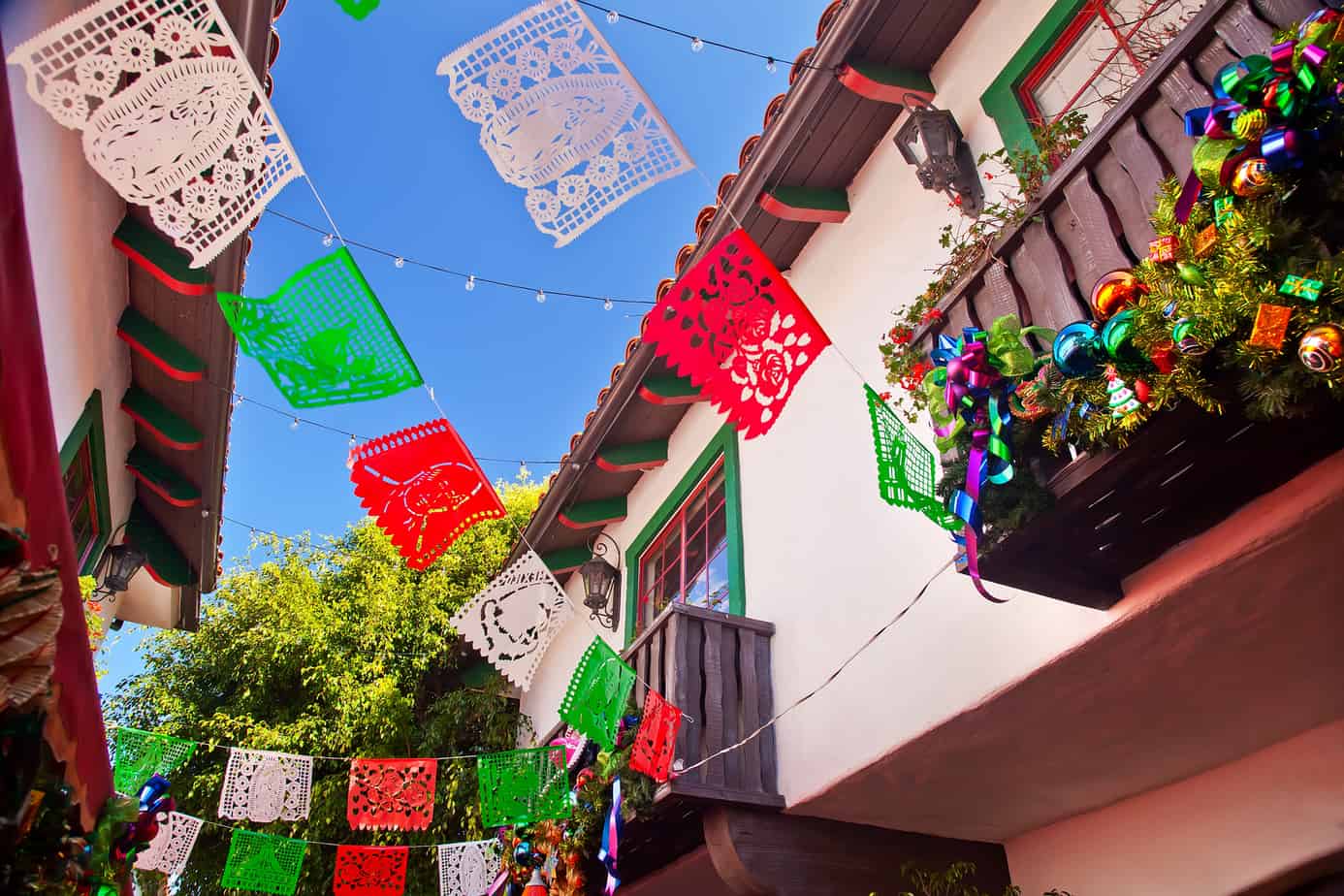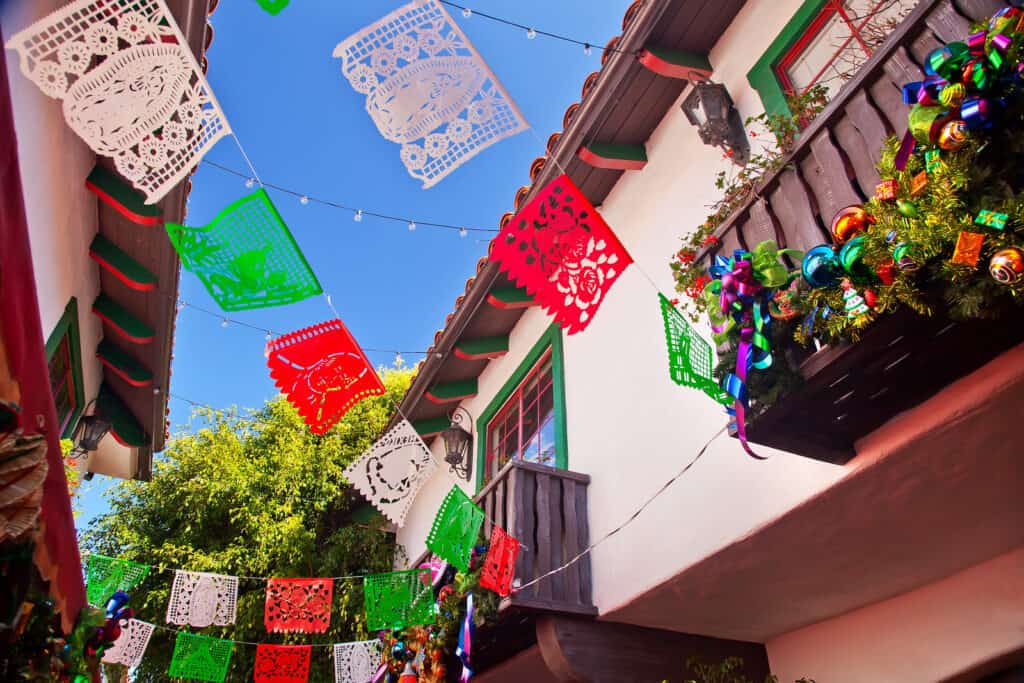 To get to San Diego downtown, you can either drive over the beautiful Coronado Bay Bridge or take the ferry (where you can enjoy a great view of San Diego Skyline – especially stunning at night when you can see all the Holiday decorations and lights).
---
---
Cleveland, OH
Cleveland, OH is a truly romantic setting for a Christmas escape. During December, Public Square in the city center is completely transformed to include an ice rink, large Christmas tree, and a beautiful lights display. Adding to the ambiance are historical buildings in the background, such as the Terminal Tower and the Old Stone Church, that have been decorated with large wreaths and lights for Christmas cheer.
For a festive Christmas experience, ride in a horse-drawn carriage around Public Square. You must also take the five-minute Uber to the Tremont neighborhood to visit the one and only A Christmas Story house. This is indeed the filming location of the movie you know from the 24 hour Christmas Eve marathon each year.
If you head to Tremont, this is the perfect spot to stick around for a romantic dinner. Some of Cleveland's best restaurants are in the immediate area, including Dante, Fahrenheit, and Parallax. You can't go wrong with any of those choices!
To stay near the best of Cleveland's Christmas attractions, the Hyatt Regency is a great option located in the historical Old Arcade. This building is full of ambiance and is always elegantly decorated for the holidays. It's the perfect setting to return to after a full day of Christmas festivities in the city of Cleveland.
Contributed by Theresa McKinney of Fueled By Wanderlust
---
---
Yosemite National Park
There's nothing more romantic than feeling like you're in one of the most beautiful places in the world with the person you love the most, and Yosemite National Park is absolutely magical in the Winter and during Christmas time.
Yosemite is well-known as a "must-visit" Summer location, and people flock from all over the world to stare up at its tall granite walls and hike some of the best hiking trails in Yosemite, but many people don't realize that Yosemite absolutely transforms into a breathtaking snowy wonderland in the Winter. Iconic features, like Half Dome and El Capitan, are dusted in snow and display a beautiful soft side to Yosemite, and unlike the summertime, Winter in Yosemite has a more relaxed and slow-paced vibe. There are fewer crowds and more moments to enjoy the park with the ones you love.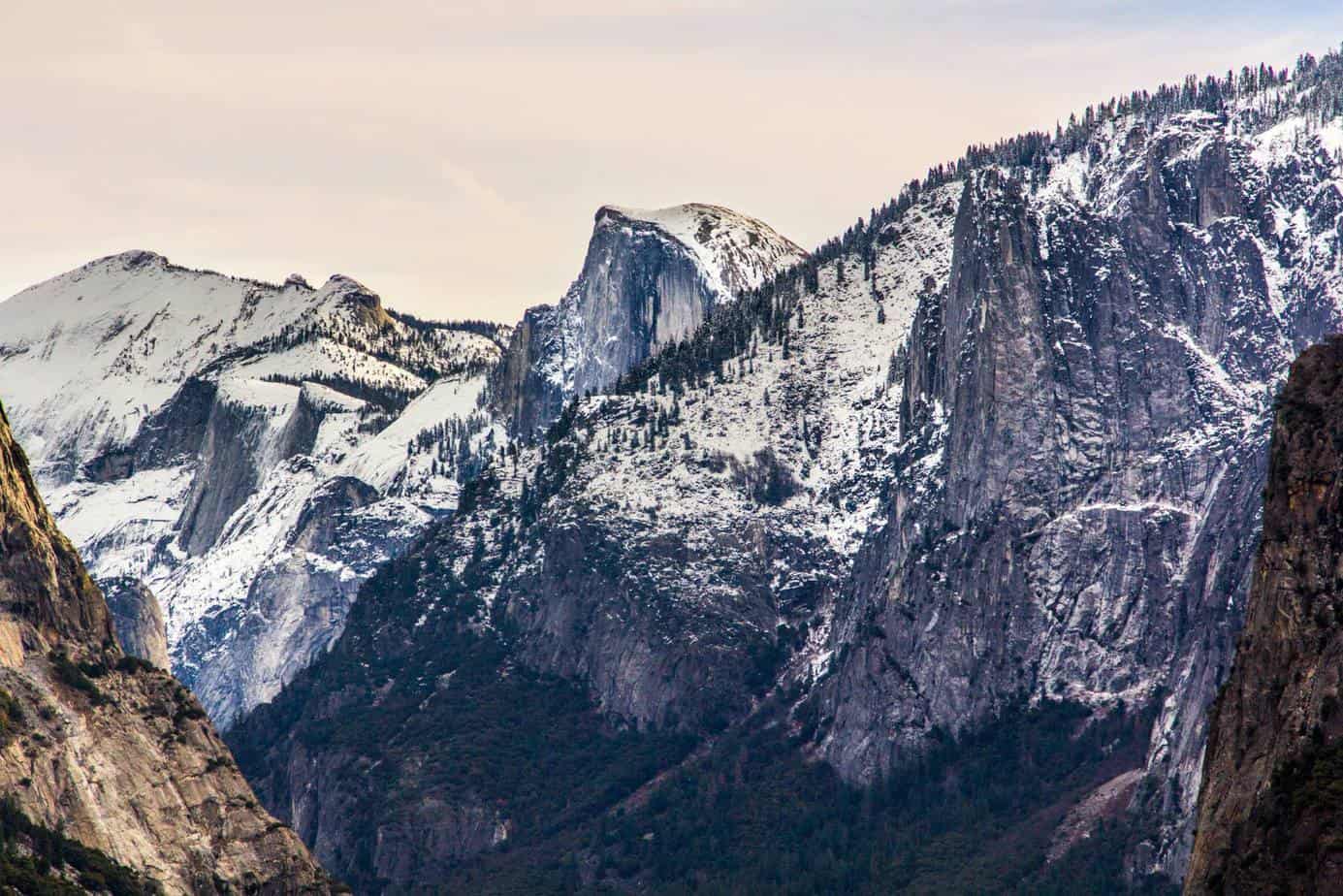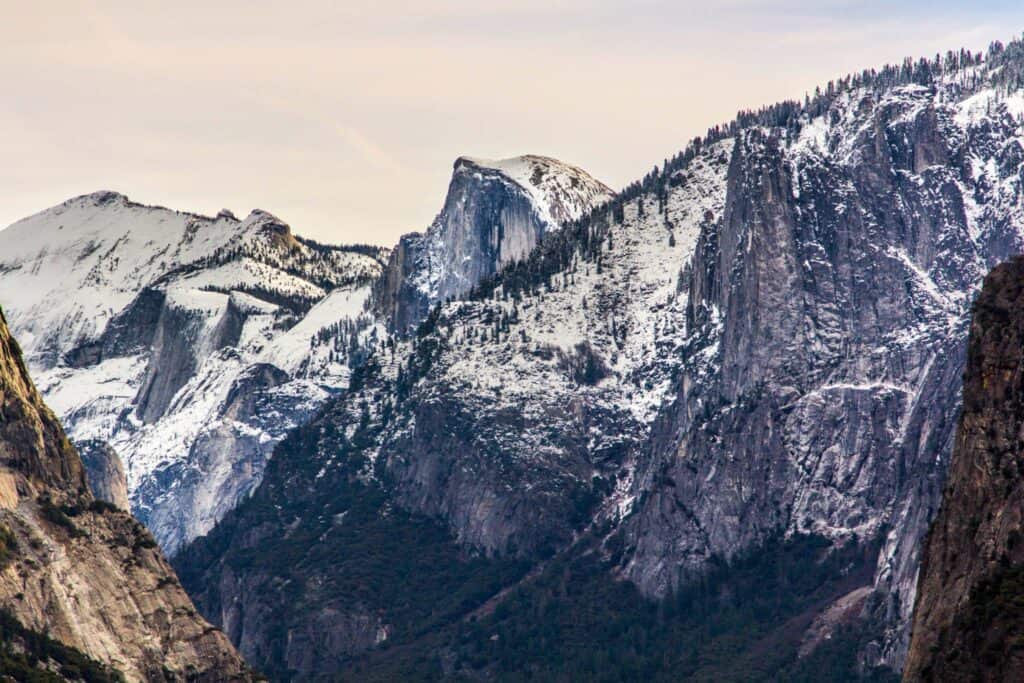 During the wintertime, you and your partner can connect and go on fun adventures like snowshoeing, ice skating, and even skiing at Badger Pass Ski Area, and then cozy up back at your hotel with a cup of hot chocolate and a warm place to relax and cuddle up in the evening. During Christmas time, the Majestic Yosemite Hotel, Yosemite Valley Lodge, and Big Trees Lodge all hold Christmas festivities and big holiday dinners in celebration of the holiday season.
Bring your special someone on a special adventure in Yosemite in the Winter and you will be pleasantly surprised by its charms. You both will leave wishing you had more time to explore this beautiful Winter wonderland.
-Contributed by Allison of She Dreams of Alpine
---
---
Whitefish, Montana
Sip hot toddy by the fire and enjoy the snow in Whitefish, Montana by Priya Vin from Outside Suburbia
Whitefish, Montana is a romantic destination, especially around Christmas time. There is snow on the ground and magic in the air. The downtown is dressed in festive lights and is perfect for strolling by shops decorated for the Holidays. Bundle up and join in the merriment of the season, there will a torchlight parade on Christmas Eve. The epic
Going to the Sun road
is probably under snow but it is something you must check out if it is open but do visit Glacier National Park. The park is quiet but there a few plowed roads where you can go on ranger-led snowshoe walks. Snow enthusiasts will find plenty of adventures and well-groomed slopes on the Whitefish Mountain Resort. If you don't ski there is cross country skiing, sledding, and a romantic horse-driven sleigh ride you can enjoy when visiting Whitefish.
If you would rather look at the snow and not be in it, you can enjoy some hot toddy or a glass of wine and curl up by the fireplace at the Kandahar Lodge. Don't miss dinner at Café Kandahar, owned by Chef Andy. Chef Andy is a four-time James Beard Foundation Semifinalist and was even invited to travel to the James Beard House in
New
York
to prepare a meal!
Getting to Whitefish Montana is easy as it is only 15 minutes away from Glacier Park International Airport which has direct flights from major cities. Or you can take a train and once you get there you can use the free SNOW shuttle and won't even need a car.
-Contributed by Priya Vin of Outside Suburbia
---
---
Estes Park, Colorado
While Estes Park is a well-known summer destination, did you know that Estes Park makes for a romantic U.S. Christmas destination as well?
This small town sits right on the edge of the Rocky Mountain National Park, making it a great little mountain town full of charm and winter activities! After checking into the historic Stanley Hotel, which is decked out to the nines this time of year, couples will find plenty of romantic holiday activities to keep them busy in Estes.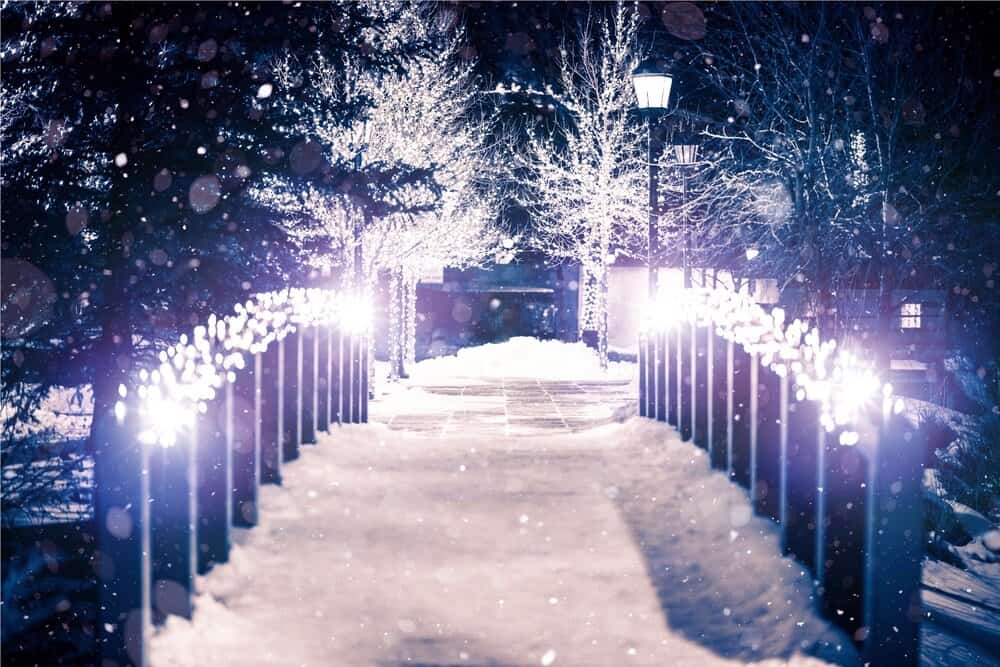 If you are in town the Friday after Thanksgiving, then grab a blanket and a couple of lawn chairs and head down to Estes' Elkhorn Avenue. The two of you can snuggle up together and watch the 'Catch the Glow Holiday Parade'. After the parade, how about a romantic dinner at the Twin Owls Steakhouse where you can find intimate seating for just the two of you.
Couples can also enjoy the many concerts and performances that take place around town during the holiday season. If you are feeling more adventurous, why not take your sweetie on a romantic hike through the many trails that you will find in Rocky Mountain National Park. Tour companies and providers around the park also offer sleigh rides this time of year. I don't know if you can get more romantic than that!
Contributed by Michelle Snell of That Texas Couple
---
---
New Hampshire
Really, you can find several romantic Christmas destinations in New England, with towns that seem straight out of a Hallmark movie, but New Hampshire has a few notable spots that offer incredibly cozy Christmas charm for couples! There's Portsmouth on New Hampshire's Seacoast with their Vintage Christmas in Portsmouth, one of the merriest Christmas events in the region, with all kinds of great holiday festivities throughout the month like outdoor ice skating, live performances, a Candlelight Stroll, and more.
There are also adorable little NH towns in the White Mountains like North Conway and Jackson that offer great things to do in the winter months and if you book yourselves a cozy cabin, you'll really have the perfect romantic Christmas vacation! New Hampshire has plenty of Christmas charm to offer couples looking for holiday romance in the USA.
Check out these other Christmas posts:
---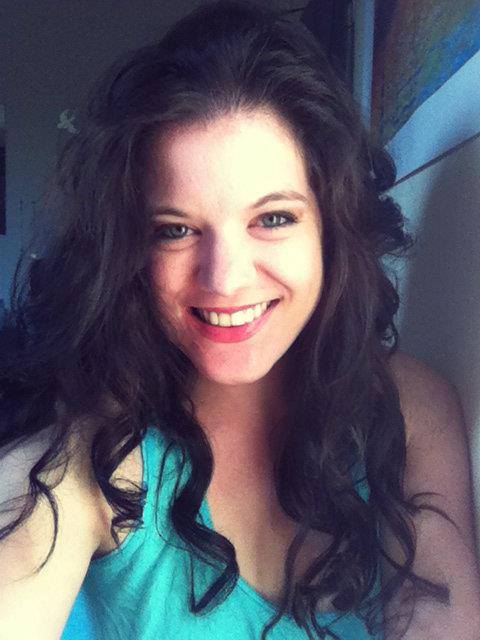 Amy Hartle is the author of Do You Love Me? How To Stop Seeking Reassurance in Relationships, a book on reassurance seeking and relationship anxiety. Both her book and this blog are born of personal experience; Amy shares expert relationship advice from the lessons learned during her own 10+ years with her husband, as well as couples travel tips and romantic getaway recommendations, all gleaned while traveling the world together.