This post may contain affiliate links. Read our disclosure page for full details.
Philadelphia is known as the City of Brotherly Love, but that's not the only type of adoration and endearment to be found in the bustling east coast city. The fascinating destination is full of attractions and activities for couples. Parks, museums, and food experiences make up just a few of the romantic things to do in Philadelphia.
This city has something to offer any traveler who makes the trip to Philly, but there's an especially long and diverse list of things to do for couples. Here are the top 15 romantic things to do in Philadelphia for a perfect couple's trip.
Cook a Romantic Dinner From Ingredients at the Italian Market
For many couples, one of the most romantic things to do is prepare and enjoy a tasty meal. You get to work together and feast upon the delicious results of your labor. For couples that book a Philadelphia Airbnb, it's easy to make use of the kitchen and pick a night to whip up a romantic dinner.
For all the freshest ingredients in the city, head to Philadelphia's Italian Market. The historic street market is full of produce, freshly made pasta, and some of the country's best Italian bakeries. The unique experience of the Italian Market feels like it's the remnant of a bygone era and adds to the romance. Chefs of any ability can find something to prepare, even if it's by heating up a ready-made meal to pair with a bottle of wine.
Skate at Blue Cross RiverRink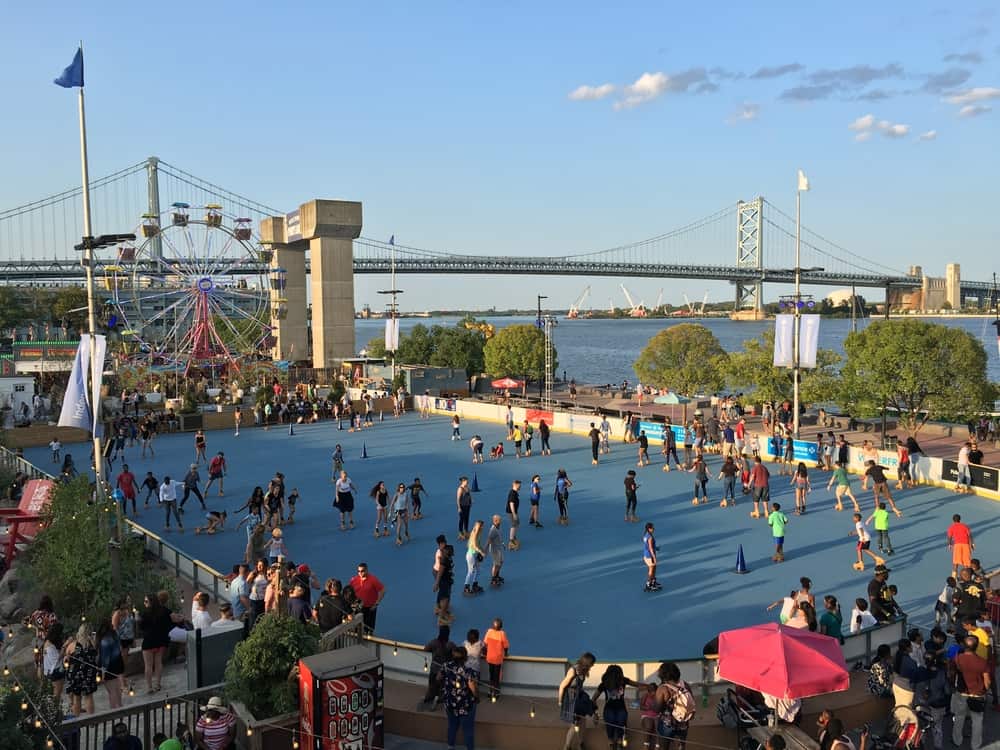 Philadelphia is a picturesque urban landscape, and one place of beauty is along the Delaware River at Penn's Landing. There you'll find views of the wondrous Benjamin Franklin Bridge, a Philadelphia landmark that connects Pennsylvania with New Jersey. It's a lovely backdrop for a romantic spin around the Blue Cross RiverRink.
It's a seasonal favorite that rotates between an Olympic-sized ice skating rink and a roller skating rink depending on the month of your visit. Be prepared to spend some time at the rink, as it's surrounded by seating, a refreshment area, and cozy fire pits. Throughout the year, the RiverRInk features live music and other events to keep you fully entertained on and off the rink.
Treat Yourself to Culinary Excellence on the 13th Street Corridor
People don't always think of Philadelphia as a foodie destination, but it's one of America's great culinary cities. Not only are there great regional Philadelphia foods like the soft pretzel, cheesesteak, and tomato pie, but the city has an incredible restaurant scene. Philadelphia has attracted some of the best chefs in the country in recent years and many have opened eateries along 13th Street.
The 13th Street Corridor is home to restaurants like El Vez, Doubleknot, and Sampan. These delicious destinations please locals and visitors and represent flavors from around the globe. No matter your tastes, you can plan an exquisite date night on 13th Street.
** For a romantic and upscale contemporary hotel near 13th Street, book a room at the nearby Loews Hotel. It's a true gem in Center City with some of the best views in the city and an on-site bar, restaurant, and spa.
Admire Boathouse Row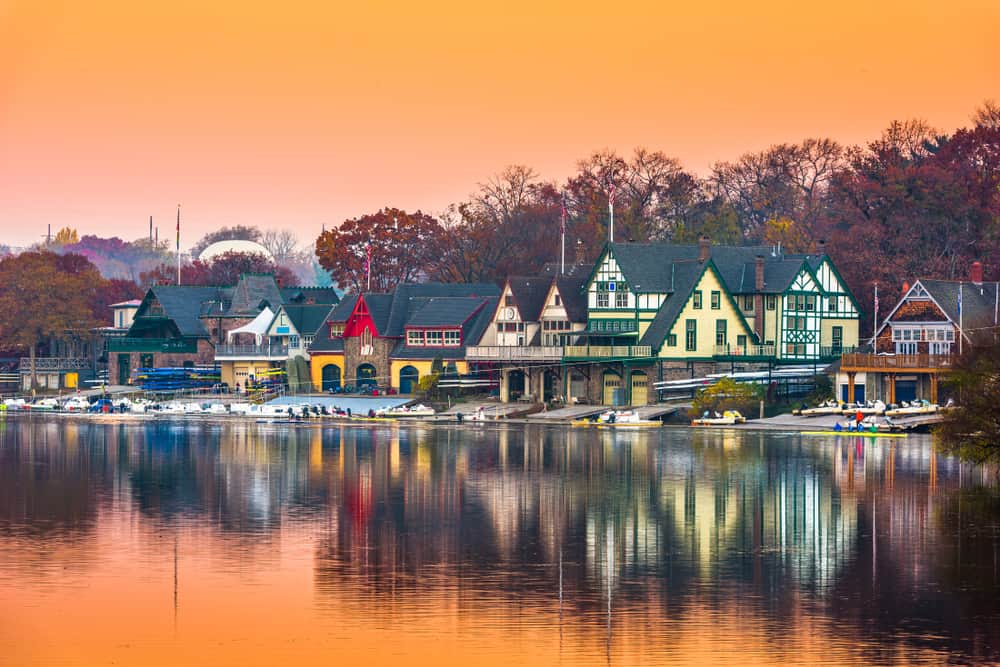 Philly is the most historic city in the United States, and one of the most iconic landmarks in Philadelphia is boathouse row. It's a strip of 15 boathouses on the east bank of the Schuylkill River, just north of the Philadelphia Waterworks. They're owned and maintained by social and rowing clubs and were built in 1860. Boathouse row is famously lined with lights that illuminate the homes and reflect in the still waters of the river above Fairmount Dam.
The best place to catch a glimpse of Boathouse Row and the surrounding landmarks is actually from across the river. Take a walk along Schuylkill River Trail and MLK Jr. Drive to the west bank of the river. As you walk you'll catch views of the Philadelphia Art Museum, Philadelphia Waterworks, and of course, Boathouse Row.
Snap a Selfie in Love Park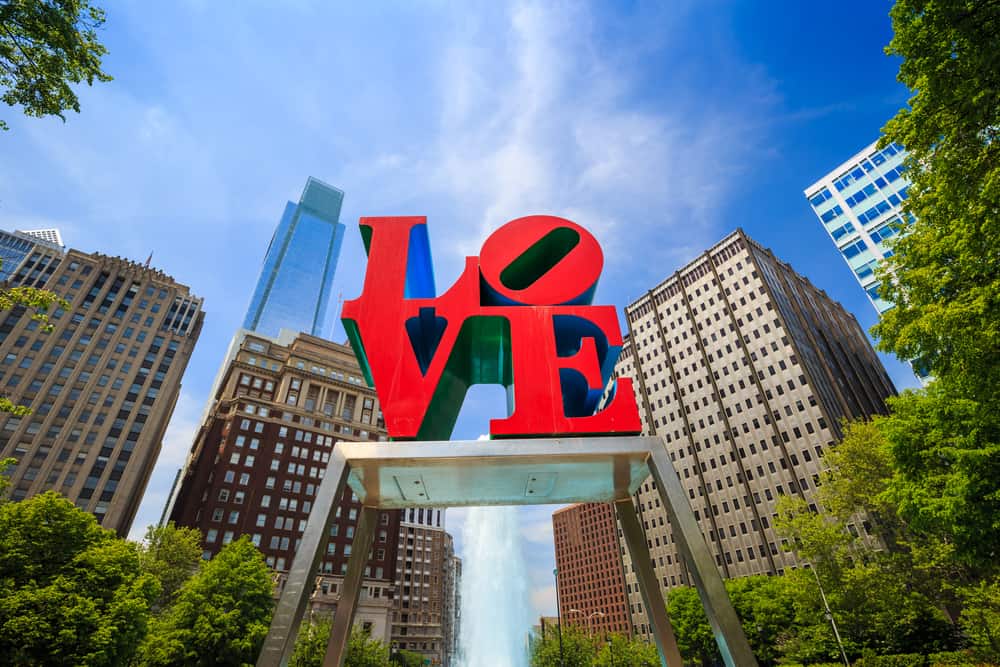 Philadelphia is full of green spaces and city parks, but the most romantic is the Instagram-famous Love Park. The name derives from the famous Robert Indiana sculpture that sits in front of the fountain on JFK Boulevard, north of City Hall. From Love Park you have views of City Hall and Benjamin Franklin Parkway, stretching to the Philadelphia Museum of Art. It's a serene spot in one of the busiest parts of the city with a famous sculpture that is a must-visit Instagram spot in Philadelphia.
Walk, Jog, Run, or Bike on Schuylkill Banks
Another romantic walk in Philadelphia is along Schuylkill Banks, a riverside park and boardwalk stretching from Locust Street to South Street. From the 2,000-foot walkway, you can take in some of the best views of the center city skyline. You can also make use of the pathway to run or jog and it leads to Fairmount Park, the country's largest urban park system. There are countless running routes and even picnic spots to rest your legs for a romantic bite to eat.
Visit Cherry Street Pier
Part of the decades-long city revitalization project has included reclaiming the retired piers on the Delaware River. For couples into local art, authentic Philadelphia food vendors and pop-up events – Cherry Street Pier is a must-visit attraction. There you can enjoy some time on the waterfront in a hip industrial space. Best of all, you can pick up a keepsake from a local Philadelphia vendor to remind you of your romantic trip to the city.
Discover the Giant Heart at Franklin Institute
When you visit Philadelphia, you can plan a date to walk through a heart – a gigantic model of the human heart. It may be a little too literal, but it's all part of the interactive fun at the Benjamin Franklin Museum of Science. For couples who are curious about the scientific world around them, the science museum is a terrific date spot. It's a fun place for all ages, but there are frequent adult-only events; Science After Dark. These 21+ events feature a cash bar, science demonstrations, and mixology, many couple's favorite fields of science.
*** One of the most romantic Philadelphia hotels in the Museum District is the Logan Hotel by Hilton. It's got an on-site spa, indoor pool, and immaculate suites with balconies and fire pits. The property is any couple's dream for a romantic Philadelphia getaway.
Stroll Through Philadelphia Magic Gardens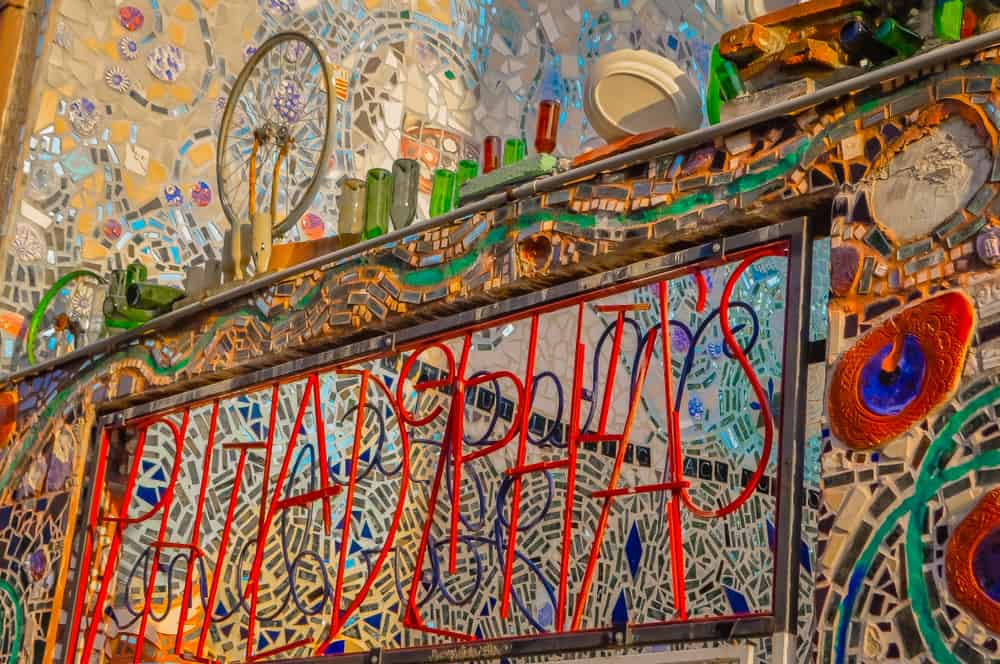 Philadelphia's Magic Gardens are a folk art and gallery space located on South Street. It covers three city lots of mosaic art with indoor and outdoor galleries. The romantic vibes of the Magic Gardens are an urban oasis for couples visiting Philadelphia. It's an incredibly unique exhibit with colorful mosaics like nothing you've experienced before.
Get a Dose of History in Independence National Historical Park
No matter your interests, enjoying a little bit of the city's history is an ideal couple's activity in Philadelphia. In fact, every visit to Philly should include a trip to Old City and the Independence National Historical Park. It includes some of the most important buildings in the history of the United States like Independence Hall, Carpenter's Hall, and the former President's Mansion on Market Street. These buildings are free to tour and can be arranged online or through the Independence Visitor Center in Old City.
** For a romantic Philadelphia hotel in Old City, check out the lovely Hotel Monaco by Kimpton. It's in a historic building built in 1907 and mere steps from Independence Hall and the Liberty Bell. Make sure to enjoy the fantastic brunch at their restaurant, The Red Owl Tavern, or have a cocktail on their spectacular roof deck.
Take a Walk Along Rail Park
Rail Park is another unique and offbeat park in Philadelphia that is perfect for couples to enjoy a stroll, some people watching, or get a unique view of the city. It's a defunct section of elevated rail that was once part of the "board-game famous" Reading Railroad. This great elevated park covers a quarter-mile long stretch of the former Reading Viaduct and is popular with pedestrians and their pets. For a fun post-park drink, head to the Trestle Inn, a whiskey and go-go bar at 11th and Callowhill Streets with a nod to the liberation movement of the 60s.
Enjoy a Romantic Wine Tasting at Blue Mountain Vineyards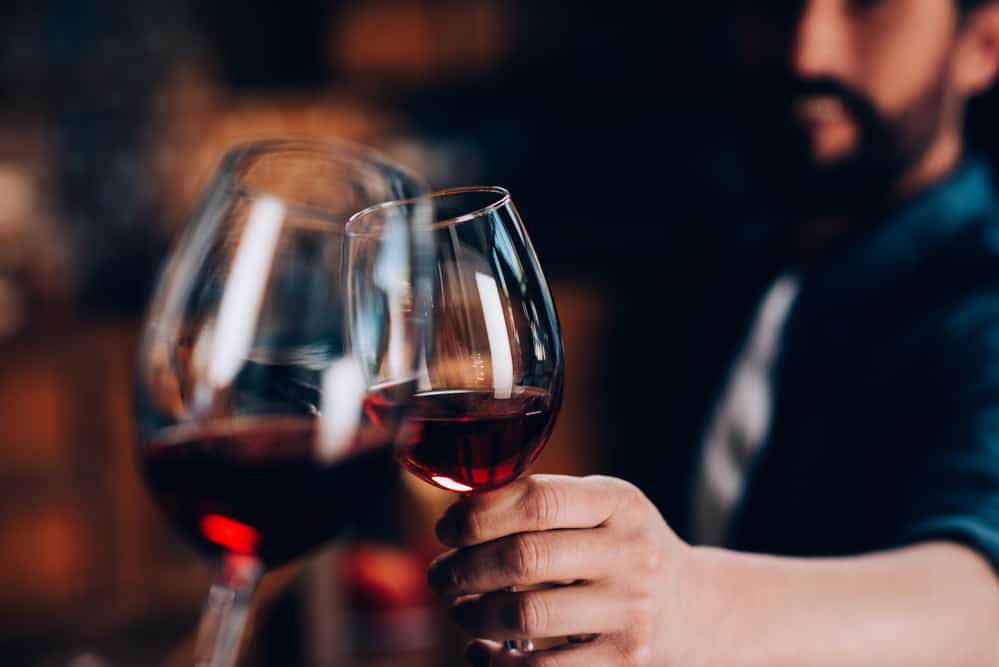 Blue Mountain Vineyards is a winery in New Tripoli, located about 90 minutes northwest of the city. The Lehigh Valley vineyard has opened a tasting room venue in the heart of Philadelphia which makes a perfect date night in the city. Couples can enjoy wine and cheese pairings during an educational tasting with Blue Mountain wine experts.
Indulge Your Love at Franklin Fountain
If you're a couple with a sweet tooth, head to a quintessentially Philadelphia dessert spot – Franklin Fountain. It's an old-fashioned ice cream shop and soda jerk with bow-tie clad service staff and the most delicious frozen treats. There's a sit-down area indoors to enjoy your ice cream desserts as well as take-away options. Nearby attractions like Christ Church, where Ben Franklin himself worshipped with George Washington and Betsy Ross, and Elfreth's Alley can be visited while you enjoy your dessert.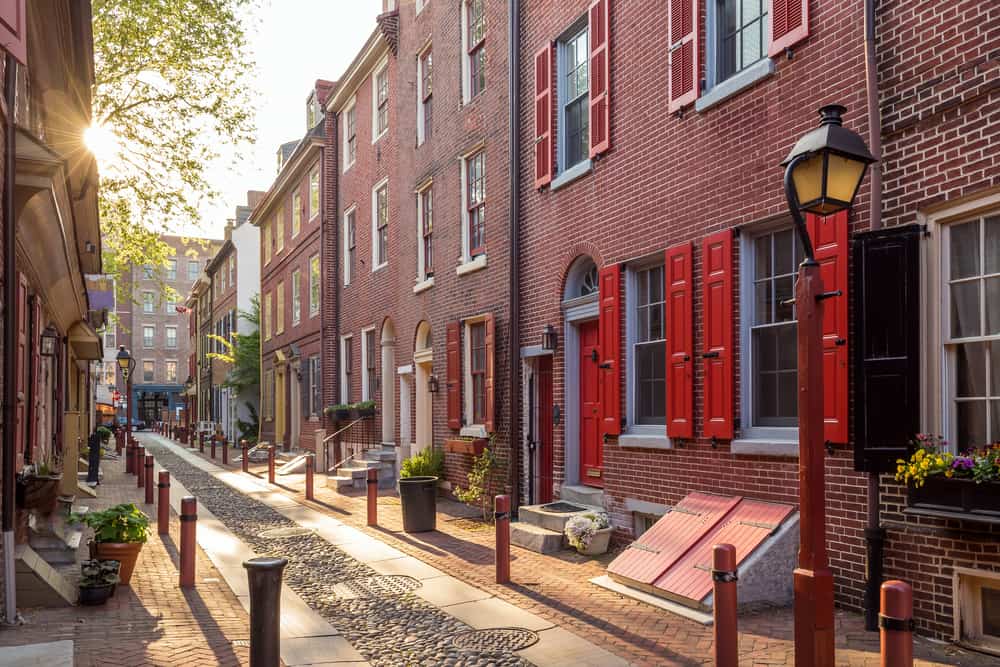 Plan a Tour and Tasting at a Philadelphia Distillery
Philadelphia has a long tradition of brewing beer and distilling spirits, and you can learn more about them at the Philadelphia Distilling. It's a hip building in the Fishtown neighborhood with a cocktail lounge and outdoor patio. Tours and tastings are held every weekend and there's a bottle shop to bring home a drinkable souvenir of the experience. Couples that love their spirits will also love getting a behind the scenes look at one of Philadelphia's talented distilleries.
Final Thoughts on a Romantic Trip to Philadelphia
Philadelphia has always been known as the City of Brotherly Love, but in the past, it's had a reputation to the contrary. Today it's a city that has experienced a Renaissance in the last 20 years and it's full of romantic things to do and one of the nation's best and safest downtown areas. From the award-winning food scene to the parks and museums – you'll have plenty of attractions and experiences to inspire romance over your Philadelphia vacation.
---
About the Author: Derek Hartman is an American expat from Philadelphia who's currently living in Copenhagen. He and his partner, Mike, share content about living abroad and traveling the world on their YouTube Channel and Blog, Robe Trotting. They've also created Everything Copenhagen, a guide to their new hometown for everyone who isn't Danish. You can keep up with them on Facebook, Twitter, Instagram and Youtube.
---
You might also like:
---