This post may contain affiliate links. Read our disclosure page for full details.
Seattle may be known for being the land of grunge and hipsters, but it's also home to some delightfully romantic areas and activities. Couples looking to add a little spark to their love life—either on a romantic date night in Seattle or a romantic getaway to the city—will be able to reconnect and celebrate their love at numerous locales all over Seattle and the city's surrounding regions.
Whether you're looking to spend your day in Seattle dining at intimate restaurants or holding hands in nature, Seattle has a perfect romantic activity for you. Here are some of the best romantic things to do in Seattle.
9 Romantic Things to Do in Seattle, Washington
Head to the top of the Space Needle
Going to the top of the Space Needle at sunset is a romantic way to spend an evening in Seattle WA, especially if you're there on a cloudless day. However, even if you're there among the thick clouds that often cover the Seattle sky in winter, there's something romantic and magical about being many stories (the observation deck is 520 feet high!) above ground gazing at the horizon with your love.
The Space Needle was recently remodeled in 2018. There is now a lounge for drinks along with a counter-service eatery serving up good, local eats. Another can't-miss spot to hang out on and clutch each other in mock fear is the newly designed bottom level of the observation deck that has a clear glass floor that revolves around as you're standing on it, making it feel like you're floating on thin air. It's called the Loupe and is the world's only rotating glass floor.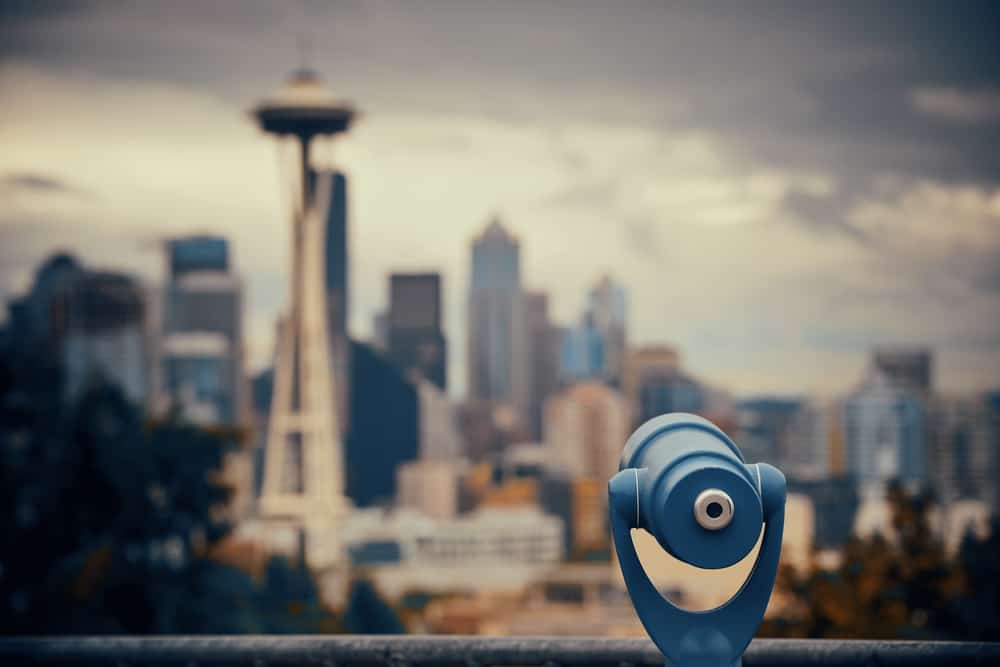 Enjoy the Seattle Great Wheel
The Space Needle isn't the only sky-high adventure you can have in Seattle. Another place to go to for gorgeous views from up high is the Seattle Great Wheel, a large Ferris wheel style attraction that juts out over Elliott Bay.
Riding on a Ferris wheel with your beloved is a quintessential way to find some romance, as it has been a thing for couples to do for decades. On the Seattle Ferris wheel you'll be traveling around in a circle right by the waterfront. Share a kiss as the Seattle Great Wheel comes to the very top and then gaze at the Seattle skyline and across the water to Bainbridge Island and the Olympic mountain range. The Seattle Great Wheel consists of 8-person gondolas and are climate controlled, making it an ideal activity any time of the year.
Visit Pike Place Market
Just a couple minutes walk away from the Seattle Great Wheel is Pike Place Market. Pike Place Market is a quintessential Seattle thing to do and also makes for a fun date activity.
Link arms and walk through the long public market as you do some shopping from the artisan stand, treat yourself or your love to some gorgeous freshly picked flowers for sale, or laugh together in delight as you watch freshly caught salmon and other fish being tossed back and forth at the popular fresh fish stand. Purchase a fish to cook up yourself for later at your Airbnb or back at home if you get it shipped, and you can even try to catch it yourself, making for a fun memory the two of you will laugh about for years to come.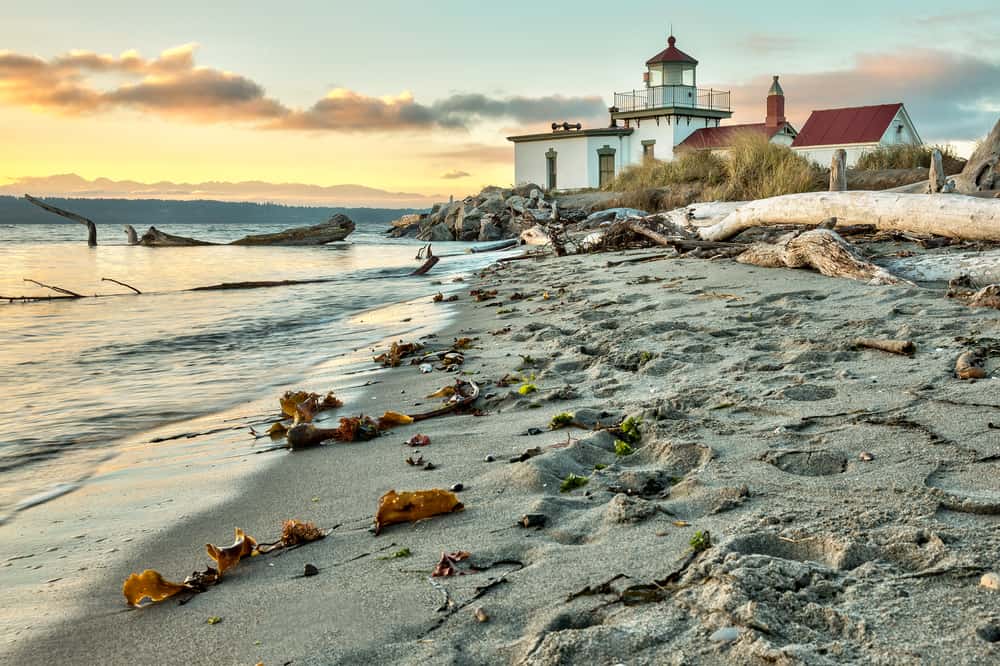 Go to the Beach
If you and your honey love going to the beach, guess what? You can even do that in Seattle. Seattle may be known for its rain, but on a clear day some of our beaches are the best. And even on a gloomier day there is beauty to be found on the beaches, which often have rugged aspects that make them photo-worthy no matter the level of sunshine.
One of the best beaches in Seattle for couples is Alki Beach in West Seattle, a popular neighborhood located across a bridge passing over a narrow waterway that is south of downtown Seattle. Alki Beach is located right by some excellent eateries (including great places for seafood chowder!) and lively bars where you can get a local brew or glass of wine while looking out at the sound.
Couples who find romance in adventure can take things up a notch by renting stand up paddleboards while in Alki Beach and enjoying a paddle around the salty water.
Have a Woodinville Wine Tasting
Want a fun Seattle date idea? Head outta town! There are so many fabulous Seattle day trips to choose from.
Located about 40 minutes outside of downtown Seattle to the northeast is Woodinville, a suburb that just happens to be full of wineries. Head to Woodinville's compact downtown area and you'll encounter dozens of wineries, tasting rooms, and bars serving local wine. Head down some of the side roads leading from the downtown area and you'll find even more with blocks of warehouses that are home to wineries and tasting rooms. Overall, Woodinville is home to over 130 wineries, tasting rooms, and wine bars.
Woodinville is also home to a distillery called Woodinville Whiskey Company, but wine is where it's at for a couple looking for a blissful day in Woodinville.
One of the most popular places to go in Woodinville, and one that put Woodinville on the map for a wine tasting is Château Sainte Michelle. The sprawling estate has a large grassy area perfect for a picnic while you wine taste, or you can head inside to the charming tasting room (a good choice if it's raining!).
If you are a couple who loves music, time your visit to Château Saint Michelle with one of its summer concerts, a popular concert series that hosts well-known bands and solo artists throughout the summer months, during which the estate turns into an outdoor concert venue complete with food stands and — of course — wine.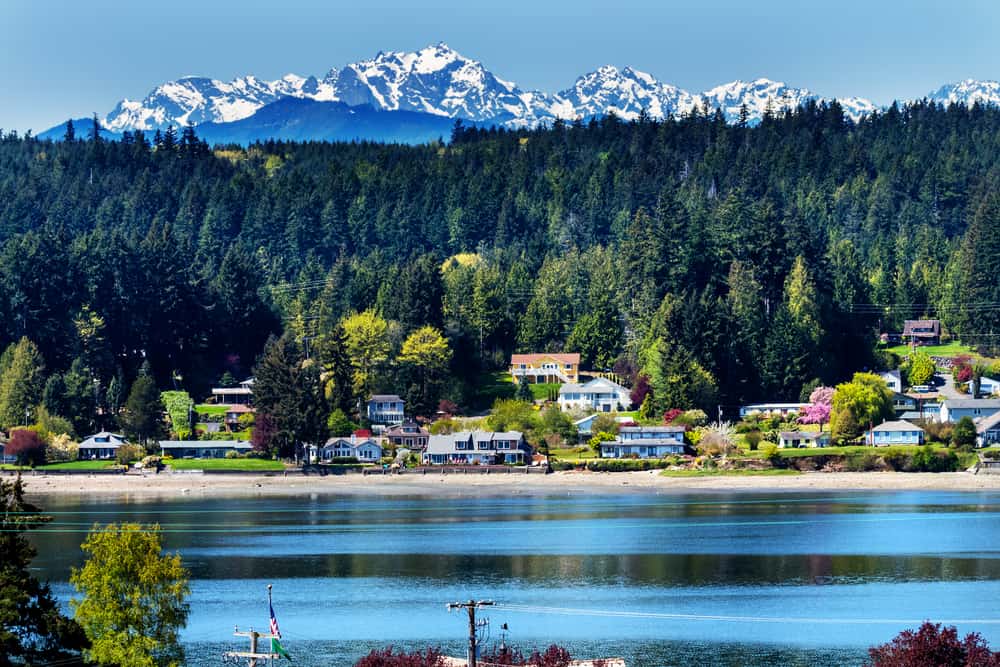 Visit Bainbridge Island
Get out onto the Puget Sound with a ferry ride that crosses the scenic waterway and takes you from downtown Seattle to Bainbridge Island. The ferry ride is only about 35 minutes long, but gives you enough time to enjoy a glass of wine or a pint of beer on board while you enjoy the gorgeous views of the Seattle skyline in the distance.
Once you get to Bainbridge Island disembark from the ferry and walk around the cute little downtown area of Winslow. There are lots of shops, art galleries, and restaurants. Bainbridge Island is also a great place to get some fresh crab when it's in season. If you bring your car over on the ferry (which you can do since it's both a pedestrian and car fairy), then you can hop in your vehicle and drive around the pretty island, which is home to lovely parks and hiking trails with lots and lots of water views.
Catch a Performance at the Paramount Theater
If you love the theater, then check what's playing at the Paramount Theater while you're in town. It's located in downtown Seattle and is a historic building known for its gilded interior and intimate feeling seating area – despite being able to seat over 2,800 people!
Get dinner before the show at one of the nearby restaurants or take an Uber up to Ballard or Fremont after the show to hit up one of the many happening craft breweries and bars in Seattle.
Do Some Seattle Urban Hiking
Many of Seattle's most well-known hiking trails are actually located outside the city limits, but if you're looking for some urban hiking trails you don't have to go far from downtown. Just travel up to the charming Seattle neighborhood of Magnolia where you'll find Discovery Park with hiking trails right by the waterfront and through a pretty wooded area. It's a great place to head during a trip to Seattle if you and your significant other love to hike.
Discovery Park is also the location of a picturesque lighthouse called West Point Lighthouse, which has a quaint red roof with white exterior and mark's the northernmost point of Elliott Bay's Seattle shoreline. You can reach West Point Lighthouse via the Loop Trail, which is a fairly easy 4-mile journey. To get to the lighthouse itself, you'll need to jut off the loop trail where the sign to the lighthouse is located; this trail is a bit more difficult, but boasts great views!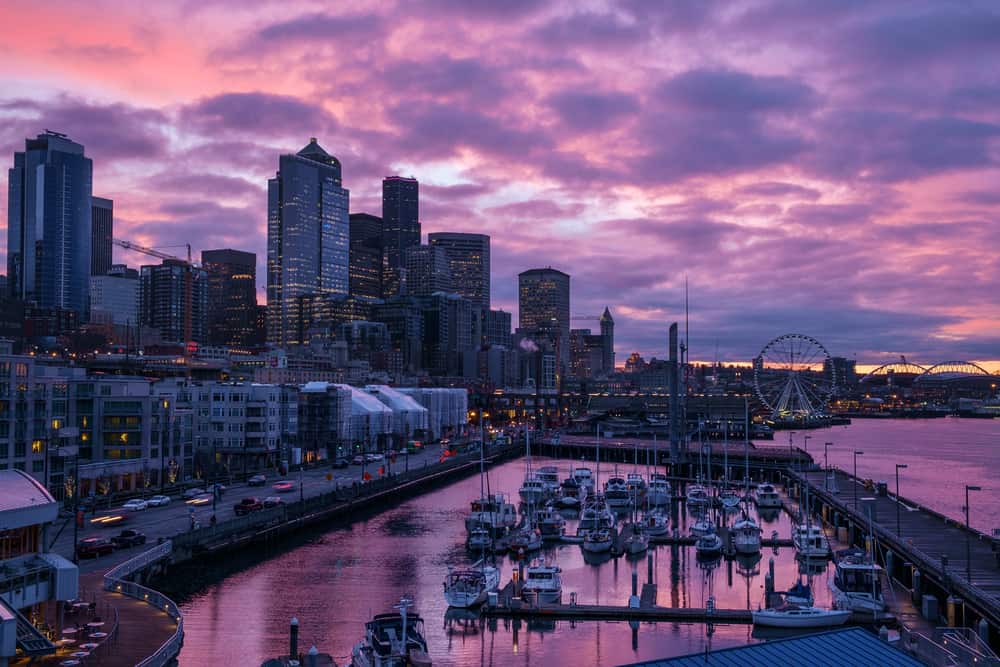 Take a Seaplane Ride Over Seattle
If certain reality TV shows are to be believed, there is nothing more romantic than soaring above the skyline in a private plane or helicopter. While in Seattle, you can do just such a romantic activity. One of the best ways to soar above the clouds is with a seaplane adventure that takes off from the Puget Sound and takes you over Mount Rainier.
Seeing Mount Rainier from this birds-eye vantage point is something you'll never forget and will be a special memory for the two of you. Mount Rainier is spectacular to see during a trip to Seattle due to its positioning as a standalone peak that towers above the surrounding Washington landscape south of Seattle.
Enjoy Your Couple Time in Seattle
Seattle is a great city for a romantic getaway for couples. Whether you're looking for something intimate and peaceful, or adventurous and adrenaline-inducing, you'll be able to find it during a couple's trip to Seattle! One last tip — if your couple time includes restaurants or attractions can be booked online or reserved in advance, do so! Seattle gets very busy on weekends and during the summer months. Plan ahead and you're in for a romantic and relaxing trip to Seattle.
About the Author: Gina is a west coast resident who loves to travel both close to home and internationally. She provides tips for others looking to do the same on her blog One Day in a City, which has 24 hour itineraries for destinations all over the world. She also writes about travel closer to her home on her blog, Evergreen and Salt, which covers how to travel around the U.S. west coast.
---
Psst! Be sure to check out these related posts:
---