This post may contain affiliate links. Read our disclosure page for full details.
Are you planning a romantic getaway? Fantastic! We can help.
There are so many ways to make any trip more romantic, so even if this isn't a dedicated romantic getaway for you and your love, you can still up the ante on romance during your trip with these some of these top ways to plan a romantic getaway.
Planning a Romantic Getaway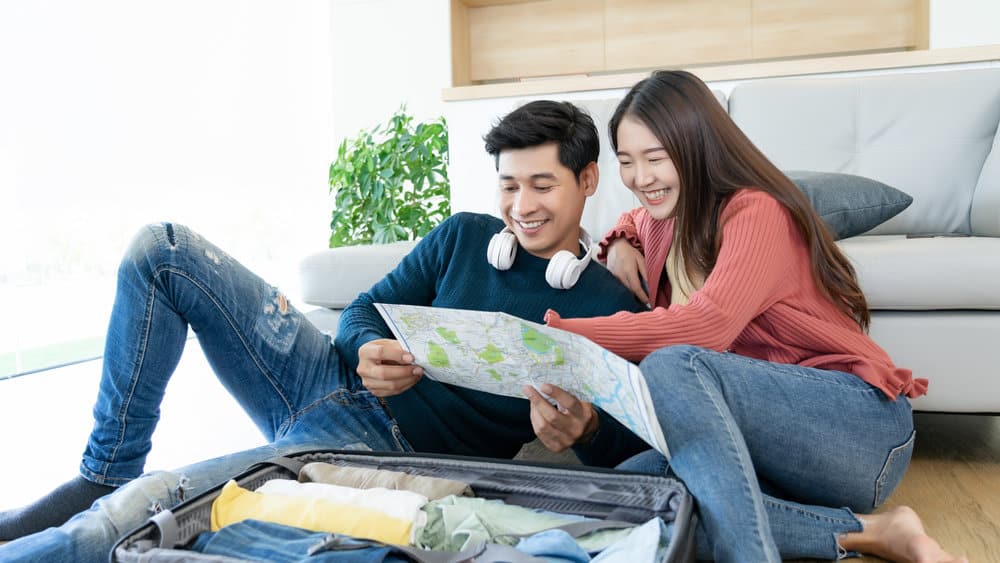 Do Your Research
This might seem obvious, but you'd be surprised how often people skip simple pre-trip research that can have a lot of bang for your buck like looking for deals on flights, rental cars, hotel rooms, and more.
It's also helpful to look up recommendations from others for where to find the most romantic destinations in the area you're interested in. For example, if you're looking for romantic getaways in Vermont, you can find recommendations for spots that offer dedicated romance packages and extra romantic amenities. No need to start from scratch if someone else has already done most of the leg work for you!
Deal with Finances First
One thing that can kill a romantic vibe is stressing about money, so if you and your partner are on a budget, it can help to keep the mood light to have discussions about where the money is coming from before you whisk them off. "Don't worry about it," isn't what a lot of partners want to hear when they're wondering where in the budget the funding for this trip has come out of!
You want your romantic getaway to be one where the only thing you two are focusing on is each other, so if you know that your partner is likely to be concerned about where the money is coming from for the trip, be sure to give them some reassurance that you've found great deals and done your due diligence. For most people, being good with money is sexy!
Pick the Right Spot
Again, seems obvious, but don't overlook some of the essentials for planning the perfect romantic vacation destination! It should be a place that you both enjoy, so if your significant other is not very outdoorsy, then whisking them off to a remote off the grid cabin in the mountains is probably not going to be a great choice no matter how many rose petals you scatter around the bedroom.
If you're planning a romantic trip for your love as a surprise, this can be tricky. You don't want to go all in on a place with plane tickets, hotel reservations, etc if you're unsure if your partner will enjoy it, so be sure it's a vacation spot you know for sure they will love.
One quick word about surprise romantic getaways: most people have practical things they need to do and get done before they can just hop on an airplane, like laundry! Don't want to start your couple's trip off with extra stress because their favorite outfits are all in the hamper. The best way to avoid this is to let the planning of the romantic trip be the surprise, but give your partner at least a few days advance notice so they can be just as ready for this amazing romantic getaway you're planning as you are!
Build in Surprises
Here is where you can really bring in the extra romantic surprise touches. You might plan to have a sweet seaside picnic at your destination, and a thoughtful surprise would be to include references to special memories, like a bottle of the same wine you shared on your first date, or maybe the same kind of flowers she carried down the aisle.
Thoughtful surprises that show you are putting forth the extra effort to personalize the experience really up the ante on romance and show that you care about maintaining connection. No one wants to feel like they're being taken on a generic romantic getaway!
Make Reservations
Again, might seem obvious at face value but stay with us here! Reservations at hotels and restaurants are key in making sure you've got a spot, but you can also let the places you're going know that you're planning a romantic getaway and ask if they can help you make it extra special.
Some restaurants will help you book an extra cozy table and arrange romantic extras with dinner like your partner's favorite wine on the table when you arrive. Hotels, inns, and B&Bs are usually great at helping you go the extra mile with your romantic getaway plans by offering items like arrival baskets of chocolates and sparkling wine or helping arrange local couples' excursions. It never hurts to ask!
Leave Wiggle Room
Whether you're planning a romantic getaway as a surprise trip or you're planning it together, leave a little wiggle room for plot twists! Yes, make the big reservations for fancy dinners and hotels, but try not to schedule every moment of your couples trip. Say you're planning a romantic Valentine's getaway and you've decided everything you two should do from the moment you wake up until the moment you go to sleep. That leaves no room for following where the moment takes you!
Our advice for how to plan a romantic getaway is to have your place to stay and your dinner places reserved (especially if the restaurant is a very popular, hard to get into spot), and then one or two things to do booked like a wine tour or a couples massage, but let the rest happen organically during the trip.
It's a good idea to have a list of several things you two could do, but don't lock in too many of them or you might find you're both feeling like you're just rushing from place to place. A fun couples trip should go at the perfect pace for you, so if you're not rushing-from-thing-to-thing type of people, don't plan a romantic getaway that has you rushing from thing to thing!
Go Off Season
A great way to beat the crowds and feel like you've got popular tourist destinations all to yourself is to book off season! Many of the most popular romantic getaway spots have certain times of the year that are very, very popular, and then times of the year that you can find deeply discounted hotels, romance packages, activities, etc.
Take Cape Cod, for instance. A classic summertime destination, planning your romantic trip in fall or spring means you'll find better deals on resorts, including gorgeous rooms overlooking the ocean with a fireplace to cozy up next to.
Take Advantage of the Concierge
Depending on what kind of accommodations you're booking for your romantic getaway, you might just find concierge services onsite. If they have them, use them! A concierge can not only tell you some of the most popular local things for couples to do, but they can sometimes even help you get tickets for attractions and reservations for restaurants that you thought were long booked. The magic of the concierge cannot be overstated!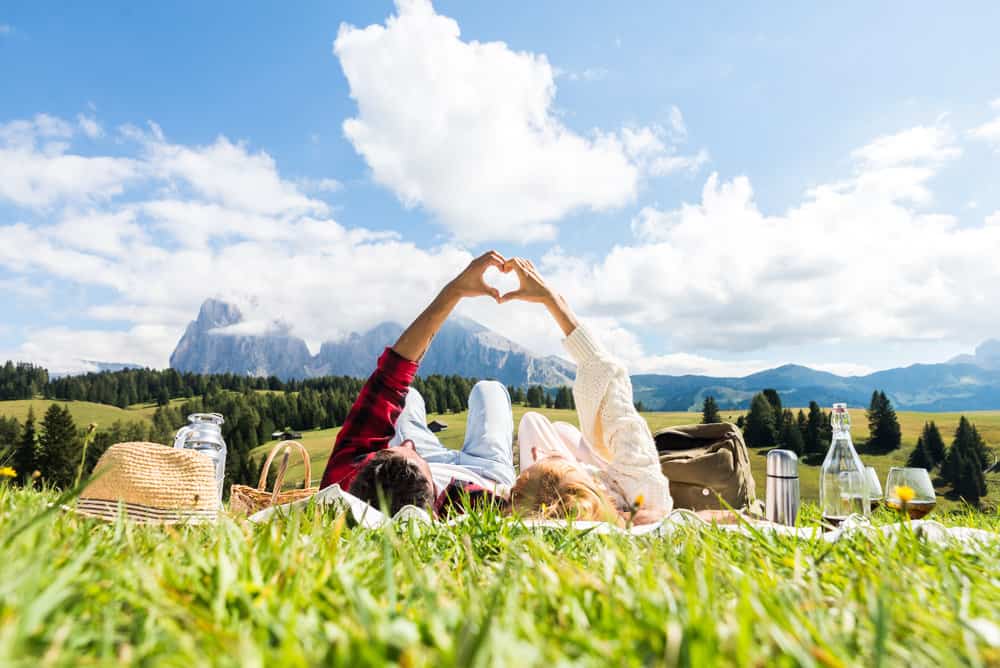 Step Away from the Electronics
This one should be another one that shouldn't need to be said, but here we are, saying it. It's all too easy to stay plugged in even while very sincerely trying to "unplug," so here's a suggestion: make a plan with your partner to have very specific, phone free times. Perhaps its at every mealtime, every activity, from X o'clock to X o'clock, or whenever, but make it a point that during these times, you two are not touching phones and all notifications are silenced.
The only time this would be very tricky is if you've got kids back home and you want to be sure you don't want to miss an important call from the sitter, but if this is the case, just make sure the sitter knows your phone free hours and has an alternate way to contact you either through the hotel, restaurant, or location you'll be in.
There's nothing as romantic as being completely present with the person you're with. The rest of us will live without seeing your dinner plates on insta each night!
Look for Romance Packages
So many places offer romance packages now, so whether you're booking a quaint inn, a cozy cabin, or a major chain hotel, ask about romance packages. Even if its simply providing a bottle of something bubbly upon check in, these romance add ons just help create even more of a romantic ambiance for your couples trip.
Do Something New
Being in a relationship is a beautiful thing, in part because there is a comfort that comes along with being able to be yourself and fully relax with another person. But also… novel experiences get the heart pumping a little faster, and who doesn't want to have a bit of excitement from time to time?
It doesn't need to be anything thrilling or adventurous, either. Research shows that just participating in something new to both of you can help boost satisfaction levels in a relationship. Traveling together is very, very good for relationships… especially your sex life!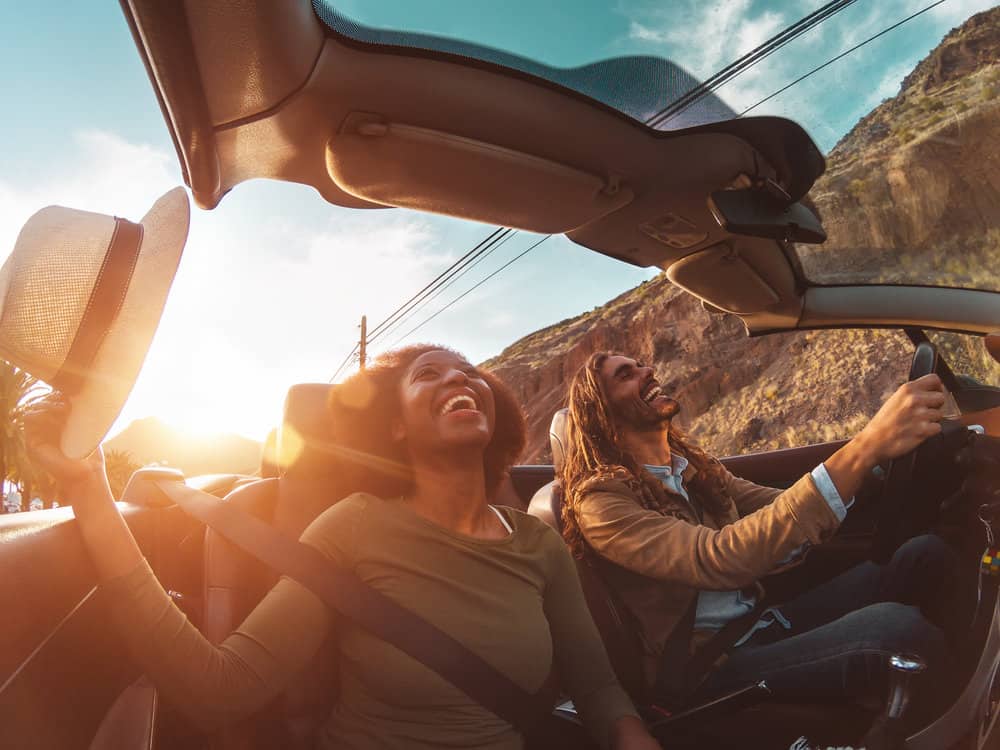 Plan Things You'll Both Like
This might seem like Vacation 101, but the deal with romantic getaways is that sometimes we get so caught up in planning the perfect trip for our significant other, that we might leave ourselves out of the mix. Maybe your partner loves the beach, so you plan a beautiful couples trip that revolves around the beach and beach activities, but truth be told, you are not such a fan of the beach. Well, by the end of the trip, you're going to be feeling a little left out.
The best couples trips are those that have something for both parties, so be sure to keep yourself in the mix, too! And hopefully, we don't even need to address the opposite because you would never dream of planning an entire romantic getaway made up of only your own favorite things, right?
Build In Downtime
This is such an important part of planning a great romantic getaway! It's really easy to get caught up in setting up candlelit dinners and once-in-a-lifetime activities, but don't forget to allow for plenty of time to just sit and be together. Whether it's sitting on a balcony and looking out over the scenery or just cuddling together under fresh pressed linens, make sure there's time for you and your partner to savor the whole reason for the trip: your relationship.
Keep Your Eye on the Details
With romantic getaway planning, the details are everything. It's those thoughtful touches that really show your partner the effort that you've put into the couple's trip and the effort you are putting into them. Do the little things like having their favorite snacks ready for the road trip or plane ride, have a bouquet of their favorite flowers waiting in the room, book a room with a balcony because you know they love to sit out and stargaze before going to sleep. It's these little moments that show our love best.
There are many ways to make any trip more romantic, so even if you're not able to take your significant other on a dedicated couples trip, you can incorporate some of these romantic getaway plans to help your partner feel the love during your trip.
You might also like: