---
*Links in this article may be affiliate links, from which we may earn commission. See our
Privacy Policy
for full details.
---
Planning a date night with your significant other? We've compiled a list of some of the sweetest, most creative, and most romantic date ideas for couples. Whether you're dating, married, or engaged, these date night ideas will ensure you have a fantastic time with the one you love.
Studies show time and again how important regular date nights are for couples. These moments of quality time keep you connected, help engage the spark of romance, and overall help build a strong, meaningful relationship.
Date nights are great for new couples, but they're also essential for those who are married or in long-term relationships. (Psst! See our post on the best relationship advice for couples).
Below you'll find 50 of the best date ideas listed, with links to all of our other date ideas, too. An endless array of fun for two!
You don't even need to leave the cozy comfort of your humble abode to do something sweet with your partner. Check out all 50 of these great couples date ideas:
Create a fantastic meal together
Without a doubt, cooking side by side is one of the most classic activities for couples. There is no limit to what you can create in the kitchen. We recommend starting out with a simple recipe, especially if you're not culinary pros, but you can also challenge yourselves with something more difficult.
Need some delicious ideas? Take a look at our collection of dinner recipes and dessert recipes, both designed for two:
Romantic Dinner Recipes for Two
You can also have fun setting a beautiful table and lighting candles for that perfect touch of romantic elegance.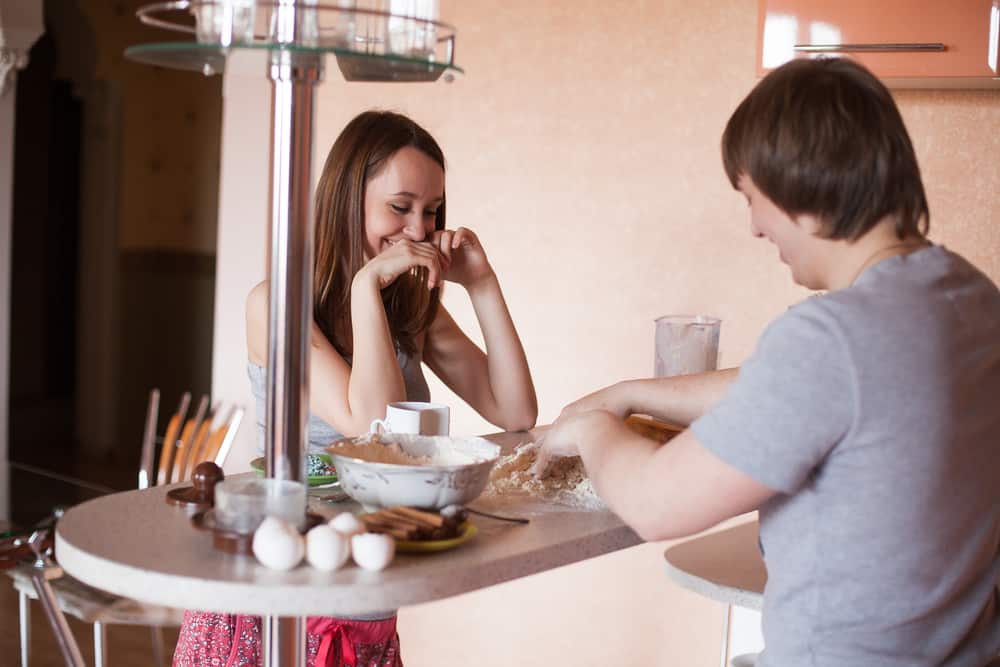 Play your favorite board games
Have a couples game night! This is one of our favorite go-to date night ideas. It's easy to set up and it is perfect for a rainy day or after the kids have gone to bed.
Play your favorite game, or have a marathon of several. Of course, you'll need to build up a collection of games for maximum fun. Our list of the best board games for couples has several great ideas, including our personal favorites.
Build a blanket fort
A blanket fort remains one of our favorite things to do together because it really brings out the inner child in us. Constructing a blanket and pillow fort can be an activity that takes up the whole evening, but it can also be just the start of your stay-at-home date night. Enjoy the whole experience (like board game night, movie marathon, etc) from the cozy comfort of your adult blanket fort. Want to feel cozy with your sweetheart? Get building!
Play video games
Video game date night: the most fun. This can be especially fun if you're not frequent video game players, as you'll be trying out something new together.
This is part of our favorite nerdy date ideas, but let's be honest, being a nerd is cool.
Stay in bed all day/all weekend
You definitely do not have to get fancy to have an incredible date with your partner. Sometimes, the simplest ideas are the very best.
What if this weekend you took time to just BE together? We all need that kind of uninterrupted time now and again. Don't leave the bed—or bedroom—if possible. (You can be as strict as you'd like with this idea. After all, visits to the kitchen and bathroom are definitely going to be necessary).
Get creative with your stay-in-bed date. Clearly there is ample opportunity for plenty of romance and intimacy, but there is also room for playfulness and full-on relaxation. This item is also on our couples bucket list, be sure to check it out!
Rent bikes
On a beautiful day, there's nothing better than getting outside. If you and your spouse don't own bikes, why not rent some? Most cities have bike rentals readily available. In big cities, you can often pick them up right on the street! Or maybe you live near the beach, where rentals are plentiful.
Grab a pair of bikes and tackle a simple, scenic route together. Pack a picnic for an extra romantic touch. If you want to be unique, you might even consider renting a tandem bike together. What could be cuter?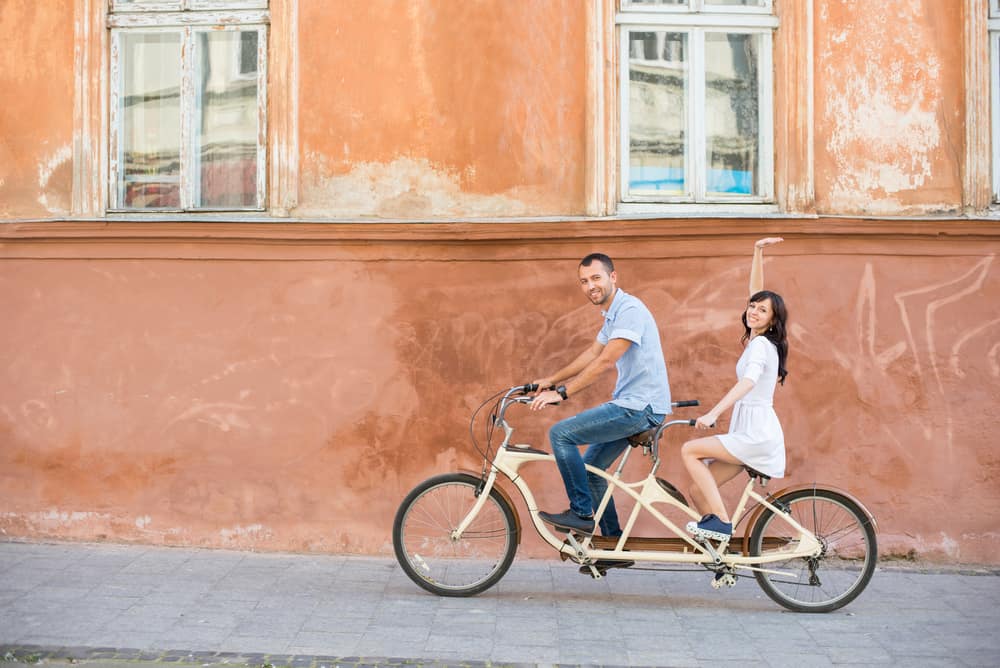 Chill out at a coffee shop
Did you know, a coffee shop date is one of our all-time favorites. Without a doubt! Enjoying delicious lattes side by side is always relaxing and fun, and we can either have a great deep conversation or read books and just hang out together.
Visiting a coffee shop definitely is great for first date ideas, as it's a public place with a laidback vibe and lots of people. Plus, it's a good alternative to meeting for drinks, if you prefer.
Start a garden
Why not do something that's good for the planet, good for the soul, and good for your relationship, all at once?! A gardening date is a lovely idea for a nice day outside, and it's a perfect thing to do with your husband or wife, too, as it's a project that will pay off in the future. Plant veggies you can enjoy in a few months, perhaps in one of the recipes you whip up together!
When the warmer months arrive, this is a great option for spring date ideas.
Go bowling
Who doesn't like bowling? Bowling is a chilled-out classic date that is lots of fun for couples old and new. There's nothing like a little good old fashioned competition to keep things interesting.
Take your love to the beach
The beach is designed for romance. Who doesn't like the sun, sand, and waves?
When the two of you feel like being outdoors and relaxing, take a trip to the nearest coastline. If you're landlocked, a lakeside beach can also be nice.
Tie-dye some clothing
Tackling any kind of DIY project together is a wonderful date idea for a couple. But while you might not be ready to refurbish an old piece of furniture, you can probably handle tie-dying some old clothes. Voila, new, hip threads. Get a tie-dye kit here.
Try a new type of cuisine you've never had
Have an adventure for your tastebuds—together! On this date, you'll pick a restaurant that offers a cuisine neither of you has ever tried. If you both have very worldly palettes and have already tried everything out there, consider booking another special or unique type of meal, such as a fancy multicourse gourmet meal or a quirky new restaurant.
Recreate your first date
Nothing brings back that spark of early love than reminiscing about when the two of you first met and first fell in love. This is one of the top date night ideas for married couples. Recreate your first date (to the best of your ability), from where you went and what you ate to what you wore and what you talked about.
This is guaranteed to bring up some butterflies and sweet feelings about the past that will continue into the present and future. Celebrate your life together.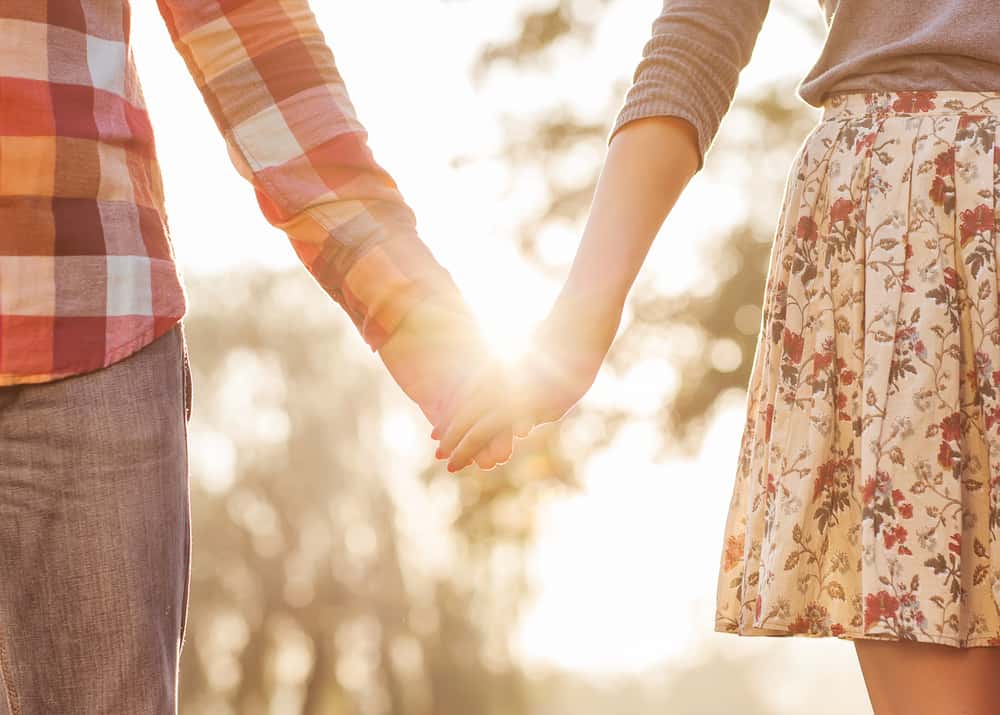 Have breakfast for dinner
A lot of date ideas seem to involve food, don't they? Well, if you like to eat (and who doesn't) you're going to love this plan. Tonight, make a massive breakfast around dinner time. We're talking bacon, eggs, pancakes, hashbrowns, and coffee (though you might want to go decaf!) You may need to make this a weekly tradition.
Watch a classic movie neither of you has ever seen
Already binged the top shows on Netflix? Why not look into the past? There are hundreds of classic, iconic films, and chances are good you and your girlfriend haven't seen some of them. Scroll through to discover a great classic movie and experience cinema magic together. PS: This can be a fun double date idea, too.
Learn ballroom dancing from YouTube
You can learn virtually anything from the Internet these days. So pick a new skill or something you don't know to learn about or pick up and practice together! Ballroom dancing is a straightforward choice since it's naturally romantic and couple-oriented, but you could choose something else. The point is to do it together and have an absolute blast.
Read a book out loud to each other
On a chilly, rainy night, curl up on the couch and read to your partner. There's something very special about reading aloud to one another. It's a lost art, in many ways. You will be laughing for sure during this activity. Especially if you try to read in different accents or attempt to dramatize a story.
PS: You don't have to read poetry or Dickens for this idea. You can read anything you want, including scary stories, funny YouTube comments, and much more. A dramatic reading of the news? Give it a try.
Give each other massages
Offering your significant other a massage is such an unselfish gift. And it's also a sensual activity. For this couple's date idea, take turns giving one another an incredible massage. Massage oil, candles, and soothing music are essential. (Pro tip: use ocean-scents and the right soundtrack to make it feel like a massage on the beach!)
Sink into a shared bubble bath
Speaking of sensual things to do and relaxing activities, a bubble bath is bliss. When your darling is in the bath with you, it's even better.
Nearly all of us have bathtubs in our home. If you do, pump up the bubbly soap and take the time to sink in together. Again, this experience will be enhanced by candles and music. Champagne is also an excellent addition as it kicks the elegance and romance up a notch.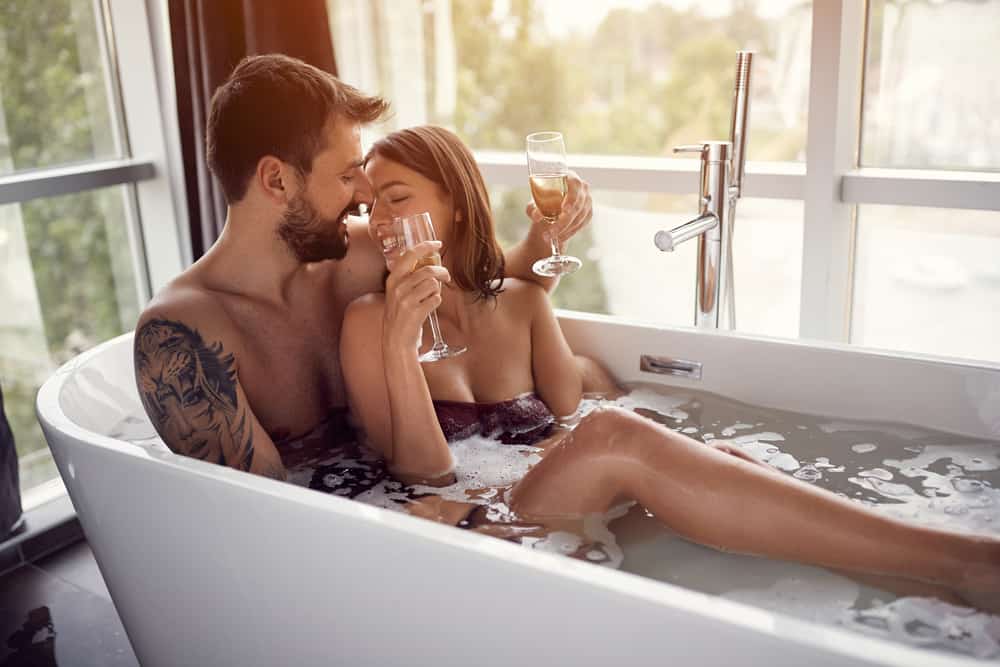 Write love letters to each other
In this highly digital world, a hand-written note or letter means everything. Take some time to put your deepest feelings into words. Then exchange. Whether they are little notes of affection, or something longer and more in-depth, you will cherish these letters forever, we promise.
Have a romantic picnic
A picnic date is affordable, sweet, and a candidate for the cutest date ideas for a couple. Finding a beautiful outdoor spot is key for a classic picnic, but you can also have a fabulous picnic in your backyard or even in your living room.
You Need to Read This Next: How to Plan a Picnic Date
Turn on your song and slow dance in the kitchen
Romantic tunes are in heavy supply. What's your favorite romantic song? Do the two of you have a song of your own? If you don't, check out our list of the most romantic love songs to give you some inspiration. Create a playlist of these and spend the evening dancing around your house in one another's arms.
Stay up all night talking
When you're first dating someone, you know it is so easy to stay up all night talking, either in person or on the phone. Well, we think this is a great date option for long-term couples, too. When's the last time you had a deep conversation for hours? (Check out our conversation starters for couples for 99 questions to ask). Plan ahead to do this and make sure you're well-stocked with beverages, snacks, and blankets.
You can find more of our late night date ideas here.
Have a night that's "all about them"
Here's one of the top intimate date ideas. Tonight, make things all about your husband or wife. While you time in the bedroom should definitely be a give and take for both partners, it's nice to take turns being the person in focus.
Do you know how to make your man feel really amazing? How about your lady? Take it slow and discover the answer. This is a date idea that deserves long, interrupted time, so don't rush.
Go to a vineyard and sip the wines
Wineries are everywhere. Find the nearest option and go sample the goods. This is another great idea for a double date, too. Get your favorite couple to go with you for an afternoon of wine sipping.
If you taste a wine you both like, bring a bottle of wine home for your next night in. (More at home date night ideas here!)
Pamper at the spa
This date can either take place at a local spa or you can have a DIY spa date at home! Both options are a lot of fun, and taking the time to pamper yourself and your partner is always worthwhile.
Take a cooking class together
Cooking classes have become a popular date idea in recent years. It's likely there are some near you. We recommend tackling a unique cuisine for your cooking class, or signing up for an option that will be especially romantic, like fondue-making!
Go for a drive
You don't need to go on a long trip to find adventure. This simple date is a favorite, and a great excuse to listen to music together or have a conversation.
Try an escape room
Have you two been to an escape room? These are an absolute blast! Tackle challenges together and find out how clever you are. While escape rooms are probably the most fun with a larger group, you can join up to play with strangers if it's just you and your partner.
Volunteer
Making a difference in the world feels amazing. And it is even more special when you are working side-by-side with your significant other. There are so many worthy causes to which you could donate your time and energy. Become part of something bigger. Helping people, animals, or the environment is really rewarding. Talk together about something you'd both like to be involved in and then go dive in.
Explore your town like tourists
Don't have the funds for a trip out of town? No problem. Play tourist in your own city by visiting all of the most popular attractions and spots. You might be surprised just how few of the highlights you've actually tried.
Enjoy exploring from a new perspective.
Bring your camera and make sure you don't miss every opportunity to take a photo together.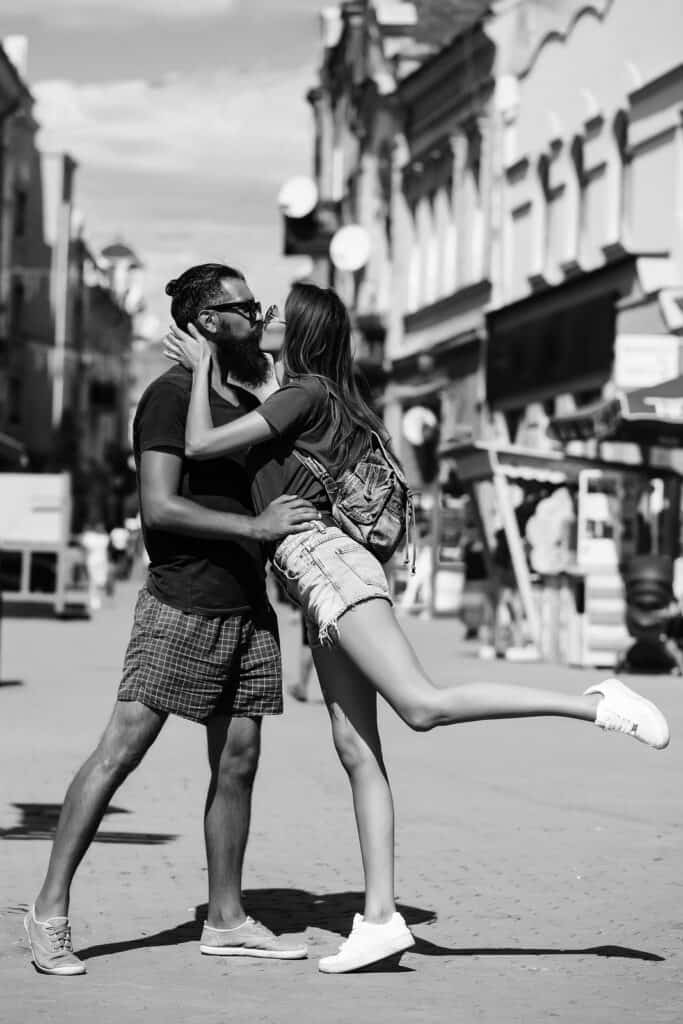 Rent kayaks
Kayaking is an outdoor adventure that can be done almost anywhere. Have an ocean, river, or lake nearby? You can kayak! Google to find local kayak or canoe rentals and get paddling. Never tried it before? You can sign up for guided tours if you're new to the kayaking life.
Go stargazing
You will need very little equipment for this super romantic date: just you, your partner, and a blanket.
Order a date-night subscription box
If you have never tried a subscription box, date night is the perfect opportunity. There are many options out there, filled with games to play, crafts to create, and more.. Check out our Crated with Love review for one idea.
Go rollerblading (or ice skating)
Get some exercise together in a fun way. If you don't have skates, you can rent some. Ice skating is especially romantic.
Go to the farmer's market
Farmer's markets are fabulous, and they have so much to look at, sample, and discover. You and your partner can enjoy a whole morning or afternoon at the local farmer's market. Many of them often have live music as well. This is an awesome daytime date for two.
Go camping in your backyard
While camping in a campground or in the woods is ideal, sometimes you just want to stay closer to home for your quality time. Set up your tent in your own backyard. You'll have a quiet, private space with all the finest amenities right nearby.
Get more summer date ideas right here, as well as our guide to camping for couples.
Have an at-home wine tasting
No vineyards near you? Pick up an array of different bottles of wine at the grocery store and sample them judiciously together. If you really want to do it right, take flavor notes and try pairing wines with the perfect food accompaniments.
Host a fancy dinner party for friends
This is a good option for double dates or group dates: host a dinner party at your home. Invite a few people you love to join you. Not only is this a great opportunity to entertain as a couple, you can put your bartending and cooking skills to the test. Plus, it's just fun to be adulting so hard.
Attend a free concert or lecture at a local college/university
Short on cash? Colleges and universities are the perfect place to find free activities. Typically, you can catch free music performances or attend open lectures. You'll learn together without spending a dime, and be part of something intellectual. Be sure to check out our other cheap and free date ideas.
Fly a kite
Kites are a little bit more challenging to fly than you might remember from childhood. On a nice day that's not too windy, head to the store for some inexpensive kites and find an open space. PS: This is one of our fave spring date ideas.
Pick berries
When summer rolls around, the berries are ripe on the bush! Find a farm where you can pick your own strawberries, blueberries, etc. Head home with your collection and bake a delicious fruity dessert together.
Go out for a night on the town
Dinner and a movie are the most common ideas for date night, but when's the last time you and your girlfriend got all dressed up and went out for a night on the town? Plan drinks, dinner, dancing and more for an epic event you two will remember for a long time to come.
This kind of night out is one of our favorite New Year's Eve date ideas but you definitely don't need a special occasion as an excuse to go wild. Get glammed up and have a ball. We all need a really wild time now and again.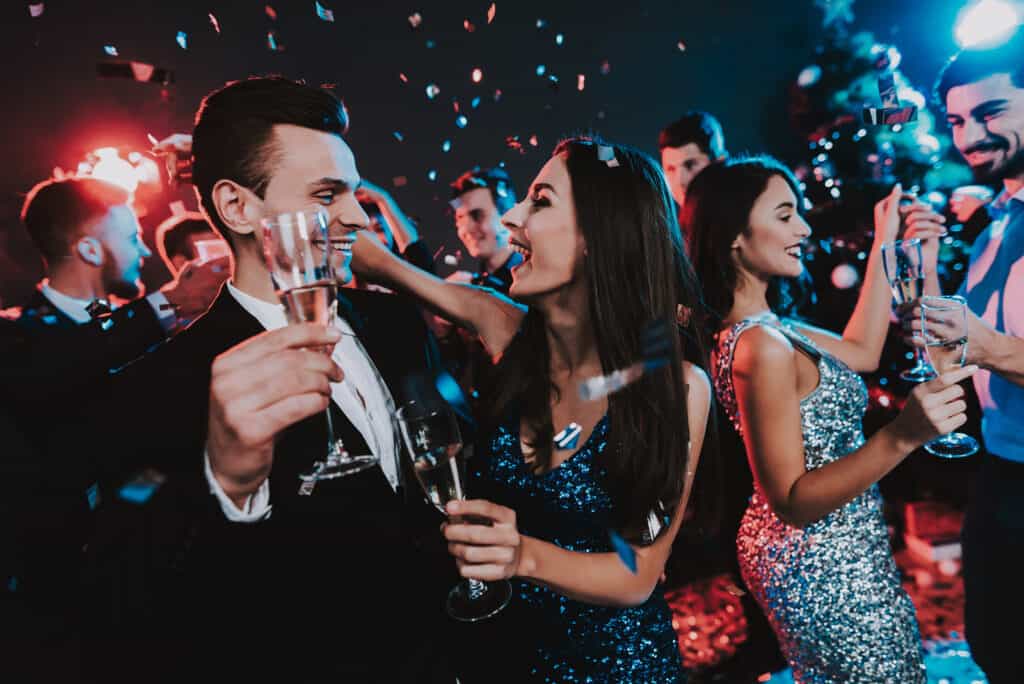 Have a movie marathon
A movie marathon is fantastic at any time of year, but we especially think it's one of the most wonderful winter or fall date ideas. Those chilly seasons are exactly when you want to be curled up on the couch with the one you love.
Trivia night
People love trivia! Why not combine your brainpower and random knowledge to win money and acclaim? See how much the two of you know about random facts. Check your local bars and restaurants to see which ones host a regular trivia night.
Take turns planning a surprise date
Chances are, you and your significant other have very different ideas of what makes a fun evening or day out. So here's a challenge: take turns planning a date for the two of you filled with activities that you think the other person would love.
Create your own fancy cocktails
Do you fancy yourself a mixologist? If your idea of a fancy cocktail is rum and coke, why not step it up a notch? There are so many terrific recipes online. Grab the basic ingredients and have fun concocting delicious spirits together.
You can make it seasonal as well. Get creative making boozy holiday drinks. This really is one of the cutest Christmas date ideas.
Karaoke night
Nothing is more fun than embarrassing yourselves together on karaoke night. Or, maybe the two of you are great singers and you'll bring the house down. Either way, karaoke is an awesome idea.
If you don't have karaoke available near you, you can totally do this idea at home, too. Or invite some other couples and friends over for a unique party idea.
Play in the snow
Take advantage of the cold weather with this gem from our winter date ideas: playing in the snow! This can involve a snowball fight, building a snowman, making snow angels, and sledding or tubing. Afterward, warm up with hot chocolate and some snuggles.
Hit up the local yardsales
Go score a bargain (or several!) A great weekend date idea is yardsale hopping. There's so much incredible junk just waiting to find its new treasured home with you. For an added romantic flair, take each other by surprise by buying one another a fun, unexpected gift during your day of shopping.
See live comedy
Laughing together is so good for your relationship! If you can see a big name in comedy on a live tour that's awesome or take a chance and check out amateur nights and open mic at your local comedy club or improv. That's where all the great comics started, and you're bound to have some laughs with your date.
Have a romantic staycation
We're big fans of romantic getaways, but if you're short on time or money, you can have a similar experience right in your own home (or at a nearby hotel) without having to plan a trip.
If you're at home, try to mimic the luxuries of a hotel. Stock your fridge with snacks, pull on your fluffiest terry bathrobes, and spend a lot of time just relaxing together. Even better, consider leaving your phones and other devices at home or off. An unplugged weekend is always blissful.
Also Check Out:
---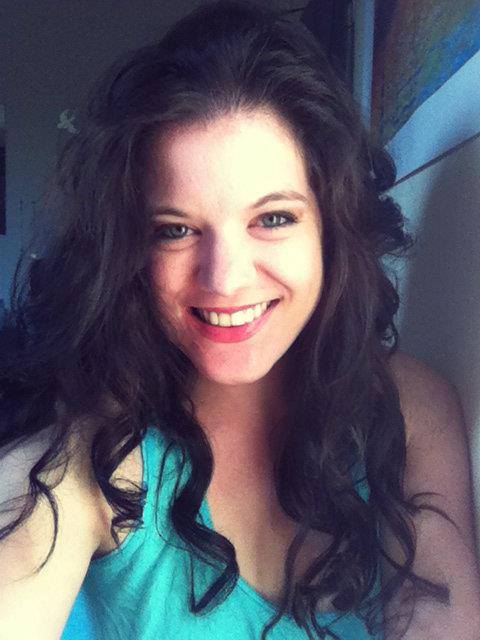 Amy Hartle is the co-founder and owner of Two Drifters, where she blogs about romantic and couples travel, relationships, honeymoons, and more. With a Master's in English and a BA in Musical Theatre, Amy loves to write quality content as well as to entertain, and she hopes to do a bit of both here on the blog! Amy is happily married to her husband Nathan, and when not working on their sites, Amy & Nathan can be found cuddling, reading, and enjoying delicious lattes.