This post may contain affiliate links. Read our disclosure page for full details.
Up late tonight? Work different schedules? For whatever reason, you and your significant other are looking for some great late night date ideas.
First of all, kudos for prioritizing date night, even if you're keeping unusual hours! That's so important for a healthy relationship.
Second, maybe the two of you are just night owls. That's cool, too! There are so many activities you can try together, both at home and out and about.
While the late night hours certainly lend themselves to tumbling around together beneath the sheets (and we're not discouraging that!) sometimes you actually do want to get out of bed. So we've put together a collection of fun nighttime date ideas that will change things up a bit. These sweet ideas will work whether you're married, dating, or in a relationship new or old.
Looking for romance in the wee hours of the morning? Try one of these 45 cute late night adventures.
Have a midnight picnic
I am a big fan of the midnight picnic. I did this a few times in college with friends and it was a blast. It's as simple as heading outside when the stars come out with a blanket and your favorite snacks, but you can also spend time setting up the perfect backyard setup for romantic, chill ambiance.
Supplies for the midnight picnic: Blanket | Twinkly lights | Plastic wine glasses
Play late-night TV bingo
This is a good last-minute late night date idea. If you find yourselves up late, flipping through the tube, create a silly bingo you can play with late-night TV tropes. Make up the squares yourself and then have fun competing to win. Some ideas for bingo spaces: cheesy infomercial, jazz music, terrible made-for-tv movie.
Have breakfast for dinner
Would you like some bacon on this late night date? I bet both you and your partner would! After all, who doesn't love breakfast food? Whip up a little masterpiece of a meal for you and your sweetheart for tonight's at-home date. Also, it's probably the only acceptable time to pair pancakes with wine.
If you've been up extra late, you can also eat breakfast while you watch the sunrise together.
Hit up an all-night diner
Not in the mood to make your own breakfast? Head out to pay a visit to a local 24-hour diner. Not only can you expect some greasy, wonderful items, you're definitely going to be creating a fun memory.
Enjoy some at-home wine tasting
You don't need to spend a lot to have a fancy late night date with delicious wine pairings! Pick up a few choice bottles (and be sure to pick out something new), even if they are cheap, and then discuss their flavor notes together.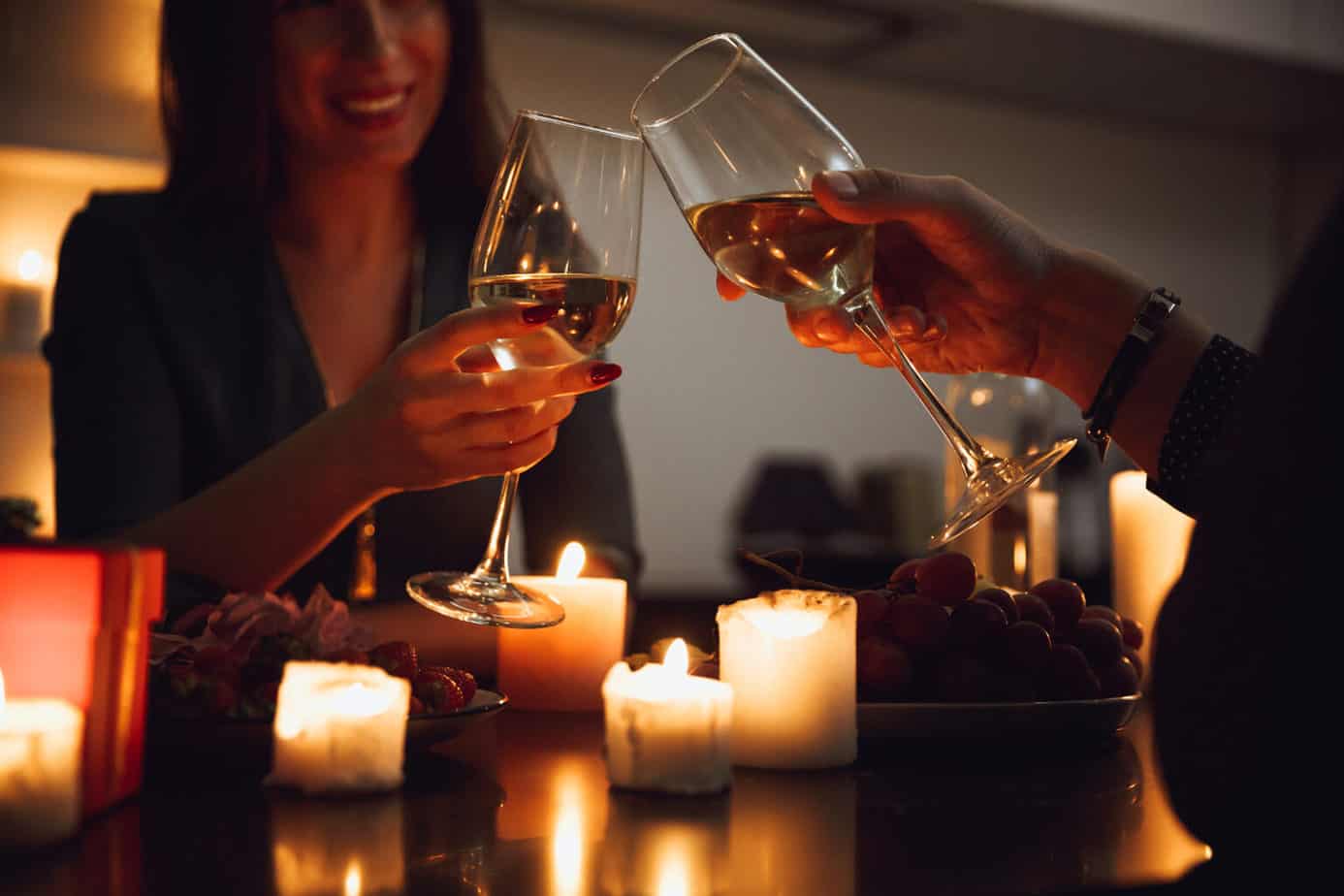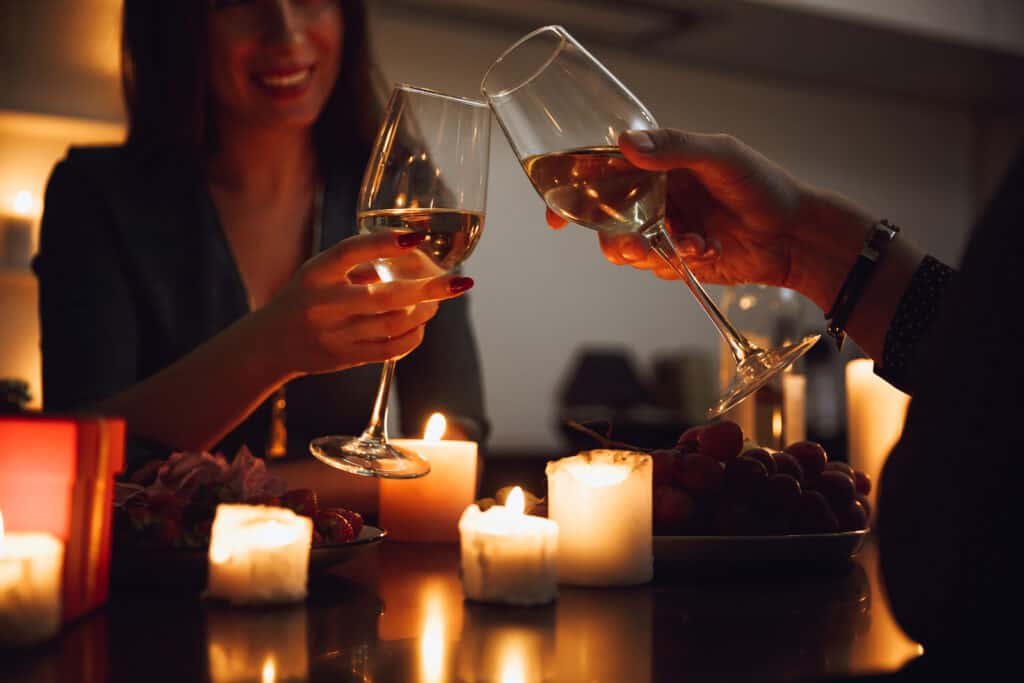 Go stargazing together
Of all the fun things to do late at night, stargazing may be the most simple and romantic. Ideally, you live somewhere with little light pollution that allows for an unobstructed view of the night sky, but if not, you can use a stargazing app to help you see where the constellations are.
Building the world's best and coziest blanket fort
Here's another late night date idea I love to add to almost every date night post I write: the blanket fort! Because honestly, there's nothing so fun and silly as making a cozy blanket or pillow fort with your partner. You get to feel like kids, get comfy, build something unique, and have a great time doing it.
Seek out some live music
When is the last time the two of you enjoyed a night out listening to some live music? Chances are good there is a spot in your local area that has some fun bands and musicians taking the stage. Want to have a different sort of date night? Look for something new in terms of what music genre you attend. What about jazz? Tunes at an Irish pub? You can always shake things up with something new and unfamiliar.
Start a YouTube channel
Why not use date nights to make the most of your existing talents? Could the two of you be the next viral YouTube stars?
Have a retro Sleepover
As kids, sleepovers are the best. They make for awesome late night date ideas as adults, too, especially with someone you love. For this date, plan to play truth or dare, pop popcorn, and tell ghost stories. The blanket fort is a must for this one.
Go late night bowling (look for glow-in-the-dark options!)
Many bowling alleys offer special late opening times or even a different theme of bowling after dark, where the balls, pins, and other elements begin to glow with neon hues. Some bowling alleys call this cosmic bowling, and it's a unique date night idea for you and your significant other.
Take a few couple's quizzes
Just pop over to Google and search for some couples quizzes on your next late night date. There are hundreds of fun relationship quizzes that will provide lots and lots of entertainment, whether you're dating, married, or in a long-term relationship.
Have your own at-home spa night
You don't have to visit a spa to get pampered. Here's one of our favorite date ideas and top creative things to do with your boyfriend at night: a spa experience. You can do this in-home date idea at any hour of the day or night, but late night is especially fun because it lends itself so well to lighting tons of candles.
Give one another massages, do soothing facials, and don't forget to have Enya playing at full blast.
At-home spa date supplies: Massage oil | Face masks | Pure Moods
Take a bath together
This date idea and the DIY spa night go together well to make a perfect evening of late night date ideas. This one is simple: slip into a tub full of bubbles together! We always recommend focusing on a romantic atmosphere, too. All you need are some candles, some music, and, ideally, some champagne.
Stay up all night (or into the post-midnight hours) talking
There's never a bad time to get to know your partner better. And late night conversations can be some of the best and most memorable. Need inspiration for what to talk about? Check out our conversation starters for couples to keep your conversation going til the wee hours of the morning.
Plan out your dream trip
Grab a map, some guidebooks, and your most adventurous dreams, and plan an incredible vacation. Perhaps a round-the-world trip you will take together?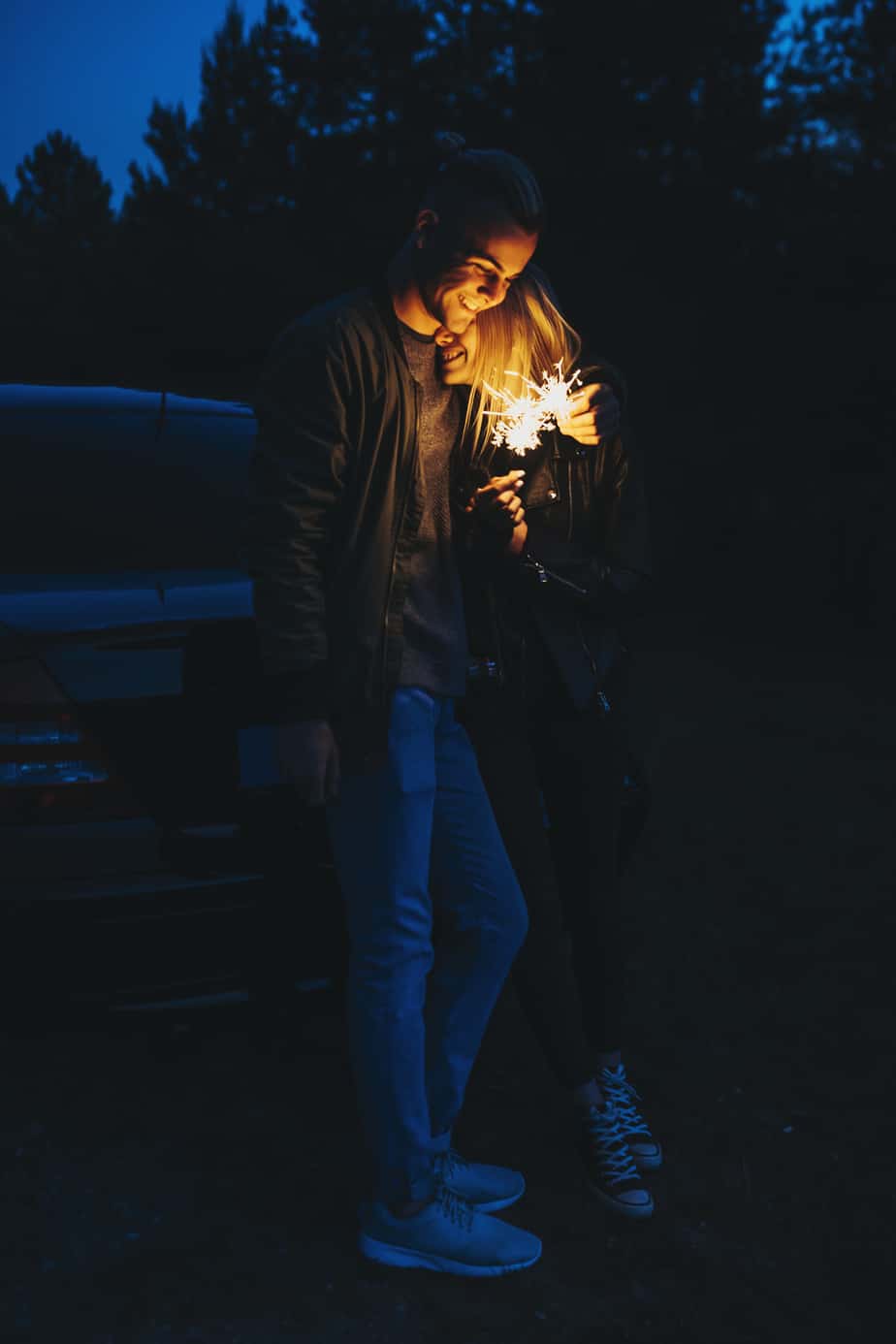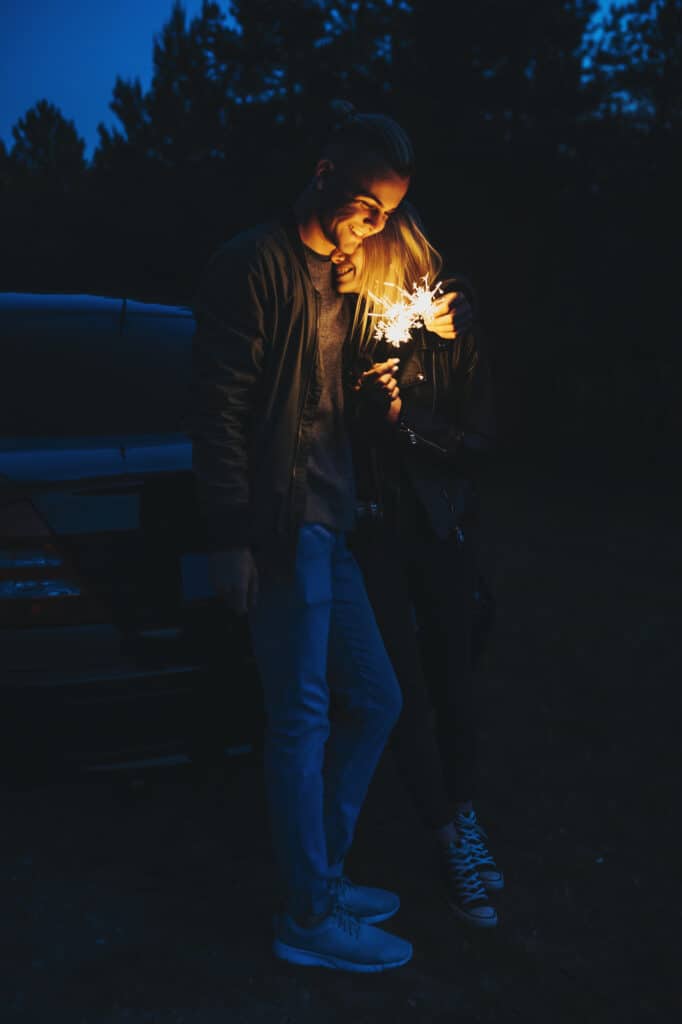 Go camping in your backyard
You don't have to go far for the best late night adventure ideas. Have you thought about camping in your own backyard? Backyard camping is a highly underrated activity. In the privacy of your own yard you can set up the ultimate camping experience without any fear of bears.
Camping supplies: Camping for Couples: Essential Gear Guide & Tips for Two
Create your own couples bucket list
Setting goals as a couple is awesome. And what better way is there to do this than to create your own couples bucket list?
Enjoy dessert in your underwear
The best thing about at home date nights is that there is not necessarily a dress code. PJs, undies….whatever you want. For this plan, you'll need to prepare ahead by gathering your favorite desserts. You can make these at home, like brownies, ice cream sundaes, or whatever, or pick them up as a to-go order from your favorite restaurant. In this way, you can combine a fancy date night idea with the comfort of spending time together in your skivvies. Sounds like bliss to me.
Order takeout from your favorite restaurants
Can't decide where to dine for date night? No problem. For this date night plan, you're going to order takeout from all of your favorite restaurants, and put together the perfect meal to enjoy at home. As a bonus, you can eat whenever you want. Order early and do all the picking up, then heat everything up later when your ready for a midnight "snack."
Get warm and cozy in front of the fire
Do you have a fireplace? Take advantage of that wonderful amenity by relaxing together and just enjoying the quality time.
Watch a classic movie neither of you has ever seen
There are so many classic movies to enjoy, and they are classics for a reason. Pick one that neither of you has ever seen. Or, hoose a few films to screen together and have a classic movie marathon. You can even make an event out of this date night idea: dress up in some of your swankiest outfits and research some vintage snack recipes you can whip up.
Karaoke for two
If you're in an apartment, you might want to make sure you don't have thin walls, or this date idea will bother your neighbors. It's all about karaoke tonight! You don't even need a karaoke machine, just search on YouTube for karaoke versions of your favorite songs.
Hit the town for some drinks and dancing
In the mood to hit up the bar? If you're in a city with some nightlife, then going out for an evening on the town is a clear choice for fun late night dates. You could also consider taking a weekend getaway to a nearby city. Find the places that stay open and make sure to book a comfy hotel to head back to at the end of your romantic evening out.
Tell one another's fortune
If you've got tarot cards, you can give these a try (there are also plenty of online options) or learn how to do some basic palm reading. If all else fails, you can play a childhood game of MASH to see how your future might turn out.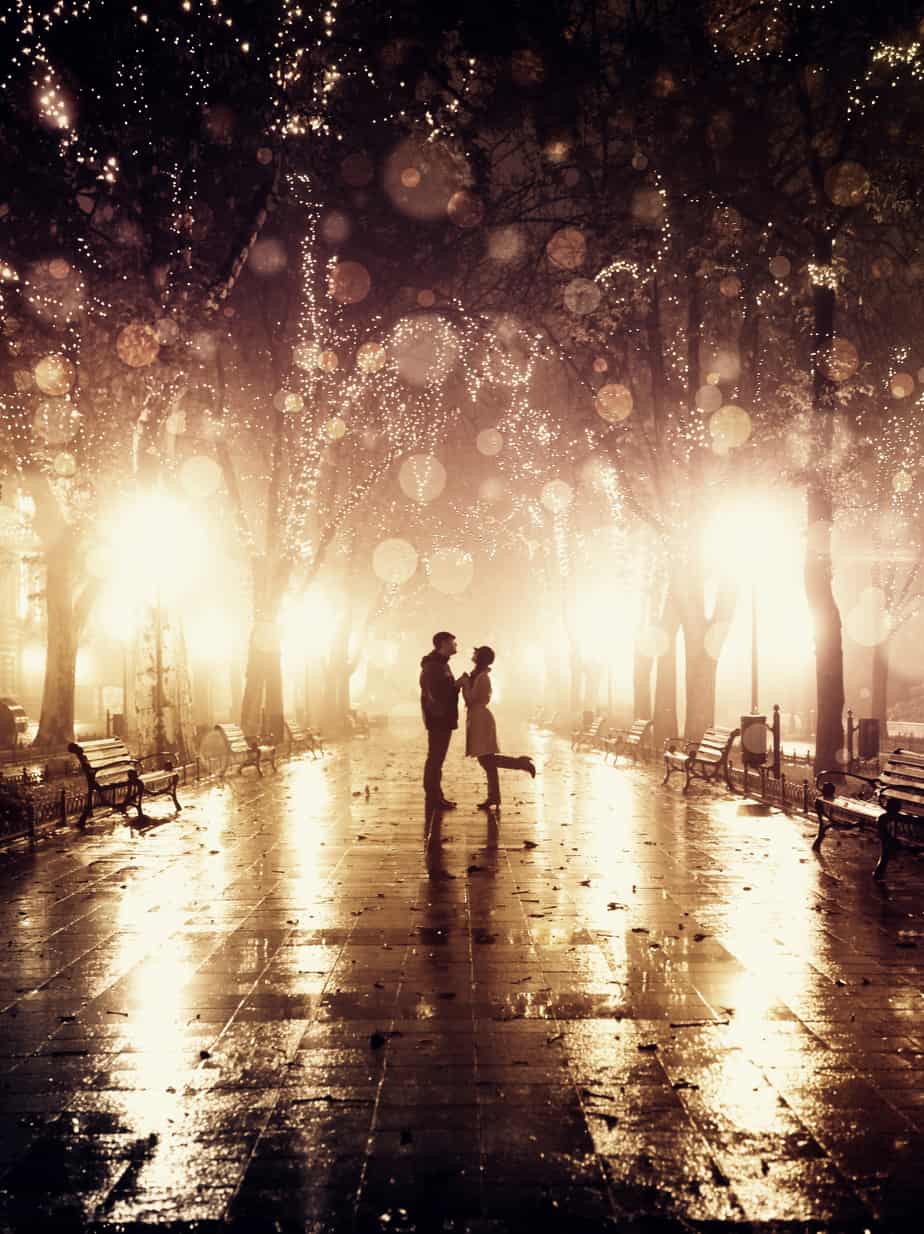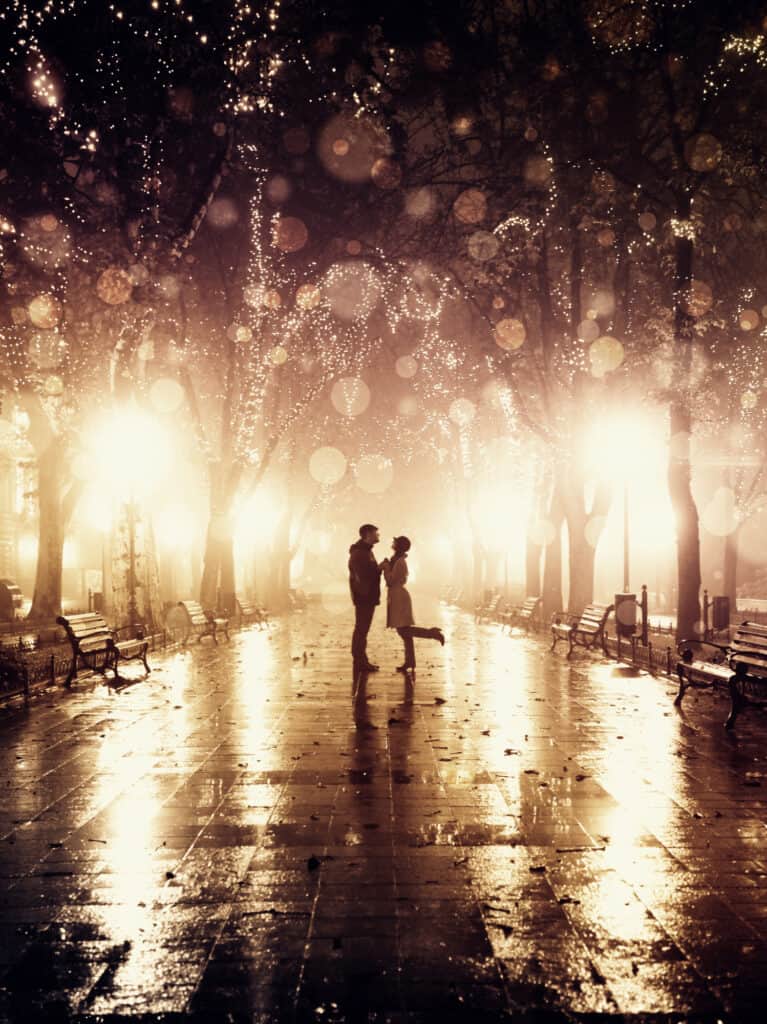 Catch the sunrise
Early morning counts as late night, too! If you're up for it, go somewhere and watch the sunrise together. There's nothing so romantic as seeing a new day dawn side-by-side. Afterwards, you'll need to perk up with some caffeine, so pop on over to a local coffee shop as soon as it opens. Your date can continue into the morning!
Do a fast food run
One of the easiest things to do late at night? Eat! But better than a midnight fridge raid is a trip to your favorite fast food spot. There's probably at least one in your area that is open late, so go crazy and splurge on all that terrible junk. I recommend savoring your food while binge-watching your favorite show on Netflix.
Draw one another
Bring out your inner artist with some paper and pencil. Who is better at drawing the other's portrait? Who knows, you just might come up with a work of art!
Create a date-night jar for future date night ideas
Why not take this date night and plan for some other date ideas? You can write some creative and romantic ideas down on scraps of paper, then put them in a jar. Pull out an idea when you're ready for a spontaneous date night.
Go night-swimming
In the warmer months of the year, a spot of outdoor swimming is lovely. (Add this to your list of summer date ideas). If you have a backyard swimming pool, this is super easy to do, but otherwise, a lake is a good choice. Of course, always be safe, exercise caution, and don't trespass on private property, blah blah blah, but after you've taken care of that adult stuff, be silly and wild like teenagers and go for a nighttime swim. If you have privacy, I highly recommend skinny dipping. What a beautiful and romantic summer memory!
Do some late night yoga
Doing some yoga with your partner will make the two of you super chill, not to mention more flexible!
Chill out in a backyard hammock
The best late night date ideas are sometimes the simplest. Hop into your hammock and swing together while you look up at the stars.
Challenge one another to a few games of pool
The billiards are calling! Head to the pool halls, seek out the social lounges. You and your partner are going to play a serious game of pool. Depending on where you plan to go to play, you may have to plan to arrive a bit early. In smaller bars and pool rooms, there may be limited tables, so you'll have to wait a bit or get on a list in order to get your game started.
Feeling frisky? Make a bet with one another and put something fun "on the table."
Read a book aloud to one another
Who needs technology? Whip out a novel from your local or home library and take turns reading aloud to one another. There's something so peaceful and bonding about this experience. Plus, it's totally free!
Tell each other ghost stories
Why not spook each other a bit? The late night is an ideal time to swap your scariest ghost stories. PS: It's also a great excuse to embrace one another.
Head out on a late-night walk
There aren't always a lot of places to go late at night, but you can certainly explore your city or your neighborhood on foot. A late night walk with your partner is a really lovely way to spend an evening. You'll likely have the sidewalks all to yourselves, and you can experience the world in a completely different way.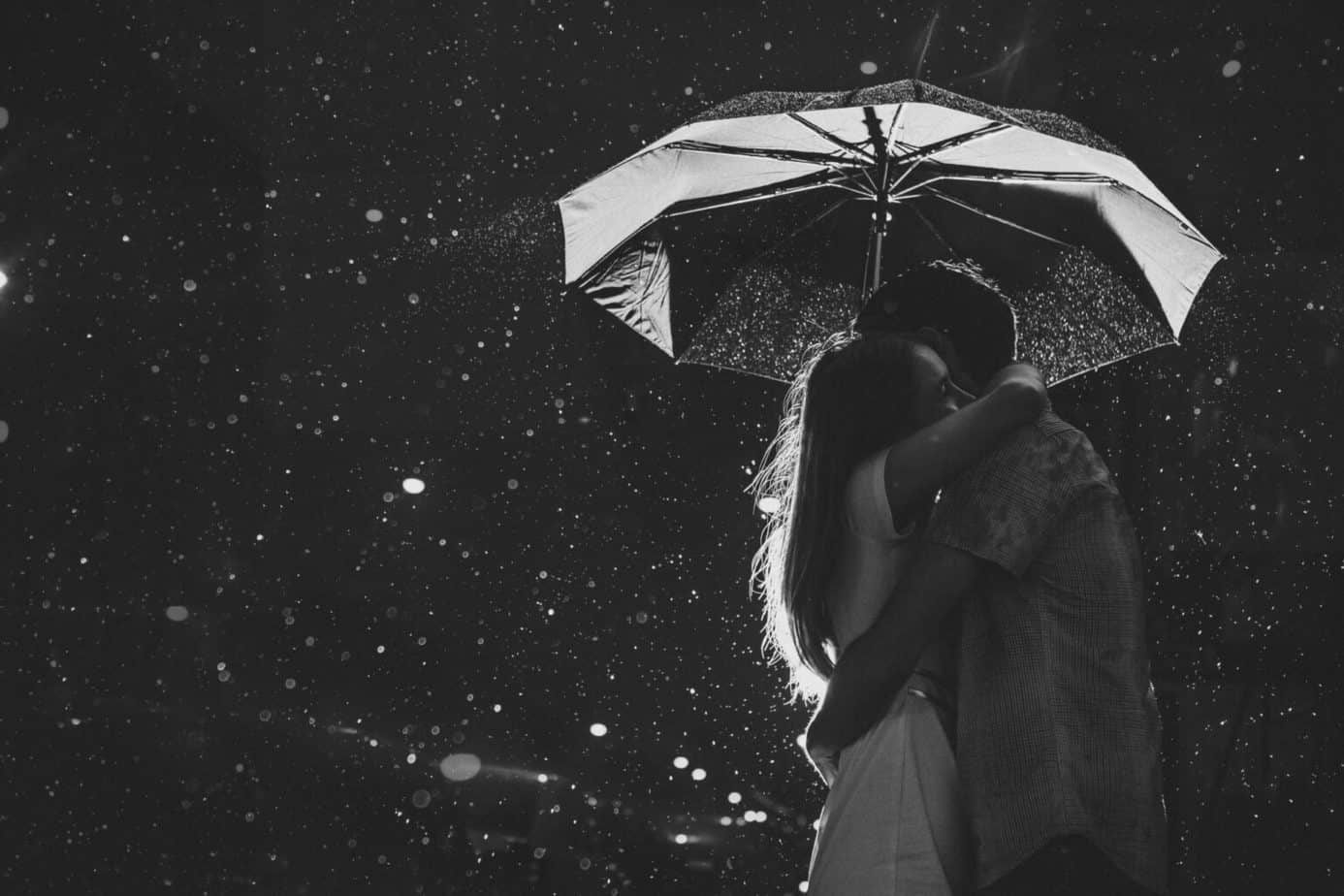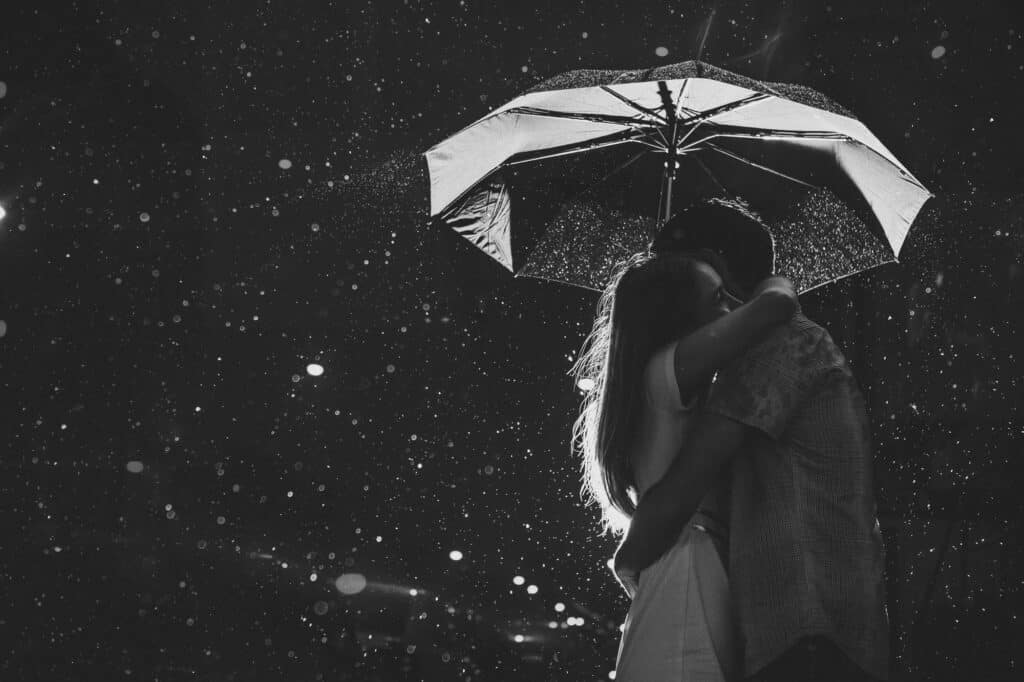 Go shopping in a 24hr spot
There's likely a 24-hour store in your area, so take advantage of the lack of crowds and go get some shopping done!
Shopping in the middle of the night is so bizarre. Have you ever stepped into a fluorescent-lit Price Chopper after midnight? It's a strange place, and you're likely to run into some kooky characters. Trust me. But when explored with your partner by your side, such an oddball excursion turns into a fun late night adventure.
Try some glow in the dark body painting
It's dark, so get creative with some luminescent body paint and turn one another into a glowing masterpiece. You'll need a black light for most of these to be their most vibrant. Not only is this something new and unique that you and your partner can try together, it is also a creative activity that can be quite sensual. Get your paint here: UV Body Paint
Play a sexy game
The late hours are an ideal time to play a sexy, flirty game with your partner. We've got a list of the best games for couples to help you find the perfect option. The list has several games that are perfect for married couples: intimate games that will turn up the passion and excitement. But don't worry, if you're not in the mood for that kind of date night, there are plenty of regular games on there too, if you're feeling more like playing Clue.
Read More: 20 Sexy Date Ideas to Turn Up the Heat on Date Night
Learn how to dance together
Ballroom dancing is super romantic. While you can take lessons in your local area, you can also learn from online lessons for free. (Check out more of our top free date ideas here). The Internet is amazing.
Pick a style, or perhaps learn the basics of a few. Salsa, merengue, waltz, tango. The possibilities are endless. Plus, even if the two of you have four left feet, you'll have a wonderful, special time together.
Put together a craft or build something together
Couples that craft together…laugh together? I'm sure there's something there. Anyway. The next of our late night ideas is to do a DIY, a Do-It-Yourselves. It can be a whole lot of fun to create something as a team. This can be especially true if neither of you are craft people. This makes the whole thing a lot more hilarious and madcap. Remember, doing a date night craft is not about perfection. It's about spending time together.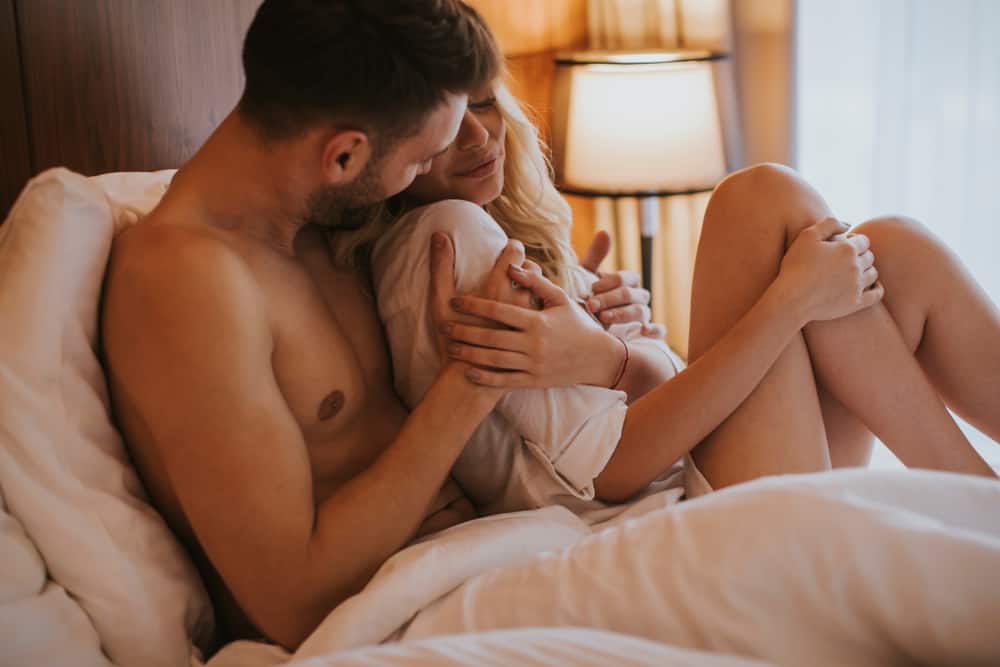 Watch a stand-up comedy special
Late night laughs are always a great idea, and watching a comedy special is a great way to let go and laugh your tushies off.
Do an after-dark scavenger hunt in your backyard
Here's a great date idea that doesn't cost a thing. You can make up one for your partner, or try something like this ready-made after-dark scavenger hunt.
Slow dance to your wedding song
Sink into your sweetest memories by turning on your wedding song, or another romantic song you love, and sway back and forth in the kitchen. Really simple. Really romantic.
Deep clean your house
Okay, okay, I know this doesn't sound especially thrilling when it comes to late night date ideas. but hear me out. I believe there is something fun about taking boring daytime chores and tackling them in a different way. In particular, turning them from mundane work into an overnight extravaganza.
The mere act of performing a task at an unusual time transforms it into something fun and interesting. In other words, blast the music, grab your vacuum, and have a blast making your house look amazing together. Plus, you can celebrate when you're finished with ice cream or another yummy treat.
---
More Date Ideas for Couples You'll Love:
---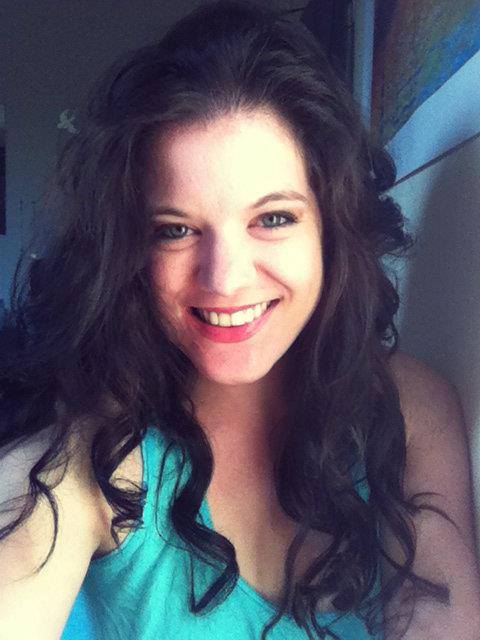 Amy Hartle is the author of Do You Love Me? How To Stop Seeking Reassurance in Relationships, a book on reassurance seeking and relationship anxiety. Both her book and this blog are born of personal experience; Amy shares expert relationship advice from the lessons learned during her own 10+ years with her husband, as well as couples travel tips and romantic getaway recommendations, all gleaned while traveling the world together.