*Links in this article may be affiliate links, from which we may earn commission. See our Privacy Policy for full details.
I don't think spring is when love is in the air. I think it's fall. Without a doubt, fall has to be the most romantic season. The chilly air makes lovers want to snuggle under blankets, walk hand-in-hand clad in flannel, and cozy up to a fire. The scenery is beautiful and the seasonal food is delicious. What better season is there to fall in love—or rekindle your passion.
Whether you're casually dating, in a serious relationship, engaged, or married, fall is the perfect time to grab someone special and go on an adventure. We've compiled a list of 37 romantic and adventurous fall date ideas to help you have an amazing season.
 37 Romantic & Adventurous Date Ideas for Fall
1. Go apple picking in a nearby orchard.
Apple picking is so much fun. Pick a whole bushel or peck and you can bake for days.
2. Have a coffee date in the coziest cafe you know.
Now is the time to unashamedly choose the pumpkin spice latte. Or maple latte & hot cocoa–our personal faves.
3. Movie marathon under soft, warm blankets.
It feels like a good time to watch the entire Lord of the Rings trilogy, doesn't it?
Nothing wrong with staying in! Our friends Bassam & Lena have some more ideas for stay-at-home date ideas 🙂
4. Get lost together in a corn maze.
Corn mazes are super fall.
5. Pick pumpkins at the pumpkin patch.
Go find the great pumpkin, growing in the wild.
6. Eat too many cider donuts.
Why is fall food soooo good?
7. Go on a fall hike.
Work off the donuts and pie with a challenging hike.
8. Get spooked together in a haunted house.
Nothing brings people closer like shared fear. (We screamed and laughed at Busch Gardens Howl o' Scream this past year!)
9. Create a new fall cocktail, play music, and dance around the kitchen.
Get classy. Grab all your favorite spirits and brew up something amazing.
10. Bake a seasonal pie together.
Apple or pumpkin are the clear winners, and to really get in the fall spirit, use apples you've picked yourselves. Here's a delicious recipe for apple pie that we made together.
11. Go on a road trip somewhere with amazing foliage.
We love a good road trip. Hopefully you can drive a few hours and peep some killer leafage.
12. Create a cozy nook in the bed of a truck and go stargazing.
If you don't have your own truck, borrow a friend's. Cover the bed with pillows and blankets, fill a thermos full of hot cider, and drive out to a dark spot to look at the stars.
13. Take turns cooking a romantic fall dinner for each other.
There are so many yummy fall recipes. Take turns crafting a gorgeous meal for one another. Need some fall recipe ideas? How about Pumpkin Risotto, Maple Salmon, or Rosemary Cream Pork Chops.
14. Enjoy a bike ride on a crisp, sunny day.
You can take a ride and see some of the gorgeous fall foliage.
15. Share stories of your favorite childhood Halloween memories.
Tell each other about your favorite costumes or your first haunted house visit.
16. Attend a fall festival.
There are so many fall harvest events. Pick a couple and explore them with your partner.
17.  Have a bonfire with friends.
If you can't find a bonfire, cozy up to a fireplace at home. S'mores optional.
18.Go for one last camping trip, before the weather turns too cold.
Summer may be high time for camping, but early fall is a perfect time, too. While the weather is at its most beautiful, head into the wilderness for a day or two.
19. Make homemade caramel apples.
Just one of fall's amazing sweet treats.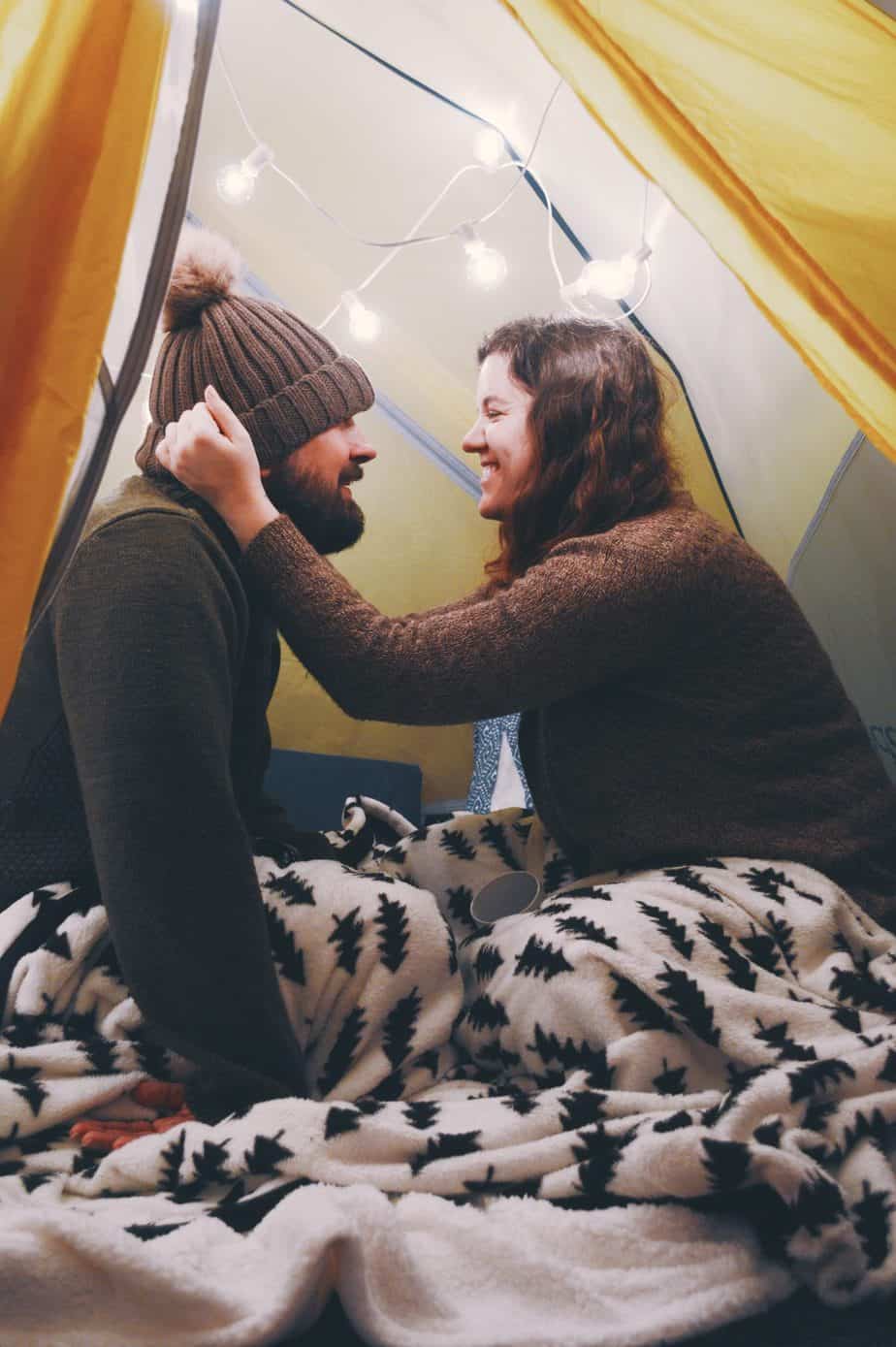 20. Watch a few of your favorite scary movies.
You can scream and hide your eyes together.
21. Go shopping for Halloween costumes – bonus points for a couples costume!
Go explore the Halloween costumes, try on some masks, and make each other laugh.
22. Build an indoor blanket fort.
I don't care if you're 9 or 49….an indoor blanket fort is for adults as much as children.
23. Rake the leaves…like adults. Then jump in the leaf piles…like kids!
Speaking of being a grownup…tackle a  fall chore together such as raking the leaves. Then make the most of those piles!
24. Go on a romantic fall getaway (we recommend New England).
Traveling as a couple is always a good idea.
25. Step back in time (and visit a fantasy world) at a renaissance festival.
Fall is the season of renaissance faires and festivals. Grab your lord or lady, put on some medieval garb, and toast a cup of mead.
26. Sample the tasty offerings at a local cidery.
Hard cider is so popular these days. It shouldn't be hard to find a local cidery, and most offer tastings.
27. Have a pumpkin beer taste test.
You can also have a DIY cider tasting, and a pumpkin ale taste test. Try all the varieties in the store. We're partial to Shipyard Pumpkinhead.
28. Watch Hocus Pocus…the best Halloween movie ever.
Relive your childhood by watching this great Halloween classic. (Or go find the filming locations in Salem, MA!)
29. Saddle up and go horseback riding.
Riding your trusty steed is best when the leaves are at their most colorful.
30. Stay in bed all weekend long.
Sometimes the greatest dates involve doing absolutely nothing at all.
31. Go to a football game.
Cheer on the local high school, or spring for a pro game.
32. Have a cute fall photo sesh (thanks, Instagram husband!)
If you're significant other is up for it, take some adorable Instagram-worthy fall photos. So glad my husband doesn't mind posing with me!
33. Make some autumn crafts.
Pinterest has literally a million ideas.
34. Go on a hay ride (a haunted one is best!)
Scarecrows, and pumpkins, and ghosts – oh my!
35. Take a romantic train ride on a fall foliage route.
Traveling by train is incredibly romantic–especially if you choose a beautiful destination.
36. Book a candlelit couples massage.
Honestly a great date in any season.
37. Turn your home into a cozy fall cabin.
Use twinkle lights and unique touches to make your abode feel like a fall fantasy.
---
Pin this post to save for later!
<