---
*Links in this article may be affiliate links, from which we may earn commission. See our
Privacy Policy
for full details.
---
The long, cold nights got you down? Need to freshen up your relationship with something new and exciting? We've got you covered, with these 25 romantic and fun winter date ideas for couples!
While the winter season lends itself perfectly to snuggling by the fire and cozying up watching movies and drinking hot cocoa, there are countless ways to find the romance of winter with your partner.
So shake off those winter blues, grab your sweetheart, and get planning. These 25 winter dates are ready for you.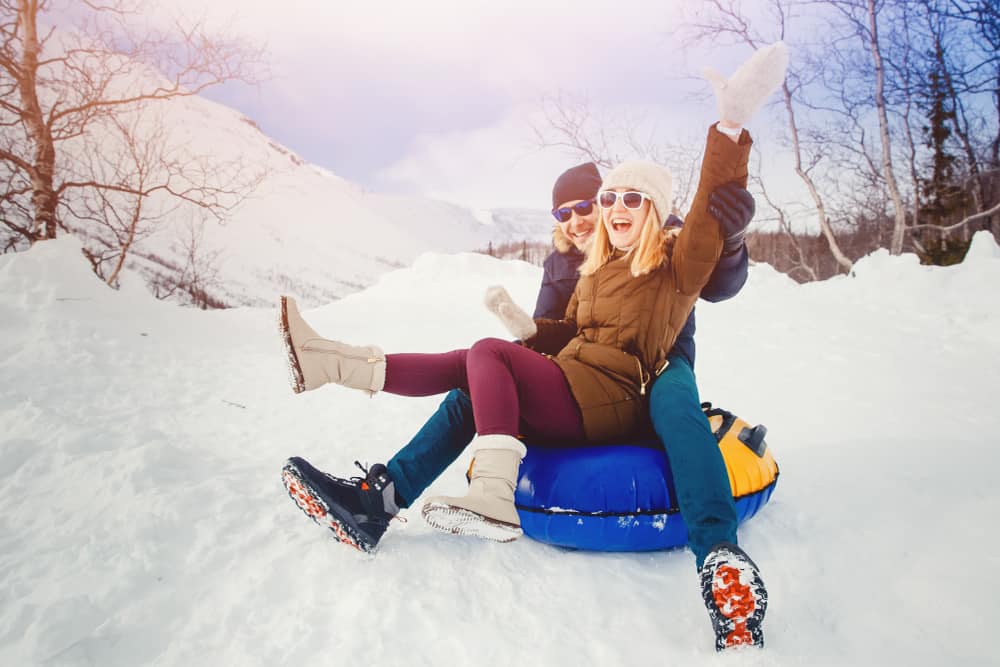 Playing in the Snow
If you live somewhere that gets snow, you might be feeling sick of the constant "white stuff." The best antidote for those winter blahs is to get out and play in the snow!
Be like kids again! Build a snowman, make snow angels, fly down a hill on tubes or sleds, and generally get up close and personal with the snow. I guarantee you'll have a great time. PS: Don't forget your snow pants!
The Great Couple Bake-Off
Baking is the perfect wintry date! In this version, you're not just going to bake cookies together, however, you're going to turn it into a great kitchen competition!
Come up with rules for yourselves; see who can make the best brownies, see who can make the best cake without using a recipe. When it's all done, you get to eat the desserts and declare a winner.
Explore a Museum Together
You can visit a museum at any time of year, but in the winter, it's the perfect excuse to stay indoors.
We love art and history museums, but sometimes the quirkier the museum, the better! There are lots of unique ones out there. Check out Atlas Obscura to find the strangest attractions in your area.
Build an Indoor Blanket Fort
Who doesn't love a good blanket and pillow fort? I don't care how old you are, this is a great date idea for winter. Rustle up all the covers in your house, grab some chairs and couches for the foundation and get to work.
Once your fort is complete, you can cuddle up inside it and read books together.
Go Ice Skating
One of the most classic and fun winter activities for couples is ice skating! Even if you can't skate on an outdoor pond, your town probably has an indoor ice skating rink. Check their website for open skate hours, grab your darling, and hit the rink.
When you get home, you can warm up with some delicious hot cocoa.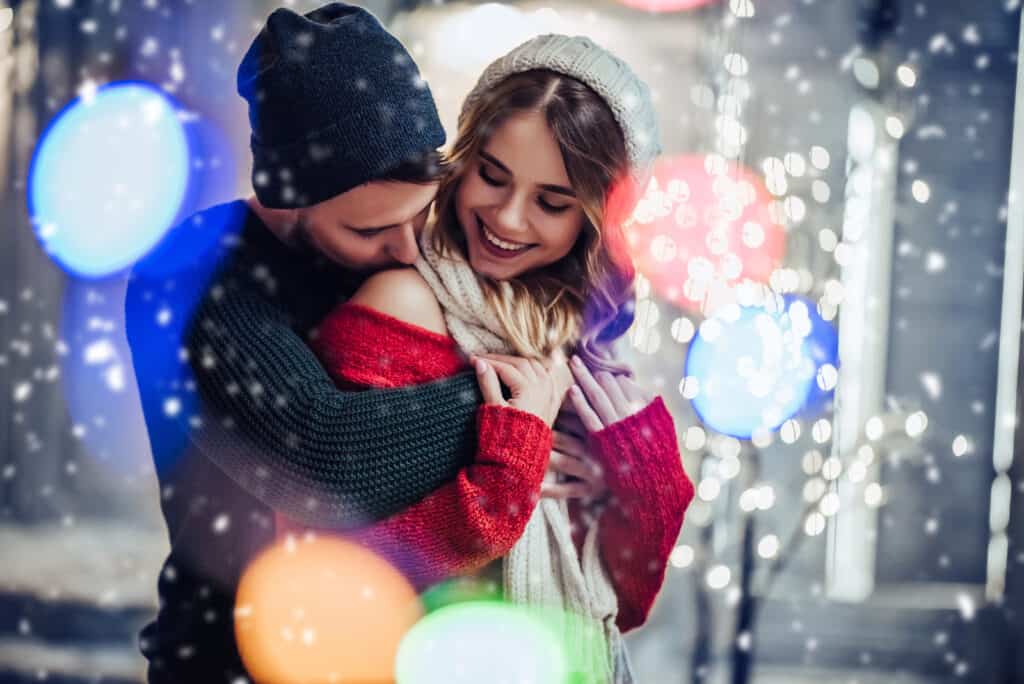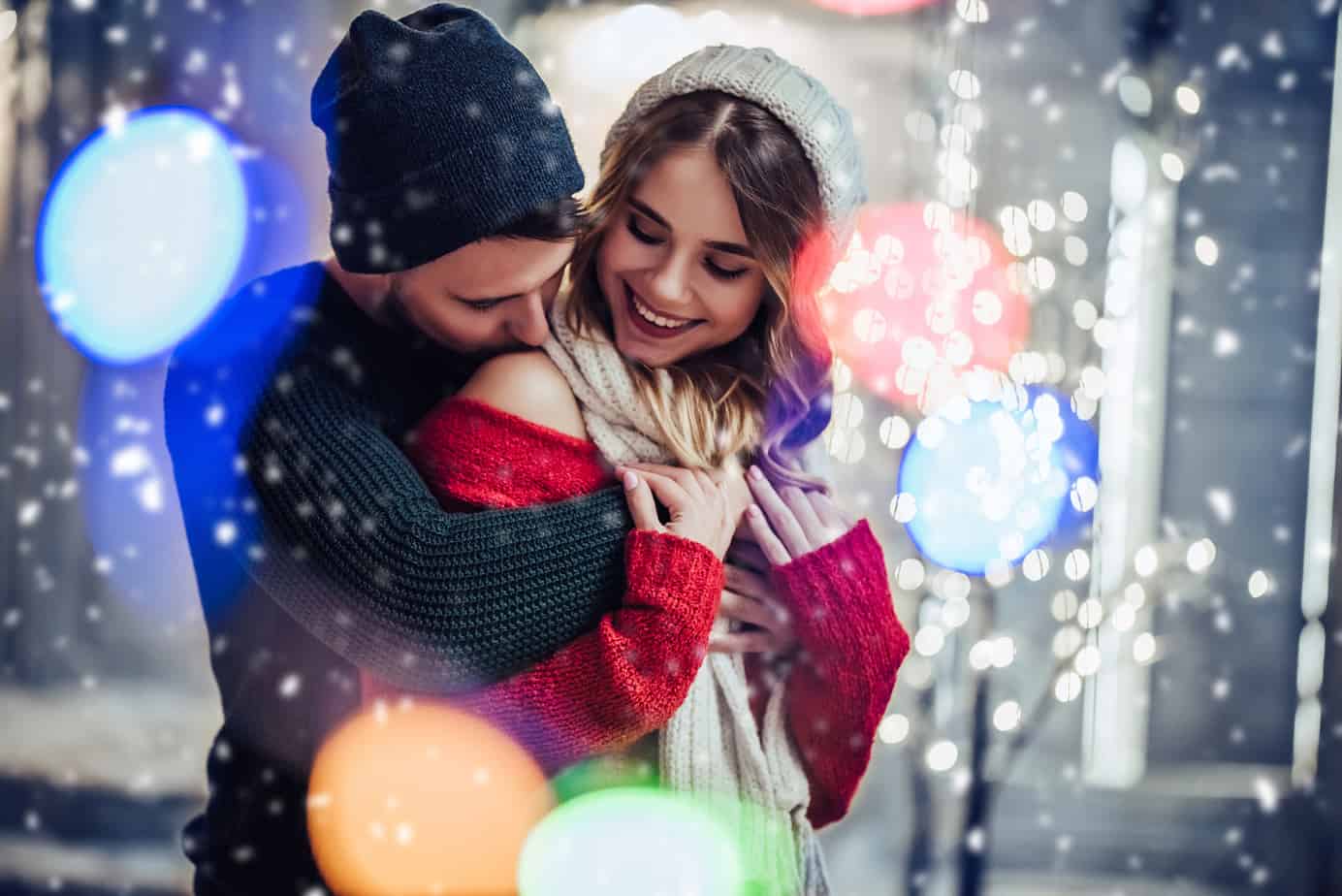 Tackle a DIY Project
Building something together is incredibly rewarding. Why not browse Pinterest and find a super-cool DIY craft idea you can attempt together? Even if your finished product turns out…less than stellar…you'll have a great time laughing and bonding while you create.
Weekend Getaway to a Log Cabin
Winter romance calls for a weekend spent "snowed in" at a woodsy cabin. If you're looking for an adventure, book a cozy cabin somewhere within a day's drive. If you're near Vermont, we've got a list of great romantic cabins to consider.
Spend the Day at the Movies
On a particularly cold winter day, head over to your local movie theatre. Catch their earliest matinee (usually an 11am show in most theatres) and then stick around and watch movies for the rest of the day.
This is definitely a once-in-a-lifetime epic day event. Can you two handle it? You can subsist on popcorn and nachos for sustenance.
Learn a New Skill Together
Don't get bored this winter; consider learning a new skill together.
There are truly SO many things you could learn and for many of them, you don't even have to leave the house. Click over to YouTube and let your imagination run wild.
Alternately, sign up for a class you can take regularly throughout the winter. Not only will such a hobby help the cold months fly by, you're sure to develop terrific skills over the season.
See a Hockey Game
Hockey is the sport of the season. If possible, check out a game near you, even if it's a high school hockey game. Hockey is always entertaining.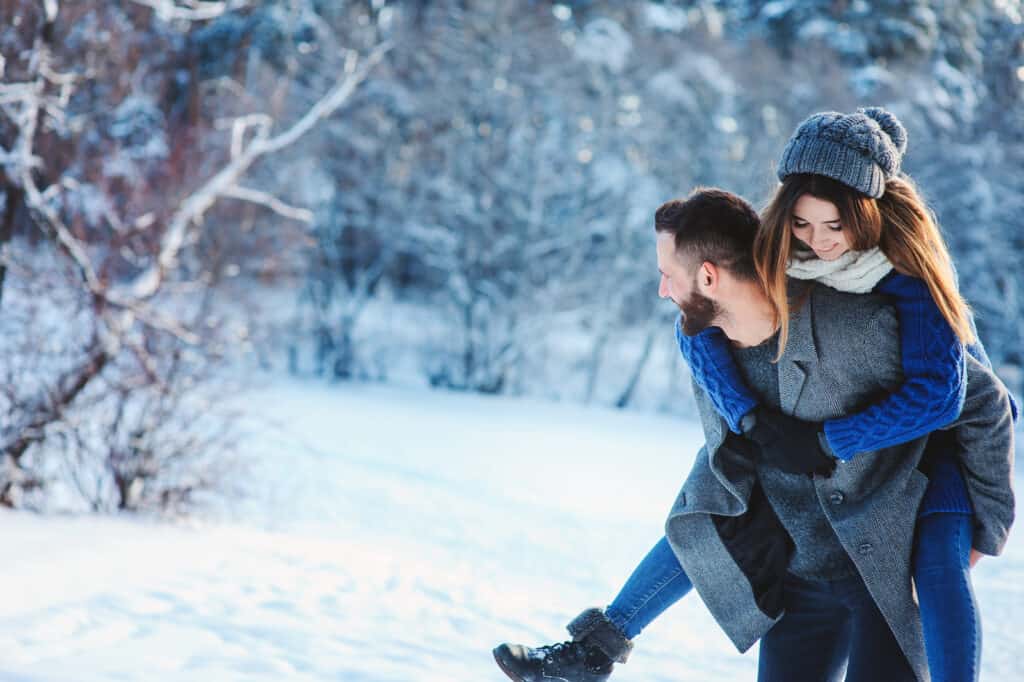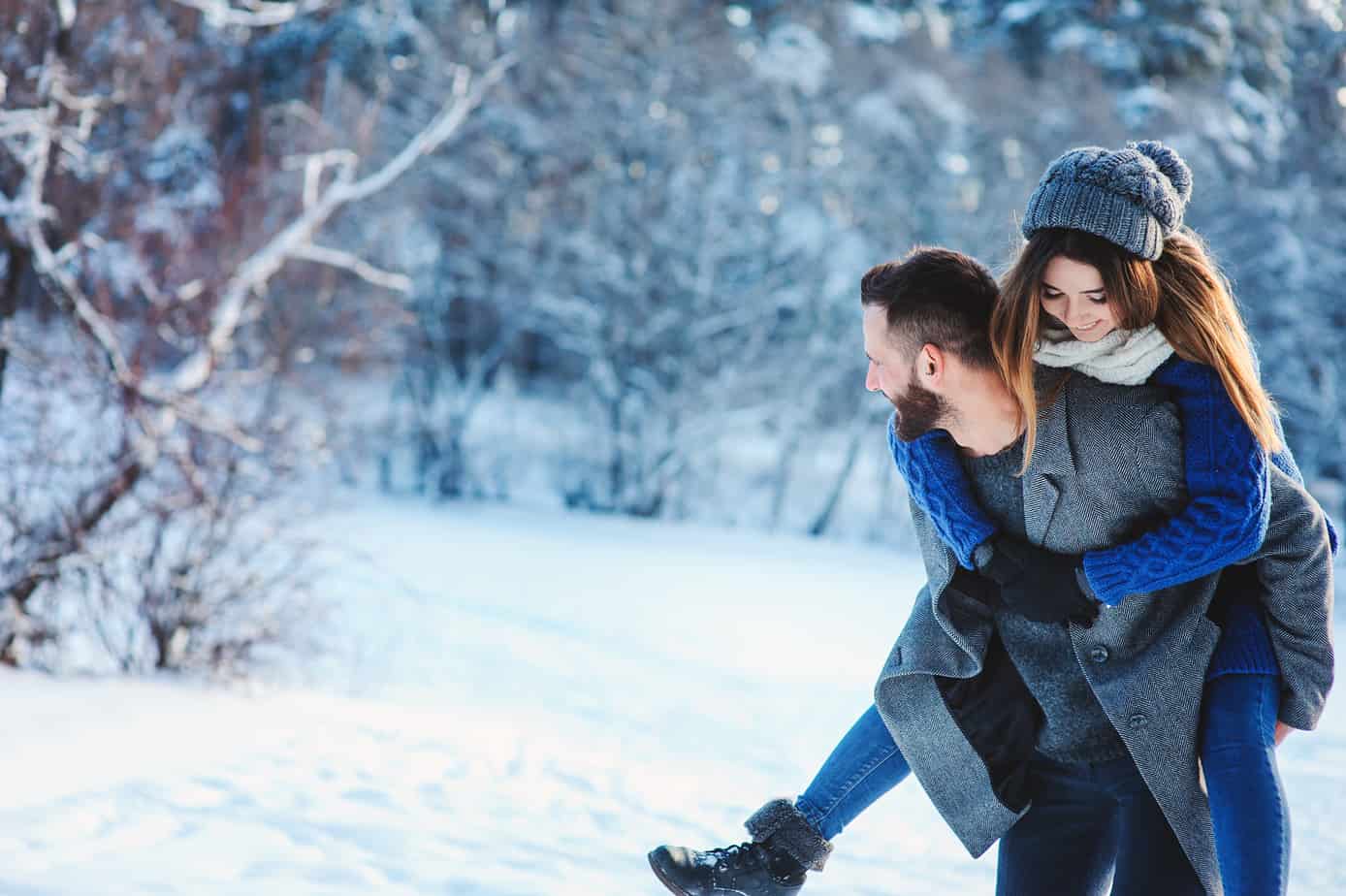 Host a Wine and Cheese Night With Friends
Gather your couple friends for a date-night in. Invite your pals over for a night featuring cheese, wine, and conversation. Have everyone bring a bottle of wine so you can sample (cheap bottles are totally okay) and grab a bunch of different cheeses from the grocery store.
Toss a few crackers and some fresh fruit in the mix and you've got a great party that will make you feel very fancy.
If you truly want to impress, serve your fromages on a classy cheese board like this one.
Start a Couples Blog Together
Not sure what to do on a chilly winter day? Hey, why not start a couples blog?
Okay, this is definitely not an easy task (or a typical winter date idea) but if you've ever tossed the idea around in your head, you may as well give it a try. Check out our articles on Why You Should Start a Couples Travel Blog and a basic, general guide on how to start a blog.
Bounce at an Indoor Trampoline Park
For our last anniversary, my husband and I went to an indoor trampoline park together—and it was amazing!
This is such a unique winter date, especially if you go on a weekday morning when the park is empty. We had an absolute blast running, bouncing, and landing in pits of foam. Word of warning: it's a fairly intense workout!
Take a Dance Class Together
There's no time like the present to brush up on your dancing skills. You can take a ballroom dance class together that is more traditional, or even sign up for an adult dance class in another style. Always wanted to try hip hop? Give it a shot! If you end up being terrible, at least you'll never forget the fun of seeing each other bust a move.
Go Bowling
Here's a classic date night idea: bowling! Not much to say about this one. 🙂
Answer Intriguing Questions
Often, all you need for a great date night is some stimulating conversation. But what do you do when you run out of things to talk about? Our suggestion is to ask each other some fun, unique questions like these:
99 Conversation Starters For Couples: Questions to Ask Your Partner
These are guaranteed to get you talking on a variety of subjects both serious and silly. Have fun!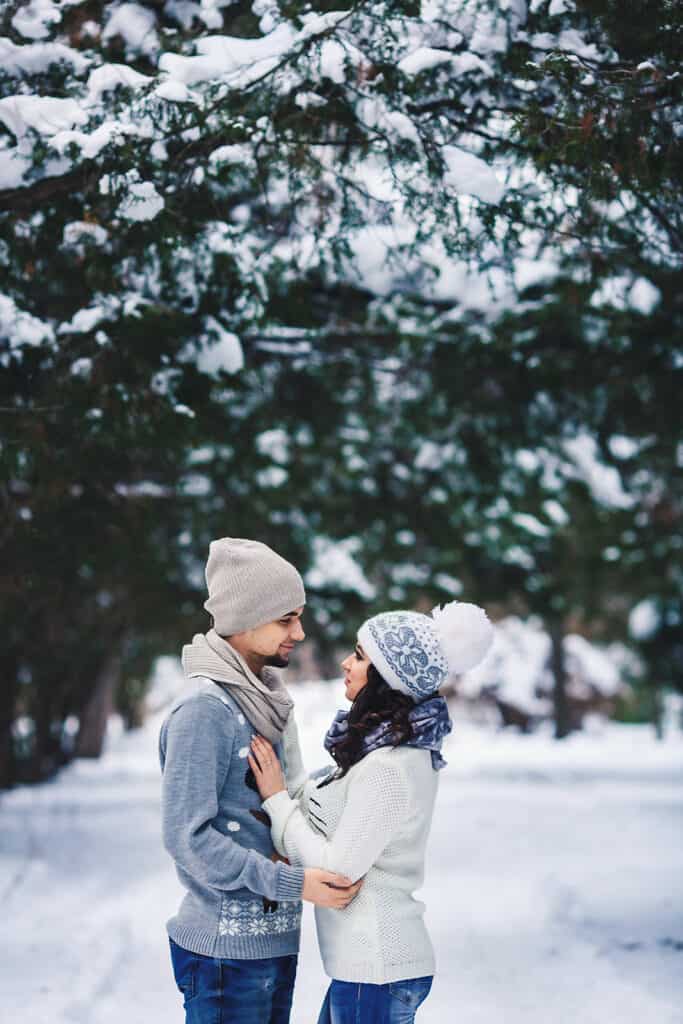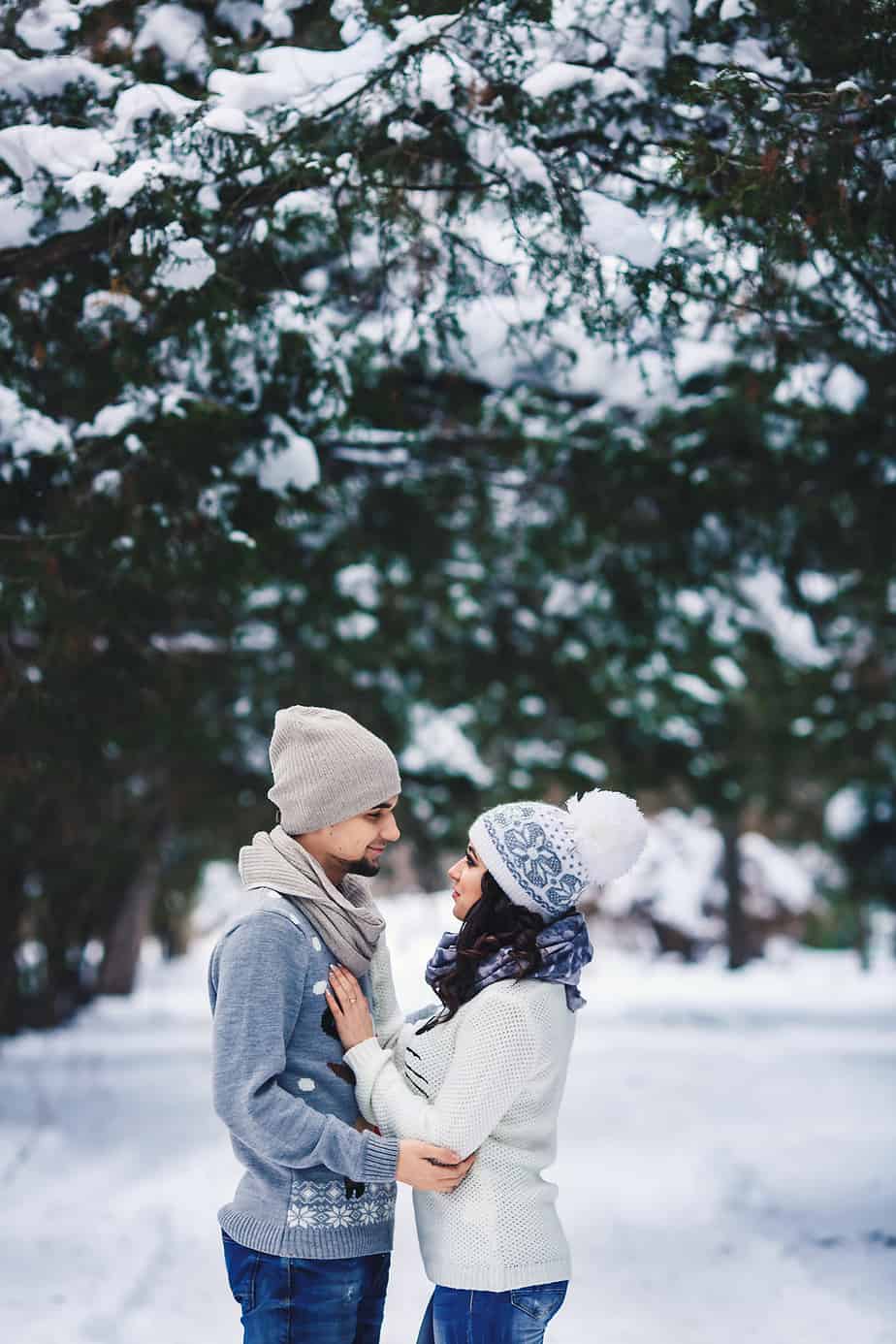 Volunteer Somewhere Together
I love including volunteering as a date idea for couples because it is something we all could and should do more of.
Being selfless and contributing positively to society is such a powerful gift, and it's doubly so when you do it with the one you love.
Look for volunteer opportunities in your area or make your own. Since it's winter, why not help out your elderly neighbors by shoveling their snowy driveways and sidewalks?
Go to a Trivia Night
Trivia nights are always a blast. Chances are good that a bar or restaurant near you has a weekly or regular trivia night. Now's your chance to hop in as the smart duo you are and (hopefully) snag a prize! Even if you don't win, you'll enjoy some tasty drinks and some brain exercise.
Explore Your Own City
It's no secret that we love to travel, and going on a big adventure is always fantastic for a couple. But if you're limited by time, money, or whatever, it can be hard to get away.
That's why we suggest becoming a tourist in your own city! Have the two of you ever explored your own backyard with the eyes of a visitor? It can be really interesting, and you're likely to stumble across unique places. And when friends come to visit, you'll be able to serve as the most knowledgeable tour guides around.
Create a Couples Bucket List
Have you heard the expression "half the fun is planning?" I totally agree with this statement. Planning something together is even more incredible. If you and your partner haven't made a couples bucket list of your very own, a wintry afternoon just might be the perfect time. Add anything you want—the sky's the limit.
Read Aloud to Each Other
Remember when people read aloud to each other? No? Well, I say we bring that tradition back.
Storytelling and reading are some of the oldest pastimes in human history and they are surprisingly intimate. Read a book together taking turns reading a chapter aloud. You'll feel very vintage, for sure, but you're also likely to reignite your love of a good story.
Have a Board Game Night
There's nothing like a board game night! Gather all of your favorite games, tuck into your best pajamas, and prepare your snacks.
Tired of Monopoly?
If you need some ideas on fresh new games to try, we've got a whole list here that is perfect for date night: The Best Board Games for Couples.
Pamper Yourselves with a Spa Day
Getting spoiled side-by-side is a treat. Well, this winter is time to TREAT YO'SELF. Plan a spa day together. Head to a local spa if you can swing it, but if not, a homemade DIY version works pretty well, too.
You'll need:
cucumbers for your eyes
soothing music (think Enya)
candles
good-smelling lotion
hot tea
Cook a Two-Person Feast
Winter is for hibernating, am I right? Well, for this fun winter date idea, the two of you are going to prepare and enjoy an enormous feast. This can be a gourmet meal you cook yourselves or an array of snacks obtained at your local convenience store. Whatever you choose for this feast, totally just go for it. No guilt. No limits.
PS: We suggest stretchy pants.
Go Snowshoeing in the Moonlight
Finally, here's a winter couples activity that everyone should try once. It's only doable if you're in a snowy area. The date is snowshoeing! Many outdoor adventure centers and resorts offer snowshoe tours in the winter, and you just might be able to find one that goes at midnight. If you're up north, take a look around for this perfect romantic winter idea.
---
Check out these other date ideas!
---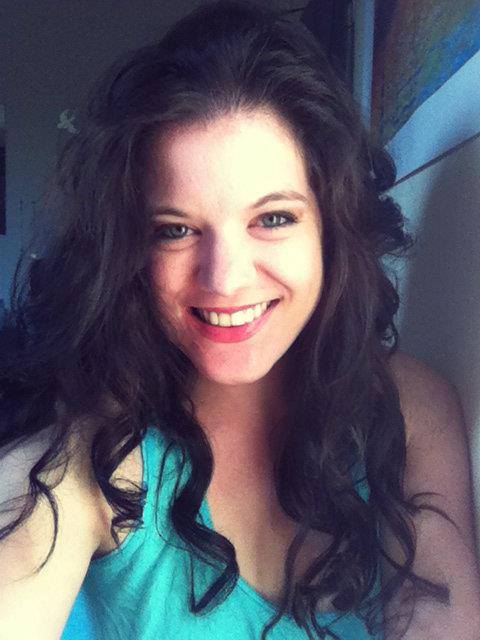 Amy Hartle is the co-founder and owner of Two Drifters, where she blogs about romantic and couples travel, relationships, honeymoons, and more. With a Master's in English and a BA in Musical Theatre, Amy loves to write quality content as well as to entertain, and she hopes to do a bit of both here on the blog! Amy is happily married to her husband Nathan, and when not working on their sites, Amy & Nathan can be found cuddling, reading, and enjoying delicious lattes.