This post may contain affiliate links. Read our disclosure page for full details.
A rainy day can be the perfect time for a date! A rainy day is perfect for inspiring maximum yearning for all things comfy and cozy, and how lovely is that for date vibes?
If you're looking for indoor rainy day date ideas that let you have fun together while sheltering from the storm or date ideas for rainy days that encourage a little playing in the rain, you can find it here in this list of adorable rainy day date ideas for you.
Rainy Day Date Ideas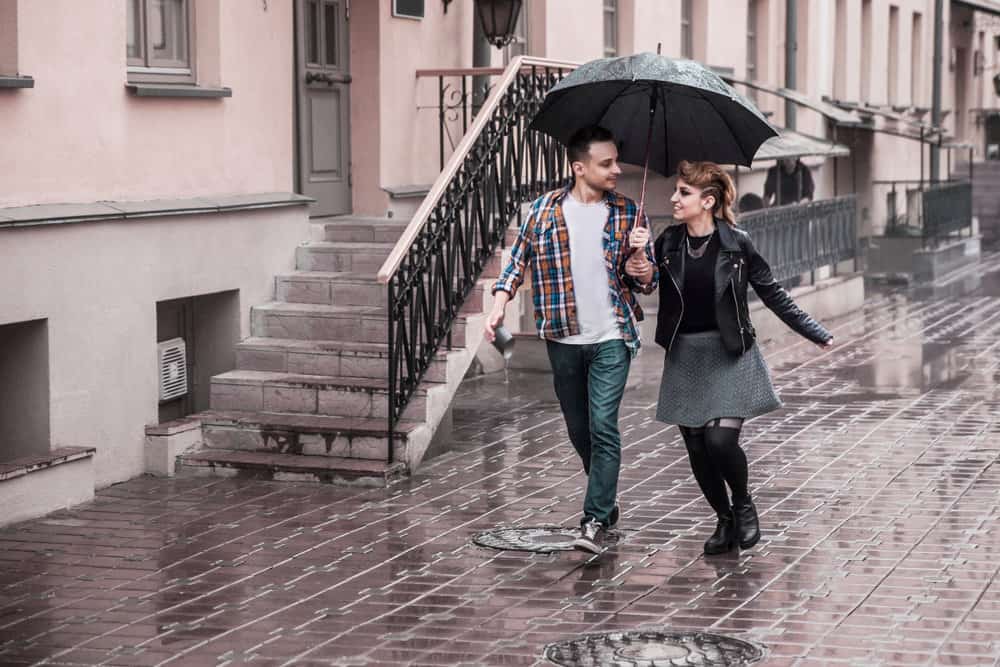 Escape (Room) Together!
When it comes to indoor activities that encourage team work and bonding, escape rooms are ideal! Not only do you and your date get a chance to really see how the other thinks and works under pressure, but you'll both stay dry and out of the rain while doing it. Plus, you can find escape rooms pretty much everywhere these days, and all you have to do is show up, so this is a pretty easy date to plan.
Staycation at a Nice Hotel
Are you and your significant other looking for something to keep you both busy on a rainy day or over a stormy weekend? Plan a little staycation at a nice hotel and enjoy amenities like room service and an indoor pool. Bonus points if you don't even have to leave your town to do it… this is a fun way to have a getaway date without having to do much getting away, and it makes an excellent rainy day married date!
Sip n Paint
Sign up for a sip n paint! Often offered by local art galleries and/or recreation centers, sip n paints are fun rainy day date ideas for any couple who enjoys creating together. The beauty of the sip n paint activities are that not only do you have an art instructor providing guidance on what you two will be creating, but sipping on your adult beverages also helps to loosen the ol' paintbrush! Plus, the art you create will serve as pretty cool souvenirs of your sweet rainy day date.
Get Together at a Coffeeshop
Even the smallest towns typically have at least one adorable coffeeshop that is perfect for grabbing a cup of coffee on a rainy day! What could be more comfy and cozy than sipping on a warm beverage with your date as the rain comes down outside, anyway? Even if you're not a coffee drinker, there are plenty of other yummy drinks often available to choose from.
You can also pair this with playing fun relationship games like Never Have I Ever, too!
Cook for Your Date
Are you good in the kitchen? Then whip your date up a meal in the comfort of your own place! Bonus points if it's a dish you've essentially perfected or you know it's their favorite dish. Light some candles, set the table, then get to preparing a sweet home-cooked rainy day date!
Spa Date
Do you want to offer your date the perfect day of relaxation? Leave it to the professionals and book a spa date! Get couples massages, pedicures, masks, skin treatments, basically whatever sounds appealing to you two, and your date will leave your spa date feeling aaaaall the good vibes! Pair your spa date with grabbing a cup of coffee or a meal afterward for the perfect rainy day date.
Go Bowling
Bowling is a great rainy day activity for anyone, but taking a date bowling sets the stage for all kinds of great competitive flirtation! So many opportunities for cheeky jokes and silly competitive flirting, and it gives you both something to actually stay busy doing, so if it's one of the first dates where you're still feeling each other out, it really takes the pressure off of keeping a conversation going.
Pull Out a Puzzle
When was the last time you actually did a puzzle? They're fun! Find a puzzle that's challenging enough to give you both plenty to think and talk about, pop a bottle of wine or make a batch of hot chocolate and enjoy each other's company as you puzzle away on a rainy day.
Go to the Movies
Of course, this is a pretty classic rainy day date idea, but the oldies are often the goodies! It's always fun to get the full experience of a movie theater, especially if your theater has nice reclining seats or offers a full dining experience. Even if you opt to watch a movie at home, you can still pop plenty of popcorn, and it makes it a little easier to get cozy and cuddle as the rain comes down outside.
Nap Together
So this is probably not a first date idea or a new relationship idea, but for those in a comfortable, committed relationship, napping together can be the very best! Especially on a rainy day when you can drift off to sleep with the rain pitter-pattering on the roof as you snuggle up close to your favorite person. Napping together is a great rainy day date idea for married couples or committed partners.
Craft It Up
This can be such a cute rainy day date idea! If you and your partner like to get crafty, there are so many cute things to craft on a rainy day, like designing each other handcrafted specialty photo frames (with the intention of framing a photo of you two, of course), making each other a "Reasons I Love You" or "Reasons You Rock" jar with little bits of paper telling your date why you think they're awesome, or make a Memory Box or scrapbook for the two of you to keep your movie stubs, silly souvenirs and so forth in.
Do Yoga Together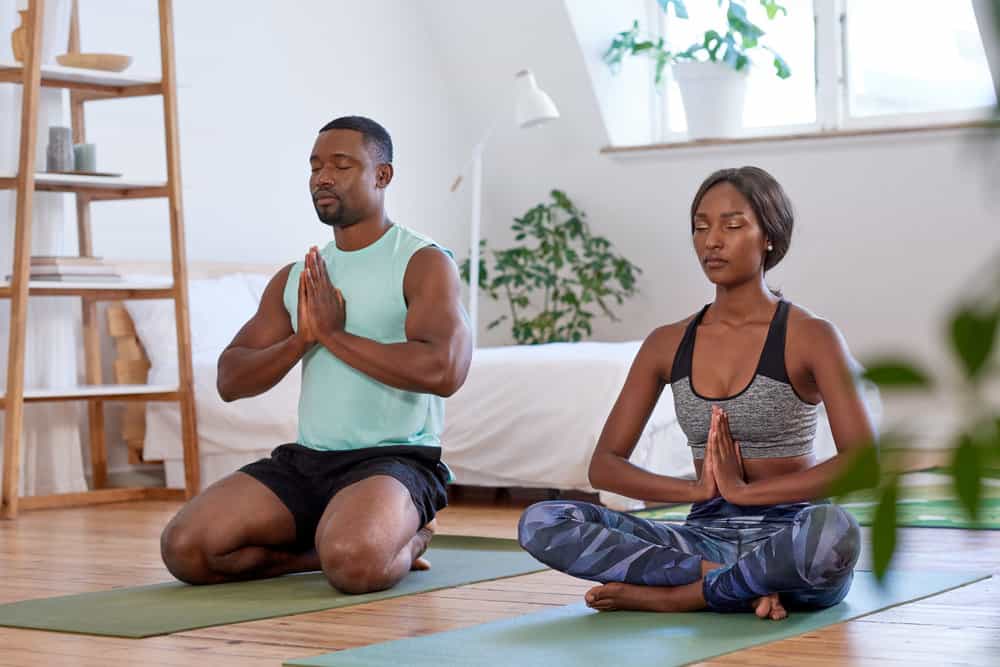 Yoga is a healthy activity for the mind and body, so taking a yoga class with your date is a fun and healthy way to spend time together. There are a variety of different yoga styles, so whether you're interested in a hot yoga studio where you'll both work up quite the sweat or you'd prefer a calm, quiet studio where you'll both leave feeling more grounded, you can usually find a yoga style to suit what you're in the mood for. You can also find yoga classes online, so this rainy day date idea can be set up for free, too.
Go Wine Tasting
If you have a vineyard or winery nearby, go sample some wines! You don't have to tour the muddy grounds to have a fantastic wine tasting experience. Plus, you'll get to buy a couple of bottles of your favorites, which could definitely lead to a lovely future date of maybe stargazing with a bottle of wine or enjoying a nice meal at home together.
Play Would You Rather
This is a fun rainy day date idea you can add on to several of the other rainy day date ideas we've talked about so far. You could play this as you sip on your coffee at the coffeeshop, as you are puzzling, or even as you are snuggled up together under the blankets getting ready for your nap. Would You Rather can be a great way to get to know someone a little better, and this Would You Rather Guide for Couples is full of great questions.
Sing it Out at Karaoke
Okay, so karaoke may not be for everyone, but if you and your date like to have fun belting out the biggest hits of yesteryear, karaoke makes an excellent indoor date idea while it's raining! You can even create your own flirty karaoke games by challenging each other to certain songs or blindly picking from the book. This is probably not the best rainy day date idea if you or your date is introverted, though!
Shop Till You Drop
Pick out a fun place to go shopping and get out of the rain together! If you've got a great shopping mall nearby, head there and make a date out of window shopping and sampling the yummy treats at the food court together. If you don't have a great mall near you, then pick out a neat specialty shop where you can just walk around exploring the interesting items together. Bonus points if your shopping experience segues into coffee or a drink afterward!
Go Ax Throwing
Do you guys like to get a little wild? Well, it's not really *wild,* but it is pretty fun! For an indoor date idea that is sure to be a hit, look for your nearest ax-throwing site and head out for a rainy day date that won't be forgotten anytime soon!
Bake Together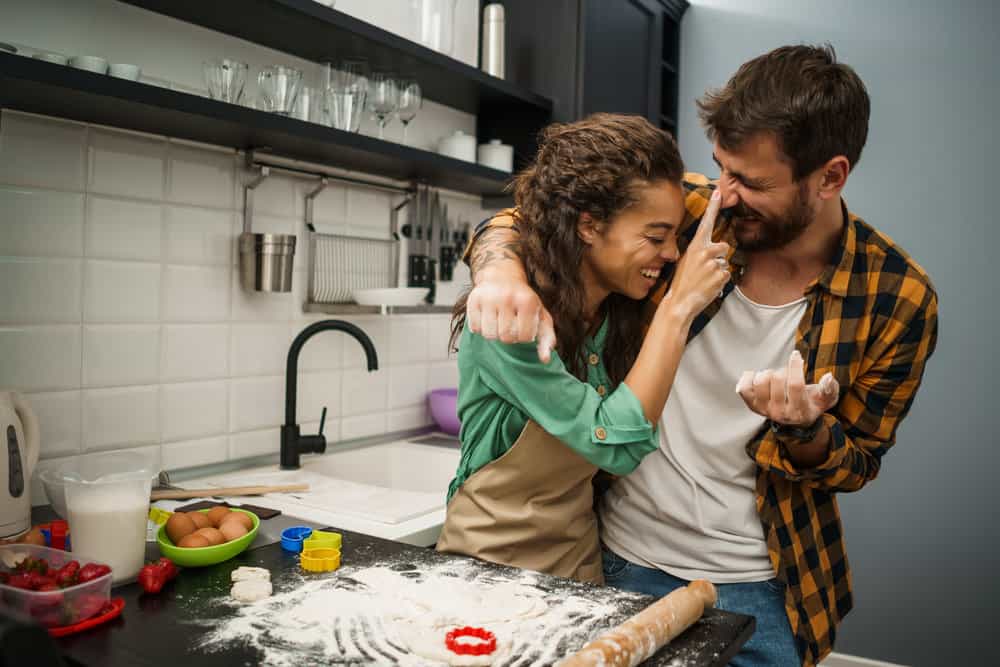 Do you want to make your date really sweet? Look for cute baked goods recipes and make it a super sweet date by baking together. You know you've seen enough rom-coms over the years to know this date will perfectly set up some flirtatious flour-flicking and finger-licking moments!
Have a Game Night
Do this with just the two of you or set up a couple's game night with another couple and serve up some classic board games with a side of snacks and fun beverages. This is one of those simple rainy day dates that never go out of style.
Make Your Couple's Bucket List
Do you guys have a couple's bucket list yet? If you don't, a rainy day is the perfect time to cozy up somewhere dry with a pen and paper (or just your phones, what year is this, right?) to make a list of all the things you want to do and places you want to go together. This is definitely a fun rainy day date idea for committed couples who are planning their futures.
Go Roller/Ice Skating
Depending on the season, hit the rink together! Going roller skating or ice skating is the perfect opportunity for some sweet hand holding and clumsy fumbling that might just require a little prolonged hand contact, making this a great idea for a new relationship that is just starting to get a little physical. How sweet is it to glide across the rink, holding hands, listening to some 90s power ballads play over the loudspeakers???
Go Craft Beer Tasting
Look for the nearest craft beer brewery, pick up your date, and head out for a relaxed rainy day date spent sipping some interesting craft beer creations. Most breweries have cute table games and interesting things around like art on the walls, so there will be plenty of great conversation starters at this rainy day date.
Explore a Museum
A museum date is such a classy way to spend time together on a rainy day! Not only will you stay toasty warm and out of the rain, but it takes the pressure off having to keep up a steady conversation without plenty of great conversation starters all around. This is a great date idea for those in the beginning of a relationship or couple's who have been together for years!
Play Pool
Ahhh billiards. Whether you own a pool table or you head to your favorite pub with a pool table, it's always fun to circle the pool table with a date, making flirtatious comments and coyly looking up right before you sink that shot, right? There aren't many sexy sports a couple can play together, but pool fits the bill!
Play in the Rain
And last, but certainly not least, on this list of date ideas for rainy days is to just go ahead and embrace the weather outside and play in the rain! You could make this such an adorable date by picking up matching rain coats, boots, and umbrellas, and suit up before you head out to a nice park. Be sure to take lots of pictures of this rainy day date, because this is so cute!
Go on a Car Date
Did you know there are several ways you can have an adorable date without ever having to leave the car? That's right, take a look through these car date ideas to find the perfect one for the next rainy day date night!
Whether you were looking for rainy day first date ideas or you've been with your partner for years and just want to really show them a good time the next time the weather rains on your parade, er date night, we hope you've found some great ideas for your next rainy day date!
You might also like: