This post may contain affiliate links. Read our disclosure page for full details.
Planning a New England coast road trip?
As a lifelong New Englander, I am frequently asked by out-of-town family and friends where they should visit on a trip to our corner of the US. That's a difficult question to answer because there are so many incredible places to recommend!
But, without a doubt, my default answer is to suggest a trip along the coast anywhere from Rhode Island to Maine.
A meandering tour along the ocean from Narragansett Bay, around Cape Cod, up the North Shore of Massachusetts and on to the shorelines of New Hampshire and Maine takes you through some of the most picturesque and historic towns in New England.
And I don't know anyone who would turn down a fresh seafood dinner and a sunset walk along a quaint harbor or on a lovely, white sand beach!
Since we are sailors, the coast has a strong draw for us. What follows is a short list of 5 not-to-be-missed seaside towns around New England.
My family and I have visited all of these places and I can personally attest to their fascinating history, gorgeous waterfront, and wealth of natural beauty.
Organized South to North, you can easily make them the backbone of an iconic New England coastal road trip!
PS: Coming from NYC? Boston is a great place to start and you can easily get there by bus.
This is a guest post by Nancy of Defining Third Age.
Newport, Rhode Island
Once the summer playground of New York's ultra-rich of the Victorian age and Industrial Revolution, Newport still retains some of that upper-crust allure.
A yachting mecca and original home of the famous America's Cup Race, sailing is still at the heart of what Newport is about.
The waterfront along Thames St., Bowens and Bannister's Wharves, and the Newport Yachting Center is lined with nautical shops, restaurants, pubs, and day sailing cruise docks. The harbor is full of yachts of all types and sizes coming and going.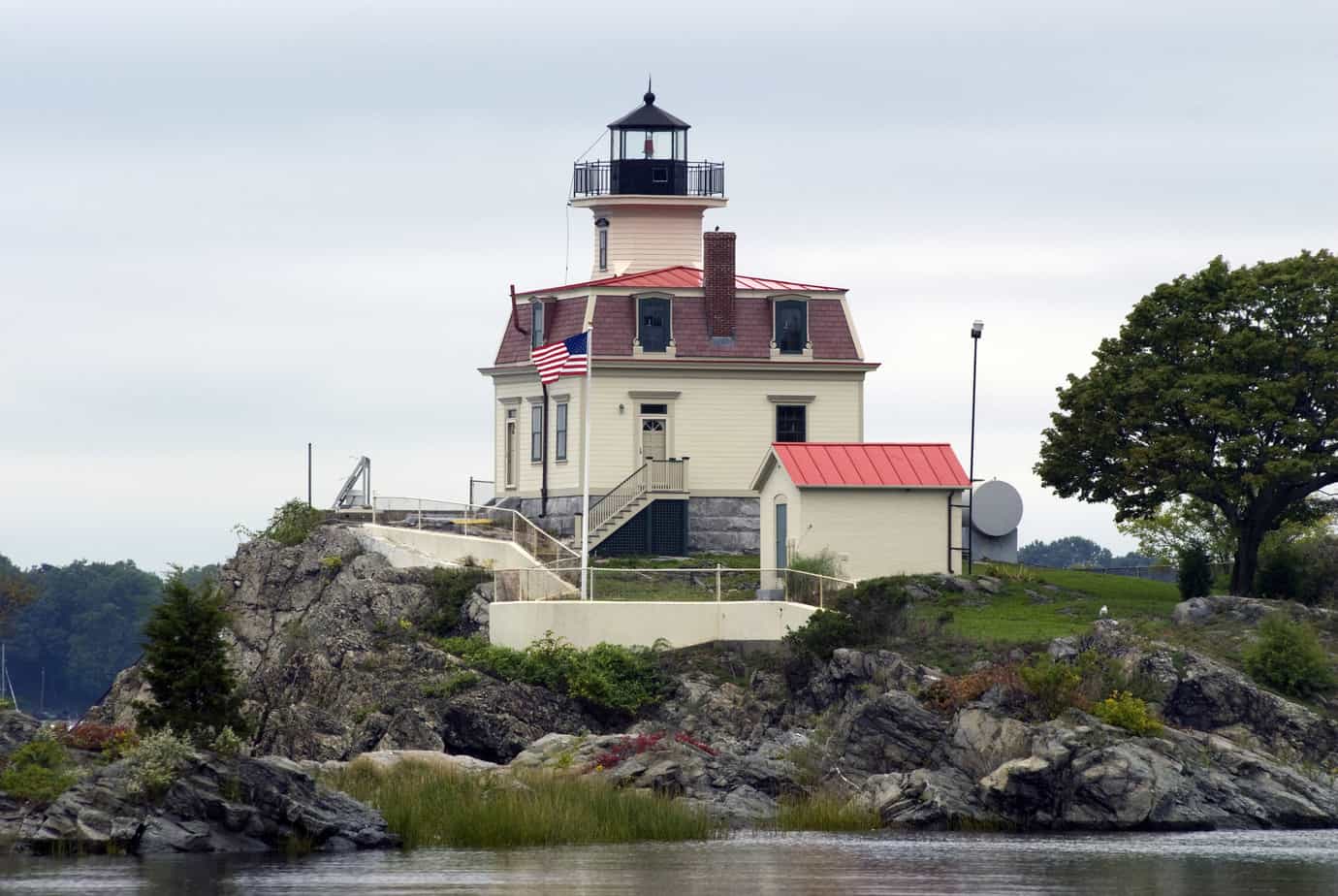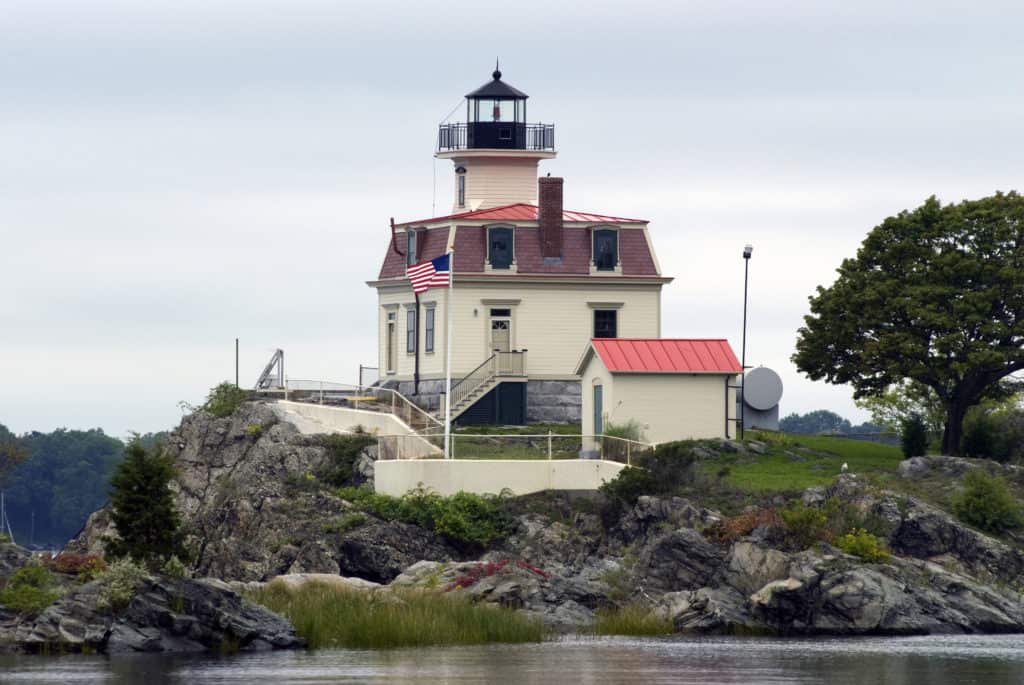 This area is the center of the Newport action and nightlife as well. There are plenty of places to get a meal and/or a drink and, of course, seafood is recommended!
Enduring icons of the Gilded Age are the incredible Newport Mansions. Built as "summer cottages" for New York's society rich in the late 1800s, they are unbelievable examples of extravagance and wealth.
No trip to Newport is complete without a tour of at least one of them. The Breakers is especially impressive.
Along the water in front of several mansions is the famous "Cliff Walk", a 3.5 mile walk along a 70 ft cliff over the ocean. It is a spectacular combination of architectural history and natural beauty; bring your walking shoes!
If you time your visit right, you could catch one of Newport's special events. Each summer, Newport hosts superb Jazz and Folk Festivals. The artists at these events include current popular musicians as well as jazz and folk legends.
The International Tennis Hall of Fame holds tournaments that draw excellent tennis players if that is your interest. And, my favorite, the big Newport Boat Show happens every September and is a great event, whether or not you are a boater like me.
Everyone can dream of sailing away into the sunset on their own yacht…
Edgartown, Martha's Vineyard, Massachusetts
Martha's Vineyard, preferred vacation destination of several US Presidents, probably needs no introduction.
But what many don't know is that the island is comprised of several villages, each with their own character and personality. The residents have made some great decisions in an attempt to keep the island as natural and uncrowded as possible.
The best idea was establishing an extensive bus transport system that can take you to all corners of the island cheaply and efficiently. You can leave your car on the mainland and be perfectly fine.
My recommendation is that you do just that…take the ferry from Wood's Hole to Vineyard Haven or Oak Bluffs and then get on the bus to Edgartown, the loveliest village on the Vineyard.
Edgartown is as quaint as it gets. The streets are lined with fine shops and eateries; everything is beautifully manicured and the buildings all maintain the classic Cape Cod/Islands charm.
Down at the harbor you can climb to the Memorial Wharf rooftop overlook to watch the boats go by through the narrow channel between Edgartown and Chappaquiddick Island into Katama Bay.
A 3 car ferry makes frequent trips across the narrows to "Chappy", made infamous by Sen. Ted Kennedy's accident with Mary Jo Kopechne.
If "beaching it" is on your list, Edgartown's Katama/South Beach is the island's largest public beach and it is gorgeous. It is south facing and open to the wide Atlantic, so beware of surf and undertow.
On the other hand, if you like to surf or body surf this is the place.
Meals in Edgartown can be expensive, but you can find quality food and drink at a reasonable price. For fresh local food, try Morning Glory Farm farmstand. They provide not only veggies, but prepared foods such as a salad bar, soups, charcuterie, rotating entrees and fresh breads.
If you love craft brews as we do you MUST stop at Mad Martha's Brewery and Pub. They have a variety of local beers on tap and some great pub grub.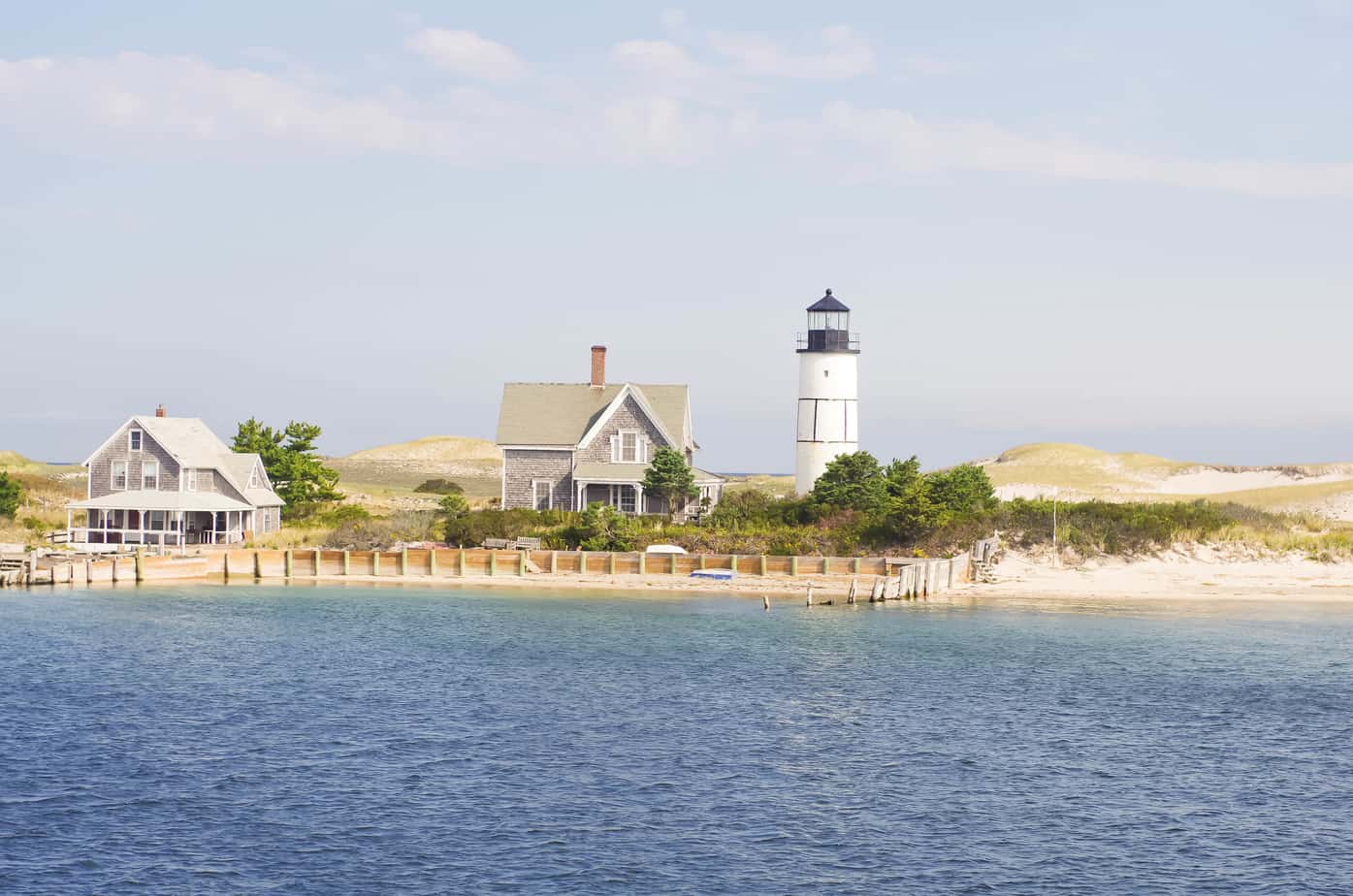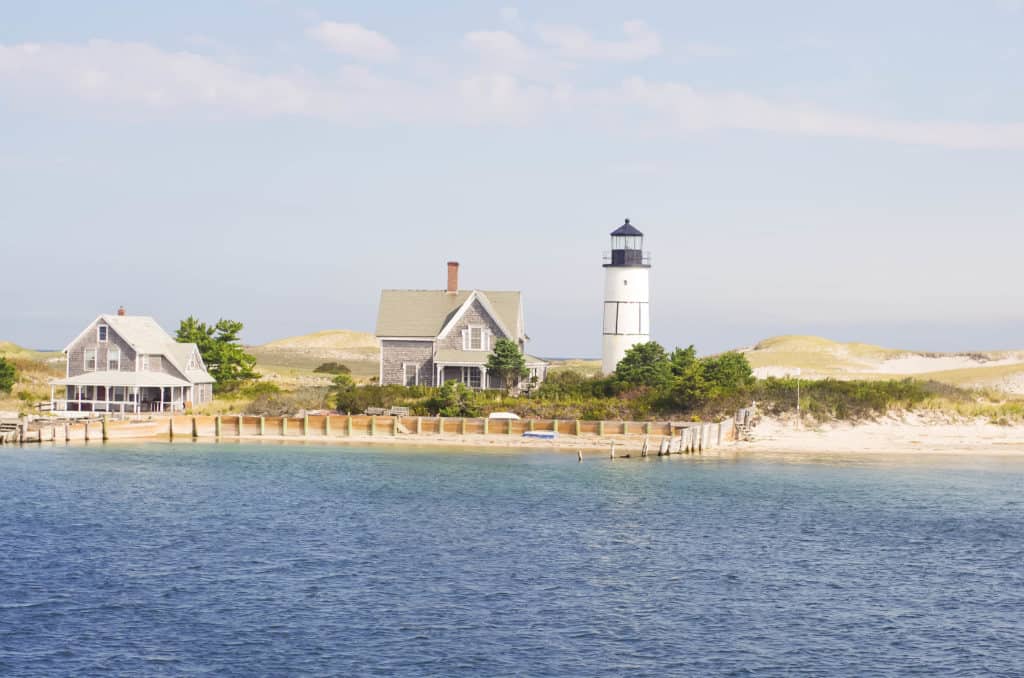 Chatham, Cape Cod, Massachusetts
Travel out to the "elbow" of Cape Cod and you have arrived at the town of Chatham. Like Edgartown, Chatham retains the Olde Cape Cod quaintness.
But, Chatham is also still home to a working fishing fleet and its little harbors (there are several) are evidence of this. You can go down to the Chatham Pier Fish Market and get the fresh catch of the day from the local fishermen. In the summer they will cook it for you to take out, too.
Chatham is a summer resort as well as a fishing town and its population swells during "the season" in July and August. Main Street is charming, with small local shops, galleries and artisans.
Not to be missed is Chatham Light. It is a working light house and its parking lot boasts a great view out over the water.
Nearby is the best beach in town, aptly named Lighthouse Beach. And the Monomoy Island Ferry can take you out to the National Refuge to see seals basking and playing in the water.
You can eat as upper-crust or as modestly as you want here. For a special dinner or brunch, the Chatham Bars Inn is highly recommended. Perched above Pleasant Bay, it's gardens are beautiful and the views are lovely.
If you prefer to eat with the locals, try "The Squire" – the Chatham Squire, a townie favorite since 1968. Rustic and comfortable.
Portsmouth, New Hampshire
Portsmouth is a bit different than the other towns on this list as it is really a small city.
New Hampshire has a very small stretch of coastline and Portsmouth is at the northern end just across the Piscataqua River from Kittery, Maine. Settled in 1623, it is the third oldest city in the nation and holds many excellent examples of 17th- century architecture.
A vibrant small city, Portsmouth has a distinctly artsy vibe. It is becoming something of a foody destination as well as being home to several microbreweries.
Market Square is the center for galleries, shops and authentic buildings from the 1600's. Along Market, Ceres, and Bow Streets you can find restaurants of every type but, of course, seafood is king.
As a colonial maritime center, Portsmouth has a long and interesting history. Along these lines, a great place to spend a few hours is Strawbery Banke.
This is an outdoor history museum with more than 30 restored buildings built between the 17th and 19th centuries in the Puddledock neighborhood of Portsmouth, the oldest neighborhood in New Hampshire. Actors portray the residents of the area from different eras and it is a fascinating trip back in time. We've been here more than once, it is that good.
Across the street from Strawbery Banke is Prescott Park along the waterfront. Here you can wander through glorious gardens, or take a ride in a restored gundalow, the type of vessel colonial Americans used to travel upriver from Portsmouth into the shallow tidal bays and tributaries of the Piscataqua.
During the summer, Prescott Park is the site of free, outdoor concerts with musicians of all kinds. Bring your blanket and a picnic and enjoy the music.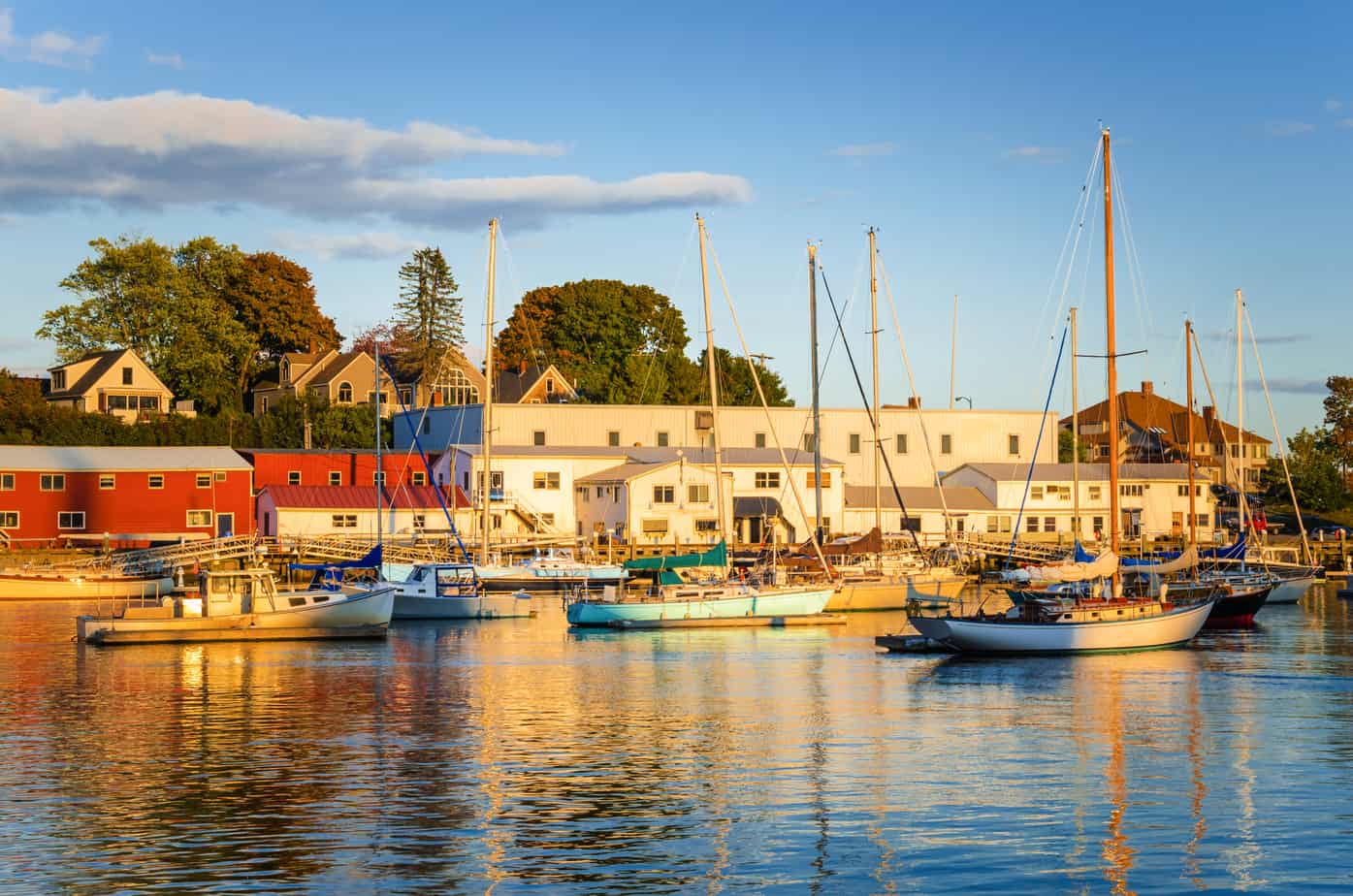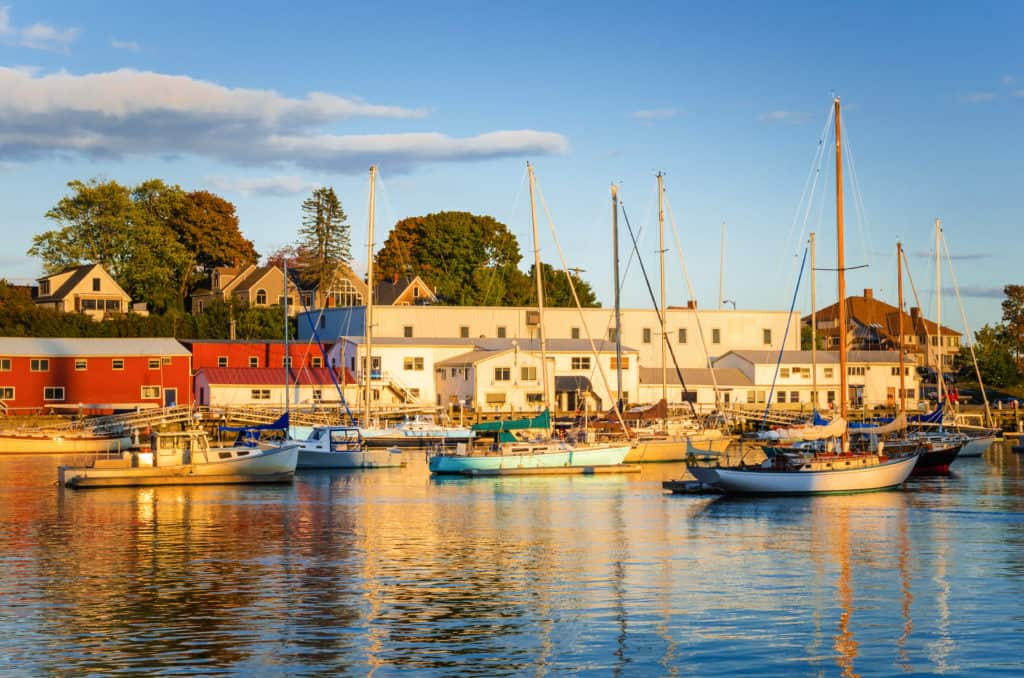 Camden, Maine
You can't talk about New England without mentioning some of the amazing coastal towns in Maine.
Camden is the quintessential New England coastal town. It is surely the prettiest harbor in Maine, and probably all of the Northeast.
This is what you think of when you think of New England. Home of the Windjammer fleet, the inner harbor is filled with boats of every description. Grab an ice cream and wile away an afternoon strolling along the lovely waterfront through the Camden Harbor Park. Or bring your lawn chair and settle in for a summer concert in the Park's amphitheater.
The Windjammers offer day and evening cruises out into Penobscot Bay for a taste of sailing from a bygone age. Passengers are encouraged to become active participants, handling lines and steering a course – under watchful eyes, of course!
If you prefer land pursuits, tour the many shops and galleries on Main Street.
Of course, no trip to Maine is complete without lobster. Travel up the road to the Mt Battie Takeout roadside stand for the best lobster roll around.
Then, bring your lunch up to Mount Battie in the Camden Hills State Park to eat with the most amazing view of Camden and Penobscot Bay laid out before you. Spectacular.
---
I'd like to thank Amy for asking me to write this New England Coastal 5 Town Tour. I truly enjoyed my trip down memory lane in preparing to write this post. These 5 towns are special, certainly, but there are many, many spots up and down the New England coast that are so worth seeing. I hope that this will inspire you to visit my corner of the world; there is nothing quite like it anywhere!
Check out a couple of Nancy's posts on another of her favorite places (Florida) here:
Traveling in New England? Check out our other resources:
---