This post may contain affiliate links. Read our disclosure page for full details.
This guide to the best things to do in Mystic, CT is a guest post by Kelley of Sailing Chance.
Mystic is a charming waterfront town nestled on the Mystic River in Connecticut that is rich in nautical history. Only 3 hours from New York City and less than an hour and a half from Boston, it is a perfect weekend escape in New England. Whether you are a nature lover, nautical enthusiast or seafood lover, Mystic has something for everyone.
Mystic Seaport Museum & Village
If you have ever wondered how America's maritime past has shaped the lives of craftsmen today, you won't want to miss Mystic Seaport.
Covering 19 acres along the Mystic River, the museum is touted as the largest and leading maritime museum in the US. It features four National Historic Landmark vessels, including America's oldest commercial ship and the last wooden whaleship in the world, a working shipyard and a recreated 19th-century coastal village.
This true seafaring village is comprised of dozens of original New England buildings from the 1800s that have been transported to the museum.
The village is full of a variety of nautical specialists including shipsmiths, coopers, riggers and woodcarvers who all bring the town's seafaring past to life.
Save time by buying your tickets to Mystic Seaport in advance!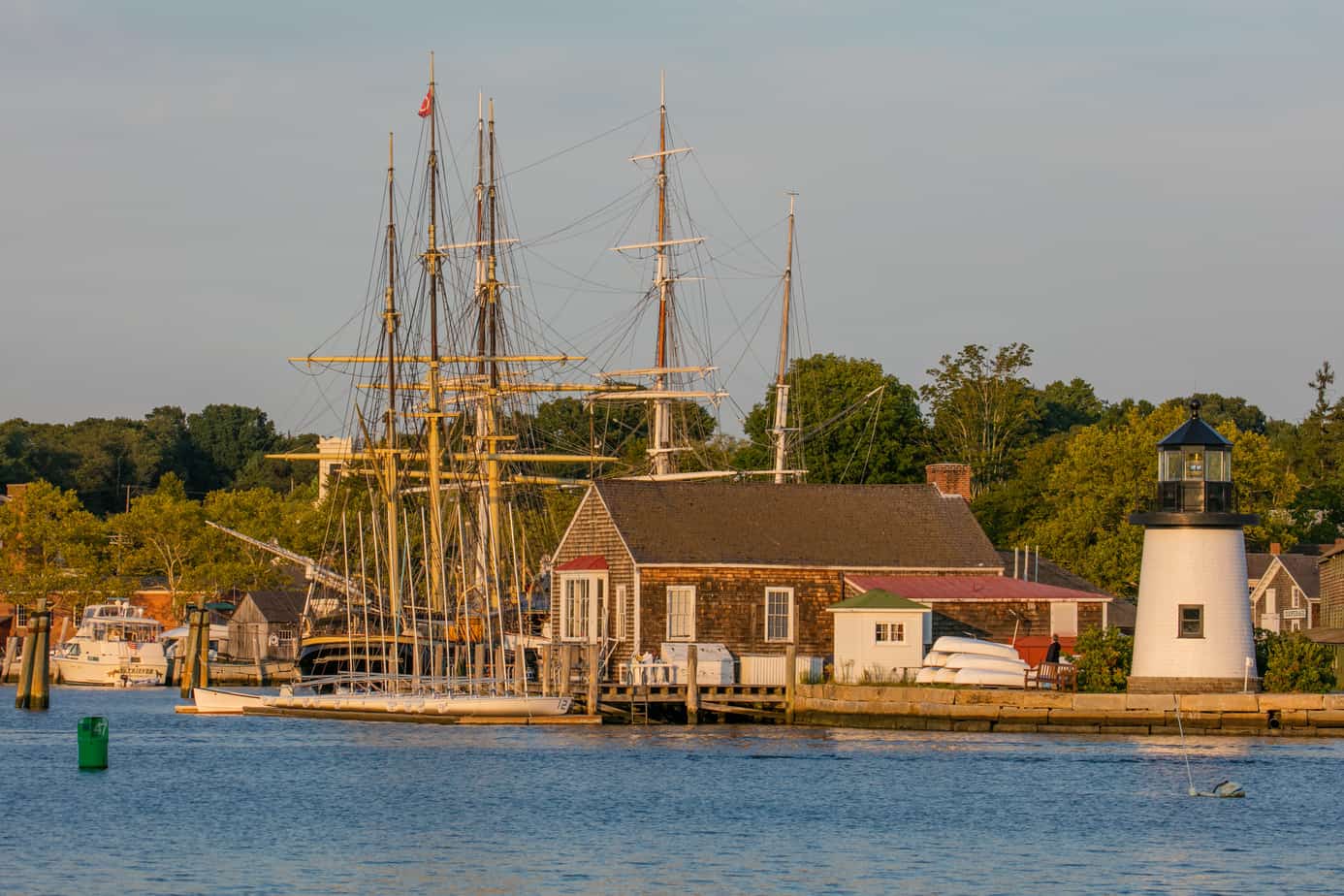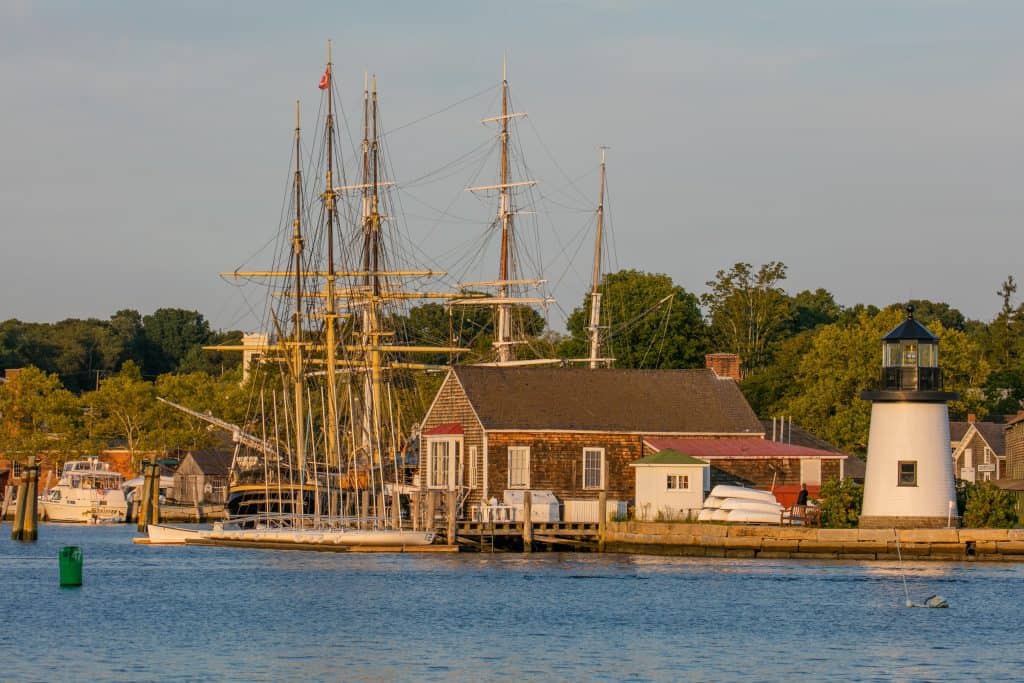 Watch the Mystic River Bascule Bridge raise
Built in 1922, the iconic Mystic River Bascule Bridge opens every hour at 40 minutes past the hour between 8:40 am and 6:40 pm.
A bascule bridge is raised and lowered using a system of counterweights, and the mechanisms of the Mystic River Bridge are fully exposed so you can see all the moving parts as it is hard at work.
Argia Ship Cruises
To really feel a part of Mystic's seafaring ways, take a sunset or day sail on the 81' classic wooden Two-Masted Gaff Topsail Schooner, Argia, and explore the scenic coastline and surrounding islands. This is definitely one of the best things to do in Mystic, CT!
The schooner can accommodate up to 49 guests who can spend their time relaxing and taking in the scenery or getting their sea legs by helping the crew hoist and trim the sails.
Denison Pequotsepos Nature Center
Those looking to get closer to nature can't miss Denison Pequotsepos Nature Center, a 350-acre sanctuary with over 10 miles of hiking trails. With a mission to inspire an understanding of the natural world and how individuals are a part of it, visitors can spend their day birding, identifying wild plants and enjoying the various wetlands, woodlands and meadow habitats.
The sanctuary features a rehabilitation center where caretakers work with birds and other animals to get them healthy enough to be released back into the wild. For those who can't be, you can find them in outdoor flight enclosures throughout the sanctuary.
The Center also features a Nature Center, a working farm, a Nature Preschool & drop-in homeschooling classes, gardening classes and other various special events.
Fisher's Island is a 7-mile long island that protects the sound from the open ocean's often unpredictable wind and waves. This location has solidified the island as one of the East Coast's most popular sailing destinations.
For guests without their own sailboats, Poet's Lounge Sailing Charters offers visitors an ultimate private day on the water, completely catered to their interests. Guests can relax and take in the scenery, stop for a swim, go snorkeling or embark on an ocean sail during their adventure.
Aboard a 40-ft racing boat, Captain Darin Keech sails up to 6 guests through Fisher's Island Sound for 2 – 6 hour trips. Guests can bring their own food and beverages and may be lucky enough to hear the Captain play his guitar.
Denison Homestead
One of the best Mystic CTThe Denison Homestead is a privately owned 160-acre property that is home to 1717 House Museum, the Denison Pequotsepos Nature Center and a farmers' market. Open Friday – Monday from June – October, visitors step back in time to explore a 300-year-old preserved family manor.
In 1930, after 6 generations of Denisons called the manor home, it was turned into a memorial honoring the Denison family. Each of the 5 rooms was restored to echo different time periods and the family members that lived in them.
Today, guests can visit the museum, enjoy hiking over 8 miles of trails across the property and pick up locally grown and manufactured goods while listening to live music at their Farmer's Market every Sunday.
Mystic Aquarium
Animal lovers don't want to miss the Mystic Aquarium. The stars of the show are the beluga whales that can be viewed from Mystic Aquarium's Arctic Coast, a 750,000-gallon outdoor beluga whale habitat. The Aquarium is a leader in beluga research, care and behaviors.
Visitors can also learn the difference between seals and sea lions, watch the African penguins, see the handlers feed the sharks and rays, and even experience of one of the many interactive exhibits.
Don't forget to catch the 4D Deep Sea movie presentation which rotates sea and arctic-inspired films. Now playing is Smallfoot! The Mystic Aquarium is certainly fun for kids of all ages, but adults will be surprised at how much they love it, too.
Save time by buying your Mystic Aquarium ticket in advance!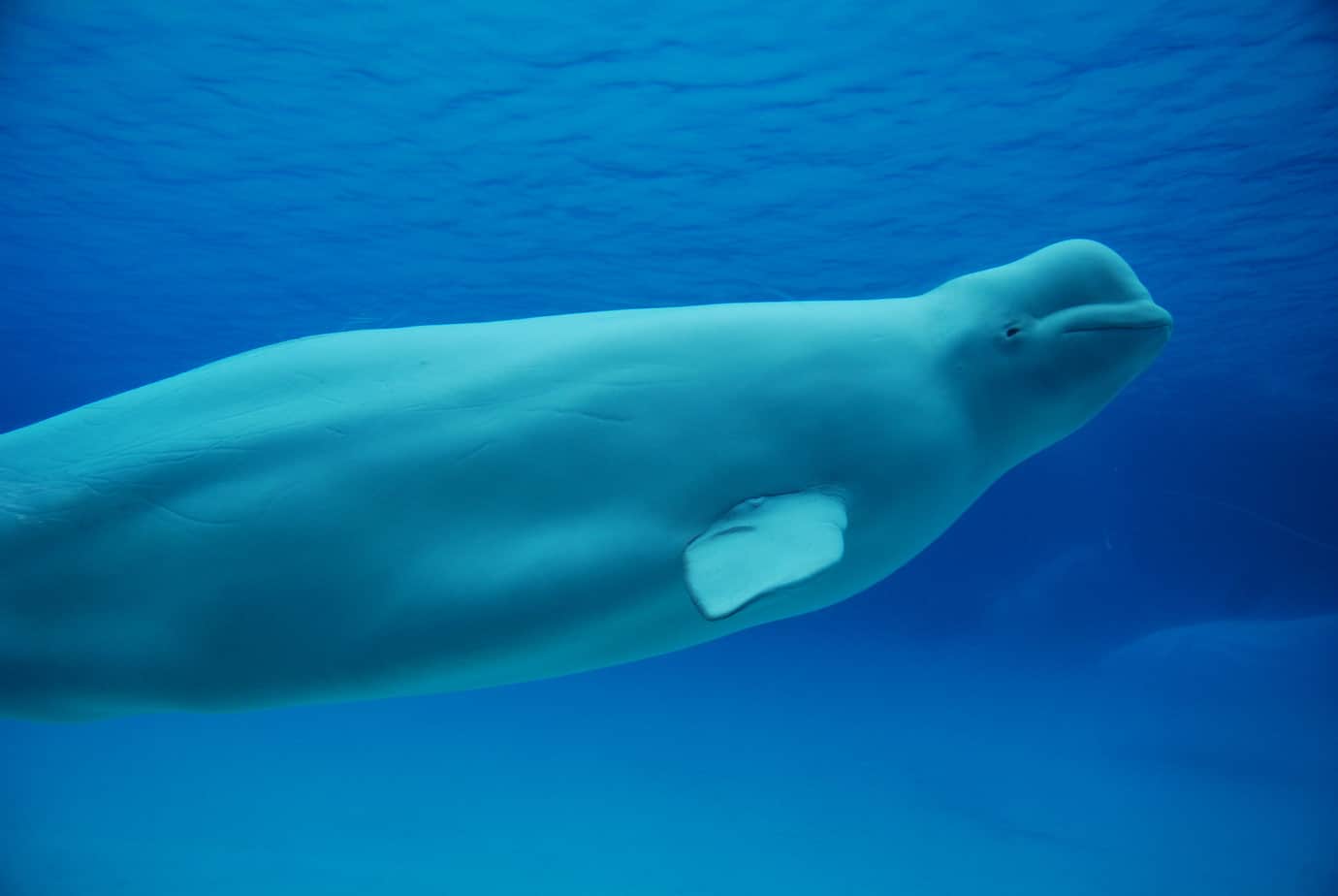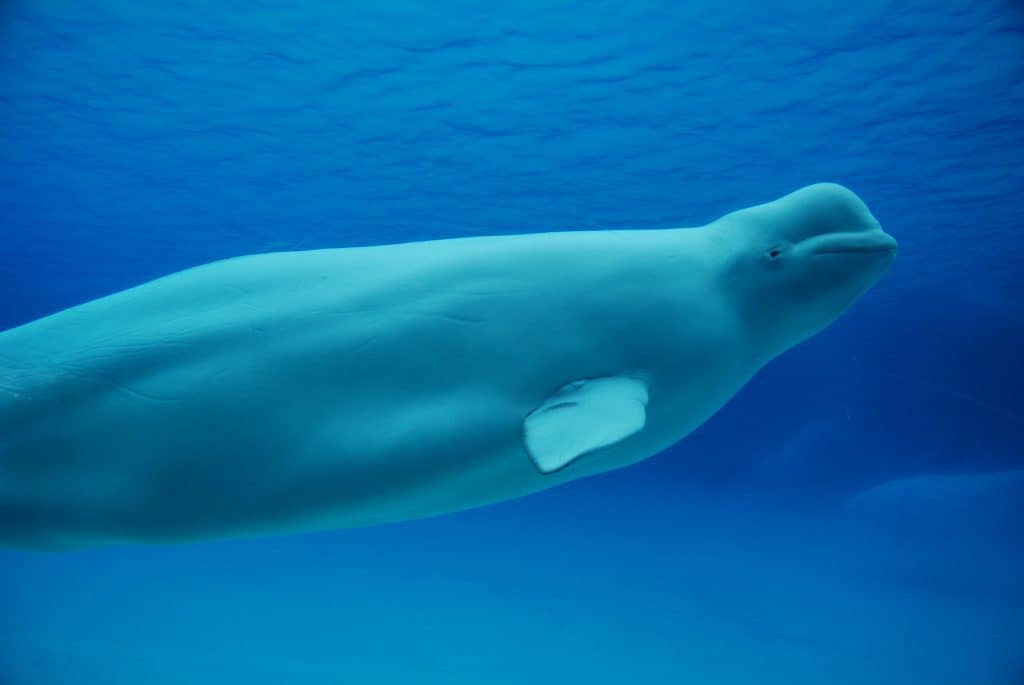 Run the Mystic Half Marathon
Running a race may not be the most typical way to explore a city, but the Mystic Half Marathon is truly unique.
Wind your way through 13.1 miles along one of New England's most scenic shorelines, past historic ships and through a lovely downtown with a finish line in front of the Mystic Aquarium.
At the very least, it is a guarantee you'll burn enough calories to counteract all the delicious food you'll eat later!
Peace Nature Sanctuary
Once used as a gathering place for over 10,000 people to attend annual outdoor peace meetings, today's Peace Nature Sanctuary offers visitors a different kind of peaceful experience.
Located along River Road the sanctuary features 45-acres of river views, well-maintained walking paths and a host of native plants to uncover.
Each May more than 400 pink lady slippers bloom simultaneously creating quite a sight for visitors. The Sanctuary is now maintained by the Denison Pequotsepos Nature Center.
Eastern Connecticut Symphony Orchestra
Founded in 1946, the mission of the Eastern Connecticut Symphony Orchestra is to inspire, educate, and connect their community through live orchestral music.
They do this each year through a series of six subscription concerts with noteworthy solo features, free lectures and performances with the Eastern Connecticut Ballet in presentations of The Nutcracker.
Connecticut Wine Trail
The Connecticut Wine Trail is one of the fastest growing wine regions in the United States. The area boasts a variety of wine styles that you can sample alongside a stunning backdrop.
The wineries offer a Passport to Connecticut Winery Farms where participants can collect stamps from all the Connecticut based wineries they visit. Collect enough stamps and you are entered to win the grand prize and other prize packages.
Saltwater Farm Vineyard and Stonington Vineyards will be your best options to visit in the area. Cheers!
Sabino Steamboat tour
Take a ride on the oldest wooden, coal-fired steamboat in regular operation in the US as it glides along the Mystic River in 30-minute, 90-minute, and 2-hour cruises.
Operating for over 110 years, Sabino is a 57' steamboat that came to Mystic in 1973 from Maine and was declared a National Historic Landmark in 1992. Tours leave from the Mystic Shipyard.
Stroll along Main Street
One of Mystic's main attractions, guests love to explore the picturesque riverfront downtown area of Mystic which is centered around the Mystic River Bascule Bridge.
Wander through a variety of unique boutiques, galleries, jewelry shops, toy stores and gift shops. For nautical inspired garb to commemorate your seafaring adventure, check out Mystic Knotworks which is the first and oldest knot shop in the US.
Refuel by grabbing a slice at Mystic Pizza, a memorabilia-filled pizza joint that inspired the 1988 film, and then enjoy a delicious scoop (or two!) from Mystic Drawbridge Ice Cream shop.
Olde Mystick Village
This shopping village is like no other as it is a recreated 18th century New England Village mirroring the shopping experience before malls. Browse more than 60 small and unique shops as you stroll along cobblestone streets.
From a store dedicated to unique olive oil blends, a mystical Christmas store, Connecticut's largest retail chocolate manufacturer and so many more, visitors can spend hours wandering the variety of stores within the village.
Be sure to come hungry as some of Mystic's best restaurants can be found here.
About the Author: Kelley Gudahl lives aboard a 42-ft sailboat in New York City and writes about her sailing and traveling adventures with her husband and 2-year-old daughter at SailingChance.com. They bought their first sailboat near Mystic, CT.
Planning a trip to New England? You might find these resources helpful:
The Ultimate New England Road Trip Itinerary
101 Things to Do in New England – New England Bucket List
Romantic Things to Do in Cape Cod
The Best Day Trips from Boston
Things to do in Portsmouth, New Hampshire
---
---
Before You Go
Whether you're in the planning or packing stages, we recommend these resources and travel essentials:
---