This post may contain affiliate links. Read our disclosure page for full details.
Cape Cod is the perfect summertime destination in America. It's got historic charm, scenic beaches, national parks, a thriving art scene & fabulous food. For couples, this area is terrific for a romantic getaway or just for some date night ideas. Between the Cape, Martha's Vineyard and Nantucket, there are so many amazing opportunities. So, grab your significant other because we're going to help you discover the most romantic things to do in Cape Cod!
This is a guest post by Valentina of Valentina's Destinations. Check out her Cape Cod Attractions Map for more travel ideas.
Not sure where to go on the MA coast? This guide can help you decide between Martha's Vineyard and Nantucket!
1. Rent mopeds on Martha's Vineyard
If you're looking for an unforgettable date, you've got to rent mopeds on Martha's Vineyard. Martha's Vineyard is one of the East Coast's largest islands. It's home to some 100,000 people during the summer! Because it's so large, you'll need some method of transportation to explore it. Mopeds are the perfect solution!
You can catch the ferry at the Hyannis Cruise Terminal. In the summer, there is a ferry departing for Martha's Vineyard almost every hour. It costs $17 round trip to get to Martha's Vineyard, and it will take about 45 minutes to get to Vineyard Haven from Hyannis.
Once you arrive, you'll see plenty of moped rentals. There's definitely a learning curve on these bikes! But it's fun, thrilling and adventurous. You can choose to share a bike or ride independently.
Once you've mastered the skill, ride over to the East Chop Lighthouse. Take the route along E Chop Drive and enjoy scenic panoramic ocean views. After you've seen East Chop Light, continue down E Chop Drive to Oak Bluffs. Stop at the Barn Bowl & Bistro for lunch and get ice cream at Carousel. Head back to Vineyard Haven and walk around downtown. Look for gingerbread houses before you take the ferry back.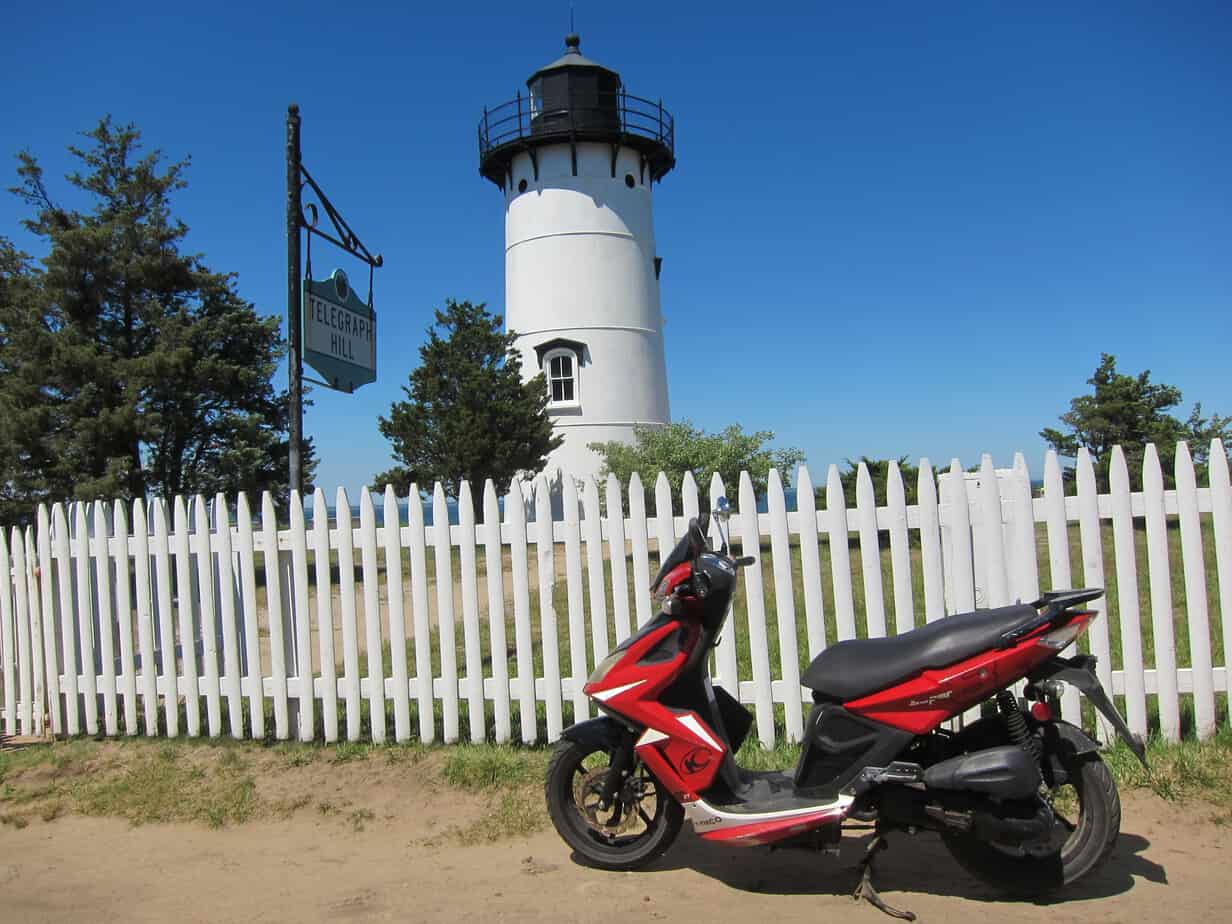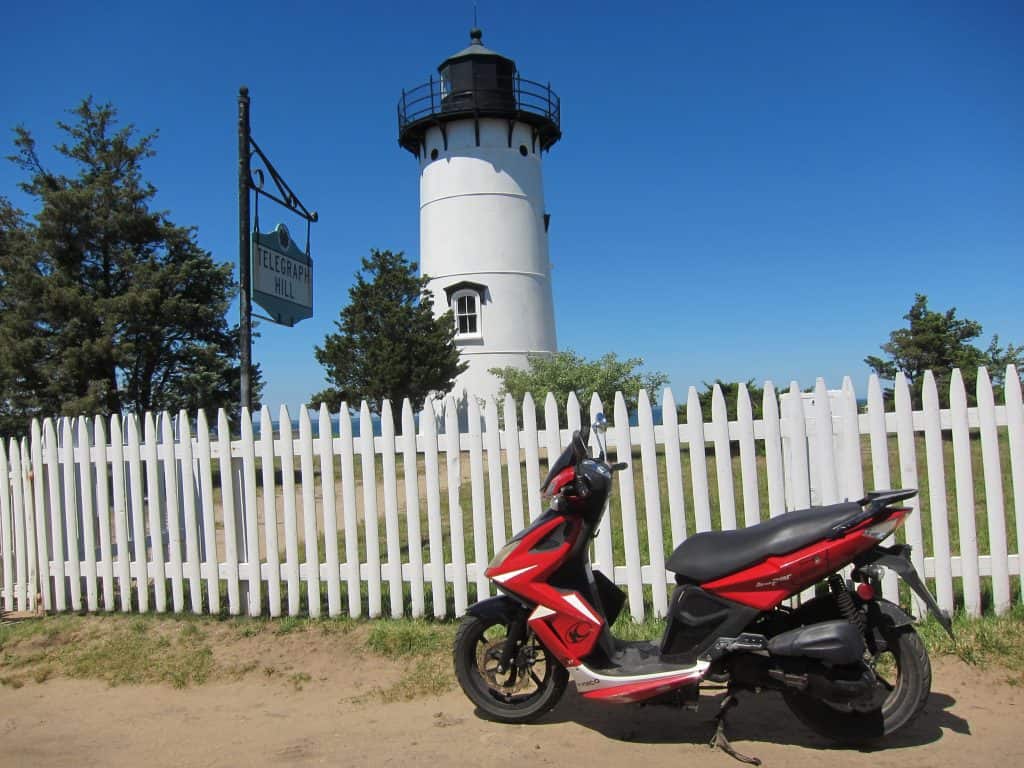 2. Sunset cruise
There's nothing more romantic than being out on the water as the sun is setting. This works well for an anniversary or special event.
Bay Spirit Tours does a 75-minute sunset cruise that departs from Hyannis. It includes some light music & minimal narration of significant monuments along the bay. Drinks are available for purchase.
At a higher price point, Down Cape Charters offers a private sunset sail. This brings your date night romance to another level! Down Cape Charters is located in Pleasant Bay.
3. Take a sunset walk along the beach
Grab your date and head off on a sunset stroll along the beach. Go to the Mass Audubon Long Pasture and Wildlife Sanctuary. During the day, this place may be filled with families and tourists. However, the petting zoo and facilities close after 4 PM. Then, the trails become more secluded.
The gentle trails at Mass Audubon offer glimpses into the woodlands surrounding the sandy beaches. Also, freshwater wetlands and salt marshes. It's a unique and diverse ecosystem that becomes breathtakingly beautiful at dusk. Who doesn't love long walks on the beach?
PS: Use this packing list when planning your trip to Cape Cod!
4. Visit a vineyard
Cape Cod has a thriving wine community, and vineyards make the perfect backdrop for your romantic date. Take your date on a wine tour and tasting in Cape Cod.
Truro Vineyards is located just south of Provincetown, and it's one of the prettiest wine estates on the Cape. Their store is set in a historic and charming home. Tastings are done on a stunning outdoor terrace with views of vines all around. Also, local food trucks love to hang out here. There are even games like cornhole! Winery tours are at 1PM and 3 PM daily and tastings are every 30 minutes.
A more intimate winery for your date night is the Cape Cod Winery. The Cape Cod Winery is located in East Falmouth. It's has a rustic, coastal, garden vibe. The estate is smaller than Truro, and there are no tours offered. But, you can stop in anytime for a tasting! Enjoy the ambiance and delicious flavors with your date.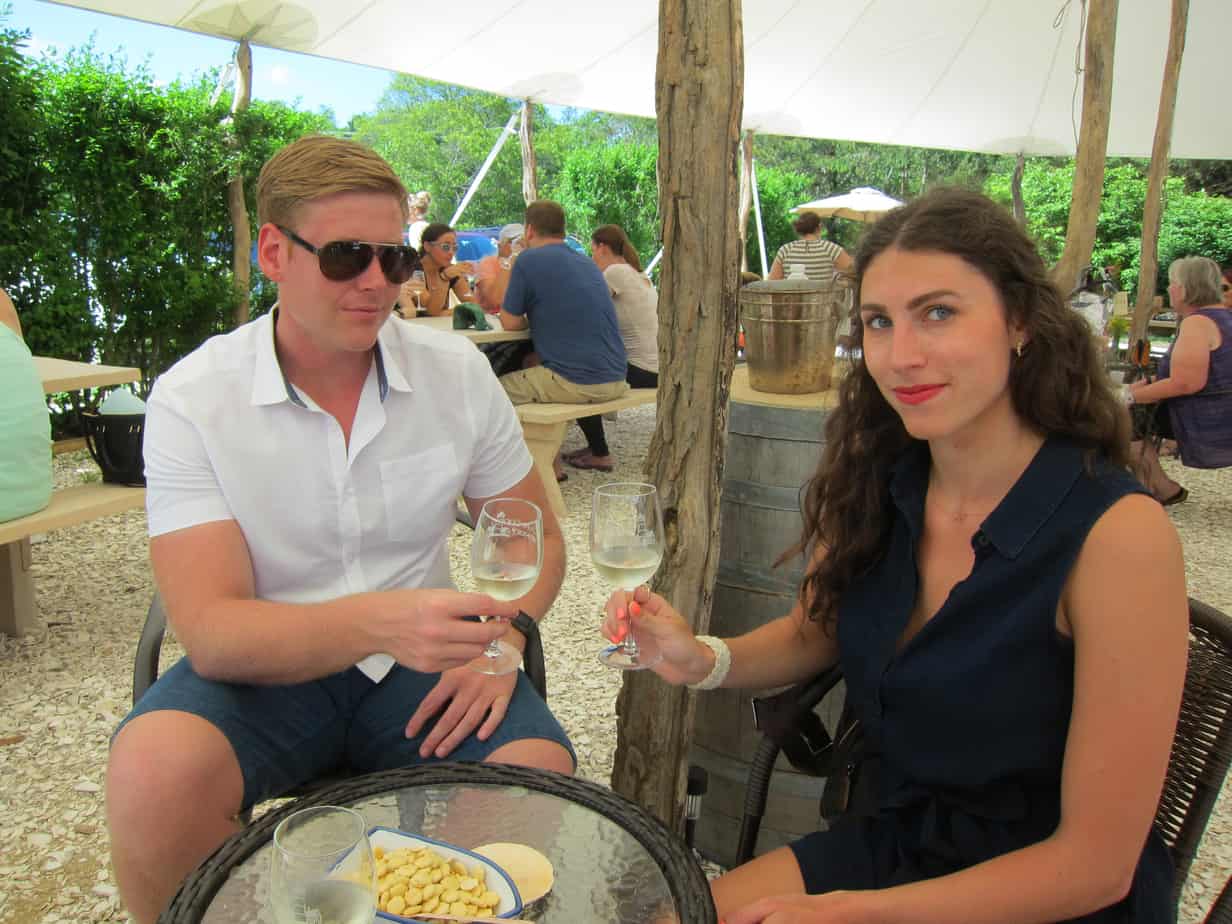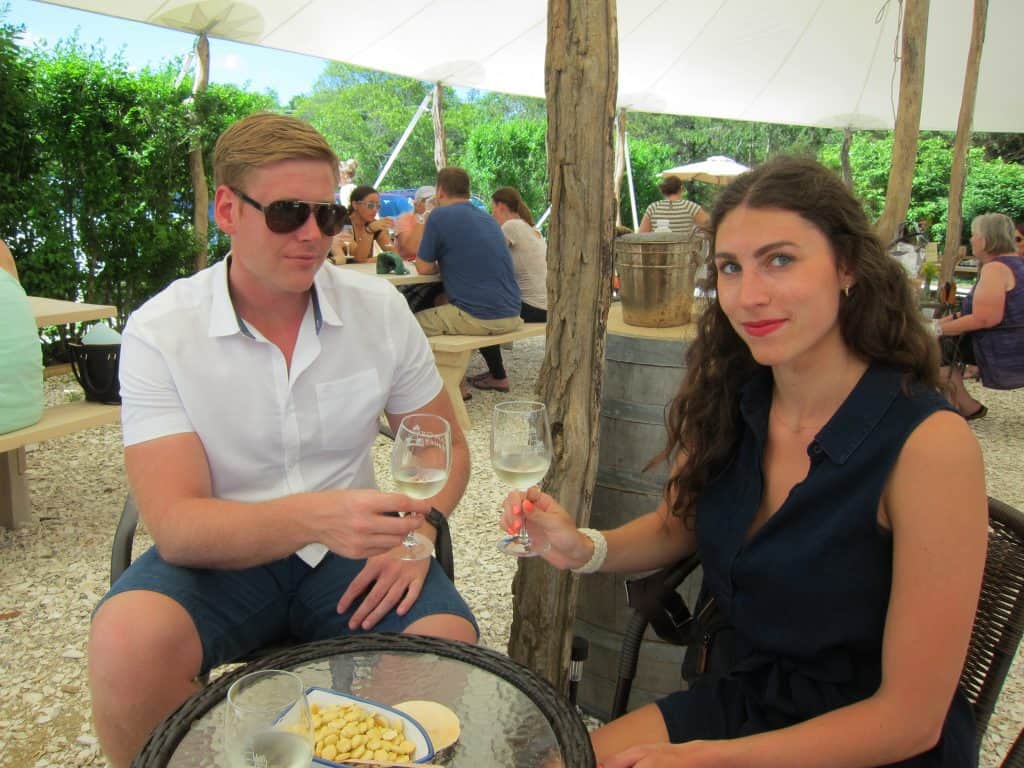 5. Dine at a romantic restaurant
Dinner is a great way to start or end a date. The best restaurants in Cape Cod serve fresh seafood, but some are a lot more romantic than others. We recommend Ocean House and FIN.
Ocean House is located in Dennis Port. It offers expansive views of the Nantucket Sound, so make sure to request a table near the windows. Next, take your date outside to the Beach Bar for live entertainment. See the full schedule of events on their website.
FIN is another romantic restaurant in Cape Cod. It's located in Dennis and serves sustainably sourced seafood. The dining space is an absolutely charming 18th Century home.
If you're not ready to end your date yet, you can head to Caffè Gelato Bertini or Katie's Homemade Ice Cream. Katie's is known as the best ice cream in Cape Cod.
6. Bike the Cape Cod Rail Trail
The Cape Cod Rail Trail is a paved bike path that spans 25 miles from South Dennis to Wellfleet. The path is mostly flat and provides excellent views of the local scenery. This is a fun, active date for an energetic couple. Either way, you don't have to ride all 25 miles of it!
The best place to rent bikes is the Rail Trail Bike & Kayak Shop. It's located just off of the Cape Cod Rail Trail, and there's plenty of space to leave your car here. You can rent from 9 am to 5 PM, so be sure to plan this activity in the morning or early afternoon.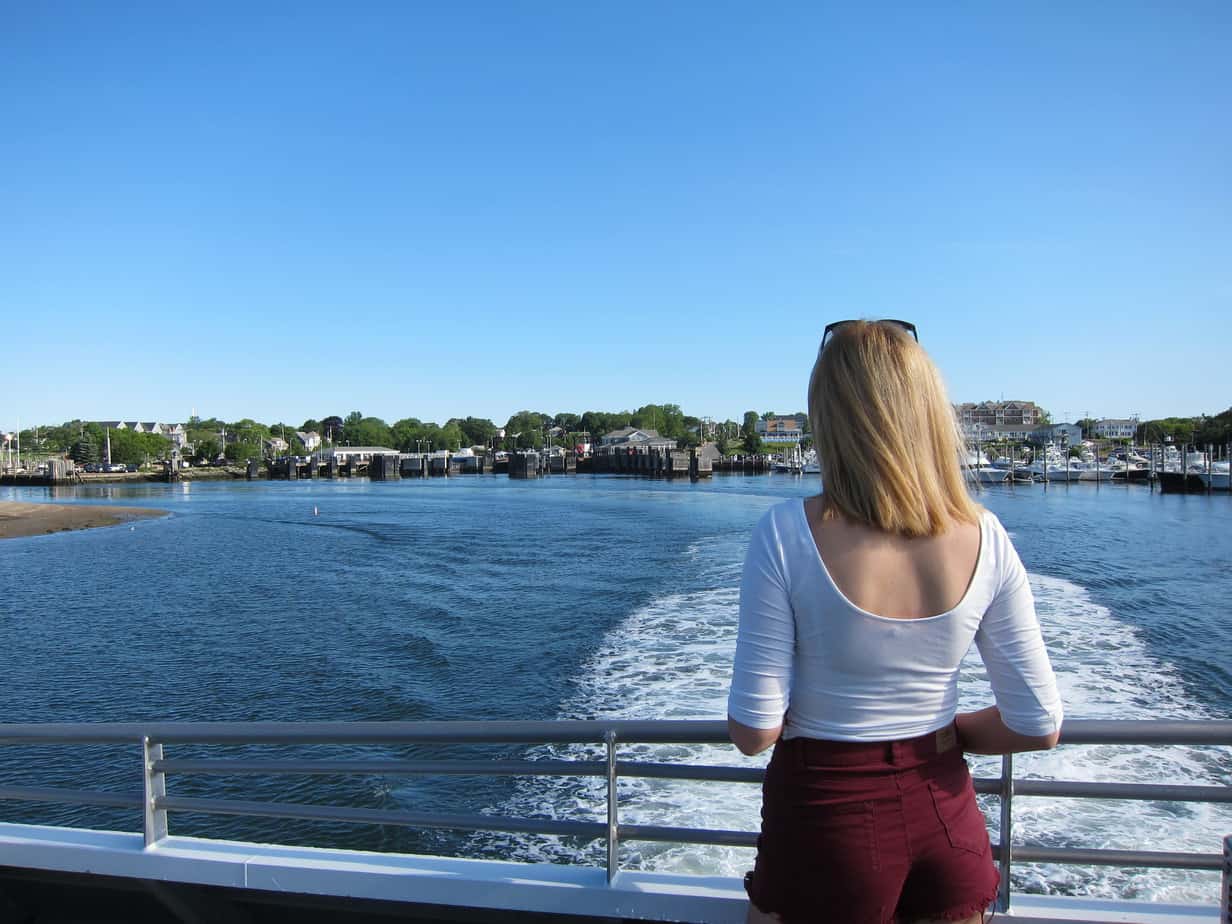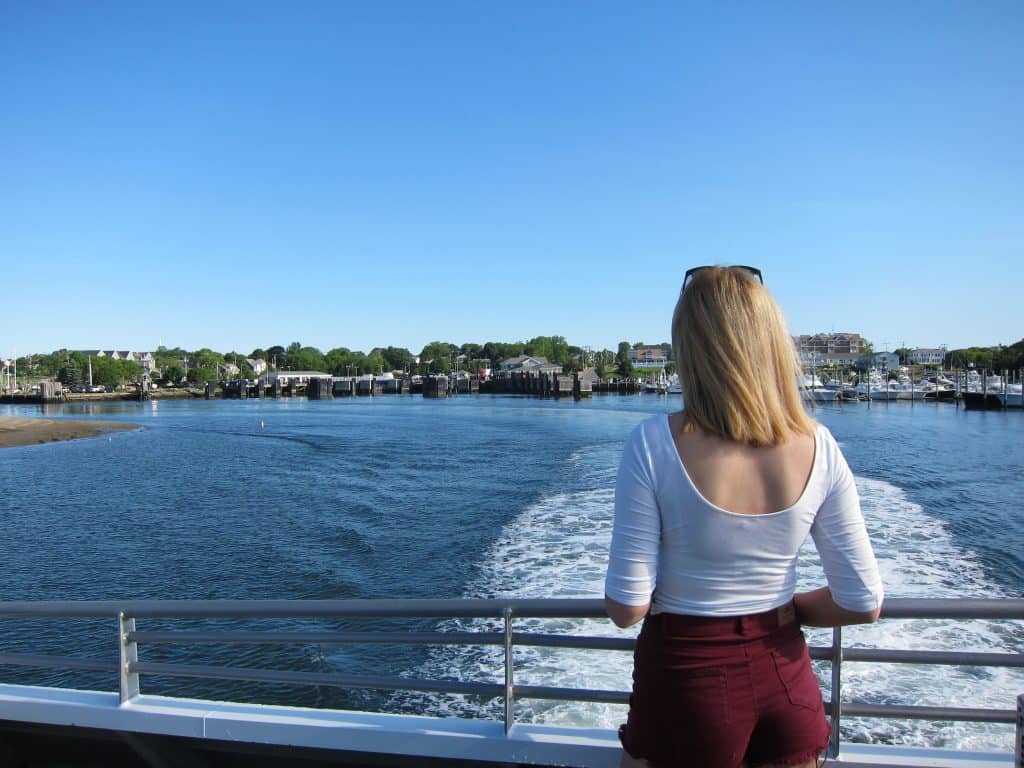 7. Horseback Riding
Horseback riding is a little cliché, but it's still lots of fun and definitely one of the most romantic things to do in Cape Cod. Ride at the Haland Stable in East Falmouth. Their tours take you through rolling meadows, cranberry bogs, salty marshes and lively woodlands. Make an appointment in advance of your visit.
8. Shop for art in Provincetown
Provincetown is known for its local artist community. All along Commercial Street, there are numerous galleries and exhibition spaces.
Start at the Provincetown Art Association and Museum. Then, walk southwest along Commercial Street. Stop at the many art galleries and see what you like. Don't miss the AMP Art Market that's open on weekends, Mondays and Fridays.
This can be an especially wonderful date for a couple that lives together. Take this opportunity to find an item for your shared space. Once you do, you'll have a date memory that is sure to last a lifetime.
Here's a great guide for your first time in PTown!
9. Tour a brewery
If your significant other is into ales, you've got to visit a brewery! Cape Cod Beer in Hyannis offers tours and tastings. The tours are offered Monday – Saturdays at 11 AM. Otherwise, you can do self-guided tours and tastings all day.
A few local favorites:
10. Search for antiques
Antiquing can be a fun and unique date activity in Cape Cod. Make it even more special by surprising your date with a gift. Let them look around and show you what they like. Then, secretly get it for them when they're not looking!
The Antiques Center in Cape Cod is one of the more popular places to go. Another great spot is the Sandwich Antique Center. Otherwise, check out the Wellfleet Flea Market. It's the biggest of its kind in Cape Cod! The Wellfleet Flea Market is usually held on weekend mornings.
11. Visit a lavender farm
The ultimate hidden treasure on Cape Cod is the lavender farm. Lavender blooms in June and July. During this time, you can purchase fresh lavender in baskets or bunches. You can purchase plants in May. Year-round, you can shop for an assortment of lavender-based products. They have lotions, soaps, candles and, even, catnip! It's a small family owned business that you'll love supporting.
The Cape Cod Lavender Farm sits on a 12-acre property, but the surrounding lands are protected and offer many walking trails. Bring your date here. Pick out some gifts for the home & family. Then, spend the afternoon exploring the nearby trails and lavender fields.
12. Tour a lighthouse
The Nauset Lighthouse is the quintessential Cape Cod lighthouse. You may recognize it from the packaging of Cape Cod Chips. You can visit the lighthouse and hop in for a free tour. Be sure to check the calendar for up-to-date tour times. Once you've visited the lighthouse and learned about its history, take a long walk along the shore.
To upgrade this date, you'll follow the lighthouse visit with a trip to the Cape Cod potato chips company. Eat the chips that are irreversibly tied to this historic lighthouse. Tour the facility and see how they're made. This is a great first date activity! It's light and fun.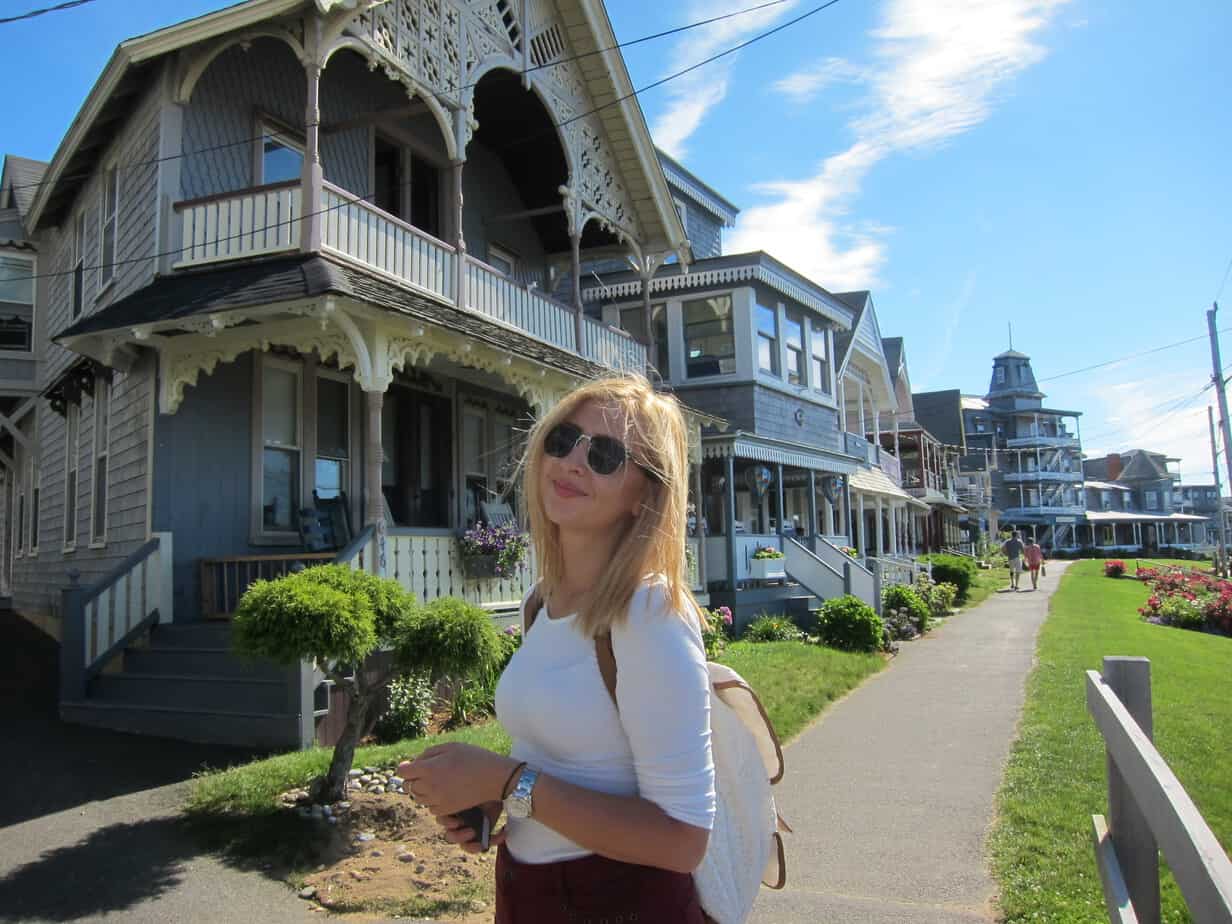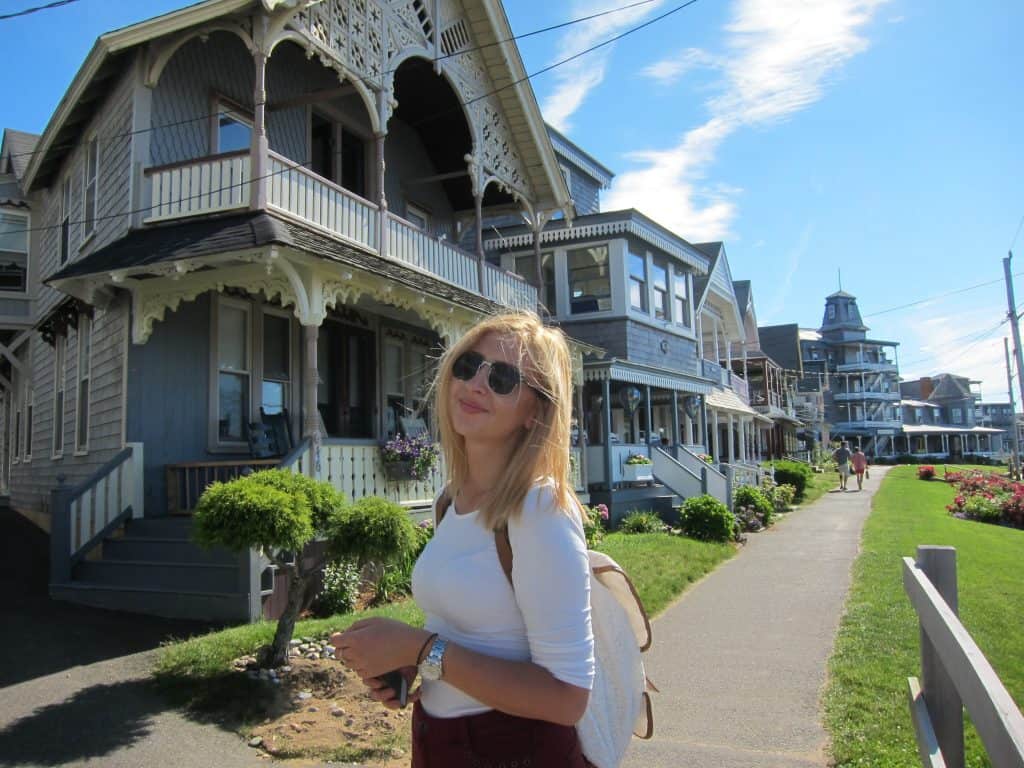 13. Shop at the Orleans Farmer's Market
The Orleans Farmer's Market has long been a Cape Cod tradition. This fresh market runs all year and has both indoor and outdoor spaces. It's not only a market, but it's also a non-profit organization. They are dedicated to sustainable food production and promoting a healthy diet in low-income communities.
You and your date could pick out a recipe. Come to the Orleans Farmer's Market to get your groceries. Then, cook together!
Author Bio: Valentina's Destinations was born from my obsession with meticulously researching, organizing and planning my travel itineraries. I'm originally from Nis, Serbia. My family moved to the US when I was young, and I've been living in Chicago for the last decade. My passion is travelling the world with my boyfriend, Remigijus. When we're not travelling, I work as a physician assistant in the psychiatry field. The mental health field is as rewarding as travelling can be.
Follow along on social media:
---
Are you planning to try out any of these Cape Cod date ideas? Let us know in the comments!
---
---
Before You Go
Whether you're in the planning or packing stages, we recommend these resources and travel essentials:
---