*Links in this article may be affiliate links, from which we may earn commission. See our Privacy Policy for full details.
With its gorgeous, cozy autumns and its lush green summers, it's no surprise that there are boundless opportunities for romantic getaways in New England. The whole New England region is a top destination for couples in summer and fall, but it also offers spectacular springs and wonderful winters! Without a doubt, it's a year-round vacation spot for couples.
Tucked away in the far northeastern corner of the US, New England is also an ideally situated destination for residents of highly populated states (NY and NJ, for instance) to easily get away from it all. Here on the East Coast, New England is where lovers vacation!
Here is a handpicked selection of beautiful and romantic New England inns and properties to which you can sweep your lover off for a weekend. Whether or not you have a special occasion coming up, it's the perfect excuse to book a luxurious, cozy stay nestled in one of these lovely inns. We've included two from each state. Read on and start planning!
---
Romantic Getaways in Connecticut
The Inn at Stonington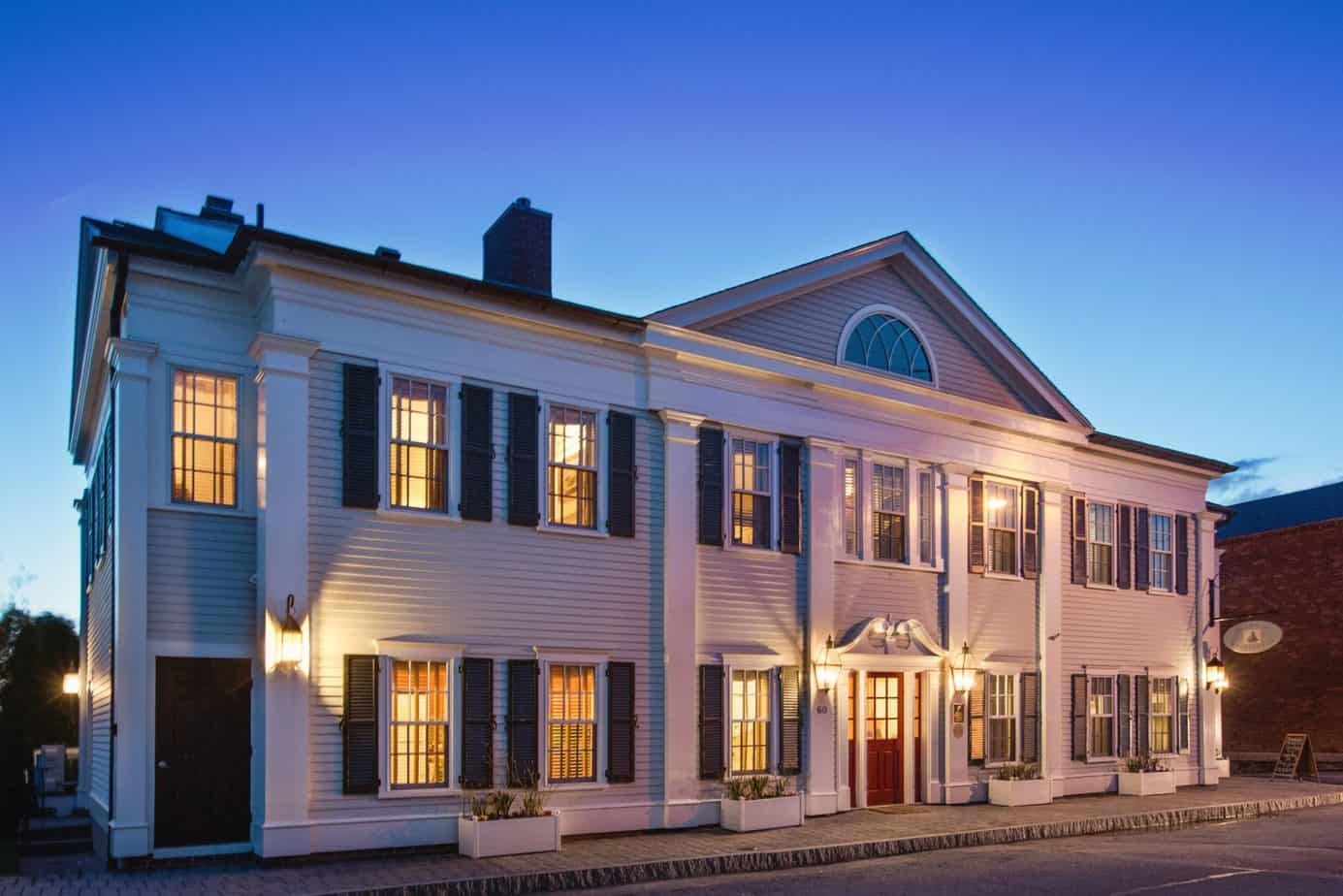 How beautiful is the Inn at Stonington? This waterfront Connecticut B&B is in a great location. The charming Stonington Borough is a historic New England village with a rich coastal tradition. From many of the rooms' private balconies, you can look out over the harbor and watch fishermen and lobstermen sailing out to sea. There are 18 guest rooms at the inn. Many have fireplaces (a New England B&B essential), and each room has a distinct style (see the photo below).
If you can bear to leave your gorgeous guest room, there's plenty to do right in the village. Stroll along the harbor using the path that begins at Stonington Commons complex on Water Street. Visit the Old Lighthouse, now a museum, or check out the exhibits at the house of Nathaniel Palmer, discoverer of Antarctica. Nearby Mystic has lots to explore as well: area attractions include the historic Mystic Seaport and Mystic Aquarium.
Click here to check current prices & availability.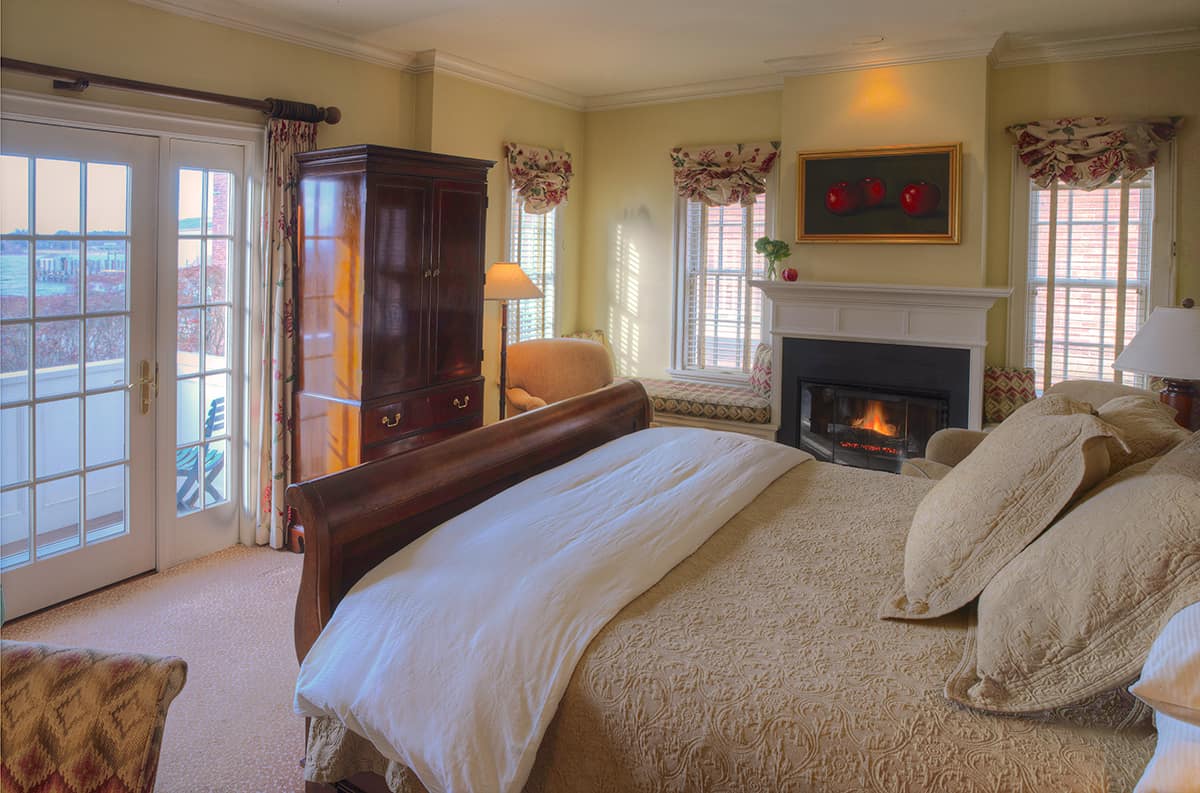 Stonecroft Country Inn
Stonecroft is also located in the Mystic region (it's a great destination) and offers a different, slightly more rustic experience. Think stone walls and charming gardens on 6.5 acres. Inside, the Stonecroft Country Inn has some insanely pretty rooms. Many of them boast historic details such as original doors.
There is a French-inspired room, one reminiscent of the English countryside, and still others that are said to be "fit for a sea captain." With fireplaces, jacuzzis, and such plush decor, you'll fall in love with this inn. Oh, and don't forget the seriously amazing breakfast. Surrounding the inn are 300 acres of lovely grounds and woodlands where you can get some fresh air.
Click here to check current prices & availability.
---
Romantic Getaways in New Hampshire
Sugar Hill Inn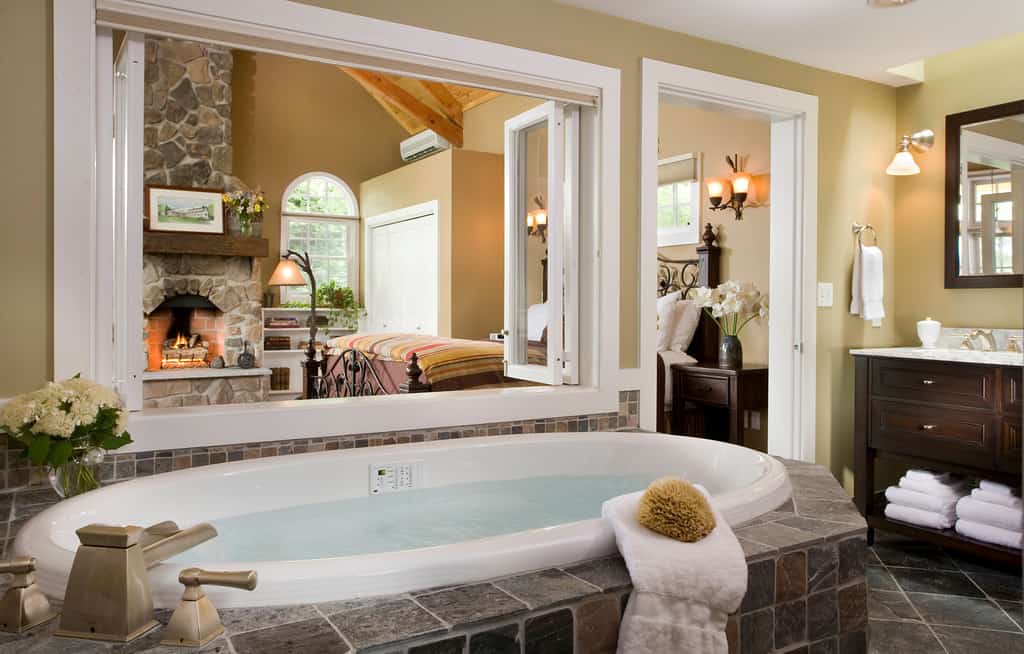 The Sugar Hill Inn has to be one of the most romantic hotels in New England. You and your sweetheart will be swept away by its location in the White Mountains. Explore nearby waterfalls, take part in snow sports, spot the summer wildflowers, and, of course, take advantage of hundreds of miles of some of the best hiking in New England. This New Hampshire B&B is strictly adults only, so leave the kiddos with a babysitter.
Pick out your favorite of the understated yet elegant rooms (our pick is the Dream Cottage) and settle in for a fantastic weekend. Be sure to check out the romantic extras the inn offers, including sightseeing and skiing packages, add-ons like chocolates, flowers, and champagne delivered to your room, and romantic getaway packages that include dinners for two.
Click here to check prices & availability
Chesterfield Inn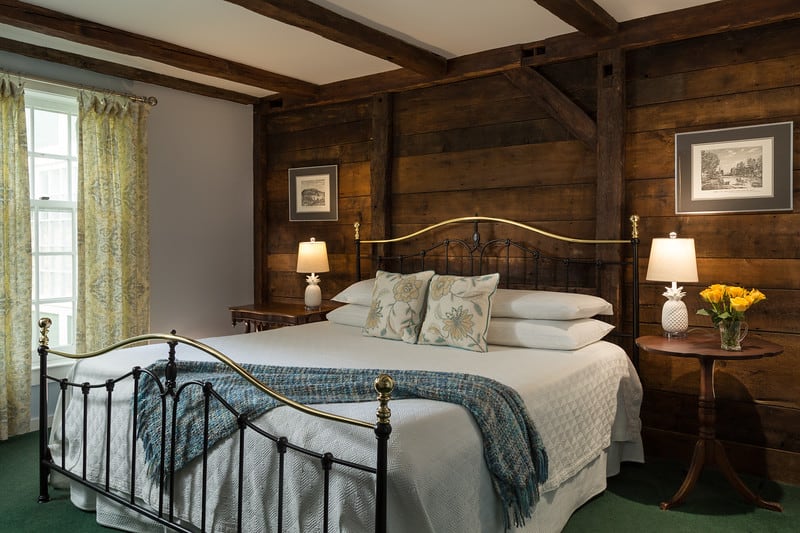 Chesterfield Inn is located in Southern NH's Connecticut River Valley, making it a nice choice for romantic weekend getaways in New England. (It's an easy trip from Boston.) With exceptional food (including wonderful breakfasts of course) and a serene atmosphere, here you will find a romantic.
The guest rooms are spread between three buildings, and each has large picture windows to help bring nature inside. Fireplaces, wood beams, floral wallpaper, four-poster beds: each room is different and equally resplendent.
When not enjoying the inn's amenities, why not hop over the border and explore a bit of Vermont? It's just a few miles away! The region holds opportunities for hiking, canoeing, and horseback riding, winter activities like skiing and snowmobiling, and shopping and antiquing in numerous small quaint villages.
Click here to check prices & availability.
---
Romantic Getaways in Maine
Thornhedge Inn
Originally a 1900 summer home, Thornhedge Inn is a Bar Harbor bed and breakfast that is super dreamy. From the outside, you can tell you're in a very special place. Thornhedge is located in downtown Bar Harbor, within walking distance of the shopping, dining, and the harbor. On the edge of Acadia National Park, this Maine destination is filled with scenic beauty and activity. Check out our itinerary of recommended activities in Bar Harbor and Acadia!
Back at the inn, the guest rooms are straight out of an English country home, and your stay will be complemented by a plentiful breakfast and afternoon wine and cheese.
Click here to check prices & availability.
Wolf Cove Inn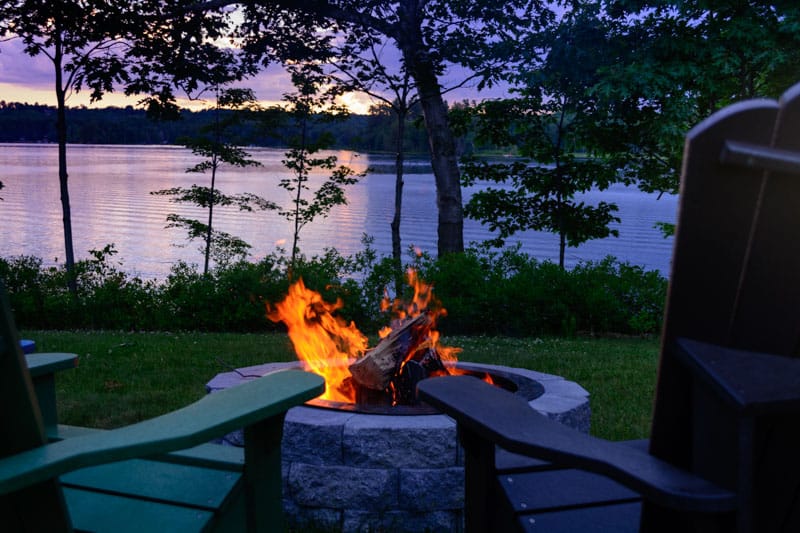 When it comes to the romantic getaways New England has to offer, Wolf Cove Inn differs a bit from the other properties on this list. It is by far the most rustically inclined, which provides intimacy and a close encounter with Maine's glorious nature. For us, it's the perfect mix of love and adventure!
Located on the shores of Tripp Lake, this is an utterly romantic setting. Each morning you'll enjoy a three-course 'Maine comfort breakfast,' after which it's time to explore! Around Valentine's Day, you can count on snowshoeing, sleigh rides, skiing, or simply sitting by a roaring fireplace. Summertime means a romantic paddle around the lake in a complementary kayak, canoe, or rowboat. For a true escape, this Maine bed and breakfast simply can't be beat.
Click here to check prices & availability.
---
Romantic Getaways in Vermont
Windham Hill Inn
As you might imagine, Vermont is full of adorable B&B's. One of the sweetest may be the Windham Hill Inn. Located in Townshend, Vermont, the inn is just a 2.5 hour drive from Boston. There are 22 guest rooms and many of the rooms have fireplaces, whirlpool tubs, and private porches or window seats. The decor is clean and bright and in the winter, is especially warm and welcoming. You'll eat well here too, with farm-to-table gourmet cuisine.
This romantic Vermont inn has won many awards, including 5th in Vermont on US News & World Report's list of Top Hotels in the USA 2017. Be sure to stop by the spa for a luxurious and relaxing treatment.
Consider popping up north a bit to the truly quaint town of Woodstock, home to shops, a covered bridge, a beautiful downtown, and the chance to taste lots of cheese! Use our guide to Woodstock, VT to plan your visit.
Click here to check prices & availability.
The Inn at Round Barn Farm
Another gorgeous Vermont bed and breakfast is the Inn at Round Barn Farm, tucked away in Waitsfield, VT. Its location in Mad River Valley makes it easy for guests to access ski resorts and destinations such as Sugarbush and Stowe. The inn is well known as one of the finest bed and breakfasts in Vermont. From its historic round barn (one of only a few of its kind left in VT) to its breathtaking 245 acres, this lovely B&B is a great spot year-round.
Click here to check prices & availability.
---
Romantic Getaways in Rhode Island
Hydrangea House Inn
Newport, Rhode Island is one of the most popular destinations in New England. Made famous by its Gilded Age mansions, Newport is a place for delightful dining, historical discovery, and much more. When seeking accommodation in Newport, you should consider the Hydrangea House Inn. Here you will stay in the heart of Newport's Old Quarter, and you can easily walk to main attractions.
Of course, you may not want to leave this remarkable B&B. The rooms are stunning. Fans of Sex and the City will fall head over heels for the 'Carrie in Paris Suite.' In the Hydrangea Suite, you can relax in a soaking tub next to an elegant fireplace. And the Oak Suite will take you back in history.
If you are planning to visit the town's famous houses, our guide to Newport mansion tours is here to help. Newport has many attractions, from the shopping on Bowen's Wharf to sailing excursions. We have listed our favorites in our post on visiting Newport.
Click here to check prices & availability.
Jacob Hill Inn
Getting ready for a trip to Providence? The Jacob Hill Inn is a top Rhode Island B&B, BUT it's actually located in Massachusetts. Shhhh! Just a 10-minute drive from downtown Providence, Jacob Hill Inn offers a quiet countryside setting. It's quite a historic property, having once hosted the Vanderbilts, Firestones, and other noteworthy characters from the past.
You will probably have a tough time deciding between the glamorous guest rooms, but one standout is the WaterFire Grand Suite. This room is absolutely fit for royalty.
Click here to check prices & availability.
---
Romantic Getaways in Massachusetts
Brook Farm Inn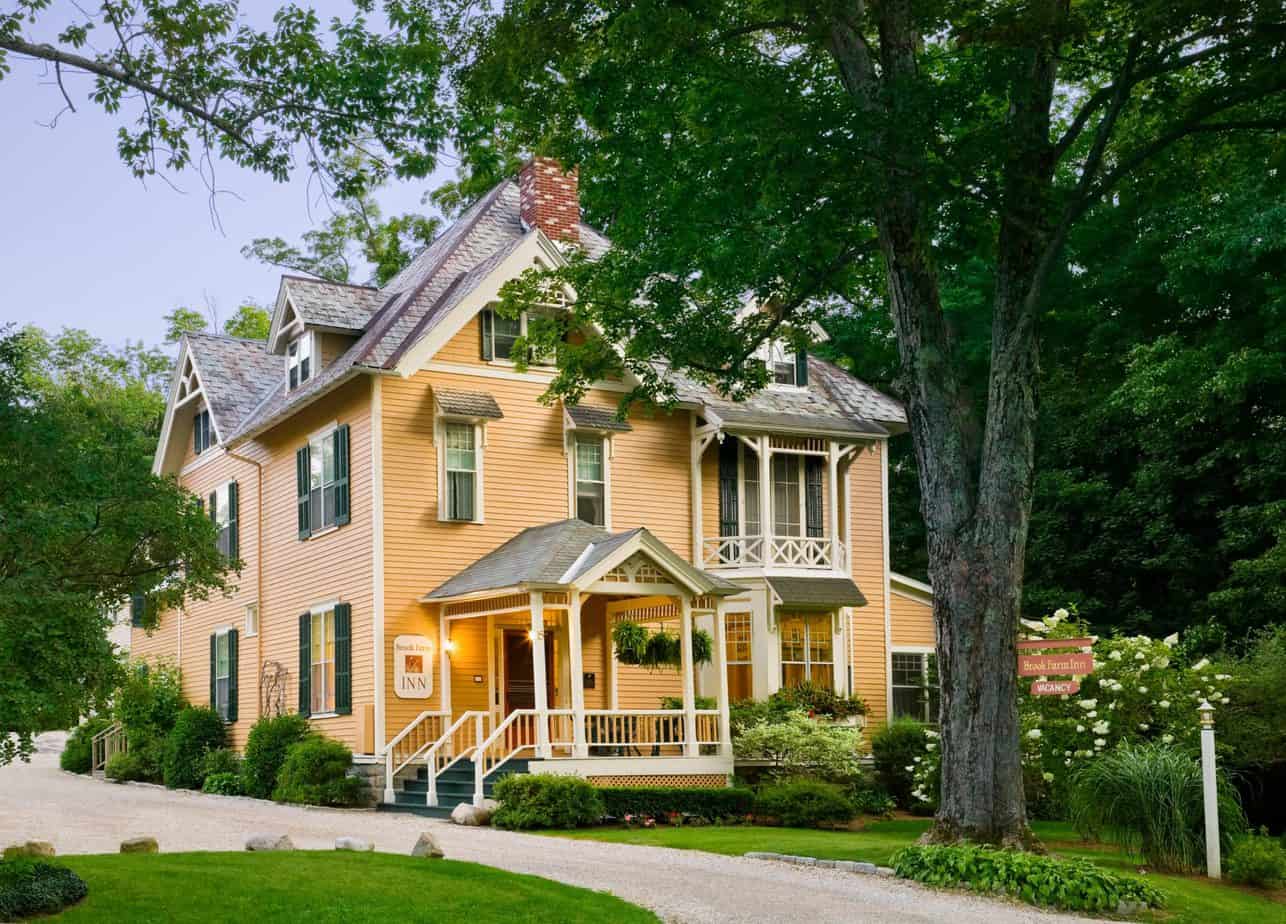 The Berkshires are a beloved area in Massachusetts and perfect for a romantic getaway. If you want the sweetest Berkshires B&B, choose Brook Farm Inn. The exterior is clearly adorable, but inside, luxurious yet cozy rooms await you. Most have fireplaces and many have jacuzzi tubs. It's a perfect recipe for romance. Want to unwind? Book a couples massage and let your stresses melt away.
The location is excellent. You'll be in Lenox, a stunning town and central to the best of the Berkshires, including Tanglewood, a music hall that is the summer home of the Boston Symphony Orchestra.
Click here for prices & availability.
The Inn at Cape Cod
Cape Cod is one of New England's top romantic destinations. If you're visiting, the Inn at Cape Cod will provide you with a tranquil and romantic stay. In 1830, this magnificent property became a stagecoach hotel. Today it remains a classic, sophisticated inn built in a "Southern Plantation" style.
Within minutes of restaurants, beaches, and activities, this Yarmouth Port B&B is a convenient location for your Cape Cod trip. You can choose from one of nine luxurious rooms, all boasting a clean, crisp New England flair. His & Hers bathrobes are a special touch–ideal for your Valentine's escape.
Click here for prices & availability.
Where will you stay for your next romantic New England getaway?
---