This post may contain affiliate links. Read our disclosure page for full details.
So you're ready to take your first camping trip as a couple. Woot woot! Camping is awesome, and we think it's the perfect type of travel if you and your partner are looking for a romantic getaway or romantic adventure. Seriously, is there anything better than camping for couples?
Couples camping brings with it a unique set of goals and even some challenges. You need the right equipment, the right plan, and especially, the right attitude.
Whether you're an experienced outdoors (wo)man, or whether you' couldn't pitch a tent to save your life, we hope this guide to couple camping will leave you with a few ideas for your next adventure in the woods.
PS: Camping makes for a great date idea, whether in spring, summer, or fall. Check out all of our date ideas for each season for more ideas on things to do as a couple!
Getting Started: The Right Gear
We wanted to make sure to pick the best stuff for a romantic camping trip, so we have researched heavily plus polled our friends and fellow travelers to come up with this list of high-quality camping gear.
While we are writing with couples in mind, the vast majority of these items could be useful for friends, families, and singles who are camping together, too. In fact, this guide will be a great primer for camping with a baby or camping with kids.
Ready? Let's go camping!
Tents for Couples
Every couples camping trip needs a cozy as hell tent. You also want something that's not super difficult to setup, something that's comfortable and private, and something sturdy that will keep you warm and dry in inclement weather. The choices we've featured below fit the bill, and are some of the best tents for couples.
---
This is actually the tent that we use! The Cotopaxi Inti 2 is fantastic.
Lightweight, waterproof, and versatile, this is the best tent for couples, but it can also be expanded to accommodate more people. The tent itself is designed for 2, but by adding the alcove you can effectively double your living space. Bring more friends or more gear!
One of our favorite aspects of the tent is that it is very breathable, so you can make sure you'll have lots of ventilation. There's mesh on the top and both sides, which have zippered entrances. Open these up on both ends for spectacular views of your camping site and surrounding nature.
If the weather turns bad, the Inti 2 can be covered with its 20D water-resistant, PU-backed ripstop nylon rainfly. This will keep you cozy and dry even in heavy rain (trust us, we've tested it out in a downpour!)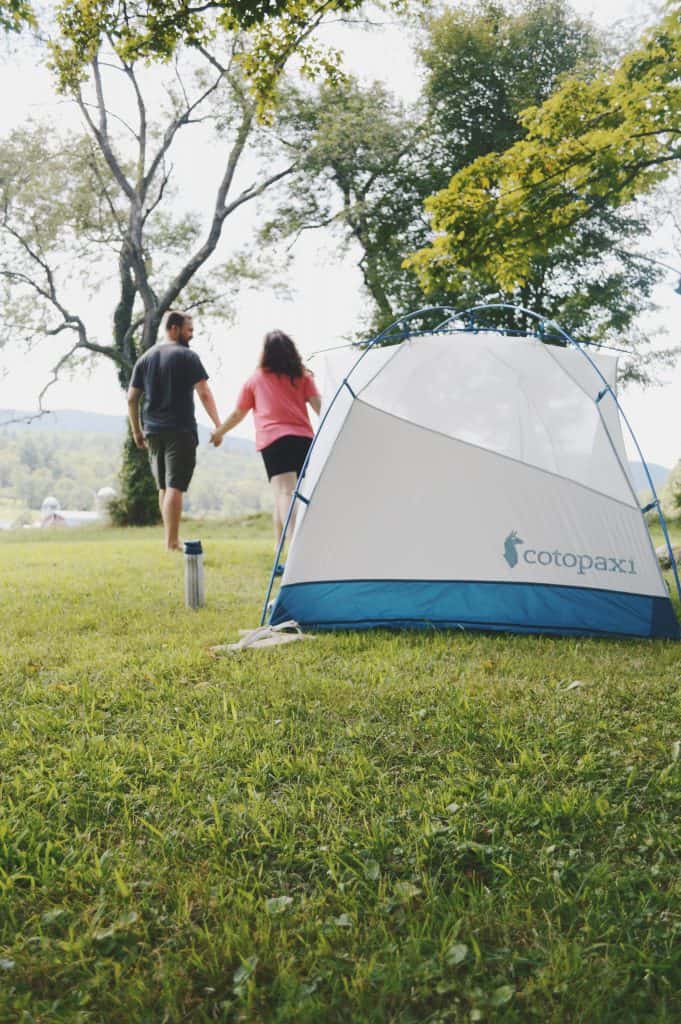 Cotopaxi is also a great outdoor gear company to support. They focus on making a positive global impact, delivering 1% of their profits to partner organizations dedicated to alleviating poverty and improving the human condition.
---
Good for car camping or backpacking, the material for this 2-person tent is light yet strong. The setup seems to be easy and fast, with the tent being overall very lightweight for carrying.
One Amazon reviewer claimed, "this might be the best tent as far as quality vs price goes on the market
."
Excellent venting and airflow mean you'll be kept warm and dry, even during periods of rain. The Hubba Hubba can comfortably fit two people, preferably when snuggling together and enjoying a view of the stars when the rainfly is rolled up.
PS: The fact that this tent is named the Hubba Hubba makes us think it's probably perfect for a romantic weekend in the woods. Get it here.
---
Going on a couples camping trip with a canine companion? You might want to check out the Coleman Carlsbad Dark Room Dome Tent to make sure your pup has all the room he needs.
This tent offers simple, 15-minute setup, so you can get your tent pitched and get started on your adventuring faster. The 4-person version of this tent will probably suit you well, so you can sleep two adults plus doggo.
The screen room at the front of the tent is a great bonus, as your dog can sit in the shade and stay cool. In fact, the entire tent stays extremely cool and dark, as the material is designed to block out 97.5 of sunlight.
So sleep in, enjoy the cooler temps inside the tent, and take advantage of the privacy. Coleman lives up to its reputation with a strong, sturdy tent that will take you where you want to go. Get this awesome couples tent here.
---
Sleeping Bags & Other Stuff
When embarking on a romantic camping trip with your partner, one of the most important considerations is your sleep comfort. After all, couples camping is often about the nocturnal, ahem…adventures, too!
Let's start from the ground up. If you're using a tent, you'll want to create a soft, supportive foundation. There are a number of sleep mats for camping, but this is not a place where you want to skimp. Make sure you choose one that's high quality and supportive.
There are basic cheap pads and leaky blow-up air mattresses, but here's what we've found as the ultimate choice for your sleep surface:
---

Apparently, this is THE mat for couples camping. It self-inflates in just minutes, so you can pop into your tent after a long day of adventuring and be welcomed with coziness.
Super cold out? No worries. This mat is designed to be used in all seasons, and its insulation will keep you warm even in temperatures as low as -54 degrees F.
The mat fits snugly inside most 2-person tents, and is the perfect accompaniment to either a double sleeping bag or two singles. It's not the lightest item (weighs about 7.5 lbs when packed up) so you might not want to go backpacking with it, but for couples car camping, it can't be beat.
Get this terrific item for your next romantic camping trip here.
While that MegaMat sounds incredible, the price tag is admittedly a tad high. For the more budget-conscious camping couple, the ALPS Mountaineering Velocity Air Bed is a less expensive, yet still comfortable option.
Air beds aren't much to look at, but they can make or break the quality of your sleep while camping. This ALPS mattress has lots of solid reviews. It stays well inflated overnight and is comfortable and supportive, with a polyester Oxford fabric and coil system.
Built to go beneath a double sleeping bag, it can hold up to 500 lbs and is 80″ in length, so it should work for nearly anyone. This bed is PVC-free, so if the scent of PVC material bothers you, or you have concerns about potential toxins, check the ALPS mattress out.
The air bed comes with a rechargeable pump,
but you can also use a foot pump, which many reviewers have stated works more efficiently and reliably. Get it for yourself here.
Of the three airbeds/sleeping pads featured, our top pick for a romantic camping trip might be the Lightspeed Outdoors 2 Person PVC-Free Air Bed Mattress.
It combines an affordable price with high caliber features. Plus, it is lightweight and compact at only 6 lbs and it is extremely portable, and it's designed for a double sleeping bag.

Another PVC-free product, the mattress is comprised of TPU and maintains a firmer sleeping surface than other air mattresses. Its material creates a steadier hold with less sag, which might make it better for side sleepers or those who shift or move around frequently at night. (Honestly, this might be a real benefit for your romantic camping experience, if you know what we mean).
The included pump is said to work great, inflating the mattress in minutes. The pump is battery-powered, which some campers might prefer. With backup batteries on hand, you can always be sure you can power the pump, and not worry about taking time to charge it.
The Lightspeed Outdoors mattress is good quality, rarely needs re-inflating, and has a lot of great ratings on Amazon. Get it for yourself here.
---
Once you're settled on a comfy sleeping pad or mat, the next level up is your sleeping bag. When camping a deux, you might be interested in sleeping bags for couples.
Double sleeping bags are great, making it so much easier to snuggle together during the cold camping nights. Plus, they're just so cute, aren't they? But instead of a double sleeping bag, some couples find it even better and more convenient to have two bags that can be connected to become one!
Our top suggestion are these bags here: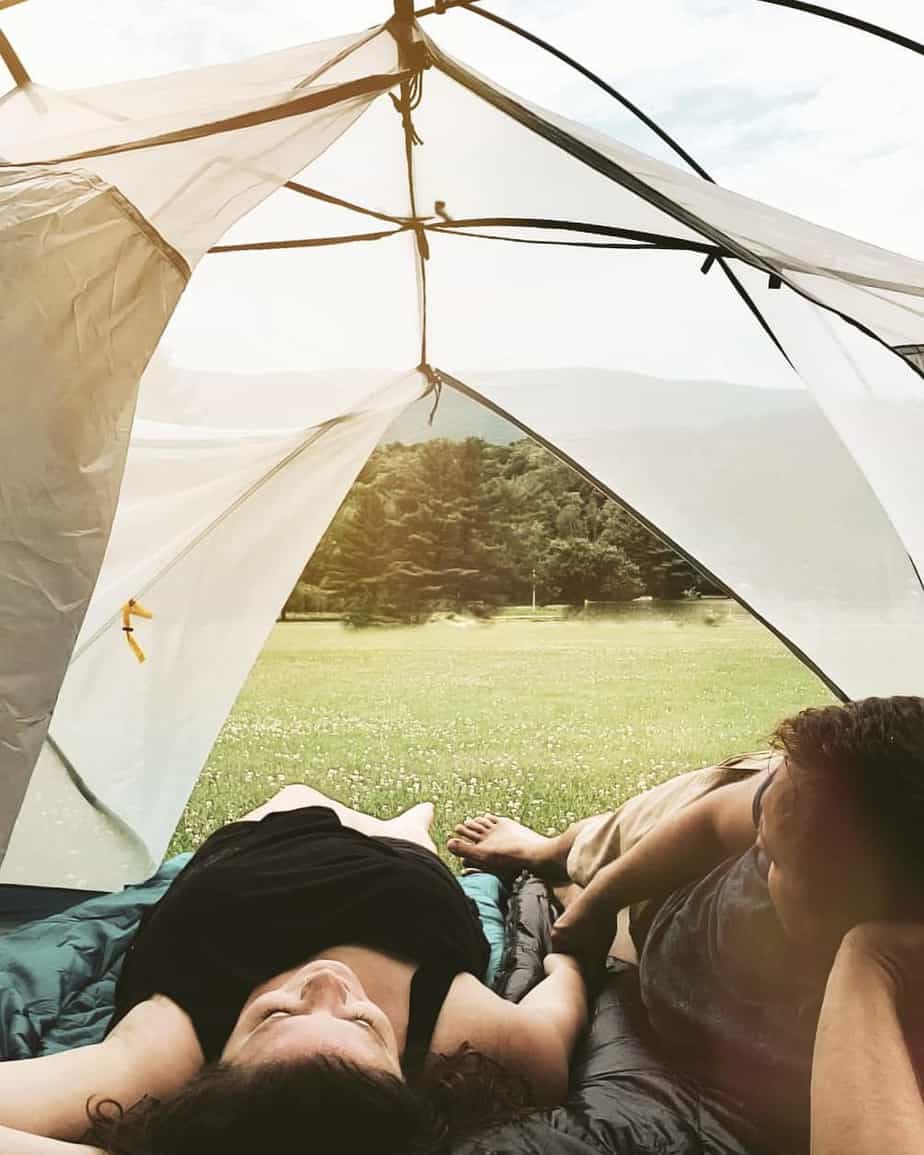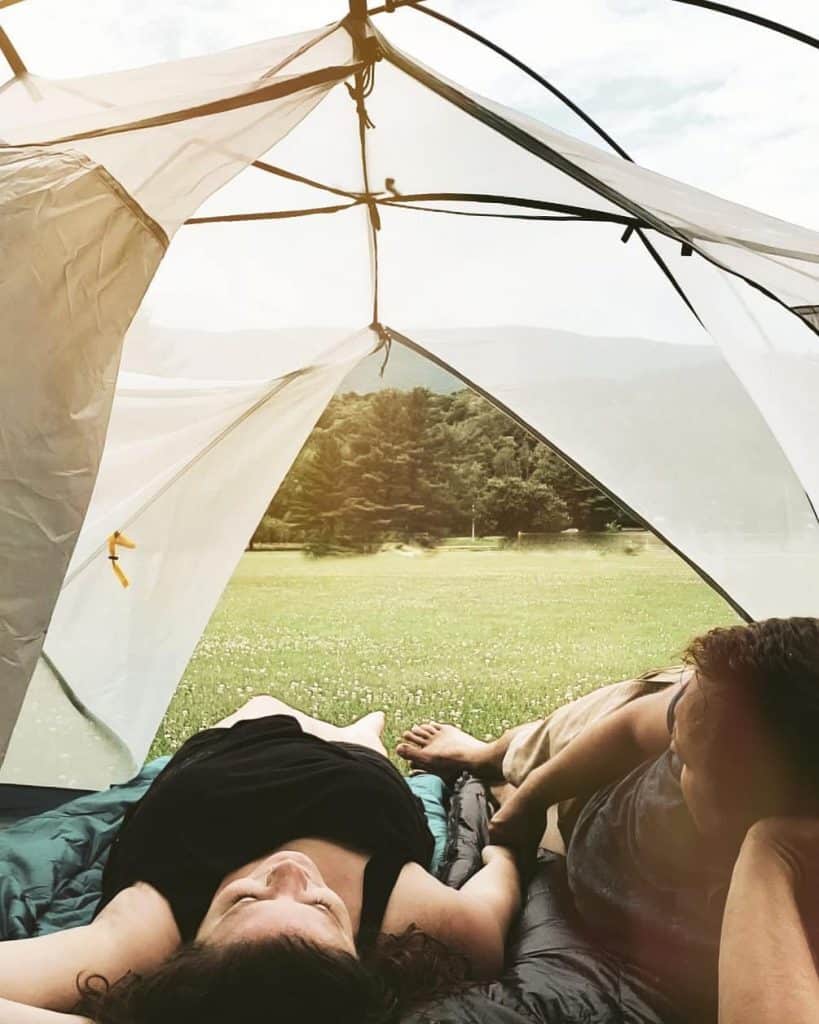 Here's another excellent solution. The Aerie from Outdoor Vitals can serve as both an underquilt OR a sleeping bag, giving you ultimiate versatility on your camping journey.
This bag is a single bag, which may be better for some duos. You might not always go camping as a couple. But when you do, you can connect 2 Aerie's together to form the cozy double sleeping bag of your dreams.
This is a down sleeping bag (Soft! Warm!) and comes in options rated for 2o or 30 degrees Fahrenheit. It's one of the lightest sleeping bags of its kind on the market, and let's face it, each of you carrying your own bag and then connecting them at night might be the best couples camping and packing solution!
With a special external coating to repel water and keep you dry, the bag will also keep you comfortable and stable while sleeping. This is due to its construction with horizontal baffles, ensuring no unpleasant cold spots pop up in your bag.
These are the bags we Two Drifters use ourselves! We definitely recommend them as they are super light, easy to store away in their bags, and very, very comfy! It's a great double sleeping bag or single bag.
Get your own Aerie sleeping bag here.
Essential Camping Gear for Couples (Or Really Anyone)
Now that you've got the bedding handled, it's time to fill up your car (or pack) with the remaining equipment you'll need. Make sure you've got everything before heading out on your camping trip, as a being prepared will make your experience a whole lot better. Extra items never go amiss when prepping for a romantic camping trip.
We've selected a few great items below you might want to add to your couples camping checklist. PS: any of these could be great camping gift ideas for couples!
An awesome price gets you the ideal flashlight for your next camping trip. This one is water-resistant, produces a super bright, wide beam of light, and 5 unique flashlight settings. The battery life is also long-lasting.
Check it out here.
Get clean, safe drinking water when you're on the trail. Able to filter 99.9999% of all bacteria and protozoa, this lightweight and trusted filter can handle 100,000 gallons of water from lakes, rivers, and streams.
Get it here.
One of our friends swears by this tool. Able to bring 2 cups of water to boil in just two minutes, the cooking cup is connected directly to the high-performance burner.
It stores easily inside the cup (so its convenient to pack) and if you wish to, you can connect other Jetboil items as well, like the Jetboil FluxRing 8″ Frying Pan.
Right now, the system comes with the Flash Java Kit, which includes a coffee press and a sample of Green Mountain Coffee (Vermont, yo!). Imagine having a delicious french pressed coffee after waking up at your campsite? Glorious.
Get it here, and don't forget the fuel.
Check out this post on all the best tips for making coffee while camping.
*As for what food to cook on your camping trip, check out this list of terrific (and easy) meals for car camping.
To carry your water when camping or hiking, you'll need a reliable water bottle. I'm obsessed with this one, which I actually own and use.
It fits seamlessly in the water bottle slot on my backpack, has a perfectly sized and shaped carrying handle (which also doubles as a carabiner), and best of all, keeps water ice cold for 24 hours or more.
It also keeps hot liquids toasty for approximately 8 hours, though I haven't tested this out yet. The bottle is easy to open, never leaks, and cleans like a charm. Highly recommend it.
Get it here.
A quick-dry towel is a camping essential. Microfiber is the best material to get the job done, soaking up water fast and drying out even faster. This one comes in various sizes and has odor control to keep the towel fresh for days.
Get yours here.
Every camping trip needs a couple of fun outdoor games to play. Bean Bag Bucketz is an awesome choice. Like cornhole but on a pole, this game is super light and easy to bring along on your trip. It sets up in a breeze and is a simple, laidback game you can even play while chatting or having a drink together.
Bean Bag Bucketz is great for two to play, but can definitely be done in teams in a party setting.
Other Couples Camping Gear to Add To Your Packing List
Don't forget to be prepared out there. The Swiss Safe 2-in-1 First Aid Kit is ideal for keeping you safe, all in a compact container.
Eco-friendly soap and shampoo & other eco-friendly camping products
Check out this list of Biodegradable Camp Toiletries.
Solar and portable chargers
Keep your devices powered out there. Here is one option: Goal Zero Venture 70 Recharger
Tiny, lantern-shaped string lights to make your tent cozy, romantic, and Instagram-worthy! Definitely a must-have for a romantic camping trip.
A variety of useful tools is critical. This one from Amazon has a hammer, knife, saw, wire cutter, pliers, and more.
Hopefully, you'll never have to use it. But adding bear spray to your couples camping packing list can provide excellent peace of mind. Especially if you bring along a high-quality bear spray. This one is the #1 pick on Amazon.

Tips for Camping as a Couple
Okay. So now you're packed and ready to go. Is this trip going to be a romantic getaway? A thrilling adventure? Or a bust—-the last time you'll go on a camping trip together?
Chances are, everything is going to go just FINE. And after all, traveling, we often say, is one of the best ways to get to know if you're compatible with another person.
So dive in and go have fun. But if you want some tips for your best romantic camping experience, read on.
Start slow if necessary
It's quite possible that one of you is way into the idea of camping…while the other needs a little convincing. Don't be afraid to start small and slow. You don't have to go wilderness tent camping on day one.
If your partner isn't so sure about spending a night outdoors, look into options for glamping, or rent a cabin. You could even pitch a tent right in your own backyard to get started.
Be patient with the less enthusiastic member of your party, and you may soon find your sweetheart falling more in love with camping—and with you!
Keep your expectations reasonable
Part of the fun of a romantic camping trip is the cuddling, etc. inside the tent. But, it's important not to create unrealistic expectations for your getaway.
Sometimes, things go wrong. You might be uncomfortable in the tent, or encounter terrible weather. You might forget the bug spray and end up with a leg full of bites. These can be serious mood killers.
The beauty of camping with your significant other is that you're spending time together. This bonding in nature is so powerful and so great for a relationship. Don't put too much pressure on the trip. If you don't have wild tent sex or kiss in front of the perfect sunset, it doesn't matter. What truly matters is being with the one you care about.
Plus, there can always be more trips in the future! (You might even choose to live in a camper trailer or RV full time!)

Don't be afraid to try new things
Once you've camped together a few times, you might want to branch out. There are lots of great camping ideas for couples to try. Examples include discovering a new location, moving from car-camping to backpacking, or experimenting with sleeping in a hammock.
Discuss your expectations and preferences ahead of time
This is a great tip for any time you're traveling as a couple. Have conversations about your trip before you leave. This includes what activities you plan to do, what your expectations are, and more. For camping, this very well may need to include what you will eat. No one wants to be stuck in a tent in the middle of the woods only to discover their partner is totally unhappy with the trip (or failed to mention that they hate camping!)
Pack carefully and pack well
Preparation is key for a stress-free trip, no matter where you're going. Double and triple-check that you have everything you need for a successful couples camping getaway. Nothing sours the romance more than forgetting an essential item.
PS: If you're planning for some romantic camp lovemaking, you will especially want to be sure not to forget those necessities.
Things to Do While Camping for Couples
There are plenty of terrific camping activities for couples. Most of them are the obvious camp-related things, like hiking, stargazing, swimming, or fishing. But you can also have fun playing games, getting into deep conversations (check out these 99 couples conversation starters), or telling ghost stories.
Perhaps you're wondering, though, about how to make camping romantic. How can you take a rugged excursion to the wilderness and turn it into a super romantic camping trip?
Personally, I think camping lends itself perfectly to romance. The privacy of nature and the intimacy of a tent-camping experience offer ideal opportunities to get close to the person you care about.
For some passion in the wilderness, check out this book:
Here are some other ideas for romantic things do while camping:
Build a fire, and bring a blanket
Nothing says romantic camping trip like cuddling in front of a roaring, fragrant fire. (Can't you just picture that firewood scent now?!) It puts you in a relaxing, peaceful mood, and it's a perfect excuse to get close.
No need to show off your boy scout or girl scout skills though. Bring some quick fire-starting logs, or other tools to help you build your fire without stress.
Put time into making a great meal
One of the most essential items in any couples camping guide has to do with food. Camping can be great fun, but if you don't come prepared with good, nourishing food, you can find your mood souring very swiftly.
Plan together for the meals you'll create, or at least for dinner or one big meal per day. This helps to ensure you're both going to dine on food you enjoy and there's absolutely something special to be experienced from cooking together.
Don't forget s'mores for dessert. Here's an awesome s'mores kit so you have everything you need.
Wine never hurts
And finally, if you enjoy wine or beer, don't forget to pack a little for your trip. For us, it's a must. Red wine is a great choice for camping, as it doesn't need to be refrigerated. Check out Bota Box, a boxed wine we tried last summer that is actually super delicious. RedVolution is the best. Perfect for camping.
Bring music
While many love the peace and quiet that camping in the woods can bring, sometimes, the quiet can be too much. To keep your mood one of romance, don't forget some portable speakers. Plan ahead by putting together a camp playlist that includes songs you both love.
If you play guitar, bring that, too. Who wouldn't want to be serenaded in front of a campfire?
A Few of the Most Romantic Camp Sites
While these couples camping tips can certainly help you make any camping experience more romantic and magical, there are some places around the world that just lend themselves so naturally to this kind of trip. We asked some of our fellow travel bloggers to share their favorite romantic camping destinations. Here's where they suggest couples take a romantic camping getaway.
Big Bluff, Arkansas
Big Bluff is an exceptionally romantic camping destination in the Ozarks. You can easily access this area on a day hike, as the trail is only 6.5 miles round trip. There are a few campsites just before reaching the bluff, but the most secluded and romantic option would be to primitive camp in the small overhang on the bluff itself for a spectacular view. This area is a perfect spot to catch a romantic sunset over a bend in the Buffalo River and watch for shooting stars once it has gone down.
At 550-feet up with a fairly narrow ledge in a lot of places, this isn't a place for those with a fear of heights or for popping a bottle of champagne. Its romance is in the sheer beauty of nature and time spent with your loved one.
Amethyst Lake Campground – Jasper National Park, Canada
Amethyst Lake Campground may not be your traditional idea of a romantic campground, but it is definitely a special place to visit with somebody that is near and dear to you, provided you're willing to put in a bit of work to get there. The campground is located in Tonquin Valley, in Jasper National Park, Canada.
It's a fairly long 23km hike into the Amethyst Lake Campground but your effort is rewarded with stunning views of the Ramparts mountain range which seem to rise sharply out of nowhere. If you listen closely, you can hear the glaciers cracking and popping, and you may even see a chunk go crashing into the lake.
The views of the mountains reflecting beautifully in Amethyst Lake is something you will both remember. If both of you love the great outdoors this is a great place to spend a romantic evening under the stars and in nature.
-Philip, Zen Travellers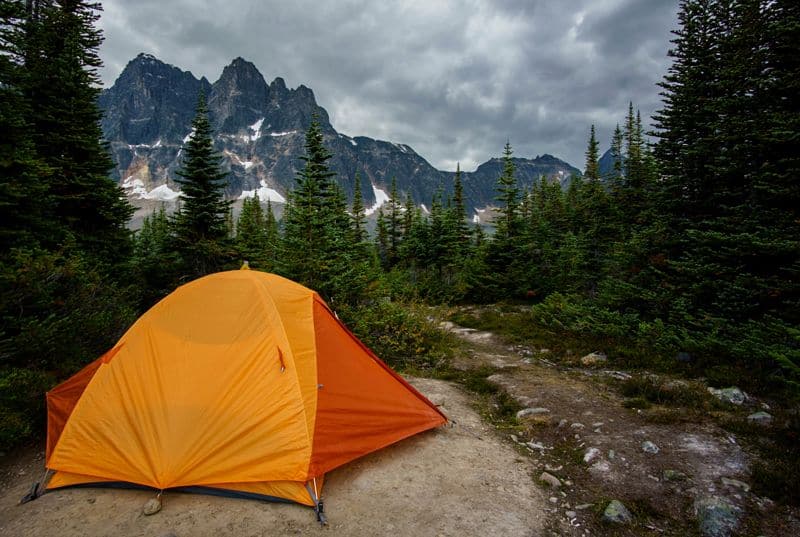 Big Sur Campground & Cabins, California
Big Sur Campground and Cabins is a great romantic campsite for several reasons. First of all, it is located in an evergreen Redwood grove right on the banks of a beautiful Big Sur River, which can be used for swimming or tube floating in warmer months. Second of all, it is a very quiet and peaceful private campground. People that camp here are typically respectable and nice, there are no loud parties, rowdy crowds or drink till you pass out marathons.
Third, Big Sur area of California is famous for gorgeous vistas, scenic hikes, pretty waterfalls and amazing beaches. Finally, if you get bored eating at the campsite all the time, there are a couple of cute cafes, bakeries and a restaurant with a phenomenal view from its terrace just a couple miles drive from the campground (check out Nepanth restaurant or café Kevah).
-Tatiana, Family Road Trip Guru
Rum Currie's Hut – Queenstown, New Zealand
Rum Currie's Hut near Queenstown, New Zealand must be one of the most romantic campsites in the world. It is located right on the bank of river Kawarau in a stunning gorge surrounded by beautiful rolling hills and unpassable forests. If you and your partner love spending time together in nature – this is a place for you to be.
The cool thing about Rum Currie's campsite is that Queenstown offering a variety of attractions and activities such as boat tours in lake
Wakatipu, cable car rides and even bungee jumping is just up the road. Also, there is an amazing winery (offering free wine tasting!) within walking distance from the campsite.
After a day of excitement, unpack your picnic basket, cosy-up by one of the wooden tables and enjoy a romantic dinner. Let the water flow of river Kawarau be the music for your ears and pleasure for your eyes! I can guarantee – this will be an experience which you and your second half will never forget!
-Andrius, KAtrippin
Rocky Mountain National Park
My husband and I have always loved the outdoors and can be found on some new outdoor adventure each day as long as the weather holds. We love exploring our country and are always looking for some new place to explore. One of our favorite trips we've ever done was to Rocky Mountain National Park. We spent a week camping and hiking their magnificent trails. The seclusion allowed us to focus on each other, while the challenging terrain strengthened us a team. Working together to make it to the top of challenging climbs we encountered breathtaking scenery and spotted so many animals including rams, birds, moose and even a mountain lion (thankfully from a slight distance). There truly is something romantic about an early morning hike to watch the sunrise wrapped in each other's arms with the only sounds being your own breathing and the animal world slowing waking up. Seeing the July snow-covered mountains reflected on Dream Lake was something I'll never forget.
-Kelley, Sailing Chance
Read Next: 10 Best Places to See Northern Lights in the USA
Ready to go? Share your favorite couples camping memory with us in the comments!
---
More Date Ideas for you:
---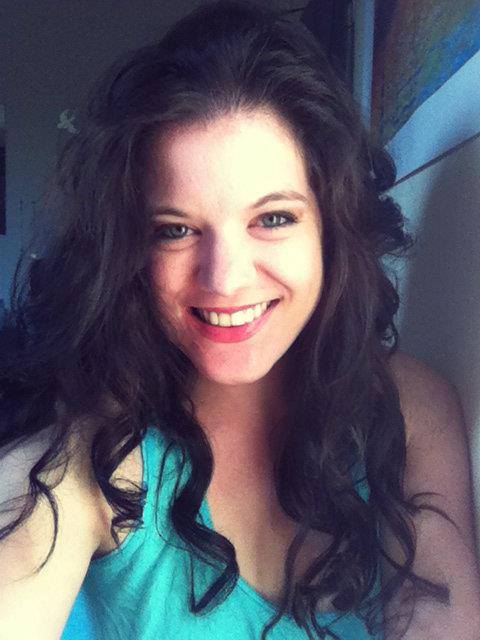 Amy Hartle is the author of Do You Love Me? How To Stop Seeking Reassurance in Relationships, a book on reassurance seeking and relationship anxiety. Both her book and this blog are born of personal experience; Amy shares expert relationship advice from the lessons learned during her own 10+ years with her husband, as well as couples travel tips and romantic getaway recommendations, all gleaned while traveling the world together.