This post may contain affiliate links. Read our disclosure page for full details.
Is money tight? We've been there. Many, many…many times. When you're in a relationship, especially early on, being broke can really be a drag. How can you impress your significant other if you're strapped for cash? What can couples do for fun without money? Fortunately, being broke has an upside. It forces you to get creative. But to help you get started, we've got a collection of 50 free date ideas, perfect for finding romance on a budget.
But first, let's talk about a few general ideas. What can couples do for free? Plenty!
Don't get bogged down by the notion that things that cost money are the only way to have fun. In fact, some of the most fun times Nathan and I have had together have been our free dates, or occasions when we didn't spend a penny.
(PS: Check out some super smart ideas on ways to save money—perfect for some splurge dates in the future!)
It may not come as a surprise that many of the best free date ideas are things you can do at home. That's because, in your house, you've already got a ton of supplies ready to go for an awesome date night. The key might just be figuring out what those treasures are and how to use them. However, there are also many great ideas for dates you can find in your local city or town.
Also, don't underestimate the fun and romance of just enjoying a conversation together. Talking doesn't cost a thing, and it's a great way to learn more about your partner. One of our favorite date ideas for couples is to go through these 150 couples conversation starters together. So much fun, and totally free.
Ready to discover some cheap, affordable, and even some no money date ideas? Here are 50 dates to try out:
Fun Free Date Ideas
Want to do something fun together, but don't have much moolah? These free dating ideas are all about having fun.
DIY scavenger hunt
Together, come up with some fun and outlandish things you'll need to find around your area. Work as a team or make the game a friendly competition.
Play frisbee
Find an open area on a sunny day and pass that flying disc through the air.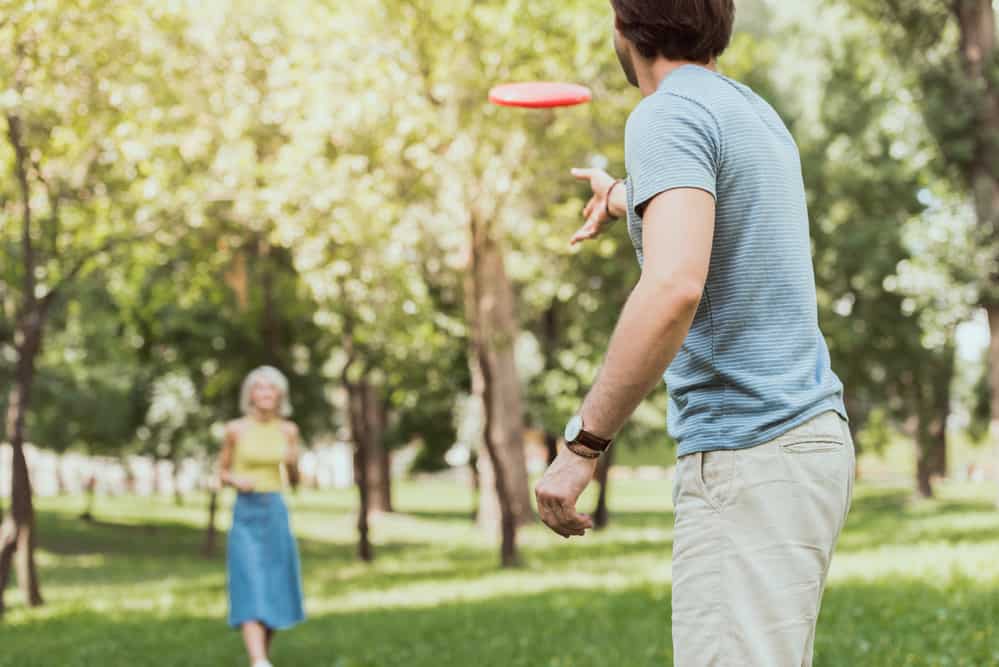 Make your own movie
You don't have to have fancy equipment to be a filmmaker. In fact, everything you need is pretty much right on your phone! Get creative and make the year's next big cinema hit.
Create a bucket list
Dream together and dream big. We love the idea of a shared bucket list, and we've even got 101 ideas you can borrow to create your own couples bucket list. Sit down and write up the ultimate list of all the things you want to do as a couple.
Learn something new together on YouTube
Free videos abound on the Internet. Click over to YouTube and start learning a new skill together.
Collect items from nature (like fall leaves) and make a craft
Going outside is always a great free idea. A cool way to make the most of the outdoors is to find interesting pieces of nature and bring them home to make a craft or collection. Fallen leaves, fascinating rocks, shells. Whatever you find together, grab it and add it to the collection.
Grab samples at a local store or market
Hit up Costco or another store with free samples and eat like kings and queens. This is a fun way to spend a day and enjoy each other's company.
Volunteer somewhere
Giving of your time is the best way to do good. You and your significant other can spend some time volunteering together to make a difference in your community.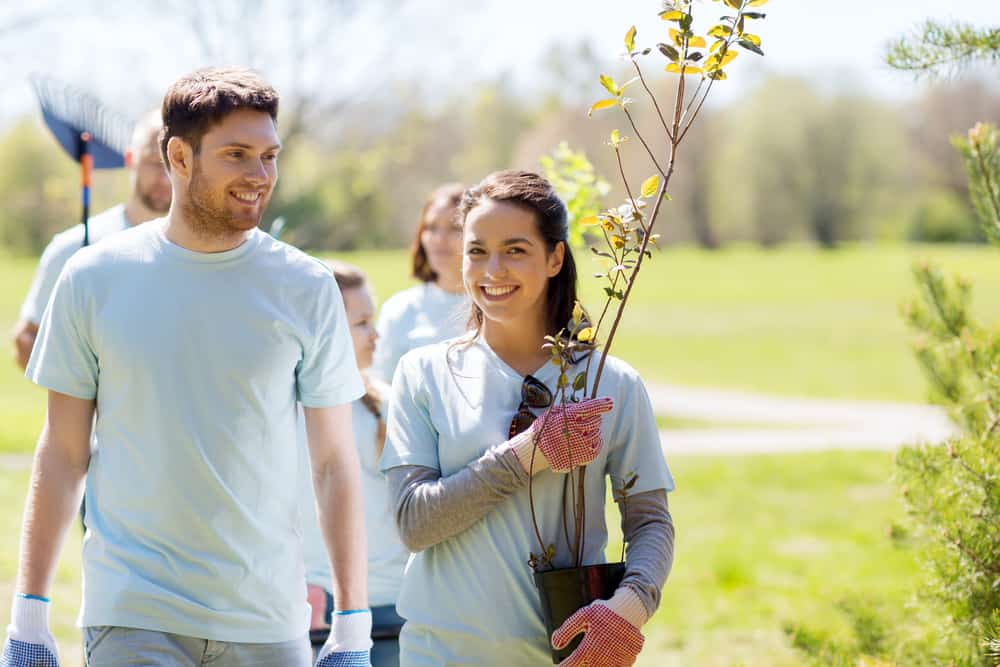 Take a luxury car on a test drive
You don't have to buy! Test driving a car is free, so why not find your dream vehicle and take it for a spin.
Attend a free concert
It can sometimes feel especially challenging to find free date ideas at night. Particularly in the summer months, there are often outdoor activities that don't cost anything. Free concerts are one of the most popular.
Peruse the local bookstore
Take an hour or two to browse the bookstores in your community. We recommend used bookstores as the most interesting. Plus, if you find one you like, it should be relatively cheap to take home.
Visit a museum (many are free!)
Do you have museums in your city? Oftentimes, art museums and history museums offer free admission or have a special night where visitors can get in for free or for less.
Go to a local sports game
Play ball! Check out the little league game down the street or a high school game. These are exciting and nearly always free or very affordable.
Watch fireworks
Another idea that is especially good for summer date ideas: see a fireworks display. In the US, on July 4th, these are everywhere!
See the fall leaves
Ah fall. Truly the best time of year to plan a date. In September and October (and sometimes November, depending on where you are) the leaves change to brilliant hues. Enjoy these together walking hand in hand. (Check out more of our top fall date ideas for cozy love in autumn!)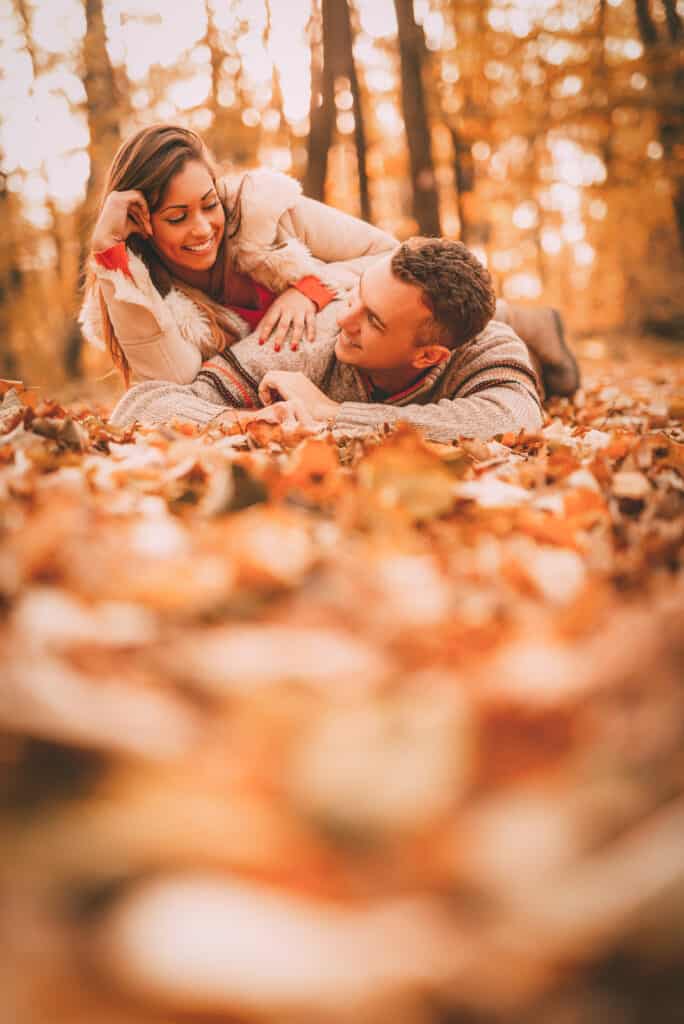 Explore your city like tourists
Your town deserves a closer look. Pretend it's your first time around here, and you want to see all the sites. PS: A lot of fun touristy spots are actually free!
Visit the animals at the shelters in your town
Careful not to fall in love too hard, or you might end up with a new furry friend. But that's okay, too!
Google free events in your city
If you need more date ideas, trust in ol' Google. Doing a quick search for cheap or free events in your area is sure to yield some great results.
Romantic Free Date Ideas
Don't be fooled by luxury and expense. Dates that don't cost money can be incredibly romantic. I actually might venture to say that free dates are even more romantic.
Dance in the rain
If it's raining out on your date night or date day, take advantage. What could be more iconic than dancing and kissing in the rain?
Write one another love letters
This free date night only requires a few items: paper, pen, and creativity.
Take a walk in the park
You know what's always free? The neighborhood park! One of our favorite free date night ideas is simply to walk around and enjoy a lovely outdoor space.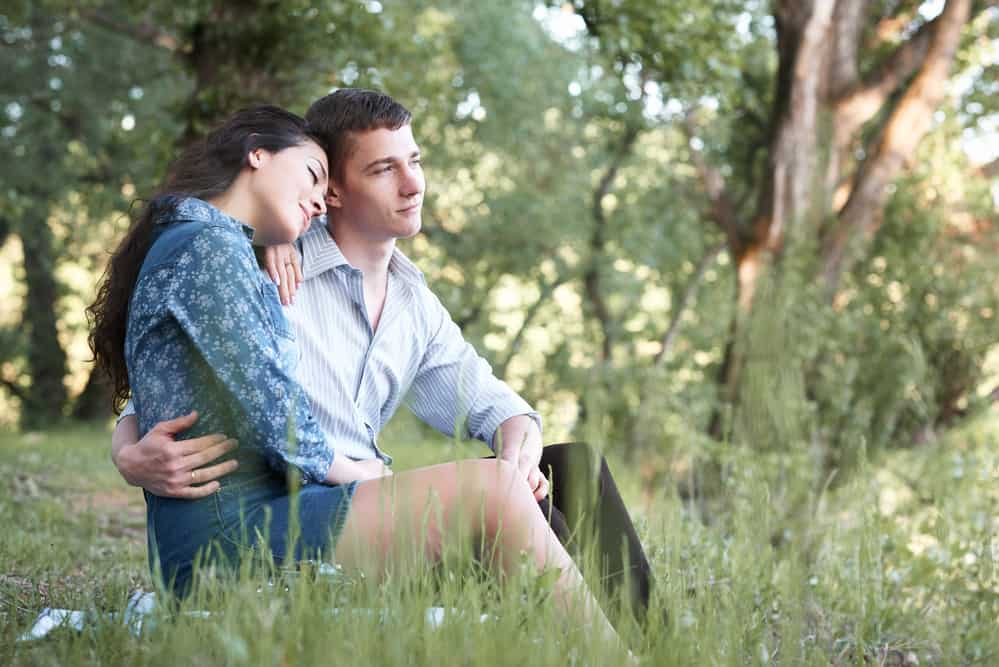 Play strip poker/chess/twister
Feeling frisky? For a great romantic date at home, pick out your favorite game and play a version that has scandalous consequences. This may get a little crazy.
Have a picnic in the park (or somewhere pretty)
Share a delicious picnic somewhere outside, whether that is a nearby park or your own backyard. To keep this date free, grab items you already have in the house.
Stay in bed all weekend
You know you want to.
See More: Romantic Date Ideas
Take turns giving each other back massages
There isn't anyone I know who doesn't love a back massage! A full body massage is even better, including the feet, legs, head, and arms. Be sure to take turns and not get too greedy.
At-Home Free Date Ideas
It's really easy to come up with a free date idea on the homefront. With just a few simple items or a bit of planning, you'll be all set. Also check out our other list of at home date night ideas.
Board game night
This is a classic date night idea for couples in love. Check out our list of the best board games for couples.
Blanket fort
Create dates that are free with the things you already have. Blankets, sheets, and pillows combine to help you make a cozy sanctuary for two.
Create a back yard slip and slide
Get your hose, a couple of trash bags, and your swimsuits. Voila: homemade slip n' slide.
Reminisce about your first date/wedding/etc
Share your favorite memories from your wedding day or your first date. This subject may get you talking for hours.
Backyard or living room picnic
Make date night simple and affordable by having a sweet picnic at home. PS: Anything can be picnic food. Pick out whatever you desire from the fridge.
Play video games
It's time to get competitive. (See more of these cute, somewhat nerdy date ideas).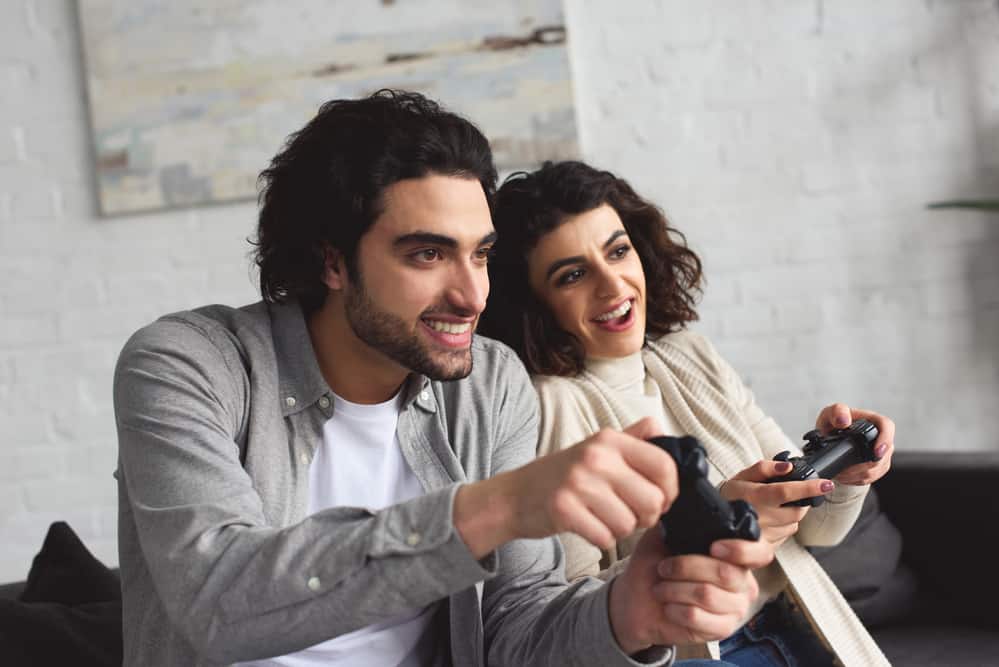 Go stargazing
When the night is clear, take the one you love out for an evening of watching the skies.
Watch an old, classic movie
Chances are, there are one or two classic movie choices neither of you has seen yet. Pick something on the list of all-time best films. Want something romantic? Check out our own list of the most romantic movies of all time.
Read to each other
Date nights don't need to be complicated. Read out loud. It's best if you do this with some funny accents
Have a dance off
Try to see who's got the hottest moves.
Cook a fancy meal at home
This actually might belong under cheap date ideas, unless you work with ingredients you've already got. But there's definitely something romantic about sharing the kitchen and whipping up something good. (Here are some romantic recipes for dinner and for dessert).
Look through photo albums or watch a home movie
Looking for free date night ideas with a touch of nostalgia? Try finding old home videos to watch or flip through childhood photo albums.
Have a movie marathon
Better than the movie theater, because you've got the couch all to yourselves.
Cheap Date Ideas
So maybe you do have a little bit of money to spend. While you may not be looking for free date ideas, you're searching for affordable date ideas or how to spend a romantic date night on a budget. We've got you, friends.
DIY wine tasting
For this option, you'll have to spend a little money acquiring your wine. But the point is to keep it cheap! Why not taste the stores 5 best wines under $7?
At home paint and sip
This is another of those date nights that requires some set up in advance. Paint and sip involves wine or the drink of your choice, plus something to paint on (canvases) and paints.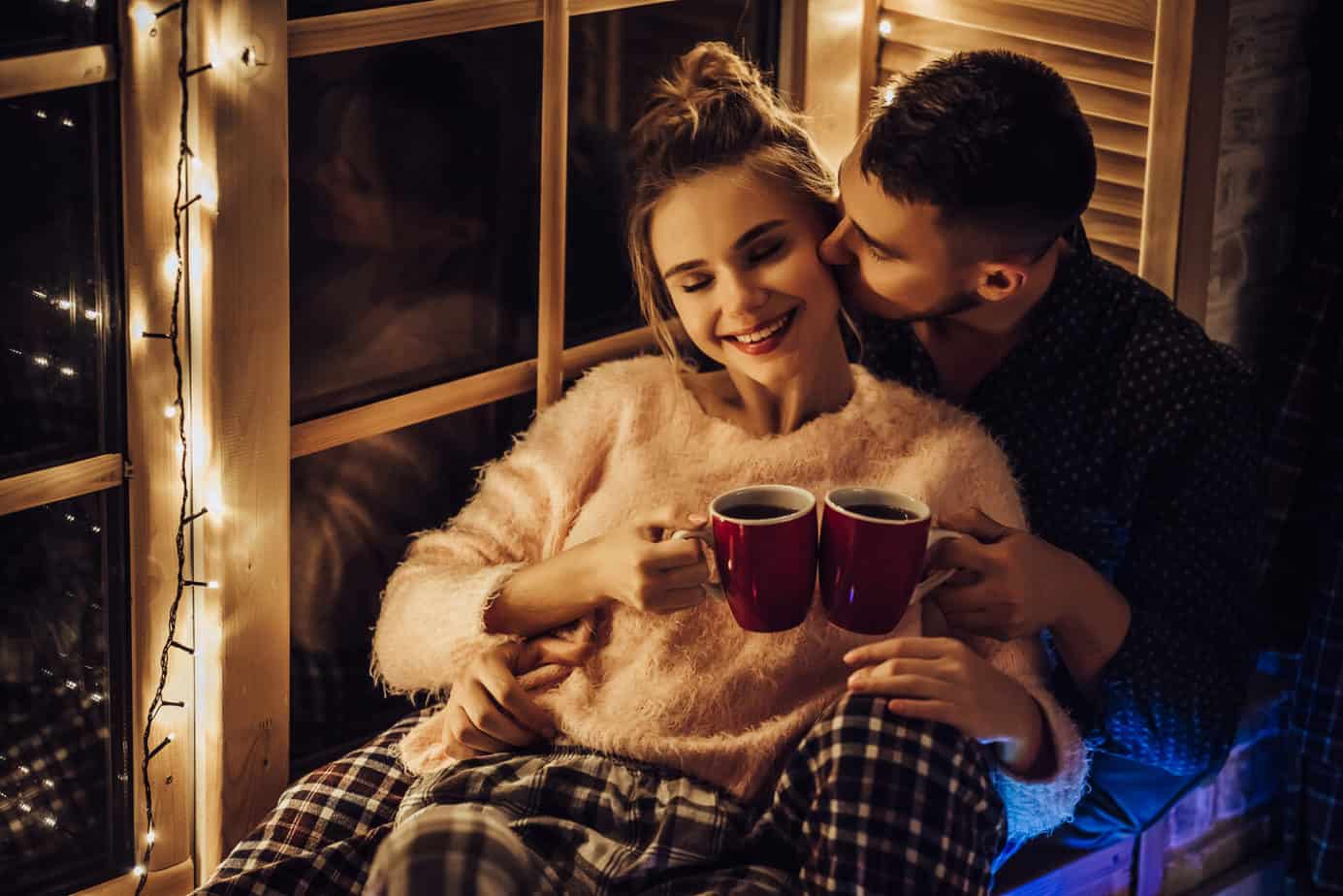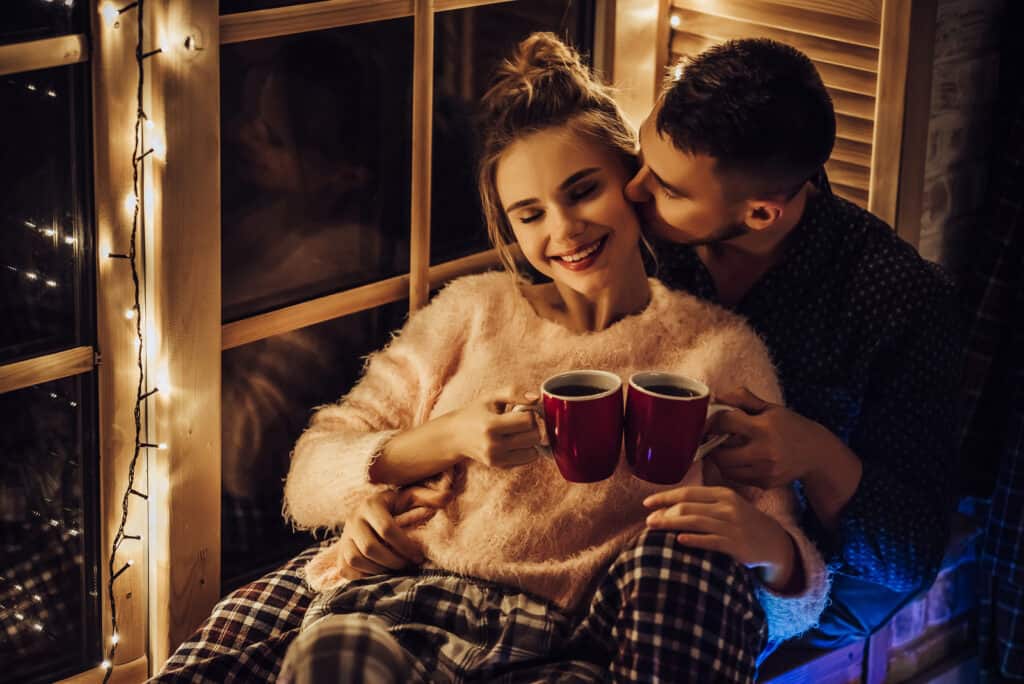 Spa night at home
Who doesn't like being pampered? Tonight, you and your darling will enjoy the luxurious spa that is set in your living room. Don't forget mud masks, cucumbers for your eyes, and soothing music. (Here are some DIY face mask recipes to get you started!)
Go bowling
Cheap, straightforward, and actually a total blast.
Put together a scrapbook
You'll likely need to gather supplies in advance for this, but once you have, you can share a fun evening (or several) putting together an amazing scrapbook.
Chill out at a coffee shop
Head out to your coffee community coffee shop for a tasty cup of joe. This is one of our top things to do together.
Have the world's biggest ice cream sundae
This a great date idea for the summer.
Share takeout by candlelight
Use a small amount of cash to knab your fave takeout foods. Grab a whole bunch to share. Then, light some candles to set the mood and enjoy.
Rent bikes
Finally, here's an option that's good for a budget and gives you exercise: rent bikes. It's pretty cheap to get them for a few hours or even a half day. Try a tandem bike if you're feeling particularly cheesy.
---
Read these next:
---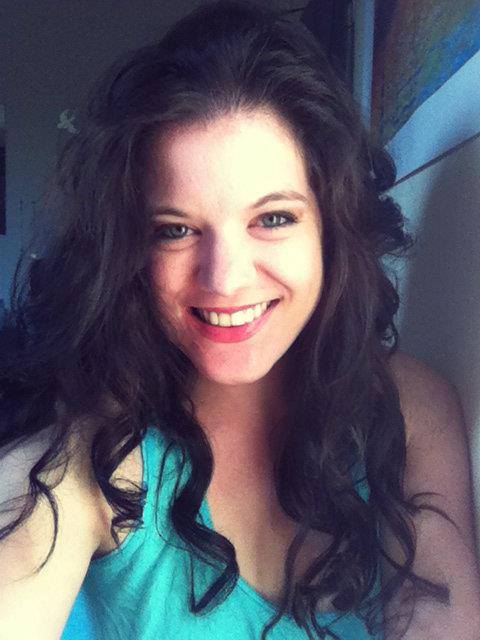 Amy Hartle is the Editor behind Two Drifters, and author of Do You Love Me? How To Stop Seeking Reassurance in Relationships, a book on reassurance seeking. While her name often is found beside the title of "Relationship Expert", she knows that becoming an expert on love and relationships will be a lifelong challenge. But, she is a passionate student of the subject, fully dedicated to learning all she can about relationships, connection, and intimacy, and nurturing her own marriage along the way.
Amy lives in North Carolina with her husband Nathan, and son Malcolm. When not working on websites or traveling the world, the Hartles can be found cuddling, reading, and hanging out with their cats.