This post may contain affiliate links. Read our disclosure page for full details.
Full time RV living: have you ever considered it?
In the last few years, we Two Drifters have started thinking about our future. While we want to feel settled and have a home, we also know how much we love to travel, to drift…to not stay in one place. We want to have the comforts of a home base but also have the freedom to explore other places. To us, this is the best of both worlds. So instead of buying a stationary, conventional home, it seems that living the RV lifestyle might suit us just fine.
But we're not ready to jump in just yet. First, there will be some other steps we have to take, but in the name of research, we figured we'd start at least some of the planning and dreaming right now.
Fortunately, there are tons of awesome couples and families already living the RV life that we can learn from. These folks are doing this unique lifestyle in a variety of ways: some are living in a camper van, others are living in a motorhome, some have kids, some have pets, but all are pretty much living on the road full time. In other words, they're living the dream! (PS: Check out some great gifts for RV lovers here!)
So, we've gathered a handful of them together to ask some pressing full time RVing questions. We're total beginners (and we're assuming if you're reading this you likely are, too), so we started at the basics.
Where does a person even start when thinking about living in an RV? Is this an affordable lifestyle? What type of vehicle and RV do I need?
We bring to you our findings: the wisdom of some full time RVers who have been doing this from a couple months to a couple years.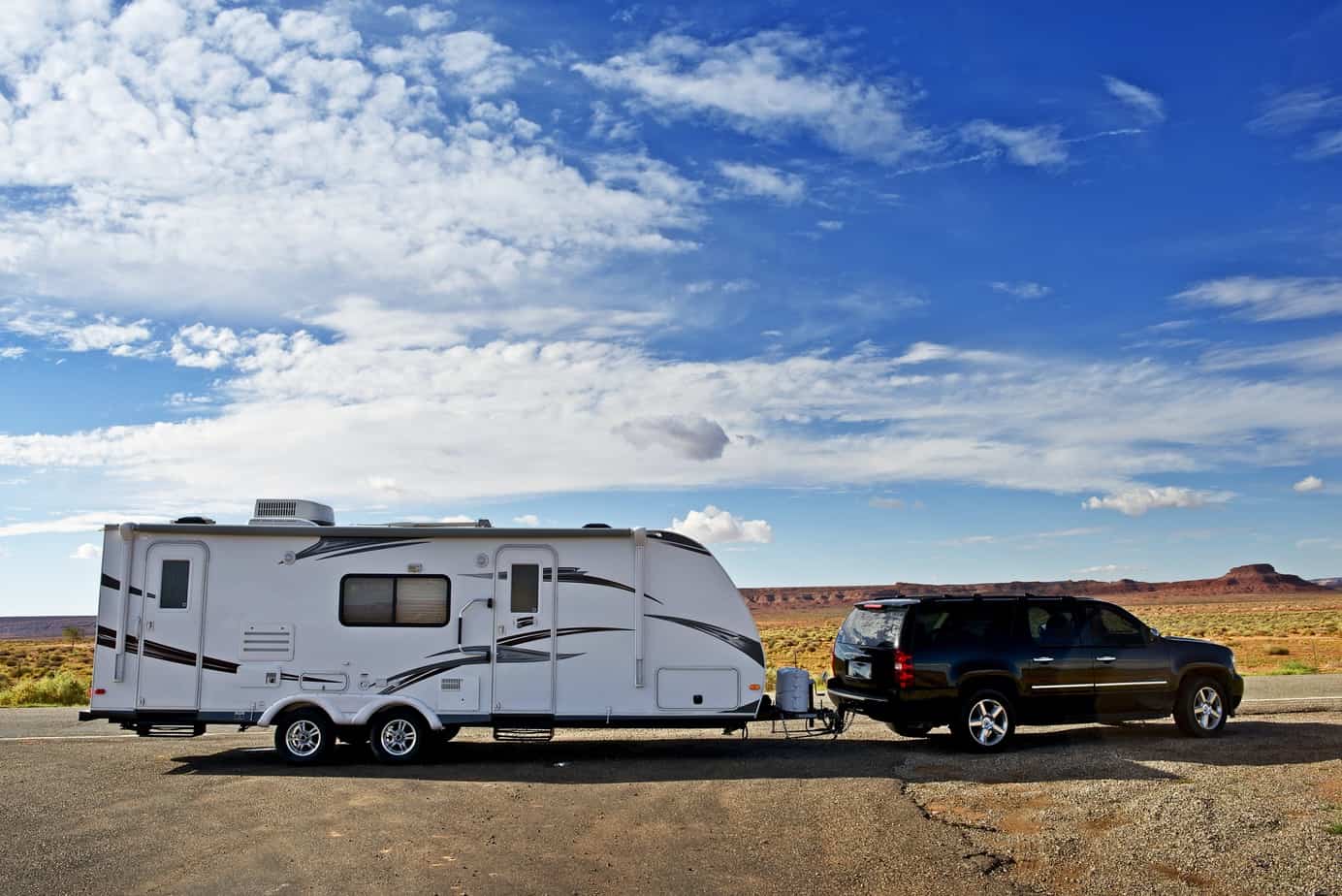 Full-Time RV Living 101: A Guide
Thanks to all the current RVers who helped us put together this post!
Nathalie and Louis (We are Cedar Stream) – on Instagram @cedar.stream
April & family – on Instagram @twinning_in_our_5thwheel
Gwen & C.J. (Our Little Green Adventure) – on Instagram @littlegreenadventure
Mandy (Wilson Grand Adventures) – on Instagram @wilsongrandadventures
Lindsay (Follow Your Detour )- on Instagram @follow_your_detour
Mars, Ash, & Everly (Fite Travels) – on Instagram @fitetravels
Brittany – on Instagram @brittsimps
Hailey & John (Wander Winnie) – on Instagram @wander_winnie
Megan & Brandon (Our Wild Road) – on Instagram @ourwildroad
Courtney (Out of Office Family) – on Instagram @outofofficefamily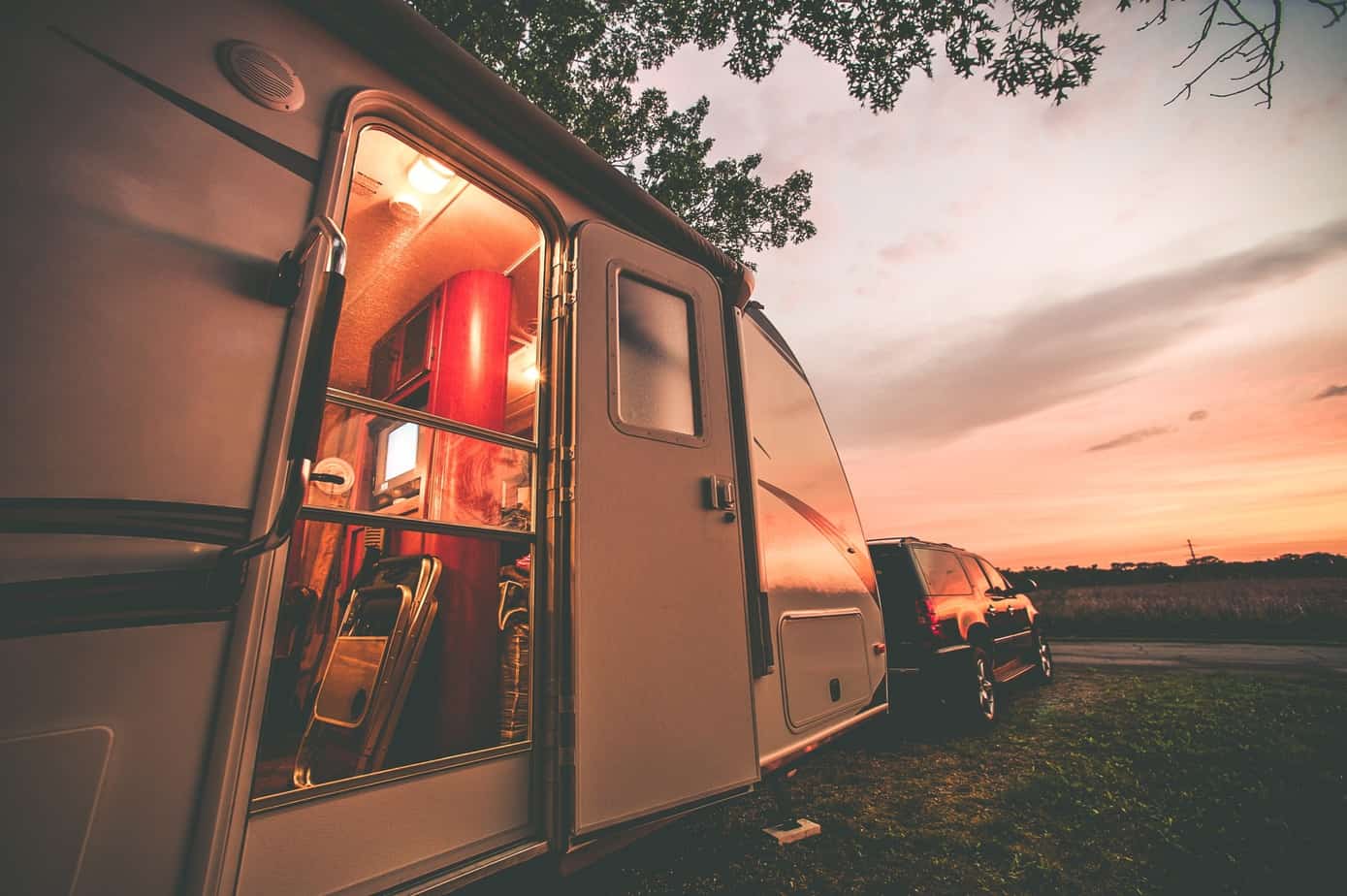 Where Do You Even Start When it Comes to RV Living?
At the start, you may have lots of questions.
Can you live in an RV legally? Can you live in a travel trailer year round? Can I live in an RV full time?
The answer to all these questions is YES.
The Initial Research – Getting Inspired
As you begin your research, you'll probably spend a lot of time getting inspired by other RVers. Instagram is a great place like this (check out the accounts of our contributors above) as there are thousands of accounts all about that #RVLife. You'll start to get excited browsing these images and it will give you lots of ideas as a starting point for embarking on your own full time camping life.
There is so much to learn, so start slowly and figure out your goals. Money will be an important factor of course, and may help you limit your day-dreaming and start realistically planning.
Lindsay says: We recommend first getting an idea of how much it will cost you to RV based on your goals for choosing the lifestyle. You can really make it as expensive or inexpensive as you'd like. But once you get an idea of your goals (traveling vs downsizing and saving money vs) and you get a budget together, you can then determine what RV is a good fit for those goals and the travel style that's a good fit as well. For example, boondocking (dry camping on free land) is a great way to save money if that's one of your goals. If you're wanting to travel and see as many places as you can, you'll spend more money and you'll need an RV that accommodates that well. Basically, deciding your goals and getting a financial plan will help guide you along the decisions. Then, list off your biggest obstacles or questions and tackle them one at a time. Our greatest source of learning is just asking other RVers and searching blogs, Pinterest, and YouTube!
Check out their resource: The Most Commonly Asked Questions About Full-Time Rving
Other RVers had similar tips about research, which will help you figure out not only how to get started and which rig to choose from, but also will provide general useful RVing tips.
Ashley H. says: Honestly, I am a researcher so I spent many early mornings and late nights researching EVERYTHING. I wanted to know all of the must-haves, ways to save space and maximize that space too. I haven't found anything just yet that I wish I knew but that may change one day. Researching everything was life-saving!
Mars, Ash, and Everly say: The best advice we could give to anyone would be to really take time to ask yourself what you want in every area of your life. Take the time to get specific and ask yourself the questions that might make you feel uneasy. We took about six weeks to focus on creating a vision for our lives, and it has paid off in so many ways. It's helped us to know when to say yes and when to say no. It's given us motivation and purpose and passion. Whether you want to live in a RV full time or just experience more freedom or control over your life, creating a super clear vision is imperative to living out your dream life.
Hailey and John say: Choose a rig and go from there. For us being easily navigable was our first priority, second priority was a good amount of space. (so small….but not too small…haha) Think about your NEEDS, what does your life require you to bring? Do you want to tow a car? Do you want to invest in a large vehicle capable of towing? Etc! Second thing is to think about BUDGET. We did NOT want to finance a vehicle…we were trying to escape being tied down to debt by living on the road! For us saving a little money and paying cash on a fixer-upper was the way to go.
Getting Rid of Debt & Downsizing
As you're dreaming and planning, you can start taking other steps to prepare yourself for the full-time RV lifestyle.
Megan and Brandon say: The first recommendation is not to overthink it, and just do it! But it's definitely a process to transition into the lifestyle. Our first step was paying off all our debt and lowering our monthly bills to next to nothing. Like most people, we had car payments, medical bills, student loans, etc. We got rid of it all before we went on the road. Then, start getting rid of all your stuff. We put some things in storage but we're going to end up selling it all. It's SO NICE to not have stuff holding you back.
How to Pick the Best RV to Live in Full Time
What is the best travel trailer for full time living? Which is the best RV for full time family living? What's the best fifth wheel for full time living? What is the best motorhome to live in full time?
So many questions! Perhaps the most crucial step in the process is selecting your rig. Obviously, this decision is going to vary greatly depending on your lifestyle, your family size, your budget, your desires/needs, and much more. Plus, you'll be deciding between the various vehicle options and setups and even investigating brands of RV and motorhome.
This article can serve as a starting point for your RV vehicle research. To lay out some of the pros and cons of the various options, check out the responses below. The end results for each family are very diverse.
What Kind of Setup Do You Need for RV Living?
What's the best setup for RVing full time or even part-time? Is it better to have a motorhome or a vehicle-tow situation? Why?
Nathalie and Louis say: We have a 1969 Airstream Globetrotter. The Globetrotter model was created for traveling the world, even in places with rough road conditions. It's only 20 ft. long and has high ground clearance. We love this because we get to camp in the coolest places, our little house fits places other trailers don't. What type of home on wheels you have is personal preference, so I can only speak for us and our opinions. In a full time situation, we will always choose having a truck and trailer. Our biggest reason is vehicle maintenance. If our truck has a problem we can drop our trailer somewhere and keep living in it, while the truck is getting fixed. If it's unrepairable, we get a new one and we didn't lose our home. That's not the case with a van or motorhome. We don't ever want to be in a situation where we are living in a shop parking lot (best case scenario), paying for an extended hotel stay, or losing our home due to expensive mechanical issues. We would consider other options, if we weren't full time. There are some awesome camper vans out there that inspire us.
Jen and Dustin say: We have a Cherokee Arctic Wolf 295 QSL8 5th Wheel. We invested in a 5th wheel for one major reason: it feels more like a home than any other model. Ours has a full kitchen, bathroom, bedroom, etc. and the main living areas have high ceilings. I would never have been on board with a van, class A/B/C etc. because they feel so cramped, and it just wouldn't work for our lifestyle.
Hailey and John say: We have a1991 Winnebago Micro warrior. It has a v6 Toyota Engine that is super fuel efficient and reliable! Being only 21' long we are just a little bigger than a normal parking space, PLUS we won't miss out on any beautiful roads because of 'length restrictions.' Our little rig also has a full bathroom, kitchen, dining area, sofa, and full size bed!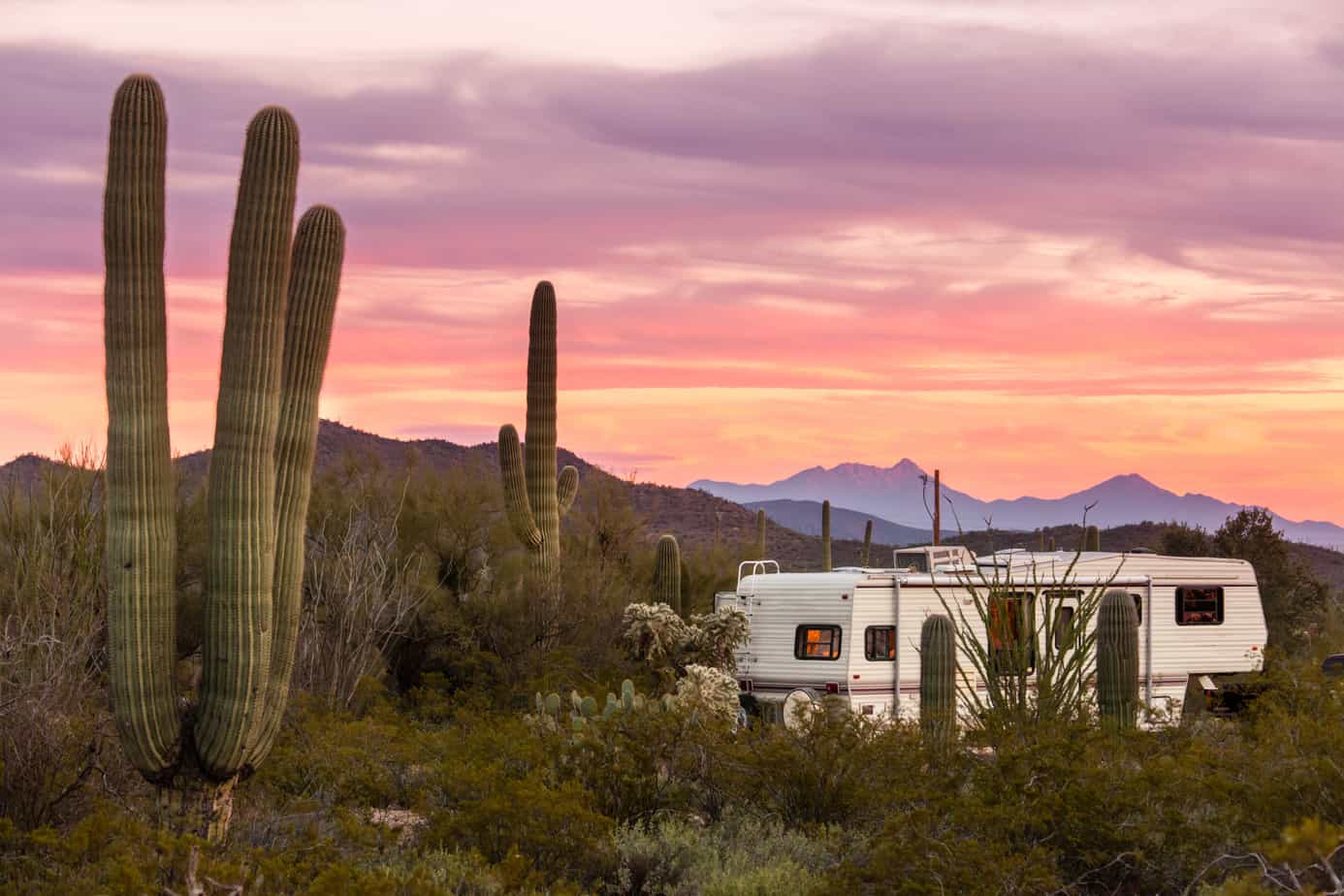 Lindsay says: We have a 2018 Winnebago Navion 24 D class C motorhome and we tow a Jeep Wrangler behind it. Benefits are that it's only 25 feet long, making it super easy to navigate and park. We can fit almost anywhere, including parking downtown in busy cities! Weused to tow a 30 foot fifth-wheel and the motorhome is also much easier to just "hop in and go". We don't have to worry about hitching up! We also love that on travel days, we have access to our kitchen and bathroom…actually, our whole house. We don't have to stop for lunch or to use the restroom. In fact, we take turns driving and working since the passenger can sit at our dinette and work and even have a seatbelt. Efficiency I tell you!
April says: I have a Keystone Montana 3295RK (2005) I love this type because Keystone makes quality RV's. Ours is a 5th wheel so the ceiling height makes the rig feel larger. Ours is also equipped with an aluminum frame so it's all weather which is nice as well.
Brittany says: We have a 2004 Fleetwood Terry 320BDHS. It's light and it only has one slide out. We chose a travel trailer over a fifth wheel because we already had everything we needed to pull vs finding a new vehicle (or renting a vehicle) with the fifth wheel hitch. We also have three small children that are all in car seats so we opted out of buying a motor home because we didn't want to have to figure out the car seat situation while traveling.
Gwen & CJ say: We drive our 32' Class C RV and tow a Jeep Wrangler behind. In our opinion, either having a motorhome with a tow vehicle, or a truck pulling a camper is ideal. Reason being, if you get to a spot you're intending to stay at for a long period of time, its nice to be able to set up more of a home base in your trailer- Putting out your camping chairs, being able to have a vase of flowers out, etc, etc, and not having to pack everything up the moment you want to go anywhere. Having another vehicle to explore the area in can be incredibly helpful. The second reason is if you're looking at a bigger rig, driving it down to a coffee shop and maneuvering it through smaller parking lots can be a challenge. Once again, having another vehicle can be very helpful.
Mandy says: We have a 2000 Class A – Damon Challenger 305. It's 35 foot with one super slide. This model had the criteria we were looking for in buying a motorhome; lots of storage, layout that we could convert an area into bunks for our two kids, engine strong enough to tow a Chevy Traverse weighing 4,900 pounds, a layout we could renovate and call home. This is our first motorhome and we have been very pleased with the model, layout, power and layout for our renovated house of wheels. We also love the fact that we don't have to pull over to grab snacks!
Do you need a truck to tow an RV? What kind?
Jen and Dustin say: YES. Without getting super technical, you need a truck with a towing capacity so that you can safely tow whatever you purchase. Do your research, and don't trust what the dealerships tell you. Our rig is advertised as "half-ton towable". However, if you're living in it full-time your trailer you're going to have a LOT of extra weight. We purchased a RAM 2500 that came with a tow package for our 5th wheel (it's considered a ¾ ton). We feel that it handles our 34 foot trailer well, and never worry about losing control.
Ashley H says: It really depends on what type of RV you have to figure out what vehicle you need. My husband has a F-150 that hauls ours completely fine and could probably go a little larger in size too but if we ever switched to a 40+ FT he would need an F-250 for sure! Even though we have yet to test it out my Toyota Sienna minivan is actually fully equipped to haul travel trailers smaller in size!
Where Can You Stay in Your RV?
Where can I park my RV long term? Where can I park my RV to live?
Maybe one of the biggest mysteries about living on the road in an RV is where families park their rig. Well, just as there are many options to choose from when it comes to travel trailers and setups, there are also plenty of alternatives for where you'll stay. But, no matter where you go, as they say, "home is where you park it."
Many RVers prefer a more off-the-grid lifestyle.
Nathalie and Louis say: We are full time boondockers. This means our trailer is self-contained and we live off grid 365 days a year. We love finding rural spots and feeling so small and alone in this big, beautiful world.
Gwen & CJ say: We outfitted our RV to boondock most of the time, meaning we find government owned land (often BLM land) and camp there without hookups. You can camp for free on BLM land for up to 14 days. We love to stay out in wide open spaces, surrounded by nature rather than side by side other RV's in an RV park.
Megan and Brandon say: We boondock exclusively, so we do not pay for camping. We utilize Campendium and freecampsites.net, and even Google Maps, to find public lands to camp on. We mainly camp in Utah, Arizona, and New Mexico. So far we have stayed on some gorgeous land.
Others living full time on the road prefer more organized amenities and civilization:
Jen & Dustin say: RV Parks or "resorts" with at least a 4 star rating, a dog park and full hookups. I, Jen, do extensive research and read Google reviews, and utilize other websites to make sure we are going to a safe area. We only do monthly stays (way more affordable than daily or weekly rates) so obviously the park has to offer those as well.
Ashley H says: We choose to stay at RV parks that have several amenities for our kids. Swimming pools that are heated, outdoor fishing lakes, laundromats, clubhouses with games or conference centers and monthly activities.
And other families do a bit of both:
Lindsay says: Anywhere and everywhere. We've gone from busy cities like Washington D.C. and San Francisco to wide open spaces in national parks. There's honestly nowhere you can't drive an RV…well except overseas! We've street parked discretely in the city, we've boondocked on BLM and forest land and even right on the beach. We've also treated ourselves to luxury RVs. There's something for everyone, even the glampers! We like to mix it up and it really depends on the destination and what it offers.
Visiting Family and Friends
One of the benefits of having a truly mobile home is that you can more easily visit family and friends. What we've always wondered is how feasible it is to just park in a family member's driveway in your RV. Is this possible? It seems it's not as simple as rolling up and putting down stakes wherever you'd like. There may be more research needed.
Gwen & CJ say: If you are looking to visit family or friends in a city or suburb, you should check the local laws and with the local Home Owners Association(HOA). Different neighborhoods across the US will have different HOA zoning rules that dictate if/where you can park your RV and for how long. C.J.'s family lives in a suburban area outside of Dallas and we are only allowed to street park there between Thanksgiving and New Years Day. Gwen's family lives out in the country so parking there is always an option for us.
Mandy says: Yes! We have done this several times. If you fit and there's no restrictions, you can park on their property. You will need to know if they have RV hookups or not. If not, you won't be able to plug in. If family or friends do not have either a 30amp/50amp plug you can always purchase a converter to plug in your RV. Just keep in mind that when converting to a house 15 amp plug, I would only recommend using it for charging your house batteries or refrigerator but not recommended for running your AC or microwave as it will be too much power.
Lindsay says: We park in Dan's parents' driveway all the time and my mom's neighborhood allows it on the street for a few days as well. It's nice to have your own home and space with you rather than staying in guest bedrooms. So we "moochdock" (park on family and friends property) as often as possible. Otherwise, you can find RV parks and campgrounds that will allow you to park overnight for a small fee. Or, there's always Walmart and if you feel comfortable you can leave your RV in their parking lot overnight if you'd rather stay with family. But that's only for one night. If we're staying for longer periods, we just pay to store the RV somewhere and it's not usually over $100 a month.
Ashley H says: We haven't crossed this bridge just yet but I think this is going to depend on the length of the stay and who you are visiting. My in-laws live on unrestricted acreage so we can park it there and have no issues. My parents and sister/brother in law live in the suburbs with HOA enforced. If it is just a quick visit I think parking it in the driveway may be doable but for longer visits we will most likely leave it parked at the RV campground and drive our vehicle to physically
stay in their home.
What is the Cost of Full Time RV Living?
One of the biggest considerations when it comes to motorhome living for beginners has to be budget. Does living in an RV full time cost as much as living in a traditional home? How much does it cost to RV full time? Are there ways to save money on the cost of full time RVing?

Overall, it seems that this lifestyle offers the opportunity to live more affordably.
Nathalie and Louis say: This lifestyle is absolutely affordable! Our total monthly expenses are equivalent to the rent of a two bedroom apartment, in both of the places we are from. We are fully off grid and that keeps our cost of living minimal. The cash up front is an investment, but it has paid for itself multiple times over.
April says: I definitely feel that this is more affordable and more empowering because you own your own home, and that feels great. A lot of times park rent is much cheaper than rent In our case, we were paying over $2,000 a month on rent and
utilities and now we dont even pay $1,000.
Ashley H says: I think this question is going to honestly vary for everyone. I know living in an RV will present its challenges and expenses but in our case it's substantially less and does save us quite a bit of money. We lost the mortgage expense, HOA fees, lawncare, cable, security, internet and so many other frivolous things we were used to paying living in a suburbs home of almost 3000 sq ft.
Mars, Ash, and Everly say: I definitely think it can be [affordable]. We travel A LOT, so we spend a lot on gas, which often brings our monthly vehicle/gas payment up to the cost of what it was living in a house with bills. However, we no longer have our two car payments. Also, we often opt out of staying in a hotel on the road. Our jobs put us on the road, so before having our van, we often spent money staying in hotels. Living in a van has made life a lot simpler. I have limited space to collect things. I don't go on shopping sprees. It makes it easier to say no when I see cute things I want to decorate with because where would I put it? It's made me recognize that I have more than enough, and I don't need to buy anything else.
Kirs & Dev say: Yes! Nashville rent is around $1,500-2,500 for one bedroom. I pay $600 monthly with electric included.
Lindsay says: Absolutely! It can be super affordable if you're willing to make some sacrifices. There are tons of ways to save money on the road like free parking, cooking in, utilizing RV memberships, traveling less often to save on gas, etc. But overall, you buy less since you have less space and avoid monthly bills like cable, trash, utilities, and the costs of maintaining a house.
Hailey and John say: SO FAR YES! We are parking for free as much as possible and budgeting $1,000 a month on average.
But sometimes, the costs do add up, too.
Dustin & Jen say: I wish I had known what the expenses were going to be. So many people were like "just boondock everywhere! The RV lifestyle is so cheap and affordable!". However, my job depends on phone reception and internet connection. Oh, and we NEEDED electricity without depending on generators every day. Boondocking just wasn't going to work for us. We did research on the cost of RV parks—but only for certain regions. We've been primarily in the Southwest since living full- time, and had no idea that we were looking at $700+ a month on the low end PLUS the payment for our 5th wheel. It's just as expensive as apartment living sometimes! We stayed in Vegas for the month of January and it was SO COLD! We spent over $300 on propane just to heat our rig, shower, cook, etc.—and that was also having an electric fireplace!
Courtney says: It all depends entirely on how you travel and what types of places you are comfortable staying. If you want a giant new rig, only want to stay at RV resorts with all the amenities and move around once a week, it may not be less expensive than your life in a sticks & bricks. However, if you end up with a more budget-conscious rig, move less often and are open to boondocking, it can definitely be less expensive.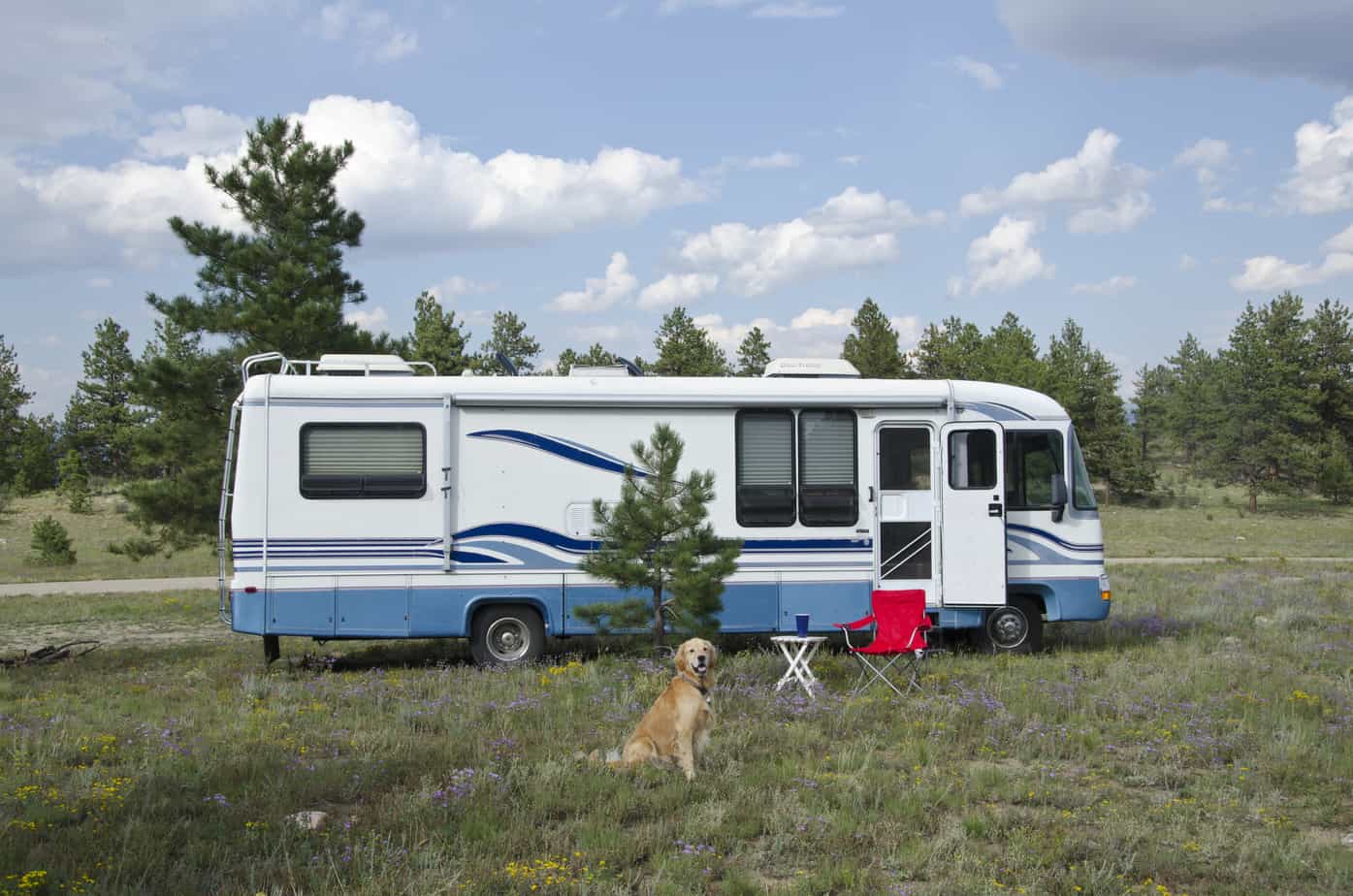 RVing with Pets
Many people who embrace living in a camper full time seem to also be animal lovers, like us. With plans to get a dog of our own this summer (yay!) we wanted to know for the future what the challenges of full time RV living with pets might be. RVing with dogs seems to be a great thing, but certainly must present its fair share of obstacles.
Nathalie and Louis say: We love having our dog with us everywhere we go, but it does have a few challenges. Most national parks don't allow pets, so we end up skipping the lengthy hikes and just spend a couple hours driving around the park, checking out easily accessible spots, while the dog waits in the car. This may sound very limiting to some, but since we can't go to the popular places, we find other trails just outside the parks. We have found incredible hidden gems, ones we never would have sought out, had our dog not made us think outside the box. Our dog gives us more opportunities than limitations, I love traveling with our pup.
Jen & Dustin say: We have a golden retriever, so we do whatever we can to stay at places that have dog parks in them or are close to dog parks. If it doesn't have a dog park, we try and find out if there are grassy areas dogs are allowed on. Our
dog is VERY social, and meeting new dogs and people everywhere we go has been a huge plus of fulltime RV living.
Ashley H. says: We have two dogs and making sure they had their own space was important. We invested in a large metal dog crate to put on our RV pad with faux turf giving them a feel of a yard to be outside during the day and coming it to sleep at night. This is how the set up was when we were home, therefore nothing really changed for living in the RV. We take them anytime we go to a food truck as well to get them out and allow them to have that time with us. We also find RV parks that
have dog parks or dog walking stations which helps too!
Gwen & C J say: We travel with our two dogs and our cat. Temperature control in hot weather is the biggest challenge we face. Because we boondock 99% of the time, we don't have an external power source to plug our RV into to be able to run our air conditioning unit, (which doesn't work too well anyway.) So we rely on our solar to power fans throughout the house. On super hot days, we don't leave the pets in the RV alone. The other challenge we face is that most National Parks have very strict rules on where you can bring your dogs. Because of this, we are unable to camp inside of some national parks.
Lindsay says: Our dogs have adjusted really well. We try to get them out of the RV as much as possible so they don't feel too cooped up. They get more exercise than they did when we lived in a house or apartment. We can usually bring them along on our adventures since we love to hike and walk around downtown and sit on patios. Lots of cities are very dog-friendly, which is great. National parks, however, aren't and most do not allow dogs on trails. This presents a challenge when we want to explore and the weather is hot during the summer. We have to ensure we are hooked up to electricity to leave the air conditioning on. Even then, we always worry about losing power or the A/C going out and us not knowing and being
gone. We put a sign on our door that says "Dogs on board, call ____ in the case of an emergency". Having a fire or something happening to us while we are out and the dogs being stuck inside is my biggest fear so I take every precaution. There are pet monitors that are super helpful and allow you to watch your dog from a camera in the RV and your cell phone. But overall, we've never had any issues! They make the travel even more fun for us and we love having them tag along.
Full Time RV Living with Kids
What about living in a camper with kids?
This is something Nathan and I definitely wonder about. Since we're not yet parents, we are curious about how families with kids and babies do life on the road. There are many questions, such as how a whole family can fit in an RV, how do the kids attend school when living in an RV, and more.
Well, it turns out there are, as usual, options. Many parents choose to homeschool or "road school" their school-aged children, which is really amazing. Others live in RVs that are more stationary, so the kids are able to attend a traditional school. Let's look closer at the challenges from our RVing families:
Brittany says: When it comes to RV living & schooling I see a lot of homeschool families, which is so incredible! Because we are stationary we chose to keep our kids in public school & do most of our traveling on weekends and during the summer. Although I will admit, the perks of homeschooling are becoming more & more appealing.
Ash and Mars say: We have a four-year-old daughter, Everly. Currently, we are homeschooling her. Life on the road
has made homeschooling really fun. We are always in new places, discovering new things! We apply real-life situations to her learning. We have to work as a team when we are on the road, and she is a part of our decisions and day-to-day living.
As for considerations of living in a smaller space with children:
Ashley F. says: I did a ton of research so I wanted to create a space for the kids that allowed my husband and I to still have our privacy and be able to keep them content in their own room as well. We renovated our RV and make a custom "kids suite" with 4 bunk beds, pull out storage drawers, a play/desk area, their own TV, black out blinds AND a thick "sound proof" door as well.
And of course there are challenges:
Ash, Mars, and Everly say: In particular, finding other families on the road is difficult. Social media has been incredibly helpful actually, we've met and made some pretty great friends thanks to finding like-minded people on social platforms. Our daughter is an extrovert through and through and loves being around other kids. We make it a priority to find friends for her to play with. It's allowed us to help her gain the confidence to walk up to kids she doesn't know and tell them her name and ask them to play. She's become really amazing at making instant friends with people from all over
Courtney says: Lack of regular socialization. Sometimes we can go weeks without there being other kids for them to play with. That can be really tough on our four-year old, whose #1 priority in life is having friends to play with. Saying good-bye to friends we make on the road is really tough as well. Sometimes we know we might not ever see them again and that can be difficult to explain to small kids.
Renovating Your RV
While you can certainly buy a motorhome or camper that is brand new and outfitted with all the bells and whistles you desire, that is a costly endeavor. Instead, you might opt for an older model of travel trailer and do a bit of DIY RV renovation like many of our contributors did.
And even a new RV might require some remodeling and updates.
Jen & Dustin say: People thought we were crazy when we purchased a brand new 5th wheel and decided to remodel it…but we couldn't live with all-brown-everything! I grew up working on construction projects with my Dad, so everything we did I had some experience in. The biggest difference in our RV was made by removing the valances and just painting nearly everything white. It's something anyone can do! I also follow @RVFixerUpper @prvbsthirtyonegirl on Instagram and they are always posting DIY's to help! We also reached out to friends and family to help with something they had
experience with (we either paid them or fed them for their services haha). Also, Heathandalyssa.com were instrumental in our decision to do this in the first place!
Ashley H. says: We renovated the RV entirely. Our RV was old and everything was original. We painted, did peel and stick wallpaper, faux shiplap, new appliances, custom built the kids "suite" and popped in an incredible sleeper sofa with memory gel foam mattress from affirm. I wanted to give our RV a fresh look while making it cozy the way our homes always feel.
Gwen & CJ say: We renovated nearly everything in our RV. The only things still there from the original design are the cabinets (with a fresh coat of paint), the toilet & shower, and the cab. Along with renovating the interior, we painted the exterior and converted our rig to solar power to allow us to dry camp. We learned pretty much everything from Youtube, blogs, and trial and error.
Hailey and John say: YES. ALL OF IT. We GUTTED our RV and spent 8 months repairing and rebuilding. We rebuilt the cabover sleeping bunk and rear wall completely. We gutted the kitchen and bathroom and put in new counters, faucets and backsplashes. The entire thing including all cabinets has been repainted + new vinyl flooring installed. I sewed curtains and seat cushions. We resealed all exterior compartments and corner trims. WE HAVE TOUCHED EVERY INCH OF THIS THING. I like to think we were the perfect team on this project. I researched all RV related repairs (what sealants to use, what to buy) and John helped bring it all to life with the tools and muscle. Then when we got to the interior after the building portion was complete, I took over with the paint, fixtures, electrical, decor and textiles. Youtube and the Toyota Motorhome facebook groups have been our main sources of info.
Nathalie and Louis say: We fully gutted our Airstream and did a frame up renovation. Louis is a carpenter, so we were fortunate to have the tools and knowledge to build our tiny home. Everything was custom built to maximize our space and have storage in every spot possible. Our house is perfect for us and I'm thrilled with how it turned out.
April says: Yes we renovated everything ourself. We painted everything, ripped out a lot of cabinets and carpet and linoleum and replaced the floors with vinyl wood planks, and we are in the process of renovating our bathroom too.
Mandy says: Yes. We renovated our entire RV. This was something that was a priority for me as I don't enjoy the décor of RVs. We have done lots of renovations on our home for over 10 years and that's really how we got started. This was our first RV so it was a different learning curve. We painted the outside, turned a closet into bunk beds for the kids, removed a dinette and replaced it with bar-style seating, then removed the passenger seat and turned it into a sectional style couch. All new bedding, blankets, pillows, and décor items were added.
Working on the Road – Full Time RV Jobs
It's one thing to live on the road full time, but how do you manage to earn an income? How do people living this lifestyle work while traveling or living in an RV? And perhaps most important of all, wow does one get WiFi?
CJ & Gwen say: Being web designers, having internet connection is incredibly important. Because of this, we traded our cable and internet bills for an upgraded cell phone data plan and a hotspot. Most day to day tasks can be handled using our hotspots and a cell phone booster. When needed, if our signal isn't strong enough or we have to upload a large amount of files, we take the jeep out to the nearest establishment with WiFi and work from there for a few hours.
Mandy says: We have a JetPack from Verizon. We chose the MiFi 8800L model because it has the most up to date technology and allows up to 15 devices to be connected at once with a prepaid unlimited data plan. We have been able to use the internet on the road, at the beach, at friend's homes, anywhere. You just need Verizon 4G service.
Ashley H. says: So far the RV parks are all equipped with wifi but if we ever choose to boondock we will want to invest in something to help us with internet. They have plenty of options out there that cost roughly $500-$700 for something really good and I have heard they work wonders!
Dustin and Jen say: We use Verizon Above Unlimited & a cell booster. Each of our cell phones gets 75GB of streaming data (think watching Hulu or Netflix) and 20GB of Hotspot data (we use for work computers). We also have a MiFi device with 20GB of Hotspot data. All in all, if we are in areas with cell phone reception, our internet is covered!
Lindsay says: We have a dedicated hotspot with unlimited data from AT&T, and use our cell phones from Verizon as a backup. This works great for us because we find that between these two carriers, we can normally get a decent signal. We typically don't have problems staying connecting, but there have definitely been times where we were unable to stay
at a certain spot because of the lack of signal – we find this to be common in National Parks. Many RV parks and campgrounds offer free WiFi when you stay with them. However, the WiFi can be pretty spotty at most parks, especially when the park is full. If worse comes to worse, you can always find coffee shops, libraries, and other businesses who
offer WiFi. We recently got a WeBoost to improve the strength and speed of our cellular data and we couldn't be more happy with it. At one particular campground, we had zero service and couldn't even check our email from our phones, but after connecting the WeBoost, we were able to stream a movie!! The basic idea with the WeBoost is that you install a special, high power antenna which allows your devices to connect to a stronger, more reliable signal.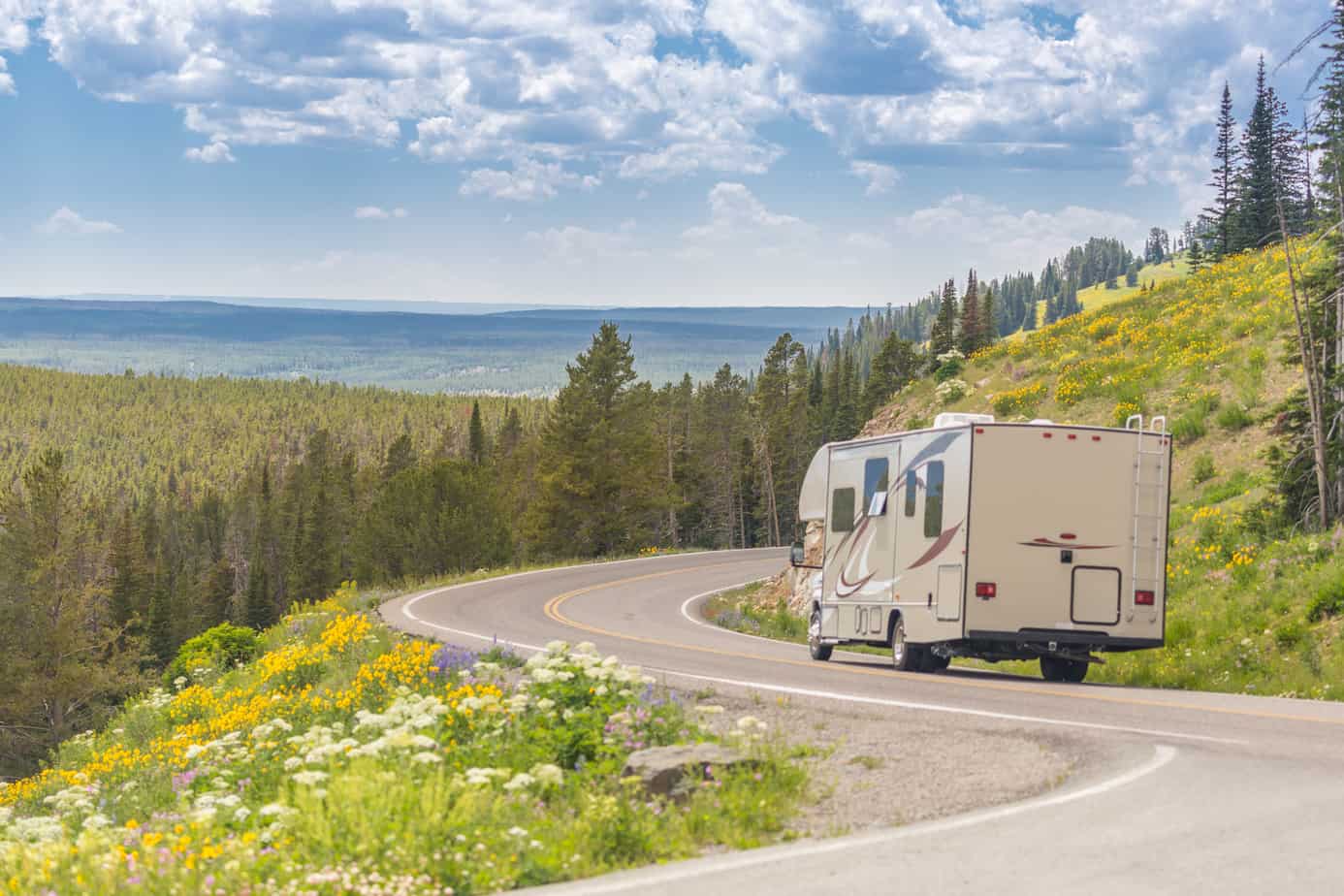 Challenges of RV Living
Finally, let's break it down with some helpful full time RV living tips. There are going to be difficulties with this unconventional way of living, but that's ok.
Brittany says: Expect to always be in someone's way! As a family of five, we've had to learn to communicate better when it comes to moving & navigating through the camper (something you rarely ever do in a stocks & bricks home). Although this has been a huge obstacle for us, it's also brought us so much closer as a family.
Courtney says: We wish there was a hands-on, crash course on RV maintenance we could have taken prior to getting on the road. We had never even camped as a family–let alone ever done anything in a RV– before we purchased one and hit the road. We definitely didn't know as much as we wish we would have about maintaining our home on wheels and that has resulted in some issues during the year that could have possibly been prevented.
Lindsay says: We miss being plugged into and involved in a community. We can't volunteer at church anymore or do certain hobbies, such as Brazilian Jui Jitsu in Dan's case. It can also be challenging to balance feeling like you're on vacation and reality. We're constantly having to be aware of our budget and being careful not to overspend while in new and exciting locations. Also, when you work from the road, it's tough to find a routine and schedule that keeps you productive. We're
always tempted to go explore the destination we're in and procrastinate on work. And of course, we always miss our friends and family from home!
Kirs & Dev say: Everything breaks all the time. There is always something that needs to be fixed. New or old, comes with the RV life.
Driving your rig, especially for the first time can be one of those challenges, too.
Mandy says: Anything you do for the first time is a little nerve racking. Especially when you are used to driving a 4-door sedan or small SUV. The first time I drove a motorhome was the day we left the lot after paying for it. Honestly, after the
initial shock of being so high off the ground, how wide and long a 35′ motorhome is and how to operate it, it really isn't difficult to drive. I now prefer driving the motorhome because of the amazing view from behind the wheel.
Dustin and Jen say: Dustin would say yes! Mostly because you can't just drive on auto—you have to be aware of everything going on around you, make sure your tires are at the correct pressure, your trailer is hitched correctly, and constantly be watching the weather. You don't want to be driving when it's too windy or you could tip your rig and crash. It helps if you have a truck you are confident in.
Advice for Future Full Time RVers
Gwen & CJ say: This lifestyle isn't necessarily easy, but it is incredibly rewarding. There will be times in the first few months of your adventure that you may take a step back and wonder what the heck you were thinking. Know that no two full-timers have the same journey. You will encounter your own obstacles, your own mistakes, and your own wondrous surprises. Even if you don't know how to do something right now, trust in yourself, that you will figure it out, that your life experiences have prepared you for this journey. And know that the challenges you overcome will bring you a sense of great accomplishment and gratitude that you were brave enough to take it on in the first place.
Dustin and Jen say: RV living can be exactly what you need it to be, with options ranging from a small camper-van to luxury motorcoaches—it's customizable to your lifestyle. Just know what you want up-front, do your research, and know what you are committing to. We love it for this season of our life!
Ashley H. says: I say if living small, being debt free, traveling the world or any other reason is something someone wants to do then go for it. We get one life to live and I say we live it. The way we choose to and not the way others want us to.
Megan and Brandon say: I don't think there's any secret thing you need to know before doing it. I wish we just went ahead and sold all of our stuff. We put a lot of furniture in storage but I just don't see us going back to that lifestyle anytime soon. We have everything we need in our camper.
What do you wish you'd known before embarking on the RVing lifestyle?
Lindsay says: How sustainable it is! In a way we felt as though we'd be taking time away from life or pressing the pause button while we went for an adventure. We figured we'd last a year. But, we've managed to work from the road just fine while living out our travel dreams. In fact, we've found that the road has opened up so many opportunities for us that we may have never found otherwise. We've expanded our skill sets, network, and overall feel more inspired and live with more intention. There are so many other benefits to the lifestyle other than just the adventure.
Could YOU live the long-term RV lifestyle? Why or why not?
---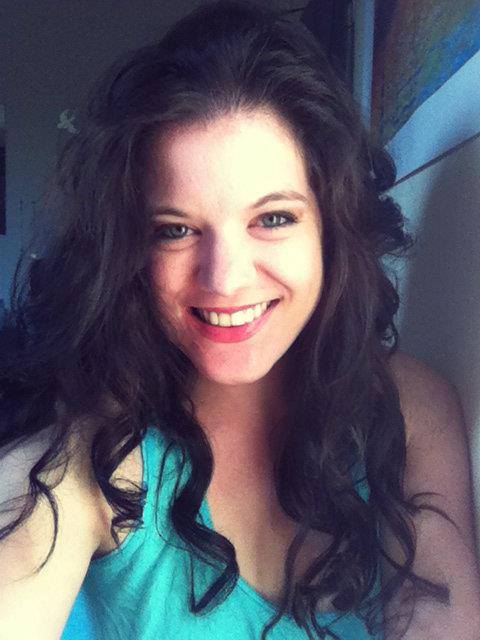 Amy Hartle is the author of Do You Love Me? How To Stop Seeking Reassurance in Relationships, a book on reassurance seeking and relationship anxiety. Both her book and this blog are born of personal experience; Amy shares expert relationship advice from the lessons learned during her own 10+ years with her husband, as well as couples travel tips and romantic getaway recommendations, all gleaned while traveling the world together.