This post may contain affiliate links. Read our disclosure page for full details.
When's the last time you surprised your significant other with a truly romantic and creative date? With spring in the air, it's the perfect opportunity to take him or her on a sweet picnic date. But where do you start? We've partnered up with Cuelendar to show you exactly how to plan a picnic date that will sweep your partner off their feet.
How to Plan a Picnic Date: Pick the Right Setting
The first step may be picking where to have your romantic picnic date. There are lots of obvious choices in most towns and cities: the local park, a waterfront, a quiet beach, or a nearby garden. Make sure any of the places you choose are open to the public and be mindful of any park rules. For instance, some places are strict about alcohol (If you're planning to pack some wine, this could put a damper on your plans!)
Don't overlook the simple but beautiful spots, like your own backyard. Not only is it a private spot to enjoy your picnic for two, but you have the convenience of your kitchen and supplies right nearby. This is a great solution for a no-fuss picnic that can still be super romantic.
If you're an active, adventurous couple, you might consider a picnic date that includes a hike. Gather your provisions into your backpacks and enjoy your delicious spread at the top of a nearby mountain. This is one of our favorite ways to enjoy a picnic together.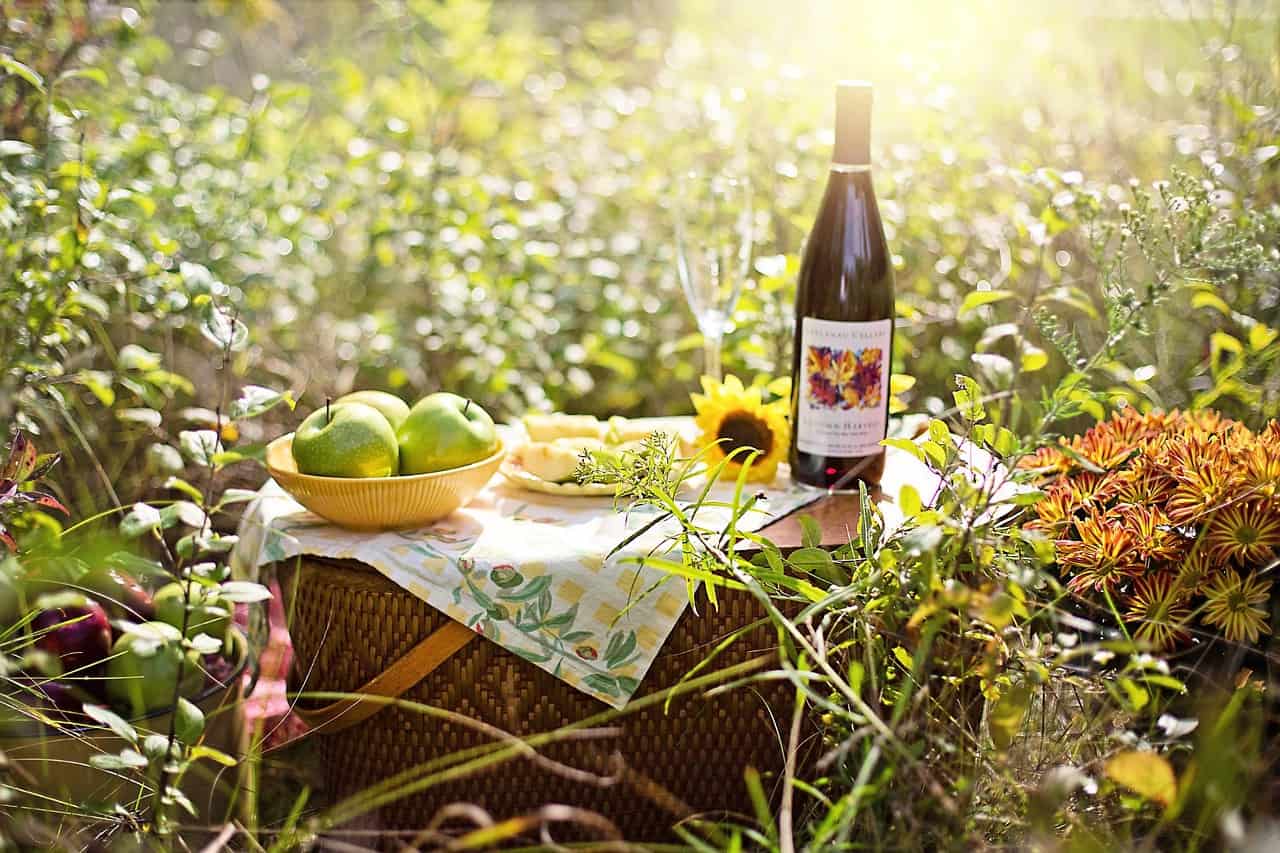 Choose the Perfect Occasion
While a birthday, anniversary, or Valentine's might be the perfect time to plan a picnic date for two, your significant other will be really thrilled if you surprise them with this kind of date! Going on a picnic requires a bit of planning, so it's certainly the type of date that will impress your partner. But it doesn't need to be a stressful or overwhelming planning process. Especially with Cuelendar, a fabulous app that we've recently discovered.
Cuelendar will help remind you of your upcoming date plans, and it will prompt you when you have important occasions coming up, like your anniversary. Not only that, but it will suggest unique date ideas to you, taking away a lot of the pressure to come up with something new for each date night. How awesome is that?!
Pack the Most Romantic Picnic Food
Once you've gotten the inspiration to plan a romantic picnic for your sweetheart, you've picked out the location, and have a date set (probably your next date night/day off together), next up is the planning and preparation of romantic picnic food ideas.
But don't fear! This is where Cuelendar actually steps in even more, helping you to do just what their tagline says and "impress without stress."
Check out the screenshot below to see how many of the date ideas on Cuelendar allow you to click to "See More." This will lead you to a picnic checklist, recipe ideas, and lots more.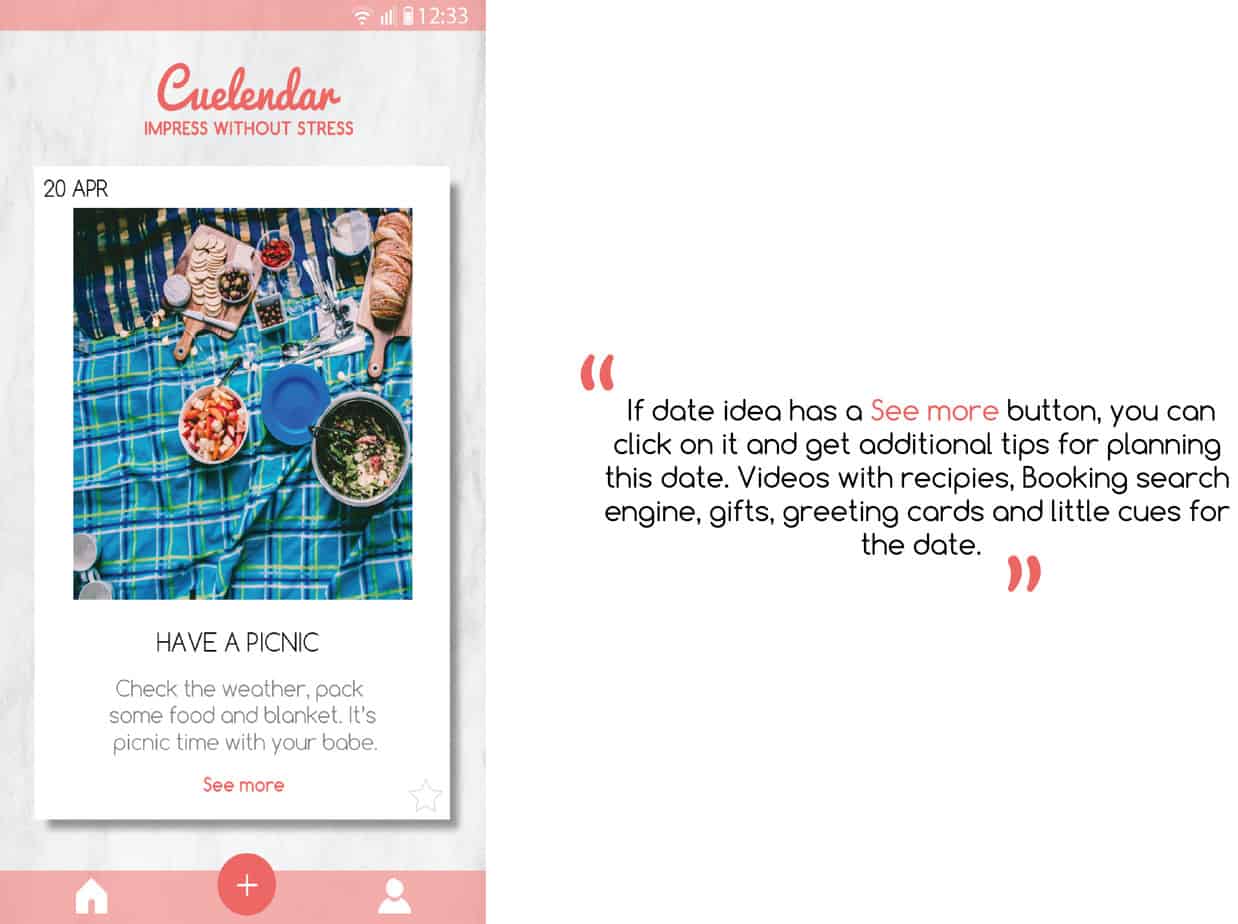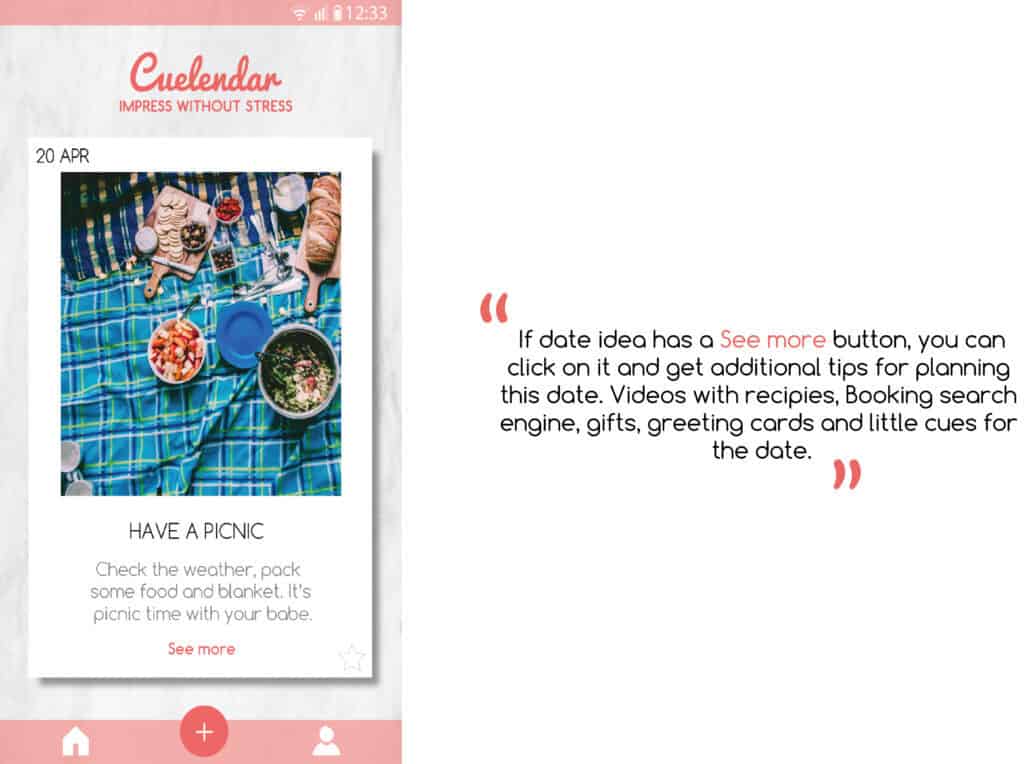 The Picnic Date idea will lead you to videos with picnic food recipes. Such a great idea if you're planning to make your own picnic dishes.

Of course, if you're not handy in the kitchen, that's okay too. Most grocery stores stock plenty of pre-made items that are perfect for a picnic. When we Two Drifters go on a picnic, we opt for the simple things, like yummy cheeses, fresh fruit, crackers, a baguette, and other finger foods like olives, pepperoni, and nuts. Make things easy on yourself with a snack-heavy picnic. PS: Don't forget the champagne!
Pack Your Basket and Other Items
As the day of your picnic date arrives, you'll want to make sure you have all the necessities ready. Again, Cuelendar can help! In the app you'll find a navigable checklist that will direct you to buy whatever you need! A romantic picnic basket and a cute blanket are a must, but you'll also want to bring napkins, glasses, and maybe even a bottle opener. Be sure you're prepared and your picnic will go off without a hitch!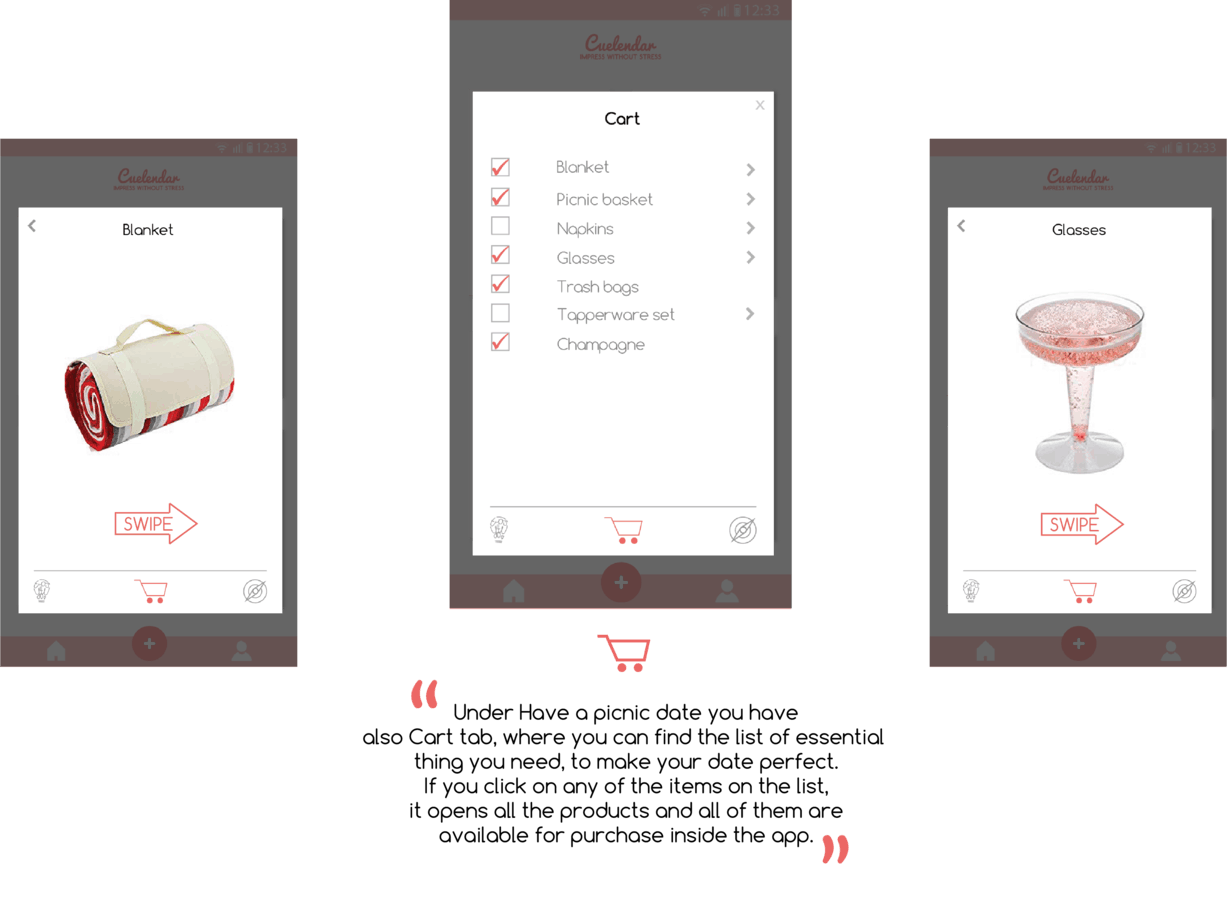 Need some more romantic picnic basket ideas and inspiration? Here's one of our personal favorites.
Romantic Picnic Ideas for Couples
Now you're all set for a romantic and memorable picnic for two! If you really want to rock this date, bring some fresh flowers and pop on a romantic playlist.
There are also other options if a traditional picnic isn't possible. Perhaps it's the middle of winter when you're reading this. No worries! Take the party inside!
With some twinkly lights, cozy blankets, and more (psst: get some inspiration from these indoor picnic ideas) your date will be just as magical, even if you've got a roof over your head.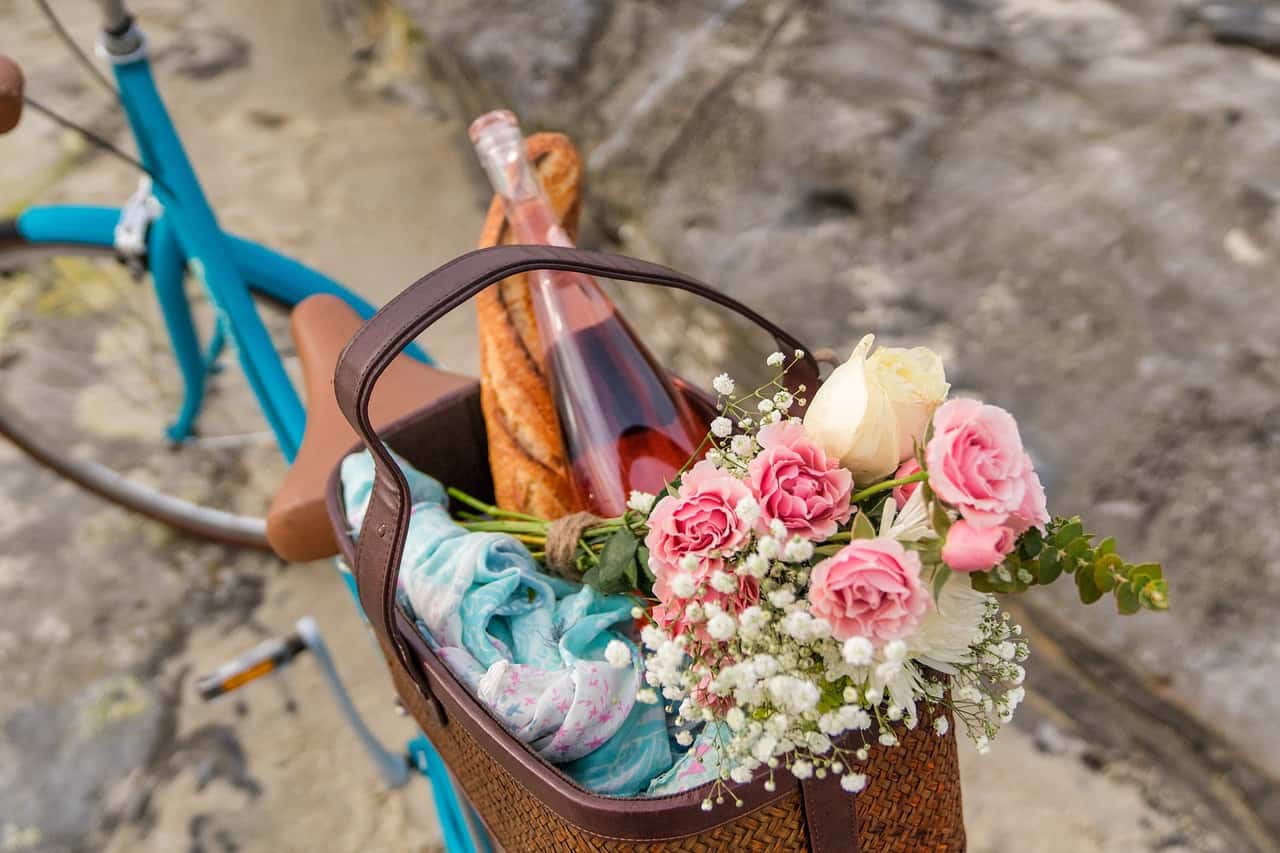 Using Cuelendar Throughout the Year
Now that you've seen how Cuelendar can help you plan the perfect picnic date, why not check out what else it can do? When you input your special dates in the app, you'll get custom reminders so you never forget an important birthday or anniversary.
---
Download Cuelendar now for both iOS and Android!
---
Now that you know how to plan a picnic date, you can embark on a romantic picnic with the one you love. Here are more of our favorite date ideas for couples:
---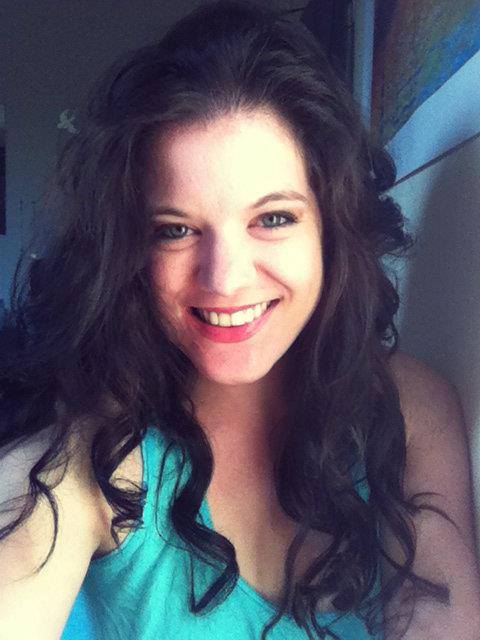 Amy Hartle is the author of Do You Love Me? How To Stop Seeking Reassurance in Relationships, a book on reassurance seeking and relationship anxiety. Both her book and this blog are born of personal experience; Amy shares expert relationship advice from the lessons learned during her own 10+ years with her husband, as well as couples travel tips and romantic getaway recommendations, all gleaned while traveling the world together.