This post may contain affiliate links. Read our disclosure page for full details.
The holidays are coming! You need gifts for everyone on your list. Does that include a newly married couple? Well, we've got you covered with this list of 16 ideas. Here are 16 excellent choices for Christmas gifts for newlyweds. Designed with the freshly-hitched couple in mind, these gifts range from the practical to the meaningful. And best of all, you can buy them right online. 🙂
Giving a couples gift is a great idea. Not only does it "kill two birds with one stone" (for lack of a better phrase) with a combination gift, but the newly-wedded couple is likely thrilled with their new spousal status. A joint gift is extra exciting when you're a newlywed!
Read on to see exactly what we're recommending for the newlywed couple on your holiday list.
PS: We've got more options you'll love on our site, too. Check out some of these posts for even more Christmas gift inspiration.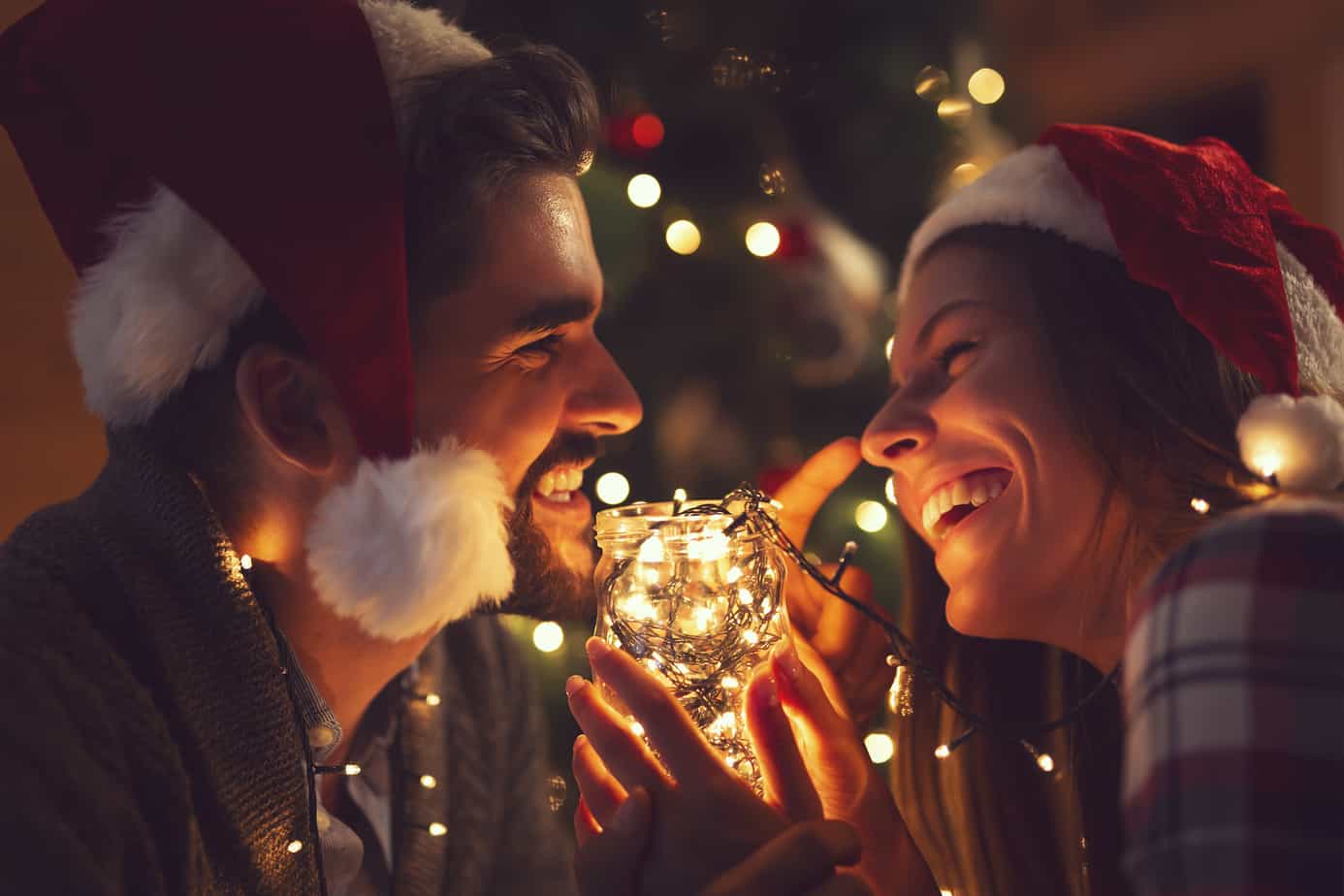 1. The Gift of Experiences
Not every gift needs to be material in nature. This year, give stories, not stuff. That's the slogan of the Tinggly brand, a company that specializes in providing hundreds of unique, authentic experiences. From reef snorkeling in Key West to whale watching in British Columbia to a romantic carriage ride in Spain, their packages allow gift recipients to choose their own adventure.

Their Christmas gift boxes include a choice of 550+ experiences all over the world. I promise you, this is one gift that any couple would be thrilled to receive!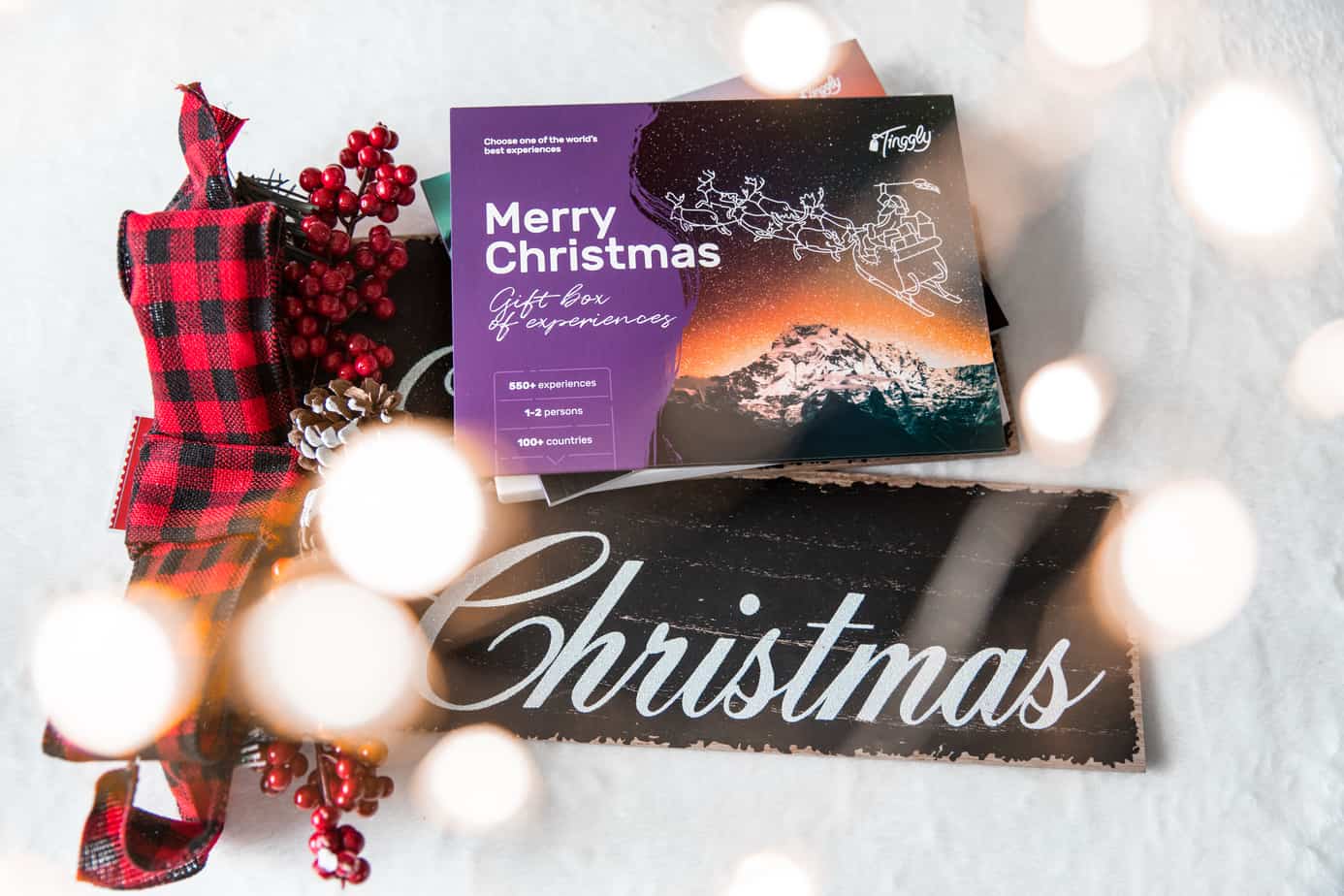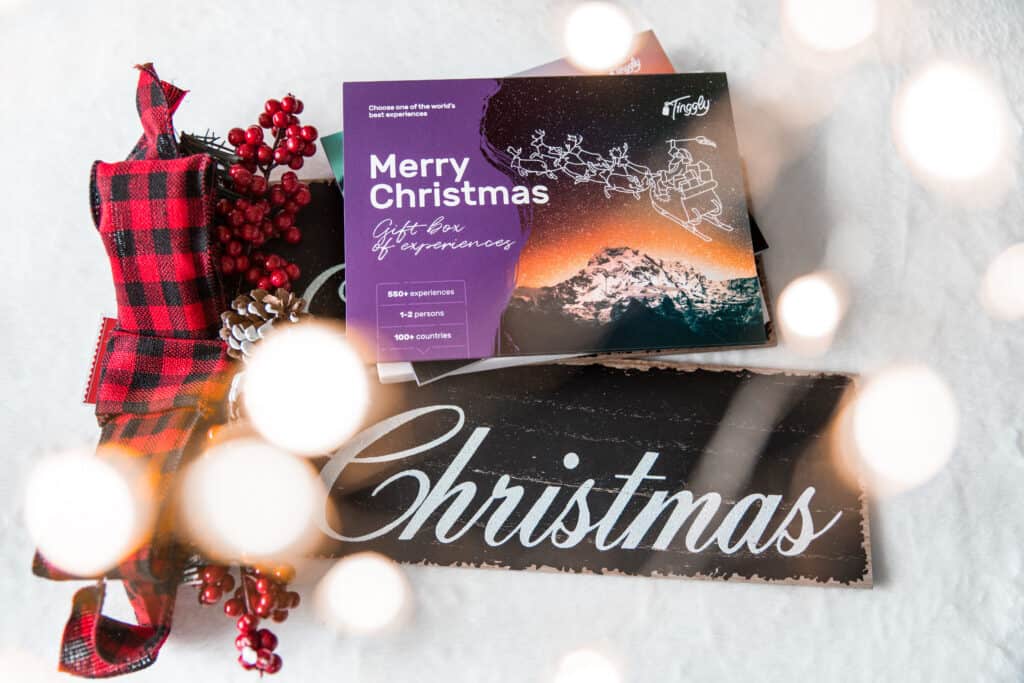 This is an especially great Christmas idea for newlyweds because they are primed and ready for new adventures together. At the same time, they likely already have enough 'stuff.'
2. A personalized holiday welcome mat
The newlyweds may be psyched about their new home together and their new last name. Help them decorate for Christmas in a personal and practical way with an outdoor welcome mat.
There are so many adorable Christmassy designs and lots of options to personalize for a couple or family. Of course, Etsy is always a great place to go for personalized stuff! This one lets you put a name on each stocking. Cute!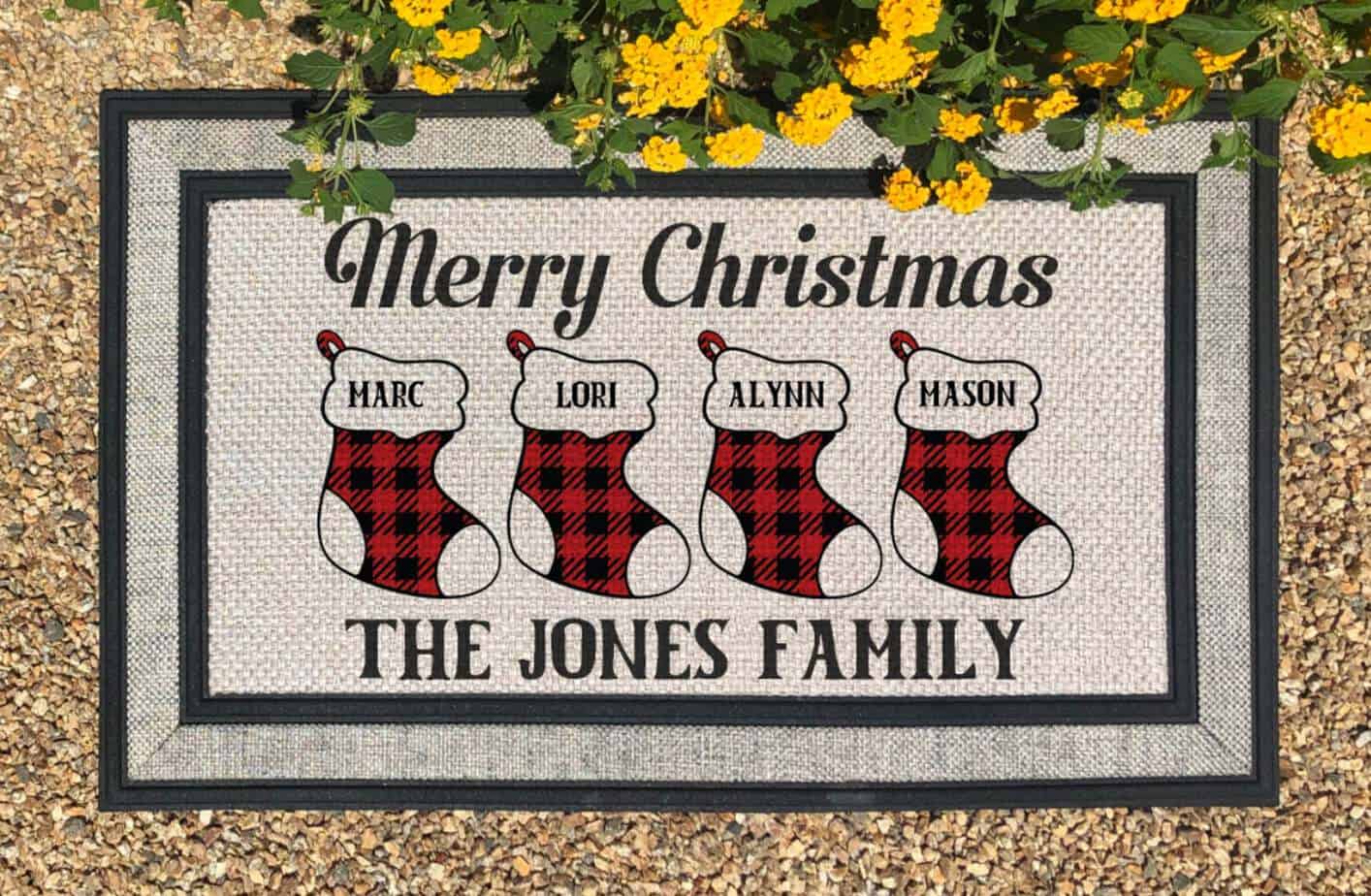 3. An electric kettle
Okay, I admit I've posted this item before on our gift guides, but that's because it's something that both my husband and I love! What did we do before we had our electric kettle? Waited a lot longer for water to boil, that's what.
This is the most convenient, countertop method of preparing your tea, or making hot water for any drink or other purpose.
A primo choice for the new couple would be this kettle.
4. A beautiful personalized holiday ornament
Get those lovebirds a token to commemorate their first married Christmas together. Ornaments are always special and are something that will be used each holiday season for years to come.
Again, Etsy is where it's at for these gifts. There are hundreds of designs, but my personal favorite is this classic and simple Christmas style ornament from PiperLilyStudios.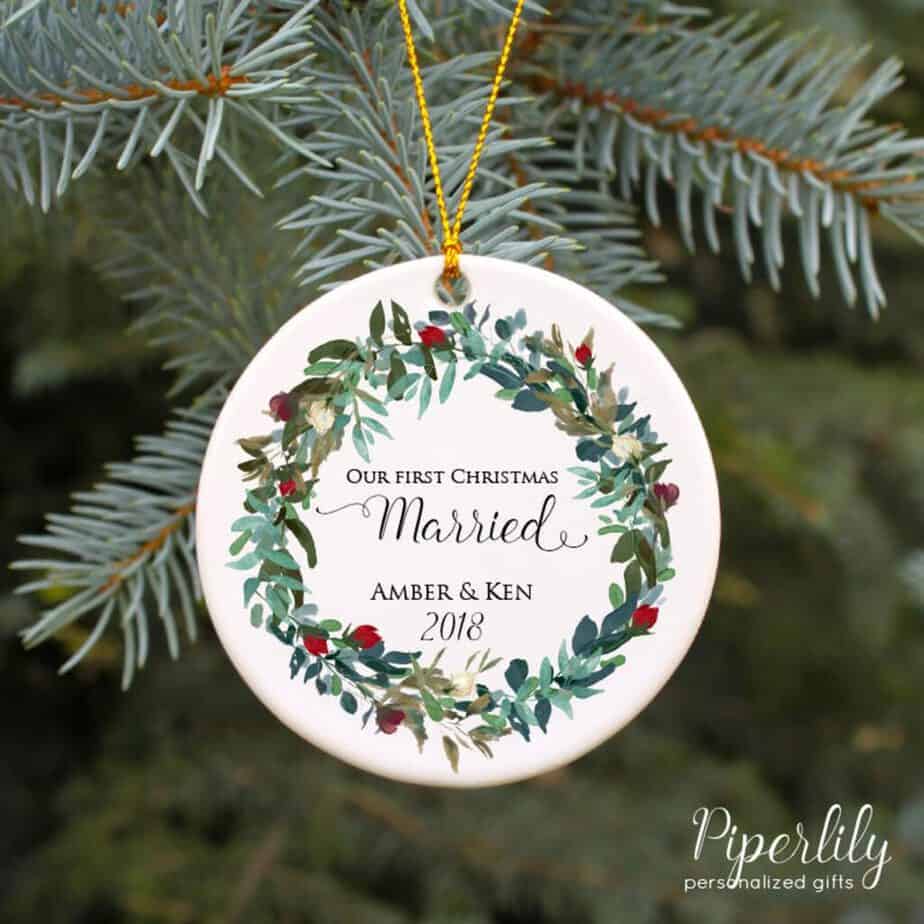 5. A set of luxurious, warm bathrobes
Winter is the perfect time to gift loved ones with soft, cozy robes to keep them toasty on cold days and nights. You can select a lovely set of bathrobes for the couple on your gift list, whether you opt for subtly matching versions or total opposites. Who doesn't love a good robe?
Let them wrap themselves up with a gorgeous choice like these super-soft L.L. Bean robes. There are plenty of plaid, Christmassy options!
6. An at-home cappuccino maker
It's almost guaranteed that your couple drinks coffee. After all, it's one of the most popular—and delicious—beverages. Let them have a bit of coffee luxury at home with an espresso machine.
Here's one that comes with an attached milk frother, so making lattes and cappuccinos at home has never been easier. We have this one and it's basic and gets the job done. To take things to the next level, coffee-wise, consider gifting this awesome espresso machine: Breville Barista Express. It's super nice.
A classic espresso maker is also a wonderful choice, and it's often something that people love to receive as a gift, but would never think to purchase for themselves!
7. A clever cutting board
Kitchen gadgets rarely go amiss, especially if you know this couple likes to cook. Truthfully, I'm always happy to get something new for our home or our kitchen because these items are so useful, whether they are everyday items or special occasion stuff.
While you might opt for a carved, personalized cutting board showcasing the couples' surname, why not give them a board that takes chopping to another level? This fantastic cutting board comes with storage containers that fit snuggly into a notch on the board. Food prep has never been so easy and mess-free.
8. Christmas dishware collection
There's something really special about holiday dishware. It's special, fancy, and you only use it during one season of the year. Every home needs a set that they pull out just for Christmas dinner (or when serving guests around the holidays).
You can go cutesy with lots of Santas and reindeer, but a truly elegant set is always much beloved. I'm partial to these red and white dishes myself. And the set of 16 pieces comes at a great price.
I'm also in love with this Currier-and-Ives looking set of dinnerware that features a classic Christmas village. This feels so homey and would be a lovely addition to any holiday table.
PS: If my family is reading this, this would be the set I would want! Wink, wink! Hint, hint.
You might also consider a dinnerware set that is not distinctly Christmassy, but could be used throughout the fall/winter season or even year-round. This opulent red set is one option.
9. The Book of Us
This is a slightly different gift, but it can be a lot of fun for a newlywed couple whose love story is just starting out. The Book of Us journal allows them to answer questions and fill in the blanks in a pretty keepsake book.
Other book ideas for married couples and newlyweds? Check out: 15 of the Best Books for Married Couples.
10. A stunning Nativity set
For the Christian newlywed couple, consider giving a high-quality nativity display for their home. Last year, I asked my mom to select one for Nathan and I.
I had always treasured my own family nativity growing up. It was exciting to pull it out of storage each Christmas and set it up prominently on the mantle. While my mom still has that classic manger and set from my childhood, I now have one of my very own that my family can use for years to come. And it's stunning (and a bit glittery, even!) I absolutely adore it.
Click here to get the exact set we have.
These are a great gift as a nativity set is not always something one thinks to buy for themselves.
11. A picnic basket for two
While it's not exactly picnic season, this creative gift will help your loved ones look forward to the warm months of the coming spring and summer.
What's more romantic than a picnic for two? With this basket, couples will have everything they need for a terrific day out. There are even two sections built to carry wine bottles. Bon appetit!
12. Bedsheets that scream luxury
Now, for this you may need to know the size of the couples bedroom set, but chances are pretty good they have a queen bed! (Nearly 50% of adults report sleeping on a queen-sized mattress).
Splurging on bed sheets is SO worth it, but many couples won't do this for themselves. Since we spend so much of our lives asleep, we should do so in luxury, don't you think? Give a set of hotel-worthy bedsheets that will assure sweet dreams for the recipients.
You can't go wrong with 100% Egyptian cotton sheets. And the color options are endless.
13. A date-night box subscription
Help remind the newlyweds of the importance of regular date night. Sign them up for a monthly date box subscription that will give them ways to have fun together all year long!
CrateJoy has a huge number of subscription boxes of all kinds. If your couple has a specific hobby they're into, there's likely a monthly box for that! Take a look at the best date night subscription boxes here.
14. Die Hard on 4K UHD/ Blu-ray / Digital
Does this couple have the best Christmas movie ever in their collection?!?! Better get them a copy of Die Hard just in case.
I mean, you need to make sure this couple starts off married life right.
PS: Yes, Die Hard is a Christmas movie. If you'd like to debate, I'll see you in the comments! 😉
15. Gourmet chocolate (that pairs perfectly with wine)
Sometimes it's nice to indulge, and what better time of year than at Christmas?
This chocolate & wine pairing set (wine not included) includes 4 unique gourmet chocolate bars built to be paired with different wines. You can pair these chocolates with up to 17 different varietals, so don't be afraid to buy a few different bottles for the couple, too!
16. A wine subscription
Speaking of wine, another gift that would be absolutely wonderful for a newlywed couple would be a wine subscription. Whether you gift for 3 months, 6 months, or an entire year, the couple in your life will think of you (and toast to your health) every single month.
With this gift, they can try new wines and raise a glass together (on date night perhaps?) regularly.
Cellars Wine Club is an excellent choice, giving you options for wine preferences, frequency of deliveries, as well as free shipping!
---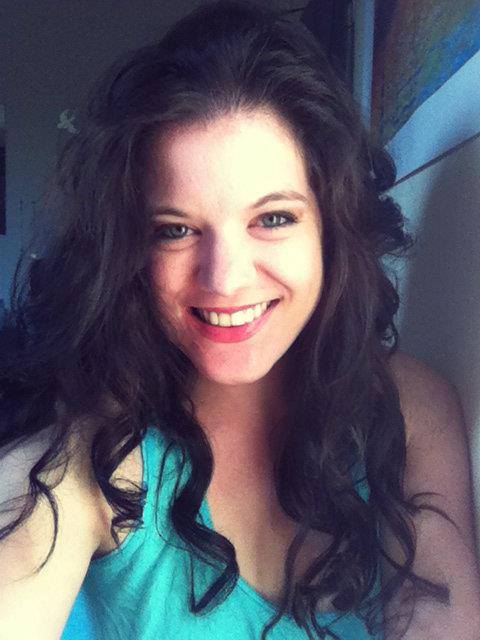 Amy Hartle is the author of Do You Love Me? How To Stop Seeking Reassurance in Relationships, a book on reassurance seeking and relationship anxiety. Both her book and this blog are born of personal experience; Amy shares expert relationship advice from the lessons learned during her own 10+ years with her husband, as well as couples travel tips and romantic getaway recommendations, all gleaned while traveling the world together.