This post may contain affiliate links. Read our disclosure page for full details.
'Tis the season to be thinking of what to give your romantic partner for the holidays. For those with a man in their life, this can be a challenge. Here we present a range of romantic, useful, or just plain fun items: the perfect stocking stuffers for your husband or boyfriend to use, play with, or chow down on!
Survival Gear
For the husband who wants to feel like a badass (let's face it, every single one), you cannot go wrong with this useful, clever, and hard-core survival gear. And who knows, you might just help him out in a future emergency.
Be prepared for anything! The Swiss army knife and its many variants do everything from filing nails to opening wine to cutting whatever needs cutting. With it, your partner will be ready for adventures at home and abroad.
---
---
The ultimate in preparedness right here! A knife, a firestarter, a flashlight… Everything a guy could want in one little survival kit. Literally look no further for stocking stuffers for men.
PS: Check out these fun stocking stuffers for dads!
---
---

For those who like their gear in compact form, this credit card-sized survival tool offers a range of functions that fits right in a wallet. Your man need never be without a bottle opener again!
---
How about a personalized piece of survival gear? Get your man's initials set in an engraved pocket knife.
---
---
Personal Grooming
Give the gift of cleanliness with this set of Burt's Bees products just for men! He will be proud of his newfound hygiene, and so will you!
---
---
---
Speaking of hygiene, the bearded gentleman can always use some extra help keeping his facial hair in order. This beard grooming kit is just the thing to whip his beard into shape and keep it clean.
---
---
For those who like to keep it simple, there is this beautiful wooden comb. Have it personalized for your partner and put it snugly in his stocking!
---
---
For advanced students of personal grooming, this nail care kit contains all a guy could wish for. They've even squeezed in a shoehorn and travel toothbrush! It also comes in a super fabulous brown leather case. Your classy, professional dude will be thrilled.
---
Adult Beverage Accessories
Perfect for the travel-lover in your life, this globe-themed whiskey decanter is a beautiful vessel in which to store his favorite whiskey. He can have a drink and dream of his past and future travels!
---
---
Appropriately labeled "World's Coolest Husband," these beer chillers will keep his end-of-day bottled beverage cold. How cool is that?
The perfect ending to any day, good or bad, this whiskey glass will let your man rate his day based on the amount of comfort he needs. Also helpful during the holidays when relatives are present! Remind him to drink responsibly.
---
---
In the spirit of the beer chillers above, these taste- and odor-free whiskey stones will keep any drink cold. No more watering down of fine liquor when the ice melts! Even Ron Swanson would approve.
If your husband is a whiskey lover, this is a gift he will surely appreciate for years to come.
---
---
Expressions of Love
For a deeply personal touch, why not give the man in your life a personalized frame listing the reasons he's a hero? Keeping this by his desk or dresser will remind him of your love each day. There's definitely nothing quite as meaningful as gifting someone with your very own words and sentiments.
Let him know that your love is for always with this lovely wine tumbler. This is a gift that is both practical and useful, and it is masculine and sophisticated enough to please your dude. The sweet message printed on the outside is a perfect match for whatever's inside—hopefully, a hot toddy or other festive beverage.
---
---
For a guy with a classic style sense, this shiny hanging watch is ideal. He can check the time and think of you all at once!
Food
The man with an adventurous appetite will love the opportunity to choose his own adventures with this hot sauce-making kit!
---
---
Though it's aimed at the outdoorsy type, who wouldn't want this gift box's assortment of cookies, flavored crackers, and mixed nuts? With its wide assortment of goodies, it will keep your man munching for a long time to come.
Miscellaneous Gifts for Your Man
No more late-night struggle sessions to reach the toilet! With this toilet night light, he can do his business and not wake you up with a blinding ceiling light!
---
---
Guys who like to stay in shape even during the colder parts of the year will appreciate the headphones on this beanie hat. The ability to listen to their favorite tunes and keep their head warm on a run–what more could they want?
---
---
Nothing like a good massage to ease the stress of the day. And with this portable massage pillow, your partner can relieve stress anywhere!
---
---
With room for sunglasses, keys, and even a dock for his phone, this desk organizer is a great way for a busy man to keep his desk clutter-free.
---
---
For the guy with a green thumb or who are open to a long-term project, growing a bonsai tree can be wonderful. These little trees are beautiful and give the grower something to be proud of!
---
NEED MORE IDEAS? CHECK OUT OUR OTHER UNIQUE GIFT GUIDES FOR COUPLES or MEN:
---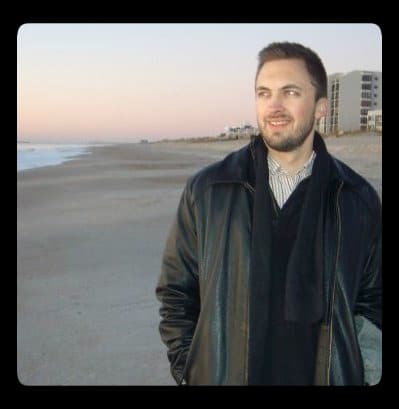 Nathan is one half of newlywed travel couple Two Drifters, and typically found behind the camera lens. However, he loves writing too, and works as a freelance editor when not focusing on crafting works of fiction.