This post may contain affiliate links. Read our disclosure page for full details.
If you love the charm of water cascading down cliff faces and rocky outcrops, then waterfall chasing near Asheville is an activity you'll thoroughly enjoy. Spending time in nature can rejuvenate your mind and body, leaving you feeling more relaxed than ever before – especially in the presence of a majestic waterfall.
Here are some of the best waterfall hikes near Asheville to fulfill your waterfall dreams. In fact, these are some of the best waterfalls in North Carolina. Have your camera ready to capture awe-inspiring moments in this beautiful area.
The waterfalls we've included below have different levels of accessibility. Some you can easily get to from a nearby parking area, while others require a shorter or longer hike. But it is definitely worth it when tackling some of the fun waterfall hikes near Asheville. After all, the end payoff is gorgeous.
The Best Waterfalls and Waterfall Hikes Near Asheville, NC
Asheville is perfectly situated in the Blue Ridge Mountains of North Carolina, making it an ideal spot for waterfall chasing in North Carolina. The Blue Ridge contains about 45 waterfalls that flow year-round – although many of them are far more impressive in the wetter months. Asheville's proximity to several national forests means that most of these waterfalls are within easy reach from the city.
For the perfect photo of a cascading waterfall, and sights that will take your breath away, here is the absolute best selection of waterfalls in Asheville and the surrounding region.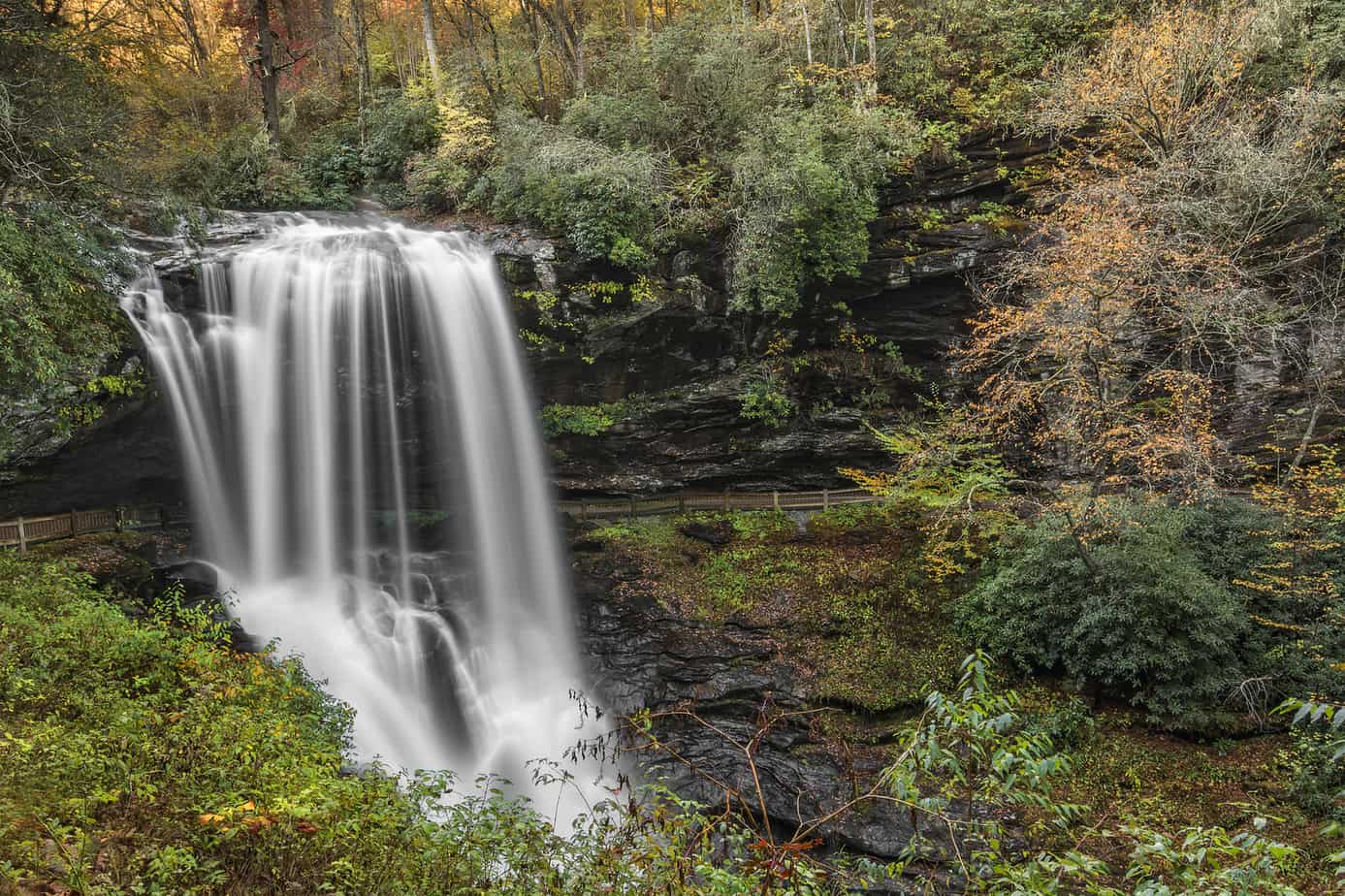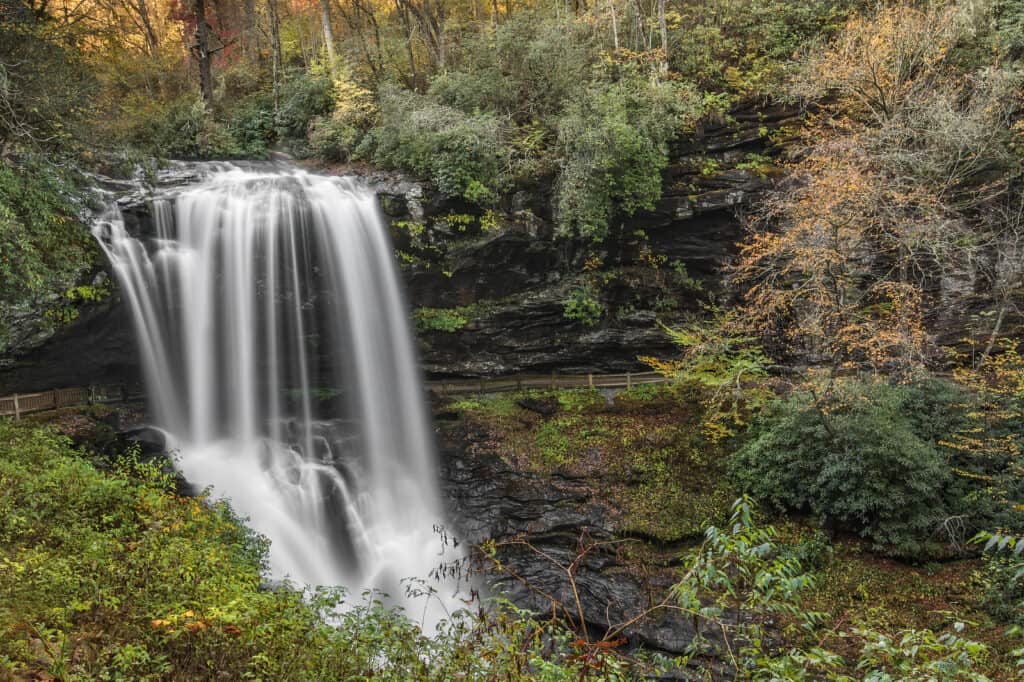 Dry Falls
This is a spectacular waterfall in the Nantahala National Forest. The waterfall drops an incredible 75 feet off an impressive cliff face. What makes this waterfall so unique, is that it has a boardwalk that allows you to walk behind the water without getting wet. This is how it got the name, Dry Falls.
This boardwalk makes for great photo opportunities and has become immensely popular among photographers and Instagram enthusiasts. During the winter months, ice stalactites form on the roof of the rocky cave, giving the entire place an even more beautiful atmosphere.
One of the best parts about Dry Falls is its accessibility. You don't have to hike to get there, which makes this particular Asheville, NC falls available to all individuals. To reach Dry Falls you simply park in the parking lot and walk down a short path to get to reach the waterfall.
Crabtree Falls
Crabtree Falls is located along the Blue Ridge Parkway and is accessible via two woodland hiking trails. Choose between a 3-mile easy walking track or a 3.5 mile round loop trail that presents a little more of a challenge.
Both trails lead to a 70-foot cascading waterfall. You'll get the best views if you walk right up to the base of the waterfall.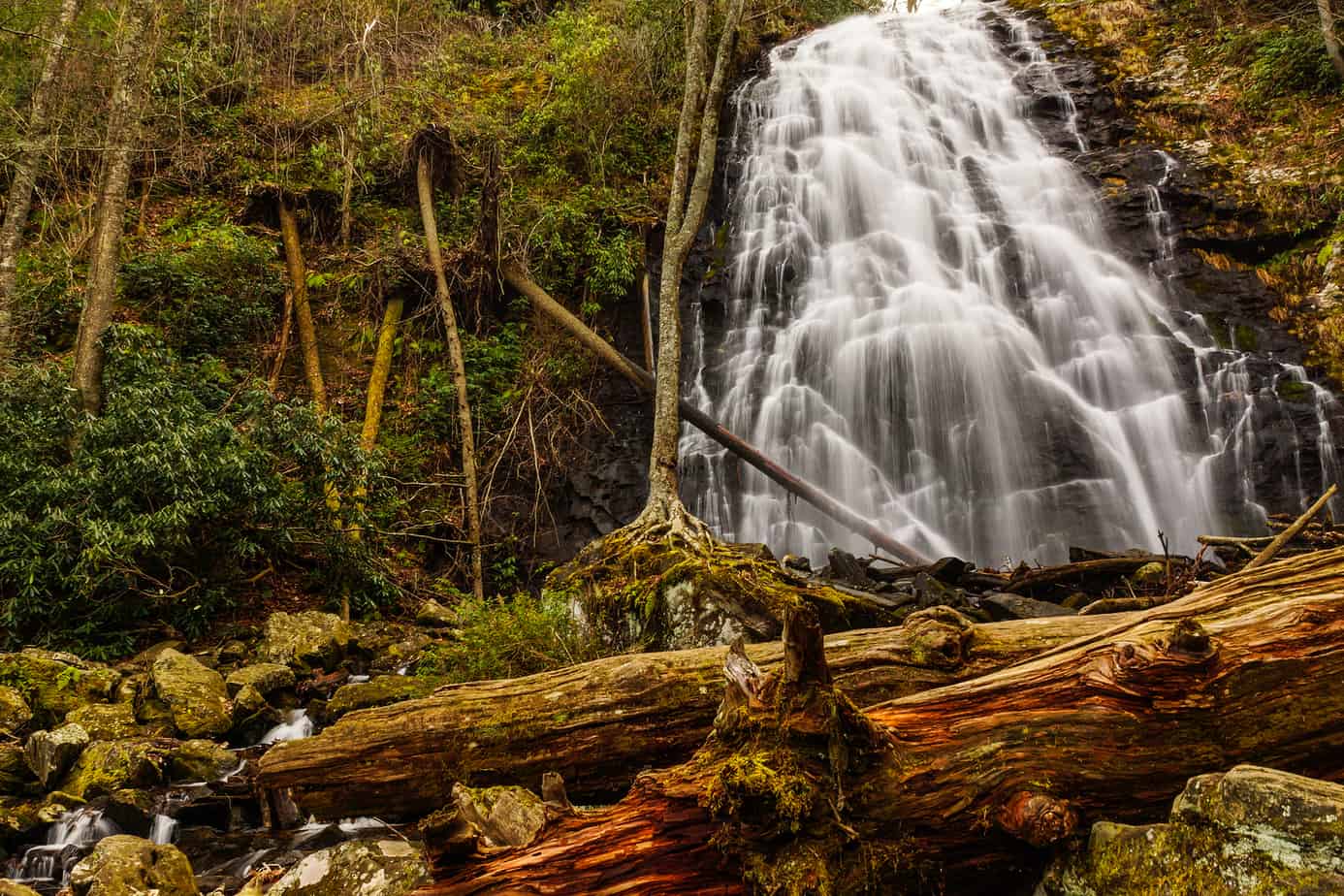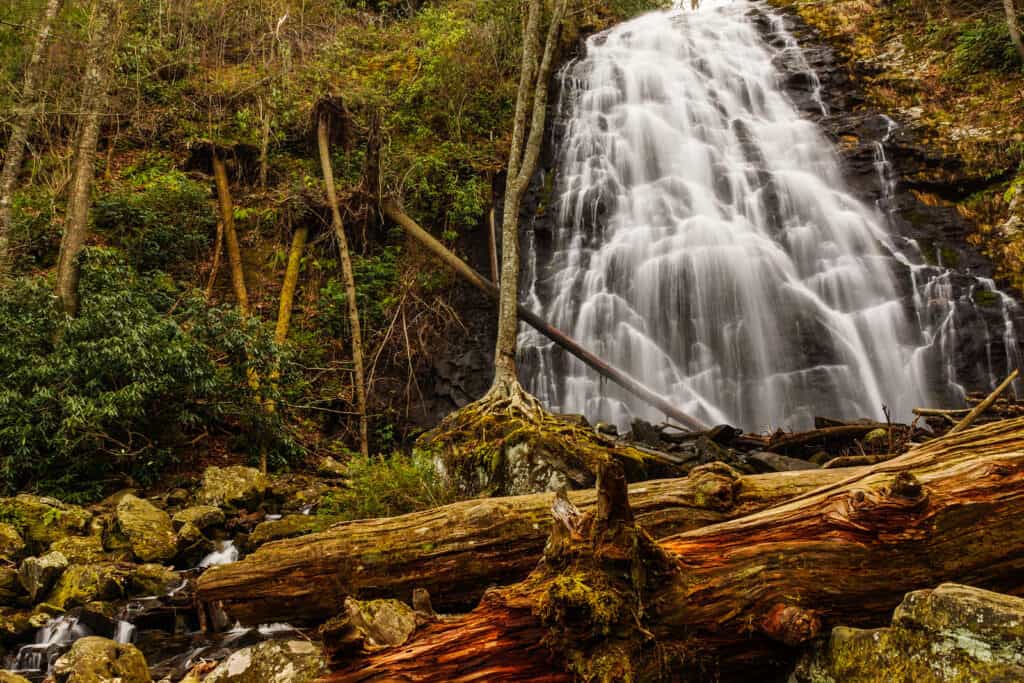 If you're a little wary of venturing out on your own, there are guided waterfall tours along Blue Ridge Parkway that will ensure you see the best sights that waterfalls in NC have to offer.
Pearson's Falls
Pearson's Falls is a magnificent 90-foot waterfall that cascades down a series of rocky stairs. It's a little different from the previous waterfalls we've mentioned and provides a unique vantage point.
The hike there is fairly easy and is a mere 1.4 miles long. There's plenty of picnic tables along the way, making it a great place for a day excursion.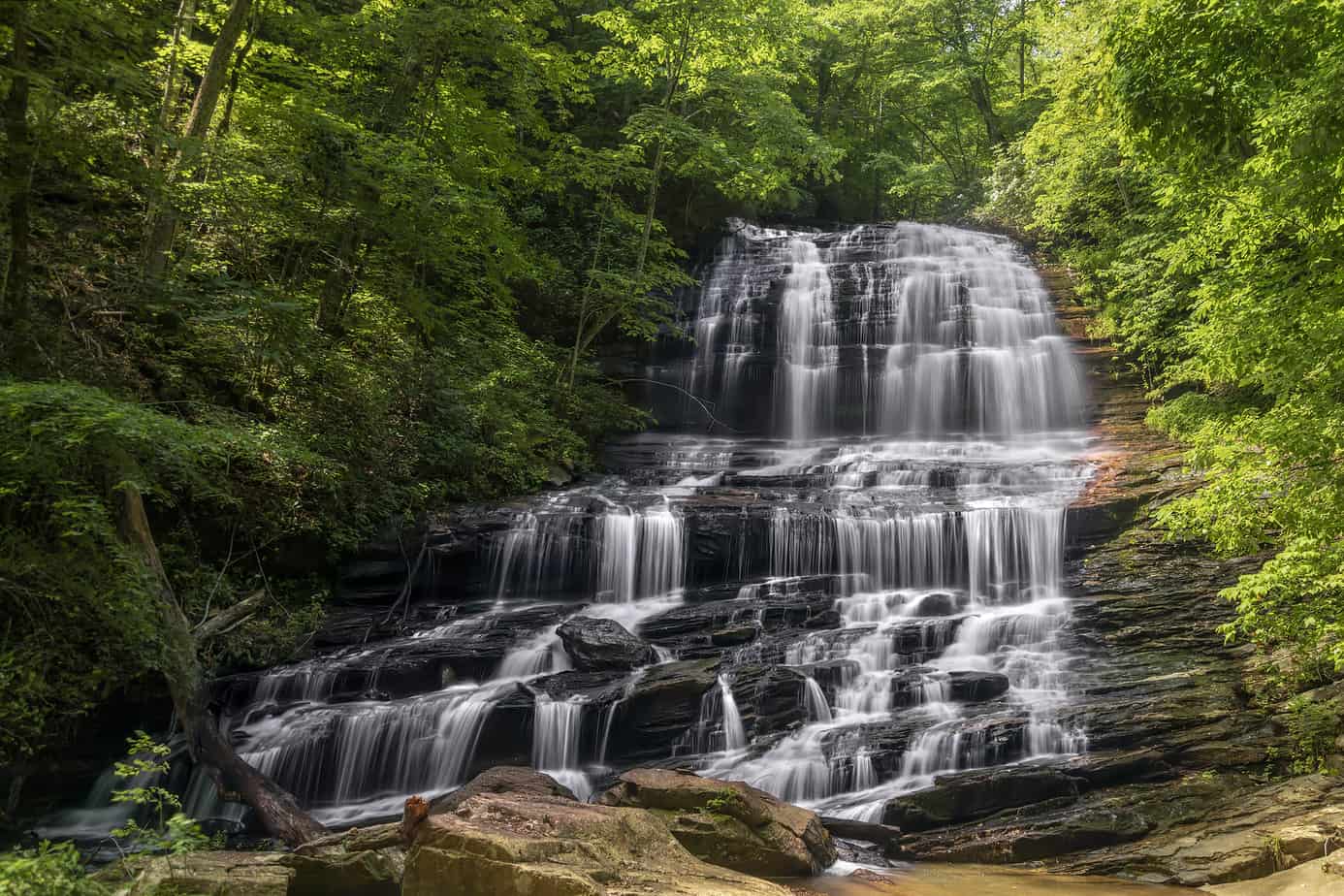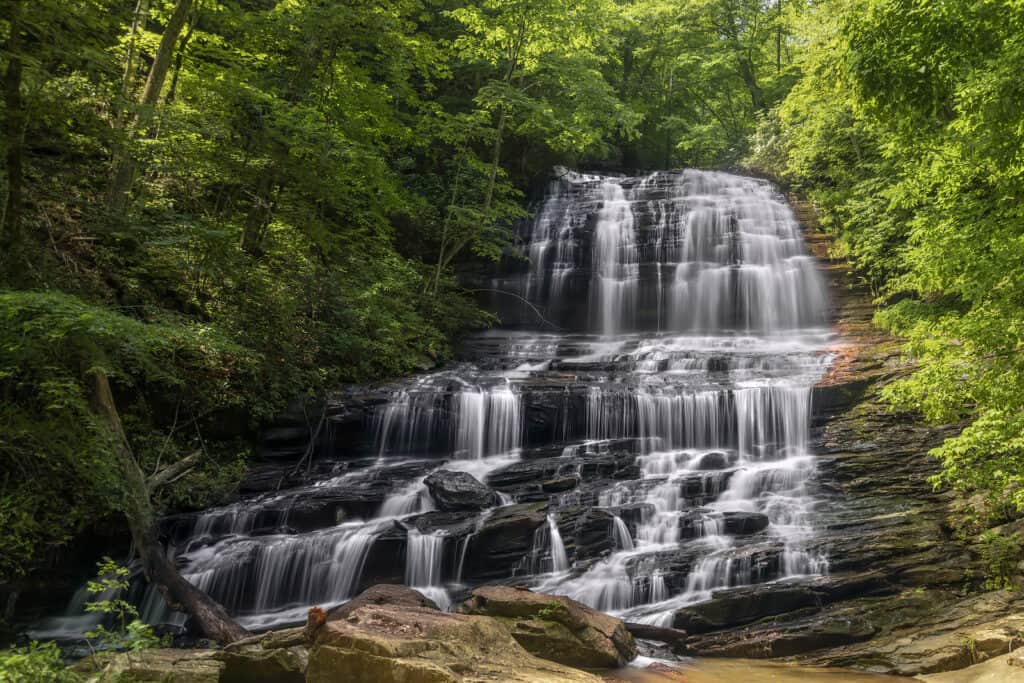 When you get to Pearson's waterfall you'll come to an idyllically placed bench that allows you to sit back and enjoy the beautiful view. Because the area is privately owned, there is an entrance fee of USD $5, but it's well worth the price!
This is by far one of the best North Carolina waterfalls to visit.
Secret Falls
Secret Falls is a beautiful 50-foot waterfall that remains a mystery to many of the locals that stay nearby. It's located near the Highlands, and apart from these gorgeous NC waterfalls, there's also a serene pool at the bottom, perfect for a mid-hike swim.
It's an easy half-mile hike to get there and the trail is easy to follow – you'll see blue rectangles painted on the trees which will lead you to the waterfall. This is a great waterfall in Asheville, NC for those traveling with their family, or with small kids.
This is also considered one of the easiest waterfall hikes near Asheville.
Hooker Falls, High Falls, & Triple Falls
If you head south to Dupont State Forest, you can take a hike that offers not just one waterfall, but three! (What a deal!)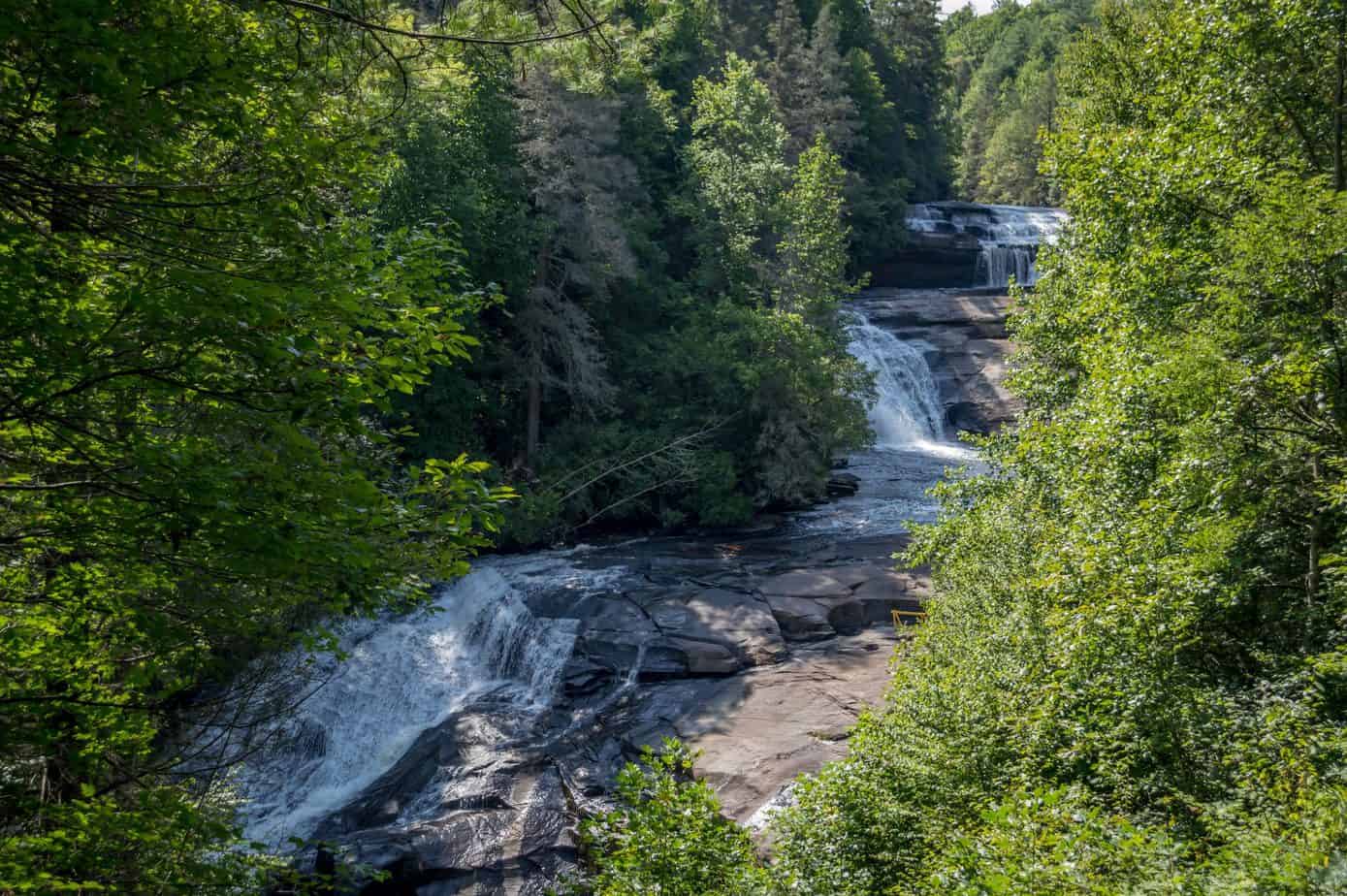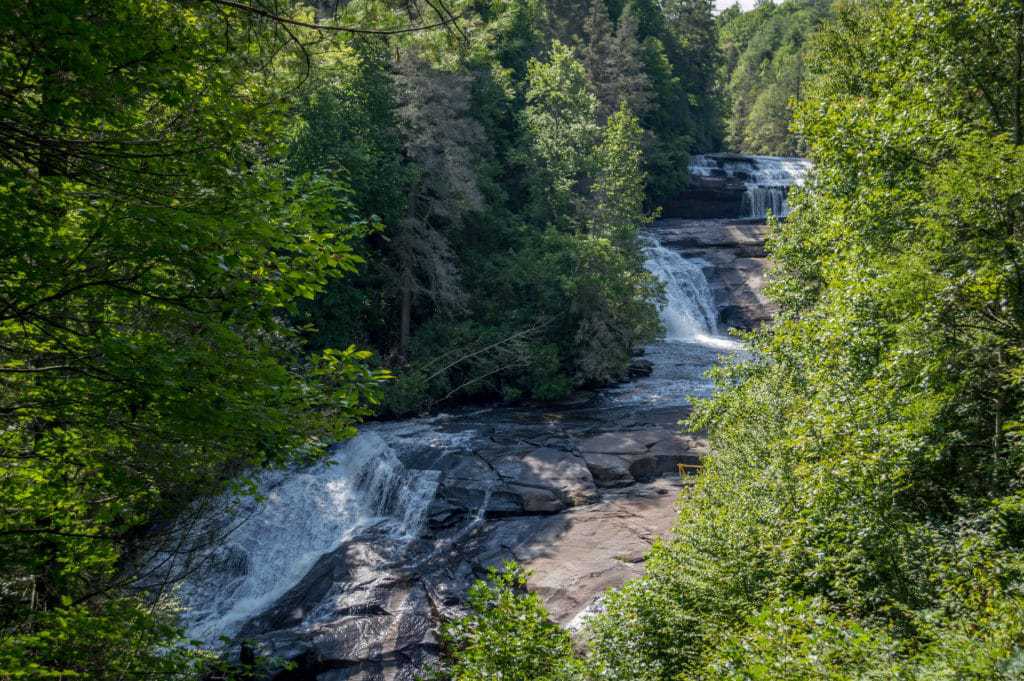 To complete this waterfall hike, you'll need about 2 hours. You can read in more detail about this 3-waterfall hike here.
High Falls (Lake Glenville)
Not to be confused with High Falls in Dupont State Forest, these High Falls are located just below Lake Glenville and are an absolutely majestic sight. If you want to witness an incredible mass of water cascading down a rock face then this is a must-see waterfall.
It's 150-feet high, which makes it one of the highest in the state, and is definitely worth a visit. The water is at its most powerful after heavy rains, and during certain times of the year when more water is released for kayakers.
A 4-mile hike will lead you to this waterfall. You can expect lots of steps that make the hike rather strenuous, but the short distance makes it all worthwhile.
Schoolhouse Falls
Schoolhouse Falls is a rather small waterfall with a drop of approximately 20 feet. The beauty of this waterfall is that you can walk right up to it on dry land. Just past the falls, the area opens into a calm pool shrouded in overhanging trees. This is the perfect place to take a dip before continuing on your hike.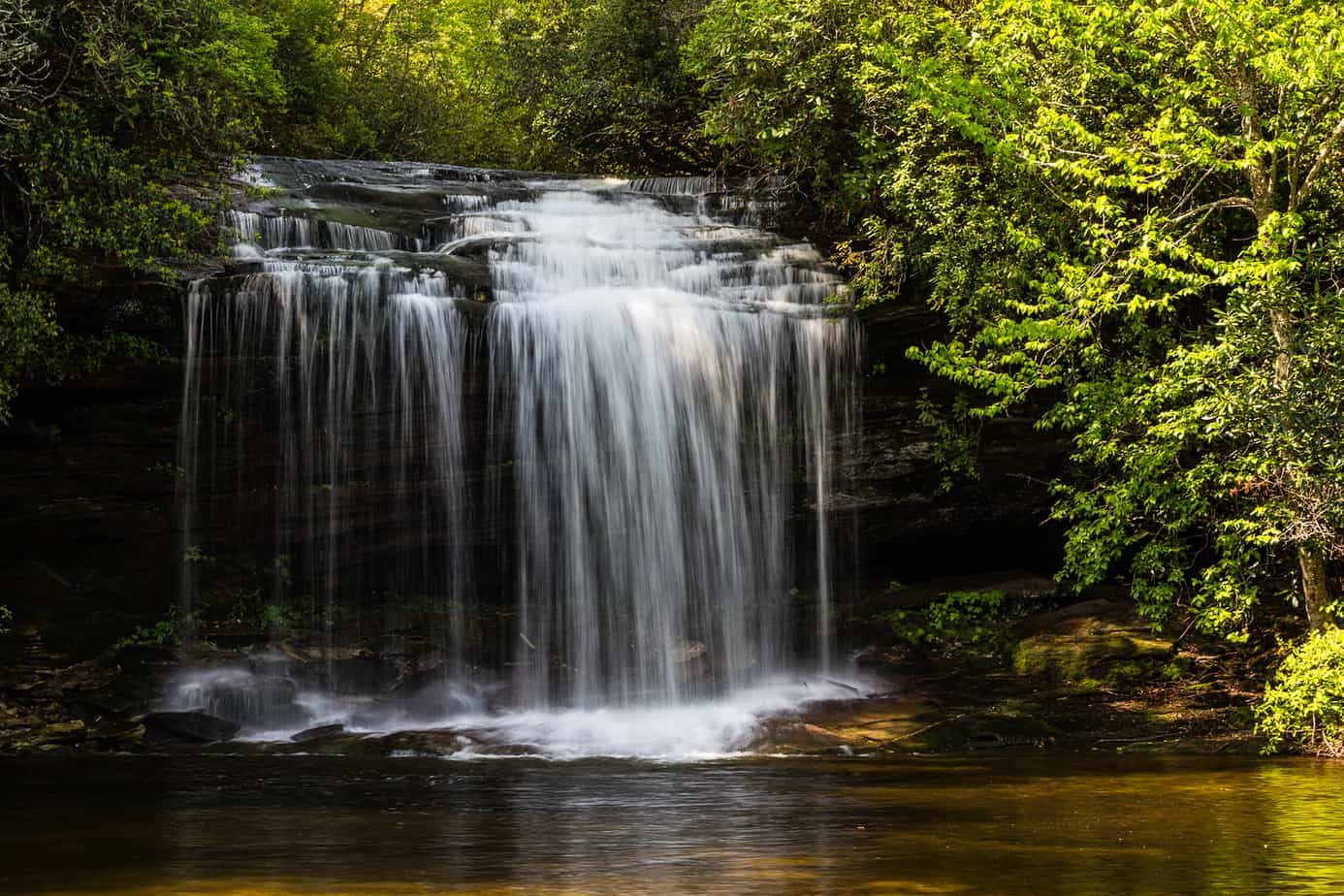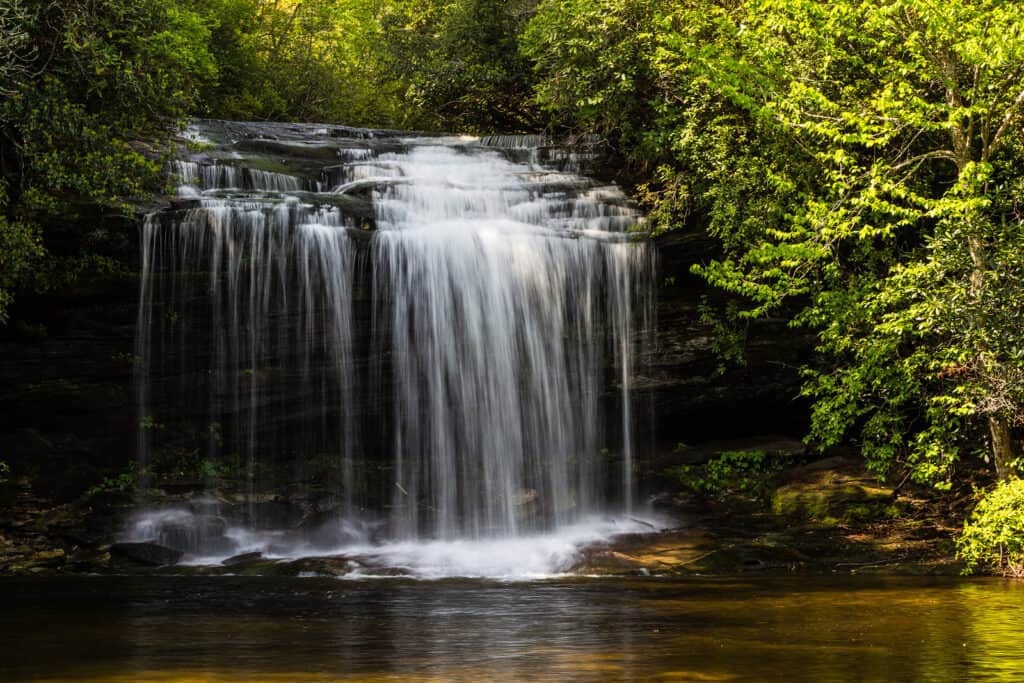 The falls are located in the Nantahala National Forest and situated along a 2.5-mile roundtrip trail. When the water flow is lighter, you'll be able to sneak behind the falls which provides great photo opportunities.
Upper Creek Falls
Upper Creek Falls is a series of cascading falls that seem to slide gently down the rock face. There's also a pool at the bottom that contains a rope swing. This makes it a great place to swim and for children to play for a solid portion of the day.
To get to Upper Creek Falls, you can hike a 4-mile one-way trail that will lead you to the swimming pool at the bottom of the falls. You can also choose to go on a little further and enjoy magnificent views from the top of the falls.
This is often considered one of the most beautiful Asheville waterfall hikes. After the lengthy hike, be sure to grab a cheap bite to eat in Asheville to refuel.
Final Thoughts on Asheville NC Waterfalls
Now that you know some of the very best places to chase waterfalls near Asheville, you can pack your hiking gear and head out to the most serene areas in North Carolina.
Whether you're making the trek for a dip in the cooling pools, or the spectacular views, you're sure to be amazed by these wonderful natural beauties.
---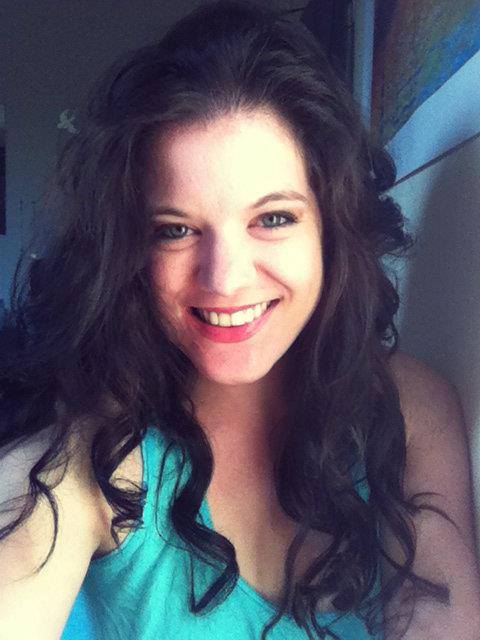 Amy Hartle is the author of Do You Love Me? How To Stop Seeking Reassurance in Relationships, a book on reassurance seeking and relationship anxiety. Both her book and this blog are born of personal experience; Amy shares expert relationship advice from the lessons learned during her own 10+ years with her husband, as well as couples travel tips and romantic getaway recommendations, all gleaned while traveling the world together.