This post may contain affiliate links. Read our disclosure page for full details.
Asheville and Western North Carolina are known for many things, and one of these is the abundance of spectacular waterfalls in the region. There are more than 60 waterfalls near Asheville NC. With those numbers, you could see one waterfall per week for an entire year and still not be finished. But to start you off, we do have a list of the top waterfall hikes near Asheville right here.
When friends visited us in 2015, we wanted to take them to see a few of the most stunning falls. As this was their first visit to the region, we wanted a mountainous, beautiful spot with cascading falls. Enter the Dupont State Forest waterfalls!
These are a popular place to see North Carolina's waterfalls: check out this post on Brevard NC waterfalls, with stunning pictures of them.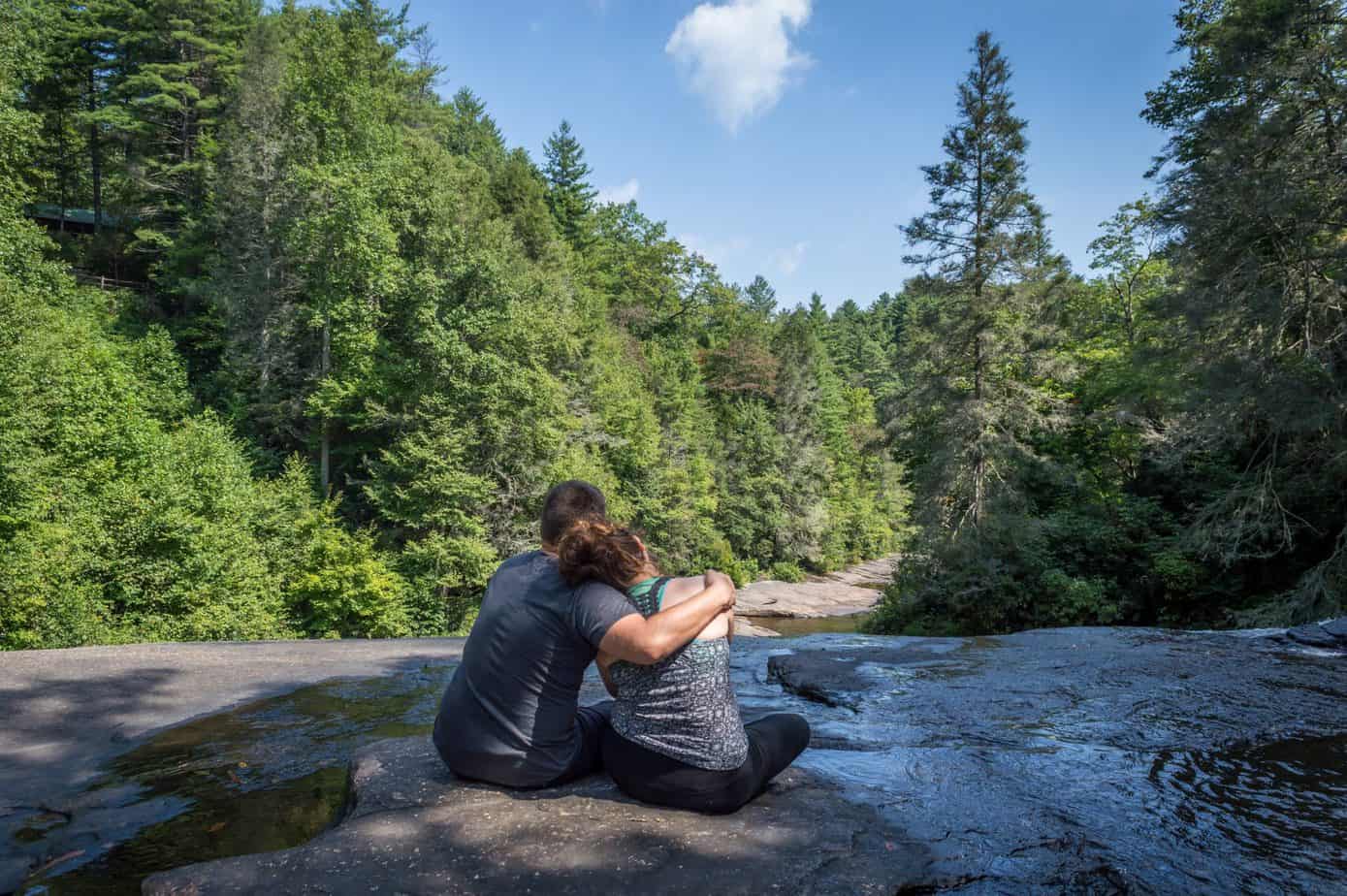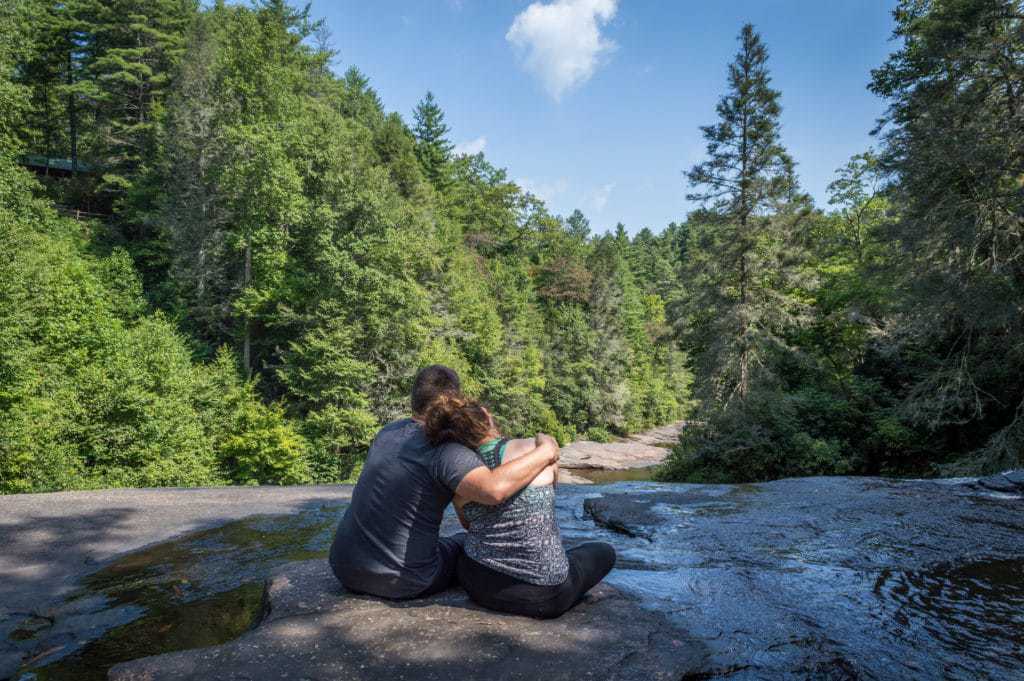 While there are dozens of falls to choose from, we decided that for a one-day trip, we should see as many waterfalls as possible. The DuPont State Forest boasts an impressive number of falls, and as it so happens, a few of them are within short distance. We headed there this week and were able to see THREE glorious waterfalls in just under 2 hours. If you only have a couple of days in or around Asheville, NC, this 3-waterfall hike is ideal. (PS: For some great tours around the Southeastern US check out Bookmundi!)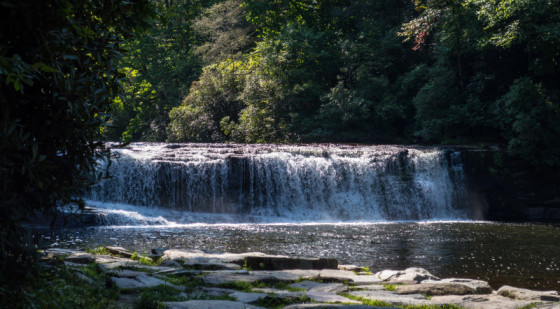 Above is Hooker Falls, a fairly level, gentle 12 foot waterfall that was our first stop. There are some great views along the trail as you come upon the falls, but you can get closer on the flat rocks pictured. Hooker Falls looked splendid in the morning sunlight, and would be an ideal spot for a picnic. There is a shallow pool here as well, and many locals and visitors love to swim in the refreshing waters.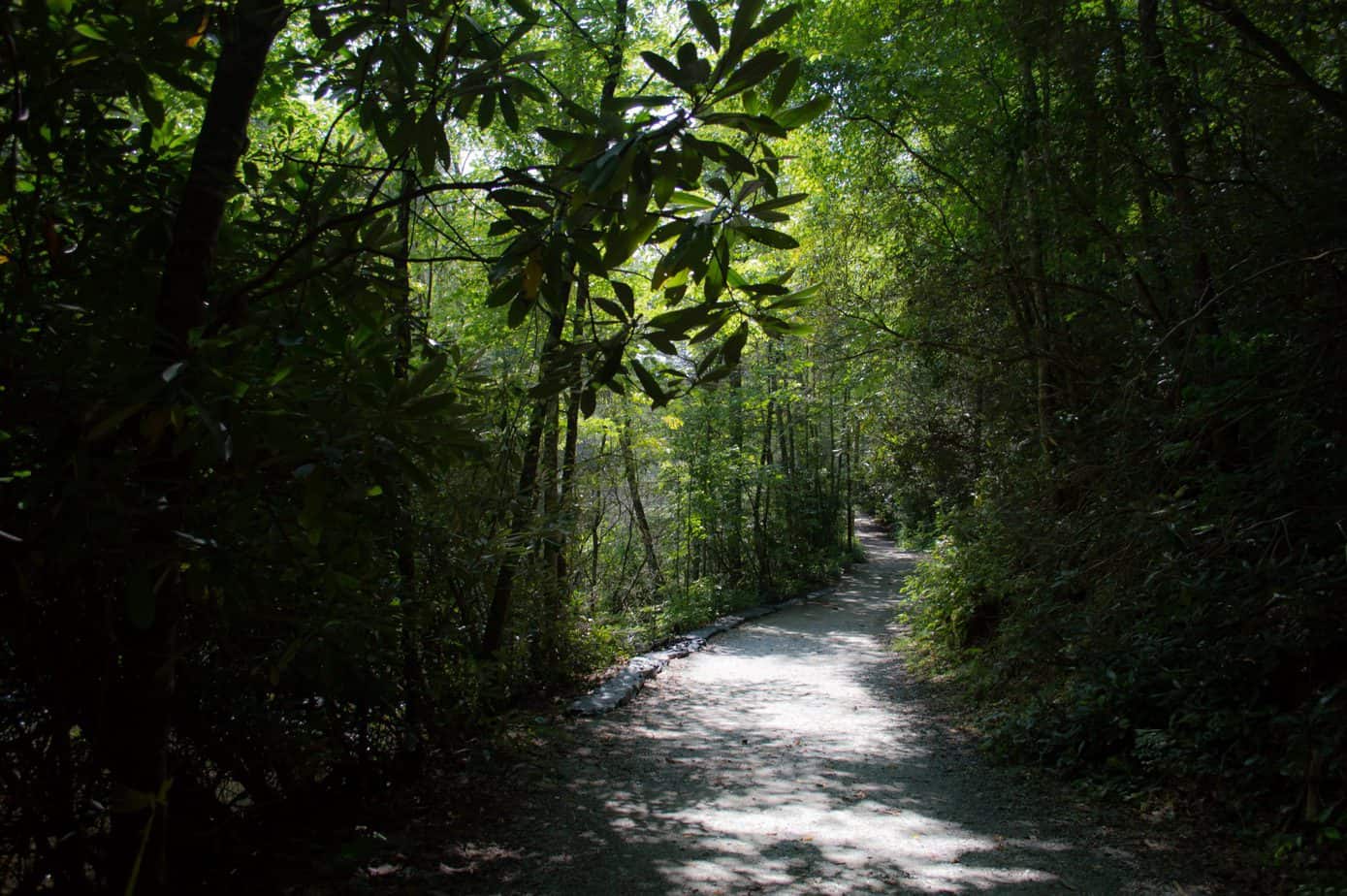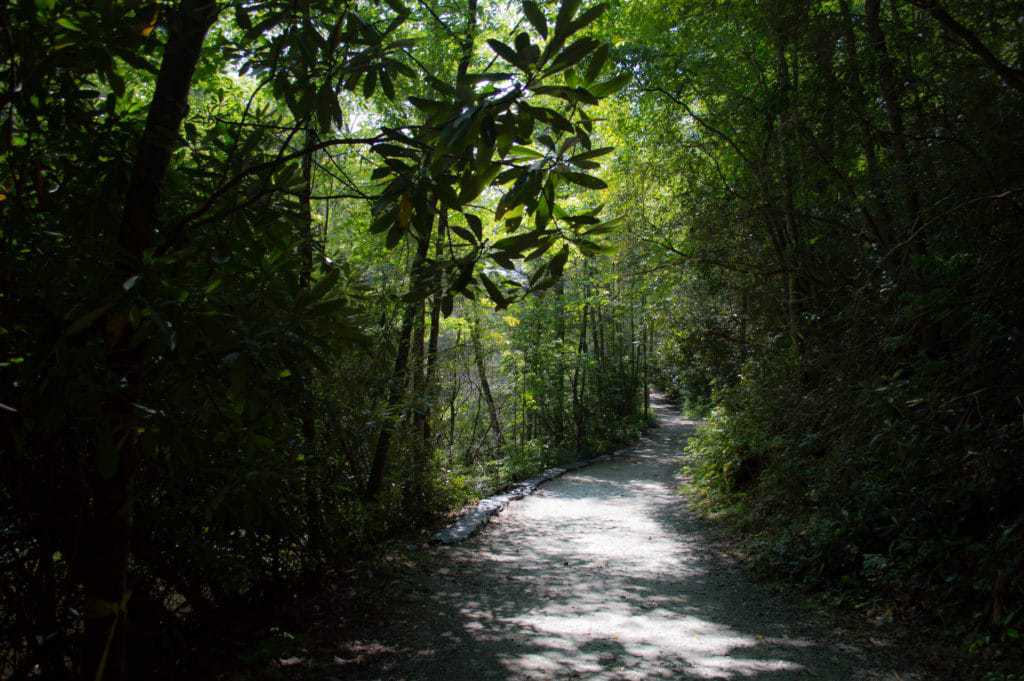 The trails around the 3 waterfalls are easy to moderate. They are nearly all shaded as they pass throughout the dense and comfortable DuPont State Forest. There are a few uphill climbs on each one, but no single trail is especially strenuous. The entire out and back hike equals approximately 3 miles.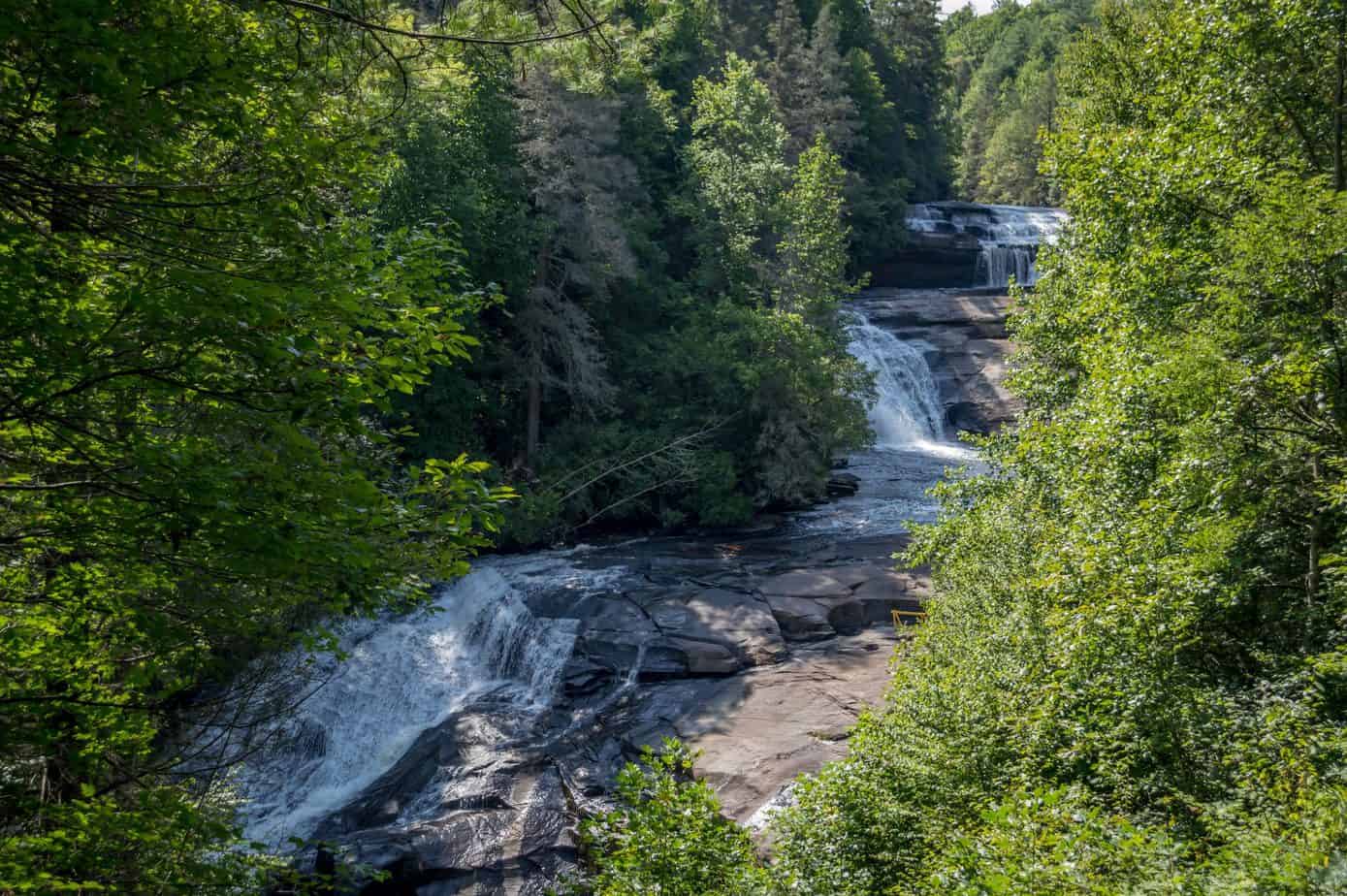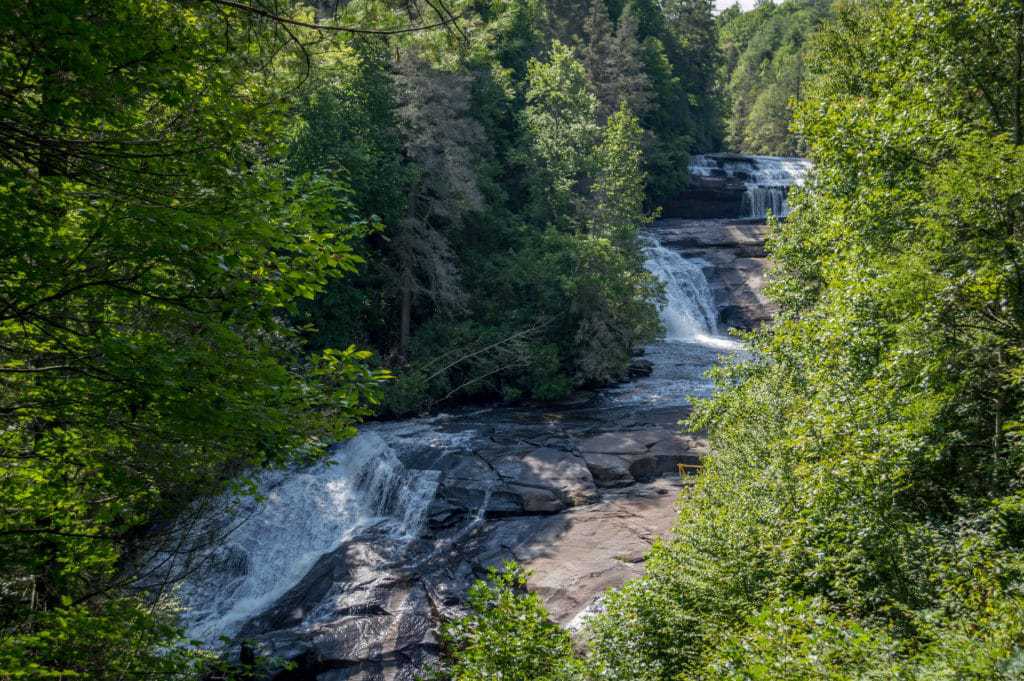 The second waterfall we came to was Triple Falls. You can see in the photo that it is a staircase of three cascades. This is a gorgeous spot and perhaps our favorite of all three. As you approach the falls after a quick climb (you might need to catch your breath) you get a bird's eye view as pictured above. Rounding the bend, there are flat areas to walk on and you can sit quite close to the rushing water. This is where we enjoyed our picnic lunch and grabbed many photos of the luscious landscape.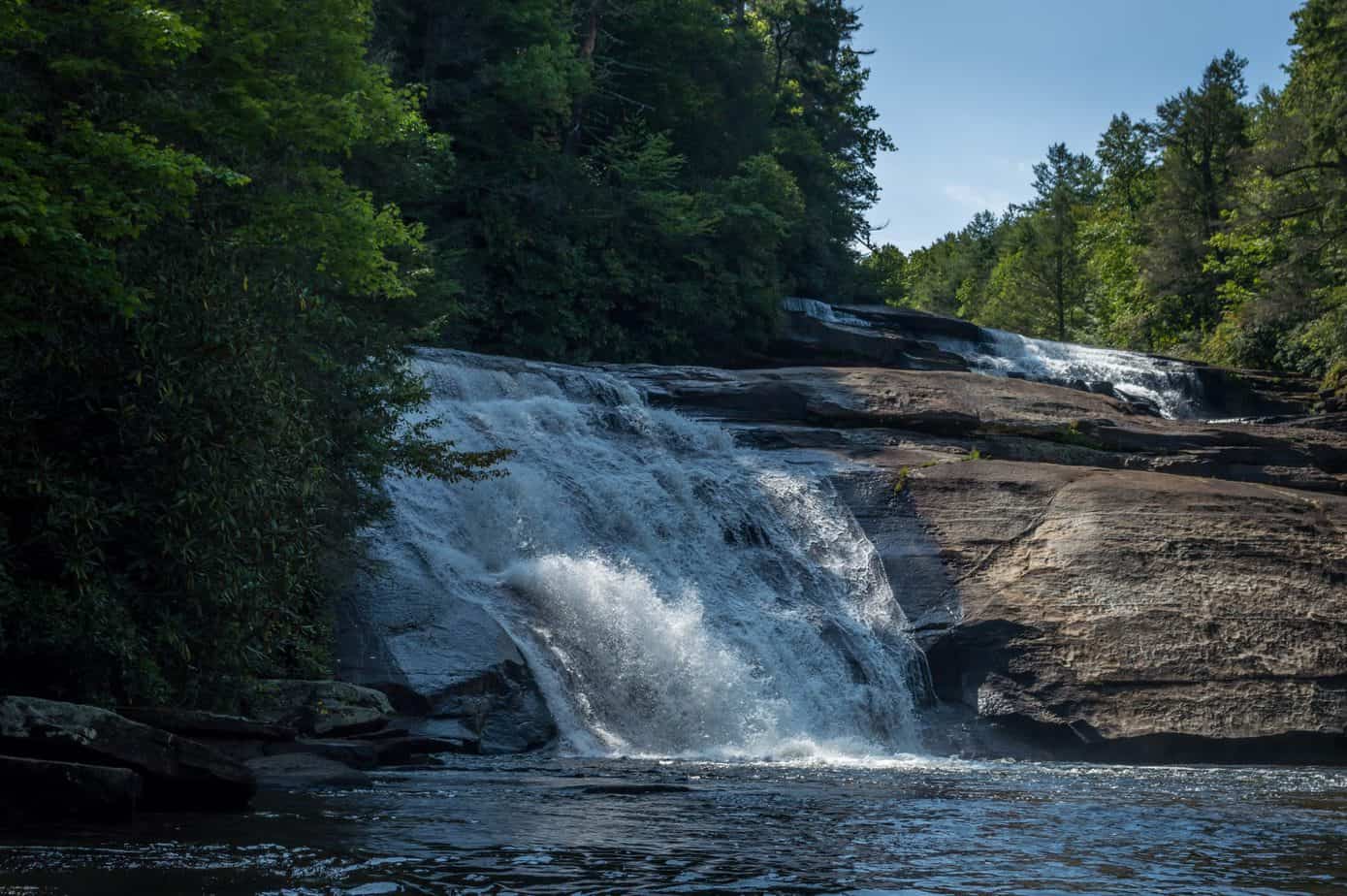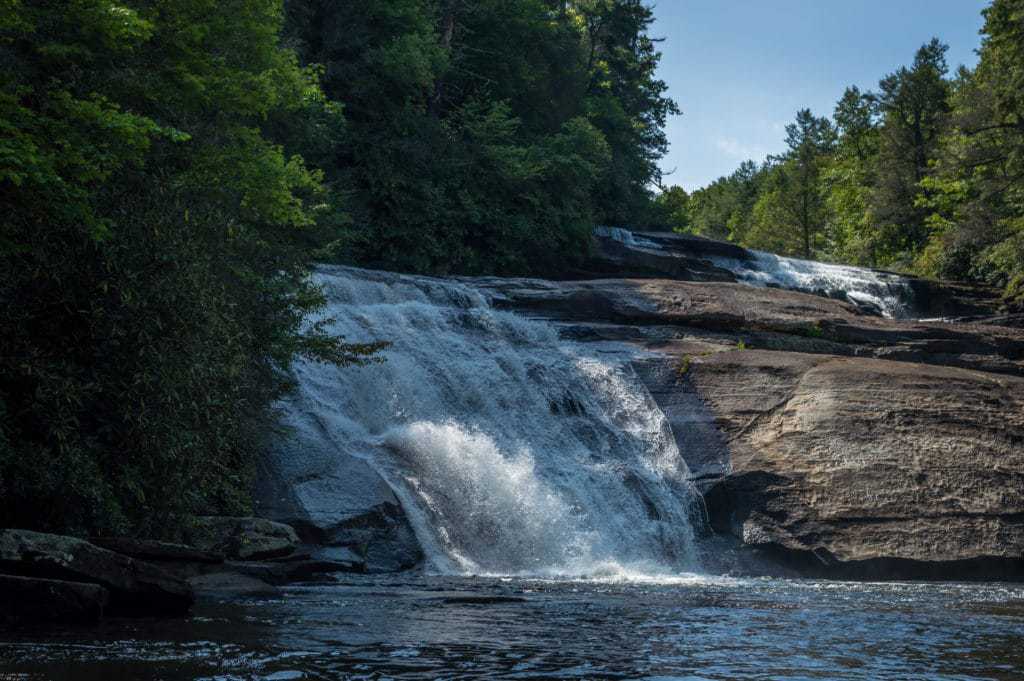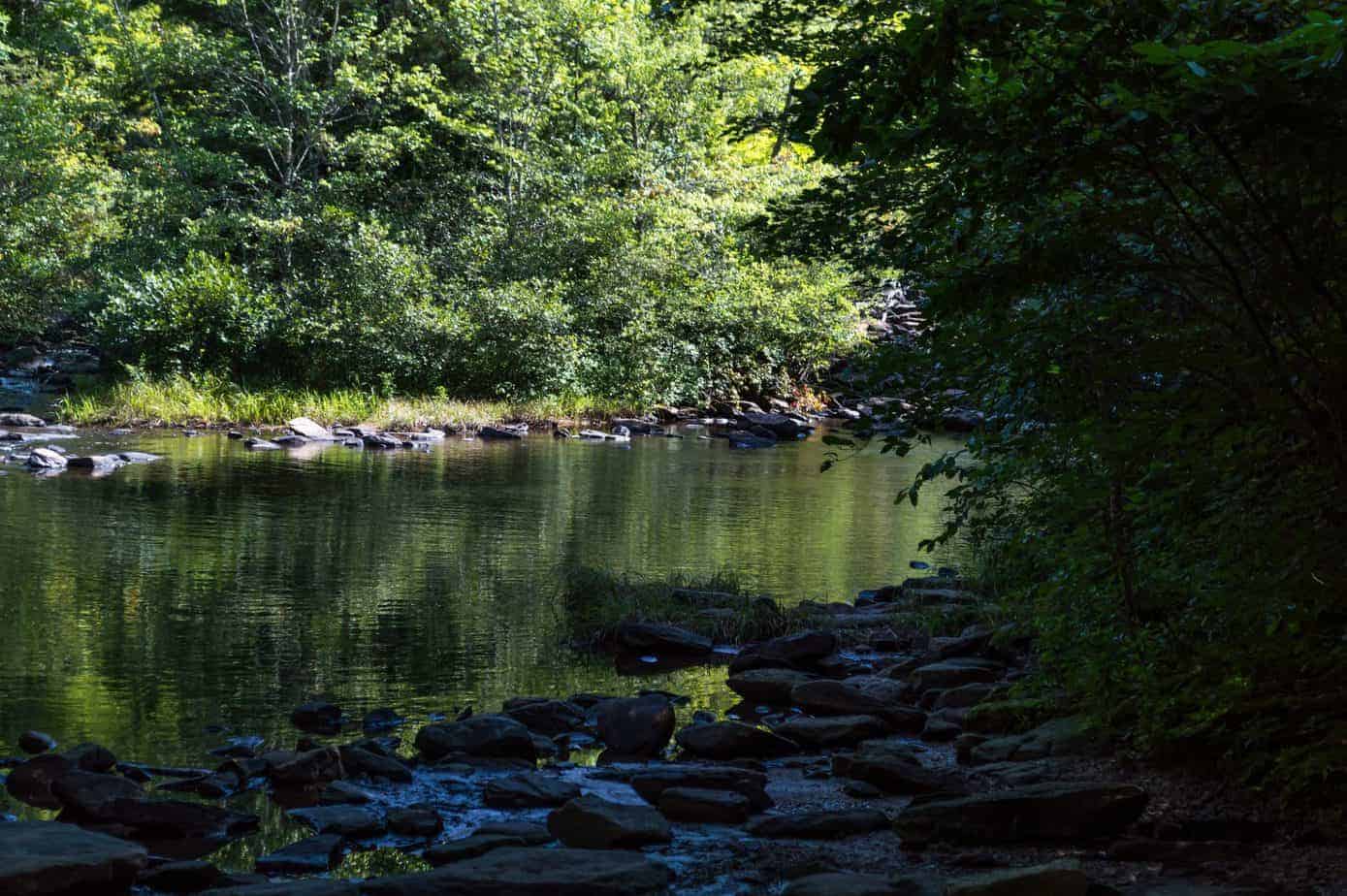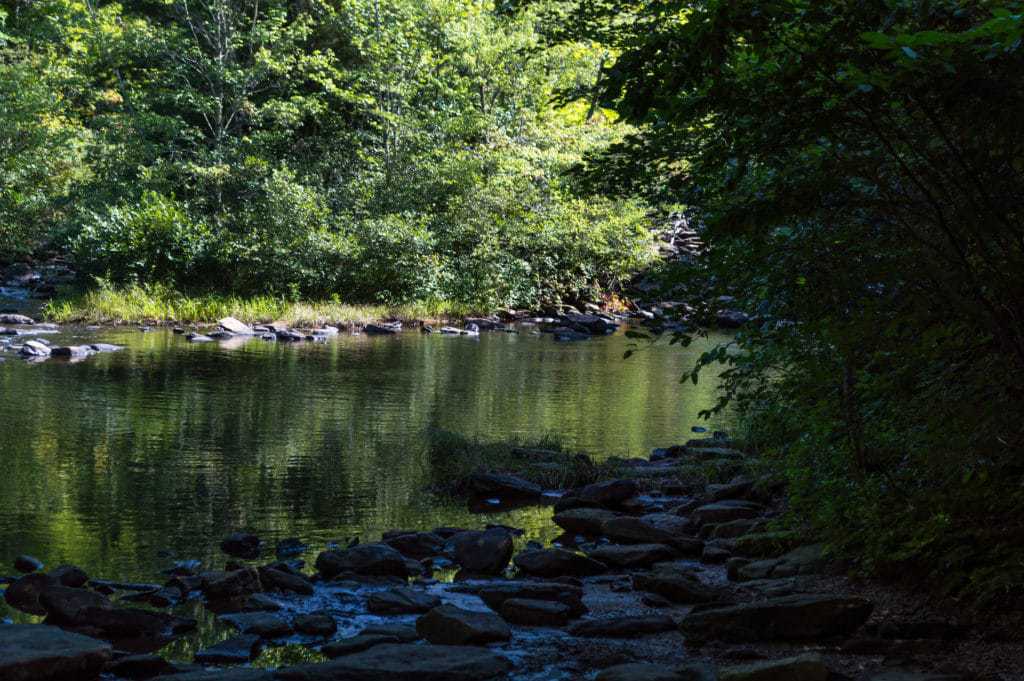 After relaxing by the iconic Triple Falls, we walked further and reached High Falls, also quite true to its name.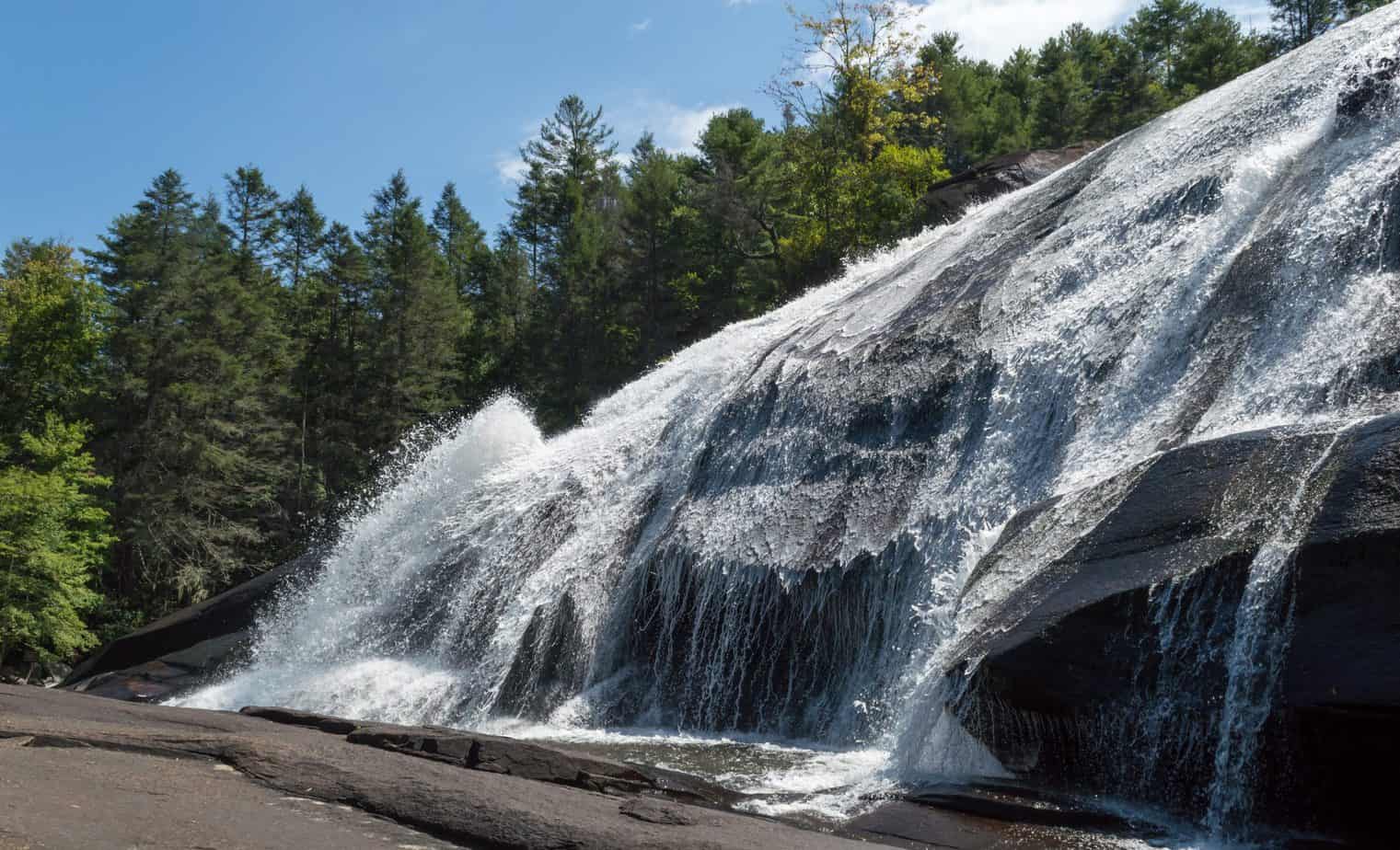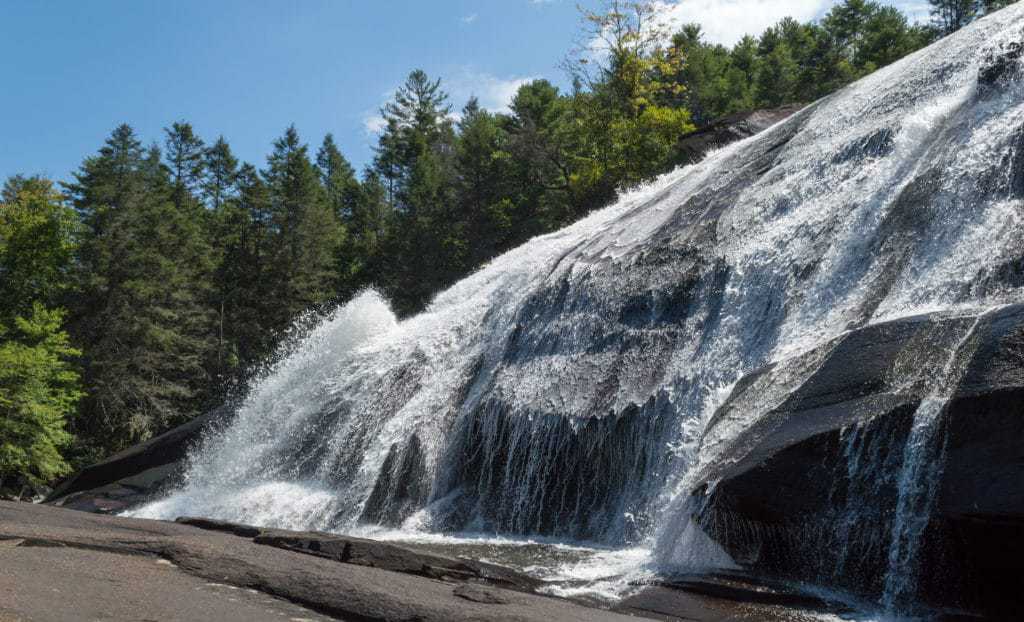 High Falls was impressive from far downstream where you entered, but for an exciting experience, I recommend climbing over the large boulders to get closer to the cascade. That's where you feel the true power of the waterfall. The sound of the water pouring over the rock is almost deafening, and it is mesmerizing to sit and watch the water fall almost hypnotically down the rocks. That was our favorite part of the day.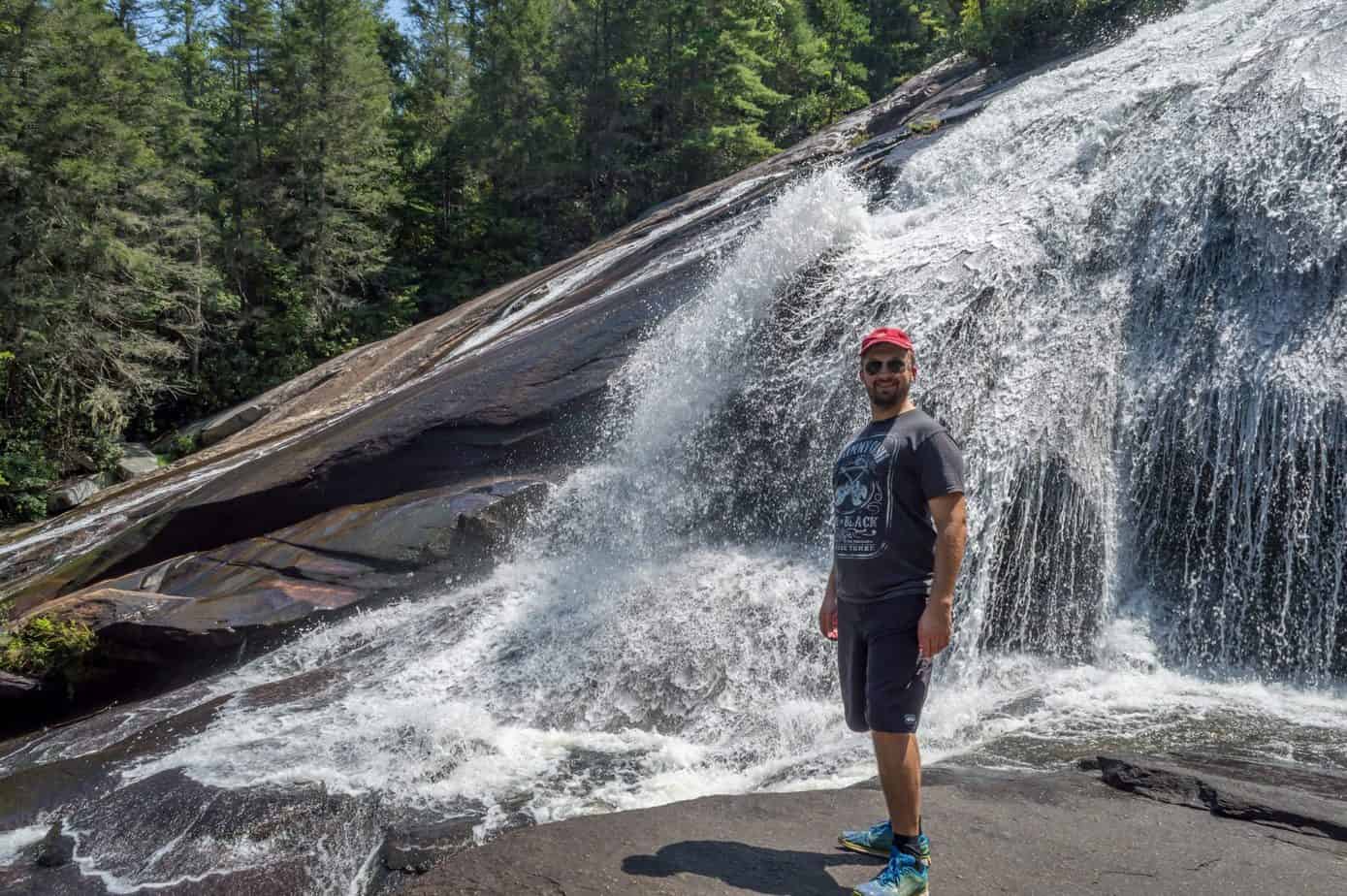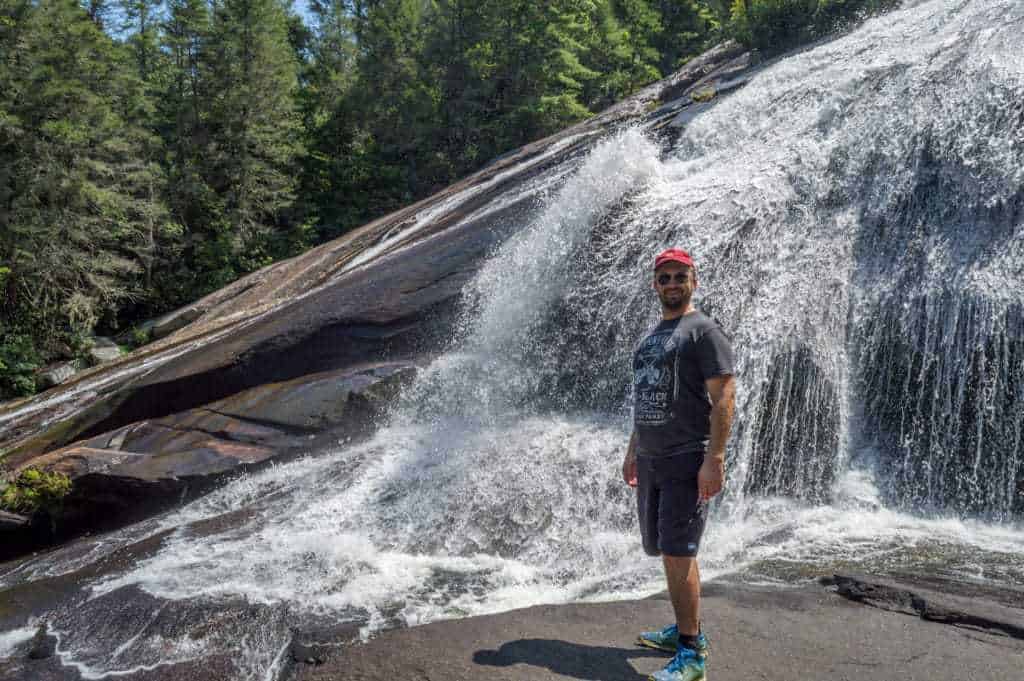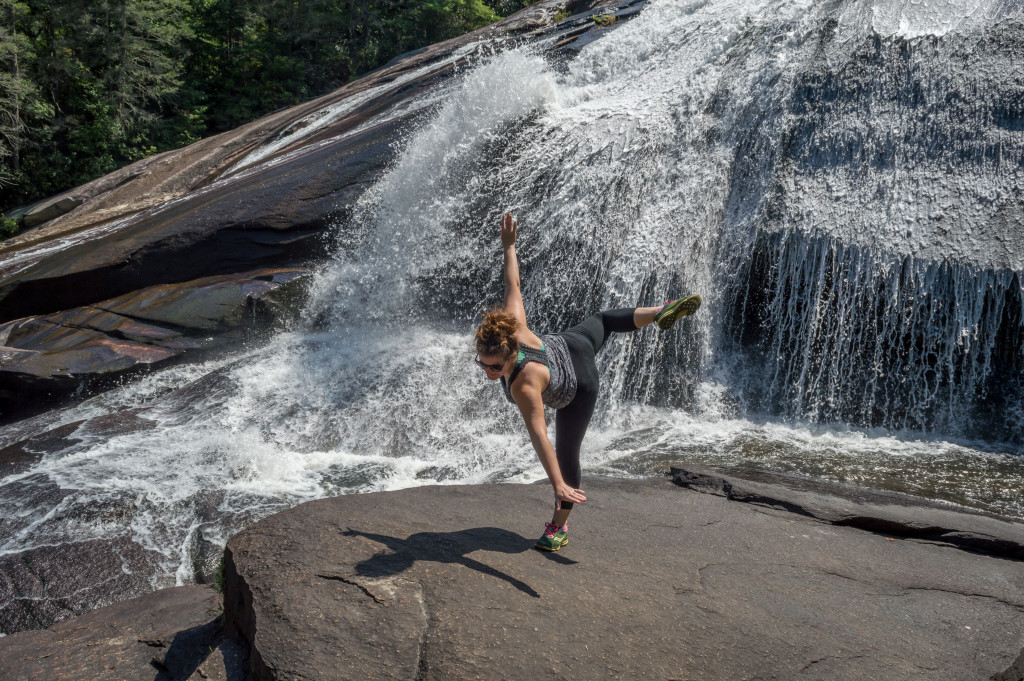 You're also treated to a refreshing spray as you sit there.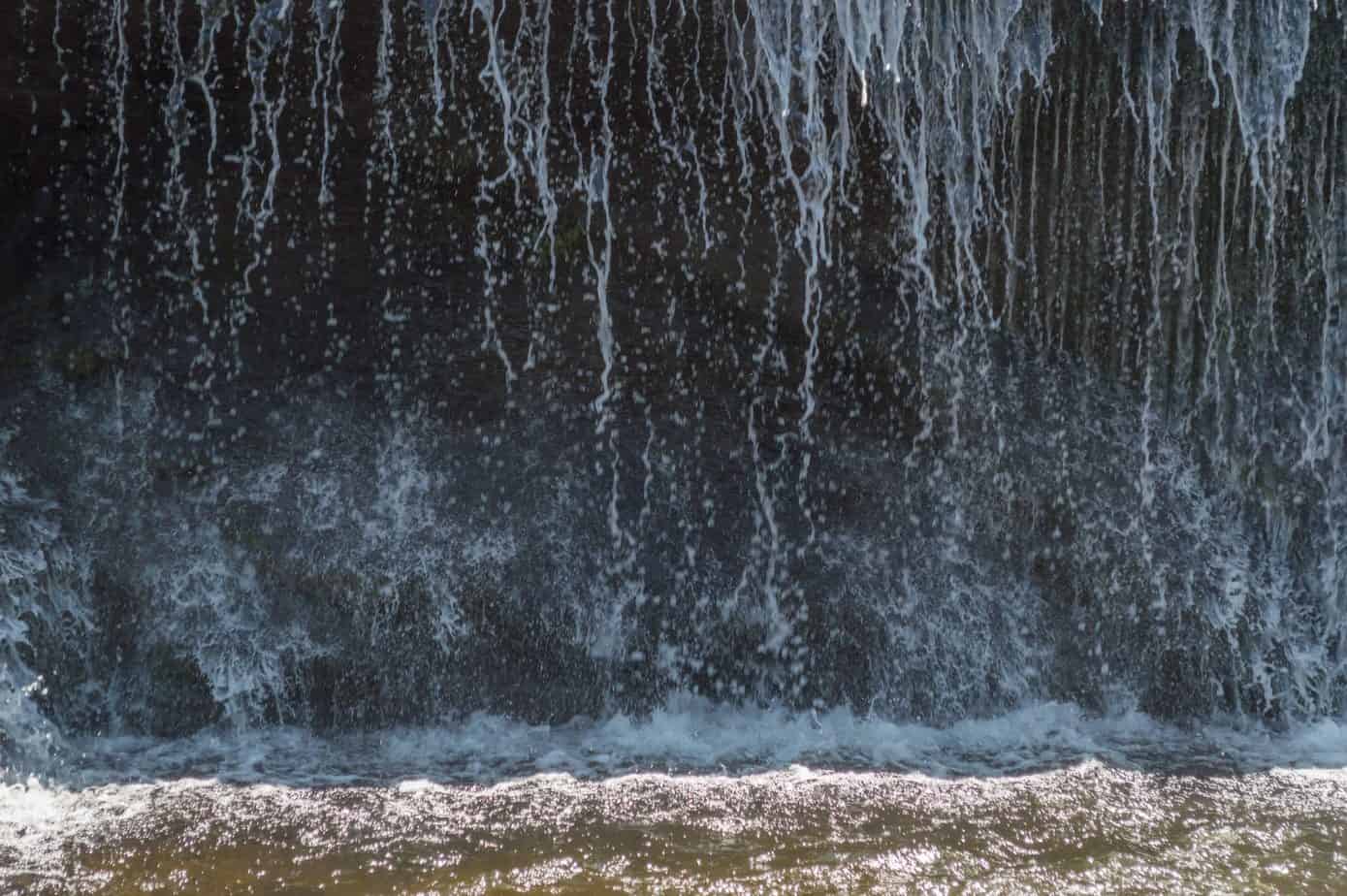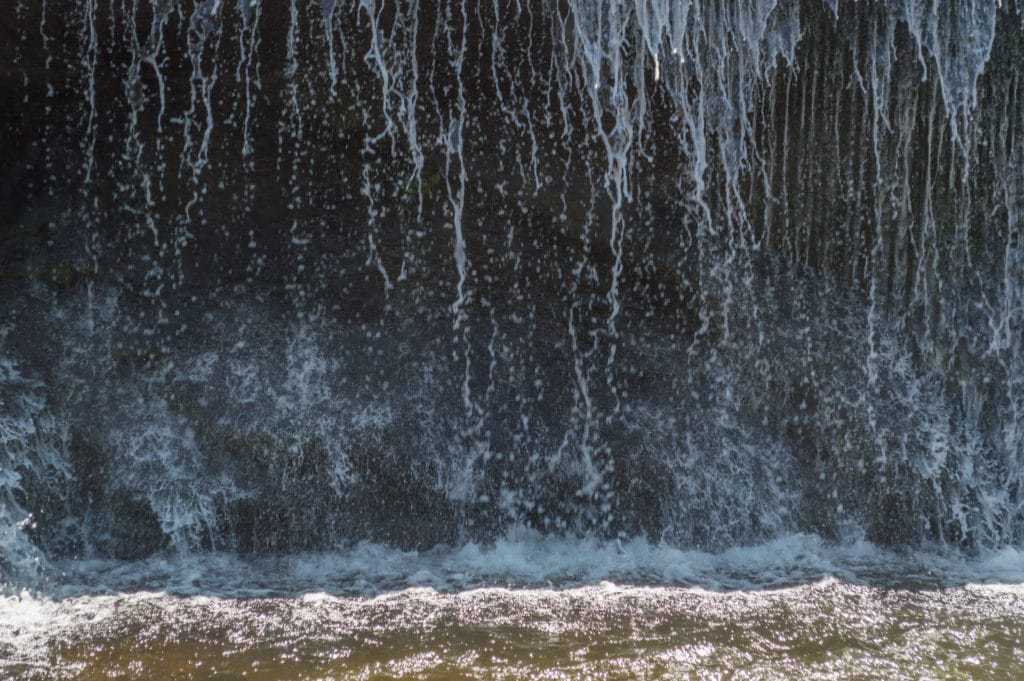 Tips for these waterfall hikes near Asheville NC:
For the best experience, head to DuPont State Forest on a weekday and earlier in the morning. This helps you avoid the crowds and have a more secluded, peaceful experience.
For the three waterfalls, budget about 3 hours, including hike time, picnicking, and photo ops!
If you have more time, there's also another nearby waterfall, Bridal Veil Falls, which you can see with the others on a 7 mile hike.
Bring lots of water, especially in the summer.
It can be chilly in the NC mountains, so bring a sweatshirt just in case.
If you are coming from Asheville, take I-26 E to Exit 40. Here you'll turn right and join Highway 280 heading towards Brevard. After approximately 16 miles, make a left onto US 64. Continue east on 64 for almost 4 miles. Take a right on Crab Creek Road and after 4.3 miles, another right onto DuPont Road. Along this route, you should see signs for DuPont State Forest. Along DuPont Road you will find the High Falls parking lot after a few miles. From here you can access all three waterfalls.
From the parking lot, head first to Hooker Falls via the signs. This is a quick hike out and back. Next, cross the bridge toward Triple Falls and High Falls. These will be along the same trail system. Signage is very straightforward, the trail is well-populated, and if all else fails, head towards the sounds of falling water!
---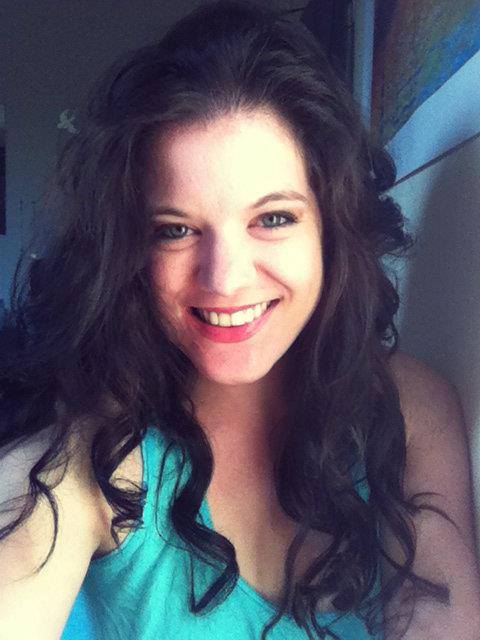 Amy Hartle is the author of Do You Love Me? How To Stop Seeking Reassurance in Relationships, a book on reassurance seeking and relationship anxiety. Both her book and this blog are born of personal experience; Amy shares expert relationship advice from the lessons learned during her own 10+ years with her husband, as well as couples travel tips and romantic getaway recommendations, all gleaned while traveling the world together.