This post may contain affiliate links. Read our disclosure page for full details.
Originally written in September 2015.
We've lived in Asheville, North Carolina for the better part of a year now. As digital nomads on a budget, we Two Drifters work hard to stay within our financial means, so finding cheap eats in Asheville was key. WE LOVE FOOD, and are always on the search for delicious eateries that won't break the bank. We go out to eat now and again (particularly to coffee shops because we have a caffeine addiction habit) but don't often go to 5 star restaurants. Wherever we are, though, we have to try the local spots. It's the ultimate intersection of food and travel.
Fortunately, Asheville is full of tons of amazing places to eat and many of them are incredibly affordable. In some cases you could even swing a meal for under $5, or at least a delicious snack. Here are some of our favorite spots to grab an awesome and cheap breakfast, lunch, or dinner in the AVL.
(Psst! Looking for affordable meals in another great southern town? Check out these cheap eats in New Orleans!)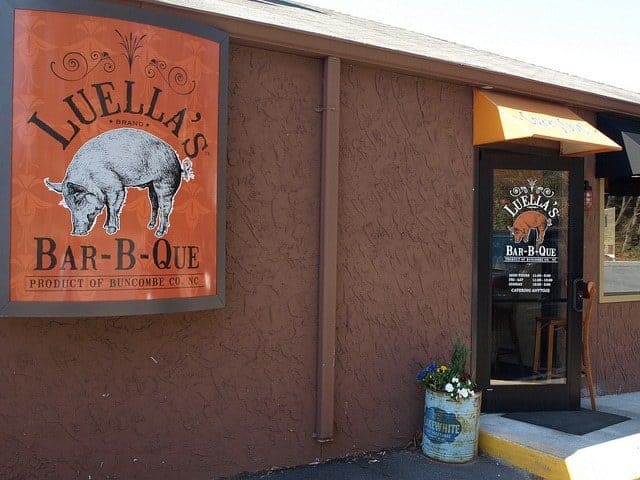 An unassuming exterior hides mouth-watering BBQ. Literally, the best I've ever tasted.
Luella's BBQ is by far our favorite restaurant in all of Asheville, and the affordable prices are just the icing on the cake.
Around $10 gets you a generous helping of delicious meat, hush puppies, and two sides of your choice. I always choose the chicken, macaroni and cheese (my favorite food, because I am a grown up), and the grits. It results in a very monochrome-hued meal, but holy CRAP, is it delicious.
Other incredible side dishes include green beans, pineapple casserole, fried okra, potato salad, and more.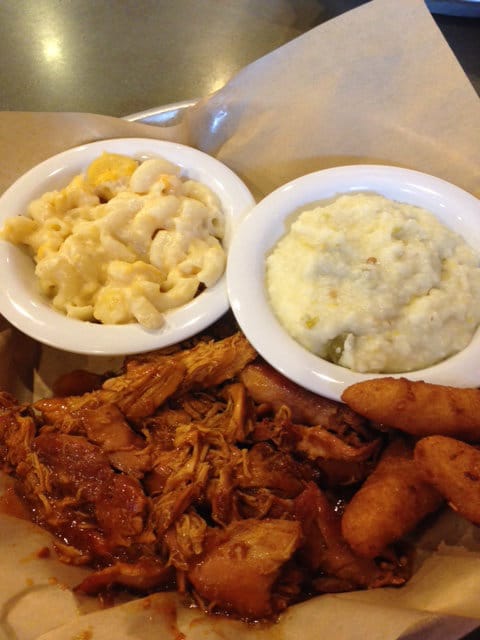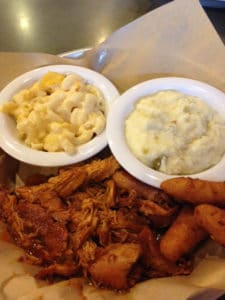 Nathan usually gets the pulled pork or brisket, but I've converted him to a chicken lover as well. Luella's makes him very happy.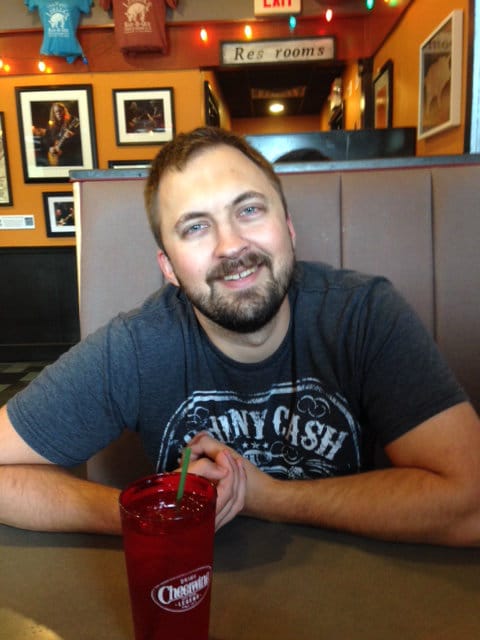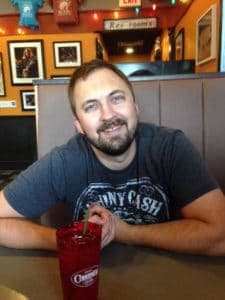 Luella's is not only one of the best cheap eats Asheville has to offer, but we even had them cater our wedding. Needless to say, the guests were immensely satisfied.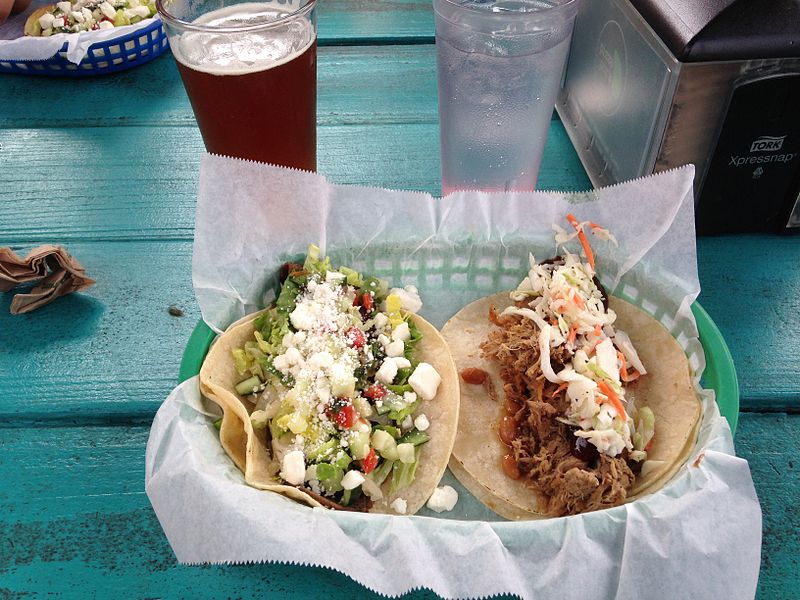 Soooo cheap. Soooo delicious. White Duck Taco Shop is one of our go-to choices for an inexpensive and quick lunch that doesn't break the bank.
White Duck has a setup where you order from the counter and then your food is brought to you at a table. This seems to be a popular way of dining in Asheville, but it's great because it is fast and easy.
At White Duck, you order off the chalkboard which boasts a dozen or so taco options. These seem to vary daily somewhat, but there are popular repeat flavors I've seen again and again including thai chicken, black bean, and pulled pork.
No taco on the menu is more than a few dollars. You can grab two plus a $2 Tecate beer for an awesome lunch around $10.
White Duck has two locations: one in downtown Asheville and one in the trendy River Arts District, which offers some lovely outdoor seating. A must-eat place on any trip to Asheville. Check out our friend Paige's list of top 10 things to do in Asheville for more great ideas for your visit!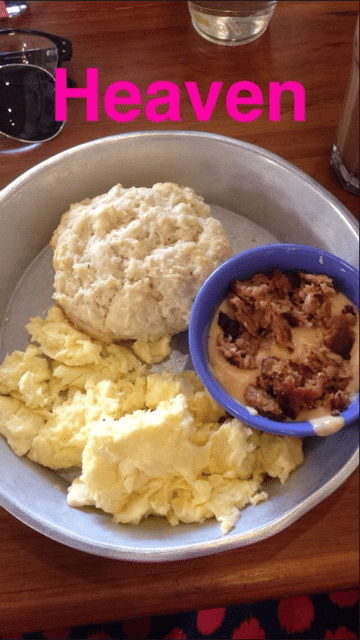 We used to be big Cracker Barrel breakfast fans. No offense, Cracker Barrel, but you don't hold a candle to the incredible homemade goodness that is Biscuit Head.
Oh. My. Word.
Biscuit Head is just a southern breakfast dream. If you like biscuits, eggs, gravy, or some combination of these items, you'll fall head over heels with this place. Words can't even describe.
In the above photo, I ordered my usual: the "half breakfast" that comes with a fluffy biscuit, 2 eggs cooked to order, and a side of your choice. The side I opted for was the incomparable sausage gravy. (There are also nearly a dozen unique gravy flavors., by the way). Oh gosh, just writing this I'm tempted to drag Nathan out to Biscuit Head this very minute.
And the prices here are fantastic. That meal pictured? A whopping $6. Again, this is a place where you can eat like a king for under 10 bucks, easy.
Biscuit Head's mouthwatering menu also includes options like The Cajun Benedict: An open-faced biscuit topped with creole mustard, local andouille, 2 poached eggs, hollandaise, roasted red peppers and scallions or the Mimosa Fried Chicken Biscuit with mimosa fried chicken, sweet potato butter, sriracha slaw, and a poached egg.
Enjoy pint-sized mimosas for around $5. Such a steal.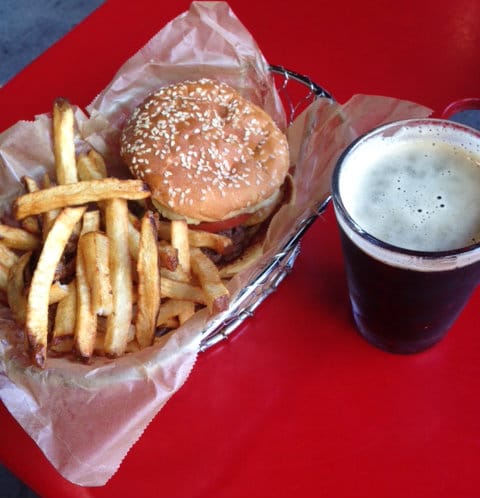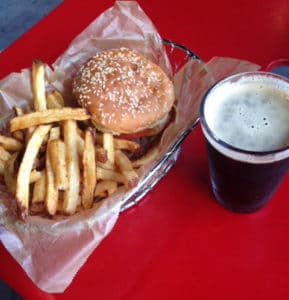 Farm Burger, located in a great location in downtown Asheville, may be a tad more pricey than the other restaurants mentioned.
The burgers are in the $7-10 range, but it's the beer that gets you. Nothing is tastier than a cool local brew alongside your burger and fries! Be prepared to spend $15 or so per person at Farm Burger. (Definitely still in the realm of cheap eats!!)
Farm Burger is known for, you guessed it, their burgers. Using only grass-fed beef, each burger is delicious and locally sourced. You can build your own from a plethora of ingredient options, or consider one of their creations. It's definitely a taste of the south at Farm Burger.
On our last visit, I had a Green Man porter from a local brewery, and a pimento cheese burger with pickles and tomatoes. Outstanding. If you're not in the mood for burgers, they also offer a range of side dishes which I've sampled before. Their mac and cheese is lovely as are their chicken pot pie fritters (which are also pretty adorable.)
---
Clearly, it's easy to gain weight in Asheville with all these delicious and affordable restaurants.
Have you been to Asheville? What were your favorite 'eats', affordable or otherwise? Let us know if we missed any of the top cheap eats in Asheville, and we'll be sure to try them next time we're back in the Blue Ridge Mountains.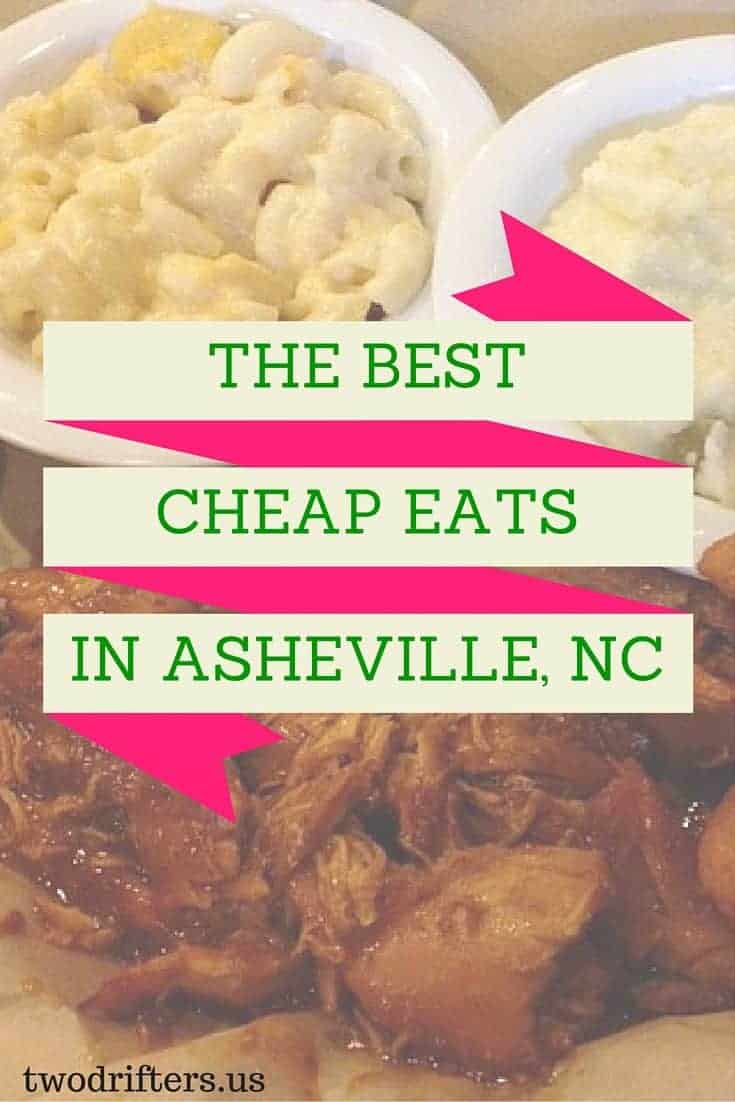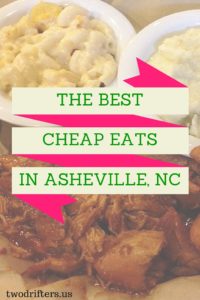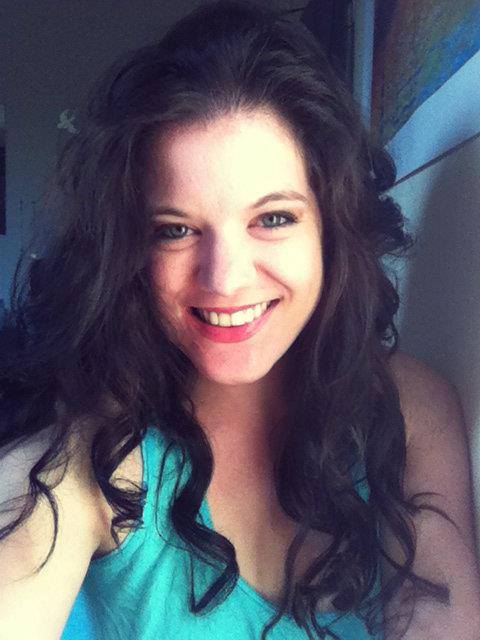 Amy Hartle is the co-founder and owner of Two Drifters, where she blogs about romantic and couples travel, relationships, honeymoons, and more. With a Master's in English and a BA in Musical Theatre, Amy loves to write quality content as well as to entertain, and she hopes to do a bit of both here on the blog! Amy is happily married to her husband Nathan, and when not working on their sites, Amy & Nathan can be found cuddling, reading, and enjoying delicious lattes.