---
*Links in this article may be affiliate links, from which we may earn commission. See our
Privacy Policy
for full details.
---
We do! We did! We've been married for well over a month now and things have finally settled down enough to write about our beautiful wedding. In the weeks since, we've enjoyed an incredible Canadian honeymoon, written copious thank you notes, and gradually grown used to calling one another husband and wife.
On a sunny but cold April 9th, 2016, Nathan and I celebrated with 60 or so of our nearest and dearest in a vintage and travel inspired wedding day. Living in Asheville, North Carolina for the year, we planned what was for us, a local affair, but for our guests it was a true destination wedding. I can't think of many better spots to bring a group of people, and our visitors all had a blast exploring Asheville.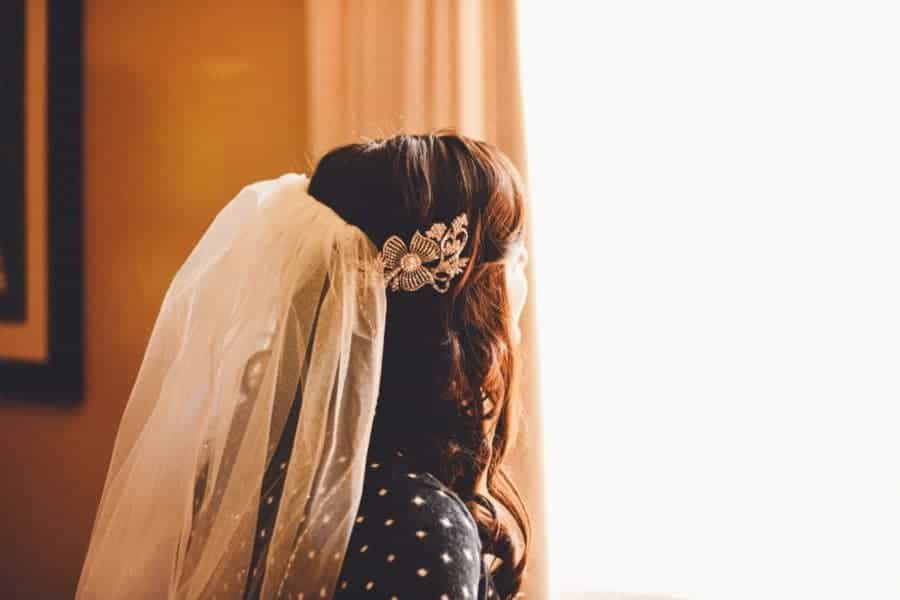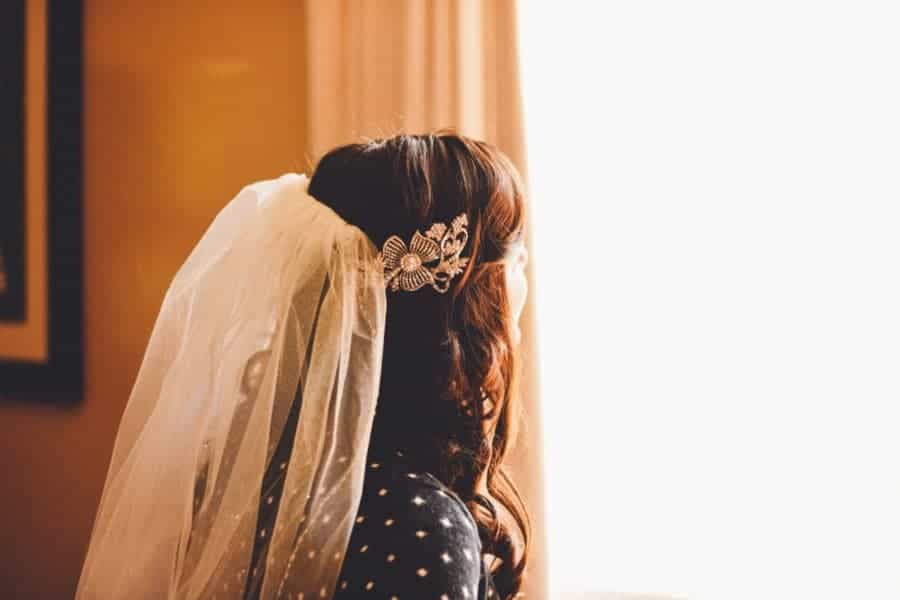 Everyone told me that I was one of the most relaxed and stress-free brides ever. Thank you! I love being known in that way, and I really did feel pretty chill. I'm not a perfectionist, and the only real anxiety I felt about the wedding weekend was making sure everybody had rides. But the wedding could not have gone better. I applaud wedding vendors (particularly our amazing venue, Homewood) for how these big and meaningful occasions are so flawlessly run.
Our wedding ceremony was held on a Saturday, but most guests arrived on Thursday or Friday. This was one aspect I particularly loved. With many of us staying in the same hotel, it was like a big slumber party or family reunion. The Four Points Sheraton in downtown Asheville did a great job booking all our rooms conveniently in the same corridor. And in general, the hotel was an excellent wedding accommodation choice. Affordable group rates, friendly and prompt service, and a downtown location that can't be beat. We were able to walk to our rehearsal dinner and our guests could go out in the evenings without concern for parking or driving.
And with many guests in town early, we were able to spend time with them shopping, dining out, and sightseeing.
Two Drifters Say I Do
Our travel wedding theme kicked off with our vintage engagement photos, taken in the fall. These set the tone for our plans to come, and were an absolute blast to shoot. Our invitations followed suit, designed by my best friend and maid of honor, Haley. Check out Haley's art at The Poppyclock Collective.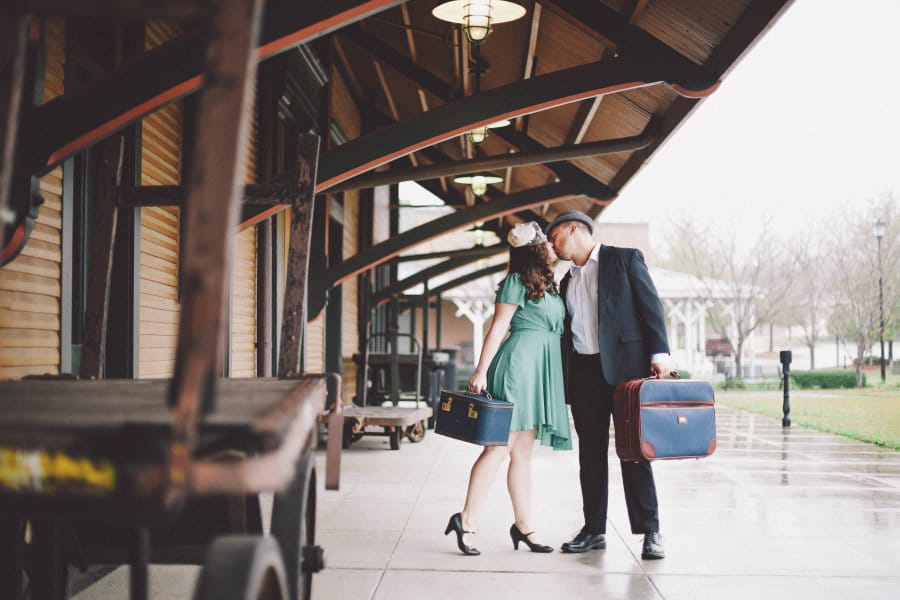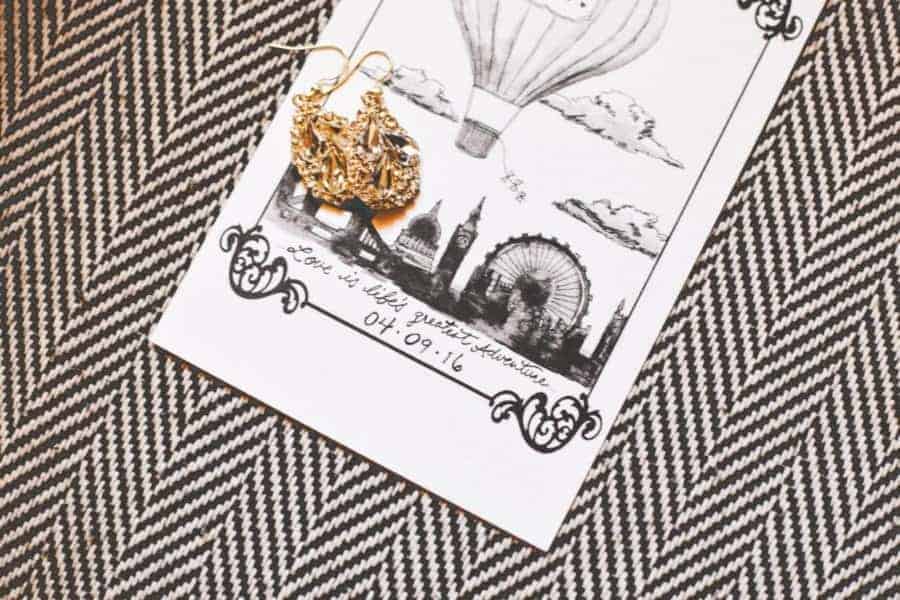 A Venue With a Vintage Feel
We only looked at one place for our wedding venue, and were sold on it right away. Homewood is a gorgeous stone manor in a Victorian Asheville neighborhood called Montford. The place, which looks like a modest and stately castle, purportedly once held such esteemed guests as Scott & Zelda Fitzgerald!
We loved the 1920s feel of this venue, with its warm cherry wood, cozy candlelight, and romantic chandeliers. It was the perfect blend of our literary souls and our traveler hearts.
The venue was also incredibly helpful with planning and organization. I loved that about working with them. In an area with many, many wedding options (Asheville is so romantic, and seems to be a top wedding destination), they are also a venue offering a great value. We held both ceremony and reception in the manor's great room, and it was beautiful.
Spots on the Globe We Love
To incorporate a travel theme into our day, we aimed to add subtle touches. We decided to name our tables, instead of numbering them, after countries we've visited and which mean a lot to us. Each table had a place card with its name and a lovely illustration. Our bridesmaid and bridal bouquets doubled as our floral centerpieces, and scattered around these were books, small trinkets from our journeys, antique-styled glass bottles, candles, and other travel memorabilia…whatever we could find. Throughout the venue we stacked vintage suitcases and set up globes and other decor, including a small Eiffel Tower.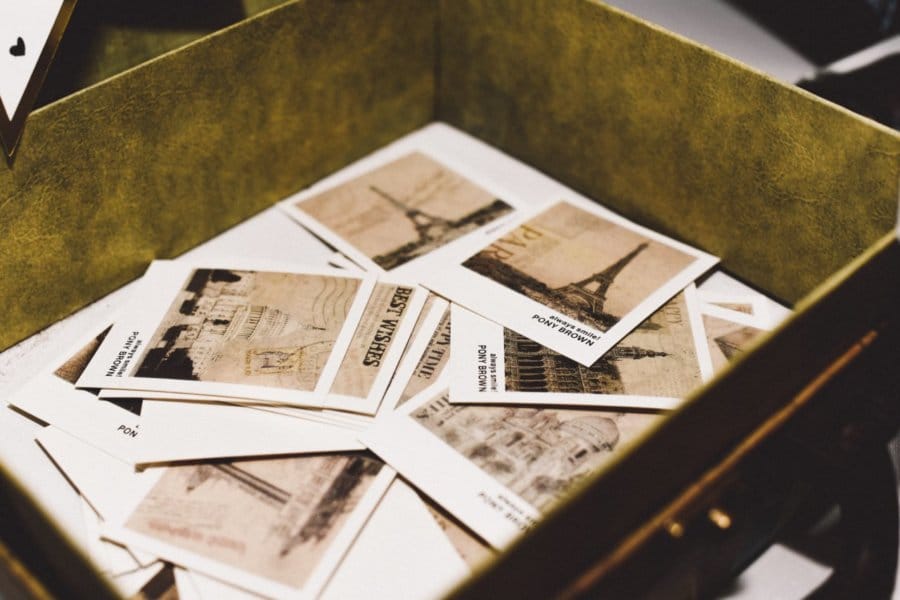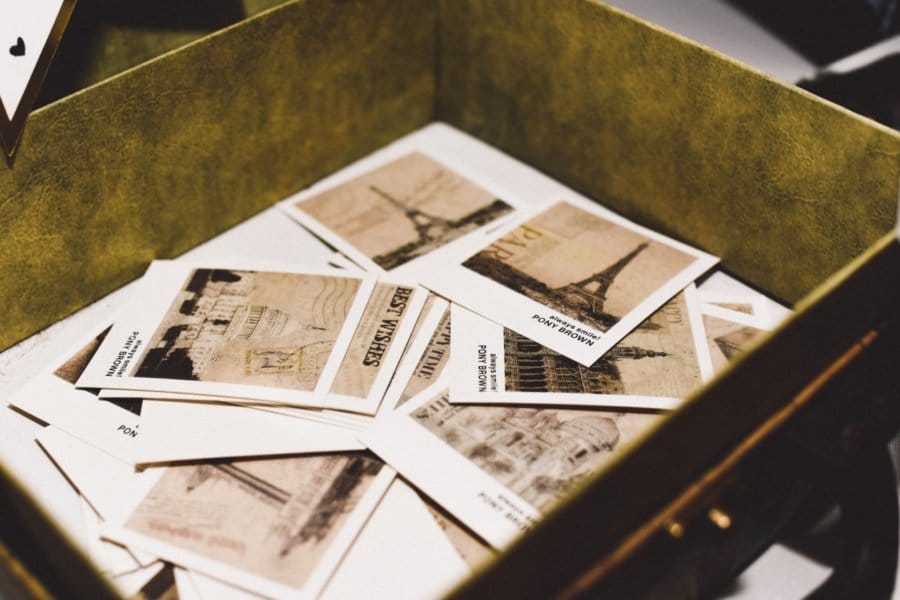 Our table cards were designed and created by Bellus Designs. We thought they were simple and gorgeous, and we were able to completely customize them in the way we wanted. They have so many wonderful designs, too, it was tough to choose. I'd highly recommend checking them out if you're looking for quality wedding stationery.
Guests found their seating assignments on the map above, which was generously sponsored by Rand McNally. I mounted the map on poster board and used gift tags, thumb tacks, and ribbon to label each country's guests! It was fun to put together, and though I admit I did get this idea from Pinterest, many of my guests said they loved it!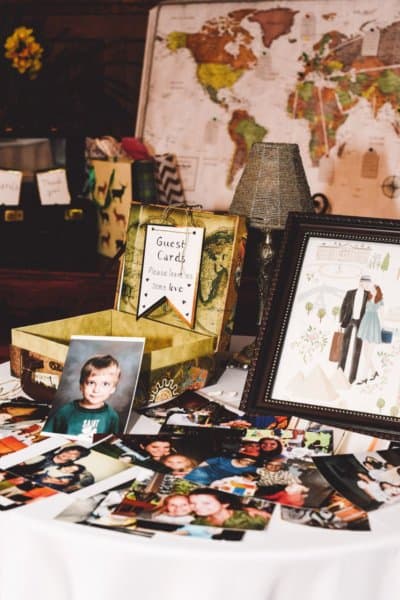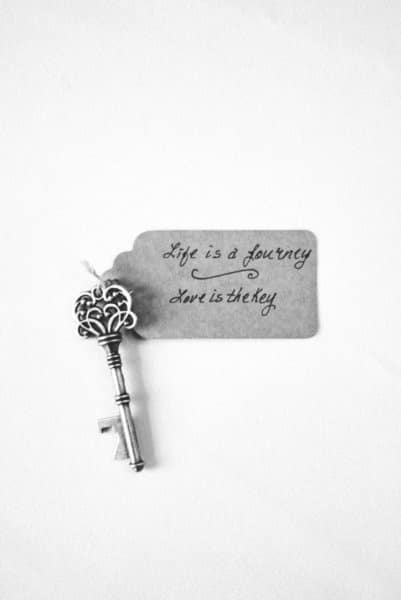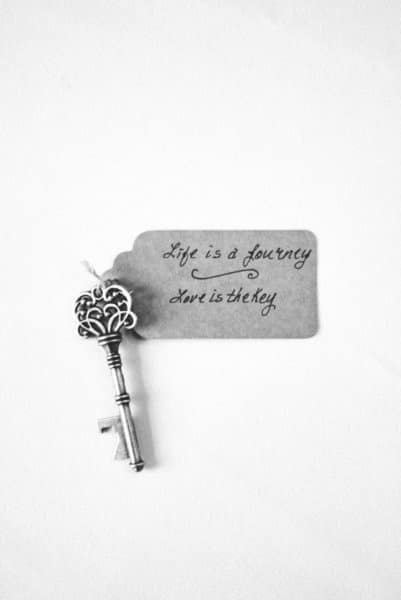 A Dreamy Destination Cake
Our cake was perhaps my favorite of our travel themed wedding paraphernalia. Created by Sarah at Asheville's City Bakery , we had a chocolate chip cake with chocolate ganache and vanilla buttercream. It tasted like a rich eclair and was delicious. But it looked awesome too! We had Sarah create fondant silhouettes of some of our most beloved travel landmarks.
The cake featured the Eiffel Tower, the London Eye, Big Ben, the Sydney Opera House, Edinburgh Castle, and even the Wallace Monument, which is found in Stirling, Scotland (where I went to grad school).
On top of the cake was a silhouette of a couple sitting on the moon, which I found on Etsy. This gave our landmarks a night sky to watch over them, and also served as an homage to "Moon River" the song from which our name Two Drifters originates. In fact, we had this song play as we cut our cake! It was very romantic and sweet.
Our Other Asheville Wedding Vendors
You can't have an Asheville, North Carolina wedding without a little Southern flair. To that end, we had our event catered by our favorite restaurant in the area: Luella's BBQ. I can't stress how MUCH this was the RIGHT CHOICE for wedding food!! With the sophisticated venue, I wondered if BBQ would seem out of place, but everyone was absolutely thrilled with it!
I've heard that wedding guests won't remember your decor or your centerpieces, but they will remember what they ate and if they had fun. Real, hearty, and incredible BBQ was the ultimate in comfort food for our guests, and all were satisfied. I am so proud that everyone was fed, watered, and then grooved their tushies off on the dance floor. I think we threw a great party. And eating macaroni and cheese at my wedding? Life goal, achieved.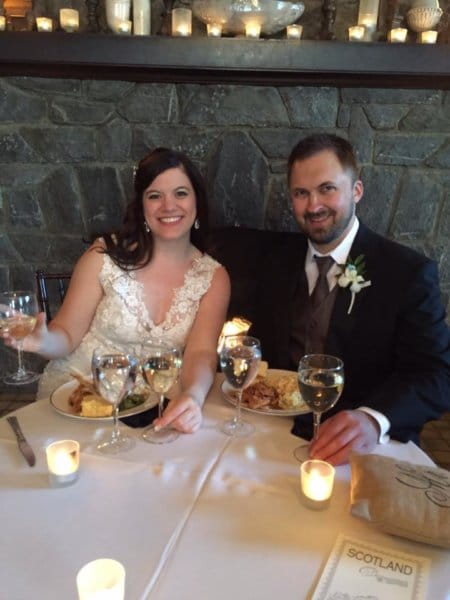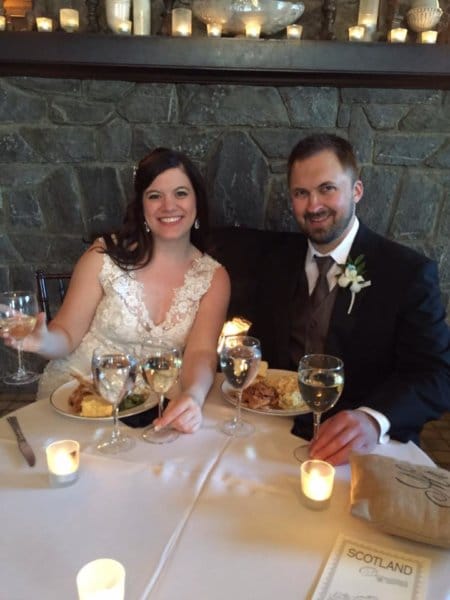 Our DJ, Pat Lance of Spintastic Sounds was so friendly and easy to work with. And he played a great mix of tunes that we requested.
We held our rehearsal dinner at the downtown location of Twisted Laurel. I can't rave enough about the divine food (lasagna, chicken parm, salad, garlic bread), and the beautiful space. It is the PERFECT spot for a rehearsal dinner.
Wedding officiant Rev. DiAnna Ritola was phenomenal. She put together a gorgeous ceremony that was truly personalized and incorporated a Christian ceremony with touches of other more worldly traditions. We had her perform a handfasting, a traditionally Scottish symbol of commitment.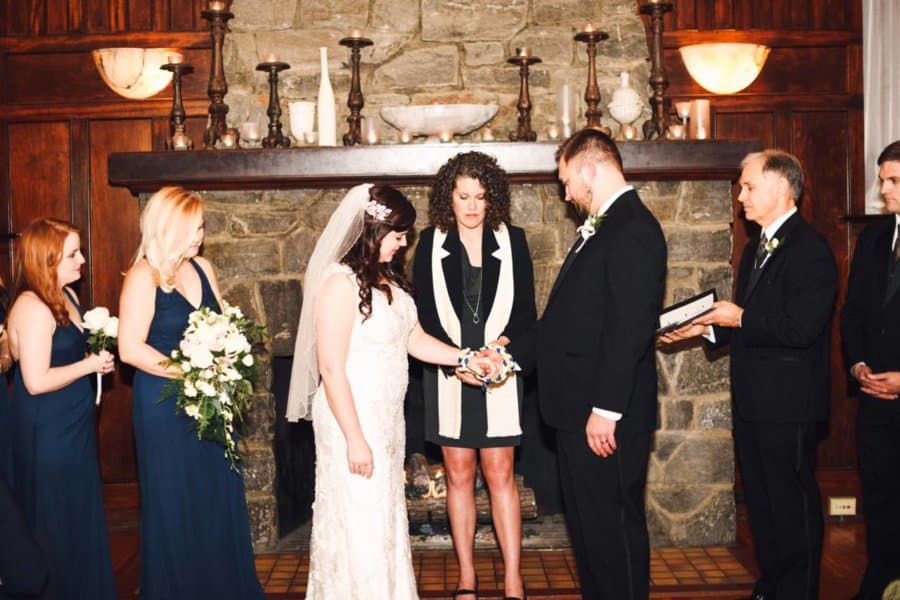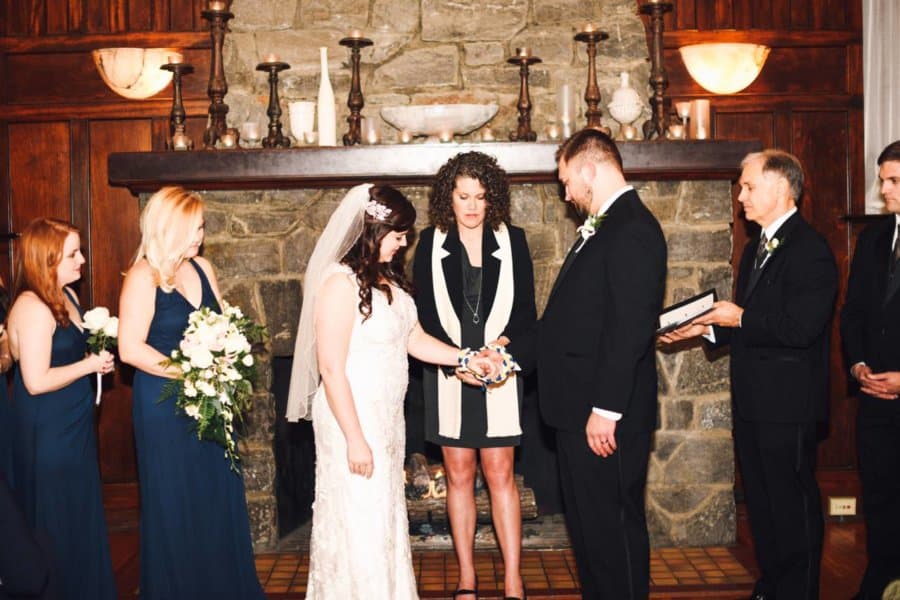 Flowers came from Brown's Floral Design of Weaverville. Our bouquets were stunning, and everything I never knew I wanted. I know nothing flowers, but I described what I envisioned and they exceeded my expectations!
The awesome Mason and the crew at Ananda Hair Studio did my hair as well as my bridesmaids.' That is one of the nicest salons in Asheville, and the entire staff is so friendly and accommodating.
And our photographer Stephanie Smith, whose work you see in this blog and all over the website, was truly incredible. She came from Raleigh and did a masterful job on all of our wedding images and our vintage travel themed engagement photos. I love Stephanie's style and the way she captured the dreamy romance of the day, and our happy love.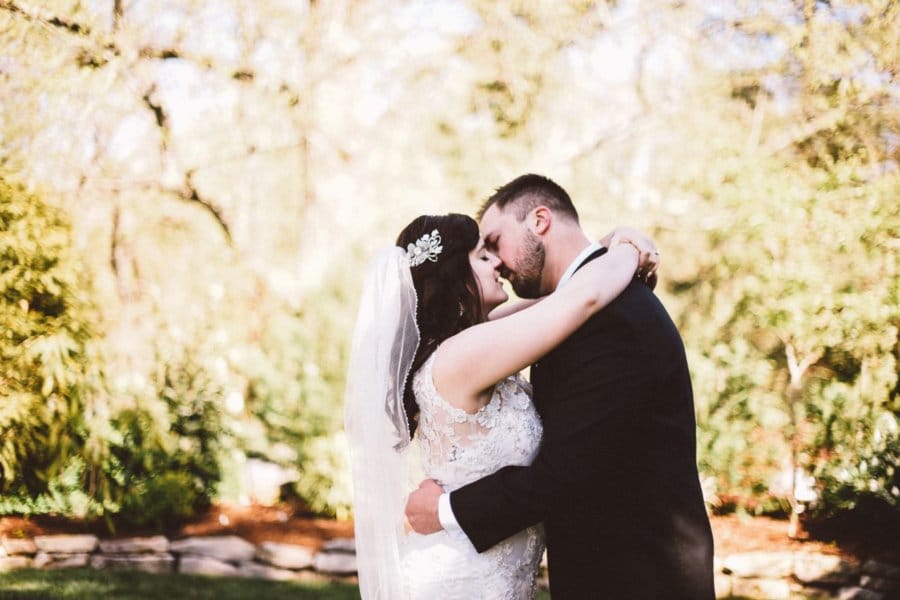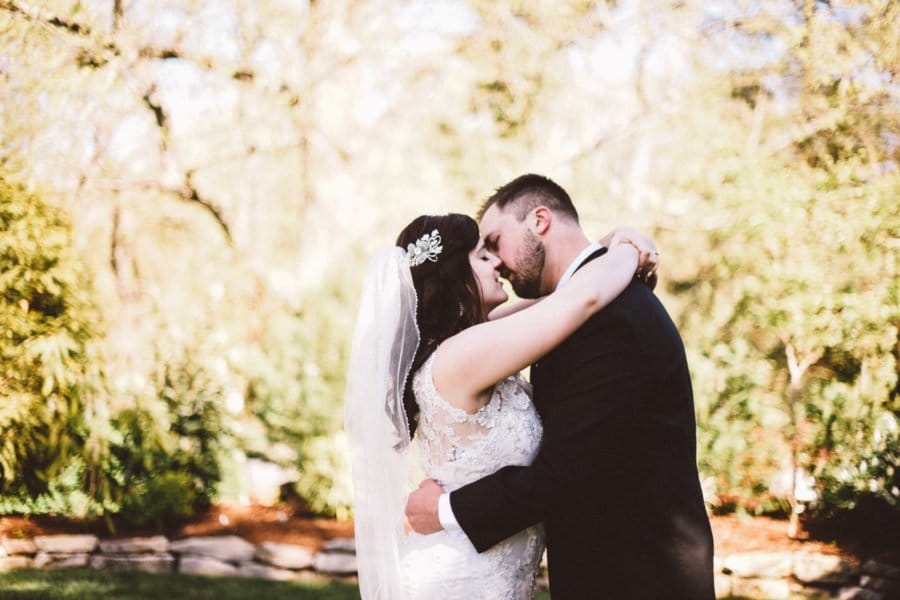 Both Nathan and I were so pleased with how our wedding turned out. It meant the world to us to have friends and family there, many of them who traveled very far distances!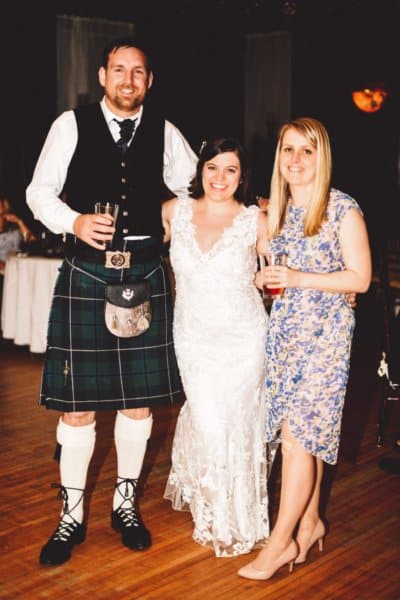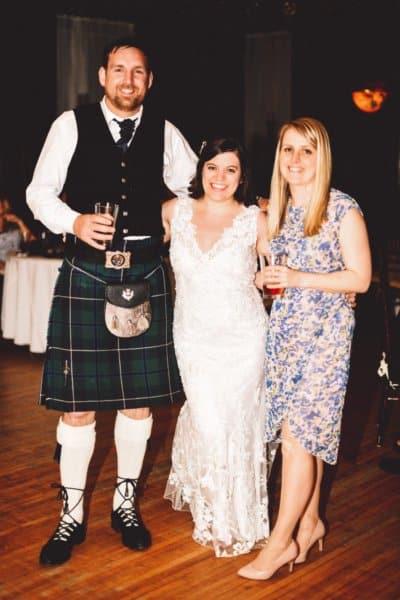 Our families and bridal parties made everything run smoothly and pleasantly, and were wonderful supports. I am very grateful to my beautiful bridesmaids for all that they did including reminding me to eat on the wedding day, protecting my hair from the wind, and yelling at Nathan when he accidentally almost saw me beforehand.
And the biggest thanks to our parents. Thank you for birthing us and for encouraging us to grow up as confident and independent people who pursued their dreams. Without that independence that came from our family's support, it's likely neither of us would have ended up in that Edinburgh hostel on that fateful day. And of course, thank you for all the love, faith, and care. We have some really awesome parents! XO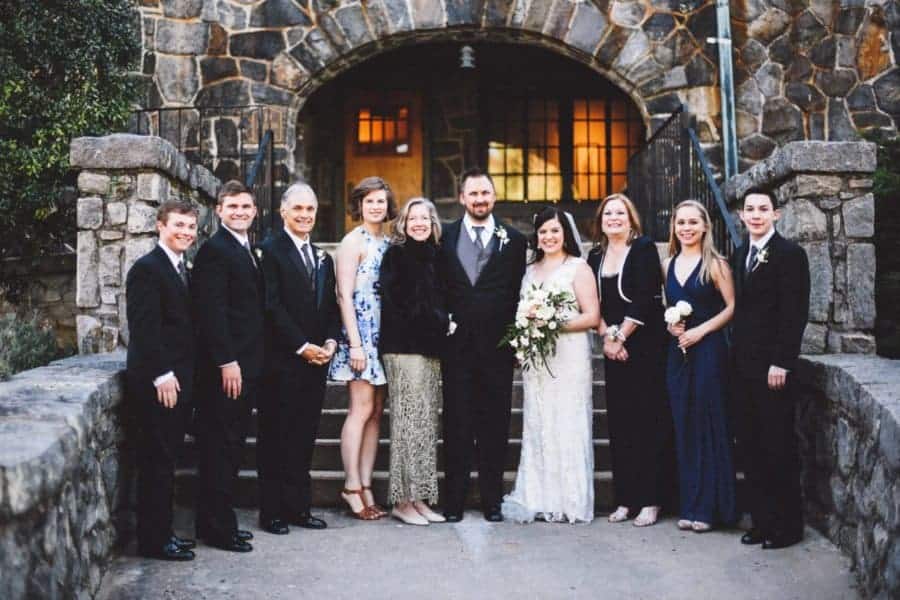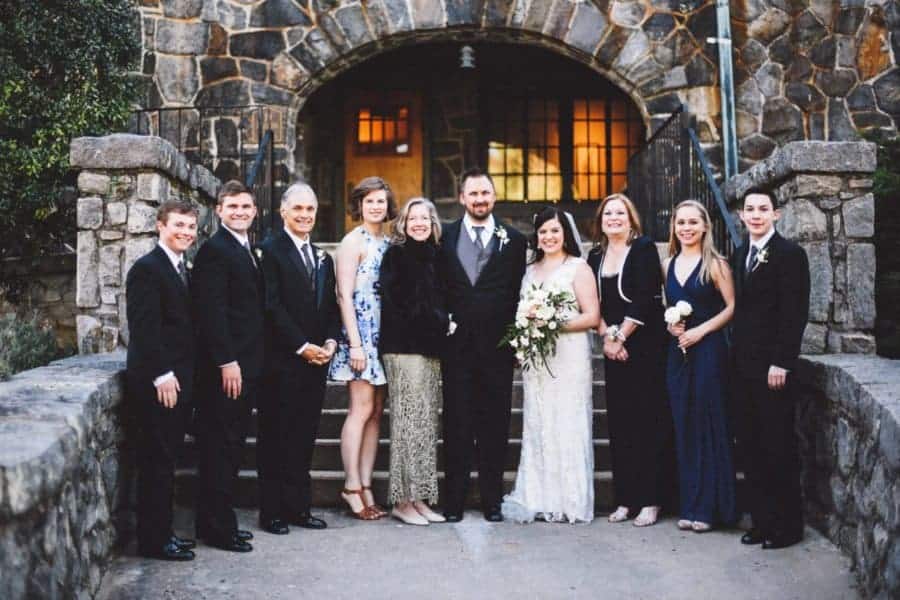 If you're planning a wedding, congratulations! Remember to live in the moment and don't stress over the tiny details. They really don't matter. And remember that the wedding is not the most important thing, it's the marriage that really counts. Enjoy your day of love and laughter.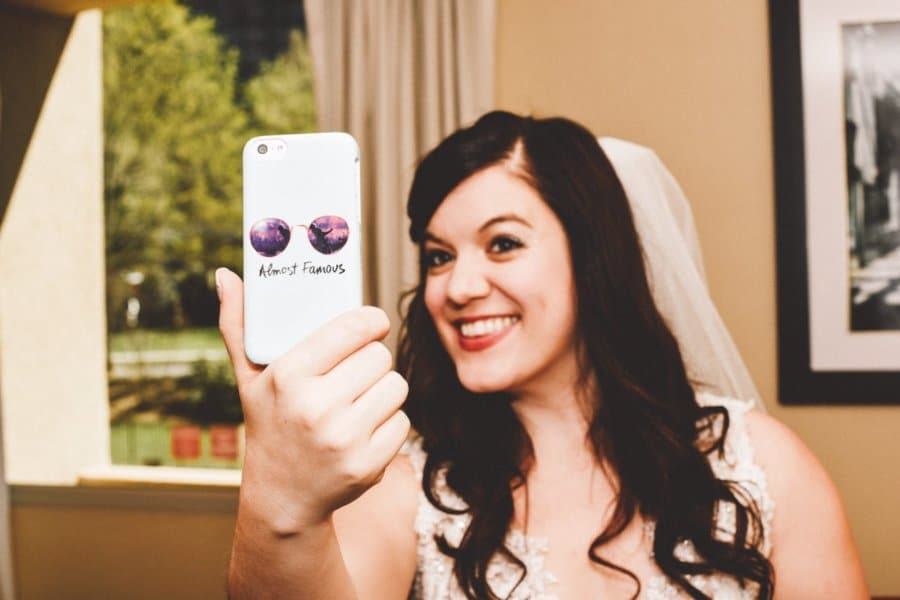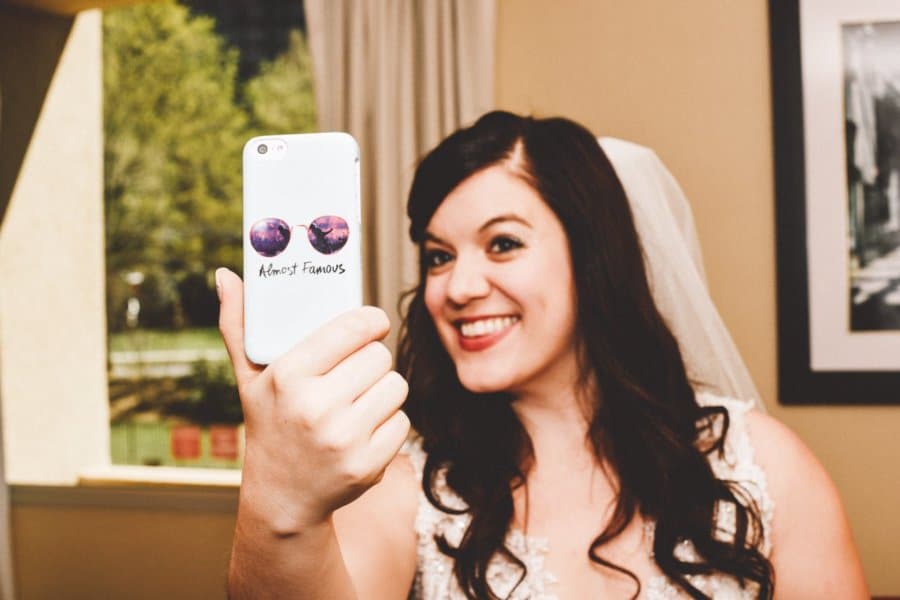 If you have any questions about travel themed weddings, or about getting married in Asheville, NC, I'd be happy to answer! Just comment below or drop us a line.
And be sure to check out our suggestions on planning your own travel themed wedding here.
Save this for later!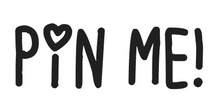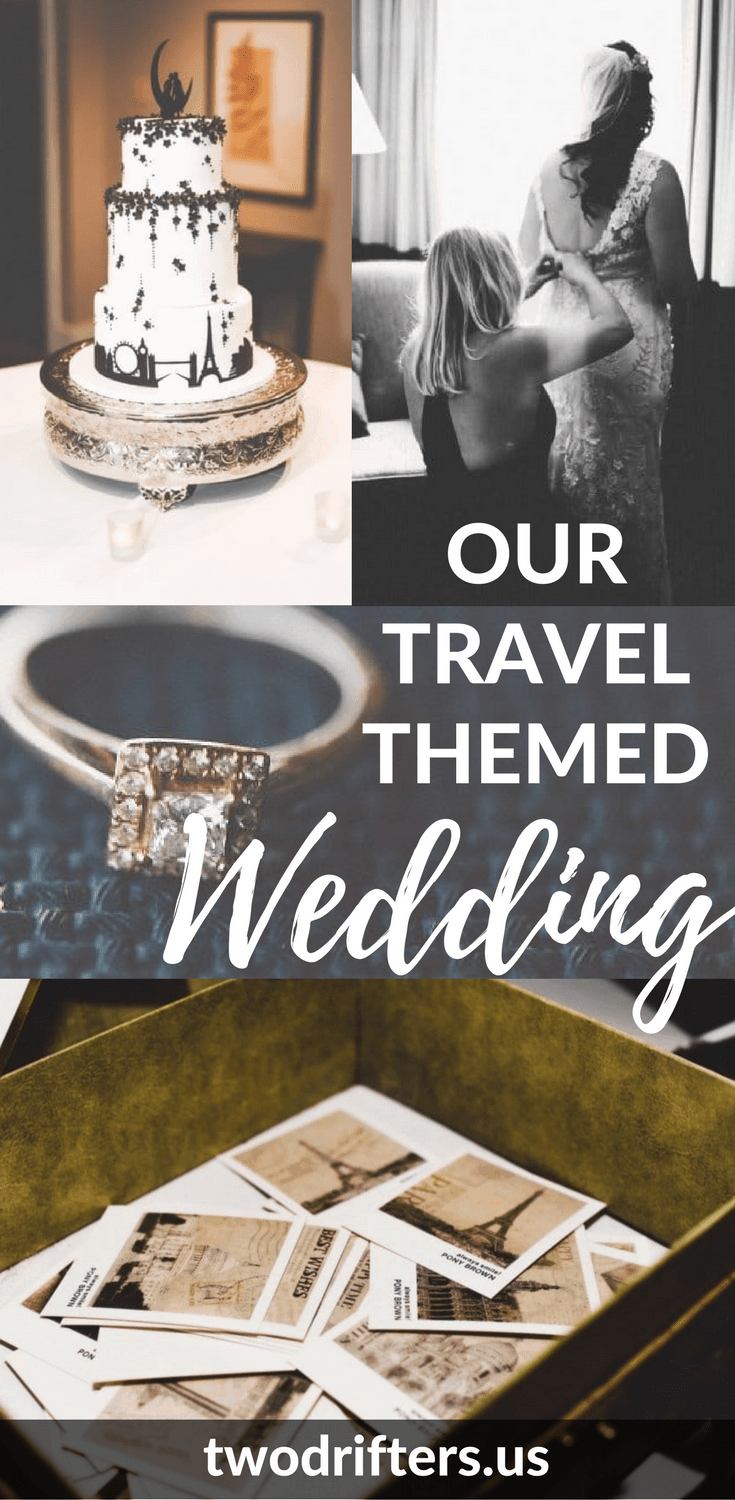 And now, dear readers, we leave you a few more photos of one of the very best days of our lives.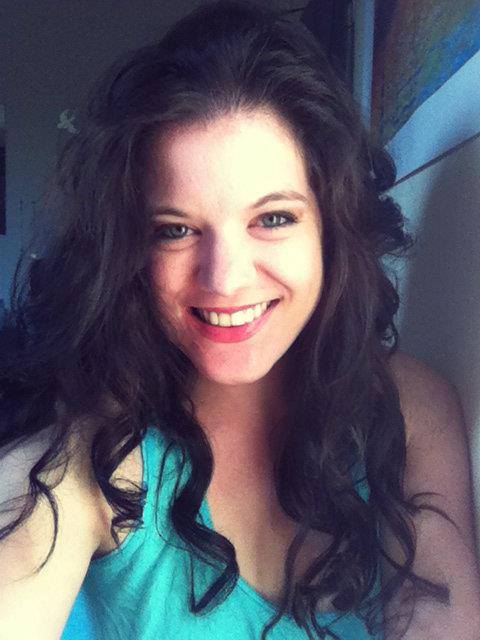 Amy Hartle is the co-founder and owner of Two Drifters, where she blogs about romantic and couples travel, relationships, honeymoons, and more. With a Master's in English and a BA in Musical Theatre, Amy loves to write quality content as well as to entertain, and she hopes to do a bit of both here on the blog! Amy is happily married to her husband Nathan, and when not working on their sites, Amy & Nathan can be found cuddling, reading, and enjoying delicious lattes.