This post may contain affiliate links. Read our disclosure page for full details.
This post has been sponsored by Basic Invite.
I loved planning our wedding. I wish I could do it again and again–in every season.
We chose to get married in early spring, an April 9th affair that coincided with fresh buds on the trees. But I'm totally enchanted by weddings in other seasons, especially winter and fall. There's so much you could do with a fall wedding, and as we're entering the autumnal season now, it's easy to be inspired by leaves, pumpkins, and chilly temps.
I partnered with Basic Invite to bring you this post celebrating the romantic fall season, and sharing some great ideas for planning a fall wedding. If you're currently engaged (yay! congrats!), dive in and get lost in the fall magic.
PS: Fall is the best! Check out these 50 fall date ideas!
♥ 5 Romantic Ideas for a Fall Wedding ♥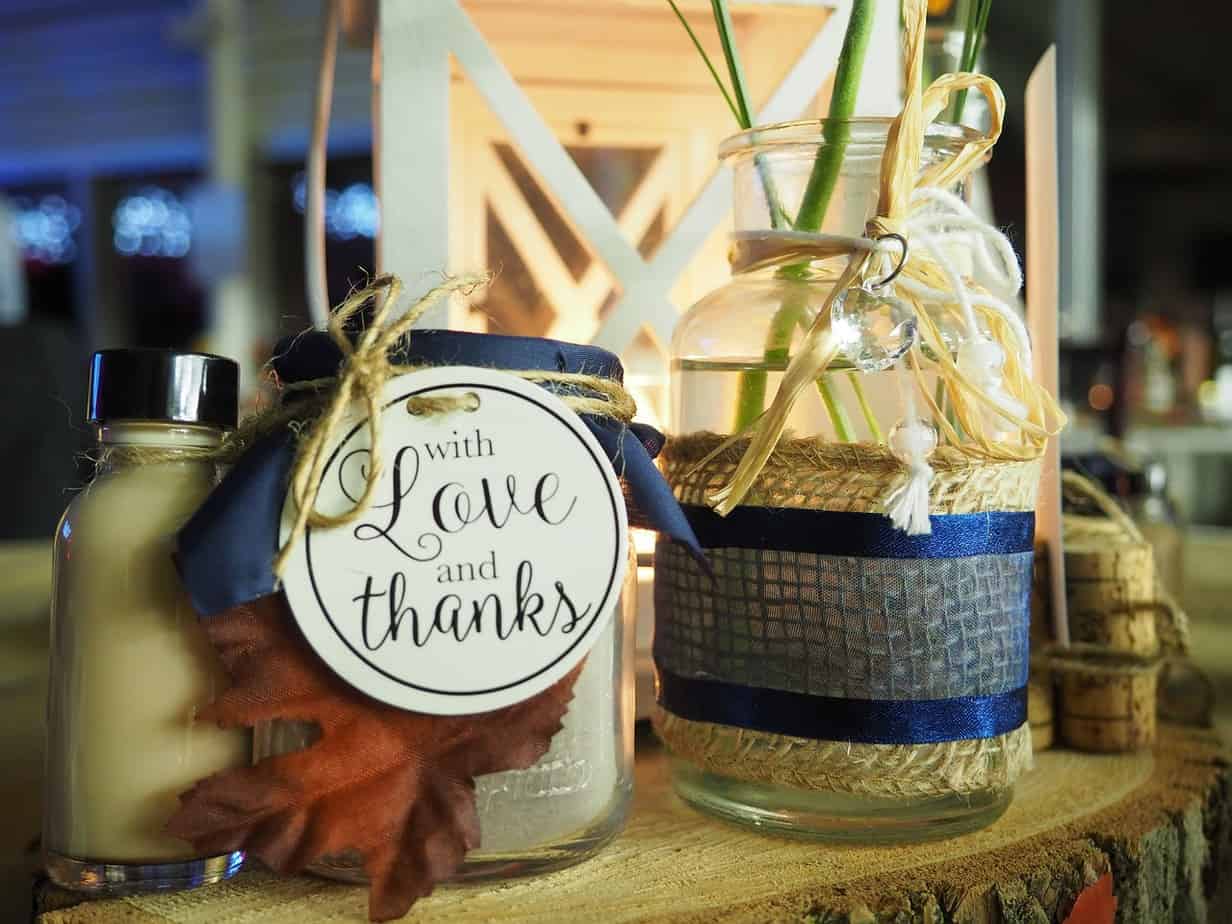 Incorporate gratitude & thanks into your design elements
Fall is a season of gathering together and celebrating blessings. What better way to do this than with your wedding? You can add subtle touches of the season in your guest favors, invitations, and decor. You might even choose to have a special moment that shares gratitude for your family and honors loved ones.
And of course, you can put special thought into your thank you cards for after the wedding.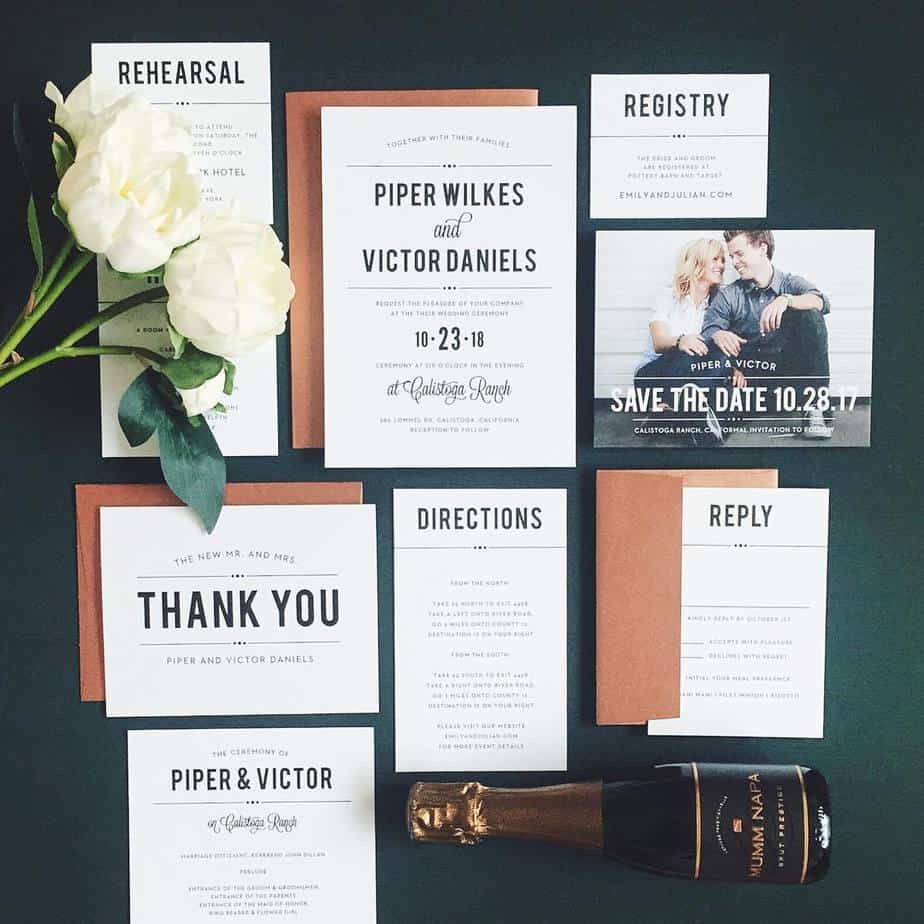 Use the colors of the season
Fall is a beautiful time when nature is at it's most colorful. You can include the colors of the season in your wedding decor. Traditional hues may be golds, oranges, reds, and browns, but there are many deep, rich tones that evoke feelings of autumn. Color will play a role in your bridal party attire, your table linens, your floral arrangements, and of course, your invitations, place cards for your wedding, and other paper goods. Basic Invite has over 180 different color options so you can customize down to the tiniest detail. Personally, I love the customary fall tones in subtle pops, such as gold ribbons or text.
Bring nature into your decor
Fall is when nature is showing off, and so it makes sense to bring nature into the wedding! Pumpkins are essential for an October wedding. They make a lovely addition to your table centerpieces and also are a most excellent prop for ring photos. But you can take it a step further. I adore foliage inspired by the season: vibrant leaves and tiny springs of autumnal branches. Paired with classic black and white, this can look striking.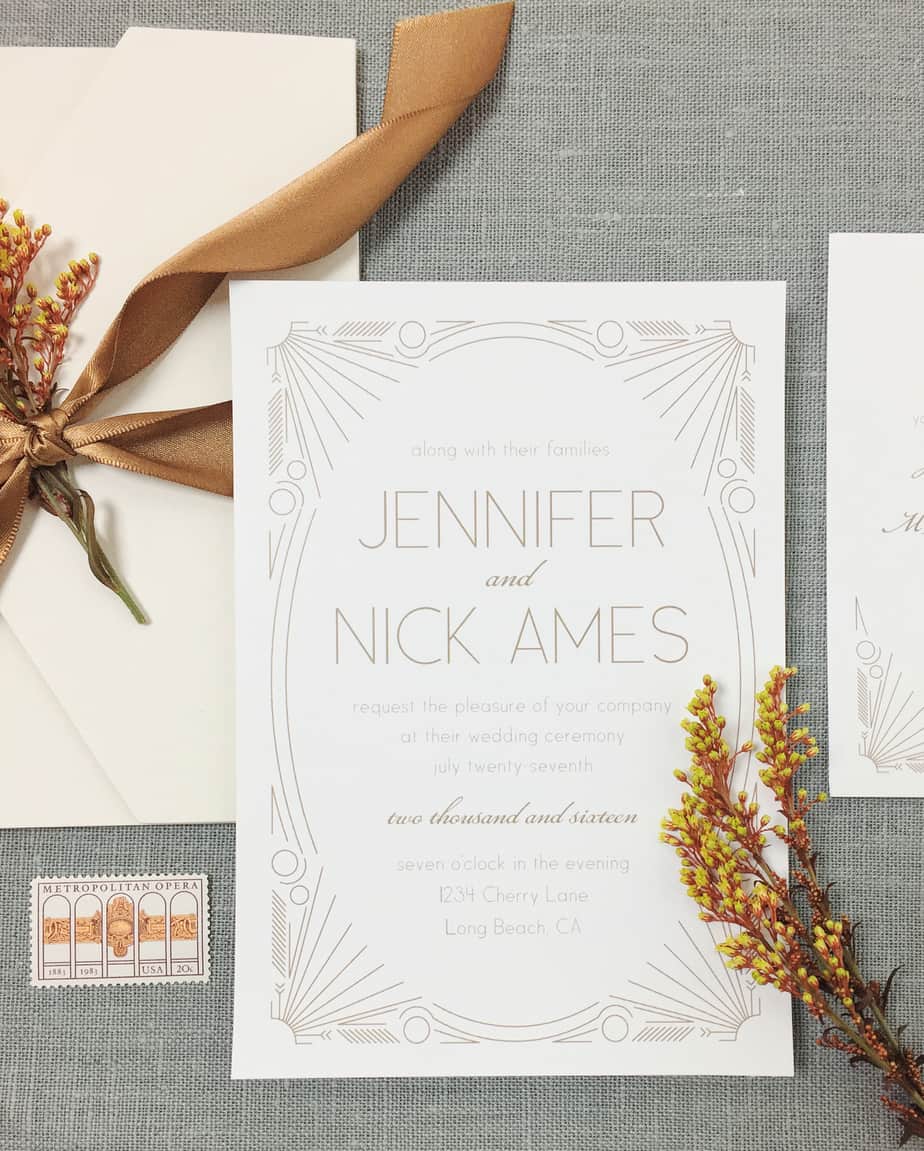 Or, change things up with your favorite flowers—they don't have to match the season's color palette—and look to incorporate nature elsewhere. Wood creates a rustic feeling and can be part of your table settings, cake displays, and much more.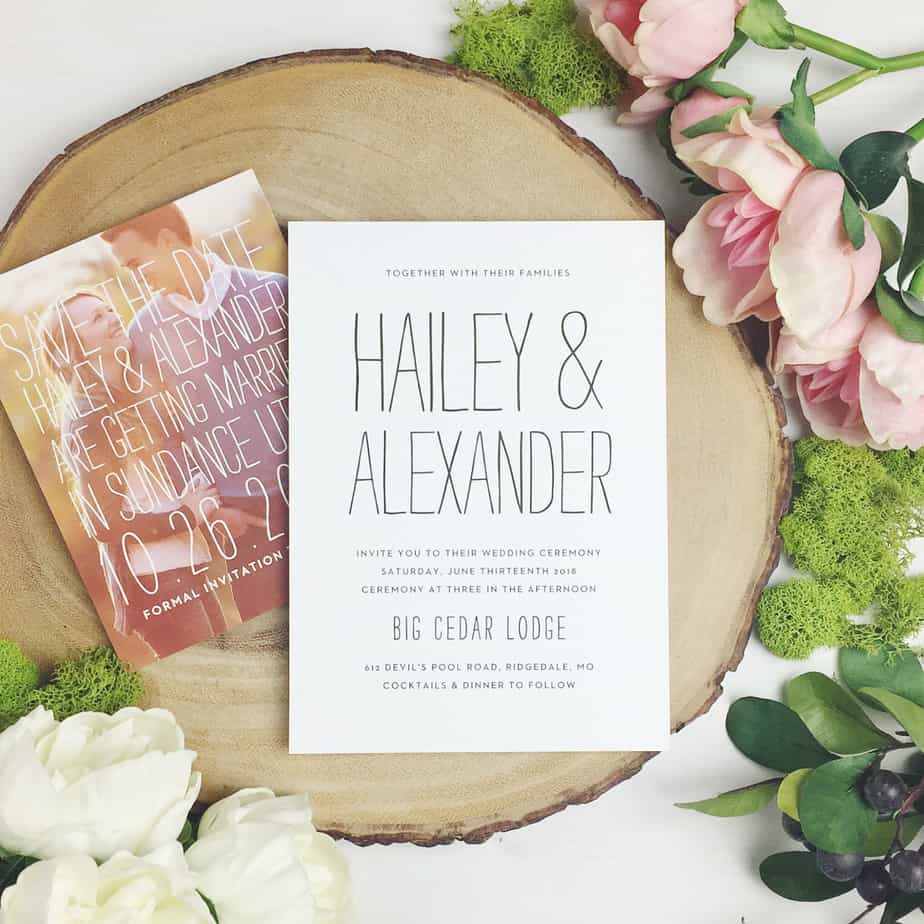 Lots of couples are now incorporating seasonal photo shoots into their wedding plans, too. You might want to do a festive fall engagement shoot. The backdrop of the foliage will be breathtaking, and let's be honest, everyone looks good in the cozy garb of fall! Throw on your flannels and go play in the leaves for an epic photo sesh. You can then create stunning online save the dates using your gorgeous shots.
Match coziness with elegance
Fall is about wrapping up in blankets and cuddling next to a fire, romantic dates carving pumpkins and picking apples. But a wedding demands a touch of elegance. It's a once-in-a-lifetime event that deserves sophistication and magic. Well, a fall wedding is the ideal time to combine the cozy cuteness of fall with the classic luxury of your wedding day. Use neutral colors (such as white) to make the fall elements seem even more timeless.
And warm, soft lighting will turn any event space into a magical wonderland.
Get festive with your invitations, place settings, & more
We loved coming up with ideas for our travel themed wedding. One of the most exciting places to get creative is in your paper goods! Basic Invite has sooo many wonderful options for everything you need. You can have fun with your fiancé, bridesmaids, or family as you browse the site and put together a look that's totally you. There are literally endless fall wedding invitation ideas and Basic Invite has more than 200 invitation sets that has a range of matching items (place cards, save the dates, etc). Don't forget a guest book, so you can have a record of all those who came to wish you well.
---
Are you having a fall wedding? Share your planning ideas with us!
---
Pin this post to save for later!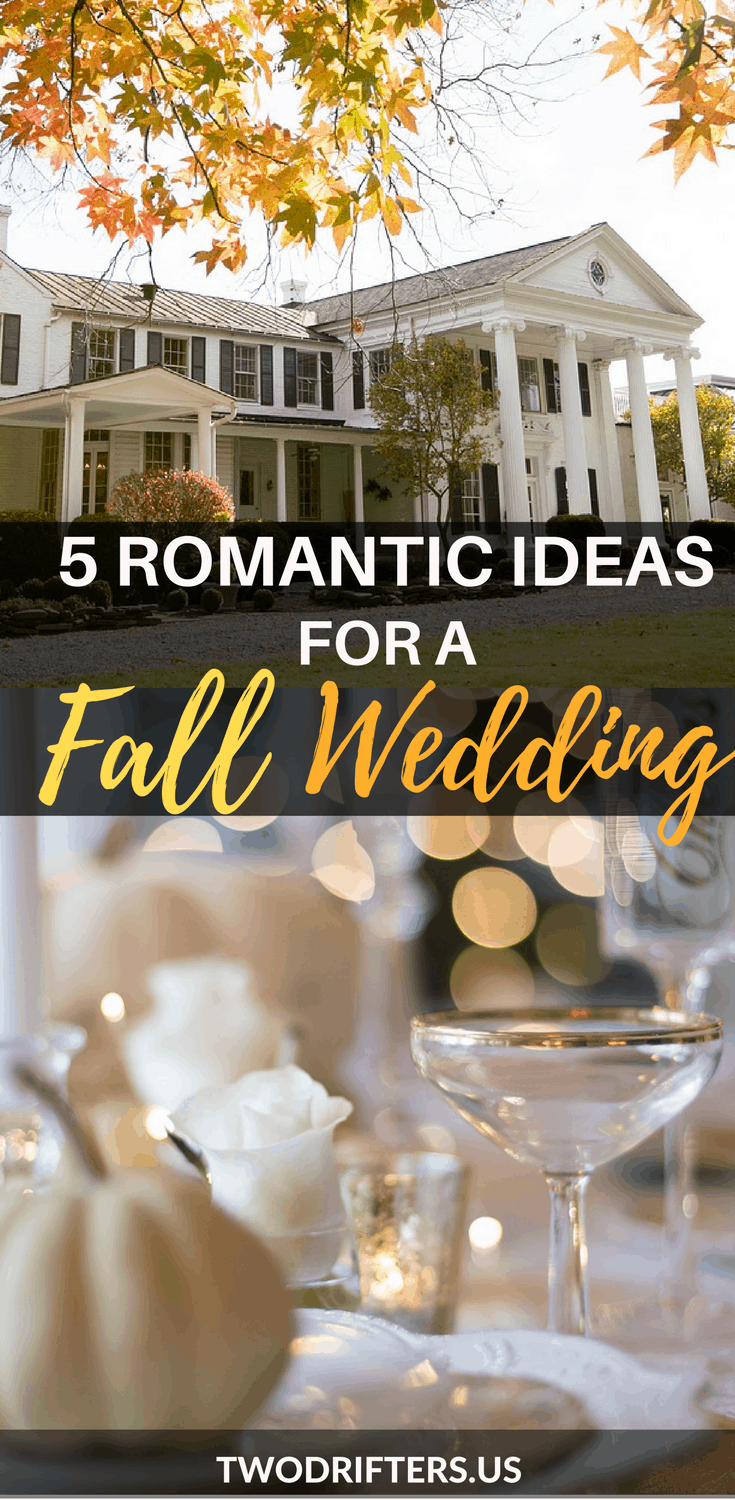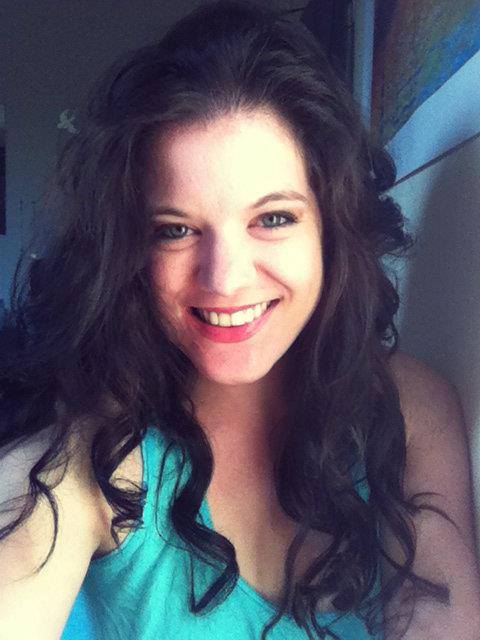 Amy Hartle is the co-founder and owner of Two Drifters, where she blogs about romantic and couples travel, relationships, honeymoons, and more. With a Master's in English and a BA in Musical Theatre, Amy loves to write quality content as well as to entertain, and she hopes to do a bit of both here on the blog! Amy is happily married to her husband Nathan, and when not working on their sites, Amy & Nathan can be found cuddling, reading, and enjoying delicious lattes.