This post may contain affiliate links. Read our disclosure page for full details.
This post about a romantic getaway to St. Augustine is a guest piece by Lyn of
St. Augustine, Florida A romantic city with history bursting at its seams!
Since moving to Florida 6 years ago, one thing remains the same. Every time I visit downtown St. Augustine, it is as if I have never been there before. When we actually step out on date nights, St. Augustine is our go-to spot. The food, the people, the shops; everything about this place is a must see.
A Few Romantic Things to Do in St. Augustine
Love is in the air always when in St. Augustine! Couples holding hands, sharing laughs and smiles with strangers on the street. People stealing sweet kisses and saying I love you's.
Most of the time it is like nothing exists except you and your loved one. When it is chilly out, it's even more of a romantic experience! Get close to your loved one and create that love heat, while taking in all the sites there are to offer.
This beautiful city is the oldest city in the U.S. It boasts Spanish colonial architecture and is surrounded by the Atlantic Ocean.
One of the coolest things to see in St Augustine is The Castillo de San Marcos, a 17th century Spanish stone fortress. When you visit you can see beautiful views of the St. Augustine inlet.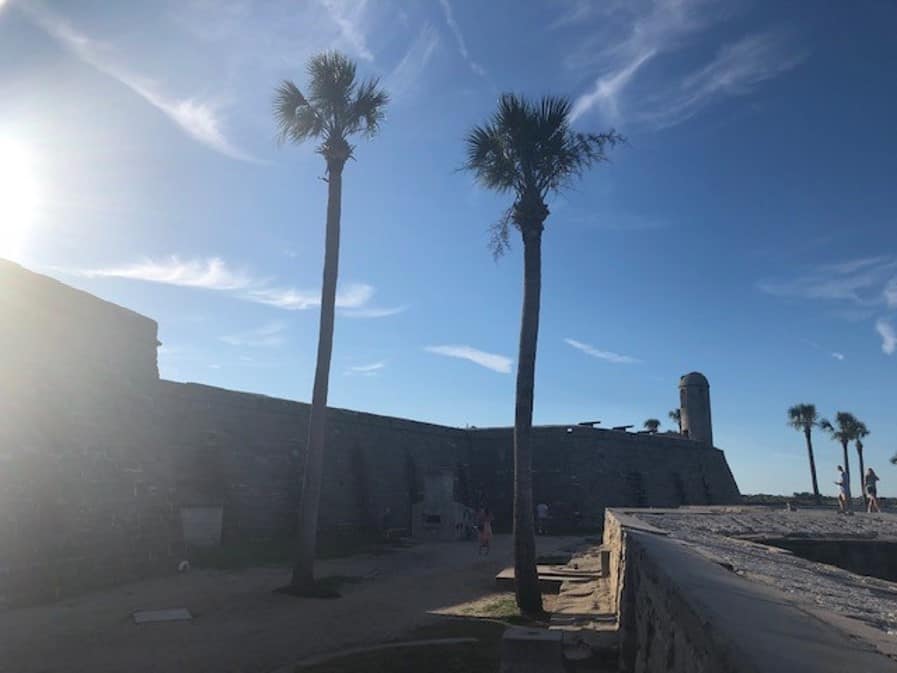 Strolling through historic St. George street—home to boutique stores and restaurants—hand in hand and listening to the street musicians can't be beat. While you are walking, why not take a second to grab a frozen chocolate banana coated in nuts, or an ice cream cone from one of the ice cream shops?
You can also take a break and hop on a horse carriage ride with historical stories and views you will dream about for days to come!
A must for my husband and I is the Island Bar, where we sit by the fire and have a few drinks with apps before we set off for the rest of our adventure.
While it's true that St. Augustine all year round is one of the most romantic cities to visit, be sure to visit this historical city during Nights of Lights. Nights of Lights take place every year the dates of November 17th -February 3rd.
During this event, the stores and restaurants stay open later, so you can dine and shop while watching the light displays. You can even see the lights by horse carriage ride, and there are trolley tours and water tours you could purchase. I prefer to walk and see; it is more personal and enjoyable when you can decide what you want to see and do first.
You must visit the Love Tree.
Do you know what a love tree is? A love tree is when two trees have grown intertwined, and are so deeply entwined with one another that separation will kill them!
There is a legend my husband and I were told while we were on the horse carriage ride at night, if you kiss your loved one under the tree, your love is sealed forever! I am not sure if this is true, but it is so romantic and we for sure have sealed our love under this tree.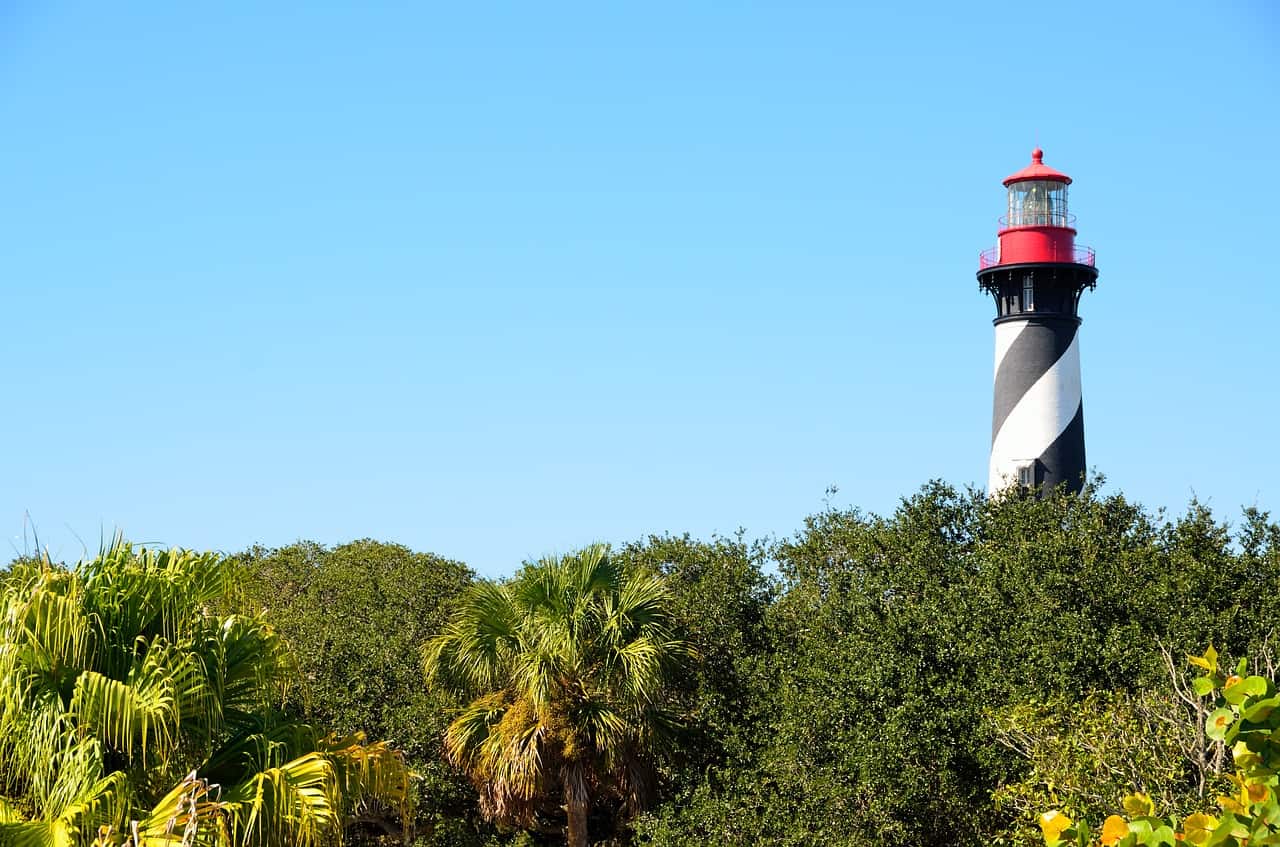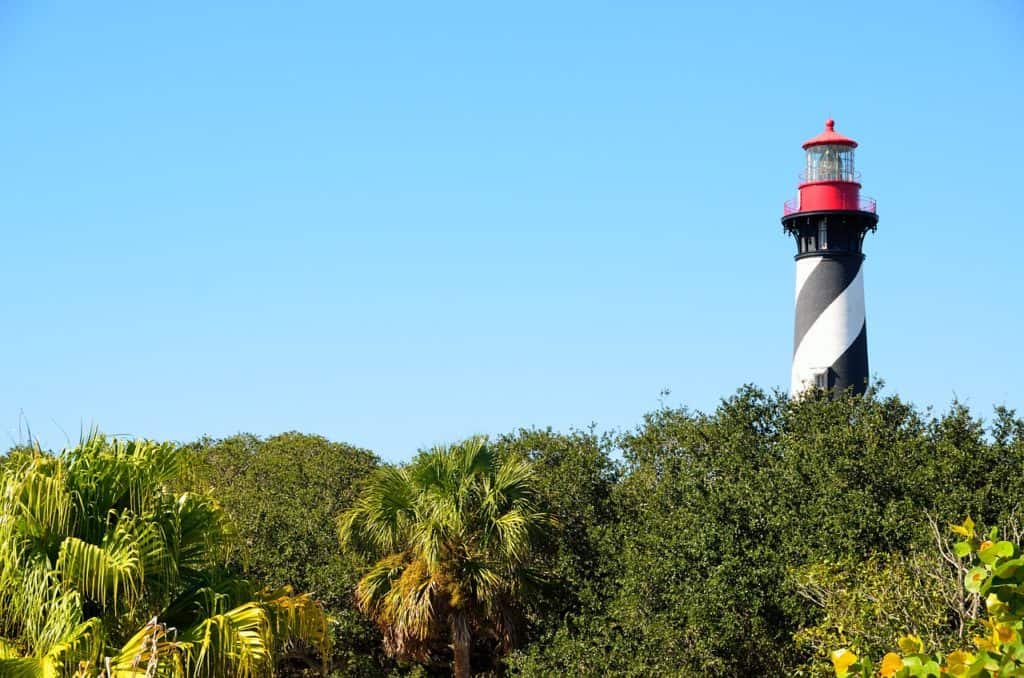 St. Augustine has a few of these love trees but none as popular as the Love Tree located at 6 Cordova Street. Here you will find a Sabal Palm growing out of the heart of an Oak. At this very location, couples will find The Love Tree Cottage, where packages are offered for engagement, wedding space, vow renewals, and anniversaries.
Where to Dine in St. Augustine
Trust me when I tell you that I have yet to find a restaurant that I did not like while dining out on date nights in St. Augustine.
Looking for a place to grab a bite with breathtaking views or by firelight? Do you want an insider's tips on where to dine for your romantic visit to St. Augustine? Here are my all-time favorites:
Cellar 6– This restaurant is lit up by little tea lights during the evening hours! It has such a calming atmosphere. You are sure to get lost in conversation over great drinks and eclectic dishes!
Harry's Seafood Bar and Grille– Creole Dishes, while sitting in a courtyard lit up by warm lighting and enjoy live music while you dine. If you like a little spice, try the nola rice and red beans! It is delicious! I have never had a bad dish while dining here.
Collage- This eatery is what some may consider first class dining. I have heard from people that it is award winning! I have yet to eat here, but this makes the list solely off of its many rave reviews. The menu focuses on fresh local seafood, lamb veal and steak doused in international flavors!
Columbia Restaurant– A Spanish restaurant originally opened in 1905. It has been owned by 5 generations of the same family over 113 years! It's the oldest restaurant in Florida and the largest Spanish restaurant in the world! For a dinner in a building full of history, this is your place. Delicious Spanish dishes, in one of the most beautiful restaurants in St. Augustine, can you get more romantic than that? Don't you know Spanish is the language of Amor (Love)?
O C White's Seafood & Spirits– Located inside of an old home, you will find beautiful seating outside and in. Outside you may dine under the soft glow of the romantic lighting or sit inside for a more traditional romantic dinner. Seafood dishes galore and great drinks, take a peek inside the menu and you may just decide to stay awhile!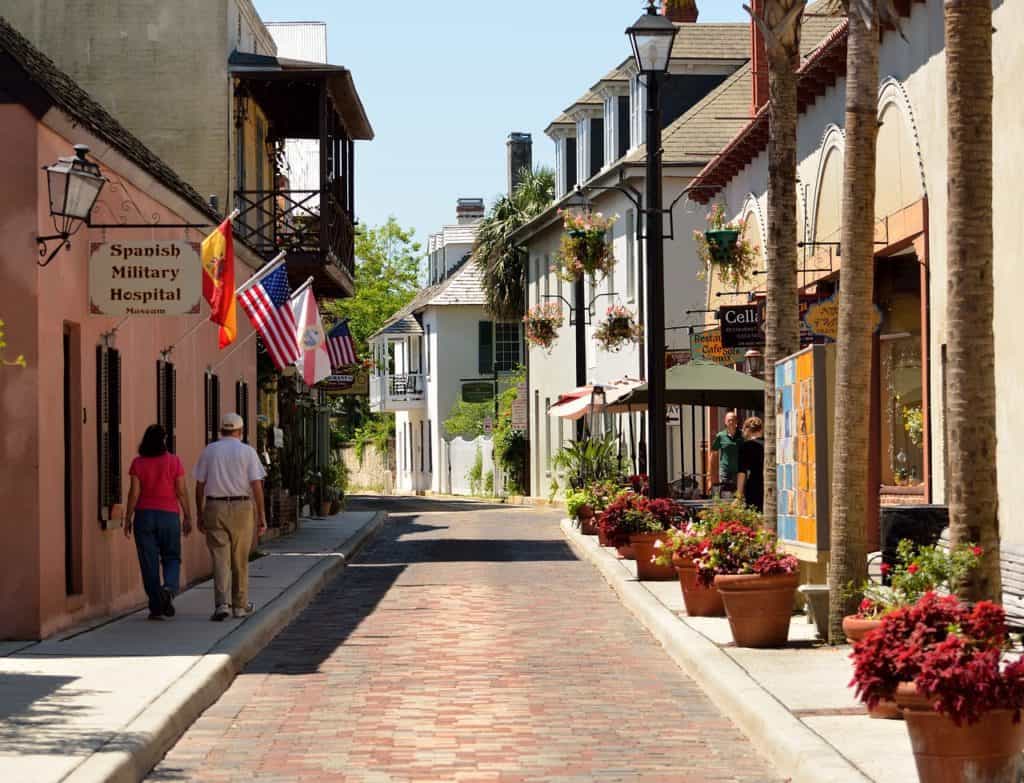 Where to Stay in St. Augustine
There are over 30 historic inns you may choose from for your romantic getaway to St. Augustine, all of them with their own individual sense of romanticism. I did the research and after many hours I have decided that these 10 locations might just be the best.
All include views that will leave an imprint on your heart, and each have the options of Jacuzzi in the room! I don't know about you, but this is one of the things my husband and I look for when deciding on where to stay.
More St. Augustine Attractions and Activities
Not in the mood for just taking a walk, shopping and getting a bite to eat? That is okay! There is so much to do in St. Augustine! Let me show you what St. Augustine has to offer, both for a romantic date night or for any type of visit.
Bayfront Mini Golf
This intimate location is usually not busy, and you can indulge in a little competition. Every couple needs to play together!
Doing this you open up room for your heart to laugh! You are sure to have a lot of laughs and smiles while playing, and it is located right by the water! This location just happens to be Florida's oldest mini golf course! Can it get any better?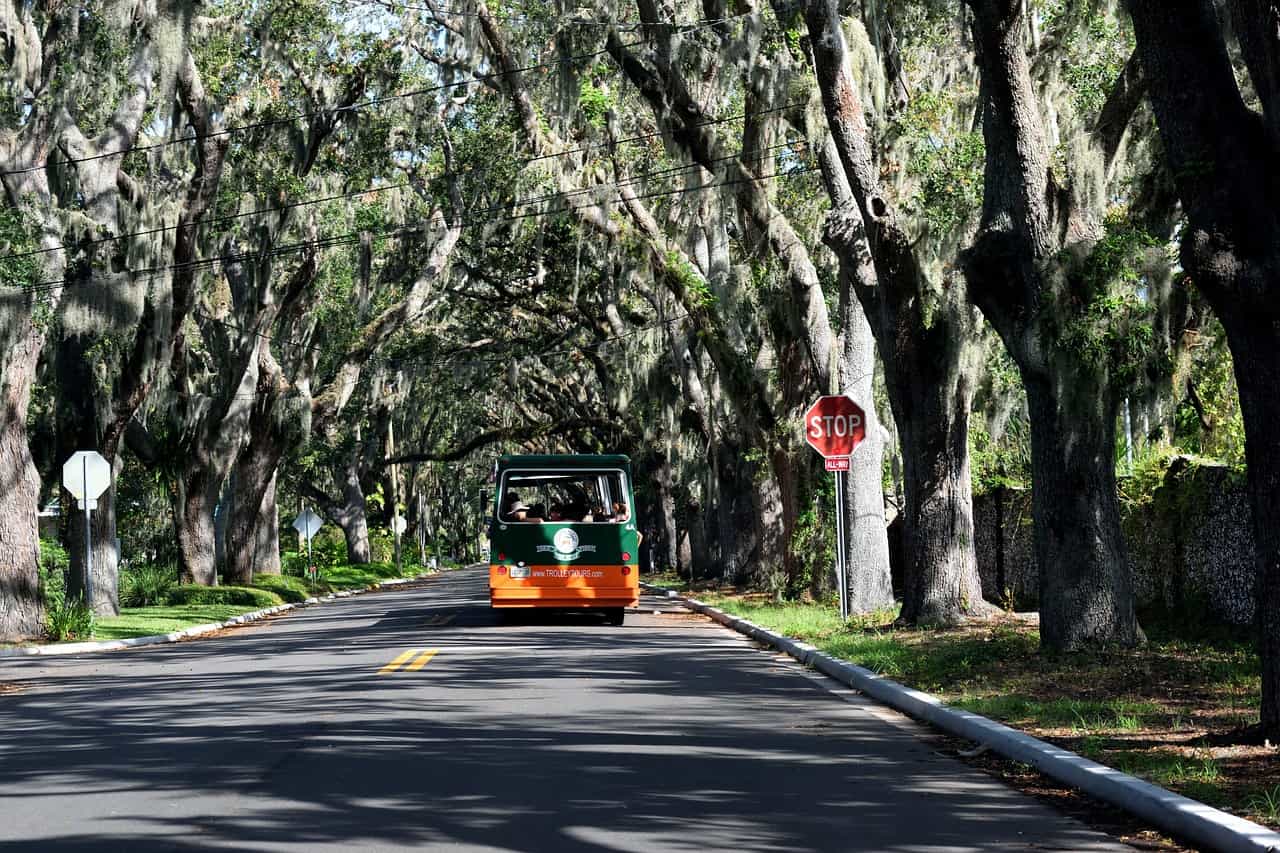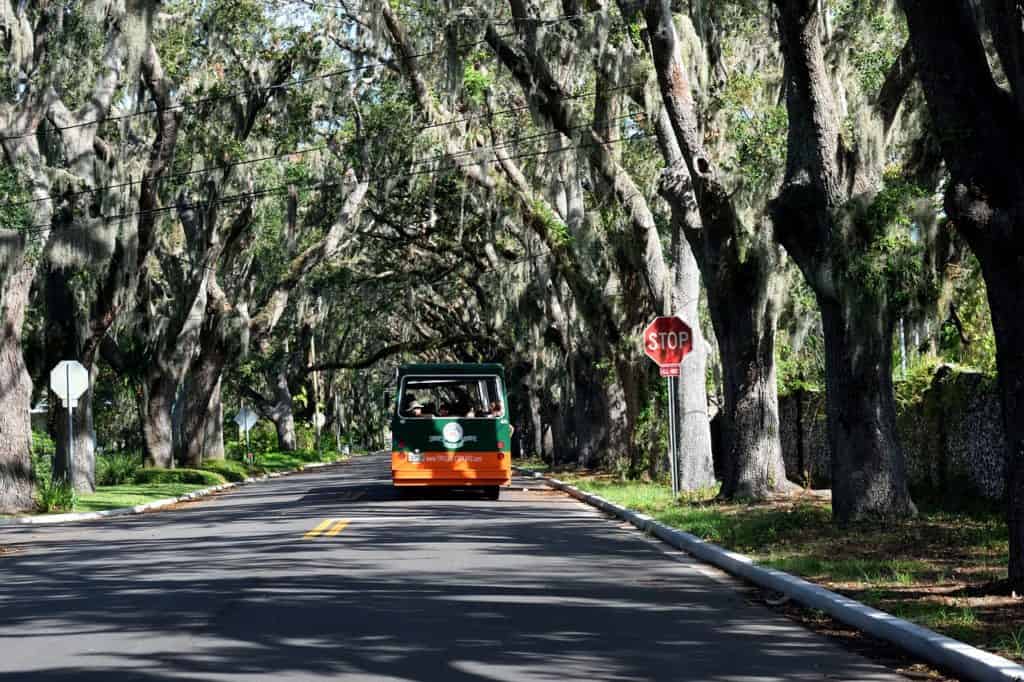 Whetstone Chocolate Tour
You will learn all things chocolate! And that alone is all I need to enjoy this tour! Enjoy tastings of dark, milk and white chocolate while broadening your mind with new information.
San Sebastian Winery
A complimentary tour. Yes, it is free! Take a look inside San Sebastian's 18,000-square-foot wine facility. Are you a wine drinker? Well, at the end of this tour you will enjoy taking part in a wine tasting!
Ghost Tours
There are many ghosts tours in St. Augustine my personal favorite is the Secrets of St. Augustine Ghost Tours. You will be led around by a very mysterious and full of knowledge tour guide! Learn about all the ghosts of St. Augustine and visit the graveyard!
Stand close to each other for this one, better yet hold each other's hands, you would not want to accidentally leave with one of the many undead that prowls the city!
---
I hope that by reading this your interest in visiting beautiful St. Augustine, Florida has been piqued.
A town that is draped in history and elegance. A place where you can forget about the stresses of your day to
day life by strolling hand in hand and catching a great bite to eat with your loved one.
Walking by the water and catching the sweet aroma of the ocean on a starry night.
Great boutiques, a brilliant, happy vibe!
There is so much to do and see, you will never get bored in the city of St. Augustine.
Author Bio: To begin, I would like to introduce myself! You can call me Lyn, or Ohwhattajourney, whichever you prefer. I am 31 years young, a mother of three (ages 8, 5, and 2 this alone keeps me on my toes) Working full time, taking care of my 3 children and 3 fur babies consumes all of my time! I finally decided that
me
time was necessary. This is where my BLOG came into play. Having a few moments to myself has become so important to my mental health and happiness.
---